You might ask yourself the question "is there really a big difference between streaming via Bluetooth or Wi-Fi?" And the answer is "yes." It's vital to know what separates these streaming methods from each other and what each of them has to offer when deciding which to use.  To help you make the right choice, we're going to break down both streaming possibilities and answer the most important questions when it comes to Bluetooth and Wi-Fi streaming,
Streaming technology – how they work
The source for audio streaming is always the same. You stream from a saved database, nowadays it's mostly found online on an Internet server like Spotify, TIDAL and so on, however, you can also stream from local data directly to your loudspeaker. Both Bluetooth and Wi-Fi streaming use license-free frequencies to transmit audio. However, the setup and the connection of the data streams have completely different ways of working:
With Bluetooth loudspeakers, data is always exchanged directly between the transmitter and receiver. Both must be equipped with a corresponding chipset, which is provided with an individual serial number for identification. The pairing of transmitter and receiver is completed within a few seconds. Both devices can then send and receive via a permanent direct data connection that exists only between these two devices. The battery consumption of the smart device increases a little bit, especially if the smart device is connected to the cloud server via mobile internet at the same time, in order to send the music to the player.
With Wi-Fi streaming, the connection between the storage location and the loudspeaker is always via the home network. In order for the speakers and players to be able to dial into such a network,  Wi-Fi must be available. This device only controls the connection. Compared to the permanent Bluetooth connection, the battery is used less.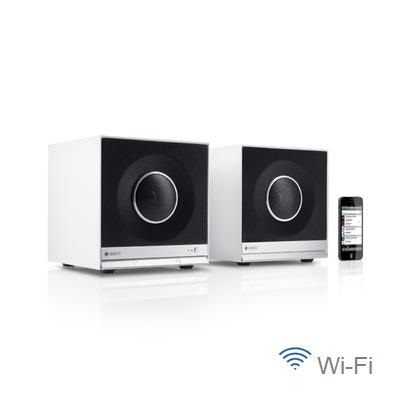 Wi-Fi and Bluetooth in comparison
✔ Range: Here Wi-Fi has an advantage over Bluetooth. As long as the streaming devices are connected to the home network, the data transfer works. As a rule, the connection is thus guaranteed throughout the entire living area. This means even if the playback device and the loudspeaker are not in the same room. Bluetooth reaches its limits faster in terms of range. The standard also transmits signals through walls. However, the maximum range for a stable audio channel is 10 metres.
✔ Operation: When the Bluetooth connection is established, control is carried out as usual via the player. To start pairing, a button on the loudspeaker must usually be pressed first. Unless it is equipped with NFC; in this case, it is sufficient to place the smartphone or tablet on the marked area to initiate the connection. The audio stream between devices in the home network must be controlled by a streaming architecture. Examples of such technologies are of course Teufel's own System Raumfeld, Google Cast or Apple AirPlay. The network speakers are usually controlled via an app.
✔ Formats: Bluetooth offers only a limited bandwidth for streams. Therefore audio files are converted for transmission into the lossy codec SDC. This is at the expense of sound quality. If you want to stream with better quality via Bluetooth, you should make sure that the format aptX is supported. Depending on the version, this transmits the audio stream with little or no data loss. It is important that both the loudspeakers and the playback device support Bluetooth aptX. Because Wi-Fi achieves a much higher bandwidth than Bluetooth, formats with high data volumes can also be transmitted in the home network. If you want to transmit losslessly or surround formats, you must make sure that the hardware and streaming protocols support them.
✔ Battery: Due to the permanently necessary direct connection with Bluetooth, the battery of the smart device is also more heavily loaded. With Wi-FI streaming, the smart device merely controls. Thus, once you have started streaming an album, the smart device can go into standby and the battery is saved.
✔ User-friendliness: While Wi-Fi streaming allows you to make phone calls on the side, Bluetooth streaming may only allow limited use. Multiroom is actually only usable with Wi-Fi streaming.

Wi-Fi and Bluetooth: Which standard is suitable for which area of application?
The answer to the question whether Wi-Fi or Bluetooth is better suited for audio streaming is: "First tell me where and how you want to stream." For those who want to take their speakers to the lake, to friends or to the garden, Bluetooth is the ideal solution. Smartphone and speakers are all you need to pack. In addition, the energy consumption of Bluetooth operation is low enough that speakers with a rechargeable battery can easily provide sound for 8 hours or more.
On the other hand, if you want to transmit music wirelessly to your speakers at home, you should consider a Wi-Fi solution. The home network as streaming infrastructure is already available in almost all households. Thanks to its wide range and bandwidth, it allows convenient streaming solutions over long distances. With AirPlay and Google Cast, proven streaming protocols and control apps are also available. A network player even makes it possible to integrate a hi-fi system that was previously offline into the streaming system
Streaming devices from Teufel
Conclusion: Wi-Fi and Bluetooth – streaming at home and on the move
With Bluetooth streaming, the connection is established directly between the devices.
Wi-Fi streaming uses the home network to transfer data from the player to the loudspeaker.
Bluetooth speakers and players can be used independently of a network.
Wi-Fi is a versatile streaming method thanks to its greater range and higher data in your own home.
Related articles:
Bluetooth: why it's more popular than ever
Image1: ©Vortexionic, Streamingsymbol certain rights apply. Source: Pixabay
Image2: ©Mediengestalter, Bluetooth-Symbol certain rights apply. Source: Pixabay
Sours: https://blog.teufelaudio.com/wi-fi-or-bluetooth-streaming-the-two-ways-to-stream-sound/
Wireless audio for the home is nothing new, but the past few years have brought a proliferation of speakers that use Wi-Fi streaming as an alternative to Bluetooth. The ability to control music in a multiroom environment is one of Wi-Fi's biggest selling features, but almost all Wi-Fi speakers also offer voice control via a voice assistant including Amazon Alexa, Google Assistant and Apple's Siri. 
It's a challenge to find a budget speaker that doesn't have microphones onboard, but they all come with mic switches or you can opt for a "dumb" speaker like the Sonos One SL, if you have privacy concerns. Keep reading for our breakdown of the best Wi-Fi speakers for your needs -- there's a short buying guide at the bottom of the page if you have additional questions, and don't miss CNET's guide to the best smart speakers.
Now playing:Watch this: Sonos One is the best sounding smart speaker you can...
1:44
Best lifestyle speaker
Ikea Symfonisk Lamp
Sours: https://www.cnet.com/tech/home-entertainment/best-wi-fi-speakers/
How to Connect Multiple Bluetooth Speakers to One Device
With the proliferation of smart speakers, such as Amazon Echo and Google Home, there are more Bluetooth devices in homes than ever. To get audio to multiple speakers, use an app such as AmpMe, Bose Connect, or a few from Ultimate Ears, as well as Bluetooth 5, which send audio to two devices at once.
Instructions in this article apply to Bluetooth speakers connected to Android, Amazon Echo, or Google Home devices.
Use AmpMe to Connect Multiple Bluetooth Speakers
There are few apps that connect multiple Bluetooth devices, including AmpMe, Bose Connect, and Ultimate Ears. AmpMe is the most versatile, as it's not brand-specific, while the Bose and Ultimate Ears apps require the respective company's Bluetooth speakers.
AmpMe syncs smartphones and Bluetooth speakers together to stream audio from SoundCloud, Spotify, YouTube, or your media library. Users can create or join parties on any of these platforms, and sync with unlimited devices.
Your smartphone can only connect to one speaker, so you'll need participation from friends and family to make it work.
The person who creates the party controls the music, but other users can send song requests using the app's chat feature. The host can also turn on the Guest as DJ feature, which lets other participants add songs to the queue.
After you download the app, link it to either your Facebook or Google account, then see if any of your contacts are on AmpMe, or turn on location services and find a party near you.
To start a party:
Tap the Plus (+).

Select the service (Spotify, YouTube, etc.), then tap Connect.

Tap Connect.

Log in to your account.

Choose or create a playlist.
Invite people to your party who can join remotely, or invite them over.
Use Audio Company Apps to Connect Multiple Bluetooth Speakers
With the Bose Connect and Ultimate Ears apps, you can pair a smartphone with two speakers each, but only on particular models. Bose Connect works with Bose speakers and headphones, and a Party Mode feature streams audio to two headphones or two speakers at once. The app's Google Play and App Store pages list compatible devices.
Ultimate Ears has two apps that stream audio to multiple speakers: Boom and MegaBoom, which corresponds to two lines of compatible speakers. These apps have a feature called PartyUp that connects over 50 Boom 2 or MegaBoom speakers together.
Use Samsung's Dual Audio Feature
If you have a Samsung Galaxy S8, S+, or newer model, take advantage of the company's Bluetooth Dual Audio, which works with most Bluetooth speakers and headphones; Bluetooth 5 isn't required.
To enable this feature:
Go to Settings > Connections > Bluetooth.

In Android Pie, tap Advanced. In earlier Android versions, tap the menu icon (3 vertical dots) in the upper-right corner.

Turn on the Dual Audio toggle switch.

To use Dual Audio, pair the phone with two speakers, two headphones, or one of each, and audio will stream to both.

If you add a third, the first paired device will be booted off.
If you link your Samsung with two sets of headphones, only the first connected device can manage playback using on-headphone media controls. You may also encounter Bluetooth speakers that are out of sync, so this feature is best for speakers located in separate rooms.
Use HomePod Stereo Pair
Apple has a similar feature to Samsung's Dual Audio called HomePod Stereo Pair that allows users to pair an iPhone or Mac with two HomePod speakers.
HomePod Stereo Pair requires an iPhone running at least iOS 11.4 or a Mac with macOS Mojave or later. You'll also need to HomePod speakers running iOS 11.4 or later.
When you set up a HomePod in the same room as another one, you'll get an option to use the speakers as a stereo pair. You can also use the Home app to set up this feature on an iPhone, iPad, iPod touch, or Mac. In either case, both HomePods must be in the same room to pair them.
Open the Home app, double-click or press and hold HomePod, then click or tap Settings.

Click or tap Create Stereo Pair.

Select a second HomePod.

You'll see two HomePod icons in the app. Tap or click a HomePod to map it to the correct channel (right and left).

Click or tap Back, then Done.
Need more speakers to connect and make your home a music mecca? This list might help.
The 7 Best Bluetooth Speakers of 2021
Frequently Asked Questions
Can I connect my iPhone to other Bluetooth speakers if I don't have a HomePod? Yes, with the help of third-party apps. Visit the App Store and search for apps that connect iPhones to various Bluetooth devices; read reviews and choose a quality product that works for you. Another option is to use AirPlay-enabled speakers.
How do I connect Google Home to Bluetooth speakers? You'll use the Google Home app to connect Google Home to Bluetooth speakers. Select your device > Settings > Default music speaker. Pair your Bluetooth speaker and follow the prompts.
How can I improve the sound from multiple connected speakers? To make your Bluetooth sound coming from multiple speakers louder and clearer, consider software-amplification apps and speaker-booster apps. Also, try moving your connected speakers away from obstructions in the room.
Thanks for letting us know!
Sours: https://www.lifewire.com/how-to-connect-multiple-bluetooth-speakers-4173788
I Tried Hacking a Bluetooth Speaker...
Best wireless speakers 2021: wonderful wi-fi speakers for the home
Best wireless speakers Buying Guide: Welcome to What Hi-Fi?'s round-up of the best wireless speakers you can buy in 2021.
The category of wireless speakers evolves and multiplies at a rate similar to new titles on Netflix. When it comes to driver-housing sonic boxes (cylinders, oblongs, spheres, wedges, jewels and teardrops) if you just want something for blasting out tunes in the kitchen, there are now some splendid options out there for little money.
But if you need a wi-fi speaker for home with a bit more versatility and have a more malleable budget, you can get a whole host of features plus better sound and multi-room capabilities for marginally (or substantially) more outlay.
Increasingly, wireless speakers also boast smart skills if you want them, with voice assistants like Amazon's Alexa and Google Assistant baked in for good measure. That means they'll be at your beck and call when it comes to shopping, weather forecasts or taking charge of smart home appliances like your lights and thermostat.
Whatever your needs, we have a great recommendation for you. Want to read more about your favourite in this list? There's a full What Hi-Fi? review attached to each product.
Want a smaller, cheaper wireless speaker you can sling in a bag and take to the park? Check out our best Bluetooth speakers recommendations.
1. Dali Katch G2
The Dali Katch G2 is simply the best sound-per-pound Bluetooth speaker on the market right now, both comfortable in your home and on the road.
Specifications
Dimensions: HxWxD (cm): 13.8 × 26.9 × 4.7cm
Power: : 2 x 25W
Features: Bluetooth 5.0 with aptX, apt X HD, USB-out for device charging, battery life of 30 hours
Connections: 3.5mm aux, dedicated mains charging port and adapter with UK, EU and US adapter plugs
Reasons to buy
+Excellent clarity+Impressive bass weight+Classy build and finish
Reasons to avoid
-No daisy-chaining for multiple Katch G2s
Although portable enough to be your travel speaker (and boasting a 30-hour battery) the Katch G2's dedicated mains charging port and adapter with UK, EU and US adapter plugs makes it an easy fit for your lounge too – and once there, it'll sound as detailed, clear and expansive as this money can buy.
There's actually no wi-fi onboard, so scroll on if that's what you chiefly need, but as a What Hi-Fi? 2021 Award-winner that's just as comfortable in your home as it is on the road, we feel duty bound to include it.
This is a speaker that not only fills a room despite being the width of a paperback, it oozes class both visually and sonically.
Read the full review: Dali Katch G2
2. Audio Pro Addon C10 MkII
Audio Pro adds Google Cast and AirPlay 2 to a winning recipe
Specifications
Dimensions: HxWxD (cm): 16.6 x 32 x 18cm
Power: 2x20W + 40W Digital class D
Features: wi-fi, multi-room, Bluetooth, Spotify Connect, Apple AirPlay 2
Connections: RCA, sub out
Reasons to buy
+Levelled-up streaming support+Greater clarity+Cleaner and tighter bass
Reasons to avoid
-Lacks the fun of the original
The 2021 update (sensibly titled MkII) to the three-time Award-winning Audio Pro C10 (also listed, below) adds AirPlay 2 and Google Cast to complete a multi-room home run and gain a 2021 What Hi-Fi? Award for the best home wireless speaker at £250 - £500.
When we tested its older sibling, we pitted it against models almost double its price and found it bettered them. We're happy to report that it's still the case today – if £500 ($500) is your maximum budget, you'll be hard-pressed to find a speaker that comes close to the Audio Pro C10 MkII.
We miss the leather handle and fun, slightly rock'n'roll aesthetic and sonic presentation of the original, but we can't argue with three options for multi-room streaming (AirPlay 2, Google Chromecast and Audio Pro's own slick and functional app) or the levelled-up grippy bass and improved hi-fidelity performance.
Read the full review: Audio Pro Addon C10 MkII
3. Apple HomePod Mini
Apple's new Siri-powered smart speaker is small but mighty
Specifications
Dimensions: HxWxD (cm): 8.4 x 9.8 x 9.8
Power: 20W
Features: Bluetooth 5.0, Siri, Apple Music, AirPlay 2, music over wi-fi
Connections: None
Reasons to buy
+Sophisticated, engaging sound+Substantial smart skills+Impressive music discovery
Reasons to avoid
-Limited third-party service support-Lacks a full control app
The HomePod Mini really is bijou. At just 8.4cm tall and 9.8cm wide, it's quite a bit smaller than the similarly spherical new Amazon Echo. In fact, it's even dwarfed by the new Echo Dot. Get its swirling orb of coloured light up and running (when Siri is listening or processing) though, and you realise you've got a classy performer on your hands.
It goes loud, too. From the moment we start playing music, it's clear that the HomePod Mini comfortably outperforms its size and price, quite frankly embarrassing its direct competition with the sophistication and maturity of its sound.
Siri is your voice assistant, and after a short period of learning it'll respond to the phrase "Hey Siri, play something I'll like" not by streaming your most played track of the last few weeks, but by playing something that you may have never listened to before but is a good fit for what you often do listen to. It's a really powerful way to discover new music, and Alexa is nowhere near as good at it.
Apple's HomePod Mini: every inch the What Hi-Fi? 2021 Award-winner.
Read the full review: Apple HomePod Mini
4. Naim Mu-so Qb 2nd Generation
Just a few tweaks make for a superb second version
Specifications
Dimensions: HxWxD (cm): 21 x 22 x 21
Power: : 300W
Features: Apple AirPlay 2, Chromecast, Spotify Connect, Tidal, Roon Ready, Hi-res up to 24-bit/384kHz, remote control
Connections: 3.5mm aux, USB, optical S/PDIF, Ethernet
Reasons to buy
+Open, detailed and expressive+Loads of streaming options+Multi-room ready
Reasons to avoid
-Nothing at this price
At What Hi-Fi?, we know full well the value of revisions. Yet still, it was quite the surprise when first we heard about one made by Naim, with its second generation of the Mu-so Qb wireless speaker. The previous iteration was great, earning five stars when it was first reviewed. This version, however, is is truly phenomenal.
You can now choose between an Olive, Terracotta or Peacock grille alongside the standard black, but the best tweaks Naim has made go far deeper. Remove whatever colour grille you've gone for and you'll be rewarded with upgraded and optimised midrange and bass drive units, all powered by a total of 300W of amplification.
Belying its box-like dimensions with a punchy bass alongside sparkling and rich tones across frequencies, the Mu-so Qb 2nd Generation scooped up a 2020 What Hi-Fi? Award last year for the best home wireless speaker over £500 ($500) – for the second year running.
Read the full review: Naim Mu-so Qb 2nd Generation
5. Linn Series 3
The best-sounding wireless speaker we've heard
Specifications
Dimensions: HxWxD (cm):25 x 29.6 x 20.6
Power: : 2x100W
Features: Wireless integrated Linn DSM player, Exakt digital crossover
Connections: Ethernet, USB, HDMI ARC
Reasons to buy
+Wonderfully articulate+Luxury design+HDMI ARC for TV connection
Reasons to avoid
-No analogue inputs-No Tidal Masters support
Let's address the elephant in the room: the Series 3 is the most expensive wireless speaker we have tested. It's over three times the price of the B&W Formation Wedge (listed below) and its looks are just as divisive. Can such an outlay be justified? Well, yes. And Linn's proprietary Exakt technology helps. Linn Exakt aims to reduce phase errors by intentionally delaying higher frequencies so they arrive at your ear at the same time as lower frequencies. It also keeps the music signal's data in the digital domain for as long as possible to avoid any degradation caused by signal processing.
We've heard Exakt do its thing in many a Linn product before, and here again it contributes to an absorbing performance. What's immediately striking is the stunning midrange clarity. The Series 3 is a sharp performer, and we don't just mean tonally.
The Linn's low-end agility ensures the accompanying bassline bobs along with bounce and interest. Where there's quality there's quantity, too. Whatever we throw at it, the Series 3 appears at ease – partly down to its balance and clarity but also the seamless integration of its drivers. Its insight sets it apart from its more affordable competitors, too.
Read the full review: Linn Series 3
6. Bowers & Wilkins Formation Wedge
This wireless speaker beats the competition by some distance
Specifications
Dimensions: HxWxD (cm):25.4 x 28 x 26
Power: : 4x40W + 80W
Features: proprietary mesh-system wi-fi, multi-room, Bluetooth v4.1 aptX HD, Spotify Connect, Apple AirPlay2, Roon ready
Connections: Ethernet, USB
Reasons to buy
+Detailed, balanced sound+Multi-room integration+Quality build
Reasons to avoid
-Limited B&W app-Expensive
Yes, it's pretty expensive for a one-box proposition, but the B&W Formation Wedge offers the kind of detailed, balanced, cohesive sound that cannot be ignored – making it a class-leader in its category. Offering 24-bit/96 kHz hi-res audio playback and B&W's proprietary mesh system for a basically-imperceptible microsecond between speakers when used with other Formation products (like the Formation Duo, below) the Wedge leaves the competition for dust.
Its looks can be divisive and you'll need to consider investing in a Roon subscription to get it at its glorious best, but even if you forgo Roon entirely, it's an excellent standalone performer.
Read the full review: Bowers & Wilkins Formation Wedge
7. Audio Pro Addon C3
A talented multi-room speaker with excellent sound quality
Specifications
Dimensions: HxWxD (cm): 11.5 x 21.5 x 13.5
Power: 2x5W + 15W Digital class D
Features: wi-fi, multi-room, Bluetooth V4.0, Spotify Connect, Apple AirPlay
Connections: Ethernet, 3.5 mm stereo
Reasons to buy
+Impressive timing+Solid build+Tight, textured bass
Reasons to avoid
-App could be slicker
This is basically the wi-fi-enabled, multi-room version of Audio Pro's Addon T3. It has the same minimalist looks that the Scandinavian company is known for, complete with textured surfaces and embossed leather carry handle, but the wireless tech adds a whole new dimension to your listening. It's just a shame that controlling it using the smartphone app isn't a bit better thought through. Still, this is a belter of a speaker, make no mistake, and a fine addition to any home set-up. A What Hi-Fi? 2021 Awards winner.
Read the full review: Audio Pro Addon C3
8. JBL Link Portable
For a great, affordable, durable home smart speaker, you'll be hard-pushed to find a product that can match JBL's Link Portable
Specifications
Dimensions: HxWxD (cm): 17 x 8.8 x 8.8
Power: 20W
Features: waterproof, Bluetooth v4.2, Google Assistant built-in, Chromecast, AirPlay 2, music over wi-fi
Connections: 3.5 mm stereo
Reasons to buy
+Expansive sound+Packed with features+Premium design
Reasons to avoid
-No JBL Connect support-Fussy over placement
The JBL Link Portable's neat connectivity features bring a plethora of streaming options to the table – features rarely seen at this end of the market, including AirPlay 2, Chromecast and hi-res support. You also get hands-free voice assistance, a charger cradle and wireless streaming via wi-fi or Bluetooth.
The Link Portable looks and feels like a premium product. For a speaker of this size, it has oodles of detail and an expansive mix with everything present, including bass. While there's no PartyBoost or Connect+ support for daisy-chaining other JBL speakers, the Link Portable makes JBL a serious contender in the category of affordable wireless speakers.
Read the full review: JBL Link Portable.
9. Dynaudio Music 5
A superb sonic performance from a distinctive speaker
Specifications
Dimensions: HxWxD (cm): 20 x 66 x 18.5
Power: 250W
Features: 2x 25mm tweeters, 2x 8cm midrange, 13cm woofer, multi-room options, NoiseAdapt, RoomAdapt
Connections: mains power, analogue audio jack, Toslink optical digital audio
Reasons to buy
+Expansive, weighty and accurate+Great for larger rooms+Top-notch build
Reasons to avoid
-No AirPlay 2-No Spotify Connect
The Dynaudio Music 5 is the second-largest one-box speaker in the company's inaugural, four-strong Music series. Love or loathe the way it looks, (think huge, Indiana Jones-style ruby or the objects in the abstract chamber in Pixar's Inside Out) we can't help but be won over by how the Dynaudio Music 5 sounds.
The Dynaudio Music 5 is a powerful proposition, but one that still displays the sonic nous to keeps things refined. While the Award-winning Naim (above) just edges it for both subtlety and a slightly livelier sound, there isn't much in it – and the Dynaudio Music 5 boasts superiority in other ways. In a larger room, it boasts better weight, scale and authority. It also offers something smooth, detail-rich, refined and resoundingly listenable – a sonic performance that will suit many tastes.
Depending on your room size and requirements, the Dynaudio Music 5 brings a meatier – and more easily adaptable – performance to the table.
Read the full review: Dynaudio Music 5
10. Audio Pro Addon C10
Another class-leader from a company on a roll
Specifications
Dimensions: HxWxD (cm): 11.5 x 21.5 x 13.5
Power: 2x5W + 15W Digital class D
Features: wi-fi, multi-room, Bluetooth V4.0, Spotify Connect, Apple AirPlay
Connections: 3.5 mm stereo
Reasons to buy
+Rich, powerful performance+Expert sense of timing+Multi-room functionality
Reasons to avoid
-Nothing at this price
Audio Pro consistently makes some of the best Bluetooth speakers on the market and the Addon C10 is another impressive Award-winning model. Connectivity is among the most thorough you can expect at the money, with wi-fi, Bluetooth and AirPlay, plus aux and RCA inputs. It has all the major music streaming services, including Spotify, Tidal and Qobuz. The Addon C10 sounds big and bold, but is equally able to capture the subtler, more nuanced tracks as it is firing out big bassy numbers. Although it has recently been superseded by the C10 MkII (above) it's still last year's 2020 What Hi-Fi? Award winner, a title it also stormed away with in 2019.
Read the full review:Audio Pro Addon C10
11. Bowers & Wilkins Formation Duo
Wonderfully accomplished, sophisticated wireless speakers
Specifications
Dimensions: HxWxD (cm): 39.5 x 19.7 x 30.5
Power: 2x 125W per unit
Features: Bluetooth aptX HD, wi-fi, multi-room, Spotify Connect, Apple Airplay 2
Connections: USB, Ethernet
Reasons to buy
+Excellent multi-room features+Snappy timing+Tight, authoritative bass+Transparent performance
Reasons to avoid
-No fully featured app
They're not cheap and the aesthetic won't appeal to everyone, but if you want a wireless pair of standmounts that nothing comes close to right now in terms of sound, you've just found them. The Duos are deadly precise speakers with excellent clarity and a performance that makes you want to dig out tune after tune just to hear what they can do.
The multi-room feature set, while not perfect (we'd prefer a single app to handle every function), is more than made up for by the superb audio performance.
Read the full review: Bowers & Wilkins Formation Duo
12. Naim Mu-so 2
A super-sounding and feature-packed premium wireless speaker.
Specifications
Dimensions: HxWxD (cm): 12.2 x 62.8 x 26.4
Power: 450W
Features: Bluetooth V4.0, multi-room, wi-fi, UPnP, Spotify, AirPlay 2, Chromecast, Tidal
Connections: 3.5mm stereo, optical, Ethernet, HDMI ARC
Reasons to buy
+Sensational detail and dynamics+Convincing bass+Loads of wireless and streaming features
Reasons to avoid
-That price tag
The Naim Mu-so-2's extensive feature set includes all manner of wireless streaming technologies such as AirPlay 2 and Chromecast. Tidal and Spotify are also supported, as is high-res audio to the tune of 24-bit/88kHz. It's not just about streaming, though, with a HDMI ARC input allowing you to hook up a TV and boost its sound at the same time.
The Naim looks like a premium wireless speaker and it sounds like one too, with a rich, confident sound, packed full of detail and delivered with immense rhythmic drive. Bass is plentiful and of a high quality.
If your budget allows, you'll be suitably impressed.
Read the full review: Naim Mu-so 2
13. Sonos One
Sonos sound quality meets Alexa voice control smarts
Specifications
Dimensions: HxWxD (cm): 16.1 x 12 x 12
Power: 2x Digital class D
Features: wi-fi, Alexa voice assistant, AirPlay 2, multi-room, Apple Music, Spotify, Amazon Music, SoundCloud, Deezer, Tidal
Connections: Ethernet
Reasons to buy
+Stylish and unobtrusive+Solid, sophisticated sound+Alexa well integrated
Reasons to avoid
-No hi-res audio
The second-generation Sonos One is really a Sonos Play:1 in new clothing, but that's no bad thing. It now boasts Amazon's Alexa smart assistant for voice controls, and it's all the better for it. In fact, with its room-filling sound, it stands apart from the glut of smart speakers that are smart first and speakers second. Throw in Apple's AirPlay 2 tech and the fact that the One fits seamlessly into a multi-room set-up, and you've got a winner on your hands.
Read the full review: Sonos One
14. KEF LSX
This system might be small, but it has a big sound and lots of features...
Specifications
Hi-res support: 24-bit/192kHz
Streaming services: Apple AirPlay 2, Spotify Connect, Tidal
Bluetooth: 4.2 with aptX
Inputs: Optical, 3.5mm, ethernet
Finishes: 5
Dimensions: 24 x 15 x 18cm (each)
Weight: 3.5kg (each)
Reasons to buy
+Brilliant insight+Lots of connections+Colourful
Reasons to avoid
-Some issues with the app
This is actually an all-in-one system, comprising a network streamer, Bluetooth receiver and amplifier, all built into a pair of stereo speakers. The speakers talk to each other wirelessly, so there's no need for a joining ethernet cable, and they come in a range of bright but stylish colours. But you will need to plug them into the mains.
You have plenty of choices when it comes to sources: streaming comes either over DLNA or from Tidal (both from within the KEF Stream app), while Spotify Connect, Roon compatibility and Apple AirPlay 2 are also part of the package. And the sound? As beautifully expressive, tonally even and rhythmically astute as you would expect given their lineage.
Read the full review: KEFLSX
15. Sonos One SL
Specifications
Dimensions: HxWxD (cm): 16.1 x 12 x 12
Power: 2x Digital class D
Features: wi-fi, AirPlay 2, multi-room, stereo pairs with Sonos One, Apple Music, Spotify, Amazon Music, Deezer, Tidal
Connections: Ethernet
Sours: https://www.whathifi.com/us/best-buys/best-wireless-speakers-wonderful-wi-fi-speakers-for-all-budgets
Bluetooth speaker stream
.
How To Connect a Bluetooth Speaker to Roku TV
.
You will also be interested:
.
933
934
935
936
937