10 Times Regional Mexican & Urban Artists Teamed Up for Game-Changing Collabs
The list even includes T3R Elemento and Farruko's corrido sirreño "Del Barrio a la Ciudad," which was made possible thanks to DEL Records founder Angel del Villar, T3R Elemento's label, and producer Alex Gárgola, who sent the song to Farruko.
From Christian Nodal and Piso 21 to the recent Nicky Jam and Natanael Cano joint, check out the complete list below.
Play-N-Skillz, Nicky Jam & Natanael Cano
Not only did Natanael Cano drop an all-trap album dubbed Trap Tumbado earlier this year but he also began teaming up with many urban artists including Eladio Carrion for his "Ele Uve (Remix)" featuring Ovi and Noriel, and most recently on "Billetes," with Nicky Jam at the helm of Play-N-Skillz. The trap-heavy track, which kicks off with Cano's infectious requintos, is about a person who's making big money.
Gente de Zona & Gerardo Ortiz
A mariachi tune comes on and Gerardo Ortiz kicks off the song singing lyrics of heartbreak then, plot twist, Gente de Zona's Alexander takes over the track that's now become a reggaeton-pop track, which continues to go from mariachi to rhythmic for the duration of the song. It's a real treat and refreshing at the same time to see the artists step out of their comfort zone in "Otra Botella" which becomes the first collaboration between the Cuban duo and the regional Mexican singer.
Banda MS, Snoop Dogg, and Becky G
Banda MS and Snoop Dogg dropped "Que Maldición" on May 1, proving that regional Mexican and hip-hop music are a perfect union between two cultures. Proposed by Sergio Lizárraga, founder of Banda MS, the bilingual collaboration meshes banda and rap music with chill rhythms. In "Que Maldición," Snoop expresses his feelings in a web of Spanglish verses.
T3R Elemento & Farruko
Marking the first-ever time Puerto Rican artist Farruko tests Regional Mexican waters, comes "Del Barrio a la Ciudad" (From the hood to the city), in collaboration with T3R Elemento. "He liked the song and so he wanted to jump on it," del Villar told Billboard. "Farruko had been wanting to do something like this and this song caught his attention." T3R Elemento's lead singer Kris Nava added: "My fans are not going to expect this. I think they will like it and will be curious to hear this new song we made for them with Farruko. It's a game-changer." A lyric video premiered Monday (April 20).
Christian Nodal & Piso 21
Leave it to Piso 21 to prove that a fusion between pop-urban and regional Mexican music is not only possible but quite the mix. In September, the Colombian group premiered "Pa' Olvidarme de Ella" in collaboration with Christian Nodal. The four-minute track has the best of both worlds, perfectly melding Latin trap and ranchera. Yes, they did that! In the song, Piso and Nodal sing about a girl who did them wrong and are trying everything possible, including drinking their sorrows and getting buried alive, to forget about her.
Luis Coronel & Play-N-Skillz
Luis Coronel's "Que Bomba" in collaboration with Play-N-Skillz perfectly combines Coronel's Regional Mexican essence and Play-N-Skillz's creative, experimental sounds in a refreshing electro-cumbia bop with hints of reggaeton. The fun music video shows the boys crushing over a beautiful girl against the backdrop of western-inspired scenery. On the Regional Mexican Digital Song Sales chart, "Que Bomba" debuted and peaked at No. 15.
Natanael Cano & Bad Bunny
Bad Bunny rarely posts on Instagram, but when he does, he's drinking tequila and jamming to urban corridos. On a video dated Oct. 11, the Puerto Rican rapper is seen singing along to Natanael Cano's "Soy El Diablo," ahead of his appearance at the 2019 Pornhub Awards and kicking off his X100Pre tour in Mexico. Less than two weeks later, Bunny jumped on the remix, keeping Cano's corridos tumbados melodies and adding his rap verses about a guy who runs the streets.
Pipe Bueno & Maluma
Jumping on the trend before everyone else was Pipe Bueno and Maluma, two of today's beloved artists hailing from Colombia. In 2016, the two dropped "La Invitación," a romantic bop that fuses Pipe's heartfelt ranchera and Maluma's catchy urban-pop melodies. Although he's Colombian, Pipe Bueno's music is influenced by Regional Mexican, having a few mariachis and norteño songs up his sleeves.
Jessi Uribe, Jhonny Rivera & Andy Rivera
While most Regional Mexican acts are testing the urban waters, Colombian reggaeton singer Andy Rivera is doing things the other way around. In "Alguien Me Gusta," released on Sep. 19, Rivera teamed up with Colombian mariachi singers Jessi Uribe and Jhonny Rivera to drop a norteño jam about a man who rather swallows his feelings than tell the girl he likes that he likes her. "I like someone but I can't tell her because she already has her life and I can't destroy it."
Adriel Favela & OVI
Earlier this year, Adriel Favela surprised his fans by dipping his toes into the reggaeton scene. On March 8, the Mexican-American artist teamed up with rising reggaeton artists Ovi and Yenddi to drop "Cuando Me Ve," an infectious urban bop with flairs of Latin trap. The track and music video has been removed from social media and digital platforms for reasons unknown to Billboard. However, in an interview posted by Gerencia 360, both artists talk about their Regional Mex and urban collaboration. Watch it here.
Sours: https://www.billboard.com/articles/columns/latin/8541558/regional-mexican-urban-artist-collaborations
How Trap Met Corrido: The Fusion Genre Taking Over Mexico
One thing is certain in music this year: trap is everywhere. The hip-hop movement, which started in Atlanta, has since spawned microgenres around the world. Today, trap spin-offs include everything from the language-specific interpretations of trap en español, deutsch trap and Arabic trap to rhythmically experimental movements, such as trap funk, trap and bass, or even float tank trap. If there were ever a genre representative of how music transcends and influences cultures, it's this one. Now there's a new take hitting the airwaves, inspired by life in northern Mexico and along the US-Mexico border: trap corrido.
At first blush, the idea of trap mixed with corrido (Mexico's accordion-laced regional folk ballads that date back to the 19th century and include "La Cucaracha") might seem unlikely to work. But for pioneers in the genre such as Alemán, the rapping duo La Plebada, and nuevo corrido band Grupo Codiciado—who recently collaborated with emerging trap star Gera MX— the combination was meant to be.
After all, as the rappers behind La Plebada, Fntxy, and Cozy Cuz point out, if you grew up in Los Mochis, Sinaloa, corrido and hip-hop were everywhere. The 29-year-old Fntxy told For the Record that listening to his grandmother's corrido ballads was his first musical memory. Corrido is in his blood, but, he said, he couldn't sing, so he "had to rap." Fusing the two genres came naturally to the duo. "One day, we recorded with a guitar, the next day with a beat, and the next day we invented a genre that didn't exist," Fntxy told us.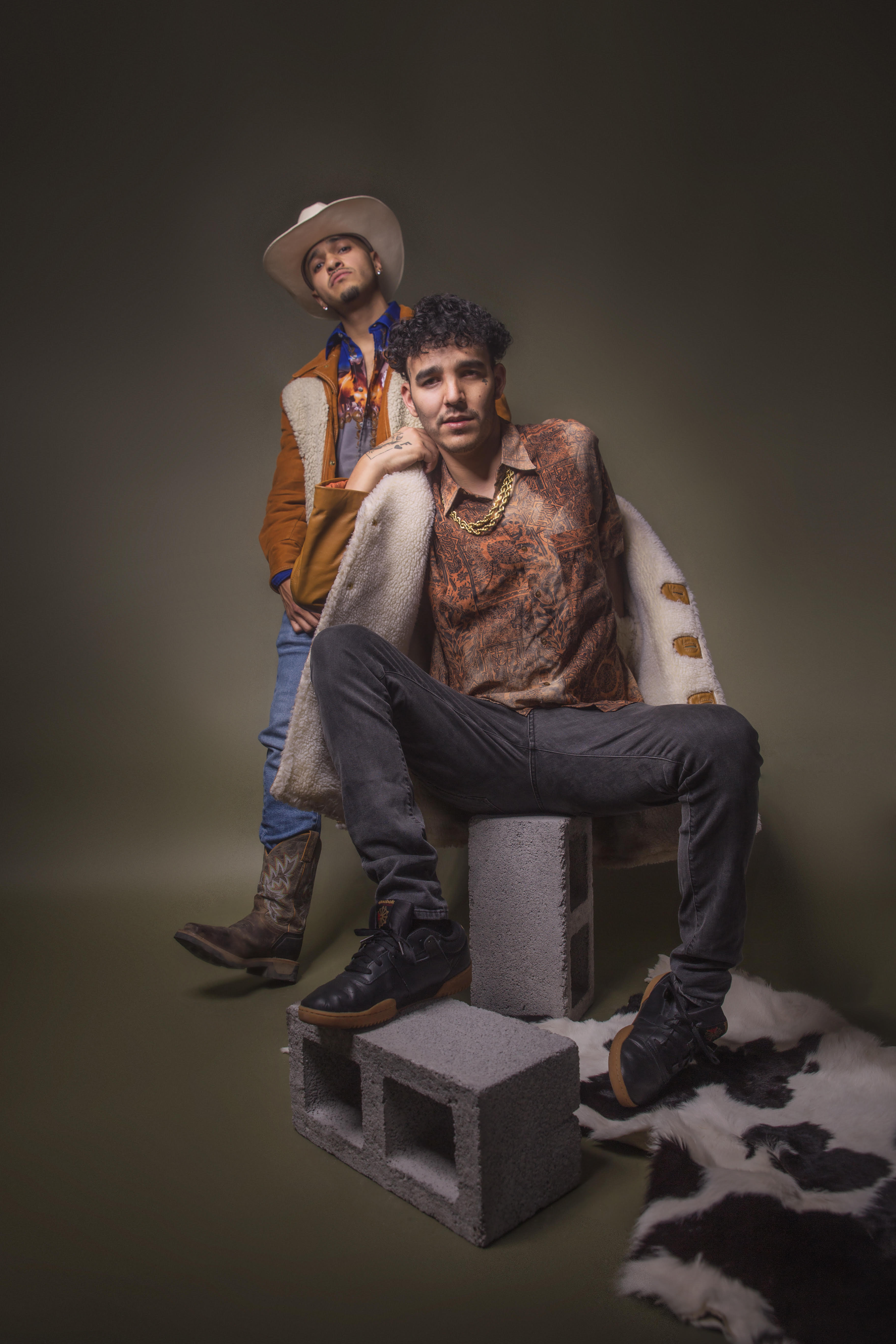 La Plebada
For Grupo Codiciado, based in Tijuana, the decision to combine corrido with trap was much more deliberate. Collaborating with Gera MX gave them the chance to push the creative limits of corrido. Erick Aragón, the band's 26-year-old lead singer, originally founded Grupo Codiciado because the more traditional corrido groups he was playing in wouldn't allow him to experiment with the genre. When he found out Gera MX was not only a fan of corrido, but keen to collaborate, he reached out to his fellow Mexican artist. After throwing a few ideas around on Whatsapp, they headed to the studio to record "Ahí Les Va," a punchy track with a guitar-derived rhythm, and another single that comes out in July.
Right now, there are no hard and fast rules around trap corrido, and there's a sense of experimentation each time someone puts the two together. What elements will they take from trap? What will they take from corrido? While musically, corrido's most signature sounds are the use of the accordion and the bajo sexto (a type of 12-string guitar specific to Mexico), it's also a cultural and lyrical phenomenon rooted in a tradition of telling stories about what young men do on a daily basis—drive around, party, and hang out.
Both trap and corrido are "genres of the street," says Alemán. As he outlines life in northern Mexico, the rapper, who hails from Cabo San Lucas, Baja California Sur, prefers to combine the two by overlaying trap beats with lyrics that take their cues thematically from corrido. Rather aptly, the music video for his single "Rucón," features a corrido-inspired aesthetic. Dressed in button-up shirts, tejana hats, and vaquero boots, Aleman raps, "esto es 100% México," (this is 100 Mexico) over a traditional trap beat.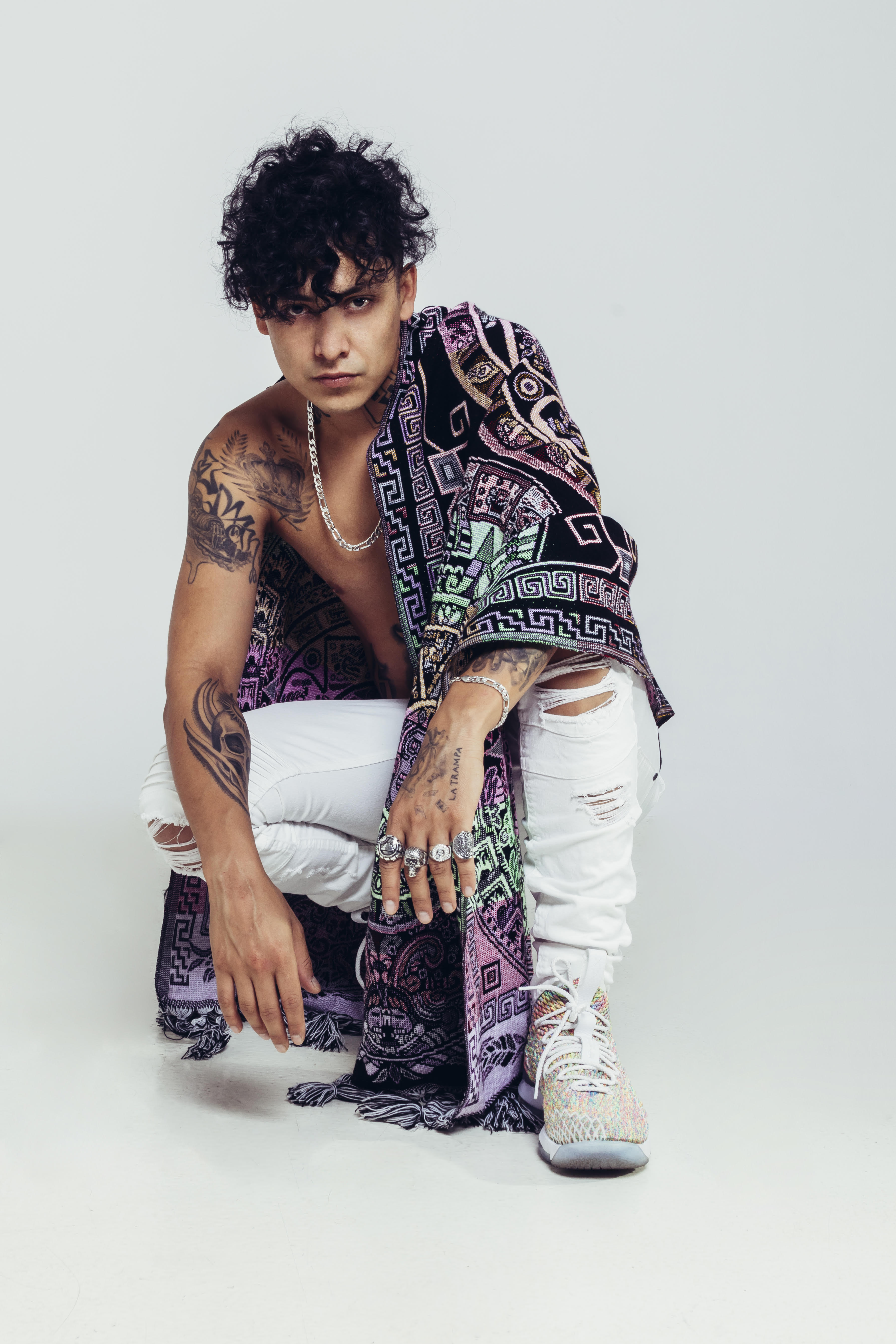 Alemán
For Grupo Codiciado, the oral history tradition of corrido and its role in building an identity and passing along information to the next generation has been just as important as perfecting the trap beat.When composing, Aragón draws on his experiences with immigration and crossing the U.S.-Mexico border. He said, "As a singer, you have the opportunity to share messages. The next generation, they don't know, but they can learn from your path." Navigating the expectations of both genres has been part of the process. However, at least according to La Plebada, the reaction has been enthusiastic, even from those they didn't expect to like their music.
After their first single, "Los Plebes," dropped, Noisey described trap corrido as "trap para los niños del rancho" (trap for kids from the ranch). Both Fntxy and Cozy Cuz chuckled at this description. "Totally," they said. "We make music for people from el rancho, and who aren't from el rancho. It's very much about the lifestyle of the area: the horses, the roosters, the cows, the beach. To us, the music is almost nostalgic—for the people who no longer live there, and for the people who live this day-to-day. " As they told For the Record, it's about paying homage to their roots on the ranch, but in a modern way.
In the mood for more regional trap? Check out Trapperz Mexa for the best and latest coming out of Mexico.
Sours: https://newsroom.spotify.com/2019-05-29/how-trap-met-corrido-the-fusion-genre-taking-over-mexico/
Control Machete

126,923 listeners

Two hours south of the Texas border in Monterrey, Mexico comes Control Machete. Pato, Toy Kenobi, and Fermin IV Caballero were destined to…

Don't want to see ads? Upgrade Now

Kinto Sol

18,245 listeners

Billboard music award winners, "Kinto Sol" is made up of the Garcia Brothers, Manuel "Skribe", Javier "DJ Payback" and Eduardo "El Chivo". Their…

Delinquent Habits

159,207 listeners

Delinquent Habits (a.k.a. Los Delinquentes) is a Chicano hip-hop group. Formed in Los Angeles in 1991, they are known for their Latin-tinged rap,…

Kid Frost

69,925 listeners

Kid Frost (b. May 31, 1964, as Arturo Molina Jr), now known as Frost. He is a popular and first widely recognized chicano (Mexican-American) rapper…

Conejo

19,912 listeners

Conejo is a Chicano rapper, originally from Los Angeles, California. Recognized as one of the finest examples of Chicano rap, because of his…

Don't want to see ads? Upgrade Now

Tha Mexakinz

10,687 listeners

Tha Mexakinz comprised MCs Rudy "I-Man" Archuleta and Rodrigo "Sinful" Navarro and the newest addition to group Manuel"Cashmiro"Navarro They…

The Psycho Realm

87,418 listeners

Jack and older brother Duke make up the chicano (Mexican-American) hip-hop group that has long reigned as the undisputed king of the Los…

Bocafloja

11,616 listeners

Hailing from Mexico city, Bocafloja strives in search of alternative forms of classic hip hop structure in the form of MC. Bocafloja uses Hip Hop…

Cartel De Santa

82,528 listeners

Cartel de Santa is a Mexican hip hop band from Santa Catarina, Nuevo León, Mexico, since 1996.

Cartel de Santa presents us with their first musical…

Lil Rob

105,747 listeners

Lil Rob (born Roberto Flores in September 1975) is a Chicano rapper from San Diego, California.

Lil Rob debuted as an artist in 1992, prior to the…

Akwid

37,530 listeners

Akwid is a Mexican-American Hip Hop group, combining hip hop-style vocals with regional Mexican music. An earlier incarnation of the group was known…

B-Real

81,606 listeners

B-Real (born Louis Freese on June 2, 1970) is a Latin rapper of Cuban and Mexican heritage. He is best known for being the lead rapper in hip-hop…

La Sinfonia

2,227 listeners

We don't have a wiki here yet...

Street Platoon

6,413 listeners

In 2001 the Sick Symphonies label released The Steel Storm the first album of a new group called Street Platoon. Jacken with the help of Street…

Lighter Shade Of Brown

29,122 listeners

Lighter Shade Of Brown (L.S.O.B.) was formed in Riverside, California by ODM (One Dope Mexican, born Robert Gutierrez) and DTTX (Don't Try To…

Sick Jacken

17,007 listeners

Tragedy and Triumph…Two sides of the same ever-spinning coin that rules the game of life. No man can predict when or on which side the coin will…
Sours: https://www.last.fm/tag/mexican+rap/artists
Lil Mexico - La Salsa (Official Video)
Top 25 Mexican Rappers (Best Mexican American Rappers)
The Top Latino & Mexican Rappers List
What may come to a surprise for many is that Latino rappers have been contributing to the rap game for the longest.  Primarily Mexican rappers, artists like Cypress Hill, Kid Frost, South Park Mexican, or even Baby Bash and Chingo Bling have not only become legends in hip hop, but also helped opened the doors for numerous Latino rappers through pioneering a genre of rap music and being the first of their kind.
Seeing rise in Mexican rappers is not anything new, but something that has been in the making since the 1990s.  With large Hispanic populations in California and Texas, these two places have been the leading rap scenes, but not the only place to produce Mexican and Latino rappers.
While the vast majority of Mexican rappers call southern California their home, places like northern California, Texas, Atlanta, Arizona, and even New York have produced some of the countries top Latino rappers.  With growth in hip hop, the country's top Mexican rappers have been expanding their ground further into the American hip hop scene, and not just in California and Texas, which for years have been the stronghold for Mexican American hip hop artists.
While there are Youtube channels and outlets like Latin Beast TV and Neighborhood Music that have been providing numerous Latino rappers the opportunity display their talents and music through their platforms, the list below will further expand with a breakdown of the top Mexican rappers within the United States, and to be clear only the United States and not Mexico.
It should be easy to understand that the top Latino rappers have expanded well outside of a niche audience as many have become mainstream artists.  With the growing popularity of hip hop throughout the country and throughout world Mexican rappers are the leaders and at the forefront for hip hop in Latin America.
Top 25 Mexican Rappers
1. Snow Tha Product, follow on Instagram: @SnowThaProduct and subscribe on Youtube: SnowThaProduct
2. King Lil G, follow on Instagram: @King Lil G and subscribe on Youtube: King Lil G
3. OhGeesy, follow on Instagram: @OhGeesy and subscribe on Youtube: OhGeesy
4. Mr. Capone-E, follow on Instagram: @Mr Capone E and Subscribe on Youtube: MR Capone E
5. Peso Peso (Texas), follow on Instagram: @Peso Peso and subscribe on Youtube: Peso Peso
6. Bravo The Bagchaser, follow on Instagram: Bravo The Bagchaser and subscribe on Youtube: Bravo The Bagchaser
7. Young Drummer Boy, follow on Instagram: @Drummer Boy and subscribe on YouTube: Young Drummer Boy
8. DEVOUR, follow on Instagram: @Devour and subscribe on Youtube: DEVOUR
9. Kap G (Atlanta), follow on Instagram: @Kap G and subscribe on YouTube: KAP G
10. Mr. Criminal, follow on Instagram: @Mr Criminal and subscribe on YouTube: Mr Criminal
11. CNG, follow on Instagram: @CNG and subscribe on Youtube: CNG 
12. Kruk One, follow on Instagram: @Kruk One and subscribe on Youtube: Kruk One
13. Sad Boy Loko, follow on Instagram: @Sadboy Loko and subscribe on YouTube: Sadboy Loko
14. $uede follow on Instagram: @$uede and subscribe on Youtube: $uede
15. Cashout Ace, follow on Instagram: @Cashout Ace and subscribe on Youtube: Cashout Ace
16. BOE Sosa, follow on Instagram: @BOESosa and subscribe on Youtube: BOE Sosa
17. YBE, follow on Instagram: @YBE and subscribe on Youtube: YBE
18. YTM Lilvent, follow on Instagram: @YTM Lilvent and subscribe on Youtube: YTM Lilvent
19. Chito Rana$, follow on Instagram: @Chito Rana$ and subscribe on Youtube: Chito Rana$
20. Lil Weirdo, follow on Instagram: @Lil Weirdo and subscribe on Youtube: Lil Weirdo
21. Bella follow on Instagram: @Bella and subscribe on Youtube: Bella
22. Reverie, follow on Instagram: @ReverieLove and subscribe on YouTube: Reverie Love
23. Swifty Blue, follow on Instagram: @Swifty Blue and subscribe on Youtube: Swifty Blue
24. eLVy The God, follow on Instagram: @Elvy_TheGod and subscribe on YouTube: Elvy The God
25. Gavlyn, follow on Instagram: @Gavlynnn and subscribe on Youtube: Gavlyn
Honorable Mention Mexican Rappers:
Vel The Wonder follow on Instagram: @Vel The Wonder and Youtube: Vel The Wonder
TrenchMobb (Chicago) follow on Instagram: @TrenchMobb and YouTube: TrenchMobb
Blaatina (Atlanta) follow on Instagram: @Blaatina and Youtube: Blaatina
Jali$co follow on Instagram: @Jali$co and Youtube: Jali$co
Conejo  follow on Instagram: @Conejo and youtube: Conejo
SmokeyGM  follow on Instagram: @SmokeyGM and Youtube: SmokeyGM
Malow Mac  follow on Instagram: @Malow Mac and Youtube: Malow Mac
Top Mexican Rappers Related Topics:
1 Top Rappers from Mexico
2 Top Los Angeles Rappers
3 Top New York City Rappers
4 Top Dallas Rappers
*Unofficial Order. Artists with largest number of subscribers, followers, listeners, and most recent views near the top.
Sours: https://www.kulturevulturez.com/top-mexican-rappers/
Trap rappers mexican
Mexican corridos with a trap beat: The future of L.A. music might be Rancho Humilde Records
On a quiet, hedge-lined block in Downey, the affluent, now majority-Latino suburb in southeast L.A., Jimmy Humilde, CEO of Rancho Humilde Records, is putting the finishing touches on the latest addition to his lavish home: an indoor shark tank. Soon to house a leopard shark and a gray shark, the aquarium sits at the base of a white marble staircase, crowned by a painted fresco of cherubs and a single eagle flying between fluffy clouds. The eagle pays tribute to Humilde's late father.
"One thing that I promised myself is that, if I made it, I wasn't leaving the hood — now I'm two minutes away," says Humilde, now 41. "That's where I get the good tacos."
During the pandemic, the mansion he shares with his wife and two children became the temporary headquarters for his homegrown independent label, which over the past couple of years has disrupted and conquered the highly competitive and often insular world of regional Mexican music. The house has even served as a luxe pandemic crash pad for some of the young artists — from Sonora to Miami to South Central L.A. — that he signed to the label. "They go crazy for the trampoline," he says, waving a tattooed arm toward the backyard.
Dressed in casual blue jeans, a black T-shirt and a fitted cap that reads "Humilde," he swans across the property, past the pool and toward a garage the size of a full mechanic shop. There, he keeps more than a dozen 1960s Chevy Impalas, freshly polished and painted in splashy reds, blues and greens. The cars feature prominently in the music video for "Feeling Good," a 2020 collaboration between Rancho Humilde stars Natanael Cano and Ovi, Chicana rapper Snow Tha Product and Long Beach legend (and regional Mexican music superfan) Snoop Dogg. Humilde couldn't help but appear in the video , gleefully manning the wheel of a teal lowrider.
"You can take the homeboy out the hood," says Humilde, flashing his Cartier watch. "But you can't take the hood out the homeboy."
Co-founded in 2011 with his friends José "JB" Becerra and Roque "Rocky" Venegas, Rancho Humilde counts more than 80 acts who share one mission: to evolve the regional Mexican music tradition for a younger, more bicultural generation of fans. The label champions artists whose heritage is not just reflected in corridos, the gritty Mexican folk ballads that narrate the inner lives of hustlers, immigrants or ordinary people trying to survive but also in the sounds and styles of their favorite rappers from the United States. The resulting blend is described as "corridos tumbados," or "trap corridos."
"It's like a new era of hip-hop," says Humilde. "This genre came in and reshaped the Mexican sound."
It's a departure from regional Mexican music's establishment, which favors analog interpretations of norteño, mariachi and banda sounds. After prominent bands like Los Tigres del Norte or Los Tucanes de Tijuana mainstreamed corridos by spinning epic desert tales about real-life drug lords and smugglers — dubbed "narcocorridos" — the trap-infused corridos on Rancho Humilde connect more with young city dwellers. In recent years, albums by Cano, Fuerza Regida and Junior H have surpassed many legacy acts on the regional Mexican Billboard charts, tallying hundreds of millions of streams with their streetwise corridos. "The L.A. vibe is our secret sauce," says Humilde.
The rise of Rancho Humilde is inextricable from the larger growth spurt happening in regional Mexican music. According to a 2021 Chartmetric study, among the share of Top 100 artists on YouTube, regional Mexican music grew by 30% in 2020. That same year, Apple Music reported a 30% uptick in regional Mexican streams, and Spotify reported 1.8 billion annual streams of regional Mexican songs. "Regional Mexican as we know it is redefining itself and expanding its reach across borders," says Spotify's Head of Latin, Monica Herrera Damashek.
"We skip radio and television promo, because what we do speaks directly to the people," explains Humilde, who has doggedly promoted his artists on YouTube and Instagram. "We still use the regional [Mexican] instruments, but our movement comes from urban life, the city life. At this point, calling what we do 'regional Mexican'… is like calling reggaeton salsa."
Humilde grew up in once-multicultural Venice. "My best friends growing up were Black, Mexican and a white dude named Sean," he says. He tried his hand at a few different instruments, hoping to play in a corrido band someday, "but I was no good at any of them," he laments. "When I heard Chalino Sánchez at 14, I fell in love with the whole corrido movement, the same way I fell in love with N.W.A. But at the time, Spanish music wasn't in. Everyone was into rap and house music."
Humilde dropped out of high school to begin working the flyer party circuit in the '90s . There, he studied the world of L.A. nightlife harder than he had any subject in school; whether it was a hip-hop house party or a warehouse rave, Humilde promoted it. It was through his other job at a taco truck that he forged connections with the city's Mexican American community, who at the time preferred to dance to banda music. He met his business partner, Becerra, by selling him tacos; eventually, they began plotting parties at a house in Compton that J.B. christened "Humilde Rancho," or Humble Ranch. "That's when people starting calling me 'Jimmy el Humilde,' and it just stuck," he says.
Humilde began booking shows for burgeoning corrido acts like Komando Negro and Los Hijos de Barrón — "then we'd play West Coast hip-hop and reggaeton in between sets," he said. "You know, for the girls to dance. I wanted my parties to be different, to be L.A."
Humilde rapidly expanded from booking artists to managing and developing them. But soon enough, Hijos de Barrón would be scooped up by Universal, and Komando Negro by emerging indie label DEL, also home to young corrido acts like Eslabon Armado and the late Ariel Camacho.
"We'd invest in building artists' careers, then other labels would snatch them," says Humilde. "I didn't know anything about running a label, but I was getting tired of losing people." By 2011, Rancho Humilde Records was born.
"I looked up to guys like Puff Daddy, Dr. Dre and Master P," says Humilde, citing storied hip-hop successes like Death Row and Bad Boy Records as the blueprints for his business. His early signings were aligned with SoCal's weed culture; Orange County group Legado 7 coined the term "corridos verdes," or green corridos. "Weed was about to be legalized here in California, so we hit the stoner market with them," says Humilde. He also took a chance on Arsenal Efectivo — "[led by] this crazy mofo, Francisco [Rodriguez]," he says. "He's the one who started calling the music 'trap corridos' — because he was actually trapping. He went to jail for transporting illegal weapons to Mexico."
By 2020, releases by both artists went platinum.
Today, 19-year-old Natanael Cano is the label's most popular act. Hailing from Hermosillo, a town in Sonora, Mexico, the lanky singer-guitarist has clocked hundreds of millions of streams on YouTube and Spotify. Cano's 2019 album "Corridos Tumbados" debuted on the Billboard 200 chart at No. 166 — a first for any Rancho Humilde act — and 80 weeks later, remains at the top of the Regional Mexican albums chart. By the summer of 2020, Cano was the third most-consumed Latin artist in the U.S. according to Nielsen Music, behind reggaeton powerhouses Bad Bunny and Ozuna.
"When he got his first big paycheck, Nata bought two things: a house for his mother and a truck for his father," says Humilde, who signed Cano after watching him play guitar on Instagram. "Then he bought the GT-R."
Phoning from inside his Nissan GT-R sports car, Cano is a man of few words apart from his songs, which detail mercurial teen romances, as well as his dreams of stardom. "I keep it simple," says Cano. "When Jimmy signed me, I asked him for $30,000 and a trip to L.A. I said I'd make it up to him... and I did more than that."
Cano's breakout moment came in 2019, when reggaeton superstar Bad Bunny appeared on Instagram, downing tequila and singing Cano's "Soy el Diablo" ("I Am the Devil") into his phone. The two would cobble together a remix, for which Bad Bunny adopted a norteño cadence to match Cano's bristly acoustic guitar work. "I don't just record a corrido with anyone; it has to bring something different to the table," says Cano. "That's where the opportunity is."
Bad Bunny is one of the few outsiders that Humilde has vetted and approved to work with his label. "I've turned many people down," says Humilde. "Another reggaeton guy wanted to work with us, but I thought his song was a little degrading to women. I won't release anything that talks bad about women — my mom would whoop my ass."
In early 2020, Humilde signed 18-year-old singer-songwriter Ivonne Galaz, Rancho Humilde's first female artist. Born in Ciudad Obregón, Sonora, Galaz and her older sister came to the United States as teens after their mother died of leukemia. Galaz recorded her first song with Cano, "Golpes de la Vida," or "Hits of Life," which recalls her journey from a shy tomboy in Sonora to a self-assured young woman living in L.A. "I do not come to show you what I lack," she sings with a smooth, unruffled alto.
"I actually lived in the same [downtown L.A.] building as Jimmy Humilde," says Galaz. "My brother-in-law spotted him in the elevator one day; the next day I went upstairs to play him my song. I played it like 10 times. They never heard a woman sing corridos like that before."
Following in the footsteps of lesbian ranchera singer Chavela Vargas, as well as the audacious Long Beach banda star Jenni Rivera, Galaz is not just trying to remix the genre, but the culture around it. "I think to be a good artist in these times, you have an open mind to new lifestyles, new sounds, new anything," she says. "Just be open."
Cano and Galaz are two Mexican artists who've come to embrace the distinct hybrid of Mexican American popular culture. "That doesn't happen a lot," says Fuerza Regida frontman Jesus Ortíz Paz, who wrote "Radicamos en South Central," or "We Live in South Central," as a reclamation of his Angeleno roots. "Mexicans from Mexico used to look down on those of us from the States. We're hood, but we are Mexican. We deserve respect."
Fuerza Regida's 2019 album "Del Barrio Hasta Aquí" ("From the Hood to Here") debuted at No. 1 on Billboard's Regional Mexican Album chart — but the band didn't always feel so confident. In Fuerza Regida's early days, explains Ortíz, "we tried wearing the traditional suits that they all wear, with the boots and the hats. When we tucked our shirts in, we just felt fat. Now we just dress like ourselves, and people still like us."
For all the fans Rancho Humilde has cultivated in recent years, it's also generated some pushback from the regional Mexican establishment. In a YouTube interview, iconic regional Mexican singer Pepe Aguilar, son of mariachi legend Antonio Aguilar, lamented music's turn from tradition, describing contemporary music as "mediocre" and "cheap."
"You could've just said that you don't like the music and moved on," spat Cano during an Instagram Live video, flashing a middle finger towards the camera. "My mom doesn't even like you!"
Aguilar later denied ever talking about Cano. "I don't even know who you are," he said in a video on Instagram.
Meanwhile, Cano's outburst piqued the interest of mariachi pop superstar Alejandro Fernández — son of Vicente Fernández, known as the King of Ranchera. Last month, the younger Fernández co-signed the corridos tumbados movement with a spirited remix of Cano's 2019 ballad, "Amor Tumbado" — outfitted with a traditional ensemble of horns, strings and accordion. It's a sign of things to come, says Humilde.
"[People from Mexico] didn't always respect us, but now they're interested in how we do things. We like hip-hop, we like low-riding," he says. "Our releases consistently top the Latin Album charts on Apple Music. What we do is working."
Ever the self-described hustler, Humilde won't settle on being CEO of a record label. His upcoming projects include a Diddy-style return to making his own music, starting with his recent release, "Desde Abajo"; a screenplay for a movie to feature Ortíz as the lead; and, closer to home, a summer camp for local kids, run out of an office space he purchased in downtown L.A.
"I put down a million dollars on that space so that our kids could have opportunities," he says. "I want to represent my culture, my L.A. This city is my heart."
Sours: https://www.latimes.com/entertainment-arts/music/story/2021-05-20/rancho-humilde-natanael-cano-trap-corridos-regional-mexican
King Lil G - Mexican Trap (New Song 2021)
11 Mexican Artists Building the Country's Trap Movement
Long a force within hip-hop, Mexican artists have been dabbling in trap since the aughts, when Dyablo, C-4, Kartel de Las Calles, Big Los and El Pinche Brujo were among the performers experimenting with the genre's beats. Later on, the streets-facing Mexican trap sound was fleshed out by Cartel de Santa with the Nuevo León group's iconic 2013 hit "Me Alegro de Su Odio."
By 2020, the scene has expanded to encompass a thousand trap realities, including the trapeton of Mexican genre innovator Hadrian and the ranch trap of Homegrown Entertainment's La Plebada.
As the urbano and regional movements merge, keep your eyes on Mexico to find ways to further innovate where trap can take them. We're here to help with that surveillance—here's a list of trap's Mexa shining stars.
1
Hadrian
The Mexico City emcee cut his teeth dominating freestyle battles, but has rarely shied away from experimenting with unexpected subgenres. These explorations led him to drop what many think of as the country's first trap album, 2014's Gran Maestre, in addition to early trap mexa hit "Chatarra de Oro" with Go, Adan Cruz and Kid Sun. It hasn't all been good — Hadrian also went through a widely panned tribal phase. But such is life for an innovator. These days he's exploring trapetón, by now a respected elder on the scene.
2
El Aleman
This Los Cabos emcee started rapping at the tender age of 14. Nowadays, Aleman counts as Homegrown Entertainment's greatest breakout star and possibly, the biggest name in trap mexicano today. 2018's Eclipse album, featuring longtime Aleman collaborator C. Tangana, is a legit genre classic. But Aleman earned his berth in the trap mexicano annals via he and Yoga Fire's defiant ode to the country's most infamous anti-hero of modern times, "Chapo Guzman."
3
Santa Fe Klan
Guanajuato-raised Angel Quezada is from the Santa Fe neighborhood, and at a young age has become one of the most exciting trap talents in the country. He made a short film and tattooed the tracklist on his chest to celebrate 2019 album Bendecido, the LP's name a nod to Quezada's many blessings in arriving to fame by the age of 19. The star of his label Alzada Music, SFK makes hardscrabble odes to hood life, expressed via sounds that range from pitch-dark trap beats to R&B and corrido-inflected balladry.
4
Yoga Fire
One of the first Mexican artists to experiment with trap was Ecatepec's Yoga Fire, who founded influential collectives Jedi Revolver and Never Die and was featured on the seminal Somos Lengua documentary. He's now a core member of Homegrown, and during his time at the label has put out raw, unexpected releases that illustrate the copacetic relationship between Mexico and the world of trap. Yoga recently surprised fans yet again with a guitar-strung, anti-Valentine duet with musician Dromedarios Mágicos called "Fuck Luv."
5
BabyBoss
BabyBoss has come up quick churning out icy trap singles, which she initially released under the name of Amunet Mafia. Classic genre themes figure prominently in her work. Lean lovers, she's got your number on 2018 track "Jarabe." Last year, the makeup artist took the stage at Sonar México alongside Robot and ForyFive during the ambitious set of NAAFI's Lao. Next up, Babyboss has collaborations dropping with producers BABYTHUG and Miguel Rivero.
6
ForyFive
F.k.a. Los Raprimal Boyz, this duo from Tláhuac has been grinding since 2012, but a recent name change and alliance with the NAAFI producers has cast them in a new light. Richi Boy and Khetzal could seemingly care less about the intense antipathies between subgenres that have marked the Mexican hip-hop scene, and move freely from boom bap to trap to reggaetón. They're gathering momentum in 2020, powered by eminently 2020 party jams and modern love songs like "Nasty Barbie."
7
Yoss Bones
She's one of the premier vocalists of the Mexican trap scene, but don't think Yoss Bones can't rap. Early on a member of the Hood Money Click, she fatefully linked with Alzada Music at a meet and greet the label held in her hometown of Salamanca. Within a month, she had become the label's only signed woman artist, and was laying down both smoky hooks and searing flows for the crew. Check the 2019 Alzada cypher to check her talent for melodic aggressions.
8
Jarabe Kidd
This Ensenada, Baja California-born trapero is a member of the West Gold crew, whose sound is often reminiscent of a Golden State reality from further north; 1990s Long Beach. Jarabe Kidd is currently working on a nine-track album for 2020 that will come out on the Nishi Thief label, featuring songs with Haxiro and Blss. Expect more of his blunted, bilingual anthems from the Baja streets.
9
Robot
Robot is one of the most radio friendly Mexican trap luminaries. The Mexicali emcee has been reliably delivering smooth, West Coast hip hop and R&B-influenced missives since 2016's "Tú o Satanás." One of his best known recent tracks is the pop-friendly "Love & Money" with Venezuelan emcee Akapellah, and he aims to continue that streak with pending 2020 single releases with André VII, Beatboy, Yoshi and Lao.
10
Soda Boy
This elusive emcee comes out of the city of Los Reyes La Paz in Estado de México, but launched his professional career in Playa del Carmen. High Life Studios' Soda Boy has stayed dedicated to the underground, granting few interviews. It doesn't matter to his fans, who thrill to his street anthems and explicit hustler story arcs. Check "Campeón" to get into his pitch-perfect trap rasp—not to mention, a cameo by the emcee's mom herself.
11
La Plebada
Rappers Cozy Cuz and Fntxy were at the core of Mexican trap culture on the Homegrown Mafia roster when they decided to experiment with integrating banda from their shared Sinaloan heritage. The result was their new duo, which is breaking ground in rancho-inspired trap. The project's 2019 debut album Lo Más Solicitado is both 808s and twang, approaching the trap corrido movement popularized by SoCal's Rancho Humilde and Del Records from an entirely new direction. La Plebada's live show, featuring accordion and tuba players, is not to be missed.
Sours: https://remezcla.com/lists/music/11-artists-leading-mexican-trap/
Now discussing:
Where Mexican Folk Ballads Meet Trap Music
'Trapcorridos' — tales of love, bandits, heroes and gangsters — are a sensation in California and Mexico.
LOS ANGELES — When Francisco Rodriguez, 31, was incarceratedin a federal prison nearSan Diego, he began writing songs. He had grown up in Santa Maria, Calif., listening to corridos, a form of traditional Mexican ballads that his parents and grandparents loved, so that is what he gravitated toward writing.
Corridos are ballads born of an oral tradition of storytelling that goes back to the 19th century. Whether it's the daring tale of a real-life revolutionary or a romantic saga set in rural Mexico, a corrido comes with a narrative arc. Many are based on real events: The "Corrido of Joaquín Murrieta" tells the tale of a bandit and folk hero from California's Gold Rush years.
In prison, Mr. Rodriguez wrote some about the lives of his relatives in Mexico but focused more on what he knew from personal experience: the perils of trafficking arms across the United States-Mexico border. He wrote about the street hustlers and drug-dealers that he knew from his neighborhood.
Over time, he also experimented with changing the traditional corrido sound based on his upbringing — namely, infusing the acoustic guitar and accordion accompaniments with a quicker pace, including hip-hop beats based on the music he listened to growing up in Southern California in the 1990s.
That form of music is now taking off. Mr. Rodriguez, who goes by Shrek and has been out of prison for two years, is the lead vocalist of Arsenal Efectivo, one of several popular "trapcorrido" groups influenced by rap and hip-hop.
(Trap, an Atlanta-born rap subgenre, is characterized by sharp snaresand booming bass, as well as hazy, minor-key melodies. But the word "trap" has become a common prefix for hip-hop-influenced sub genres, regardless of whether they share the sonic qualities of trap music.)
In his dressing room before a recent sold-out show at the Forum in the Inglewood neighborhood of Los Angeles, Mr. Rodriguez reflected on the evolution of his sound: "I left the drug dealing and trapping life and pursued music after I was released from prison, and that's how all of this was formed."
He was wearing flashy jewelry and a shiny diamond grill on his teeth; his bandmates and friends wore T-shirts with the word "trapcorridos" across their chests.
"When I first started my band, we were dressing in crocodile boots and wearing big tejanasand sombreros," Mr. Rodriguez said. "But now I'm dressing in blinged-out clothes and blinged-out jewelry, I got a grill in my teeth, and that's something that has never been seen in our culture — Mexicans who wear a grill and sing corridos."
Jesus Ortiz Paz, 22, the lead singer of Fuerza Regida, another group from Los Angeles that sings trapcorridos, said: "We're from the streets. We weren't born in Mexico, and we're not singing about the ranchos."
Corridos, Born of Experience
In the latter part of the 20th century, as organized drug trafficking networks grew more powerful in Mexico, corrido records reflected the strife associated with the violence of the underground drug trade, creating a subgenre known as narcocorridos.
Los Tigres Del Norte, a Mexican norteño band that formed in San Jose, Calif., became famous for a 1974 song they covered called "Contrabanda Y Traiccion," about a relationship between a woman and her drug-dealing lover and their travels to Los Angeles from San Antonio. The woman shoots her husband after learning of his infidelity, and escapes with his money and drug stash.
Chalino Sanchez, a native of Sinaloa, Mexico, also helped popularize narcocorridos. He sang embellished first-person accounts of shootouts with police, immigration, murder and survival that became popular, especially in southeast Los Angeles, in the late 1980s and early 1990s.
But while thetrapcorrido musicians of today grew up hearing corridos, and could relate to some of the themes, their lived experiences were very different. They grew up in metropolitan California cities. They listened to hip-hop and rap music. They wear Air Jordans, Gucci and Balenciaga. Rap culture was a formative part of their upbringing.
Jose Leon, known as Mint, designs clothing for Arsenal Efectivo and other trapcorrido groups. He combines expensive fashion with urban street wear — embroidered jackets and expensive athletic shoes.
"This movement is about something different," said Mr. Leon, 33, minutes before Arsenal Efectivo took the stage in Inglewood. He called it a trend born of the second-generation Mexican-American experience.
"All of us grew up in places like South Central, and some of us grew up in the 'hood," he said. "People used to wear hats and cowboy boots, but these boys don't want to wear that anymore. They want to wear what they wear in the streets. It's a whole new wave."
Josh Kun, a professor and director of the University of Southern California Annenberg School of Communication, believes that corridos, as a form of music that exists along and on both sides of the United States-Mexico border, lend themselves naturally to collaboration with other genres.
"It's really important that this new development is put into a long history of corridos on both sides of the U.S.-Mexico border that dates back to the 19th century," he said. "Since the 1980s, corridos have been mixing with other genres like techno, electro pop, and in the '90s to electro banda to hip-hop."
Dr. Kun also said the evolution of trapcorridos fits into a larger wave of trap music ascendancy. "Trap has become the global streaming genre," he said. "Every region in the world has grabbed on to trap as a musical language."
Still, Jimmy Humilde, who runs a label called Rancho Humilde that manages several trapcorrido groups including Arsenal Efectivo, believes that there is something unique about trapcorridos in Southern California.
"This is the voice of young Chicano culture, and we're representing Los Angeles culture with this music," he said. "When have you ever heard a corrido song about living in South Central? There's never been anything like this, and that's why we are calling it regional urban music."
As a testament to its appeal, music venues across California are selling out for trap-corrido shows. The bands are also traveling to other states and to Mexico, one of their biggest markets. (There is a growing trapcorrido scene there as well.)
"We feel like Selena," said Mr. Paz, the Fuerza Regida singer, referring to the Mexican-American singer who became one of the most celebrated singers of the 20th century before her death in 1995. "We're Mexican-American and we're going down to Mexico just like she did and selling out shows just like she did."
'El Corrido de Nipsey Hussle'
There's another reason trapcorrido music feels serendipitous right now.
Musical collaboration between black and Latino artists is not uncommon. But racial tension in South Central Los Angeles, especially in the early 1990s, was fraught between these demographic groups, both caught in a system of limited access to economic and social resources.
As the Mexican population increased in Los Angeles in the 1990s and 2000s, so did the exodus of African-American families who were buying property in regions outside of Los Angeles, like the Inland Empire, an area that encompasses cities in Riverside and San Bernardino.
There were huge brawls in Los Angeles schools and violence between black and Latino gangs, including as recently as 2014, when several Latino gang members firebombed the homes of black families living in a Boyle Heights housing project.
Some in South Central see trapcorrido music as a corrective, though not an antidote, to racial tensions.
"This movement is also about African-Americans who are buying tickets to the concerts," said Mr. Leon, the clothing designer. "That's what trapcorridos are about, a mixture of what we know."
Rolando Casimiro, 28, believes the music can even serve to create better relationships between black and Latino communities in Los Angeles. After the fatal shooting of the rapper Nipsey Hussle this year, Mr. Casimiro, who goes by "Faraon de Oro," wrote a tribute song called "El Corrido de Nipsey Hussle."
The song begins with Nipsey's birth in 1985 and recounts his success and dedication to his community through a first-person telling. The narrative ends with his death, and a personal plea to end violence and for all people to unite as one.
Within a day, the song had more than half a million views on YouTube. "It felt weird to me that there weren't any corridos about black people," said Mr. Casimiro, a child of first-generation immigrants from the southern state of Guerrero, Mexico.
But the news of Nipsey Hussle's death was a blow to many in Los Angeles. "I started writing the song for him," Mr. Casimiro said. "The more I learned about him, the more I thought that we had just lost someone really big."
Jennifer Jones, a professor at the University of Illinois-Chicago, and the author of the book "The Browning of the New South," believes the popularity of trapcorridos tracks with the changing demographics of the United States.
"Mexican kids are growing up with trap music in the South," she said. "They're fusing those two pieces of their lives, growing up in black neighborhoods, and are attentive to how black culture has shaped the south and are also a part of new wave of Latino settlement in these places."
In that, Jimmy Humilde, the record label owner, sees longevity. "We're selling out shows in places that we've never been before," he said. "We're the future."
Sours: https://www.nytimes.com/2019/09/16/style/trapcorridos-chicano-los-angeles.html
836
837
838
839
840