31 Stunning Ponytail Hairstyles for Black Women
Ariana Grande is not the only one who can rock a sexy, high ponytail, and you can do the same. What we love about ponytails is that they're practical as they get the hair out of our way, but at the same time they look hot.
Many black women and girls wonder whether they can rock pony because their hair is thick and can be challenging to control. Of course, you can! We bring you some of the most awesome black ponytail hairstyles you should definitely try.
How to Do a Ponytail on Black Hair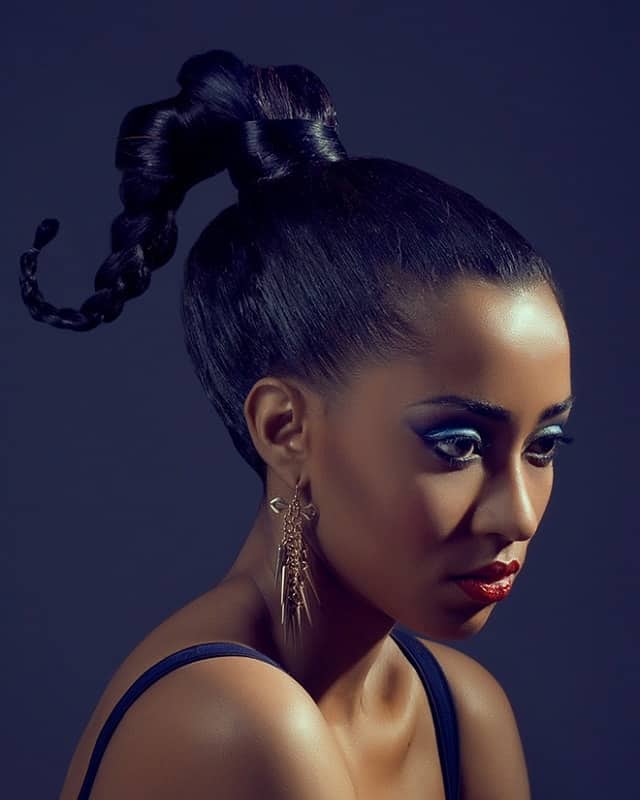 Black or natural hair can be quite difficult to control, but it's still quite easy to do a perfect ponytail. In fact, you don't even need to spend hours working on your pony, and you can get a perfect hairstyle in about five minutes.
To make it happen, you'll need a comb, brush, and spray bottle with water. Just flip your hair to the side where you want the parting to be on. Now, spray your hair to make it easier for you to create a sleek and sexy black ponytail.
Once you're done spraying your hair with water, use the brush to straighten your hair. Tie your hair in a nice little pony before you spray it again to detangle it. Brush your hair thoroughly to get a sleek look.
You're probably thinking "it would be easier with hair straightening iron," but the less heat styling, the better. If you're using the weave or something, create a low ponytail, make a bun, and place your weave around it.
When you're done making the ponytail, use a little bit of styling gel and gently rub it in your hair to avoid frizzy hair. Use a toothbrush with styling gel to control the edges i.e., baby hair. If you want the ponytail to appear in sexy locks and waves, use a curling iron.
Tips to Get A Perfect Ponytail
The perfect ponytail for black hair is entirely achievable, and it's not something that only famous hairstylists can create. These tips will help you get an awesome ponytail every time:
Before you even start, you need to determine where to place the pony. High ponytails that are level with temples or above give your hair more bounce while lower ponys have less movement
Always make sure you brush your hair thoroughly before you go ahead and make a ponytail. Ideally, you should brush hair in the direction of where the pony will be
To avoid messing up hair as you're tying it, you need to be patient. First and second ties are easy, but third or fourth (depending on the size of the hair tie) can be tricky. The secret is to bend the hair that's already in the ponytail tightly to completely go through the third and fourth loop as easily as it's possible
Use mousse to boost the volume of your hair, or gel to avoid the frizz
Use accessories such as headbands to spice things up
To make the pony look fuller you can opt for a double ponytail look. For this purpose, you'll need to create two ponys, one of which is hidden i.e., one is higher and the second is lower
Avoid sloppy and saggy ponytail by using bobby pins. Simply slide the bobby pins over the hair tie at the bottom part of the pony. Place the bobby pins at a steep, diagonal angle
Best Black Ponytail Hairstyles
Now that you know how to achieve ponytail hairstyles it's time to get inspired for the look you're going to rock on the next night out. Scroll down to see 31 amazing ideas for black women.
1. Sleek High Weave Ponytail
Probably the easiest way to style ponytail for black hair is to opt for a straight and sleek updo. In order to make this hairstyle happen, you'll need to follow the instructions provided above in the post; spritz your hair with water, brush thoroughly, and pick up your hair carefully.
If you don't want hair tie to show, use one strand of your hair and wrap it around the hair tie for a sophisticated look.
2. Red Ponytail with Bangs
Do you like to experiment with different hair colors? If so, then you should definitely try vibrant red. Fire-like red is wild, edgy, adventurous, and yet so elegant at the same time.
This is the type of hair color that you could rock on different occasions. Rock your hair in a sleek high pony and complete the look with long, choppy bangs. Of course, this ponytail black hairstyle with bangs would work just as easily with any other hair color.
3. Ponytail + Side Braid
Ponytail styles come in different shapes and sizes, and that's, definitely, a good thing because you have tons of options to try. One way to rock ponytail is to add a braid into the mix. For example, you can make a high and sleek pony with a thin braid on the side. How cute!
4. Ponytail Braid with Waeve
You're a fun-loving person and want your style to show it? Besides the fun and edgy outfits, you can also make sure your black hair perfectly depicts your personality. Make a high pony and create a huge braid that you'll decorate with accessories. Look how awesome it is.
5. Crochet Braided Ponytail
The black ponytail doesn't have to be sleek in order to look sexy and fabulous. A curly pony can be a picture of elegance, as well. Start by making braids on top of your head and as you reach the crown, simply pick up your hair in a high ponytail.
6. Black Braided Pony
Natural black hair tends to be thick, but it doesn't mean you're out of styling options. A good brush and quality hair styling products can help you make any hairstyle you want. You can also make a sleek and neat ponytail and form a nice, elegant braid.
7. Bob Ponytail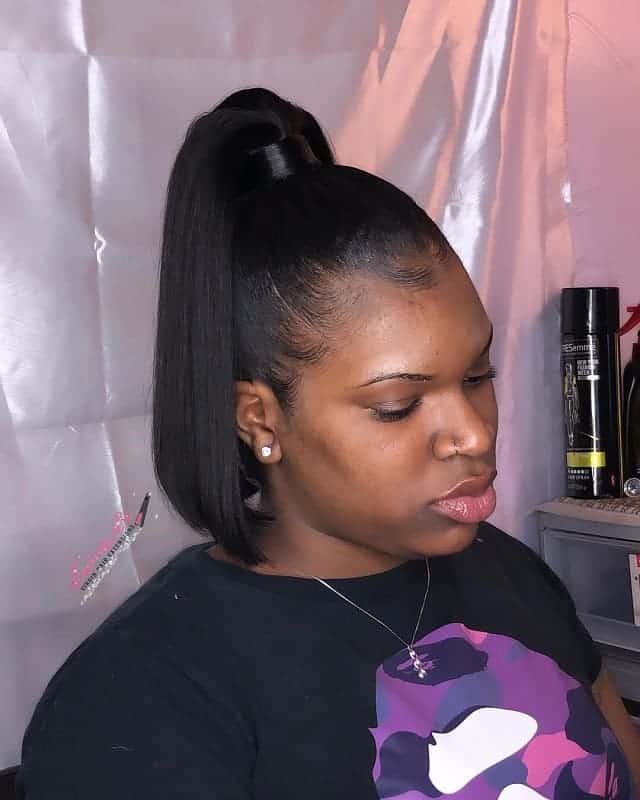 When high pony comes to mind, we immediately picture a super long style. But, it doesn't always have to be like that. If your hair is medium-length, you can still rock pony with ease. Let's be honest, and this is one of the easiest ponytail hairstyles for black women to rock.
8. Box Braids Ponytail
As seen above, braids and ponys are a perfect match. You can make braids and then create a "regular" high ponytail, or you can turn pony into a braid. Yet another style you can try is to pick up your braided hair into a wonderful look.
9. Blonde Pony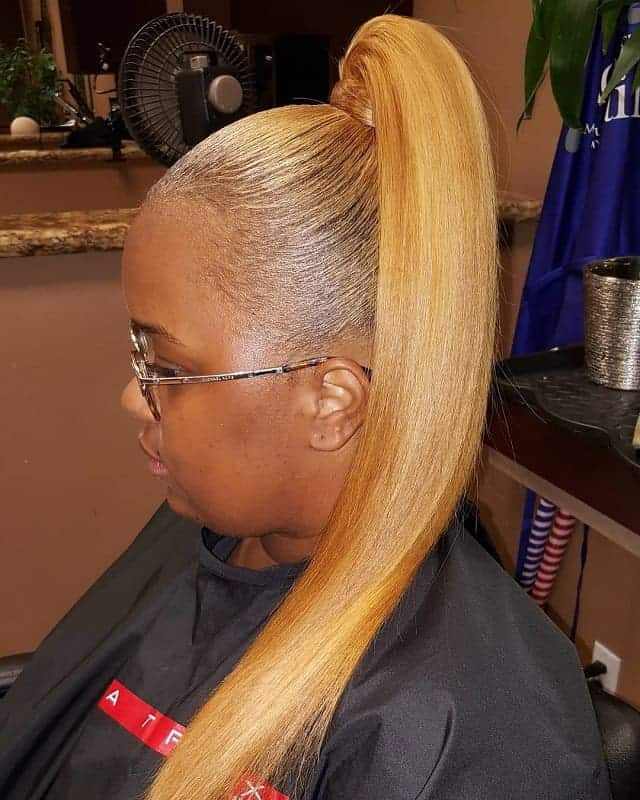 Caramel blonde is such a lovely hair color for black ladies. Bring more attention to your hair with a sophisticated high ponytail. Not only is it easy to create, but this style also gives an amazing vibe to your whole outfit. Try it out.
10. Black Hair with Red Ombre
Want to make your ponytail edgier? Not a problem! This hairstyle allows you to combine straight and curly, demure, and edgy with amazing results.
Create any pattern you want, brush your hair to make it sleek, make a low pony, and use a curling iron to create lovely locks. Easy!
11. Short Invisible Pony
Short hair, don't care! Black girls who would love to rock some amazing ponytail hairstyles should also take this style into consideration. No need to brush your hair to keep it sleek, simply pick up your short or medium-length curly hair into a pony, and your job is done.
12. Burgundy Ponytail
Love red, but you're more into subtle, demure shades? Then, burgundy hair color is the answer for black girls. You can easily rock this super long ponytail on your next night out. You'll get ready in five minutes and be on your way to have the time of your life.
13. Genie Ponytail
Wavy hair and long locks are incredibly hot. Make a regular ponytail and use a curling iron to create gentle, subtle waves that will flow perfectly down your back or shoulders. This is a cute, sophisticated look every woman can rock.
14. Electric Yellow
Black women with blonde hair always looks amazing, but if you'd like to rock an edgier style, you may want to opt for proper yellow, and spice things up with electric or vibrant shade.
The pony will accentuate this unique hair color. Complete the look with choppy straight bangs.
15. Low Ponytail with More Fullness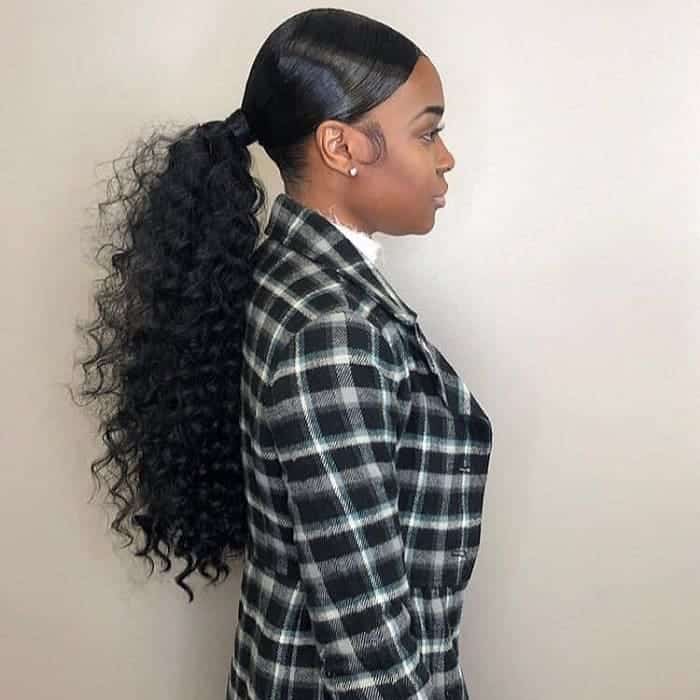 Low ponytails don't have that well-known bounce that their high counterparts do. However, you can make low pony edgier by making it more voluminous. You can style your hair to get more volume by using mousse, a good brush, but you may also want to add extensions for a more dramatic look.
16. Orange Ombre Hairstyle
Here's a stylish take on black ponytail hairstyles – fire-red hue and gentle waves. Waves and this hair color complement one another perfectly and give your hairstyle new dimension. You can make this style elegant or edgy, depending on the occasion.
17. Wrap Around Pony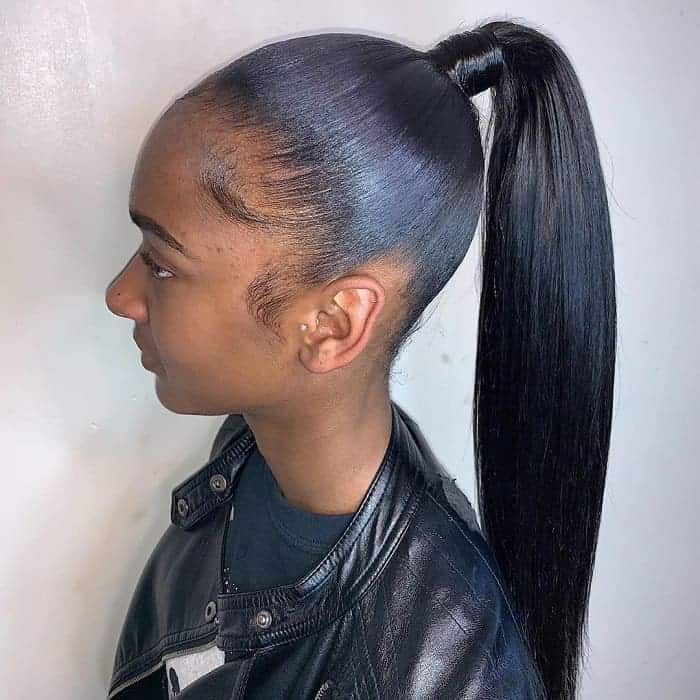 The last thing you want is to spend hours on your hair, especially when you're in a hurry. This simple and easy hairstyle will make it seem like you invested a lot of time, although you can get it done in a few minutes.
18. Shiny and Wavy
Glossy and shiny hair is attractive, appears more voluminous, and it's ever so elegant. While many people assume ponys are just a casual hairstyle, the truth is that they can also look absolutely fabulous in more sophisticated settings. Take this style as an example, it's stylish, and you can rock it anywhere.
19. Blue Stitch Braids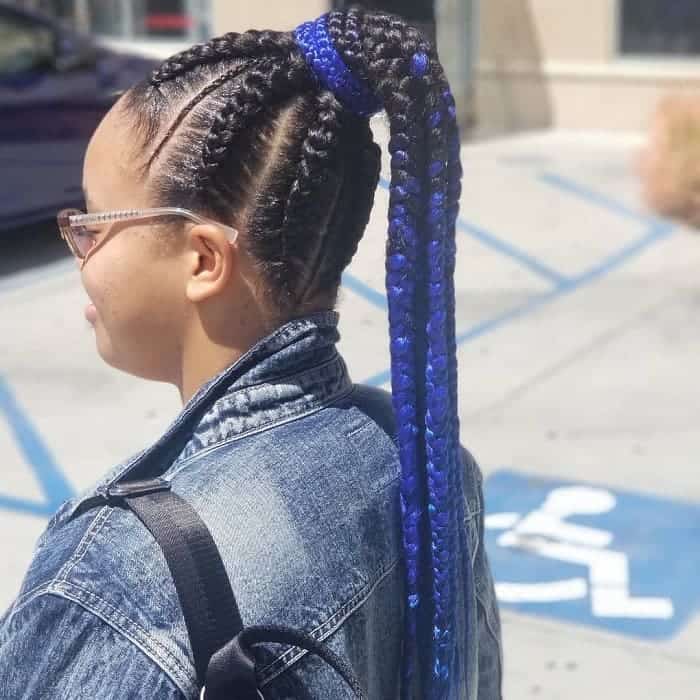 Want to do something new with your braids? Combine black and electric blue colors and pick your braids up into a high ponytail. So easy, yet so awesome.
20. Cornrow Pony
Even though we tend to place our ponytail high or low in the very middle of our head, there are also other options for black women to choose. We can also style pony to the side for a unique look. Make sure you try this look when you're rocking ponytail styles.
21. Mohawk Ponytail
You'd prefer a more casual ponytail instead of sleek and sophisticated looks? Not a problem, we've got you covered.
Make a few braids on top and pull your hair up in a pony, but instead of brushing it, you can tousle hair with your fingers for a messy pony look.
22. Side High Pony
Black girls and women who want to achieve the effortlessly chic look may want to try this style. The best thing about this ponytail style is that it works on every hair length. Sleek top, wavy pony moved to the side – this look has it all.
23. Dramatic Weave Ponytail
Want to accentuate your amazingly voluminous hair? Then make a super dramatic ponytail. You can also add weave into the mix for even better effect.
24. Half Up Half Down Pony
Here's one of the coolest ponytail hairstyles that black women can try. Instead of picking up all your hair in a pony, use only an upper portion. Make a high ponytail while the remainder of your hair is gently flowing down your shoulders or back.
25. Crimped Hair Pony
Instead of feeling bad about baby hair when you make a pony, embrace its cuteness. Style your ponytail in subtle locks and waves that boost volume and give you a more natural look.
26. High Curly Pony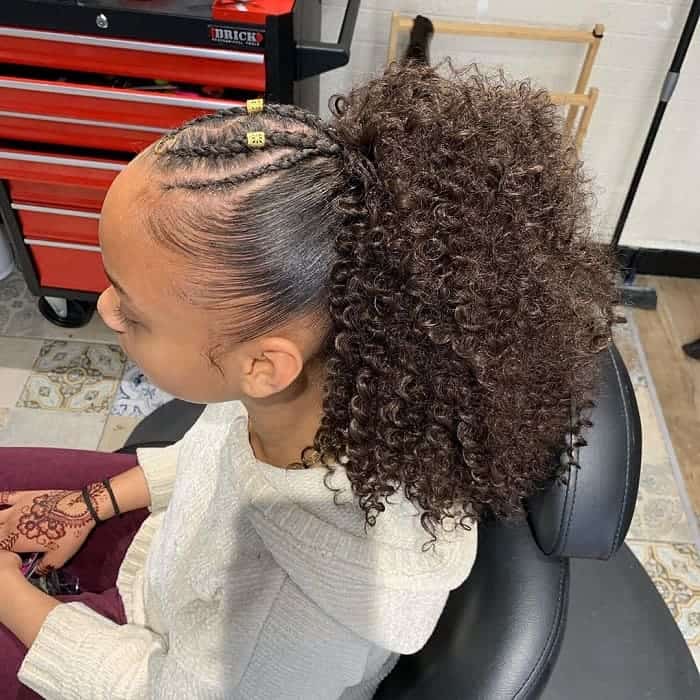 Contrasts in the hair are always a good idea. Instead of the straight ponytail from top to bottom, you can try something different. Make sure the top section of your hair is straight and neat, while pony is super voluminous and curly.
27. Simple Yet Edgy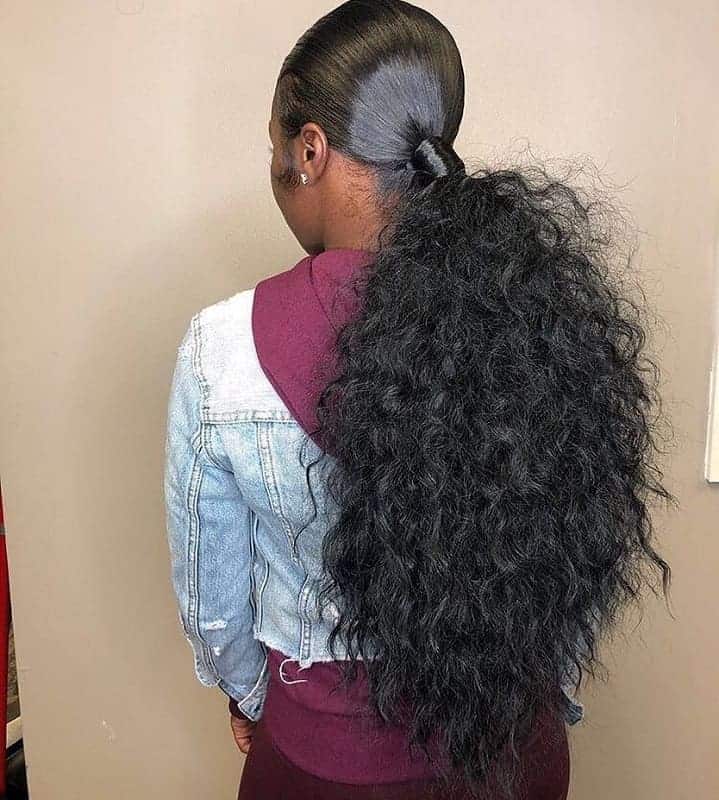 Drama, drama, drama! We love drama in general, and why not transfer it into our hair? Use weave, hair mousse, and good styling equipment to make your black ponytail dramatic and edgy while retaining its simplicity.
28. Super Long Ponytail
Take your love for long hair to a new level with this super-size pony. Opt for dramatic length to make your style even more awesome.
29. High Ponytail Braids
No need to have your braids down all the time. Pick them up in a ponytail to the side, rather than in the middle. This will give you a unique look.
30. Ponytail + Jumbo Braids
Braids give black girls a wonderful opportunity to create all sorts of styles. One of them is this unique braided ponytail that will make you stand out.
31. Fulani Braids Pony
Decorate your braids with any accessory you'd like. Leave two braids on each side and pull the remainder in a pony. What an amazing style, don't you think?
Now that you have some amazing suggestions for ponytail hairstyles for black hair, you're ready to get your next look. Follow our tips, tricks, and instructions to look absolutely fabulous. Good luck.
Sours: https://hairstylecamp.com/black-ponytail-hairstyles/
1Curly High Ponytail with Weave
Here's a flawless style that uses curly weave. This sleek, shiny hair is styled into voluminous curls and pulled up into a half up half down high ponytail.
2Sleek Ponytail With Bobby Pins
This long, straight ponytail is styled with a side part and embellished with bobby pins. While most people think of bobby pins as strictly styling tools, they can also be used as accessories to create really cute styles.
3Half Up Half Down High Bun
For this gorgeous style, ombre hair is used to create a half up half down high ponytail. Wrap the ponytail into a chic top knot to switch up the look a little bit.
4Sleek Ponytail With Sideburns
For this style, straight weave is added and styled into a simple low ponytail. The styled sideburns give this classic look a little extra flair to help it stand out.
5Curly Blonde High Ponytail with Weave
To create this blonde bombshell look, use body wave hair or straight hair that easily holds curls. Style the hair into a chic high wraparound ponytail for an elegant final look.
6Half Up Half Down Ombre Ponytail
For this style, golden brown ombre hair is styled into loose curls and arranged into a half up half down ponytail. This is a great face-framing style for both everyday wear and special occasions alike.
7Banded High Ponytail
For this style, the hair is styled into a long, straight, high ponytail. Rubber bands are added along the length of the ponytail to create a gorgeous banded look that sets this look apart from similar styles.
8Body Wave High Ponytail
For this style, body wave hair is styled into a high ponytail for a style that's sexy and fun. Use a good edge control product to create these sleek edges to complete the look.
9Sleek Wavy High Ponytail
For this style, wavy hair is styled into a sleek high wraparound ponytail, complete with styled edges for an absolutely flawless look. This is a gorgeous look that you can easily take from day to night.
10Voluminous Curly High Ponytail
If you like styles with a lot of body and volume, then this curly high ponytail is a great choice for you. Sleek, curly hair is styled into a wraparound ponytail that can also easily be braided and/or styled into a bun if you're looking for a little more versatility.
11Sleek Wavy Side Ponytail
For this style, long, wavy hair is styled into a sleek low, side ponytail with a deep side part. If you want a style that combines two textures flawlessly, this is a great option.
12High Ponytail With Body Wave Hair
Body wave hair is a popular choice for many weave styles because of its versatility and how easy it is to go from curly to straight. This style is created using body wave hair which is arranged into a high ponytail for a fun, classic look.
13Half Up Half Down Wavy Ponytail
What better way to show off this shiny, voluminous body wave hair than to style it in a cute half up half ponytail? Style the hair slightly to one side and let the curls and waves fall over one shoulder.
14Voluminous Half Up High Ponytail
If you like big hair, then this style is a great choice for you. These voluminous curls are styled into a half up half down high ponytail with sleek edges. This style will have lots of body and movement and is sure to turn heads everywhere you go.
15High Wraparound Ponytail
For this style, bone-straight hair is styled into a classic high ponytail. The wraparound method takes this already high ponytail to new heights.
16Braided High Ponytail With Cornrows
If simple ponytail styles aren't your cup of tea, consider a style like this one, which combines cornrows, intricate patterns, and weave. Braid the ponytail into one long, chunky braid for a fun, unique look that's sure to turn heads.
17Wraparound Loose Wave Ponytail
This gorgeous look is created with body wave hair which is arranged into a sleek, wraparound high ponytail. Styled edges complete this flawless look.
18Half Up Half Down Ombre High Ponytail
If you're looking to experiment with a little color but you don't want to commit to full-on color, ombre hair is the way to go. This gorgeous, shiny curly weave is style into a classic half up half down high ponytail.
19Sleek Wraparound High Ponytail
This straight high, wraparound ponytail proves that sometimes less is more. This style has a simple elegance that's truly timeless, which is a plus if you like to avoid trendy styles.
20Sleek Low Ponytail
If high ponytails aren't your thing, you can never really go wrong with a low ponytail, especially a low side pony like this one, styled with a side part.
21High Ponytail With Loose Waves
If you're going for an elegant look you can easily take from day to night, this chic high ponytail is a great choice. These sultry loose waves look amazing whether you're headed to the beach or to the boardroom.
22Straight High Ponytail
This straight high ponytail has a gorgeous, sleek look that's absolutely flawless. Slicked down "baby hairs" in the front and back finish off this look and give it a little personality.
23Half Up High Ponytail With Cornrows
This style puts a chic twist on the classic half up half down look. A small section of hair is cornrowed up towards the crown of the head and the edges are slicked down and styled to finish off the look.
24Curly High Ponytail With Cornrows
This style combines cornrows and curly weave to create a gorgeous final look. This is a great choice for those who want a more unique weave ponytail look, particularly one that also celebrates the versatility of Black hair.
25Wraparound Low Ponytail
There's just something irresistible about a chic low ponytail. This style is created using the wraparound method. You can use body wave hair to achieve this straight look but retain a little texture on the ends.
26Super Curly High Ponytail With Cornrows
This pretty style combines super curly, voluminous weave with three cornrows in front. The ends of the braids are wrapped around the weave which is arranged into a high ponytail.
27Wraparound Low Ponytail With Deep Side Part
This chic low ponytail is styled with a deep side part. This style has a sleek, shiny look that's absolutely beautiful.
28Ultra Long Low Ponytail
If you're after Rapunzel-worthy locks, then this super long curly ponytail may be right up your alley. This sleek low ponytail combines straight and curly textures flawlessly.
29Deep Swoop Low Ponytail
This pretty style is created with super long straight weave styled into a deep swoop side ponytail. This style can easily be created on a sew-in weave when you're ready to switch up your look.
30Voluminous Curly Low Ponytail
If volume is your number one goal, then this voluminous curly ponytail is a great option. You can slick the hair in the front straight back into the ponytail or add a middle or side part.
31High Ponytail With Cornrows and Sleek Edges
This straight high ponytail is taken to the next level with an intricate braided design in the front. Finish off this look with sleek styled edges.
32Sleek Low Ponytail With Styled Sideburns
This chic, low wraparound ponytail is created with straight weave that's curled on the ends to give it a little texture and body. Sideburns and "baby hairs" in the back are styled into loose tendrils to finish off this look.
33Loose Wavy High Ponytail
This style is created with wavy hair that's arranged into a high, wraparound ponytail for a timeless, elegant look.
34Red Loose Wavy High Ponytail
This beautiful red, wavy hair is styled into a high ponytail for a look that's both timeless and effortless. A high ponytail is a great way to frame the face while showing off the color and texture of the added hair.
35Sleek High Ponytail With Loose Waves
This sleek high ponytail is created with wavy hair for a look that has body and shine. The classic beauty of a high ponytail never goes out of style. Using body wave hair makes it easy to add curls or straighten the hair when you want to switch up your look a bit.
Sours: https://blackhairtribe.com/35-weave-ponytail-hairstyles/
40 High Ponytail Ideas for Every Woman
A high ponytail is popular because it is so versatile and easy to do. Worn slick and straight, it is a perfect complement to a gown at a formal event, and its messy wavy version is a good idea for a fun and flippy casual look. No matter what your preference or personal style is, this quick hairdo is always an option. Keep reading to see 40 inspiring pictures in the gallery below!
The Variety of High Ponytails
Every high pony on our list is special, and you won't find two hairstyles that are practically alike. Playing with texture, adding braids, twists or hair accessories, you'll be able to come up with your own outstanding version of the good old pony.
#1: Straight High Ponytail with a Twist
For a more bohemian take on the classic straight look, simply add a French braid on one side. Change the size of the braid depending on the events that you have planned; go larger for casual environments and smaller for conservative ones.
#2: Red Carpet Worthy Hairstyle
If you are in search of an appropriate high ponytail hairstyle for a special event, this is the look for you. A wavy style with a small bouffant in the front gives major volume and will look good when photographed from any angle.
#3: Reverse French Braid Ponytail
Create a bit of mystery by hiding a French braid under your high ponytail. Every time you move, it will peek out without giving too much away. A worthy hairdo for a conservative woman with a bit of spice.
#4: Ponytail and Lacy Braid
As stated above, a messy side braid is a great way to add some fun to your look in a casual setting. This take combines brown and blonde colors for a blending of hues that is truly unique. Fans of Khloe Kardashian will definitely want to try this, as she has sported a similar dye job on multiple occasions.
#5: Big and Bouncy Half Ponytail Style
A half-ponytail is a good option for women who have layered hair because it keeps the shorter pieces out of your face while letting the longer ones flow freely. Springy curls add a polished touch to the look that could easily work for a prom or wedding.
#6: Retro Ponytail Style
If you want to make a high ponytail even classier than it already is, why not give it a retro feel? By wrapping a side section of hair around the base of the pony and adding a small bouffant, you can channel some 1960s vibes in no time. Leave a few strands to fall down for a super cute ponytail updo ready to be worn for any occasion, casual or formal.
#7: Wavy Ponytail
There's no reason why a high ponytail should be smooth and sleek. Instead, play with its texture to your heart's content. By curling the hair after pulling it back, you get a messy yet charming aesthetic that will suit any formal event.
#8: Ponytail with Dutch Braid
Should you be lucky enough to have super long locks, a messy ponytail with a Dutch braid and bouffant may be the way to go. Backcomb the crown section and braid one side or both. With this style you don't need a ponytail to sit super high – right at the crown or a bit lower would be fine. Apply some texturizing product and backcomb your long pony. Messy has just got chic.
#9: Ponytail for Fine Hair
Perfect pony isn't so hard to achieve. The particular updo takes minutes to complete, here's how to make a high ponytail extra fancy. Brush the hair back and pull it up as high as you want your ponytail to be. Tie your ponytail with an elastic. For thin hair to make your pony thicker at the base, divide it into two sections. Lift the top section and pin a small claws hair pin clamp at the base of your pony. Cover with the top section of the hair. Make a hair wrap and pin in place.
#10: Trendy Style with French Plait
As far as high ponytail styles go, a tousled pony with a braid won't let you down. The French braid at the top of the head is what draws the most attention. Add that to your messy updo and you'll really get a winning combo.
#11: Pony with Textured Braid
Here's a hairstyle that's ideal for long hair; you just have so much scope for creativity that you may as well make the most of it. One French braid is good, but what about trying three plaits that mold the front of your style into a braided Mohawk that can be finished with a ponytail. Oh, and you don't need to keep things super straight — feel free to play with curls.
#12: Tight and Sleek Tail
Starting with just a couple of small braids off the hairline, you have a wealth of ways you can go with. If you want your ponytail to be perfect, you need to make sure that the roots are sleek and smooth. Use gel or pomade. Then, tie a ponytail super high.
#13: Messy Waves Style
Whether you're heading to a wedding or just to a garden party, it is a hairdo that will suit you. Teasing the hair to make it look effortlessly messy yet styled is ideal. It's one of those high ponytail hairstyles that can be worn to pretty much any event.
#14: The Princess Tie
For a fun, urban chic hairstyle, all you need to do is add some plaits into the mix. While cornrows that are typically paired with a ponytail are braided vertically – from hairline towards the crown, change the direction of yours and get a completely new take on the look. Cornrows across the side of your head are a cute detail that spices this otherwise plain pony.
#15: Half Up Half Down
Want to keep things natural yet stylish? The half up, half down trend was massive throughout the 1990s, but it's making a comeback. Tie half of your locks up in a ponytail and let your curls cascade down.
#16: High Voluminous Ponytail
Inspired by wonderful Adele, here's a high ponytail that is certain to turn heads. To get the fad right, you need to make sure that you leave some messy strands pulled out here and there. They frame any face beautifully.
#17: Natural Curly Pony with Bangs
A long pony is easy to achieve with a weave or simply applying a drawstring ponytail, but your shorter natural hair can also be beautifully styled into a pretty ponytail updo. Pair with curly bangs and consider adding soft highlights.
#18: Crimped Pony Look
You may think that crimpy hair has gone well out of style, but you're wrong. Check out this braided updo and try to recreate it yourself! French braids and straight crimped strands make for a cool contrast of textures.
#19: Bouffant and Braid
A high ponytail is a quite casual hairstyle for women but with a bouffant, a side braid and a few messy curls, you can easily turn it into a formal updo. Pancake the braid, making it more pronounced and add a hair wrap to the pony.
#20: Cascading Pony
Curly locks always appear wonderful, especially if you're willing to be experimental. Curls like these may also conseal a high ponytail trick that will make your pony extra long. Just take the good example of how sleek hair can be in a ponytail; this one can be even worn to a wedding.
#21: Box Braids Pony
Cute box braids are easy to make even cuter with a simple updo, like a high wrapped pony. Pull them up, twist and pin. A cool, contemporary hairstyle!
#22: Updo with Poof
For something utterly fabulous, here's an updo with poof. It's one of those high ponytail styles that will make your jaw-drop. The perfect root volume, soft bouncy curls, dimensional color and a high shine finish are the key elements of its success.
#23: Braided Side Ponytail
Want to take your braids to the whole next level? Try them in a cute side ponytail. Ghana braids are ideal for a style like this, but you can also wear a side ponytail with box braids or Senegalese twists.
#24: Ponytail with Bump
A ponytail with bump is a snazzy style that every girl can appreciate. The trick is backcombing the top section before pulling your hair back into a pony. As for the texture of the pony, make it as fierce as you feel!
#25: Super Sleek Ponytail
Wondering how to do a high ponytail that holds all day? You may go for a compound ponytail. It consists of two ponies but looks like one. After dividing the hair into two sections (top and bottom) make a ponytail for the bottom section. Then pull the top hair back and bring it to the ponytail you've just made. Secure the top hair with the bottom ponytail with an elastic. Add a hair wrap.
#26: Bold and Blonde High Ponytail
For a night on the town, opt for a more grown up variety of the standard ponytail. This curly twisted look gives you major volume without the hassle of having hair falling into your face or weighing you down.
#27: Futuristic and Flirty Ponytail
When all else fails, a hair accessory will always take your look to the next level. The blonde sleek ponytail with a metal holder is reminiscent of early 2000's pop stars like Britney and Christina — which lets you know that this hairdo is guaranteed to be a hit.
#28: Stylish Supersized Ponytail
This is the perfect high ponytail hairstyle for a woman who never takes a day off from being glamorous. There's nothing basic or boring about this look, with a long bouffant it takes the wearer to new heights.
#29: High Ponytail with Side Bangs
Another star-inspired look, but this time it's current reigning pop princess Ariana Grande. The singer wears this wavy side bang with highlights on stage, the red carpet and even out with friends, which proves how versatile and appealing this look can be.
#30: High Bubble Ponytail
The double banded ponytail has been a popular hair trend this year. It adds visual interest to the basic look without requiring any extra prep time. This sleek, no-fuss style will pair just as well with workout wear as it will with a trendy outfit for the weekend. A perfect look to transition from morning yoga to afternoon brunch on a Saturday.
#31: High Ponytail with Long Golden Coils
Wrapping a piece of hair around a ponytail holder is a quick way to transition your updo from day to night. Messy blonde curls with a bump in the front are a great contrast to each other for a style that is put together but not over the top.
#32: Brunette Ponytail with Braided Bangs
A braided bang highlights your facial features and seems a bit more polished than an average high ponytail. This loose curly style is perfect for a variety of momentous events in a young lady's life like formal dances, graduation and more.
#33: Chic High Ponytail with a Twist
If you work in a professional environment, it might not fit into the conservative dress code to wear big curls or braids. This twisted blonde option is a great way to put a spin on a classic look while remaining office-appropriate.
#34: High Ponytail with Jumbo Cornrows
Women with natural hair sometimes want to take a break from co-washing and twist-outs for a more low-maintenance option. When you need to take a breather, a braided ponytail is a way to go for an upkeep-free look that will last at least a week.
#35: Long Braided Ponytail with Bouffant
Seeking a creative yet sophisticated updo for your next event? Look no further than this loosely looped style with pinned bangs. The high ponytail hairstyle manages to be tough, but still works great for high society events.
#36: Sassy Side Ponytail
Another form of cute styling for African-American women suggests the use of a weave. If you want to try a perfect voluminous high ponytail that requires zero heat, make sure to match the added hair to the natural texture and base color of your own hair.
#37: Two-Tone High Ponytail with a Fauxhawk
If blending into the crowd or playing it safe is not your thing, try a look that is sure to make you stand out. This curly style combines braids and a Mohawk for a look that will take you to the new heights. For extra style points, wear a studded denim vest to give it a rock star vibe.
#38: Ponytail with Wild Wavy Ombre
Many black women desire blonde hair, but worry about it clashing with certain skin tones or taking too much effort to maintain. A blonde ombre helps you to get the warmth and brightness of a lighter hair color, without worrying about all of the extra effort that comes with it.
#39: Hot High Rebellious Ponytail
Getting an undercut seems like a major commitment, but it doesn't have to be if you leave the top long. Wear it up to show off the tough cut, but when you are feeling a bit more demure, you can part it down the middle for a wavy medium hairstyle.
#40: Full and Fluffy Blonde Ponytail
Women with thick short hair might find it difficult to pull it up into a high style without the fear that wispy pieces will stick out awkwardly. Instead of piling it up on the crown, twisting the sides into an updo at the back of your head creates a ponytail effect without the need of long strands.
A high ponytail is an easy way to keep your appearance stylish while on the go. Whether you prefer to be glamorous at all times or usually adopt a more low-key look, there is a hairdo option for every woman. From blonde to dark hair, shorter or long length, this hairstyle is universal.
Sours: https://therighthairstyles.com/high-ponytails/
HIGH PONYTAIL On 4C Natural Hair - Rubber Band Criss Cross Method - $10 Curly Ponytail - Chev B.
As much as I love a ponytail, I'll be the first to admit that it's kindaaa a cop-out hairstyle. Like, sure, they're perfect for running errands or "going to the gym" (aka running errands in leggings), but taking the time to whip up a ponytail hairstyle that actually looks put together is a struggle. So in the spirit of switching up one of my boring, blah go-tos, I combed through Instagram to find the prettiest (but easiest) ponytail ideas of all time. With cute '90s-inspired looks and loose and easy loose, low options, I found something for pretty much everyone, ahead. Trust: You'll never look at ponytails the same way once you've seen this lineup.
18Shay Mitchell's Bubble Ponytail
Hairstyles that look difficult to create but are actually crazy-easy are the best kind of styles. To DIY this look, tie your hair into a ponytail, then section off the ends of your hair with equally spaced elastics every few inches. Pouf out each section of hair by pulling gently to create a bubble effect. See? Not so tough.
Sours: https://www.cosmopolitan.com/style-beauty/beauty/advice/g4639/incredibly-easy-ponytails-you-should-try-now/
Ponytail high natural styles hair
30 Classy Black Ponytail Hairstyles
Not only is this hairstyle practical, but ponytail is also classy and chic at the same time! To give your pony a go with a bit of a difference, we've got together some really great options with how to's and inspiration to try new takes on the classic hairstyle everyone knows very well.
Chic Black Ponytail Hairstyles
Check out the ideas in pictures below to get inspired.
#1: Long and Sleek Black Ponytail
This is a chic and stylish variety of ponytail hairstyles for black hair. Lovely, lengthy and totally sleek, this ponytail is ideal for day or night, and it can easily take you from the afternoon boardroom to evening cocktails in a flash. The hair is flawlessly straightened and then pulled back into a ponytail with a hair wrap around the base.
#2: Low Ponytail with Waves
This particular style works well with relaxed hair or it can be re-created by utilizing hair extensions. It's very pretty, with sexy, loose, shiny waves. To copycat the style, create a low ponytail with an accurate side part, wrap hair around the base of the ponytail and style waves using a curling iron.
#3: Curly Blonde Afro Puff
If you hate putting heat on your curls, but love color, then this is the hairdo for you. You can proudly spotlight your natural coils with this fluffy afro puff. Plus, updo styles for natural hair don't get any easier than this one. Opt for a low-tension hair tie, like ribbon elastics or spiral, telephone cord-inspired ones, – these will reduce the chances of breakage.
#4: Sleek Bubble Ponytail
Black ponytail hairstyles are versatile because they can be everything from fun and expressive to sleek and modern. This coif falls into the latter category. While it looks very intricate, it's actually super easy to recreate. Start with a routine low pony. Then, apply six more hair ties, evenly spaced, to create the cute, bubble effect.
#5: Pony with Accent Braids
Braids are a stunning way to enliven updo hairstyles. Not only can they enhance the sleek allure, but they are also used for a diversity of textures, extra volume and height. Add in a couple of cornrows for some edge and wrap several more braids around the base of your ponytail as a chic accent.
#6: Waist-Length Ponytail with Bangs
Black ponytails are not just for the gym and off-duty days, as proven by this elegant pony. The side 4-strand braid and swooping bangs are the sophisticated finishing touches that transform this classic pony. Try out this hairstyle for your next formal affair and you're sure to make a statement.
#7: Cornrows and Senegalese Twists
Ponytail hairstyles for black hair can be great choices to protect your natural locks. With braids and twists, you don't have to worry about straightening or brushing your hair. They are simple, cute, and ready to go. Just be sure to keep your scalp moisturized with oil or a hair lotion to maximize the protective benefits of the coif.
#8: Curly Pony with a Braided Pompadour
Balance the svelte style of an updo with a bevy of curls. With the slicked-back sides and voluminous top, it's a modern, clipper-free alternative to a mohawk. Add color, by incorporating a metallic thread to the accent cornrows instead of opting for highlights. There are endless ways to keep your ponytail exciting.
#9: Black and Luscious Pony
Want longer and fuller hair, but don't like the high price tag of a weave? Opt for a drawstring ponytail as a more economical choice. It will let you change-up your look in an instant, whether you want something casual or fancier like the coif pictured.
#10: French Braids
If you want to wear weave ponytail hairstyles, you can get creative with braids trying a chunky braided pony wrap like the one pictured. Add a side braid that starts from the hairline and feeds into the braided wrap for a new take on the old and good sleek pony.
#11: Sky-High Pompadour Braid
French braids don't always have to be close to the scalp. Fan yours out for a voluminous, pompadour effect. It will give you extra height and make your hairstyle stand out from the crowd.
#12: Braided Millennial-Pink Pony
Box braids are a classic choice for black women; make the hairdo yours with fun colors and a high pony. This ever-trending shade of pink is a Tumblr-worthy color that radiates playful vibes. While this black-and-pink palette is stunning, choose whatever will show off your personality best.
#13: Chocolatey Pony with Wavy Edges
Black girl ponytail styles are mostly fun and extravagant, as shown in many of these pictures. Make yours unique by wearing it up high and adding a little curl to the ends for a retro vibe. Slick down your baby hairs to enhance the sleekness of the coif.
#14: Black Layered Senegalese Twists
Senegalese twists are an extensions favorite among African American women. While it takes hours to get them installed, it's worth the time you save the weeks following. Just throw the twists up in a ponytail, whether you are off to the gym or hanging out with friends. Hairdos don't get any more low-maintenance than this.
#15: Side-Pony with Swooping Bangs
With bangs swooping in the front and a sleek pony in the back, this burgundy coif makes a statement coming and going. The reddish hue ensures your hairstyle is stunning when it's up or hanging down. But a ponytail, shifted to the side, is an elevated choice for dressier occasions.
#16: Half-Up, Half-Down Style
Taking its cues from Kylie Jenner, this half-up style is svelte and alluring. Ponytail hairstyles with weave, are gorgeous because the extensions not only bring length, but also unmatched luster. To maintain the sheen, apply oil to your hair and sleep in a silk bonnet or scarf. It will keep your long locks healthy, even if they aren't technically yours.
#17: Sleek and Chic Ringlet Ponytail
Hairstyles can be understated without it being a bore, because simple and plain are not synonymous. This sleek ponytail relies on a single ringlet to elevate its allure and add just the right amount of femininity.
#18: High-Top Ponytail with Wavy Extensions
Use a drawstring ponytail to get an "I dream of Jeannie"-inspired look like this one. The waist-length tresses will be fun to whip around on the dance floor, and they will beautifully flutter behind wherever you go. For a more natural-looking appearance, cover up the base of the extensions with a thick strand of the hair.
#19: High Curly Black Ponytail
Ponytails for black hair often have lots of texture to use to their advantage. Whether you have kinky curls or tight waves, show them off with a half-up coif. Use different sized French braids at the top of the head to inject some visual interest.
#20: Lustrous Blonde Updo
Shades of blonde really pop against African-American skin tones. The warm hues beautifully complement each other. A sleek ponytail is a lovely way to show off the dimension of the color fade. With weave, you can achieve an even longer, svelte style.
#21: Chunky Black Ghana Braids
A traditional go-to for black hair, these Ghana braids make getting ready in the AM a cinch. Already braided into a ponytail, there isn't much styling left to do. You can always change-up your coif, for example, with beads or filigree cuffs for a boho finish.
#22: Reverse French Braids with Chocolate Coils
Natural ponytail styles are perfect if you want to make your beautiful kinks and coils the focus of your hairdo. Keep it simple with two French braids that draw the eye into your voluminous mane.
#23: Long Braided Ponytail
Black ponytail hairstyles rarely get more unique and interesting than this one. Featuring extremely long braids, this cute ponytail is definitely a head-turner. As the photo shows, there are several lengthy individually braided pieces that form the actual ponytail, while there are also three divided sections on top that are also braided. One of the highlights of this ponytail look is the intricate braided base that is wrapped around the ponytail itself.
#24: Micro Braid Ponytail
There is a wide variety of ways to create black hair ponytails. This one happens to feature the accurate rows of small cornrows braided closely to the scalp and fed into a cute ponytail. The actual ponytail is left long and freely-hanging. The final result is a style that is great for warm weather, vacations or weekend getaways.
#25: High Ponytail with Accessory
If you're going to rock a high ponytail, you may want to keep it simple but adorned with an accent accessory. Featuring a soft light brown hair color, this pretty ponytail is long and touchable. The highlight of the look, however, is the stylish golden hair accessory that allows the ponytail to keep its super high position on the head.
#26: High Black Pony for Relaxed Hair
A sleek high ponytail is definitely perfect for evenings and special events. To get it just right, it needs to be pulled back neatly and tied high enough to let the hair fall around your face. Ciara gives us a great example.
lev radin / Shutterstock.com
#27: Sleek and Shiny Ponytail
Rihanna knows how to wear a ponytail well. Her sleek and shiny low ponytail creates a perfect texture harmony with her satin dress. The hairstyle is sophisticated and elegant, and it's also easy to recreate – just as long as the hair is kept very tight and hair serum is used for shine.
Helga Esteb / Shutterstock.com
#28: Black Ponytail Hairstyle with a Bouffant
Ponytail hairstyles can be really creative and playful. Shaun Robinson has styled hers with an added volume on top – a bouffant. She also has her bangs styled to the side and delicate waves added to her long black locks.
Helga Esteb / Shutterstock.com
#29: Low Black Ponytail with Bangs
Ponytails are great when you want to keep your hair away from your face and also go for a bit different look. Styles like Penny Johnson's Jerald work perfect as a variety of effortless day-to-night 'dos you can cope with in a matter of minutes.
Helga Esteb / Shutterstock.com
#30: Neat Ponytail with Voluminous Curls
Voluminous black curls look terrific not only in side downdos, but in chic ponies as well. Lilly Ghalichi rocks a luxurious hairstyle with flowing silky waves gathered at back into a posh ponytail.
Helga Esteb / Shutterstock.com
As you see, there's no need to wear the same type of pony for years. Try different textures, finishes, accessories and new quirks you've learnt here. Why not give these fab styles a try?
Sours: https://therighthairstyles.com/black-ponytail-hairstyles/
NO GEL!! NO HEAT!! Sleek Braided Ponytail On Natural Hair
.
You will also be interested:
.
80
81
82
83
84