Bathroom Vanities
The bathroom vanity might just be the hardest-working piece of furniture in your home. It is a cabinet to store the necessities, the foundation for your sink, and the anchor for the overall style of the room. Replacing your vanity is an affordable project that can dramatically improve the look and function of your bathroom. With a few tips from our experts, you can choose the right piece for your space, budget, and style.
The Perfect Fit
Knowing the height, width, and depth of your current cabinetry is just the start. It is also important to know the room measurements before you begin. To find the perfect replacement vanity, you'll need to consider both your bathroom layout and the location of the plumbing. Having the floor space for a large vanity might get complicated if the plumbing fixtures are out of reach.
The width and depth should fit in the space available between other room features, including allowances for the swing of cabinet doors and the slide of drawers into walkways. A single sink vanity can range from 24" to 61" widths, while a double vanity can range from 48" to 80" in width, with different configurations available for the sink plumbing and shelving. In addition to the cabinet width, a vanity top can overhang the width of the cabinet by an inch or two, so plan to lose that extra space.
Most vanity cabinets are available in a range between 30" and 36" tall, before the added height of the countertop and sink.
When selecting a vanity set, the vanity height will show the distance from the top of the completed vanity countertop to the floor.
When looking for a vanity cabinet, the vanity top is purchased separately, so the cabinet height indicates the distance from the unfinished edge of the cabinet to the floor.
The vanity height should accommodate everyone in the household, as well as their guests. For the average master bathroom vanity, a vanity height of 32" to 36" should be comfortable. For a child's bathroom, however, consider a lower cabinet height of 30" so the sink is more easily accessible.
For a more in-depth look at how to plan for a vanity, our design experts have some great advice on choosing the right size vanity. Whichever size is right for you, we will help you find the right one.
Putting It All Together
We start and end each day in the bathroom. Updating your vanity is a great way to improve this important little room. Whether your decorating taste is traditional or modern, there is a vanity to match your style.
Our home improvement experts can also help you find lighting, mirrors, faucets, and the final accessories to pull the whole look together. And, if you decide to install the new vanity yourself, our DIY specialists can give you step-by-step instructions for a successful project. Give us a call 7 days a week, or chat with us live through the site. One of our knowledgeable project experts will be glad to answer any questions or assist you in your search.
Sours: https://www.build.com/bathroom-vanities/c108512
Small Bathroom Vanities
Here at TradewindsImports.com we offer a wide selection of vanities. From black and white to modern and antique our vanities are made to fit any style bathroom and please any customer looking for a vanity.

Our single sink small bathroom vanities are some of our most popular vanity products by far. They are the perfect addition to any small bathroom that is lacking in space or that has the tendency to feel cramped when in use. These vanities create a more spacious feeling in a small bathroom due to them being small in stature. This type of vanity will also seamlessly fit into any larger bathroom and add a more sophisticated feel to the room.

We take pride in the knowledge that the bathroom is the most used room in the home and as such our vanities are crafted out of none other than top of the line materials. Materials such as oak, birch, glass, mahogany, steel and acrylic are used for vanity construction to guarantee that your vanity will last and accentuate your bathroom for years to come.

Single vanities come in a range of cabinet designs. Modern and black small bathroom vanities are perfect for homeowners with a more contemporary style. Older looking antique vanities look great in Victorian style homes. A white single vanity cabinet would go great in a country style home and add more warm and homey feel to the bathroom.

If you know exactly what type of bathroom vanity you are looking for then our website is going to make browsing our vanities a breeze. Clicking on each product will take you to the individual product page. Here you will find characteristics and specifications for each individual vanity. Purchasing one of our vanities for your bathroom is also a breeze and simply involves clicking on the "add to cart" button and checking out.

Our staff at TradewindsImports.com is waiting by the phones to answer any and every question that you may have pertaining to vanities or any other bathroom related items. Contact us today!

Looking for something a little larger? Check out our double sink bathroom vanities!

Happy vanity shopping!
Sours: https://www.tradewindsimports.com/small-bathroom-vanities.html
Stylish + Functional Single Bathroom Vanity Designs
Hello Light + Bright
Boost Your Bathroom's Hue
See More Photos: 40 Bathroom Vanities You'll Love for Any Style
View Through an Opposing Lens
When in Doubt, Go Timeless
See More Photos: All The Creative Ways You Can Use Cane Accessories In Your Home
Toy With Traditional
Round It Out
See More Photos: Ethereal Blues and Pretty Patterns in Cozy Contemporary Home
Go Big on Style
See More Photos: Our Fave Bathroom Tile Design Ideas
Embrace a Style You Love
Even Out the Design
See More Photos: 53 Bathrooms That Make a Statement With Bold Wallpaper
Top With Marble
The powder room's freestanding white vanity has a rustic wood framed mirror and 3-light vanity light for illumination above. Sophisticated black walls with a subtle softness provide a dramatic backdrop and add moody style to this chic space with a Western flavor.
See More of This Space: Powder Room From HGTV Dream Home 2019
Coordinate Metals
See More Photos: 32 Cool Design Tricks to Steal From an Arizona Home
Go With the Curve
Pick Distinct Patterns
Make It Fun
See More Photos: 30 Kid-Friendly Bathroom Design Ideas
Feel Like a Spa, Everyday
See More Photos: 75 Dreamy, Spa-Inspired Bathrooms
Maintain Practical Living
See More Photos: 20 Cozy Farmhouse Bathroom Ideas
Infuse Contemporary Elements
Amp Up the Color
Strip Down to Basics
Add Containers for Order
See More Photos: 40+ Clever Bathroom Storage Ideas
Reflecting Style
Form a Counterbalance
Float Along
Update the Traditional
Think Inside Your Layout
See More Photos: 50 Small Bathroom Design Ideas & Solutions
Sours: https://www.hgtv.com/design/rooms/bathrooms/single-sink-bathroom-vanity-design-ideas-pictures
DIY Farmhouse Bathroom Vanity Cabinet
Single Sink Bathroom Vanities 12 to 73 Inches
Related Searches
Small Bathroom Vanities Under 30 Inches
34 Inch Single Bathroom Vanities
40 Inch Bathroom Vanities
48 Inch Bathroom Vanities
Single Sink Vanity Buying Guide
Single Vanities Without Counter Tops
The selection of vanities without countertops available within this collection allow the client to choose exactly what they are looking for. The cabinets are available with the choice of counter tops, or can be purchased without the countertop to enable the home owner to get just what they are looking for. The counter top choices available make it easy to match the decor of the bathroom they are to be installed in. From modern to elegantly traditional, the selections available here are sure to enhance the bathroom with both style and function.
Traditional Bathroom Vanities
This amazing collection of single vanities in traditional and antique styles includes pieces that have detailing that will enhance any bathroom space. The large variety of sizes makes it easy to find just the perfect fit for the space. Though function is usually a priority for the bathroom, these sinks look more like a piece of furniture.
Modern Bathroom Vanities
A modern bathroom decor deserves a vanity that fits in well with this style. This selection of single vanities comes in wall mount and free standing, many with flat panel doors and drawers for the minimalist look. Many finish colors to choose from, including white, espresso and black.
Vessel Sink Vanities
A sink vessel is a unique way to add both form and function to the bathroom. A vessel sink sits on top of the countertop. Though a vessel sink is often considered modern, you can see from this collection that you can also find styles ranging from natural looking vines twined together to form the base, to simple but elegantly designed cabinets.
Pedestal Bathroom Sinks
Pedestal style vanities are ideal for guest bathrooms, or rooms with limited space. There's more to choose from than the standard white pedestal sinks from years past. Our collection offers a unique touch to the decor of the room as well as adding needed functionality. Simple and modern looking styles as well as pieces with elegant details are here for the choosing.
How to Measure for a Single Vanity
Getting the right size vanity base is crucial for the look and flow of the space. The best way to start this process is to measure the dimensions of the existing vanity. It could be possible to get a larger size, just make sure it does not disturb the maneuverability in the room nor cover any electrical outlets or vents. On the page of each item are detailed measurements of the width, height and depth of the piece. It will be easy to determine which ones will be the best fit for the intended space.
Narrow Depth Vanities
Getting the right size vanity for the space is very important when selecting one for the bathroom. Some spaces can only accommodate a piece with a certain depth. The sinks in this collection have 20 inch depth or less, which is narrow enough for the space. There are many choices available for the length. The design styles also come in a nice variety to best go with the decor of the bathroom.
Plumbing and Installation
Each of the vanity bases available here have a pre-cut hole in the back to accommodate the water lines and drain pipes. The installation can be performed by an experienced or confidant homeowner or by hiring a professional plumber. The counter top or sinks have a pre-cut hole for the faucet. Many of the selections include a faucet that will best work with the sink type, be it an under mount design or a vessel style.
Vanities with Offset Sinks
If you have a unique plumbing issue which requires the sink to be offset, then check out this page of vanities in which you can find sinks on the left or right side, rather than centered. These are also great if you have a smaller space and want to maximize your countertop space.
How to Order
Along with the many style types offered here, there are also choices to make regarding finish color and counter top material. This is easy with the drop down menus. This allows for the perfect combination that will match the home owners' imagination regarding how the vanity will look within the room. Ordering can be done completely online, but if there are any questions or concerns, a call or message to a customer service representative is always possible. Shipping is free to the 48 continuous states.
Sours: https://www.uniquevanities.com/single-sink-bathroom-vanities.html
Cabinets single sink
Similar ideas popular now
glass tile bath, marble bath, faucet in wall, stainless bath, pedestal sink, Open floor plan, white kitchen, built-in nook table, fireplace in kitchen, box ceiling, beach chic, cottage, Hamptons, Portland, OR, greater Oregon, custom home builder, remodel
Sours: https://www.pinterest.com/tradewindsimpts/single-sink-vanities/
How to Build a Single Sink Three Drawer Vanity
16 Single Sink Vanities for the Master Bathroom (+ The Pair I Ordered!)
The master bathroom is still untouched with half-ripped up tile and sub-flooring as the current primary situation. We haven't started the remodel just yet as we're waiting on insurance approvals and such, and I still am not 100% committed to exactly what I want to do. However… even without having clear direction, I've already ordered replacement vanities and they should arrive before the end of the week! While we are going ahead and using this whole flood thing as an opportunity to make upgrades to the master bathroom since so much construction will already be taking place, we won't be changing the actual footprint of the space. Instead of one long, double-sink vanity, we will continue to have two separate his and hers vanities, in their current respective locations. With wall space limitations, the longest the spaces would maybe accomodate is around 50-52″. A 48 inch bathroom vanity is a common size and by far easier to find something that's more than 50″ but less than 60″. After searching for hours and days, I landed on a pair of vanities that again — while I have no idea my specific design plan — I loved. Today, I'm sharing 16 favorite 48 inch bathroom vanities (plus a few that have a few extra inches!) that I came across during my searches that fit the bill in terms of design, function and storage.
*Posts on KelleyNan.com may contain affiliate links. Click HERE for full disclosure.
Why am I looking to order a vanity instead of having one built?
My initial thought here was I'm going to have a lot of logistics to manage in terms of all the bathroom *things* that have to be ordered and there's a lot of components to vanities — from the sink and countertops to faucets, backsplash, cabinets, etc. I wanted fewer decisions to make and I also didn't want to go through the process of picking paint, slabs of hard materials for countertops, sinks, etc. All those items add up, too, and while my 48 inch bathroom vanities ended up costing a little more than I expected, there are so many gorgeous bathroom vanities that are affordable and come with just about everything except the faucet.
What am I looking for in a 48 inch bathroom vanity?
My biggest requirement for new vanities was to find something that had drawer storage. My current vanity has a single slim drawer, seemingly no deeper than the width of a quarter, and one cabinet. It has a cutout for a seat currently, but I never use it. So, it's basically like I just have a chunk of vanity missing. Any "special" features would be a perk and I also love the look of vanities with feet, for a more furniture feel. I also want a centered sink. I went through a similar search process when we made over our small powder room — you can see the reveal of that space HERE and a post dedicated to selecting a small (16 – 24″) vanity HERE. There's several considerations I list out in that post from backsplash and faucets to how the vanity will actually be used.
Favorite 48 inch bathroom vanities
Like I mentioned, when I started my search, I had zero clue in terms of direction. I wasn't sure if I wanted a bathroom vanity finish in white, black, wood, or maybe even a color. Then, I started gravitating towards black after seeing THIS black 52″ vanity… unfortunately, with a long lead time, it ruled itself out. Ultimately, I found the vanity that checked all the boxes. I sat with the price a bit before submitting my order and now I can't wait to get it in! Read on to see which 48 inch bathroom vanity I went with, more vanities I loved along the way, and some of the cool features of some of the cabinets I've included in the post.
*All vanity links can be found below the graphic*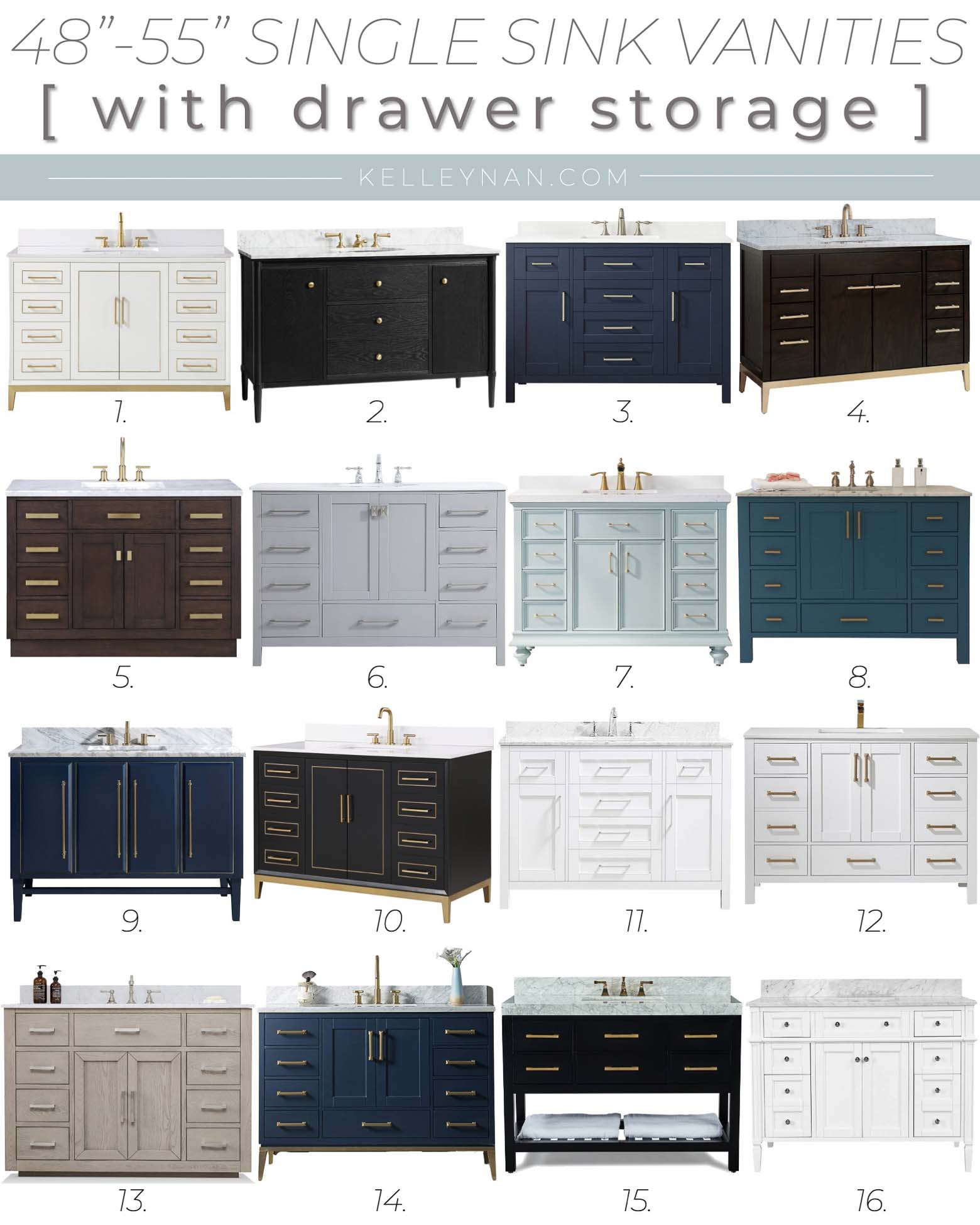 1 | 2 | 3 | 4 | 5 | 6 | 7 | 8 | 9 | 10 | 11 | 12 | 13 | 14 | 15 | 16
The vanity I went with? Or better yet, the pair of vanities I went with? Number 1! It's actually listed for the same price on Amazon (HERE) and Wayfair (HERE) and both ship free. Both have always been great in terms of customer service so I would feel comfortable ordering from either. The price had me a little bit because it was a fair amount more than others I had looked at. Plus, as I mentioned before, this isn't a remodel we were planning to take on. But, it was one of those things that when I saw it, I wanted it… so I did it. It's a 48 inch bathroom vanity that actually comes in three colors — white, black and midnight blue — I ordered the white. (Number 10 is a peek of the black finish — also stunning!) It also has good reviews across the internet and comes with a few options on countertops. It has a Carrara marble option but I selected the white granite. It has lots of drawer space and I love the gold feet and and gold details. It also has a power source inside the cabinet with USB and outlet functionality. I plan to store my hair dryer and curling irons inside the pullout, inside the cabinet and I love I have extended outlet space that will hopefully maintain some order. I also really like that the bottom drawers are deep double drawers with faux single fronts, to store more tall toiletries and hair products.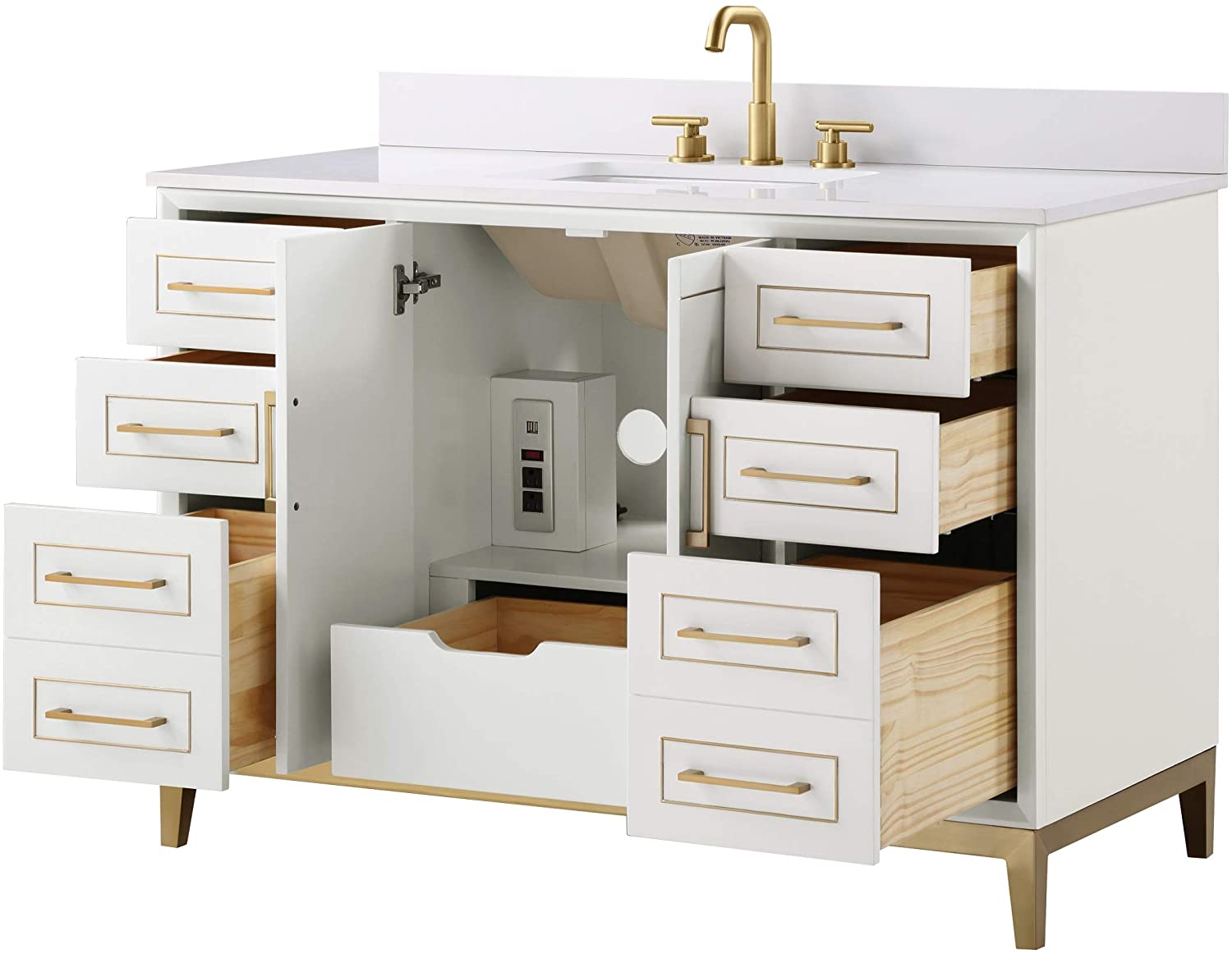 Vanity
Number 3 is less than half the price of the vanities I ordered, is clean and sleek, and has smart storage for days! I love that he top "drawer" that is typically a faux wasn't wasted and they incorporated a pull-down cubby. Also, I'm digging the deep double-drawer-front bottom drawer and that the cabinets have shelves.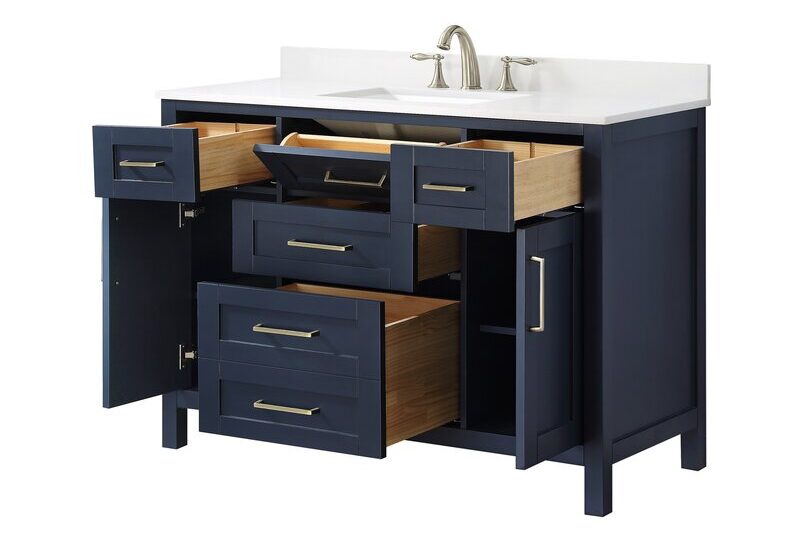 Vanity
But the coolest feature is that it has built in organizers. It comes in this blue color but also a black and a gray HERE.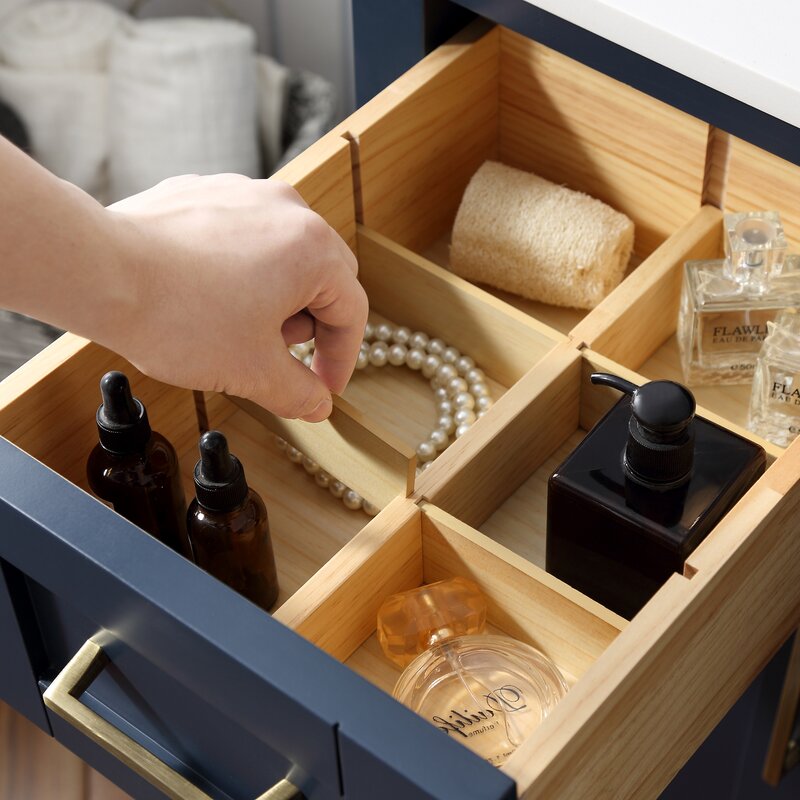 Number 6 focused on drawers in a major way, too! Along with the cabinet, there are nine functional drawers in this 48 inch bathroom vanity. It comes in four colors, including white, gray, black and blue.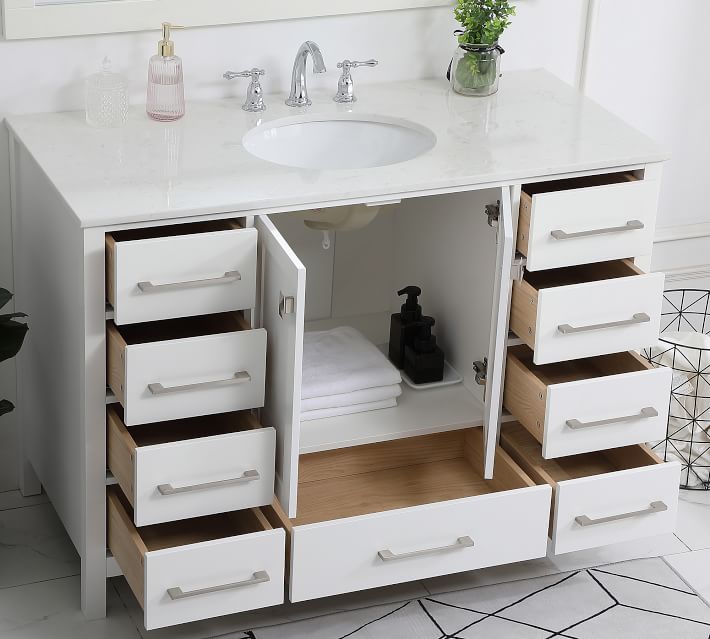 Vanity
Number 7 almost had me. That Tiffany/robin's egg blue is gorgeous and so pretty for a bathroom. And, that gold hardware that accents it is just delicious. It has a perfect 5* rating of consumer reviews and, it's just… stunning. It also comes with middle drawers that are extra deep but ultimately, I still just wasn't totally sure with the direction I wanted to go in the bathroom and I knew this would make me commit to an aesthetic 100%. Like most of the vanities in this post, it does ship free 😉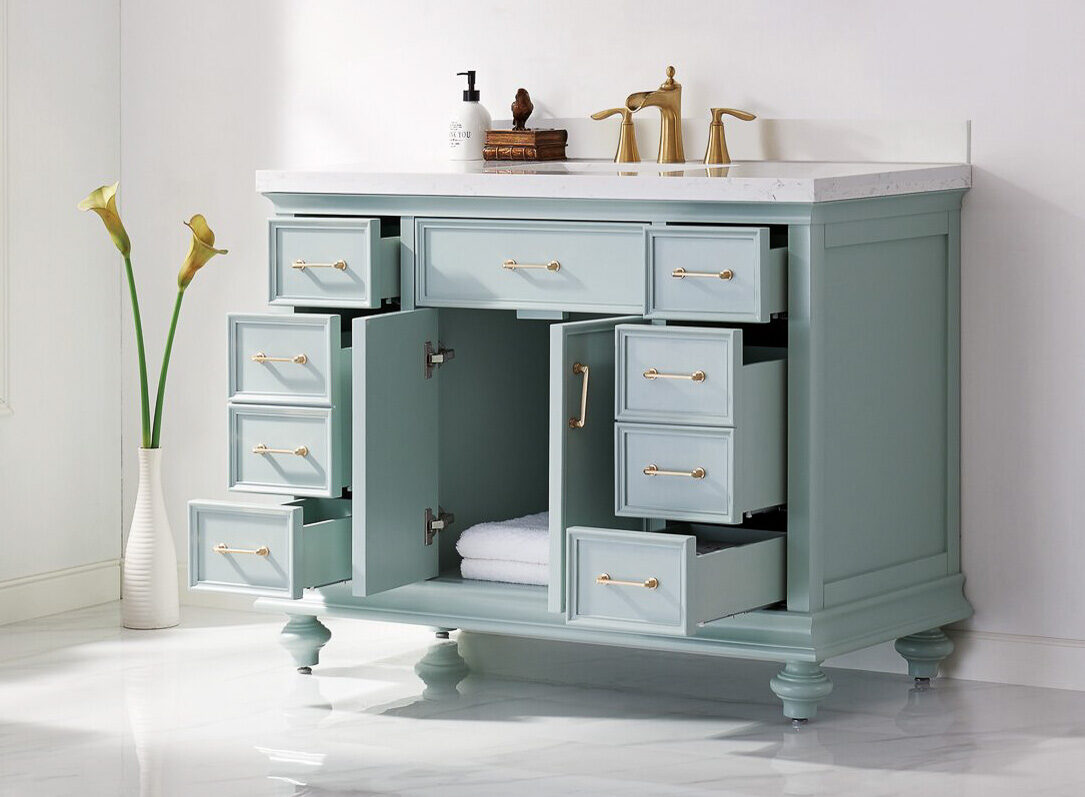 Vanity
I love the color of Number 8 and I also love that it has nine functioning drawers! It comes in three colors, has 5* reviews, and also ships free.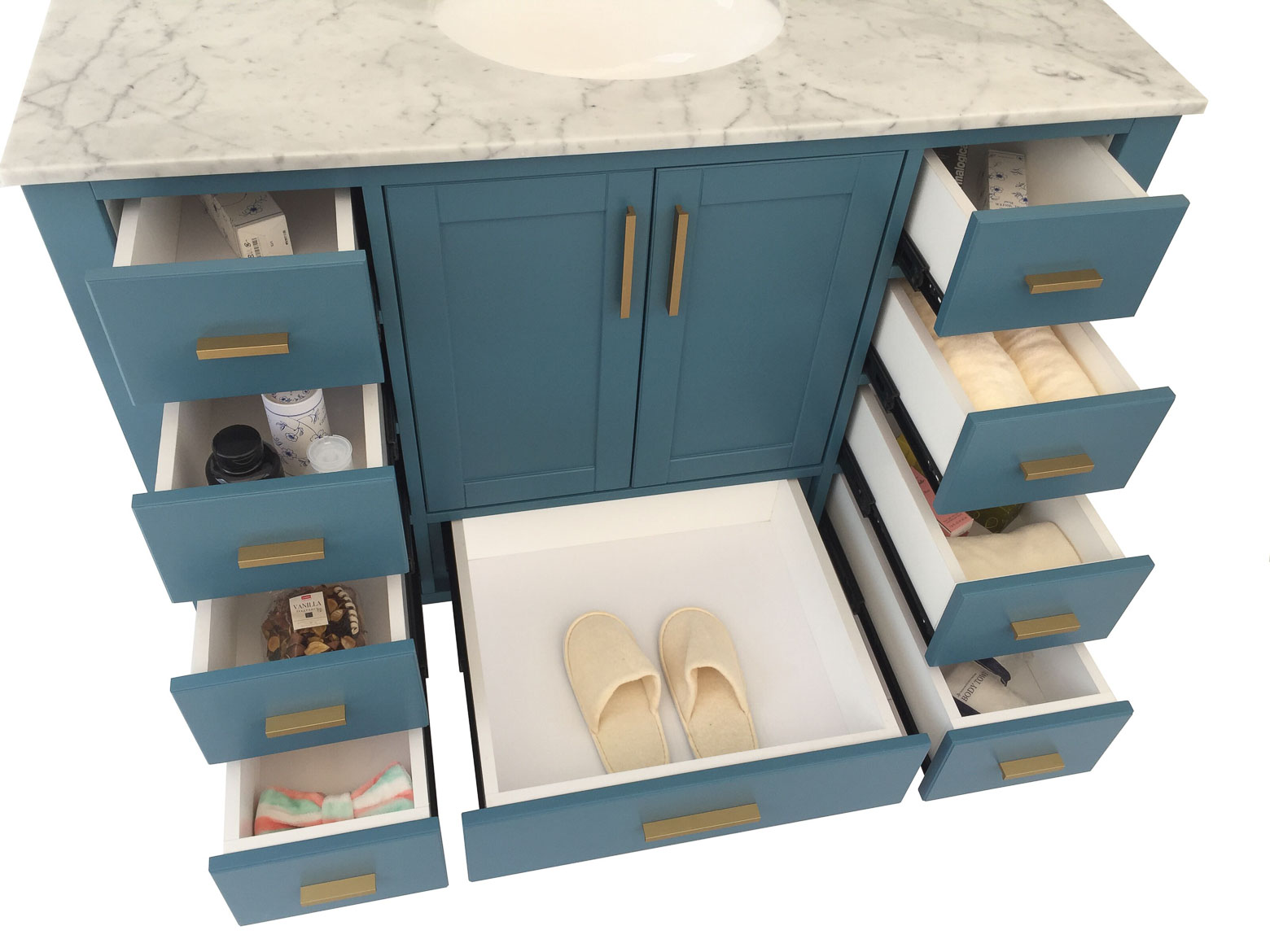 Vanity
Number 9 is actually 49″ — it's stunning and unique and comes in three cabinet finishes, two countertop finishes, and both silver and gold hardware. While it looks like it's only cabinets, it actually does have a slide out drawer inside the center. It even has a built-in organizer and a spot for hair tools! But, with me wanting to go big on drawer space, it didn't have quite the drawer space I was looking for…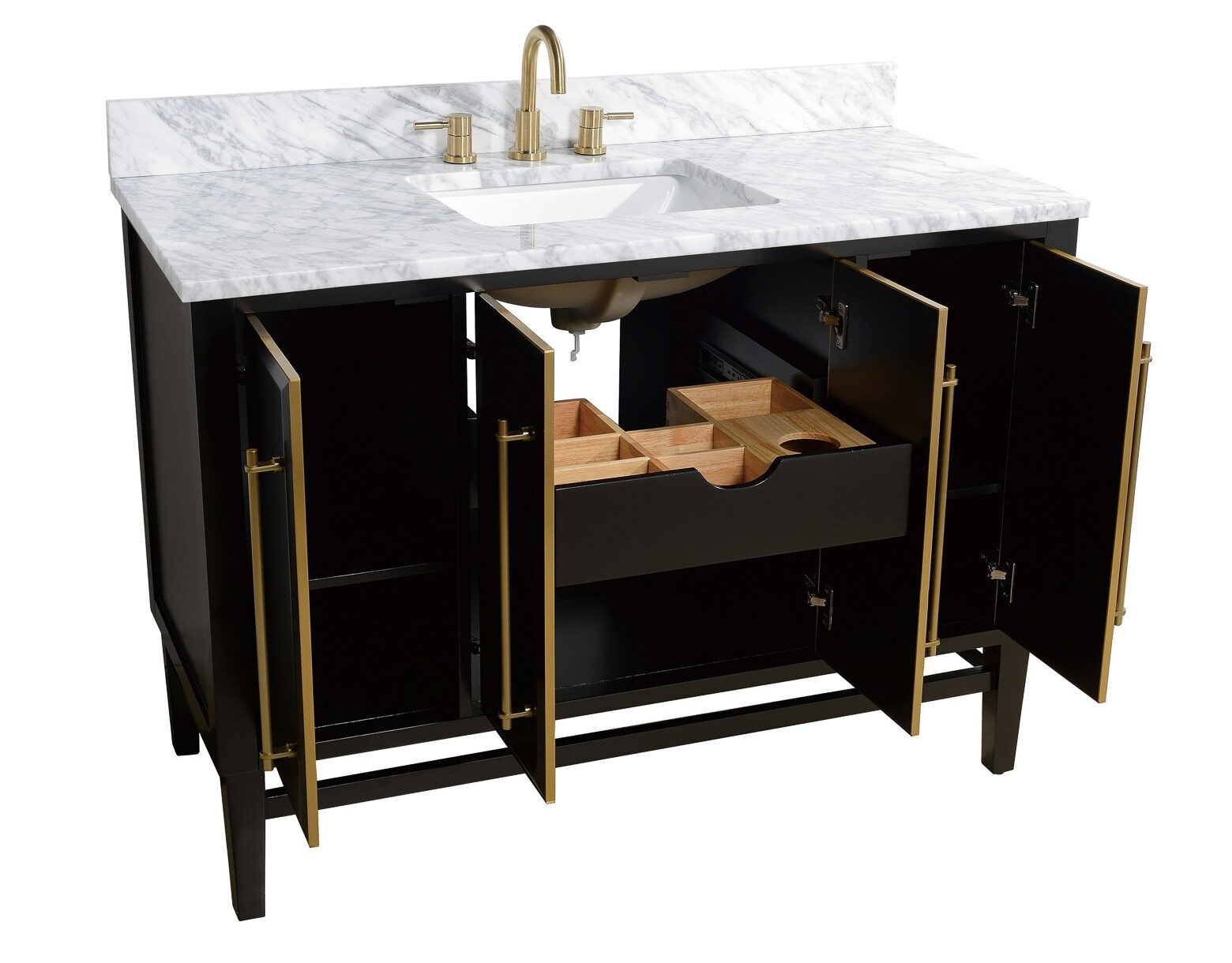 Vanity
Number 11 is a favorite! It actually comes in four colors and three sizes, up to 72″, is one of the most affordable vanities in this post, and ships free. But, what I'm really crushing on are those organizers! Some of these bathroom vanities with organizers are a rare find that aren't typical unless you have something custom built. The storage in this 48 inch vanity is awesome.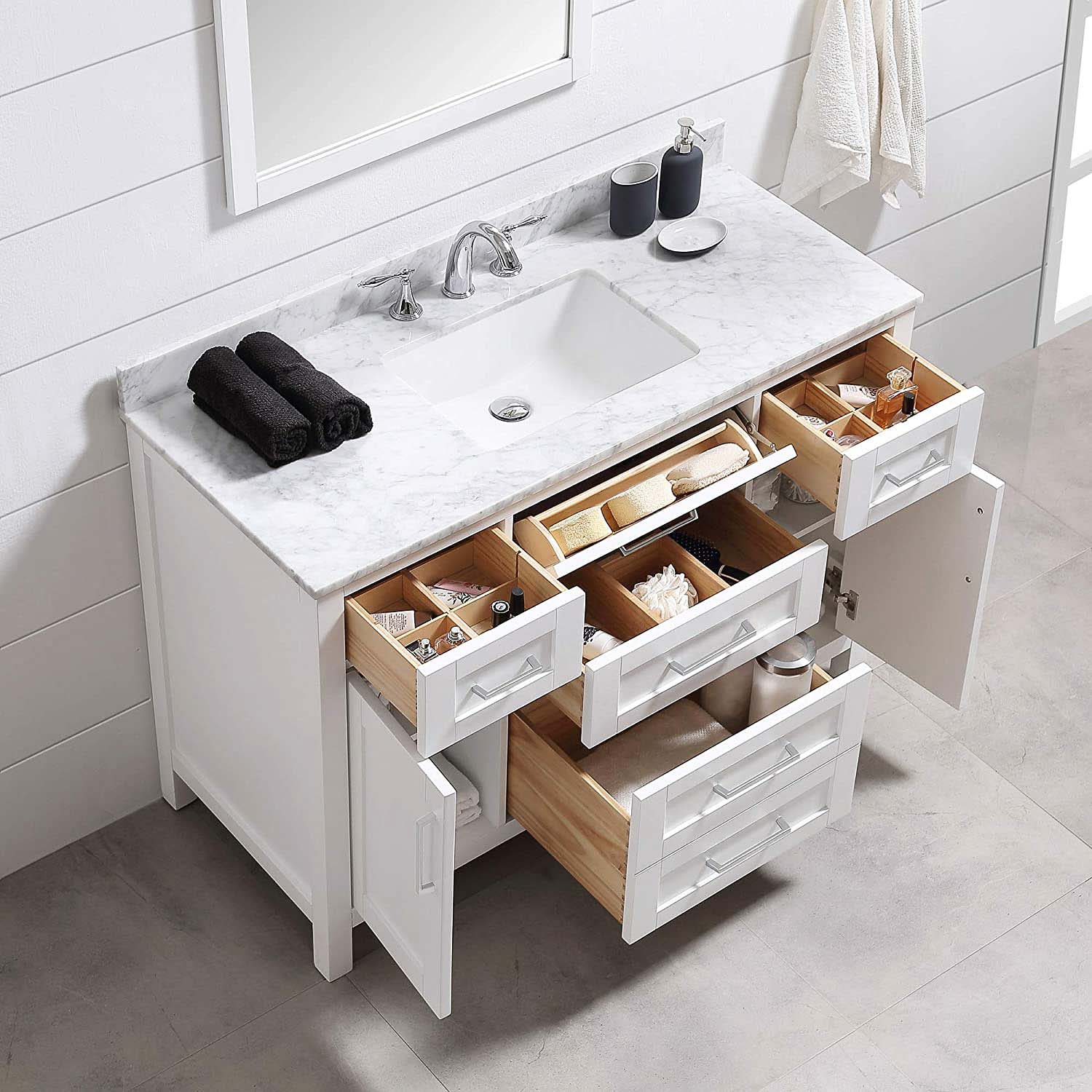 Vanity
I really like the gray wood finish on Number 16 — this 48″ bathroom vanity and it actually comes in 42″ and 36″, as well. There's lots of storage opportunity and while the hardware on this one is sturdy, there's a lot of possibilities in switching to something a little funkier.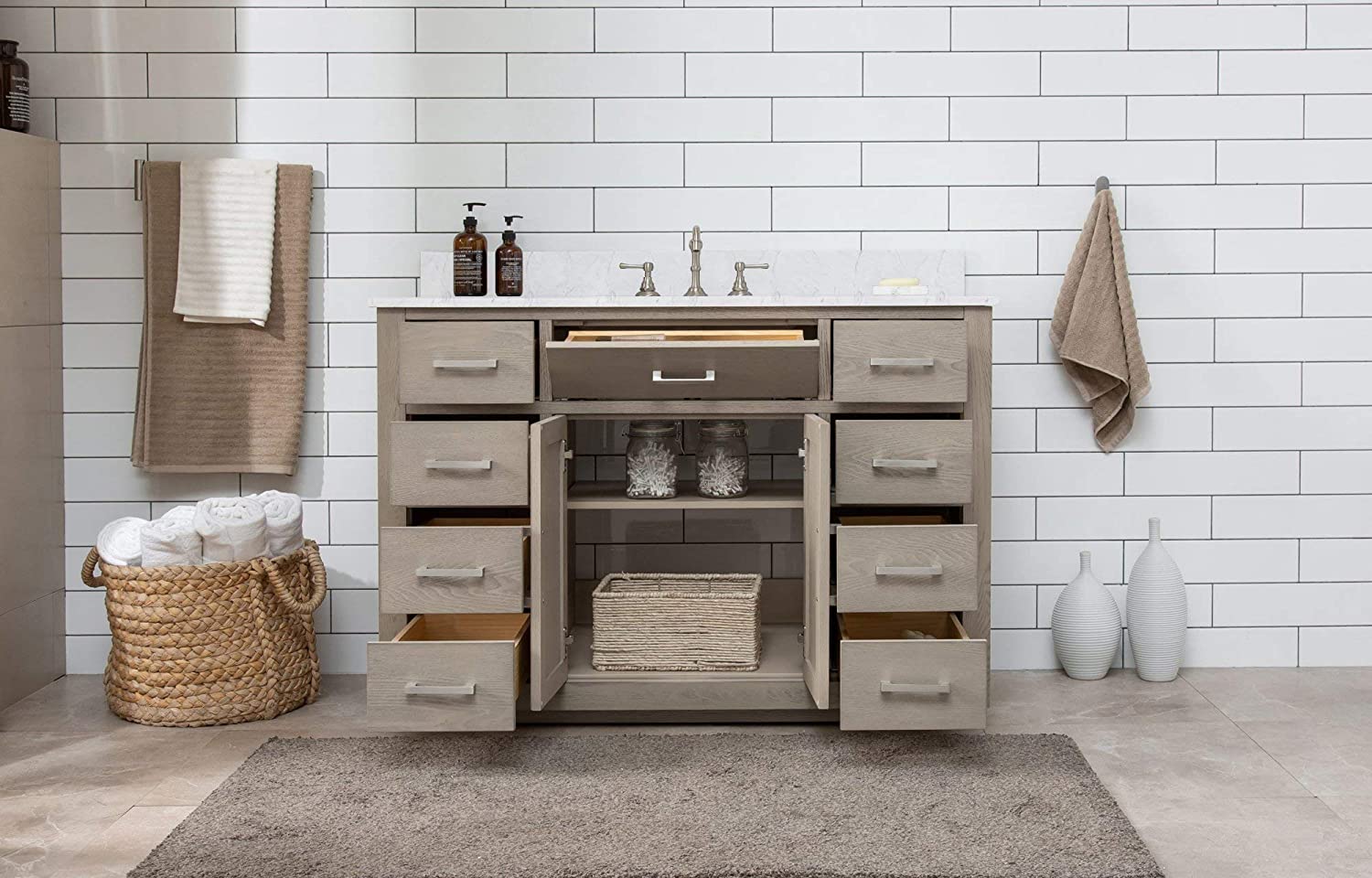 Vanity
I'll be sharing a full design plan for the master bathroom soon — to make sure you catch all the updates and ultimately, the reveal, be sure to subscribe to emails at the bottom of the post!
Other Posts You May Enjoy
Browse & Tap to Get the Details
Sours: https://kelleynan.com/48-inch-bathroom-vanity/
You will also be interested:
.
738
739
740
741
742