by: Bernd Müller 12.21.2009
MTV-Laptop
The 15.6-incher of the colorful EMA 2009 Limited Edition should not only attract the MTV-audience. The artwork at the cover brings color to office and home. However, the workmanship has weak points and also the look has its dark sides. What is the low priced top-seller from the manufacturer Dell actually capable of? - Learn about it in detail in our review.

The Inspiron 1545 is today's entry-level series from the Texan computer manufacturer Dell. That is simple 15.6-inchers with low-efficiency configurations at 450 euro and above. Dell sponsored the MTV Music Award 2009 and wants to consolidate the position of its brand in the lifestyle-oriented target group.
According to David Clifton, Director of Consumer Marketing, Dell Europe, a personalized design, which allows their users to express their individual style, is the core of Dell's product-range. In line with their partnership with MTV they would like to give music fans the opportunity to get in contact with companions in mind and communicate their personal music style.Cite available on our corresponding German article.
Whether music fans could actually live their lifestyle with a laptop that does not offer much except of an elegant cover, is arguable. Will adolescents driven by a music lifestyle really settle for a case and technical equipment of the lowest level? Our test will uncover the pros and cons of the Inspiron 1545.
>> buy this laptop now for a fair price directly at Dell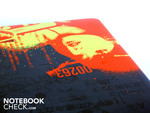 The first impression of the case is dominated by the cover art on the lid. The 15.6-inch big case got a plastic-imprint of the pop-art artist Filth, because Dell sponsored the MTV Awards 2009. The event took already place on the 5th of November 2009 in the O2 World in Berlin. As Dell offered a color option for the lid of the Inspiron 1545 series anyway, adding a cover in MTV style was only a small step.
At the user side the black plastic case is finished in high-gloss. Such surfaces completely surround keyboard and display. Presumably those who hate fingerprints will keep away from this laptop.
The case is rather stiff, so, it could only be slightly twisted when we applied force. Our hands could nowhere force the wrist rests to give in. The same is true for the keyboard. The impression of stability the bottom part left is abruptly discontinued when we open or move the lid. A creaking goes along with opening and closing. If you grasp the lid at one of its corner and slightly twist it, this noise is clearly audible. In addition, the frame of the display sits particularly loose. There is a gap of 2-3 millimeters at the top frame where usually a web cam is built-in. So, it is possible to push the frame in and lift it. In short: It's been a long time since we last saw such a fragile lid.
At the opposite side, the cover art is neatly done and flush with the lid. It is not a sheet but actually a plastic imprint also used in the serial production. So, customers do not need to worry about sloughing or air bubbles.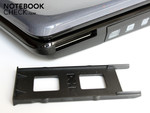 The ports are well arranged at three sides of the laptop. The rear stays free, because the battery is removed towards the back. The card reader and the two audio ports at the front side are handy. So, the headphones plug can be directly connected.
The Inspiron 1545 is equipped with three USB-ports, VGA (d-sub), network, and audio interfaces (headphones, microphone). In the light of this spartan connectivity, the ExpressCard/34-slot at the right nearly appears to be a highlight. You could, e.g., insert a Creative Sound Blaster X-Fi with radio transmission there. So, those interested in music could transfer music to a hi-fi system or enjoy X-Fi headphones surround sound cable-free. Those not interested in music at all could add a UMTS module in ExpressCard/34 format.




The user can browse the internet via wireless WLAN draft-n provided they connect via a router which supports draft-n too. A con is that a web cam is missing. Especially the adolescents targeted would have a use for such. However, Dell offers it as option for the Inspiron 15 in its on-line shop.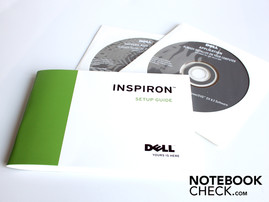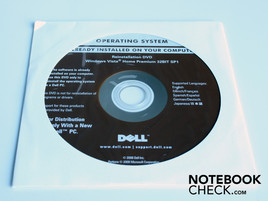 Keyboard
The keyboard left mixed impressions. First of all we liked that it sits thight and only slightly gives close to the right shift. As a result the stroke is firm. However, the fuzzy point of pressure gives only an unsatisfying feedback when typing.
The keys are arranged in a standard layout, are sufficiently big and have an adequate distance to each other. At the right the outermost column with Del to Page Dn is clearly separated from the rest of the keys. This prevents the Enter-key from being unintentionally triggered. Touch typist won't like the keyboard as the two haptical marks for the home position of the hands are not sufficiently distinct. Overall, the keyboard appears to be quite suitable. However, those used to desktop keyboards will have to adapt to the spongy feedback first.
Touchpad
The touchpad embedded in the glossy wrist rests has a slightly shiny surface and does not support multi-touch gestures. Die finger hardly faces any resistance when it glides over it. Nevertheless, a precise control is possible. Although they are not visible, a vertical and a horizontal scroll area are available. It seems simple do provide such without any optical or haptical mark. The according areas are totally at the right and at the bottom edge. So, the finger can be geared to the border of the touchpad.
Dell's touchpad even comes with a proprietary tool for setup. It allows to define the width of the scroll areas. Although the touchpad does not support input with two fingers (multi-touch) it features zooming. This can be done via the left scroll bar.
The buttons of the mouse replacement have a clear travel and feedback. Their click is hollow, but fine.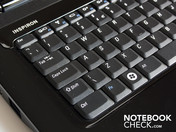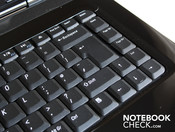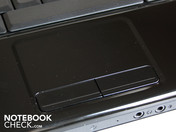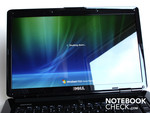 The HD-ready screen of the Inspiron 1545 displays in a resolution of 1366 x 768 pixel. This is the standard 16:9 wide-screen resolution, which nearly all mainstream office and multimedia laptops use today. The TFT without anti-reflection coating has a moderate contrast in common with these. At maximum brightness a contrast ratio of 205:1 is achieved.
Looking at images we once again realize the impacts of a too low contrast on the user: Black does not appear like deep black and the colors do not gleam that lively and strong as they could. However, a high contrast is usually reserved for more expensive multimedia or gaming laptops.
185.1
cd/m²
180.2
cd/m²
179
cd/m²
186
cd/m²
205
cd/m²
184.5
cd/m²
162.6
cd/m²
178.9
cd/m²
161.3
cd/m²
Distribution of brightness
Maximum: 205 cd/m² Average: 180.3 cd/m²
Brightness Distribution: 79 %
Center on Battery: 205 cd/m²
Contrast: 159:1 (Black: 1.29 cd/m²)
Our measurements of the brightness resulted in moderate values. On average the TFT display gleams with good 180 cd/m². This is more than enough indoors. Thereby the illumination is homogeneous and, so, darker or brighter areas are not visible in black or white backgrounds.
Using the Inspiron 1545 in the sun is hard. The reflecting 15.6-inch display already causes clear mirror effects if its cloudy. If the bright sun shines into the display too, the moderate brightness of 180cd/m² does no longer suffice outshining the sun light. But, even indoors we are not absolutely protected against adverse light conditions caused by bright windows or desk lamps.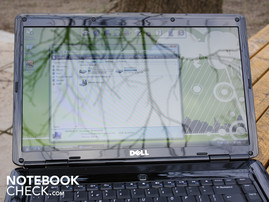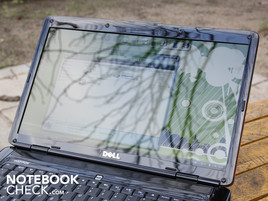 The viewing angle stability describes whether colors and fonts are still clearly legible at lateral views. The 15.6-inch TFT of the Inspiron 1545 does not allow the user much leeway. If the eyes are moved up or down (vertical), the colors already noticeably bleach at about 30 degrees. But, we can move up to 45 degrees to the right or left (horizontal) from the middle. But then the colors invert heavily.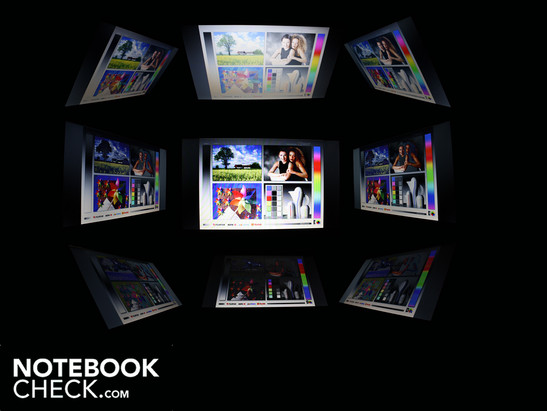 Dell built an Intel Pentium Dual Core T4200 with 2.0 GHz clock rate into our test sample. This CPU has only one Megabyte L2 Cache and 800 MHz FSB. With a TDP of high 35 Watt it does not belong the energy-saving processors. The T4200 features two physical cores, but not Intel Hyper-Threading. Its typical field of application is in inexpensive office and mid-range systems.
If you want to run processor-heavy tasks like video editing or image processing, such a system is rather not appropriate. As a dedicated graphics card is missing, applications can also not make use of Nvidia's CUDA or ATI's Stream to disburden the CPU at certain tasks. An Intel GMA 4500M HD chipset graphics without separate video memory works inside the reviewed low-cost model of the Inspiron 1545. 4 GB DDR2 RAM and a 320 GB hard drive from Hitachi assist the Pentium T4200 CPU and the chipset-GPU from Intel.
System information Dell Inspiron 1545
We looked at the latencies with the DPC Latency Checker tool. If they are too high, they can cause troubles when external devices are connected (e.g. sound crackling of external audio cards or short interruption at real-time audio). The values of the Inspiron 1545 never exceeded2000 µs. If this should happen, faulty drivers of internal devices likes WLAN-module, sound card, USB host controller etc. are usually the reason. Selectively deactivating drivers and applying the exclusion principle can help revealing the blamable one.
Cinebench R10 Rendering Single 32Bit
1976
Cinebench R10 Rendering Multiple CPUs 32Bit
3489
Cinebench R10 Shading 32Bit
856
Help
... in comparison
PCMark Vantage Result
2591 points

Help
Since a few month the Pentium T4200 has replaced the Celeron M in entry-level configurations. So, you can't expect that it will work wonders in regards of performance. What we get is respectable computation speed far beyond of fast Core 2 Duo or even Core i7 CPUs. A reasonably fast Intel P8400 (2.26 GHz) achieves 4.600 points in the Cinebencn R10 Multiple CPU Rendering test. It's even 4.600 points for a T6600 (2.20 GHz), while the T4200 (2.1 GHz) can just accomplish 3.500 points. Core i7 systems, e.g., the Asus G60J achieve above 10.000 points with their four CPU cores. Clear and brief: The T4200 is an absolute entry-level processor, which uses the advantages of a dual-core architecture.
We determined the application performance with the PCMark Vantage and it proved to be about on par with fast ultra-low-voltage or Intel Core 2 Duo systems with low clock-rate. The Asus P50IJ-SO036X reviewed a short time ago is equipped with an Intel Core 2 Duo T5870 (2.0 GHz) and achieves about the same value in the 3DMark Vantage. We record 2.591 points. Whoever is satisfied with a solid office performance, can safely accept a T4200 CPU. However, if you need a faster processor for video or image editing, you should at least go for an Intel P8400, which is better combined with a midrange ATI or Nvidia graphics card.
In Dell's on-line shop you'll also find appropriate options for these tasks. For example the most powerful CPU offered is a P8700 from Intel, which, with a 2.53 GHz clock rate and 25W TDP, well balances performance and energy demand.
In addition Dell also offers alternatives to Intel's integrated chipset graphics. The offered ATI Mobility Radeon HD 4330 can assist the CPU when calculating HD-contents and its performance at least suffices older games at low details and resolutions. More detailed information is available in our gaming list.
3DMark 2001SE Standard
5567 points
3DMark 03 Standard
2299 points
3DMark 05 Standard
1550 points
3DMark 06 Standard
841 points

Help
Transfer Rate Minimum: 25.1 MB/s

Transfer Rate Maximum: 60.5 MB/s

Transfer Rate Average: 45.2 MB/s

Access Time: 20.8 ms

Burst Rate: 94 MB/s

CPU Usage: 4.1 %

The Hitachi hard drive (model HTS543232L9A300) with a gross capacity of 320 GByte has meager access times. The HDTune tool records an average throughput of only 45 MB/s during sequential reading. Other contemporary notebook hard drives with 5.400 rpm usually achieve about 60 to 75 MB/s. A different benchmark tool, HD-Tach, also displays relatively low 49.5 MB/s.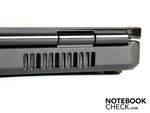 System noise
The noise emissions during office use without much load are a strength of the Inspiron 1545. For this scenario we measured unremarkable 31.2 dB(A). If we demand more power of the notebook by running CPU and GPU benchmarks, the fan can raise the noise to 41.7 dB(A). However, this does not match the usual usage profile of our configuration.
If load and low-demand states alternate, we observe a short flare-up of the fan, which only lasts for about four seconds. Afterwards the noise falls to a quieter state again. This continues until the temperature of the heatpipe falls little bit or the load of the processor is stopped. Nevertheless, we would not call this phenomenon disturbing.
Noise Level
Idle

31.2 / 31.2 / 36.5 dB(A)

HDD
31.6 dB(A)
DVD
36.2 / dB(A)
Load
36.5 / 41.7 dB(A)



30 dB
silent

40 dB(A)
audible

50 dB(A)
loud

min:

, med:

, max:

(15 cm distance)
Temperature
The waste heat stays in an acceptable range under office load as long as benchmarks are not used to help increase the load. Regardless whether idle or under load we measure the maxima at the touchpad, 36.3 degrees Celsius for idle mode and 37.4 degrees Clesius for the load scenario. We do not know whether this is on purpose, but, users will always have warm fingers in winter. The surrounding palm rests reach about 33 degrees Celsius and therewith stay clearly cooler. Regardless of the operating mode, the temperature of the keyboard ranges from 28 to 34.8 degrees Celsius. These are convenient values for an office notebook.
It's possible to run the Inspiron 1545 at your lap as long as you make sure that the louver is not covered. Because the feet of the Inspiron 1545 are rather short, even a blanket or a carpet could block it. This design is rather not appropriate for the target group of the "Inspiron EMA 2009 Limited Edition". Who cares not to use the laptop on a sofa, the floor or in bed...
35.6 °C
96 F
34.8 °C
95 F
32.2 °C
90 F
34.4 °C
94 F
34.8 °C
95 F
32.9 °C
91 F
33.4 °C
92 F
37.4 °C
99 F
32.5 °C
91 F
Maximum: 37.4 °C = 99 F
Average: 34.2 °C = 94 F
28.5 °C
83 F
37.1 °C
99 F
38.2 °C
101 F
32.3 °C
90 F
49.1 °C
120 F
39.5 °C
103 F
30.8 °C
87 F
42.1 °C
108 F
38.2 °C
101 F
Maximum: 49.1 °C = 120 F
Average: 37.3 °C = 99 F
Power Supply (max.) 50 °C = 122 F | Room Temperature 21 °C = 70 F
30.4 °C
87 F
30.8 °C
87 F
28.9 °C
84 F
32.2 °C
90 F
34.2 °C
94 F
28.6 °C
83 F
31.4 °C
89 F
36.3 °C
97 F
30.7 °C
87 F
Maximum: 36.3 °C = 97 F
Average: 31.5 °C = 89 F
26.8 °C
80 F
33.9 °C
93 F
35.6 °C
96 F
32.5 °C
91 F
36.7 °C
98 F
36.1 °C
97 F
29.7 °C
85 F
39.2 °C
103 F
36.9 °C
98 F
Maximum: 39.2 °C = 103 F
Average: 34.2 °C = 94 F
Power Supply (max.) 50 °C = 122 F | Room Temperature 21 °C = 70 F
(±) The average temperature for the upper side under maximal load is 34.2 °C / 94 F, compared to the average of 29.5 °C / 85 F for the devices in the class Office.
(+) The maximum temperature on the upper side is 37.4 °C / 99 F, compared to the average of 34 °C / 93 F, ranging from 21.2 to 62.5 °C for the class Office.
(-) The bottom heats up to a maximum of 49.1 °C / 120 F, compared to the average of 36.6 °C / 98 F
(+) In idle usage, the average temperature for the upper side is 31.5 °C / 89 F, compared to the device average of 29.5 °C / 85 F.
(±) The palmrests and touchpad can get very hot to the touch with a maximum of 37.4 °C / 99.3 F.
(-) The average temperature of the palmrest area of similar devices was 27.9 °C / 82.2 F (-9.5 °C / -17.1 F).

Loudspeakers
The speakers are below the display beneath a screen-like aluminum bar. The middle-tone-heavy sound does completely miss volume and basses. The volume can be clearly audible, but users will likely not turn the volume control to maximum, because at maximum volume the soundscape of the stereo speakers includes a grating kind of noise and the middle-tone-heavy quality gets even worse.
Music fans, whom this cover-art laptop are actually geared to, will connect headphones quick as lighting or buy a cable to connect their hi-fi system. The sound via headphone jack is rather quiet without noise. You won't even hear an annoying click at connecting. But, the location of the audio-jacks at the front is rather inconvenient for a permanent use.
The quality of the built-in mike is bad if not even unacceptable. The manufacturer built it into the front of the case. Even after adjusting its input level, the input was very low. So, the user might have difficulties with telephone calls via Skype, because the dialog partner will hardly understand anything. Furthermore, there is a loud background noise, which presumably originates from the hard disk.
Browsing the Internet, writing e-mails, listening to music or watching a DVD are typical tasks done with the Dell Inspiron 1545. It's also possible in battery mode, because the 15.6-inch can run above three hours (185 minutes) with active WLAN connection. Despite being equipped with a 35 W processor, it achieves a good result. If you need a longer runtime, you have to look for a clearly more expensive CULV notebook in 14 or 15 inch size.
The maximum runtime of the Inspiron 1545 is about 233 minutes. However, this is unrealistic as it was recorded for idle mode. That is WLAN was deactivated, the brightness was turned down to its minimum and the processor idled. The actual runtime is between two and three hours. If the user watches a DVD, it is rather two hours (121 minutes in test). About three hours are possible during browsing the Internet as long as the processor is not kept busy with much else at the same time.
The battery life of the Inspiron 1545 can not be compared to CULV-notebooks, e.g., the Asus UL50VT, which achieves nine hours during WLAN operation. But, three hours are alright for a office notebook of this price category.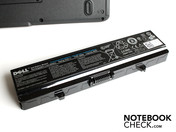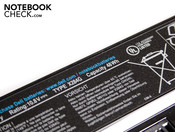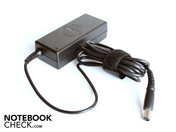 Battery Runtime
| | |
| --- | --- |
| Idle (without WLAN, min brightness) | 3h 53min |
| WiFi Surfing | 3h 05min |
| DVD | 2h 01min |
| Load (maximum brightness) | 1h 43min |
The Inspiron 1545 only has low energy demands. With simple tasks, e.g., a 3D-benchmark, it is about 26.8 Watt. If you add a CPU-benchmark, the power consumption increases to 44.6 Watt.
In a lifelike scenario, in which the workload on the processor is far from full load most of the time, the power consumption is between 16.4 and the already mentioned 26.8 Watt. During stand-by the effective energy demand falls to 0.3 Watt. A good value for stand-by. Idling with maximum energy saving settings the laptop only need 9.5 Watt. Only systems with ULV-CPUs, e.g., SU2700 or SU7300 have a clearly lower power consumption.
Whether you are music fan, belong to the MTV generation or none of these, the Dell Inspiron EMA 2009 Limited Edition could not completely convince. While the manufacturer promotes a lifestyle product with colorful cover-art, you'll rather get a 15.6-incher with rather below-average equipment.
At a price of just under 500 euro the competition often offers comparably configured, but robuster laptops. Tester of the English-speaking area who reviewed a "standard" Inspiron 1545 did not complain about the workmanship of the lid. It's absolutely imaginable that you'll find a creaking lid in the EMA 2009 Limited Edition only.
The pros of the Inspiron 1545 are a low power consumption, rather convenient input devices, and low noise emissions. If you dislike high gloss surfaces you could consider the counterparts from HP, Asus, or Acer. Workmanship and feel of the materials of, e.g., the Acer Extensa 5220 are much more office-like. Furthermore, there are also models with matt display. Also a Lenovo G550 at about 450 euro and above can be considered a good alternative.
>> buy this laptop now for a fair price directly at Dell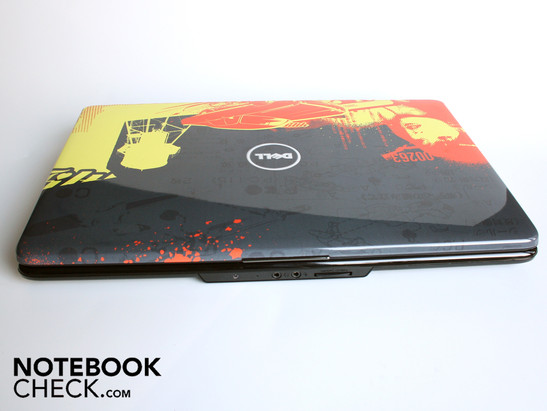 Please share our article, every link counts!
Sours: https://www.notebookcheck.net/Review-Dell-Inspiron-1545-Notebook.24034.0.html
The Dell Inspiron 1545 is an affordable all-purpose notebook with a 15.6in widescreen LCD. While it's unlikely to turn heads with its pedestrian style, this Dell Inspiron laptop remains a perfectly serviceable notebook that punches well above its weight. (We use the term figuratively, as it is far from a petite notebook.)
Weighing in at around 3kg and measuring 374x25.938mm, the Dell Inspiron 1545 is one of the bigger entry-level notebooks on the market. This makes it a bit of a pain to lug around, but it will make an adequate desktop replacement — provided you're not into gaming. The main benefit of this added real-estate is a 15.6in screen with a native resolution of 1366x768. The display did a good job during movie playback, with excellent viewing angles and minimal reflective glare. While the inbuilt speakers are a little on the weak side, they're more than adequate for a notebook in this price range.
If the Dell Adamo Admire is the catwalk model of the notebook world, then the Inspiron 1545 is a faceless spectator in the crowd. While there's nothing overtly wrong with its appearance, it lacks the 'wow, look at me' factor that has become de rigueur amongst certain notebook owners. The version we tested came in a matt black finish that collected quite a few fingerprints despite the lack of sheen. Like the Dell Inspiron 1520 before it, you can also opt for a blue, red, white or pink lid — though these will set you back an additional $45. The price we pay for colour!
Despite its hefty size, the Dell Inspiron 1545 lacks a numeric keypad, which makes it less than ideal for gaming. Of course, with its modest integrated graphics chipset, the Inspiron 1545 was never going to cut it as a games machine anyway (more on this later). On the plus side, the keyboard is one of the nicest we've seen on a notebook in some time. It looks, feels and behaves like a desktop model, albeit without a numeric keypad.
Curiously, Dell has decided to do away with media buttons entirely on the Inspiron 1545. There is no mute button, no quick-launch keys, no wireless connectivity button and no volume controls. To be fair, most of these functions can be accessed via the 'F' keys, but we prefer having a dedicated interface; especially when using our notebooks in the dark.
Connectivity is also a little light-on, it consists of three USB ports, an Ethernet output, a headphone and microphone jack, a 34mm ExpressCard slot, a 7-in-1 card reader and a VGA video connector. For wireless, the Dell Inspiron 1545 sticks to 802.11g rather than its zippier 802.11n counterpart.
Compared to other notebooks in its price range such as the BenQ Joybook Lite U121 Eco, Toshiba Satellite L300 and the HP Compaq 6730s , the Dell Inspiron 1545 is a very able performer. It comes with an Intel Core 2 Duo T6500 running at 2.1GHz, 3GB of DDR2 RAM (upgradable to 4GB) and a 320GB hard drive (5400 RPM). The only downside is an underpowered Intel GMA4500 graphics accelerator, but these are still impressive components for the asking price.
The Dell Inspiron 1545 notebook's processing potential was demonstrated in our benchmark tests. When we ran the WorldBench 6 application suite, the Inspiron 1545 achieved an overall score of 85. This makes the Inspiron 1545 laptop suitable for almost any office application, along with multitasking and some photo/video editing. In our Blender 3D test, the Inspiron 1545 recorded a time of 1min 27sec, while our iTunes MP3 encoding test took just 1min 21sec to complete. These are all impressive results for a sub-$1000 notebook.
The Dell Inspiron 1545 fared less well in our 3D gaming tests, but we weren't expecting it to shine. It scored 896 in 3D Mark 06 — enough for older game titles and casual gaming only.
In our battery rundown tests, the Dell Inspiron 1545 lasted a reasonable two hours and 51 minutes. This will get you through all but the most long-winded and butt-numbing of movies. For less intensive tasks, such as word processing or Web browsing, you can expect the Dell Inspiron 1545 notebook to last even longer.
Follow PC World Australia on Twitter: @PCWorldAu
Join the newsletter!
Error: Please check your email address.
Sours: https://www.pcworld.idg.com.au/review/dell/inspiron_1545/319285/
» Tip UsHey you, we are hiring! Join us if you are an author, developer or designer!
Dell Inspiron 1545
13 September 2009 14
The Dell Inspiron 1545 is a 15.6-inch display laptop powered by the Intel Core 2 Duo Processor T6400.It has option of both the Windows Vista OS and without OS (temporarily MSDOS).
The detailed features/specifications of the new Dell Inspiron 1525 laptop are:
Intel Core 2 Duo Processor T6400
MSDOS/Genuine Windows Vista Home Basic
Intel G45 chipset
2GB DDR2 SDRAM (1 x 2GB)
250GB 5400RPM SATA Hard Drive
15.6-inch 720p WXGA (1366x768) TrueLife
Internal 10/100 Fast Ethernet
Integrated Intel Graphics Media Accelerator 4500MHD
Intel High Definition Audio 2.0
8X max DVD+/-RW Drive with DVD+R double layer write capability
VGA, RJ45, 1 Headphone jacks, 1 Microphone jack, 1 ExpressCard 34mm slot,3 USB 2.0, Mini-card card slot
6-cell Primary Battery
1 Year Limited Warranty (Next Business Day On-Site Service)
Dell Wireless 365 Bluetooth Module
Dell Wireless 1397 802.11b/g Half Mini Card
Integrated 1.3 mega pixel web cam
7-in-1 Memory card reader
Default Jet Black, Other colors available
Price and Availability:The Dell Inspiron 1545 available in India at price of Rs.34,000 (without OS).With Windows Vista OS it will cost around Rs.38,000 in India.
ShareTweet
Mobilescout.com
Sours: https://www.mobilescout.com/tech/news/n80578/dell-inspiron-1545.html
Dell Inspiron 1545 From 2009
Dell's Inspiron 1545 is one of the most searched-for laptops on the internet. It's easy to see why it's so popular.
It boasts a whopping 15.4" 16:9 widescreen display, as well as a DVD writer and a Celeron Processor.
Not to mention a multi-million pound television advertising campaign.
And yet you can buy the most basic model for under £350. That's the same price as your average netbook.
Entering the market at such a low price is an interesting move from Dell, one which puts them in the same bracket as budget laptops manufacturers Emachines and Medion.
But in the past couple of years, Dell has lost its place as the world's biggest computer manufacturer (to HP, no less), laid off workers and announced a whopping 48% drop in income.
Even Company President Michael Dell seems unhappy with the current state of the computer market as he criticised netbooks for their tiny screens, saying: "The screen's gonna have to go. Give me my 15-inch screen back."
Dell's comments seem to be the raison d'etre for the Inspiron 1545, which matches netbook-style components to a proper screen. But is it any good?
Prices - Dell Inspiron 1545:▼
Current page: Dell Inspiron 1545: Overview
Next PageDell Inspiron 1545: Performance
Sours: https://www.techradar.com/in/reviews/pc-mac/laptops-portable-pcs/laptops-and-netbooks/dell-inspiron-1545-500853/review
Year dell inspiron 1545
It may not be as flashy as other laptops we've seen recently (such as the MSI GS60 Ghost ), but Dell's Inspiron 15 5547 (also known as the 5000 Series) represents a slightly new direction for the manufacturer's mainstream 15.6in products. It has a cleaner...

Full HD, IPS screen, Core i7 CPU, Discrete graphics...

Could use some refinement, 10/100 Ethernet, 1x1 802.11ac...

The Dell Inspiron 15 5547 is a mainstream, 15.6in laptop with a strong central configuration. It's good enough for students, families, and anyone who wants a reasonably fast, yet affordable, laptop with a Full HD screen...
Read the full review
Ultrabooks have had plenty of trouble reaching their sales targets, but that doesn't mean they haven't changed the industry. Even today's least expensive laptops are lighter and thinner than ever before, and most are equipped with an efficient Intel U-Se...

Sturdy chassis, Large touchpad and keyboard, Solid 1080p touchscreen, Long battery life, Strong performance from CPU and GPU, Good value...

Heavy, Display could be brighter, Fan can be loud at load...

The Inspiron brand name, which is typically reserved for Dell's entry-level systems, doesn't do the Inspiron 15 7000 Series justice. This system is undoubtedly the reason why the XPS 15 is so expensive. In some areas, like display quality and battery li...
Read the full review
We're big fans of Dell's Inspiron laptops as previous models have struck just the right balance between value, price and performance. The Inspiron 15 7000 is the latest iteration of Dell's entry-level laptop, but its aluminium chassis and beautiful edge-t...

A beautifully designed laptop with a great battery life, but it's not as powerful as other similarly priced desktop replacements...
Read the full review
The appeal of replacing your desktop is not exactly hard to appreciate. For me, a big screen, decent sized keyboard and a measure of portability, all add up to deliver one thing: convenience. So here I am with Dell's latest Inspiron 15 7000 series laptop...

So it seems that corners are obviously being cut in some of the most surprising places, but Dell does have the good grace to provide a year's subscription to MacAfee LiveSafe, probably to make savings on virus-related tech support calls. However, the ver...
Read the full review
Dell's latest 15 inch notebook is a solid office machine that looks strikingly like just about every other current laptop.The Dell Inspiron 7000′s design reminds me of something. Unfortunately, that something is "every other laptop that wants to look like...
Read the full review
Budget laptops are all about sacrifice, but that doesn't mean you have to settle for a big, clunky system with a bland design and limited features. With the Dell Inspiron 15 (I15RV-6190 BLK) you get relatively good performance in a thin, textured 15-inch...

The Dell Inspiron 15 (I15RV-6190 BLK) is a relatively thin 15-inch laptop offering Intel Pentium processing power and good battery life for under $400...
Read the full review
15.6 inches. For years it's been the most popular screen size for laptops, so there is lots of choice in this segment. Dell has the Inspiron 15 at the bottom end of the spectrum, and at the opposite end the Inspiron 15z Ultrabook, also for consumers. To...

After testing these two Dell Inspiron notebooks we're left a little confounded. On paper, the Inspiron 15z looks like an excellent Ultrabook. The specifications are solid and include an Nvidia graphics card that's faster than the integrated graphics on...
Read the full review
We love the looks of the latest incarnation of the Dell Inspiron 15, a surprisingly powerful low-cost laptop with a 15.6in screen. Both the inside and the outside of the chassis are decorated in a scaled pattern of textured black triangles. The result...

This outstanding general purpose laptop provides plenty of processor power and battery life for a surprisingly low price...
Read the full review
While there's nothing specifically wrong with Dell's Inspiron M5030, when compared to the excellent laptops from Lenovo and MSI at this price point it is hard to recommend. Nevertheless, the impressive battery life may be enough to convince those for w...

Battery life, Decent hard drive, Connectivity...

Washed-out screen, Performance, Keyboard...
Read the full review
For $999, the Dell Inspiron M501R is a 15in laptop that's packed with useful features and lots of processing power for multitasking. It runs a 2.2GHz AMD Phenom II N850 triple-core CPU, has 4GB of RAM, a 500GB hard drive as well as AMD Mobility Radeon...

Triple-core AMD CPU is great for multitasking, good graphics performance, can be used for gaming, comfortable keyboard and touchpad...

Screen is very reflective, finish is too glossy and smooth, underwhelming battery life, only 100Mbps Ethernet...

The Dell Inspiron M5010 is based on AMD's triple-core Phenom II N850 CPU and it's one of the great all-round 15.6in laptops on the Australian market. You can use it for office work, multimedia tasks and even gaming (although not for graphics-intensive...
Read the full review
AMD's Vision platform is a codename for a loosely grouped set of specifications, which at heart comprises a processor and graphics card. It initially launched last September, but has now been refreshed with a few new elements.The idea behind Vision is...

AMD's updated processor plus graphics chip 'Vision' platform comes in Basic, Premium, ultimate and black – but how does the performance stack up?...
Read the full review
The Dell Inspiron M501R is a 15.6in AMD Phenom II quad-core laptop that's suitable as an everyday work machine, or even as a budget gaming rig. It has loads of CPU power, an above-average amount of RAM and a reasonably fast graphics cards. The design...

Overall, the Dell Inspiron M501R is a very good unit. We like its specifications and it provides a good amount of CPU power for everyday tasks as well as more advanced ones. However, it would be nice if it came with a digital TV tuner so that it could...
Read the full review
The Dell Inspiron M501R is a 15.6in AMD Phenom II quad-core laptop that's suitable as an everyday work machine, or even as a budget gaming rig. It has loads of CPU power, an above-average amount of RAM and a reasonably fast graphics card. The design o...

Quad-core CPU, 6GB RAM, 500GB hard drive...

No digital TV tuner, very glossy, no Gigabit Ethernet...

Dell's Inspiron M501R is a nice looking 15.6in notebook with a quad-core AMD Phenom II CPU and 6GB of RAM. It's a good performer that's suitable as a desktop replacement and even as an entry-level gaming machine. We just wish it wasn't so glossy and th...
Read the full review
Design Dell's Inspiron M501R has a grab bag of design ideas, but most of them look like the cheap cousin of a more inspired design. The wrist rest is finished in what's meant to look metallic but instead looks just like cheap plastic, because that'...

The M501R is a capable desktop replacement as long as power is never far away at all.
Read the full review
Dell has had an impressive track record over the past year, delivering one stunning consumer laptop after another. The Inspiron 1564 continues this run of success by implementing cutting-edge technology in this powerful and well-rounded machine. Built...

Powerful Core i3 CPU, Good screen, Decent usability, Decent 3D performance...

Limited network connectivity...
Read the full review
The new Dell Inspiron 15 is a 15.6in value for money all-purpose budget laptop. The Dell Inspiron 15-1564 we tested is based on Intel's "Arrandale" Core i3 processor, has a full-sized keyboard, good looks and overall performanc...

Sours: https://icecat.biz/en-in/p/dell/1545-3250st45/notebooks-inspiron+1545-5762905.html
DELL inspiron 1545 laptop disassembly
Dell Inspiron 1545 Review
Pros
Cheap
Decent build quality
Customizable
Cons
Glossy all over
No digital video out
Poor battery life
Inferior display
Key Specifications
Review Price: £429.99
Intel Core 2 Duo 2GHz CPU
3GB RAM
250GB HDD
15.6in HD Ready screen
In these financially troubled times, the budget sector is more important than ever. Considering it's a notebook from the world's third-largest PC manufacturer, Dell's Inspiron 1545 (also known as the Inspiron 15) has a lot to live up to, especially since the last Inspiron we had through our labs, the Inspiron 1525, walked away with our coveted Recommended Award. Let's find out if the 1545 is worthy of similar praise.

As with many new budget notebooks, Dell's latest is available in a few different colours if purchased direct. Matte Black is standard, but for an extra £29.99 you can choose Microsatin Blue, Red or Pacific High-Gloss Blue lids. Not exactly much choice, especially given Dell's usually prolific customisation options, but any choice is better than none. Our particular model, available from PC World for £429.99, came with a blue 'high-gloss' lid. While not quite as bad as piano black at showing fingerprints, it will still require regular attention and there is no cloth provided for this.



Opening the notebook up is even worse, since aside from the notebook's sides, keyboard and touchpad every visible inch is glossy black. While this shiny finish looks attractive, every time you type or use the touchpad your notebook will display streaks and prints. There's not even any kind of pattern à la Toshiba A350-11N or HP HDX 16 to somewhat disguise this effect. After just a day in the office, the 1545 looked like it had been sitting out for a week. Semi-matte palm rests might not have looked quite as flashy, but they would sure require a lot less maintenance.



Aside from this, the design is streamlined and minimalist. Apart from the keyboard and touchpad, the only things breaking the Inspiron's clean lines are a speaker grille and small square chromed power button above the keyboard. In the first sign of the 1545's budget nature, there's not even a webcam to spoil the screen's slick bezel. To be honest, this is a bit of a harsh omission even on a notebook available for around £400 since even the cheapest netbooks come with one. And, though Dell offers a 1.3 Megapixel model for upgrade if buying the 1545 direct, it charges a hefty £30 for the privilege.

Thankfully, build quality doesn't show any signs of such severe cost-cutting. All the plastics used feel very solid and there is no sign of extravagant flex or creak. Connectivity, though, is another area that has been seriously affected. Aside from the usual DVD-Rewriter and memory card reader, we have a 34mm ExpressCard slot rather than the more usual 54mm version. In addition there are headphone and microphone jacks, three USB ports, an Ethernet port and VGA-out. One could argue that this is no more than most people will need, but just to put it into perspective, the latter list is no better than what you'd find on a netbook and even the Inspiron 1525 managed to include an HDMI port.
As has become the fashion, the 1545 has a slightly-recessed wide-aspect touchpad and its matte textured surface is pleasant to use. Its buttons, meanwhile, though a tad noisy, are well-positioned and feature good feedback.



Thankfully, Dell hasn't done much to alter the keyboard and it's pretty much identical to the excellent one found on the Inspiron 1525. Keys have a pleasant matte surface and are shaped well. Though feedback is a little light, it's quite deep for a notebook and has a nice positive 'click' to it. Layout is also excellent, the only quirk being that the special functions (such as volume up/down, wireless on/off, etc) on the F1-F12 keys are now the default action, with the F1-F12 functions themselves being relegated to secondary status and requiring the Fn key to be pressed. This probably makes life easier for computer novices, but will doubtless cause anyone who uses F-key combinations regularly no end of frustration.



Dell's Inspiron has joined the 16:9 aspect ratio crowd, as the 1545 sports a glossy 15.6in 1,366 x 768 screen. It's a somewhat below-average display overall; though it doesn't suffer from banding or excessive backlight bleed, text isn't quite as sharp as we're used to and terrible viewing angles means its contrast performance is often pretty poor too. In terms of entertainment, however, if you can get past the reflections in a lit environment and are looking at the screen from the 'ideal' angle, it certainly does an adequate job even with dark material.



The speakers also strike a positive note. To be honest, they sound a lot better than the rubbish we encounter on most budget 15-16in notebooks. They do lack some depth and obviously bass doesn't have the kind of punch the best notebook speakers provide, but everything comes across with surprising vibrancy and without distorting at either end of the range.
So what kind of internals does the 1545 hide under its plain but glossy shell for its bargain price? Well, they're actually a little better than you might expect. The cast is led by an Intel Core 2 Duo T5800 running at 2.0GHz with an 800MHz front-side bus. This is fast enough to easily handle any software you'd want to use on a notebook like this. As to memory, 3GB of DDR2 RAM is as much as the installed 32-bit version of Windows Vista Premium can handle.



Intel integrated GMA4500 graphics are as poor for gaming as ever, but should cope with most everything else without problems. Meanwhile, storage is handled by a 250GB 5,400rpm hard drive, which is plenty of storage for normal use. Of course, you can't expect Bluetooth or anything beyond Wireless-G, though we'd hoped for it anyway. A slower wireless standard won't make too much difference for many users, but Bluetooth is becoming ever more prolific and its absence is regrettable.

When it comes to software, the Inspiron 1545 presents a very clean desktop, with an eBay shortcut the only obvious sign of bloatware. Dell's Mac-like launch-bar is also an attractive and useful addition to the standard Windows Vista UI.



Finally, we come to the 1545's Achilles heel: its battery life. This Inspiron has the undistinguished honour of failing to complete the Productivity benchmark because the four-cell battery ran out before a single iteration could complete. In the non-intensive Reader test it managed a pathetic 89 minutes, compared to the usual minimum of 150.

To put this into even bleaker perspective, the recently reviewed Toshiba Satellite A350-11N (which despite being more expensive is also a budget notebook) managed 201 minutes in the same test. As usual another battery could be purchased separately, but out of the box the 1545 will disappoint even the least demanding of users with its lack of longevity, while there is no shortage of deals out there for notebooks that cost around the same but offer more features.


Verdict

In a nutshell: if you're looking for a cheap and simple family laptop with reasonable speakers, the Dell Inspiron 1545 is worth considering. However, appalling battery life really hampers an otherwise solid but unspectacular effort that is inferior to the model it replaces.
How we test laptops
Unlike other sites, we test every laptop we review thoroughly over an extended period of time. We use industry standard tests to compare features properly. We'll always tell you what we find. We never, ever, accept money to review a product.
Find out more about how we test in our ethics policy.
Used as our main laptop for the review period
Tested for at least a week
Used consistent benchmarks for fair comparisons with other laptops
Reviewed using respected industry benchmarks and real world use
Score in detail
Performance 6

Design 7

Value 6

Features 5
Sours: https://www.trustedreviews.com/reviews/dell-inspiron-1545
Similar news:
Dell Inspiron 1525
The Inspiron 1525 is a laptop designed and distributed by Dell as part of their Inspiron range. There is also an AMD variant known as the Inspiron 1526. The laptop is the successor to the Inspiron 1520, and was released in January 4, 2008.[1] This computer was available to purchase on the Dell website,[2] where it could be customized to the user's specification.
On June 26, 2008, this laptop was followed with the release of the Inspiron 1535, otherwise known as the Dell Studio laptop. On January 6, 2009, the Inspiron 1525 was superseded by the Inspiron 1545, which gives mostly higher-end configuration options at a lower starting price, but lacks features such as the HDMI port, LED indicator lights and two headphone jacks. The laptop was discontinued on February 26, 2009, which left the Inspiron 1545 as Dell's 15-inch budget laptop.
Overview[edit]
After selling in high numbers, the Dell Inspiron 1520 received widespread praise regarding its size, and small screen.[3][4] The Inspiron 1525 was intended to address some of the issues with the Inspiron 1520. The 1525 has been described by reviewers as weighing approximately six pounds – half a pound lighter than the 1520.[5] This laptop can be considered as a mid-range Dell computer, between the small 1420 model and the expensive XPS M1530 model. The laptop also fixed a perceived flaw that had plagued Inspiron laptops for a decade; they were bulky and boxy, but the Inspiron 1525's chassis used a new edge design that appears on all of Dell's current laptops.
System specifications[edit]
Since the user is able to customize the unit, included hardware varies from laptop to laptop. However, there are several components which are generally fitted as standard in each unit:
Processors: Intel Celeron 540, 550 or 560, Intel Pentium Dual-Core T2370, T2390, T2330, T4200, T4500 and the Intel Pentium/Intel Core 2 Duo T5250, T5450, T5550, T5750, T7250, T8100, T8300, T9300 or T9500.
Memory: 512 MB, or 1, 2, 3, 4, 5, and 6 GB of shared dual channel DDR2 SDRAM @ 667 MHz
Chipset: Intel GM965 Express Chipset
Graphics: Integrated Intel GMA X3100 graphics
Display: 15.4" widescreen with a 1280 × 800 resolution, 15.4" widescreen with a 1280 × 800 resolution and TrueLife, or a 15.4" widescreen with a 1440 × 900 high resolution and TrueLife
Storage: 80, 120, 160, 250 or 320 GB SATA at 5400 RPM HDD

Optical drive: 8× tray-load dual-layer DVD+/-RW drive, 2× tray-load Blu-ray disc combo drive or 2x Blu-ray disc burner

Battery: 4-cell (28 Whr), 6-cell (56 Whr), or 9-cell (85 Whr) lithium-ion
Wi-Fi: Broadcom 4312 based, Dell Wireless 1397 802.11g half mini-card (Previously changed to 1395 802.11b/g full mini-card), or 1490 802.11a/g/n full mini-card (Broadcom 4311 based), or Intel Next-Gen 4965AGN 802.11a/g/n Wi-Fi
I/O ports: 1× Fast Ethernet port, 1× 56 kbit/s modem, 1× S-Video output, 4× USB 2.0 ports, 1× Express Card slot, 1× VGA port, 1× HDMI output, 1× FireWire port (optional), 2x headphone jacks, 1x microphone port (optional), and 1× power adapter connector
Camera (optional): Integrated 2.0 MP camera
The most notable difference between this laptop and its predecessor, is that the 1520 model was fitted with a dedicated graphics card whereas the 1525 is not. It has been speculated that this is an attempt by Dell to appeal to a wider market of computer consumers. In a 2008 processor speed test, the Inspiron 1525 placed 14 out of the 18 tested computers.[6] The touchpad has been upgraded from that of the 1520, with one which is designed to allow faster scrolling through web pages. Strangely this model contains a SIM card slot underneath the battery compartment. However reading data, or using Internet from SIM cards is not possible without a separate wireless modem-card.
Software[edit]
The Inspiron 1525 typically comes with a version of the Windows Vista, Windows 7 or Ubuntu 9.04[7] Operating System pre-installed. Both 32-bit and 64-bit can work. Ubuntu 12.04 and Linux Debian Wheezy are known to be working out-of-the-box on this model. If it comes with Windows Vista/7, it contains a copy of Office 2007.
Compatible Machines[edit]
Compatible OS(s):Windows Vista and newer, Ubuntu 9.04 and newer, but also supports legacy operating systems like Windows XP and Windows 2000 and Beta Whistler, but struggles running them. It has seen running android x86 4.1 but can run it at residential mode. Compatible Server OS(s)Windows Server 2008 and newer, Ubuntu 7.10 Server and newer
Compatible CPU(s):Intel Core 2 Duo/Quad/Pentium/Celeron
BIOS Dell BIOS A13 - A17 [8]
Upgrade[edit]
The Inspiron 1525 can be upgraded to Windows 10 32-bit or 64-bit but has no compatibility with Windows 11 due to lack of TPM 2.0 support.[9]
A fresh installation of Windows 10 64-bit already provides all required drivers for this laptop, including the webcam, SD card reader, WiFi adapter, DVD/CDRW Combo drive, Intel GM965 chipset, on-board Intel graphics and multimedia keys. There are however onboard devices that require addition drivers :
The default Microsoft touchpad driver works well, but lacks support of advanced touchpad features and customizations; A Dell touchpad driver can be forced-installed[10] to get access to all touchpad settings (Alps_Touchpad_W8_X02_A01_Setup-W71Y8_ZPE).
A few of the keyboard Fn keys don't work (F1,F3 and F8) but full support can be added by installing the Dell QuickSet 64-bit software package (Dell_QuickSet_A07_R272666.exe).
The driver for the Dell Wireless 1505 Draft 802.11n WLAN Mini-Card that comes with the Windows 10 64-bit installation is a Microsoft driver (v5.100.245.200, dated 212-03-14). This drivers works but is not very stable and suffers from frequent disconnects. This wifi adapter uses a Broadcom BCM43xx chip. Broadcom released newer driver versions for that chip in 2016, such as the BCM43xx_7.35.317.3 driver released in 2016. This newer Broadcom driver can be force-installed and provides better stability than the 2012 Microsoft driver.
The "Display Adapter" driver (for the 965 Express Chipset) that automatically comes with the Windows 10 64-bit installation (directly from Microsoft) is version 8.15.10.2697 (initially released for Windows 8.1 64-bit). This driver seems to have compatibility problems causing sporadic (but minor) graphics corruptions in the desktop UI elements, especially after coming out of sleep. Reverting to the latest driver available from the Intel website, i.e. v8.15.10.1930[11] (initially released for Windows 7 64-bit) seems to reduce the occurrence. But there's no proof yet the Video Driver is the source of this corruption problem. We would need more data to come with an official conclusion on this.
This computer has two DDR2 SODIMM slots and can be upgraded to 6GB of RAM, with a set of 2GB and 4GB modules. Both 667Mhz and 800Mhz modules are supported (PC2-5300 or PC2-6400).
Graphics cannot be upgraded due to being integration to the mainboard.
Processors can be upgraded to any Socket P Intel Core2 Duo mobile processor in the T8x00 series, and to certain T9x00 series processors whose FSB speed is limited to 800 MT/Sec.
Other software[edit]
Other software provided with the laptop includes:
On February 18, 2008, it was announced that Ubuntu 7.10 would be available as an optional operating system for the laptop[12] this since was shipped with Ubuntu 9.04[13] until support ended.
Customization[edit]
The user is able to decide which components they wish to be included, during the ordering process, by selecting from a range of hardware on the website.[2] These possible components include a range of processors, operating systems, graphics cards, a webcam and various other peripherals. In addition, Bluetooth and an integrated mobile broadband card can also be installed upon request, and the default battery can be replaced with an alternative.
Reception[edit]
The Inspiron 1525 has received a great deal of positive attention. General computer users welcomed the relatively low price, as well as the easily accessible volume control keys, and hardware reviewers have praised the customizability of the laptop, as well as its system specifications and light frame.[14] In general, users have made positive reference to the screen, with some describing the display as "flawless",[6] as well as the inclusion of a webcam and dual headphone jacks. Some reviewers claim that the battery life is a good point of the system.[15]
Despite being a high-selling model, and receiving a large amount of positive feedback, the Inspiron 1525 has also attracted some level of criticism. Some critics feel that the sound quality is unfit for a recently produced laptop, claiming "raspy-sounding speakers take some of the shine off the 1525's entertainment appeal",[15] whereas others have criticized the system's performance and battery life.[16] The wireless switch is located on the right side of the bottom half, close to the front and is easily overlooked. Prominent placement near the volume and media controls would be much easier for users to find. The positioning of the cooling fans render the laptop incapable of supporting high-end graphics cards.[17] Some users have encountered technical problems, many of which center around the webcam and built-in microphone.[18] A common complaint is that the supplied fan is irritatingly loud, and many users have tried to rectify it on their own. The placement of the headphone jacks on the front of the unit leads to inconvenient trailing wires when external speakers are connected. A touchpad design flaw causes the button to stick, requiring the replacement of the entire palmrest assembly. Users have also reported numerous hard drive problems, many related to overheating.
Noteworthy hardware issues[edit]
The Inspiron 1525 utilizes a single heat sink to dissipate heat away from the CPU & GPU. The Inspiron 1525 is not the only model that uses a single copper alloy conduit, it is one of the more common. The Inspiron 1525, models affected will combine the Intel Core 2 or Intel Dual Core CPU's.
CPU/GPU degradation (over time) due, primarily to extended overheating. While fan failure & vent blockages will exacerbate these issues, these issues, in addition to general component failures from extended periods of overheating beyond components tested safety margins. Generally causing product component failure, in some cases even fire hazard. It is recommended that you read & understand the DELL INC., *technical article, should you experience these issue. Dell Support Article.
For both the 1525 and 1526, a low CMOS battery can prevent the computer from operating properly. [19][20] Replacement requires removal of the main board, as it is located on its underside.
See also[edit]
References[edit]
Sours: https://en.wikipedia.org/wiki/Dell_Inspiron_1525
724
725
726
727
728