I tried the $3,000 digital weights machine that's like a Peloton for strength training and found how at-home fitness systems are the future — at least for those that can afford it
Tonal is an at-home workout machine that's like a Peloton for strength training that mounts to your wall and offers on-demand coaching and digitally-connected personalized exercises.
It costs $3,000 and is one of the first products in the at-home fitness workout market that focuses on resistance training instead of cardio, like Peloton does.
I gave Tonal a try in 2019 to see how it compares to traditional weight lifting.
Visit Business Insider's homepage for more stories.
Tonal is an at-home strength training machine that uses electromagnetism to create resistance and mounts to your wall for a personalized workout with over 200 exercises, like deadlifts, bicep curls, and overhead presses, and on-demand coaching.
With Tonal, performance anxiety at the gym could be a thing of the past — no more feeling self-conscious in front of your seemingly more experienced gym-goers, no more 30-plus minute round trips to the gym, and no more gym memberships.
That is, if you can afford the $3,000 price tag.
Tonal was invented by Aly Orady, a Hewlett-Packard veteran who wanted an easier way to stay in shape at home that didn't involve sweaty, used equipment and tedious trips to the gym.
It operates similarly to its cardio cousin Peloton, whose stationary bikes retail starting at $1,895. Both are a part of a growing trend that is seeing digital, at-home fitness systems on the rise and gym attendance and boutique fitness studios declining in popularity. Even Apple is getting in on the at-home fitness trend, which has only been amplified by the pandemic, with it's new Fitness Plus subscription service.
Tonal is one of the first products in the market with a focus on strength training. Fitness experts have increasingly stressed the importance of resistance training in addition to cardio to maintain good health. And in an interview with TechCrunch, Orady said that a significant amount of Tonal users also own a Peloton bike (amounting to a collective $5,000 investment, if you were wondering.)
I tried a Tonal workout for myself at the company's San Francisco showroom in late 2019. It was a bit hard to get used to at first, but I knew that if I were to own one, I'd adjust and would eventually have a convenient way of staying fit in the privacy of my home.
Too bad it's way out of my budget and that even if it wasn't, mounting such a piece of equipment onto a wall in my rental apartment would likely make my landlord less than pleased.
Here's how my workout went.
When I work out, I opt for weight lifting rather than cardio. So Tonal stuck out more so than would a cardio-based at-home fitness machine, like the ultra-popular Peloton bike.
And that's something Tonal has going for it — it's among the first strength training-focused, digitally-connected fitness systems that you can use in the privacy of your home.
The company has a showroom in San Francisco's Cow Hollow neighborhood, so I decided to give it a try.
I was a little apprehensive. Eliminating the need to travel to and from a gym is appealing, and so is not having to work out surrounded by strangers.
But I didn't know how I'd like using what is called digital weights instead of tangible, more traditional dumbbells or machines.
The resistance is created through electromagnetism, which basically means that the weights are digitized.
You can activate the resistance yourself from the Bluetooth-connected handles or from the screen. Just click the button on the handles with your thumb to turn the weights off …
Sours: https://www.businessinsider.com/tonal-review-home-fitness-startup-2019-11
Tonal Smart Home Gym Review (2021)
We review free products that we receive and participate in affiliate programs, where we may be compensated for items purchased through links from our site.
See our disclosures page for more information.
The Tonal Smart Home Gym is the most pleasantly surprising piece of gym equipment I've reviewed in recent memory. Despite loving barbells as much as I do, Tonal has made me a complete believer that smart home gyms are the future for many trainees. Not only is the hardware impressive, but the software in concert has made this something we would certainly recommend to those wanting an all-in-one unit for their home gym.
Tonal Review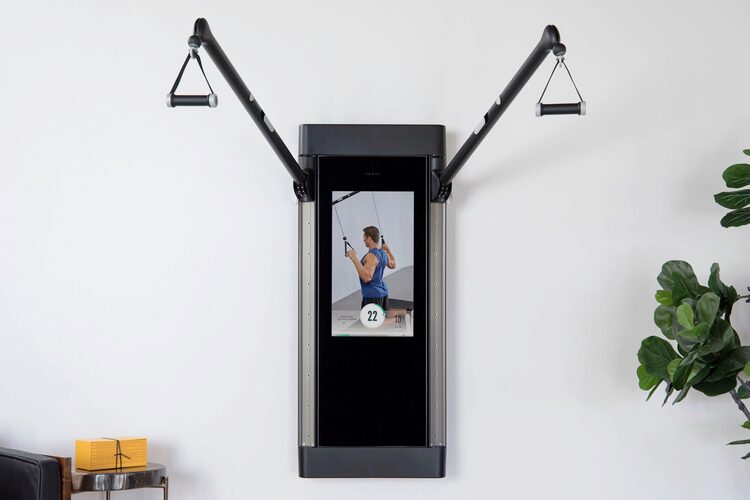 Tonal Smart Home Gym
Tonal's workouts are designed to help you achieve optimal results, every time you workout. With more than 170 moves, 200 pounds of resistance, and a range of full-body exercises, you'll be surprised how quickly you hit your goals.
$2995.00
Shop deal
The Tonal Smart Home Gym is an electronically based work-out system that may be a bell ringer for the future of the home gym industry. Sporting an all-in-one system, this machine saves space while allowing users to enjoy a wide selection of workouts, including various training regimens and AI-powered resistance training controls.
Despite being an aficionado of the heavy-duty aspects of the equipment filled home gym, there is a lot I like about this piece of equipment that I think home gym enthusiasts like myself will enjoy. For those early-adopters who aren't worried about breaking the bank, the Tonal Smart Home Gym might be just the thing for you. In this review of Tonal, I'll go through what I've gathered from my experience with this machine, what I like and dislike about the product, and why I think the Tonal is one of the best home gym machines.
What is the Tonal Smart Home Gym?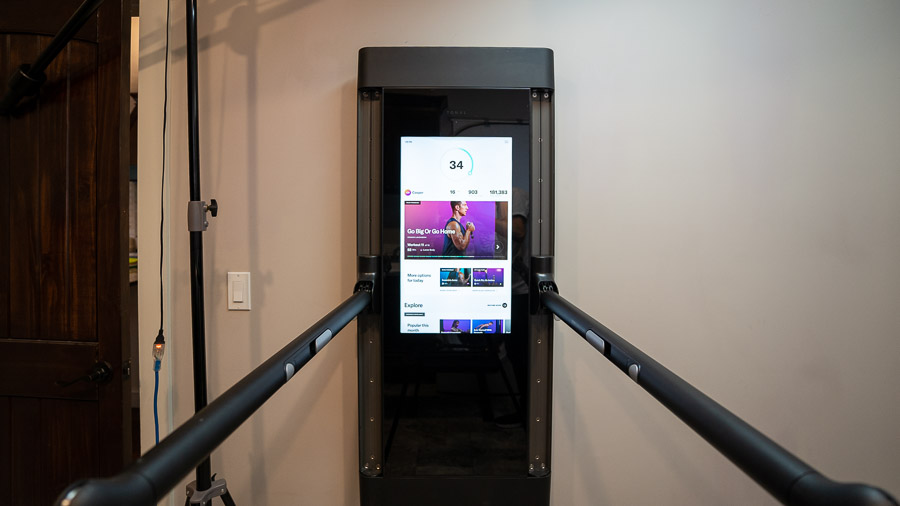 What is more appropriate for our current culture of convenience than a touch-screen all-in-one home gym? "Netflix for training" is a phrase that seems to encompass what the Tonal Smart Home Gym tries to accomplish: a quick, easy-to-use solution to the out-of-home gym membership. Rather than gearing up and driving to a crowded weight room, many of which currently require masking and social distancing procedures, one can simply start this machine up and get to work. Featuring multiple training programs, available with a rather pricey $49/month membership fee, the Tonal Smart Home Gym seems to be aiming for a spot as a legitimate alternative to the current fitness options available.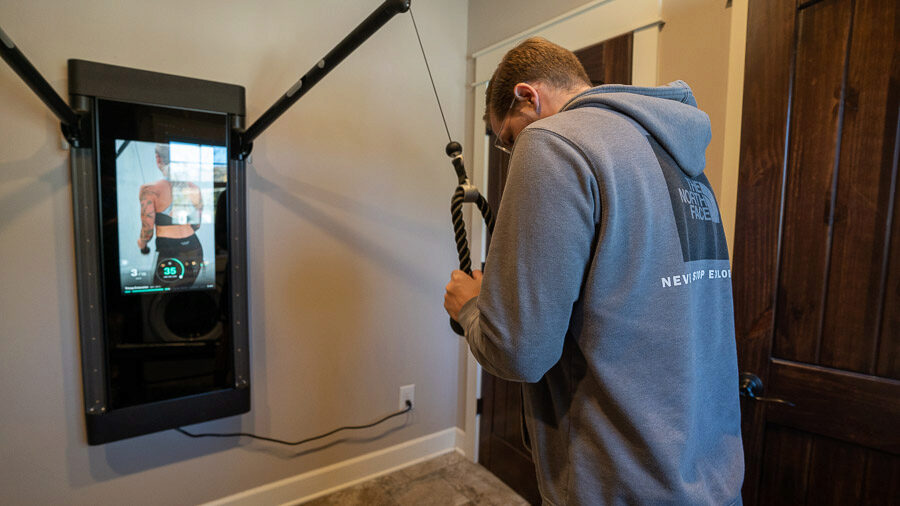 The Tonal Smart Home Gym comes at a whopping $2,995 (not including accessories or the subscription) with a maximum of 200 lb. resistance between both arms. With a 24″ interactive display (the primary aspect of this product) the user can participate in multiple training programs that are updated and added to regularly as part of their monthly paid membership. Featuring a Strength Score meant for weighing your own capabilities against that of others, Tonal tracks just about every aspect of your personal training habits. This includes tracking to suggest weight even in the interim between eccentric and concentric movements based on your own form.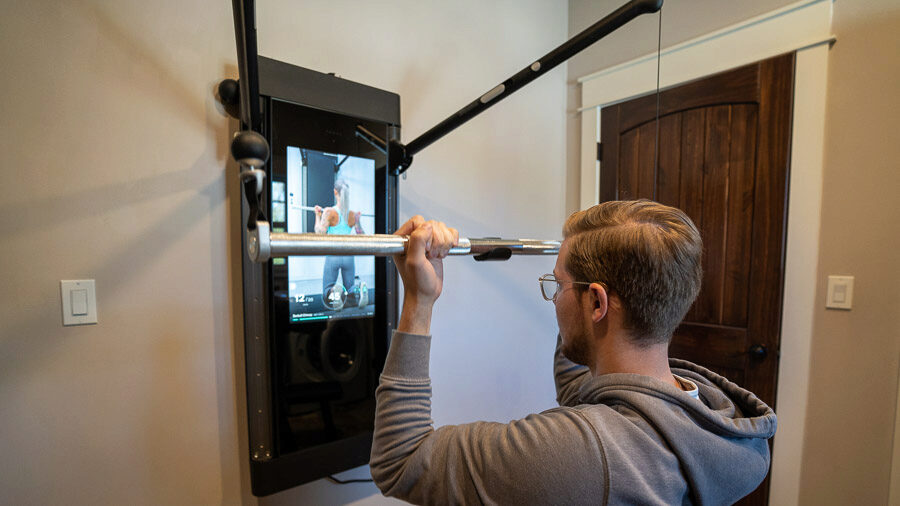 Requiring only a 7x7ft allotment of optimal space for the 2 bi-lateral arms which extend from either side of the system, the installation of the Tonal Smart Home Gym is included in the package price. Trained installers will arrive alongside the shipment in order to ensure the product is installed properly and in working condition. The product itself is rather cumbersome and has specific installation requirements, so this is more or less a necessity for most buyers.
Using Tonal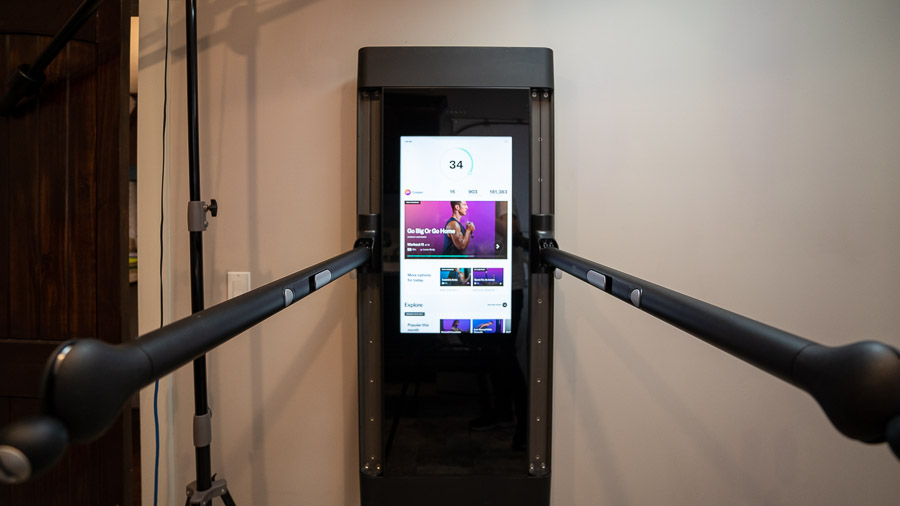 Here's one of the first things to understand about Tonal. Although the hardware doesn't change, the software is constantly improving.
Seriously, every week brings new workouts, but also new features. Spotter mode and eccentric mode are fantastic that allow you to lift safely and increase the difficulty of the eccentric portion of the lift, but they're just a portion of the features that get introduced.
After you log in and walk through the intro training to determine where your strength levels are, the coach AI pretty much takes over. You don't have to track your reps or choose your weight as it's almost always on.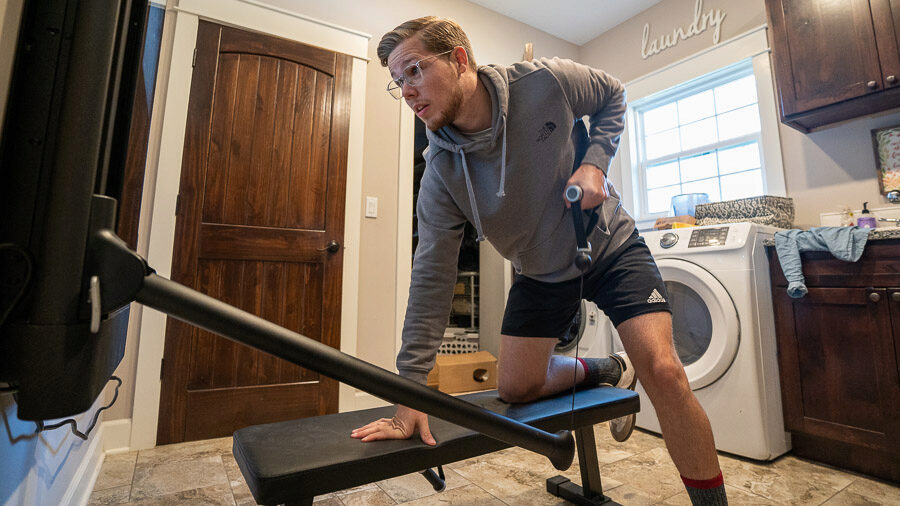 Using the machine is just extremely user-friendly and takes away a lot of the friction that gets in the way of obtaining your fitness goals. For a start-to-finish workout, it's the most efficient tool, I've used.
With a barbell, you have to load plates, check your programming, and get to work. With the Tonal machine, it's a cable machine that is determining in real-time how much weight you should be using and is essentially an AI personal trainer that is just so quick to use.
Ala Peloton, Tonal is beginning to add live classes which should be a great value add as well.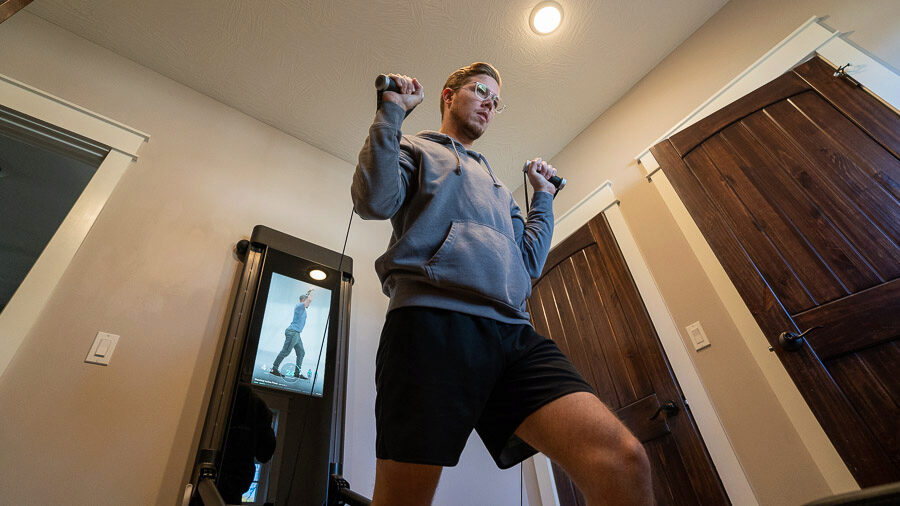 The personal trainers I've used have all been high-energy, although a bit cheesy at times. Regardless, you typically start with a warm-up and then the digital weights take over.
Adjusting the arms is pretty simple and they've added on-screen guides to help you place them as they suggest as it's the only part of the strength training machine that isn't digital.
Although I liked the training programs, Go Big or Go Home with Coach Jackson was my favorite, the free weight mode call Free Lift is nice in that you can pick the exercises you'd like to do your own programming.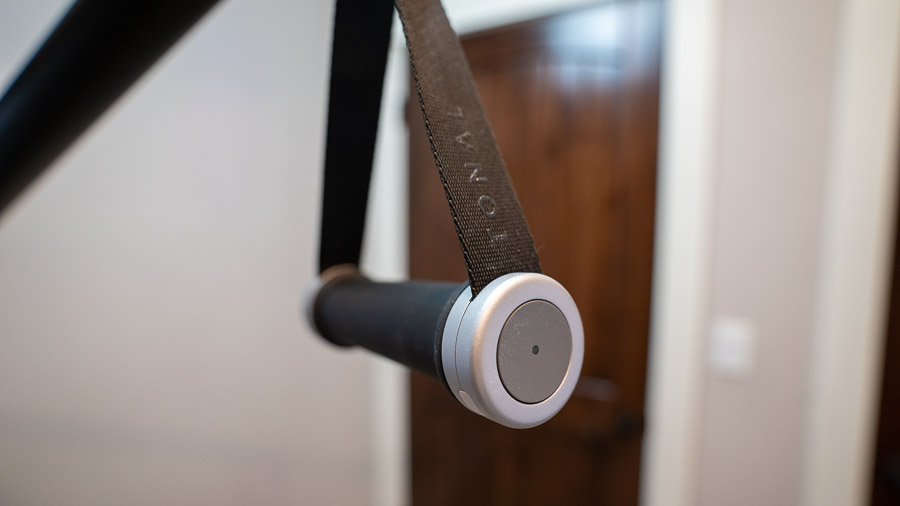 I wouldn't look to the machine as the ultimate strength builder, but to build muscle and burn fat, it's fantastic.
One of the accessories I liked the most was the smart handles that use Bluetooth for turning the weight on and off so if you get done with a set, you can simply click the button. Weight lifting can be dangerous alone, so having a virtual spotter is a cool addition not found in garage gyms.
What We Like About Tonal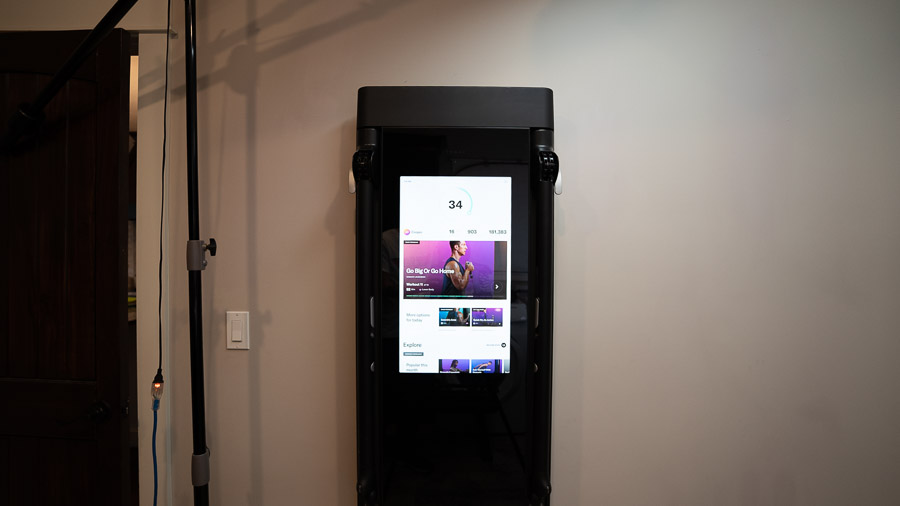 The Tonal Smart Home Gym may be a rather pricey piece of equipment, but it's for good reason. No doubt technologically advanced, the hardware itself is made with quality as well. The pull provided by the cable system is smooth and consistent, neglecting the need for repositioning. All you need to do to get started on this machine is a few screen presses, and moving the 2 arms to your preferred position (or one suggested by whichever program you are using) and you are getting the same quality workout you could get on any machine in your local Globo gym.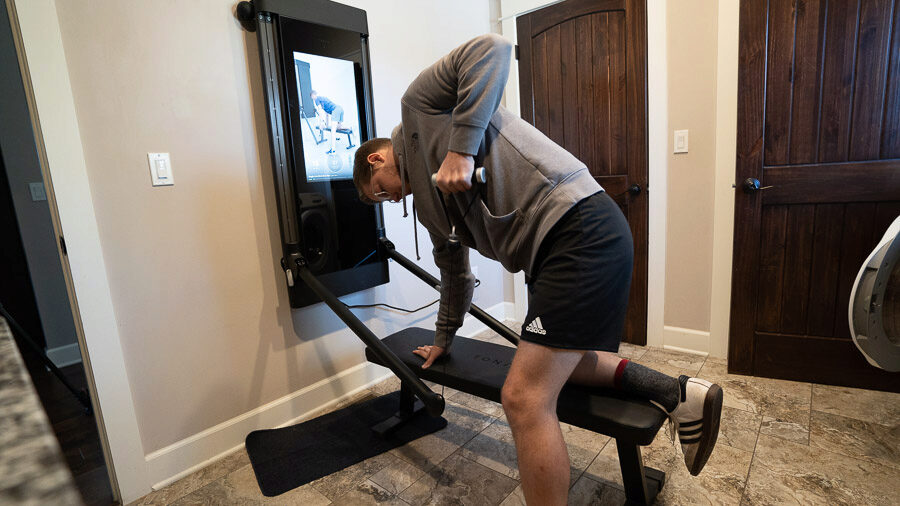 The AI-powered weight suggestions make for a seamless exercise, leaving the user with only one thing to focus on. By tracking your movements, the Tonal Smart Home Gym is able to provide weight variances and positional suggestions enabling the user to get the most out of their training. Their growing library of pre-recorded guided strength training workouts will also help users get a similar experience to that of an in-class scenario, with new programs added weekly.
On top of the convenience, it provides as a product, the ability to be put in just about any corner of your abode is a benefit many could certainly reap. So long as you can make room for about 7ft of space in your living arrangement, the Tonal will exist as the same fitness provider for anyone who owns it.
This machine isn't just for quick and easy work-outs but also serves to take the guesswork out of strength training. Providing a maximum of 200-pound resistance, available in one-pound increments, the Tonal Smart Home Gym will be a good fit in any fitness-oriented household.
The Bluetooth adapted "Smart Handles" and "Smart Bar" also assist in your workout by allowing the user to turn the digital weight on or off with the press of a button. Also coming with a rope, bench, roller and workout mat, the Tonal is obviously keeping versatility in mind.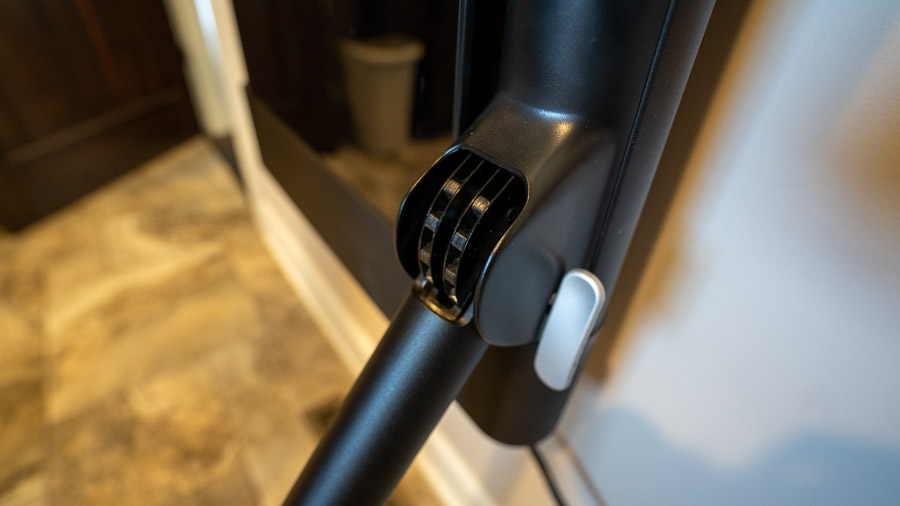 Basically, this thing can "do it all", although I think many would benefit from adding some adjustable dumbbells from our guide. As far as most potential buyers would be concerned, the Tonal Smart Home Gym will fit just about any need, and that's what seems to be the whole point. This is what I consider to be the future of fitness, and I expect many more similar products to come out in the near future. There are a lot of current factors that point toward this, and that's why I just had to review it. Technology is meant to fix the obvious problems we experience in our lives, and Tonal has taken the risk of trying to fill the niche in which it currently abides.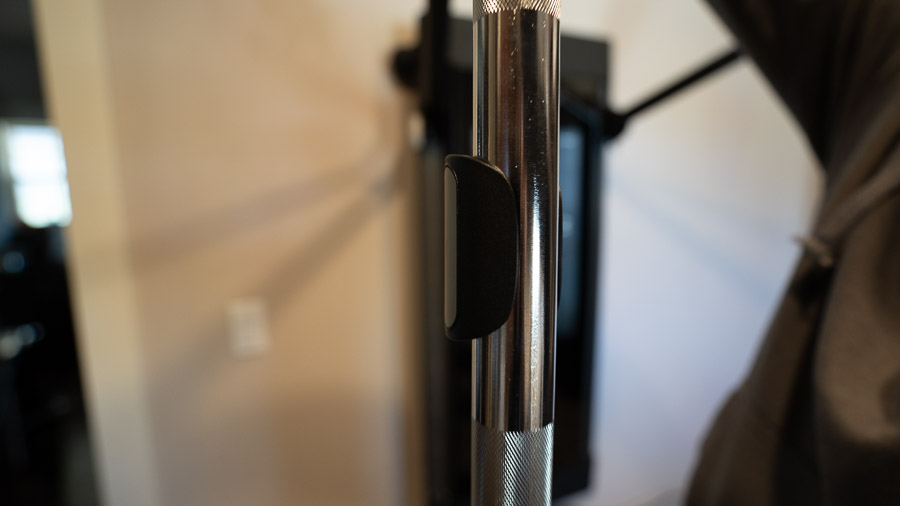 As products similar to this progress, alongside the Tonal itself, I expect to see cheaper and more versatile options meant to fill further niches. I'm personally blown away by this first model and the holistic approach it takes toward home gym simplification. Providing a compact solution to the often complicated and oversized garage or budget home gym equipment options is the natural evolution of the home fitness market, and I personally applaud Tonal on their first attempt.
What We Don't Like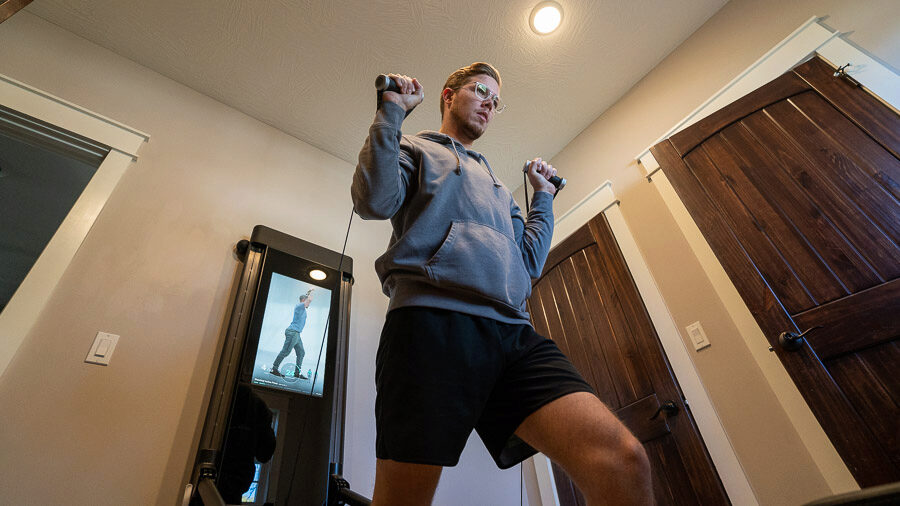 As far as the first models go, especially as revolutionary as this one is, there are always going to be suggestions and personal pet peeves on my end. Tonal has done a good job of making a compact, versatile piece of equipment, but it isn't perfect by any means.
First of all, this thing is expensive and definitely not for those that want to build a budget home gym. This may not be a dealbreaker for everyone, but most people interested in starting out their home gym will not be willing to break the bank for a near $3000 early-adopter machine. On top of this, the machine requires 12-months of subscription to their $49/mo membership. This comes with a lot of valuable guided training but may perturb those who prefer a self-guided training experience and have no interest in being instructed during their workout.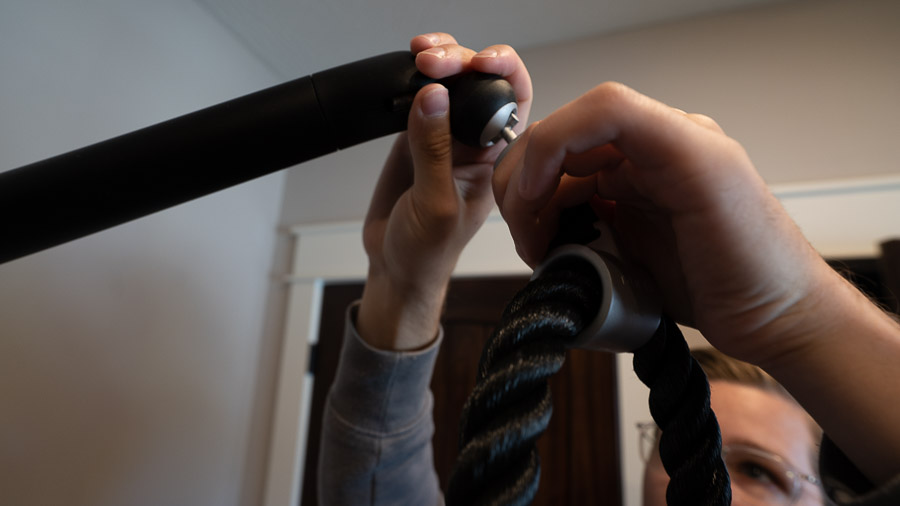 While the cables and handles are strong and have a durable feeling, there is a noticeable creak that occurs in the interim of pulls which seems to come from the plastic which makes up a lot of this machine. This isn't a dealbreaker for me, personally, as it doesn't disrupt the smooth pull provided by the cable system, but it could prove to be an issue with further use. Keep in mind, however, that I've used this machine for the last 6 months with no concern of breaking or cracking.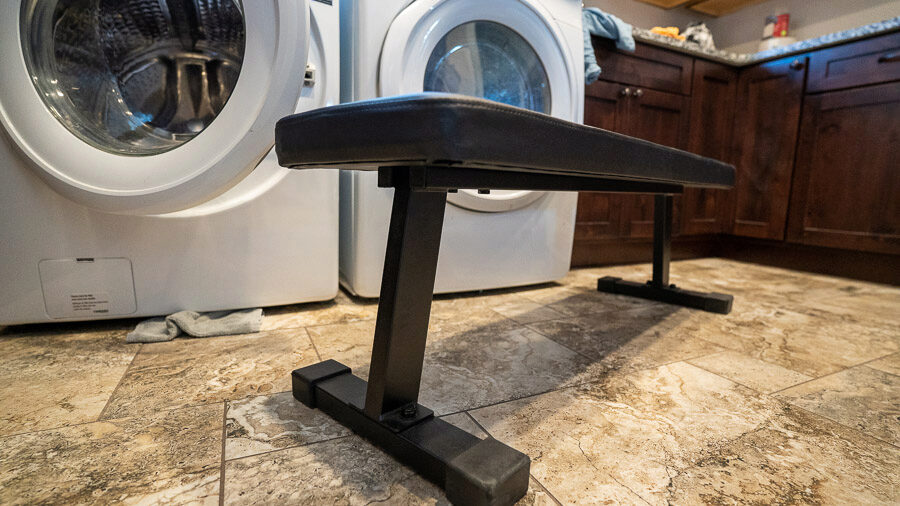 The weight is another issue for me. As someone who enjoys heavy-weight workouts, the maximum 200lb resistance doesn't always cut it, especially for lower body movements. Movements like squats or deadlifts, will not be as satisfying as using the real thing, for obvious reasons. Due to the nature of the magnetic resistance this machine provides, it does feel a tad heavier than using a barbell, but for those already doing heavy-weight exercises like myself, you'll most likely want to stick to your existing analog option.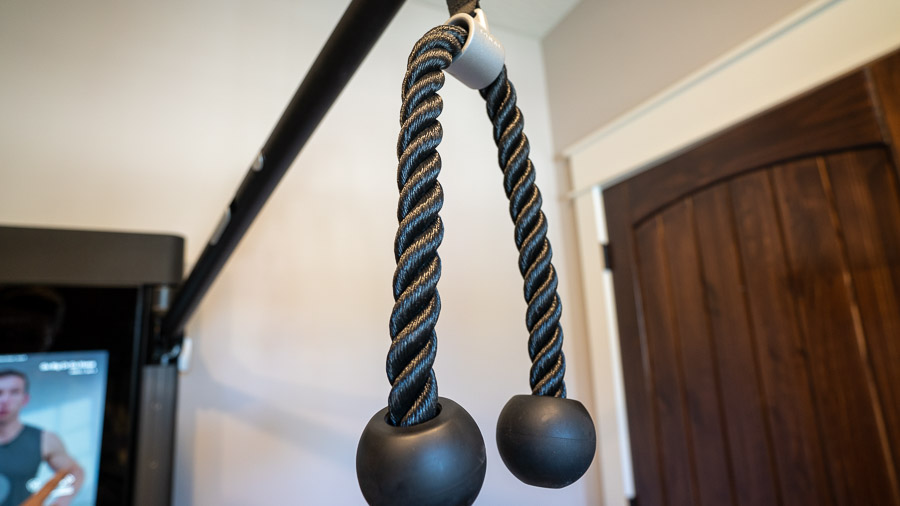 Lastly, the accessories that come with the full package of this device are fine, except for the bench. Weight benches put it plainly is really bad. It certainly looks nice, and comes with some attractive Tonal branding on it, but it isn't spectacular by any means. Of course, this isn't the primary attraction of the Tonal Smart Home Gym, but if you are wanting to use the bench with this device, you may consider investing in something a little more quality-made.
Should You Add a Tonal to your Home Gym?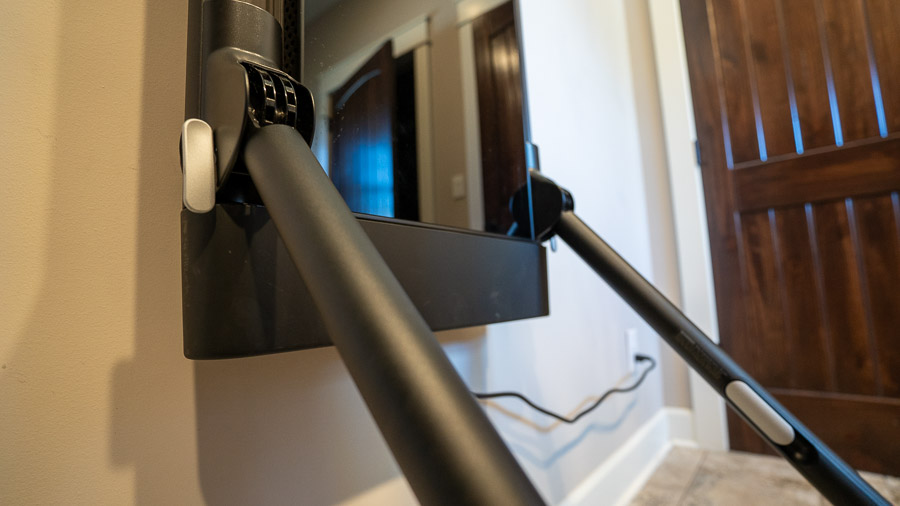 There's no denying that swallowing the cost of a Tonal Smart Gym can be difficult. As we've shown, it's incredibly versatile, however, it's also costly. So, should you build your home gym around a Tonal or simply add it to the equipment you already have? Here are my thoughts in a summarized form.
Tonal Smart Home Gym Recommendations
Out of all the smart home gyms we've tested and used including Mirror, Tempo, and Peloton, Tonal is the most complete system. It's focused on strength training, but they continue to offer new classes for those into yoga, conditioning, and mindfulness.
If you don't have a ton of space but still want a lot of versatility, Tonal is perfect for you. I foresee many apartment-dwellers adding Tonal to their home thanks to its space-saving design.
I think Tonal is also great for those used to personal training or simply want to be told what to do. Instead of having to figure out programming, you can simply follow along on the screen and get great results without having to think.
Tonal Smart Home Gym Complaints
I don't think Tonal is a complete replacement for those used to training at a commercial gym with a ton of equipment. It can do a lot, but some will miss the variety of lots of equipment often found in garage gyms.
Tonal requires an ongoing subscription to get the most out of it. This means that you not only have the big upfront cost to take on, but you essentially will also have a gym membership by using Tonals subscription ongoing.
Although I really like Tonal's hardware, the software is what is the standout feature. Due to this, I think most would be disappointed in buying Tonal and planning to not use the software.
Tonal Vs. Peloton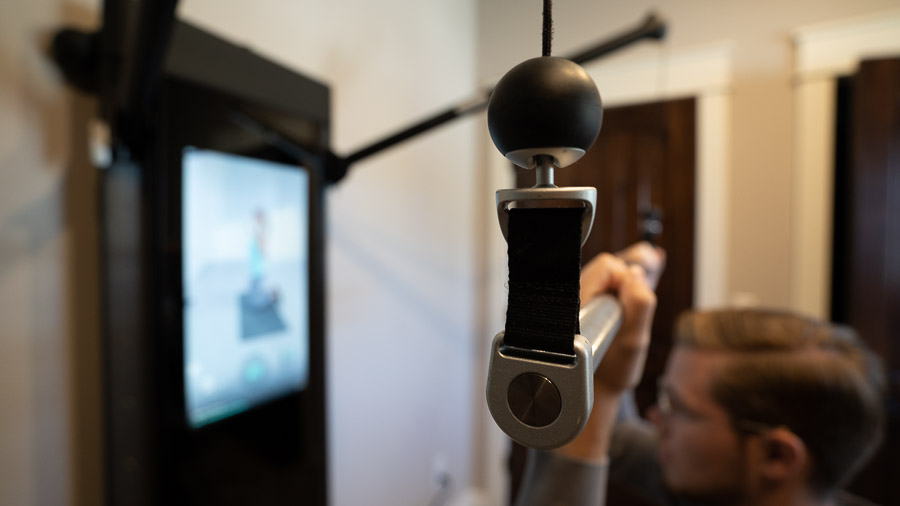 Seeing as Peloton has been around for a while, the selection of training available far outweighs that which is provided by Tonal. This, on top of live training, may make Peloton the preferred option for those looking for a fully-guided in-home workout.
Obviously, the two are different in that Peloton is focused primarily on endurance, cardio-based workouts, and Tonal focuses more on strength training, so this is certainly something to take into consideration in deciding between the two. With the Peloton membership, however, you will be able to access a multitude of guided strength-training workouts that use free weights available for purchase through them… or just use your own.
I foresee many who enjoy the smart home gym types of equipment will try to get both eventually. I see them as more complementary than competitive.
In my opinion, the decision between the two relies heavily on your personal fitness goals. If you simply want to lose weight and increase your endurance, the Peloton will fit the ticket. If you want to increase your strength and stamina, the Tonal Smart Home Gym will be your safest bet. Both are expensive options meant for buyers who are serious about a commitment to regular exercise, so if you are considering either at all then the decision is made rather simple by this dichotomy.
Tonal FAQ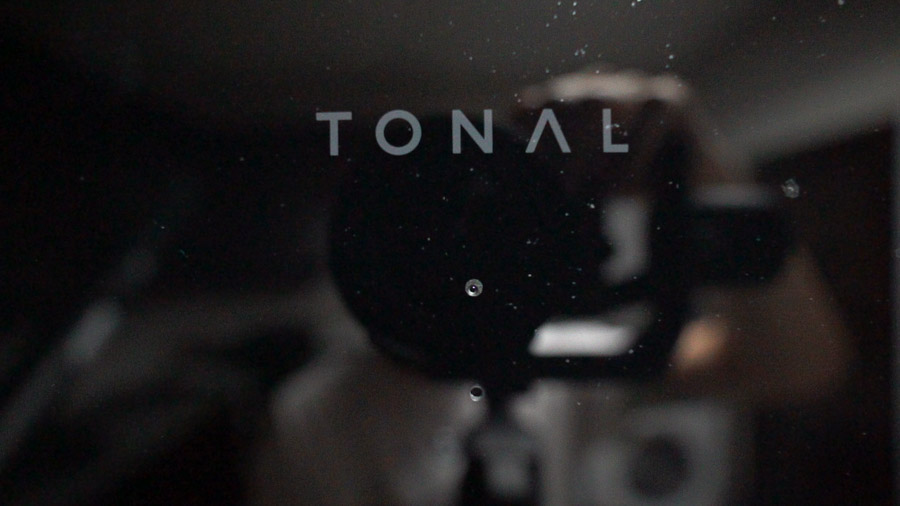 Is Tonal worth the money?
Tonal is expensive, there's little getting around it. However, there isn't a more complete strength training machine in the world than Tonal. When comparing the cost of Tonal, I think a better comparison than the squat rack, plates, barbell, bench, etc or commercial gym memberships, is a personal trainer. Tonal is for all intents and purposes an artificially intelligent personal trainer. You pay for the equipment and then you pay a monthly subscription for the training. Is it for everyone, no? But those that use it and have bought, myself included, love it.
Which is better? Tonal or Mirror?
In my opinion, Tonal is a vastly more complete training system than Mirror. The mirror is focused on bodyweight training and yoga-type movements. There's nothing wrong with that, however, Tonal can do all of that and much more.
How much weight does Tonal go up to?
Tonal goes up to 200 LB total resistance. However, due to the digital weights that are used, it feels much different than a typical weight machine. There are no stacks or plates that are fighting against gravity and changing based upon inertia and acceleration. 200 LB on a Tonal deadlift for instance feels much more difficult than on a barbell as it's a consistent load.
Does Tonal work without a subscription?
Yes, Tonal does work without a subscription making it an expensive functional trainer. However, I think most will end up using it with the programming as it's an experience that hasn't been beaten by all the equipment I've reviewed. With this said, if you wanted to do home workouts following your own programming, it would still work.
Does Tonal have live classes?
Tonal is working on streaming workouts with live classes to make it feel like you're training alongside others. They also allow you to train with others all over the world as essentially digital training partners. It's a cool feature.
Was Tonal hard to install?
As you can imagine, the Tonal Machine is extremely heavy. Like ridiculously so. For the first install, Tonal requires a white-glove service so that you don't mess it up. However, I moved and had to install it again and it's not too difficult so long as you have a helping hand. The installation process is pretty simple and doesn't take a ton of time.
Would you suggest Tonal for advanced trainees?
I think it depends on your goals. If you're wanting to lift like a powerlifter, I wouldn't suggest it, unless you just want to use it for accessories. However, for bodybuilding, general strength training, yoga, and the like, I think it works extremely well. I use Tonal mostly as a supplementary device to my other equipment and training.
Full Rating
Tonal Smart Home Gym
Equipment Construction – 4.5
The Tonal Smart Home Gym is the most pleasantly surprising piece of gym equipment I've reviewed in recent memory. Despite loving barbells as much as I do, Tonal has made me a complete believer that smart home gyms are the future for many trainees. Not only is the hardware impressive, but the software in concert has made this something we would certainly recommend to those wanting an all in one unit for their home gym.
Further reading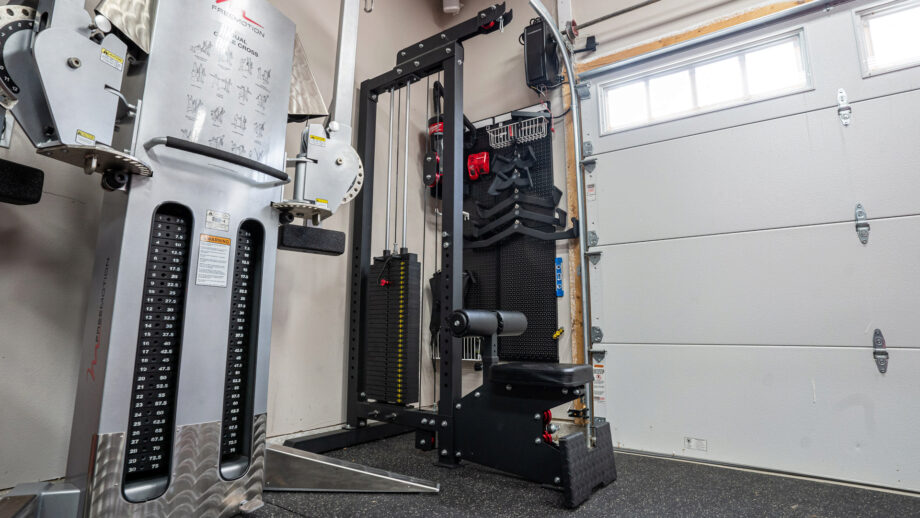 Titan Fitness Lat Tower Review: Best Value Selectorized Lat Pulldown by Coop
The Titan Lat Toweris the best value lat pulldown for most home gym owners that we've ever reviewed. Everything from the packaging to the performance of the machine makes us feel like the machine is worth much more than their asking price. If you're looking to add a lat pulldown to your garage gym, we suggest the Lat Tower from Titan Fitness. It's our favorite piece of equipment they make and I now own two I liked them so much. Read more
2POOD Coupon Code by Coop
Now, you can use the code GGR at checkout to save 10% on belts, apparel and more! Read more
Dwayne 'The Rock' Johnson's Insane Home Gym and Traveling Iron Paradise by Coop
Dwayne 'The Rock' Johnson seems to do everything big, and his home gyms (yes, he has multiple) are no exception. Read more
The Best Bumper Plates for 2021 by Coop
After researching over 70 bumper plates and using 32 of them, we've determined that the best bumper plates for most people are the FringeSport Bumper Plates. The best competition bumper plates for most people are the Rogue Black Training Bumper Plates. Taking into consideration rubber used, durability, noise, appearance, price, warranty, and availability, these bumper plates will work well for any home gym, commercial gym, or CrossFit Affiliate. Read more
Sours: https://www.garagegymreviews.com/tonal-smart-home-gym-review
The majority of smart home fitness products center around cardio workouts instead of lifting weights. Ride a bike, do some burpees, plank for five. Some systems include lightweight dumbbells or kettlebells, but even when those are part of the package, they are used in interval training workouts designed for toning and slimming down. They aren't helpful for meeting the goals of a structured weight lifting regimen: adding mass and piling on a good amount of strength. Until now, if you wanted a good weight lifting experience at home, your only option was to stack a pile of weights in your garage and grunt away in your self-imposed dungeon like an extra in Orange Is the New Black.
Tonal addresses this home fitness hole with its simple-to-use system. Similar to home fitness competitors like Mirror, Tonal is a large, rectangular, wall-mounted device that displays interactive workout programming on a big screen. The one major difference with Tonal is the pair of adjustable arms that extend from the system. Each arm houses a cable that provides an adjustable amount of resistance of up to 100 pounds per arm. Attach some of the included accessories and you can perform a wide range of strength-building movements, from bench presses and squats to bicep curls and rope extensions.
The programmed workouts that appear on the screen are delivered by knowledgeable, encouraging trainers. The music selection is pretty great too. If you've got the cheddar for one—the Tonal unit costs about $3,000, plus a monthly subscription—you'll find it to be one of the most comprehensive strength-building systems in the increasingly crowded "smart home gym" marketplace.
Lift Off
You're probably familiar with all the clanging and banging a traditional resistance machine makes as the weight plates slap together at the end of each rep. The Tonal emits more of a subtle whirring; the system uses electromagnetic force instead of weights to add resistance to the cables. The cables extend from the arms and attach to a variety of handles to mimic most of the free weight and cable movements you'd find at your standard Planet Fitness. Tonal comes with a bar, a pulldown rope, and a set of handles. The bar and handles are equipped with Bluetooth-enabled buttons that let you switch the resistance off and on. This is a great feature that allows you to keep the weight disengaged while you get into position, then turn it back on when you're ready to lift.
The workouts appear on a high-definition touchscreen that's bright, clear, and extremely responsive to taps and swipes. The workouts are accompanied by a wide range of excellent music you can select. (I recommend the '90s hip hop station.)
The setup routine is simple. After you enter your vitals (age, height, weight, goals), Tonal guides you through your first workout. The instructor takes you through a warmup, then a series of movements designed to teach you how to use the machine. After that is the proper strength assessment, in which you perform a series of movements that Tonal's software uses to determine your strength levels. For all of your workouts after the assessment, the software automatically sets your weight for every movement, constantly adjusting the resistance as you grow stronger. You also have the option to adjust the weight manually if you're feeling especially beastly on a given day.
Muscle Memory
Tonal offers hundreds of workouts, from traditional strength and high-intensity interval training programming to yoga, Pilates, barre, and meditation. You can even call up kickboxing classes and dance cardio, as well as more specific training programs, like pre- and postnatal workouts, triathlon training, and family workouts. There are recovery, mobility, and Theragun walkthroughs to help ease those post-workout aches. Tonal can track your heart rate if you wear an Apple Watch or a Bluetooth-enabled tracker.
There's also a free lift option, where you pick each movement as you go. You can even create your own custom programming via the Tonal app. If you're working out with a partner, you can do in-person partner workouts; the system will automatically adjust the weights for you and your partner and keep track of both of your reps as you trade turns.
Tonal doesn't offer live classes. All the programming comes with prerecorded instructions accompanied by videos of coaches doing the movements you're performing for reference. I actually found this to be a plus, since it allows you to take the lifting workouts at your own pace. I appreciated the Tonal waiting for me to catch my breath between each set.
The programmed workouts are well-designed, and each one comes with a quick, effective warmup at the beginning and a mobility-focused recovery at the end. I especially liked this aspect, as I tend to skip the warmup and cool-down when I'm working out on my own.
Other features meatheads like me will appreciate are the Eccentric and Chains settings. Both settings are used in strength sports. Eccentric lifting adds resistance to the negative (lowering) portion of your lift, while the Chains setting simulates lifting with chains attached to your barbells, gradually adding weight as you perform the lift. Both are used to help speed up strength gains. As a former competitive powerlifter, I found Chains to be a welcome feature. It doesn't look as cool as having 50 pounds of chains dangling off the bar, but the results are the same.
Heavy Discipline
Since I get most of my endurance and cardiovascular workouts via CrossFit, I focused on what sets the Tonal apart from other home fitness tech: lifting weights. Going through a chest, triceps, and shoulder workout was similar to what you'd get at Anywhere Fitness or World Gym—dedicated sets and reps at specific weights. The big difference in the programming is that the weights are calibrated specifically to your strength levels and goals. When I chose the workout I wanted, the weights and movements were all set up and preprogrammed for me. All I had to do was move the position of the arms and add the appropriate handles.
As a fitness enthusiast, I was expecting an easy workout. Tonal had other ideas. By the end of the second set of cable flys, I was grunting and straining to bang out my last few reps while the Tonal pinged me with a notice that I was shortening my reps and a reminder to extend to a full range of motion.
The result of that reminder was eerily similar to working with a personal trainer in person: I muttered "I am, damn it," gave the Tonal an angry side eye, then quickly corrected my form. What followed was the realization that my other job as a fitness coach may be in jeopardy.
During the bench press, the ability to disengage the weight on the cables made getting into and out of position under the bar a snap. Since the weights are calibrated to approach the top of your ability level, I struggled to get the last press. At the top of that last shaky rep, I thankfully heard the "ding" that signals a full rep, then thumbed the button to take all the weight off the cables before dropping the bar back to my chest.
In addition, whenever I crapped out on a set and couldn't finish my reps, the Tonal automatically lessened the weight resistance so I could finish the set. This mimics the act of spotting, where someone hovers over you as you lift and stands ready to help you raise the weight if you falter. It's a huge plus for people who work out by themselves and is a safety feature that I wouldn't be surprised to see in cable machines in commercial gyms in the near future.
For people used to free weights, using cables is going to feel different. The lack of inertia and the constant cable tension makes every rep feel unstable at first, but after a few workouts it becomes familiar.
I have to admit that I missed the feel of hauling a 500-pound deadlift off the floor, but the 200 pounds of total resistance is more than enough for beginner and novice users. Even advanced lifters like me can get a solid workout, thanks to a variety of lifting modes.
However, if you're looking for a monostructural cardio workout like a stationary bike or a treadmill, you're out of luck. Cardio on the Tonal takes the form of HIIT training classes and plyometric programming. These workouts require you to pay attention to the screen at all times. Tonal isn't built for people who prefer to zone out and disengage when they work out.
The Cost of Fitness
At just under $3,000 for the wall-mounted unit, $250 for the professional installation (which is required), and $49 a month for the membership, Tonal is a major commitment. But that cost buys you a full home gym that fits within a few square feet of floorspace, comes with unlimited training sessions, and hosts the smartest fitness tech I've ever used. You can easily spend double this amount on enough traditional gym equipment to fill half of your garage, none of which can spot you if you fail a rep.
Sours: https://www.wired.com/review/tonal-home-gym/
Tonal - 30 minute weekday full body workout
Training with Tonal, the 'Peloton for weightlifting'
The first reaction people have when they see the Tonal, a connected strength training machine, on my wall is often one of two things: 1) is that the Mirror (a different internet-based piece of fitness equipment)? 2) can I try it?
Both are valid reactions, especially when you consider how much money the industry has poured into marketing connected fitness. There are ads for the Mirror all over train stations and cars, Echelon bikes are in nearly every Costco, and, well, you must have seen or at least heard of that Peloton holiday commercial. Five years after the first Peloton product launched, the concept of an at-home workout regimen no longer requires retro workout videos of the past. Even if you're not interested in buying one, you're probably at least curious what all the fuss is about.
Tonal is unique in this field for its focus on weight training instead of cardio. Think of the machine like a slimmer, low-profile Bowflex that mounts flush against the wall rather than taking up an entire corner of your room. With arms that can be adjusted and folded away, it's also a bit less likely to end up as an expensive coat rack.
At $2,995 plus a monthly subscription cost, Tonal's pitch is that it will replace a personal trainer at the gym by putting an on-demand one inside your home. I've been working out with Tonal for a few months, and while it's got a lot of potential, there are also a lot of quirks and flaws.
Good Stuff
Space-efficient design that offers a broad range of exercises
Multiuser friendly
Dynamic modes like Eccentric and Partner are useful for challenging yourself and / or a buddy
Bad Stuff
No live class offerings means programs get stale quickly
No one's really monitoring your form
Pricey
Buy for $2,995.00 from Tonal
The Tonal is a wall-mounted machine that has two adjustable arms; you can move them up and down and angle them for various push or pull exercises. The grips can also be swapped out for either two handles, a bar, or a rope. Some of these handles include an on / off button that allows you to get into position before starting the weight. The starter set also comes with a bench and a floor mat.
Inside the Tonal, electromagnets create resistance so that you can push and pull up to a maximum of 200 pounds combined, or 100 pounds per arm. (That might not be enough for some people, but it should suit most beginner to intermediate levels. If you want more resistance, you'll have to wear your own wrist weights.) The center features a touchscreen that includes a roster of classes to suit your goals, whether it's to bulk up in muscle or get toned and lean.
When you start up Tonal, you'll need to perform a strength test to measure just how much weight you can handle. Based on the speed and force you're able to lift, Tonal will auto-adjust the resistance and recommend weights for each program. You can also select your goals and difficulty levels for suggestions on the best classes to take. The machine keeps a "strength score" that shows you how much more you've been lifting over time.
Tonal currently offers a handful of coaches with different personalities, but most of their classes are structured the same way: the instructors start with some small talk then lead you through two to three sets of three to four exercises, which includes a warm-up and cool down. Most workouts last anywhere between 25 and 45 minutes, and you can also select a freestyle mode to perform specific exercises if you want to craft your own sets. Currently, the machine supports hundreds of different movements targeting all areas of the body, from arms and abs to legs and shoulders.
As the instructors talk you through the exercises, a video appears to show you how to adjust the machine's arms to prepare for what you're about to do. It's a little clunky to get accustomed to at first, but I got used to it after a few workouts. As you push or pull, Tonal prepares the weight and counts your reps for you, beeping at the end for your last three reps so you know it's almost over. If necessary, you can also pause or skip a section.
This is a similar setup to many other exercise apps, but what's interesting about the Tonal are advanced modes like Eccentric, which automatically adds a few pounds to your last couple of reps and the "negative" portion of your lift (when you lower the handle during a bicep curl, for example) to further challenge you. I was often surprised by how much more I could lift even though it felt like I had already maxed out. There's also Spotter mode, which is supposed to sense when you're struggling to complete a rep and automatically decrease the weight, though I never found this to turn on unless I am shaking and unwieldy. With any kind of exercise, there's always a risk that you can seriously injure yourself, so I wouldn't rely on Spotter mode to save you over your intuition.
Each push and pull from the Tonal arms were smooth and quiet. There's a small crank-like hum behind the screen, but you won't hear much of this anyway, as Tonal offers various music radio stations you can listen to while you work out. Unlike the Peloton, Tonal music doesn't synchronize with each move so it's not running into similar issues Peloton is with copyrights. However, the music selections are slimmer as you can only select by genre instead of artists / albums, and you can't personalize your own playlist.
The sleek hardware is cool and all, but the most important thing about connected fitness is whether it's actually fun to use. After all, home workouts are only effective if it's entertaining enough for you to do them regularly.
That's where I found Tonal to be a bit underwhelming. Currently, Tonal doesn't offer live classes, and it comes with pre-taped programs that you use to work out three to four times a week and repeat over the course of the month. There's something mildly impersonal about this; whereas Peloton shines in the instructors bringing the boutique workout experience into your home by engaging personally with students, talking about their day, cracking jokes, or even pushing themselves to the point where they're as out of breath as you are, the Tonal classes feel a bit robotic and rehearsed to the point where some of the script come across as cringeworthy. In one class, a coach flexes his incredibly sculpted biceps to show them off, then smirks at the camera. I found this to be corny, but maybe someone out there in inspired by that.
Since classes are just Tonal coaches narrating what you're supposed to do next, followed by an instructional video of what you should be doing, it feels akin to watching a YouTube tutorial on how to perform certain weightlifting tasks. The thing about having a personal trainer (aside from someone to yell at you to work out) is someone to watch your form, and that's just something Tonal can't quite do. Tonal says it's programmed the videos to be as detailed as possible, and the coaches do blurt out reminders to check your forms periodically, but without being able to see yourself, it's hard to tell whether you're doing a new exercise correctly for the first time.
Once the week is over and you go back to day one of the program, the content also starts to feel stale. Yes, weight training works by repetition and consistency, but hearing a coach make the same cheesy joke gets old after the second time, never mind the fourth. After two weeks of a program, I often found myself starting a different one or ignoring the machine for a few days before being ready to go back to doing the same things over again.
It's also super easy to cheat the machine. Since Tonal is only monitoring whether a push or pull is being made, you don't necessarily have to do the exact exercise you're being told to do. When I was too tired to do a proper bicep curl, I found that performing weighted squat or even just walking the pulley forward still tricked the machine into counting the rep. Whenever I was too lazy to properly warm up or cool down, I skipped during those segments by either using the fast-forward button or just walking away for a drink of water.
You shouldn't do that, obviously. Part of any physical transformation is your level of dedication, and these programs are designed to only work if you're committed to following through the way they're meant to be done.
As it stands, using the Tonal feels like paying to be a beta tester. That's both good and bad: because Tonal is clearly young, growing, and learning, it's extremely receptive to current user feedback. Employees are often personally engaging with users on dedicated Facebook groups and via emails; on one occasion where I skipped through a workout and rated it 3 out of 5 stars, someone from the team reached out to note what had happened and asked how the program could be improved. Additionally, the employee suggested other classes I might want to try that might better suit what I was looking for based on my specific reason for rating the class poorly.
The Tonal software is also constantly getting updates. In the six months that I've had the machine, Tonal introduced partner mode (for switching between you and a friend while working out), custom workouts, high-intensity mode, progress tracking on the mobile app, and yoga was added to the class offerings. Most of these features were things users directly requested in Facebook groups, and the team seemed to respond swiftly and directly. The whole app even updated with a new font, a cleaner interface, and classes now take place in a mood-lit set. (This all happened so quickly that it made our review photos outdated shortly after the shoot.)
But the con is obviously that the machine costs thousands of dollars for something that's clearly still relatively early in its stages of development. It's clear that Tonal wants to be the next Peloton, but it still doesn't quite have that stickiness Peloton has with getting users —especially ones that are new to strength training — addicted and committed to classes. Peloton forces you to stay through class by not offering a pause button and clipping you into the machine so that getting on and off the bike is an effort in itself. That's just not something Tonal can easily re-create with any simple formula.
Tonal's primary focus is strength training, and while it does offer some bodyweight cardio classes, it might not be as challenging as cardio machines like bikes, treadmills, or rowers. Lots of Peloton owners have ended up buying the Tonal to complement their cardio regimen (Tonal even has a Peloton program designed to use in conjunction with Peloton classes), which could mean a lot of upfront costs for those who want a full connected home gym experience. That said, Tonal does offer a financing plan that makes it roughly $199 per month (including the subscription), which compares much more favorably to a gym membership and personal trainer than Tonal's full hardware cost. (Of course, there's always the danger of relying on software updates to run the thing, which is now an all-too-common risk with the Internet of Things.)
If you are the kind of person who is already mentally prepared to commit to weight training, the Tonal is an excellently designed machine that's much sleeker than your traditional home gym equipment. It's space-efficient and great for multiple people in the house to use since each profile saves their personalized weights for the next time they work out. Plus, you can't deny the perks of grunting and sweating in your own private space instead of a public gym.
But is the Tonal going to get you the body you've always wanted? Not exactly. But really, no machine can promise that since diet is another huge part of that equation. However you choose to exercise, know that working out doesn't have to be expensive — getting over the mental hurdle is the hardest part.
Related:
Sours: https://www.theverge.com/2020/1/23/21077238/tonal-review-strength-training-connected-weight-fitness-machine-price
Review tonal workout
There are a lot of ways to work out at home. You can install the quintessential suburban home gym—that is, a treadmill and a set of dumbbells beside a dusty ping pong table and a media shelf containing Grease and Rat Race on VHS. You can use the glow of your laptop to lead the way through an exercise routine from one of the many fitness gurus that run rampant on YouTube, or go old school by revving up a classic Jane Fonda video.
Or you could take it next-level by investing in Tonal, a smart connected home workout system with digital weights that possesses aspects of all, without the clutter of free weights or the monotony of a video—and, of course, with a hefty price tag.
That price starts at $2,995, plus tax; plus delivery and professional installation ($250); plus "Smart Accessories," the handles, bench, and mat that you need to do a lot of the exercises ($495); plus a monthly membership fee ($49), which adds up to a (very) grand total of about $4,400 for the first year. There's also a financing plan of $149 a month for 36 months—on par with the high-end gym membership it's designed to replace. For that kind of money, it has to be a great product—right? I tested it to find out.
What is Tonal?
Tonal is a Peloton-esque smart device that offers streaming workouts that include strength training, thanks to its resistance cables that go up to 200 pounds. All of this is condensed in a wifi-enabled vessel about the size of a flatscreen TV turned on its side. Like a lot of new, smart fitness equipment, it comes from a company based out of San Francisco, and looks something like The Mirror, a similar smart fitness device, but with arms and handles. It achieves its function and compactness thanks to internal electromagnetic resistance that, when paired with its "Smart Accessories," allow you to do much of what you'd usually do in a gym's weight room—bench presses, rows, lat pulldowns, deadlifts, and so on—with a single machine. You can pair it with your phone to play music, or connect to one of Tonal's music channels, which have options like pop and hip-hop. These stations play actual artists, not covers or instrumental songs, which is nice.
Tonal also uses AI to identify which weight is best for you and your abilities for each exercise, and automatically adjusts the weights in real time as you go through a workout. As you get stronger over time, the AI increases your weight for each exercise. Tonal offers multi-week workout programs that include strength training, cardio, yoga, partner exercises, and more, all of which are led on the screen by a rotating cast of trainers. Classes are available on-demand for you to do at any time, but Tonal doesn't currently offer live classes like Peloton or The Mirror. You can also connect Tonal to a Bluetooth heart-rate device as a gauge for exertion, but it's not mandatory and the classes don't seem to hinge on calorie burn as a motivator.
In its ads, the device seems akin to a strength training machine geared towards more serious weight lifters (with an emphasis on upper body strength, based on the ads I saw). Fitness-wise, I do not identify this way. I am more of a group fitness person who tends to veer towards spin, yoga, barre, and Pilates classes, and I've always been nervous about trying heavy-duty weight lifting in a public gym, where great pain—or worse, humiliation—could befall me. In trying the Tonal machine, I hoped I might learn some lifting techniques (beyond my usual lightweight bicep curls) to make me stronger overall and help me gain confidence at the gym.
How do you use Tonal?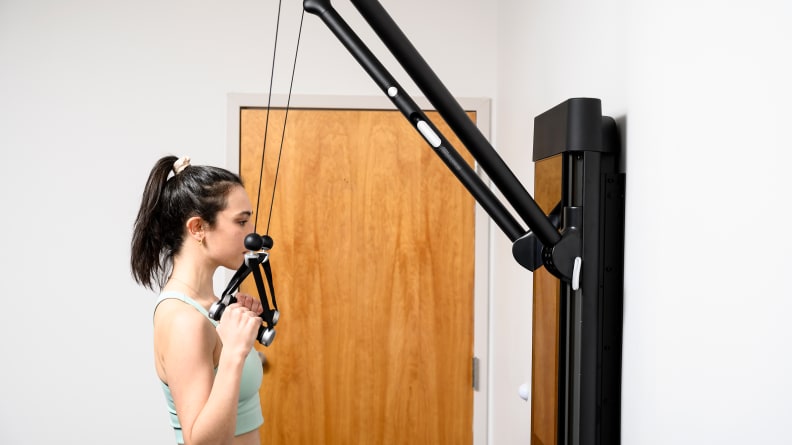 When you order Tonal, you pick a time and date you would like it to be installed, and wait for it to arrive. Our delivery guys arrived to Reviewed's offices on time (though they were sent by the PR team, who offered to lend us a test unit). The overall installation process—which involves bolting the appliance into the wall—took about 30 to 45 minutes.
Once installed, you perform a fitness assessment to gauge your starting strength, which includes a seated lat pulldown, a bench press, a shoulder press, and a deadlift. You also pick out a few fitness goals, like "lose weight," "maintain fitness," or "boost energy," and are prompted to join one of Tonal's programs, which are classes led by certain instructors that you do a few times each week in order to meet a goal. (You don't have to join a program right away, however—I opted out initially and joined a program later.)
Like most things, Tonal has a learning curve. You adjust the arms alongside the screen and clip the smart handles, bar, and rope in and out depending on the workout, which can be a little challenging at first, but grows routine after a few tries. As with most cable machines, the weights have an inherent instability—particularly when using the long bar—so they can feel heavier than they really are. The machine provides some form feedback, which is helpful when you're getting started.
What are the classes like?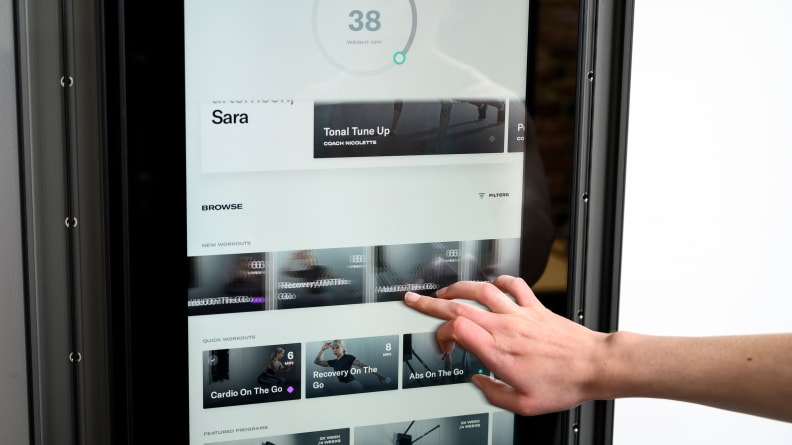 There are a few ways to do classes on Tonal. One is by joining one of the programs, which is best for someone looking to meet a specific goal. You can also pick classes a la carte on Tonal's homepage, which are sorted by muscle group and workout type (such as "lower body," "high-intensity," and so on). Each of these is between five to 50 minutes long in a range of difficulty levels. Finally, you can build custom workouts in Tonal's app by picking exercises and assigning your own reps, sets, and rest periods.
To get a feel for the breadth of Tonal's offerings, I mostly did the pick-and-choose workouts. And they kicked my butt. I tried both high-intensity and strength training classes, and even though I mostly picked 25- to 35-minute workouts, I felt like I had done the equivalent of one of the hour-long studio workout classes I'm used to. I also felt noticeably sore in the days after my first few workouts. This is probably because I'm not as used to straight-up strength training as I am to lower-impact classes, and the soreness and fatigue I felt after a 30-minute workout receded as I grew more used to Tonal and strength training in general. Still, it was cool that the classes felt as efficient and effective as they did.
I also thought Tonal provided a decent way to learn the basics of lifting. The system offers demos taught by Tonal's on-demand personal trainers that you can watch before you start a set in a workout, and the screen is a little reflective, so you get a glimpse of what you're doing and can size up if it matches with what the instructor is doing. The nature of the machine means I still don't know much about how to use free weights at the gym, but I have a better idea about how much weight I can bear for different exercises. And the cable machine there no longer intimidates me.
As for the AI weight adjustments? In almost all cases, it was smarter than I am. Sometimes I had to adjust the weight a pound or two, but in most of its workouts, it was spot-on. In fact, a few times, I was assigned a seemingly low weight that I scoffed at, deciding I would be fine bumping it up a little. But by the halfway point in the set, I'd realize that, yes, for the reps required, I needed the lighter weight originally assigned to me.
What isn't so great about Tonal?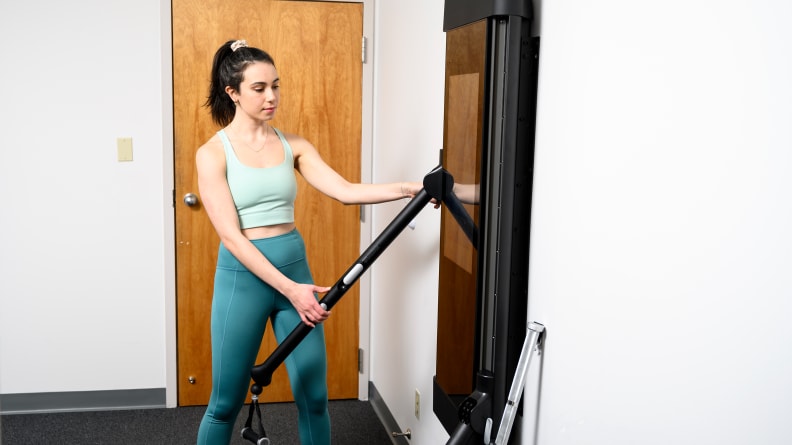 Despite the tutorials and reflective screen surface, there were a few instances in which I worried about my form. This was particularly true during exercises where I couldn't look at the screen, like bench presses, to verify that my technique was correct. I dealt with this by watching demos and listening to instructions extra-carefully before starting the exercises, but my form still could have been totally off and I had no real way to know. You also don't get to join in on live classes, so you don't get the sense of community that comes with some home workout devices.
Also, the machine is bolted to the wall. This means it's sturdy and secure—and it can be removed, with effort—but I wouldn't recommend it to someone who rents or moves frequently, because heavy, semi-permanent fixtures tend not to mix well with lease agreements and moving trucks.
Finally—and this is more of a quibble than a real complaint—the trainers, though clearly human, take on the appearance of Sims or computer-generated Instagram models during certain parts of the workout. They don't stop doing reps until you stop or tap the screen to go to the next exercise, so if you happen to rest for a moment without pausing the video, they keep doing squats or deadlifts or whatever on a loop, without any change in form or appearance, and keep going until you finish the set or power off the machine. I don't know what I would have them do instead (turn their head a little bit? Wipe their brow? Stop and yell at me for slacking off?) but it felt odd enough to me during almost every workout that I wrote WEIRD!!! in my notes.
Is Tonal worth it?
From the perspective of making strength training accessible and fun, Tonal is excellent, and arguably the most robust at-home system for total fitness that you can get. Its competitors—the Pelotons and Mirrors—focus on cardio or body-weight training and don't involve weights unless you buy them separately. Tonal combines top-notch instruction with up to 200 pounds of resistance, in a compact and attractive package that's mostly unobtrusive in the home.
I thought every Tonal workout I tried was effective, efficient, and enjoyable. But I also found myself missing some aspects of my beloved group fitness classes. I don't mind paying for workout classes because part of what I'm paying for is a 45- to 60-minute period of time in which I am separated from my phone and I don't have to look at a screen. I also don't find motivating myself to work out on my own to be too hard. What is hard is tearing my eyes away from my phone and laptop if they are not physically taken from me. You don't get that with Tonal—you can play music from your phone if it's connected to the Bluetooth, but you have to stare at the Tonal screen to do the workout. This happens with most other home workouts, too, and l would say that the Tonal screen falls into the good screen category as opposed to the bad screen one. But I did find myself missing the eye break I get when I go to a studio workout.
That said, the workouts are great. If you don't mind the screen factor, and you feel the price is in your budget, and you know you will use it, Tonal may be worth it for you.
Should you get a Tonal?
I loved working out with Tonal. If I had the money (I do not) and lived in a large space I owned and did not rent with several roommates (ditto), I would get one for myself. Tonal is a great for someone with some fitness experience—though not necessarily in traditional weight training—who is interested in working more with a weights machine, learning more lifting techniques, getting into cross training, and doesn't want to leave their house to exercise. Sound like you? If so, you'll enjoy this home gym upgrade.
Get the Tonal starting at $2,995 or $149 a month
The product experts at Reviewed have all your shopping needs covered. Follow Reviewed on Facebook, Twitter, and Instagram for the latest deals, product reviews, and more.
Prices were accurate at the time this article was published but may change over time.
Sours: https://www.reviewed.com/lifestyle/features/tonal-ai-home-gym-review
Tonal Gym Review: Why You SHOULD NOT Buy One
.
Now discussing:
.
64
65
66
67
68