Vintage Bicycles - Peugeot
Short info about Peugeot
Country: France
Founder: Jean Pequignot Peugeot
Foundation Year: 1882
Website: www.peugeot.com
Information about Peugeot
Peugeot
 is one of the big veterans when it comes to 
vintage bicycles
. Jean Pequignot Peugeot was a Frenchman who built watermills. He also made steel works and in 1882 he made the first bicycle, a handmade high-wheeler. The Peugeot steel work became very useful. During the first world war they produced 63 000 bicycles per year and 10 000 plane engines! Peugeot was keen to draw attention to their classic racing bicycles and as a result they started to sponsor riders. In 1896 Paul Bourillon became world sprint champion in Copenhagen on a Peugeot bike.
In 1905 Peugeot got their first Tour de France winner: Louis Trousselier.
Peugeot's cycling success
In the following years Peugeot won the
Tour de France
a total of ten times, a record no other team has beaten. Peugeot and their rival Mercier wanted to stay in the Tour game, but in the mid 1980s it became very expensive. Pascal Simon and the Peugeot factory team's hunt for the yellow shirt was over. The Peugeot classic racing bicycles were not solely Peugeot manufacture. The frames often came from small, independent craftsmen. But whilst most other teams used the popular and well-known Campagnolo series from Italy, Peugeot preferred classic French parts. The standard were Stronglight crank sets, Simplex dérailleurs, and Mafac brakes.
Peugeot's vintage bicycles
Peugeot made many lines of vintage bicycles, but one of the most popular ones is the PX-10. It was ridden by
Tom Simpson, Eddy Merkx and Bernard Thevent.
The
PX-10
was in production from 1953 to 1990, but when the PX-10 was introduced in 1975, it took over for the PX as the most popular racing bicycle from Peugeot. 
Sours: https://steel-vintage.com/bicycles/peugeot
How Old is My Bike?
Unfortunately, exactly dating a Peugeot earlier than the late 1970s is an art rather than a science, and is often an estimate at best. Even original owners have a hard time remembering the year that they purchased the bicycle. That said, it is possible to date a bike within a couple of years with some confidence based on frame features and components. See the 'Frames, Headbadges and Decals' webpage for a pictorial timeline of frame features, and the 'Parts & Accessories' webpage for information on when specific components were found on 'U' bicycles.
Older bicycles have a serial number on the underside of the bottom bracket. If the number has six digits the frame was probably made in the 1960s, seven digits in the 1970s. Sometimes, the first digit indicates the year within each decade that the frame was made. For example, 1940481 and 2400884 represent 1971 and 1972, respectively. However, there are many cases when the first digit suggests a frame production year that is older than the actual age of the bicycle. For example, the serial number 1355592 on a 1975 bicycle. The reverse has not been documented, so it is likely that bicycles are no older than the first digit in the factory serial number, but could be younger. Sometimes local bike shops etched serial numbers into the rear dropout, but this number may or may not match the original.
It is helpful to compare the serial numbers of older bicycles with dates that are sometimes found on the rims, hubs and derailleurs. Although my 1972 AO8 has DEA rims and a Simplex Prestige rear derailleur clearly marked '1972' and '72', respectively, these dates also cannot be used alone to determine the age of a bicycle. For example, my 1973 UE8 came equipped with a 1971 derailleur. If your serial number and component dates match, you are probably in good shape. If not, the bicycle is no older than the latest component, but you will have to estimate the age (e.g., early 70s).
Sours: https://www.bikeboompeugeot.com/Serial%20Numbers%20and%20Dates/Serial%20Numbers%20and%20Dates.htm
What have i got here? Old Peugeot 10 speed
I don't know anything about vintage or road bikes. What have i got here? Anything notable or special? What should i do with it? I'd like to have a nice, quick commuter and something to take on an occasional road ride 10-30 miles.
It looks like all the decals are in very good shape, and i don't see any Reynolds stickers or anything like that, so i don't think it's an especially nice bike. The frame is just so pretty i had to pick it up. I've never had a roadbike before, i'm excited to try it out. It's snowing like mad outside with about 10" of slush and muck out there, so it'll be a bit before i get to try it.
The brakes and levers say Mafac Racer, a lot of the componentry says Simplex. It looks quite blue in photos, but it is actually a total purple, not blue at all but absolutely purple. Wheels are steel... in fact, pretty much EVERYTHING is steel. Wheels are also grooved for braking apparently.
Hubs say Normandy, wheels are 27" and say Rigida Chrolux <75>
Not sure what my plans are for it, but for $125 it seems like if i wanted to abandon it and try something different, i should be able to get out of this ok. Of course, how much will i spend on fixing it up first?!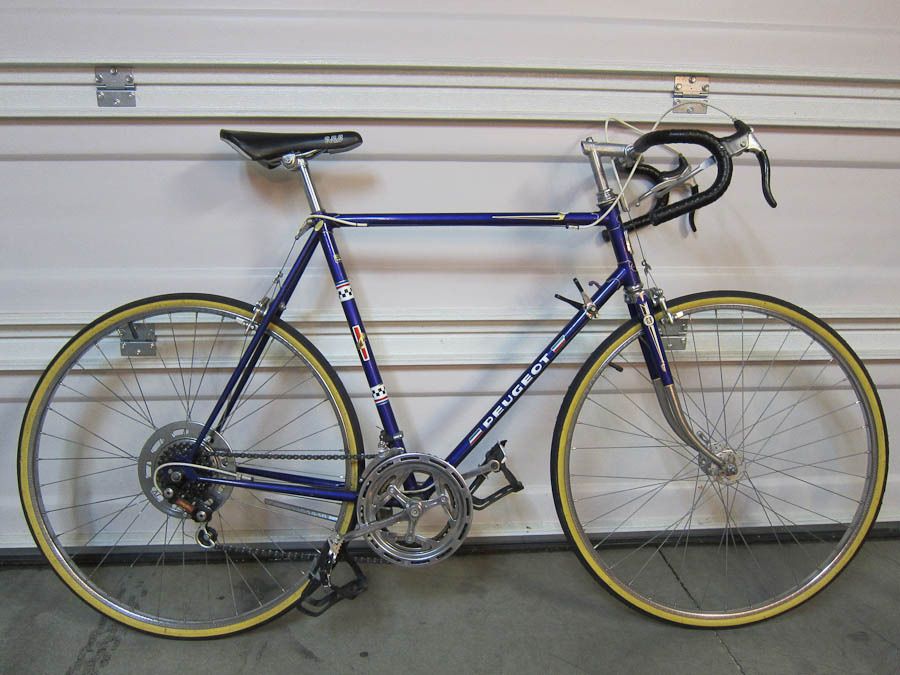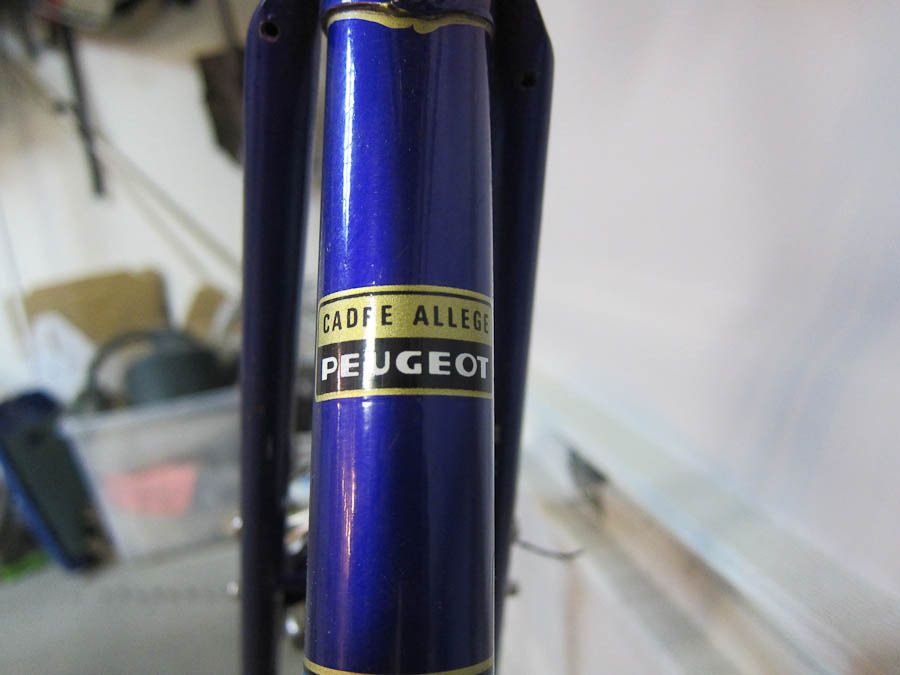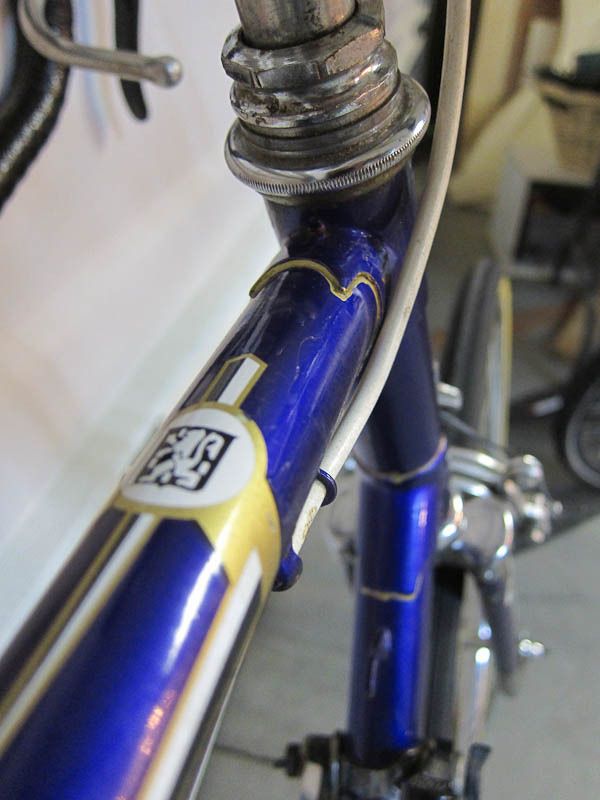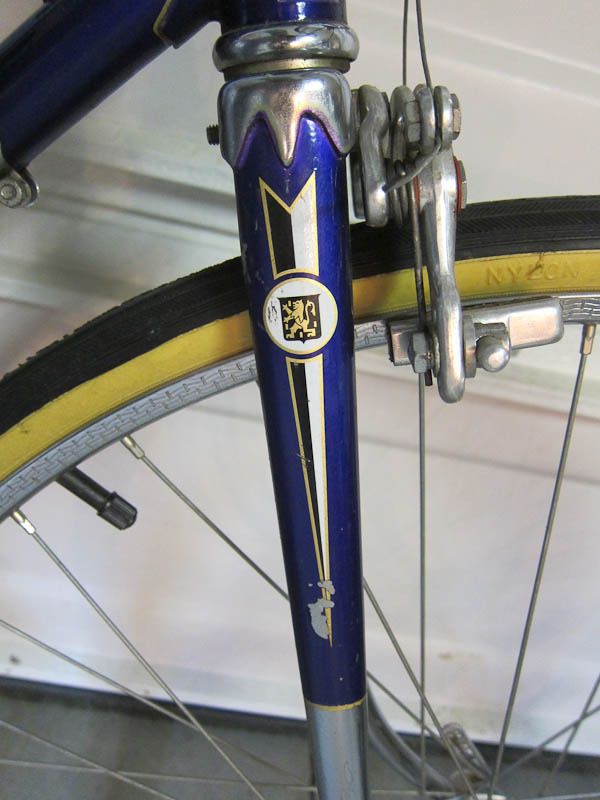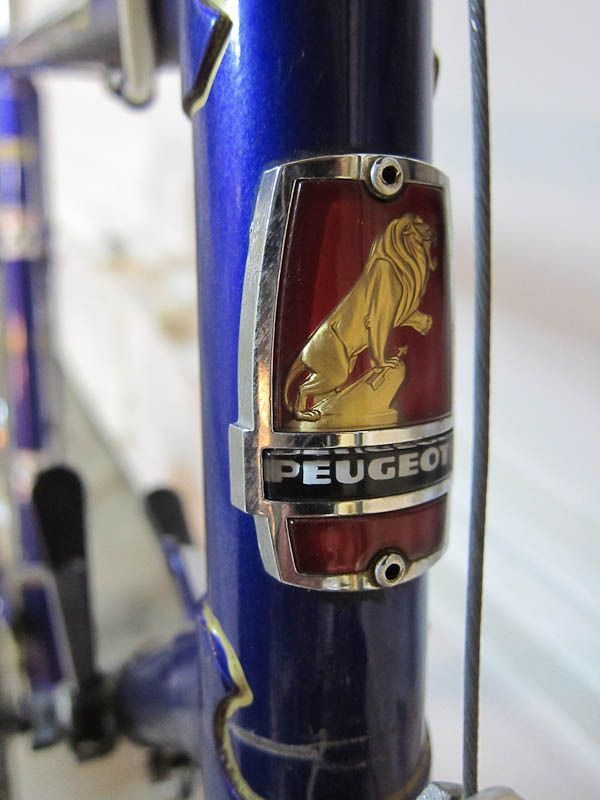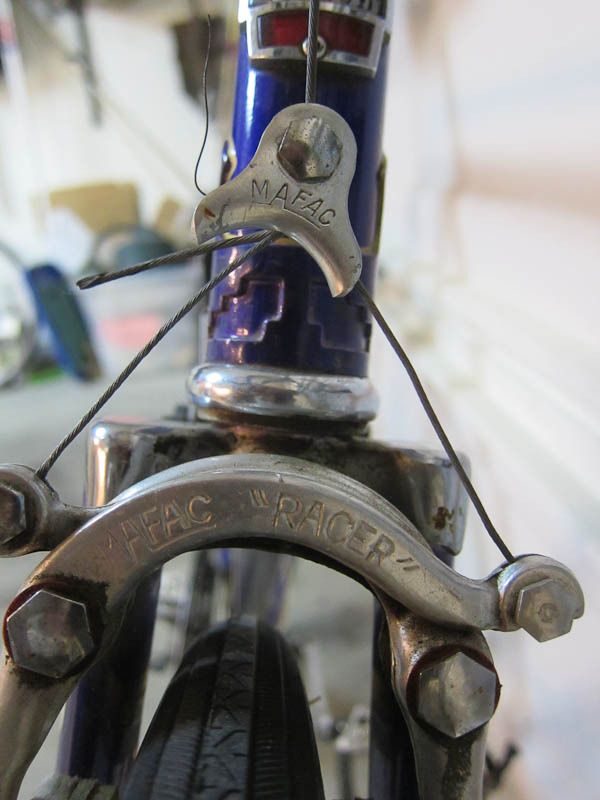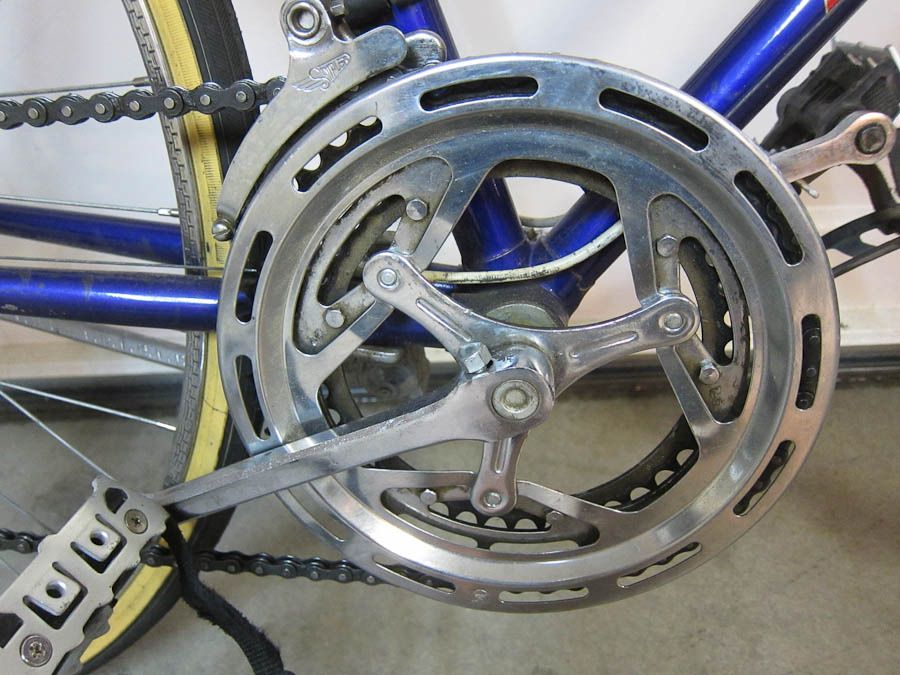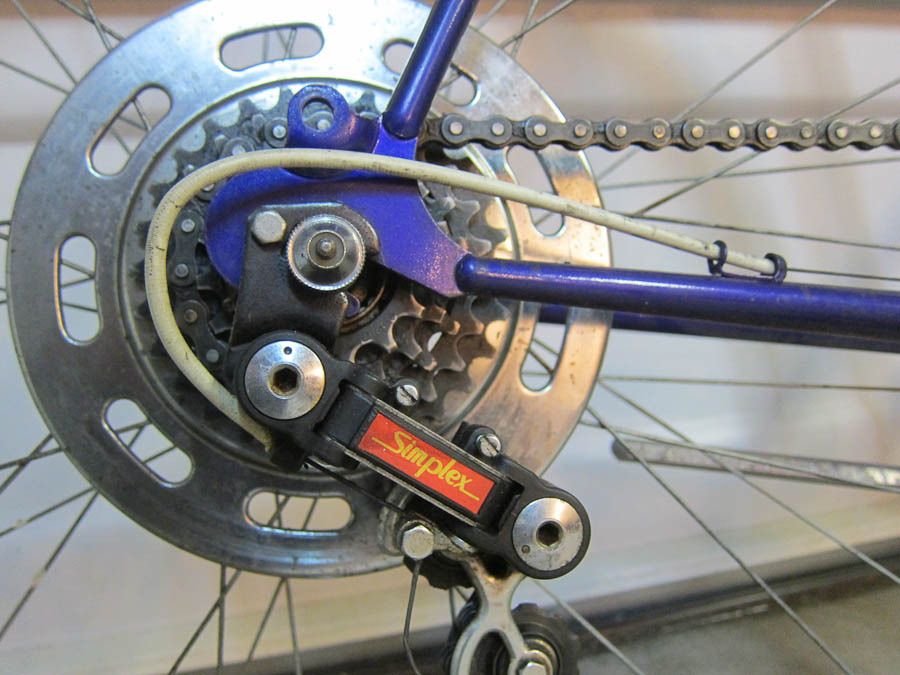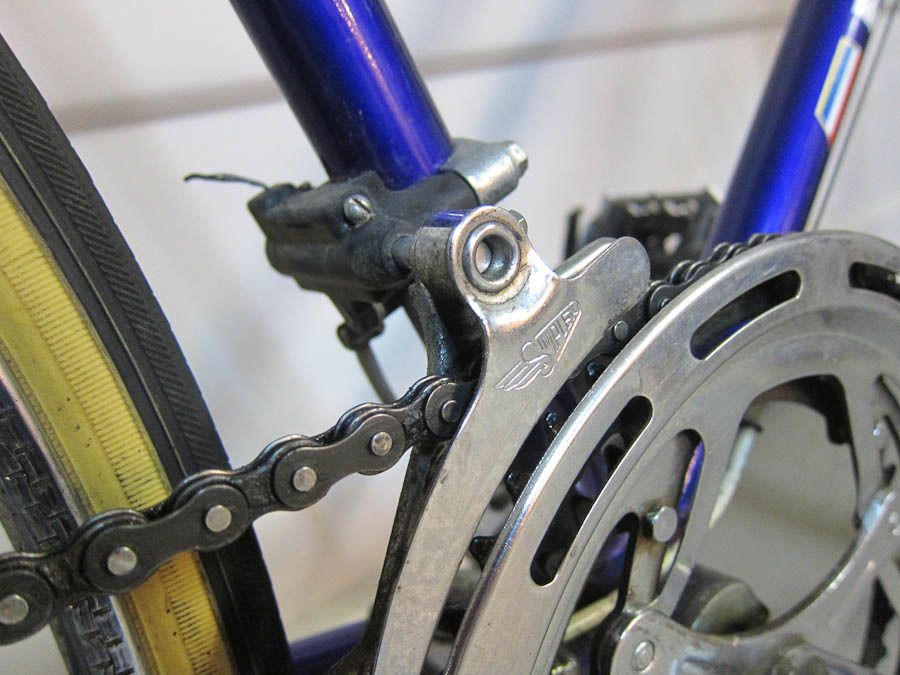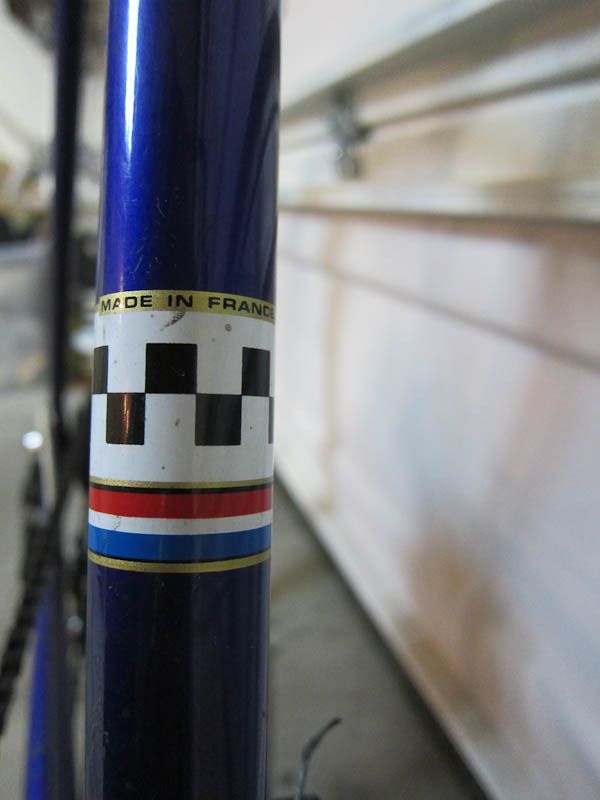 Sours: https://www.bikeforums.net/
Vintage Road Bike Restoration - Peugeot Avoriaz 1989 custom
This is often called "the slippery slope of knock-on upgrades" which can get expensive quickly.
There are two simple and relatively cheap upgrades to try.
Replace the brake pad inserts with modern compound Kool Stop. They will brake better than the original ones, which may also be a bit hardened with age. There will be a model that fits your brake pad holders. A relatively invisible upgrade.

Replace the bartape with something a bit nicer. I think you've got the thin nylon strap stuff, and its come away from the corners. Try some new modern material/retro style. You might choose to remain with white to match the brake levers, or a more dirt-hiding black to match the saddle, or some other colour that appeals. But wrap it properly and it will be more comfortable.
If you change the wheels to get aluminium braking track rims, then the brakes may not reach - modern wheels are 622mm and yours are probably 630mm or maybe 635mm. This would mean new brakes, which may mean new brake levers as well as new tyres and tubes. See how the knock-on effect works ?
---
Other option is to sell it on and buy a more modern bike. Someone would love to own that loverly `80s beauty.
answered Apr 30 '19 at 4:48
Criggie♦Criggie
85.5k1010 gold badges140140 silver badges305305 bronze badges
Sours: https://bicycles.stackexchange.com/questions/61640/how-to-improve-restore-vintage-peugeot-bike-or-is-it-even-worth-it
Peugeot bike old
Cycles Peugeot
This article is about the bicycle manufacturer. For the car manufacturer, see Peugeot.
A Frenchmade 1979 Peugeot UO-9 "Super Sport"
Cycles Peugeot, founded in 1882, is a manufacturer of bicycles based in Sochaux, France and currently a part of Cycleurope, a subsidiary of Sweden-based firm Grimaldi Industri.
History[edit]
Peugeot is a French manufacturer founded by Jean Pequignot Peugeot, a 19th-century manufacturer of water mills. Using the mills' profits, Peugeot expanded with a steelworks in Montbéliard, which Jean Peugeot ran with a colleague and his two brothers. The company's trademark, a lion, was created in 1858 by an engraver, Justin Blazer, who lived near the factory. The company turned their steel into knives and forks, hydraulic equipment and, from 1882, bicycles, sold as Cycles Peugeot. In Beaulieu-sur-Doubs (in Mandeure, Doubs) during the same year, the first Peugeot bicycle—a penny-farthing (high wheeler) called Le Grand Bi—was hand-built by Armand Peugeot.
During World War I, Peugeot built nearly 63,000 bicycles per year. It also manufactured 9,000 cars and trucks, 1,000 motorcycles, 10,000 plane engines, and 6 million artillery shells.
In 1926, the auto and bicycle manufacturing divisions at Peugeot were divided. Automobiles were constructed at Automobiles Peugeot, while bicycles were made at Cycles Peugeot. In 1930, bicycle production reached 162,000 units per year at the Beaulieu factory.
By 1955, the factory at Beaulieu was turning out 220,000 bicycles a year, employing nearly 3,500 workers, while Automobiles Peugeot completed its 100,000th automobile. During the 1950s, European interest in cycling as a means of transportation virtually disappeared, and by 1956, bicycle production at Cycles Peugeot was cut in half.
In 1958, Peugeot diversified into manufacturing components for the auto industry to augment declining sales of bicycles. As consumer interest in bicycling returned in the 1960s, Peugeot gradually increased its production of sport, racing, and touring road bicycles.
Racing heritage[edit]
Early on, the Peugeot family saw the value of publicity in sponsoring racing cyclists. Paul Bourillon became the world sprint champion in Copenhagen in 1896 on a Peugeot bicycle. The family also backed riders in numerous road races and in 1905 sponsored its first Tour de France winner, Louis Trousselier.
After the first Tour de France win, the Peugeot cycling team remained active in the Tour and other European cycle races. Peugeot would go on to become the most successful factory team of all time in the Tour de France, winning the race a record ten times. Like some other large European bicycle manufacturers, Peugeot was not above purchasing handcrafted team racing bicycles, fabricated by small independent craftsmen such as Masi, which were then painted and outfitted to resemble standard Peugeot factory production models.[1]
Peugeot and rival marque Mercier were among the last bicycle factories to continue team sponsorship. Rising costs had forced other brands to surrender control of their teams to backers from outside the bicycle industry. Even as most other teams were using Italian Campagnolo components, Peugeot continued to use French ones. Stronglight cranksets, Simplex derailleurs, and Mafac brakes were standard. The last yellow jersey worn by a Peugeot factory rider was in 1983, when Pascal Simon took the lead in the Tour de France until he was forced to drop out due to injury.
By the time of the 1986 racing season, costs in a period of inflation triggered by an oil crisis meant Peugeot's entire racing budget of 1.06 million francs ran out before the season had ended. William Desazar de Montgaillard, director-general of Peugeot, announced that due to lack of financial support, there would no longer be a fully sponsored Peugeot team.
Production bicycles[edit]
A 1981 mixte frame Ladies Sports PX18
During the first half of the 20th century, the vast majority of French-built Peugeot bicycles came from the factories in Beaulieu (Mandeure), France. Other Peugeot bicycles were built in Spain and, after 1978 or so, in Canada.
The Peugeot UO-8—a low-end 'ten-speed' sports/touring bicycle with a mild steel frame—was introduced into the U.S. market in the 1960s and sold through 1980. Equipped with Simplex derailleurs, the 28-lb. UO-8 of 1974 was considered to be an inexpensive 'all-round' derailleur-geared bicycle and had the characteristic long wheelbase of French bicycles, which provided stability and a soft ride on city streets and rough French rural roads. As a competitor to the heavier Schwinn Continental, the UO-8 was the most popular model distributed by Cycles Peugeot USA from its inception in 1974; it was sold in large numbers during the bike boom of 1972-1975. During the peak bike boom years (1972–1974), French bicycles were produced in numbers so large that quality control became an issue and parts were often substituted, swapped, or otherwise thrown together to meet high production demands, sometimes resulting in an amalgamation of different models. In the case of Peugeot, problems included paint and weld issues, along with occasional frame misalignment.
In the United States, the AO-8 was the entry-level Peugeot 'ten-speed' bicycle, which competed directly against the Schwinn Varsity, the Raleigh Record, and Nishiki's Custom Sport. Equipped with fenders and a luggage rack, it was designated the AE-8.
The UE-8 was similar to the UO-8 but was equipped with fenders, a luggage rack, and generator lights. The AO-18, UO-18/18C, and UE-18 were mixte versions of the AO-8, UO-8 and UE-8, respectively. In France, these models were roughly equivalent to the P-, PL-, and PX-8-series Peugeot road bicycles.
First introduced as a model in 1953, the PX-10E was traditionally Peugeot's high-end bicycle. By the early 1970s, the 21 lb PX-10E used a frame made with Reynolds 531 manganese-molybdenum (MnMo) double-butted steel tubing and was fitted with lightweight aluminum alloy (Stronglite, Mafac, and Simplex) components, though by the mid-1980s it was upgraded to Campagnolo Nuovo Record crankset/pedals, derailleurs, and headset. The PX-10E was sold in the U.S. from 1975 to 1988 but it continued to be produced for sale in European markets through the early 1990s. Peugeot also produced lower cost bicycles with the PX-10's frame geometry: the PR-10 was made with three Reynolds 531 main tubes, and the PA-10 was made with hi-tensile tubing.
In 1974, Peugeot opened a custom bicycle frame shop (the Atelier Prestige) which specialized in the production of custom Reynolds-tubed framesets using thin-gauge butted steel tubing. These custom frames were designated PY-10. Similar to a PX-10 in design and styling, a PY-10 could be ordered to customers' individual specifications. Options included, but were not limited to, geometry and frame size, color, components, and braze-ons.
In 1977, the UO-10 was introduced, followed the next year by a slightly heavier road model, the UO-9. The UO-10 was largely the same as the UO-8 but with aluminum alloy cotterless crankset and aluminum alloy rims. The UO-9 was essentially the same as the UO-10 but had cheaper and heavier steel rims. In 1980, the PH-8 displaced the UO-8 as the entry-level Peugeot road bicycle.
In later years, the Peugeot race team switched to carbon fiber tubed bikes which were referred to as the PY10FC. During this time Peugeot continued to offer a custom steel-framed road bicycle, the PZ10. PZ and PY bicycles were imported to the U.S. until Cycles Peugeot's withdrawal from the North American market in 1990.
Factory and production changes[edit]
In 1974, Cycles Peugeot acquired the factory of Romilly-sur-Seine, which was converted to produce bicycles. In 1978, ProCycle of Canada signed an agreement to manufacture and distribute Peugeots in Canada, while French-built Peugeots continued to be sold in the US.
During the bicycle sales 'boom' of 1972-75, Peugeot sales increased dramatically. Aided by the racing heritage of the brand, demand for low- and mid-level Peugeot sport/touring or "ten speed" bicycles surged, particularly in the United States, and frequently exceeded supply. The aging Peugeot factory had difficulty supplying sufficient bicycles, and quality control occasionally suffered. Peugeot's reliance on French part suppliers began to impact sales after it became clear that Japanese firms were able to supply derailleurs and other components using more advanced designs and superior quality. By the mid-1980s, Peugeot bicycles had begun utilizing Japanese derailleurs on some of their lower end models.
By 1983, ProCycle was exporting Canadian-made Peugeots to the U.S.
In 1987, Cycles Peugeot merged with AOP (Acier et Outillages Peugeot) to form ECIA (Equipment et Composants pour I'Industrie Automobile), and the Romilly factory began producing all Peugeot bicycles. That same year, ProCycle of Canada acquired rights to distribute French-made Peugeots. In 1990, Cycles Peugeot sold the North American rights to market bicycles under the Peugeot name to the Canadian firm ProCycle.
In 2001, ProCycle discontinued the Peugeot bicycle brand. In Europe, the license to produce Peugeot-branded bicycles was granted to Cycleurope, a company making bicycles under different names. The licence was not renewed in 2004, though production of bicycles for export continued for another year.
Today[edit]
As of 2011 Peugeot-branded cycles are sold in Bulgaria, Denmark, France, Germany, Greece, Japan, Switzerland, Poland, Canada and Turkey.
The license to manufacture Peugeot branded bicycles was first granted to Cycleurope in 1992, but was not renewed in 2004. A new license to manufacture and to distribute worldwide was again granted in 2010 and the brand was revamped and relaunched in 2011.[2]
Current models[edit]
[when?]
Road bikes[edit]
R01
R02
R11
R12
R13
R14
R14C
R15
R16
R17
Mountain bikes
VTT - Filou
VTT - Filou FS
VTT - RC
VTT - RC FS
VTT - Hoggar
M11
M12
M13
M14
M15
M16
M17
M18
M19
JM241
JM242
JM244
JM245
JM246
JM247
JM248
JM249
Hybrid bikes
VTC - Black & Silver (Men's)
VTC - Black & Silver (Mixed)
VTC - Roland Garros
VTC - 1007
URBANITE 2.0
URBANITE 6.0
City Shopper bikes
Ville - Venice (Mixed)
Ville - Venice (Men's)
Ville - Dutch Lion (Mixed)
Ville - Dutch Lion (Men's)
C02
C13
C14
Folding bikes
Children's bikes
Hoggar Junior
Black & Silver Junior
Harmonie Junior
Color Line Junior
J20
J16
JM20
Discontinued models[edit]
Mountain bikes
Fun - Ladies MTB (VT1 FW)
US Express
Canyon Express (VTT 2GW)
Alpine Express (VTT 4BW) or (VTT 4L)
Europe Express (VTT 6BW)
Mont Blanc (VTT 2)
Orient Express (unknown model number)
Montreal Express (unknown model number)
South Pacific 21
Ranger (VTT24)
Touring bikes
Carbolite (103)
Cassis (PE 15TW)
Chambord (Ladies)(PH 46W)
Dordogne (PX531)
Provence (P6GP)
Provencelle (Ladies version of the Provence)
Randonneur (PX 50)
Savoie (PX531S)
Road bikes
Aubisque (PE 10DW)
Aspin (PE10 LS)
Avoriaz (PE 10SW)
Bordeaux (P 10DW)
Carbon Pro
Carbon Team Line
Cologne
Comete (A400)
Corbier (P4)
Cosmic (A300)
Course (PB12)
Fibre de Carbone (PY10FC)
Galaxie (A500)
Galibier (PGN10)
Gentelmen (PR 60)
Iseran (P6)
Isoard (PX10)
Izoard PE400
Offensiv T500
Lautaret (PE10 B)
Leader 24 (C47CX) Junior racer
Leader 20 (C38CX)
LX 10
Mont Blanc (PHE 20)
Mont Cenis (PSN10)
Perthus (PZ SIS)
Premiere (P10N)
Sports 10 (P4)
Sports 5 (P4M5)
Touraine
Tourmalet (PH10)
Triathlon (PSN10T)
Tristar (PH501T)
Ventoux (PH501)
Ventoux - 2nd model line (PE300)
Versailles (PE10 W)
P8
P0
PA 10
PC 10
PL 50
PSV 10
PX 10
PY 10
PZ 10
UE 8
UO 8
UO 9
X80 Series
See also[edit]
Notes[edit]
External links[edit]
Sours: https://en.wikipedia.org/wiki/Cycles_Peugeot
THE PEUGEOT - Steel is Real - 80s Aero French Bicycle
Converting an 80s Peugeot Bicycle to Single Speed
I grew up in Nottingham, England in the 1980s-90s. At the time this was the home of the Raleigh bicycles HQ and factory, so almost everyone rode a Raleigh. They were solid bikes, and everybody had a relative who worked for the company or knew someone who did. I had a Raleigh Commando, then an Ultra Burner BMX before swapping to the Raleigh Équipe 12 speed road bike. At that time, I had a regular cycle route of around 16 miles through a few local villages and I would ride with a friend. He had a Peugeot road bike with Reynolds 501 tubing and indexed gears. This was something totally different for me, and I always fancied getting one myself but it never happened.
Fast forward some 28 or so years and I found myself walking around a flea market near home in San Diego when I came across… an 80s Peugeot road bike in the right colour scheme, and with the 501 tubing. The frame size wasn't perfect - a little small, but I could definitely ride it comfortably enough. I initially thought "oh that's cool, I always wanted one of those" and within an hour or so having walked around some more, I'd returned to take another look, haggle a bit and hand over some cash. So, I'd sort of impulse bought another bike (I already had and still own a very nice Specialized cyclocross bike). Here's what it looked like when I first saw it: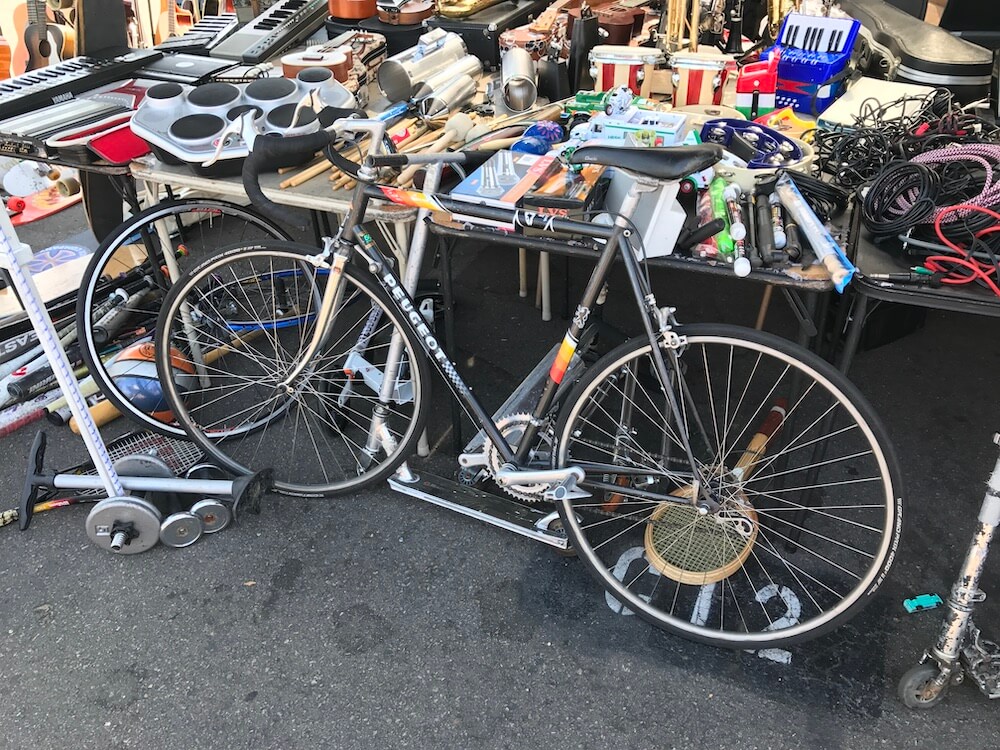 Thankfully, my car's got plenty of room for carrying random large items so I got my purchase home no problem. While walking around the flea market convincing myself to buy it, I'd decided that if I did I'd use it to learn a bit about bike building by converting it to a single speed drivetrain with upright handlebars and modern wheels and brakes. This meant it would become a pretty major project as in addition to the tooling to get it in pieces and re-assembled, I was going to need to buy new:
Wheels (it didn't have modern 700c wheels)
Tyres
Inner tubes
Single speed rear cog
Bottom bracket
Crankset
Pedals
Toeclips
Chain
Handlebars
Handlebar grips
Brake levers and cabling
Brake calipers / pads (to accommodate the new standard size wheels)
Seat post (to go a bit higher to make it more comfortable for me to ride)
Saddle
What I had planned to retain from the original bike was the frame, fork and headset.
Everything else was to be stripped off and replaced. I convinced myself of this plan by reminding myself that this would also potentially give me a stock of vintage road bike parts to sell off and recoup some of my costs… provided I was careful with dismantling it!
Disassembly
Taking things apart is usually the easy part of any project! I soon realized that the tyres and inner tubes were old, brittle and had been patched a few times - no problem as I didn't plan on reusing them. I removed those and sold the original wheels on Craigslist.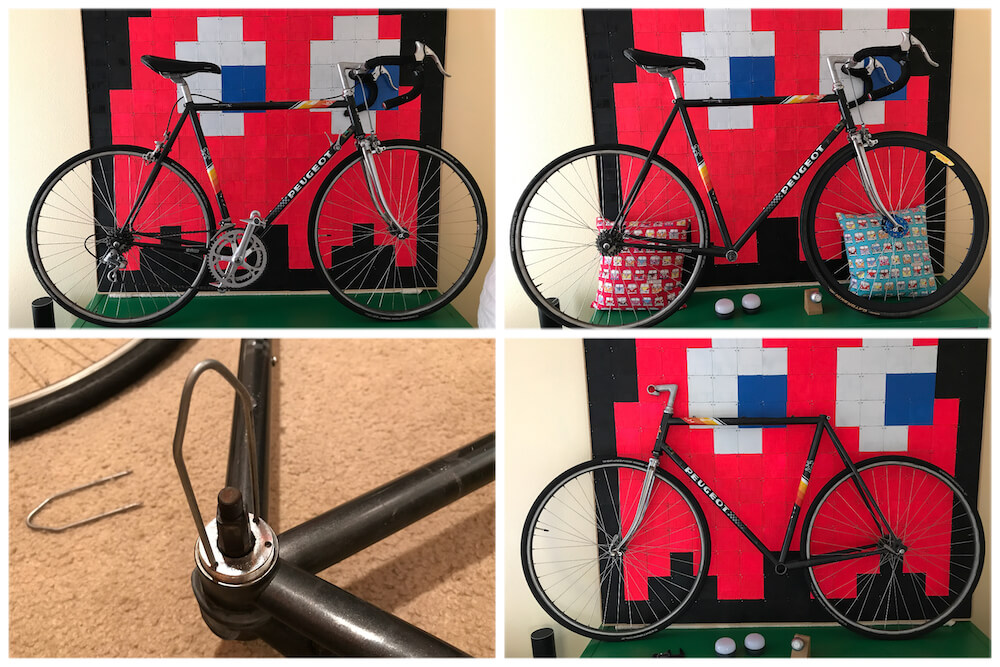 Getting the handlebars, brakes and gear system removed was fairly easy and didn't require specialist tools. I had to remove the bar tape to get the handlebars off, but it was old and dried up and didn't leave much of a mess. I cleaned up the handlebars and sold those on too.
I already owned a pedal wrench, required for removing the pedals. They were pretty much seized but came off easily enough after some WD-40 and brute force. Again I cleaned these up a bit and sold them off, I think on eBay this time.
I threw out the original chain, crankset and derailleurs as I couldn't find a buyer for them and the chain was very worn anyway.
The toughest part of disassembly was getting the old bottom bracket out. This did require me to buy specialist crank puller and bottom bracket tools. I got mine from REI and chose the popular Park Tool brand, as I already had their pedal wrench and it had worked well for me. The cranks came off again with some brute force and WD-40, and the loose bearing bottom bracket came out after a bit of a fight. I threw these out as they were old and the bottom braket probably wasn't going to survive being reinstalled somewhere else.
I removed some contemporary stickers from the frame and found that one was hiding a small dent in the top bar. Not a big deal, and it definitely doesn't compromise frame strength.
Having completely stripped the bike down to just the frame, headset and forks, I decided to re-attach the frame mounted gear shifters for show, and because taking them off left ugly attachments on the frame where they should mount. I am really pleased I chose to leave them on as I enjoy seeing them there :)
Sourcing Parts and Tools
While I was disassembling the bike over a few weekends, I was also engaged in a parallel process of sourcing replacement parts and some additional tools. Using a combination of eBay, Amazon and REI I got the following delivered:
Shimano bottom bracket
Shimano brake cables
Pedro's brake cable cutter tool
Generic chain breaker tool for adjusting chain length
Tektro brakes and brake levers
ODI BMX handlebar grips
Riser handlebars
Pedals
Toeclips
Seat post
Projekt Saddle
Water bottle cage
Crank arms
I found a deal on a complete fixie / single speed wheelset with tyres, tubes and a cog already made up from the City Grounds bike store in Long Beach. This was local enough that I drove up there to collect a set and have an afternoon out. It also saved me from having to buy the tool to attach the cog or figuring out how to do that.
I decided to go black with the wheels, and a mix of bright green and orange for everything else… not quite to everyone's taste perhaps but works for me!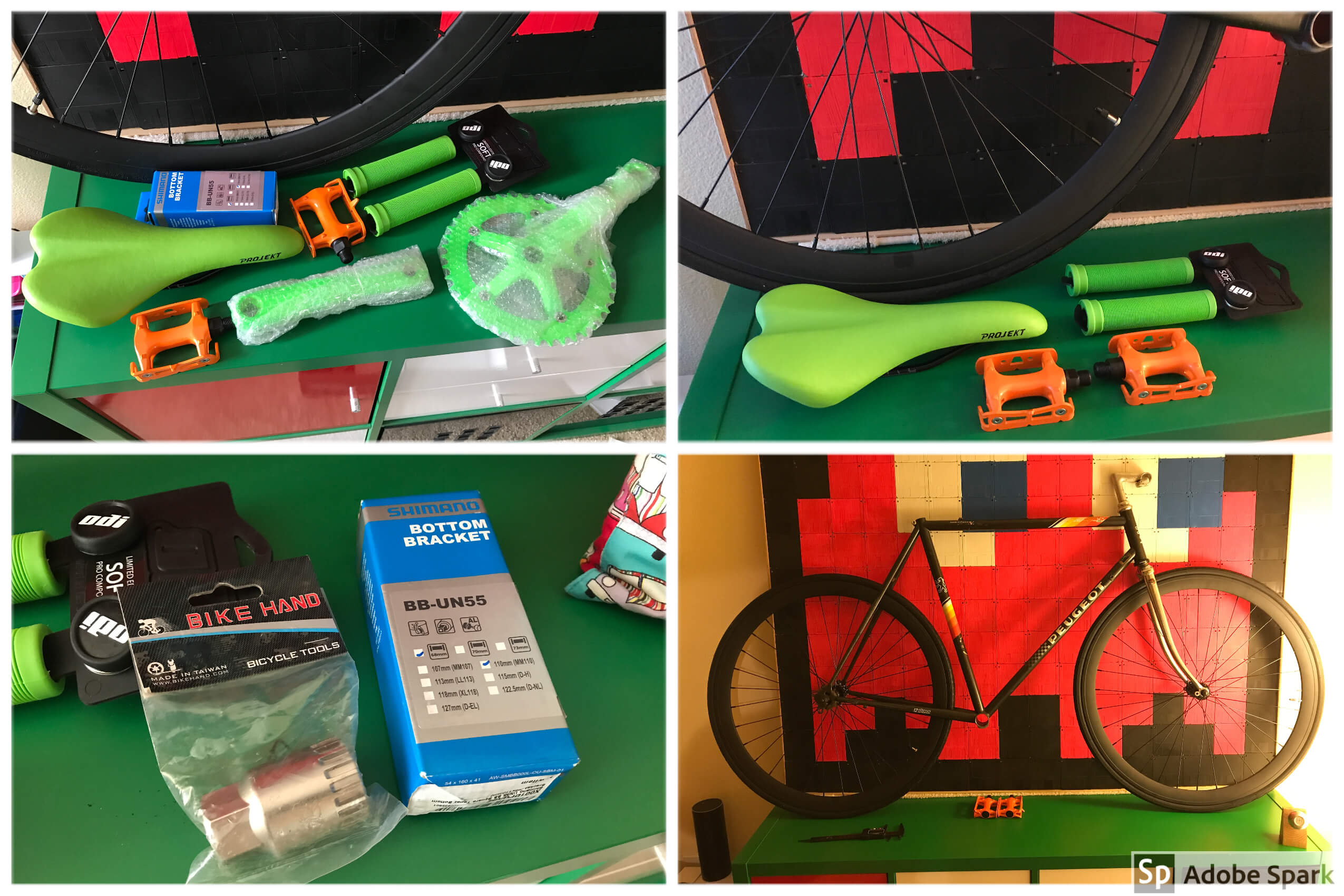 Putting it Back Together
Attaching the new wheels was easy as they came pre built, with the tyres on and the cog attached :) The handlebars went on easily, I used a trick I'd seen on YouTube and put some hand sanitizer on them to slide them into place then it all evaporates when rubbed away afterwards. I used that same trick to get the handlebar grips on too.
I faced some challenges with finding out what the correct chain tension should be, and making the chain the right length. I got all sorts of conflicting information from YouTube and in the end took what I thought was a good average and have a little vertical play in the chain and it hasn't slipped to date. Getting the cog to line up with the cranks was surprisingly easy, and using the chain tool to get the chain just right was a little frustrating without an extra pair of hands, but I got there in the end.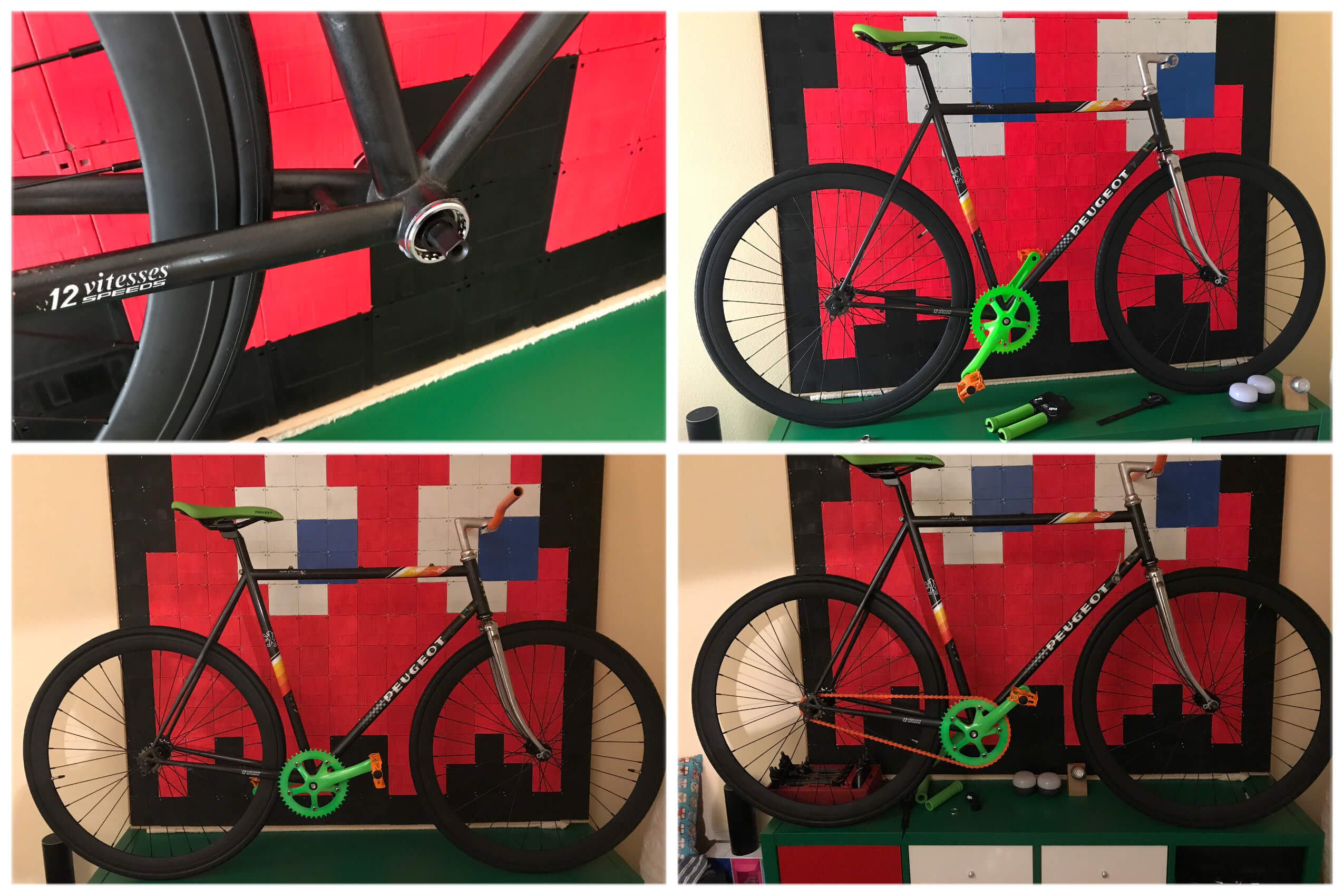 For me, adding the new brakes was the most complex job - I'd never installed bike brakes before, and again YouTube provided a lot of help but some conflicting information. I got one installed no problem, then while installing the second I dropped the special square nut that holds the cable onto the caliper and couldn't find it anywhere. I actually rode the "finished" bike around with one brake for a while before realising I wasn't going to find the nut and needed to do something about it. I got in touch with Tektro's customer service who were excellent and sold me a couple of spares cheaply. I got the second brake installed at the second time of asking and that completed the rebuild.
Riding!
The rebuilt bike has and continues to be a lot of fun to ride. The constraint of only having a single gear hasn't been an issue at all. Other than a crank arm coming loose after the first few rides, nothing's fallen apart! I ride in San Diego mostly around the flat waterfront, Harbor Island, Shelter Island and Liberty Station areas, and the bike goes at the speed it wants to go and there's not a lot you can do about it. This is nice as it means you don't have much to think about and can just enjoy the scenery :)
The frame's nowhere near as rigid as my modern Specialized cyclocross, which is aluminium with a carbon fork. But, for its age it rides well and doesn't feel harsh. The headset works a bit loose and periodically needs tightening but I know to keep an eye on that. The completely new drivetrain is really smooth as you'd expect, the cheap wheels are a bit on the heavy side but OK (and I don't go climbing with it, so the weight isn't too much of an issue). Modern Tektro brakes work well, it's plenty easy to lock up the rear wheel and skid - which is good, because the tyres that came with the wheels are pretty poor in my opinion so wearing through them is a bonus. It may be that I've been used to riding on Continental Gatorskins with very hard sidewalls for a while (I put these on all my bikes when it's time for tyres), but it feels like these are soft and wobbly a bit in corners no matter how much I inflate them. I'll swap them when they're properly worn out, but they've definitely been the weak link out of the new components.
Do I enjoy riding it? Yes, loads! I also like that I can chain it up with a single lock and not worry about it, as it doesn't look like much and it doesn't have any quick release (a.k.a. easy to steal) parts. It's been almost 2 years since I got this bike and converted it to single speed, and Strava says that in that time it's covered 850km or 528 miles. A friend used it while visiting from England too. I take it out for probably just over half of my rides, as most involve going to a coffee shop or parking up and walking around a bit. I also still love my Specialized cyclocross which I mostly now use for longer point to point riding.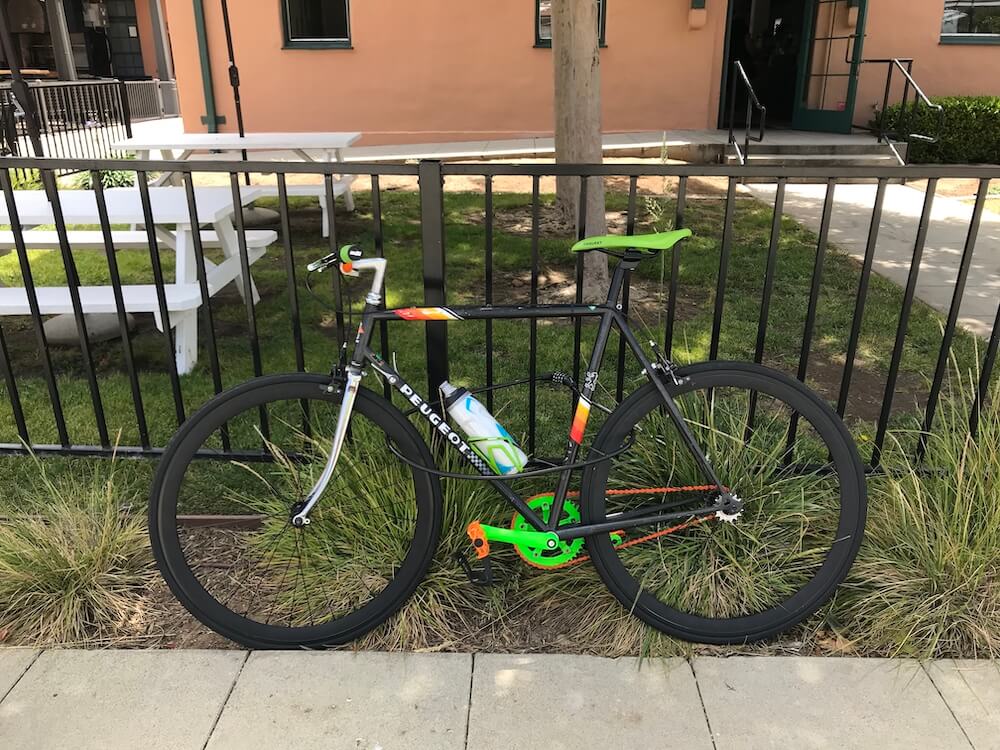 I also like riding something that's unique and of my own making - using lots of garish colourful parts probably isn't everyone's taste, but it means I'm highly visible while out and about, and won't lose the bike in a crowded rack :) I also like that I left the original gear shifters on. In building this bike I learned a few things about bottom brackets and chain tension for single speed drivetrains, as well as how to set up brakes. This knowledge has come in handy with subsequent maintenance on both of my bikes and may have saved a few dollars at the bike shop.
I continue to enjoy the bike, and other than swapping the tyre and perhaps getting some wider riser handlebars, I have no current plans to change it! I run it as a single speed, I've never flipped the rear wheel to fixie mode (yet!).
Sours: https://simonprickett.dev/peugeot-single-speed/
Now discussing:
This page is devoted to Peugeot's classic lugged and brazed performance bicycles. The primary emphasis is on the PX-10E.
Disclaimer and Sources
The information on this site is open to revision. The more we learn about these bicycles, the less willing we are to make hard and fast statements about them. Sources include numerous collectors on the Internet-BOB and Cycles de Oro classic lightweights newslists, as well as numerous purveyors of vintage bicycles including Dale Brown of cycles de ORO, Jim Cunningham of CyclArt, and Mike Kone of Bicycle Classics. Much of the data on Peugeots after 1978 is taken from Chuck Schmidt's compilation of Peugeot catalogs, available through Velo-Retro. Thanks to Sheldon Brown of Harris Cyclery for providing the translations of the French catalogs. In addition, Frank Cogorno of Procycle, manufacturer of current Peugeot bicycles, provided numerous catalogs for the period 1984 to 1999, as well as much valuable information. I would also like to thank Oscar Casanderfor providingscans of the 1929 and 1951 catalogs, and all the individuals who have contributed information or photos to make this web site.
Peugeot Background
Peugeot history begins in the 18th century, with Jean Pequignot Peugeot, who built water mills. Brothers Jean-Pierre and Jean Frederic Peugeot partnered with Jacques Maillard-Salins to open a steelworks and saw blade factory in the Montbeliard region. Peugeot grew to be a diversified company producing kitchen appliances, metal warehouse fixtures, hydraulic equipment, automobiles, motorcycles and, of course, bicycles. In Beaulieu, in the Doubs their first bicycle, a penny-farthing called "Le Grand Bi", was hand built in 1882 by Armand Peugeot.
The lion appears as Peugeot's trademark in 1858, designed by Justin Blazer, a Montbeliard gold engraver. The lion symbolized "durablity, suppleness and quickness of steel. The lion also stood for the speed and aggressiveness of the Peugeot company.
In 1889, a shop was opened in Paris at 32 avenue de la Grande Armee, known as "Les Fils de Peugeot Freres" (the Sons of the Brothers Peugeot).
In 1896, Armand Peugeot founded the "Societe Anonyme des Automobiles Peugeot"
In 1910, the brothers Peugeot and Armand Peugeot merged their companies. By 1927, the cycle portion of the company was running autonomously from the automobile business. The two companies separated, and Cycles Peugeot was formed. (Click here for a catalog cover illustrating many years of Peugeot catalogs.)
The vast majority of French-built Peugeots came from the factories in Beaulieu; by 1974, Peugeot had created an "Atelier Prestige" in that location for their finest hand-built bikes. Other Peugeots were built in Spain, and after 1978 or so, in Canada.
The company built a racing reputation rapidly. Between 1903 and 1983, Peugeots were ridden to victory ten times in the Tour de France, in addition to winning championships and breaking records. Some sources have indicated that Eugene Christophe, whose name graced vast numbers of toe clips, rode Peugeots during his heart-breaking Tour de France attempts in 1913 and 1919. In 1955 Peugeot co-sponsors a pro team with Dunlop. In 1963 Team Peugeot adopts the black and white checkerboard design. In 1964, Tom Simpson wins the Milan-San Remo and, in 1965, the World Road Championship. Eddy Merckx rode for the Peugeot team from 1965-67, winning the World Road Championships in 1967. The Arc-en-Ciel (rainbow) stripes of a World Champion appears on Peugeot downtubes shortly after Simpson's 1965 World Road Championship victory, and they remained there for many years. Peugeot sponsorship ends in 1989.
By 1990, Peugeot had sold the North American rights to market bicycles under the their name to the Canadian firm of ProCycle, formerly known as CCM. Formed in 1977, ProCycle had manufactured some Peugeots as early as 1978. Under the aegis of Cycleurope, Peugeots are still built in Romilly, France These bicycles are not exported to the United States.
Identifying Peugeot models
We now have photos and descriptions of Peugeot bicycles going back to 1929 (Information from the 1930's,40's and 60's is still needed). In 1929, the P-10 was the top model in the Peugeot line. In 1951 we see the PC-10 and PH-10. In 1955, we see the introduction of the PLX-10.
Peugeots were widely sold during the 1970's bike boom. While they are not the focus of this site, the UO-8 and AO-8 touring bicycles were sold in huge numbers, the former being frequently mentioned in contemporary cycling literature as a good buy for the beginner. The most popular and best known of Peugeot's performance bicycles was the PX-10E, one of the most affordable professional racing bikes in the 1960's and 70's. They were sold in large quantities, especially during the years of the OPEC oil embargo and the bike boom. These two forces on the bicycle market created some unusual sales. There were many would-be cyclists who purchased more machine than they really could handle, leading to many of these machines being relegated to the garage for a quarter century. Many more of them were modified for touring with replacement wheels or rims and wider-range cog and derailleurs. Many were simply ridden until they were horribly beat. As a result, older Peugeots can be found in conditions ranging from near mint to dreadful.
Many PX-10E owners who call up this site may be in for a surprise. The more research we do, the more we find that many PX-10's...... aren't. Simply among the PX-10 variants are the PX-10E, PX-10LE, PXN10LE, PX-10S, PX-10DU, PXN-10, and even simply the PX model. Other bicycles Peugeot built with Reynolds 531 double-butted tubing throughout include the PY-10E, the PY-10CP (also available in 753 tubing), the PRO-10, the PY-10S, the CFX-10 (frameset only), the PZ-10D, the Chorus, the Sante, and the late models of the Deauville. Adding to the confusion were those bikes built partially of 531 or Vitus double-butted tubing or painted in such a fashion as to closely resemble higher-ranking bicycles. This list would include the P-10A, the PR-10L, the PKN-10 series, and the PGN10.Finally, there were a number of internally-lugged and brazed Peugeots built of Reynolds 501, a chrome-moly rather than moly-manganese alloy. Specifications vary considerably, and sorting out which Peugeot is which can be difficult. Dating bikes built between 1967 and 1978 or so is particularly interesting. During those years, the absence of model designation markings forces one to use other data to determine whether one has a PX-10E, a PX-10LE, a PY-10E, etc. By 1978, or thereabouts, model designations on the top tube aid in determining the model.
Serial Numbers
Peugeots are typically marked with a serial number on the underside of the bottom bracket. Bikes built in the 1960's have the numbers stamped directly in the BB shell, and often have Nervex trademark and bottom bracket tube angle markings as well.There are six digits used on bikes from the 50's and 60's and seven digits used on bikes from the 70's. Bicycles built during the 80's have eight digits and a letter prefix. Around 1970, Peugeot began stamping the numbers on an aluminum plate which was riveted to the underside of the bottom bracket shell. It is unclear whether this applied to all bicycles. Some examples have gaps in the serial numbers. The flaw to this arrangement is the ease with which serial number plates are removed. Numerous Peugeots originally numbered with riveted plates can now be identified only by their decal schemes.Some examples have lower numerical serial numbers while having later decal schemes. By the end of the 1970's, Peugeot serial numbers were once again stamped in a more permanent fashion. Peugeots built in France during the 1980's can be dated by year through use of their serial numbers. Following a letter prefix, typically Y or B, the first number of the numeral code indicates the bicycle's model year (ex. PKN-10 #B 0667631, built in 1980). Track bicycles, at least, appeared to have their numbers stamped on the left rear dropout.
Specifications and Timelines
The PX-10 went through numerous changes during its long production life. From information gathered so far, the PX-10 model line began in the early 1960's. The "P-10" designation dates from 1927, possibly earlier. It seems that the "P-10, PH-10, PLX-10 and the PX-10 have always been the designation for the top of the line racing model. In 1955 we see the first appearance of the "X" in the model designation.In that year, Peugeot introduced the "Serie Inox Grand Luxe" line of bicycles. The "X" stands for "Inoxydable", which is French for stainless. This refers to a treatment of the steel to prevent rusting, with somewhat spotty results. The chart below is an attempt to trace when a particular specification change may have taken place. As more individual bicycles are listed in the database, more examples will be listed for each time period indicated. Where catalog materials are available, they are mentioned after specific bicycles in the database. Peugeot was not always good about dating their catalogs, and at this time a certain amount of guesswork is called for in tracing various models. Peugeot also used photos to illustrate their catalogs that were not necessarily of the current year. To make matters more complicated, Peugeots were sometimes assembled with different components for different national markets. One classic example is the 1974 catalog specifications for the PX-10E. While the catalog lists options of either Brooks B-17 or an Ideale 90 leather saddles, no one who rode or sold these bikes during that era remembers seeing anything but a Brooks Professional fitted to them. Another example is a comparison of the French versus American specification charts for 1983. The French model list includes a PY-10S and a PX-10DU, neither of which is listed on the American chart. Finally, there are observations culled from our own experience and those of others. These are also ready to be revised. This is a work in progress, and any additional information you can provide helps!
c. 1929
1929 catalog (with translation)
Observations - Bicycles from this era have very relaxed frame angles and a large amount of trail. This provided stability on the unpaved roads of the time. Click on link above for a translation of the specifications. Photos provided by Oscar Casander
c. 1951
1951 catalog (with translation)
Observations - Thanks to a friend in the Netherlands, we have catalog photos of early 1950's Peugeot bicycles. The models listed use PC and PH as the model designation. Another interesting fact is that none of the models list Reynolds 531 as the tube steel. The PH-10 is listed as "Modele Course Professionnel" and uses Vitus tubing, Stronglight steel cranks and pedals, Simplex "Competition" front derailleur, Simplex "Tour de France" rear derailleur with a 4 cog freewheel. Colors available were "Rouge Transparent", "Rouge Vermillion", Bleu Riviera" and "Vert Bagdad". Stay tuned for more interesting information from Europe! Photos provided by Oscar Casander.
c. 1955
Observations - This example recently came up for sale on ebay. It is a nice example of a Peugeot touring bike from approx.1955-6 . It is likely that this is a PLX 8 model, since it has the "Inoxydable" decal. The seat tube logo decal is the same as # 595952, with two color bands above and below the logo. The lion on shield has a rainbow behind it with "Champion du Monde" below. This isn't the same Arc-en-Ciel rings used to designate a World Champion, rather seven bands of color in the order they occur in the spectrum. The 1951 and 1955 catalogs show photos that appear to just have the lion and shield with no rainbow. Louison Bobet won the World Championship in 1954,(not on a Peugeot) so Peugeot, being nationalistic, may have included the rainbow and "Champion du Monde" to honor his victory. Vitus tubing not Reynolds was used. Peugeot began using the Nervex Professional lug on the PLX-10. Only one color was offered for the PLX-10, the familiar transparent blue with contrasting lug color.
c. 1956-60
Observations - PLX-10, a predecessor to the PX-10 model line. This example uses Reynolds 531 tubing and Nervex Professional lugs. The bottom bracket shell, however, was a Gargette. Peugeot used this brand well into the 60's.
c. 1960-63
1963 PX10
c. 1964
Visit Cycles de Oro "Classic Rendezvous" web site for an article on a 1964 PX-10
c. 1965
Observations - There was yet another decal scheme c. 1965. The cover of the Velo-Retro catalog compilation pictures Tom Simpson on a white bicycle with black Nervex Professional lugs, the downtube decal like #256700, and seat tube decal like the 1967 bikes, three rows of black and white checkboards and no Arc-en-Ciel rings. This may have been a decal set used only on team bikes as we have seen no examples of customer bikes painted white this early. An article in Cycling Plus has a photo taken the day after Simpson's death (July, 1967), showing a team Peugeot rider with a bike that has a seat tube decal with two rows in the checkerboard, Arc-en-Ciel rings, ribbon banner and lion logo, similar to the 67's listed below. I've recently acquired another bike with a decal scheme that combines the downtube "Peugeot" logo from the early 60's,(see #256700) with the seat tube decals found on #501714
c. 1966 - example John Everrett's and catalog picture
Observations - The Olympic rings are used on the seat tube of #501714 and #256700, commemorating participation or a possible victory at the Olympic Games of 1964.The seat tube decals also feature the Arc-en-Ciel rings, a nod to Simpson's 1965 World Professional Road Race victory.
c. 1967
Observations - 1967 is the first year we see the Team Peugeot colors, (white with black head lugs and checkerboard design) used on a bike for sale to the general public (at least so far, since no earlier examples have surfaced).
c. 1968-69
c. 1970
Contemporary literature - While the authors of this page have so far found no catalogs this early, both Eugene Sloane's Complete Book of Bicycling and Richard Ballantine's Richard's Bicycle Book, both first copyrighted this year, list almost identical specifications for the PX-10E. Mentioned are a 72 degree parallel frame design; Nervex lugs; Simplex Prestige Luxe 537 derailleur; Stronglight 93 crankset, 45/52T (Sloane mentions a model 63 "Super Competition"); Atom competition freewheel, 14-16-19-20-23T; Normandy Luxe Competition hubs w/ Simplex skewers; Mavic Montlery rims w/ Hutchinson tubular tires; Mafac "Racer" brakes; AVA alloy bars and stem; Lyotard 45CA dural pedals; Christophe clips and Lapize straps; Simplex seatpost; Brooks Professional saddle; available in blue or white, 21, 23, 24 and 25 inch frames. In the 1970 edition of Eugene Sloane's Complete Book of Bicycling, there is a photo of a PX-10E(See 1970 Catalog). This bike appears to be a '68-69 model by the decals on the seat tube and down tube. This bike has a crankset that is a model 63 "Super Competition"(Sometimes mis-identified as model 57)
c. 1971
c. 1972
PX-10 with black plain Nervex lugs. Appears to have a 72 degree parallel frame.
Catalog data - (note: This catalog, though it follows the 1974 issue in the Velo-Retro reprint, appears to be slightly earlier). The PX-10E is listed as the "ultimate bicycle offered by Peugeot". While the image in the catalog reprint is not clear, it appears to have plain Nervex lugs, black at the head tube; 72 degree parallel angles. The Brooks Professional is again listed as the saddle.
c. 1973
PX-10E w/ Nervex Professional lugs, black at the head tube, steeper frame angles.
Observations - This may be the last year for the Reynolds 531 decals on the seat tubes.
c. 1974
Catalog data - Appears to be the date of the introduction of the PX-10LE, which features plain Nervex lugs outlined in gold. Distinctive equipment includes Maillard 700 high-flange hubs; Cyclo 14-15-17-19-21T freewheel; allen-key fitted Atax stem w/ Philippe bar; Mafac "Competition" brakes w/ half-hooded levers; and an Ideale 2001 saddle. The PX-10E is also listed. Features included Nervex Pro lugs, black at the head tube; Brooks B-17 or Ideale 90 saddle; the same freewheel as the LE model; Mafac "Racer" brakes; Simplex Criterium rear and Super Competition (parallelogram action) Delrin derailleurs; and otherwise identical components to earlier bikes. Also listed was the UX-10, which was identical to the PX-10E except for its wheels. This model came stock with 27 x 11/4 clincher rims and tires using Schraeder valves. The PR-10L, with plain Nervex lugs (black at the head tube) and a 531 main frame, is distinguished by its unchromed rear triangle. Stock components included the same brakes and rear derailleur, but a pushrod Simplex Prestige front derailleur, a Stronglight 49D crankset, Normandy Sport high-flange hubs, and other less costly parts. (Note that the 1974 catalog shows both the PX-10E and PX-10LE models as having the rectangular Reynolds decal at the top of the down tube, rather than near the top of the seat tube.)
c. 1975-77
Observations - At least two different decal patterns were used during these years. The primary difference seems to be that some years featured the Arc-en-Ciel, or championship rainbow pattern, as the trim rings on the seat and down tubes. Other years appear to have the French tricolor only in the trim rings. See ex. #1242766, # 2239804 for more information. The Nervex Professional lugset was still in use during these years on some bicycles, though whether they were used on specific models is still unclear. After this period, the Nervex lugs being used on Peugeots were uniformly simpler, smooth-side versions. At some point, Peugeot stopped applying Reynolds tubing decals to their fork blades. These bicycles used the same split triangle decal used on bicycles built with lesser fork materials. Three have been reported so far to the authors as having only rectangular tubing decals on the down tube. At least one case, the decal was the French Reynolds 531db tubing throughout decal. A contemporary photograph supports this. The 1975 Petersen's Complete Guide to the Bicycle pictures what is identified as a PY-10E with this decal pattern. In cases where the Reynolds decal has decayed to the point of illegibility, look for chromed rear stays. The Reynolds 531 main-tubes-only frames had painted rear stays and dropouts during this era.
Contemporary literature-
The October 1975 issue of Bicycling! magazine included an article by Owen Mulholland featuring Bernard Thevenet's PY-10. Mulholland observed that French bicycles and components were vastly underrated in the United States, a point worth making in the wake of Thevenet's Tour de France victory that year.
Specifications listed by Mulholland include Stronglight 93 cranks; Ideale 2002 saddle; Simplex seatpost; Mafac Competition centerpull brakes with fully hooded levers, wheel guides and barrel adjusters; Simplex Prestige Extra Leger derailleurs (early SLJs?); and Maillard 700 pedals, low flange hubs and freewheels. The bars, stem, rims and tires mentioned were probably not standard issue. Interestingly enough, Mulholland refers to the PY-10 as having been "introduced several years ago to replace the PX-10, which had fender clearances and mounts." Bicycling! magazine's August 1978 issue included a road test article by Gary Fisher of three bikes, among them the PY-10E.
Specifications listed include full 531 frameset with Nervex(plain) lugs; chromed fork crown, tips and rear stays; brazed-on shift cable guides, bottle cage mounts and brake studs. Other specs on the 23.5 inch test bike included 172.5mm Stronglight 105 cranks, 44/53 chainrings; Maillard 700 pedals; Maillard 700 "Peugeot Trophy" low flange hubs; Super Champion Arc-en-Ciel rims; gold anodized Simplex Super LJ derailleurs with retrofriction down tube shifters; and Ideale 90 leather saddle with titanium rails and a gold-anodized Simplex alloy seatpost; gold anodized Atax bar and stem; and gold anodized Mafac Competition brakes with wheel guides, drilled levers, full hoods, and brazed-on pivot studs.
One of our correspondents informs us that brazed-on pivot studs, long a French custom builder's trick, were standard for the PY-10CP (Course Professional) by 1977.
Catalog data -- The catalogs in the Velo-Retro reprint are often undated, and the dates given are rough working dates until more information surfaces:
PXN10LE -- "Super Competition" -- 531 frame, plain Nervex lugs, chromed fork ends, fork crown; low-flange Maillard 700 hubs; Mavic Module E 700C clincher rims; Stronglight 105bis drilled crankset w/ black anodized rings; Peugeot branded Simplex alloy derailleurs; Mafac Competition centerpull brakes w/ full hoods; Ideale 2001 saddle. Available in Pearl White and Pearl Blue.
PKN10E -- "Competition" -- 531 mainframe; plain Nervex lugs; low-flange Normandy Luxe Competition hubs; Mavic Module E clincher rims; Stronglight 49D crankset; same derailleurs as PXN10LE; Weinmann 605 sidepull brakes; same colors as PXN10LE.
PY10CP -- listed but not illustrated. A special order bike, the PY10CP "Prestige" was built with 531 tubing, Stronglight 105bis cranks with drilled and anodized chainrings, Simplex 5000 series derailleurs, and Spidel components.(Decal notes -- Peugeot in large block letters on the down tube, no rings or stripes; checkerboard fade on seat tube, with flanking lion-on-rock emblems.
c. 1979
Catalog data -- Again catalog dates are approximate:
PY10CP -- either Reynolds 531 or 753 tubing; plain Nervex lugs, chrome fork and rear stays -- custom order; Stronglight 106 cranks w/ steel or titanium sealed BB; Maillard 700 hubs; Super Champion alloy tubular or clincher rims; Simplex LJ4400T or SLJ5500T rear, SJA 102 Front, SLJ5007 dt "power" shifters; Ideale 2002 or 90CR (titanium railed) saddle; Mafac LS2 sidepull or GT centerpull brakes, full hoods; white, blue, red, black, silver, pearl white or metallic blue.
CFX-10 - 531 throughout, same as PXN10E
PXN10E "Super Competition" -- fully chromed fork, painted rear stays and dropouts, 531 throughout, plain Nervex lugs; Stronglight 106 cranks; Mafac LS2 sidepull brakes; Simplex SX410TSP rear, SJA 102 front derailleurs w/ SLJ retrofriction shifters; Ideale 2001 saddle w/ SR Laprade seatpost; Maillard 700 low-flange hubs, Mavic Module E 700C rims; pearl white or metallic blue.
PKN10E "Competition" -- chrome fork crown and ends, 531 main tube frame, Nervex plain lugs; Stronglight 104 cranks, Normandy Luxe Competition low-flange hubs w/ Mavic Module E 700C rims; Weinmann 605 sidepull brakes; Gallet no. 33 leather saddle; Simplex SX410TSP rear, SJA 102 front derailleurs w/ alloy Simplex dt shifters; pearl white, metallic blue and black.
PFN10E -- Super Vitus 172 main tube frame, Bocama lugs, "biconical" rear stays, chromed fork ends; Atom sport low-flange hubs, Mavic Module E 700C rims; Stronglight 104 cranks; Simplex SX410TSP rear, SJA 102 front derailleurs w/ alloy Simplex dt shifters; Weinmann 506 sidepulls; Gallet 31 suede saddle; emerald green metallic blue.
1980
Catalog data-French catalog, so American and other specifications may be different.
PRO 10 -- Reynolds 531 5/10 frameset, optional 753, custom built w/ Nervex plain lugs, chrome fork, chrome right chainstay; low-flange Spidel (Maillard?) 700 hubs, 32 spoke Super Champion rims; Simplex/Spidel SLJ A 552 front and SLJ5500CP rear derailleurs w/ retrofriction brazed-on shifters; Ideale 2002 saddle, Spidel (Mafac) LS2 sidepull brakes; Spidel (Stronglight) 106 cranks.
PY 10S -- Reynolds 531 5/10 frameset, plain Nervex lugs; Spidel 700 low-flange hubs; 700C Super Champion rims; same derailleurs, but SLJ levers; Spidel 106 cranks.
PX 10S -- Reynolds 531 7/10 frameset, plain Nervex lugs; chrome fork; (Maillard) Peugeot Trophy low-flange hubs; Stronglight 106, 42/52T; Simplex SX 419 SP rear SJA 102 front derailleurs; Weinmann 605 brakes.
PV 10 -- Reynolds main tube frame; Nervex (plain) lugs; chrome fork; low-flange (unnamed) hubs; Stronglight 104 crankset; same derailleurs as PX 10 S.
PK 10 -- as above, with unnamed crankset, and Mafac Competition brakes with drilled levers.
PKN 10 -- as above, with Michelin Elan tires and Mavic Module E rims
PKN 13 -- as above, with triple crankset -- 32/42/52T.
1981-2
PX-10S (Reynolds 531 7/10 tubing) and PX-10DU (Vitus 979 duraluminum tubing) offered.
1983
Last year for Nervex lugs (smooth, not Professional model), PX-10S; last catalog appearance of PX-10DU.
1984
Last year for lugged and brazed 531C framesets in the PX-10L model; Chevrons decal scheme.
1985
No PX models listed. PX-10 models continued to be listed in European catalogs. Click here for 1985 Belgian catalogue
1986
PX Columbus SLX tubing with Mavic components.
1987
PX-10, same bicycle as 1986 version. Last year for any bicycle catalogued under a PX model number.

Peugeot team riders, 1949

Tommy Simpson , c.1965

Eddy Merckx, c.1967

Bernard Thevenet, c. 1975
Sours: http://www.classicrendezvous.com/France/bicycles/Peugeot/PX10_history
619
620
621
622
623