Easy DIY Floating Shelves
Learn how to make heavy-duty DIY floating shelves with this easy to follow tutorial for beginners (including plans and video!)
PIN THIS TO PINTEREST
I have made many shelves to date but I haven't made a simple floating shelf!
I needed to build a floating shelf in my garage to organize it a bit better and to get rid of a flimsy old plastic shelf.
I decided to take this opportunity to find the easiest possible way to build this shelf so anyone can build it. I have you covered with all the tips and tricks you need to know AND the plans and video!
Table of contents
***This project is sponsored by The Home Depot and is part of their ProSpective program.***
The basic floating shelf structure
Typically floating shelves are made of two parts –
The frame or the brace – this is the internal skeleton of the shelf and has to be strong. A shelf is only as strong as the frame.
The box – this covers the frame and can be made of plywood or 1x boards depending on your requirements.
The frame is attached securely to the wall and the box slides over it to make the shelf. If you need to remove the shelf, you can simply slide off the box and remove the frame from the wall.
How do you attach floating shelves to the wall
How you attach floating shelves to the wall has a direct impact on how strong the shelf is. How you attach the shelf depends on what the wall is made of. If it is drywall, you want to attach it to the stud. This is the best bet for strong shelves.
If you do not have studs available in the area you want the shelf, you can use anchors. However, the quality and type of anchors will determine the strength of your shelf.
If attaching to the studs, typically lag bolts are used but in this tutorial, I will be using the 4″ GRK Rugged Structural screws (RSS) which are a great replacement and VERY easy to use.
These GRK RSS screws have a lot of great features –
Star drive – prevents stripping
Special thread design and built-in washer – help draw the boards in and pull them tight
Self-tapping tip
Self-countersinking
You will see how easy they are to use and how they make this project a breeze!
PIN THIS TO PINTEREST
Do you need studs to attach to the wall?
Short answer – that would be perfect. This is your best bet for strong heavy-duty shelves.
Can you use anchors? Yes, you can but the stability of the shelf would depend on how strong the anchors are.
Are floating shelves easy to put up?
They are! I built and installed the floating shelves all by myself – within a couple of hours.
The only challenge I faced was when it was time to hang the frame/brace to the wall. It was a challenge to balance the brace, make sure it was level and attach at the same time. 10 minutes of fumbling later, I finally figured out how to attach one screw into the wall stud.
After the first screw, it was a lot easier to level the frame and add the remaining screws.
Are floating shelves strong?
YES! If built and attached the right way, the floating shelves can be super strong and support a large amount of weight. I put the shelves I built to the test – I sat on it. Watch the video below to see what happens.
How do you measure for floating shelves?
Like every project, measuring accurately is the most important starting point.
How to determined the length
Like I mentioned a few times – you really want to do your best to hit the studs. You want at least 2 studs per shelf.
Typical stud spacing is 16″ which means that the shelf will be at least 32″ long. The shelf will extend out a few inches on each end and I ended up with a 38″ shelf.
How to determine the depth
The depth is really your choice! It can be dictated by the material you have available to build the shelf box. I used ¾" plywood since I was going for a deep shelf and 1x material, would end up being very expensive.
Let's go ahead and start building the shelves!
PIN THIS TO PINTEREST
Material needed
DIY Floating shelves video
As always, I have a detailed video showing you exactly how I made the shelf below. Step by step tutorial follows below. Watch it till the end to see me test out the shelf!
How to make floating shelves
Building floating shelves is a really easy and quick project and involves a few cuts and boards.
Step 1 – Measure and make the cuts
Check out the plans for guides to building your own shelf. You can always modify the width and depth to fit your needs.
Make sure to measure for shelves to determine the perfect size needed for your situation. See my notes above.
Note – I used 2x4 boards for the frame because I already had enough in my scrap pile. Using 2x3 boards will give a shelf that is just as strong but thinner. Also, I used plywood because of the depth of my shelf. You can also use 1x8 or 1x10 board for narrower shelves or better-finished edges.
Step 2 – Build the Frame
Set up the boards for the frame – two on each end and others approximately 8-12″ from each other. Make sure to leave enough space around the area where you want to attach to the studs.
Attach the boards using the strong structural screws. Add 2 screws at each location!
Tip – in order to make sure you attach the boards at the right spot, draw a line through the middle of the joint and extend it down to the sides.
Step 3 – Build the box
Build the box by attaching the plywood or material for the box using wood glue and finish nails.
Tip – use the frame to set up the box. This will make sure you have everything aligned. Just be careful not to nail your box to the frame by accident.
About the Paslode finish nailer I used- This is a really powerful finish nailer! It uses a fuel cell to power the nails and the no-mar tip doesn't damage the surface. It is a great nailer to use to build or add trim and baseboards or board and batten as well!
Step 4 – Attach the frame to the wall
This is the most critical part for strong shelves. I highly recommend attaching to studs or using extremely good quality anchors.
Attach the shelf to the wall by driving fasteners directly through the back of the frame and into the studs or anchors.
I used the GRK RSS fasteners to attach directly into the studs and the shelves are super strong.
Important – Be sure to add 2 screws each for the maximum strength.
Step 5 – Put it all together
Slide the box onto the frame to complete the shelf!
If you want to paint or stain the shelf, do so before you slide it on.
That's it!
PIN THIS TO PINTEREST
A simple, easy and strong shelf.
And yes, I did put it to the test! It is still going strong!
DIY Floating shelf plans
You can get the floating shelf plans by clicking on the link below.
GET THE PLANS
You might also enjoy these projects –
Easy DIY Floating Shelves
Yield: Easy DIY floating shelves
Learn how to make heavy-duty DIY floating shelves with this easy to follow tutorial for beginners (including plans and video!)
Instructions
Cut up the boards for the frame/brace on the miter saw.
Make the cuts for the box using a circular saw or a table saw.
Set up the boards for the frame - two on each end and others approximately 8-12" from each other. Make sure to leave enough space around the area where you want to attach to the studs.
Attach the boards using the strong structural screws. Add 2 screws at each location!
Build the box by attaching the plywood or material for the box using wood glue and finish nails.
Attach the shelf to the wall by driving fasteners directly through the back of the frame and into the studs or anchors.
Slide the box onto the frame to complete the shelf!
Filed Under: Organization, WoodworkingTagged With: shelf
Sours: https://www.anikasdiylife.com/diy-floating-shelves-plans/
Heavy Duty Solid Wood Wall Shelves, Deep Farmhouse Floating Shelves, 3 Tier Wall Shelf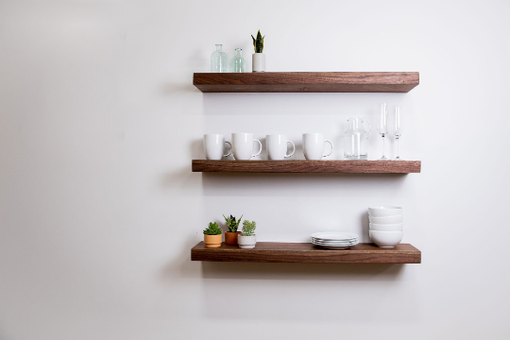 Our beautiful heavy duty wall shelf is a perfect deep floating shelf, 3 tier wall shelf, or farmhouse book shelf. Each item is meticulously handcrafted using organically sourced reclaimed barnwood lumber, which looks perfect in modern, contemporary, rustic, or Scandinavian décor. You'll love the beautiful grain throughout, creating a warm and inviting atmosphere to work on. You'll love seeing the beautiful grain permeate through the wood, showcasing the work mother nature slowly did over time. It's an heirloom piece that you'll have in your home for years to come.

We handcraft everything from scratch, in some cases drying the wood ourselves to be sure of its quality before it makes it into your home. We're a team of woodworkers that are passionate about creating bespoke furniture that is made to your specifications. We only use high end finishes and brackets, because we believe in quality.

Our shelf is finished with a 0% VOC plant-based finish, so you'll feel good about putting this piece in your home.

Sizing:

The shelf is made from lumber that is between 1.5-2" thick. You can select various widths and lengths up to 96". If you need a custom size, purchase the size larger than it and comment your specific size in the personalization box.

Shipping:

We aim to get the item out within 1-2 weeks.

Installation:

All of our floating shelf brackets must be installed into a solid surface such as a stud, masonry (concrete/brick), or otherwise solid surface. Incorrect mounting could result in a sagging shelf or one that cannot support the weight. A drill, level, tape measure, and screws will be required for installation.

Ordering:

Simply select your size, and quantity -- we'll then get to work on your piece. If you have any questions or specific requests, please reach out to us.

About Us:

We're a family owned business that's passionate about woodworking, and creating heirloom-quality furniture. We're located in the former lumber capital of the world, Williamsport, PA, and are striving to revive this once booming industry one table at a time. All of the items are made on the site of a former 1800s lumber mill, once called Brick Mill -- where we got our name. We know you'll love your item and will work to make sure you're completely satisfied with your purchase.

Heavy Duty Wall Shelves, Deep Floating Shelves, Solid Wood Shelves, Farmhouse Floating Shelves, 3 Tier Wall Shelf, Deep Wall Shelves

*This Listing is for one shelf and one bracket. To order multiple you must change the quantity.
*Decor is not included, listing is for the shelf only.
View Shipping & Maker Policies
No reviews yet
Each week, expert artisans from across the country become makers on CustomMade.
Every maker has a story. Be a part of Brick Mill Craft Furniture's story by placing an order, leaving a review, and seeing your review appear here.
More Projects by Zac Caseman
Other projects you might like
Sours: https://www.custommade.com/heavy-duty-solid-wood-wall-shelves-deep-farmhouse-/by/brickmillfurniture/
Last night we hung the shelves in the reading room and the design that has been in our minds finally came to fruition. From this:
To this:
We really wanted wall-to-wall thicker solid wood shelves that maybe looked like they were floating, but not necessarily are–since you can't very easily achieve that with solid wood. We are so pleased with the results! Of course, now we can fill them up with books and some accessories, but before we do that we wanted to give you a full breakdown of what we used and what we did in case you wanted to do something similar in your home. And why wouldn't you!?
What We Used:
4–10 3/4″ deep x 2 1/2″ thick x 10′ long boards of Douglas Fir. (We special ordered these from our local lumber yard for $33 each)
100 grit sandpaper
Minwax Gel Stain in Walnut
Satin Polycrylic
20–2″x5/8″inside corner brackets
40–2″screws
40–3/4″ screws (came with the inside corner braces we bought from Ace)
16–heavy duty anchors
Miter Saw
Palm sander
Router
DeWalt impact driver
Level
Stud Finder
Hammer
Philips screwdriver
Pencil
What We Did:
We special ordered the boards because we wanted them a little thicker, and we wanted squared edges. We were pleasantly surprised at how inexpensive they were. Even still, the ends were a little rough and uneven, which we expected, so the first step was to square the edges and cut them to fit on the wall exactly. For this, we used a miter saw. The blade wasn't big enough to cut through the whole board (wah wahhh), so Chris cut half, flipped the board, lined up the blade with the first cut, and finished cutting through.
Even though we wanted the shelves to look like they were floating (ie, no visible brackets), we knew that would be difficult to achieve with the size of boards we were dealing with. The boards were really heavy. So we picked up these 2 inch metal angle brackets. These worked perfect, because they were short enough to hide behind the 2.5 inch boards, but strong enough to hold the weight without bending. Something this short wouldn't work if just holding from the back wall, but since we were putting the shelves wall-to-wall, we could have one bracket on each end to prevent the boards from sagging forward. So after cutting the boards to size, we measured the wall and found 3 somewhat evenly-spaced studs that we could connect the brackets straight into. Unfortunately, there weren't any studs where we needed them to be on the sides, so we found some heavy-duty wall anchors, each rated to hold up to 75 pounds. We would have two anchors supporting each side bracket (a total of 4 anchors in the 2 side brackets for each board), and coupled with the back-wall brackets mounted directly to the studs, this would give us plenty of support.
After taking the measurements and deciding where the brackets would mount on the back wall, we marked these locations on our boards and routed spaces out so the brackets could set inside the boards, making them flush and less visible. You need to take the measuring part of this step serious, because the brackets are hung on the wall before you place the shelves. This means your routed out spaces need to match perfectly with where the brackets are mounted. We've all heard the advice to "measure twice, cut once." Well with this, measure 5 or 6 times, pray like mad, and then cut.
After deciding the best way to stain the boards (you can read about that here), we sanded them smooth with a palm sander, equipped with 100 grit sandpaper–being careful not to over-sand, because that can impact Douglas Fir's ability to accept stain. So we took our time to get it right.
The gel stain we mentioned earlier this week worked perfectly. We spread it on nice and thick, wiped it off with rags and paper towels, and let each coat cry for 8 hours. We did two coats of stain, plus a layer of water-based satin polycrylic–which gives off a nice low-lustre sheen. Nothing too shiny, just protects.
Once the shelves were cut, sanded, routed, stained and sealed, we only needed to get them mounted. Our friends at Ace Hardware sent over a heavy duty 18V DeWalt Impact driver for us to try out. We weren't sure what to expect when comparing it to our standard drill that we've been using for the past three years, but, well, have you ever used an impact driver? We were dealing with solid wood and studs and it was like butter. In fact, the first stud Chris drove a bracket into, he thought he missed the stud! It was effortless. We are working on putting together a giveaway with Ace Hardware because these are one of those game-changer tools we can't imagine living without.  Stay tuned. It's good.
Making sure the brackets were level on the wall
We learned this trick from our friend, Preston. Hammer a phillips screwdriver (or nail) just once before drilling a screw so it doesn't wobble when driving
Anyway, back to it. We measured the predetermined locations for the brackets several times, drew lines, and mounted them with 2″ screws. The new driver worked perfectly and the brackets were solid. But the big unknown was if the brackets would line up with the routed slots in the shelves. We grabbed the boards, lifted them up…
held our collective breath, and…
They matched up. Perfectly. Cue sigh of relief. The hard part was over. The shelves were level. The last step was just driving 3/4″ screws into the underside of the shelves to secure them in place. And then stand back and pat ourselves on the back.
We have spent every other minute, just sitting on the couch looking at our pretty, empty shelves. But this weekend we can't wait to load them up and wrap this room up–for now. Happy Weekend to all of you!
To read more about the transformation of our reading room, click here.
We are one of the 8 bloggers on the Ace Blogger Panel and this post was in collaboration with Ace Hardware. They sent us the impact driver to try and review and we're currently working on a giveaway for all of you (as soon as it gets back in stock!). All opinions and words are our own. Promise. 
Sours: https://www.chrislovesjulia.com/diy-solid-wood-wall-to-wall-shelves/
Making a Floating Slab Shelf // Are Baloni

Sheppard Brackets is here to serve you. With over 20 years experience in the metal working and machining field and a facility full of precision machine and CNC tools we produce the finest wall hanging products available.
Sheppard Brackets®️ is the industry standard for floating shelf brackets. We stock the largest selection of brackets anywhere. We supply brackets to hundreds of high end floating shelf manufacturers across North America. We manufacture all of our brackets from US steel here in the USA. We also ship directly from our facility to save you money.
Most of our StudLock brackets have keyhole fastener points every 1/2 inch for the ultimate in adjust-ability! Puts you in total control of where your shelf goes.
Our build tools are also in use all over north America. We were the first to develop and introduce this type of tooling to the market. Anyone can produce professional quality shelves with these tools.
Sours: https://www.sheppardbrackets.com/shelf-kits-solid-wood-floating-shelves
Duty shelves wall heavy wood
Floating Shelves with Brackets Wall Mount, Heavy Duty Wood Shelving with Metal Hardware, Rustic Hanging Shelf Decoration for Livling Room, Kitchen and Office, 8 Inch Deep
ChasBete wooden floating wall shelves perfect for displaying your favorite keepsakes and decor with easy-to-install brackets.
A great way to add a little decorative flair to your living room, office, kitchen and work room or other fun space, create shelves that let you share with your guest.
Product dimensions:
Material: Durable MDF
Overall Dimensions: 16-7/8" * 8" * 1"
Maximum weight capacity: 100lbs
(Black brackets is 6 inch long with 1/2 inch diameter, plate is 1 inch width)
Package:
1 * Wood Shelf
2 * Floating Brackets
Screws and Wall Plugs Included
Hardware and Fasteners Included
Characteristics:
With its sleek straight lines and its hidden bracket hanging system, this floating shelf adds character and elegance to your home. It is ideal for displaying decorative home accessories, books, vases, photo frames and so much more.
Multi-functional appearance to fit different scenarios
These storage shelves will go great in your living room, in your bedroom and even for the bathroom to store your toothbrush holder, jar, soap dispenser and more.
Made of high quality E1 Level MDF and wood free from formaldehyde; Easy to clean; No harm to your health!
Each of our floating shelves are stained by hand to highlight the natural wood grain, then finished with a flat varnish for added protection.
Sours: https://www.amazon.in/Floating-Brackets-Shelving-Hardware-Decoration/dp/B07TV342RL
Easy DIY Floating Shelves - The Best Floating Shelf Bracket?
.
You will also be interested:
.
458
459
460
461
462