* This post contains affiliate links and we may earn a small commission if you use them.
Walmart has released their 2021 Top-Rated by Kids Toy List with the hottest toys for kids of all ages as well as 16 Walmart exclusives!
The top toy list for 2021 features various themes including Awakening Imagination, Fresh Air Fun , Edutainment Expression, Not-So-Pretend Pets  and more. In addition, Walmart has more than doubled its toy selection this year and added hundreds of additional toys available for pickup and delivery.
Walmart's 2021 Top-Rated by Kids Toy List
See all the toys on the Top-Rated by Kids Toy List below at Walmart.com HERE!
The prices listed below are the regular prices and many of the items are on sale now.
Awakening Imagination 
1:10 RC Hot Wheels Rhimomite ($59.00) – Walmart Exclusive
Barbie Extra Doll & Vanity Playset ($59.00) – Walmart Exclusive
Batman RC All-Terrain Vehicle ($49.97)
Bluey 4WD Campervan Playset ($49.44)
Hot Wheels Massive Loop Mayhem Track Set ($49.97)
L.O.L. Surprise OMG House ($229.00)
Monster Jam Truck Wash Set ($29.97)
Rainbow High Color Change Car ($49.88) 
Edutainment Expression 
Crayola Creative Fun Double Easel ($44.88) – Walmart Exclusive
Fisher-Price 4-in-1 Learning Bot ($49.44)
Kinetic Sand Sandisfactory ($19.94)
VTech KidiZoom PrintCam ($71.00)
Fresh Air Fun  
12V Jeep Gladiator Children's Ride On in a variety of colors ($369.00) – Walmart Exclusive
Fisher-Price Bouncesational Bounce House with Built-in Pump ($69.00) – Walmart Exclusive
HALO Supreme Big Wheel Scooter in a variety of colors ($39.93) – Walmart Exclusive
Jetson Hali X Luminous Extreme-Terrain Hoverboard in a variety of colors ($178.00) – Walmart Exclusive
Kryptonics 28" Cruiser Skateboard in a variety of colors ($24.97) – Walmart Exclusive
Monster Jam 24V Grave Digger Ride On in a variety of colors ($449.00) – Walmart Exclusive
Razor Miniature Dirt Rocket MX125 Electric-Powered Dirt Bike ($179.00) – Walmart Exclusive
Not-So-Pretend Pets 
furReal Sweet Jammiecorn Unicorn ($29.96)
LEGO Creator 3 in 1 Fish Tank ($29.97) - Walmart Exclusive
Magic Mixies Cauldron in a variety of colors ($59.00); Launches Oct. 1 – Walmart Exclusive Color
Na! Na! Na! Surprise Kitty-Cat Camper ($94.00)
VTech Hover Pup ($24.97) – Walmart Exclusive
On-Screen and Streaming Favorites 
Disney's Raya and The Last Dragon Color Splash Raya and Sisu ($32.44)
Jurassic World Stomp N' Escape Tyrannosaurus Rex ($39.97)
LEGO Marvel Avengers: Endgame Final Battle ($69.97)
Paw Patrol Movie Tower ($149.00)
Ryan's World Rocketship ($81.00) – Walmart Exclusive
Spark Create Imagine Cocomelon Bus ($29.97) – Walmart Exclusive
Star Wars Galactic Snackin' Grogu ($79.00)
Timeless Toys 
Baby Alive Lulu Achoo ($52.00)
Barbie Blonde and Black Hair Styling Head Tie-dye ($29.84)
Flybar 6V Bumper Car ($99.00) – Walmart Exclusive
Giant Sorry ($24.86)
My Little Pony Fashion Ponies in a variety of characters ($15.44) – Walmart Exclusive
Nerf Hyper Mach 100 ($73.00)
Play-Doh Kitchen Creations Rising Cake Oven Playset ($19.96)
Marvel Spider-Man Super Web Slinger ($19.87)
Plus, gifts purchased for delivery from Walmart stores will arrive in new peek-proof bags at no extra cost.
See all the toys on the list at Walmart.com HERE!
Savings Spotlight Sale
Walmart has a new Savings Spotlight Sale including good buys on clothing, Chromebooks, tablets, toys, video games, vacuums, cookware sets and more!
See all the sales at Walmart.com HERE!
Deals
* Costway 6V Ride-On Toy Motorcycle Trike 3-Wheel Electric Bicycle w/ Music & Horn is on sale for $59.99 (reg. $139.99) at Walmart.com HERE
* Mega Bloks First Builders Big Building Bag with Big Building Blocks for Toddlers (80 Pieces) is on sale for $14.92 (reg. $24.99) at Walmartcom HERE
* Disney Frozen 2 iTime Interactive Kids Smart Watch is on sale for $34.99 (reg. $65)
* Costway Portable Kids Play House with 100 Balls is on sale for $35.99 (reg. $64.99)
* CHO Power Sports Hoverboard Self Balancing Scooter 6.5" w/ LED Lights Built in Bluetooth Speaker is on sale for $109 (reg. $168)
* Mainstays Basic Solid 18-Piece Bath Set, White is on sale for $23.25 (reg. $57.60)
* The Lodge Pre-Seasoned 10.5 inch Cast Iron Grill Pan is on sale for only $19.90 (reg $36) at Walmart.com HERE
* Chefman  TurboFry  Stainless Steel Air Fryer is on sale for $73.61 (reg. $99.99)
* Costway Foldable Travel Baby Playpen Crib Infant Bassinet Bed Mosquito Net Music with Bag is on sale for $105.99 (reg. $219.99)
* Robot vacuums and upright vacuums up to 50% off (including top brands) at Walmart.com HERE
* iRobot Roomba i7 (7150) Robot Vacuum- Wi-Fi Connected, Smart Mapping, Works with Google Home, Ideal for Pet Hair, Carpets, Hard Floors is on sale for $494.99 (reg. $799)
Clearance Sale
The Walmart Clearance Sale is taking place now with up to 70% off!
There are some super deals on toys, holiday decor, trees, lights, winter coats, baby clothes, shoes, beauty, sports & outdoors, electronics, home and more!
See all the deals in this clearance sale at Walmart.com HERE!
Holiday Decor: See the holiday decor clearance at Walmart.com HERE.
Toys, Games & Arts & Crafts: See the toy clearance sale at Walmart.com HERE.
Home & Kitchen: See the kitchen clearance sale at Walmart.com HERE.
Electronics: See the electronics on sale at Walmart.com HERE.
Clothing: See the clothing sale at Walmart.com HERE.
Baby Toys & Gear: See the clearance sale for baby products at Walmart.com HERE.
Sports & Outdoors: See the clearance for sports and outdoor products at Walmart.com HERE.
If the price on the Walmart website is different than the price listed above, that means that the sale has ended and is no longer available.
Walmart+ Membership Program
Walmart has launched a new membership program offering unlimited free delivery from stores, fuel discounts, Scan & Go shopping and more.
Walmart+ is now available as of September 15 and costs $98 a year or $12.95 a month. There is a 15-day free trial period, as well.
SUGGEST A CORRECTION
More On This
Sours: https://www.wral.com/walmart-has-released-the-2021-top-rated-by-kids-toy-list/19374905/
Massage guns have exploded in popularity in recent years, and there are now countless brands competing to make the best massage gun. SPY editors have tested and reviewed many massage guns, and in our experience, two brands rise above the rest — Hyperice and Therabody. Of course, these companies also make the most expensive massage guns.
In today's post, we want to review the best massage guns on Amazon specifically, as we know our readers like to take advantage of free shipping, easy returns and two-day delivery. Amazon also provides some of the best deals on massage guns. There are a ton of massagers for sale on Amazon, including premium products such as the Hypervolt Go and the Therabody Prime. Unfortunately, there are also tons of cheap knock-offs and dupes, many of which will stop working altogether after a few months (or weeks) of use.
So how can you be sure you're buying the best massage guns on Amazon? We've done the work for you, breaking down the best options at every price point.
How We Selected the Top Massage Guns on Amazon
There are many good reasons to invest in a massage gun. Whether you're super active, experience chronic pain or just like some nice soothing vibrations after a long day sitting in an office chair, a massage gun is definitely a worthwhile investment. We were one of the first e-commerce sites to start writing in-depth reviews of massage guns and Theragun alternatives, and we've had the chance to test and review many of these products.
Many of the top-selling brands, like Therabody and Hyperice, sell products on Amazon, and our editors have tried many of these products, as well as their dupes and copycats, too. In addition to our own product testing, here are the criteria we used to select the best massage guns on Amazon in 2021:
Power and strokes per minute

Battery life

Noise level

Ergonomic design

Price

Customer reviews
Below, you'lll find our selection of the best massage guns sold on Amazon, with options starting at just $100.
Read More: Intimidated by Massage Guns? Here's How to Use One Effectively
1. Hyperice Hypervolt GO Massage Gun
We've tested a lot of massage guns over the years. Hyperice is one of our favorite massage gun brands, and this Hypervolt GO massage gun is one of the best ones they make. It's light and portable, while also being powerful. They've stripped the massage gun down to precisely what's necessary, including an ergonomic handle and the only two massage gun heads you really need to use. In short, they've perfected massage gun design.
The brand sent SPY a sample of this massage gun recently, and we gave it a rave review. It's very easy to use as the entire thing is a one-button operation, and it weighs just 1.5 pounds, so it's very light and portable.
Buy: Hypervolt GO Massage Gun $199.00
2. Sonic Handheld Percussion Massage Gun
This massage gun from Sonic is one of the most popular products ever featured on SPY, and it's easily one of the best massage guns on Amazon. This budget massager has excellent customer reviews and similar features to products that cost twice as much.
The Sonic Handheld Percussion Massage Gun has a powerful motor that can support speeds up to 3000 strokes per minute, and the ergonomic handle is built with easy access to speed adjustments on the front of the device. The motor is also designed to be quiet, running at 55-75dB total, and it's got five different vibration levels to choose from.
Basically, it has everything you need in a massage gun at an affordable price.
ON SALE NOW!
Buy: Sonic Handheld Massage Gun $119.99
3. Theragun Prime Deep Tissue Massage Gun
Yes, you can buy Therabody massage guns on Amazon, and you can order them to be delivered in just a few days. This one, the Theragun Prime, is a luxe massage gun that's used by professional athletes for its workout recovery benefits. It's got just enough features, including a two-hour battery life, an ergonomic multi-grip handle, five speeds and five different massage heads. It also has an LED screen that clearly displays the speed setting and syncs with a Therabody app to create custom recovery plans based on your activity level.
Most Therabody percussion massagers have a unique triangle design, which makes it easier to massage hard-to-reach spots. While they do feature a higher price tag than most competitors, we believe these massagers are worth every penny. Therabody products are extremely well designed with the highest-quality materials, and they're built to last even with regular use.
Buy: Theragun Prime Massage Gun $299.00
4. Ekrin Athletics B37 Massage Gun
This massage gun from Ekrin has a solid handheld design and an 8-hour battery life, which means plenty of time between charges. The 15° ergonomic handle is angled to help you apply just the right amount of pressure, and it's got an ultra-quiet motor that taps out at 35-55 dB. It's also got five vibrational speeds ranging from 1400-3200 RPM, and it comes with four interchangeable massage gun heads.
In our testing, we found that this gun had a great weight to it so it feels substantial in your hand, and the design makes it easy to hold in multiple different ways depending on which area you're targeting on your body. It also comes with a large, sturdy case and plenty of massage gun heads.
Buy: Ekrin Athletics B37 Massage Gun $229.99
5. Theragun Mini Portable Massage Gun
Therabody also makes a miniature massage gun, the Theragun Mini, that's got a brushless QX35 motor and a super user-friendly design. The Theragun Mini is one of our picks for the best Christmas gifts of 2021, but it also makes for a great gift for yourself.
The base fits right in the palm of your hand, and it's got a powerful head that can deliver three different calibrated speeds including 1750, 2100 and 2400 RPMs. It comes with a soft case for taking it on the go, as well as 150 minutes of battery life.
Buy: Theragun Mini Portable Massage Gun $199.00
6. RENPHO Massage Gun
This RENPHO massage gun has a 4.8-star rating on Amazon after more than 7,000 reviews, and weighs only 1.5 pounds. It's got a super quiet brushless motor and a 10-minute auto-off feature to save the battery. It's got five different speeds that range from 1800-3200 RPM, as well as five massage gun heads to choose from. It's also got a non-slip ergonomic handle, and comes with its own carrying case for portability.
ON SALE NOW!
Buy: RENPHO Massage Gun $99.99
7. addsfit Mini Massage Gun
This mini massage gun from addsfit is designed to look like a regular-sized massage gun, but comes in a much smaller package. It's super lightweight, comes with a sleek, monochrome metallic design and has three adjustable speed levels and two massage gun heads. It's got a high-torque brushless motor that is actually very quiet, and a battery that can run continuously for up to six hours.
When testing massage guns, the addsfit was a surprise favorite of our product testers. We found that despite the small size it's powerful, great for targeting specific pressure points or sore spots, and fits right in the palm of your hand.
Read More: The Best Mini Massage Guns of 2021
Buy: addsfit Mini Massage Gun $79.99
8. Hypervolt Percussion Massage Gun
Hyperice just released a brand new line of Hypervolt Massage Guns, which means the original design is available at a major discount on Amazon. Currently, you can grab the original Hypervolt for $100 off. This is a powerful massage gun that put the brand on the map. It comes with three-speed settings up to 3200 percussions per minute, has a battery life of up to three hours and is Bluetooth-enabled, so it can sync to the Hypervolt app and track your recovery. It comes with five different massage gun heads and a convenient storage pouch.
We previously rated this massager as the best Therabody alternative, and this is a phenomenal deal on a top-rated massage gun.
SAVE $100 NOW
Buy: Hypervolt Percussion Massage Gun $249.00
9. VYBE Percussion Massage Gun
If you're all about variety when it comes to the interchangeable massage gun heads, this gun is a great choice. It comes with eight different attachments including a trigger point, Y-shape head for your spine, flat palm head and a ball. It's got nine different speed settings, and is designed to apply 30+ pounds of pressure and penetrate deeper into your muscular tissue than other guns. The lightweight handle has a silicone grip cover over it, and the rechargeable battery lasts for three hours on a full charge.
SAVE $100 NOW!
Buy: VYBE Percussion Massage Gun $199.99
10. Sportneer Deep Tissue Massage Gun
This is another highly-rated massage gun from Sportneer that has a 4.8-star rating after more than 800 customer reviews. Amazon users aren't the only ones impressed by this budget massage gun, as our product testers were also impressed with Sportneer's new and improved massager.
It's made from premium materials designed to withstand years of use and has a 16.8V brushless motor with six adjustable vibration modes to choose from. It comes with six massage gun heads and has a crash-tested exterior case designed to not break even when dropped from 6.6 feet up. The battery lasts anywhere from 2-6 hours depending on the speed setting you're using, and it also has an auto-off feature to save power over time.
Buy: Sportneer Deep Tissue Massage Gun $129.99
11. Mebak Percussion Massage Gun
This massage gun also has very good reviews, with a 5-star rating on Amazon after over 11,000 customer ratings. Many reviews discuss how easy it is to use, how there's no vibrational blowback when you're using it and how comfortable it is to hold. It's got a sound level of 35-50 dB and weighs just over two pounds. It comes with seven different massage gun heads, and has five different speeds ranging from 640-3200 RPM, so if you're worried other guns might be too intense for you this is a great pick. On average, this gun will last 2-3 weeks with short daily bursts of use, and it comes with its own carrying case.
Buy: Mebak Deep Tissue Massage Gun $119.99
Love what you're seeing? Follow us on Twitter, Instagram and Facebook and be the first to hear about new product launches, the latest trends and can't miss deals you won't find anywhere else.
More from SPY
Best of SPY
Click here to read the full article.
Sours: https://news.yahoo.com/tested-ton-massagers-bring-best-143005007.html
7 best facial cleansing brushes of 2021 and how to shop for one
Washing your face twice a day can be a drag, especially if you have to remove makeup or any residue from sunscreen. Facial cleansing brushes were developed to help wash your face, exfoliate to reveal softer skin and help minimize the appearance of pores, fine lines and wrinkles.
SKIP AHEADBest facial cleansing brushes
Ava Shamban, a board-certified dermatologist, and founder of Ava MD said touchless skin gadgets are beneficial. "Touchless options are a great tool to help keep bacteria transfer from fingers to face, potentially spreading Covid-19 or other conditions that can affect either our health or skin," she said. "However, these home devices are only as good as the care taken by the operator using them." While facial cleansing brushes may save you time from washing your face, it is important to make sure you take care of the device. This includes washing the brush after each use to help prevent bacteria from forming and extending the life of the device.
You can also find facial cleansing brushes at various beauty retailers like Sephora, Ulta and Dermstore. They're also found at Shopping reader-favorite stores, including Walmart, Amazon and Target. Facial cleansing brushes are readily available and range in price. You can find manual brushes on Amazon for $7 or splurge $6,500 (yes, you read that correctly) on the Foreo Luna Luxe, which has an 18-karat gold base. The Swedish brand also sells a platinum version of the Luxe, which will set you back $8,800.
Related
What to look for when shopping for a facial cleansing brush
Shamban said these brushes are more effective in removing layers of skin care and makeup, along with sweat, dead skin cells and other debris. Some brushes mildly exfoliate using movement and friction to lift what is sitting on the surface of the stratum corneum, which is the outer layer of the skin. She suggests looking for the following features when shopping for a brush:
Aerodynamic shape and weight that feels good in your hand
Easy to use (and clean) design
Preferably, silicone bristles, which are non-porous, as opposed to nylon bristles
Multiple settings or areas for different types of skin and skin needs
It's important to find a face cleansing brush that won't cause unnecessary damage, especially if you have sensitive skin. Adam Mamelak, MD, an Austin-based dermatologist, said there are side effects and myths about using facial brushes, but the key is knowing your skin. "Sensitive skin types and those with rosacea have to be careful with brushes and exfoliating as they can lead to increased irritation," he said. Mamelak's biggest tip is to use your face cleansing brush of choice no more than once or twice a week "to make sure your skin tolerates it well." Another pro tip? Find a face brush and face cleanser which plays nicely with your skin type. He also advises you use a different brush head for your body than your face, because body brushes tend to be harsher.
Overall, if you're interested in having a better exfoliation at home, then a face cleansing brush could be right for you. To help guide you through your shopping process, we've rounded up nine of the best facial cleansing brushes of 2021. From expert-recommended picks to highly-rated devices available to shop on Ulta and Sephora, we included different price points to ensure all budgets and skin types could benefit from our guide.
Related
Best facial cleansing brushes of 2021
1. Olay Regenerist Face Cleansing Device
The Olay Regenerist Face Cleansing Device is an affordable brush which helps to remove makeup and gives your skin a deeper clean. It features two speeds — one for daily cleaning and the other for a deeper exfoliation — and is made with a brush head versus a silicone brush like other brands on our list. Olay said its cleansing brush is also water-resistant, making it okay to use in the shower. Apply your cleanser to your face, dampen the brush head and then move the device around your face for 60 seconds.
2. PMD Clean Pro
PMD Clean Pro is a smart cleansing brush that uses a technology called SonicGlow to clear the skin of dirt and impurities while lifting and toning the skin with its 7,000 vibrations per minute. The other side of the device is a proprietary ActiveWarmth heat therapy massager with anti-aging benefits and feels soothing on the skin, like a heated towel pressed against your face. PMD says the odor-resistant, antibacterial silicone brush comes with four modes and can be used on all skin types. PMD Clean Pro facial cleansing brushes are available in four colors: Navy with Gold, Teal with Brushed Aluminum, Berry and White. They also have a dedicated line of skin gadgets specifically for teens and men, so you can help your loved ones establish their skin care routine in-between virtual school and working remotely.
3. FOREO Luna 2 Facial Spa Massager
Shamban recommends Foreo Luna 2 because of its softer silicone bristles which she says are antimicrobial and antibacterial yet non-abrasive to skin. Foreo says the two-sided brush gently exfoliates on one side which removes 99.5 percent of dirt and oil, resulting in softer, smoother skin. The other half uses gentle vibrations to massage the skin and leave behind anti-aging effects. Plus, the travel-friendly facial cleansing device comes in four pretty pastel colors that correlate to your skin type (combination, sensitive, oily and normal).
Related
4. ZAQ Facial Cleansing Brush
Unlike the Foreo 2, which requires you utilize a facial cleansing brush specific to your skin type, the ZAQ cleaning brush has one universal model with five speeds corresponding to various skin types. It is also the sole brush on our list that positions itself as RoHS compliant, meaning it meets a set of European Union standards, including being made from lead- and mercury-free materials. After a two-hour charge, ZAQ's facial cleansing brush offers a five-hour battery life.
5. Shiseido Cleansing Massage Brush
Shiseido Cleansing Massage Brush is made with a combination of soft, tapered bristles and silicone cushions to massage your skin. This handheld brush is the only non-electronic device on our list. However, it's still a practical option for exfoliation, especially for sensitive skin as the bristles are much softer than some of the other face brushes on the market. Shiseido's option works well with foaming cleansers to penetrate the skin deeper.
6. Proactiv Deep Cleansing Brush with Silicone Head
Proactiv, a skin care brand known for its three-step system to fight acne, developed this cleansing brush to help you get softer and more radiant skin. The cordless brush comes with two brush head attachments that move in a 360-degree rotation to exfoliate the skin gently and help make your pores look smaller. Proactiv recommends using the product once a day. However, if your skin is prone to drying out, then you can minimize use to once or twice a week.
Related
7. Clinique Clean Skin, Great Skin Sonic Brush
Mamelak said the oval-shaped brush allows better cleaning in hard to reach areas. The facial brush uses sonic vibration to cleanse the skin gently, making it safe for all skin types including sensitive. You can choose between four brush head attachments — Acne Solutions, City Block Purifying, Extra Gentle and Purifying — to cater to your specific skin issues. Clinique recommends you replace your brush head every three months for the best results.
8. Michael Todd Beauty Petite Soniclear Facial Cleansing Brush
Michael Todd Beauty says its facial cleansing brush features 20,000 antimicrobial bristles to help cleanse your face the recommended once a day. It boasts an automatic timer that beeps every 20 seconds alerting you it's time to move onto a new section of your face.The brand says its device is waterproof and has three sonic speeds to buff away debris.
9. Conair True Glow Facial Brush
Conair is more known for its array of hot tools rather than skin care gadgets. However, this facial cleansing brush may be worth testing out, especially given that it is the most affordable model on our list. The AAA battery-powered device is equipped with three brush heads — cleansing, exfoliating and moisturizing — and has two speed settings: high and low.
Related
Catch up on the latest from NBC News Shopping guides and recommendations and download the NBC News app for full coverage of the coronavirus outbreak.
Leila Najafi
Leila Najafi is a freelance lifestyle writer with bylines in Thrillist, USA Today, Business Insider, and Reader's Digest.
Nicole Saunders contributed.
Sours: https://www.nbcnews.com/select/shopping/best-facial-cleansing-brush-ncna1235250
Spin Spa facial cleansing brush - Demo + Review
The Best Bidet Toilet Seats and Attachments of 2021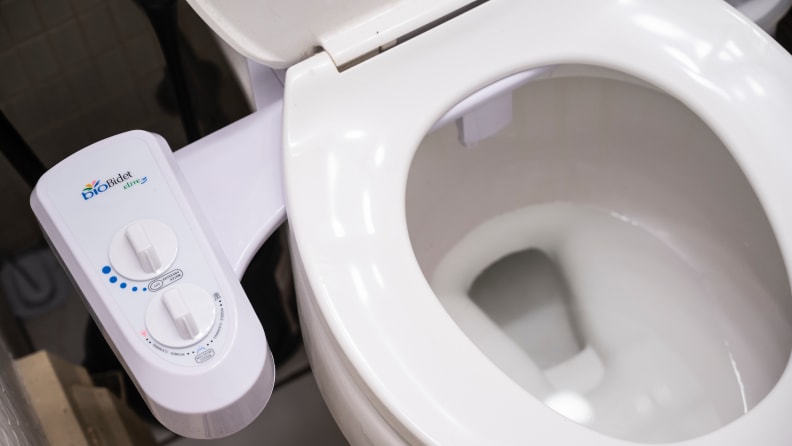 ---
How We Tested Bidets and Attachments
The Tester
Hi! I'm Garrett. I'm a copywriter and composer. I've spent most of my life writing, while intermittently also working in psych hospitals, jewelry warehouses, Medicare offices, and tech sales. Sometimes I also write music for video games. I've reviewed comics, music, and tech products on and off for most of my adult years.
When the pandemic first hit, my gut reaction was to immediately buy a bidet. I'd been meaning to anyway, for both environmental reasons and for reasons of … personal sensitivities. So, when Reviewed asked if anyone was up for testing bidets, I knew this was my chance! I had the product testing experience (and enough plumbing know-how) to jump on the opportunity—especially since I had already spent weeks comparison shopping.
The Tests
In order to get to the bottom of the best bidets, we researched the most popular, most hyped, and best-reviewed models, and decided to test just over a dozen electric bidet seats and toilet seat attachments. We installed each bidet according to its instructions and then spent roughly a week with each one, using it out as part of our everyday routine, and putting it through its paces. We worked with every feature. We felt around the controls to see whether they were intuitive, then checked the manual to see what we did or didn't miss.
We rated each bidet according to whether certain key features were present, the ease of installation, the ease of use, the adjustability and responsiveness of the controls, the effectiveness of the cleaning (and drying), and more.
We evaluated its stability, how easy it is to use and clean, and whether any settings on the bidet were painful. (That last question is not one that you want to answer a dozen times in a row. There are consequences, medically speaking, to finding the outer limits of that many bidets. But we're professionals here and dedicated to our work.)
How to Install a Bidet
Your bidet can take some getting used to. Finding a model that's easy to install can make the process a little less intimidating. On a basic level, you're going to turn off the water to the toilet, disconnect the water supply to your tank, and add a T-adapter. This will come with the bidet, and it's basically a joint that will let water flow to both the toilet and the bidet.
The bidet itself installs using the holes in your toilet where the seat screws in. Attachments install right onto the toilet. You'll put it under the seat, lining up the holes in the attachment with the holes in the toilet. The toilet seat screws will run through the attachment and the toilet together, holding everything in place. For bidet seats, you'll use the screws to install a mounting bracket onto the toilet. Then, you'll slide the seat onto the bracket.
This process should be fairly easy, although a few models did manage to make it tricky. The good news is, you'll probably only have to do it once! (Unless you're testing a dozen of these things.) Here are a few things to bear in mind as you go:
Look for quality parts in the plumbing. A metal T-adapter is a good sign. A plastic T-adapter inspires a little less confidence!

If you get an attachment, you'll need a toilet seat that sits up a little, instead of one that lies flush against the toilet bowl rim. Bemis or Church are good brands of the toilet seat for this. If there's not a little bit of lift in your toilet seat, then it's going to lean against the bidet attachment at a weird, sloping angle, and it won't be in a good position to support a person's weight. It's also super uncomfortable, and you'll feel like if the seat doesn't break, you'll slide off of it onto the floor. (We tried, for science. It wasn't pretty.)
What to Know When Buying a Bidet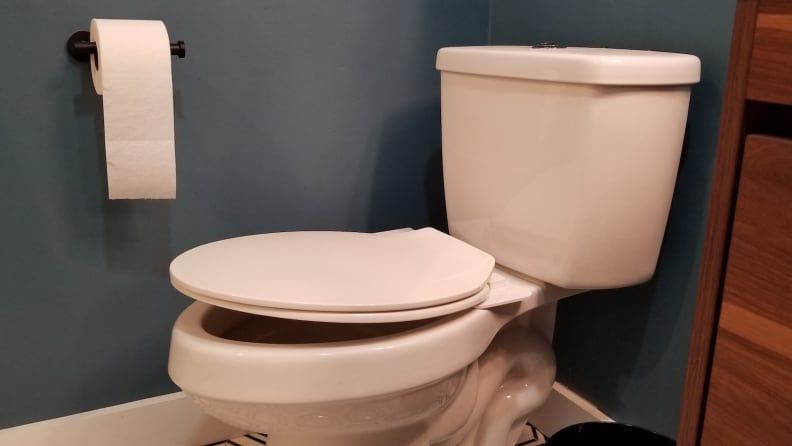 There are a few other things to keep in mind. Many models have a rear wash and a front wash. (Some models call the front wash a "feminine wash." This isn't the most inclusive language, but you're likely to encounter it.) That front wash is useful because bidets are often situated at unusual angles. You may find yourself using the front wash as an all-purpose wash, instead.
At one point, I started to wonder if my body was somehow put together incorrectly since the bidets kept missing me. Eventually, I raised my concerns with my co-tester, who confirmed that she was also having to scoot around to get the water to hit her right. I breathed a sigh of relief to know that I was not, in fact, some kind of low-key, jumbled Mr. Potato Head of a human being. The moral of the story is that you may want to seek out a model with a front wash since the flexibility there means it's more likely that you'll find an angle that hits you correctly.
A front wash isn't the only useful feature. Having warm water helps a lot, but it's not essential. Another fantastic feature is air-dry. Some models will move the water around in an oscillating pattern, or pulse the water intensity, or do both. This can actually help provide a better clean and was always welcome.
Other features weren't as helpful. Some models had deodorizers, but these often left a smell behind that was sometimes as upsetting as the smells they were neutralizing. (Your mileage may vary). In general, if a feature requires a recurring purchase (like a deodorizer, or some of the self-cleaning features) we weren't as enthused. The whole idea behind getting a bidet is to create less waste, right? Buying activated charcoal filters doesn't really fit the bill.
All of the bidet seats that we tested need to be plugged into a GFCI electrical outlet in order to function, so if you don't have one nearby, having a compatible extension cord on hand is necessary. Features like remote controls and onboard water heating need electricity. The attachments that we tested were all mechanical bidets, meaning they don't need an outlet and can be operated with nothing more than the water pressure that your toilet hookup provides.
The downside of these unpowered bidets is that if you want warm water, you have to route it from under your sink. Depending on what your cabinetry is like, that may be difficult or even impossible. For our purposes, we shied away from those models in favor of cold-water models and models that could heat the water without outside help.
One last compatibility issue—be sure to take note of whether you have either a round or elongated toilet bowl. If you're buying a bidet seat, you'll want to make sure that the seat matches your toilet bowl shape. This isn't a huge problem. Most manufacturers who make seats will make them in both shapes.
Regardless of the features you get or the installation experience you have, getting a bidet is well worth it. You're going to create a lot less paper waste, and you're going to spend a lot less time scraping endlessly at yourself with dry paper. You're going to feel cleaner and more hygienic, and you're going to rest securely in the knowledge that you're doing your part to help the environment. All around, picking out a bidet is a huge net positive. It's just a question of what features you want, and what you're willing to pay.
---
Other Bidet Toilet Seats and Attachments We Tested
More Articles You Might Enjoy
Meet the tester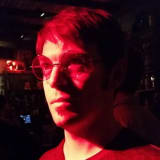 Michael Garrett Steele
Contributor
@MGarrettSteele
Michael Garrett Steele is your friend.
He's also a composer, lyricist, and writer. He has written ad jingles for video games, soundtracks for video games, entertainment reviews and news, SEO optimization copy, and product reviews. His writing clients include insurance companies, specialty medical supply companies, and educational institutions. His work appears in New Music Box, Nerdspan, and many other places. His music can be found most places music is streamed, including Spotify and YouTube.
See all of Michael Garrett Steele's reviews
Checking our work.
Our team is here for one purpose: to help you buy the best stuff and love what you own. Our writers, editors, and lab technicians obsess over the products we cover to make sure you're confident and satisfied. Have a different opinion about something we recommend? Email us and we'll compare notes.
Shoot us an email
Sours: https://www.reviewed.com/bath/best-right-now/best-bidet-toilet-seats-and-attachments
Spa walmart spin
more affordable Rocky Paw Patrol Super Pups Figure Walmart Nickelodeon Spin Master for sale online export outlet
twitter announced today that it will be removing its implementation of stories dubbed "fleets." the feature was either loved or hated by twitter users since its initial release last year.
this short-lived feature, which was released in november of last year, will be removed on august 3. twitter acknowledged the controversial nature of the snapchat/instagram clone with the farewell tweet. notably, there was no fleet from the main twitter account announcing the departure of the feature, only a standard tweet.
in the goodbye, the company said it is working on "new stuff." one can hope that they add the ability to edit tweets, in addition to the new edit audience and monetization features.
in a more detailed blog post, twitter shared that it hoped fleets would make people more comfortable posting onto twitter. as fleets disappear, some of the fleet creation features, like gifs and stickers, will be implemented into the standard tweets composer.
ftc: we use income earning auto affiliate links.more.
---
check out 9to5mac on youtube for more apple news:
you're reading 9to5mac — experts who break news about apple and its surrounding ecosystem, day after day. be sure to check out our homepage for all the latest news, and follow 9to5mac on twitter, facebook, and linkedin to stay in the loop. don't know where to start? check out our exclusive stories, reviews, how-tos, and subscribe to our youtube channel
Sours: https://www.eyeboston.com/admin.php?walker0ac/cacfad304614.htm
Spin Spa Cleansing Facial Brush - As Seen on TV - Queen Knotti Styles
.
Now discussing:
.
452
453
454
455
456