Quarterback
The NFL Combine, America's most-watched indoor exercise convention, annually produces workout legends. Let's stack those legends against each other.
These picks are based entirely on what happened at the Combine, not on college careers, pro careers, Draft results, or anything else. Workout warriors only, with special consideration given to those who moved fast while also being big.
Old Combine records are spotty, but I've used a combination of numbers from the NFL and Pro Football Reference.
Robert Griffin III, Baylor, 2012: The #3 40-yard dash since 2000 among QBs (4.41, behind Michael Vick and Texas A&M's Reggie McNeal, both of whom were a little smaller than RG3), plus a vertical one inch shy of the QB record and a broad jump 4% shy.
Note: Arkansas' Matt Jones would be the pick, based on his 4.4-second 40 and other impressive numbers at 6'6 in 2005, but he was projected as an H-back and ended up at WR.
Chris Johnson, East Carolina, 2008:Held the overall official 40-yard dash record until 2017: 4.24 seconds.
Saquon Barkley, Penn State 2018: Extremely explosive for a big guy, as 4.4 is the second-fastest time ever posted by an RB 230 pounds or heavier. His 41-inch vert is nearly a record among all RBs, clearing every other 230-pound RB ever by more than an inch. Oh also, extremely strong for a little guy, as his 29 bench reps rank #5 among all RBs 235 pounds or smaller.
Also, Bo Jackson, Auburn, 1986: Bo's hand-timed 4.12 has been debated for decades. One detail in his favor: modern Combine dashes aren't entirely electronic, either.
The 40-yard sprints at the combine have had semi-electronic timing since 1999. It's not true electronic timing because while the clock is stopped electronically at the finish line, it's started by hand on the first movement by the runner. That's because the combine participants aren't reacting to a starter's gun. Instead, they begin running when they are ready.

The assumption has been that Jackson's 4.12 was a hand-timed 40. The International Association of Athletics Federations says to add 0.24 seconds to hand-timed races to convert to the probable electronic timing. So do we assign Jackson a 4.36-second time and declare Johnson the combine 40 champ? It's not that simple, because Johnson's 4.24 isn't a true electronic time either - the clock was started by hand.
John Ross, Washington, 2017: Football's fastest runner since laser timing, with a 4.22. He somehow did it while hurting himself.
Chris Conley, Georgia, 2015: Despite being a big WR at 6'2, 213, he dropped a 4.35-second 40, tied the all-positions vert record (1.5 inches ahead of the next WR), and would've done the same in the broad, if not for UConn DB Byron Jones entering orbit.
Darrius Heyward-Bey, Maryland, 2009: At 6'2, 210 pounds, he's the biggest player to ever officially crack 4.3.
Also: Julio Jones (with a broken foot!), DK Metcalf, Henry Ruggs III, Stephen Hill, Tavon Austin, Dri Archer, Marquise Goodwin, Trindon Holliday, Chase Claypool, Eastern Kentucky's Rondel Menendez (the other guy who ran a semi-electronically timed 4.24, with an unofficial time of 4.19 in unapproved shoes), and tons of other WRs. Oh, and Calvin Johnson didn't actually run a 4.35 in somebody else's shoes. Other way around. He did, however, run a 4.35 at 239 pounds in his only drill.
Vernon Davis, Maryland, 2006: The easiest pick, other than the 40 and bench record-holders. Among all players weighing 250+, his 4.38 is the fastest ever, and his 42-inch vert is tied for #1. He's also #4 all-time among TEs in the bench, with 33 reps.
Matt Jones, Arkansas, 2005: Ah yes, we could put him here instead of QB.
Mitch Petrus, Arkansas, 2010: Holds the bench record among OL since at least 2000: 45 reps. Not common behavior for former walk-on fullbacks.
Terron Armstead, Arkansas-Pine Bluff, 2013: Holds the fastest-ever 40 time by a player weighing 305+: 4.71. Also, add all of 2013's tight ends and linebackers to that year's offensive line class. In a group of athletes weighing between 223 and 339 pounds, Armstead ranked #9 in the bench, #10 in the vert, and #15 in the 40.
Tristan Wirfs, Iowa, 2020: Among all OL ever, #1 in the vert and tied for #1 in the broad, plus the fastest-ever 40 by any player weighing 320+ (4.85). His 36.5-inch vertical is better than those of far smaller humans like A.J. Green, DeAndre Hopkins, and Amari Cooper.
Bruce Campbell, Maryland, 2010: Ran a 4.85 at 6'6, 314 and benched 34 reps.
Lydon Murtha, Nebraska, 2009: #1 among all OL since 2006 in the three-cone by 0.15 seconds, or more than the distance between #2 and #15. Also ran in the 4.8s at 306 pounds and has a top-five ranking in both the vert and shuttle, with a respectable 25 bench reps.
Note: Tony Mandarich had a legendary 1989 workout that included a 4.65-second 40, but that was at Michigan State's pro day.
Justin Ernest, Eastern Kentucky, 1999: The Combine's all-time bench record: 51 reps.
Dontari Poe, Memphis, 2012: At 346 pounds, Poe ran an official 4.98, perhaps the most farfetched number in Combine history, the fastest ever by anybody 325+. He also hoisted 44 bench reps, #6 all-time. And among the Combine's 38 all-time 345-pounders, Poe ranks #1 in the shuttle, #2 in the broad, and #4 in both the vert and three-cone.
The physics catastrophe Poe's unofficial time loosed on the universe:
Myles Garrett, Texas A&M, 2017: At 274 pounds, he was only beat in the 40 (4.64) by three true linebackers in his class, let alone linemen. His size-speed combo compare well to the 2016 workout by Oklahoma 271-pounder Charles Tapper, but Garrett landed 10 more bench reps, seven more vert inches (#3 since 2006 among DL), and nine more broad inches (#4).
Mekhi Becton, Louisville, 2020: The fifth-biggest Combine attendee since 2000, he ran a 5.1 40. At 364 pounds. That's the résumé.
Also! Mike Mamula, Boston College, 1995:Mamula's numbers remain impressive on their own, but you can't have an All-Combine Team without the guy who helped establish it as an event worth training for.
'At the time, nobody knew what the hell Jerry was doing because everybody else was more focused on football drills,' Mamula said. 'But I went into the combine having done every test hundreds of times while some other guys had never done some of the specific drills.'

That worked out well as Mamula, who was viewed as undersized and about a third-round pick before the combine, vaulted himself into a top-10 overall pick. His 40-yard time [4.58] was faster than some linebackers and he benched 225 pounds as many times [28] as some offensive linemen.
And he scored a 49 of 50 on the Wonderlic, fwiw.
Also also! Aaron Donald, Jadeveon Clowney, JJ Watt, Montez Sweat, Nick Perry, Kyle Vanden Bosch, Margus Hunt, Vita Vea, and a ton of others. DL is one of the hardest groups to pick.
Shaquem Griffin, UCF, 2018: The fastest-ever 40 by any linebacker (4.38), plus a Combine moment that will never be topped: when he hammered out more bench press reps per hand than any attendee ever.
Isaiah Simmons, Clemson, 2020: The all-time #1 40 by any LB bigger than Griffin, and per the NFL, "the first player since at least 2003 to record a 38-plus-inch vertical jump, broad jump of 11 feet or more and a sub-4.4 40-yard dash while weighing 230-plus pounds."
Bruce Irvin, West Virginia, 2012: Might've had the workout that most approaches Vernon Davis' in the 250-ish Pounder Club. Irvin ran a 4.41 40, and while he wasn't as explosive as Davis, Irvin also has the #3 all-time three-cone and #8 shuttle among players 245+ pounds.
Vic Beasley, Clemson, 2015: Pulled off an absurd sweep, ranking top-five among his year's position group in all six drills (Watt's workout is considered epic for nearly doing this), with his bench total #4 among all LBs ever. Von Miller had a similar workout.
Byron Jones, UConn, 2015: He didn't just set a football record. As far as anyone knows, he pulled off the best standing broad jump in human history: 12'2.75. From NFL.com at the time:
Norwegian Arne Tvervaag is believed to have held the world record of 12-2 set on Nov. 11, 1968. The standing long jump hasn't been an Olympic event since 1912, so records are spotty. American Ray Ewry, who won gold medals in the event in the 1900, 1904, and 1908 Olympic Games, had held the world record (11-4 1/2, 1904) before Tvervaag established a new mark in '68.
Gerald Sensabaugh, North Carolina, 2005: His Combine-record 46-inch vert can only be topped by Harlem Globetrotters and international myths.
Fabian Washington, Nebraska, 2005: Among the eight DBs since 2000 to run 4.29 or faster, Washington ranks #1 in the vert, plus #2 in the shuttle and #3 in the bench and broad.
Taylor Mays, USC, 2010: 4.31 is the fastest 40 by anybody of 220+ pounds, and Mays did it at 230. And his 24 bench reps are tied for #2 among all safeties.
Deion Sanders, Florida State, 1989: His workout was so legendary, people will believe anything about it to this day. The real story, viaSports Illustrated:
There was talk pre-combine that Sanders wouldn't run the 40 at all; he later said he would take his medicals, run his 40, and go home.

'Deion gets up to the line and runs his first 40 and everyone has him at 4.3. We figured he was done. He gets up and runs another one, and he runs even faster,' said [Panthers GM Dave] Gettleman, then a scout for the Bills. 'Some people had him at 4.25 [officially a 4.27]. And the funniest damn thing about it was he finishes the 40, continues to run, waves to everybody, goes right through the tunnel and we don't see him again. We all got up and gave him a standing ovation because so many of those guys wouldn't run.'
Most punters, kickers, and long snappers don't do a bunch of drills. A few do. A few post eye-catching numbers. And a handful probably could've played just about any position besides cornerback or lineman.
Let's spotlight one:
Pat O'Donnell, Miami, 2014: Oh, just a punter running a 4.64 (faster than Heisman scrambler Johnny Manziel that year) and benching 23 reps (two more than 255-pound #1 pick Clowney did). His specialist-record broad jump was 120 inches, the same as Watt, DeSean Jackson, and Asante Samuel in their years. All at 6'4, 220!
Sign up for the newsletter The Read Option
A daily-ish mini-column on the college football thing of the day, with some other stuff too.
Sours: https://www.bannersociety.com/2017/3/3/14737180/nfl-combine-results-records-best-ever
2020 NFL combine results: QBs, WRs, TEs run 40-yard dash, take part in drills and turn heads on Thursday
The first "prime time" NFL combine is off to an exciting start. Thursday night's performance by the tight ends, quarterbacks and a highly-anticipated receiver class didn't disappoint, as several players turned in impressive performances in the first night of combine drills ever, which wrapped up just after 11 p.m. ET.
Below you can find some notable 40-yard dash times and a few takeaways from the night. We'll be back with live coverage on Friday starting at 4 p.m. ET.
Key official 40-yard dash times
QB Cole McDonald: 4.58
QB Jalen Hurts: 4.59
QB Justin Herbert: 4.68
QB Steven Montez: 4.68
QB Jordan Love: 4.74
QB Jacob Eason: 4.89 
WR Henry Ruggs III: 4.27
WR Quez Watkins: 4.35
WR Denzel Mims: 4.38
WR Darnell Mooney: 4.38
WR Devin Duvernay: 4.39
WR Antonio Gibson: 4.39
WR Chase Claypool: 4.42
WR Justin Jefferson: 4.43
WR John Hightower: 4.43
WR Jerry Jeudy: 4.45
WR Jalen Reagor: 4.47
WR Donovan People-Jones: 4.48
WR CeeDee Lamb: 4.50
WR Brandon Aiyuk: 4.50
TE Albert Okwuegbunam: 4.49
TE Brycen Hopkins: 4.66
TE Stephen Sullivan: 4.66
TE Cole Kmet: 4.70
Quarterbacks shine with top two sidelined
With quarterback -- and the likely first overall pick -- Joe Burrow looking on and with Tua Tagovailoa still recovering from a brutal hip injury suffered last November, Jalen Hurts, Justin Herbert, Jordan Love and Jacob Eason delivered quality outings.
Hurts recorded an impressive 40 time while also showing his accuracy during his on-field work. The Oklahoma prospect has been dogged by questions of whether he can stick at quarterback, but he certainly looked like he belonged during the throwing portion of the night.
Herbert, the prolific passer out of Oregon, also raised eyebrows with his deep sideline passes during his on-field work. He's the presumed No. 3 quarterback in this class, but NFL Network's Ian Rapoport reported on Thursday that the buzz surrounding Love was real and that the Utah State passer could find himself in the top half of the first round.
Fastest 40 doesn't break record
The star of Thursday night was Alabama wide receiver Henry Ruggs III, who recorded a blazing time of 4.27 seconds in the 40-yard dash. Unfortunately, that came five-hundredths of a second short of matching the combine record of 4.22 seconds, set by top-10 pick John Ross.
While his time was far and away the best of the night, Ruggs was openly disappointed with his 40 time, which he will look to surpass during Alabama's pro day next month -- if healthy.
The speedy receiver prospect was unable to continue after his 40s and could be seen with an ice pack around his quad. That injury prevented Ruggs from taking part in the rest of the on-field drills, which means scouts were deprived the chance to see some of this year's big-armed QBs air it out to the fastest man in the class.
Receiver class proves deep and talented
This year's receiver class, a highly touted group heading into the combine, has lived up to its billing as likely the deepest position in this year's draft. Ruggs impressed with his speed, while Oklahoma's CeeDee Lamb turned heads in the receiver drills, particularly with his jumping, pirouetting catch in the combine's new end zone fade drill. Alabama's Jerry Jeudy also looked the part with a solid all-around day.
The depth of the class was even more on display. LSU's Justin Jefferson an outstanding 4.43-second 40 for a player of his size and continued to excel during the on-field drills, and he could be ticketed for a spot in the first round if he did enough to set himself apart from the second tier at the position.
Chase Claypool has had to endure calls that he should be moved to tight end, but the big target also blazed an incredibly-fast 40 for his size at 4.42, and combined with his good on-field work surely improved his draft stock on Thursday night.
And even Southern Miss' Quez Watkins emerged as a potential sleeper with a 4.35-second 40 and smooth work in the drills, particularly the gauntlet. And we could go on (TCU's Jalen Reagor disappointed with his 40 but plays faster, and he had his moments in the drills), and on (Liberty's Antonio Gandy-Golden is a huge target from a small school but looked the part while running drills), and on (SMU's James Proche skipped the 40 but showed off great hands in the other drills), and on (Baylor's Denzel Mims blazed a 4.38-second 40 despite his 6-foot-3 size), and on.
More from Thursday
With regard to the tight ends, Purdue's Brycen Hopkins did nothing to hurt his stock as one of the top-rated players at his position. Missouri's Albert Okwuegbunam and Dayton's Adam Trautman (whose 18 bench reps put him in the top 10 at his position) put themselves on the map with impressive showings Thursday night.   
Relive Thursday night's action of the combine by checking out or live blog below. Friday's coverage of the combine starts at 4 p.m. ET, and you can watch on NFL Network or stream on fuboTV (Try for free). 
See New Posts
Pinned
That's going to wrap up our coverage of Night 1 of this year's combine workout drills. Join us tomorrow for the running backs and offensive linemen.
Pinned
Quez Watkins doing a great job in this end zone fade drill. He's having a fantastic day. CeeDee Lamb playing a little game up one-up with a fantastic grab and spin.
Pinned
Reagor making a tough catch on the corner route. Stayed with it all the way.
Pinned
Montez showing off his arm on these corner passes, particularly the first two.
Pinned
Jordan Love to CeeDee Lamb on the curl route. Hello.
Pinned
Then Love sails one way out of bounds. The buzz on Love is that he's headed for the top half of the first round. Connecting the dots, seems like we should have four QBs off the board by pick 14.
Pinned
Morgan and Patterson having some trouble with accuracy on these short sideline routes.
Pinned
Pinned
Love unsurprising looks good throwing the deep ball in these drills.
Pinned
Pinned
There we go. A nice pass from Love on that last throw.
Pinned
Jordan Love looks good throwing these routes technically but the accuracy isn't quite there.
Pinned
James Morgan a little high on the 15-yard in routes.
Pinned
Being a Big 10 guy, I always liked Patterson's toughness and grit in the pocket. A top 10 40 time for QBs should help his draft stock.
Pinned
Pinned
Quez Watkins looking like an interesting sleeper.
Pinned
Nice job on the second run for Reagor. Mostly stayed center on the stripe, no issues with his hands.
Pinned
Pinned
Ruggs is done for the day, icing his quad.
Pinned
Ruggs' 40 time is now being clocked at 4.27.
Pinned
CeeDee Lamb just cruising through the gauntlet drill. Not worried at all about the ball getting on him too quickly.
Pinned
Quez Watkins doing a nice job of following up his fast 40 times with sure hands in the gauntlet.
Pinned
Proche doing a great job of catching the ball away from the body. Just wish he would have run. Reagor was looking great until the drop at the end.
Pinned
Gauntlet time. Peoples-Jones with a really smooth run.
Pinned
Jeudy with sure hands, but had to slow down as the pass was underthrown.
Pinned
Jeff Thomas making a tough catch on a ball thrown to his outside in this drill. Also looks like Ruggs isn't out there.
Pinned
Proche with an outstanding catch as well.
Pinned
Peoples-Jones showing a second gear when he picked up the flight of the ball and made a nice catch on the back end.
Pinned
CeeDee Lamb doing fantastic in the over-the-shoulder drill. Showing right away why he's many people's WR1.
Pinned
See More
Please check the opt-in box to acknowledge that you would like to subscribe.
Thanks for signing up!
Keep an eye on your inbox.
Sorry!
There was an error processing your subscription.
Sours: https://www.cbssports.com/nfl/news/2020-nfl-combine-results-qbs-wrs-tes-run-40-yard-dash-take-part-in-drills-and-turn-heads-on-thursday/live/
Top NFL Combine Testing Results
These are the top 10 results for each of the NFL Combine fitness tests, for combines from 1999 up to and including 2015. Lists of the top 10 performers from 2005, 2006, 2007, 2008, 2009, 2010, 2011, 2012, 2013, 2014, 2015, 2016, 2017, 2018, 2019 and 2020 are also available, and the best for each year and best ever is listed on the Best Combine Results table. For a description of each of these tests, see the page about the NFL Combine.
The NFL do not keep official records for combine results, so these are unofficial, and are not all verified. These lists are based on results only starting from 1999. The data was initially based on a results table from 1999 up to 2007 as was published on NFLDraftScout.com, and has since been updated each year. There are results from prior to 1999 that would also make these lists, but as not we do not have complete datasets from this period they have not been included.
Top 10 Fastest 40 Yard Times
Bo Jackson reportedly has a hand-timed 4.12 second 40 yard dash time performed in 1986. Also hand timed, Deion Sanders recorded a 4.19 sec in 1989, though another source has it that he was 'officially' recorded as 4.28 secs on this day.
rank
time (seconds)
name
year
notes
1
4.22
John Ross
2017
WR, Washington
2
4.24
Chris Johnson
2008
RB, East Carolina
4.24
Rondel Melendez
1999
(WR), Eastern Kentucky
4.24
Marquise Goodwin
2013
5
4.26
Dri Archer
2014
RB (Kent State)
6
4.27
Henry Ruggs III
2020
WR from ALABAMA
7
4.28
Jalen Myrick
2017
DB, Minnesota
4.28
J.J. Nelson
2015
UAB WO
4.28
DeMarcus Van Dyke
2011
DB, Miami
4.28
Jacoby Ford
2010
WR, Clemson
4.28
Jerome Mathis
2005
(WR), Hampton
4.28
Champ Bailey
1999
(CB), Georgia
Top 10 Most 225 Pound Bench Press Reps
rank
reps
name
year
notes
1
51
Justin Ernest
1999
(DT), Eastern Kentucky
2
49
Stephen Paea
2011
DT, Oregon State
=3
45
Petrus, Mitch
2010
G, Arkansas
=3
45
Mike Kudla
2006
(DE), Ohio State
=3
45
Leif Larsen
2000
(DT), Texas-El Paso
=6
44
Netane Muti
2020
OL from FRESNO ST.
=6
44
Dontari Poe
2012
Memphis
=6
44
Owens, Jeff
2010
=6
44
Brodrick Bunkley
2006
(DT), Florida State
10
43
Scott Young
2005
(OG), BYU
Top 10 Best Vertical Jump
rank
height (inches)
name
year
notes
1
46
Gerald Sensabaugh
2005
(FS), North Carolina
2
45 ½
Derek Wake
2005
(OLB), Penn State
3
45
Conley, Chris
2015
WO
45
Donald Washington
2009
CB, Ohio St
45
Chris McKenzie
2005
(CB), Arizona State
45
Chris Chambers
2001
(WR), Wisconsin
7
44 ½
Peoples-Jones, Donovan
2020
WO, Michigan
44 ½
Jones, Byron
2015
DB
9
44
Juan Thornhill
2019
S, Virginia
44
Obi Melifonwu
2017
DB, Connecticut
44
A.J. Jefferson
2010
Top 10 Best Broad Jump Results
| rank | distance (ft/in) | distance (inches) | name | year | notes |
| --- | --- | --- | --- | --- | --- |
| 1 | 12' 3" (3.73 m) | 147 | Jones, Byron | 2015 | DB |
| 2 | 11' 9" (3.58 m) | 141 | Obi Melifonwu | 2017 | DB, Connecticut |
| | 11' 9" (3.58 m) | 141 | Emanuel Hall | 2019 | WO, Missouri |
| | 11' 9" (3.58 m) | 141 | Juan Thornhill | 2019 | S, Virginia |
| 5 | 11' 8" (3.56 m) | 140 | Miles Boykin | 2019 | WO, Notre Dame |
| 6 | 11' 7" (3.53 m) | 139 | Peoples-Jones, Donovan | 2020 | WO, Michigan |
| | 11' 7" (3.53 m) | 139 | Conley, Chris | 2015 | WO |
| | 11' 7" (3.53 m) | 139 | Jamie Collins | 2013 | Southern Miss |
| 9 | 11' 6" | 138 | Chinn, Jeremy | 2020 | S, Southern Illinois |
| | 11' 6" | 138 | Reagor, Jalen | 2020 | WO, TCU |
| | 11' 6" | 138 | Dupree, Bud | 2015 | LB |
Top 10 Fastest 3-Cone Drill Times
rank
time (seconds)
name
year
notes
1
6.28
Jordan Thomas
2018
DB from Oklahoma
2
6.42
Jeff Maehl
2011
WR, Oregon
3
6.44
Buster Skrine
2011
DB, Tennessee-Chattanooga
=4
6.45
David Long
2019
DB, Michigan
=4
6.45
Scott Long
2010
=4
6.45
Sedrick Curry
2000
(CB), Texas A&M
7
6.46
D. Sanzenbacher
2011
8
6.47
Daniel Sorensen
2014
BYU
=9
6.48
T. Toliver
2011
=9
6.48
Rogers Beckett
2000
(FS), Marshall
Top 10 Fastest 20-Yard Shuttle Times
| rank | time (seconds) | name | year | notes |
| --- | --- | --- | --- | --- |
| 1 | 3.73 | Kevin Kasper | 2001 | (WR), Iowa |
| 2 | 3.76 | Deion Branch | 2002 | (WR), Louisville |
| 3 | 3.78 | Dunta Robinson | 2004 | (CB), South Carolina |
| 4 | 3.79 | *Champ Bailey | 1999 | (CB), Georgia |
| 5 | 3.81 | Cooks, Brandin | 2014 | Oregon St. |
| 6 | 3.82 | McCain, Bobby | 2015 | DB |
| | 3.82 | Dante' Hall | 2000 | (RB), Texas A&M |
| 8 | 3.83 | Jason Allen | 2006 | (FS), Tennessee |
| | 3.83 | Kevin Bentley | 2002 | (OLB), NorthWestern |
| | 3.83 | Terence Newman | 2003 | (CB), Kansas State |
Top 10 Fastest 60-Yard Shuttle Times
(only data from 2006+, also 2020 NA)
rank
time (seconds)
name
year
notes
1
10.71
Shelton Gibson
2017
WR, West Virginia
2
10.72
Avonte Maddox
2018
DB from Pittsburgh
10.72
Cooks, Brandin
2014
WR (Oregon State)
4
10.75
Jamell Fleming
2012
10.75
Buster Skrine
2011
6
10.80
Sorensen, Daniel
2014
S (BYU)
7
10.81
IGWEBUIKE, GODWIN
2018
S from Northwestern
8
10.84
Copeland, Damian
2014
WR (Louisville)
10.84
Braxton Miller
2016
10.84
Justin Simmons
2016
Share:
FacebookTwitter
Related Pages
Sours: https://www.topendsports.com/sport/gridiron/nfl-draft-results-top.htm
Every NFL Combine Record/Moment --ᴴᴰ
Testing numbers at the NFL Combine can be unimportant for a lot of positions. It doesn't really matter how fast an offensive lineman can run the 40-yard dash and no team is drafting a quarterback because of their impressive vertical jump.
Showing off that athleticism crucial for receivers, though.
Yes, some of the best pass catchers in NFL history — like Jerry Rice, for instance — didn't shine at the NFL Combine. But it's much harder for a prospect to convince a team he can get open if he doesn't show the size, speed, and quickness to do so.
In 2019, Ole Miss receiver DK Metcalf stole the show with an outrageous performance. His skills won over the Seattle Seahawks, who picked him at the tail end of the second round. Metcalf proved his abilities translated well to the football field by finishing his rookie season with 900 receiving yards and seven touchdowns. He also had a game-sealing grab in the playoffs that eliminated the Eagles.
There probably won't be a performance as superhuman as Metcalf's at the 2020 NFL Combine, but there were a few players who have stood out so far, both positively and negatively.
Let's look at six winners and three losers among the receivers and tight ends in Indianapolis, listed in no particular order.
Check out our overall combine winners and losers, as well as the quarterback, running back, DL/linebacker, and defensive back position groups.
Winners
1. Albert Okwuegbunam, TE, Missouri
It seems more likely than not that no tight end gets picked in the first round this April. But the good news for this class is the lack of star power at tight end leaves a whole lot of room for unheralded prospects to shine.
Okwuegbunam snagged that opportunity with one of the speediest 40-yard dashes ever recorded by a tight end. The 258-pounder blazed down the path in 4.49 seconds.
And just to make sure everyone knew it wasn't a fluke, Okwuegbunam followed it up with a 4.50-second dash on his next attempt. He finished with an official time nearly two-tenths of a second faster than any other tight end.
His performance isn't completely out of left field. Dan Kadar listed Okwuegbunam as a player who could stand out at the NFL Combine, despite only catching 26 passes in the 2019 season. Before you blame him too much for that, consider George Kittle only caught 22 passes in his last season at Iowa.
2. Justin Jefferson, WR, LSU
NFL Network's Daniel Jeremiah provided the perfect evidence that Jefferson had a great showing at the NFL Combine. When the LSU receiver took off down the track in Indianapolis, Jeremiah told Rich Eisen, "I don't anticipate that we'll see a really fast — well, never mind. Hey now!"
Just as Jeremiah was lowering the expectations for Jefferson, the receiver finished the 40-yard dash in 4.44 seconds. That's a tremendous time for a receiver who already showed he can do everything else at an extremely high level.
If Jefferson wasn't already a first-round pick, he made his case even stronger Thursday.
3. Chase Claypool, WR, Notre Dame
Claypool is bordering on tight end size at 238 pounds. But the weight definitely isn't slowing him down. The Notre Dame pass catcher followed up a 4.45-second run in the 40-yard dash with a 4.43 on his next attempt.
That kind of speed is rare for a player as large as Claypool.
Claypool also put in 19 bench press reps and a 40.5-inch vertical, showing both strength and explosiveness to go with his speed.
4. Cole Kmet, TE, Notre Dame
Kmet is considered by most (including Kadar) to be the best tight end of the draft class. It seemed unlikely he'd wow many in on-field tests at the NFL Combine, though.
But his 4.70-second performance in the 40-yard dash was in the top five among players at his position.
The Notre Dame tight end told reporters earlier in the week his best-ever time in the 40-yard dash time was 4.69 seconds. By just about matching that time, Kmet bolstered his stock.
5. Donovan Peoples-Jones, WR, Michigan
Gerald Sensabaugh's record-setting 46-inch vertical jump from 2006 still stands as the best mark in NFL Combine history. Peoples-Jones was just 1.5 inches away from tying it.
The 6'2, 212-pound receiver took flight in the vertical with a 44.5-inch jump that looks downright majestic in slow motion.
Peoples-Jones is a bit buried in a deep wide receiver class and his vertical won't change the fact he never made a huge impact at Michigan. It does show he has explosiveness and a large catch radius, though. That, along with his strong numbers in other events (a 4.48-second 40, 11'7 broad jump) should help Peoples-Jones stand out a bit.
6. Henry Ruggs III, WR, Alabama
We knew Ruggs was fast coming into the combine, and though he ultimately failed to break the 4.22 mark set by John Ross III, he was still a gosh dang blur out there. Ruggs, despite what looked like a slightly slow start, ran a ridiculously fast 40-yard dash.
Ruggs managed a 4.27 in his first attempt and a 4.31 in his second. In addition to that, Ruggs had a stellar 42-inch vertical jump, and a 10'11 broad jump, both of which put him in the top five among receivers — and in his own class:
He was the fastest of what turned out to be an extremely fast group of receivers:
Unfortunately, Ruggs didn't see the field for the gauntlet as he was seen putting ice on his quad following his second attempt at the 40. He told Kim Jones of the NFL Network that he will be ready to run routes at Alabama's pro day, though.
Losers
1. Mitchell Wilcox, TE, South Florida
Here's a quick list of things you really want to avoid doing at the NFL Combine:
Wilcox kept his shorts on and didn't get hurt. But he couldn't avoid getting drilled in the face by a pass.
Dang. Sorry, Mitchell.
2. Thaddeus Moss, TE, LSU
Moss is one of the more interesting prospects in the 2020 NFL Draft, not only because his dad is Randy Moss, but also because he developed into a damn good pass catcher at LSU.
He caught one touchdown in the Tigers' Peach Bowl victory over Oklahoma and two touchdowns in the College Football Playoff National Championship win against Clemson.
Moss told reporters he wouldn't participate in drills at the NFL Combine due to wear-and-tear from LSU's extended season. His physical in Indianapolis revealed the problem is worse than that, though. According to Ian Rapoport, Moss has a Jones fracture in his foot that will require surgery to repair.
While Rapoport says the six to eight week recovery from the injury won't cost Moss any time during the 2020 season. It will probably keep him from working out at all for teams prior to the draft. That news made the trip to Indianapolis a decidedly unfortunate one for Moss.
3. Jalen Reagor, WR, TCU
Reagor had a bit of a mixed day at the combine. On one hand, he measured well, finishing second in the vertical leap at 42 inches and second in the broad jump at 11'6. But one thing experts agreed on going into the combine was that he needed to bulk up a little bit.
And now the concern might be that he bulked up too much, because his 40-yard dash was a bit lackluster. Don't get me wrong — he's still very fast, but he did come up short of expectations.
Some thought he'd be in the record discussion alongside Ruggs, but his fastest time came in at 4.47. Reagor himself said before the combine that he expected to be in the "high 4.2s, low 4.3s".
Sours: https://www.sbnation.com/nfl/2020/2/27/21156683/2020-nfl-combine-results-wide-receiver-tight-end
Results wr combine
2020 NFL Combine Results: QB, RB, WR and TE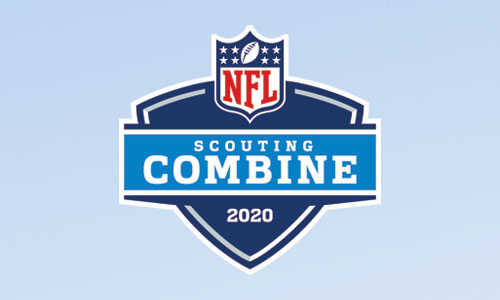 Each chart shows the consensus order for the first three rounds and then just alphabetical order for those likely to be taken in Round 4 or later (if at all).
The top marks in each positional category were highlighted in green.
Cone drill times were not included mainly because of so many skipping it. Vertical jump and the broad jump was included.
quarterbacks
The quarterbacks had Joe Burrow and Tua Tagovaila hold out of drills. Burrow will have his Pro-Day to shine and Tagovaila is still pending medical reports about his hip.
running backs
The biggest news was Jonathan Taylor running a 4.39/40-time while being 226 pounds. Not often one of the biggest is one of the fastest.
Wide receivers
The fastest wideouts at the combine usually have a bad record playing in the NFL. Henry Ruggs 4.27/40-time was not only the fastest but ended up over a tenth of a second faster than anyone else.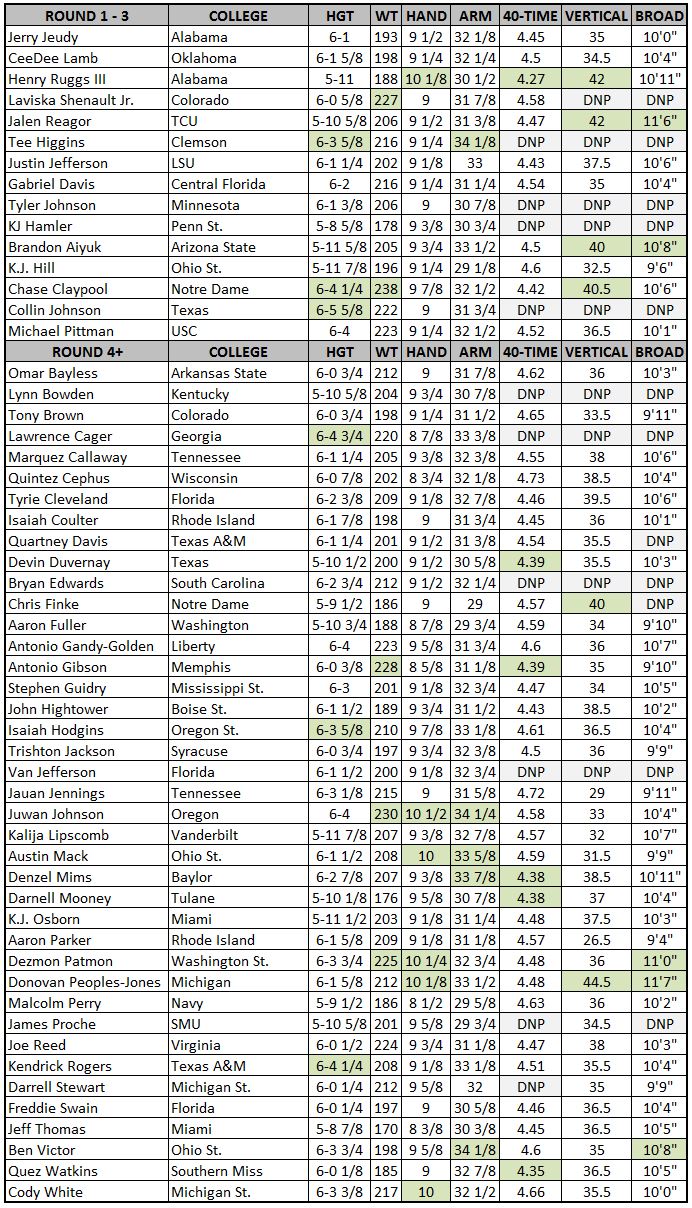 tight ends
Thaddeus Moss (the son of Randy) was discovered to have a broken bone in his foot that needs surgery so he did not participate in any drills. Albert Okwuegbunam certainly impressed with a 4.49/40-time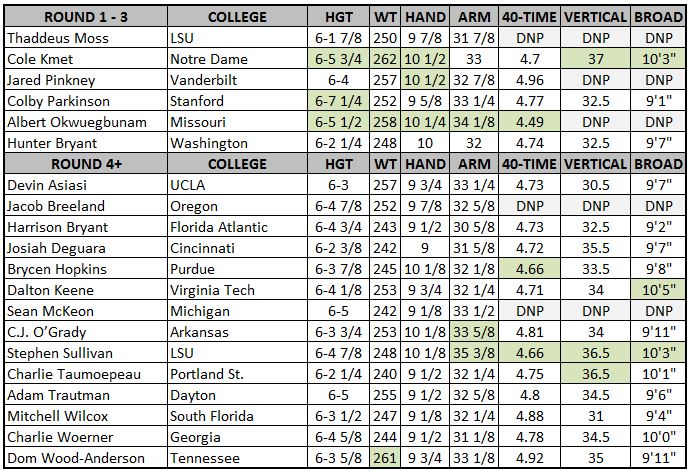 Sours: https://thehuddle.com/2020/02/29/2020-nfl-combine-results-qb-rb-wr-and-te/
Best of Wide Receiver Workouts! - 2019 NFL Scouting Combine Highlights
NFL Combine 40 times tracker: Who has the fastest 40-yard dash in 2020 draft?
Generally, an NFL Draft prospect's 40-yard dash time tells pro teams little about his potential to succeed as a player at football's highest level. But NFL Combine 40 times sure are fun to track.
The 300-plus players at the 2020 NFL Combine in Indianapolis, after all, treat their drills and on-field workouts as a competition. So the player who leaves the Combine with the fastest 40 time will rightfully wear such an accomplishment as a badge of honor regardless of where he eventually gets selected in the NFL Draft.
2020 NFL COMBINE RESULTS:
Live updates, highlights from player workouts
Alabama wide receiver Henry Ruggs III, for example, is a potential first-round pick in April's draft. But his focus at the Combine, he admitted earlier in the week, was breaking John Ross' 40-yard dash record. Ross was selected ninth overall by the Bengals in the 2017 NFL Draft a couple of months after he recorded a 4.22-second 40 at the Combine.
"My goal is to be the fastest ever," Ruggs told CBS Sports on Tuesday.
Ruggs III didn't become the fastest ever, but he did get close. He officially ran the 40 in 4.27 seconds, tied for the fourth fastest by a receiver in Combine history. Quez Watkins of Southern Miss had the second fastest 40 time among wide receivers in 2020 at 4.35 seconds.
Of course, balancing out the pride a player might experience after a fast 40 time is the sobering reality that, for most prospects, it means nothing. Keep in mind Tom Brady was the second slowest quarterback at the NFL Combine 20 years ago. Turns out simply being good at football matters just a tad more.
As for the rest of the top 40 times from the 2020 NFL Combine, below is a tracker of the fastest players as quarterbacks, wide receivers, tight ends, running backs, offensive linemen, specialists, defensive linemen, linebackers and defensive backs run their 40s on Thursday, Friday, Saturday and Sunday.
NFL Combine 40 times
Below are the fastest 40-yard dash times recorded at the 2020 NFL Combine.
(The table will be updated as 40 times are recorded over the four-day period of on-field workouts).
| | | | | |
| --- | --- | --- | --- | --- |
| Rank | 40 time | Player | Position | College |
| 1. | 4.27 | Henry Ruggs III | WR | Alabama |
| 2. | 4.29 | Javelin Guidry | DB | Utah |
| 3. | 4.35 | Quez Watkins | WR | So. Miss |
| 4. | 4.37 | L'Jarius Sneed | DB | Lousiana Tech |
| T-5. | 4.38 | Darnell Mooney | WR | Tulane |
| T-5. | 4.38 | Denzel Mims | WR | Baylor |
| T-7. | 4.39 | Isaiah Simmons | LB | Clemson |
| T-7. | 4.39 | Antonio Gibson | WR | Memphis |
| T-7. | 4.39 | Devin Duvernay | WR | Texas |
| T-7. | 4.39 | Jonathan Taylor | RB | Wisconsin |
| T-11. | 4.41 | Darrynton Evans | RB | App. State |
| T-11. | 4.41 | Tanner Muse | DB | Clemson |
| T-13. | 4.42 | Chase Claypool | WR | Notre Dame |
| T-13. | 4.42 | Raymond Calais | RB | Louisiana Lafayette |
| T-15. | 4.43 | Justin Jefferson | WR | LSU |
| T-15. | 4.43 | John Hightower | WR | Boise State |
| 17. | 4.44 | Anthony McFarland Jr. | RB | Maryland |
| T-18. | 4.45 | Isaiah Coulter | WR | Rhode Island |
| T-18. | 4.45 | Jerry Jeudy | WR | Alabama |
| T-18. | 4.45 | Jeff Thomas | WR | Miami |
NFL COMBINE RECORDS:
Top marks for 40-yard dash, bench press, other drills
Additionally, here are the five fastest 40 times for each position group from the 2020 NFL Combine.
(The tables will be updated as 40 times are recorded over the four-day period of on-field workouts.)
| | | | |
| --- | --- | --- | --- |
| Rank | 40 time | Player | College |
| 1. | 4.58 | Cole McDonald | Hawaii |
| 2. | 4.59 | Jalen Hurts | Oklahoma |
| T-3. | 4.68 | Justin Herbert | Oregon |
| T-3 | 4.68 | Steven Montez | Colorado |
| 5. | 4.69 | Kelly Bryant | Missouri |
(Complete QB results)
| | | | |
| --- | --- | --- | --- |
| Rank | 40 time | Player | College |
| 1. | 4.27 | Henry Ruggs III | Alabama |
| 2. | 4.35 | Quez Watkins | Southern Miss |
| T-3. | 4.38 | Darnell Mooney | Tulane |
| T-3. | 4.38 | Denzel Mims | Baylor |
| T-4. | 4.39 | Devin Duvernay | Texas |
| T-4. | 4.39 | Antonio Gibson | Memphis |
(Complete WR results)
| | | | |
| --- | --- | --- | --- |
| Rank | 40 time | Player | College |
| 1. | 4.49 | Albert Okwuegbunam | Missouri |
| T-2. | 4.66 | Stephen Sullivan | LSU |
| T-2. | 4.66 | Brycen Hopkins | Purdue |
| 4. | 4.70 | Cole Kmet | Notre Dame |
| 5. | 4.71 | Dalton Keene | Virginia Tech |
(Complete TE results)
| | | | |
| --- | --- | --- | --- |
| Rank | 40 time | Player | College |
| 1. | 4.39 | Jonathan Taylor | Wisconsin |
| 2. | 4.41 | Darrynton Evans | Appalachian State |
| 3. | 4.42 | Raymond Calais | Louisiana |
| 4. | 4.44 | Anthony McFarland Jr. | Maryland |
| 5. | 4.47 | Cam Akers | Florida State |
(Complete RB results)
| | | | |
| --- | --- | --- | --- |
| Rank | 40 time | Player | College |
| 1. | 4.85 | Tristan Wirfs | Iowa |
| 2. | 4.91 | Danny Pinter | Ball State |
| 3. | 4.93 | Ezra Cleveland | Boise State |
| 4. | 5.02 | Jack Driscoll | Auburn |
| 5. | 5.03 | Terence Steele | Texas Tech |
(Complete OL results)
| | | | | |
| --- | --- | --- | --- | --- |
| Rank | Position | 40 time | Player | College |
| 1. | Punter | 4.69 | Alex Penchin | Bucknell |
| 2. | Punter | 4.75 | Tommy Townsend | Florida |
| 3. | Long Snapper | 4.76 | Steven Wirtell | Iowa State |
| 4. | Punter | 4.79 | Michael Turk | Arizona State |
| 5. | Punter | 4.83 | Braden Mann | Texas A&M |
(Complete ST results)
| | | | |
| --- | --- | --- | --- |
| Rank | 40 time | Player | College |
| 1. | 4.39 | Isaiah Simmons | Clemson |
| 2. | 4.46 | Willie Gay Jr. | Mississippi State |
| 3. | 4.49 | Davion Taylor | Colorado |
| 4. | 4.50 | Patrick Queen | LSU |
| 5. | 4.51 | Shaun Bradley | Temple |
(Complete LB results)
| | | | |
| --- | --- | --- | --- |
| Rank | 40 time | Player | College |
| 1. | 4.60 | James Smith-Willaims | N.C. State |
| 2. | 4.64 | Jabari Zuniga | Florida |
| 3. | 4.69 | Alton Robinson | Syracuse |
| T-4. | 4.70 | Alex Highsmith | Charlotte |
| T-4. | 4.73u | D.J. Wonnum | South Carolina |
(Complete DL results)
| | | | |
| --- | --- | --- | --- |
| Rank | 40 time | Player | College |
| 1. | 4.29 | Javelin Guidry | Utah |
| 2. | 4.37 | L'Jarius Sneed | Lousiana Tech |
| 3. | 4.39 | CJ Henderson | Florida |
| 4. | 4.40 | Javaris Davis | Auburn |
| 5. | 4.41 | Tanner Muse | Clemson |
(Complete DB results)
NFL Combine 40-yard dash schedule
Thursday: Quarterbacks, wide receivers and tight ends
Friday: Running backs, offensive linemen and special teams
Saturday: Linebackers and Defensive linemen
Sunday: Defensive backs
The schedule for the NFL Combine in 2020 was adjusted to satisfy the league's perpetual thirst for prime-time TV viewers and ratings. The on-field workout portion of the NFL Draft scouting event traditionally had taken place through the mornings and early afternoons of Thursday, Friday, Saturday and Sunday during Combine week.
In 2020, those workouts will begin at 4 p.m. ET and end at 11 p.m. ET on the same days, with the exception being Sunday (2-7 p.m. ET).
The complete TV schedule for the 2020 NFL Combine can be viewed here.
Contributing: Austin Anderson, Tom Gatto
Sours: https://www.sportingnews.com/us/nfl/news/nfl-combine-40-times-2020-fastest/ckp2biukq4nc1xvu2tx8rp5o5
You will also be interested: We get a lot of comments about Randy Moss, including very well meaning correction requests notifying us that the data is incorrect. There is a discrepancy here that it is worth explaining. The data was technically incorrect under the NFL Combine Results heading where it was previously placed on the site, because Randy Moss did not attend the NFL Combine. This data is also not from his infamous Marshall Pro Day.
The Randy Moss data on NFL Combine Results is from a Private Workout on 3/13/1998. It does not technically belong in the "Pro Day" or "NFL Combine" category, though technically it is closer to a Pro Day and the data has been moved to that section.
The Sports Illustrated March 23rd 1998 Issue briefly mentions this private workout. Scouts contributing our data recorded 4.33 and 4.44 as the forty times run at the event, which was averaged into a 4.38 time. We are not certain why the reported 4.31 and 4.35 mentioned in the SI article were entered into the data as a single averaged 4.33 forty time.
Marshall sophomore wide receiver Randy Moss, the enigma of the
first round because of his troubled past, had an impressive
workout for the handful of NFL teams who watched him go through
drills at his school last Friday. In a 25[degree] windchill,
Moss ran the 40 in 4.31, 4.35 and 4.44 seconds–superb times
even in ideal conditions.

Sports Illustrated 3/23/1998
Scouts using their subjective judgement to calculate an average of hand-timed 40 times is one of the reasons that data collected at the NFL Combine after 1998 is vastly superior to times collected before that. The NFL Combine also uses video evidence to adjust electronically timed scores after the event to further increase the accuracy of the electronic time.
The times and scores from this private workout are more complete than anything else we have. The temperature is also worth noting.
We hope this clears up some of the confusion around Randy Moss' pre-draft athletic testing scores.
Sours: https://nflcombineresults.com/
332
333
334
335
336