This blog post may contain affiliate links. As an Amazon Associate I earn from qualifying purchases. (Full Disclaimer, TOS & Privacy Policy).
Wondering what to type in to find the best aesthetic Instagram story stickers? I got you! Here are 50+ Instagram story sticker creators, and keywords to type in on Giphy for the best GIF ideas.
I shared some of my favourite Giphy creators last year, in a blog post all about where to find cute stickers for Instagram stories. Today I'm sharing lots more!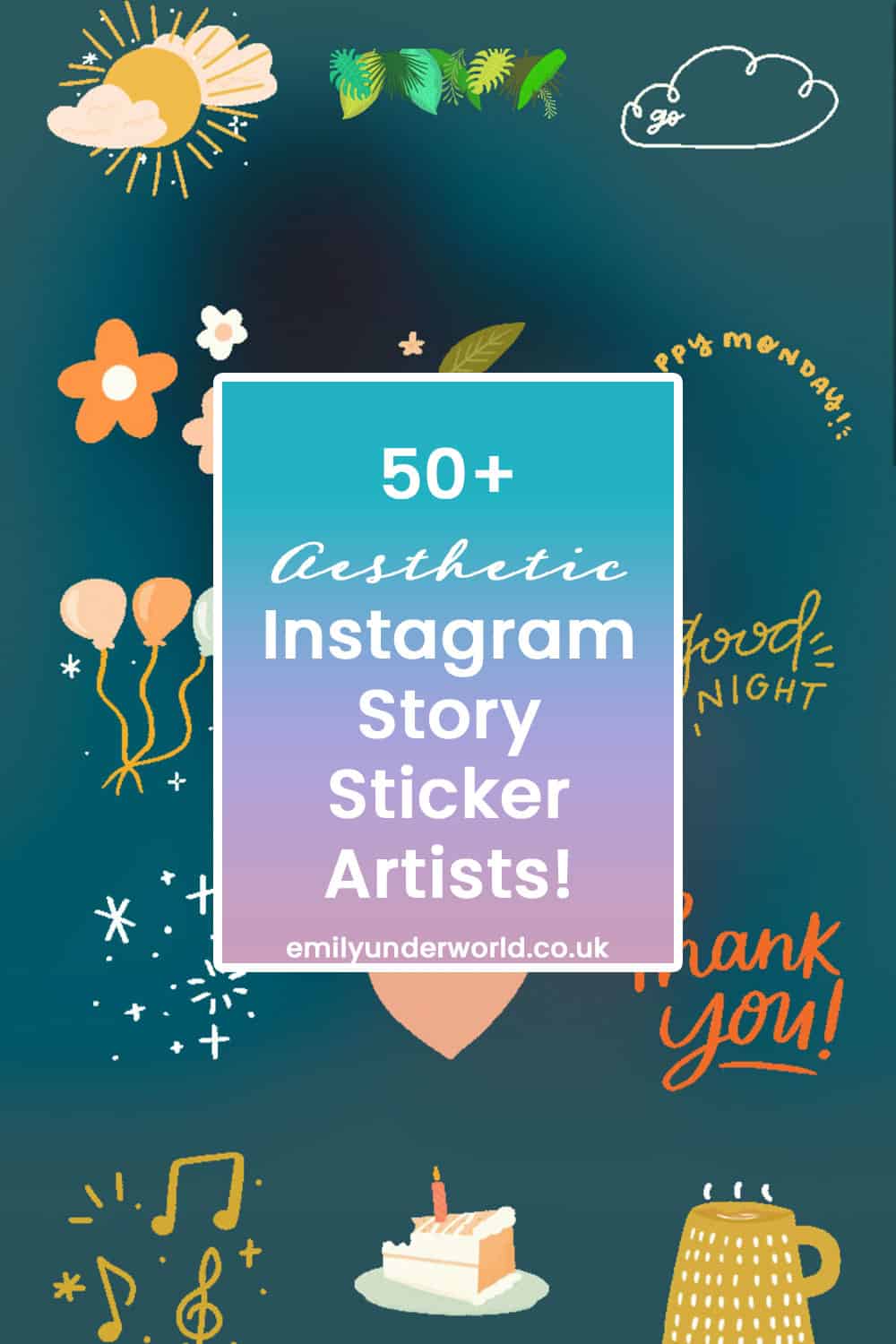 I became a Giphy sticker artist too. You can find my stickers by typing in 'emilyunderworld' on Giphy or the Instagram story sticker search bar. My stickers have over 50 million views, which is absolutely mindblowing to me!
Oh, and you can use them on TikTok as well.
How To Use Stickers on Instagram Stories
Press the + symbol on the top right of the Instagram app.
Select Story
Take / upload a photo or choose 'create' to type.
Click the square smiley face button at the top.
Use the search bar or click on GIF to find stickers.
Drag and pinch to move or resize your sticker.
Add more stickers if you like!
I recommend downloading the Giphy app, so you can 'favourite' the stickers you like. That way you won't lose them in the future. You can also copy and paste gifs and stickers right from the app.
50+ Instagram Story Sticker Artists
via GIPHY
Bujo Aesthetic Instagram Story Stickers
Are you a bullet journaler? I am!
If you're a fan of bullet journals, paper, scrapbooking or crafts… search these words to find the perfect aesthetic Instagram story stickers:
tape
washi
latifundija – super cute doodles!
bujo
beige
collage – you can have so much fun with these!
lines
frames
paper
captions
If you want to see how I use these, follow my bookstagram / digital journal Instagram @classicalarchaeologist!
via GIPHY
Witchy Instagram Story Stickers
witchy
goth
gothic
crystals
cottagecore
tarot
magick
Search 'emilyunderworld' to find my witchy stickers. I'll work on more ASAP!
Boho Botanical Instagram Story Stickers
botanical
boho
bohemian
🌻 (yes, you can search emojis on giphy. More about that later in this post!)
the uncommon place
gladdest
Cute Quote Sticker Ideas
lidiaontheroad
megantje
steffi
studiojonesie
hanmade
muchable
foopklo
marieboiseau
ohlalalita – simple white handwritten stickers
Indie Aesthetic Instagram Story Stickers
Emmadarvick – I love Emma's designs!
Bossgirl – full of girl boss quotes and pink doodles.
Gravitando – the cutest Harry Potter stickers.
Vaporwave – for a very ~ vibey ~ aesthetic.
Haley Ivers – cute minimalistic doodles.
Anchetulil – indie drawing stickers.
Melaniejohnsson – abstract / flat design illustrations.
Aesthetic – I don't think I need to explain this one!
Cosy Hygge Lifestyle Stickers
Are you all about the cosy hygge lifestyle? Me too! Here are some of my favourite creators and keywords for hygge story stickers:
Lizapro
Merelscorner
Malenaflores
Handmade – these are perfect if you run a small business, you're an artist or share your creative hobbies!
Hygge
The Secret Emoji Gif Stickers!
I only discovered this recently: you can put an emoji in the search bar and it'll show you related stickers. You might know this already, but hey, it's worth sharing in case you didn't.
I've tested this out with lots of emojis, and it doesn't work with all of them. Here are some that do work!
🕯 📓 🏺 🌻 🦋 
Alright, that was a lot of aesthetic Instagram Story Stickers! I hope you found this helpful.
For more ideas, follow me on Pinterest and have a look at my previous Giphy sticker ideas blog post.
All the best,

P.S. Check out my Redbubble if you like my designs and would like to purchase any stickers!
Related Posts:
Follow Emily Underworld on WordPress.com
Sours: https://emilyunderworld.co.uk/50-aesthetic-instagram-story-stickers/
How to Find Cute Instagram Story Stickers / GIFs
Cute Instagram story stickers aka GIFs are an easy way to make your Instagram stories beautiful and unique – even if you're not artistic. But there are so many Instagram GIFs out there, it can be hard to weed through the wacky and tacky ones to find that fit your Instagram aesthetic.
Here are some aesthetic Instagram story stickers and their artists that I've found and love to use on my account @fashiontravelrepeat.
(In this post, I use the terms "GIFs" and "stickers" interchangeably.)
How to Add Instagram Story Stickers/ GIFs
If you're new to Instagram stories, here's a quick step by step tutorial for adding stickers/GIFs to your stories.
First, head to your Instagram profile and click on your profile photo to start creating a new story.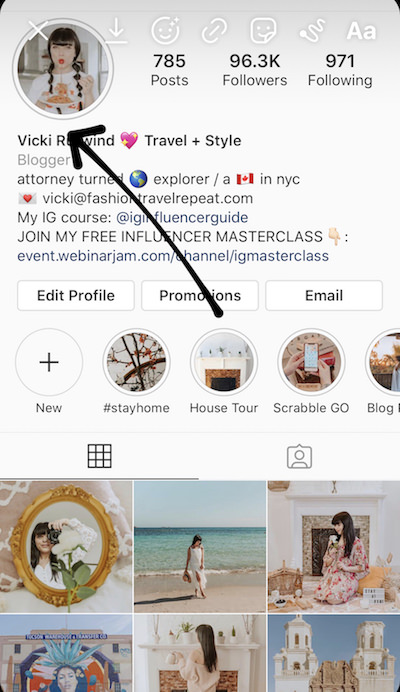 Then, click the plus sign in the top left corner (if you already have active stories posted).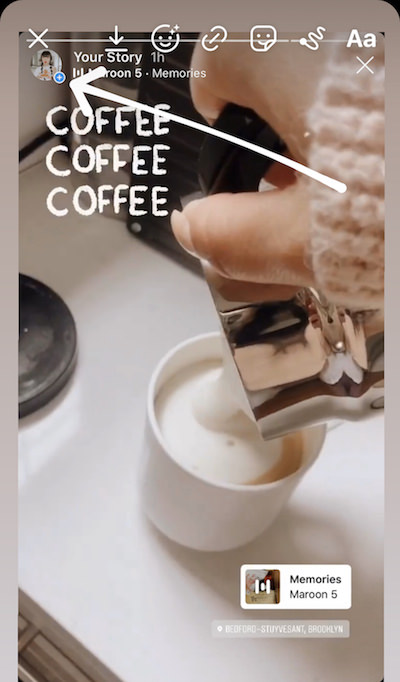 Next upload your chosen photo or video for that story, and then hit the icon that looks like a square smiley face.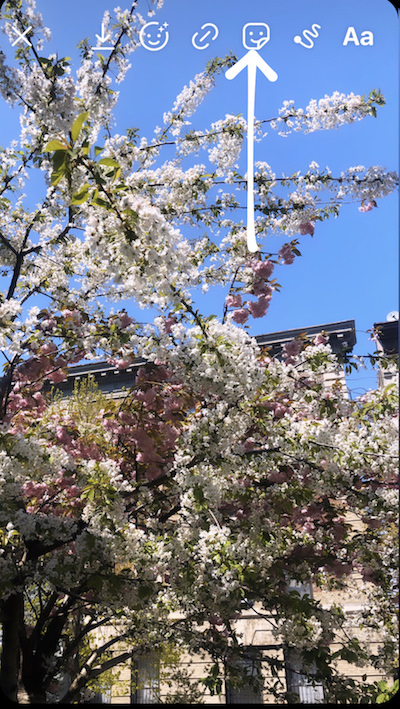 And then click on "GIF". And voila, you're ready to add a GIF.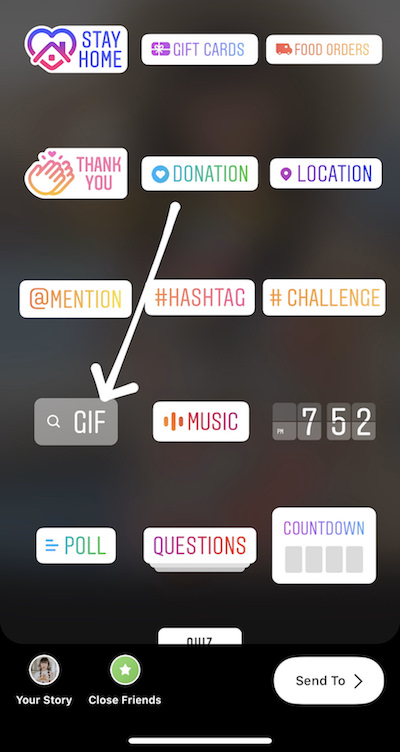 Now, let's chat about how to find cute Instagram story GIFs because there are a ton to choose from.
Cute Instagram Story Stickers – Artiststo Search
I know the GIF section can be a bit overwhelming and sometimes it can be hard to sift through them all to find aesthetic Instagram story stickers.
That's why I've compiled this list of my favorite artists to search when I'm looking for aesthetic Instagram story stickers / GIFs.
I write out everyone's name below exactly as you should search for their GIFs on Instagram, which is why many of the names don't have spaces.
I've also linked the artists' Instagram profiles when I could find them. If you find an artist you love, don't forget to give them a follow!
The Uncommon Place
The Uncommon Place has cheerful GIFs in warm colors.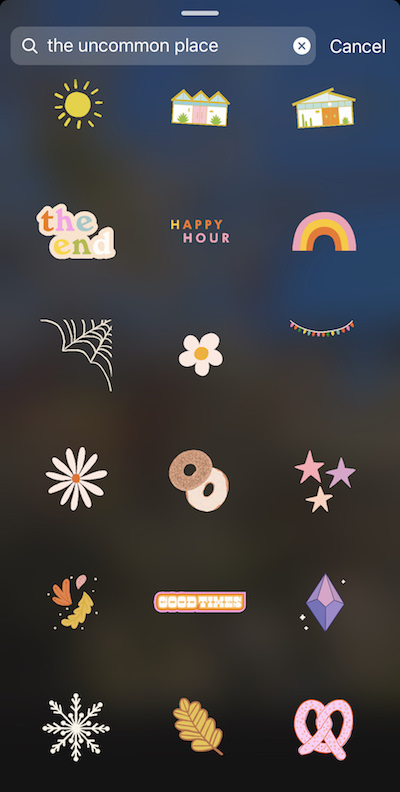 Vipapier
Vipapier Instagram story stickers are a bit muted and have a vintage feel.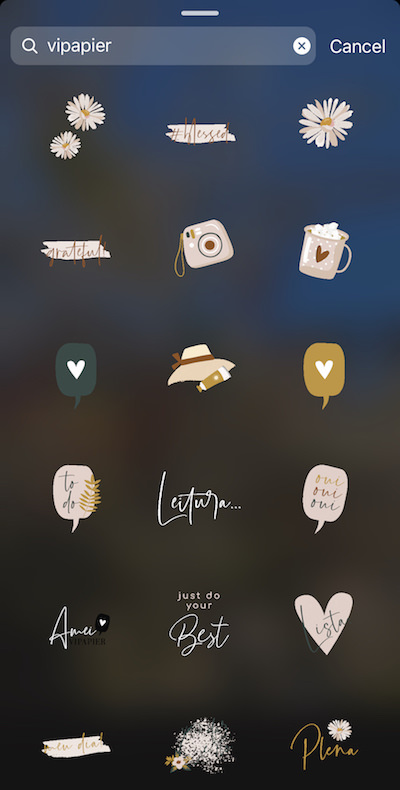 Lidiaontheroad
Lidiaontheroad has inspirational and motivational stickers also in warm, minimal neutral tones.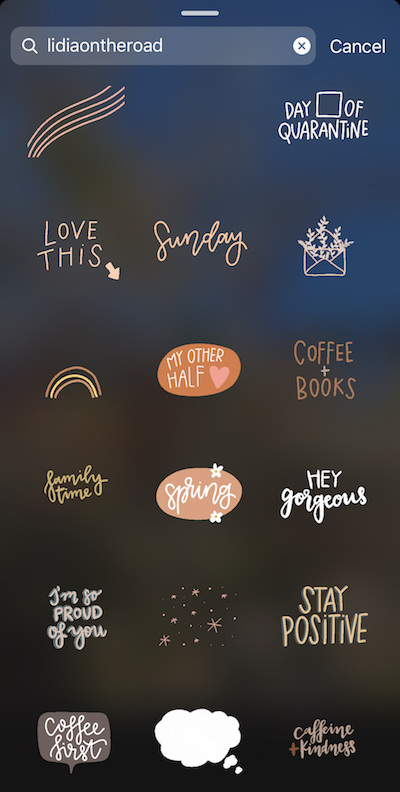 Ohlalalita
Ohlalalita has cute white Instagram story GIFs that go with pretty much any photo or video you're uploading!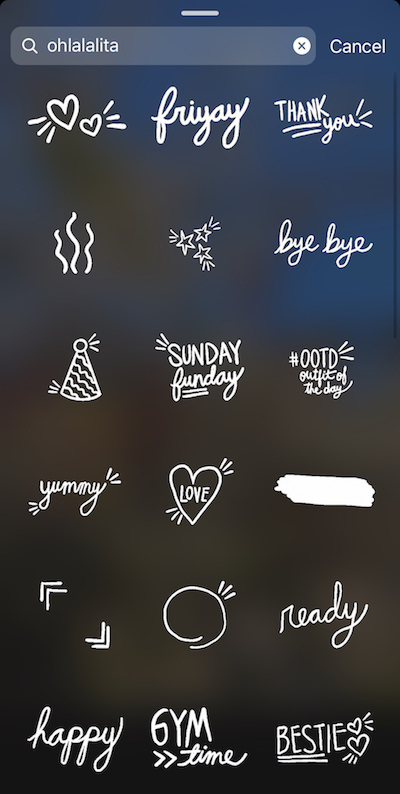 Queenbemonyei
Queenbemonyei uses beautiful rich jewel tones in her Instagram stickers and also has beautiful stickers for African- American women.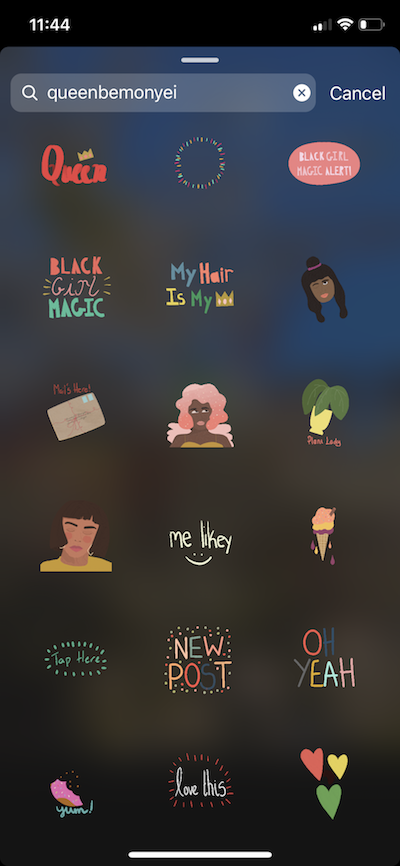 Ilustragabs
Ilustragabs has such a fun and cheerful aesthetic. I also love her Instagram story filters.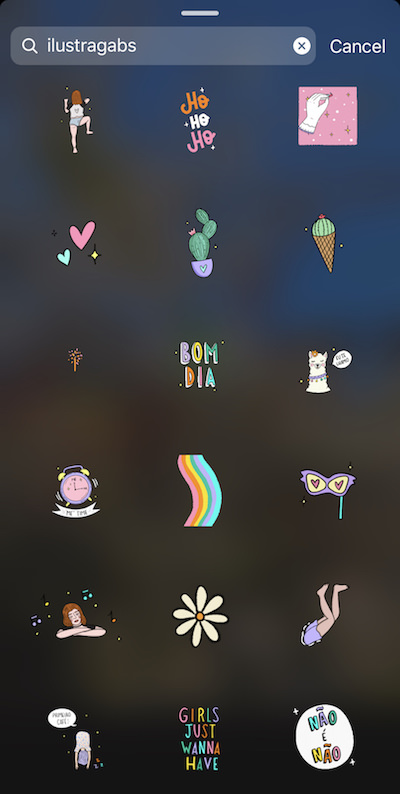 All Things Lilly Anne
All Things Lilly Anne creates feminine Instagram story GIFs using a lot of pink and red – which is one of my favorite color combos!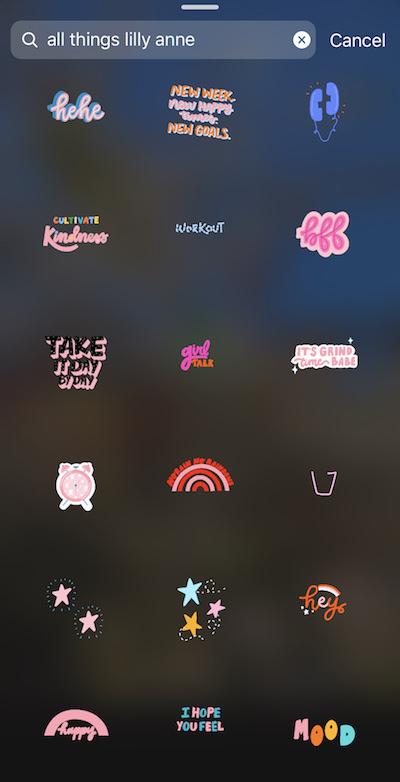 Mikylacreates
Mikylacreates has the cutest daisy and candy heart Instagram story GIFs. You can also just search "mikyla".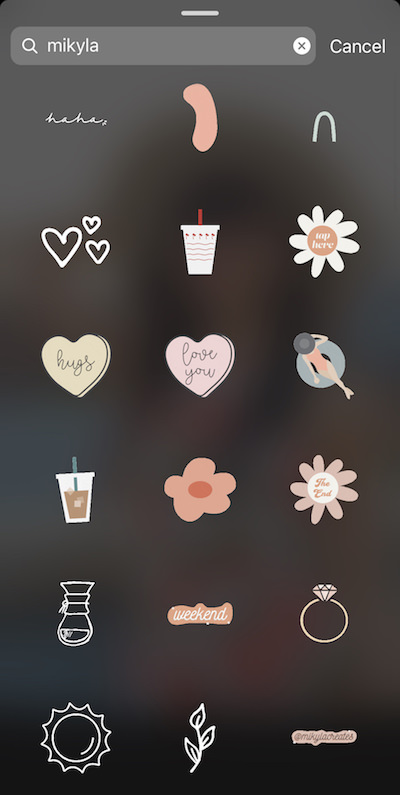 Greendotori
Greendotori is one of my favorites for minimalist Instagram story stickers.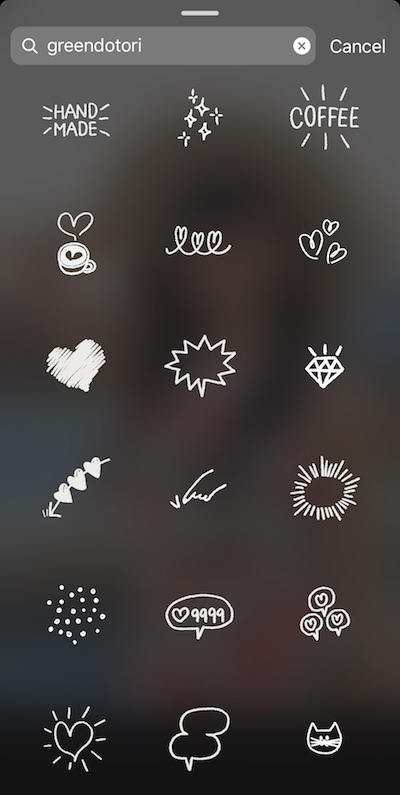 Linziehunter
Linziehunter creates colorful and cheerful GIFs for Instagram stories that will put a smile on your face!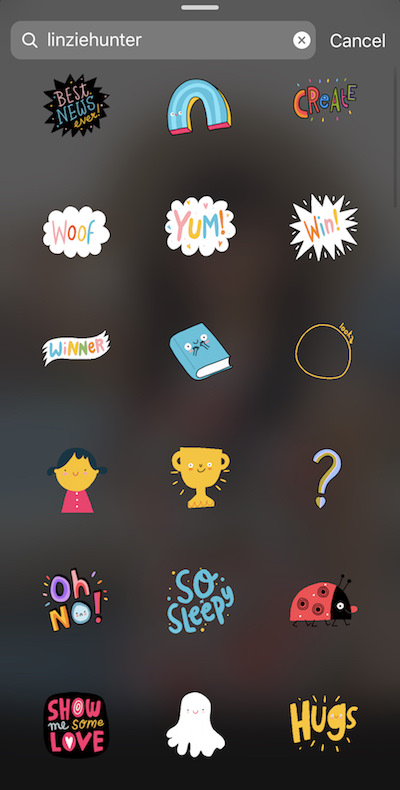 Dindaps
Dindaps makes feminine and modern Instagram story stickers that really pop!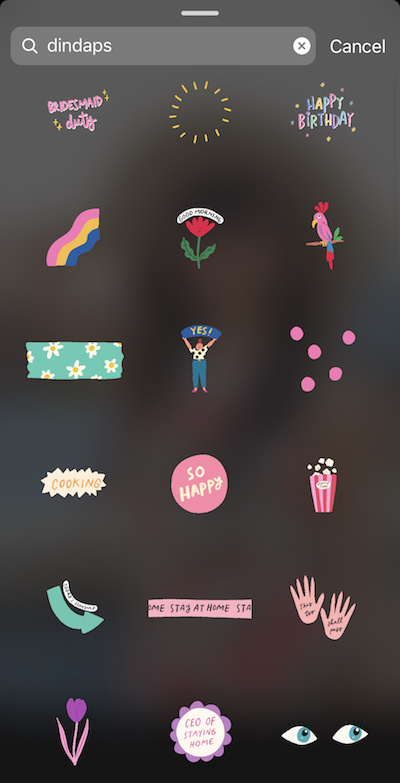 Lizmosley
Lizmosley is another artist who makes adorable minimal Instagram story stickers.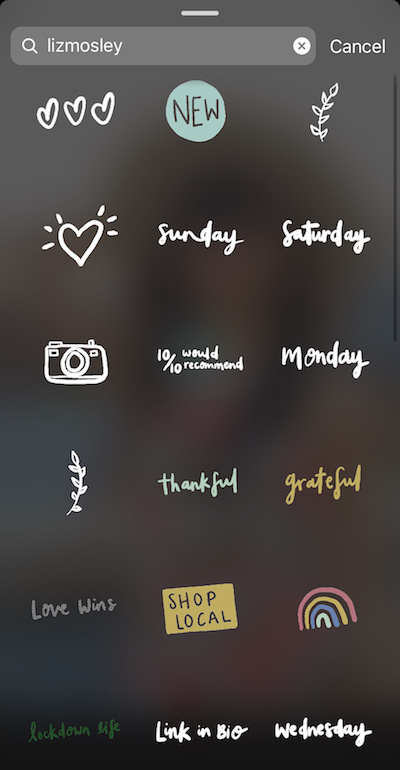 Gladdest
Gladdest brings cheerful vibes with their warm toned Instagram stickers.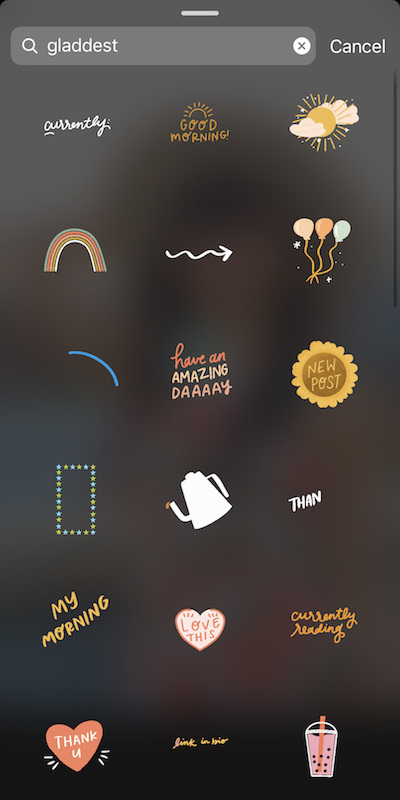 Steffi
Looking for cute Instagram story stickers with a 1960s hippie vibe? Steffi has great options!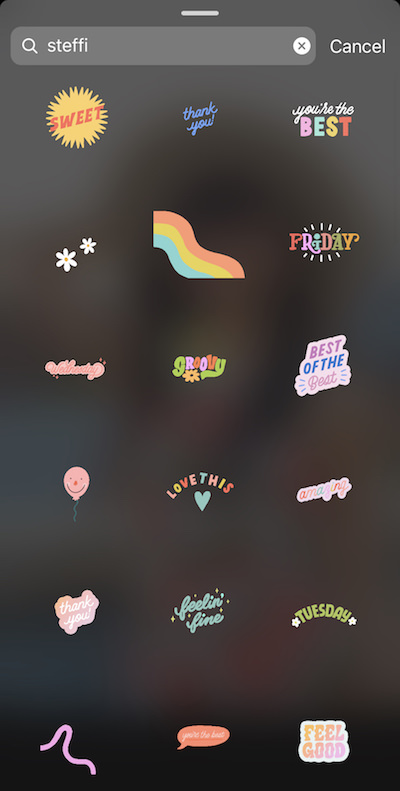 Latifundija
The Instagram story stickers by Latifundija are just plain adorable – I mean, look at that avocado!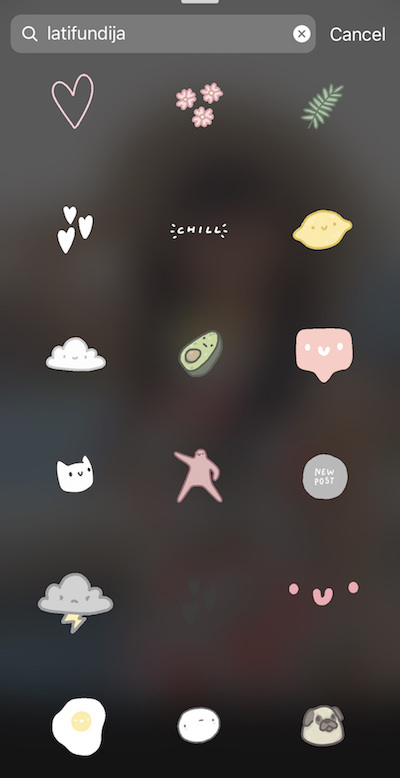 Plantethics
Plantethics has gorgeous Instagram story GIFs for vegans and plant lovers.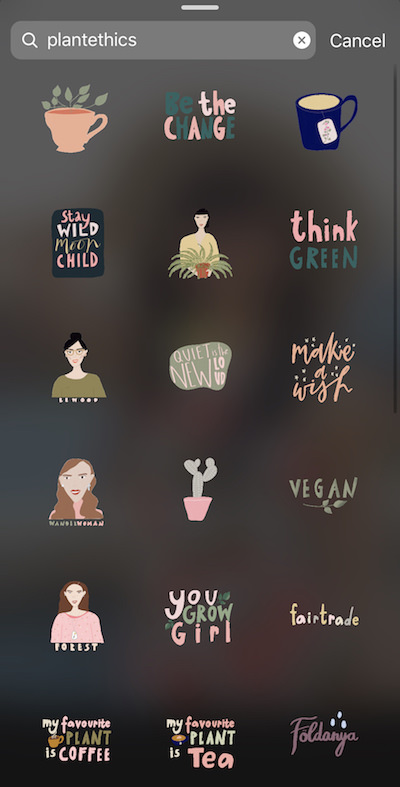 Wildflowerbar
Wildflowerbar also has beautiful Instagram story stickers for all of us crazy plant ladies.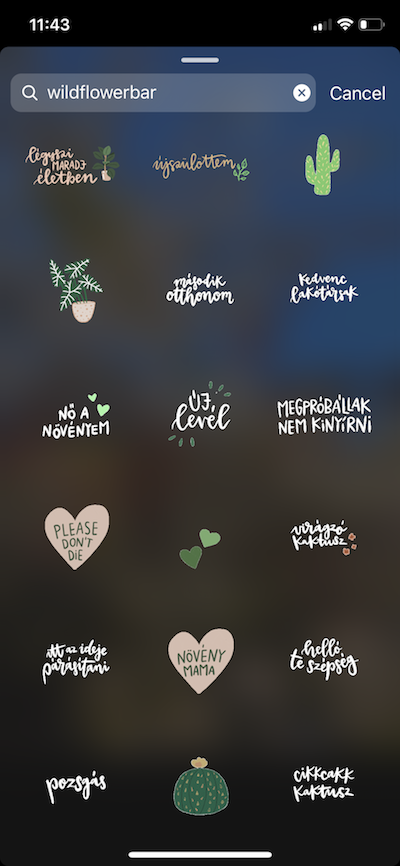 Malenaflores
Malenaflores creates soft and feminine stickers. How charming are those tassel earrings?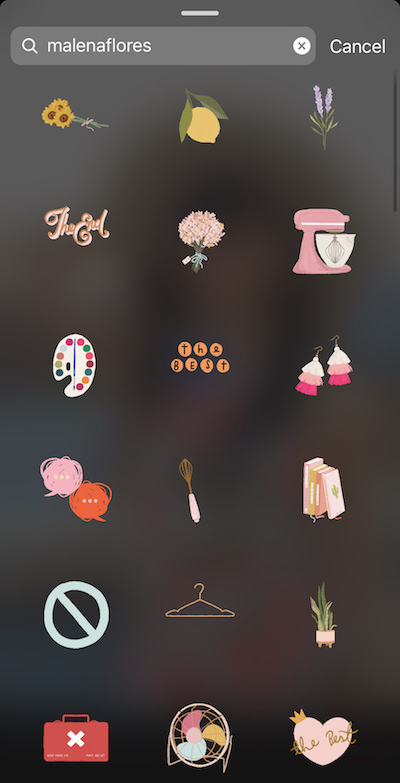 Studiojonesie
Studiojonesie has GIFS that just radiate positivity and optimism.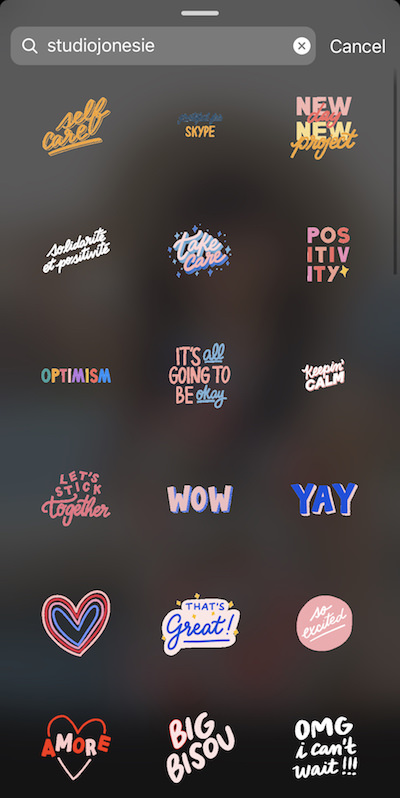 Izzyink
Izzyink creates both minimal white and colorful GIFs for Instagram stories.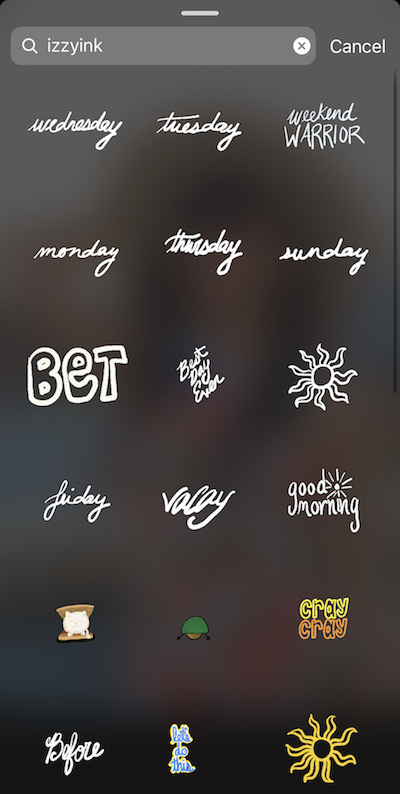 Hanmade
Hanmade has feminine and delicate GIFs for your Instagram stories.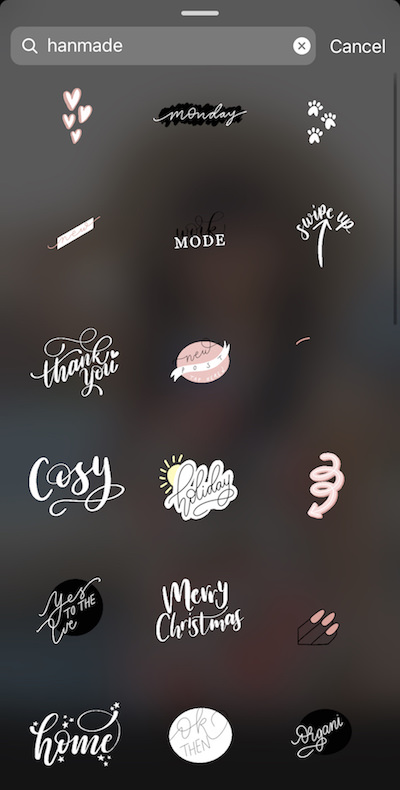 Marieboiseau
I love the purple tones Marieboiseau uses in her GIFs!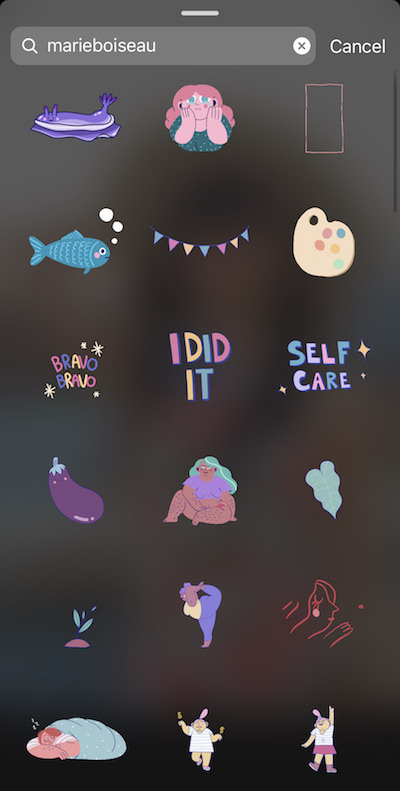 Helenbucher
Helenbucher says "I draw cute stuff" on her Instagram bio, and that's definitely true.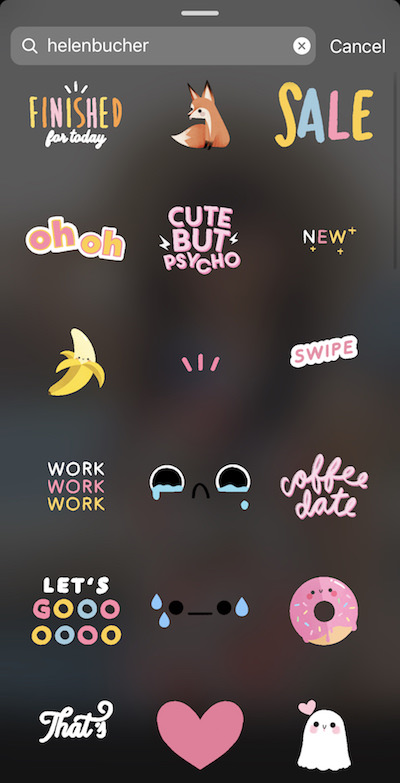 Emmadarvick
Emmadarvick creates GIFs that have an edgy and often witchy vibe.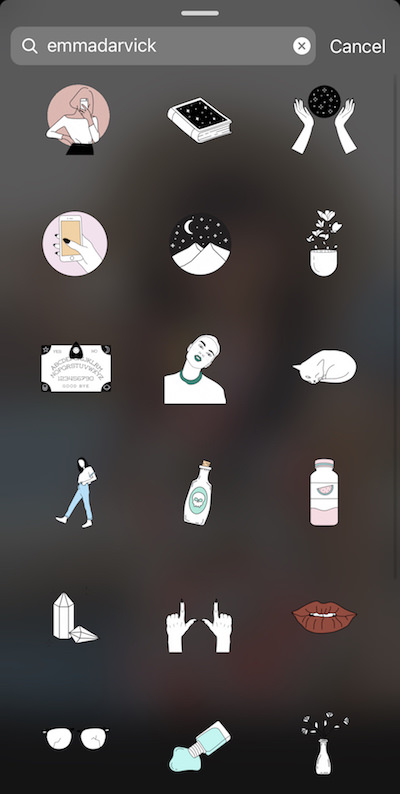 Theclosetlover
Theclosetlover has fun and playful Instagram story stickers. You can also find them by searching "thecloset".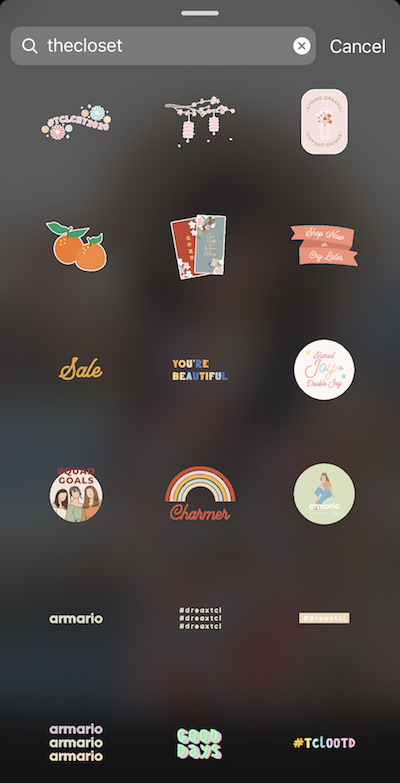 Ilustraris
How cute is the Eggos GIF by Ilustraris?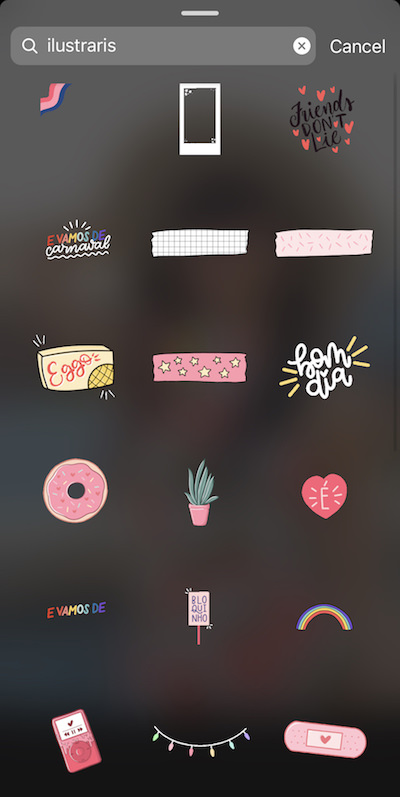 Gravitando
Gravitando is a Brazilian brand that has also created charming and feminine Instagram story stickers for us.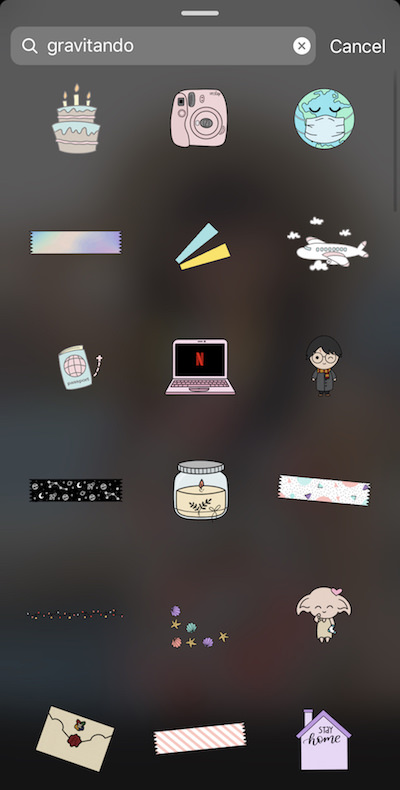 Foopklo
I love the delicate flower GIFs from Foopklo.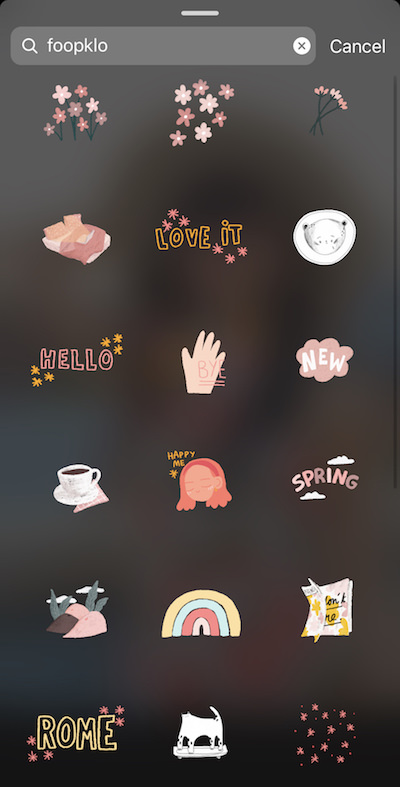 Megantje
Megantje's GIFs are just too sweet with their feminine color combos.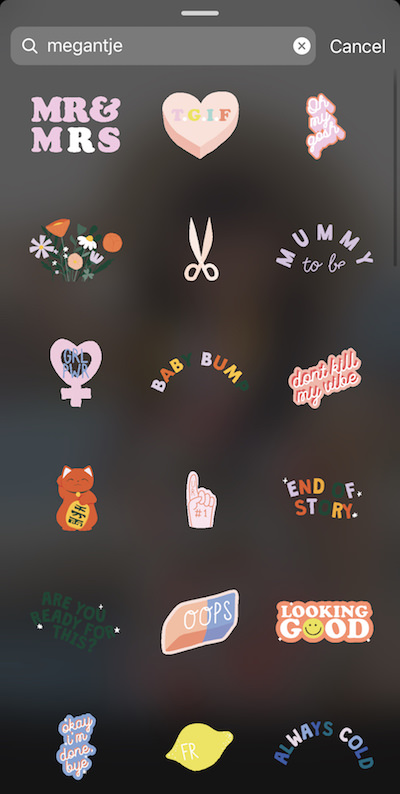 Furrylittlepeach
Furrylittlepeach creates cute little peach stickers.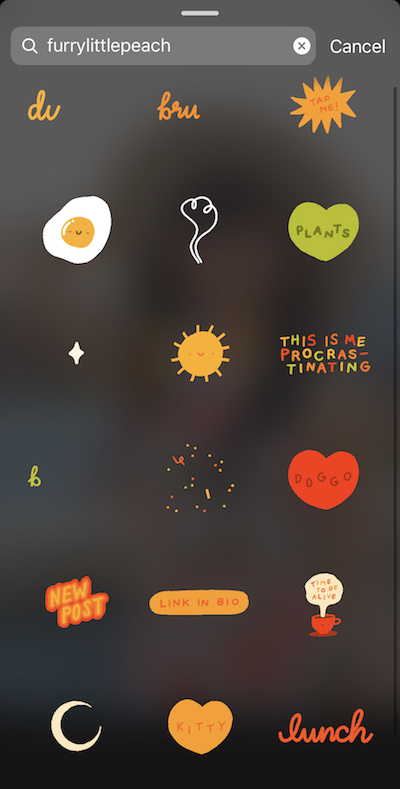 Kapebeans
Just look at the cute milk carton by Kapebeans, it's too cute!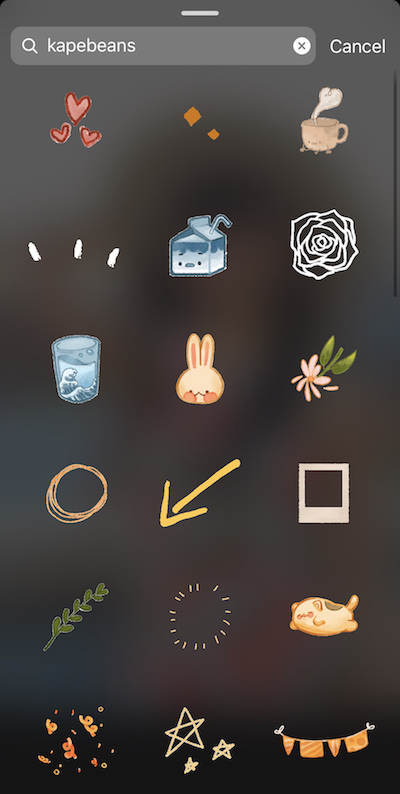 Ditut
I think my favorite Instagram story sticker by Ditut is the "lettuce celebrate" one!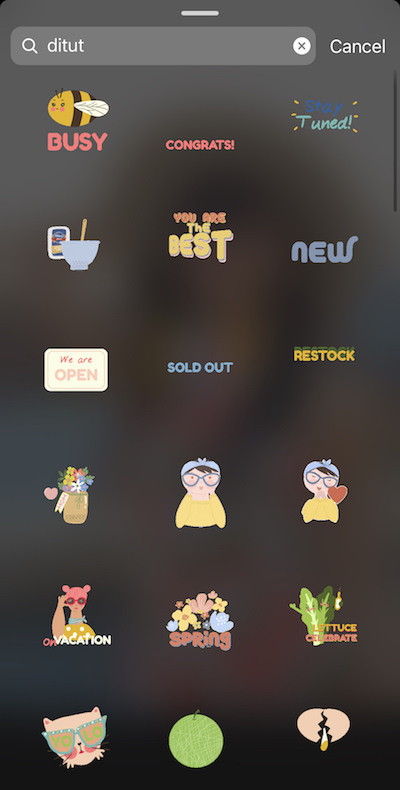 Melaniejohnsson
Melaniejohnsson creates aesthetic Instagram story stickers that promote self-care and protecting our planet.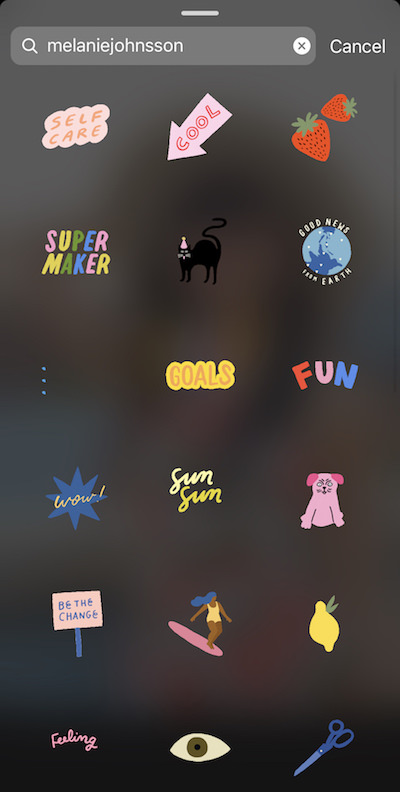 Muchable.nl
Muchable.nl creates vibrant story GIFs in fun rainbow colors. You can also just search "muchable" in Instagram stories to pull up the GIFs.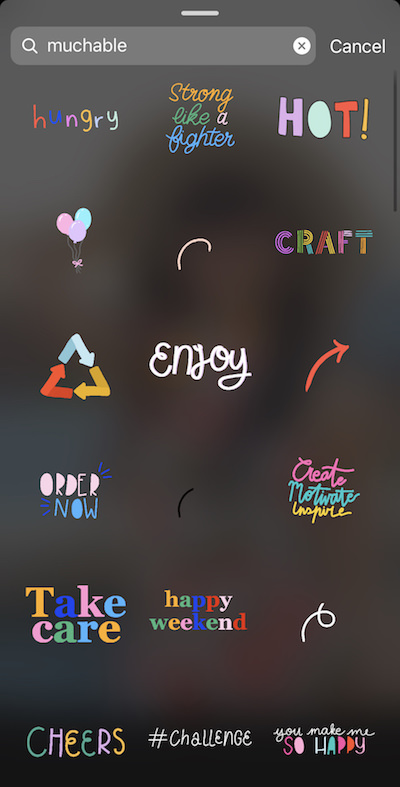 Cute Instagram Story Stickers – Words to Search
I also like to search these terms to find cute Instagram story stickers when I'm not set on using GIFs from a particular artist.
Boho
Searching boho brings up aesthetic Instagram story stickers with a bohemian vibe.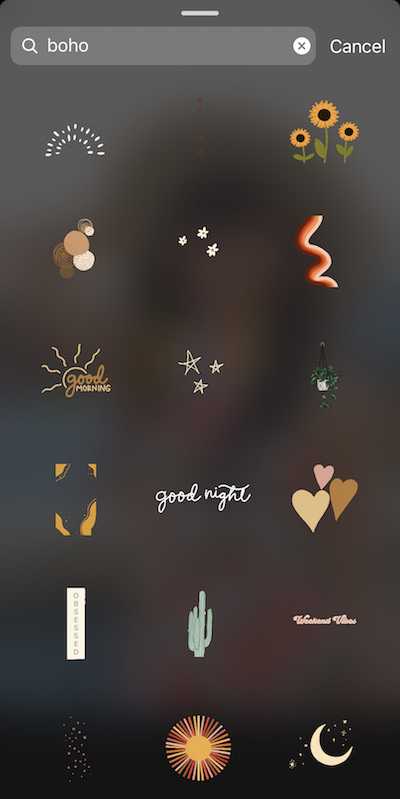 Plants
I'm a crazy plant lady, so I also love to search for plant GIFs.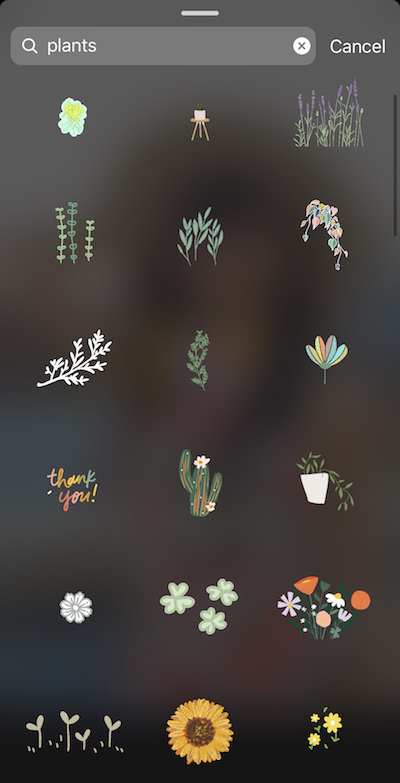 Minimal
Searching "minimal" also brings up a ton of aesthetic Instagram story GIFs.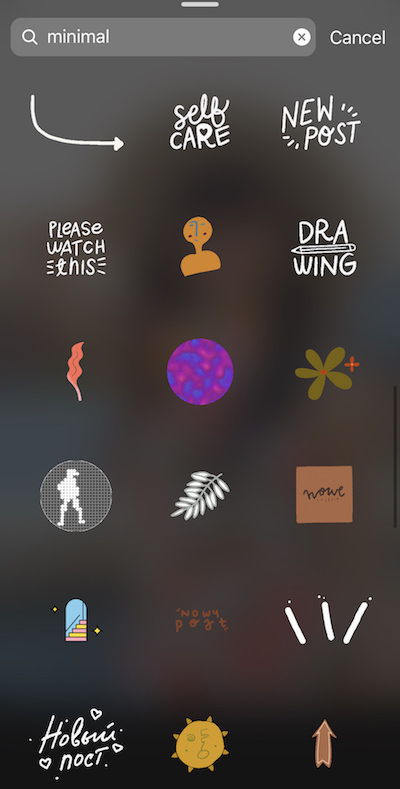 That wraps up my list of cute Instagram story stickers.Did I miss any of your favorite artists? If I did, let me know in the comment because I'm always looking for more options to make aesthetic Instagram stories for my account @fashiontravelrepeat.
Looking for Instagram Tips?Check out:
Want to Keep in Touch?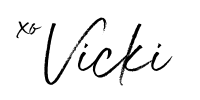 Love This Post? Pin It For Later!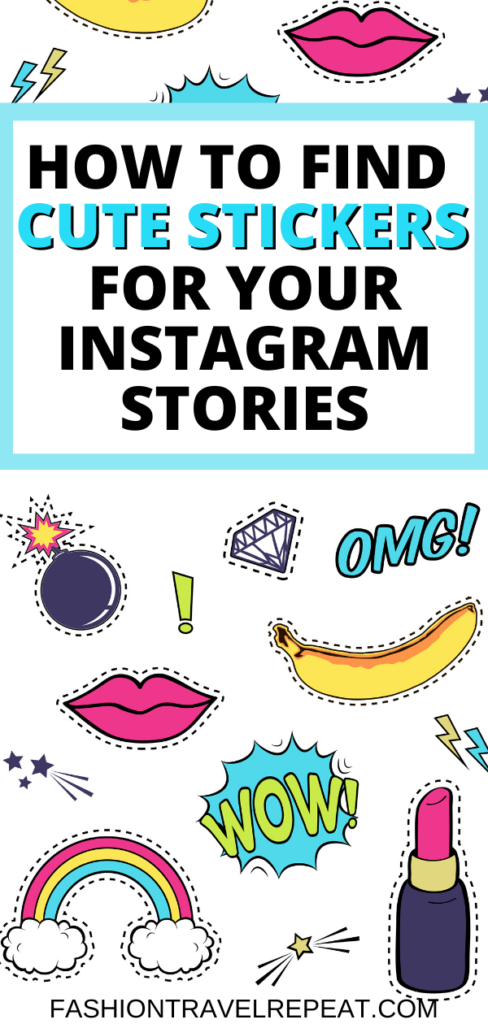 Sours: https://fashiontravelrepeat.com/cute-instagram-story-stickers/
Where To Find Cute Instagram Stickers
One of my most frequently asked topics is how to get creative on Instagram Stories.
One way to get creative is to utilize the Instagram Story Stickers. They can add a personal and unique touch to your Stories, even if you are not artistic. However, there are many Instagram Stickers out there, and it can be difficult to find the ones that fit the vibe or aesthetic you are looking for. Over the years, I have compiled a list of my favorite GIF artists on my phone to keep track of the Stickers I enjoy using.

In today's post, I categorized most of my favorite Instagram Stickers by 1) Design, 2) All-Rounder, 3) Phrase, and 4) Unique Stickers.
1) Design Stickers
I like to use Sparke and Line White for design purposes on my Stories. If you follow me on my Instagram, you'll notice I use them to add a little spark (literally) to my texts and photos.

2) All-Rounder Stickers
I consider haley ivers and esm my all-rounder stickers because they have all the design, phrases, item stickers that I love. esm has monday-sunday font stickers you can use, including cute little plant stickers that are aesthetically-pleasing.
3) Phrase Stickers
katefully has a pop of gold in her Stickers. rizzprints has cute icons that I like to use — such as the coffee mug and plant.
lidiaontheroad has motivational Stickers that are inspiring and minimal. I like ohlalalita for its white phrases that can go on any photo or video. If you're looking for something minimalistic, greendotori is a great one. hanmade has pretty, feminine stickers.
4) Unique Stickers
lizaproch has colorful, calligraphy-style text, and overall fun Stickers to choose from. How cute is that ketchup bottle in rorodinar? mikyla has a lot of pastel texts and unique Stickers.
If you're looking for more stickers, I also recommend searching the words 'minimal,' 'boho,' 'plants,' 'coffee,' 'sparkle,' and ''frame.'
I hope these are helpful!
What are your favorite stickers to use on Instagram Stories?
social mediasocial media marketinginstagrammarketing tips
Grace Lee
Sours: https://www.gracefulleemade.com/blog/where-to-find-cute-instagram-stickers
30 CUTE AND AESTHETIC GIF STICKER KEYWORDS FOR INSTAGRAM STORIES
.
Stickers aesthetic instagram
.
Aesthetic Gifs/Stickers for insta story - the best stickers for instagram I Lunadrella
.
You will also be interested:
.
325
326
327
328
329