Whether it is the living room, bedroom, dining room or any other part of the house, false POP ceilings can be used to cover the plain ceilings or to conceal centralised air-conditioning systems. From modern to intricate traditional designs, false ceilings can be customised in different colours, shapes and sizes, to make your living room look grand and opulent. Here's a guide to installing plaster of Paris (POP) ceilings in your living rooms and a POP ceiling design catalogue for your help.
Why use POP for false ceiling?
Plaster of Paris false ceilings are very durable and can sustain for years without any wear or tear. The POP is available in powdered form and the paste is made by adding water to it. The ceiling design is made, by applying the POP to a mesh for it to stay afloat. Also, POP is more cost effective than gypsum boards. However, you need to hire a professional to install a POP ceiling to get the finesse. POP ceilings also take more time for installation, as it has to be perfectly dry for it to be installed. You can opt for simple POP designs for living rooms, which are easier to install, or choose a modern,
intricate one if you want to add style to you space.
How to choose a POP ceiling design for the living room?
When choosing ceiling designs for the living room, you can select innovative designs with a combination of shapes and lights, instead of a simple one. However, if you have a combined drawing room and dining room, opt for a design which is aesthetic and has proper lighting.
Make proper arrangements for lighting up the false ceiling in the living room. You can use energy-efficient LED lights that match the ceiling concept. LED recessed lighting works very well on POP ceilings. Else, you can also experiment and opt for grand chandeliers or hanging lamps, to make your space look more elegant and beautiful. For POP false ceiling opt for cove or flush-mount lighting, depending on the POP design.
While white is the most common colour, you can use other bright shades to make your room appear bigger. You can experiment with beige and yellow shades, for a royal look. You can add texture to your ceiling, such as a wooden finish or rustic or metallic ones, for a modern look.
There is no reason for you to stick to rectangular and square designs for your ceiling. Curves, arcs and circles are trendy and you can design a new look with these designs. This is a good idea to break the symmetry and give your home a modern vibe. You can also use these shapes, in contrast to other elements used in décor.
False POP ceiling design catalogue for your living room
POP ceilings can also be used to add an extra layer of insulation in your living room. If you want to give a warm look to your room, you can choose LED lights in the false ceiling. If you have a modest budget to invest on the false ceiling, you can choose simple POP designs for living room, which are easy to install, good to look at and add a minimalist look to your room.
Source: pinimg.com
Source: pinimg.com
Source: 4.bp.blogspot.com
Suspended ceilings are best, when you want to optimise the space and hide electrical cables.
Source: bp.blogspot.com
Source: otomientay.info
Another benefit of using Plaster of Paris ceiling is that you can use molds and shapes like circles, trays, layers, squares, etc. Apart from this, it is very easy to add any design to the POP false ceiling after finishing the installation process, to re-decorate or modify the installed design.
Source: bp.blogspot.com/
Source: bp.blogspot.com/
Source: bp.blogspot.com/
Source: bp.blogspot.com/
Source: designcafe
Source: Shutterstock
Source: Shutterstock
Source: Shutterstock
Source: Shutterstock
Source: Shutterstock
Source: Shutterstock
Source: Shutterstock
Popular POP ceiling designs for living room in 2021
Home owners are, nowadays, thinking beyond the basic POP ceiling designs for the wall. Instead of having the centre element plain and simple, adding light fixtures can illuminate the room, while enhancing the décor quotient. This design is perfect for small living rooms. Another design that is quite popular is a POP ceiling with a hollow T-bar added in the centre. The open space can be used to install coloured lights or textured finishes. The latest trend, is to combine Plaster of Paris with wood for the false ceiling, for a classic look. The two ends of the ceiling are indented POP mouldings and the space in between is covered with a wood panel. POP ceiling along with frosted glass, stained glass, etc., is also in demand, as it gives an elegant effect, once the glass panel is illuminated from behind and the room is filled with a soft glow.

POP ceiling designs for small living room
For small apartments that have a combined living-cum-dining space, it is easy to create a demarcation by choosing different POP ceiling designs. When it comes to patterns, you can pick from numerous shapes and geometrical patterns, such as oval or circles, which are ideal for small living spaces. When it comes to lighting, use a combination of spot fixtures and cove lighting that work best for such areas.
POP ceiling designs for living room with two fans
A POP ceiling can be designed in various ways, if the living room has two fans. You can design two false ceilings with space to install the fan in each one. If it is a huge living room then, it is best is to combine the fans with a chandelier in between for an opulent effect. One can also go in for a floral pattern designed ceiling with POP circular frames for two fans and lights.
Single and double layered POP ceiling design
POP ceiling designs can be single or double-layered. A single-layered ceiling comes as a single layer beneath the original ceiling. It is recommended for small living rooms, as the design is minimal. A double-layered POP false ceiling adds to the visual allure in a spacious living room with high ceiling. A double layer gives one space to play with colours, patterns and lighting, to make the ceiling spectacular.
Simple pop ceiling design for hall 2021
Coffered false ceiling
A coffered false ceiling adds a style statement that is just unmatched when compared to other POP ceiling designs. It lends a rich to an ordinary hall and comes in varied design patterns. It mainly involves a partitioned ceiling design and can also include a dual colour theme.
Multi-layered POP ceiling height
Incorporate the POP ceiling design to create a contrast by layering it with panels of varying heights. It will give a dramatic effect to the room. The dual height POP design for the hall also provides scope for adding suitable lighting and colour while enhancing the grandeur of a spacious living room.
Tray Look
You can pick a simple pop design for roof with a tray look as shown here. You can also add more effects and enhance the décor quotient with a layered tray false ceiling. Install recessed lighting and use other design elements for the wall to bring a contemporary look.
Advantages and disadvantages of POP false ceilings
Advantages
Disadvantages
False ceilings are great for living rooms, as it  adds an additional layer which creates better acoustics within a room.
False ceilings require extreme precision in design and installation and must be done by experts only.
A false ceiling is a perfect place to hide messy wires. You can also fit recessed lighting, without worrying about fixtures.
False ceilings should be at least 8 inches away from the original ceiling wall. Therefore, for compact homes with low-ceiling rooms, it is not feasible.
False ceilings can restore proportions in the room where vertical spaces dwarfs the furniture.
False ceilings may make the room look cramped. Hence, the room's height should be at least 11 ft, to get false ceilings done.
False ceilings insulate the room as it traps air and keeps the room cooler. It also optimises the functioning of the air-conditioner, as it reduces the total space that has to be cooled.
Trending false ceiling design ideas 
Minimalist: An ordinary false ceiling design can look extraordinarily elegant, because of its simplicity. It lends a modern look but can even blend perfectly with traditional décor.
Light-highlighted: If you want to experiment with lights, then, POP false ceilings are a perfect choice. The POP false ceiling that runs close to the wall is built for light fixtures, giving the space a serene makeover by creating a soft glow.
Hanging ceiling: This is one of the trendiest false ceiling ideas in which suspended ceilings made of POP are complemented by wood. This adds richness to the space. In addition to this, pendant lamps hanging from the wooden part of the ceiling and spotlights fixed on the POP can control the intensity of light in the room.
Patterned ceiling: You can choose any kind of artistic display, from intersecting lines to an interesting pattern on the ceiling. Combined with lights, the pattern will further elevate the beauty of the false ceiling design.
Benefits of POP false ceilings

False ceiling can be used for uniform light distribution in the entire room, through ceiling lights.
False ceilings can act as an important element that you can use to express your style.
Unlike a regular ceiling, false ceiling designs can be easily customised, as per the room's size and lighting requirements.
You can experiment with different colours and shades on the ceiling to make your space look bigger. They can be coloured along with any other painting work.
How to choose POP false ceiling colours for the drawing room
There is a range of colours to choose from, when it comes to false ceilings. Here are some of the options available, as per the size and dynamics of the room:
Using lighter shades for the false ceiling, than those on the walls, can make the roof seem higher, in turn making the room look larger than it is.
If the room is filled with bright colours or has a lot of elements, such as furniture, paint, décor and upholstery, then, the ideal thing to do, is to opt for a white shade for the ceiling.
Dark colours, such as charcoal greys, navy blue or chocolate-brown, are ideal for rooms with white walls, as they can create a dramatic contrast.
When installing a false ceiling, you can also use the same colour on the walls and the roof. However, the choice of colours selected, should depend on the size of the room.
Colour combinations for POP false ceiling
There are a number of shades you can experiment with, to make your POP false ceiling look different and in-sync with the rest of your home. Here are some of the trendy colour combinations for 2021, which you can try if you are planning to install a POP ceiling at your home:
For warm and cosy ambience: Mustard yellow and white.
For a quirky design: A pop of orange, purple, red or yellow. These colours may not be distinctly visible but the lighting will bring out the bright shades.
For white walls and neutral interiors: Turquoise.
For accentuating the walls: Crown moulding with brown or any dark shade.
For a classic look: Opt for ebony or ivory colours.
How to choose ceiling paint colours
Follow these guidelines, before finalising ceiling colours for your home:
Ceiling colours enhance the room's essence. However, do not overdo it and instead, keep it simple in areas where redoing is not possible.
A white ceiling colour will push the focus towards the walls and furnishings. Hence, if you are opting for bold wall colours, make sure you use white on the ceiling.
If you are putting pale colours on the walls, the white ceiling can make the room appear bigger and illuminated.
If you want a contrasting effect, you can apply a dark tone to the ceiling and use a glossy version of the same colour on it. While the glaze will soften the dramatic effect, the sheen will reflect the light from the surface.
If you want to apply the same hue to the walls and ceilings, understand that this will make your room look smaller and restful. This is ideal for bedrooms and bathrooms.
Cost of POP false ceiling
| | |
| --- | --- |
| Type of ceiling | Average cost |
| Gypsum false ceiling | Rs 50-150 per sq ft |
| POP false ceiling | Rs 50-150 per sq ft |
| Wooden false ceiling | Rs 80-650 per sq ft |
Source: Livspace.com
How long does POP false ceiling last?
POP false ceilings are usually very durable. However, it depends on the material used. High-quality POP false ceilings can last beyond 20 years, whereas low-quality POP false ceilings will start showing cracks and cavities in five to six years. Therefore, if you are investing in a POP ceiling, make sure your contractors use high-quality POP material only.
Things to know before getting a POP false ceiling done
Try getting the ceiling done before you move into the new house. If you are remodeling your house and want to add a false ceiling to your existing decor, hire professionals who can finish the task as early as possible. This is because POP (Plaster of Paris)  can create a lot of mess and could put you off from getting a ceiling done.
Some ceilings require more headroom than others. So, before you begin the installation, get the height checked. Also, be prepared to add or decrease a few inches of height as the POP sheets require some space, as well.
If you want to build a false ceiling in your living room, check if you want to cover the entire surface or just near the light fittings. This will help you in planning your budget efficiently.
Precautions to take during POP false ceiling installation
Property owners should be mindful of several precautions to be taken, during the installation process. This will help them in managing and maintaining the ceiling at later stages.
Home owners should make sure that the ceiling is not prone to leakage.
Use POP from good and well-known brands only, so that it does not crack during the procedure.
Consider the suitability of a certain consistency of POP for the space it is being installed in.
Opt for a thickness of around 10-12 mm. Anything less than that would be prone to damage.
Remember, the POP should be completely dry before installing it.
Place all the electrical wires inside a pipe to avoid accidental fires.
FAQs
Which is better for ceiling - POP or gypsum?
POP is more durable and more affordable than gypsum.
How much does POP ceiling cost?
POP false ceiling rates start from Rs 40 per sq ft and may go up to Rs 95 or even more, in some cases.
Is false ceiling expensive?
Depending upon the material used, false ceiling can be an affordable and ideal way to add an extra layer of insulation.
<>What is a POP plus minus design?>
POP plus minus design refers to a decorative design with added protrusions or tucked in bits in a regular false ceiling made of POP.
What should one keep in mind when selecting living room lights for POP false ceiling?
Consider the functional aspect of the light along with mood lighting. The lights should make the living room welcoming and relaxing. Also, the dining space can be made impressive with hanging pendant lights or lamps, which focus on the table and not on one's face. Always opt for a dimmer option to change the brightness as per the need.
Can one extend the POP ceiling design till the living room wall?
Yes, POP false ceiling designs can extend till the wall. It can add an exquisite appeal to the TV unit wall or one can have attractive POP niches designed for artifacts. One can use a pattern that is similar to the ceiling or select other fancy designs.
(With additional inputs from Purnima Goswami Sharma)
Sours: https://housing.com/news/check-out-these-pop-ceiling-designs-to-decorate-your-living-room/
Best 12 POP Designs for a Perfect Home Interior
Nowadays, Plaster Of Paris false ceiling is trending in interior designing of your home. To make the room of your home look staggering, Plaster Of Paris false ceiling design is an ideal choice to make dynamic change in the interiors.
Be it modern style or contemporary style, POP designs for interior is a perfect addition to add new look toy out house! In the present creative world, you will get a variety of amazing patterns in vibrant, funky and elegant POP designs from which you can choose the excellent design for your place!
Here is the list of 12 best POP designs for your hall room interior that you can check out!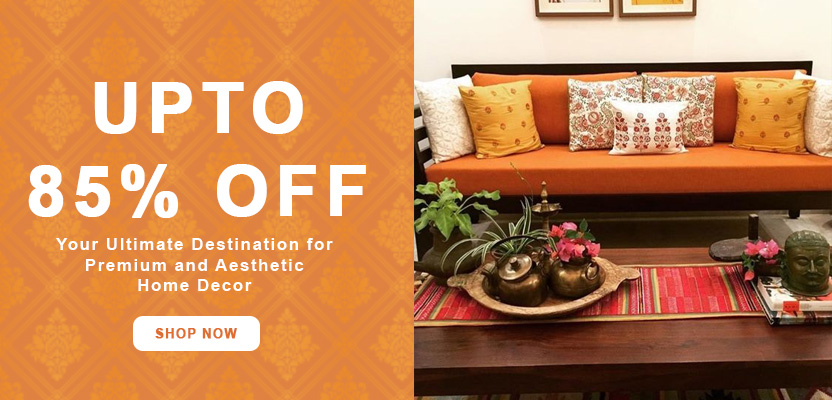 1. Modern Gypsum Style Design
These days gypsum board style POP designs are immensely popular in hall interiors. They are light in weight and add elegance to your room. The highlighting feature about this modern style gypsum POP design is that it goes perfectly well on any room be it small or large. Usually, rooms are large in space, however, even if they are small, you can opt for this modern gypsum style POP design for your room to make it look adorable.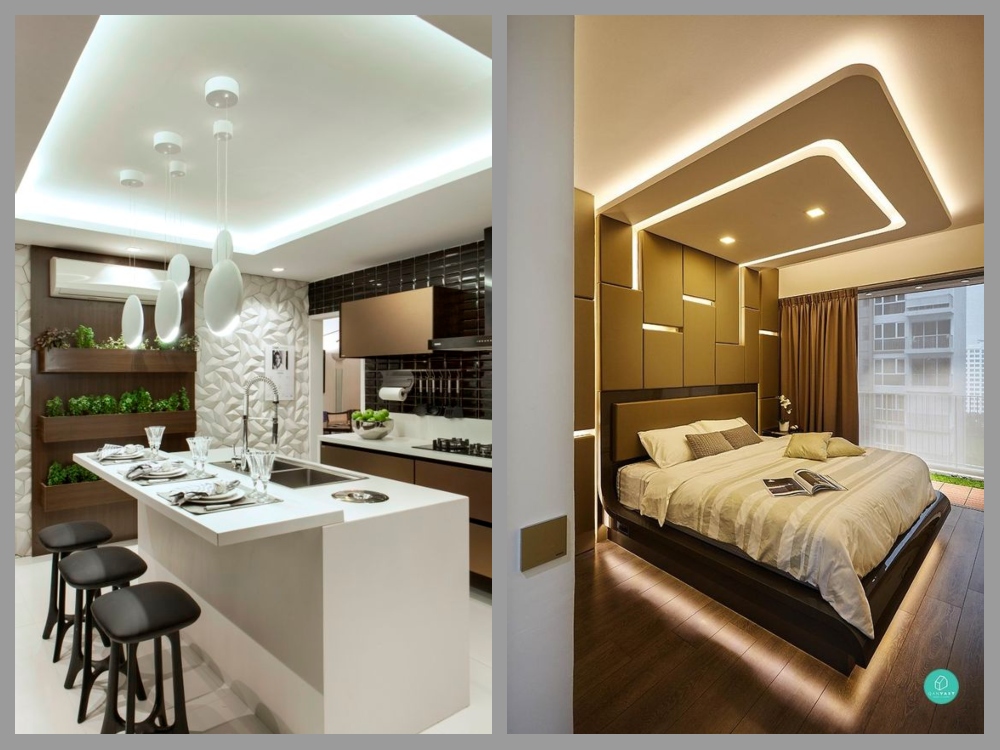 2. Contemporary Style POP design
There is another popular and amazing POP design for room i.e. contemporary style POP design, which is made using the single white paint colour. This is definitely one of the most stylish and wonderful POP designs for the room to give royal and classy touch to the interior designing. Adding on to it, if you choose the right spotlights for the room according to the POP design, then it will surely enhance the beauty of your room!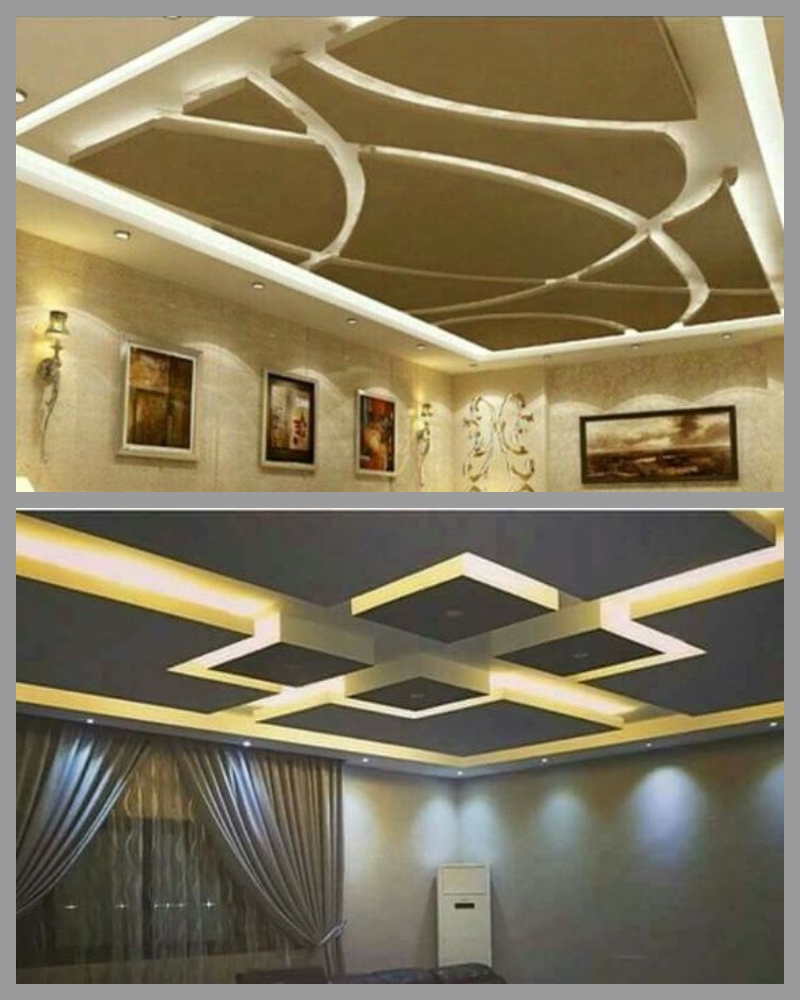 3. Colourful POP
In-room Plaster Of Paris ceiling design, why not to opt something unique and colourful? Here's an amazing colourful Plaster Of Paris design for your room, which has a perfect combination of contrast lights and colour play. The colour play in this Plaster Of Paris is absolutely mesmerizing that makes the room look outstanding.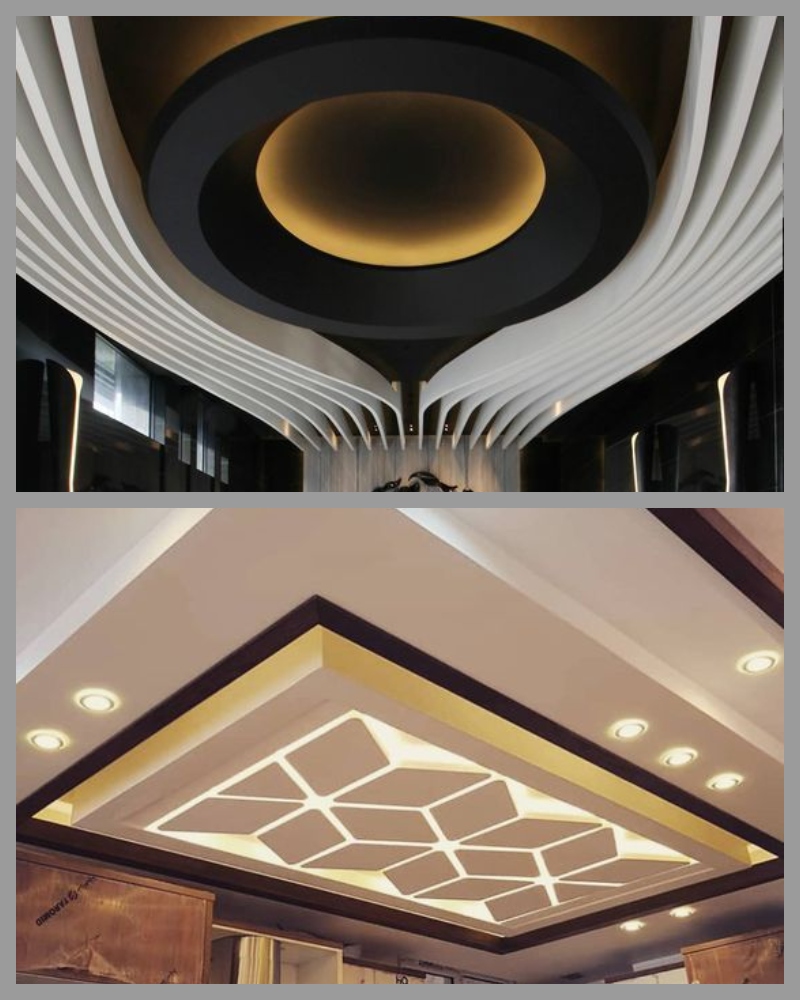 4. Simple POP ceiling
It's not mandatory to go with colourful or unique designs for your room interiors. You can simply go with minimal and sober POP design in which there's only a single colour is used to make it look wonderful. However, when choosing the colour for the simple pop design, you have to be very sure that it will look great just like the combination of white and purple!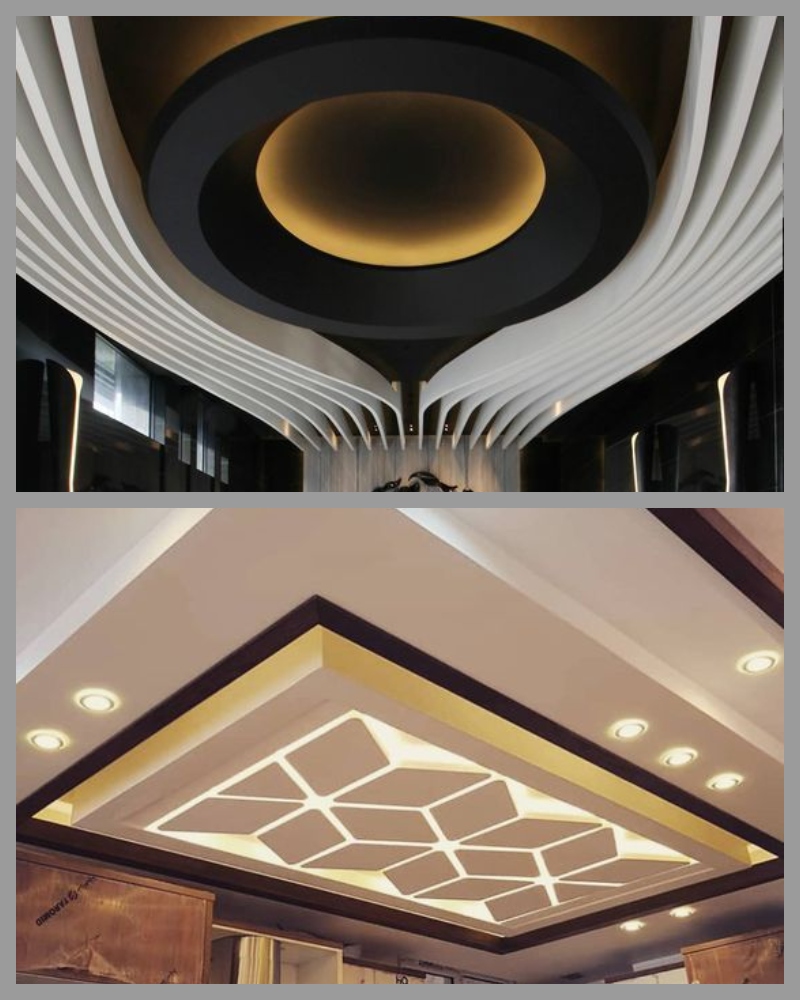 5. Artistic Designs for Plaster Of Paris Ceiling
Yes, there are artistic designs available in POP ceiling for your room interior designing! Made with absolutely unique, royal and fine artwork, this stunning Plaster Of Paris ceiling design for your room is one of the best ideas, which also has a traditional look and feel. With perfect lights and lamps, this artistic POP will surely make your room look beautiful!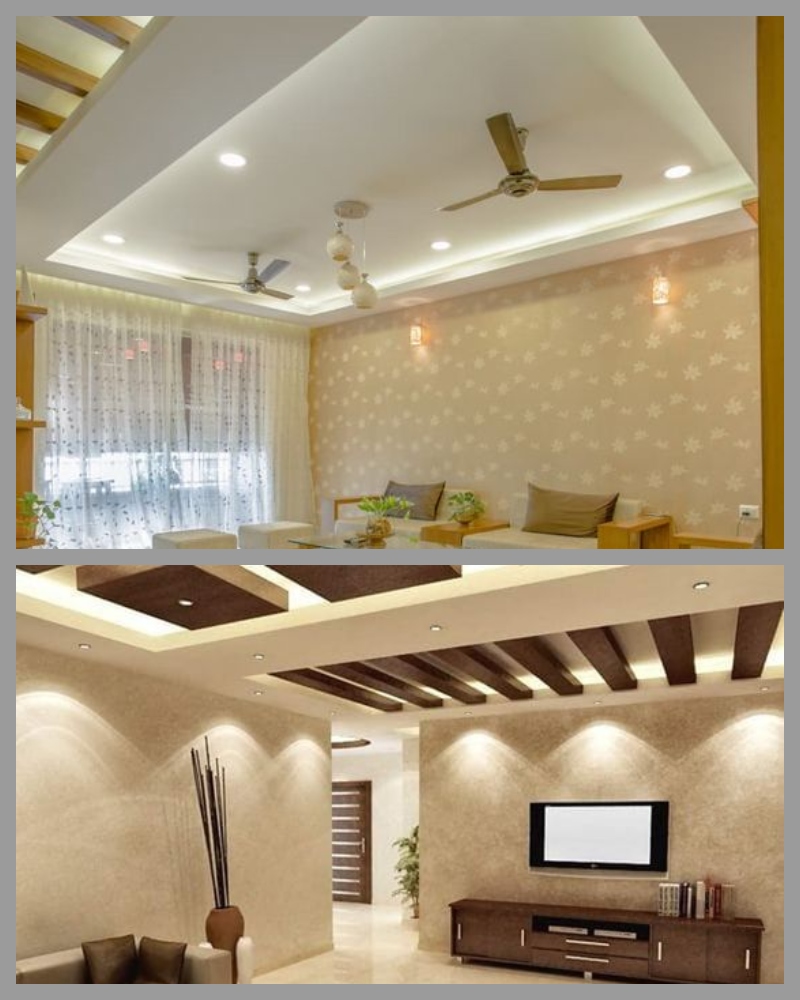 6. Simple False POP ceiling Design
For hall rooms, you can also consider this simple false POP ceiling design, which has simple square patterns made around the fan. With two different colour combinations, this simple false Plaster Of Paris ceiling design will look outstanding and adorable either in your hall room or in your bedroom! Just make sure that you go with the right spotlights to add into this false Plaster Of Paris ceiling structure to make it look amazing! Also, the prominent plus point of this interior designing is that it's costs within your budget range!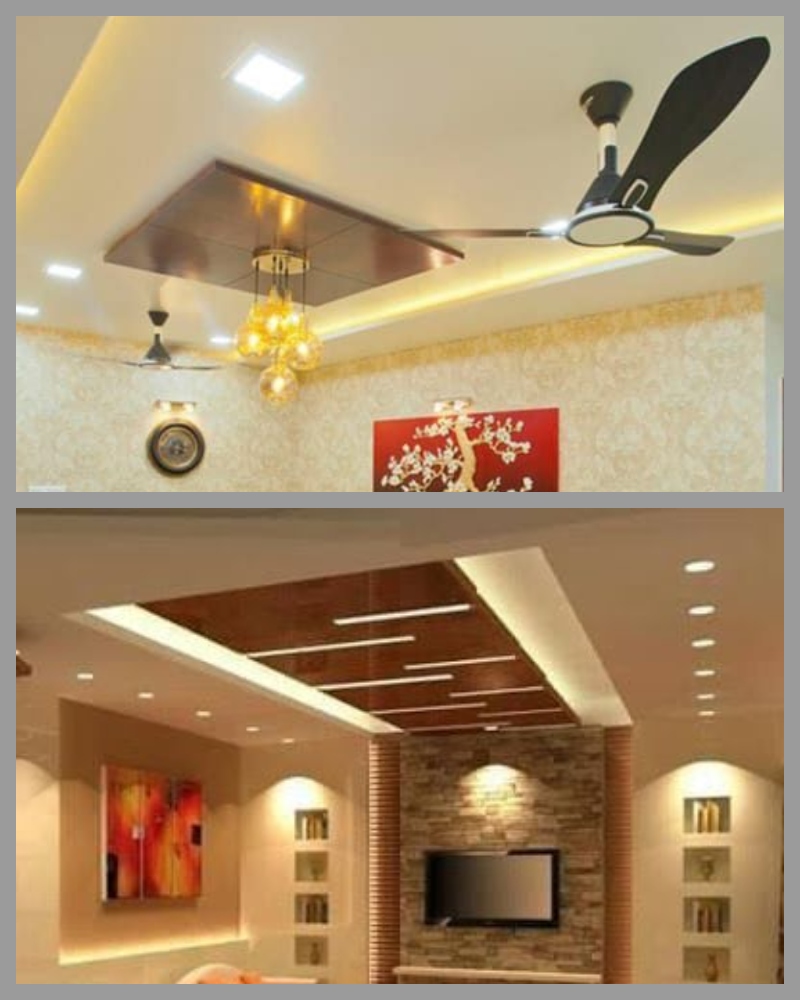 7. Traditional Style POP
The checkered frames in Plaster Of Paris for your room are usually considered as a traditional style in Plaster Of Paris ceiling design! With perfect lighting, spotlights, curtains and furniture, the traditional style Plaster Of Paris in the interior would look adorable and elegant! The beauty and charm of this traditional style of pop design are definitely inexplicable.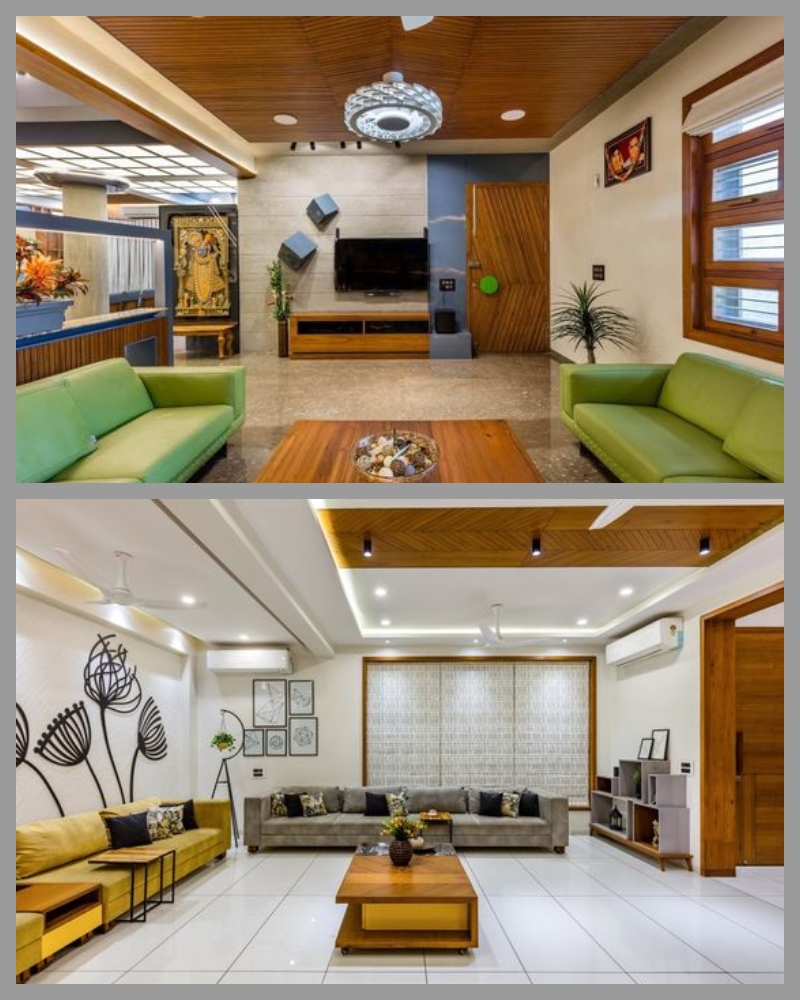 8. Latest POP design for Hall room
These days, people are quite interested in trendy and latest pop designs to make their room look wonderful! So, here is one popular and latest pop design for the room, which has joined patterns. This latest pop design is absolutely eye-catching and add elegance to your hall rom interior designing! If you love creativity, then ensure that you will add beautiful spotlights in these joined patterns!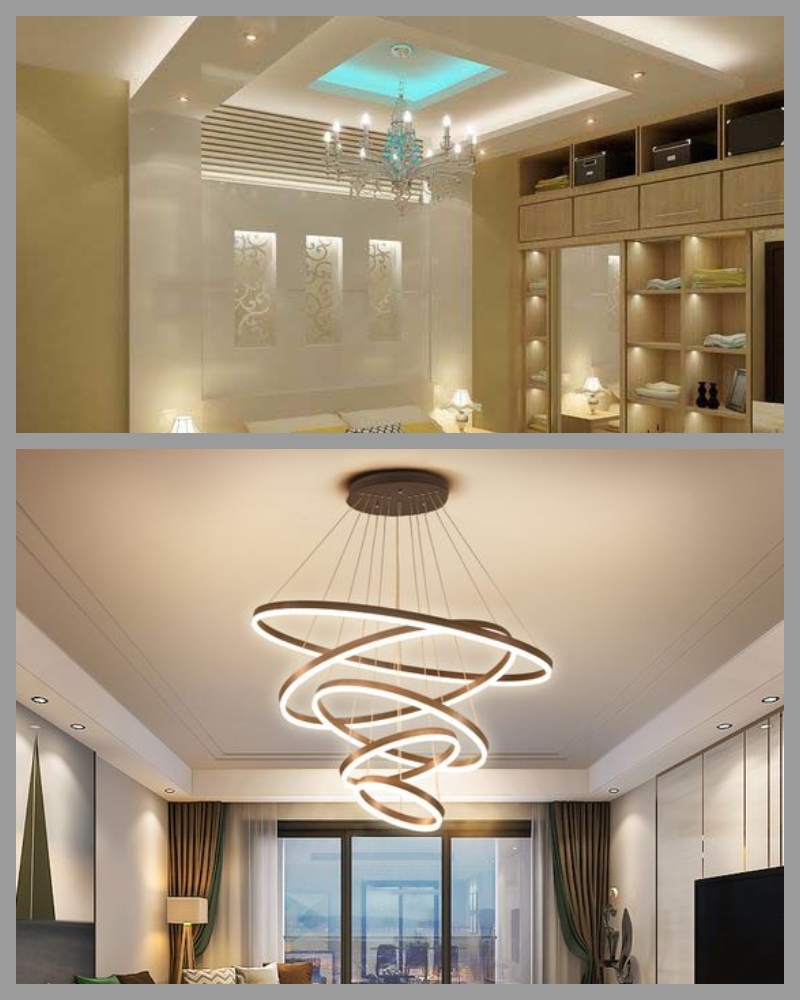 9. POP ceiling for Bedroom
Here is one amazing Plaster Of Paris ceiling design for your bedroom to make it look attractive and stunning! With the right colour combination of olive green and white, this Plaster Of Paris ceiling will make your bedroom look delightful! Do not add too many spotlights into their interior designing as it will ruin the complete look of this Plaster Of Paris ceiling!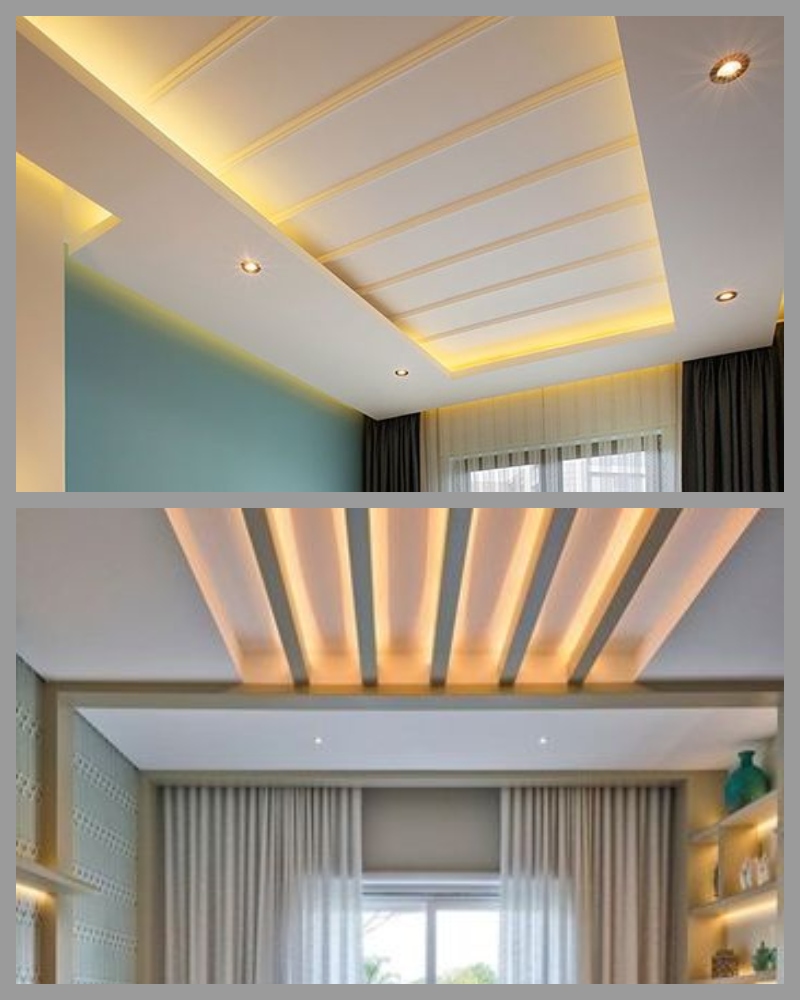 10. POP design for Small Hall Rom
There are some amazing pop designs for the hall rooms to choose the perfect one for a fantastic look! The circular ceiling in dark colour combinations in tandem with the spotlights is truly an excellent idea. White can be the base colour of the ceiling, but the other colour can be something vibrant just like yellow to make it look attractive and elegant! The best part about this Plaster Of Paris design is that it will add beauty to your hall room without even exceeding your budget.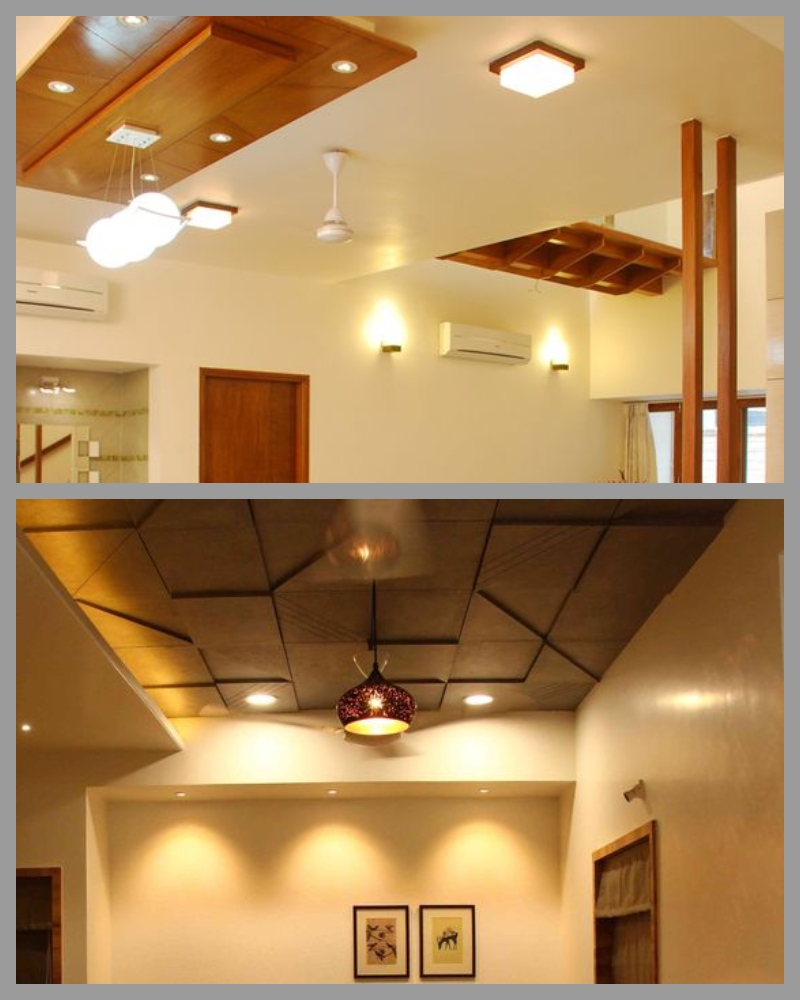 11. POP Design for Large Hall Room
For large hall room, here is another pop design, which has an amalgamation of white and grey colour with a perfectly stylish and modern look! To add elegance and beauty to your entire big hall room, undoubtedly, you should opt for this pop design!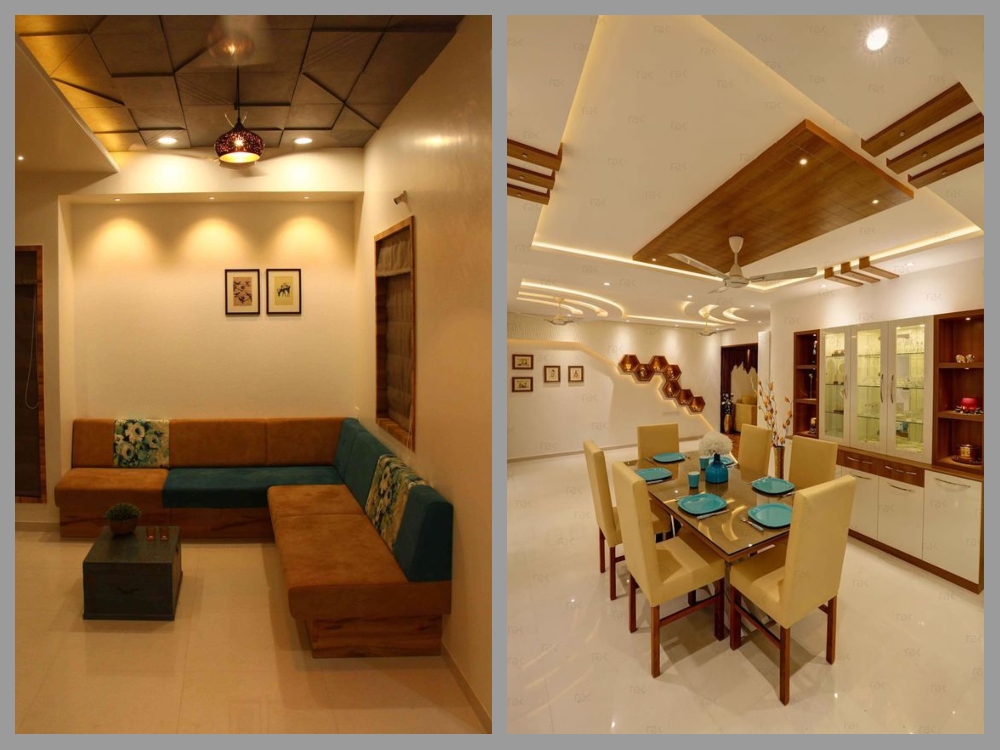 12. POP design with Luxurious Lighting
Yes, the combination of pop design along with stunning and luxurious lighting is what you need to add innovation and beauty to your hall room. With metallic colour-pop design and luxurious lighting, you can definitely make your hall room look outstanding.
To conclude, choose the right pop design for your hall room from the above-mentioned designs and amaze your guests with your beautiful hall room!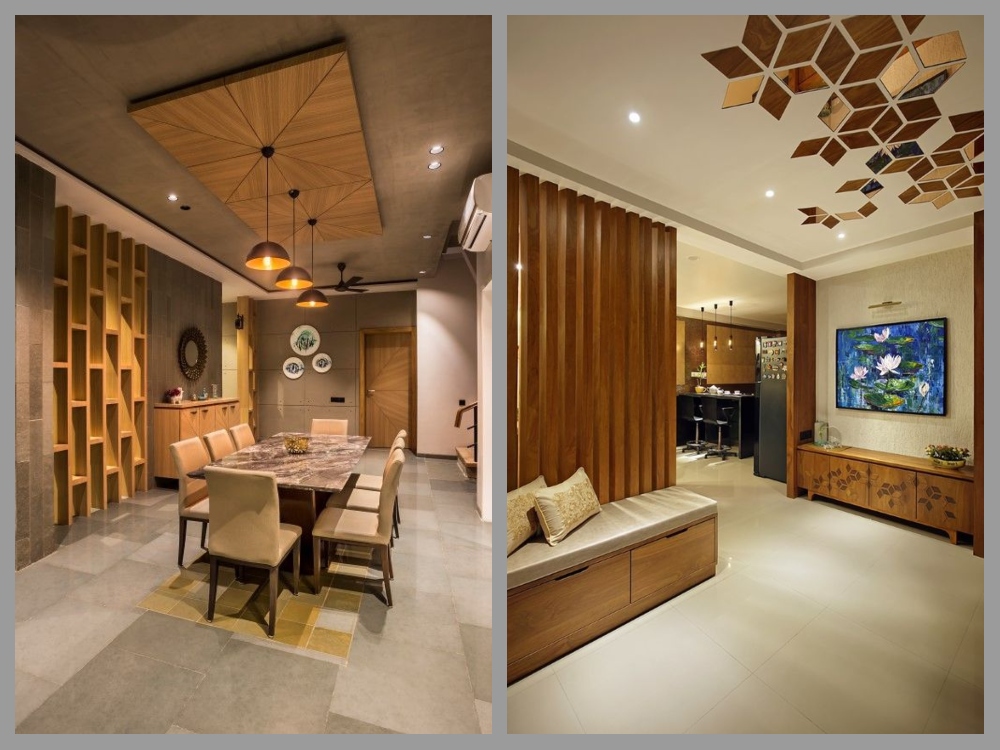 Sours: https://blog.mirraw.com/2019/11/21/best-12-pop-designs-for-a-perfect-home-interior/
When you want to repair or renew your home ceiling, so you should choose one of stylish false ceiling designs and ideas which can suitable for your home style.
There are many false ceiling catalogs and POP design catalog but you don't find unique ideas and designs for the ceiling? so you are in the best place to see the newest POP false ceiling design.

I will show you gallery for gypsum board false ceiling design by global ceiling designers, and you will see top images of ceiling designs for every room, some of the ceilings (
suspended ceiling, fall ceiling, gypsum ceiling, plasterboard ceiling, coffered ceiling
.. and more of POP ceiling designs and ideas.
We recently shared: Modern POP false ceiling designs 2019 with lights: 22 stunning ideas!
POP false ceiling design is one of the perfect suspended ceiling types, I will provide other albums of suspended ceiling and false ceiling pop design for all rooms at Decor puzzle, so you can follow us to see it and see how you can install false ceiling and pop design
modern false ceiling designs for living room pop design for hall 2020
Latest false ceiling design 2020 for modern room
suspended ceiling, pop false ceiling design of gypsum with LED ceiling lights multicolors
This is one of the new pop ceiling design with LED ceiling lighting, this false ceiling design can install as pop design for bedroom
pop false ceiling design for luxury living room interior
Great album: New
plaster of Paris ceiling designs
, pop designs 2020
If you have luxury interior and classics interior design you can choose this stylish false ceiling pop design for living room or drawing room too
pop false ceiling design made of plasterboard
One of the latest ideas of pop ceiling designs for modern interior rooms, this ceiling made of gypsum board
luxury false ceiling design for the classic interior, pop ceiling design catalog
Luxury false ceiling design for classics interior ceiling decor, this is the newest pop ceiling design and ideas with LED ceiling lights
Do you have a modern interior design? so this is the contemporary style of pop ceiling design with backlight
gypsum board ceiling design for kitchen, pop false ceiling design catalog
but this classic gypsum ceiling design for kitchen, this pop design can be suitable for classic and luxury kitchens
contemporary plasterboard ceiling pop design with LED ceiling lighting, this white and purple interior is one of modern interior living room, I like it, what about you
modern plasterboard ceiling design, suspended ceiling lighting ideas 2019
If you like gypsum: the Top catalog of gypsum board false ceiling designs 2019
Have you seen this pop ceiling design previously? it is the exclusive design of the false ceiling, this design made of plasterboard, this ceiling design can be suitable for kids room or nursery ceiling
latest suspended ceiling, pop false ceiling design led lights
Suspended ceiling design 2019 for modern living room and drawing room, this is one of newest false ceiling design and LED lights blue color
contemporary false ceiling design for living room, plasterboard ceiling
If you want to have a unique pop false ceiling design in your interior home or office, so you can choose this contemporary design of pop false ceiling with stylish ceiling lighting ideas
new pop false ceiling design catalog, false ceiling lighting ideas, led ceiling lights
You will like: Best POP roof designs and roof ceiling design images 2019
This pop design of false ceiling can be installed in your office or home too, it's stylish pop ceiling design with multi-level and warm LED ceiling lights for false ceiling designs for hall
cool pop false ceiling design for a nursery or kids room with led ceiling lights
This design is a stylish pop ceiling design for nursery or kids room with pink LED lights, Cool suspended ceiling
modern false ceiling design, led ceiling lights for suspended ceiling
You can see also: How to choose PVC stretch ceilingsystems +15 ceiling designs with Led lights
latest pop false ceiling design catalog for the luxury interior with led lights
I like this design of the pop ceiling, so I put it in the end because it is exclusive pop false ceiling design with warm lighting for luxury living room interior design and stylish suspended ceiling tiles for stylish home
Sours: https://www.decorpuzzle.com/2015/03/pop-false-ceiling-design-catalogue.html
Pop Design - Pokliči me nocoj
15 Best Pop Ceiling Design for Hall with 2 Fans
With the advancements in interior designs, homeowners are given a chance to take their home décor to newer heights. One of the most prominent interior design ideas in today's space-age world is pop ceiling design. Given the prominence of beautifying the ceiling, it has become interesting to choose an excellent design for the ceiling. But before learning the top 15 pop ceiling design for halls with two fans, let's understand what is pop ceiling first.
POP ceilings can be described as the decorative pop work that enhances the home decoration and takes it to the next level. Not only is it a budget-friendly and simple pop ceiling design, but it also is versatile and can get combined molded in accordance with the preferences and taste. 
Such a design can get implemented in both residential as well as commercial spaces. If the drawing-room is big, you can implement such a design. Are you looking for POP designs for accommodating two fans? Here's what you must learn. This post has combined an array of possible designs.  If you are in a dilemma about how to design the hall, here are the best choices for living room ceiling design 2021.
#1 Using POP Frames To Install Your Fans
It is a beautiful idea to fix your ceiling with the help of POP frames. And just in case you're looking for the best alternative of wood, it's the best option to choose. The frames can get used for fixing lights as well as fans. In case you have a large hall, you can implement the design and customize it to your advantage. Your ceiling will get covered with an easy, simple ceiling design adequately. Plus, you can have an excellent frame for the two fans as well.
#2 Combining Fans with the Statement Lights
If you think that the pop ceiling design is best for accommodating two fans in your hall, it can be assumed that you have a large space. So, with the false pop ceiling, it becomes really easy to install the statement lamps. What you can do is try and combine the fans with the statement lamps for a perfect style.
#3 Implementing 2 False Ceilings Separately
Implementing p o p ceiling design for a hall with two fans might not be an arduous job! And the most seamless way to plan it is by creating two false ceilings that have enough space to install your fans individually. It can be a standard and basic approach to accommodate the fans easily.
#4 Standard LED Design
So, the next goes the standard LED design! This happens to be a simple LED design that takes for accommodating two fans in the hall. This will look stunning, and it will have a false ceiling that gets bordered by lights. It will remain hidden, recessed both with the fans right in the middle. Calling it a simple and functional design is, thus, an understatement.
#5 Customized False Ceiling
Just in case you are opting for some unlikely design that can include a false ceiling, fix up your fans at an unequal distance from each other sans worrying about their placements. You can choose a customized false ceiling design, maybe similar to that of your bedroom. Here, you can install an unconventional design on your roof. 
#6 Customized Fan Design 
You can just implement a customized ceiling design in the area where you want to install the fans. This can be a super adorable design for the fan section. As a matter of fact, the professional can match the design in contrast with solid colors, such as black, white, or grey. It's a smart design that moves with incredibly impressive elements.
#7 Pop Cornice Molding
A pop cornice molding happens to be the design that covers around your room as the border. This border covers the wall junctions. In case you want to keep the decorative pop simple and elegant without implementing too many design elements, this might be the best solution. In fact, it's one of the best no-nonsense designs for your hall that comprises two fans.
#8 Running POP Panel
You can choose the running pop false ceiling design in your hall setup. And when you have a big hall, this design outlay can be tried to fix the two fans as required. The floral patterns will match with the contrast color and will break the monotony of the white pop panels too.
#9 Plaster of Paris Design
You can take some inspiration from the false ceiling alongside the distinctive small panels that surround it. If you want to go for this design, you can simply either enlarge that design to accommodate two fans or just create two individual mini versions of the design for the two fans.
#10 Combining with LED show Lights
You can combine the fans with LED show lights. In case you do not wish to do much with your main hall two fan pop design, then you can simply combine the two with multiple LED lights. As a matter of fact, it can get set in one pattern or place randomly. It can be the simplest and most functional setup!  It can also be an ideal choice for ceiling pop design small hall.
#11 Fan Pop Design for Hall 
So, this one happens to be a perfect choice in the design, just in case you look for the pop design for the hall with two fans. You can use the false ceiling and can create two or even more spaces that are dedicated to fixing your fans solely. It's not only simple and standard but also a functional pop design for the ceiling.
#12 Detailed Plaster Carvings
This ceiling hall room design is amazing, as you just have to stop the search for the pop ceiling design for the hall with two fans! As a matter of fact, it's a highly ornamented, luxurious, and lavish design for the ceiling having circular frames. You can install any kind of fixtures such as lights and fans.
#13 All White POP Ceiling
This is another choice that you can try just in case you don't prefer the grand extravaganza. It's a simple pop ceiling design, and such a design is appropriate for accommodating one, two, or more fans as per your demands or requirements.
#14 Decorative The Plaster Plates
It's a set of decorative plaster plates, which get carved on the hall ceiling as per the preference. Every plaster plate serves as the border for the fan. And this happens to be an extremely amazing design choice in case you are seeking a unique pop design for the hall having two or more fans.
#15 Thai Style Ceiling Design
So, Thai Style Ceiling Design is the last on this list, and it turns out to be extremely beautiful. If you want to try something unique to beautify your hall, this is a different pop ceiling design with two fans. The Thai style carvings on your ceiling can be an excellent design. After all, it can be crafted with an array of intricate details. As a matter of fact, the ceiling is great for your design.
So, Which Design Do You Want To Choose?
Now that you have learned the 15 living room ceiling designs in 2021, it's time to choose one. Hopefully, you have got some inspiration from the main hall design ideas from this post. Whether you have a small or big drawing space, it's imperative to choose a design in accordance with your choice and preference.
If you want, you can also try some experimentation in terms of design and colors. As your hall offers the first impression of your house to the guests, it must feature intricate beautifying elements. So choose the design that works best for your living room!
FAQs
How do you design a ceiling?
If you want to design a ceiling, you need to follow the steps below:
Consider the type of space
Understand the concept of interior design
Determine the positions of lights
Learn the ceiling height
Understand the importance of choosing the right ceiling color
Think of the acoustics
Add some architectural features
Try the different shapes accordingly
Which ceiling is best for the home?
Gypsum board happens to be the commonly used material for the purpose of false ceiling. It's the best ceiling used for residential purposes due to multiple benefits. They are sturdy and flexible.
Which ceiling is best?
Both pop and gypsum plasterboard is clean and efficient. They are healthier because of the less residue & dust arising. Gypsum plasterboard comes with more strength when compared to pop.
Which is the best false ceiling for home?
Gypsum ceilings last longer than other ceilings. With quality metal frames, the gypsum ceilings offer durability. Given that gypsum boards are made with precision in factories, consistency in design gets well-maintained and makes it the perfect material for false ceiling designs.
Also read :
Sours: https://www.squareyards.com/blog/15-best-pop-ceiling-design-for-hall-with-2-fans
Pop design best
Everything You Need to Know About False Ceilings (Cost Included)
Just as a building is incomplete without a sturdy roof, home interiors are incomplete without a good ceiling. The ceiling or the fifth wall is steadily gaining momentum in a world of interior design that almost always favoured the four walls and the floor. Although false ceiling designs have been around for years, they're coming back with a bang in terms of patterns, finishes, technology and illusions.
Before diving into designs, it's best to set a base of what it is, the types and pros and cons.
What is a False Ceiling?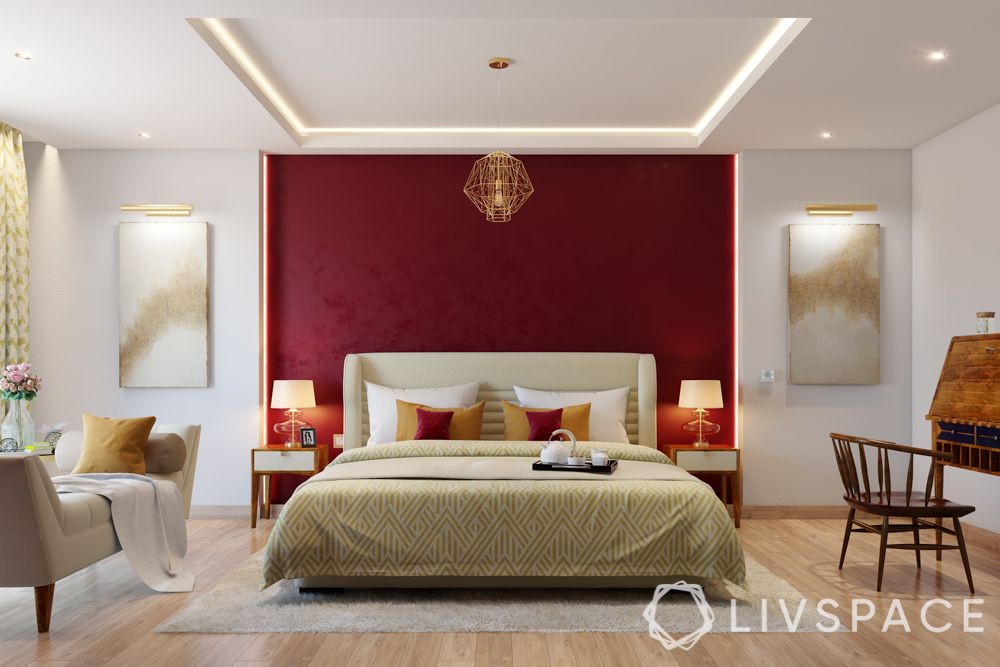 In simple terms, a false ceiling is a fitted ceiling that hangs below the original ceiling of a room or home. It's usually suspended by wooden or metal frames and the illusion it brings of a lower ceiling, sometimes with parts of the original ceiling on display, has earned it the moniker 'dropped ceiling.'
They're versatile enough to be constructed in homes of any size– it's all about being clever with shapes and available space.
Popular False Ceiling Materials
Gypsum False Ceiling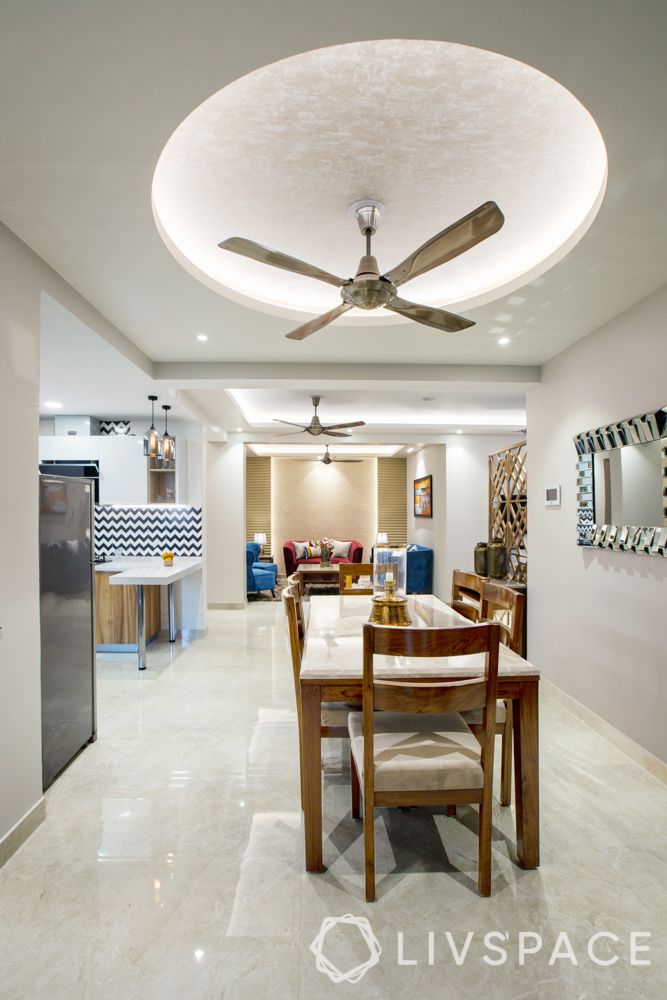 Gypsum is an offspring of calcium and is used in the construction of lightweight ceilings. They usually come in the form of boards that are then hung off the ceiling with iron or wooden frameworks and given a lick of paint.
Cost per sq ft.: ₹50 – ₹150
Plaster of Paris False Ceiling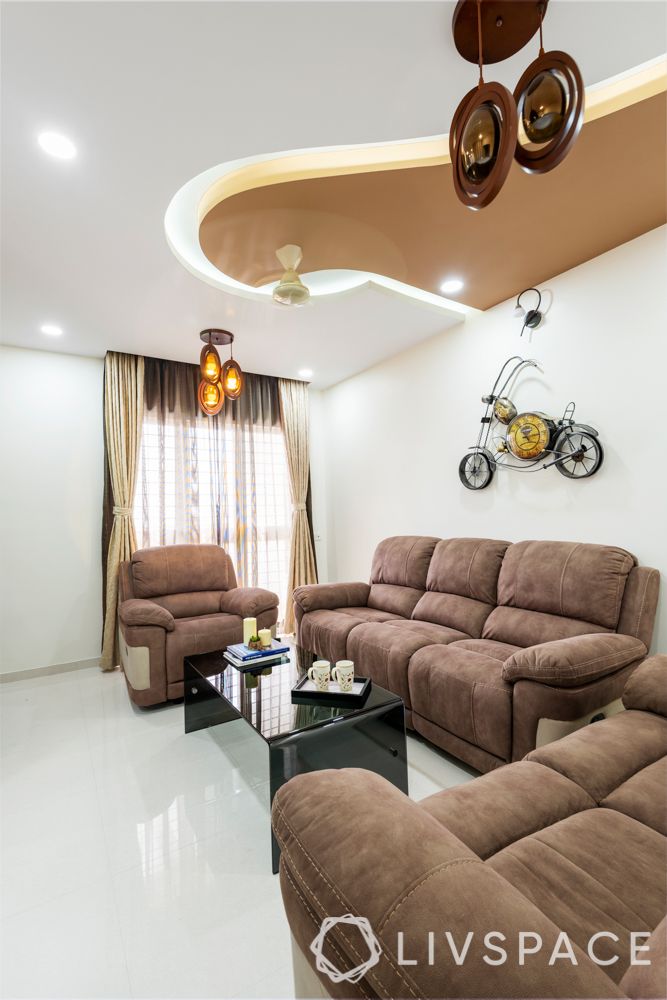 This is a more common variety of ceilings, not least because PoP is easy to shape and source. They're long-lasting and are well-insulated even in varying weather conditions.
Cost per sq ft.: ₹50 – ₹150
Wooden False Ceiling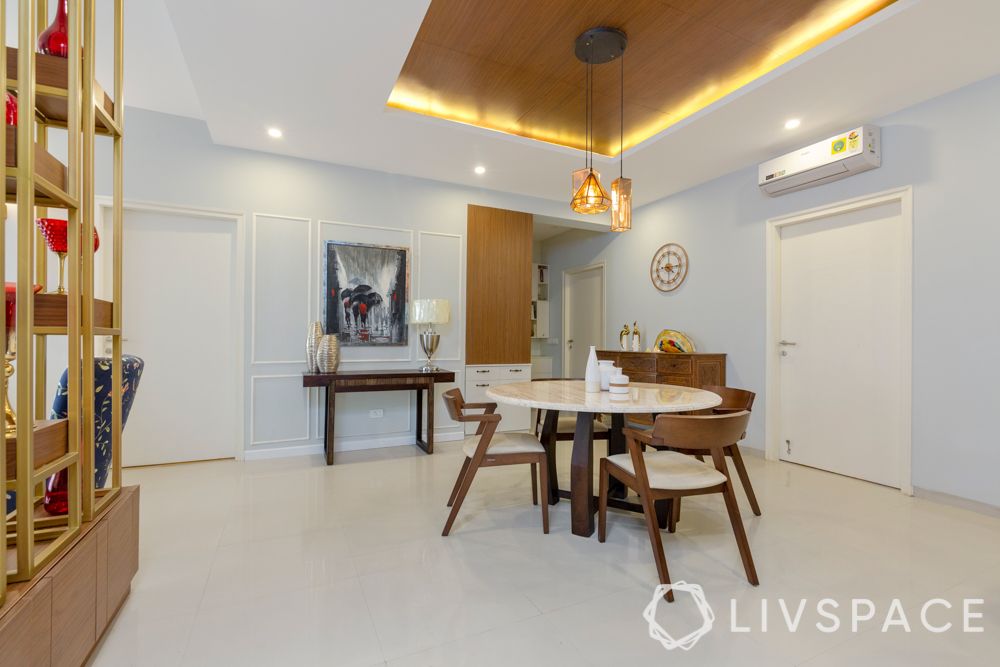 Due to its natural grain and textures, wood has found its way onto the fifth wall many times, in the form of a ceiling. It's a tad on the pricier side, which is why you'd most likely see it in residential buildings as opposed to large-scale commercial projects.
Cost per sq ft.: ₹80 – ₹650
Of these, the first two are usually the ceiling of choice in Indian homes because they're much more customisable.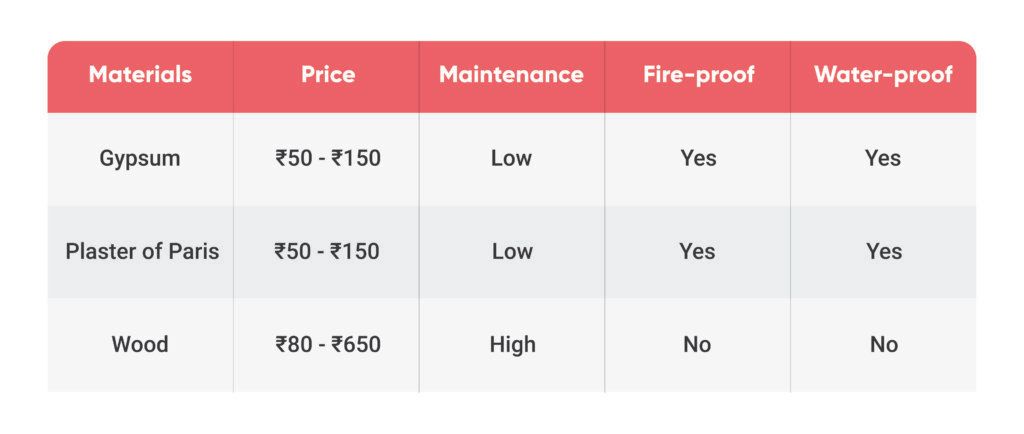 How is False Ceiling Cost Calculated?
Multiple factors are involved while calculating the cost of false ceiling per sq. ft. These include:
Design: More complex the design of the false ceiling, the costlier it gets.
Size: The price is low for a larger ceiling area as the materials required can be purchased at wholesale prices in bulk.
Quality: If you go forhigh-quality materials, it is pricier. But as high-quality materials are durable, it has a higher return on investment (ROI).
Availability: If the materials you are using are easily available in the market,transportation and logistic costs can be cut.
Additional cost: This includes the cost of finishes, fittings, cutting, lighting, accents etc.
Types of False Ceiling Designs
To help you evaluate which ceiling design to go for, here's a rundown of both the classic and the bang-on-trend:
Single-layered False Ceiling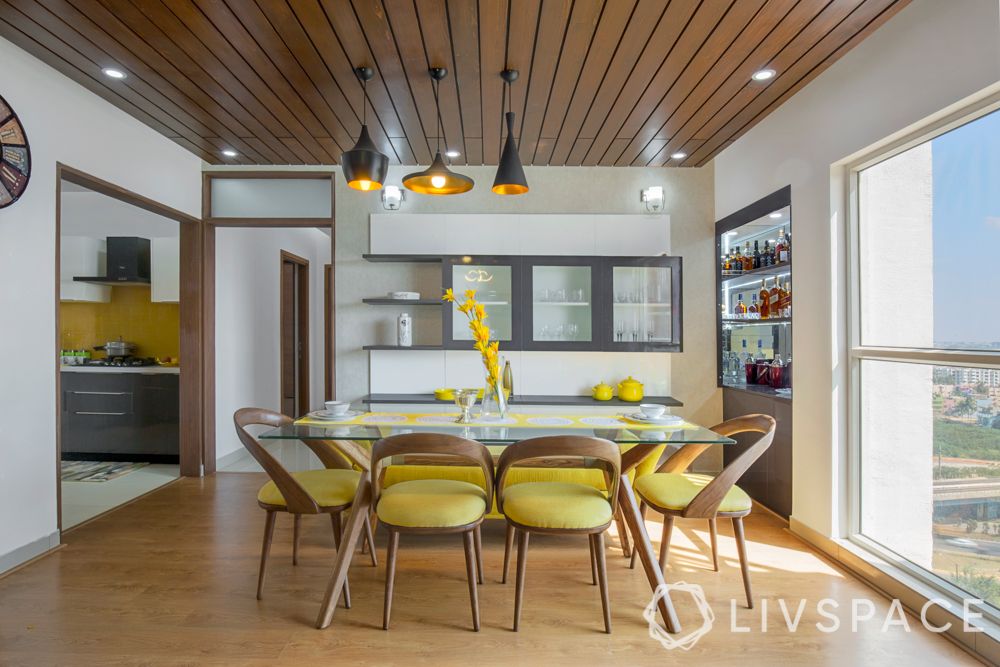 This type of ceiling is a fool-proof way to jazz up a room without going the whole hog. Homeowners could choose to leave it white on a white ceiling, as this adds dimension without necessarily overwhelming the space. However, if you'd like to go out with a bang, you could choose from a variety of colours, shapes, textures and lighting options to draw the eye upwards immediately. This is a great trick to distract from a small space or one that doesn't do much in terms of decor.
Multi-layered False Ceiling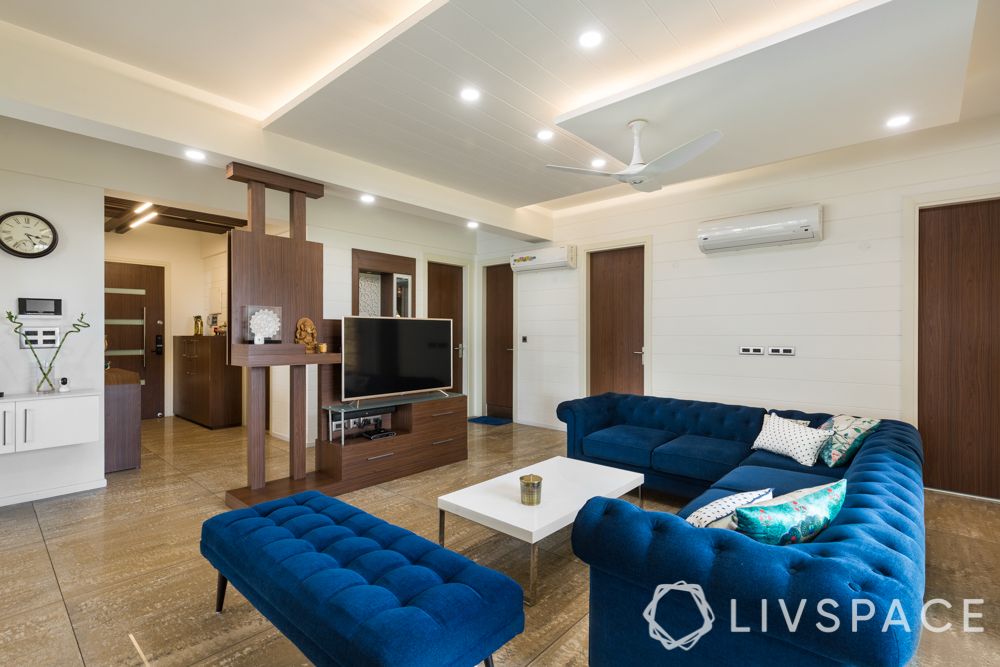 Layers are a great way to experiment with an already versatile medium to create a completely personalised ceiling. In larger rooms, a multi-layered ceiling in the centre of the ceiling creates drama and the feeling of grandeur, while those laid out near the edges are more likely to make the space look wider. A multi-layered ceiling also opens up new avenues for lighting, colour and shape-based experiments, so don't be afraid to flex your creative muscles!
Plus-Minus POP False Ceiling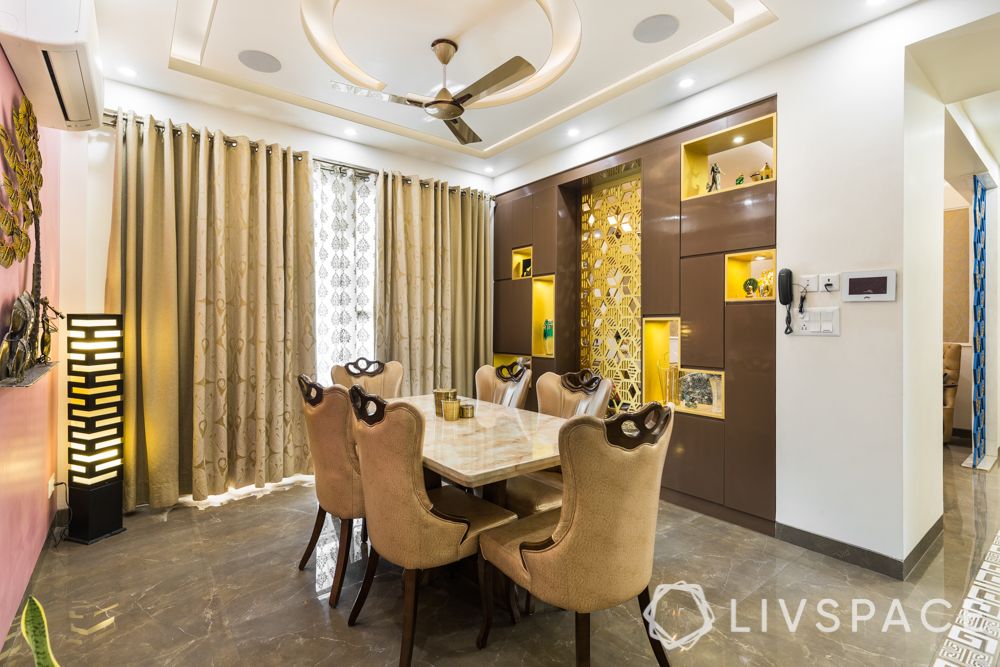 Constructed completely out of POP, the plus-minus ceiling design is where there are elements protruding out of a regular false ceiling or, by contrast, tucked into it. This trend is more on the elaborate side, so be sure to factor in existing decor plans and the amount of space you have before playing around with this idea.
Coffered False Ceiling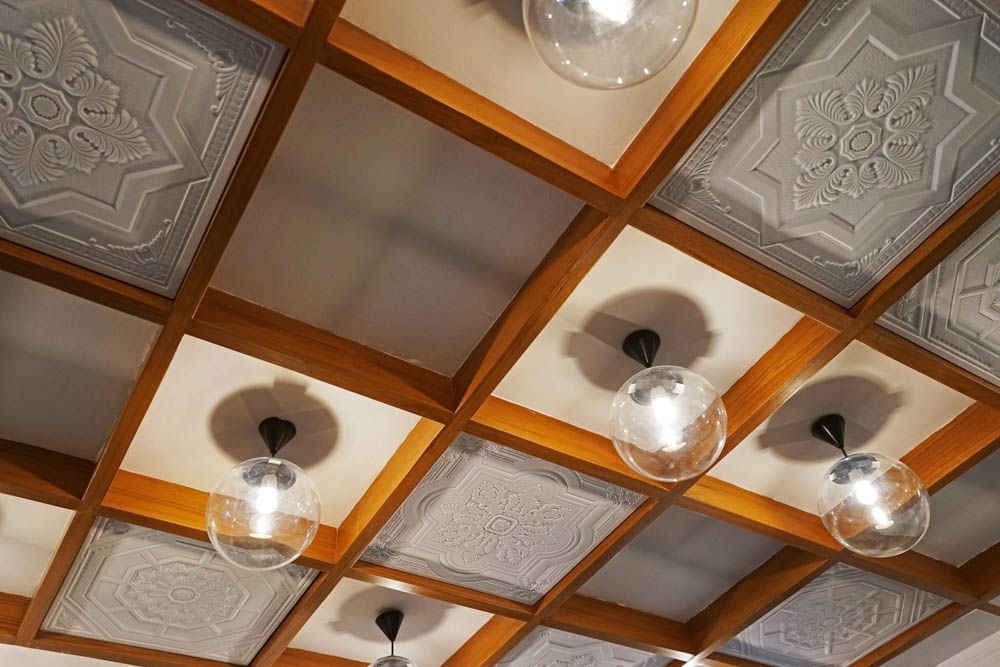 Coffers are sunken square or boxy panels that are fixed into a ceiling. Aside from instantly bringing drama into a space, this ceiling design also creates the illusion of higher ceiling height and multiple dimensions within one room.
False Ceiling Shapes
POP used in false ceilings is known for its mouldable properties making it perfect for almost any kind of ceiling design. However, there are other false ceiling materials that can be shaped and customised as well. Take a look at some of the most popular false ceiling shapes:
#1: Box ceiling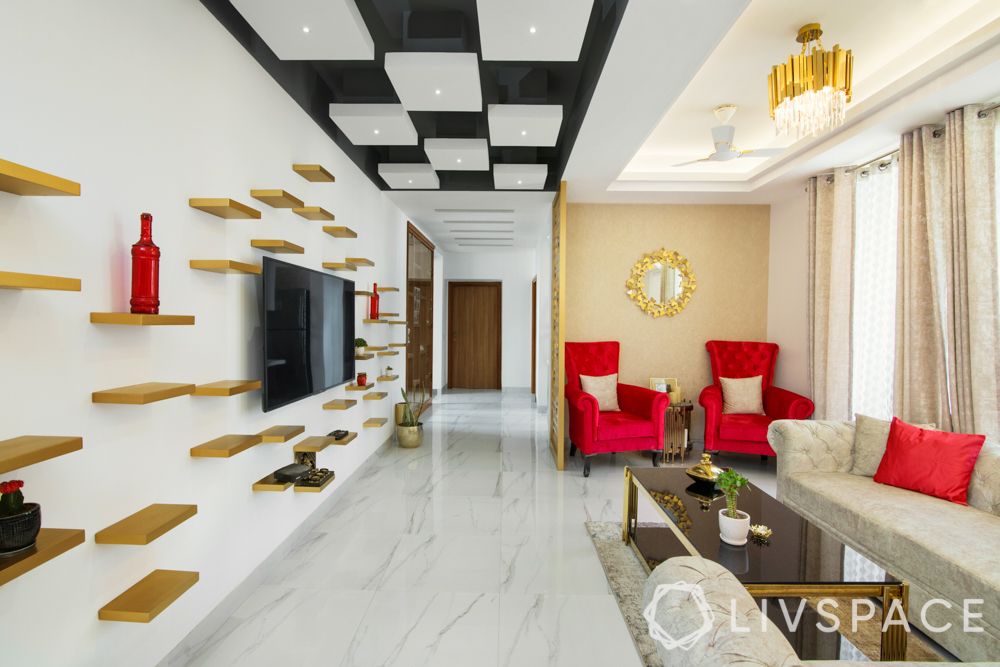 This design features a layered ceiling with boxed and recessed lights attached to them.
#2: Peripheral ceiling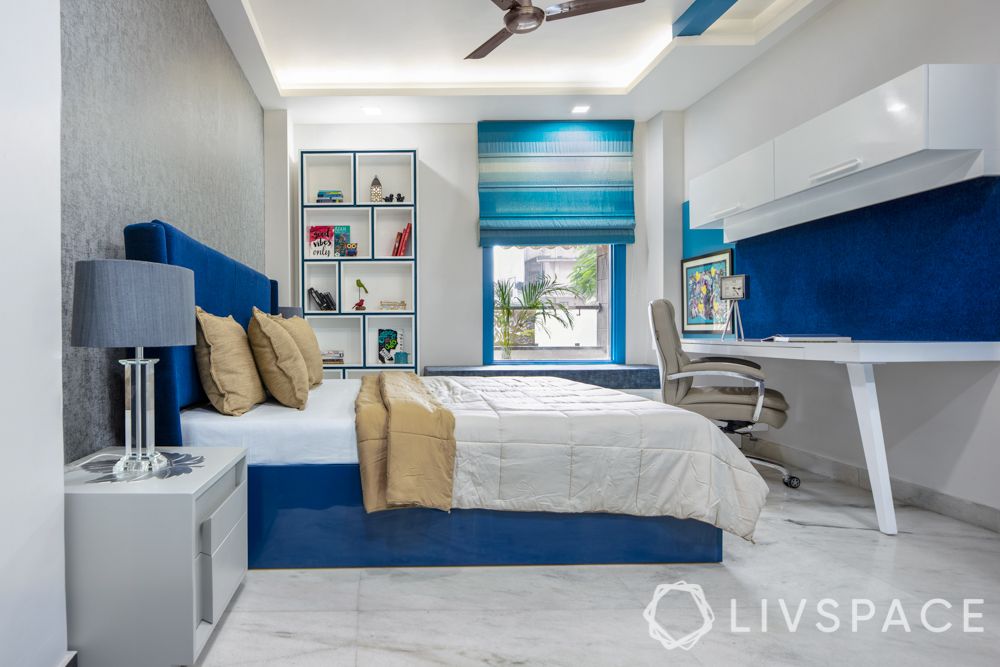 This minimal design runs along the corners of the room and is perfect for low ceiling homes. You can also find space for a chandelier or pendant lights in this design.
#3: Geometric design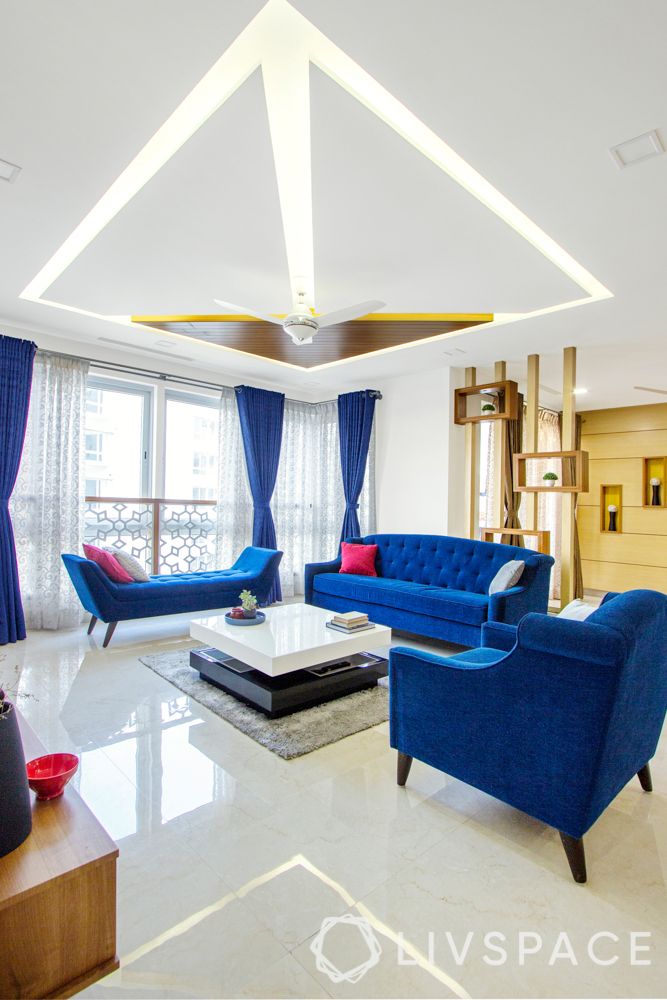 This design requires suspended panels for each piece that is put together. It's a modern design that gives the room a stylish edge.
#4: Intricate lattice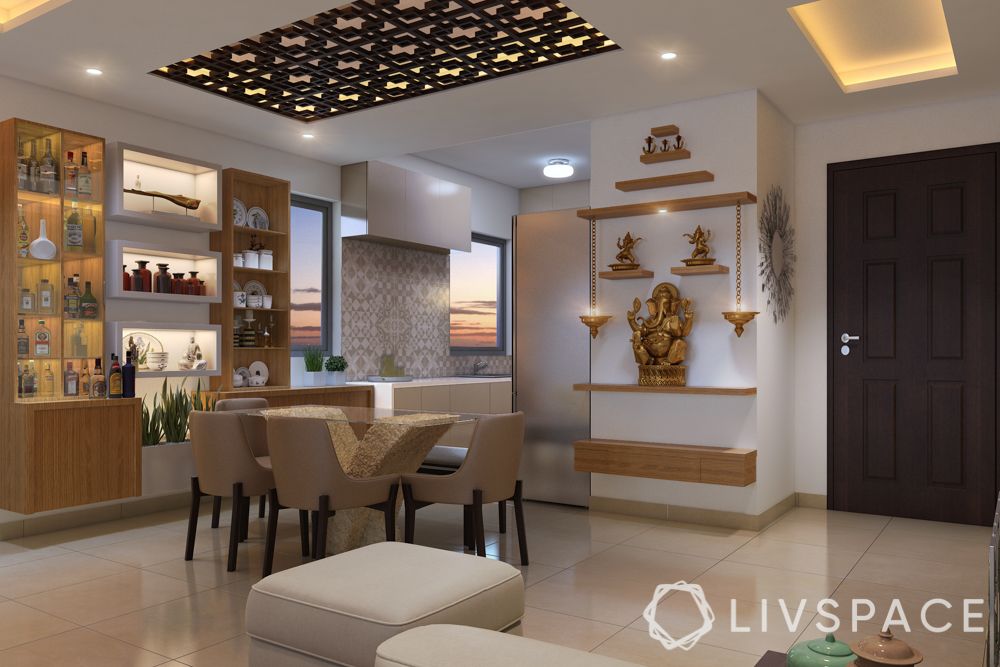 Installing a lattice in a false ceiling provides a subtle demarcation to an open space and adds to the aesthetics of a room.
#5: Wooden slats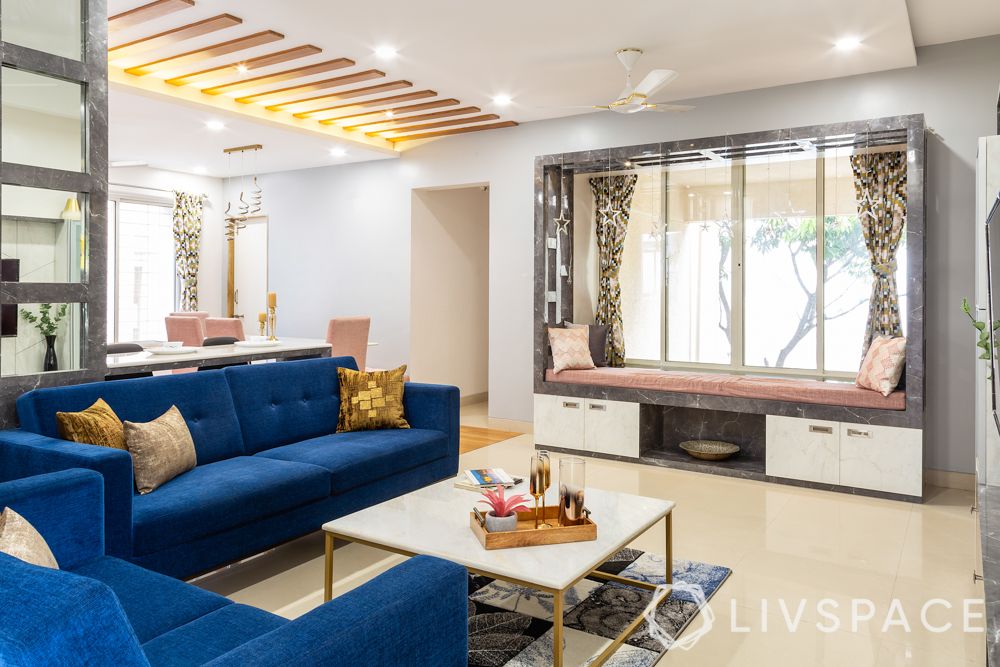 Wooden false ceilings are a favourite albeit expensive option among homeowners. It is also one of the best insulating ceiling options
#6: Inverted cove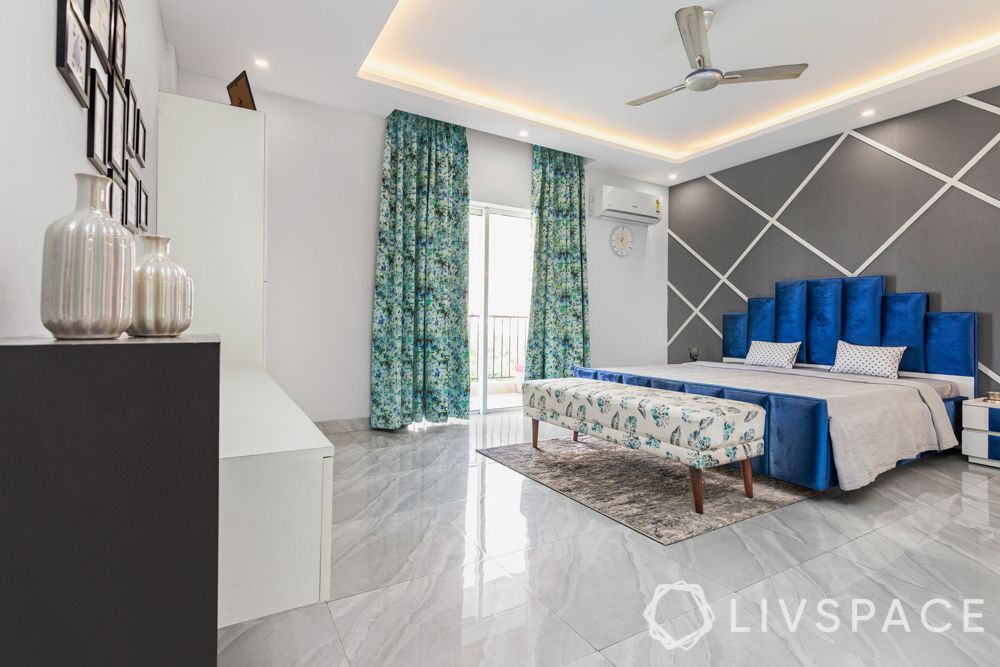 A great option to reduce high ceilings. It works well in every room and is perfect for ambient lighting. You can also find space for a chandelier in this design.
Pros and Cons of a False Ceiling
If you're still on the fence about whether or not to install a ceiling, here are a few pros and cons that should help you decide:
Advantages of a False Ceiling
Great acoustics: Adding an additional layer to the original ceiling creates better acoustics within making it a perfect design treatment for living rooms, home theatre and AV rooms.
Hides wires: A false ceiling is a perfect place to hide wires and pipes. A false ceiling can also be fitted with sunken or hidden lighting.
Brings lofty ceilings lower: For lofty vertical space that dwarfs furniture in a room, you can consider installing a false ceiling to restore proportions.
Insulates the room: For homes in colder regions of the country, this offers up an added perk of insulating rooms. The additional layer creates a gap between itself and the original layer, which traps air and cools the room down. It also optimises the functioning of air conditioners. Because it reduces the square footage to be cool and slashes energy bills.
Disadvantages of a False Ceiling
Installation requires precision from experts: False ceiling requires precision in design, calculation and installation and must only be put in place by experts.
Not feasible for low-ceilinged rooms: It needs to be at least 8 inches away from the original wall. Therefore, it is always recommended that the ceiling height be 11 feet or higher. For compact homes, a partial ceiling in a corner of the room can do the trick.
Where to Install a False Ceiling
There's really no limit to where you could install a ceiling in your home, but popular options are:
#1: Living Room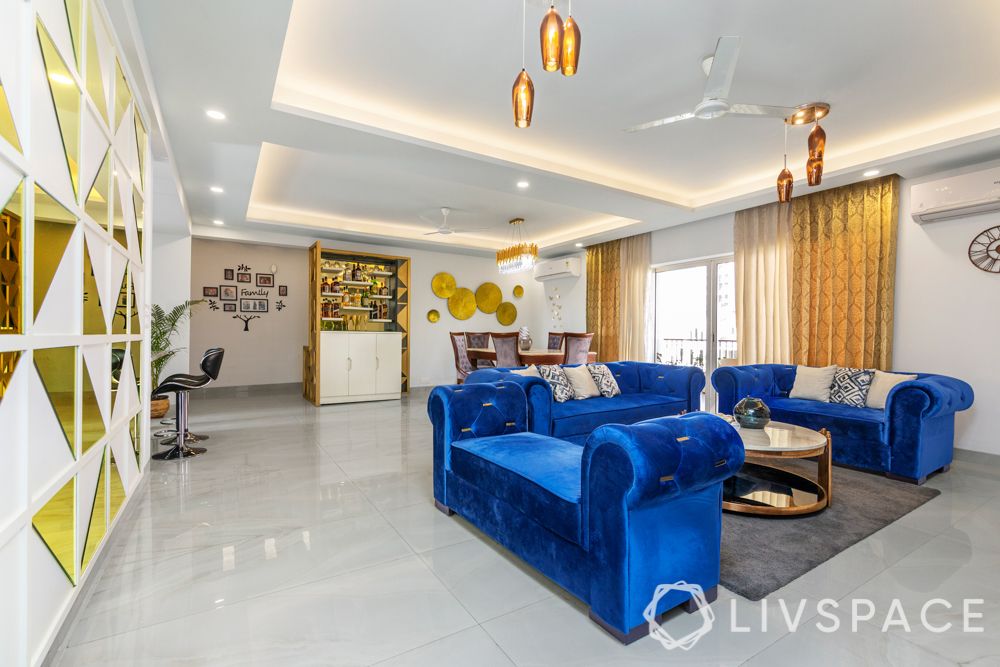 This makes for a grand entrance and instantly hints at the amount of vertical space available, making the room look larger than it is or quite right.
#2: Bedroom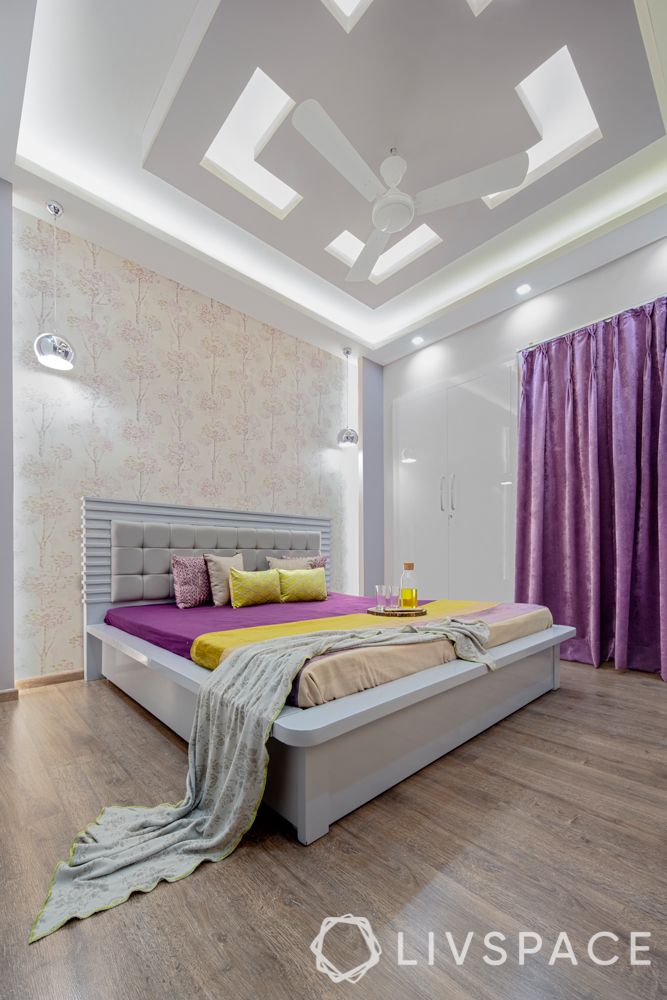 A false ceiling over a bed, or running the vertical length between floor and wall, is a striking way to add drama to the room without compromising on the comfort and cosiness a bedroom should entail.
#3: Kids Room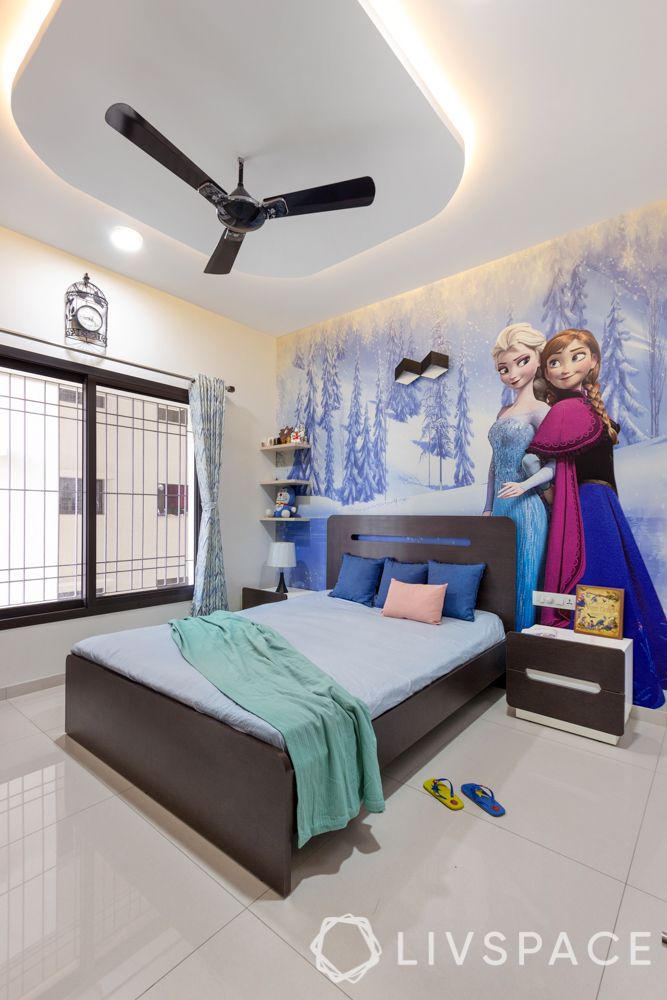 Instead of playing it safe with pinks and blues, consider taking all the colour and throwing it up in the form of a ceiling. This keeps the room free of potentially dangerous decor items and furniture while connecting with the space, design-wise.
#4: The Kitchen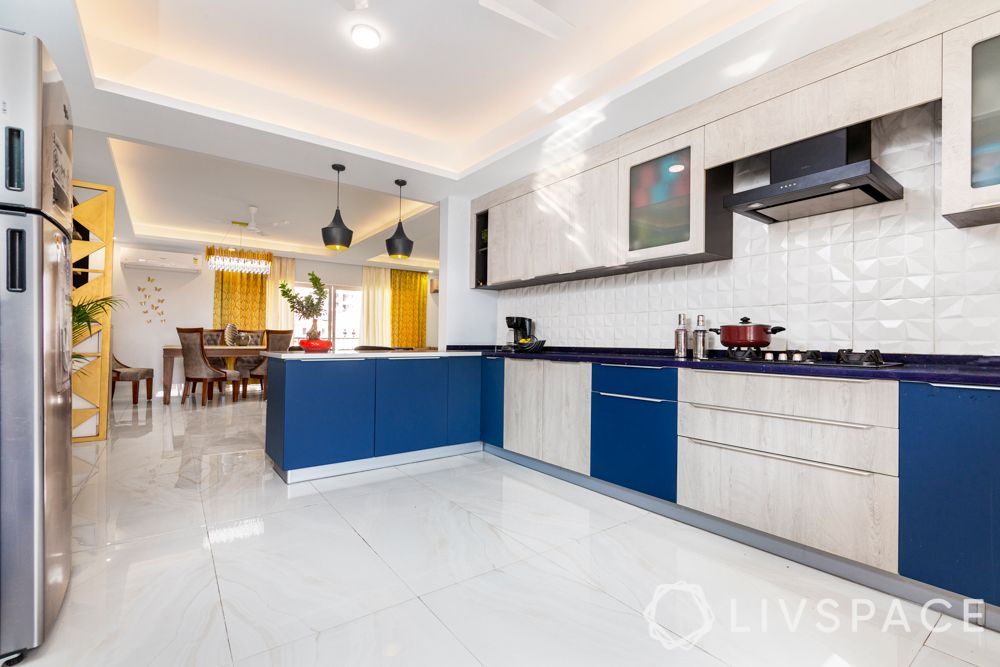 Not one for the safe players, a false ceiling in a kitchen is a surefire way to add style. It converts a task-oriented space into one that scores points for offbeat design. Not only does it look fancy, but it also provides additional lighting without using wall or countertop space.
#5: The Dining Room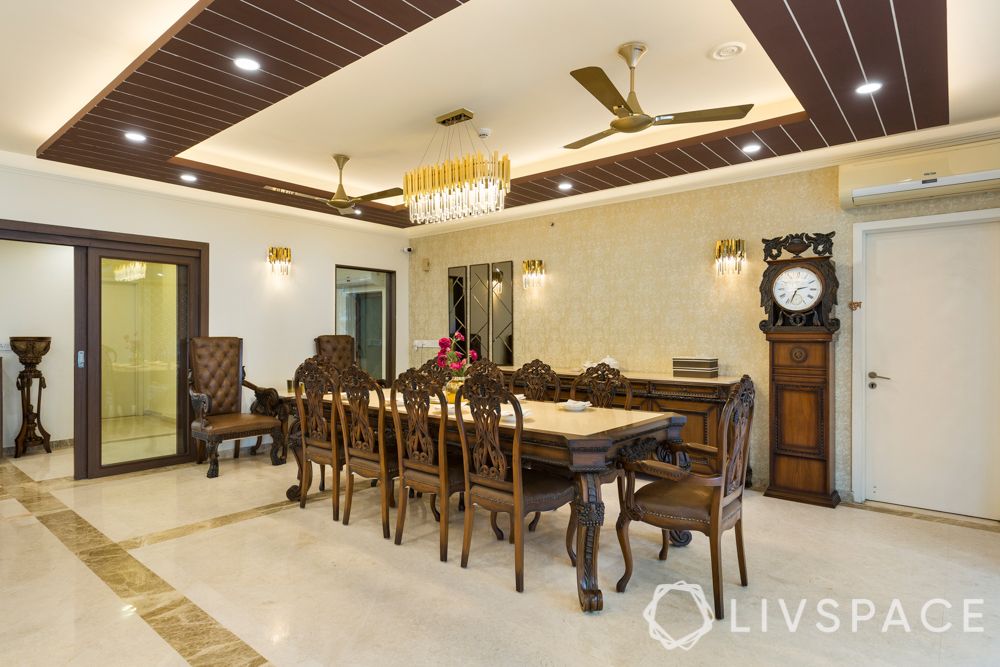 There's a reason homeowner's opt for these designs in dining rooms. Lowering the ceiling makes for a cosy atmosphere making the dining experience a lot more personal and enjoyable. The above image features a POP ceiling that is painted to look like wood and match the solid wood dining table.
#6: Pooja Room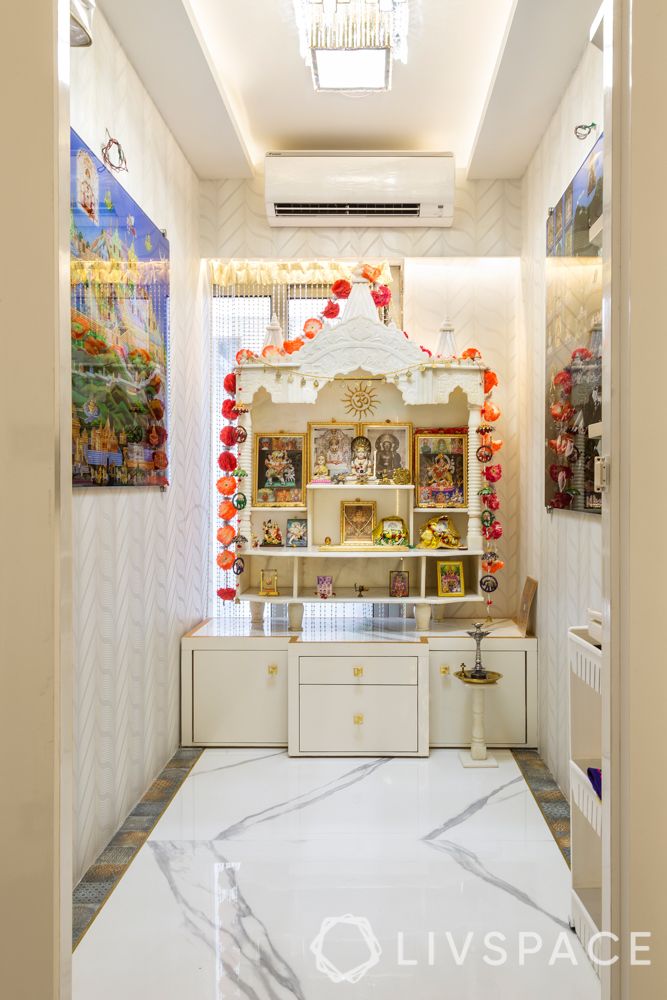 If you have a pooja or prayer room at home, you know how important good lighting is for this space. In most cases, a pooja room is a compact space with no windows. Even if they are present, they are most likely covered or blocked. This leaves you with installing this design to save space with ample overhead lighting.
FAQs on false ceilings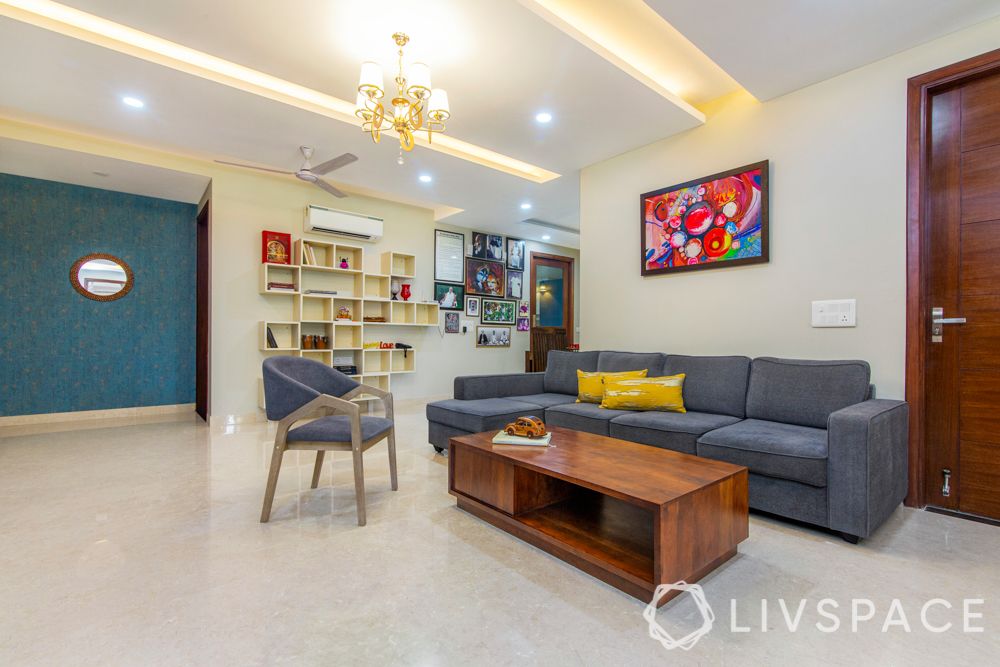 Does my house need a false ceiling?
It depends on your preferences. Besides the aesthetic appeal of it, false ceilings are functional features that improve acoustics, they cover unsightly wires and pipes, they can be designed around air conditioning ducts and lower electricity consumption. Moreover, you can opt for fire proof and moisture resistant designs as well.
How long do they last?
These false ceilings that are custom designed and made with high quality POP and gypsum will last
How is it better than traditional lights?
When compared to tubelights, bulbs and track lights, they are cost and energy efficient in the long run. Their ability to reflect and diffuse light to a wider area makes them more efficient than focused lighting like track lights and tubelights.
The final word
Adding a false ceiling to an existing or new interior design plan enlivens the space. It also creates a cosy ambience and earns brownie points for supporting lower energy bills!
Also, if you love to see more fancy ceilings, read this: Bye, Bye, Boring Ceilings!
Send in your comments and suggestions to [email protected]
Sours: https://www.livspace.com/in/magazine/decor-pillar-false-ceiling
Pop Design - Pokliči me nocoj
.
Similar news:
.
317
318
319
320
321