Make your own
Vocabulary Flash Cards

Use these Vocabulary Flash Cards templates to make your own flash cards for your specific word sets.
Select a template to download that displays the size of the flash cards that you want to use.
Larger cards are more suitable for use with larger groups whilst the smaller flash cards lend themselves to one on one tuition or small groups sitting close to each other.
You will need to have Microsoft Office Word 2010 or later.
Not got it?
You can still make flash cards using these free printable flash cards in PDF format.
---
2x1 Vocabulary Flash Cards Template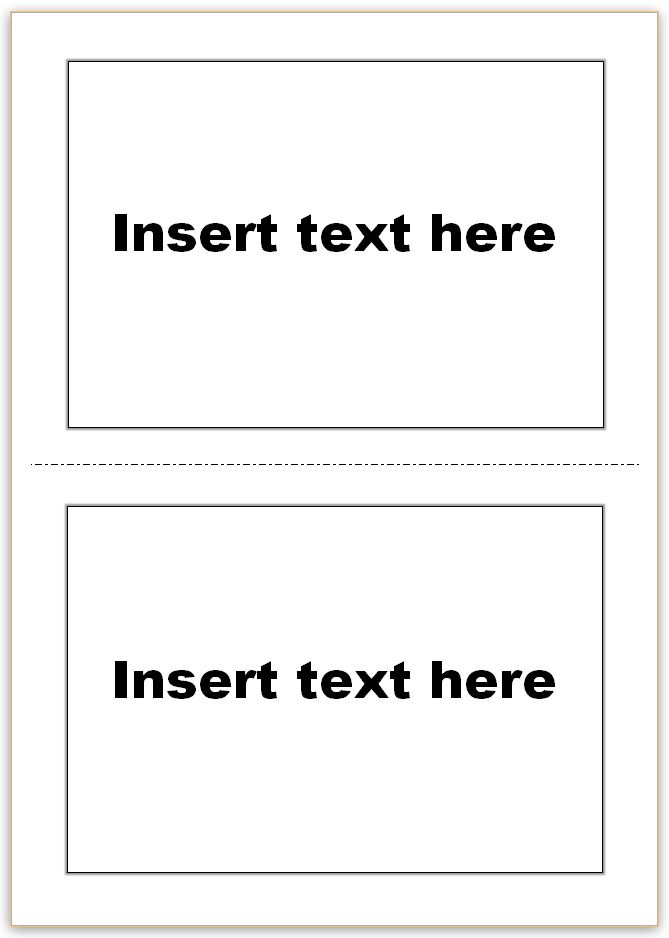 ---
2x2 Word Flash Cards Template

Default Settings:


Flash Cards per A4 page: 4


Size: 105 x 74 mm


Font: Arial Black


Font size: 36 pt

---
3x3 Word Flash Cards Template

Default Settings:


Flash Cards per A4 page: 9


Size: 70 x 49 mm


Font: Arial Black


Font size: 24 pt

---
8x2 Word Group Flash Card Template

Default Settings:


Flash Cards per A4 page: 16


Size: 74 x 26 mm


Font: Arial Black


Font size: 22

---
How to use the Vocabulary Flash Cards
Each Microsoft Office Word template will download as a ZIP file.
Make sure that you save your template somewhere safe.
Double click the Microsoft Word template file and it will open as a new document ready to be used. Do this each time you want to use it.
By double clicking the file icon to open the template you will open a new instance of the template. Any changes that you make will not be saved back to the original template file.
To insert a word, click into a text box and delete the default text 'Insert text here'. You can now type your own word into the text box.
If you type several words into one text box, the text will be wrapped to fit into that text box.
You can amend the style of the vocabulary flash card by selecting a different font and font size.
You can also change the font color and add any text effects that you wish.

Inserted all the words you want to use?
Good.

Now make sure that you save your amended template some where safe so you can use it again in the future.
You'll now want to print your vocabulary flash cards.
All templates will be printed with border lines allowing you to cut each card to the perfect size.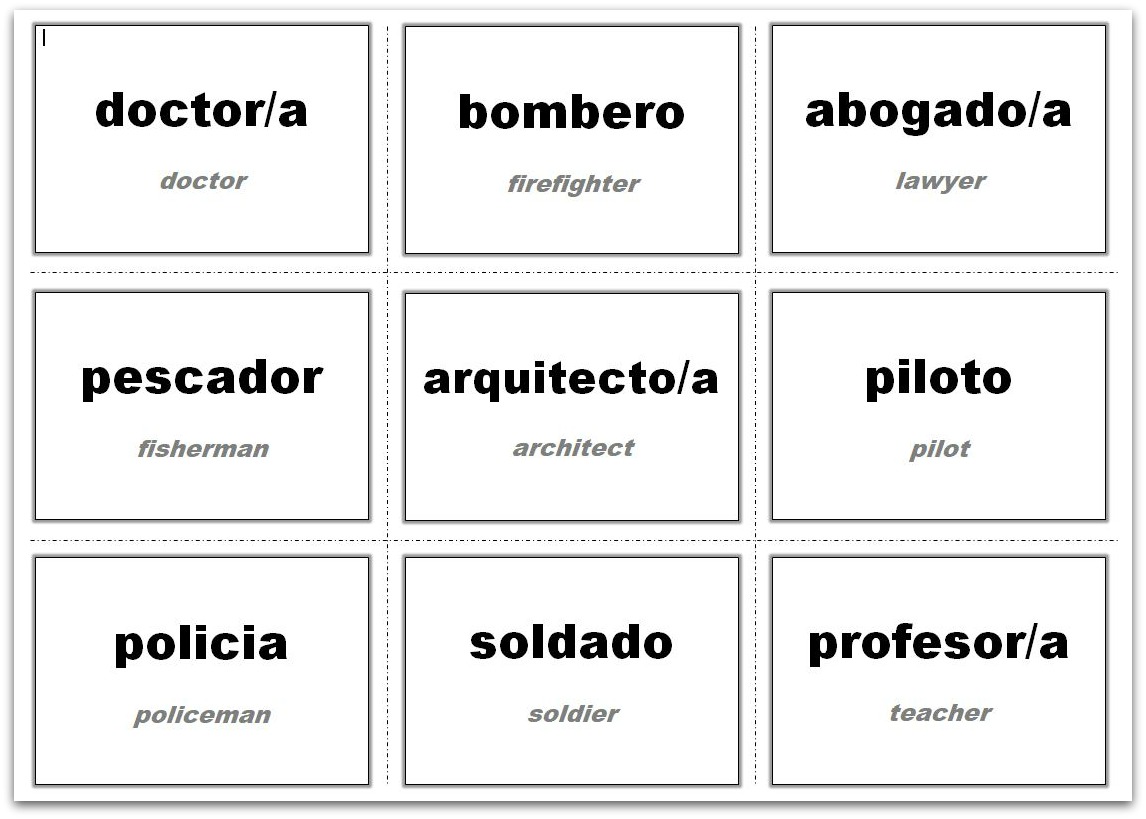 Example 3x3 flash cards used for a Spanish lesson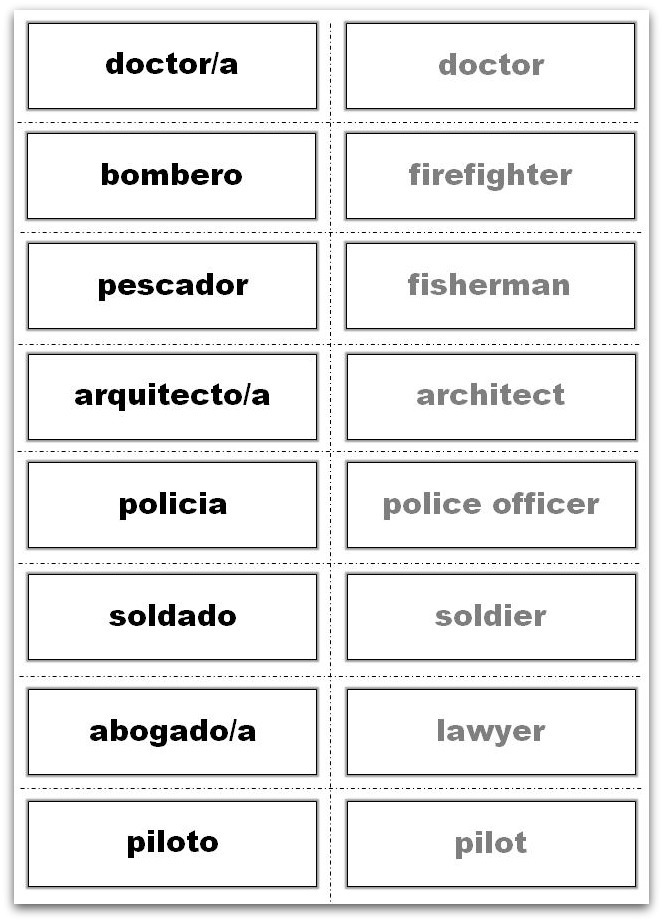 Example 8x2 vocabulary flash cards for use in a Spanish class
I would recommend printing your cards on thick white printer card instead of on normal thin paper.
By using printer card, your flash cards are more likely to stand the test of time for longer.

Ensure that you select a card that is compatible with your printer. If it's too thick your printer will not like it.

View a selection of A4 thick white printer card here >>
Now you've printed your flash cards you'll want to cut them into individual cards.
Cut you cards carefully to make them look professional.
To get the straightest, most accurate edge possible use a guillotine to cut them rather than scissors.
Using a guillotine will also allow you to cut multiple pieces of card at the same time ensuring that your flash cards are of a standard shape and size.

View a selection of guillotines available to purchase on-line here >>
To really make them look professional I like to laminate mine. They look great and seem to last infinitely longer than if you don't laminate them.

You can pick up a laminator to use at home relatively cheaply these days and are great for a number of uses such as:
protecting front covers for projects

creating professional looking certificates of appreciation.
finishing business cards
making durable posters and publicity
See a selection of great value for money laminators here >>
---
MORE FLASH CARD TEMPLATES..
Picture Flash Card Templates (MS Word)
Blank Printable Flash Cards (PDF format)
<< All Flash Card Templates
---
RELATED TEMPLATES..
EFL/TEFL Lesson Plans Template

<< RETURN TO CLASS-TEMPLATES HOME PAGE
Sours: https://www.class-templates.com/vocabulary-flash-cards.html
Note: some people are reporting that they can no longer find the flashcard template we are recommending. If this is you, we've created two re-useable documents you can simply download and save as your own for flashcard creation. One has five flashcards per page (business card size) and one has one flashcard per page. See the bottom of this answer for those templates.
---
To make a set of flashcards in Microsoft 13's Word, select New and then type in flash card in the search box.
You will see a variety of flashcard templates to choose from (vocabularly, addition, multiplication).
To make more advanced/home made flashcards, search for "Pocket Reference" cards.
---
To make a flashcard in Microsoft 7's Word, you should click on "file" then "new" and then you will see a selection of templates to choose from.
Use the search bar at the right/center to type in flashcards, and you will get a selection of flash cards to choose from (see images below).
If you do not see a nice selection of flashcards, Download Flash Card templates from Microsoft's online gallery. We recommend "Pocket" reference cards because you can control the information on both sides of the cards. The icon looks like the one below:
---
Once you have a selection of Flashcard templates to choose from, simply pick one and fill them in as you like!
To make flash cards in our Online Tutoring Service (Brainfuse), see http://rasmussen.libanswers.com/faq/32517
Sours: https://rasmussen.libanswers.com/faq/32665
Flash Card is super useful for teaching and learning nearly anything. Some of them are for teaching foreign language, vocabulary, and you name it. However, you may want to avoid creating your own flash card or index card from scratch because it can be difficult and daunting task. Good news is, you can use ready to use flash card templates created for Microsoft Words docs, an easy to use text editor software application almost every one has. Here are the flash card template for word:
If you don't have Microsoft Word, it's ok. You can open the template in Google Docs in Google Drive. It's free. Some of our templates are available in Power Point format. Therefore, you can also open and edit it in Google Slides, the Google version of Power Point. It's free too.
Flash Card Blank Templates for Microsoft Word
2×2 Blank Flash Card Template A4
This flash card template for word in A4 paper divided into 4 sections. A cut line goes across each part to make it easy to cut. Each Card is detailed with strong stoke lines. You can change the thickness and the color of the line. The text is in bold in the center / middle card. You can add image on top or below the text.
3×3 Blank Flash Card Template A4
This A4 Page is filled with 3×3 Flash Cards, that means 9 Cards. Edit the content by changing the text in the "insert text here". Moreover, an image can be added into each flash card. Alternate the line thickness and color based on your preference. Furthermore, the font can also be modified. It's editable here and there. Just customize it the way you wish.
8×2 Blank Flash Card Template A4
Small pieces of flash cards can be very useful for many purposes. For example, a teacher may use this small size flash card to teach vocabulary, or even simple tagging. Similarly, a small picture or clip art can be added on the left side of the text.
If you prefer a more fancy looking font, change it right away. Don't hesitate to change the line color or the font color. Just make it as colorful as you can imagine.
Flash Card Templates With Pictures
4×2 Printable Sea and Farm Animal Names (Power Point)
Learning animal names is a playful activity for children. This animal flashcard template can actually be used to teach other word categories, not only animals. It contains 5 pages:
or, if you prefer other animals, you can change the name and the picture/clip art with the ones you need.
but if you are interested in that already available pictures, just print it right away in A4 paper size. I suggest that the flash card be printed in a thicker paper to make it more convenient to hold when cut in small pieces.
The line colour is brown. Again, you can always modify the thickness and the colours.
This template is only available in Power Point format. However, If you want to edit it in Google Slides, just upload it in your Google Drive and Save it as Google Slides and you can edit it further.
4×2 Animal Names – Bold Text and Colourful Lines
Another printable flash card template with animals clip art in it is ready to use. The flash card is in A4 page, divided into 2 rows, with 4 columns, and thus it gets you 8 flash cards.
You can always modify the thickness and the colours.
This beautiful animal flash card template is only made in Power Point format. If you need to customize it in Google Slides, just save it in your Google Drive, and you can adjust anything in it more.
4×2 Colourful Background Farm Animals
Do you like colourful background flash card? Here are some farm animals clip art in simple yet colorful design flash card. You can replace or add the sound of the animal. Just write the animal sound under the name, but you may need to alternate the color to make it different.
You can always modify the thickness and the colours.
It has only two pages. You can change the clip art image to suit your need. This template is available in power point format, which is the easiest to edit. Here is the file. Grab it now.
4×2 Colourful Face Expression / Emoji
When teaching new words, especially English, using flash card can make the activity even more fun. The colorful cards can motivate them learn more about the words. If you are teaching foreign language, other than English, you can edit the text. There are 16 face expression in these A4 pages.
Some activities that you can try so that the learners can enjoy participating and engaged, ask one by one to mimmic the facial expression.
Another way? feel free to use this flash card for simple speaking activity. A learner would speak simple sentence containing Subject (I) Verb (feel) and adjective (happy, sad, hurt, glad, etc.). Doing this repeatedly can enhance and help them the sentence structure that they later use.
4×2 Teaching Feeling Expression Vocabulary with real photos
Real photos sometimes are useful for teaching babies with flash cards. The facial expression is clear as it resembles the real human, not cartoon. For EFL (English as Foreign Language) or ESL (English as Second Language) learners, flash card with photos can be used to create an engaging vocabulary learning activity. If you have time to change the pictures, you can do that right away, but if you are OK with the photos that are already in the template, print it right away and cut.
This flash cards template is not only for feeling/expression. It can be used for any purpose. It just actually serves the layout. A4 page is divided into 8 cards. Each card is surrounded with grey thick line, and a photo without contour. Here is the power point file. Download it immediately.
Free Printable Fruits and Vegetables flashcards in Power Point or PDF
Looking for free resources to teach new words to toddles? here is fruit flashcards ready to use. It is created in power point, and you can export it in pdf. Why not just in pdf already? because if it is already in pdf, you cannot edit, adjust, modify, change it the way you want it to be.
Teaching preschoolers or kindergarten using fruit flashcards game can be an entertaining activity. a language teacher can use this to teach any language, like English, Spanish, etc.
If you like to use real photos/images/pictures, don't hesitate, change it.
Teach & Learn Language Verb with Flashcards
for most language learners, either natives, second language, foreign language; composing new sentence can be challenging. As an educator, or as parents, you may want to know how to use flashcards to learn or teach a language. Thus, you will need to know how to make flashcards. Don't start from scratch, use the already made one, and edit it.
Using quizlet to teach vocab is motivating. It is essential for new language learners to study or acquire more verbs and practice how to compose the sentence using simple structure. I recommend using this template.
Simple sentence structure [ S + Modal CAN + Base Verb ] can be a good start as it is easy to construct. The learner can start with:
I can jump
I can ride
I can slide
I can …
You can add more verbs with more images. This will be very helpful and handy. After several times practicing composing that simple composition, a learner will develop innate structure, and she/he will be able to produce more sentences with various verbs. Gradually, you would need to add more with objects to make longer sentence. Eventually, the learner will be capable of composing and producing his/her own sentences to express what they want to convey.
The picture is in cartoon, and it is design in flat. It looks good, but it is not easy to make. If you do not have drawing skills, you can use photos from internet. Anyway, here is the template.
Learning Pit Strategies Flashcards
Shapes
another basic knowledge for kids at levels of kindergarten, preschoolers, or even toddlers, is about shapes. We collected eight basic shapes with the words (names) below in an A4 page. You can change the color of line and each shapes of this mini cards. The flashcards are editable in powerpoint, and it is also printable. You can change it to pdf if you like. This can be a great geometric exercises worksheet.
Transportation
How many kinds are the means of transportation? water transportation, land transportation, air, any more? the question can lead kindergarten students to their curiosity and learning engagement. Teaching preschoolers or even in kindergarten using flashcards is fun and interactive. Use this flashcards template to teach about various vehicles. ESL or EFL students can benefit from this activity. It is in power point format, and you can save it in pdf, and it is printable. Easy to use. Grab now.
Vegetables are not only greens, they are colourful. That makes this vegetables flashcards standout. Teaching kids about vegetables can help them love vegetables. If usually they don't want to eat vegetables, may be, after playing with these vegetables flashcards, they want to try to eat some.
Using vegetables flashcards, a teacher can explain more about the veg. Tell more about what it is, how it can be healthful, where it grows, and how to eat it, and may be other creative questions to explore further about it.
Moreover, Imagine more ways to use vegetables flashcards into your teaching.
In this closing section, I would like to convey more about my experience in using flashcards, and more about how it is useful for educational purposes.
Based on my experience in teaching young learners, using flashcards is a good action. As a result, my students liked it very much. They actively participated in the learning process. For instance, they asked me many questions about the image in the card.
Incoming search terms:
flash card template word
flash card template for word
flash card template microsoft word
flash cards word template
free flash crads bees
Sours: https://edutechspot.com/free-templates/free-flash-card-template-for-word/
How to make Spaced Repetition \u0026 Active Recall flashcards in Notion
10+ Flash Card Templates – DOC, PDF, PSD, EPS
Having trouble making a Flash card on your own? Well, you don't to waste time doing something you don't know how to. Thanks to readymade flash card templates available now, anybody can choose their favorite flash card, edit, customize, print and it's done. So simple, right? Simpler is the fact that we have compiled a whole bunch of them on this very page for you. Even though the templates are re-designed, you're in control of what contents go on them. You can even make Anniversary Card Templateas flash cards.
206+ FREE CARD Templates - Download Now Adobe PDF, Microsoft Word (DOC), Adobe Photoshop (PSD), Google Docs, Adobe InDesign (INDD & IDML), Apple (MAC) Pages, Microsoft Publisher, Adobe Illustrator (AI)
Online Editable Flash Card Template in PDF Format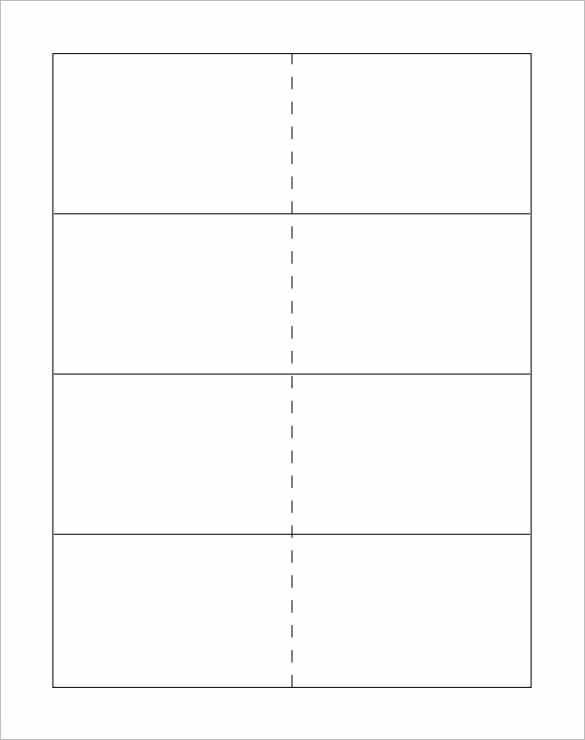 Download
This online editable flash card template is available in PDF format. You can download it for free and customize it according to your need in any size. The blank card is partitioned from the middle half where it has to be folded and on other four portions in equal sizes
Flash Card Template in Word Format
Download
The Flash card template here arrives in Word Format with instructions on the front and back side of the card. You have to cut it, fold it horizontally and customize with your own picture details. You may also see trading card templates.
Number Animal Flash Card – $6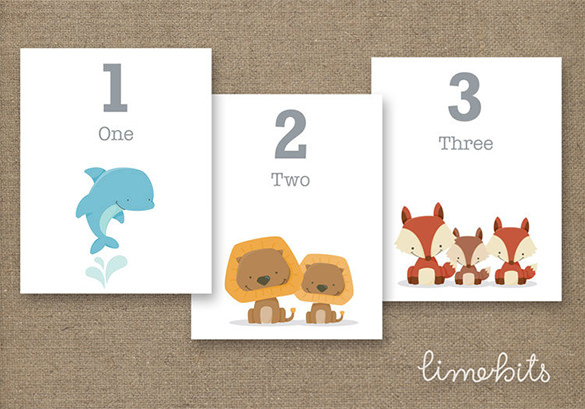 Download
This template here offers a fun way to teach the fun of numbers to your young one as each of the Flash cards here presents a pictorial display of figure for each of the numbers. You may also see card templates.
Math Flash Card Template
Download
If your little one has just started to learn additions, this Flash card template would be a fantastic instrument for his practice. The star rating system encourages the urge to perform well. You may also see contact card templates.
Classical Conversations Flash Card Template
Download
This shape basic flash card template has shapes of different regular polygon in high resolution printable PDF format. This template can help you kid's to learn about the basic shapes and you can even gift it as a card or decorate a nursery with it. You may also check out here calling card templates.
Educational Home School Flash Card Template
Download
This 1-10 educational home school flash card template is available in four different colors and you can even download a blank version of it and get it colored in with your favorite paint. You can download it in word or excel formats. You may also see printable time card templates.
Children's Educational Animal Alphabet Flash Card
Buy Now - $26
This children's educational animal alphabet flash card is available for all the English alphabets. It has pictures of animals with their names written on the card that starts with a specific alphabet. You may also see flash greeting cards.
Watercolor Animal Flash Card Template
Buy Now - $32
This watercolor animal flash card template has names of animals that start with each English alphabet and their pictures painted on the card with watercolor like look to give it a more realistic effect. It is available in PSD and EPS formats. You may also see palm card templates.
Printable Vintage School Flash Card Template
Buy Now - $8.85
This printable vintage school flash card template has cute designs of things that start with each English alphabet and a small description of each one of them on the card. Perfect teach the little ones! You may also see rack card templates.
ABC Alphabet Flash Card Design Template
Buy Now - $25
New Preschool Learning Flash Card Template
Download
This Flash card template is both a game and fun educational tool where you have cute pictures of different animals for each alphabet. It would be excellent encourage visual memory. You may also see free card templates.
Vocabulary flash cards are other ideas that need to be made with customization. These templates are easy to be used which can be customized from the toolbar. Notes can be added on the flash Card Templates quite easily as per your selection of the grid.
Sours: https://www.template.net/design-templates/card-templates/printable-flash-card-template/
Template flash card
.
How to make flashcards using Word. Simple and Efficient.
.
Now discussing:
.
2646
2647
2648
2649
2650