UPDATE, 2/20/2021: Bruce Meyers, creator of the Meyers Manx dune buggy, died on Friday at his home in California. He was 94. Meyers founded his company in 1964, inspiring the Dune Buggy craze. He sold the company this past November. Freeman Thomas, the former VW, Audi, and Porsche designer, took over as CEO and chief creative officer. "I have a lot of reverence for what Bruce created," Thomas told Autoweek at the time. "It transcends being this four-wheeled thing. It's a pop culture icon." The long list of those Meyers inspired includes our own Rich Ceppos. This story is from 2006.

The Meyers Manx dune buggy should have made Bruce Meyers a very wealthy man. And for a short time, it did. But like the swells of the Pacific Ocean that were such a pivotal part of Meyers's life, riches and success retreated like a wave receding from the shore.
Meyers lives today in Valley Center, California, about 30 miles outside San Diego. Although he's 80 now, you can still see a good deal of the enormous energy and enthusiasm that led him to create a vehicle that embodied the carefree beach culture of the 1960s. His large head is topped with thinning white hair, and his long, barrel-chested torso is framed by a pair of thick arms. His hands and forearms look strong enough to fold a brake rotor. Those are talented mitts, capable of drawing picture-quality head shots with a pencil and sculpting fiberglass into art.
Meyers was born in Los Angeles on March 12, 1926, the youngest of five children. His father helped Henry Ford set up automobile dealerships in California. During Meyers's boyhood, the family lived in idyllic Newport Beach, long before it was super-expensive and overcrowded. In his teens, he led the dreamy beach life that would eventually draw the masses to Southern California.
Meyers was drafted into the Navy in 1944. While stationed on the aircraft carrier Bunker Hill, he survived a kamikaze attack in May 1945 off the coast of Okinawa that killed 389 men and almost sunk the ship.
After the war, Meyers drifted about for a few years. He crewed on merchant ships and spent what must have been two fantastic years in Tahiti, running a trading post and chasing island girls. He later went to art schools in San Francisco and Los Angeles, developing a talent for drawing that would eventually land him a short teaching stint.
By the late '50s, Meyers was living in the Newport Beach area, shaping surfboards, working on boats, trekking across the border into Baja, Mexico, and running a '32 Ford at the Bonneville Salt Flats. Although fiberglass was not new at the time, its use in boat construction was, and Meyers worked for a time at Jensen Marine, pioneering the techniques of fiberglass construction that would later serve him well.
By the early '60s, though, his experiences and talents were about to result in something bigger than Meyers ever dreamed of.
The first Meyers Manx emerged from a cramped shed in Newport Beach in 1964. The goal had been simply to build something that didn't look like a used Jeep and could "take you wherever you wanted to go."
Driving over the sand in remote areas like Pismo Beach and the Baja was another activity of the SoCal lifestyle. It was a way to hang out, have bonfires, look around, be seen, and, of course, have fun. It was quickly discovered that heavy four-wheel-drive vehicles like Jeeps were not as effective running on sand as was the lightweight VW Beetle. To make the Beetle even better, beach riders fitted wide tires and cut away the body to make it lighter. On weekends, the dunes were teeming with home-built contraptions.
In the late '50s, an L.A.-based VW dealership and speed shop called EMPI offered the first dune-buggy kit, the Sportster. It sold for about $500. The angular sheetmetal gave it the look of a hard-edged German military vehicle. It was designed to bolt onto a shortened Beetle floorpan, which for a kit-car maker is a dream come true because that pan carries the VW's powertrain and suspension. Building a dune buggy? Just locate a junkyard Beetle, remove the body, and replace it with a custom body.
In the early '60s, Meyers was poking around the dunes in a modified VW Microbus. He didn't think the Sportster had much style to it, so he decided to build and sell his own buggy. Since the material Meyers was using to make boat molds and surfboards was fiberglass, he naturally turned to it for his dune-buggy body, quitting his job to work full time on the buggy in the small garage of his beach apartment. His wife, Shirley, worked in the advertising department at Road & Track, and she encouraged his project.
Meyers spent 18 months on the first Manx, endlessly tinkering with the shape, looking for some flair he felt the buggy needed. One reason it took so much time may have been because that first Manx, unlike the EMPI Sportster, didn't use the simple Beetle floorpan. The first Manx had a fiberglass monocoque with a Beetle engine and suspension bolted to it. Meyers hoped to sell maybe 20 or 30 Manxes, which he says would have been enough to cover the cost of the project. Word of the Manx spread quickly, and in about a month, Meyers had orders for 12 kits that he priced at $995. Doesn't sound lucrative? In the mid-'60s, a high-school teacher earned about $5000 a year. Although the kit didn't include an engine or transmission, it did come with components such as pedals, seats, windshield, and lights.
Meyers Manxter 2+2: Taking a spin in the modern buggy.
So Sexy It Hurts: A 60's fantasy: Owning your own piece of California.
But Meyers had the same problem novice entrepreneurs often discover the hard way: The cost to produce a kit was more than the price he could sell them for. He waves this off today with the explanation "I am not a businessman." But a lot of people who saw the Manx loved it, and Meyers knew that since a 1964 Chevy Impala cost about $2700, he couldn't just increase his kit's price. So he redesigned the Manx to make it cheaper to build. The revised Manx didn't get a new name, but it was very different from the original because it was no longer a monocoque and was now designed to bolt onto a shortened Beetle floorpan.
Meyers could now produce the 11 pieces of his Manx kit in about 10 hours. It was so much simpler to build that he could lower the price to $495. Even though that combination of price and style would soon make the Manx a popular fad, Meyers didn't see his creation as more than a small-time regional player. "I had no vision in those days," he says. Then, in 1965 after Meyers had moved his company, B.F. Meyers, from Newport Beach to nearby Fountain Valley, Joe Vittone came calling. Vittone owned EMPI, and he wanted to partner with Meyers on the Manx. "It would have been the perfect arrangement," says Meyers. "Vittone already had a well-established dealer network, and he could have run the business side, leaving me free to do what I do — the design. But I said no, figured I'd get 10 orders a year, which would be all I'd need. I was the stupidest guy in the world as Joe would have delivered 10 orders a day!"
So Meyers went it alone, and his wife handled the promotion. In 1966, the Manx was featured on the cover of Hot Rod magazine, but it was in April a year later that the Manx exploded onto the scene. First, Meyers and surfing buddy Ted Mangels had completed a run on the unpaved 832-mile route of Mexico's Baja peninsula from La Paz north to Ensenada in a record 34 hours and 45 minutes. Press releases of the feat were sent to 100 magazine editors. The Manx was featured on the April 1967 cover of Car and Driver. "Once that article hit, we had 350 orders almost overnight."
Meyers struggled to meet the demand. Orders rolled in, a backlog grew rapidly. Since the Manx was basically a 10-foot-long piece of fiberglass that took up a lot of space in a shipping container, customers soon found out the shipping costs were a significant charge. But the Manx bodies could be efficiently stacked on top of one another like paper cups, and soon Meyers was working to sign up dealers to handle sales.
While the company struggled with its growth, Meyers still managed to have fun. Also in his magic year of '67, a Manx won the Mexican 1000, pre-runner to the Baja 1000. The following year, Meyers entered the race with a new vehicle designed solely for off-road, the Tow'd. Somewhere south of Ensenada he drove into a dust cloud and subsequently flew off an embankment and slammed the nose into the opposite side. The Tow'd folded around his feet and almost ripped off his left foot. Horrifyingly, his broken bones projected out of both legs, and he was forced to lie in the desert until an ABC camera helicopter picked him up and dropped him at a checkpoint. In all, he had to suffer 22 hours of pain until reaching a San Diego hospital.
Recovery took almost a year and may have contributed to what happened next. Meyers simply could not meet the growing demand for his Manx. Its look, which suddenly seemed to encapsulate the Southern California lifestyle of beaches, babes, and sun, really began to take off in 1968.
For Meyers, there was also the problem of just how easy his design was to copy. The essential part of Meyers's kit was the fiberglass body. All a copycat had to do was make a mold of it and he was in business. With demand so high, countless small fiberglass shops did just that. By 1969, there were, according to Meyers, at least 70 companies knocking off his Manx.
Meyers had obtained a patent for the Manx in 1965, and in 1969 he sued a company called Lincoln Industries for copyright infringement. For weeks he traveled to a federal court in Sacramento. The 78-year-old judge, who Meyers said didn't know a dune buggy from a shopping cart, ruled that the Manx had been in "public use" for a year before Meyers was granted his patent (remember that the first Manx was built in 1964), and therefore Meyers's patent was invalid. Meyers's lawyer thought they could appeal the decision and fight the definition of the term "public use," but Meyers said he had already spent $30,000 on the case and much of the damage was already done.
Instead, he expanded his product line. He began selling the Tow'd model and eventually produced a street-only car called the SR. He made a fiberglass hot tub — "That was long before the Jacuzzi," he points out — and a child's bed that looked like a Can-Am car.
The company was beginning to implode. By the time Meyers expanded to meet demand for the Manx, there were too many competitors to count (even Sears produced a fiberglass buggy-like body, the Rascal). There were probably more than 100,000 Manx-type buggies produced. It's impossible to know the exact number since no one kept any records. Meyers, however, made only about 5000 of them. The Tow'd and the SR didn't exactly set the market afire, either. He sold about 850 Tow'ds and roughly 500 SRs. His company had grown to 70 employees by 1970, and the cheaper, often lower-quality imitations were stealing customers.
Then, in 1970, Meyers got slapped with what he says was an unfair California tax. His company was overextended after fighting the legal case and developing new products. He borrowed $20,000 from his in-laws. For a guy who once said, "I'm an artist — not a businessman. It used to be a lot of fun, and now I've got business managers," the hassles became too much. In 1970, a bewildered and frustrated Meyers walked away from everything — his company, his wife, and the Manx. B.F. Meyers & Company shut down the following year.
"It took 10 years before I could hear the words 'dune buggy' and not get furious," says Meyers angrily. A moment later, he turns back to his easygoing surfer personality and adds, "Sometimes, though, you have to say, 'Shit happens.'"
After leaving his business, Meyers knocked around Orange County, doing odd fabrication jobs and living in a 22-foot motorhome. He built a house on a remote bay in Mexico. From 1975 to 1980, he worked for a company that made custom convertibles. In 1980, he decided to go into the automobile-restoration business and accepted a job to restore and customize a 1964 Rolls-Royce. That project left him deeply in the red, as he vastly underbid each phase. Proving once again that indeed he wasn't a businessman, he nonetheless stuck it out until the Rolls, with a unique retracting roof, was finished in 1986.
Financially and emotionally drained, Meyers — remarried for the sixth time at this point in the story ("It took me six times to get it right," he jokes) — and his wife, Winnie, moved in with his new in-laws on a 5.5-acre compound in the hills northeast of San Diego.
It was there that Meyers more or less retired and decided to indulge his artistic side. For several years he worked on a project that was hard for him to explain and even harder for this writer to understand. The gist of it was that he was trying to sculpt a breaking wave that provided the look and feel of the real thing.
By the early '90s, however, the words "dune buggy" had lost their sting, and in 1994, Meyers accepted an invitation to a dune-buggy festival in Le Mans, France. There he was greeted like Carroll Shelby at a Mustang rally. The enthusiasm, he says, was overwhelming and got him thinking about the Manx again.
So Meyers went home and, with Winnie, started a dune-buggy club as a way to gauge interest in producing yet another Manx. Through the club, Meyers organized dune-buggy meets, and although the club is open to all makes of buggies, he also authenticates real Meyers Manxes. He says that at a gathering of 150 dune buggies, only 10 percent are the genuine article.
It seems that those who didn't have a real Manx wanted one, so in 2000, Meyers decided to do a one-time limited-edition production run of new Manx kits for $2000 each. "I wondered if I'd sell 20," he recalls, but he set the number at 100 and crossed his fingers.
He got 100 orders in a single month.
If there was a problem, it was that Meyers couldn't produce more than 100 and still honor his limited-edition promise. And he had set the price so low that he barely made any money.
From his club, Meyers knew Manx owners wanted a Manx that could comfortably seat four, not two like the original. They also wanted a trunk, and he figured potential Manx customers would feel the same. In any case, the interest in a modern Manx was definitely there.
In 2001, an all-new Manx emerged from yet another small garage not unlike the birthplace of the original. Its price had moved up to $5395, but it could seat four. It looks like a modernized Manx, and it uses the same VW Beetle floorpan and mechanicals. He calls it the Manxter 2+2 and so far has built and sold 60.
The Manxter is only the beginning of his dune-buggy plans. Meyers is reproducing the original Manx catalog and will sell replacement parts. He'll also produce another version of the Manx that will be closer to the original than the Manxter.
"We have a lot to do," Meyers says. Asked if he thinks the Manxter will start another dune-buggy craze, Meyers replies, "I don't know, but I'm having a lot of fun." That, of course, was always the point.
This content is created and maintained by a third party, and imported onto this page to help users provide their email addresses. You may be able to find more information about this and similar content at piano.io
Sours: https://www.caranddriver.com/features/a15147937/the-father-of-the-dune-buggy-rides-again/
Magento Commerce
Welcome to Dune Buggy Warehouse
Your Source for Affordable Dune Buggy Parts and VW Bug Parts
At Dune Buggy Warehouse our passion is fueling your dune buggy, woods buggy or air-cooled VW habit with great parts and expert service.
We have been a dune buggy and air cooled VW shop for 30 years. We aim to provide a variety of quality VW beetle parts, dune buggy parts and woods buggy parts at the best bang for your buck.
We know you will push your dune buggy, woods buggy or off road rig as far as you can. We want to help you make it tough enough that even you struggle to break it!
For air-cooled VW street cars we provide performance and factory engine and chassis components. We want to keep that sweet air-cooled VW engine singing in the back of your VW bug, bus, type III or Karmann Ghia.
We happily ship worldwide with same day or next day shipping on many parts. Economy, expedited and overnight shipping options are available.
We are located in Ohio and offer standard two to three day shipping of our VW Bug and dune buggy parts to Ohio, Kentucky, Michigan, West Virginia, Tennessee, Georgia, the Carolinas and many other Midwest and East Coast states via UPS and USPS.
Have questions about a particular product or application? Please do not hesitate to contact us. We are happy to help you tackle your next VW bug or dune buggy project or find a solution to a persistent issue.
Sours: https://dunebuggywarehouse.com/
Dune buggy
Off-road vehicle
"Dune Buggy" redirects here. For the song by the Presidents of the United States of America, see Dune Buggy (song).
Meyers Manx by Bruce Meyers
Bugre II, a Brazilian buggy made in the early 1970s
Greek beach buggy built by Pan-Car in 1980s
A dune buggy — also known as a beach buggy — is a recreational motor vehicle with large wheels, and wide tires, designed for use on sand dunes, beaches, roads or desert recreation.
The design is usually a roofless vehicle with a rear-mounted engine. A dune buggy can be created by modifying an existing vehicle or custom-building a new vehicle.
Design[edit]
Dune buggies are typically created by modifying an existing road vehicle,[1] while sandrails are built from the ground up as a custom vehicle.
Beetle-based buggies[edit]
For dune buggies built on the chassis of an existing vehicle, the Volkswagen Beetle was commonly used as the basis for the buggy.[2] The model is nicknamed Bug, therefore the term "buggy". The Beetle platform chassis was used because the rear engine layout improves traction,[3] the air-cooled engine[4][5] avoids the complexities and failure points associated with a water-cooled engine, the front suspension was considered cheap and robust[6] and the spare parts from Volkswagen were cheap and readily available.[7] Dune buggies with glass-reinforced plastic (fiberglass) bodies come in many shapes and sizes.
The original fiberglass dune buggy was the 1964 "Meyers Manx" built by Bruce Meyers.[2] Bruce Meyers designed his fiberglass bodies as a "kit-car", using the Volkswagen Beetle chassis.[3] Many other companies worldwide have copied the original fiberglass dune buggy.[3] These types of dune buggies are known as "clones".[2]
Sandrail[edit]
A custom sandrail
Racing buggy with a V8 engine and fiberglass body
Main article: sandrail
A sandrail is a lightweight vehicle similar to a dune buggy, but designed specifically for operation on open sand.
Sandrails are usually built as a spaceframe by welding steel tubes together.[8][9] The name sandrail is due to the frame "rails" present. The advantage of this method is that the fabricator can change fundamental parts of the vehicle (usually the suspension and addition of a built-in roll cage). Sandrails, as per dune buggies, often have the engine located behind the driver. Sizes can vary from a small-engine one-seat size to four-seat vehicles with eight or more cylinders.[10]
Dune buggies are recreational vehicles that are used in difficult terrain like dirt, sand gravel and it has more engine power and lighter frame to increase the power to weight ratio where as sandrails are made from existing vehicles, typically you wont find windows doors or even body panel on sand rail.
A similar, more recent generation of off-road vehicle, often similar in appearance to a sandrail, but designed for a different use, is the "off road go-kart". The difference may be little more than fitting all-terrain tires instead of sand tires and the much smaller size of the engine.
Military use[edit]
Because of the advantages a buggy can afford on some terrain, they are also used by the military.[11]
The buggies built for the United States military used to be called Desert Patrol Vehicles (DPV) or Fast Attack Vehicles (FAV), and with the latest improvements are known as Light Strike Vehicles (LSV). They are used by United States Navy SEALs, the SAS, and other forces. Among the dune buggies used by the United States military is the Chenowth Advanced Light Strike Vehicle.[12] The US Border Patrol also uses this (although it is not a military organization).
In the United Kingdom, the SAS have used cut-down, light-weight all terrain vehicles for secret special operations "behind the lines" since early in World War II.[13] A buggy was used by the British Special Air Services (SAS) forces during the Gulf War. A long-range special desert operations vehicle was developed in 1992 and nicknamed "pink panthers" because of their color,[14] but these were only modified Land Rovers.[15][16]
See also[edit]
References[edit]
External links[edit]
Sours: https://en.wikipedia.org/wiki/Dune_buggy
1964 Dune Buggy #558-ndy - Gateway Classic Cars - Indianapolis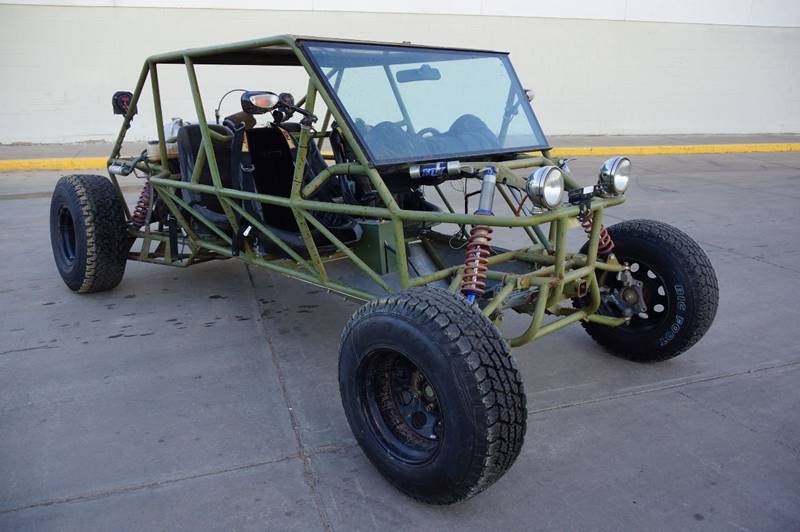 2000 Dune Buggy
$5,444
Pueblo, Colorado
Category -
Mileage -
Posted Over 1 Month
Ride the sand dunes or go off-roading in this cool Dune Buggy!! Call us for more info!...
1968 Volkswagen Dune Buggy Buggy
$13,000
Chula Vista, California
OBO
1968 VW Street legal Fiberglass Manx Style Buggy You want to have some fun? Well you have come to the right spot! This is basically a BRAND NEW Build! With two seats and a metallic blue exterior this Dune Buggy has a lot to offer, anything from its Roadster style and its Volkswagen heartbeat! The perfect vehicle to have out on sunny days cruising. Equipped with a 1776cc engine backed by a 4 spd transmission. Engine is beefed up with a single 40 carb, cam, new 90.5 pistons, rebuilt crank and rods with a ton of other upgrades to make this Dune Buggy perform! • 850 Miles • 1776 cc Custom Built VW Duel Port Motor with Weber 2BB (only 150 miles on this motor) • New Street Works laser printed wiring harness • LED tail lights • Disc Brakes (all around) • New Floor Pans • Customer roll bar built to fit body • Tanak 4-pt. seat belts • Rebuilt speedometer • BF Goodrich Radial T/A tires • Hurst shifter w/ reverse lockout • Metallic Blue exterior and Blue/Black interior Contact me for the FULL list of work and upgrades done to this beauty!
Trim Buggy
Dune Buggy
Request Price
Fremont, California
Category -
Mileage -
Posted Over 1 Month
1972 street legal, new 1641cc engine, alarm, 22" rings, digital gauges panel.
Dune Buggy
Request Price
Fremont, California
Category -
Mileage -
Posted Over 1 Month
1972 street legal, new 1641cc engine, alarm, 22" rings, digital gauges panel.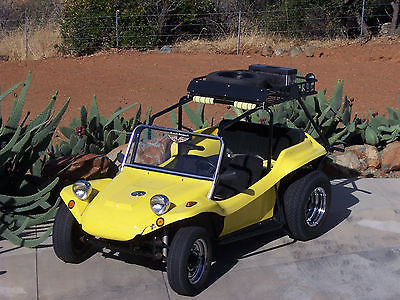 Volkswagen : Other BUGGY VW DUNE BUGGY / STREET ROD
$6,500
Oroville, California
Category -
Mileage 35098
Posted Over 1 Month
This has been a fun little grocery getter. It is currently on a Calif. NON-OP. I have had it at my home in Baja. Due to getting older and in need of shoulder surgery I need to let it go. I was told that the motor is an 1835. It has twin Weber Carbs. and a swing arm rear end. It has a ( Scat ) shifter with a reverse lock out. ( shifts good ) It also has turning brakes. I added a removable cargo rack to carry spare tire and a jack inside the tool box. There are some small stress cracks on the front nose. ( pictured ) It was that way when I bought it two years ago and show no signs of getting worse. It looks to be an easy fix for someone, just not me. It comes with a tow bar for flat towing behind a motor home. ( tows great ) Always garaged when not in use.
Trim BUGGY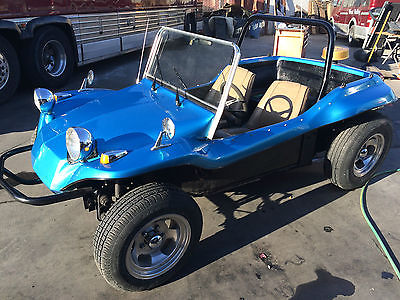 Volkswagen : Other Buggy 1964 vw volkswagen manx style dune buggy bugformance thunder bug thunderbug rare
$8,500
Campbell, California
Category -
Mileage n/a
Posted Over 1 Month
This listing is for a rare Manx style dune buggy. I was told by the previous owner that the engine is a 1640cc. This vehicle also comes with a tan Vinyl Top & a well made tow bar - it tows nicely. My understanding is that this Dune Buggy is called a "Thunder Bug" and it was made by "Manx House", which was later known as "Bugformance" in Sunnyvale, CA. Here is some info on the Thunder Bug: Thunder Bug was Custom Built mold made by Clay Diekmann and Tony Vierra of Manx House (a dune buggy shop) in 1968 in Sunnyvale California. The shop later became known as Bugformance. There were only 50-70 of these bodies produced. They were handlaid fiberglass construction with chopper gun re-inforcements. They were designed to be the same dimensions as it's cousin the Manx. Tailbox was raised for more clearance. Hood appears designed for more tank clearance. Dash and hood thicker than most manx kits. Interior surfaces were textured . Later versions were molded with tube under fender for wiring harness. Please do your due diligence and ask all questions before making a commitment to purchase this vehicle. If you are local, you are welcome to contact me to setup an appointment to view this vehicle in person.
Trim Buggy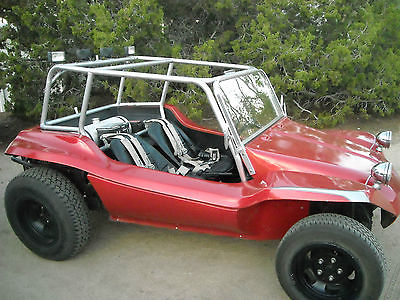 Volkswagen : Other dune buggy 1967 vw manx style dunebuggy with extra transmission
$3,800
Palmdale, California
NO RESERVE ! NO RESERVE ! Street legal dunebuggy registered and titled as 1967 volks with 67 1600cc single port engine runs perfect, super dependable and trouble free sits for weeks then starts right up first turn. Shifts great with the $1500.00 close ratio transmission in it or switch out for the extra INCLUDED 1967 stock transaxle to get taller highway gearing and or sell the spare and recoup some money . Manx style body in very good shape other than a couple of small cracks at back over engine. Aluminum top cover is over a great fitting roll bar and has no rattles or noise (unlike soft tops) because of foam gasket and removes easily with four wingnuts. I took seats out for a few pics so you can see how great of shape the floor pan is in. Very nice running and fun car ! 1. New tires, 2. aluminum u.s. dish indy wheels 3. removable side pods 4.rear disc brakes, 5. 4 point harness belts 6. spare transmission, headlights, axel boots 7.led tail/brake lights 8. red orange with multi color metalflake CALL FOR QUESTIONS 661 361 9696 I WILL ONLY ACCEPT CERTIFIED BANK CHECK ,CASH OR WIRE TRANSFER FOR THE BALANCE DUE ! I WILL NOT ACCEPT ANY OTHER PAYMENT METHOD! THANK YOU THIS DUNE BUGGY IS BEING SOLD AS IS AND ALL SALES ARE FINAL. MUST BE PICKED UP WITHIN 5 DAYS FROM WHEN THE AUCTION ENDS UNLESS PRIOR ARRANGEMENTS HAVE BEN MADE WITH THE SELLER BEFORE YOU PLACE A BID. A 250.00 NON REFUNDABLE PAYPAL DEPOSIT MUST BE RECIEVED WITHIN 24 HRS OF THE AUCTION ENDING. IF NOT RECIEVED WITHIN THAT TIME I HAVE THE RIGHT TO SELL TO ANOTHER BIDDER.WINNING BIDDER IS SOLEY RESPONSIBLE FOR PICK UP OR SHIPPING OF THE VEHICLE AND MAKING ALL ARRANGEMENTS. I HAVE THE RIGHT TO END THE AUCTION EARLY AS IT IS FOR SALE LOCALLY !
Trim dune buggy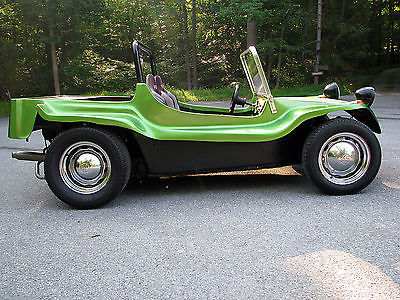 Volkswagen : Other Dune Buggy GREAT FUN TO DRIVE CLASSIC STYLE DUNE BUGGY TURNKEY INSPECTED VERY CLEAN WOW !!
$4,900
Poughkeepsie, New York
Category -
Mileage 10000
Posted Over 1 Month
GOTHAM CITY SALES gothamcitysales.net ROLLS ROYCE TO RACE CARS WHERE THE QUALIFIED BUYER MEETS THE SERIOUS SELLER VERY COOL DUNE BUGGY TOO MUCH FUN TURNKEY DRIVE AWAY BODY FIBERGLASS VERY GOOD SHAPE PAINT VERY NICE ALWAYS GARAGED ENGINE 1600 CC (NON ORIGINAL) CONVERTED TO 12 VOLT TRANSMISSION MANUAL SHIFTS WITH NO PROBLEMS INTERIOR TENZO RACE SEATS TIRES FRONT - 185/65 R15 REAR - 1055 P295/50 R15 UNDERCARRIAGE GOOD SHAPE TURNKEY READY TO GO CAN SHIP OVERSEAS NO PROBLEM I RESERVE THE RIGHT TO END MY AUCTION EARLY AS I HAVE THE CAR FOR SALE LOCALLY PLEASE RESPECT MY AUCTION IF YOU HAVE LESS THEN 5 POSITIVE FEEDBACK OR NEGATIVE FEEDBACK PLEASE CONTACT ME BEFORE YOU BID IF YOU DON'T COMPLY I WILL CANCEL YOUR BIDS AND BLOCK YOU FROM BIDDING AGAIN
Trim Dune Buggy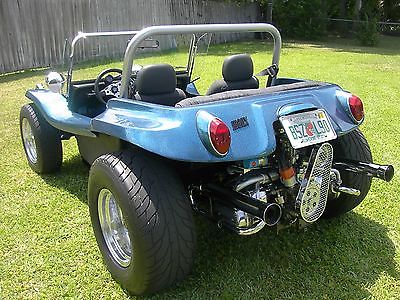 Volkswagen : Other Dune Buggy MEYERS MANX 1 DUNE BUGGY
$55,000
Daytona Beach, Florida
Category -
Mileage 20
Posted Over 1 Month
Meyers Manx 1 Dune BuggyThis is a real Meyers Manx 1 that has been verified and authenticated by Meyers Manx Inc.It also has a B.F. Meyers body I.D. tag showing the production number, month & year made and the original color.It has just been fully and professionally restored to better than new. Everything was disassembled and then every part in this Manx was replaced, rebuilt, refurbished or painted to perfection.Painted the original Royal Blue Metal Flake, .015 flake, and is concours show quality.The Manx 1 has been updated with many features you find in today's vehicles and is an excellent street driven buggy.To see more go to: MEYERSMANXFORSALE.COMWatch the YouTube videos click here: https://youtu.be/7z98-U0Nh_I? or http://youtu.be/tQ_z0TYBV1c
Trim Dune Buggy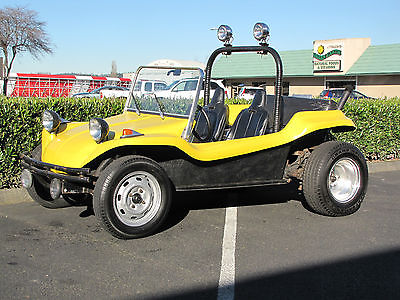 Volkswagen : Other Dune Buggy 1975 volkswagon manx style dune buggy
$7,995
Renton, Washington
Category -
Mileage -
Posted Over 1 Month
Fiberglass Dune Buggy Body On A 1975 VW Chassis. Clear Washington Title With Correct Matching VW VIN#. Currently Licensed For The Street. Performance Built 1600CC Flat 4 Engine, EMPI Intake With Rebuilt Weber Carburetor. Exhuast Headers With Stinger Pipe And Spark Arrestor. Finned Aluminum Valve Covers And Chrome Engine Dress-Up Kit. 4 Speed Manual Transmission. Rebuilt 4 Wheel Drum Brake System. Front Mounted Headlights Plus Roll Bar Mounted Driving Lights. Seat Belts For Four People. Full Set Of Street Radial Tires Plus A Pair Of Mounted Stephen Sand Viper II Off Road Paddle Tires. Recently Tuned. Runs And Sounds Great. Please Call If You Have Any Questions At 425-228-2277. You Can See This Car Plus Additional Available Classics At memorylanemotors.com
Trim Dune Buggy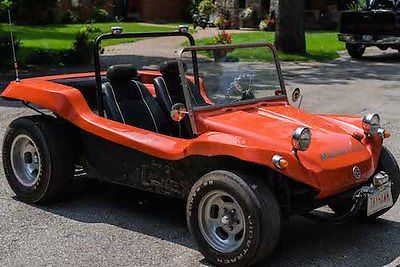 Volkswagen : Other Dune Buggy 1966 volkswagen dune buggy with brand new motor
$5,500
La Crosse, Wisconsin
Category -
Mileage 1000
Posted Over 1 Month
I hate to do it but I am going to sell my VW Dune buggy, we bought this and it needed a lot of work including a new motor. We installed a new motor and converted it to a 12V Starter. There is less than 1000 miles on the new motor.This thing is a ton of fun to drive in the summer and it will definitely turn some heads. It runs great and has a brand new battery installed. I really want to find a good home for this thing, someone that will really appreciate it and give it the love that it deserves.
Trim Dune Buggy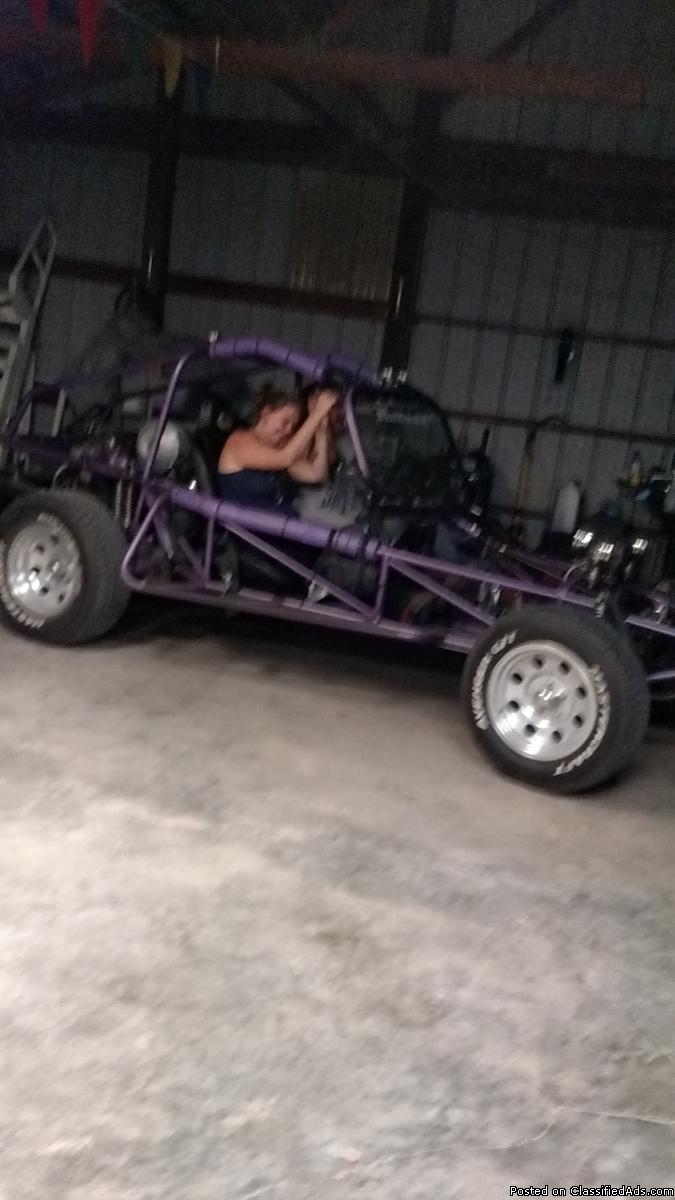 Dune Buggy (street legal)
$5,500
Goshen, Kentucky
Category -
Mileage -
Posted Over 1 Month
Built in 2008. Purple. 1600cc motor. Radio, console. A blast to drive. Take it anywhere. Great gas saver. Message for more details, pics or questions.
Showcase Ads
×
Alert Successfully Created
Sours: https://www.smartmotorguide.com/cars-for-sale/dune-buggy
Buggy 1964 dune
.
1964 VW Dune Buggy Test Drive
.
Similar news:
.
2632
2633
2634
2635
2636