Nike entrance.jpg
The Nike campus in Beaverton is the world headquarters of the athletic wear behemoth.
((Michael Lloyd/The Oregonian/2013))
A former Nike employee who played a key role in a conspiracy tosell hundreds of stolen limited-edition sports shoesfrom one of the company's factories in China stood nervously Wednesday before a federal judge in Portland to be sentenced for his crimes.
Kyle K. Yamaguchi, wearing a crisp suit and flanked by a pair of lawyers, wasn't the typical white-collar criminal to appear in U.S. District Court. As federal agents closed in on him and his fellow suspects in the plot, Yamaguchi took surprising steps to make things right.
One of the first things he did was tell federal authorities everything he had done.
He presented prosecutors with a binder marked by colored tabs and choked with evidence, including emails and a spreadsheet of illegal transactions. Later, he wore a wire into at least one meeting with co-conspirator Jason Keating. He also produced a PowerPoint about the scheme for the very grand jury that indicted him.
Yamaguchi offered so much assistance to investigators and prosecutors that he began to act "almost as an arm of the government," Assistant U.S. Attorney Ryan W. Bounds told the court.
He assisted Washington County Sheriff's Detective John Bennett and Secret Service agents as they pieced together the mess he helped to engineer:
The 33-year-old businessman went to work at Nike in 2006. As a promotional product manager at the company's world headquarters in Beaverton, he ordered sample sneakers from a Nike factory in China. Those shoes were intended for athletes, teams or other influential people. But collectors of the shoes - called "Look Sees" by insiders - paid big money for them.
When Yamaguchi quit his job in 2012, Tung Wing Ho took the position. Ho and Yamaguchi soon conspired to sneak the promotional shoes off the Nike campus and sell them, according to government prosecutors. Yamaguchi served as go-between in those sales, the government alleges.
Keating, a shoe dealer operating out of Fort Myers, Florida, paid $679,650 for more than 630 pairs of shoes that Yamaguchi and Ho stole from Nike between September 2012 and March 2014, according to an indictment handed up last July in Portland's U.S. District Court.
Yamaguchi received a percentage of the shoe-sale profits from Keating, who offered them to other collectors and small retailers across the country, according to prosecutors.
In March 2014, a team of Washington County investigators seized nearly 2,000 pairs of Nike sneakers from the Southwest Portland home of Ho, who admitted to investigators that he had stolen hundreds of pairs of Nike's Look Sees and sold them on eBay or through Yamaguchi, according to prosecution papers.
"Because the shoes in question were produced in very limited runs and never for sale, they commanded prices from basketball-shoe collectors - so-called 'sneakerheads' - that were typically 5 to 15 times the retail prices for comparable Nike shoes," Bounds wrote in a sentencing memo.
Yamaguchi pocketed close to $200,000 in profits from total sales of the rare shoes, and Ho made nearly $600,000, the government alleges. (Ho and Keating have pleaded not guilty to the charges and are scheduled for trial on April 21.)
Nike's internal security team cracked the sneaker scheme, backed by videotaped surveillance images, and forwarded evidence to the Washington County Sheriff's Office.
Yamaguchi pleaded guilty last December for his role in the conspiracy to transport, receive and sell stolen goods. He faced a potential five-year prison term.
But prosecutors and Yamaguchi's lawyers - impressed with his swift acceptance of responsibility and his help building its criminal case against him and his co-conspirators - hammered out a plea agreement that called for him to serve five years of probation.
But two other figures, both representing Nike, appeared at Yamaguchi's sentencing before Senior U.S. District Judge Garr M. King.
Portland lawyer Robert C. Weaver Jr., a former federal prosecutor who represented Nike's interests in the case, and Nike Director of Investigations Greg Fowler, a former special agent in charge of the FBI's Portland Field Office, wanted the judge to sentence him to three years and five months.
"Nike suffered great economic harm due to Mr. Yamaguchi's and his co-conspirators' conduct," Fowler said, reading from a prepared statement. "In addition to the excess manufacturing costs, Nike spent more than $397,000 investigating this criminal scheme, and bringing civil and criminal charges against Mr. Yamaguchi and his co-conspirators."
Yamaguchi's actions, he said, put Nike's innovation and competitive advantage at risk, and they betrayed his former colleagues.
"Mr. Yamaguchi's actions rendered that fabric of trust," Fowler said, "and forever altered an open and trusting working environment."
One of Yamaguchi's lawyers, Ron Hoevet, now stood and sang his client's praises, saying he had made Nike whole through restitution in a civil settlement, forfeiting $50,000 out of his pocket and surrendering his shoe collection to Secret Service agents and Nike. (Yamaguchi also had re-filed his income tax forms to pay the IRS for his ill-gotten gains.)
Hoevet noted that Yamaguchi had launched 141 Eyewear, a company that gives a new pair of prescription glasses to someone in need for every pair that it sells. Even when Yamaguchi was branded a felon and struggled financially, he donated $46,000 in eyewear for the needy.
"In the 40 years I've practiced criminal defense," Hoevet began, choking up with emotion, "I have never seen a defendant more worthy of the government's (sentencing) recommendation than Mr. Yamaguchi."
Now it was Yamaguchi's turn to stand and face the judge.
He began by saying he would never have imagined himself capable of making a decision - based on his own greed and weakness - that would shame his family and brand him a felon.
"I have no excuses," he said. "I don't have anyone else to blame but myself."
The judge now spoke, saying the crime that Yamaguchi committed was serious and that Nike had suffered substantial harm. But Yamaguchi's acceptance of responsibility and cooperation with the government were "truly extraordinary," King said.
The judge sentenced him to 5 years of probation and 50 hours of voluntary community service.
"I wish you well," he said, "and good luck to you."
-- Bryan Denson
503-294-7614; @Bryan_Denson
Sours: https://www.oregonlive.com/portland/2015/04/ex-nike_employee_sentenced_in.html
The great Nike heist: employees are accused of stealing hundreds of valuable rare sneakers
Nike's name has turned up in court repeatedly in the last few years, but a recent case involving the sneaker giant may be the weirdest. On April 8, a former Nike employee named Kyle Yamaguchi was sentenced after pleading guilty in a scheme to steal hundreds of rare, valuable Nike sneakers from the company and resell them, the Oregonian reports.
An indictment filed last July (pdf) in US district court in Portland, Oregon says that Yamaguchi and an accomplice, Tung Ho, swiped and sold more than 630 pairs of Nikes for a total of $679,650 between September 2012 and March 2014. The indictment says that Yamaguchi cooperated with the authorities in building a case against Ho and another man he said worked with him on the scheme, who both go on trial later this month.
Quartz has reached out to Nike and the attorneys of the men indicted. Nike has not responded to the request, and the attorneys for Tung Ho and Kyle Yamaguchi both told Quartz their clients have no comment. Ho has pleaded not guilty.
The harebrained conspiracy, which highlights just how valuable the sneaker resale market can be, sounds like something out of a crime novel, involving subterfuge, a Florida pipeline, bags of cash, and an undercover sting.
Here's how the drama played out, according to the indictment and a detective's affidavit, which was included in the court filings:
The whole thing started with Yamaguchi, who served as Nike's promotional product manager for several years until he left the company in January 2012. In that role he was able to order pre-production samples called "Look See" models, as well as promotional sneakers, directly from Nike's factories in China. These ultra-rare sneakers are highly sought after, and collectors have been known to pay up to $20,000 for a pair.
Ho replaced Yamaguchi in the position, and the two men reportedly came to an arrangement: Yamaguchi explained to Ho how he could hide the scope of promotional orders by billing them to different Nike cost centers. In July 2012 they agreed to work together to sell the rare sneakers: Ho would acquire them and Yamaguchi would funnel them to a reseller, a service for which he got a 20% cut of the sales.
A month later, Yamaguchi connected with the reseller who would become their main outlet for the stolen sneakers, a Florida man named Jason Keating (the third man indicted in the case, who has been released on pretrial conditions and will stand trial later this month). Yamaguchi would ship the sneakers from Oregon to Keating in Florida, where he would then resell them to customers. Keating would pay Yamaguchi by wire transfer or actually go to Oregon and pay in cash for larger purchases. The typical payment ranged from $5,000 to $30,000.
(In a statement, Keating's attorney tells Quartz that Keating "is working and supporting his family. Mr. Keating was never a Nike employee. He is clearly less culpable than anyone involved in this matter." Keating has pleaded not guilty.)
When the police searched Ho's home, they found 1,941 pairs of sneakers and a "large sum" of cash.
Nike's internal security team eventually caught on and sent the police a surveillance video supposedly showing Ho in the act of smuggling sneakers off the Nike campus. On March 14, 2014, the police raided Ho's residence, and reported finding the 1,941 sneakers and a "large sum" of cash.
Ho, who police say had put a pair of LeBron James 9 MVPs on eBay for $20,000, pointed to Yamaguchi, who in turn wore a wire at least once in a sting operation that allowed police to arrest Keating as well.
In December 2014, Yamaguchi pleaded guilty to conspiracy to transport, receive, and sell stolen goods as part of a plea deal. His sentencing hearing on April 8 got him five years' probation and 50 hours of "voluntary"community service on account of his cooperation with the police. Ho and Keating, meanwhile, are scheduled to go on trial later this month.
Sours: https://qz.com/380398/the-great-nike-heist-employees-are-accused-of-stealing-hundreds-of-valuable-rare-sneakers/
The Men Responsible for Stealing $680K of Sneakers From Nike Just Got Sent to Prison
A grueling court case between Nike and three defendants accused of operating a $680,000 theft ring has finally come to a close.
Following a guilty plea in April, former Nike employee Tung Wing Ho and Florida-based reseller Jason Michael Keating were sentenced to brief prison terms by a Portland judge today, Oregon Live reports. Prosecutors had called for one year and one day sentences for each defendant, while their lawyers pushed for probation. In the end, Ho was hit with a three month sentence, while Keating will serve six months.
"I want to apologize to Nike... My greed got the best of me, and I lost sight of right and wrong," Keating told the judge. According to the allegations, Keating filled the buyer role in the ring, paying nearly $680K for over 630 rare Nike sneakers provided by Ho and another ex-Nike employee, Kyle Yamaguchi, over a two year period.
Ho is a former Nike promotional manager who worked at the brand's Beaverton, Ore., headquarters in 2012. This role gave him access to rare Look See samples and promotional sneakers that many 'heads can only dream of. He then worked closely with Yamaguchi — who was sentenced to probation last April — to sneak the kicks off of Nike's campus and eventually sell them to Keating on the other side of the country.
Juug season? Not quite.
Sours: https://www.complex.com/sneakers/2015/11/nike-680k-theft-ring-men-sent-to-prison
Nike Exec RESIGNS Amid Sneakerhead Scandal
Nike Scandals & How the Swoosh Handled [Total DRAMARAMA]
Good old-fashioned drama is not limited nor exclusive to Kim K and her family! No, the sneaker industry has its fair share of sneaker-related DRAMARAMA! Sneaker brands have to deal with all different kinds of situations. And, the bigger the brand, the bigger the drama. So, you can imagine how much drama the two GIANTS – Adidas and Nike – have to deal with! But, since the Swoosh is currently on the sneaker throne, we're here to dissect the Nike SCANDALS!
With a long list of sneaker collaborations, limited-run sneakers, and a Swoosh recognized all over the world, Nike dominates. 
But, the Nike scandals range from Satan blood to sweatshops, from backdooring to sneaker reselling; and so much more! Here are a few of the juiciesttypes of melodrama that Nike dealt with throughout the years! Here's how to handle drama better than the Kardashians themselves!
Inside the Nike Scandals
SWEATSHOPS
In 1991, American labor activist Jeffrey Ballinger published a report on Nike's factory practices in Indonesia. He exposed one of the latest Nike scandals that shook the industry! A college student in the U.S. developed a film called Behind the Swoosh to talk about Nike's inhumane production practices.
Below-minimum wages (around $1.25 per day)
Child labor 
Horrible working conditions
Long working hours
Health hazards
In 1996, a magazine featured a picture of a young Pakistani boy (about 12 years old), sewing a Nike ball. This just fueled the Nike scandals and their tolerance to child labor. So, how did the Swoosh deal with it?
In 2007, Nike provided a list of its 700 factories all over the world to provide complete transparency! Today, Nike is certified under the Fair Labor Association Workplace Code of Conduct. But, they're rumored to still pay poverty wages! With annual revenue of $44.538B, you'd think they'd afford to pay people decent wages.
RESELLING
This might be one of our favorite Nike Scandals! Does Swoosh really want to be a part of the resale market?
Nike's VP Ann Hebert resigned on March 1st, 2021. Right after Bloomberg Businessweek published a story about her 19-year-old son's sneaker reselling business. People had all kinds of questions of nepotism and unfairness. Of course, his mother was Nike's VP! We had no idea whether or not she was giving him some kind of advantage!
Even football players want in on the resale! Thirteen North Carolina football players once got suspended for at least one game for selling their PE Jordan 3s!
Here's how Nike handled things! The CEO stated that they will do an audit of its launch process to return trust to their consumers. Plus, updating their policies to make things more clear when it comes to friends and family. But, this scandal just goes to show how much sneaker reselling is important. So, if you wanna know more about becoming a sneaker reseller, click on the button below. 
SATAN SHOES
Real blood. Nike scandals keep getting better and better!
This scandal includes Nike suing Lil Nas x Brooklyn art collective MSCHF because of a controversial pair of Satan Shoes! It contained a drop of real human blood in the soles! The $1,018 retail price for the bloody Nike Air Max 97s was quite the talk! They made 666 pairs and they were SOLD in less than a minute!
Nike claims trademark infringement and did not authorize production. The coolest scandal was put to rest.
These are the three most interesting Nike scandals that are worth mentioning! Of course, there is always the issue of sneaker bots! But, we feel like that's a "scandal" that Nike won't be able to handle anytime soon. With the best bots doing their job on a daily basis, we feel like Nike's PRs are gonna have to find better ways to deal. Sorry, Nike!
Post Views:84
Sours: https://www.aiobot.com/nike-scandals/
Pe scandal nike
Nike Accused of Cheating to Break the Two-Hour Marathon Record
Nike and runner Eliud Kipchoge achieved the seemingly impossible over the weekend, finally realizing their goal of breaking the two-hour marathon barrier, a campaign known as Breaking2. Despite the incredible feat, IAAF's (International Association of Athletics Federations) regulations deem that the time will not be considered an official world record due to the fact it was not recorded during an open competition and because Kipchoge ran alongside a large group of pacers. He'll still hold the Guinness World Record for fastest marathon distance, but now new concerns are being raised about the special Nikes Kipchoge wore for the event.
According to The Times, several professional runners have voiced complaints to the IAAF and the Athletics Integrity Unit about the technology within Nike's marathon sneakers, specifically the use of what's described as spring-like carbon fiber plates within the midsoles. Former Italian marathon champion Gianni Demadonna and a group of around 20 athletes reportedly wrote to the IAAF months ago to raise concerns over the sneakers. "They think the shoes are maybe allowing elite athletes to run two minutes quicker in the marathon. Understandably they are troubled by what is happening in their sport because the times being run are so fast. Even older runners are taking huge chunks off their best times," Demadonna said.
The IAAF's official rules state that "the purpose of shoes for competition is to give protection and stability to the feet and a firm grip on the ground" and that they "must not be constructed so as to give athletes any unfair assistance or advantage."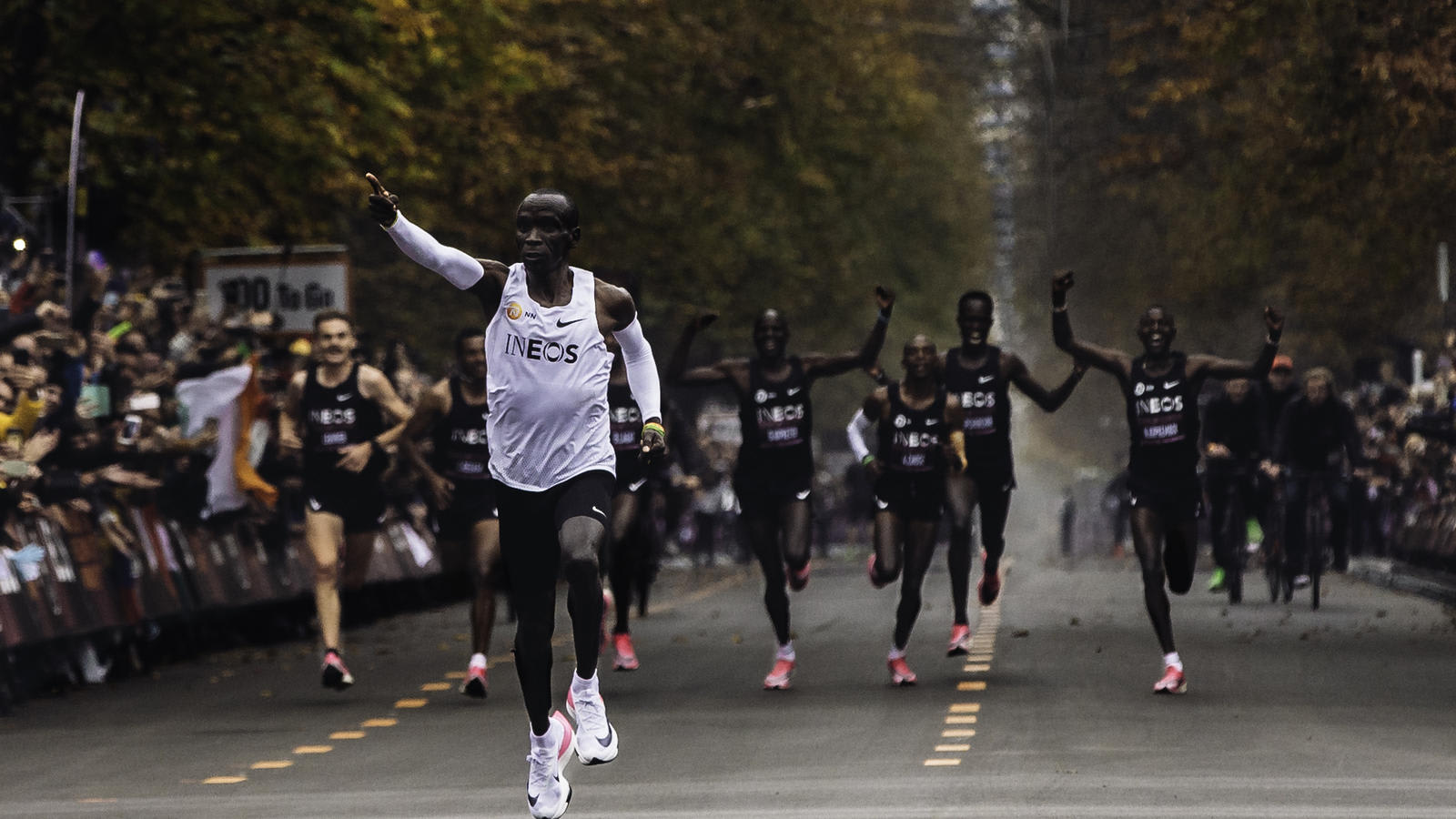 Touted as a future version of the brand's Next% marathon shoe, Kipchoge clocked his 1:59:40 time in the latest from a line of Nike shoes that are fine-tuned specifically for the Breaking2 push. Most recently realized as the ZoomX Vaporfly Next%, Kipchoge wore an unreleased version updated with a new upper said to be called Atomknit and a revamped midsole which sees the addition of a visible Zoom Air bag at the forefoot. As has been the case with Nike's other Breaking2 sneakers, the new model also features carbon fiber plates embedded in the midsoles for added propulsion. 
"Recent advances in technology mean that the concept of 'assistance' to athletes has been the subject of much debate in the athletics world," the IAAF said in a statement. "The IAAF has established a working group to consider the issues."
Sours: https://solecollector.com/news/2019/10/nike-accused-of-cheating-to-break-two-hour-marathon-record
Nike Sweatshops: Behind the Swoosh
Worst PR Disasters of 2019 
PR disasters happen to even the biggest brands. You can go from hero to zero overnight. But what's the best way to deal with such a reputation crisis? Let's take a look back at the worst PR disasters of 2019 as well as the big brand responses.
Nike and the Williamson shoe disaster
Top of our worst PR disasters of 2019 is Nike. On February 20, during one of the most anticipated US college basketball games of the season, Nike suffered a high-profile embarrassment. Star basketball player Zion Williamson got a knee sprain just 33 seconds into the game after his Nike PG 2.5 PE shoe burst.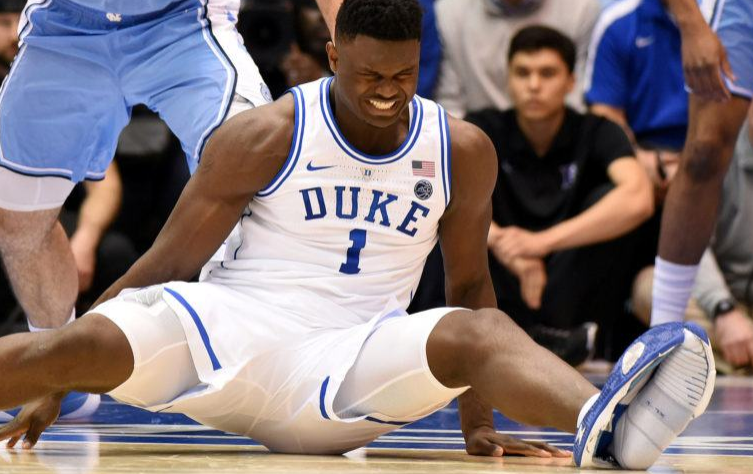 The reaction
As soon as the shoe malfunction occurred, social media was abuzz with many people blasting Nike for poor quality and others claiming that the shoe was tampered with. Nike became the target of ridicule as social media users labelled the issue "Shoegate."

Other brands were also quick to jump in on the opportunity to put the spotlight on their own products.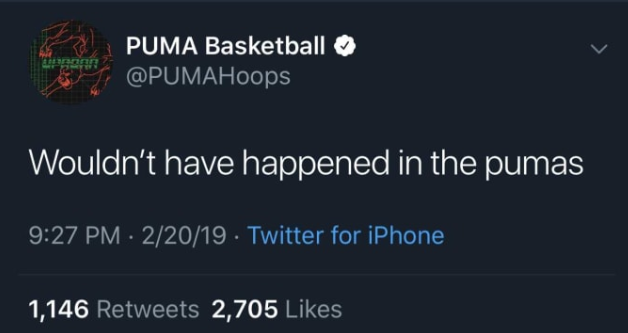 Why was this incident a disaster?
Showing good crisis management, Nike responded relatively quickly after the incident.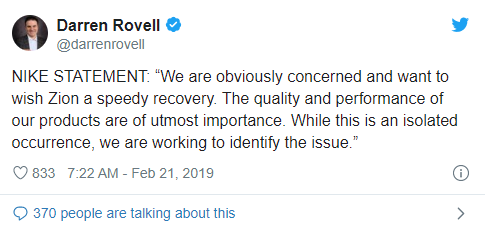 There was only one problem with this statement – a quick Google search revealed that this wasn't a unique incident of Nike shoes failing. In 2015, Kenyan runner Eliud Kipchoge had an unfortunate experience with Nike shoes, which likely cost him a world record at the Berlin Marathon. In 2016, basketball player Aaron Gordon's Nike shoe tore open and NBA players Andrew Bogut and Manu Ginobili also had similar malfunctions.
On February 21, 2019 Nike suffered a $1.1 billion drop in market value.
How did Nike handle the situation?
Instead of shifting blame or deflecting the story, Nike owned the crisis. The brand used the incident to highlight its commitment to continuous quality improvement and to reassure customers.
Top tip: Never go silent and wait for a PR crisis to blow over on its own. This will cost you your reputation, which is everything in the business world.
What did Nike do right?
After acknowledging the problem quickly and apologising, Nike showed a genuine interest in fixing the problem by doing some things right:
The brand was proactive in resolving the issue.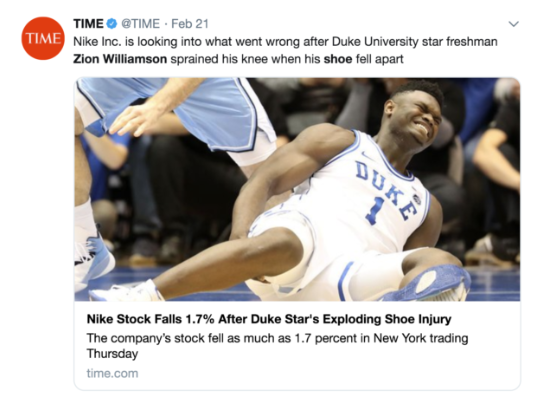 A few days after the incident, Nike sent a team to North Carolina where the game took place followed by a visit to Nike's manufacturing site in China. The team returned with numerous suggestions from these trips.
It shared its plan to resolve the crisis. Armed with suggestions from the site visits, Nike shared how it was working to improve the quality and performance of its shoes.
The brand showed how well its solution worked. About a month after responding to the shoe malfunction, Williamson returned to the court with custom Nike shoes which he described as "incredible." This follow-up was great for regaining consumer trust.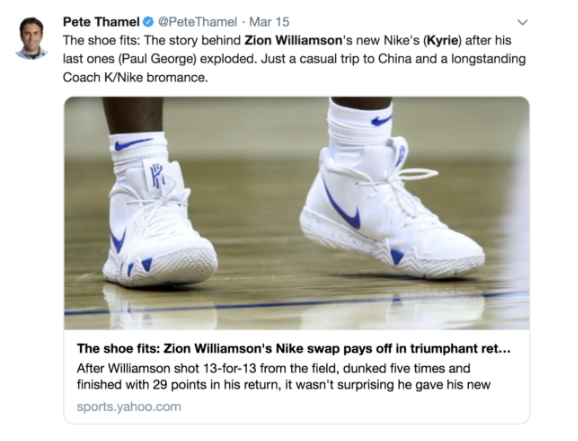 Key lesson: A good crisis management strategy is timely, compassionate, proactive, and it doesn't run away from any past mishaps. Your response to a disaster should put customer concerns at the forefront, demonstrating a willingness and commitment to fixing the situation.
Boeing and the 737 Max crisis
In March 2019, an Ethiopian Airlines plane crashed shortly after take-off, killing all 157 people who were on board. The aircraft was a Boeing 737 MAX. Of course we should point out that the loss of human life is the biggest disaster here, however, let's look too at the PR angle.
This tragic crash occurred barely five months after another Boeing 737 MAX plane crashed into the Java Sea just 13 minutes after take-off, killing all 189 passengers and crew.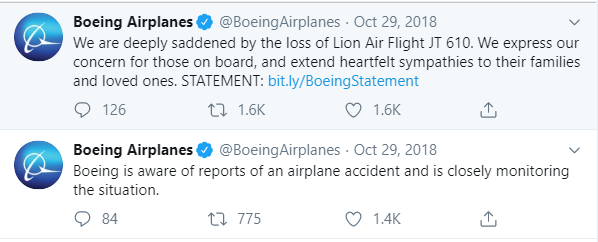 The reaction
There was outrage after the truth came out that Boeing hadn't alerted operators about all the new features on its popular 737 MAX jets. Pilots were furious that they hadn't been warned about the autopilot system that engaged during take-off and was susceptible to error. Air travel authorities all over the world officially grounded the 737 MAX in March.
What aggravated this disaster?
The worst and most damaging crises are those that remain stuck without a clear resolution. For months, the crisis has remained unsolved in a situation that has been exacerbated by reports that Boeing CEO, Dennis Muilenburg, initially insisted that the other aircraft were safe.
This tone-deaf response to consumer safety concerns cast doubt on whether flyers will trust the plane when it does return, especially considering the media is penning stories of a history of quality complaints at the facility that produces the 737 MAX.
What did Boeing do wrong?
Boeing is a classic example of a brand failing to handle a PR crisis well.
The company did not follow the first rule in any crisis – showing that you care. The company's response to the crisis confused and scared people, making it hard for them to believe the apologies.
For example, Boeing became less insistent about its claim that its 737 MAX aircraft was safe as more evidence was uncovered. The company then attempted to salvage the situation by promising to update the plane. This confusing and ambiguous response left consumers more anxious and concerned, likely deepening mistrust in Boeing rather than winning back customers and business partners.
Top tip: During crises, always be transparent and be ready to listen to and address consumer concerns. Boeing doomed its early attempts to address public concerns with its lack of transparency and failure to listen.
The apology came too late. Muilenburg apologised in a video 26 days after the second crash. In the video, he acknowledged that a preliminary report confirmed that the plane's sensors had misfired the same way on both jets that crashed.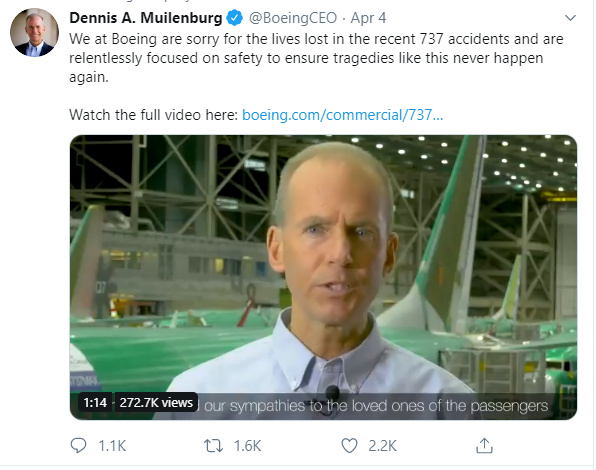 The video was to the point and addressed important issues, but it was created too late. This video statement was better than not issuing a statement at all, but would have been more effective if it had come soon after the crash occurred.
For instance, Indonesian flagship airline, Garuda, cancelled a $5 billion order for forty-nine 737 MAX jets citing that passengers "lost trust and no longer have confidence in the plane." Boeing could have avoided this by alleviating fears promptly.
Key lesson: Own your crisis and avoid knee-jerk reactions. It's bad for your brand when you delay responses and backtrack on significant issues. This can hurt your brand financially and will certainly cost you consumer trust.
Sephora and the US college admissions scandal
It was front-page news when it emerged that prominent people, including actresses Felicity Huffman and Lori Loughlin, were bribing school officials to get their children into elite universities. This scandal made a whole nation face the possibility of college admissions regulations with some people questioning why certain universities were so selective in the first place.
Lori Loughlin was charged and the repercussions reached her daughter, 19-year-old beauty influencer Olivia Jade Giannulli. It was revealed that Loughlin and her husband, Mossimo Giannulli, paid $500,000 to make it appear that Giannulli had been a rower to guarantee her admission to the University of Southern California.
When an influencer partnership goes south
Before the scandal, Olivia Jade had collaborated with Sephora's in-house beauty brand in December 2018 to launch the Olivia Jade x Sephora Collection Bronze & Illuminate Palette.With a nearly 2 million–strong following on various platforms, Giannulli did sponsored content posts for Sephora.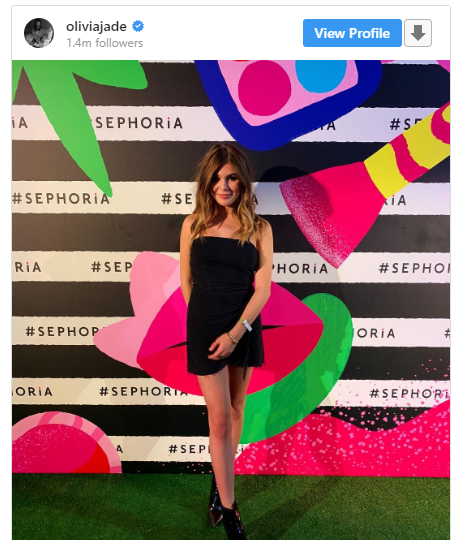 When the scandal broke out, there was outrage. People bombarded the palette with negative reviews on Sephora's website where they also demanded the palette be discontinued. Many people urged Sephora to drop Olivia Jade.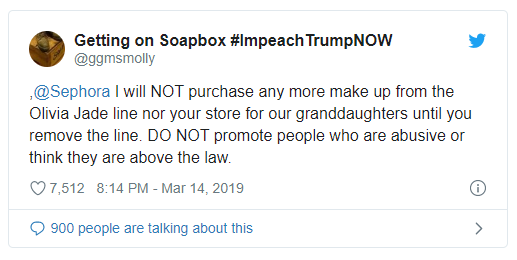 What did Sephora do right?
The brand acted with haste. Sephora pulled the products with Olivia Jade and issued a statement immediately highlighting that it would no longer be partnering with her.

If the brand had waited longer before ending the partnership, people may have interpreted the move as the brand just bending to public pressure. This would have cast doubt on the company's values and ethics.
There was clarity. The company cut its ties with Olivia Jade and stood by its words – the statement was clear.
The brand safeguarded its reputation. Removing the products from its stores was obviously costly but Sephora chose its reputation over any possible financial gain. This showed that the brand was listening to its customers.
It stayed on top of the news. Sephora wouldn't have known what was happening and it wouldn't have been able to react fast if it wasn't closely monitoring the news.
Top tip: Leverage social media for crisis management. Using social media to address a PR crisis humanises your brand and signals that you are ready to have a conversation with your audience. Here's how social media can help you fix your PR disaster.
Key lesson: Many PR disaster firestorms occur on social media. You must have a robust plan for handling any crises on social platforms. It's also important to have social listening tools (or utilise an agency that does) to monitor and minimise the impact of negative sentiment and bad press.
Did you enjoy reading Worst PR Disasters of 2019? If you did then hit that share button.  Today PR crises take on many unique forms and degrees of severity. You must be prepared for whatever gets thrown your way. Speak to the Contentworks team for more information on reputation management and other PR solutions.
Content Marketing MistakesLifestylePR
Sours: https://contentworks.agency/worst-pr-disasters-of-2019/
Similar news:
.
2631
2632
2633
2634
2635