40+ Places to Download Free Files for Glowforge
Have a Glowforge and looking for places for freebies to use on it? Of course you are!
40+ Places to Download Free Files for Glowforge
(Click any site name to see the freebies.)
SVGCuts – Offers 40 pages of free SVG cut files. To use commercially, follow the rules listed on this page and fill out the form for approval.
Epilog Sample Club – Epilog might be a competitor of Glowforge, but you can use files from their Sample Club with your Glowforge.
Free SVG Images – Several hundred SVG designs to choose from.
Thingiverse – Large variety of user submitted designs. Some designs work great; others don't.
The Hungry JPEG – Offers a different weekly SVG freebie. All weekly freebies include commercial use.
Ponoko – Choose from their free designs, then either use your Glowforge or send it to them to create.
Bird's Cards – Has hundreds of cut file elements, many geared towards paper crafters and card makers. Find commercial use restrictions at this link.
Obrary – User submitted designs. Not all are designed for lasers.
Ready to Cut – Small collection of SVG freebies. Some are marked commercial use allowed.
Boss Laser – Another competitor to Glowforge. Has a handful of freebies on their site.
Craft Bundles – Regularly updated SVG freebies that include commercial use.
Kelly Lollar Designs – Single page of commercial use SVG freebies.
3Axis – More user submitted designs.
SVG Cutting Files – Smaller collection of SVG freebies. Most are licensed for commercial use. Learn more here.
Love Paper Crafts – Blogger who offers SVG freebies. Commercial license included but limited to 200 completed products for sale. Read the complete license here.
Instructables – User submitted designs.
Dreaming Tree (formerly 3D SVG) – Collection of three dimensional SVG paper crafting freebies. Commercial usage requires a stamp. Read more about commercial use at this link.
Milissa Martini Designs – Handful of commercial use SVG freebies.
SVG Salon – Regularly updated list of free SVG commercial use cut files.
DesignShop – Large collection of laser ready files.
Simply Crafty SVGs – Collection of SVG cut files that include commercial use. Read the terms of use at this link.
APEX Cuttable Designs – Regularly updated collection of SVG cut files with commercial use.
Scarlett Rose Designs – Small collection of free commercial use SVG cut files.
Laser Ready Templates – Large collection of files, a handful are free.
Design Bundles – Regularly updated freebie SVG's with commercial use included.
Little Big Crafter – Smaller collection of free SVG cut files with commercial use licenses included.
LoveSVG – Offers free, commercial use SVG flash freebies that are time limited.
Printable Cuttable Creatables – Several pages of SVG freebies. All include a limited commercial use license that you can learn more about at this link.
Hoop Mama – Time limited commercial use SVG freebies.
Savana's Design – Collection of free SVG designs with limited commercial usage.
Free Pretty Things for You – Designer offering free SVG cut files.
FreeSVGDesigns – Large personal use collection of SVG files.
Poofy Cheeks – Blogger offering commercial use SVG cut files.
Easy Cuts It – Collection of SVG cut files with commercial use included.
Vinyl Supply Shop – Vinyl retailer with a small collection of commercial use cut files.
Chameleon Cuttables – Handful of rotating commercial use SVG freebies.
Creative Fabrica – Subscription site for fonts and cut files. Offers many free SVG cut files.
Holly Pixels – Time limited SVG freebies with limited commercial use included.
Craftables – Several pages of free SVG designs.
Designables by Lilly Ashley – Group of SVG freebies, some include commercial use.
Cutting for Business– Did you know that my flagship blog has over 200 free commercial use cut files? Click here to view them.
Find a broken link? The internet changes daily, just leave me a blog comment and I'll remove it.
Love this post? Save the image below to Pinterest.
Sours: https://madewithforge.com/free-glowforge-files/
The Glowforge is a CNC laser cutter engraver, more popularly known as a 3D laser printer. While conventional 3D printers employ additive manufacturing, laser 3D cutting machines use subtractive manufacturing. Find Glowforge Patterns. View other cutting machines.
Glowforge Projects, Cutting Designs, Patterns, and Templates
Below are some free Glowforge cutting and engraving ideas and projects.
What Is a Glowforge?
Glowforge is a wireless laser printer. It utilizes a cutting-edge laser for cutting various materials in a way that's not possible with others tools. Through this, you can create eye-catching stunning designs from paper, cardboard, leather, acrylic, and even wood. Apart from cutting materials, you can also use the Glowforge to etch and score for generating gorgeous designs for your projects.
Glowforge produces the best results with materials ¼" and less on a single pass. It can accept material as thick as ½", but you may have to flip the material over or need multiple passes. When engraving, you can take out the tray and insert objects up to 2″ inch, after which it can engrave the surface up to 0.5″, based on the material.
Glowforge Models
So far, Glowforge is available in three different models: the Basic, the Plus, and the Pro.
Glowforge Basic ($2,495)
The Glowforge Basic is a good machine to start with if you are new to 3D laser cutting. With cutting support for dozens of materials, it is ideal for home use. Keep in mind that it's rated as a class 1 laser product.
Glowforge Plus ($3,995)
The Glowforge Plus is a good machine if you are looking for a more premium experience. It comes with upgraded components and a speedy engraving speed that is two-fold in speed in comparison to the Basic model. The Plus model is also categorized as a Class 1 laser product.
Glowforge Pro ($5,995)
The Glowforge Plus is the most formidable and capable of all the Glowforge models. Although it retains the same size, you can print massive objects by using the Pro Passthrough slot. Because of its state-of-the-art cooling system, this model excels in terms of durability – it can run the whole day without breaking sweat. Other feature includes enhanced laser capability and upgraded components, which makes it three times faster than the Basic as well as cuts 1.2 times faster.
What Can You Cut with Glowforge?
Glowforge cuts a wide range of materials, including rubber, mylar, Delrin (acetal), Plexiglas (acrylic), paper, leather, fabric, wood, Corian, foods, and others. You can also engrave these materials along with titanium, marble, coated metal, glass, laptops, tablets, and phones.
There is also the category of Proofgrade materials. According to Glowforge, these materials are ideal for use when it comes to its printer. These include leather, plywood, acrylic, hardwood, and others. Proofgrade materials are calibrated and sized to work effectively with Glowforge. This means that when you add a piece of Proofgrade material into your Glowforge, it will process the material's QR code and attempt to recognize it. If the machine recognizes the material as Proofgrade, it will cut it automatically without requiring any form of manual intervention.
You can etch some metals via Glowforge, such as anodized aluminum. However, with stainless steel, you may need to spray a product like Cermark. This method is used to discolor the metals, but it doesn't engrave them away. This lends excellent smoothness to the surface.
Design Platforms
Glowforge is compatible with PDF, SVG, PNG, JPG, and other file formats. You can begin with something basic, such as clip art or a hand-drawn image. However, if you are looking to make money, your best bet is to get ready-to-print Glowforge designs. For this purpose, you can go through our designs below.
Pin for later.

© 2021, SunCatcherStudio.com
Bill and Jodie Rosener | (918) 456-4482 | Tahlequah, OK 74464
About us | Contact us | Subscribe | Privacy Policy | Terms of Use
Sours: https://suncatcherstudio.com/cutting-machines/glowforge-projects/
This post may contain affiliate links which means I receive a small commission at no cost to you when you make a purchase. As an Amazon Associate, I earn from qualifying purchases.
I'm always looking for new Glowforge projects to sell, but sometimes it feels like everything has already been done. I use my creativity combined with buying files (because I don't make my own at the moment) to create best-selling items my customers love. Bonus points when I can make profit off of scrap (trash!!) wood!
I've seen soooo many people throw away tons of scrap wood. I'm a slight hoarder, so we have a stack of wood we are working through. Maximize your products by using every piece of wood you possibly can.
Glowforge Projects
Wood is much cheaper than vinyl, so that is my focus for these projects. However, there are also tons of things you can make with vinyl so don't limit yourself! 🙂 If you haven't yet, join some GF groups on Facebook. They're overflowing with Glowforge ideas and will help keep your creativity flowing.
If you haven't purchased a Glowforge yet, now is the time. Read my post on how I paid for my Glowforge and why it's my best money-maker to date!
How much does a Glowforge cost?
I talked about this in detail in my other post, but a Glowforge Pro costs about $6,000, or if you use my referral link, it is $5,495. That is a HUGE investment, but it pays for itself in no time. You can get a Glowforge Basic for $2,995.
Unlike a vinyl cutting machine (like a Cricut), everyone and their mother does not have a laser, so now is the optimal time to add a Glowforge to your business.
How much do Glowforge files cost?
A popular question, without a real solid answer! Glowforge files cost however much the creators sell them for. I've seen bundles for a few bucks and single files for more than $10. Higher-priced files are usually layered, or somehow more unique than the lower-priced files everyone is selling.
Note: Glowforge files are usually SVGs. However, unless the listing says "laser cutter" specifically, I always message before buying! Sometimes people sell SVGs for cutting machines (like the Cricut) and they don't translate well for cutting wood. It's always best to ask before you buy because digital files are non-refundable.
This post contains affiliate links. When you shop through my links, I earn a commission. Thank you!
Wooden Keychains
Keychains can be anywhere from tiny charms to 3″ designs, in all shapes and colors. You can also use scrap acrylic to make them. I buy my keychain findings on Amazon.
Think about all the different people who love keychains!
moms
dads
grandparents
coffee lovers
music lovers (specific instruments even!)
car enthusiasts
nurses
sports lovers (sports parents..coaches..etc)
hobbies: hunting, fishing, sewing, dancing, skating
fans of literally anything
Even if you're just using scrap wood, you can get dozens of keychains out of one piece after you've already used it for other projects and it's paid for itself.
Lanyards
So many customers in this niche locally and on Etsy! Nurses aren't the only ones who wear lanyards, but they're always the first ones that come to mind for me. Getting even more specific, think about medical specialties. I saw a nurse with this lanyard on this morning, and another with this one.
obstetrics
kidney, liver, heart, lungs, basically any organ
Anyone who wears a name badge at work most likely has the need for a lanyard. I have some nurse friends who buy lanyards for every season.
Earrings
You can make an entire business around earrings. The possibilities with your Glowforge truly are endless. Your best bet is going to be to pick a niche and stick with it – then expand as your business grows. Staying on niche is important on Etsy. While there are exceptions to the rule, most shops perform much better if they have a specific topic they stick with.
Want to make earrings out of scraps? Here are some popular ideas to get started with:
quirky/cute
crass/edgy
states/hometown
food (avocados, sushi)
best aunt/uncle/mom/dad/wife/husband
hobbies (sewing, motorcycles, bowling)
Set a timer for 5 minutes and think of all the ideas you can for earrings. Then, head over to Etsy and see if you can find some files!
Stitch Markers
I know nothing about knitting or crocheting, but I do know custom stitch markers are super popular! Unfortunately, I couldn't find any files on Etsy for them but they would be easy to make. And, that could be another stream of income if you make the files and sell them. $$$
Ornaments
The famous "fuckflakes" of 2020 made several Glowforge owners thousands and thousands of dollars. One woman told me she made over $10,000 JUST from selling that ONE ornament over and over again. And, the ornament designers also made thousands and thousands of dollars. See more (below) bout being the middle man!
We skipped out on the fuckflake trend. Our best selling ornament for 2020 was the "Christmas in Heaven" ones.
This is another best-selling ornament idea that is SUPER simple to make. Offer customization for the ornaments you're selling, if you're able to. It can increase your sales and you can charge more… win win!
Business Cards
While biz cards are a little larger than some of the other items we're making out of scraps, often we will have a project that only takes up 3/4 of the board, so with the last quarter of it, we can squeeze in a few business cards. Let me tell you, people are SUPER impressed when you hand them a wooden business card – and they're less likely to throw it away.
I don't hand them out all the time but they are a huge hit at craft shows and fairs.
Necklaces
I like to use the earring files to make necklaces. Be sure to seal all of your wooden jewelry well, so it isn't as affected by moisture. Never tell anyone your creations are waterproof – they will not be when submerged!
Adding a little extra pizazz (like these beads) to your creations will help them stand out. I love that these are earrings but I would turn them into necklaces for sure!
Pro tip: Be the middle woman.
Being the supplier is golden. If you can use your Glowforge and wood scraps to create products other crafters can use in their business, you'll never run out of customers. Unlike with novelty items, supplies are being sold to others who are working hard to grow their business.
You can also create and sell simple files for Glowforge owners so they can continue to profit with new products, without having to stop production to create their own files. I hate creating files and would much rather buy them every single time.
Any time you can make a maker's job easier, or supplies more affordable, you're going to have a steady stream of customers.
Even though I was using scraps to create my DIY Biz Kits, I added value by offering a course to accompany the kit. My customers paid $150 for what cost me about $15 total, including shipping – but they also got access to a course that gave them everything they needed to be successful selling wooden earrings.
Supplies
Think of anything you would need if you were running a business and didn't have a Glowforge. Then, make those things for your customers!
Sign making is a huuuuge industry right now. Sign makers who buy wood blanks but don't have a Glowforge buy hooks and things – why not be their supplier?!
Wood blanks
Other crafters who don't use a laser cutter but still sell on Etsy need blanks. They will use the blanks you create, and add their own flair to them. Whether it's beads or painting or something else entirely, getting into the supply business is a great way to make continuous money with your Glowforge.
Makers who do wood burning can buy blanks and then use those to burn on, instead of having to invest in a $5,000+ machine. They'll keep you in business! 🙂
keychain blanks
earring blanks
necklace blanks
lanyard blanks
biz card blanks
and more!
Even Michael's is selling wood blanks at this point so we know there's a huge market for them! Don't feel like you have to compete with big store's pricing: learn how to price your handmade goods.
Sign making supplies
Back to those sign makers, because they keep our Glowforge busy! 🙂 Some of our customers buy wood blanks and then paint them, so we cut accent pieces out that they can glue onto their signs.
What kind of accents can you make?
holiday themed
season themed
sports themed
and more!
Glowforge Ideas
There are so many files out there, even if you don't have a creative or artistic bone in your body, your Glowforge can make you tens of thousands of dollars. The learning curve isn't bad, though I won't say it was EASY for me but that's probably because of the brain fog. 😉
You can start by selling locally, but don't forget about Etsy! As long as your SEO is on point and you create a unique product, there isn't a whole lot of competition yet.
Amazon and the Amazon logo are trademarks of Amazon.com, Inc, or its affiliates.
Categories Make MoneySours: https://sadiesmiley.com/glowforge-projects-you-can-make-with-wood-scraps/
7 Bestselling Glowforge Products To Make // Glowforge Business Ideas // The Charmed Maker
You finally decided to spoil yourself and bought a Glowforge laser cutter. Now that you finally own one, what projects should you create?
Don't fret, throughout this article, you will be given multiple Glowforge project ideas so you can experience the excitement of owning a laser cutter.  There are thousands of ideas out there, but today we'll list some of favorite items to sell.  First off we will start with some beginner projects that will also make great gifts for friends and family.  Then we will cover some material specific items to make and sell, and after that we will list some of our favorite Glowforge projects to make money.
Simple Laser Cutter Projects
CheckerBoard
Who doesn't love a game of checkers? Checkers is one of the most iconic games of all time. 
Not a fan of checkers? That's okay! There's other games you can play on a checkerboard. Believe it or not, you can play a game of chess using a checkerboard. Heck, why not take it a step further? Create an entire chess set!  Don't forget to personalize it, making it a great gift.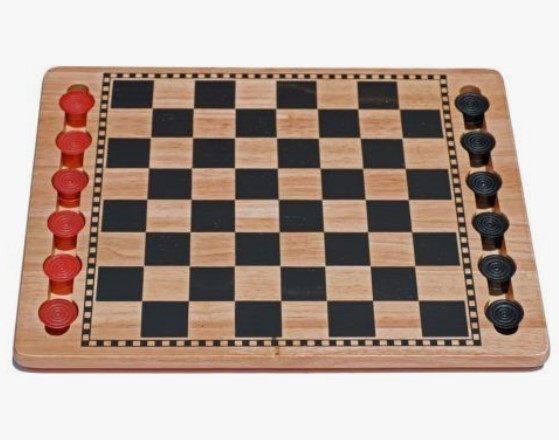 Creating a checkerboard is one of the easiest projects you can work on as the entire board is made of squares. If you are a newbie, creating a checkerboard would be a great introduction to the laser engraving world.
If you've liked this project, consider creating other board games as well. You'll never have to worry about having nothing to play again. All you'll have to worry about is finding friends to play with you. 
Another great game option to make with your Glowforge is 4-in-a-row.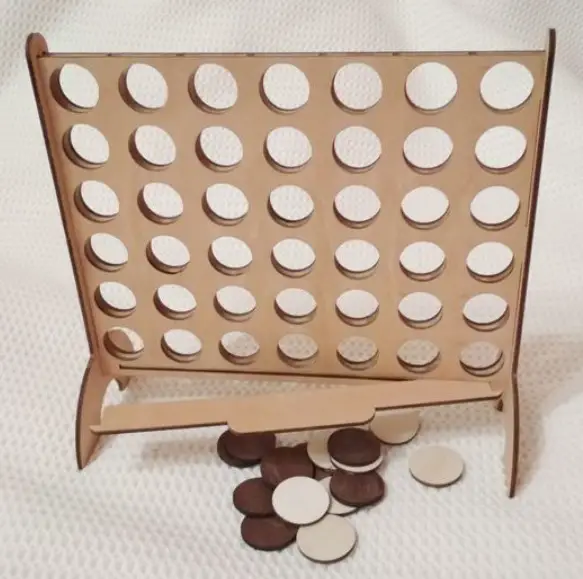 Personalized Coffee Mug
Nothing beats having a fresh cup of joe to start your day. Don't pour your coffee into any old coffee mug, pour it into your coffee mug. What do I mean?
We all have dishes around the house, right?  Obviously. the looks aren't that important as long as they can hold food/drinks. But that doesn't mean you can't add designs to make them feel more personal. The dishes are yours and they should truly feel like yours. 
So when you have a cup of coffee in the morning, consider adding a personal touch to the mug. It can be as simple as using acrylic to paint your name on the mug, or you can add a little design that reminds you of when you were a child. 
Suggested Article:How to Laser Engrave a YETI Cup
Acrylic Project Ideas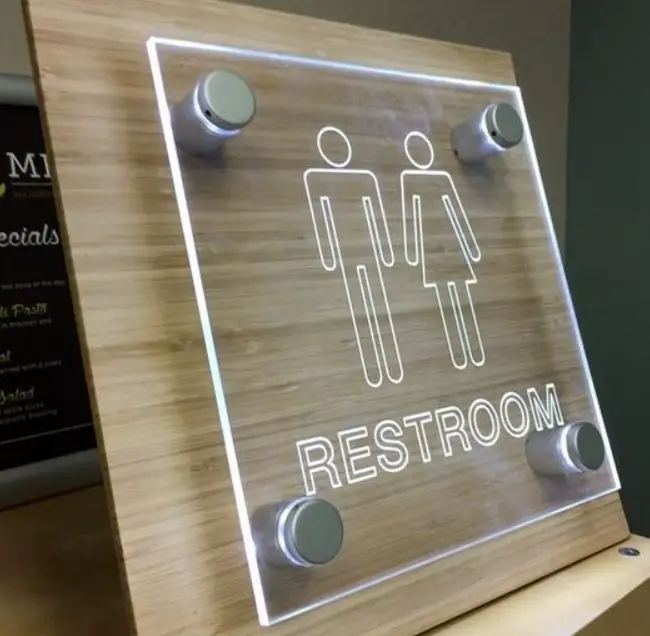 Ever wanted to make a custom Acrylic design with your laser cutter. Here are some fun and easy Acrylic project ideas for your glowforge.
LED Sign
Nightlight
Throphy or Plaque
Coasters
Leather Project Ideas
Leather Stamp
If you like to wear hats then this is the project for you. Using your Glowforge to laser engrave leather stamps, you can add some customization to your hat. It doesn't have to be only your hat! You can put the hat on the side of your pants, or put it into the front of your wallet. 
Engraved Leather Earrings
If the earring is big enough, it's possible to engrave them to make them a little more fashionable. 
Cardboard Project Ideas
Rocketship
Not all Glowforge project ideas have to be for adults. If you have little kids, they will love this. It doesn't have to be the most beautiful looking rocketship, as long as it's clear that it's a rocketship, then that's all that matters. 
Cardboard Car Cutouts
Another project that your kid will love, car cutouts. Most parents want to decorate their kid's room with a theme that their child loves. If your child is into cars, create some cutouts, and put them on the wall.
Can You Make Money With a Glowforge?
Of course, you can! Here are 10 Glowforge projects that can put some extra cash into your pockets.  Whether you are starting a small business with your laser cutter or just doing it asa hobby, it is important to start with a list of items that people are interested in buying.  Gauge interest by sharing ideas on Facebook and Instagram, that way you will firm understanding of what is feasible and what is selling.  From there you will need to know how to become profitable.  To establish a true laser engraving business with your Glowforge, we recommend reading our article on how to make money with a Laser Engraver.
10 Glowforge Projects to Sell
1. Christmas Ornaments
If there is one thing everyone loves about Christmas, it's the atmosphere. Jolly good music, cold weather, tasty treats, and beautiful decorations are what makes Christmas, Christmas!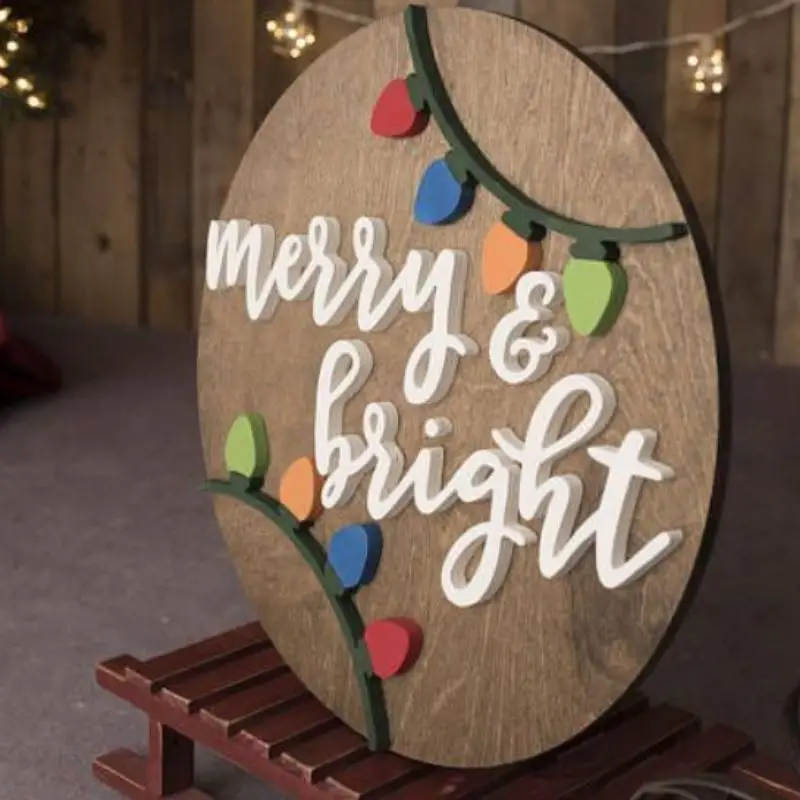 2. Coasters
People love to put drinks on top of wooden furniture. Unfortunately, this leaves marks on the wood which no one wants. Make some coasters, and you will have a nice little side gig. 
3. Picture Frames
Everyone has pictures in their house. If they want to display them, they are going to need a frame to place them in. Sell them the frames they'll need.
4. Plaques
Wooden plaques are a great way to earn some extra income! You can engrave the plaques or create the shape and sell them. Or, if you're up for it, you can do both and charge extra for performing both services. 
5. Wall Art
Looking to spice up your living space.  A great way to make your home look unique and elegant is with some custom wall art.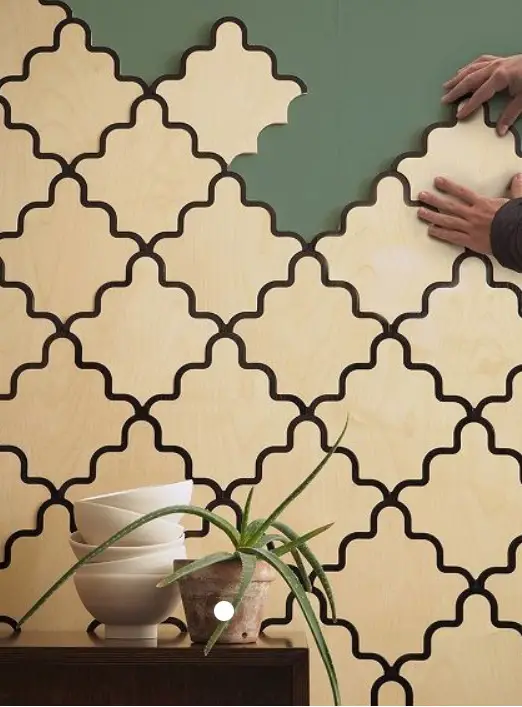 6. Name Signs
People love to put their names on the door of their room. They want everyone to know that it's their room. If you know someone like that, consider selling them some name signs made out of wood. If you are selling to a friend, maybe do something nice and paint it for them for free. 
7. Jewelry 
Earlier I mentioned leather earrings. While the necklaces will be made out of wood or plastic, they will still be an item that sells.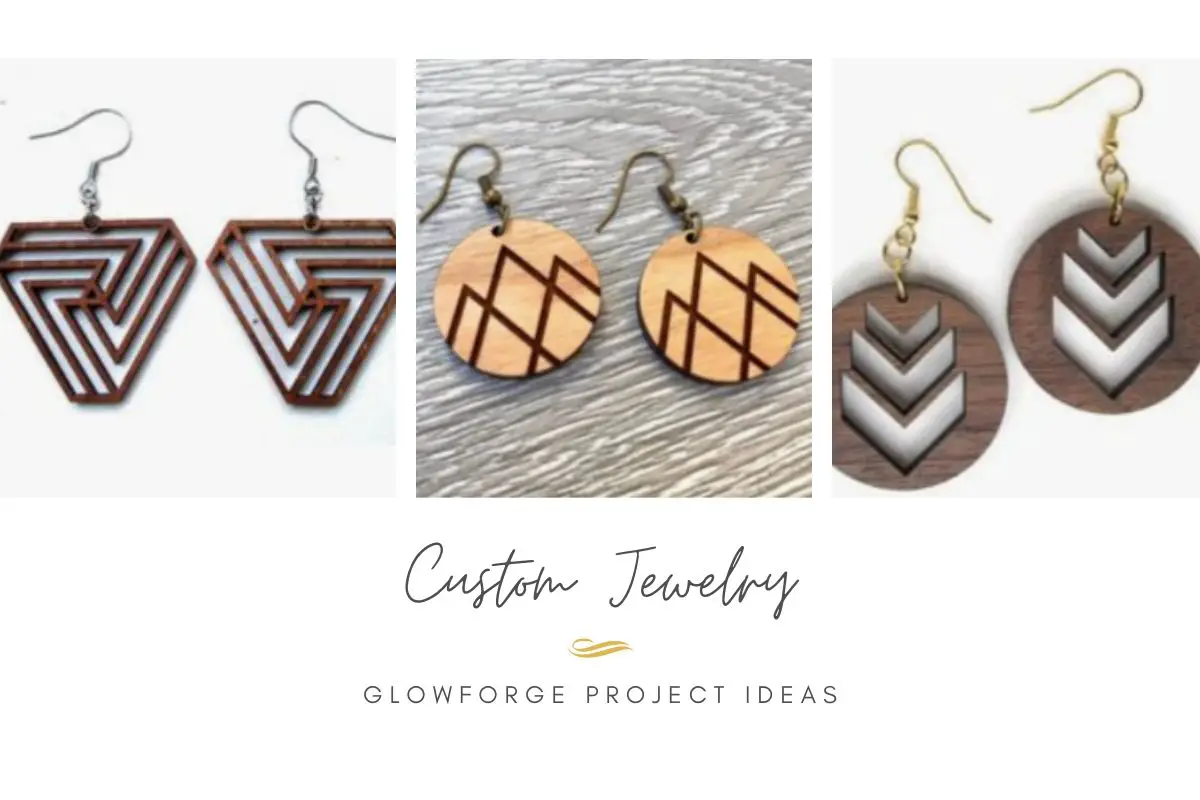 8. Plastic Glasses Frame
Another fashion item, plastic glasses frames are a popular trend and worn frequently by hipsters. If you can market yourself, you should have no issues getting customers. 
9. Wooden Postcards
Do you know what people wrote on before paper was invented? If you said wood, you are wrong. Back then, if you wanted to send someone a letter, you had to write on a big piece of clay. While this isn't clay, the concept is similar. This is a fun little project that anyone would love to buy.
10. Mini Calendar
It's easy to keep track of what the date is. Help society out by selling your own calendars.   Also work great for wedding decor and gifts.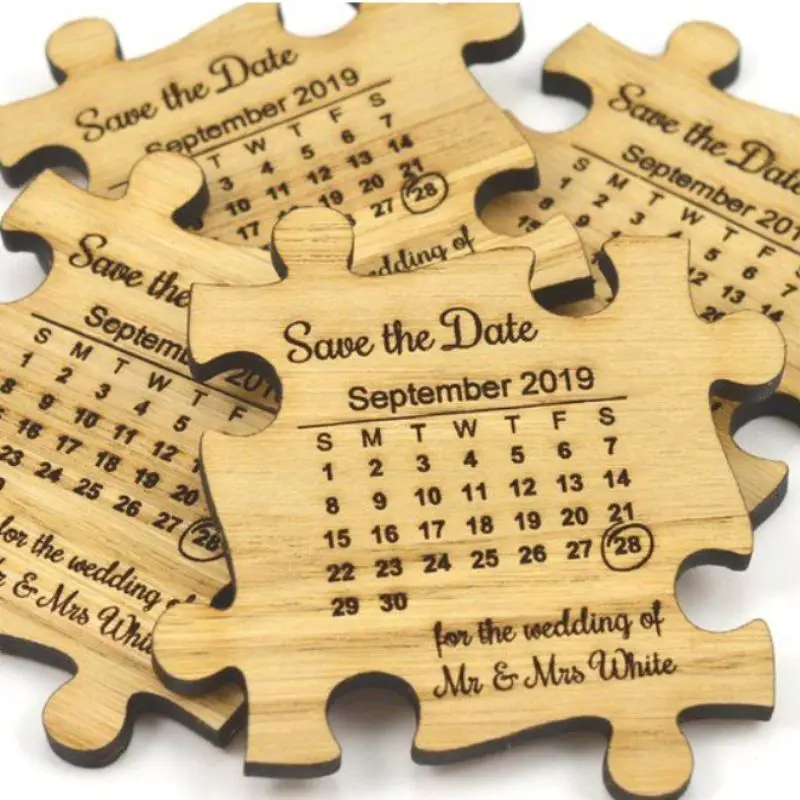 Free Glowforge Designs
To add the cherry on top, you can find free Glowforge designs on the internet. Some places to get free designs are:
These are only a few places you can get free designs. This may sound crazy, but there are dozens of websites out there that provide free designs, The ones listed above are some of the most popular and most trusted websites on the internet.
Regardless of what you make with your Glowforge, just know that you will be getting excellent quality. Welcome to the world of laser cutting. The limits are endless. All you need is a little imagination,
Sours: https://makerindustry.com/glowforge-project-ideas/
Projects glowforge
Large Wooden Wall Art, Modern Art, Parametric Wave, 3D Art, Wall Sculpture, Wall Hanging, Wood Art, Wall Decor, Abstract Art, Parametric Art
Wood Wall Art Modern Art Parametric Wave 3D Art Wall
Laser cut tree template. Online 3d vector design download free patterns every day. Psychedelic Tree.
Gorgeous TREE Template for laser cutting. It can be use from interior design decor, Christmas decor, kids decor, wedding table, gifts. Cut out of wood, hardboard, Perspex acrylic. Download VECTOR file PDF, AI, EPS, SVG, CDR x4. You can scale and add or remove elements to personalize the design. Our templates are all tested. Free designs every day. This gorgeous tree will make a great addition to any decor range! The design measure 3mm and was cut out of wood. When assemble it is 300mm hig...
Sours: https://www.pinterest.com/vanessawood15/glowforge-projects/
Garage Mini Manufacturing - Glowforge Laser Cutter Batch Products
.
You will also be interested:
.
2477
2478
2479
2480
2481