Nautical Flags, Boat Flags
Marine Flags for Communication
As long as ships have navigated the seas, sailors have used flags as a means to communicate messages. Nautical flags harken back to a time when communication technologies such as radio and the internet did not exist and therefore a simple method was needed to communicate various messages.
The International Code of Signals Flags are the most prominently used flag-based communication system amongst ships. This internationally recognized language is comprised of symbols on flags that are used to communicate specific messages, letters, and numbers between vessels. Under this system, different flags are hoisted above the ship to communicate different messages. In some cases flags can have different meanings depending upon whether they are raised independently or in conjunction with other flags. This communication system is comprised of a different letter flag for each letter of the alphabet, a different numeral pennant for the number 1 through 10, and 4 substitute and answering pennants. The system is extremely effective since the language is universal, therefore, regardless of the language spoken on different ships, the flags still communicate the same message. Each letter/number/pennant has its own unique meaning and when different flags are used in conjunction with one another different meanings are communicated.
Nautical Flags for Identification
Today, nearly every vessel on the seas flies the flag identifying their country of origin. We offer 4 different sizes of nautical American Flags, all of which are constructed from durable nylon with embroidered stars and sewn stripes for maximum durability on the high seas. The sizes available are 12in x 18in, 16in x 24in, and 20in x 30 which are unique sizes specifically tailored towards display on boats.
The U.S. Yacht Ensign is a variation of the American Flag which is used in lieu of the traditional American Flag on yachts that are only traveling with U.S. waters. At one time, this flag was required of yachts and other "pleasure-craft", however, at this time the flag is only used to pay homage to the tradition.
The U.S. Navy and the U.S. Coast Guard display a U.S. Jack flag on the bow (front) of their vessels in addition to the US Flag which is displayed at the rear of the vessel. The US Jack Flags are only displayed when the boats are anchored or moored. Once the vessel begins its journey, the U.S. Jack is lowered so that only the American Flag is displayed at the rear of the boat.
The First Navy Jack is an identifying flag that was used historically by the U.S. Navy on vessels that were moored or anchored. This flag was used from 1975 to 1976 and from 2002 to 2019, however as of 2019, the U.S. Navy now uses the U.S. Jack, except on historical vessels. The First Navy Jack is still displayed by some to pay homage to its history.
Aside from communicating messages, custom printed flags are also used at sea as to symbolize and identify the ownership of the vessel. In the case of a private individual owner of a vessel, this flag is called a "private signal," whereas if the vessel is owned by a company, the identifying flag is called a "house flag." Similarly, flags are also used to denote associations with organizations; members of yacht clubs or sailing organizations often fly their club's unique flag.
If you require a custom flag for your boat, we recommend a double-sided 12" x 18" double-sided flag. We are able to custom print your design in full color on knitted polyester fabric in high resolution with vibrant eco-friendly inks. Use your imagination and create a flag that uniquely identifies your boat with imagery and symbolism that is recognizable and meaningful to you.
The Jolly Roger Flag is an example of a private signal that was used by pirates to identify their vessel. Although, today, we sell a generic "Jolly Roger Flag," originally different versions of the white skull and crossbones on a black flag were used as unique identifiers of specific pirate captains, including Sam Bellamy, Edward England, and John Taylor during the 1700s. Other flag designs were used to identify different pirate ships, however, this is the design that is the most notorious.
Sours: https://flagdom.com/
Custom Boat Flags
Let us create your Boat Flags today!
Unlimited colors and designs for nautical flags
Double sided or single reverse, depending on your needs
Finished with heading and grommets or pole hem
Get your Quote
1-800-757-0600
Custom Boat Flags, Nautical Flags
& Nautical Pennant Flags
Are you looking for a custom boat flag or custom-made boat pennants to distinguish your boat? At A Stars & Stripes Flag Corporation, we have the capabilities to produce any size order of custom boat flags for your boat or boats — whether that means one or 50,000. We're the personalized flag maker and provider that's backed by over three decades in the industry, and we're proud to be your resource when you're looking to create unique and custom nautical flags of all kinds. Whether you want boat flags with your boat's name or with your family crest, our experts can get the job done. We love creating fun boat flags for our customers.
Design Your Custom Boat Flag Today
It's Easy as 1-2-3
1-800-757-0600
Benefits of Our Custom Boat Flags
At A Stars & Stripes Flag Corporation, our custom-made boat flags are available in standard sizes ranging from 12×18" to 10×15' — or we can make any design, shape or size to suit your preferences. Our personalized boat flags are generally rectangular, pennant-shaped or burgee-shaped, and our boat flags are usually digitally printed and finished with heading and grommets. Here are some of the benefits you can expect from our products:
Made in America
Standard sizes 12×18" to 10×15' or custom sizes
Customized to your taste
Color matching in unlimited colors in order to match your brand
The ability to use your own image or have one designed
A unique approach to let everyone on the water know the name of your boat
A personalized way to send a message to every other boat in view
Responsive customer service throughout the manufacturing process
Various printing options: digital, appliqué
Fast turnaround time on all boat flags
Professional guidance from our expert designers
Based on your specific desires and needs, our expert team will work with you to create the perfect personalized boat flags for your boat or fleet. With our state-of-the-art manufacturing process, superior color-matching quality, and top-notch customer service, we'll make sure your personalized boat flags are done right, so they can make you and your watercraft look great.
Get In Touch with Us Today
If you are interested in designing personalized boat flags for your fleet or marina or would like custom yacht flags to hang above your yacht, get in touch with us today to learn more about what we offer!
Step 1
Complete and send us our easy to use quote form letting us know the type of personalized boat flag or banner you'd like to create, the quantity and time frame you need. We will reply with the ideal process and provide you the best pricing for your product.
Step 2
Send us the image you want on your boat flag or banner. If you don't have an image, tell us your vision. We will send you a proof of your design for review and approval.
Step 3
Provide your shipping and payment information to us and we will send you your personalized flag in 7-10 business days or less depending on your needs and product.

Backed by over four decades of experience making custom boat flags, with an established reputation for going above and beyond our customers' expectations, A Stars & Stripes Flag Corporation is here to serve you. We're the reliable flag supplier that can handle everything from pontoon boat flags to yacht flags and more!

You may also be interested in these products:

Sours: https://www.bestcustomflags.com/custom-flags/boat-flags/
Boat flags provide accurate information to nearby marine vessels about your identity, your ship's registration, and your situations when operating on waters. You can also utilize them to notify others if you are in distress or having an emergency. Like boat lights, they play a crucial role in maintaining your marine safety.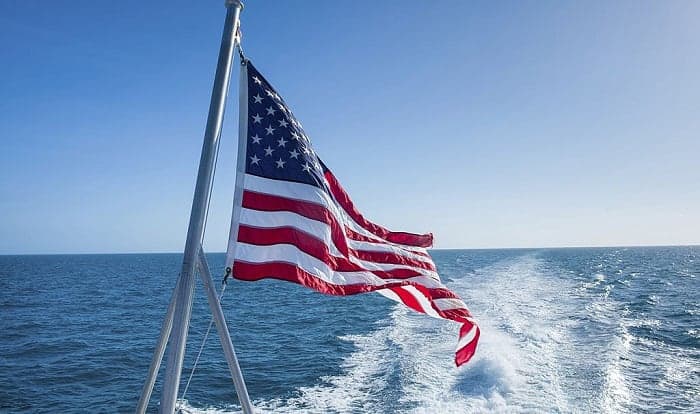 However, many boat flags are sold in local shops and online, making it challenging which line to trust. The overwhelming and similar styles, designs, and appearance make it more confusing for most boaters. So, here are my reviews on some of the best boat flags you can consider when buying such products.
Best Boat Flag Reviews
1. Yafeco U.S. Boat Flag
Many boat owners recommend Yafeco as among the best brand manufacturing excellent boat flags. Honestly, I was skeptical about the brand when I first heard of it because I still prefer using flags from a familiar label. However, I came across the 16 x 24 inches Yafeco U.S. Boat Flag. Surprisingly, it has outstanding qualities, which changed my perspective about its respective brand.
What I like the most about this product is its crafted material. With 100% polyester, which allows the flag to retain its size and shape, even when exposed to elements like sun or water. Moreover, it doesn't shrink no matter how I wash and dry it. Additionally, the fabric is water-resistant. I don't even have to worry about immediately removing it when it rains.
However, after several months of using the product, I noticed a significant change in its color, making me realize that it is not fade-resistant. I first spotted a slight color difference in my second month of using it, and after a few months, its color completely turned lighter than the original shade.
Another product's factor that stood out to me is its intricate design. The stitches from the hoist to the fly are exceptionally made, enabling the flag to hold its form. Further, I was impressed by its uniform stripes sewn delicately and its complete and aligned stars embroidered finely. I experienced buying a U.S. flag with incomplete and misaligned stars before, which is why counting them became a habit. Furthermore, its brass grommets are durable, and they fit perfectly with my existing flag clips on board.
What We Like
Made with 100% polyester materials
Used fabric is water-resistant
Exceptional stitches and embroidery
Durable brass grommets
Regardless of its downside, I would recommend this product for boat owners looking for quality nautical boat flags at an affordable price.
2. Airhead Watersports Flag
I asked my friend about the flag I should use whenever my family goes water skiing or wakeboarding, and he showed me this Airhead Watersports Flag. I immediately bought one, and since then, I've been using it for almost a year now.
Upon using this product, I can say that it is indeed made with sturdy nylon as it doesn't break or tear under any circumstances like strong winds and several running in washing machines. Moreover, after months of using it, the color remains the same as they were initially.
Personally, the most commendable feature of this product is its 48 inches long aluminum shaft. This rod makes it easier to hold the flag upright in a seated position without raising your arms. It is also light, and its handle has an EVA foam that gives you a comfortable grip. Additionally, its bright orange color stands out in the waters. The combination of the pole's length and the flag's color offers excellent visibility from a distance.
Further, this product is easy to use and install. You can choose whether to mount it or hold it by hand. At first, I tried to mount it on my boat's tower. However, I noticed that it takes time to remove it when not in use. So, from then on, I stick with using it as a handheld flag. Furthermore, this product floats on water, enabling you to retrieve it quickly if it falls on the water.
Furthermost, it comes with elastic bands that you can utilize to wrap the flag for quick storage. The only downside of this product is it is quite expensive. However, I can say that its overall quality and performance make up for its price.
What We Like
Easy to use and install
Made with sturdy and fade-resistant nylon
Has a long aluminum shaft with an EVA foam bottom
Comes with elastic bands for storage
Visible from a distance
I highly suggest this flag for boat owners who love watersports as it will notify nearby vessels about your condition and keep you safe during your travel.
3. Taylor Made 8430 U.S. Boat Flag
Taylor Made products are known to possess unparalleled standards when it comes to marine-grade accessories. Hence, I've always trusted the same brand for many years. Among their most sought-after products is the Taylor Made 8430 U.S. Boat Flag.
It is constructed from lightweight nylon fabric, making it ideal for boats to wear on all weather and occasions. I say it is durable because my very first flag of this kind lasted for almost four years, which is why I always buy the same thing and stick to the same brand.
My honest first impression of this flag is so-so because I thought it would be like other flags that are easily worn off. However, I was wrong; this product is built to last as its fabric has exceptional fade and mildew resistance. Even when I forgot to clean it or it was left idle on the elements for prolonged periods, I didn't see mildews or molds built on it. Although it is fade-resistant, colors may still change over time. Mine started to slightly discolor after two and a half years, which I think is understandable.
Furthermore, the stripes' stitches, top and bottom hems, and even the embroidered stars are of premium-quality. Its flyend is secured with four-needle seams, allowing the entire flag to hold its form and wave perfectly on-board. Needless to say that the brass grommets are sturdy.
I think some will be dismayed because of the noticeable manufacturer's logo at the flag's back. If you are like me, who doesn't mind this kind of advertisement, this feature is not much of a downside. However, if you are not a fan of such a move, this will lead to a significant disappointment. Regardless, I would say that this flag is timeless and indeed the best boat flag.
What We Like
Constructed from lightweight nylon fabric
The fabric has exceptional fade and mildew resistance
Premium embroidery and stitches
Secured four-needle flyend
Sturdy brass grommets
What We Don't Like
Color may change over time
Noticeable manufacturer's logo at the back
The majority of my marine vessels have been wearing this American flag for boats for over a decade now without any problems. Therefore, I strongly advise this product for every boat owner out there.
4. Goloho U.S. Boat Flag
I've been using the Goloho Boat Flag for three months now, and I haven't experienced any issues so far. I can say that this product is among the best and most affordable marine boat flags I have. Its features are top-notch, making it worthy of being included in this list.
This flag is made with 100% polyester materials, but what amazed me is how different its texture is from our conventional boat flags. It is stiff and far from the fabric-like flags I owned. At first, I thought it wasn't delightful, but apparently, it's what makes this flag unique. The materials' quality holds up exceptionally during strong wind currents. Moreover, it offers excellent water and tear-resistance.
I also like its exquisite stitches on red and white stripes. The double stitches are even and hold the lines in place. Further, the embroidered stars are striking because of their uniformity. The flag's overall seams, on top, bottom, and flyend are enough to impress me.
However, this product continues to offer satisfaction as it comes with heavy-duty stainless steel boat flag clips. They are rust-resistant and when exposed to freshwater, saltwater, and sun. Additionally, the pins are easy to adjust by hand, and all you need is two pieces of clips, but it comes with 4 of such tools. So, in case you need a spare, it'll never be hard to find one.
Although this product has brass grommets, I noticed that they are not securely built. It is slightly loose, and I thought it would tear if I left it like that. Thus, if you encounter the same issue, I recommend changing its existing brass eyelets to avoid further damages.
What We Like
Made with 100% polyester materials
Exquisite stitches and embroidery
Comes with heavy-duty stainless steel boat flag clips
Offers excellent water and tear resistance
What We Don't Like
May require changing its existing brass grommets
This flag is cheap but still lets you fly your pride smoothly. So, I suggest buying this kind if you want a boat flag that's worth every money.
5. In the Breeze 3685 Skull & Bones Boat Flag
Ever since I was young, I've always wanted to ride a pirate ship to explore the vast oceans and locate treasures. Hence, when I was old enough to buy a marine vessel, I ensured to look for a suitable pirate flag for boats. A few years later, my brother saw this In the Breeze Skull & Bones Boat Flag and gave it to me as a gift as a replacement for my old one.
Upon receiving the product, I felt slightly disappointed because the fabric is thin. It looks like it will tear when the wind blows on it. Surprisingly, during my first boat trip with it, the flag stays in shape and is completely fine. I thought that its line deserves to have the In the Breeze name because of its durable polyester fabric.
On the other hand, I noticed how excellent the printed design is. It doesn't peel off, and it remains intact even after washing and drying it. However, the print is not double-sided, but you can still see the image at the back in a reverse position.
Further, the brass grommets are secured with nylon webbing, allowing them to hold the flag firmly. Another thing that I like the most about the product is its strong stain-resistance. Based on my experience, it is easy to clean and maintain.
However, in some cases, its color tends to fade quickly. Why did I say that in some cases? I bought another flag of the same kind and gave it to my friend. After a few months of flying it, I told him that the color starts to turn lighter than before, but several months later, he showed me that his flag still looks the same.
What We Like
Made with durable polyester fabric
Excellent printed design
Firm brass grommets
Offers strong stain-resistance
What We Don't Like
Fabric is thin
Color may fade quickly
Some of my neighbors laughed when they saw this flag hanging on my boat, and others wanted to buy the same. So, if you are looking for adventurous and funny boat flags, then buying this product should be on top of your list.
6. Amarine Made SH-0013 U.S. Boat Flag
As soon as I heard that the Amarine Made Boat Flag has comparable qualities to Taylor Made flags, I bought one with high expectations. Truthfully, its overall potential surpassed my expectations, but it still left me with mixed reactions. Let me share with you my take on this product.
I am happy to see that the flag is made with 100% heavyweight polyester. This type of fabric is ideal for boat flags because it only requires low maintenance cost and effort. Moreover, it flies gracefully but steadily, even with the harsh wind.
I also love how the flag is locked with double stitches on top and bottom and four stitches with back stitch support on its flyend. The stars are also well-embroidered by the manufacturer, making it a decent flag. Its solid brass grommets are stable and rust-resistant.
Yes, the entire flag is secured, but I can't ignore that some stitches are uneven. A part of the top and bottom seams look like the tailor made it in a rush. Fortunately, when I took it to a friend, she told me that she could resew the flag to look presentable.
However, one thing that significantly disappoints me is its color dye. We were out in the water when the heavy rain suddenly poured. The flag was wet, and the red color dripped on my boat's white seats, which left stains on it. Without much choice, I discarded the flag and bought another one, but I only used it under the sun.
What We Like
Made with 100% heavyweight polyester
Stable solid brass grommets
Well-embroidered stars
Secure stitches throughout
Can withstand harsh wind
What We Don't Like
Uneven stitches on some parts
The color dye may leave stains on your boat
Although it is not as good as I expected it to be, it is still ideal for boaters aiming for small boat flags at a reasonable price.
7. Yafeco U.S. Boat Flag
For boat owners who want to buy 12 x 18 boat flags, the Yafeco U.S. Boat Flag should never be off of the list. This product gained my interest when I purchased their 16 x 24 banner, and because I already know the quality of the brand, I was not surprised by its outstanding features.
This flag is constructed from 100% polyester fabric. Although it is made out of heavyweight material, the flag is light and flies beautifully when you hang it up. Moreover, it is durable as no matter how quick our boat runs and how strong the wind gets, it remains stable and doesn't tear apart. I also like that I don't mind it getting wet because of its excellent water resistance.
Additionally, stripes are proportional and secured with double stitches. I was also impressed with the stars' embroidery. I am a little bit sensitive to the appearance of my boat flag. So, I inspect such an object when it gets on my hand. Unsurprisingly, its quality is the same as other Yafeco boat flags I bought, which I think is impressive. I also love that the flyend is locked with four-needle seams, which add to its overall durability.
Further, I can relax that the flag will stay attached to its pole because of its fixed brass grommets. Even after using it in a harsh environment for a certain period, the eyelets remain intact and hold the flag in place.
However, this flag quickly discolors, much faster than the other flags. I used it for a month, and I already saw a subtle color change. If you have other flags with similar shade hanging around your boat, then color may be noticeable. Otherwise, you can still fly them with no issue.
What We Like
Constructed from 100% polyester fabric
Durable, water-resistant fabric
Impressive stitches and embroidery
Fixed brass grommets
Having this flag flying on your boat will indeed be the talk of your neighborhood. So, try buying one, and you'll know why.
8. SeaGator Dive Flag
I came across this SeaGator Dive Flag as I was browsing different fishing boat flags in the store. I didn't expect much because of its affordable price, but I was still excited to see what it offers. Surprisingly, this 20 x 24 inches flag has a lot to provide.
Let's start with its materials. It is made with sturdy nylon to deliver exceptional quality. The flag is long-lasting, and it doesn't tear apart as it can hold out against strong winds. Moreover, its grommets are reinforced with durable vinyl, allowing it to hold its form and position under any circumstances.
Next, it comes with a collapsible stiffening pole and zip ties as most states require a flag stiffener when diving, this feature matches my preference. The stiffening staff is similar to a tent rod, enabling it to retain its form even with winds. However, I replaced the pole with a wooden dowel because I lost the inclusion along the way. The zip ties also work well in attaching the flag in place.
Another product's factor that I love is its Velcro pocket. You can easily insert the stiffening pole into the pouch so that it can do its wonder while you are diving beneath the water. However, its patches are weak and will require additional work. I sew the Velcro strips to avoid losing the pole and secure it in place.
Further, I noticed that its color dye is mediocre. Its color is supposed to be bright red and white. However, when I opened the package, a dark maroon flag waved at me. I didn't expect that there would be a massive difference in the actual shade. Still, it is noticeable and serves its purpose.
What We Like
Made of sturdy nylon and vinyl materials
Has Velcro pocket for comfortable support
Reinforced grommets
Comes with a collapsible stiffening pole and zip ties
Can hold out against strong winds
What We Don't Like
Inferior color dye
Velcro patch may require additional work
Regardless, its overall performance is indeed a value for the money, which is ideal for every boat owner.
9. Hoosun American Boat Flag
Many people have suggested the Hoosun American Boat Flag every time I asked them what to buy for my boat. I became curious about it and bought one after a few weeks of pondering. I didn't have high expectations, but surprisingly, this product amazed me in many ways.
First of all, this product is made with high-grade polyester material, meaning it doesn't shrink and retain its form even when exposed to elements. I've been using it for six months now, and its condition is still the same as I first saw it.
What stands out for me is its vivid red, blue, and white colors. I must say that this flag has the perfect shade that will ignite your inner patriot. Moreover, the stripes' seams are incredible and well-made. The stars' embroidery is exemplary and aligned. I also noticed that the flyend is secured with four-needle stitching. Further, its brass grommets indeed serve their purpose well.
Although this product seems to be perfect, it still is not. I bought this flag so that I can display it on my boat and let others see it. However, upon using it, I can say that this flag is not made to withstand windy weather. My first-bought flag frayed after one trip because of strong winds, which is disappointing. Still, I bought another one and gave it another shot. However, that time, I placed it in my pontoon boat's cabin.
It works great until now, and I bought one for my friend overseas. He told me that he uses this flag without any problems. I think the wind there is milder than the one here at my place. When you plan on buying this product, be familiar with the weather, and I would still suggest not using it during intense wind conditions.
What We Like
Made with high-grade polyester material
Well-made stitches and embroidery
Vivid red, blue, and white colors
Excellent brass grommets
What We Don't Like
Not recommended for windy weather
This product is commendable for its features, and I would suggest it to people looking for pontoon boat flags.
10. Seachoice 78301 Watersports Boat Flag
Seachoice is among the reputable brands producing exceptional marine accessories. I've been using their products for over eight years now, including the Seachoice Watersports Boat Flag, and they still live up to my expectations. Its size is 12 x 18 inches, which is perfect for small boats.
It is crafted from heavy-duty nylon, making it waterproof and durable. Moreover, the fabric is fade-resistant. There are times when I use this flag up for several hours under the sun and sometimes under the rains, but it still retains its shade. I am also pleased that it remains its quality under any circumstances, even after prolonged storage periods.
The most standout feature of this product is its noticeable bright orange color. This shade always keeps my family and me safe when we are all down in the deep water. Further, it comes with a 24 inches boat flag pole and a suction cup. The rod is made of plastic, and its length adds greater visibility. The suction cup can hold its place, and it offers vertical and horizontal mounting positions.
Although I like the idea of a suction mount, I find it unreliable because my first flag of this kind fell down the bottom of the lake after two trips. That was the time I learned that it doesn't float on water. Regardless, I still bought another one because of its quality and delivery functions. When I received my second flag, I only tied it on my boat's outside bar.
What We Like
Crafted from heavy-duty nylon
Offers great fade-resistance
Noticeable bright orange color
Comes with a pole and suction cup
What We Don't Like
Included suction is unreliable
The flag doesn't float
I highly recommend this boat flag for boat owners looking for additional safety when operating down on the water.
11. Yafeco U.S. Boat Flag
Like other Yafeco U.S. Boat Flag included in this list, this 12 x 18 inches thin blue line flag provides incomparable satisfaction to users because of its unique features. First and foremost, I would like to say that I love its color as it is just right, not too bright and not too dull.
Second, it is made with high-quality nylon material, making it lightweight, yet it can stand against strong wind currents. I've been flying this flag for a few months to show support to our local law enforcement, and my neighbors gave positive feedback about it. However, the brass grommets fall off after our third trip. I'm not sure why, because my brother's eyelets don't come apart, even when he used it in his cruiser. Fortunately, the damage is repairable, so I replace the grommets with sturdy ones.
Third, since it is made with nylon, it offers excellent water resistance. Surprisingly, this flag is indeed fade-resistant, unlike the other Yafeco flags above, which is, of course, beneficial for me. Please let me tell you that this flag is flying under the scorching sun's heat, but it remains the same.
Fourth but not least, seeing the flag up close proves that it has subtle stripes' stitches and delicate stars embroidery, making it more pleasant and attractive. Plus, you will see that the flyend is secure with four rows of stitches.
What We Like
Made with high-quality nylon material
Fine stitches and embroidery
Has great water and fade resistance
Well-made flyend
What We Don't Like
Brass grommets easily fall off
If you are looking for cool boat flags, then this product is for you. Not only have you added style to your boat, but you also let your officers that you support and appreciate their work.
12. Flagmesage U.S. Boat Flag
This product is made with lightweight nylon fabric, making the flag fly gracefully along with the winds. Although lightweight, it is sturdy enough to stand against harsh wind currents. The material is also water-resistant, allowing it to be ideal as a marine, outdoor accessory.
Upon flying this flag up for a few months, I noticed how special its delicate stitches are. Like the flags I include in this list, its stripes are individually sewn, and the stars are embroidered exceptionally. For me, a boat flag's appearance is a priority. I wouldn't want my boats to wear brand new but shabby banners. Thus, I always look if the stitches are well-made. Additionally, premium seams add durability to the flag.
Moreover, it is easy to use and install. It only took me a few minutes to hang this flag up with the included flag kit. The durable brass grommets also did their job correctly as they keep the flag attached to the pole under any circumstances.
The four boat flag kits come with heavy-duty clips and adjustable rings. The included hardware fits flag poles with a diameter size of 0.09 inches to 1.38 inches. I like these inclusions as they hold the flag in place, even under speedy conditions and strong winds. Plus, I only need two kits, so I gave the spares to my friend, who needed them to fly his MAGA boat flag.
The only downside I noticed about this flag is its fade resistance. Before I purchased this product, my brother had this flag first. After several months, I noticed that his flag's color started to lighten, although mine was still the same as its brand new condition.
What We Like
Easy to use and install
Made with lightweight nylon fabric
Fine stitches and embroidery
Durable brass grommets
Has excellent strong wind and water resistance
Comes with four boat flag kits
What We Don't Like
Colors may fade over time
Regardless, if you still want to travel on the water with pride, I suggest that you buy this flag. Plus, it is affordable compared to other products of the same kind.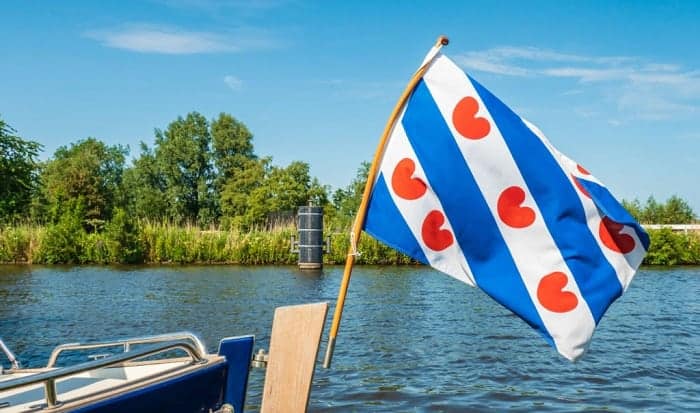 Buying boat flags appears to be simple but is a lot more complicated than you think. There are several factors to consider when choosing the best boat flags, whether they are custom boat flags or college boat flags. Try to remember the following aspects for ideal results.
Your Location
Boat flags vary depending on the country or state you live in. Some places may require a particular type of boat flag at all times, while other spots don't. Hence, it is vital to know what are the acceptable flags in your location.
Size
The essential factor you need to consider before buying boat flags is their sizes—a flag and a boat work hand in hand when it comes to such factors. You should know the corresponding flag size depending on your ship's length. For example, a 12 x 18 inches ensign is suitable for 12 to 18 feet long boats. Another is a boat's length of 19 to 24 feet needs 16 x 24 inches ensign.
Durability
The next common factor to consider is its durability. It would be best to buy a long-lasting boat flag to reduce higher expenses because of continuously replacing them in a short time. Ensure that it can withstand strong wind and direct sunlight.
Material Construction
Some flags are sturdy, but their material construction is mediocre. Some flags quickly frayed after one boat trip because of their inferior seams. Thus, you may notice that some boat flags emphasize their premium stitches and embroidery because it shows that the materials are well-made.
Other Factors
Apart from the above elements, you should also look if the flag is fade resistant and waterproof, or at least water-resistant. It would also help the banner come with impressive hardware like clips, poles, and mounts. This way, you can get what you pay for, specifically if the price is high.
The Different Types of Boat Flags
Among the most significant concerns of boat owners is to be familiar with the different types of boat flags. Fortunately, you only need to know several classes, and you're good to go. Look at the list below for more information.
The primary and most essential maritime flag is the ensign. You should place it in the stern and above every other flag on-board. Ensigns are hoisted at 0800 in the morning and lowered at sunset, although it varies from one country to another.
You can position the burgee at the masthead. This flag denotes a yacht club connection. It should not be flown during a race, just like the ensigns.
If you are visiting foreign waters, it is essential to fly a courtesy flag in respect to your current location. This flag depends on the country you are in and should be hoisted upon entering and leaving their waters. For example, if you are in Ireland, you can use Irish boat flags as courtesy flags.
This flag is a private or personal flag of the ship's owner. If you are from Maryland, then flying a Maryland boat flag as your house flag would be acceptable.
Other flags that can be flown on-board by the owner are signal flags. These banners are beneficial to notify other vessels of your current situation.
Benefits and Drawbacks of Boat Flags
Marine flags are indeed vital to ensure safe water operation, whether big or small vessels. Needless to say that they are required by law, and most countries have a strict implementation of such regulations. Thus, using such banners serves substantial advantages rather than mere boat ornaments.
Accurate boat flags mean you follow the required standards of marine operations, local and international. If you have the appropriate boat flags on-board, you will always be confident wherever you sail.
The primary purpose of boat flags is to connect with nearby marine vessels and tell them about your situation. If you hang the correct boat flags, it will be easy to notify other people within the vicinity to stay away from you, help you when you're in distress, and many more.
Besides easy communication, boat flags provide additional safety. Other vessels will know if a diver is underwater and such, which in turn lets you do your thing without incurring any damage or injury.
Among the most beneficial elements of using boat flags is quick identification. People will know about you like nationality, or state of origin, your ship, and even your companion. Boat flags play a crucial role in your identity, especially when you are entering foreign waters.
Another benefit of boat flags is it adds a personal touch to your ship. You can place personalized boat flags on your marine vessels as long as you follow the primary boat flag regulations.
No matter how great having boat flags on your boat is, it also comes with a couple of drawbacks.
The primary drawback of boat flags is their additional costs. Buying new ones to replace your old flags incur extra expenses, especially if you don't pick the most appropriate sailboat flags. So, I suggest buying from a reputable brand, so your money won't fly together with the shabby flags in the wind.
Require extra time and effort
It will help if you are knowledgeable about the specific points of using boat flags correctly to avoid confusion. You have to take some time and study everything you need to know about using such articles. Moreover, boat flags require additional care and maintenance, so ensure that you have enough time and are willing to exert extra effort in handling such stuff.
What Flag Should I Fly On My Boat
You can typically fly a flag based on your preference as long as it doesn't interfere with your conventional or major flags, such as ensigns, burgees, and courtesy flags on-board. Boating flags play a crucial role in notifying other vessels about your identity, navigation, and condition. Thus, if you plan to add boat flags for aesthetic reasons, it would be best to place them in a less significant position.
Can I Put A Pirate Flag On My Boat
Yes, you can put a pirate flag, also known as Jolly Roger, on your boat. However, you must consider a few factors, such as its position, your location, and current situation, before placing one on-board. Some countries follow strict maritime flag regulations, which prohibit flying such flags on any water vessel at all times. Other places allow one on-board, as long as you adhere to their respective boat flag customs, and haul it if you are entering or leaving their borders. Further, when you plan to hang a pirate flag on your boat, ensure that you never put it on the stern or near the masthead. It is safe to position it inboard.
What Size Is A Boat Flag
Boat flags generally come in different sizes depending on their types. For ensigns, available sizes range from 12″ X 18″ to 48″ X 72″, while other flags' sizes vary from 10″ X 15″ to 30″ X 48″. Fortunately, all these sizes are out in the local and international market. Thus, buying any flag within this range is quick and simple.
What Do Flags On Boats Mean
Flags were the principal mode of communication among maritime vessels, specifically before discovering radios and transmission devices. Following that tradition, boat flags still exist with the same purpose: to notify other ships of your identity and current condition, such as a diver on water, needing assistance, and many more. Moreover, boat flags have designs with stand-alone and combination interpretations. Therefore, ensure to know about the boat flags' meaning before using them on-board.
Where Do You Hang A Flag On My Pontoon Boat
Usually, you must place boat flags on your boats' stern because it provides the best visibility range for nearby vessels. Similarly, you can hang a banner on your pontoon boat's stern railing with a railing mounting bracket. My pontoon boats have several flags, of which my primary ones are attached to my boats' rear outside bars, and my local coast guards approved them.
How To Clean And Care Boat Flags
No matter how attractive your boat flags appear the first time you see them, they will eventually get dirty for prolonged periods, especially if you do not observe proper care and maintenance. Fortunately, cleaning boat flags is easy, but you must know your fabric well for adequate handling.
Washing Boat Flags
The best way to clean boat flags is to wash them by hand with mild detergent and water, as it is applicable for any fabric. In some cases, depending on the material, you can use bleach to remove tough stains off your boat flags. Further, running them in a washing machine on a gentle spin is possible. However, only use this method if you are sure that this manner will not deteriorate the fabric.
Drying Boat Flags
After washing them, it is also essential to keep them dry. I hang my boat flags where there is no direct sunlight because I want them to dry naturally. Moreover, I don't run them on a dryer, especially if I already washed them through a washing machine.
Boat Flag Maintenance
If you want to prolong your boat flags life, try to keep the following reminders in mind:
Wrap or roll the flag when not in use.
Store them in a safe place to avoid damages.
Ensure to fly only a dry flag, and remember to keep flags for boats dry at all times.
Clean your boat flags regularly to eliminate accumulated dirt.
Remove boat flags when you plan to dock or store your boats.
Take the flag to a professional cleaner when you are unsure of how to do such work correctly.
Always examine your boat flag's condition, and repair a hole or tear immediately before using.
For unsalvageable boat flags, discard them properly.
Conclusion
I can relate to boat owners having dilemmas when buying such an article because I've been to that spot once. It took me years to identify an adequate boat flag available in the market. Honestly, I still have difficulty replacing my old flags as there are many exciting banners out there. Hence, may this review of the best boat flags get handy if you are still unsure which brands to rely on.
Categories Cabin ProductsSours: https://www.boatingbasicsonline.com/best-boat-flags/
International maritime signal flags and their meaning - nautical alphabet flags - maritime flags
.
Flags unique boat
.
How Should I Flag my Boat?
.
You will also like:
.
2407
2408
2409
2410
2411