Two weeks after President Joe Biden released his opening bid on an economic stimulus plan, Senate Republicans have put theirs out. And there is quite a bit of distance between them.
In an outline unveiled Monday, 10 Republican lawmakers laid out their $618 billion proposal, with less than a third of the funds in the $1.9 trillion rescue plan Biden has introduced.
The offer shows a fundamental difference in how Republican lawmakers want to approach the public health and economic crises: Namely, they want something more targeted and aren't interested in a comprehensive approach. Biden — and many economists — have argued that the country does need more expansive support to endure the fallout from Covid-19. Democrats are also wary of going too small on stimulus and repeating the mistakes of the 2009 Great Recession, when Congress was too conservative in its response, resulting in a slower and more uneven recovery.
Republicans, however, have said they prefer a narrow plan that tackles more immediate public health needs like distributing the vaccine. And they want to make sure the funding from Congress's most recent stimulus package — approved in December — is fully spent first.
"While I support prompt additional funding for vaccine production, distribution, and vaccinators, and for testing, it seems premature to be considering a package of this size and scope," Sen. Susan Collins (R-ME), a leader on the Republican plan, previously said in a statement. She introduced the proposal alongside nine colleagues, Sens. Lisa Murkowski (R-AK), Bill Cassidy (R-LA), Mitt Romney (R-UT), Rob Portman (R-OH), Shelley Moore Capito (R-WV), Todd Young (R-IN), Jerry Moran (R-KS), Mike Rounds (R-SD), and Thom Tillis (R-NC).
Republicans' plan includes not only substantially less funding for provisions like school reopening, it completely leaves out support for state and local governments, and reduces the amounts allocated to direct payments (aka "stimulus checks") and weekly enhanced unemployment insurance.
The area in which the Republican plan is most consistent with Biden's is the $160 billion in funds that it allocates for testing, vaccines, and personal protective equipment for medical professionals. As experts have emphasized, state and local funding is critical to save public and private sector jobs, while direct aid is central to helping people cope with job losses that have resulted during the pandemic.
Republicans' proposal doesn't go far enough in addressing the scope of the current crisis, economists told Vox. The offer adds to doubts on whether there's real interest on the GOP side for a bipartisan relief package, given how far apart Republicans and Biden are on their plans.
"I think it's bad economics, and I think it's really bad politics," said Stony Brook University economics professor Stephanie Kelton of the GOP plan. "It's too shortsighted, and it's not taking on the threat."
If Biden is unable to pick up Republican support for this bill, Democrats have the ability to approve parts of the legislation unilaterally via a process known as budget reconciliation. While most bills require 60 votes to pass, a budget measure would only need 51. Democrats' ability to use this process also depends on whether their caucus stays united on the bill, which is not certain yet, either.
What's in the Republican proposal
The GOP measure overlaps with Biden's in a few areas, including money for the public health response and funding for food aid, while differing significantly on other provisions including unemployment insurance and direct payments. Other provisions aren't included in the GOP proposal at all, but more on those later. Here's what's similar — and different — between the two plans.
What's similar to the Biden plan
$160 billion for vaccines and testing: Like Biden's plan, the Republican one includes $160 billion to boost the public health response. That total has $20 billion dedicated to establishing a national vaccination program in partnership with states, tribes, and territories, as well as $50 billion to expand testing. It also contains $10 billion for more personal protective equipment along with other pandemic supplies, and $30 billion for the Disaster Relief Fund. There's $35 billion allocated for a relief fund aimed at hospitals and other medical service providers, with a fifth of that money set aside to help rural hospitals that have dealt with revenue shortfalls as well as cost surges. Funding for vaccines and testing is among the areas where Biden and Republicans have the most common ground, and the two bills include identical amounts for this effort.
$12 billion for food aid: Republicans, like Biden, would extend a SNAP enhancement until the end of September, and allocate $3 billion to WIC, a supplemental nutrition program for women, infants, and children.
$4 billion for behavioral health: There's $4 billion set aside for mental health and substance abuse services in the GOP bill, and that's similar to what Biden has included.
What's different from Biden's plan
The GOP plan offers a shorter extension of enhanced UI, and less weekly support: Republicans have some money for unemployment insurance, though they support a smaller weekly enhancement and would extend supplemental funding for less time than Democrats would. Republicans' plan would maintain $300 in weekly enhanced UI through June, while Biden's proposal would provide $400 in weekly enhanced UI through September. A current weekly UI enhancement is set to expire on March 14, so Congress must pass an extension of the program to ensure that people are able to keep receiving these benefits.
There's half the funding allocated for child care: The GOP proposal contains half as much funding for child care as Biden's, with $20 billion dedicated to the Child Care and Development Block Grant program. Biden's, meanwhile, had $15 billion allocated to this same program, and another $25 billion for an emergency stabilization fund for child care providers.
There's also significantly less money for school reopening: There's much less in the Republican plan for school reopenings: $20 billion versus the $130 billion allocated in Biden's proposal.
The two plans approach small business aid differently: The GOP plan adds more funds to loan and grant programs intended to help small businesses weather the pandemic, including $40 billion for the Paycheck Protection Program and $10 billion for Economic Injury Disaster Loans. Biden's proposal would use a similar amount of money, but in a different way, providing $15 billion in grants for small businesses and using $35 billion in federal funding to help finance small businesses.
The GOP proposal offers reduced stimulus checks and increases limits on who gets them: Republicans also back another round of stimulus checks, though they would be $1,000, compared to the $1,400 that Biden proposed. Republicans are also moving to limit stimulus checks to individuals that make $50,000 or less, and couples that make $100,000 or less. These payments would include $500 for dependent adults and children.
What's not in the proposal
The Republican proposal leaves out entire issue areas, including state and local government aid, paid sick leave, and an increase to a $15 minimum wage. Below are a few issues it does not address that are covered in the Biden proposal.
State and local aid: The Biden plan has $350 billion allocated to help states and local governments meet budget shortfalls, and cover costs for everything from teacher salaries to public transportation systems. Republicans' plan, however, does not address this issue whatsoever — an approach that could put states in a treacherous financial position moving forward.
Most states have balanced budget requirements, which mean they can't really spend more than they take in. And during the Covid-19 pandemic, many states have seen a decline in tax revenue and an increase in spending to respond to the outbreak. Some Republicans have tried to cast help for states now as a "blue state bailout," but Democratic-leaning states aren't the only ones affected. As the New York Times pointed out in December, some states have done better than expected in the crisis, and it doesn't really line up with who they voted for in the 2020 election. California and Wisconsin, for example, have been able to regain lost tax revenue. Texas and Florida have not.
When states cut spending, that means they cut jobs and services, and it's a drag on the economy. "Whether it's tax increases or spending cuts, states tend to take money out of the economy during periods of stress, and that is not only financially difficult for their residents, but it also tends to delay the economic recovery," Josh Goodman, a state economic development officer at Pew Charitable Trusts, told Vox last year.
In the wake of the last financial crisis, Pew Charitable Trusts estimates that states missed out on $283 billion in tax revenue in the decade following 2008.
Paid sick leave: A paid sick leave program established in the Families First Coronavirus Response Act last year guaranteed 10 days of paid sick leave for people who were sick or quarantining because of Covid-19. That program has since expired, and Biden's plan would reinstate it through the end of September.
Researchers have found that states that implemented the prior paid sick leave program had 400 fewer Covid-19 cases reported per day. Republicans' plan, however, omits this provision, which is one that Senate Minority Leader Mitch McConnell fought to keep out of the previous stimulus bill.
Biden's plan would also eliminate prior exemptions, which meant that companies with fewer than 50 employees, or more than 500 employees, were not required to provide paid sick leave. The full costs of the paid sick leave for businesses with fewer than 500 employees would be covered by a tax credit.
A $15 minimum wage: Biden's proposal called for raising the federal minimum wage to $15 an hour. It's an important Democratic priority, though it's not necessarily a Covid-19-related one. This is one of the proposals Republicans are least likely to get on board with — and one it's not clear Democrats can do on their own. If Democrats wind up passing stimulus through budget reconciliation, it's not clear if a $15 minimum wage will fit under those rules.
Expansion to the child tax credit: Like the minimum wage, an expanded child tax credit is another issue Democrats are pushing for. Biden's plan would expand the tax credit to $3,000 per child up to age 17 and $3,600 for children under age 6 for one year. Biden's team argues that this, combined with other elements of his plan, would cut child poverty in the US in half.
Democrats are angling to go bigger, and many economists agree
There isn't a strict line among economists about exactly how much support is needed, but the growing consensus is that Congress risks doing too little, not too much, on economic stimulus.
"To put it simply, we need that bridge to get us to a post-Covid world," said Greg Daco, chief US economist at Oxford Economics. "The big thing is that we don't know how long or how strong of a bridge we need, because we don't know when we'll get there."
In 2009, Democrats passed the $800 billion American Recovery and Reinvestment Act believing that they'd likely have another shot at doing another bill later. They didn't, and many economists believe that made the recovery worse.
"When Democrats passed the recovery act in 2009, it was smaller than was necessary, and a lot of members thought there was going to be another bite at the apple. There wasn't," one Democratic aide recently told Vox. "Members who were around in that time period are very much cognizant of that lesson."
While Biden's team has said they want to talk to Republicans about their proposal, they have been clear they want to do more, simultaneously. "One thing we've learned over the past 11 months is a piecemeal approach, where we try to tackle one element of this and wait and see on the rest, is not a recipe for success," said Brian Deese, the director of the White House's National Economic Council, in a Meet the Press interviewon Sunday.
It's a matter not just of how many dollars are needed, but also how quickly they get out the door. Some programs under the current stimulus are set to expire soon — expanded unemployment insurance, for example, dries up in mid-March. If Congress does strike a deal to extend benefits, but it procrastinates too much, there will likely be hiccups in the interim as programs reset.
Right now, no one knows what exactly the right amount is, or when the pandemic will end. "We'll only know when the crisis is over in a few years, when we look back and say this was helpful or not," Daco said.
Progressives are pushing the Biden administration to go bigger on the stimulus, not smaller. Or, at the very least, for him not to shrink his opening $1.9 trillion offer. "'We're going to be monitoring very closely to make sure the $1.9 trillion package doesn't get whittled down, and I would argue that if something gets stricken ... then something else should get beefed up," said Lindsay Owens, interim executive director of the Groundwork Collaborative, a progressive policy group.
Last year, before the passage of a $900 billion stimulus package, the Groundwork Collaborative released an estimate that Congress needs to inject $3 trillion to $4.5 trillion into the economy to get it to reach its full potential. "More is more, and we can definitely add to [Biden's proposed] package," she said. "We shouldn't be horse trading in a way that diminishes the impact of the relief.
To be sure, not all economists are on board that the swing needs to be that big. Marc Goldwein, senior policy director at the Committee for a Responsible Federal Budget, a bipartisan group that advocates for fiscal responsibility, said that he believes the right amount for the next Covid-19 relief package is likely somewhere between the Senate GOP's proposal and Biden's.
He noted that the Congressional Budget Office just updated its new economic output gap estimates — the difference between how much the economy will grow and how much they think it could grow — and that they basically think the economy will fall about $400 billion short this year and $800 billion short through 2025. "I think it's worth negotiating with," he said of the Republican package. "The Biden package gets a lot of the right elements, but there's plenty of room to pare it back."
Even though Goldwein and his group aren't aligned with the go-big economist crowd, they do agree that more needs to be done on aid for states and localities. "This is the area that we've fallen short," he said.
Democrats could move ahead with Biden's plan this week
Senate Republicans are meeting with Biden on Monday evening in an attempt to figure out if a bipartisan relief package is possible. Biden has emphasized that he wants to try for a bipartisan approach on this bill, though Democrats could well move forward without Republican support if lawmakers remain dug in on their respective positions.
The $1.9 trillion Biden bill seems unlikely to garner even one Republican vote, let alone the 10 it would need to hit the 60-vote threshold, raising questions about whether there will be a compromise option, or if the White House will ultimately support advancing legislation with just Democratic support.
"I don't think there's a single Republican who would vote for the $1.9 trillion bill," Sen. Mitt Romney told Politico last month.
This dynamic suggests that unless Republicans and Biden can find some type of middle ground that assuages both of their concerns, Democrats may be forced to advance Covid-19 relief through budget reconciliation.
"The work must move forward, preferably with our Republican colleagues, but without them, if we must," Senate Majority Leader Chuck Schumer previously said in a floor speech.
Republicans are hoping that Biden's previous focus on bipartisanship and expressed interest in working together could potentially lead to a different result.
One thing to keep in mind as the debate over stimulus moves forward: The big bipartisan bills Congress passed in 2020 at the onset of the pandemic really made a difference in the economy and in people's lives. The situation would likely have been much more dire, with more people slipping into poverty, household savings dissipating, and businesses shuttering at a higher rate had Washington not stepped in.
"We know from the past nine months that if you get money into the right hands, if you limit the economic damage as much as possible, then you'll emerge stronger," Daco said. "So in that context, why not have spending help plug the holes?"
---
Will you support Vox's explanatory journalism?
Millions rely on Vox's journalism to understand the coronavirus crisis. We believe it pays off for all of us, as a society and a democracy, when our neighbors and fellow citizens can access clear, concise information on the pandemic. But our distinctive explanatory journalism is expensive. Support from our readers helps us keep it free for everyone. If you have already made a financial contribution to Vox, thank you. If not, please consider making a contribution today from as little as $3.
In This Stream
Joe Biden's first 100 days
View all 138 stories Sours: https://www.vox.com/22260255/senate-republicans-stimulus-plan
Republicans Struggle to Derail Increasingly Popular Stimulus Package
A $1.9 trillion rescue plan polls strongly across the country, including with many Republican voters, despite a scattershot series of attacks from congressional Republicans.
WASHINGTON — Republicans are struggling to persuade voters to oppose President Biden's$1.9 trillion economic rescue plan, which enjoys strong, bipartisan support nationwide even as it is moving through Congress with just Democratic backing.
Democrats who control the House are preparing to approve the package by the end of next week, with the Senate aiming to soon follow with its own party-line vote before unemployment benefits are set to lapse in mid-March. On Friday, the House Budget Committee unveiled the nearly 600-page text for the proposal, which includes billions of dollars for unemployment benefits, small businesses and stimulus checks.
Republican leaders, searching for a way to derail the proposal, on Friday led a final attempt to tarnish the package, labeling it a "payoff to progressives." The bill, they said, spends too much and includes a liberal wish list of programs like aid to state and local governments — which they call a "blue state bailout," though many states facing shortfalls are controlled by Republicans — and increased benefits for the unemployed, which they argued would discourage people from looking for work.
Those attacks have followed weeks of varying Republican objections to the package, including warnings that it would do little to help the economy recover and grow, that it would add to the federal budget deficit and possibly unleash faster inflation, and that Democrats were violating Mr. Biden's calls for "unity" by proceeding without bipartisan consensus.
The arguments have so far failed to connect, in part because many of its core provisions poll strongly — even with Republicans.
More than 7 in 10 Americans now back Mr. Biden's aid package, according to new polling from the online research firm SurveyMonkey for The New York Times. That includes support from three-quarters of independent voters, 2 in 5 Republicans and nearly all Democrats. The overall support for the bill is even larger than the substantial majority of voters who said in January that they favored an end-of-year economic aid bill signed into law by President Donald J. Trump.
While Mr. Biden has encouraged Republican lawmakers to get on board with his package, Democrats are moving their bill through Congress using a parliamentary process that will allow them to pass it with only Democratic votes.
"Critics say my plan is too big, that it cost $1.9 trillion; that's too much," Mr. Biden said at an event on Friday. "Let me ask them, what would they have me cut?"
House Republican leaders on Friday urged their rank-and-file members to vote against the plan, billing it as Speaker Nancy Pelosi of California's "Payoff to Progressives Act." They detailed more than a dozen objections to the bill, including "a third round of stimulus checks costing more than $422 billion, which will include households that have experienced little or no financial loss during the pandemic." Ms. Pelosi's office issued its own rebuttal soon after, declaring "Americans need help. House Republicans don't care."
Republicans have also railed against the process Democrats have employed to advance the bill, citing dozens of legislative amendments that Republicans offered in various committees, which Democrats rejected. Last week, top Republican senators complained in a letter to Democratic committee leadership about plans to bypass Senate hearings on the House bill, describing it as "the outsourcing of their own committee gavels to the House."
The Republican pushback is complicated by the pandemic's ongoing economic pain, with millions of Americans still out of work and the recovery slowing. It is also hampered by the fact that many of the lawmakers objecting to Mr. Biden's proposals supported similar provisions, including direct checks to individuals, when Mr. Trump was president.
"What they've tried to do is pick apart individual pieces of it," Representative Richard E. Neal, Democrat of Massachusetts and the chairman of the House Ways and Means Committee, said in an interview. "But I think on an overall basis, you have to contrast that with how well this is being received across the country."
Some Republican lawmakers and aides acknowledge the challenge they face in trying to explain to voters why they object to the package, particularly after reaching agreement with Democrats on several rounds of aid earlier in the crisis. Many of those negotiations were contentious and stretched for months; Mr. Biden has said he will not wait for Republicans to join his effort, citing the urgency of the economy's needs.
"We've shown over five different bills we can do it together," said Senator Shelley Moore Capito, Republican of West Virginia and one of the lawmakers who had met privately with Mr. Biden to discuss both economic relief and infrastructure plans. "I think we're going to have to draw a contrast of what's in there and does not make sense."
While explaining their opposition to voters would be a challenge, she said, supporting the bill is not an option for most Republicans.
"The price tag in the end is just so inordinately high and has too many extraneous things in it to gain any real support in the Republican Party."
The scattershot critique is a contrast from the last time a president used the parliamentary move, called budget reconciliation, to push a major proposal: the $1.5 trillion tax cut package that Mr. Trump and congressional Republicans passed in 2017 without any Democratic votes. Shortly before the first House hearing on the tax cuts, Democrats on the Ways and Means Committee made a plan to brand the bill as a "tax scam" benefiting the rich and the powerful, before Republicans could sell it as a boon to the middle class.
Mr. Trump's tax cuts took a hit in public polling, and they gave little boost to Republican candidates in the 2018 midterm elections that followed. Republicans have found similar success in recent years driving the popularity of signature legislation under Democratic presidents, most notably President Barack Obama's Affordable Care Act in 2010.
Representative Donald S. Beyer Jr., Democrat of Virginia, recalled the warning he heard from leaders in his party in 2017: "Republicans are great at talking in headlines, and we're great at talking in fine print." Democrats' ability to pick a pithy message and stick with it in the tax debate, he said, was "one of the few times we ran against type."
Many Republicans remain confident that their attacks will begin to resonate in this debate. One senior Republican aide, speaking on condition of anonymity, said that with attention focused on the legislation this week, members would continue to highlight provisions that are seen as longtime liberal priorities, as well as the money left over from previous relief packages. Republicans also plan to question whether the new funds would deliver on promises to improve the economy and reopen schools.
"I think we do have an obligation to ask questions," said Representative Tom Reed of New York, one of the moderate Republicans who initially spoke with White House officials in a bid to reach a compromise. He predicted that once voters focused on individual provisions that demonstrated the package's largess and overreach, they would sour on the overall proposal.
"It's human nature, and I get it, but can we try to move forward in a much more productive manner?" Mr. Reed added, echoing the process complaints already percolating among Republicans in both chambers.
Polls suggest that could be a tough fight for Republicans, as many of the bill's provisions are widely popular. In the SurveyMonkey poll, 4 in 5 respondents said it was important for the relief bill to include $1,400 direct checks, including nearly 7 in 10 Republicans. A similarly large group of respondents said it was important to include aid to state and local governments and money for vaccine deployment.
They split evenly on the question of whether they are more concerned that the plan is too big, further driving up the federal budget deficit, or too small, and thus unable to quickly spur economic growth.
The fractured debate over the plan in and outside of Washington has also been largely overshadowed by the tumult within the Republican Party itself, where the specter of Mr. Trump and his impeachment over the Jan. 6 Capitol attack looms large and threatens to continue upending efforts to focus on conservative efforts to frame the legislation as overreaching and ineffective. (Mr. Trump, as recently as this week, was hammering Republicans for an unwillingness to accept direct payments.)
Given their slim majority in the House and the strict parameters that allow them to avoid the filibuster in the Senate, Democrats can afford few, if any, defections in order to send the legislation to Mr. Biden's desk before unemployment benefits begin to lapse in March.
Nicholas Fandos contributed reporting.
Sours: https://www.nytimes.com/2021/02/19/us/politics/republicans-stimulus-biden.html
WASHINGTON — President Joe Biden's pitch for bipartisan unity to defeat the coronavirus and resurrect the economy is crashing into a partisan buzz saw on Capitol Hill, where Republicans and Democrats can't agree on ground rules for running the Senate — let alone pass a $1.9 trillion stimulus bill.
Biden's relief package is being declared dead on arrival by senior Senate Republicans, some of whom say there has been little, if any, outreach from the Biden team to get their support. Liberals are demanding the president abandon attempts to make a bipartisan deal altogether and instead ram the massive legislation through without GOP votes. And outside groups are turning up the pressure for Biden and the Democrats who control Congress to enact economic relief quickly, even if it means cutting Republicans out of the deal.
In the face of these competing pressures, Biden may discover he can get a big covid-19 stimulus bill or a bipartisan deal — but not both. The path Biden chooses with his first major piece of legislation could set the tone for the remainder of his first term in office, revealing whether he can make good on his promise to unify Congress and the country.
"It's important that Democrats deliver for America. If the best path to that is to do it in a way that can bring Republicans along, I'm all in favor of that," Sen. Elizabeth Warren, D-Mass., said. "But if Republicans want to cut back to the point that we're not delivering what needs to be done, then we need to be prepared to fight them. Our job is to deliver for the American people."
» READ MORE: Welcome to the presidency, Joe Biden. Please solve all these crises.
Publicly, top aides insist Biden is serious about wanting a bipartisan deal on the relief bill. They say this should be achievable given the magnitude of the economic and health-care crisis besetting the nation a year after the pandemic began, with more than 412,000 dead and the economy newly shedding jobs. Some Democrats have expressed optimism that GOP frustration with how the Trump administration ended could convince some Republicans to be more open to a fresh start with a Democratic president, especially since longtime lawmakers know Biden from his decades in the Senate and as vice president.
But when Biden's relief plan rang in at nearly $2 trillion this month, and included liberal priorities like an increase in the federal minimum wage to $15 an hour, some Republicans saw it as a sign that Biden wasn't really serious about getting their support. Even those Republicans who have suggested they're open to making a deal have made clear that the package would need to undergo significant changes.
"I suspect the whole package is a nonstarter, but it's got plenty of starters in it. And a lot of them are things that we proposed in terms of more assistance to the states," said Sen. Roy Blunt, R-Mo., referring to money for vaccine distribution and the Centers for Disease Control and Prevention. "There's some things in there that aren't going to happen. There's some things that can happen. And that's how this process should work."
Outreach to GOP lawmakers before and after the plan's release appears to have occurred only at the staff level so far and has been confined to a limited number of senators, including members of a bipartisan group who helped break a stalemate over coronavirus relief legislation late last year.
On Sunday, Biden economic adviser Brian Deese is scheduled to directly brief the senators in that group on a Zoom call. But as of Friday, Senate GOP leadership had not been formally briefed, and multiple GOP lawmakers who are part of the bipartisan talks said they had heard nothing from the White House, even though Biden pitched himself on the campaign trail as a bipartisan dealmaker.
"I have not personally [heard from the White House], and I'm disappointed in that, not about me but about, you know, it's one thing to talk about outreach, another thing to do it," said Sen. Rob Portman, R-Ohio, a senior lawmaker who is a member of the bipartisan group that will confer Sunday with Deese.
"It's much more successful around here if you try to get the bipartisanship at the start so that it's a foundation of trust," Portman added.
Instead, Biden unveiled his $1.9 trillion plan without any bipartisan buy-in, leaving Republicans to question the need for such a big new package coming on the heels of the $900 billion Congress approved in December for economic relief, vaccines and more. Including that legislation, Congress has already devoted about $4 trillion to fighting the pandemic and the economic devastation it wrought.
"I look forward to hearing their views. My own thought is that we should only be spending money where there is need that needs to be met, and so I'd like to see the figures and calculations behind their proposal," Sen. Mitt Romney, R-Utah, another member of the bipartisan group, said. "I think there's a recognition on both sides of the aisle that where there's need, we in Congress have a responsibility to help meet that. But we don't want to be borrowing money that's not absolutely necessary."
» READ MORE: Biden signs burst of executive orders tackling COVID-19, vows 'help is on the way'
Questioned about how a nearly $2 trillion package filled with proposals that are anathema to Republicans could be described as a bipartisan overture, White House press secretary Jen Psaki insisted it was.
"Is unemployment insurance only an issue that Democrats in the country want? Do only Democrats want their kids to go back to schools? Do only Democrats want vaccines to be distributed across the country?" Psaki said at a White House press briefing. "He feels that package is designed for bipartisan support."
She said Biden would be getting personally engaged in finding support for his plan. "He's very eager to be closely involved, roll up the sleeves … and make the calls himself," she said.
Psaki said that in trying to sell the package to Republicans, the White House approach would be to ask them which priorities they would cut. The wide-ranging proposal includes a new round of $1,400 stimulus checks to individuals, an extension and increase in emergency unemployment benefits that would otherwise expire in mid-March, and an enhanced child tax credit, as well as hundreds of billions of dollars to help schools reopen and increase testing and vaccine production and delivery.
Some Republicans are open to a number of these provisions but view others — such as the minimum wage increase — as unrelated to the coronavirus and designed to appease an antsy liberal base more than garner bipartisan backing.
"Biden's opening order was such an overreach that instead of opening negotiations, it just scared Republicans away," said Brian Riedl, policy expert at the libertarian-leaning Manhattan Institute and a former GOP Senate aide. Riedl said Republicans may be open to a deal somewhere between $500 billion and $1 trillion but that Biden's opening bid made that less likely. "The opening offer can be so extreme it can poison the well and push the other side away."
While insisting that Biden's preference is for a bipartisan deal, Psaki has repeatedly declined to rule out moving forward under special Senate rules that allow legislation to pass with a simple majority vote instead of the 60 votes normally required. That was how President Barack Obama enacted the Affordable Care Act and how Republicans passed their massive tax cut early in President Donald Trump's first term. The procedure could allow Biden to pass his coronavirus relief package with only Democratic votes.
But the path forward under this so-called "budget reconciliation" process could be tricky. The Senate is split 50-50 between Democrats and Republicans, giving Democrats control only because Vice President Kamala Harris can cast tie-breaking votes. That means any individual Democratic senator could hold the legislation up with an array of demands.
» READ MORE: Abolishing the filibuster: With Dems in control of the Senate, is it time? | Pro/Con
Also, Senate leaders thus far haven't even been able to agree on a deal on how to operate the Senate with a 50-50 split, and they're also still arguing over the timing and process for Trump's impeachment trial. Both issues are emerging as impediments to Biden getting his Cabinet confirmed and also probably need to get resolved before the Senate could take up a relief bill.
Democrats in Congress and within the White House are split on how much time to devote to trying to strike a bipartisan deal before turning to budget reconciliation and leaving Republicans behind. Biden was vice president when Obama devoted many weeks to futile negotiations with Republicans over the Affordable Care Act, before finally passing the legislation without a single GOP vote. Biden was also involved in negotiations over the $787 billion stimulus bill Obama signed in February 2009 in the throes of the financial crisis. Many Democrats wanted a larger package at the time, but Republicans balked; subsequently, many economists have concluded that a larger stimulus bill would have helped the nation climb out of the Great Recession more quickly.
With that history in mind, budget reconciliation has emerged as the clear preference for many liberal Democrats, especially in the House, where Speaker Nancy Pelosi, D-Calif., suggested in a conversation with donors Thursday evening that she was open to advancing Biden's proposal via the reconciliation process in coming weeks, according to a person familiar with her remarks. The person spoke on the condition of anonymity to confirm the private comments, which were first reported by Punchbowl News.
House Budget Committee Chairman John Yarmuth, D-Ky., said he wasn't aware of a final decision on how to proceed but that Democrats were wary of spending too much time negotiating with Republicans at a moment of urgency.
"To haggle over every little provision of Biden's plan (with Republicans) might not be able to be done on a timely basis," Yarmuth said.
Rep. Suzan DelBene, D-Wash., chair of the New Democrat Coalition, noted that last year Republicans refused for months to pass any additional relief, after a spate of legislation in the spring, before finally agreeing to another bill in December.
"We can't let that happen again," DelBene said. "People need certainty and visibility going forward, and that's why this package is so important."
Erica Werner, Seung Min Kim and Jeff Stein, Washington Post
Sours: https://www.inquirer.com/politics/nation/coronavirus-covid-19-stimulus-republicans-20210123.html
NEW! WHITE HOUSE UPDATE on Fourth Stimulus Check Update Today 2021 \u0026 Stimulus Package + Stock Market
GOP Unveils Counter Stimulus Package With $1,000 Checks, Goes Against Expert Recommendations
A group of 10 Republican senators on Monday released details of their $618 billion stimulus proposal intended to be a counter-offer for President Joe Biden's recently released $1.9 trillion American Rescue Plan. Republicans have scrutinized Biden's plan as too costly, and are hoping to lower the price tag of the next stimulus package.
After Biden, Vice President Kamala Harris, and the group of senators met for about two hours, Sen. Susan Collins (R-ME) told reporters outside the White House that the meeting was productive, and the two sides will continue to discuss pandemic aid options. Meanwhile, White House Press Secretary Jen Psaki noted in a statement that despite areas of agreement between the President and the GOP senators—and although Biden would prefer to have his American Rescue Plan pass with bipartisan approval—the reconciliation option continues to be on the table.
"The President also made clear that the American Rescue Plan was carefully designed to meet the stakes of this moment, and any changes in it cannot leave the nation short of its pressing needs," Psaki said in a statement.
Earlier on Monday, Senate Majority Leader Chuck Schumer (D-NY) and Speaker of the House of Representatives Nancy Pelosi (D-CA) filed a joint budget resolution, the first step toward passing a pandemic aid bill via the reconciliation process.
Many Americans who are hoping for big government spending to help make up for the negative economic impact of the coronavirus pandemic may be disappointed: The package is small compared to Biden's proposal and leaves out key provisions that Democrats in Congress have insisted on including, such as state and local funding.
The proposal also cuts economic impact payments, also referred to as stimulus checks, from $1,400 to $1,000, and squeezes the pool of who would be eligible to receive them.
What's in the GOP Stimulus Proposal
The new proposal, which is backed by prominent Republicans including Collins and Sen. Mitt Romney (R-UT), totals an estimated $618 billion—less than half of Biden's most recent stimulus proposal.
"In the spirit of bipartisanship and unity, we have developed a Covid-19 relief framework that builds on prior Covid assistance laws, all of which passed with bipartisan support," reads a letter to the president from the group of senators behind the new proposal. "Our proposal reflects many of your stated priorities, and with your support, we believe that this plan could be approved quickly by Congress with bipartisan support."
And while the proposal does include some aid both parties have called upon, it provides less funding for each one compared to Biden's plan. And it leaves some aid categories out completely.
The proposal grants funding for continuing federally funded unemployment benefits of $300 per week, while; the American Rescue Plan would boost them to $400 per week. The current unemployment rate is 6.7%; it's a notable decrease since a peak of 14% at the pandemic's most chaotic hour last spring, but 10.7 million Americans are unemployed—nearly twice the pre-pandemic levels in February 2020 (5.7 million).
Women, especially Black and Latina women, who were disadvantaged economically even before the pandemic—are overwhelmingly accounting for those statistics. Women accounted for all of the jobs lost in the U.S. economy in December, according to the National Women's Law Center. Meanwhile, unemployment rates for Black and Latino households are 9%, compared to 6% for white households.
The GOP proposal would expand these benefits until the end of June; Biden's proposal would expand them to the end of September. Cutting the aid by $100 per week and ending it two months sooner than under Biden's plan would result in a loss of up to $6,000 in unemployment benefits total per worker—cutting a lifeline to those already struggling.
The GOP proposal also includes another round of stimulus checks for Americans, but would shrink the amount of those checks and the pool of who would be eligible to receive them. The total amount would be $1,000 per person, with the income threshold phase-out starting at $40,000 per year for single filers and $80,000 per year for married couples filing jointly. Individuals wouldn't receive a payment at all once they reach a $50,000 income cap, while couples filing jointly would become ineligible once they reach $100,000 annual income.
Biden's proposal would grant $1,400 per individual, but he has said he's open to negotiating the income thresholds. The GOP proposal would provide $500 per adult and child dependent; Biden's proposal would provide them with as much as $1,400 per dependent.
And here are key things that the proposal leaves out:
It doesn't include state and local aid—something Democrats have insisted on including in the next stimulus package. Covid-19 has triggered a severe state budget crisis, putting funding for crucial services such as K-12 public schools and state worker salaries at risk.
Biden's push to increase the federal minimum wage to $15 per hour is also absent from the GOP's proposal, despite promising research about the positive effects it could have on the federal budget. A new paper from UCLA finds raising the minimum wage to $15 would save taxpayers $65.4 billion a year due to increases to payroll and income tax revenue.
The GOP senators write in their letter that these adjusted thresholds would target " families who need assistance the most." There is evidence of stimulus checks directly benefiting the economy, but it depends on who is receiving it. Research from the Kellogg School of Management found that individuals who maintained bank accounts with $500 or less spent almost half of their first stimulus check within 10 days of receiving it; those with $3,000 or more had no immediate spending in response to the receipt of their stimulus check.
But the research notes that income, or the amount of money coming into a bank account, isn't a predictor of "who burns through the money most quickly"—or, in other words, what may or may not stimulate the economy the fastest.
Instead, the researchers say liquidity, which refers to the amount of money on hand ready to be spent, is a more appropriate indicator. Liquidity was an issue for Americans even pre-pandemic; when faced with an unexpected expense, 37% of adults would not have the cash on hand to pay for it, according to the most recent data from the Federal Reserve. And the alternatives those people might have previously had—lines of credit, loans from family members—may already be exhausted due to the economic conditions spurred by pandemic.
A key Biden campaign promise was sending out $2,000 stimulus checks (he has already arguably diluted that promise by including checks for $1,400 in his proposal, rounding out the previous $600 stimulus payments to an even $2,000.) Falling short of that promise just weeks into his presidency could put him in the spotlight of national scrutiny, something a new president would largely want to avoid at any time—let alone during a raging pandemic.
GOP Proposal Defies Recommendations from the Treasury, Top Economists
A new report from the Congressional Budget Office projects the American economy will recover to pre-pandemic levels by the middle of this year, even if Congress doesn't approve more aid spending. The GOP's proposal that aims to reduce stimulus spending is likely to be buoyed by this new data, but top economists continue to push for big federal spending partly to support unemployed Americans as they wait to be recalled to their jobs or move on to new careers. There's also worry of the economic recovery being K-shaped, meaning higher earners regain their economic footing as lower segments struggle to survive.
Newly confirmed Treasury Secretary Janet Yellen has repeatedly called for big spending to help the economy and Americans who continue to endure the economic fallout of the coronavirus pandemic. While giving remarks before an economic briefing with Biden last week, Yellen made it clear that she's more concerned with getting aid to the American people right now than she is about the potential debt incurred from a large stimulus package.
"I want to emphasize, the President is absolutely right: The price of doing nothing is much higher than the price of doing something and doing something big," Yellen said. "We need to act now, and the benefits of acting now and acting big will far outweigh the costs in the long run."
Yellen isn't the only economist in favor of larger stimulus spending. A group of 120 economists—including Gene Sperling, former National Economic Council Director under former presidents Barack Obama and Bill Clinton—recently signed a letter to Congress in support of Biden's American Rescue Plan. They referred to the most recent stimulus package passed into law as "too little and too late to address the enormity of the deteriorating situation."
Was this article helpful?
Thank You for your feedback!
Something went wrong. Please try again later.
Sours: https://www.forbes.com/advisor/personal-finance/gop-proposal-1000-stimulus-checks/
Republicans stimulus
GOP Lawmakers Say $1.9 Trillion Stimulus Bill Offers Too Much Support. Most Voters Don't Agree
For nearly two months, Republican lawmakers have tried to make the case that the $1.9 trillion economic stimulus measure offers excessive support. A new Morning Consult/Politico survey finds that most voters don't agree. 
A 45 percent plurality of registered voters in the March 6-8 poll said the COVID-19 bill, which is headed for a House vote Wednesday after surviving trims from moderate Senate Democrats, offers the right amount of support, while another 24 percent said it doesn't offer enough. Just 1 in 5 voters said the package, which enjoys wide bipartisan backing, offers too much support.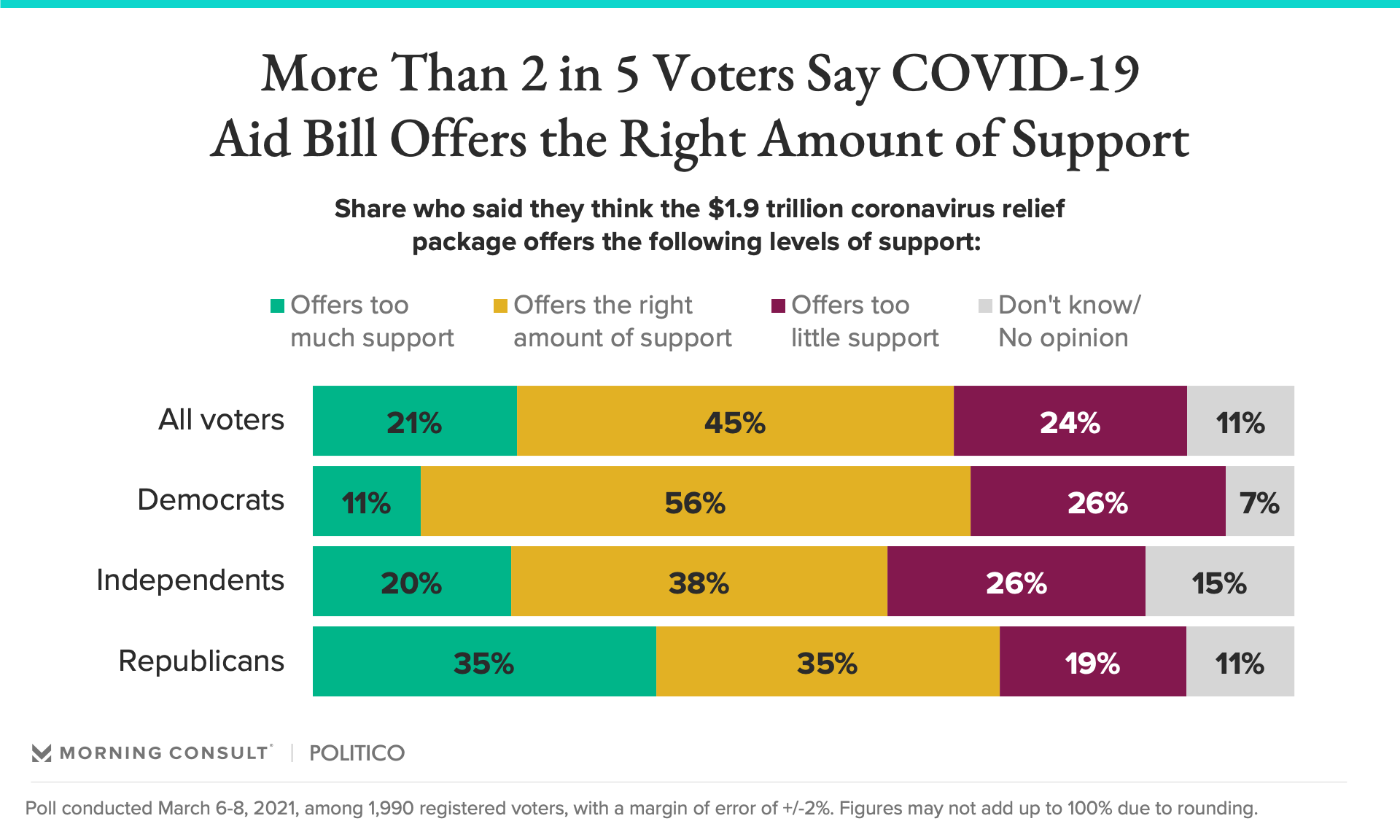 Republican lawmakers have criticized the bill for a variety of reasons, objecting to the total cost of the package and what it would add to the federal deficit, in addition to questioning whether this level of funding is needed as the economy picks up steam following the passage of the last relief package. 
Over half of Republican voters do not agree with GOP lawmakers that the bill offers excessive support: 35 percent said the package is the right amount and 19 percent said it doesn't go far enough. Another 35 percent of Republicans said the support goes too far.
A majority of Democrats (56 percent) and a plurality of independents (38 percent) said the package has the right amount of support.
The survey results bolster President Joe Biden's position after he faced pushback not only from Republicans on the size of the stimulus bill but also from some moderate Democrats. Yet it's not certain that voters will give him credit for the bill.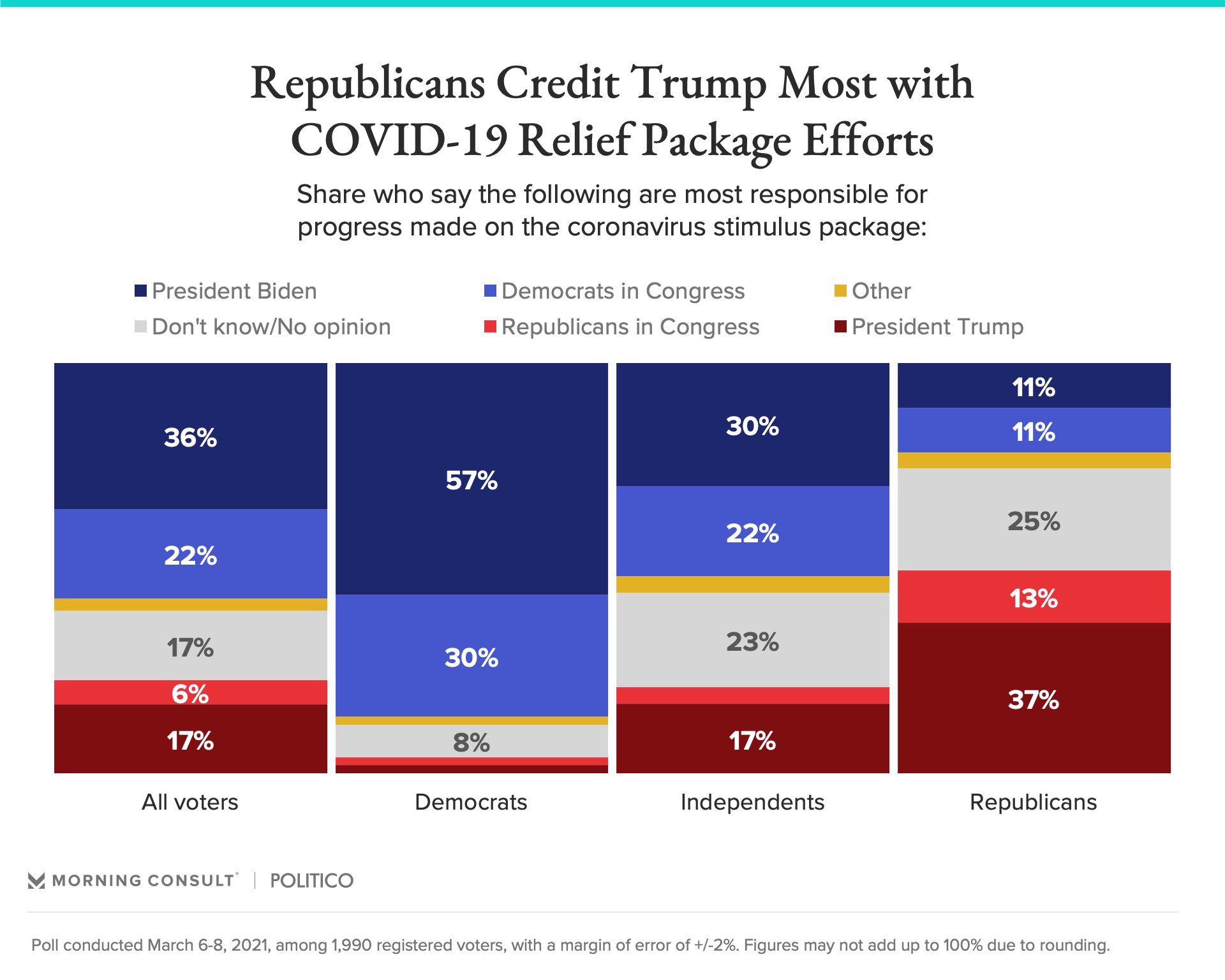 Thirty-six percent of voters say that Biden is most responsible for progress made on the economic stimulus package, compared with 22 percent who credit Democrats in Congress. 
Meanwhile, nearly a quarter of respondents said Republicans were most responsible for the aid package's movement: 6 percent who pointed to GOP lawmakers and 17 percent who gave the nod to former President Donald Trump. 
The partisan splits are stark: 57 percent of Democrats give the credit to Biden and 30 percent to congressional Democrats, while 37 percent of Republicans said the same of Trump and 13 percent credited GOP members of Congress. 
Among independents, the results skew toward the Democratic side, with 30 percent giving Biden the nod and 22 percent for Congressional Democrats. Seventeen percent of independents said Trump was most responsible. 
The results underscore how, even as Republicans in Congress lobby against the popular economic stimulus package, and not a single GOP lawmaker has cast a vote for it so far, Trump might still benefit from its passage in the eyes of a significant portion of his base. 
Support for the bill hasn't wavered, even as Republicans in Congress have mounted attacks on the legislation's price tag and scope.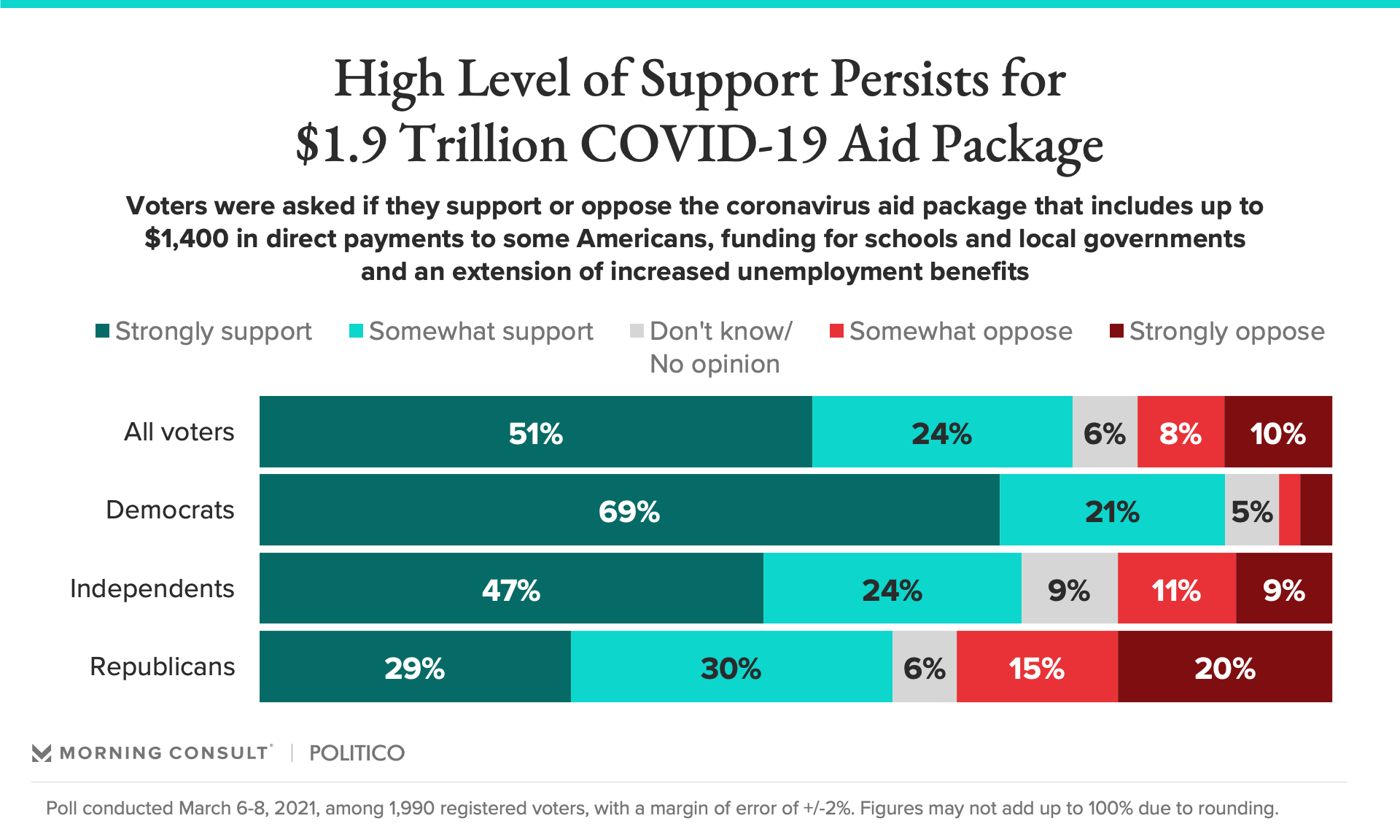 Overall, 75 percent of voters said they support the package, while 18 percent said they oppose it. That includes 90 percent of Democrats that back the package compared with only 5 percent who oppose it. 
Republican support for the package remained steady from last week at 59 percent, while 35 percent of GOP voters said they oppose the legislation. 
The poll surveyed 1,990 registered voters and has a margin of error of 2 percentage points.
Sours: https://morningconsult.com/2021/03/10/stimulus-package-support-poll/
Republicans block Democrats' attempt to pass $2,000 stimulus checks
Comparing the Biden and GOP stimulus plans
The President last month outlined a $1.9 trillion package that included a wide range of immediate assistance for struggling families, such as $1,400 stimulus checks and extended unemployment, nutrition and eviction aid, and longer-term changes, such as a $15 hourly minimum wage.
But the measure immediately ran into resistance from Republicans on Capitol Hill. In response, a group of 10 senators on Sunday released their own roughly $618 billion relief proposal -- less than one-third the size of the President's. They provided a chart detailing the cost of their plan on Monday morning.
The senators met with Biden on Monday to discuss their plan. Afterward, both sides described the meeting as cordial but said there was no agreement on a bipartisan deal.
Meanwhile, Democratic Senate leaders are preparing to trigger a controversial budget procedure known as reconciliation that would allow them to pass Biden's rescue package without Republican support.
Here's what we know so far about the differences between the two packages.
Both parties have traded proposals on stimulus checks. Democrats favor giving eligible Americans a top-up to $2,000, while Republicans are offering slightly less and want to lower the income range of those who would qualify.
Biden's plan would cost $465 billion, according to the non-partisan Committee for a Responsible Federal Budget, while the Republicans say their measure would cost an estimated $220 billion.
Biden: The President's plan calls for sending another $1,400 per person to eligible recipients. This money would be in addition to the $600 payments that were approved by Congress in December -- for a total of $2,000.
Individuals earning less than $75,000 a year will receive the full $600. Married couples filing jointly earning less than $150,000 are also due the full amount of $1,200.
The payments will phase out entirely at $87,000 for single filers without children and $174,000 for those married filing jointly without children, according to an analysis by the Tax Foundation.
The new payments would go to adult dependents that were left out of the earlier rounds, like some children over the age of 17. It would also include households with mixed immigration status, after the first round of $1,200 checks left out the spouses of undocumented immigrants who do not have Social Security numbers.
GOP: The Republican senators want to send $1,000 checks, per adult, but target them to those with lower incomes. The amount would begin phasing out at $40,000 for individuals and $80,000 for couples filing jointly. The upper cap would be $50,000 for individuals and $100,000 for couples. Dependent adults and children would receive $500.
This is another big point of difference. The President is proposing extending benefits through September, while Republicans -- who have consistently expressed concerns that making unemployment benefits too generous will dissuade people from getting back into the job market -- are suggesting extending support only through June. Biden's plan would cost $350 billion, according to the committee, while the senators say their proposal would cost $132 billion.
Biden: The President would increase the federal boost the jobless receive to $400 a week, from the $300 weekly enhancement contained in Congress' relief package from December.
He would also extend the payments, along with two key pandemic unemployment programs, through September. This applies to those in the Pandemic Emergency Unemployment Compensation program who have exhausted their regular state jobless payments and in the Pandemic Unemployment Assistance program, which provides benefits to the self-employed, independent contractors, gig workers and certain people affected by the pandemic.
Lawmakers only provided an additional 11 weeks of support in the December package, which will last until March.
GOP: The GOP proposal would extend the $300 weekly benefit through June 30. It would also provide $2 billion to states to improve their technology.
Coronavirus vaccines, testing and tracing
Both plans would provide $160 billion to fight the virus.
Biden: The President's plan calls for investing $20 billion in a national vaccination program, including launching community vaccination centers around the country and mobile units in hard-to-reach areas. Biden would also increase federal support to vaccinate Medicaid enrollees.
The proposal would also invest $50 billion in testing, providing funds to purchase rapid tests, expand lab capacity and help schools implement regular testing to support reopening.
It would also fund the hiring of 100,000 public health workers, nearly tripling the community health workforce. It would address health disparities by expanding community health centers and health services on tribal lands. And it would provide support to long-term care facilities experiencing outbreaks and to prisons for mitigation strategies.
GOP: The Republicans' proposal calls for providing the same amount to battle the pandemic. It would fund a National Vaccine Program, expansion of testing, a disaster relief fund and personal protective equipment for first responders, independent physician offices and dentists.
It would also provide $15 billion to replenish the National Strategic Stockpile and inject $35 billion to the provider relief fund, which reimburses hospitals and health care providers for coronavirus-related expenses and revenue losses.
The two plans are similar when it comes to extending food stamp benefits. Biden's package does not put a price tag on this provision, but the Republicans say their plan would cost $12 billion.
Biden: The President would extend the 15% increase in food stamp benefits through September, instead of having it expire in June. He would invest another $3 billion to help women, infants and children secure food, and give US territories $1 billion in nutrition assistance. And he would partner with restaurants to provide food to needy Americans and jobs to laid-off restaurant workers.
GOP: The senators would also extend enhanced food stamp benefits through September as well as provide $3 billion for WIC funding.
Both plans would funnel about $50 billion into small business assistance but through different programs.
Biden: The President's plan calls for providing $15 billion to create a new grant program for small business owners, separate from the existing Paycheck Protection Program.
It also proposes making a $35 billion investment in some state, local, tribal and non-profit financing programs that make low-interest loans and provide venture capital to entrepreneurs.
GOP: The senators would funnel more money into Paycheck Protection Program and the Emergency Injury Disaster program, which provides long-term, low-interest loans from the Small Business Administration. Their proposal includes $5 million for audits and investigations into the Paycheck Protection Program.
Biden, who has made reopening in-person programs a top priority, is offering far more money to pay for upgrades that teachers and districts say are needed to return safely.
Biden: The President would provide a total of $170 billion more to K-12 schools, colleges and universities to help them reopen and operate safely or to facilitate remote learning.
It would provide $130 billion for schools to reopen and for districts to meet students' academic, social, emotional and mental health needs. Another $35 billion would go to public colleges, including community colleges, and public and private historically black and minority-serving institutions. And it would provide governors with $5 billion to support the hardest hit educational programs, from early childhood to K-12 to higher education.
Congress approved $82 billion in aid for schools in December.
GOP: The Republicans would provide $20 billion for getting K-12 students back to school.
Both plans call for spending billions on child care.
Biden: The President's plan calls on Congress to create a $25 billion emergency fund to help child care providers in danger of closing and to assist those have shut their doors to reopen. It will help pay for rent, utilities and payroll, as well as coronavirus protection measures.
Biden's package would also add $15 billion to the existing child care and development block grant program, which provides federal assistance to help low-income families who are working or taking classes pay for child care. The provision aims to help parents struggling to pay for care and to assist women in returning to the workforce, who have left in disproportionate numbers to take care of their children.
It also proposes expanding the child care tax credit for one year so that families will get back as much as half of their spending on child care for children under age 13.
GOP: The senators would allocate $20 billionto the child care and development block grant program.
Both plans would increase funding for mental health services by the same amount.
Biden: The President's package calls for sending $4 billion to the Substance Abuse and Mental Health Services Administration and the Health Resources and Services Administration to expand access to treatment.
GOP: The senators would also increase funding for behavioral health services by $4 billion.
What else is in the Biden plan
Republicans have not yet released the full details of their plan, but here's what else was in Biden's proposal.
Rental assistance and eviction moratorium
The President would provide $25 billion in rental assistance for low- and moderate-income households who have lost jobs during the pandemic. That's in addition to the $25 billion lawmakers provided in December.
Another $5 billion would be set aside to help struggling renters pay their utility bills. Biden is also calling for $5 billion to help states and localities assist those at risk of experiencing homelessness.
The plan would extend the federal eviction moratorium, which was to expire at the end of January, to September 30, as well as allow people with federally-guaranteed mortgages to apply for forbearance until September 30.
Biden subsequently issued an executive action extending the duration of the Centers for Disease Control and Prevention eviction protection, which now lasts until March 31.
Biden wants to send $350 billion to state, local and territorial governments to keep their frontline workers employed, distribute the vaccine, increase testing, reopen schools and maintain vital services.
Asked during a call with reporters whether states could use the funds to offset declines in tax revenue spurred by the pandemic, a senior Biden administration official did not clarify. The aid is intended to be flexible, an official told CNN later.
Additional assistance to states has been among the most controversial elements of the congressional rescue packages, with Democrats looking to add to the $150 billion in the March legislation and Republicans resisting such efforts. The December package ultimately dropped an initial call to include $160 billion.
Biden's plan would also give $20 billion to the hardest-hit public transit agencies to help avert layoffs and the cutting of routes.
A temporary increase in tax credits
Biden wants to boost the child tax credit to $3,600 for children under age 6 and $3,000 for those between ages 6 and 17 for a year. The credit would also be made fully refundable. This would cost $120 billion, according to the Committee for a Responsible Federal Budget.
And he proposes to raise the maximum Earned Income Tax Credit for a year to close to $1,500 for childless adults, increase the income limit for the credit to about $21,000 and expand the age range of eligibility to cover older workers.
Both of these are aimed at supporting low-income families, including millions of essential workers.
Health insurance premium subsidies
Biden is also calling on Congress to subsidize through September the premiums of those who lost their work-based health insurance.
He wants to increase and expand the Affordable Care Act's premium subsidies so that enrollees don't have to pay more than 8.5% of their income for coverage -- which is also one of his campaign promises. (The law is facing a challenge from Republican-led states that is currently before the Supreme Court.)
Also, he wants Congress to provide $20 billion to meet the health care needs of veterans.
The President's plan would reinstate the paid sick and family leave benefits that expired at the end of December until September 30.
It would extend the benefit to workers employed at businesses with more than 500 employees and less than 50, as well as federal workers who were excluded from the original program.
Under Biden's proposal, people who are sick or quarantining, or caring for a child whose school is closed, will receive 14 weeks of paid leave. The government will reimburse employers with fewer than 500 workers for the full cost of providing the leave.
A $15 hourly minimum wage
Biden is calling on Congress to raise the minimum wage to $15 an hour and to end the tipped minimum wage and the sub-minimum wage for people with disabilities.
This story has been updated following the meeting between Biden and GOP senators.
CNN's Lauren Fox and Daniella Diaz contributed to this report.
Sours: https://www.cnn.com/2021/02/01/politics/stimulus-plans-biden-gop-comparison/index.html
You will also be interested:
.
2350
2351
2352
2353
2354