Disclosure: This post may contain affiliate links, meaning I get a small commission if you decide to make a purchase through my links, at no cost to you. Learn more...
Are you on the hunt for good nail salon name ideas?
Then you've landed in the right place.
This is where I've curated the best nail salon names for 2020. All nail business name ideas you find here are a result of careful research of the most popular nail salon names right now as well as the addition of unique, unheard of, name ideas to make your nail salon stand out in 2020 and beyond. I'm also including a list of catchy nail salon slogans that you can combine with your name to express the uniqueness of your salon.
After you've gone through the list I'll take you through the vital steps you need to know to ensure the name you pick will be a success.
This is so exciting.
To help you find the best name for you, I have categorized them all into creative & unique, classy & fancy, funny & catchy, cool & funky as well as cute nail salon name ideas. You'll also find nail salon names in French as well as some catchy nail salon slogans.
Important (and Free) Tool to Help you if you are Planning to Open a Salon
Before we go through the list of names, there's another free resource that I recommend you register for now – your appointment scheduler and salon management tool.
Avoid the common mistakes when picking your business name
I've put together a free guide for you to download. You can use this workbook to learn how to select the best beauty salon name for you. It's easy to follow and covers all the steps you need to know to ensure the name you pick will be a success.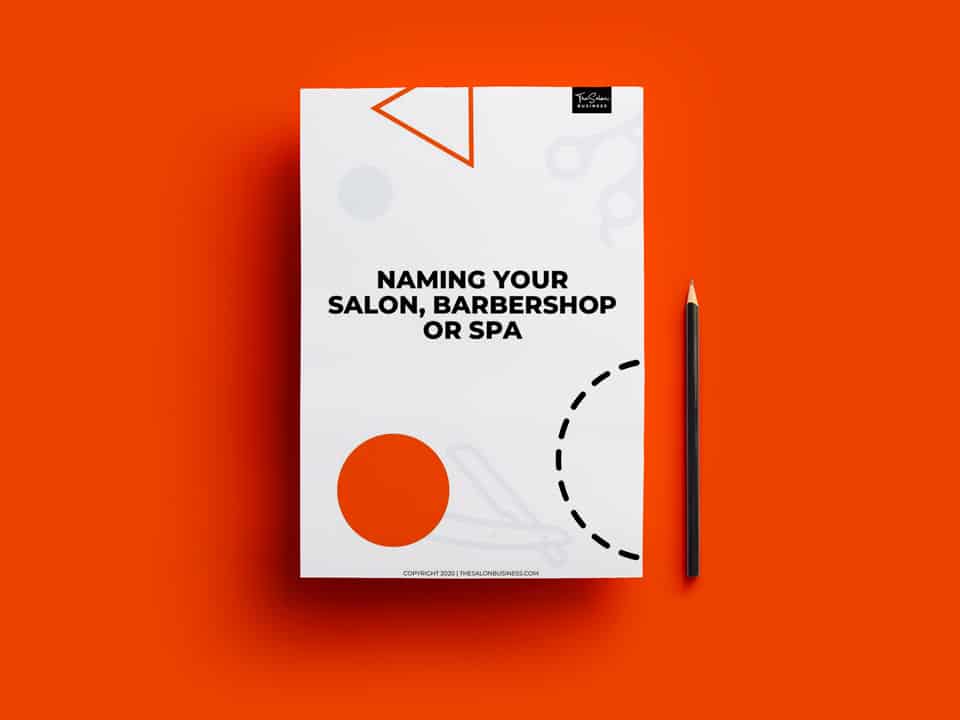 Now, let's go through the salon name ideas!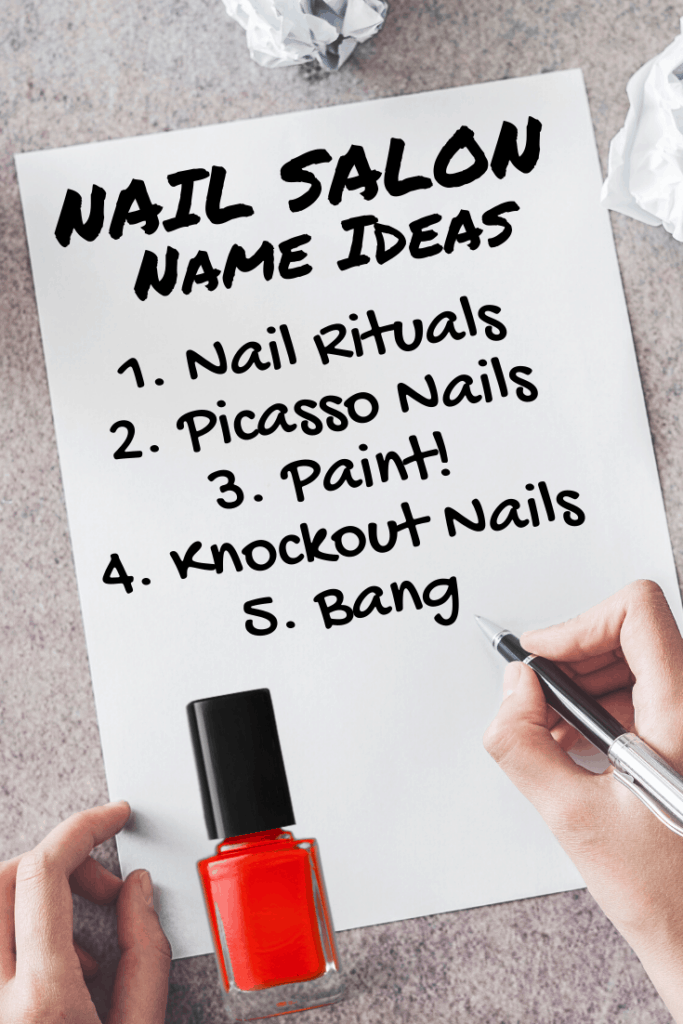 Unique Nail Salon Names
What makes a unique nail salon name?
Not only should you try to avoid cliche words and think fresh. You should also try to tie the name to your unique salon story. This is how the name becomes unique to you and your salon.
This is not easy, I know..
But to help you get started on the process, I have pulled together a list of truly unique nail salon names below. I also recommend you check out my list of unique nail salon slogans below. It's easier to find a name and slogan combination that together represents the unique you.
But enough with theory, let's dive into the list of unique nail salon names.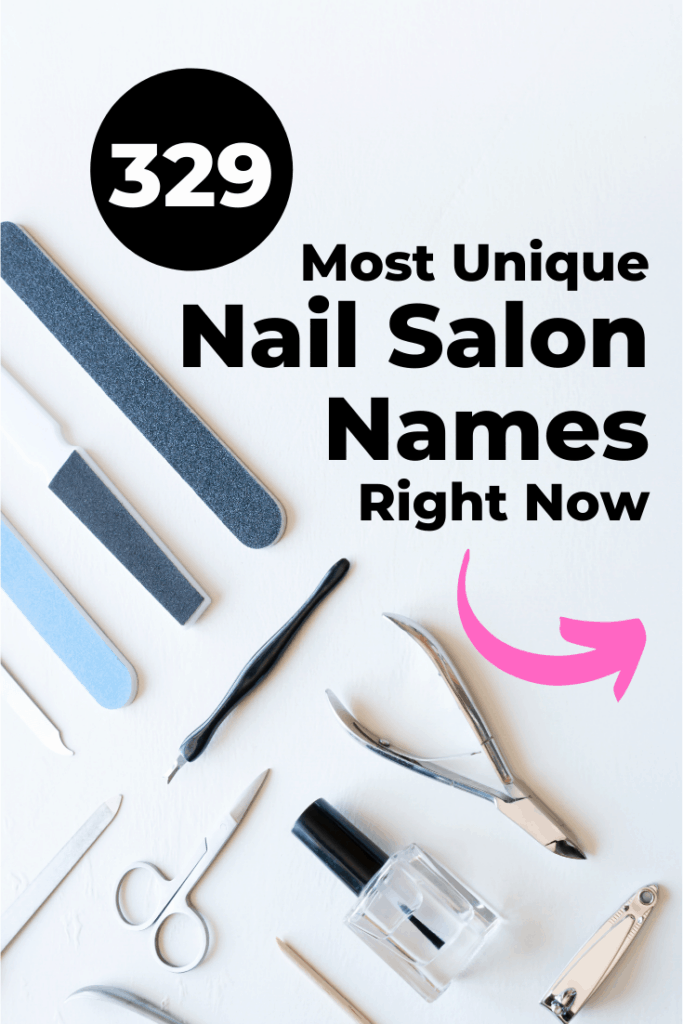 List of Unique Nail Salon Names
Komorebi Nails (if you have Japanese heritage or salon focus – meaning sunlight filtering through trees)
At Lisas (or your name)
Tsundoko Nails (Japanese – the act of buying books and leaving them unread)
Confident Nails (if your mission is to give confidence)
Cut Costs (if your focus is low price)
Nail Embasan (Maguindanao/Philippines – to wear clothes while taking a bath)
Voorpret Nail & Beauty (Dutch – the sense of enjoyment before an event takes place)
Fernwhe Nail (German – missing a place you've never been)
The Nail Doctor (if you have a "nail health over beauty" focus)
Remedy Nail Bar (again, if your focus is nail health)
Ephemeral Nails (lasting for a very short time)
Solo Nails (if you're an individual stylist)
Mudita Nails (Sanskrit – taking delight in the happiness of others joy)
Hygge Nails (Danish – the absence of anything annoying)
Ubuntu Nails (Nguni – the beliefe that we are defined by our kindness toward each other)
Lautong Nails (Mandarin – a friendship between two girls for eternity)
Blue Lamp Nails (a tool you might be using a lot)
Lagom Nail Lounge (Swedish – just the right amount)
The Nail Express (if your focus is speed)
The Gel Bar (if you're a gel specialist)
Nail Art Salon (if that's what you're know for)
GOAT Nails (greatest of all times)
Identity Nails
Creative Nail Salon Names
Are you looking for a creative name for a nail salon?
If you run a creative nail studio, you should have a business name that represents your artistic image.
People come to you for nail art, trends, and creativity and you want your name to symbolize that.
In the list of name ideas below, I've tried to use wording that is associated with creativity to bring this feeling to life.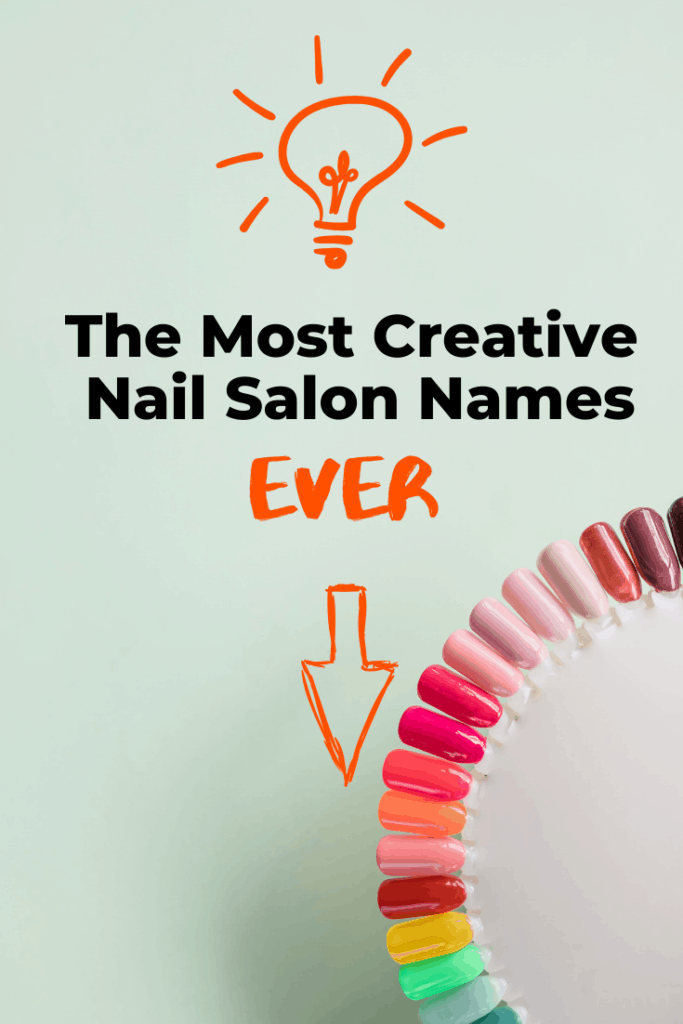 List of Creative Name for Nail Salon
Nail Meraki (Greek – to do something with soal creativity or love)
Art
Nail Rituals
Creative Nails
Brush & Strokes
Nail Spectrum
Picasso Nails
Iridescent Nails (producing a display of rainbow-like colors)
Salon Create
Nail Paint
Powder Nail
Nail Artists
Nail Creations
Artistic Nails
Liberty Nails
Say it with Color
Editorial Nails
Imagine
Craft Nails
Creativity Nails
Gifted with Nails
Nail Inspired
The Nail Shoot
The Nail Process
Behind the Scenes at Jane's (or your name)
The Nail Lighthouse
Nail Dreams
Mirage Nails
Nail Innovation
The Nail Lab
Nail Invention
Genius Nails
Fantasy Nails
Nails First
Creato Nail Bar
Blank Canvas Nail Studio
The Nail Lab
Mosaic Nails
Nail Creations
Hue Nails
Art & Chemistry Nails
The Nail Show
Planet Nail
On Trend Nails
Nail Couture
Nail Activists
Personalized Nails
Funny Nail Salon Names
A fun and clever nail salon names are more memorable than any other nail salon name. They evoke emotion and our brains are better at remembering things that have an emotion attached to them than not.
But that's not the only reason why a funny hair salon name is a good idea.
Fun names also make you more approachable. It signals that you're not taking life too seriously and people like that. The name alone says a lot about your character and people almost feel as they know you even though they might not yet have been to your nail bar or salon.
The only caution I would add to funny salon names is that it's probably not a good fit if you're trying to portray a high-end, luxury image. In those cases, you actually don't want to be approachable but rather distanced and "put on a pedestal". We'll cover more of that in the list of fancy nail salon names.
Let's now look at the funniest nail salon names.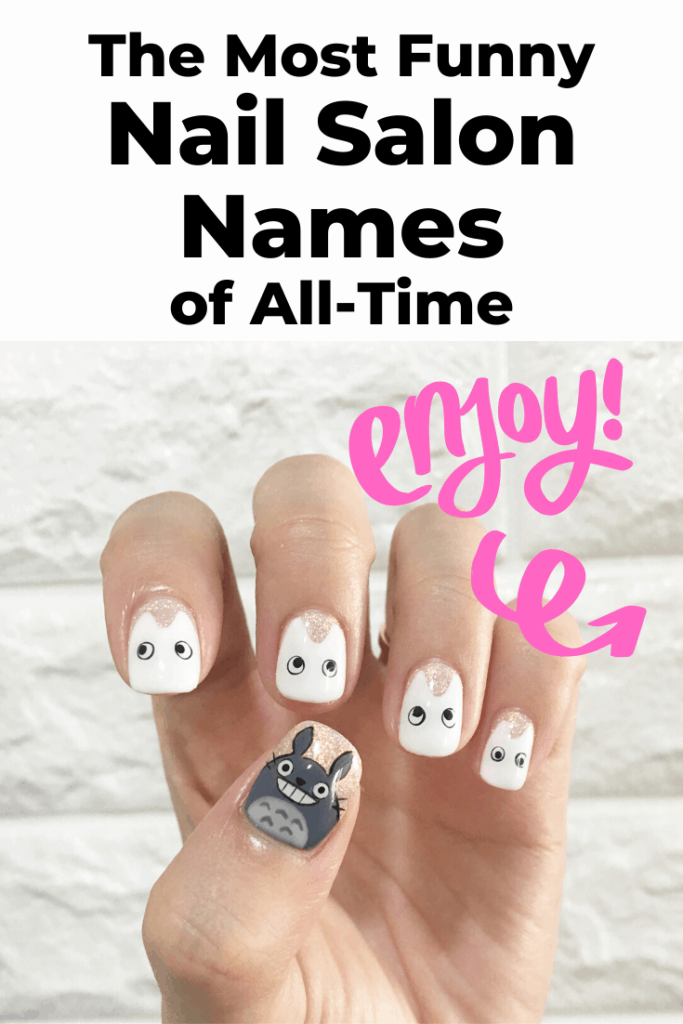 List of Fun Nail Salon Names
Nailed it!
Nail Brain
Tip Toe Nails
Sweet Feet Pedicures
Nailaddict
Get Nailed!
Phenomenail
Posh & Polished
Holy Nails!
Shortcuts
Jack of all Fades
Cutie Pie Nails
Raise a Hand
We Love Tips
Salon Holding Hands
Ace of Fades
Nail Stones
Cut the Crap
Well Nailed
Get Polished
Ms. Manicure
The Last Nail
Papa Pedi & Mama Mani
Red in Bed Nail Salon
Under the Lamp
Pink me up
Catchy Nail Salon Names
Using a funny nail salon name is not the only way to make your name memorable. There are other clever nail salon names that can achieve similar results. By employing rimes and phrases that hang together well, you can also make your name more memorable.
I have put together some examples of catchy nail salon names like this below. They can be a good option that allows you to stay away from using humor.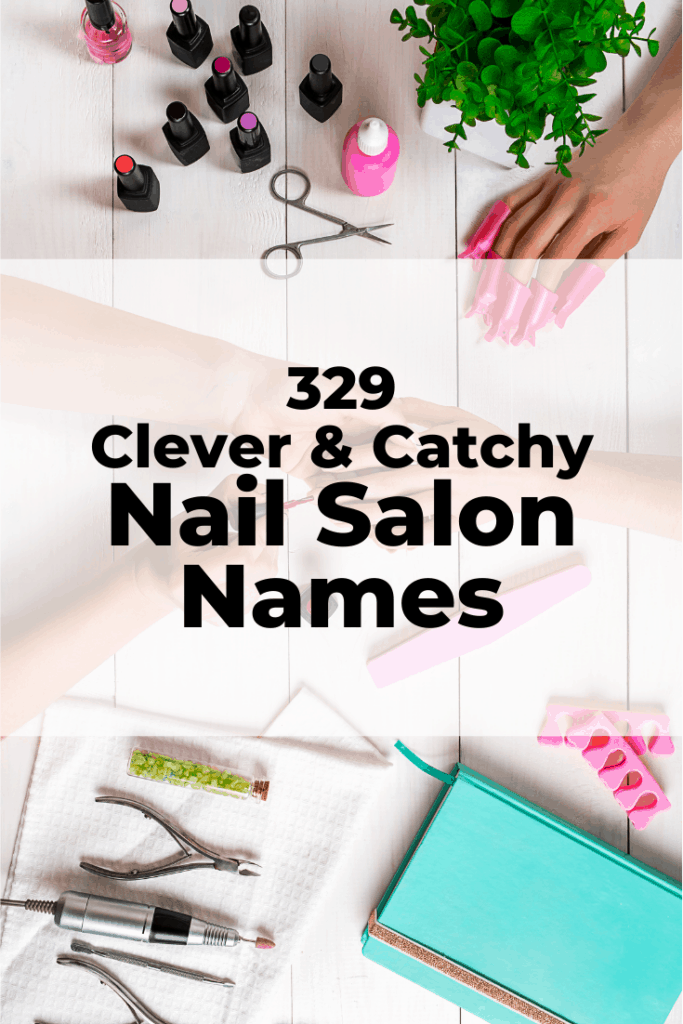 List of Catchy Nail Salon Names
Pedi Pros
Nail Knowledge
Clipsplicity
Martinis and Manicures
Paintbox
Shiny Shots
Nail Epoch
Runway Nails
Rocking Reds
Barbie Boutique
Nailology
Nailium
Nailomania
Nailologists
Nail Nation
Professionally Polished
Sugarcoat
Nail Paint
House of Nails
Manipedi
Nuxe Nails
Pedi Passion
Nail on Sale
Nailography
Oh La La Nail Salon
Viva Nails!
Ruby's Reds
Neat Nails
The Bee's Knees Nails (used to tell someone they are simply the best in the 20s)
Classy & Fancy Nail Salon Names
Do you run a high-end nail salon?
The way you brand and name a premium salon is very different from other types of nail businesses. First of all, a luxury brand is never "launched". It exists because of a reason. Its existence is a consequence of the past.
And this should be reflected in your salon's name.
So not only should you use elegant and classy words, but even more important is that it's a reflection of you and/or your salon's mission. I've already given some examples of unique nail salon names that are highly relevant for classy salons. Here we'll look at some more nail salon name examples that are using elegant and classy words to portray a luxury image.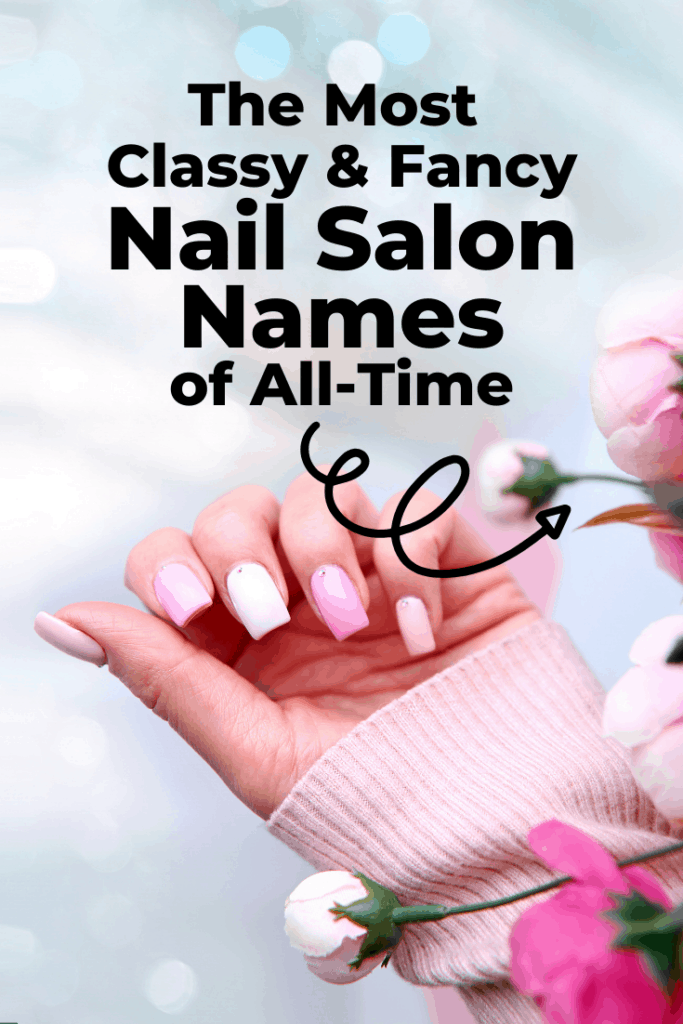 List of Fancy Nail Salon Names
Elite Nails
Nail Sensation
Elegant Nails
Royal Nail
Pure Nails
Vivid Nails
Stylette
Burlesque Nails
Timeless Nails
Fashionic Nails
Unicure Nails
Upscarf Nail Salon
Stylicle
Femiluxe Nails
Coutured Nails
Fiocchi Nails
Capucci Nails
Guanti Nails
Nail Extravagants
Zuma & Nadal
Salonbonn
Divaza Nails
Beautello Nails
Majesty Nail
White Nails
Serenity Salon
Sharp Nails
Lux Nails
Infinity Nails
Blush Nail Salon
Paint Bar
Coat Bar
Divine Nail
Salonvio Nails
Nail Salon Grande
Salon Zephyr
Salon Amber
Illum Nails
Pure nails
Opal Nails
Signature Nails
Nail Mark
Lisa & Lars (or founders names)
Eloquence Nails (the art of using language in an apt, fluent way)
Platinum Nails
Eternity Nails
Air Nails
Salon Serendipity (the chance occurrence of events in a beneficial way)
Epiphany (a moment of sudden revelation)
Supine Feet (lying face upwards)
Luminescence Nails (light produced by chemical, electrical, or physiological means)
Salon Solitude (a state of seclusion or isolation)
Aurora Nails (dawn)
Nail Marvel
Salon Nobel
Cloud Nails
Nail Limerence (the state of being infatuated with another person)
Ethereal Nails (extremely delicate, light, not of this world)
Bright Lux Salon
Genesis Nails
Nail Feathers
Phosphenes Nails (the light and colors produced by rubbing your eyes)
Funky & Cool Nail Salon Names
Do you run a salon that stands out from the crowd? Are you a rebel that does things differently?
Then I think you'll like the cool nail salon names I'll share here.
It's easy to get stuck in the nail salon cliche wording. If your run and edgy nail salon you should try to break free from that and use funky words in your name. Words that stand for something that symbolizes you.
I've put together a list of funky nail salon names below that I think will help you get your creative juices going.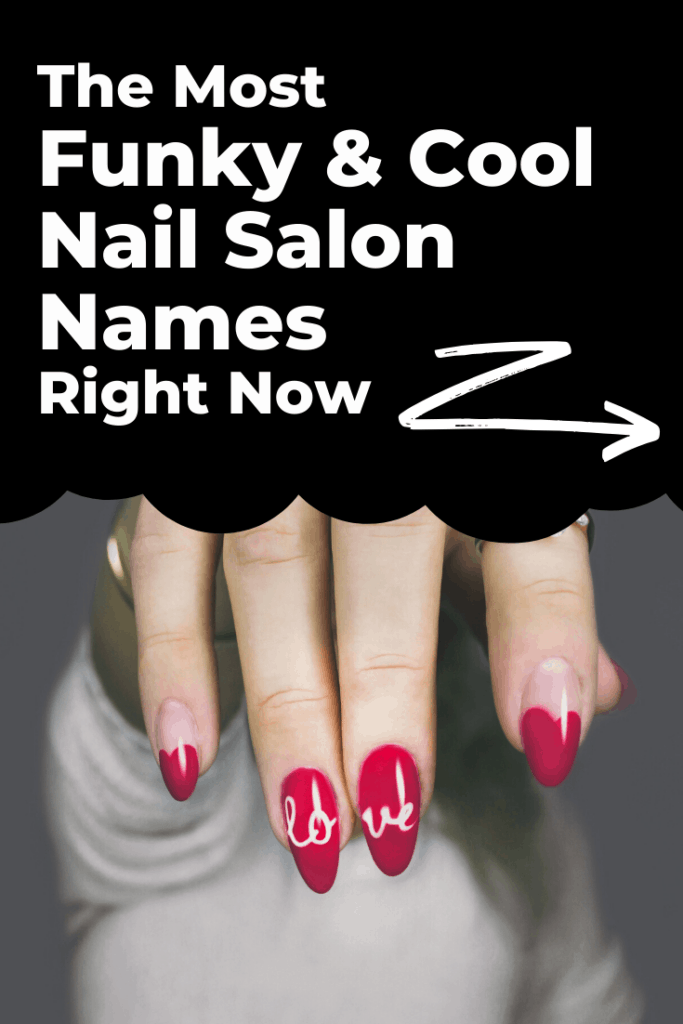 List of Cool Nail Salon Names
Paint!
The Nail Bazaar
Tiger Nails
Nail Pro
Bombinate Nails (to make a humming or buzzing noise)
Nail Icon
Street Nails
Grafitti Nails
The Nail Room
Bounce Nails
The One Nail Bar
The Nail Bar
Luxe Nails
The Nail Studio
Knockout Nails
The Nail Hive
Illicit Nails (not legally permitted)
Nunchi Nails (Korean – the ability to read others and act appropriately)
Rebel Rebel Nails
Ineffable Nails (too good to be expressed in words)
Aquiver Nails (quivering/ trembling)
Sonder Salon Nails (the realization that each passerby has a life as vivid and complex as your own)
Samurai Nails
The Nail Project
The One & Only
Nail Republic
Nail Oblivion (the state of being unaware of what is happening around you)
Bangs Nails
Cute Nail Salon Names
Maybe the cool nail salon names weren't at all for you 🙂
And you're looking for some kinder words to use in your name. Then I think you'll like the cute nail salon names I've listed below.
List of Cute Nail Salon Names
Nail Princess
Cute-icles
Lollipop Nail
Pink Polish
The Nail Nurse
Happy Nails
Sparkle Nails
Gigil Nails (Filipino – the urge to squeeze or pinch something really cute)
Goya Nails (Urdu – the suspension of disbelief that happens in good storytelling)
Simplicity Nails
Nail Bubbles
Nail Tingle
Mon Petit Nogle
Bliss Nails
Coco Nails
Nail Flaunt
Pixie Nails
Honey Nails
Nail Bloom
Blossom Nails
Hair & Nail Salon Names
Do you have a nail bar in your hair salon? Or maybe a blow-dry bar in your nail salon?
Whatever your setup is, it's a good idea to reflect that in your name to drive awareness of both your hair and nail services.
To find a name that represents your salon, I recommend you check out my list of spa names. As spas typically provide a full range of beauty services, I'm sure you can find some recommendations here.
→ Visit the Ultimate List of Spa Names ←
I've also created a separate list of hair salon name ideas to give you more ideas for the hair part of your business.
→ Visit the Ultimate List of Hair Salon Names ←
You can really pick any name and add "Hair & Nail" to it. But if you're looking for a specific name that communicates both of your salon services, I have put together a list below that also reflect your nail business.
List of Hair & Nail Salon Names
Everything Color
Color, Color, Color
Vitamin B
Cut & Coat
The Hair & Nail Room
Blush Beauty Bar
Hand & Head
Your Hair & Nails
2x Salon
Red Hair, Red Nails
The Paint
Tip & Top Salon
Say it with Color
The Hair & Nail Bar
The Hair & Nail Lab
Head & Fingers
Head to toe
Total Beauty
Salon You
Destination Salon
The Beauty Experts
The Getaway
Glamour
The Beauty Spot
Perfecta Salon
Grand Salon
All at Once
One-Stop Beauty Salon
French Nail Salon Names
The French language is truly the language of fashion and beauty. Even more so than Italian and Spanish.
It's probably the most used language by luxury brands. The sound of the language itself just makes any brand come across as more luxurious.
You should by now have a decent list of nail salon name options on your note pad. But to expand your options further, you can look at translating your name into French, Italian, Spanish, or even Japanese. This might give you a bunch of new ideas for your nail salon name.
But there are many beautiful French words that would fit perfectly for a nail salon.
Let's look at some examples.
List of French Nail Salon Names
Boudoir Nails
Salon Femme
Elle Nails
Bon Nails
Nail Adore
Femelle Nails (Female)
Noir (Black)
Blanche (White)
Petit Salon (small salon)
Salon Bisou (kiss)
Salon Étoile (star)
Le Boutique Ongle (nail shop)
Elegance (elegant)
A La Mode (in fashion)
Salon Soleil (sun)
Salon Magnifique
Le Salon
Atelier de Julien (or your name)
Salon Chatoyer (to shimmer)
Salon Ongle (Nail)
Dépaysement (disorientation felt in a foreign country)
Mon Petit Ongle (My little nail)
Salon Formidable (excellent)
Vachement ("really really")
Deja Vous
Grande
Salon Evian
BonBon
Le Posh
Floraison (bloom)
Salon Mieux (Better Salon)
Salon Paris
Plein de Vie (full of life)
Salon Jolie (pretty)
Unique & Catchy Nail Salon Slogans
As I've touched on a few times now.
A good nail salon name should be unique to your nail salon.
But I know this is easier said than done. Maybe you have fallen in love with a name on your list now that has nothing to do with you – it just sounds great.
If it sounds good and feels right to you – stick with it. What you can do instead is to include a slogan under your name. Slogans typically allow for a few more words and can help give your nail salon name meaning.
To help you with some ideas, I have put together a list of catchy nail salon slogan below that you can use together with your salon name.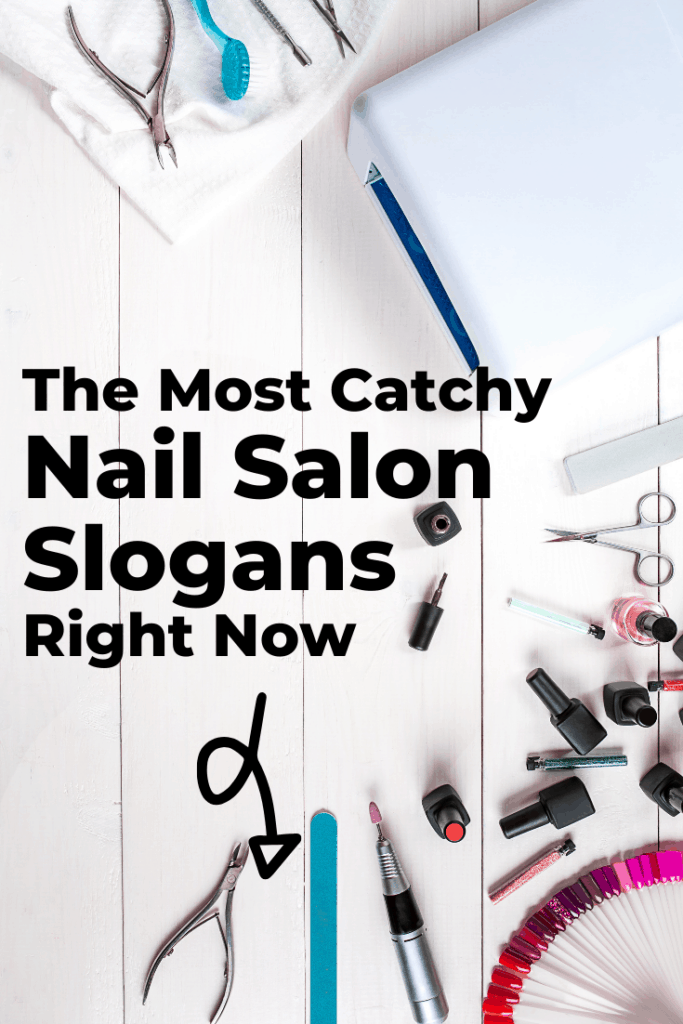 List of Nail Salon Slogans
Because color changes everything
Life's too short to not wear beautiful nails
More than color
The power of red
Polish your life
Color Experts
Even your husband will envy you
100% organic Beauty
Look good. Feel good
Give life a sparkle
Your nails say it all
Say it with color
Simply the best
The mani & pedi expert
Where nails become art
Just say yes, and we'll do the rest
More than a nail salon
The color experience
Leave your feets with us
Wake up beautiful
You deserve it
It's nailday!
Inspired by nature
Paris (or your city name)
Come on in, bring your ten little friends!
Empowered.
We know beauty
We know nails
Beautiful nails. Affordable price.
Certified nail experts
You'll never look at your hands the same way again
The best a woman can get
Avoid the common mistakes when picking your business name
I've put together a free guide for you to download. You can use this workbook to learn how to select the best beauty salon name for you. It's easy to follow and covers all the steps you need to know to ensure the name you pick will be a success.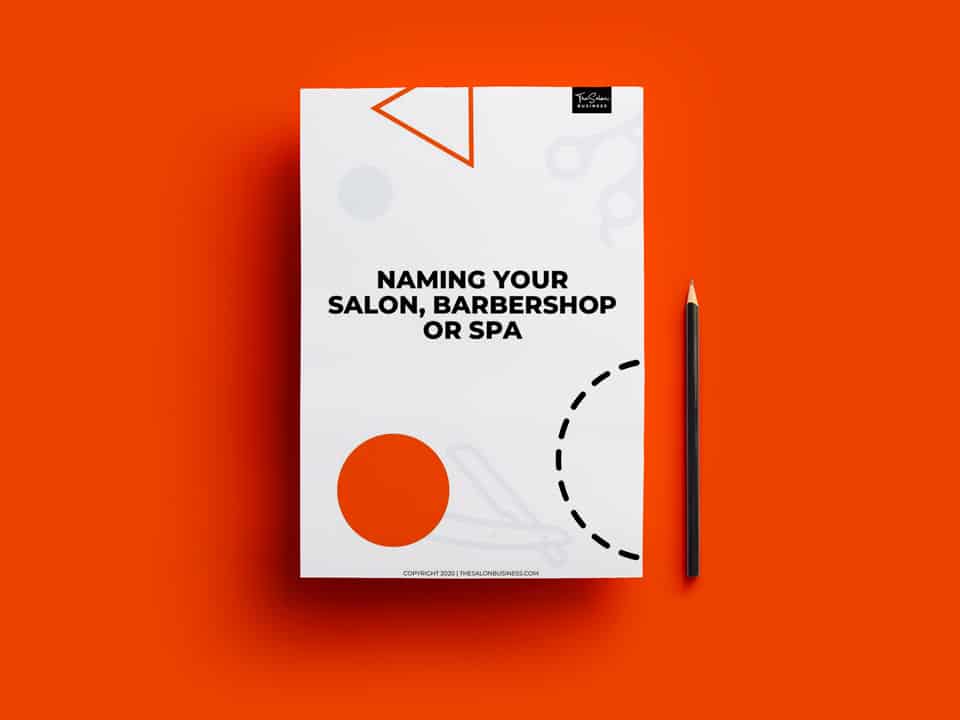 Next, you can check out my list of 2754 Unique Salon Names (Hair, Beauty, Barbershop, Spa, Nail).
You should also check out my list of nail salon logos here. In this article, you'll not only get some awesome examples of nail salon logos but I'll also walk you through the common mistakes salon owners make when creating their logo.
You've been working hard today. Take a break. Read about something else now. And come back and decide on your name tomorrow. Your gut will tell you what's right – trust it.
Did you find this post helpful? Share it with your friends!
Sours: https://thesalonbusiness.com/nail-salon-names/
4 Amazing Bar Interior Design Ideas
As a perfect place for the people to gather and socialize, a bar is usually designed as comfortable as possible with an awesome design for its interior. These days, there are a lot of bars that have dark interiors with a strong appearance. This kind of interior design is usually beautified by lighting, gold color, a little rustic look, a mirror for exotic feel, and also a comfortable seating area. Take a look at these bar interior design ideas for more inspirations.
1. GASTROLI Bar & Kitchen by DA Design & Architecture
It is a famous restaurant located in Saint-Petersburg, Russia. GASTROLi Bar & Kitchen has a contemporary interior design that combined with a brick wall, wooden floor, and also beautiful lighting. This kind of bar interior design idea can deliver a comfortable atmosphere for the visitors, supported by two different materials used for the walls.
2. KOMPANIYA Kitchen & Bar by DA Design and Architecture
It is the best restaurant and bar for the homelier and families. KOMPANIYA Kitchen & Bar offers modern interior design and interesting space organize for those who want to escape from the bustle of the city. Using the double-height space, a high construction, and connecting the two levels, this restaurant is perfect for gathering.
3. BIVEN Grill & Bar by DA Design and Architecture
The bar interior design idea in BIVEN Grill & Bar uses a modern design with some amazing details to beautify its space. The wall and floor are made from concrete, creating a dark and bold appearance. The furniture is chosen with the same theme of the interior to support the entire look.
4. Rouge Nail Bar by Corvin Cristian
The bar interior design idea for Rouge Nail Bar is about bringing the industrial feeling into the spaces with a unique style. This interior design is made by preserving and adapting the existing elements with some new features. The hip and cozy environment comes from the combination of some cool and rough materials such as concrete and metal.
Sours: https://www.futuristarchitecture.com/77753-4-amazing-bar-interior-design-ideas.html
Gloss Nail Bar
Gloss Nail Bar
Our client, Emma, first came to us at what can be both an exciting but daunting stage of any new retail business/ project; she knew what she wanted to offer (a dedicated manicure and pedicure salon) and had just located a property (a lovely shop front on Chislehurst high street). She also had a name: Gloss.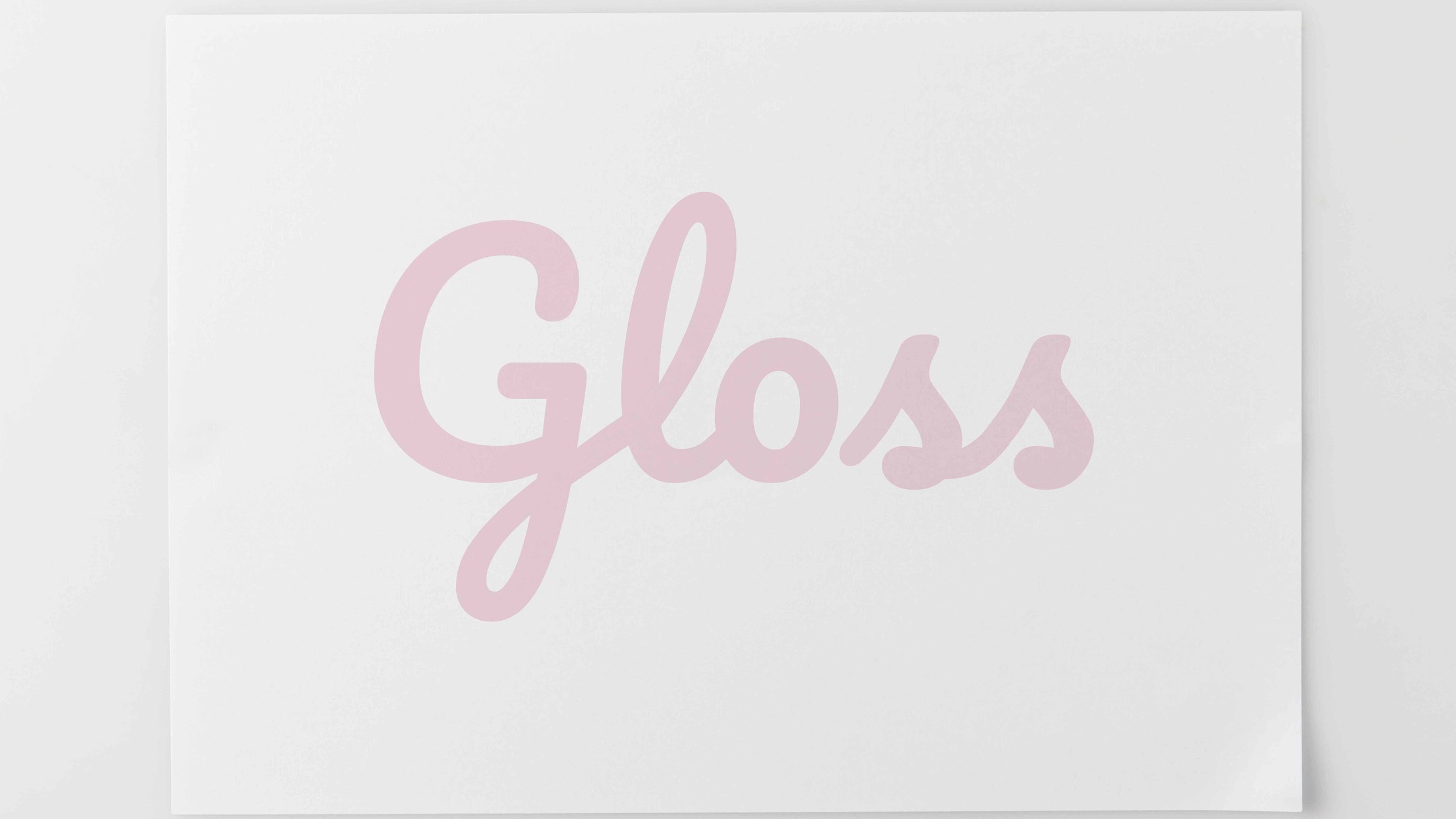 She needed this to become a reality and appointed us to create the visual identity and interiors. We worked with Emma from planning to tender.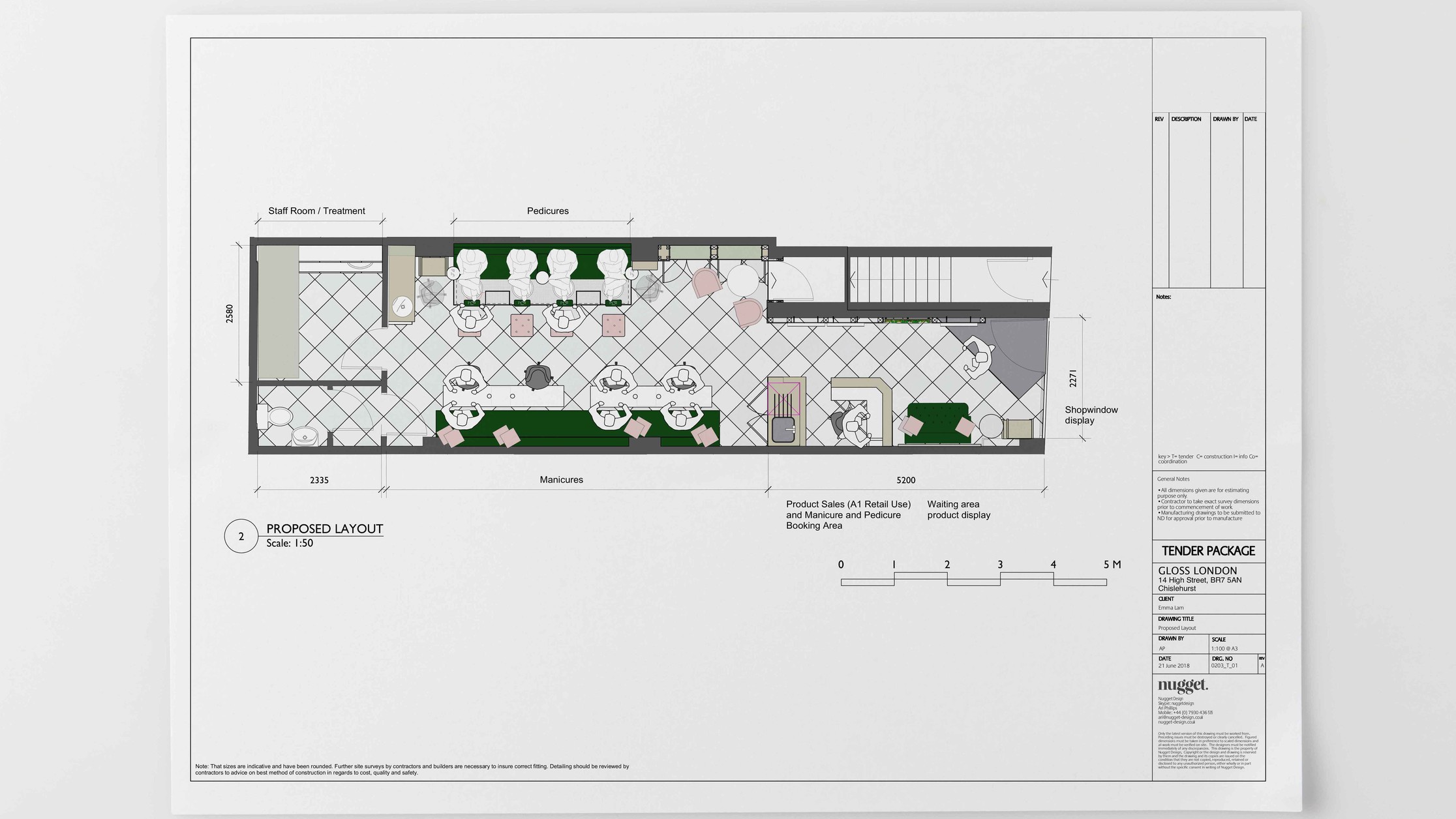 Our job was to translate her inspirations into a concept that would sit proudly on the high street and provide a unique offer, different to the style of nail salon shopfronts often seen. Emma wanted Gloss to be a modern space, where people could relax and enjoy their surroundings while getting quality treatments, take time for themselves or come to share the experience with friends and family. A place to see and be seen.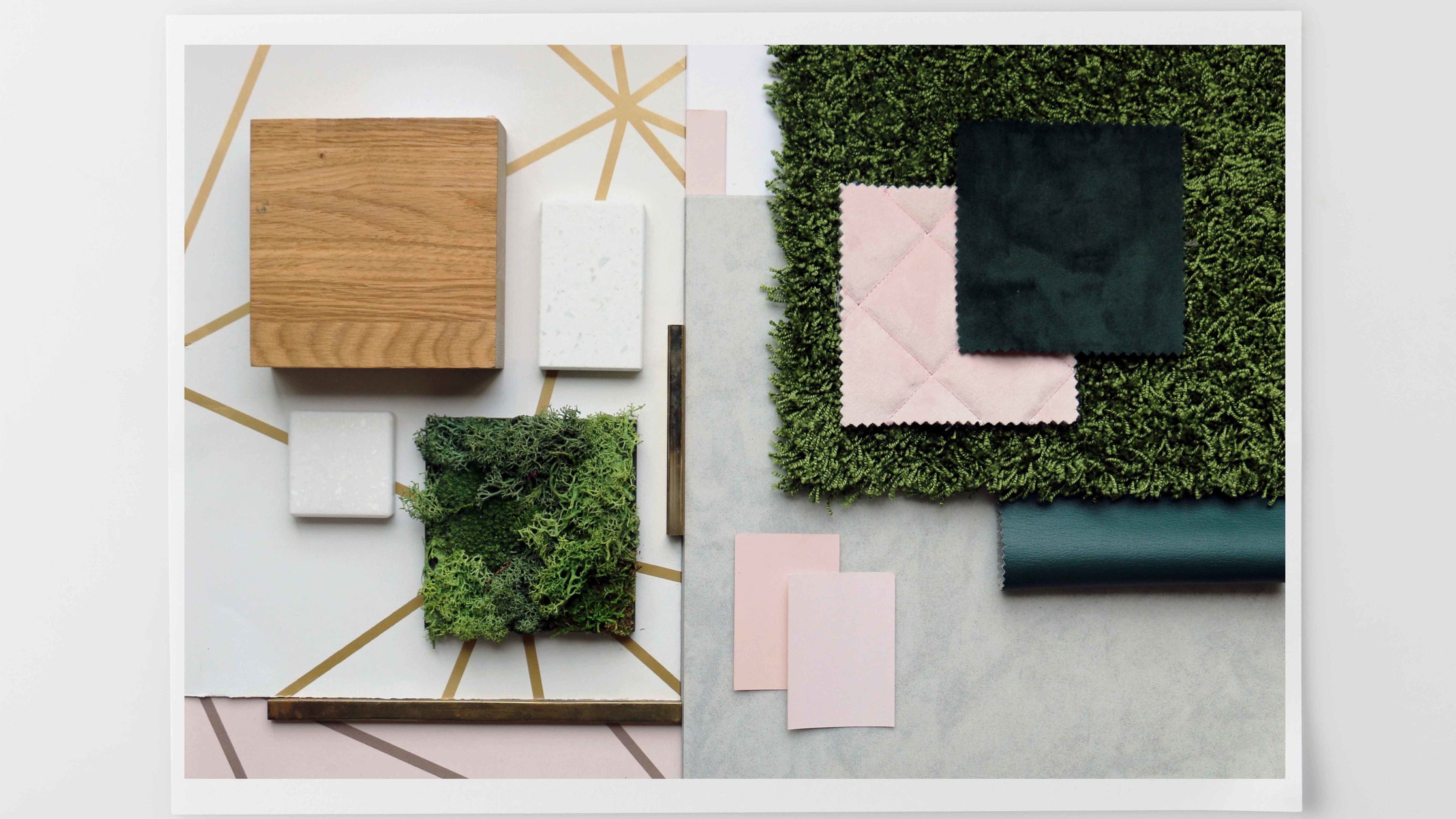 Crucial from the start was establishing the palette. One of Emma's early inspirations that she shared with us were floral features: a profusion of peonys and roses set against their dark green foliage. This we evolved into the soft pink of the brand, to be used for the walls and shopfront, then grounded by the rich green of fabrics and complementary paint finishes. We kept the rest white for freshness and as a clean canvas for the bright colours of the polishes with glimpses of gold for detailing of fixtures and fittings. To give a feel of spaciousness within the shop we chose light and flowing flooring in pale greys.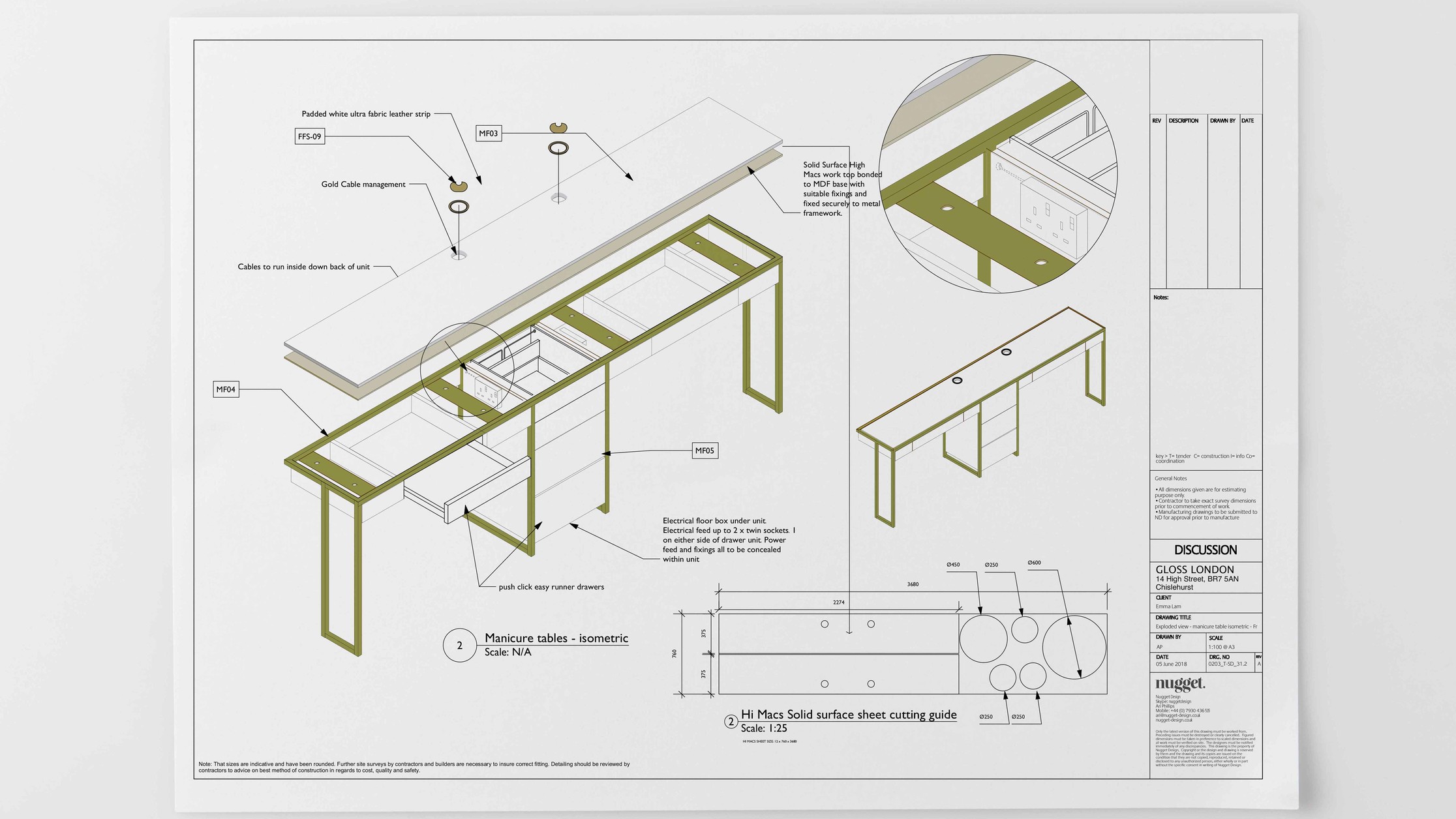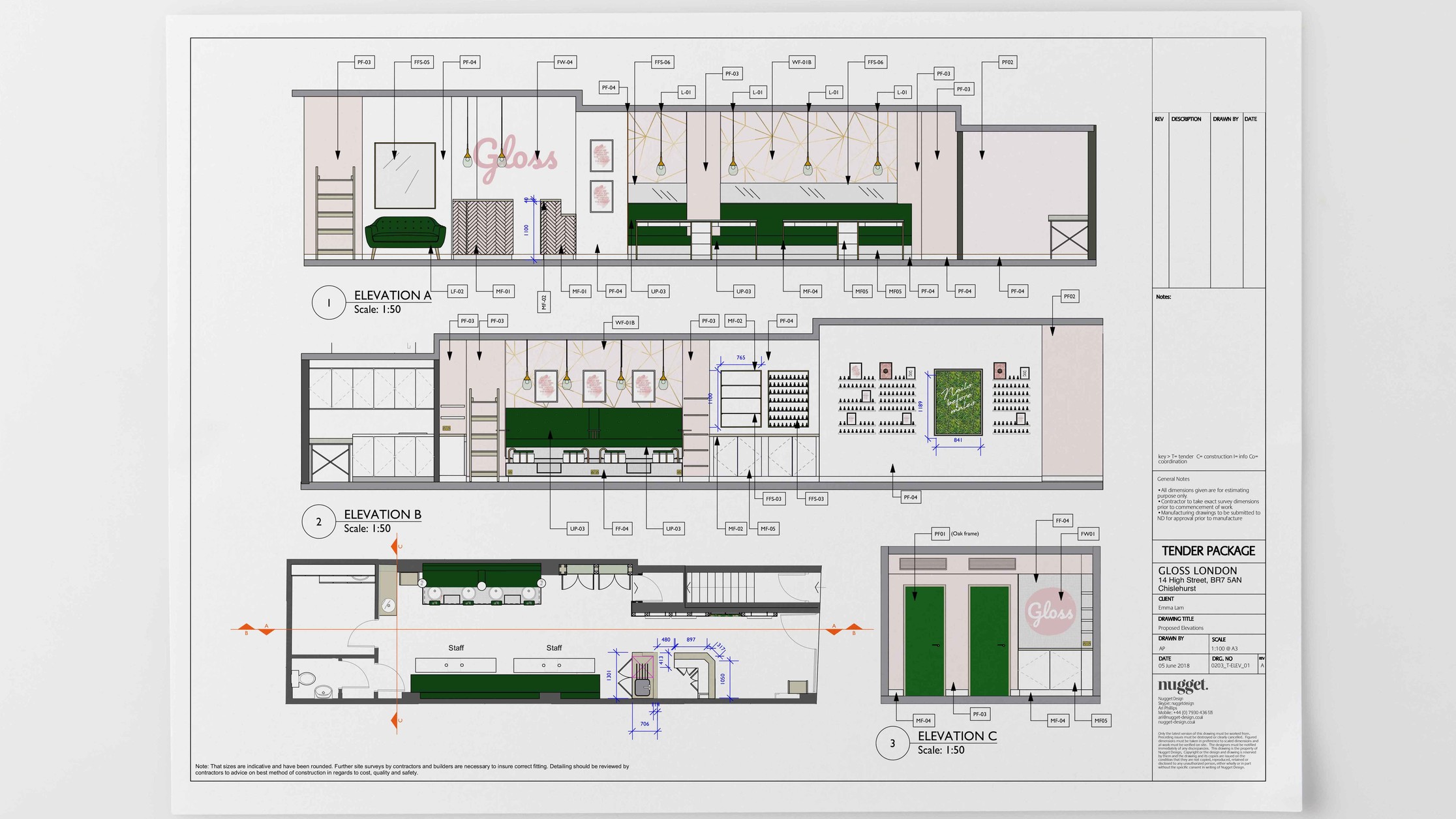 To create a friendly, welcoming environment we designed bespoke manicure and pedicure seating and layout, that would allow people to socialise if they wished and enjoy the salon while their treatments are carried out. For the table tops we suggested a solid, smooth surface using Hi-Macs to echo the perfection of nail polish finishes.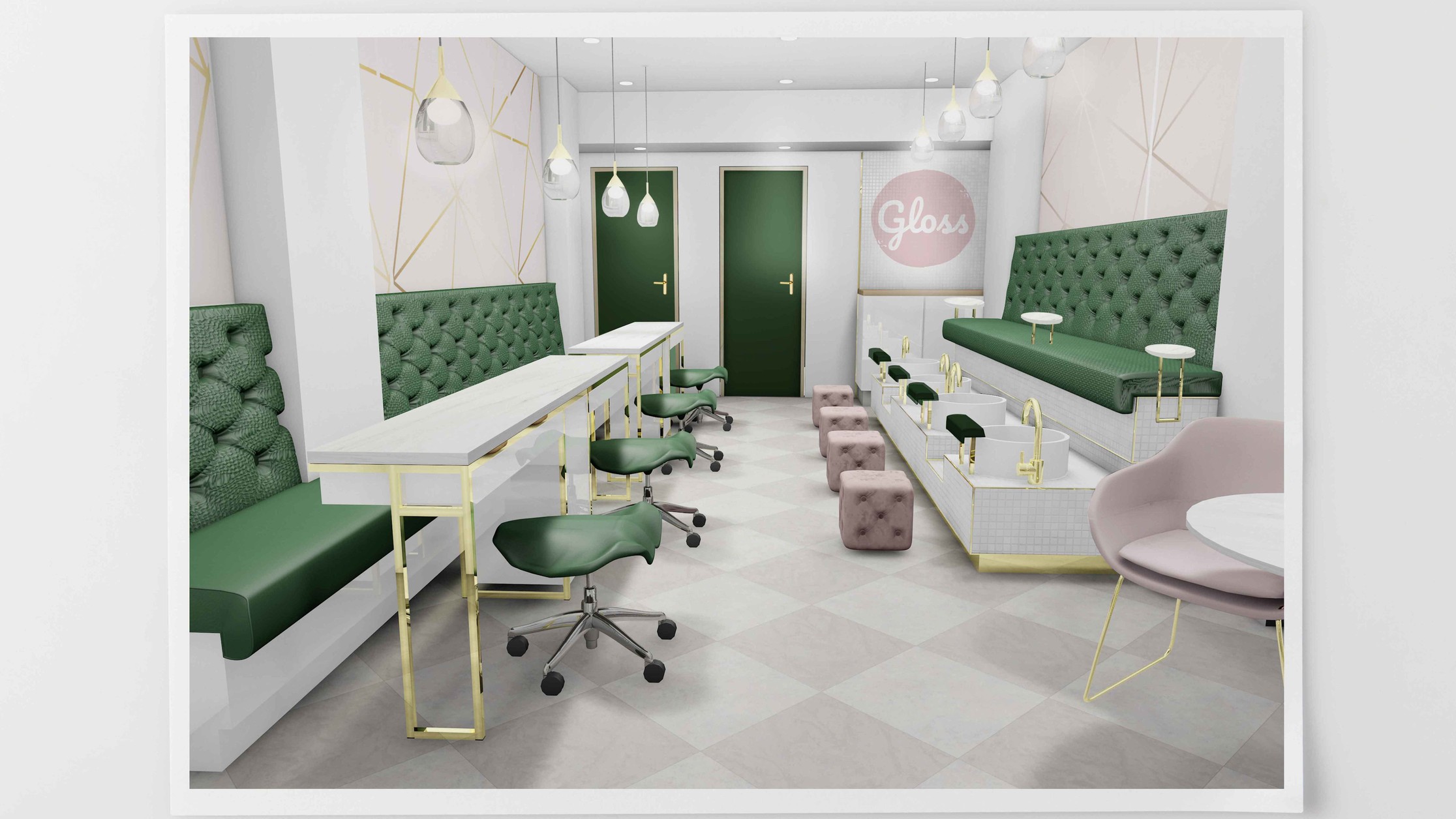 The overall effect is one of elegance and simplicity. Plus, playful and modern – we have kept Emma's inspiration from nature by introducing a moss wall that displays a neon light feature. More about this to follow but we are so glad to have been able to realise one of Emma's key visions for her salon.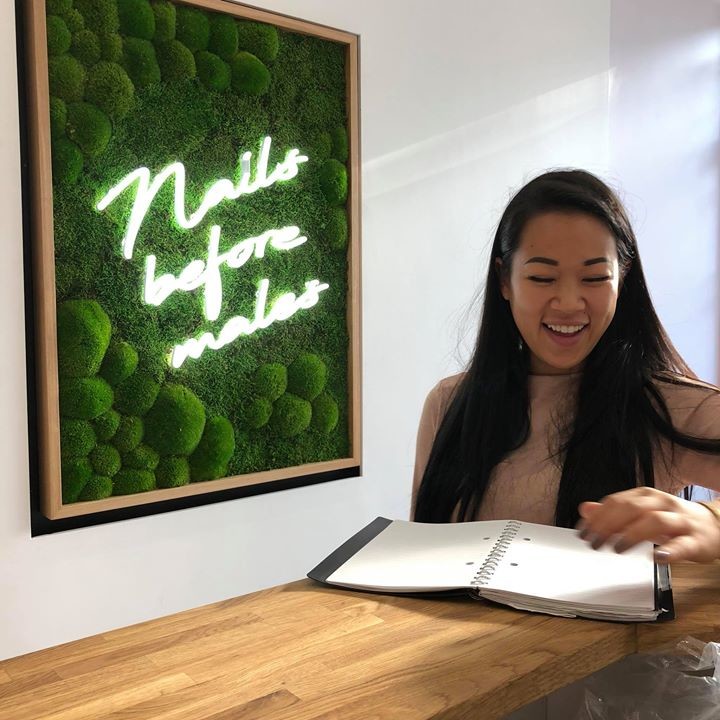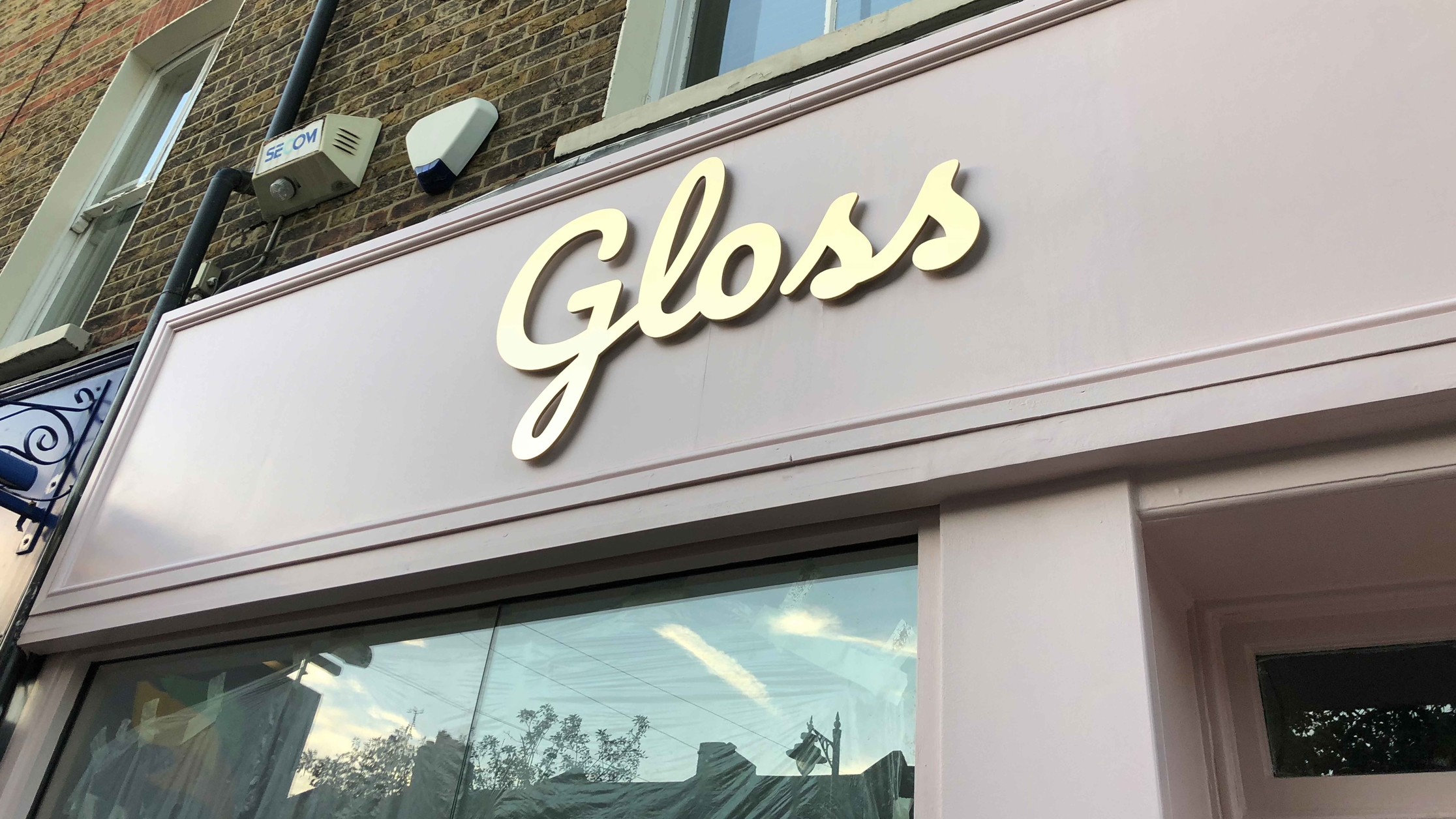 The final pieces are just going in and we are looking forward to Gloss nail bar opening and welcoming its first customers from tomorrow .
Please follow us if you would like to see the final results. We would love to hear what you think of our latest High Street project
Like our work?
Interested to find out more?
Please get in touch to find out how we can help you add value to your next project.
Ari Phillips +44 (0)20 8295 3566 | [email protected] | www.nugget-design.com
Sours: https://nugget-design.com/portfolio/gloss-nail-bar/
Nail bar interior design
The PaintBar Nail Bar: Raleigh's Cutest Nail Salon
DECORATING IDEAS
The PaintBar Nail Bar is probably the most stylish place where you can get your nails done in Raleigh. The nail salon is subtly elegant and stylish, thanks to MA Allen Interiors. The decor of the salon is one to die for, and probably one of the main reasons why more and more customers flock the salon.
The salon features subtle tones and hues that make it a feminine paradise. It spots gold touches and blush tones and creative use of colour. The walls are decorated using mouldings and abstract art. The entrance of the salon also spots a geometric rug which will blow you away. The manicure and pedicure stations are also decorated with pendant lamps which make good use of the vertical space.
With the partial walls and carefully divided stations, the salon promotes privacy while not compromising on comfort and decor. Right from the reception area, any visitor is treated to the dramatic effect of this cute sanctuary.
Related
Sours: https://decoholic.org/paintbar-nail-bar-raleighs-cutest-nail-salon/
Ideas design nail bar
Salon Decorating Ideas: 4 Do's and 3 Don'ts
The hair and beauty industry, by its very nature, is all about appearance. This means your salon will often be judged on its appearance. Not only this, but social media now makes image a huge selling point of your salon, with stand-out interiors attracting hundreds of Instagram followers. So, make sure your décor is a statement about who you are and what you're all about
Here at Salons Direct, we love seeing hair, beauty and barbering businesses getting creative with their image – we even have a whole series called Salon Design of the Month where we take a look at some of the most impressive salon interior designs across the country!
So, if you want to pick up some salon decor ideas, take a look at some do's and don'ts of how to go about decorating yours…
Salon Decorating Ideas
Do: Think of your clientèle
Successful salons have a picture of their ideal customer and then offer services and price points that will attract them. The same applies with your salon design. After upmarket clients? Consider marble counters and chandeliers. Will your chief client type be health and well-being clients looking for massage treatments? Create a tranquil environment with relaxing water features that will sooth your clients during their treatment.
Do: Pick a theme
Again, make sure the design or theme and salon furniture you go for reflects your ideal clientèle. For example, an uber trendy city professional will have different tastes to a middle aged lady in a rural village. Depending on which you are going for, decorate accordingly.
The lists are endless but here are a few popular salon design ideas you might like…
Related: As Seen in Salons! Our Lotus Salon and Barber Chairs 2020
1. Pretty in Pink
Pastel, Millennial pink is a hugely popular salon decor trend at the moment. Super soft and feminine, Instagram is booming with images of salons with these girly tones – like Rose & Wild's instantly recognisable salon interior. Try and put your own spin on this design idea so you don't blend in with the crowd.
2. Floral & Fabulous
Big and beautiful floral displays are another popular salon decor idea that has been popping up everywhere – from highstreets to Instagram feeds. Not only do they look great in your client's pictures, but they can also act as a gorgeous centerpiece that your salon becomes known for – like Nails by Annabel's floral nail bar.
Did you know Nails by Annabel has her own bestselling range of acrylic nail supplies at Salons Direct? Shop Glitterbels to take a look!
3. Bold and Beautiful
Bright colours give vibrancy and life to a salon. Go with bold contracts and shapes to create a salon design that really stands out. Pixie Hair & Beauty channeled some retro vibes to give her salon decor some individuality.
4. Eco Elegance
If your salon places importance on your eco credentials, you might want to reflect this in your salon decor. Why not take some salon design ideas from Buller + Rice who are known both for their sustainability and their chic interiors. Bring in plants and soft woods to lift the mood of the room and upcycle items for decor that is both beautiful and keeps in line with your ethics.
5. Trendy and Modern
Keep your salon feeling hip with a modern salon design that appeals to your fashion-conscious clients. Blue Tit salons boasts salon decor inspired by loft apartments of Brooklyn, perfectly nailing the up-and-comping scene of the salon location.
6. Keep it Classic
A salon decor idea that works particularly well in barber shops, why not channel some old-school glamour? Sid Sottung has done just this with his barber shops and academies, creating a design that reflects his own personality while still being appealing to clients and trainee barbers. He used our Lotus Gilmour Barber Chair to complete his salon design.
Related: Our Lotus Eastwood Barber Chairs As Seen in Dutton's Barber Shop!
Do: Be Creative
In an industry based on expression, don't be ashamed to show off your creative side. Why not refashion old styling tools? As these pics show, with a bit of TLC, your old equipment can be used to wow your salons and create a talking point.
A great example of a salon that is never too scared to be creative is our Salon Design of the Month winner Not Another Salon. Using flair, individuality and (if we may say so) fabulous furniture from Salons Direct, they have created one of the trendiest and most talked about salons in London.
Do: Consider ALL spaces
Everywhere your customer sees is a reflection on your business and needs thought and consideration. You can have the best cutting area in the world yet be let down by a dodgy coffee bar. Keep everywhere consistent, in theme and classy.
Also, don't forget your outdoor space. Using good signage and an appealing window display is a way of getting people noticing you, talking about you and most importantly, becoming a customer.
Don't: Be a clutter clogs
A cluttered salon is unorganised, messy, and unprofessional. Exactly what you don't want a client to think of you or your business. No unloved plants in the window, no five year old magazine and twee ornaments are strictly forbidden.
Don't: Look dated
A 1950's themed salon can undoubtedly look the part, but make sure the look is intentional. It is generally a good idea to stay away from retro furniture which can date and age your salon. To futureproof your salon, it is always a good idea to stick with modern styles.
Don't: Be afraid of art
You may not have the budget for a Rembrant but decals, murals or tasteful posters or prints are a great way to inexpensively add character and mood to your salon.
RELATED : Read about the amazing Leonardo Da Vinci ceiling murals here
Still looking for ideas?
Check out our previous winners of the 'Salon Design of The Month Awards' for some AMAZING IDEAS. Not that we like to brag but all of the winners purchased their furniture right here at Salons Direct.
Looking for even more ideas?
How to Design & Plan Your Salon Professionally With Salons Direct
The Best Salon Furniture For All Budgets
Tips for Making Your Salon 'Instagrammable'
We've also got a whole Pinterest board teeming with salon decorating ideas and inspiration.
Looking at restyling your salon? Make sure you check out our EXTENSIVE RANGE OF LOTUS SALON FURNITURE HERE!
Sours: https://www.salonsdirect.com/blog/salon-decorating-ideas-4-dos-3-donts/
Nail bar interior design
This website uses cookies that provide necessary site functionality and improve your experience. By pressing "I accept" you consent to use of cookies. You can view, delete and choose not to accept cookies at any time by adjusting your browsers cookies settings. Note that disabling the use of cookies may degrade the functionality of our website. Read our cookies policy to find out what cookies we use and how we use them.

Accept
Sign in
Don't have an account yet? Sign up
Sign in
Don't have an account yet? Sign up
Sign in
Don't have an account yet? Sign up
Sign up with Email
Already have an account? Sign in
License Agreement
Please reed and accept the following license agreement.
Forgot password
Please enter your email and we'll send you a new password
New password sent
New password has been sent to your email. Sign in using your new password.
Thank you!
We've received your request. We will get back to you within 1 business day. Let's make education even more exciting together!
Sours: https://planner5d.com/gallery/ideas/RMNHT/
Similar news:
Top trending Nail Salon Nearby Halloween Nail Designs check out this top trending set from Pinterest
Top 3 Totally Creepy and Kooky Halloween Nail Art IdeasThe best ideas for your next-level Halloween nails visit Las Vegas top Nail Salon Nearby just 10 minutes from Las Vegas Strip NAB Nail Bar Las Vegas
https://pin.it/HneprRm
Top Pick Number 1 Glow in the Dark Halloween Set click here now
https://pin.it/hEtOBxu
Halloween Nail Designs Top Pick Number 2 Click Now to see the top trending Nail Designs for 2020 Halloween Nail Are
https://pin.it/6Wnuu87
Celebrate Halloween with a fun and festive manicure thanks to our roundup of Halloween nail art ideas. These cute ideas for Halloween nails will knock your socks off.
Looking for some creepy and kooky Halloween nail art inspiration? We've got you covered. This list has something for everyone and every costume Are you ready to give your hands a Halloween-chic look this year?
Check out all the best Halloween nail designs we could find, crafted by our favorite artists, At NAB Nail Bar in Las Vegas — including glow-in-the-dark nails, skull nails, graveyard nails, cobweb nails Halloween Nail Ideas That Are Cute and Creepy at the Same Time Spooooky, scary, with a little hint of nice!Just check the best Halloween nail designs in 2020 between creepy coffin shaped Halloween nails , Halloween press on nails the trendy Gel X Apres Nails topped with top even more trending Nail Design Ideas. Halloween is our favorite holiday check out some of the top pics …Best halloween scary-good nail ideas 
Check out these Hand Painted Skull Spooky Halloween Nail Designs for 2020
https://pin.it/2H01i38
3D Halloween Nail Designs Check these out
https://pin.it/2kZSlZi
Click on the live Videos from Pinterest for the top 2020 Halloween Nail Design Ideas at local Nail Salon in Las Vegas
Top Pick Halloween Nail Designs Number 5 another Spooky Set
https://pin.it/1z1EL6G
https://pin.it/3BHIFQf
Don't Miss this trending Post on Pinterest Top Halloween Nail Designs for 2020
Halloween Nail Design Ideasnail barNail salon las vegasnails
Sours: https://nabnailbar.com/nails/nail-design-ideas-for-halloween/
2273
2274
2275
2276
2277