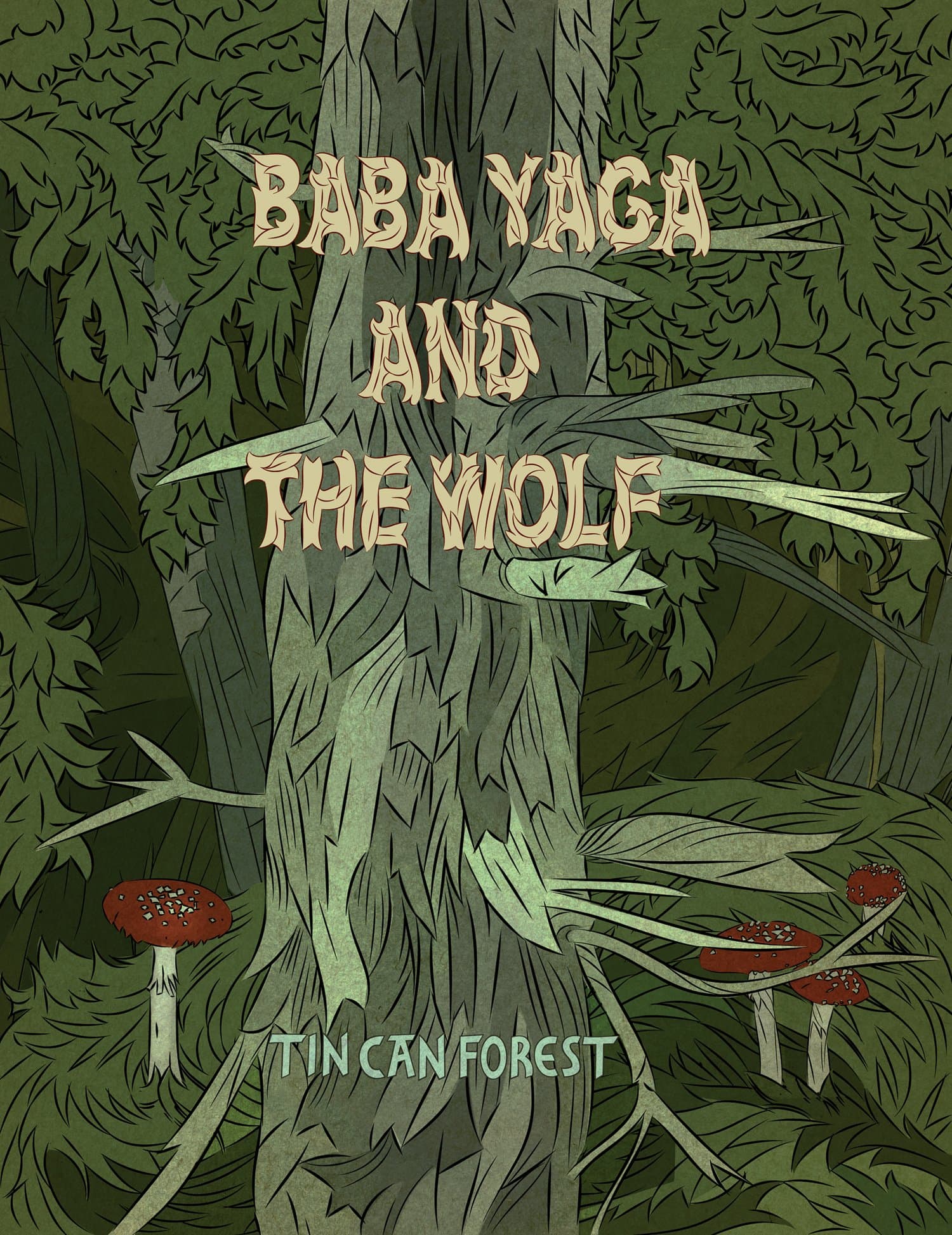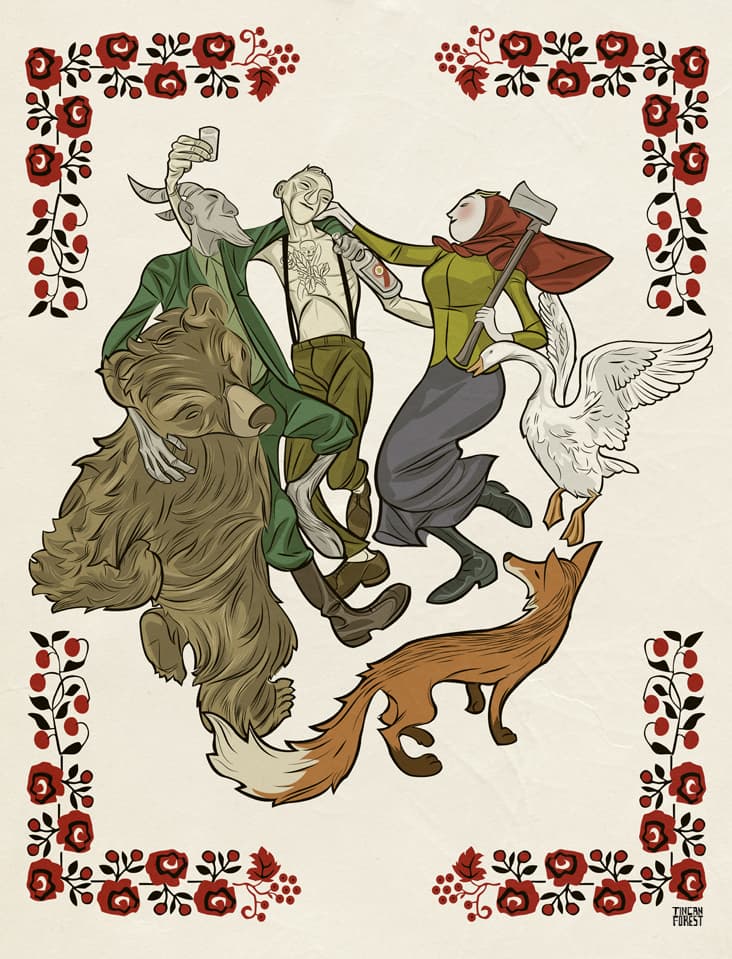 The deep, dark forest of our collective unconscious has never seemed more beautiful and mysterious than in the images of Tin Can Forest. The Toronto-based team of artists Pat Shewchuk and Marek Colek spin tales where barter-happy demons and animal spirits, drawn from Slavic folklore, walk in step with witches and villagers. We caught up with Tin Can Forest to ask them about their work and new book "Baba Yaga and the Wolf" from Koyama Press.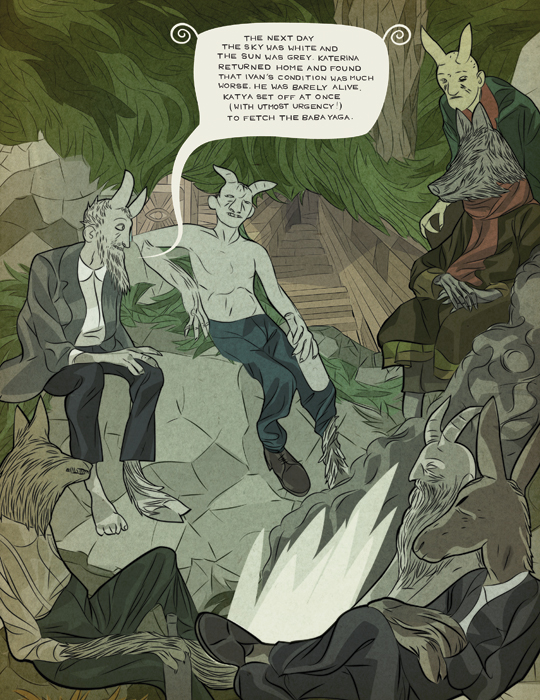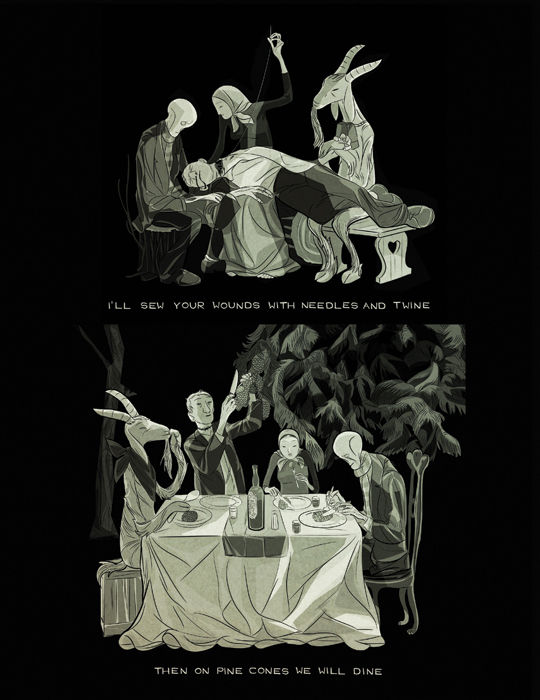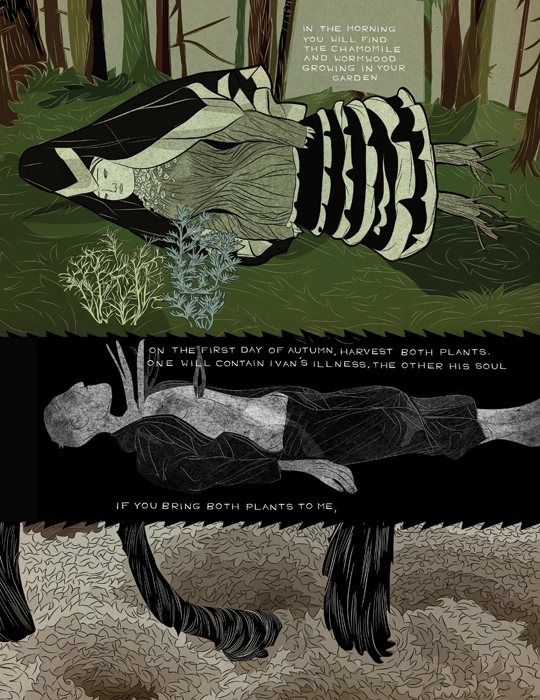 Your bio mentions that you draw inspiration from the folk tales of your Ukrainian and Czech backgrounds. Could you tell us a bit about the characters and themes in your work?
Pat – I grew up second generation Ukrainian-Canadian in Winnipeg. The cultural traditions practised in our house hold were very much tied into the church, and growing up I couldn't see Ukrainian culture as existing independently from the church. As an atheist and environmentalist, I was very happy to discover the pre-christian roots of traditional Ukrainian folk culture. It was a way "back into the fold".
I feel the reverence humanity had for nature in pre-christian/pagan cultures is something that's been lost in our contemporary society. Along with this shift away from living within the natural world, we've also forgotten a lot of traditional common knowledge, i.e. the names and properties of local flora and fauna. My work channels traditional Slavic rituals and symbols to celebrate nature.
Marek – I would say that my work is greatly informed by growing up in an immigrant household. We spoke Czech at home, I had a library of Czech storybooks and huge collection of Czech kids magazines that were full of whimsical comics strips; a style of comic that didn't really have a parallel in the West. I was of course also really into American comics and animation, but the work of Czech artists like Josef Lada, Adolf Born, Jiří Trnka among others, were closest to my heart and are still a huge influence and inspiration to this day. As far as the characters I draw, it's a set of archetypes, such as the devil, the baba yaga, the rusalka, the wolf, the bear, etc. that I keep reinterpreting and redesigning to explore different themes. The themes in my work have changed quite a bit over the years, from purely formal concerns, to personal and political narratives, and this cast of characters is like a visual vocabulary I use to explore the subject matter that interests me.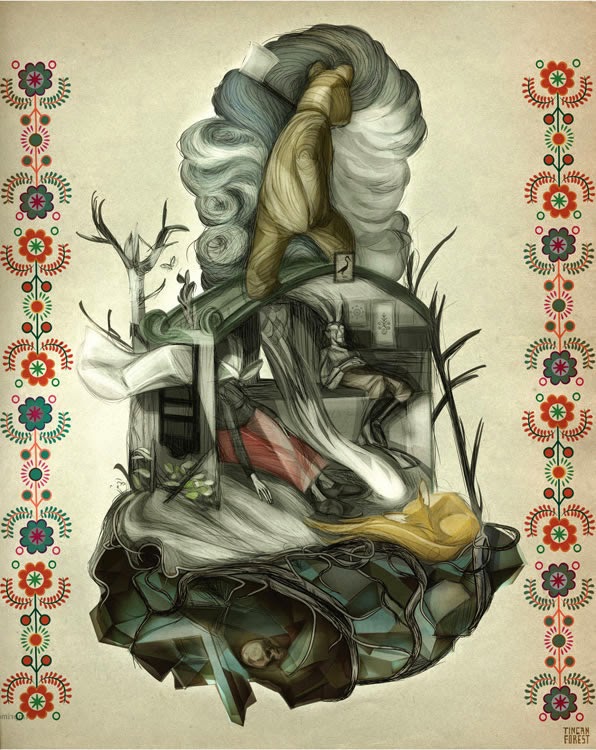 What does the name Tin Can Forest mean to you? How did you come to choose this as the name of your collaboration?
Pat – Marek came up with the name. It was a title of a poem he wrote for an art show we had in I thought it really suited us on several counts – the poem was written just before Y2K, and is about living in a dystopia of millennial anxiety and environmental disaster.
We love the forest, yet it's constantly beleaguered by the detritus of modern consumer culture. At the same time Tin Can Forest has these nostalgic connotations to early comic strips, stop motion sets, fairy tales. I think the name expresses both our environmental politics, and describes our visual aesthetic as well.
Could you tell us a bit about your creative process and the way you work together as a team?
Pat – It depends on the project. Often when we collaborate on concepts and the development of ideas, I tend to do more of the research of themes and subjects we're interested in, whereas Marek will compile the visual references.
Marek – Collaboration also involves long walks, fights, Eureka moments, dance parties, drinking binges, all night drawing or animating sessions, months of isolation on mountaintops, and loud music.
In addition to paintings and comics, Tin Can Forest designs, directs and produces animations both for client projects and personal work. Do you have a favourite from these activities? Do you approach personal and commercial work the same way?
Pat – We love to work on our own non-commercial projects the most, and this is our focus throughout the year. We are primarily artists who work commercially to support our art projects, though we've found working commercially is a good way to keep your skills in shape, and try new things you might not otherwise try.
Marek – Commercial work pays some of the bills. We've been lucky to work on a few really interesting commissioned projects, that offered a fair amount of creative freedom. We approach such jobs with the same enthusiasm as for our own art. On the other hand, there's stuff we don't want our work to support. We're vegetarians, so to make animation or illustration for meat products would be hypocritical. I also think that car culture, especially in North America, has become way too overbearing, so we don't want to help promote the car industry in any way.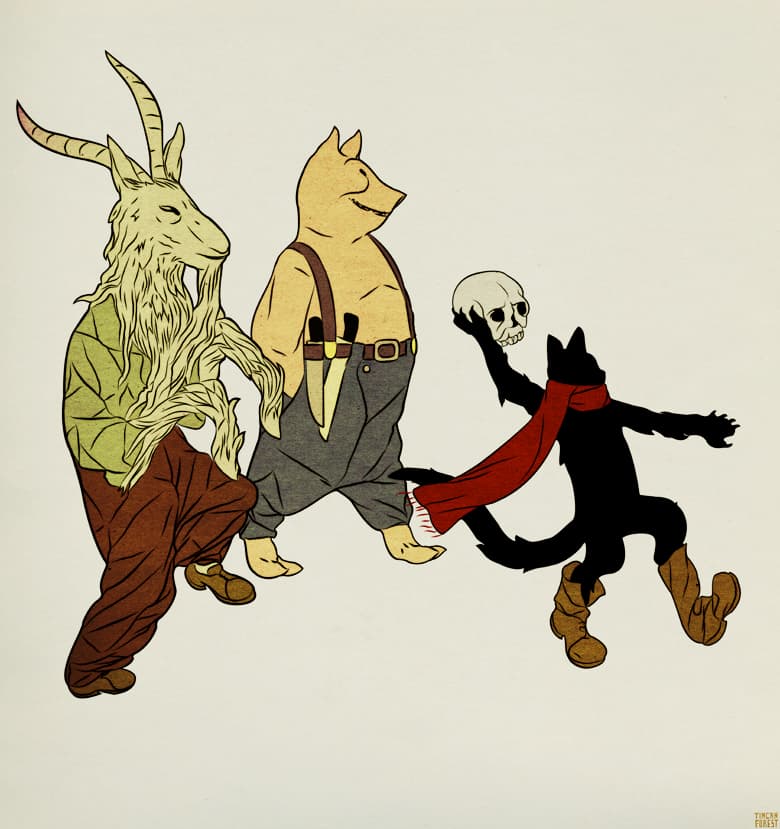 We're very excited about your forthcoming book "Baba Yaga and the Wolf". Could you tell us a bit about this project and what we can expect?
Marek – Our new book is a kind of a hybrid between a comic and an illustrated story-book. It's visually very much in the vein of our last book Pohadky, with a combination of my drawings and Pat's decorative designs, but with speech balloons and text. The story of "Baba Yaga and the Wolf" is told by different narrators throughout the book, and is a riff on the classic " bargain with the devil " narrative. We spent the last winter living in the forest on an island in BC, some of the book was done there, and some was done in the Czech Republic, where we were this past spring. Both places greatly inspired the imagery in the book, so I would say it's a Slavic folk tale set in a Canadian forest. The book is published by the mighty Koyama Press.
What can we look forward to from Tin Can Forest?
Pat – We're working on a video and album design for Geoff Berner's upcoming record "Victory Party". We've been fans of Geoff Berner for years, and we're very happy and honoured to be working with him.
We're finishing a film we shot and animated in the forest on Salt Spring Island called "Heart of the Forest". It features music by Wolves In The Throne Room.
We're also doing a kids book with Kids Can Press based on our short animated film "Montrose Avenue", which portrays a day in the life of our street here in T.O.
Keep an eye on our blog for updates on any other Tin Can Forest happenings.
Squidface & The Meddler™, and the associated logo are registered trademarks.
Sours: http://www.squidfaceandthemeddler.com/tin-can-forest/
Ritual and Reverie: The Occultastic Art Of Tin Can Forest
Whilst traversing the dense, darkened thickets of  Tin Can Forests midnight woodlands, one may become disoriented by the bizarre, bestial, visions they encounter: shadowy, hircine cabals solemnly roaming about in ornate, traditional dress; nocturnal gatherings wherein witches, demons, and villagers skulk and cavort with all manner of talking beasts; families taking tea with raccoons and suffering the philosophical ramblings of an oddly articulate house cat.
The vivid imagery of these tangled tales and illustrated texts tugs at the memory, recalling vague, dreamy bedtime stories read to a younger you, still too green to understand the metaphors and allegories, yet on the verge of glimmering a deeper truth for these darker narratives trigger memories more ancestral and arcane, reviving fears and beliefs borne in the blood, not learned during a childs story time.
In Tin Can Forests We Are Going To Be Musicians In Bremen, a cock-sure rooster declares, I am prepared to accept that what you are telling me is true, and by the time one is thoroughly ensconced in the shifting, ectoplasmic threads of these stories, one has learned that there is no other choice but to make that acceptance as well. These are truths fantastical, terrifyingthat we have forgotten, but which have always lurked in the corners of our subconscious, awaiting a revelatory awakening once more. Tin Can Forests lovingly-crafted illuminated manuscripts are a stunning (though, on many levels, utterly mystifying) vehicle for these fluid truths and lost mythologies.
Tackling ancient narratives from the perspective of the shadows, Tin Can Forest is the collaborative duo comprised of Pat Shewchuk and Marek Colek, Canadian artists based in Toronto Ontario who create sequential art, film and books.
Illustrated with moody, fog-saturated colors in Tin Can Forest's distinctive style, and drawing inspiration from the forests of Canada, Slavic art, and occult folklore, each of their offerings is presented in a beautifully lush, full-color beautiful comics format, every page interwoven with secretive symbolism, esoteric emblems, and magical motifs.
Like poetry, or half-remembered dreams, or writing poems about half-remembered dreams while under the influence of something strong and strange, these fables meander and twist, a miscellany of deep folklore and nonsensical cautionary tales, and populated by an nightmarish menagerie of creatures, spirits, and familiars.
Amongst Tin Can Forests offerings you will find a number of surreal and enigmatic tales :
Cabbage in A Nutshell, the first installment of an anthrotheological mystery set in a bygone future as told from the vantage point of an occulttastically informed super-future.
Wax Cross which debuted at the Toronto Comic Arts Festival, is an alchemical folk-tale set in the twilight of the modern age, when the moon has devoured the sun, the mechanical ocean has evaporated into silence, and the decaying corpse of electric current sleeps eternally in a casket of orange lichen."
We Are Going To Bremen To Be Musicians, a collaboration with accordionist and novelist Geoff Berner, is a of a dark, strange German folk tale about four animals running away from their masters to become town musicians in the city of Bremen.
Baba Yaga and the Wolf is, in true representation of oral tradition,  a story told to a young woman by her great mother, who lived in a time when the wilderness was everywhere, vampires roamed the treetops, and devils traded opium and vodka for human souls by the roadside. Baba Yaga and the Wolf tells the story of Katerina and the journey she takes to the edge of the Underworld and its gatekeeper, Baba Yaga, in order to save her husband Ivan from a terrible fate.
What Is A Witch, written in collaboration with Pam Grossman, is parts storybook, grimoire, and comic book,  and is a an illuminated incantation, a crystalline invocation, a lovingly-crafted celebration of the world's most magical icon.  The book's lyrical language of night-song and half-rhymes, when given voice (and it absolutely must be read aloud), becomes a wild, witty, wondrous invocation, threaded throughout with fanciful visions, whimsical allegory, and magical truths.
Find Tin Can Forest: website // facebook //  Tumblr
Sours: https://hautemacabre.com//01/ritual-and-reverie-the-occultastic-art-of-tin-can-forest/
Tin Can Forest
Tin Can Forest is made up of Toronto based animation and illustration duo, Pat Shewchuk and Marek Colek. Their work is heavily influenced by folklore and has a very ethereal quality to it. In they presented their 5-and-a-half animation, Montrose Avenue, to international festivals including the Ottawa Animation Festival, and The Tokyo International Film Festival. They have also produced three stunning art books, POHADKY, BABA YAGA and the WOLF, and WAX CROSS, the latter two are available to buy from the Tin Can Forest website. Their work is rich in detail and vigour, with beautiful etching-esque brush marks, and muted autumn tones. The best place to see more of their work is on the Tin Can Forest blog.
About the author
Mr Geo Neo co-founded Illustrators' Lounge in He has been Editor of the website since He is an illustrator and graphic designer.
Tags BABA YAGA and the WOLFMarek ColekMontrose AvenuePat ShewchukPOHADKYTin Can Forestwax cross
Sours: https://illustratorslounge.com/animation/tin-can-forest/
The Tin Forest by Helen Ward
.
Can forest art tin
.
The Coast Ghost – По Ту Сторону (With art of Tin Can Forest)
.
You will also be interested:
.
2260
2261
2262
2263
2264