Create a Craft Room!
Every keen crafter needs space to unleash their creativity. And that space should be inviting and inspirational. A dedicated garden room, log cabin or summerhouse is the perfect solution. If you're going to go all-out with a shed conversion, check out our guide on how to turn your shed into an arts & crafts studio. If you've already got a space you can use, here's everything you need to consider when setting up a craft-shed in your garden.

Which type of garden room should I choose?
Sewing, knitting, pottery, painting and jewellery making often require more space than many busy homes can spare. Not only do you need an area in which to work, but also somewhere to store all your equipment, tools and materials.
An insulated garden room is the ultimate in luxury. Designed for all year round use, the walls, roof and floor are well-insulated to retain heat in winter and reflect it in summer. Choose where to position double glazed windows and doors to make the most of the natural light.
If you're looking for a high quality building with a slightly smaller price tag, wooden log cabins are the ideal choice. And if you're on a tight budget, a summerhouse is the best value option although it may not be suitable for use during the coldest winter months.
Set up a workstation
For many craft rooms, the most important piece of equipment you'll need is a large work table. Choose a durable material such as wood or metal and find a comfortable chair.

If you prefer to stand for parts of the day, buy a custom-size worktop and a set of height-adjustable legs so that you can raise and lower your workstation as required.
Alternatively, create a small island in your craft room that doubles as both work and storage units. Hiding cupboards under your workstation is a clever way to make the best use of space and keeps everything tidy and clutter free.
Let there be light
Good quality lighting is a vital part of your craft room. Natural light is best for most crafts, but you'll need to supplement this with general lighting and task lighting for intricate detail work.

Adding lamps can make smaller craft rooms feel bigger and give your space an inviting feel. Let your imagination run free - hang a large chandelier or feature pendant to make a bold statement and reflect your own personality.
Get some organised storage
As far as possible, keep your workspace free of clutter by adding a mixture of open and closed storage. The supplies you use most often should be kept in sight and within easy reach.
Bookshelves and cupboards are the most obvious solution, but there are plenty of creative ways to store your materials and finished crafts. Make the most of wall space with pin boards, magnetic boards, shelves, hanging cubes, large bulldog clips and hooks. We love the idea of using clothes hangers to help organise things like ribbons and fabrics.
Make it your own
If you're fortunate enough to have a dedicated craft-shed to indulge your creative hobby, you'll want it to be as welcoming, inspiring and comfortable as possible.
Give your garden room, log cabin or summerhouse a lick of paint and make it a focal feature in its own right. A neat path to your craft shed is not only inviting, but will provide a safe route through the garden at all times of day and in all weathers. Line it with solar lights, or have an electrician hook up a security light on your shed so you can come and go as you please.
Paint and decorate the inside of your craft room to reflect your own taste. Fit a hard-wearing and easy to clean floor such as lino, hang pictures and add soft furnishings. Indoor plants add instant colour and scented-stick diffusers create a welcoming ambiance. Make your craft room somewhere inspirational that you'll love spending time in!
If you've created a craft room from a log cabin or summerhouse in your garden, share some images over on our Facebook page and tell us what you like to create.
Lead Image: Shutterstock/Richard Evans
---
You may also like
---
Sours: https://www.waltons.co.uk
Introduction: Garden Shed to Craft Studio
I turned my 8x12 garden shed into a craft studio because there was no room for a dedicated craft or hobby area inside my home! It took under $250 and a few weeks to complete the transformation!
Step 1: Prep Work
I wanted a dedicated place to do my crafting and hobby work, but we didn't have the space inside the house. I decided that I would turn the shed in the back yard into my craft studio!
First we had to prep the shed. It's in great shape, so the prep work was minimal. We cleaned it out, hosed it down, removed excess screws, and shelving and sealed some gaps with foam before we started.
Step 2: Painting
Next came the painting. I thought about using drywall to make it feel like an actual room, but decided in the end that I wanted the rustic shed feel to remain, and I could also use the space between studs to add extra shelving for even more storage!
We used a basic white high gloss enamel paint, and I added some purple paint on the ceiling to give it a fun pop of color, and add some personalized character to my space!
Step 3: Lighting and Floors
Next we hung a shop light, and installed peel and stick vinyl flooring. I learned a lesson here... you need to paint the plywood to get a good stick from the tiles. Thankfully I learned this lesson before getting very far into the flooring!
Peel and stick vinyl was very easy to work with, and inexpensive! I could have just left the floor painted plywood, but I wanted the room to have a more finished feeling to it, the vinyl floor tiles looked nicer.
Step 4: Counters and Work Space
We built in some counter space next with plywood, 2x4s and an old display case we found locally. The display case added some shelving under the counters, and leaving the second counter open allows me to push storage carts or boxes under the counter and out of the way. If I had been able to get two of the display cases I would have made both sides of the counter on those.
After the counters were sanded, cleaned and prepped, they were painted white with the same enamel paint I used on the walls.
So far the paint on the counters, and the walls is holding up great! They wipe down easily and they look amazing.
Step 5: Pegboard Storage
To give me more storage options, we hung pegboard on two of the walls. One above a counter across an entire wall, and the other above my sewing desk. Both pegboards give me lots of storage options and they fit in the budget at less than $20 for a 4 foot by 8 foot board.
The pegboards are just screwed to the studs right on the wall. Because we opted not to dry wall the shed, the pegboard works great and it didn't have to be mounted on anything but the wall since there is plenty of space for the hooks behind the board already.
Step 6: Moving in and Finishing Touches!
We added a bookshelf for more vertical storage, and filled the shelves with craft supplies. I can personalize the space to make it mine without worrying about making it too girly for my husband, since he doesn't have to see it!
Step 7: Some Extra Details
I get asked most often about power to the shed. Right now (temporarily) we power everything with several heavy duty outdoor extension cords. We made extra efforts to cover and protect the cords so they are not a danger while they are there. In the (very near) future, we are planning to get permits and run the power underground out to the shed.
Another very frequently asked question is how do I control the climate. I am very lucky to live in a very mild climate. The temperatures are not extreme, and the humidity is very low. In the winter, a small space heater with temperature controls keeps the room very comfortable. For the summer, we installed a small window air conditioning unit (by cutting a hole in the shed under the existing window so as not block the small amount of natural lighting). The temperature in the shed is often nicer than the house because the room is small it is easy to regulate.
Since we already had the shed, the total cost of the materials to paint, floor, and update was under $250!
Be the First to Share
Did you make this project? Share it with us!
Recommendations
Robots Contest

Audio Challenge

3D Printed Student Design Challenge
Sours: https://www.instructables.com/Garden-Shed-to-Craft-Studio/
Most often, sheds are used as dingy outdoor attics, storing the old, the used, and the unwanted. But when a Seattle couple wanted to add a crafting space to their vacation home in Vashon Island, WA without breaking bank (while also avoiding the potential chaos of a renovation), the answer came in the form of a 12" x 16" shed.
The couple recruited Modern-Shed, a company that specializes in the construction and quick assembly of pre-fabricated sheds. Clients have the freedom to customize these modern spaces—they come in three different sizes—to serve as anything from guest houses, to exercise rooms, to home offices and she-sheds. They're designed to be eco-friendly, too (not to mention, adorable!).
The floor, roof, and wall panels for this craft room shed were manufactured prior to delivery, and the 192-square-foot space was completed in about four days. According to general sales manager Mike Probach, the final price came to between $35,000 and $40,000 for the whole assembly, including the installation of outside porch lights and motion detectors.
Dominic Arizona Bonuccelli
The shed's exterior is a combination of HardiePlank lap siding and clear-grain red cedar panels painted during the manufacturing process.
Dominic Arizona Bonuccelli
Made from tongue-and-groove pine, the slanted roof is what Probach calls Modern-Shed's "trademark." The beams are architectural-grade glue-laminated wood. Included is a deck and overhang for the porch.
Dominic Arizona Bonuccelli
And for the interior, we think it's simply charming! The custom work desk was made by the installation crew. A forced air wall heater heats the studio in the winter, so it can be full-functioning all year long, while argon gas-insulated windows slow down the transmission of heat and cold, which ensures increased energy efficiency.
Move over tiny houses and she-sheds—and make way for the backyard craft studio!
(h/t Houzz)
Follow Country Living on Pinterest.
Samantha BrodskyEditorial FellowSamantha is an editorial fellow for GoodHousekeeping.com and HouseBeautiful.com.
This content is created and maintained by a third party, and imported onto this page to help users provide their email addresses. You may be able to find more information about this and similar content at piano.io
Sours: https://www.countryliving.com/diy-crafts/a39113/craft-studio-shed/
INSIDE MY SHE SHED: Craft Room!!! - TINY HOUSE TOUR



You won't believe what Kelli from The Craft Shack did! She turned her tool shed into a Craft Shed! Isn't that awesome?? I'm sure you'll love it! – Linda

Welcome to my Craft room! It doesn't look like much from the outside (yet) but looks can be deceiving. I've wanted my own space to craft for a long time, but we've never had any room for a dedicated space until I decided last year to re-purpose the 8×12 garden shed in the back yard! It's not a lot of space, but it's my space and it's perfect.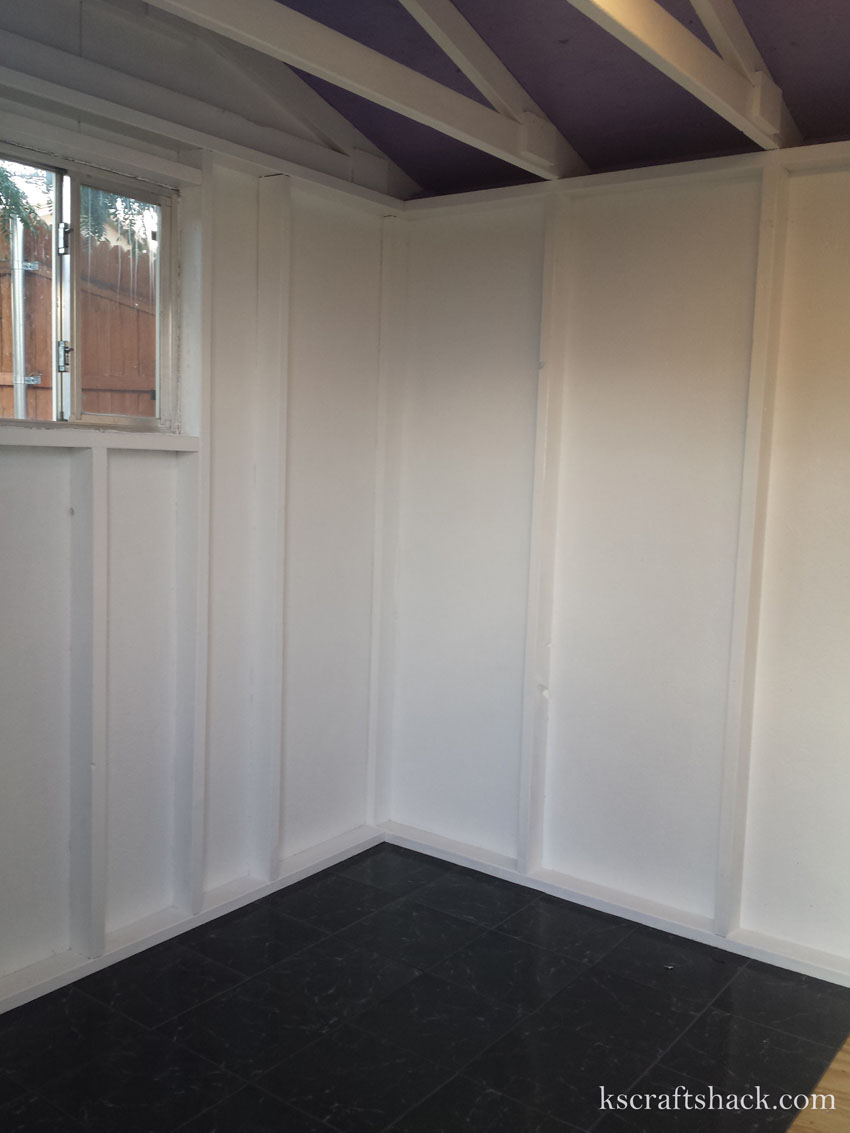 We cleaned it out, sealed it up, put on a few coats of paint, some peel and stick vinyl flooring, and added some power and lights. It is cooled with a small window unit in the summer, and heated with a small space heater in the winter which works fantastically well since the space is not very large.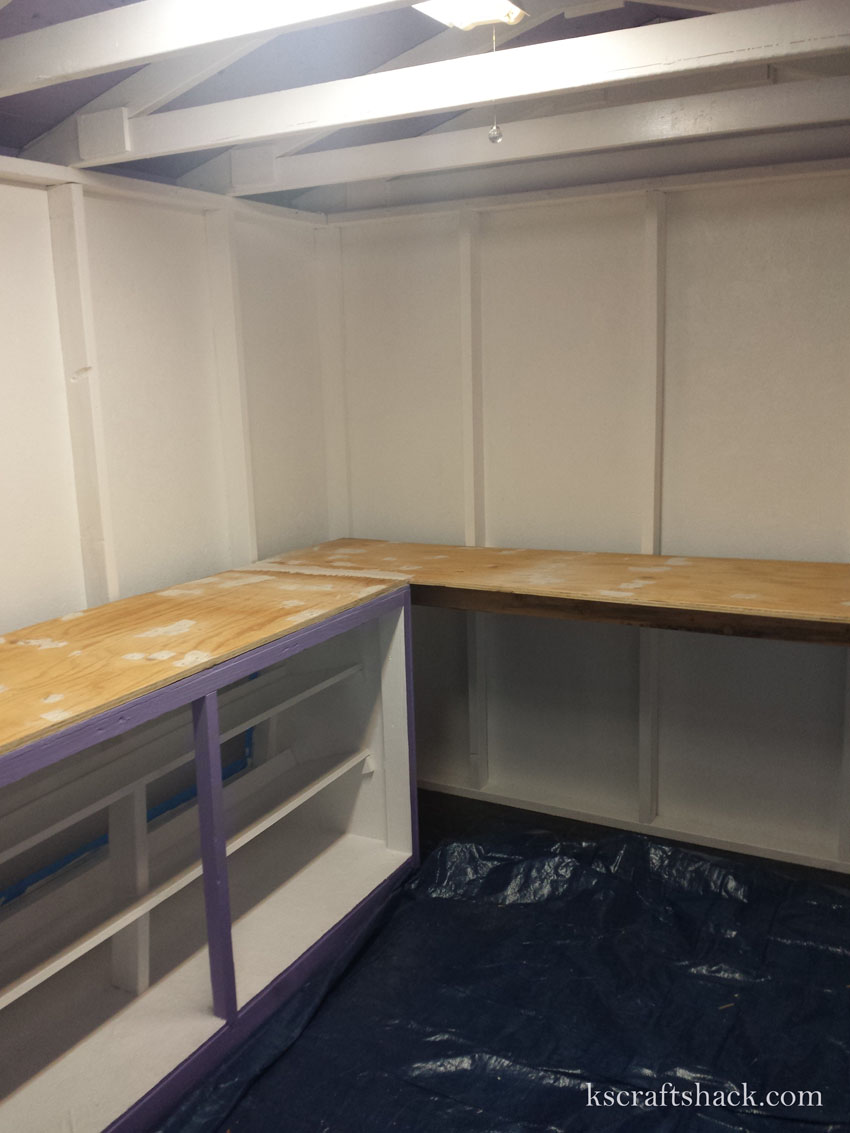 I found the perfect old display case through a yard sale site to use as shelving under the counters. I love finding old things to repurpose and reuse!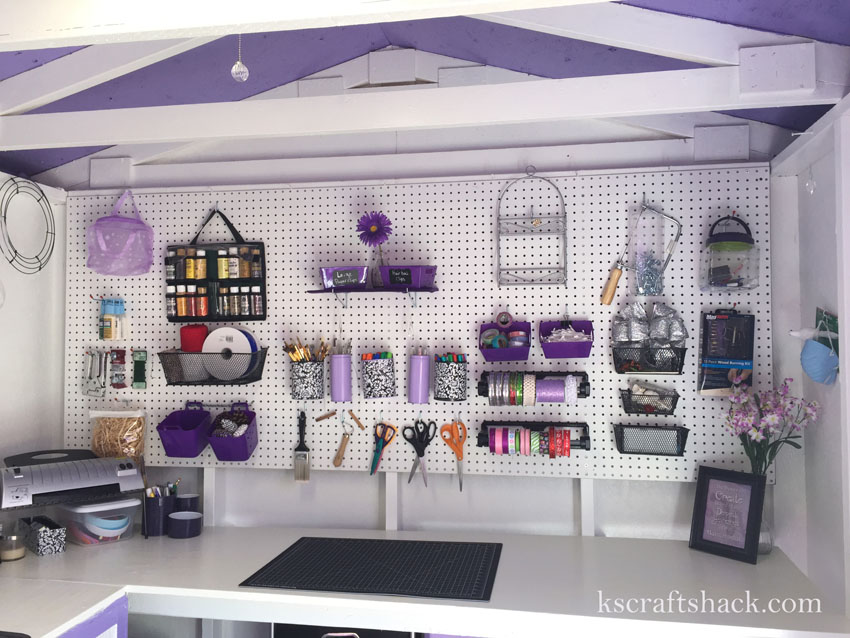 The pegboard wall is great for storing lots of odds and ends without using very much space!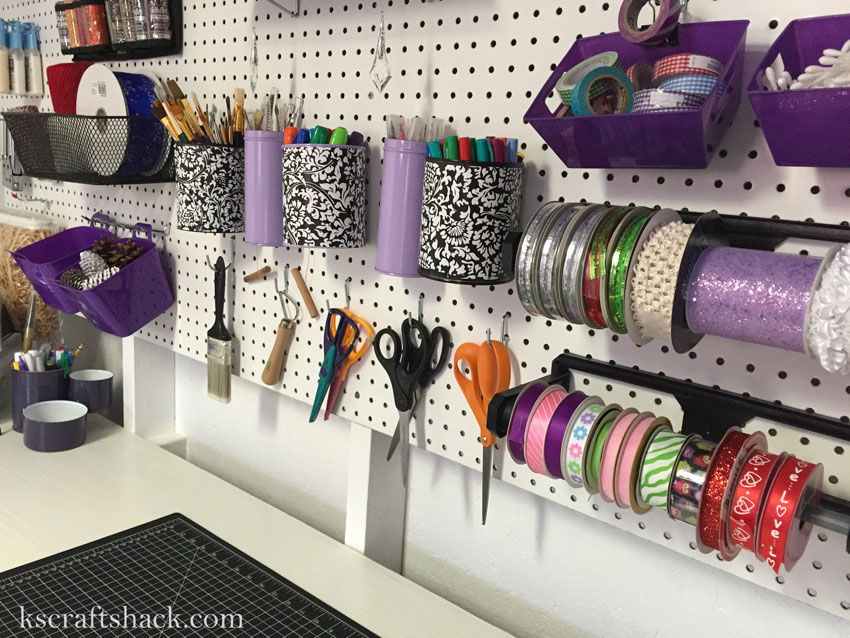 The storage options are so versatile with the pegboard! One of my favorite ways to use this space is to zip tie containers like these cans to the board. I also use binder clips to hold small bins on the board great for keeping things like my washi tape.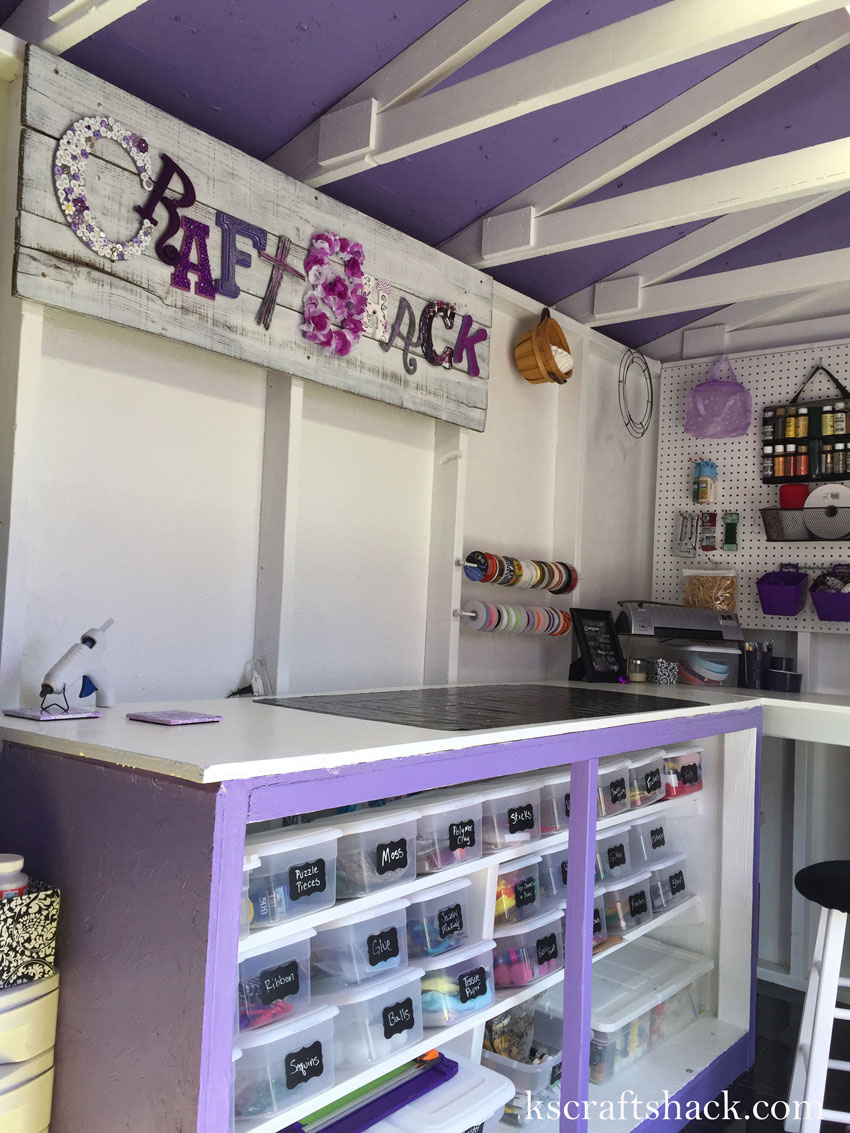 The old display case worked out perfectly for holding bins of craft supplies and it is so easy to keep it neat and organized with some chalkboard labels.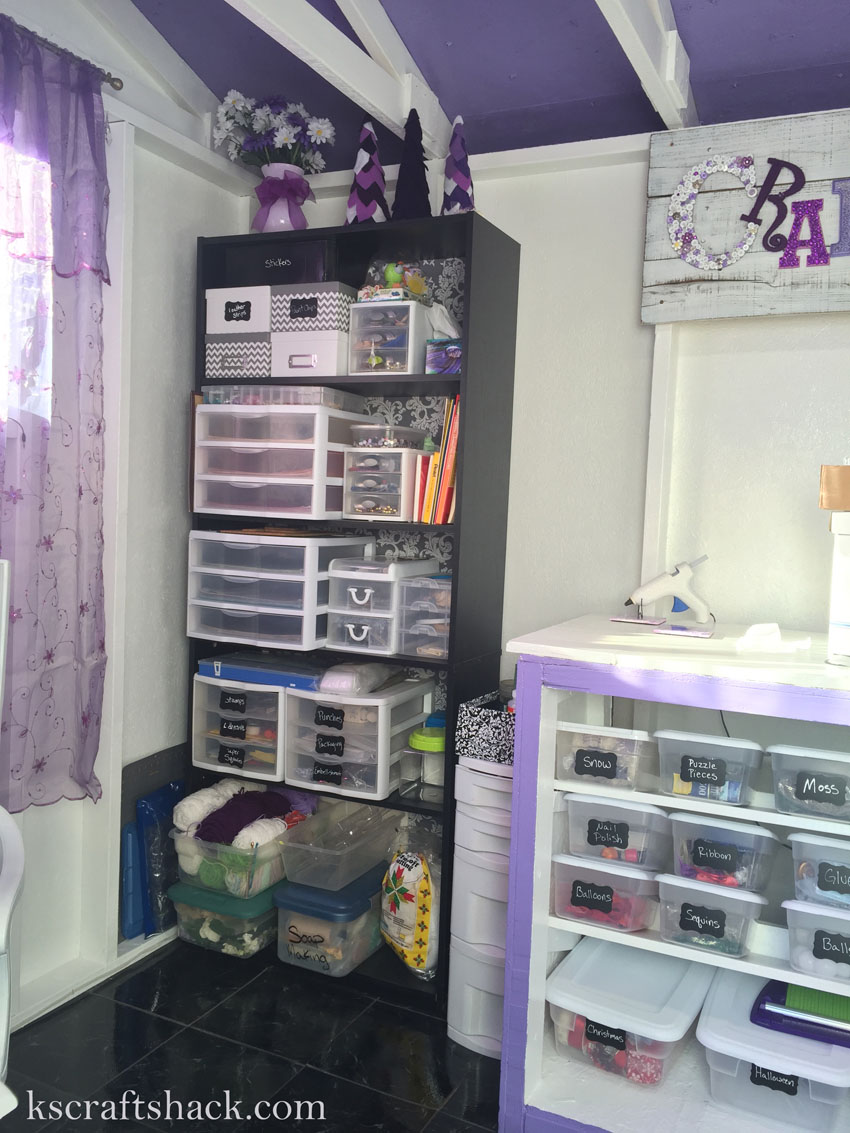 A plain bookcase fancied up with some fabric is a great place to hold plastic drawers, boxes, bins, and craft books. I love using cardboard photo boxes to store supplies in because they come in such fun colors or patterns and they add some fun to a space for a reasonable cost!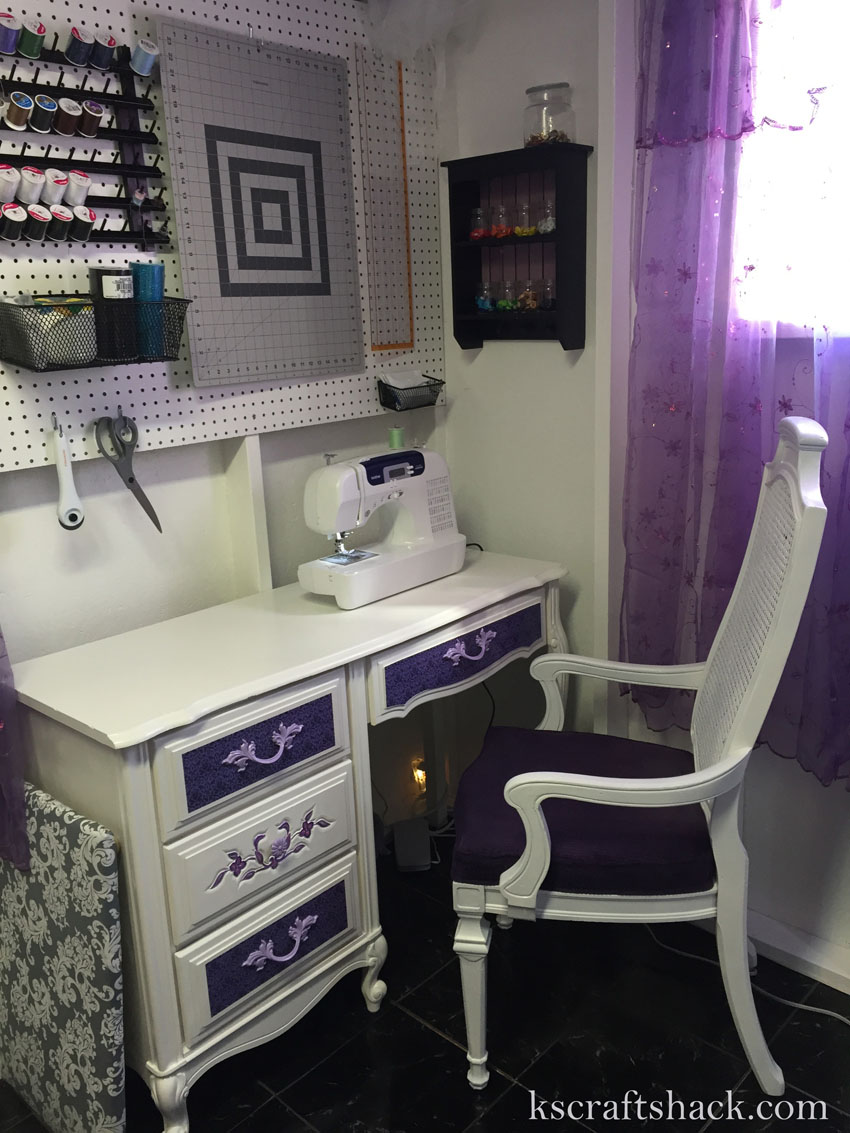 My sewing space is probably my favorite space in the room. The desk and chair were rescued and refinished to match my girly soft craft space. The pegboard above the space adds so much more storage. It's a great place to hang cutting mats, and the thread is within reach but out of the way so it's not getting knocked around or tangled. The natural light from the window adds just the right warmth to the area and my table top ironing board stores easily within reach.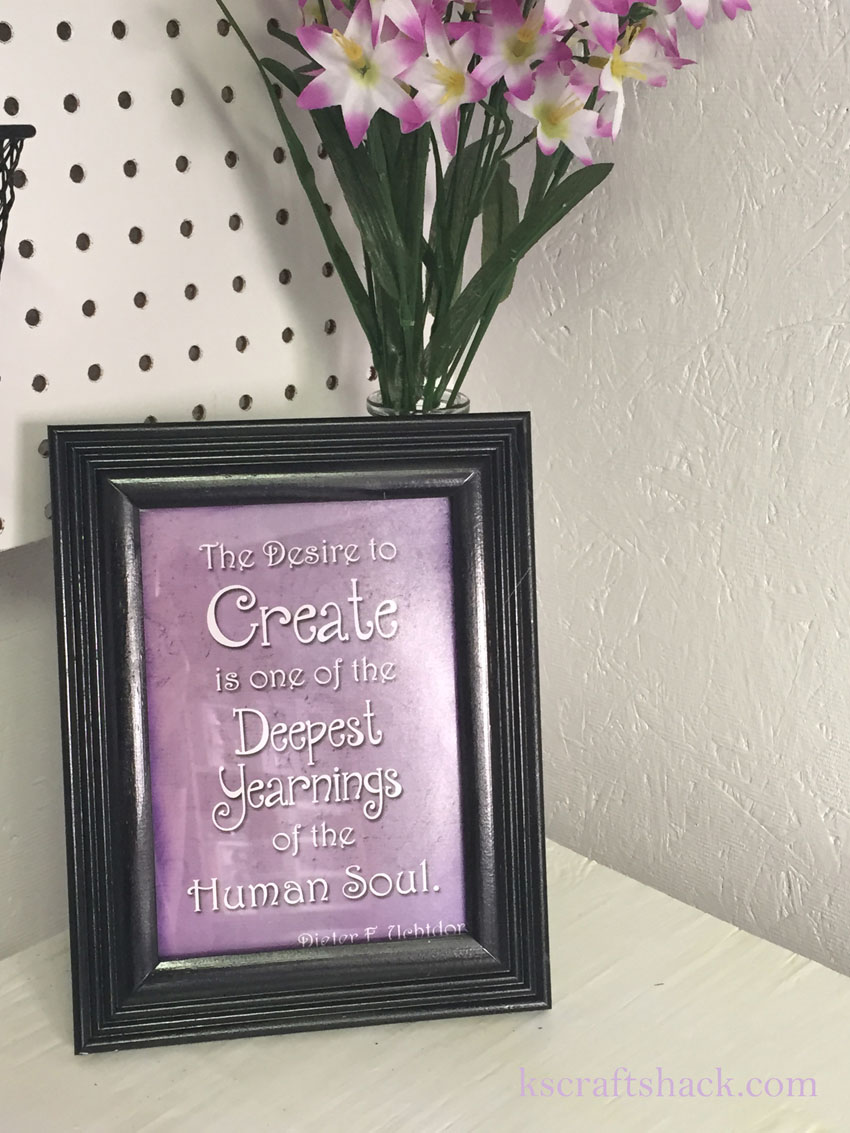 I took several of my favorite crafting quotes and displayed them throughout the space making it even more my own! Thank you so much for the opportunity to show you my favorite space!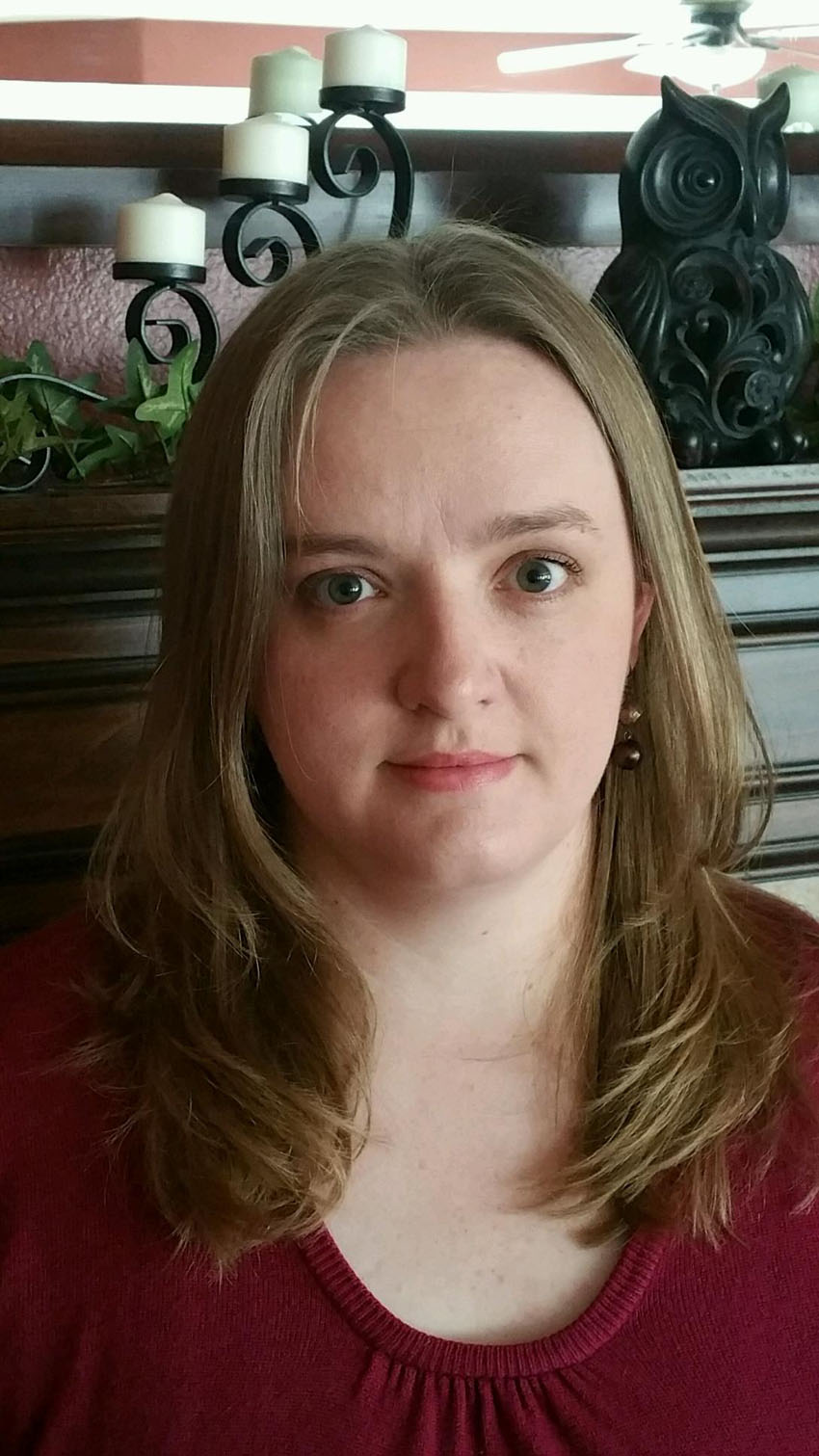 Hi! My name is Kelli and I live in Northern New Mexico. I am blessed to be able to stay at home with my three amazing kids. My family keeps me pretty busy, but any spare time I have is happily spent crafting! I am new to the blogging world, and I'm still learning the ropes, but I have enjoyed sharing my Craft Shack creations with my friends and family! I enjoy the occasional craft fair currently and one day when my little ones aren't so little I hope to join the Etsy family too. Thank you for this opportunity to share my craft space with you! I am so excited to show you around!
 Craft Shed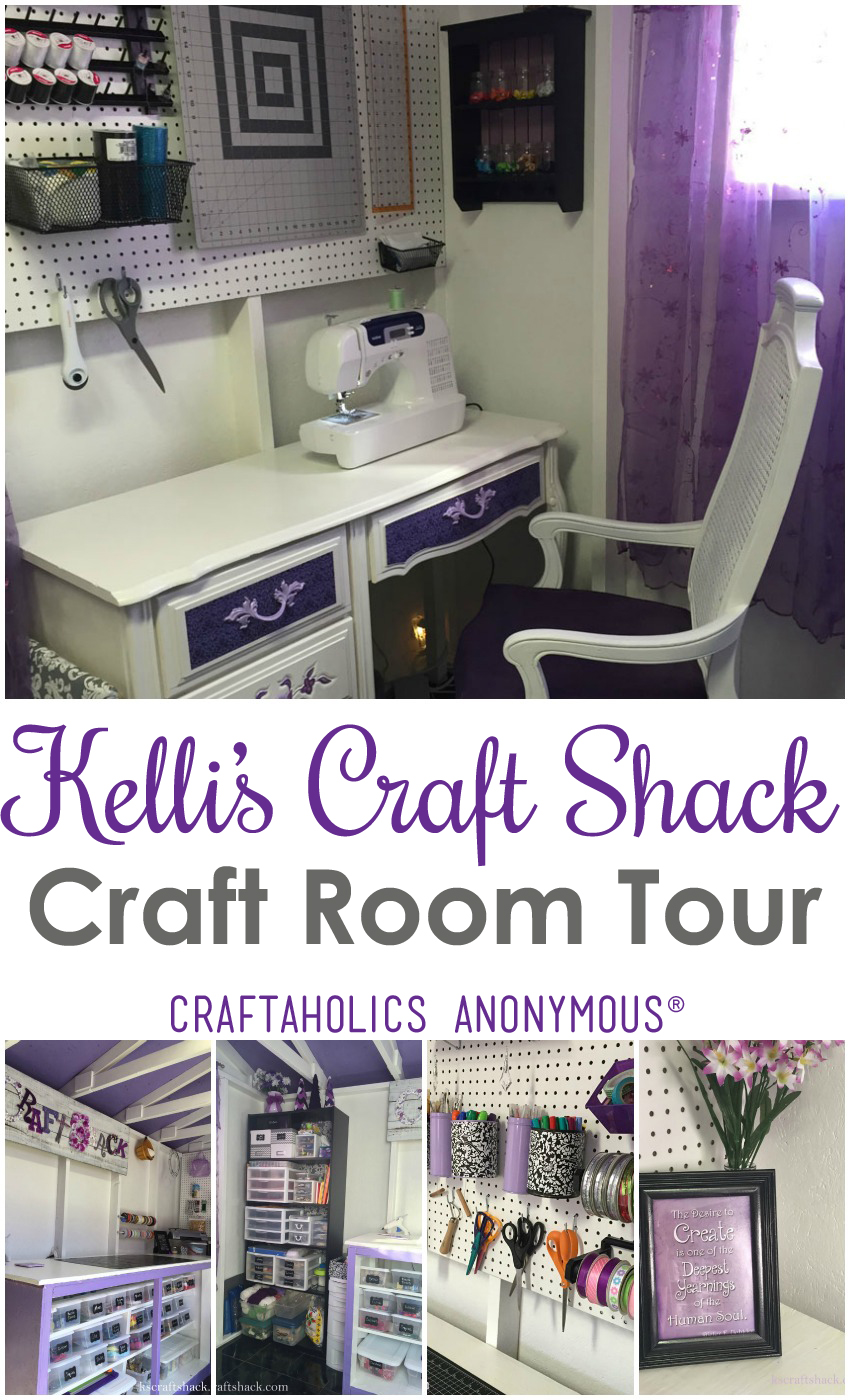 Share and Enjoy
Sours: https://www.craftaholicsanonymous.net/craft-shed-tour-kelli-from-the-craft-shack
Craft room shed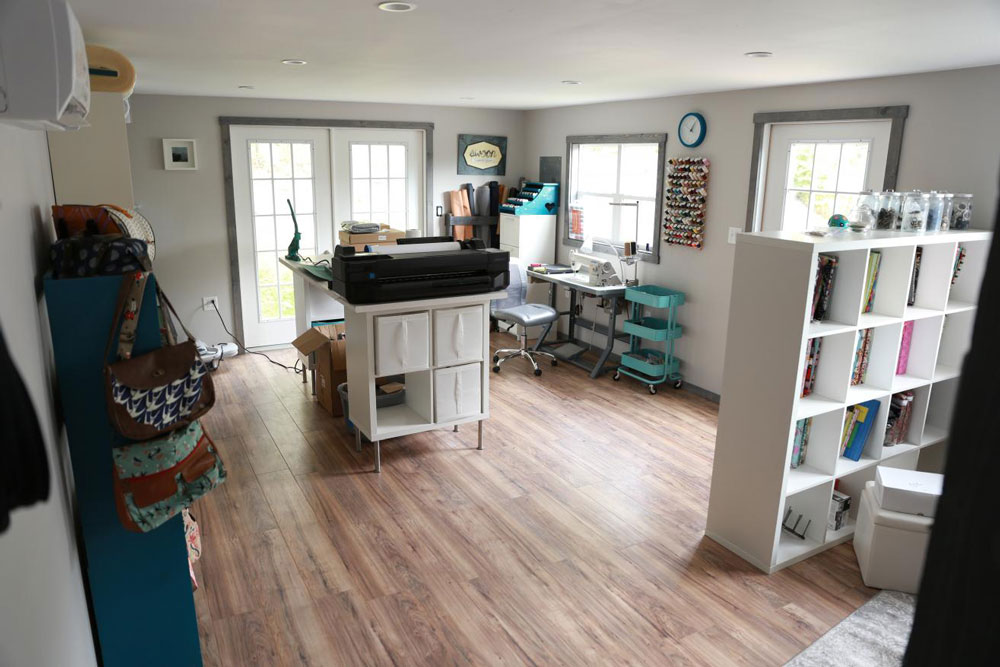 There was a day when portable storage buildings were just that, storage buildings! But times have changed and so have the uses of outdoor buildings. From she sheds to man caves and tiny houses in a shed, the use of backyard buildings has expanded significantly in the past decade.
Read on to see eleven backyard buildings that have been transformed into small sewing studios. They are amazing! Make sure you don't miss the very tiny 4'x6' garden sewing studio in the Isle of Wight. It is super tiny! After seeing that, you will not be able to say there's no space for a sewing studio in the backyard!
1. Alicia's Storage Building becomes a Sewing Room Shed
Alicia's sewing room in an outdoor building was born out of frustration. Her love for sewing began years ago in her home. But Alicia was surprised at how difficult it was to follow the sewing patterns she had collected here and there.​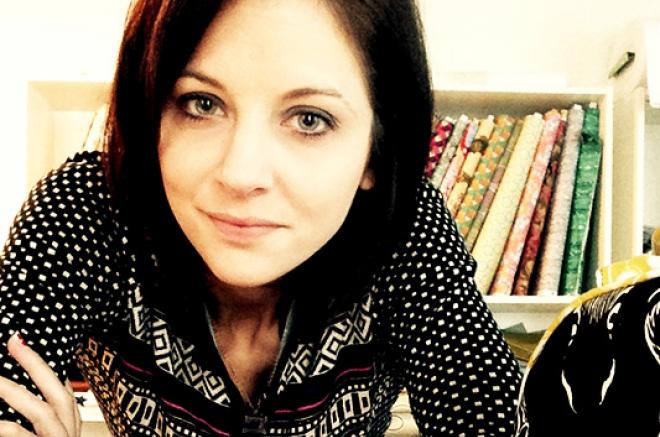 One day she had an idea to change that frustration for herself and many others. It was her background in graphic design which came in handy during this time. She started creating patterns for hand-sewn bags and discovered, in her own words "It's not so much about what I can do, but what I can help other people do."
When her husband tried to convince her it was time to move, she agreed, with one caveat. She needed an OUTDOOR BUILDING to turn into a sewing and design studio. They ended up at Sheds Unlimited and picked a two-story outdoor building. Within weeks, it was delivered and ready for finishing on the inside.
It turned out fabulous! (don't miss the soap making shop on the second floor).
2. Mary Jane's Sewing Room in an Outdoor Building
While not as roomy as Alicia's sewing room, Mary Jane McCarty also wanted a backyard sewing room where she could create unique textile pillows and custom lampshades to grace the homes of her elite clientele.​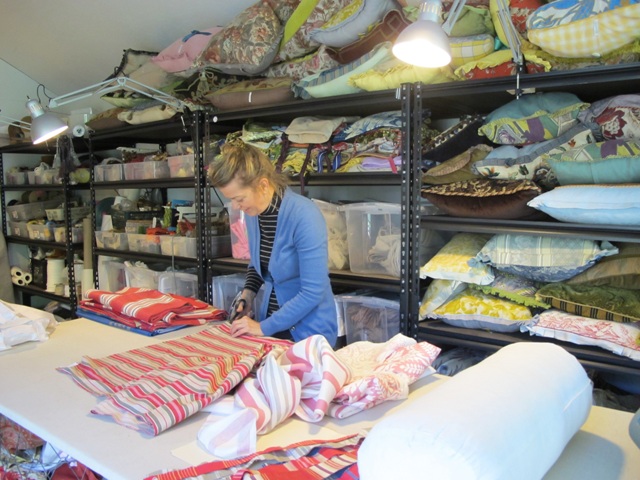 Take a look at her creative designs which have been offered by esteemed retailers such as Bergdorf Goodman and Gracious Home and featured in Country Living, The Philadelphia Inquirer, Bobvila, and more.
Mary Jane was looking to move out of her home sewing studio and into a small outdoor building. Her story on BobVilla says she "wanted a bright and inspired place to create." If you take a look inside, she got what she was aiming for.
After visiting an outdoor building manufacturer in Lancaster County, PA she found a Classic 12×30 Backyard Storage Building and had it customized for her sewing studio! The building was delivered in one piece and then she and her husband set out to finish the interior and get it ready for sewing.
Mary Jane McCarty has taken the idea of a portable storage building to a new level! Her space is a bright and inviting place where a sewing enthusiast would enjoy spending many hours!
3. Leah Day's Storage Building turned Craft Room
Leah was also sewing in an indoor studio in the family home which she also used for shooting weekly sewing and quilting videos for her 86,000+ YouTube subscribers.
But Leah had a problem. Having her sewing studio in the house meant that there were interruptions and the videos were too often ruined by someone making extra noises or jumping in front of the camera.
Sewing was not always in Leah's blood. She says "I started quilting in 2005, when I was only 21 years old because I was getting married and wanted a Double Wedding Ring quilt for my bed." That started a love for quilting and eventually turned into a business which supports her entire family!
So, Leah also decided an outdoor storage shed would be the solution to her interruptions. She chose a simple 8×12 portable outdoor building for her new backyard sewing room/craft room. It is a tiny space that only cost her around $5,000 till all was said and done.
Her website gives a detailed outline of every step in the process including videos to show how it all went down. From picking the outdoor building to delivery, electrical, painting, and much more, her story can be found here. Now she can quilt, sew and create her weekly videos without interruptions and help people around the world learn to sew.
4. Michelle's Garage becomes a Sewing Shack
Michelle is a talented slipcover maker and former blog writer. From the outside, Michelle's sewing shack in a backyard building looks unique.
With stucco on the outside, a lovely front overhang, and rustic lumber accents on the edges, this small outdoor building was designed with a hint of modern blending with her 1927 Spanish style house.​
Surrounding the old and heavy duty industrial sewing machine you will find a potting bench which became a project table, metal buckets from a hardware store to organize various notions around the outdoor sewing studio and an idea board to help keep ideas organized that is made from an Industrial kitchen shelf. Even the corner shelving has an industrial look to compliment the overall feel of the studio.
The floor is a painted acid with rust spots due to using the wrong tools to spray the floor! But Michelle loves the spots on the floor since it only adds to the industrial touch that would be missing otherwise.
Best of all, it also works as a photography studio when Michelle's husband photographs her work, or the dog wants her picture taken! The décor inside her backyard building is one where any sewing fanatic would love to spend plenty of time. See more photos below.
5. Glenna Lowe's Sewing Shed in the Backyard
Glenna Lowe and her husband inherited her outdoor building turned sewing shed when they bought a 1950's house in Wichita, KS.
"We downsized when we moved to this house, so I lost my sewing room," says Glenna, explaining her surprise at discovering that an outdoor building could serve as a sewing studio!
The backyard building had been used as a garden shed and needed plenty of work. The Lowes chose aqua Linoleum for the floor, installed new wiring and old cabinets freshly painted helped make it the outdoor sewing room she began dreaming of.
Glenna tried to keep some of the vintage look of her outdoor building by keeping the wood paneling and blue canning jars that now serve as canisters for spools of thread and other notions in her outdoor sewing shed. The pattern used by her mother to make little-girl dresses when she was young, hangs framed on the wall and other keepsakes decorate the sewing studio.
"I liked being able to have a place where they're out and can be seen," says Glenna as she describes the various keepsake items around her studio. She even has two sewing machines to create space for friends and relatives to join her in the sewing room.
6. Junkaholique's Garden Sewing Studio
Artemis Russel's sewing studio in her outdoor shed certainly does not have the luxury of space for friends and relatives to sew alongside her! She wins for the smallness of her sewing space! Her tiny outdoor building turned sewing room is a mere 4'x6'. That is only 24 square feet!
Russel was born and grew up on the Isle of Wight on the south coast of England and studied art at Camberwell College of Arts in London. During college years she made a friend and soon the two of them were making and designing jewelry. After they married, the work continued and today they sell jewelry online and in their shops in London and the Isle of Wight where they now reside.
When not creating jewelry, Artemis enjoys time in her tiny outdoor sewing studio. It all began when her mother bought her this tiny shed and her brothers come to the Island to erect it in the garden. After installing the tiny shed, it was painted on the inside and made a very attractive space for sewing and creating.
7. Michaela's Sewing Trailer: An Outdoor Sewing Room on Wheels
Michaela wanted her dining room back! Due to her sewing habit, it had become a busy place. When she first mentioned the idea of adding an outdoor sewing studio, her husband liked the idea.​
She describes the progression from an idea to reality saying, "I saw a lovely vintage caravan as I was browsing Pinterest and I just knew that's what I wanted." It was only a few days until a friend mentioned an uncle who had an old caravan in his garden and was using it for storage. It was the perfect fit for her!
Very soon, Michaela had the portable camping caravan for less than $100. Now her husband had a job on his hands. Six weeks of replacing the floor, repairing windows and skylights, painting, electrical work, and Amy had a backyard Sewing studio on wheels!
"Now we have our dining room back," says Michaela. It's a lovely space where she loves sewing and drinking tea!
8. An 8×12 Shed converted to Beautiful Sewing Room
Kelli Stradling of Farmington, NM loved crafting and sewing, but having a dedicated space in the house was not something she had the luxury of enjoying.
One day, while rummaging for holiday decorations in the 8×12 outdoor shed in the backyard, she had a bright idea…turn it into a craft room…
Two words from her husband took her on a journey to find out what a she shed was. "Why not," was his response when she first mentioned the idea of turning the backyard shed into a craft room!
It was simple. Simply paint the inside of the shed and furnish it for her craft room. She found an upcycled desk which she painted the purple theme of her crafty shed and uses as a sewing table. It's amazing what fits inside an 8×12 shed!
9. A Sewing Shack by Jules Holgate
Jules had been working in marketing and events and wanted a change. She loved to design and was dreaming and studying on "reinterpreting vintage products for entertainment and educational purposes"
She designed a small outdoor garden shed as a craft and sewing studio with repurposed items. The bright colors combined with a simple white created a very delightful place that almost any sewist could call home!
She says "I also wanted to include a lot of practical storage solutions to ensure the space remains uncluttered, with the furnishings providing a comfortable environment in which to spend a day crafting – a little piece of haberdashery heaven at the bottom of the garden!"
Although Julie did not win the Shed Design Competition, we think she did a fantastic job!
10. Jane's Sewing Space in the UK
Jane was sewing in the cover of the kitchen on a small table. But sewing takes up more than a small corner so she had things spilling out all over the kitchen!
When I'm in full sewing mode my workshop looks like a bombsite!
Jane's started a small business sewing cushions, bags and other nick nacks. Her sewing space is often shared by a cat or a few children who stop by and make something from the fabric stored in the studio.
She says "I'm a novice and hopeful dressmaker. I love the discipline of following a pattern and the freedom to choose exactly the right fabric. My family laughed when I said I needed a hobby, as I spend so much time sewing and, more recently, printing. Thankfully, making clothes is fast becoming just that – a hobby that's just for me, not for selling!"
Jane loves the sofa in her studio which she found for a great price!
11. Sew Delightful's Small Sewing Shed in Great Britain
Another European sewing shed is quite tiny. This delightful 6×8 sewing shed by Kayleigh Stringer is a crafters paradise. It is fully insulated with electricity installed.
After the sewing shed was installed, the first step was to install a workbench. From that workbench, Kayleigh went on to create the soft furnishing for the sewing studio…by hand! She now finds great pleasure in her new passion for hobby dressmaking. Space even includes a mannequin "to try out the lovely goodies" she is making.
Kayleigh says it could not have been finished without the help of family and friends. She now spends four days a week at her job and one day in her own "Sew Delightful" outdoor sewing shed.
There we go! Eleven amazing backyard buildings that serve as sewing studios. Now it's your turn! Which building will you choose as a backyard sewing studio?
Sours: https://shedsunlimited.net/blog/portable-storage-buildings-turned-sewing-rooms/
Building MY DREAM Studio Hobby Space from a Garden Shed!
Sharing is caring!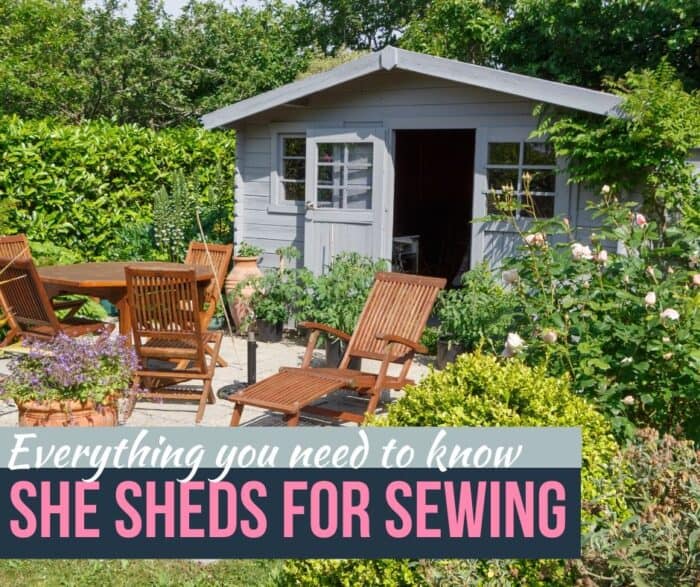 Tips for setting up a fabric friend she shed for your sewing and craft room! It's important to make sure that your shed space won't damage your supplies.
This post contains affiliate links which may earn me commissions should you click through them and take certain actions. As an affiliate for Cricut, Amazon and other sites, I earn from qualifying purchases. Please DIY carefully. View my full legal disclosures here.
Please read the whole post so you don't miss any important information!
I've been putting a lot of thought into setting up a she shed for my sewing and craft supplies. Currently, my craft room is the dining room… we just skipped using it as a dining room. And while it's working, I'd love to have more space to spread out.
Creating a She Shed for a Craft Space or Office Space
Size
Think about how big you want to make your shed. Sheds aren't cheap, but it's worth upgrading to a slightly bigger size if you're worried you'll outgrow it in a year or two. It's a LOT more expensive to upgrade completely later on.
Consider your hobbies. If you own large quilting machines then you want to make sure that your space will fit them and still give you space to turn around.
Think you might want to teach classes someday? Or hire an employee? Make sure it's big enough.
You can measure your current space and guess how much more room you could use. MEASURE YOUR LONG ARM if you plan to add one to this space. They take up a lot of room.
Electricity
Call a local electrician to get an idea for the cost of running electricity to your she shed. Electricity is a necessity. Consider that your sewing machine, Cricut, and glue gun all require an outlet. You'll also need light to see on cloudy days.
Roofing
Metal corrugated roofing is a nice touch if you love to hear the sound of rain pitter patter on the roof. It's also a durable roofing option. Many standard sheds come with shingled roofs, however.
Make sure your shed has an angle roof for snow and rain to run off. If you're buying a manufactured shed then it'll be built for the weather, but if you plan to build your own shed then this is an important consideration.
Windows
You will likely want to add some windows and/or a skylight for natural light. It's a lot easier to see with good lighting, and while you can install good lights, natural lighting is ALWAYS better. This is particularly true if you like to photograph your crafts.
Another thing to consider is that it's useful to have two escape routes in case of a fire. In the case of our shed, it's small enough that I don't think an addition exit is going to make a big difference, but if you have a larger shed then you may want to consider this.
Heat and Air Conditioning
Heat and air condition, as well as a ceiling fan, are all good to keep air circulating in the room. You want to make sure that your fabric and other supplies aren't exposed to extreme heat or cold.
This is likely going to mean you need to run the heat or air condition non stop… not just when you're using the room.
I ordered a 12,000 BTU mini split system as I've heard rave reviews about how effective they are at heating and cooling small spaces. You can buy a smaller or larger system depending on how well your space is insulated and how big the space is.
Insulation
Heat and cooling doesn't make much sense if you don't have good insulation for your space. Lower your costs by making sure your she shed has the best insulation available. You're probably looking at installing around an R-value of 13 for a shed; generally people use a higher R value for the ceiling.
That said, the R value you will want will depend greatly on your location and climate. Some people live in perfect climates and manage to keep she sheds without insulation, heating, or cooling; I am hesitant to recommend going that route though if you plan to store electronics or valuable items (aka your fabric) in the shed.
In the case of a shed space, you can get away with cutting a few more corners on insulation than you could for a home.
Here's a list of insulation options that I researched for my she shed: Types of Insulation for Your She Shed
Flooring
This is a matter of preference, but hardwood or laminate floors will be a good bet for your sewing area. It's very hard to find lost needles in carpet.
You could consider adding heating elements under the flooring to help keep the floor warm for bare feet. These are easier to install before installing flooring… and likely not worth it if you have to rip up floors to put them in. Here's a tutorial on installing heating under your flooring.
Drywall- And Alternatives
Drywalling can be a bit nerve-wracking for casual DIY'ers, but it's not a cheap job to hire out. You do have some options, however. While drywall is the traditional choice (and likely the only choice that will meet building code for your structure), you can use bead board, plywood, and even fabric for your walls! It just depends on what you're looking to accomplish.
You'll want to consider: fire safety, how you want to use the walls (ie. do you want to hang shelves on them?), appearance, cost, and ease of installation. You may also want to consider the weight of the product- for example, there's only two of us working on our project and we were concerned about lifting drywall up to my she shed ceiling (which is quite high).
If one product costs more, but is easier to DIY, then it might be a good option for someone who would have wanted to hire out drywalling.
Read more: Drywall and Drywall Alternatives for Your Shed
To Loft or Not to Loft
It might be smart to buy a shed with a loft if it's not a huge price difference, simply because you can use the space above for storage or for a guest room.
Just keep in mind that you likely won't have a bathroom in your she shed so guests would still need to come into the house to use the toilet, brush their teeth, and shower.
The Shed Base
Avoid purchasing a shed without a floor. This isn't just a storage space. It will effectively need to be an extension of your home. It needs to keep out pests and you need to be able to keep heat/cool air in.
You need to discuss what should go UNDER the shed with the company that you purchase the shed from. Each state and county has different rules about the base for a shed. I would avoid a wood shed base and stick with concrete or stone.
If you're in a flood zone, you may need/want to raise the shed up.
Some people have a concrete slab poured for their shed, but the problem is that concrete tends to crack as the ground/shed settles. This can cause issues and the shed may not remain level. Most people who pour concrete tend to leave a bit of a slope to the slab so water will shed off it; again, this would stress the building because the shed won't be perfectly level. Considering the cost of a concrete slab, it's not the most economical or the best long term solution for sheds, at least in my climate.
We have owned a few sheds and my favorite shed base has been using a loose stone pad under the shed. We had a contractor install one under the shed at our last house and it was fairly affordable. They level the ground, and install loose stone. The shed goes on top and they ensure it's properly leveled. The loose stone allows for better water drainage, allows for freezing/thawing, and if your shed ever becomes less level, you can jack up a corner of the shed to add more stone.
Our shed had a small area where the floor rotted due to water leaking in through the original garage door. Fortunately, we were able to fix it quickly and easily. Here's How to Repair a Shed Floor
Writing Off a She Shed on Your Taxes
We write off the dining room space for business use, seeing I use that space for my blog projects exclusively. If you own a craft related business, you should talk to your accountant about if you can write off the cost of building the she shed, or at least the space you use, similar to how we write off the dining room square footage. Our accountant has said that we can deduct the costs of updating the shed to use so I'm trying to be careful to keep my receipts.
It's a bit too complicated for me to cover, particularly because each state (or country) is different. But KEEP YOUR RECEIPTS for tax season. Worse case, you can't deduct it and you wasted time keeping those receipts. Best case scenario: you're able to recoup some of your costs!
Possible She Shed Options
While a shed would be the normal option, you actually have more choices than that and some may save you money.
Pre-Made Shed
One option is to buy a pre-made shed. You can buy them from local companies. In Lisbon Maryland we have a company, Myers Mini Barns, that offers quality sheds. Ask around in your area to find someone trustworthy to buy from! Usually these sheds don't have drywall or insulation.
You can also consider finding a shed used if you have someone available to move the shed to your home. This might save money.
Make a Shed
You can consider making your own shed using a kit or building one yourself.
School Portable (or an office portable)
These portables come with wiring already installed and often have a bathroom as well. These may be the easiest option, particularly if they're in good condition. If so, you can just do the decorative updates. You'll need a plumber and electrician to have it all hooked up, of course. But at least the existing "stuff" is there.
A friend of mine mentioned that it's just important to be aware of the roofing type for the portable because some portable roofs, once older, fall apart and are hard to replace.
Storage Container / Sea Container
This is the ultra durable option. They're already insulated, but you'd need to add electric and plumbing, if desired.
You will need to do some work to improve the exterior, if having it look pretty is important to you (or your neighbors/county/HOA). The good news is that your sewing supplies will stand up to a disaster your house might not survive (haha).
Mobile Home or Camper
Updating or using an existing mobile home or camper might work for you.
School Bus
Some people love updating an old school bus! This would definitely be a neat idea if you plan to teach a sewing class. I'm not sure how practical it would be to run electricity to it though.
Home Addition
Additions to our home would run around $100k+ in our area, at least from what I've seen. So this is certainly not the least expensive option, but it might be the most worthwhile.
While a shed might increase your property value, an addition will add square footage to your home and improve your home's value. This will be worthwhile when it comes time to sell your home.
Just remember that the improvements may mean paying more in annual taxes as well.
Learn more about how I'm creating my own she shed by remodeling an old shed in our yard: Information on repairing sheds, and a list of projects we'll be tackling to update our sheds, rather than replace them.
Please share and pin this post! If you make this project, share it in our Stuff Mama Makes Facebook Group. We have regular giveaways for gift cards to craft stores. You can also tag me on Instagram @doityourselfdanielle; I love seeing everything you make!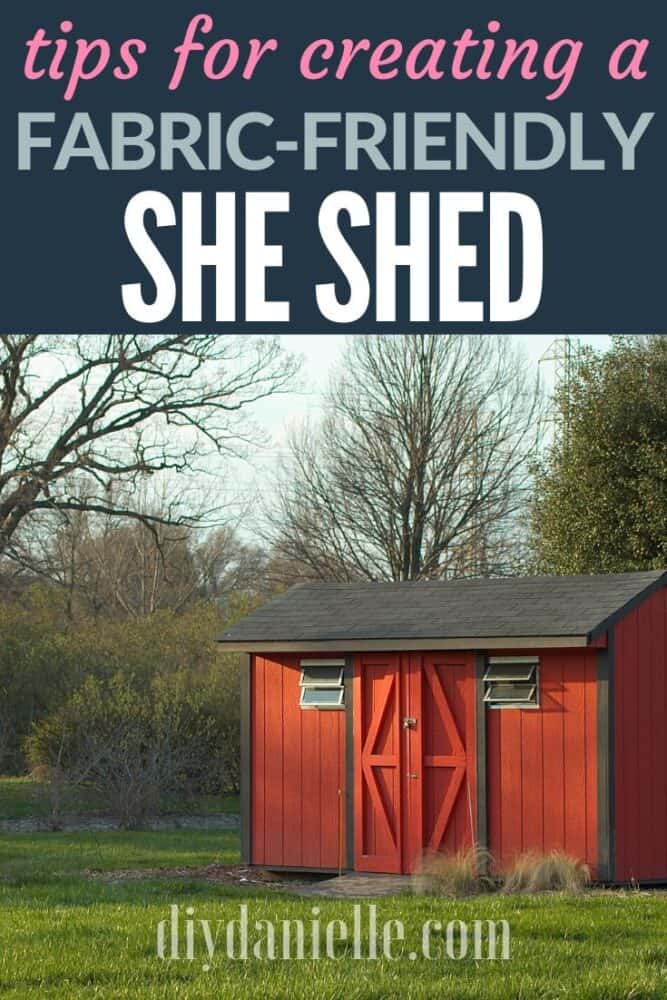 Sharing is caring!
Sours: https://diydanielle.com/sewing-she-shed/
Now discussing:
The passion to craft is usually born out of a creative mind looking for ways to show those around them they care. Part of the gift is the time dedicated to create something special!
But, every crafter knows they can never have enough space! Most don't have time to work on a project every day, and sometimes the hassle of cleaning up and putting it away prolongs the process. A portable building though can fix this problem! You can create a craft room in a shed!
Cook Portable Warehouses can be the perfect place to set up your crafting station. You'll have room for storage, equipment and planning your projects.
The best part is you don't have to put it all away! Leave it out for the next free moment you have to work on it. No need to hide your mess anymore! Just close the door and lock it up tight.
You can call it a portable building, hobby space or she shed, but the main thing is to make this space yours! Here are some great ideas on how to create the perfect sewing or craft room out of your Cook shed.
Create a workflow!
As you begin to plan your space, you want to look at the best workflow for your projects. Here are some examples to help you think about what you will need.
Do you sew? You'll want plenty of table space, not obstructed by your sewing machine, to cut fabric and layout your quilts or clothing pieces. Also, you'll need to think about where your sewing machine can go that will be near an electrical outlet and under ideal lighting.
Do you scrapbook or make cards? Then you'll want designated space for all of your tools, stamps, and supplies, separate from your work space. Plus, you'll want a space to place all of your finished or half finished pieces to be stored or displayed to be admired.
Do you knit or crochet? You'll need to think about lighting, yarn storage and chair placement.
Most of your workflow is set up around your craft and electrical needs. Before adding electricity to your space, you need to decide on your workflow to see where lighting and equipment will be placed.
Electricity should not be taken lightly and should be handled by a professional. Here is what you should consider before adding electricity to your shed.
Get organized!
There are so many ideas for how to best organize your fabric and craft supplies! Pinterest is a crafter's best friend after all.
But, the best advice on organizing your craft room or shed is this:
Reuse what you already have! Use those mason jars, or even old peanut butter jars to store buttons, bobbins or other small items. Or, use a paper towel holder to keep your ribbons organized and easily accessible. For fabric organization, use a filing cabinet and hanging file folders. Or, for paper scraps, use pant hangers and plastic sheet protectors.
Label everything and create a designated space for it. Sometimes it's hard to remember where you put that random item. You didn't throw it away because you knew it would come in handy one day...but then that "one day" came and you couldn't find it. Label accurately and have a designated space for items like this. This cuts down on one of the stresses of crafting - simply not being able to find what you're looking for.
Put it back immediately. This sounds like something your mom told you when you were a kid. Granted, it is, but it's also great advice that shouldn't be ignored. As soon as you use something, put it back under the correct label. This helps in two ways: it decreases clutter on your worktable, and it makes cleanup a simple, quick task!

Deck out your space!
This is the fun part! Add color and vibrancy to your space. You're a creative person, so don't forget to craft a few things to add to your new sewing or craft room.
See below how Julie took her Cook Utility Shed and turned it into a she shed and craft room. She added her own touch to everything in the room from the entrance, to the lighting, to her craft table.
Hear more of Julie's She Shed story! Plus, these prints added to your walls are sure to inspire you to be even more creative!
Converting your shed into a craft room will soon become one of your favorite projects! Get the family involved in making it your space. If you need to keep kids occupied while you're crafting, don't forget to add a special corner that's filled with fun activities for them.
Start building your sewing or craft room today! A Cook shed can provide you with the space you need to do what you love. Click below to start building your hobby shed!
Sours: https://info.cookstuff.com/blog/create-the-perfect-sewing-or-craft-room
2259
2260
2261
2262
2263