2019 CFMOTO CFORCE 800 XC Review
CFMOTO Canada can now boast about being the fastest growing motorsport brand in the country. The ceaseless efforts of their marketing team and their attendance at all motorized events yield positive effects. Their challenge is to provide riding access to more people with the right vehicle in their range. The obvious step is to dispel some reluctance to a little-known brand on the off-road vehicles market. This constant struggle has a very positive impact on sales, and we are witnessing an increased influence of the manufacturer with the emblem that resembles a flag in the wind belted with a graceful silhouette.
This tenacity and willingness, however, must be supported by a product that meets expectations. CFMOTO's reputation is constantly rising and the doubts attributed to a little-known brand until recently are now a thing of the past. The manufacturer has been carefully listening to the comments of its consumer base and this now results in vehicles that directly compare to any other manufacturer. The 5-year limited warranty is one of the highlights of CMI's (Canada Motor Import) satisfaction and pride in providing dependable vehicles that will appeal to its customers.
Our test vehicle
For the year 2019, CFMOTO Canada is proposing a brand-new ATV and the competition that saw this manufacturer coming in their rear mirrors must now look ahead to not lose sight of this important player in the market. With a view of constant progression, the new model from CFMOTO Canada is a sign of change. In the category that concerns our test vehicle, this is a complete overhaul compared to the previous model. It should be mentioned that, apart from some minor corrections, the basic CFORCE 800 model had not undergone major alterations despite aging that followed year after year. It was a very well-equipped user-friendly vehicle and it offered important elements to please the owners.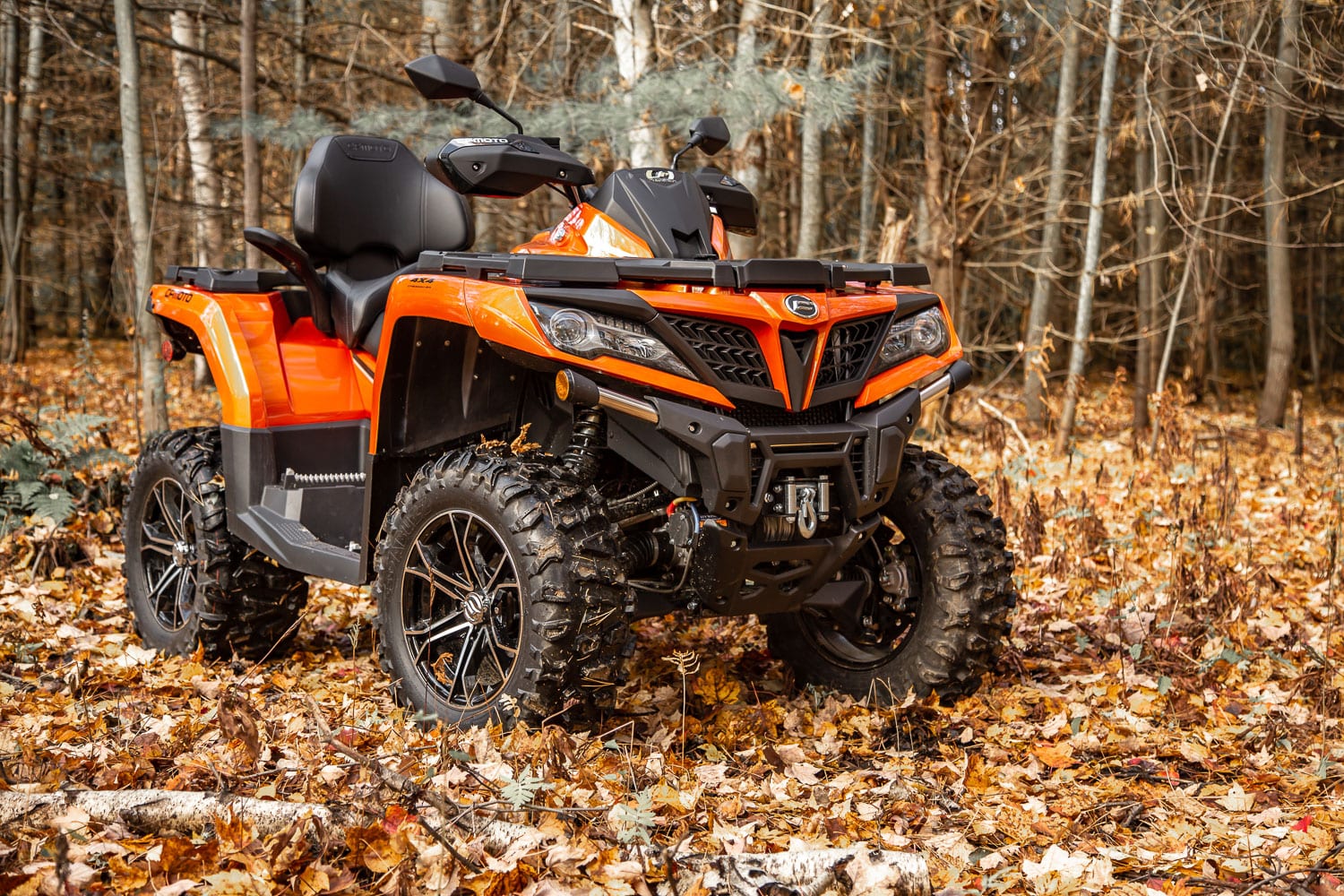 CFMOTO Canada's newborn baby has been around the US and European landscape for some time, and we looked forward to its imminent arrival with some form of impatience. However, it is obvious to realize that this new vehicle is not a simple improved copy of the previous model. The CFMOTO 800 XC is a completely different design – the engineers have returned to their drawing table to redesign a brand-new vehicle.
New motorization
Although CFMOTO offers an 800cc engine for some years now and this engine has already proven itself, the one that equips the XC model has undergone a complete overhaul. The all-new CFMOTO 800 XC is available with a new 800cc, overhead cam, V-twin, liquid-cooled engine providing 5 more horsepower compared to the previous version. This 67 horsepower at 7000 rpm engine provides plenty of muscle to get through most extreme obstacles and the deepest mud holes. The Bosch fuel injection system supplies fuel to perfection.
The additional HP are immediately felt from the thrust of the accelerator. The response is so immediate that we wondered about the numbers from CFMOTO, which we suspected to be conservative. The power delivery is such that we were surprised by the dynamism of this vehicle. This ability, that forced us to firmly grip the 800 XC handlebars, is no stranger to its combination with a CVtech dry clutch. Originally, the 800cc engine in the CFORCE model was associated with a wet clutch. We have already discussed the different characteristics of these two types of clutches (Quadnet.ca / the ATV world, June / July 2018). In summary, while these two types of clutches have their good and bad sides and their own efficiency, the dry clutch offers a more vigorous and a more immediate response than the wet clutch. A dry clutch results is a vehicle that better responds to the rider. However, this winning combination requires a throttle dosage from the pilot on some occasions, otherwise a possible rear axle sideslip will be noticeable.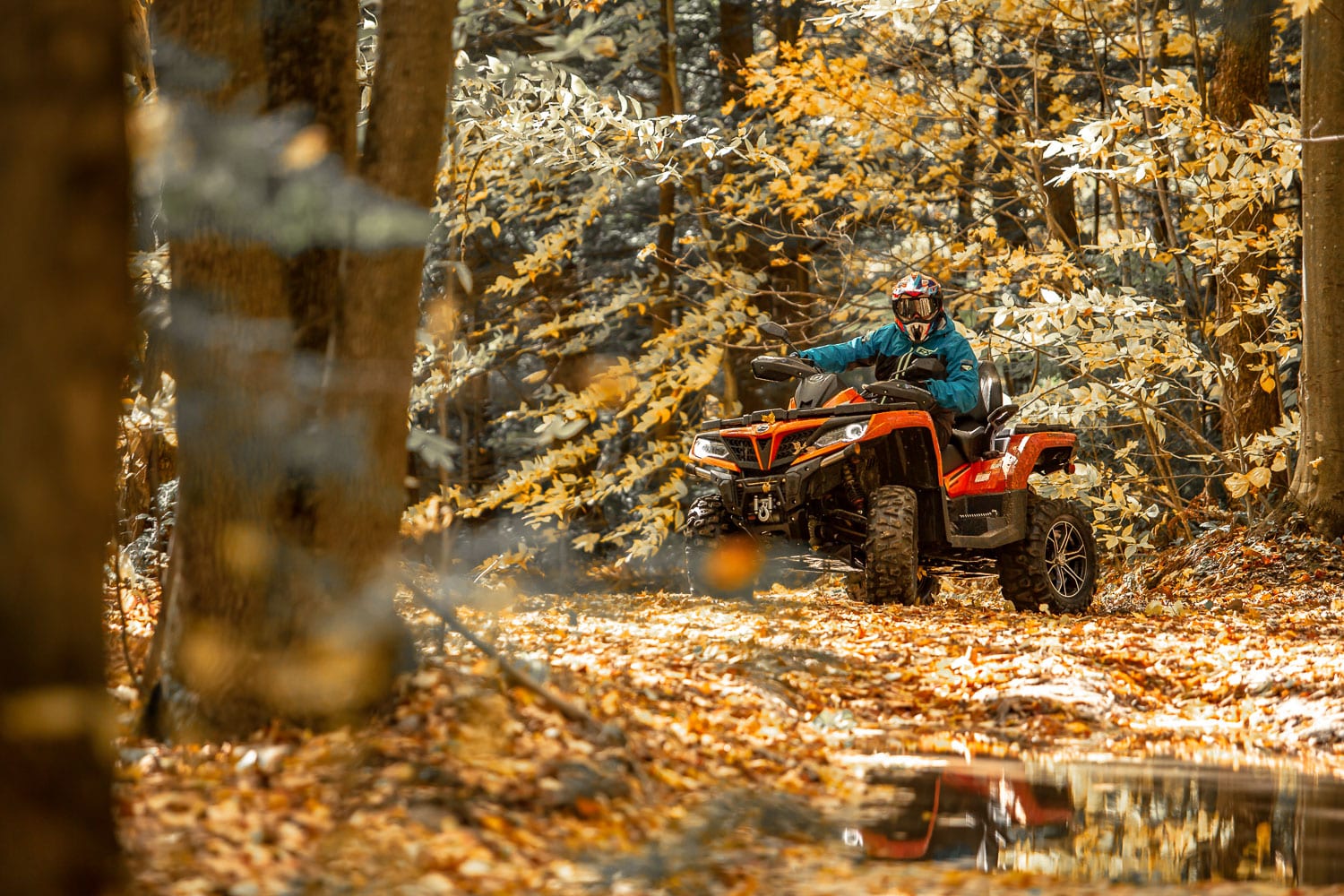 Completely renewed aestheticism
Although the overall appearance of CFMOTO's previous models is second to none, just like building a new house, a completely new redesigned vehicle had to be built on a solid foundation. In this case, they did not skimp on the means to create a functional chassis that has the capacity to receive the abuse usually reserved for our recreational activity.
The looks have been completely revised and it is undoubtedly very successful and attractive. The dimensions are very impressive and make this vehicle a heavyweight in its category. The front grille complemented by the chrome bumper and LED headlights is possibly one of the most successful arrangements on the market. The black and orange durable automotive type bodywork paint is sharp looking. The salient curves and small details make this ATV a very appealing vehicle to look at. USB and 12V moisture-proof accessories plugs have been installed to accommodate those who need to power auxiliary equipment.
Also note the brand-new handguards that fit perfectly the overall design of the vehicle. The latter offer adequate protection against the cold weather and other elements that could end up against your passage. The robust and functional design ensures long-term durability.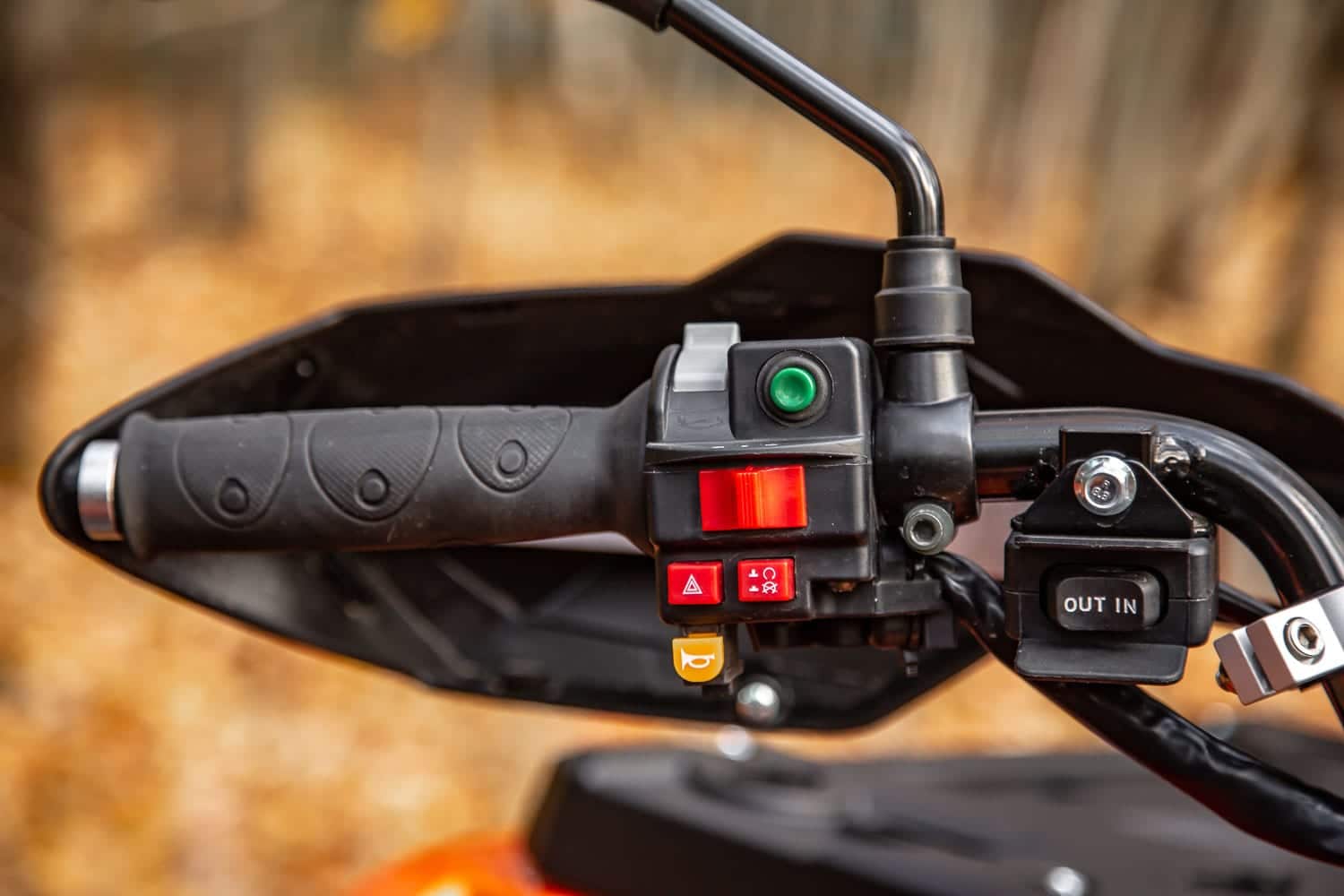 The controls arrangement on the handlebars is very well organized and al controls are easily accessible. The turn signal selection (unique in the industry) is easily done with the left thumb. In fact, all controls are located on the left including the horn switch, hazard warning, start, engine stop, lighting selection and winch control. On the right side, there is of course the throttle control and the traction mode selection (2wd, 4wd, electric differential lock).
There is something new that has surprised us by its ingenuity: the parking brake may seem difficult to operate, but when engaged its efficiency is second to none. CFMOTO has thought of all the little details and this one is certainly a nice innovation. When it is engaged, the lever is directly in front of the throttle control. Therefore, it is an obstacle to the actuation of the accelerator and it is impossible to forget it is in use.
The LCD display screen provides all necessary functions for proper operation: time, fuel level, speed ratio, trip meter, odometer, voltage, as well as the selection of the traction mode. We would like to warn you regarding the display of the traction mode. It requires a learning curve to understand its meaning. It differs from the previous version, and we were a bit confused during our first use.
Another feature that adds to the safety aspect of this vehicle and discourages malicious people: the speed selection knob is lockable to block its movement. This may seem trivial but making life more difficult for an individual who wants to steal our property is appreciated.
The designers have taken the bold step of designing a vehicle with eye- catching lines, but also equipped with CFMOTO's unrivaled success and perfect headlamps and taillights. At this level, they are unquestionably at the highest level and the competition should take this as an example of a high degree of sophistication.
Among the standard equipment, CFMOTO has equipped this vehicle with a 3000lb. winch to help getting you out of trouble in case you get stuck with this 970lb. ATV.
With regard to the seat, we had already raised questions about its firmness and comfort in the past. In the case of our 2019 800 XC model, this doubt is perpetuated again. Over the kilometers, its hardness has caused us a slight discomfort, and we also wondered about its real abilities to keep a tolerable flexibility in cold weather. However, its height and positioning are perfect for all types of users. The all-new passenger seat offers great back and side support. The handles are well arranged to ensure the passenger safety. This vehicle has only one storage space and it is located at the rear. This area is very limited. Nevertheless, CFMOTO plans to offer accessories equipped with quick couplers that will be incorporated into the thermoplastic luggage racks provided for this purpose. These would greatly increase the storage capacity on this vehicle. These heavy-duty racks provide a combined maximum capacity of 132 lbs. (60 kg). Front access allows fast and easy reach to Relays/Fuses, Radiator and the Yuasa Battery. The famous Yuasa battery is another novelty for CFMOTO for the year 2019.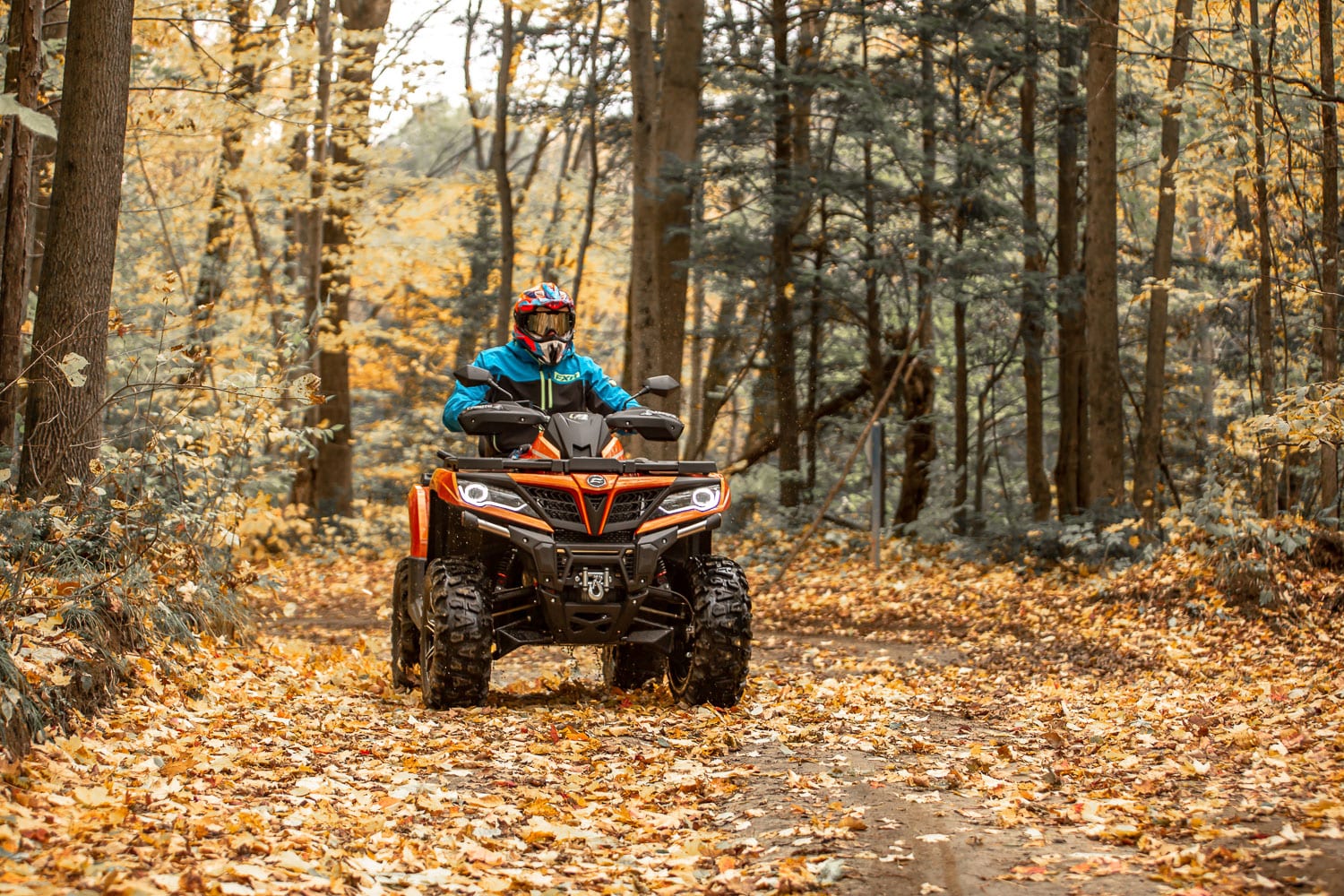 As for the tires, CFMOTO equips most of its vehicles with 14-inch CST ABUZZ 6-ply tires. These tires already have an enviable reputation and are well established for their versatility, regardless of terrain and weather conditions. So, it was a logical choice to equip the 800XC with these tires that are unanimous among their regular users.
One of the major points of interest of this vehicle is its suspension, because it is an element that makes all the difference between a successful ride or not. Compared to the previous model which was equipped with A-arm suspension on the four wheels, the 800XC keeps the same type of suspension at the front but has a major change in the back. The comparison can easily be made with the Can-Am models in this chapter. Swing arm mobility allows lateral movement rather than butterfly style thrust. In this way, the tires maintain full contact to the ground and results also with constant traction. It is definitely a step forward and it certainly allows a sportier driving. Over the miles …
It's all well and good, but you probably want to know how the 800 XC behaves on a trail. Well, we loved the overall combination. Its fiery engine, its clutch which responds right away to the thrust of the accelerator and its suspension which is close to perfection oblige us to a certain restraint, because excesses can be easily committed with some absolution made by the quality of the vehicle. The 800XC allows sporty driving at will and the controlled drift of the rear wheels is very enjoyable!
It is in an extended test that it is possible to fully enjoy the virtues of a vehicle. In this case, the long-awaited promises turned into euphoria and feast. The light sound, low noise and discreet engine conceals a beast ready to explode at any time. The accelerator must be dosed with a parsimony measure. This control and some form of restraint at times must be taken into consideration to exploit the 67 horses.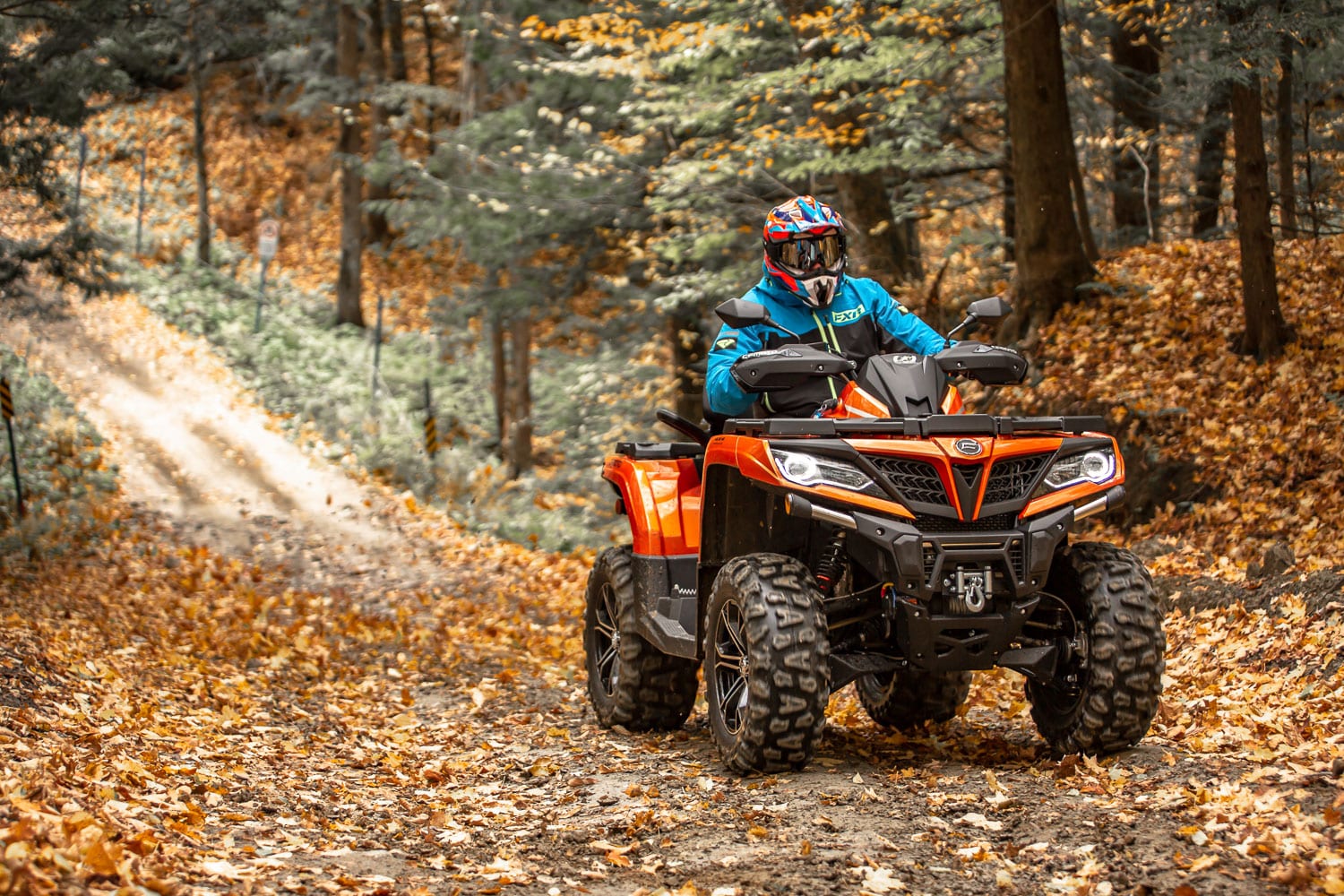 The rigidity of the chassis combined with an adjustable suspension are working together to allow great control of this beast. Experimented drivers will be able to afford skid-controlled slippage in full glee. These controlled glides give way to corner exits in the desired angle to reach the next curve in the same momentum.
This vehicle can also be used in a utilitarian way with its luggage racks with a maximum combined load capacity or with its traction capabilities, but its DNA gives it more recreational qualities. We rode this beast for hours on the trails without feeling tired or bored. This is very eloquent on our overall appreciation.
By the way, what is the meaning of the letters "XC"? We could extrapolate on their designation. It could be translated by eXtreme Control, eXtreme Creativity, or eXtreme Capacity. Our overall appreciation leads us to qualify it as follows: eXtreme Character. The vehicle overall quality and its way of reacting on the trail are what give it its personality. This is also what gives it a distinctive brand and originality. This virtue will enable it to face the obstacles it has to overcome with confidence and authority.
Overall, the CFMOTO CFORCE 800 XC is a purchase to consider for its versatility. It is a vehicle as much capable on recreational or sporty rides, or simply for its utility side and its traction capacity of 873lbs. It can be used alone or with a passenger without its behavior being affected. CFMOTO Canada dispels the doubts with its new vehicle and isn't it the impression they want to maintain? Their answers are innovative vehicles that are amongthe best on the market.
Sours: https://www.atvtrailrider.ca/2019-cfmoto-cforce-800-xc-review
2019 CFMOTO Cforce 800 XC Long Term Review : Part One
Once in a blue moon the ATVing industry throws us a curveball. Let's face it, the ATVmarket has been almost predictable in the last 10 years. Not that there's anything wrong with that either. The market is filled with reliable high-performancemachines and dependable workhorses so, why change anything right? The domestic(American) manufacturers own the big bore performance segment and the Japanese,own the small bore to mid size single cylinder market. So who's left? 
CFMOTO, the only Chinese manufacturer that has made a noticeable impact in the Canadian market so far.
Their first big bore two seater, the Terralander 800, quietly hit the market back in 2013.While being an 800cc V-Twin, it had a few flaws that, again, were taken care of. Two years later, the Terralander 800 became the Cforce 800 and that's when this ATV began to get noticed. Most of the little bugs were ironed out and on the mechanical side, the units were pretty good.

My only gripe with them was the looks. They felt dated right off the showroom floor and the cheesy '80s inspired graphics did not help one bit.   It's aquestion of personal taste I know but I always hated them from day one.
The switchgear's finish faded faster than a pair of blue jeans splashed with chlorine bleach and made them look like they hadbeen used and abused after one summer out in the sun. I know it's minor stuffbut if CFMOTO wanted a piece of the big bore market, they had to get with the program and at least match the quality and looks of the big dogs in this playing field.

Let's get back to that curveball I mentioned earlier. CFMOTO Canada launched, an all new from the ground up Cforce 800, the 800 XC. My first contact was at the annual dealer convention last summer and … my jaw dropped!

No, I really mean it, my jaw was ajar and I probably looked like my brain justfroze up when I saw it up close and personal. Aside from the looks which we were quite familiar with from the European leaks, I actually crawled under totake a look at what was under the gorgeous body. This ATV is the real deal.

This is a Chinese ATV ????  Whaaat? I get a feeling and this is off the top of my head that there is some KTM DNA in this ATV. You know? KTM, the European motorcycle manufacturer that is into a joint venture with CFMoto on the motorcycle side of things… Well, even if I'm dead wrong, the styling cues are there and maybe it's just a tiny bit of influence, but my guess is that's where the new styling comes from.

We've got our hands on a long-term Cforce 800 XC for a year from our friend Carl at VIBC, one of Canada's oldest CFMoto dealers located in Quebec City. Carl knows we are not going to baby it and is fine with that. A pat on the back and a "just send it" and the Cforce came back to our studio.

Our tester is black and it is gorgeous! I never thought I'd ever be saying this about a Chinese ATV, no chance in h … Uhhh, I just did eh! but, it's true! They finally nailed it! The flowing lines, that grille and those headlights! So beautiful and tastefully done. I'm liking this machine already. Even the rear end looks great with the LED lights and larger storage compartment. The luggage racks are made of injected plasticwith a steel chassis and complement the aesthetics quite nicely.

And it goes on and on…

The seats and ergonomics are the best part. Much better comfort for the rider and passenger. The multi-position handholds are perfect and better placed for the passenger when the going gets rough. 
Subtle touches like a dual USB power outlet, the lockable transmission, stock dual mirrors that you can actually see what going on behind with and the pre-wired trailer harness make the already long feature list even better.

Trust me on this, you have to see one in person because the pictures do not tell all.
Now, I'm not a specs driven guy and I'm not going to bore you out of your mind with details and marketing hype so, for specs go on over here: CFMOTO Canada. I'm going to keep this short and mention the features that stand out on the mechanical side of the CForce 800 XC.

Motor:

All new! It's still a V-Twin with a slight bump in power to 65 HP. The primary centrifugal clutch is finally gone! Dry clutch baby! A Canadian-built CVTech Trailbloc primary mated to a Invance secondary drive again, from CVTech to a stand-alone transmission that shifts gears much, much smoother.
This setup looks a lot like the Outlander and Renegade from Can-Am does'nt it? I love it! All the power is directly fed to the CVT and back out to the transmission. Instead of the old all in one design of the previous model which felt like it robbed a few ponies.

Gone is the top end happy mill that lacked a little torque lower in the revrange. This new engine has a lot of grunt off idle and through the mid-range but is less nervous near redline. I find this engine better suited for a big two up machine. It's also much smoother. The vibrations are damped better and make it feel more sophisticated than the previous model.

Better and better! Better engine configuration, better tune and better CVT Drive with a smoother shifting transmission. What's there not to like about this?

Suspension:


Industry standard upper and lower A arm up front but out back it's all new. What? A trailing arm type suspension? YES! Again, very similar to a Can-Am but also different enough to get my full attention. Will the rear end chatter that nagged me on the previous model be a thing of the past? While the springs are still a tad too stiff for my liking, the ride is greatly improved. I will spend a little time and soften the preload on the fully adjustable shocks and see if I can dial it out.

Steering:

A new more powerful power steering unit makes the Cforce a breeze to steer. Much better! The play that was present in the previous model's column that had a tendency for the rider to constantly overcorrect is now totally gone. This transforms the XC into a precise corner hugger and I kid you not! High-speed dirt roads are a total blast and the XC can be ridden at top speed straight as an arrow. 

The tires on the unit at the dealer show were Stag radial by CST that I really like but the final production units come with 26 inch Abuzz bias tires shod on 14-inch aluminum wheels. They are fine but a Stag radial would have been oh, so much better.
– Other mechanical goodies we noticed:
– Better linked brakes that are easier to modulate and feel     less wooden
– Improved front and rear differentials
– New spindles and drive axles
– Improved sway bars
– Better weld quality
– Improved frame
– It's very quiet compared the 2018
– Better switchgear
– A "real" battery from Yuasa
Mechanically speaking the Cforce 800 XC is a leap forward for CFMOTO and I like what I've seen and sampled so far.
Louis, our Co-editor snatched the XC from our motor pool and has put a little over 400 km on the unit with zero problems so far. He took it back to the dealer for its fist scheduled maintenance, all oils changed, valves adjusted and a few adjustments here and there. Nothing a miss, we are good to go.

Note: If you are to be winter riding, we suggest you use 0W40 full synthetic oil. With the mineral oil that came supplied with the unit, cold starts are not easy. Under -20c it will most likely not crank fast enough to start if left outside. With the zero weight, it starts like a champ. 

Now that the maintenance is done, the break-in period is over. We get to beat on it for another 10 months! We are going to put some serious mileage on this unit and we will keep it bone stock. The winter trails are mostly open now, so off we go!

Next update should be around February/March 2019. See ya then!
Related
Sours: https://atvguys.ca/2018/12/13/2019-cfmoto-cforce-800-xc-long-term-review-part-one/
2021 CFMOTO ATVS – FIRST RIDE AND REVIEW
Take a look at CFMoto ATVs and Side X Sides. No longer are they the intriguing yet largely unknown models mostly seen at powersports expos, the brand and product line have evolved. Today the CFMoto lineup features a full compliment of ATVs and UTVs designed for work and play, and each comes with features that are normally considered "extras" on traditional brands. You might not be as familiar with the CFMoto lineup as you are with models from Polaris, Honda, etc., but judging by what we've recently tested and seen at their Minneapolis area headquarters, CFMoto is here, and they're here to stay.
CFMOTO BRAND BUILDING – CFMOTO HISTORY
CFMoto was founded by two brothers with nothing more than one part - a motorcycle kick stand - and an immeasurable amount of work that makes an ant colony look like a bunch of loafers in comparison. The brothers quickly expanded their capabilities, and in the three decades since, they still supply products to other powersports manufacturers, but they're also one of the largest motorcycle and ATV manufacturing companies on the planet. In fact, while entry into the North American market has been carefully implemented, they are sales leaders in Europe and Australia. What sets CFMoto apart from many of the Chinese based powersports companies is that they are dedicated to innovation, and that begins with president and founder Mr. Guogui Lai. His goal is not to simply offer a "me-to" product, but to innovate and bring high quality products to the market. The recent expansion of CFMoto USA is a huge step in that direction.
Located in Plymouth, Minnesota, CFMoto's new facility offers not only additional warehouse space, but more importantly, dealer training facilities, a product showroom, and office space for a growing product design and testing group. And the people staffing that growth are exactly who you would hand pick for the position. Minnesota is chock full of powersports manufacturers, and CFMoto was able to draw from the talent pool of Polaris, Arctic Cat, and several aftermarket specialists who can immediately contribute their knowledge of both the market, and how the product needs to perform. Establishing a design team here was a critical step for all of the major manufacturers, and it will only help in CFMoto USA product development. It's the equivalent of hiring the entire All-Star team for every position.


There are six models in the CFMoto ATV lineup, and they all share similarities. Here is how they stack up.
CFORCE 400 & CFORCE 500 - The CFORCE 400 and 500 share many features and nearly identical specifications. Both models come with liquid cooled, single cylinder engines, (398cc and 495cc's) fed by a Bosch EFI system, a CVTech Automatic transmission with P/R/N/H/L, Engine Braking, and a 2WD/4WD/Front differential lock drive system. Independent suspension front and rear and oil dampened adjustable shocks tame the trail, and hydraulic disc brakes at both ends bring everything to a quick stop. The rear features a 2" receiver hitch and a storage compartment, and steel racks front and rear are rated for 75 and 150 pounds, respectively. High intensity LED lights and rear running lights complete the packages. There are differences between the CFORCE 400 and 500 though, most notably in styling, and how the two models are outfitted. The CFORCE 500 comes with a 2500lb winch, cast aluminum wheels, and best of all, Electronic Power Steering. The CFORCE 400 lists for a very budget conscious $4,399, while the fully equipped CFORCE 500 retails for $5,399. Both are an excellent value.
CFORCE 600 & 600 Touring - We love the styling on the CFORCE 600 and 600 Touring. They're the perfect combination of aggressive lines and sporty styling, and composite racks front and rear complete the look. Under the bodywork, virtually every spec on the two models is identical, except one. Because the 600 Touring is designed with a passenger seat, the overall length is nearly 8 inches longer. Both models feature 580cc engines with Bosch EFI, a CVT transmission, Independent suspension front and rear, adjustable shocks, disc brakes, Electronic Power Steering, and 12" CST tires on cast aluminum wheels. A 3000 lb. winch is ready to pull you out of any trouble, and a 2" receiver hitch is standard, as is a USB port, Ridevision™ LED headlights & taillights, hand guards, 12volt power outlets, and even a horn! Consider both models extremely well equipped. The CFORCE 600 lists for $6,199, while the 600 Touring lists for $6,699.
CFORCE 800 XC - We'll give you a ride impression of the CFORCE 800 XC first. The 65hp, 800cc, V-Twin engine fed by a Delphi EFI system is the smoothest running engine we've ever tried. It's a joy to crack the throttle open. Beyond the amazingly smooth engine, the CFORCE 800 XC features a different chassis than the CFORCE 600 models. At the front are dual A-arms, but the rear features a trailing arm suspension meant for aggressive riding. Shocks at both ends are adjustable, and 11 inches of ground clearance helps you clear trail obstacles. The 800 can also pull larger, 26" tires, and 14" cast aluminum wheels are standard. Also standard is electronic power steering, a 3000 lb. winch, a 2" receiver hitch, a USB port, LED projector beam headlights, and an excellent, multi-function digital gauge. Hand guards, a 12-volt power outlet, and even a horn complete the package. Composite front and rear racks, and a rear storage box are ready to haul anything from your hunting equipment to extra tie downs, but the CFORCE 800 XC also features one other great feature. It can carry a passenger thanks to a second seat! The 800 XC is trail ready and lists at $8,599
CFORCE 1000 OVERLAND
The newest and largest ATV in the CFMoto stable is the CFORCE 1000 OVERLAND, and it gets right to the heart of what exploring new areas on and ATV is all about. Although it's not scheduled to hit the trails until the spring of 2021, we had a chance to check out its features and put in some quality trail time already. We'll get right to it: The CFORCE 1000 OVERLAND packs a punch and comes equipped with about every feature you could want in a 1000cc ATV.
Built on the same platform as the 800 XC, most specs are identical with the exception of the 79 horsepower, 963cc V-twin engine, and the 27" CST Clincher off-road tires on 14" cast aluminum wheels. It's the extra's that are normally considered accessories on competing models that make the difference on the 1000 OVERLAND. The most noticeable accessory is a cavernous, sealed rear storage box fastened to the rear composite racks. Fender flares keep mud and water off the rider, and both ends are very well protected by a heavy duty, tube steel bumper. Below the front bumper is a 3000lb winch, and aluminum frame protection lets you glide over rough spots in the trail. We especially like the bead lock-style wheels that give the OVERLAND a rugged, sporty look. At the center of the handlebars is a very nice digital instrument panel, and the rider's hands are protected by full fairing and a small windshield which makes rides in chilly weather much more comfortable. True to its name, the CFORCE 1000 OVERLAND is ready for any off-road adventure.
IN THE SADDLE
Every ride impression begins with the ergonomic layout and rider comfort. The CFORCE ATVs become more refined each year, and bodywork flows nicely from front to back, with no seams or sharp edges to catch your riding gear or boots. We like how the seats are plush enough to provide comfort yet firm enough to let you shift body position during aggressive riding. The 400, 500, and 600 models feature a smooth transition from seat front to a low-profile tank between the seats, but on the 800 and 1000 the tank area is much taller, almost like an extended desert tank. The thing is, on the 800 and 1000 it's not the tank at all, but instead it's a storage bin. The handlebar bend on all models is comfortable and slightly taller, reminding us very much of a Yamaha, and all switches and controls are in the usual position. All models also come with a 12V power outlet, a USB port, and even a horn. One anti-theft feature unique to CFMoto is a mechanism that locks the shifter into the Park position with the ignition key. All of the CFMoto bodywork is pliable enough to flex when needed, and firm enough to take a load of heavy, caked-on mud without cracking or breaking. It also seems resistant to scratches, which should keep it looking great for a very long time. We especially like the fender flares on the CForce 600, 800, and 1000. Those three models also feature a metal foot peg above the floorboard, and we like the firm footing it provides. About the only improvement we would make to the ergonomics on all models is the bodywork surrounding the shift mechanism, which can dig into your left knee. Changing the radius on the surface edges would eliminate that problem.
CFORCE TRAIL TIME
We were eager to get the CForce ATVs on the trail, and piloting the CForce 600 through the Minnesota woods, everything felt natural. The CForce ATVs are all full-sized units and not exactly lightweights, but none felt heavy or sluggish. About the only thing we could feel was a bit of sidewall roll in the tires during aggressive cornering. That was not something new or unique to CFMoto as stock tires are always a bit of a compromise. Manufacturers must select a tire that provides good ride quality for most, but it may not be perfect for every riding area or your ride style. All CForce ATVs were happy to roost from corner to corner, and the brakes did an excellent job of slowing us down, even when descending a very steep hill that had us doing a controlled slide to the bottom. We had descended this hill in a Side x Side before, but never on an ATV, and the CForce 600 practically begged us to try it. In a worst-case scenario, there was a pond at the bottom and the CForce ATV fenders and footboards provide very good splash protection. As it turns out, the chassis handled the hill perfectly every time, and in either direction.
CFMotos electronic power steering (standard on all models except the 400) provides enough assist to keep steering light, but not so much that it takes away feel. We always want some feedback from the trail, and the CForce power steering system provides just enough. We like it! Engine power on the 600 was easy to control and will be adequate for nearly every rider, but if you'll looking for a truly outstanding motor, check out the CForce 800. It's got the smoothest running ATV engine we've ever tried, and it delivers the power instantly. All CForce models feature a CVT-type transmission from CV-Tech IBC, a Canadian company that excels in CVT transmissions. They get the power to the ground. Although the CForce 1000 Overland is listed at 79hp, it also weighs a little more than the 800, and on the trail, both deliver more power than most riders will ever need. They're happy to throw roost everywhere, especially in single seat configuration. All CForce models also come with a revised exhaust system for quieter operation and improved heat isolation.
CFMoto Touring models offer an excellent riding experience for those who prefer to take a passenger, and the comfy, rear seat is slightly elevated for the trail ahead. Passengers also get sturdy, aluminum foot pegs, and rubber hand holds. As expected from the slightly longer touring chassis, handling is extremely stable thanks to the longer wheelbase, but that also means a little wider turning radius. We never had a problem with either style in the woods, but for very tight trails the larger turns might be noticed.
CFMoto gives the 400, 500, and 600 models standard, dual-A-arm independent rear suspension, while the 800 and 1000cc models get a trailing arm style rear end. Both styles work well, although we adjusted the suspension to our preferred riding style. We generally take a click or two out of the rear suspension to soften it so it rides better over choppy terrain, but this also has the effect of slightly stiffening the front end for a little less body roll, and less tendency for the front end to dive over trail obstacles or heavy braking. After a couple adjustments to the CForce suspension we had both working very well for our riding style, and it's easy enough to adjust that all riders can do the same. The only unfortunate part is at the end of the day we couldn't bring the CForce ATVs home. We would have gladly ridden them year-round!
TOOL TIME
Maintenance is part of ownership, and thankfully, CFMoto made it easy. We were extremely happy to find a dip stick for both the transmission case, and for the engine on the side of the motor. A cartridge style filter is behind an access cover. Air filters are easily serviced as well, and the battery and electronics are under the front cargo deck. It could hardly be any better!
REFINED WITH TIME
All product lines take time to evolve. The CFMoto lineup has clearly been improving, and we expect them to pick up the pace. No doubt one huge leap forward was moving to a new headquarters, but by far the best thing they could have done was to bring in the highly experienced powersports team they've put together. They have the experience and knowledge, they'll accelerate the development process, and they can make enormous gains instantly. We're already highly impressed with the CFMoto USA product line. It offers quality and value at a very attractive price. We can't wait to see where they go from here. It's time to take a look at CFMoto.
https://cfmotousa.com/
Sours: http://atvillustrated.com/content/2021-cfmoto-atvs-%E2%80%93-first-ride-and-review
2020 CFMOTO CFORCE 800 Overview
2018 CFMoto CForce 800 Review
The big-bore ATV market is a competitive one, with a lot of different machines that try to carve out a niche to call its own. While the 1,000-class gets a lot of buzz due to horsepower numbers, the 700- to 850-class machines get the sales due to there being many more of them, and let's be honest, not everyone is ready for the power of a 1,000. In that slot, you have machines from Polaris, Can-Am, Yamaha, Textron, Suzuki, Kawasaki, Honda, and CFMoto. CFMoto? You didn't forget CFMoto, did you? While the other manufacturers try to carve out their niche with machines known for power, durability, low price and handling, CFMoto's CForce 800 EPS brings all of that to the table and then some.
It's no secret we have a fondness for CFMoto machinery. They have done an outstanding job with having a strong presence in the Canadian market and have some outstanding programs and dealerships across the country. They're working hard to expand into the U.S. more, too. What's more, they have innovative machines that we really like. The CForce 800 is no exception. This is a powerful and fun machine to ride with a lot of accessories included that would cost a ton more on other machines.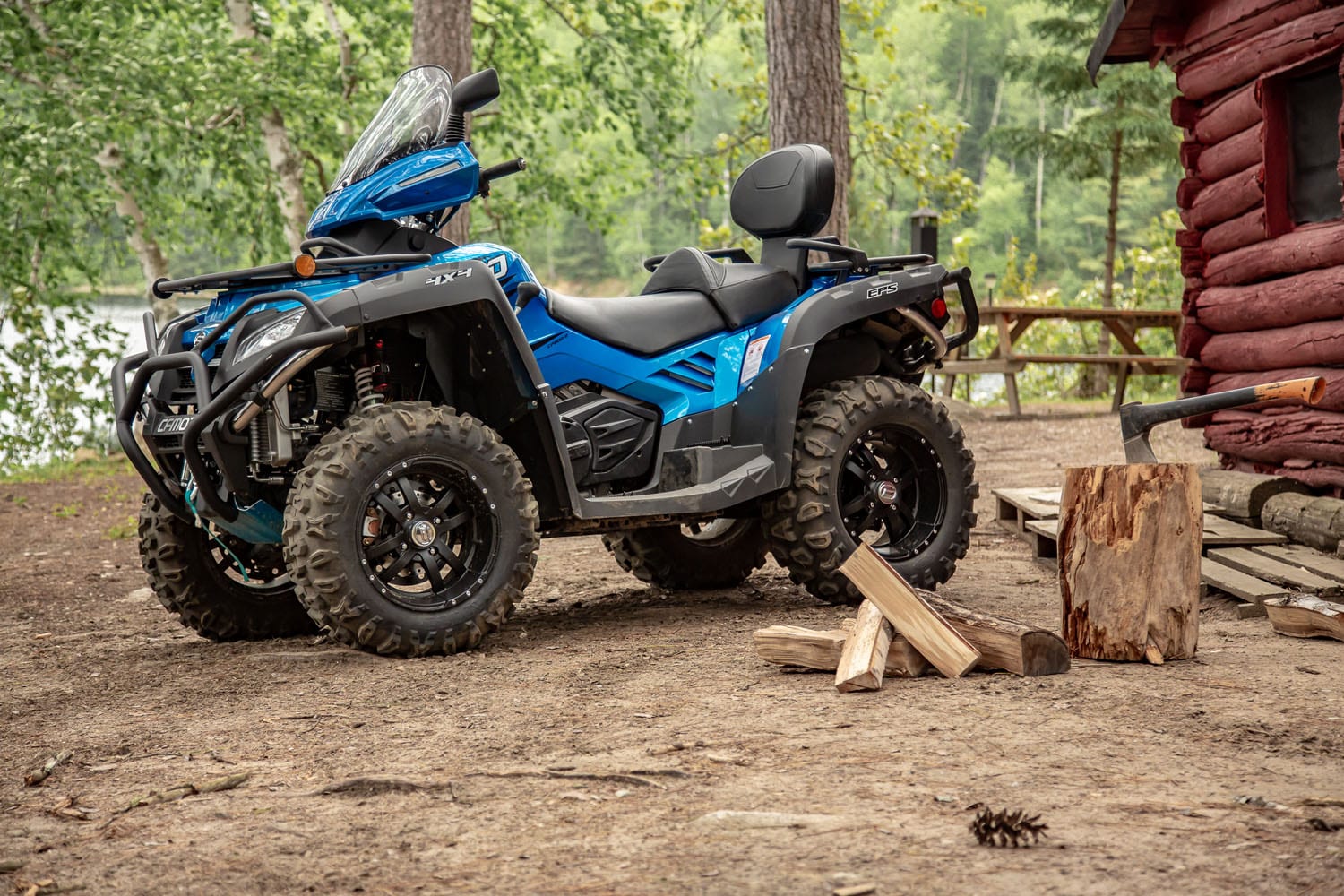 The engine
Let's be honest, people like to focus on the engines of the big-bore ATV market. There's a lot of marketing to be found by having the claim of most horsepower, or largest displacement. When out on the trail, it doesn't matter as much as you'd think. There's really a fine line between having the power you have versus the power you need and use. The CFMoto CForce has an 800cc, liquid-cooled, eight-valve, V-twin four stroke powerplant that produces a very respectable 62.6 horsepower. While that might not be as high as some of the competition who have slightly higher displacement engines, the CForce honestly has plenty of power at your disposal. We repeatedly ran ours through thick mud, up steep hills, and blasted it down open trails. It held its own just fine.
You really have to love a V-twin, too. They have a certain feel to them. It is kind of hard to describe in words, though. The motor has a different tone than a single-cylinder motor or a parallel twin. It's almost like a rumble, but it's smooth, especially with the CFMoto. We have found that V-twins make their torque slightly different too. The CForce 800 produces 53 ft/lbs of torque at 6,000 RPM. That means you have the power to conquer steep hills, deep mud holes, or tasks around the farm. The motor runs through a CV-Tech IBC CVT automatic transmission with high and low range. The engine also has full engine braking, which makes it easier to crawl down those steep hills in low range.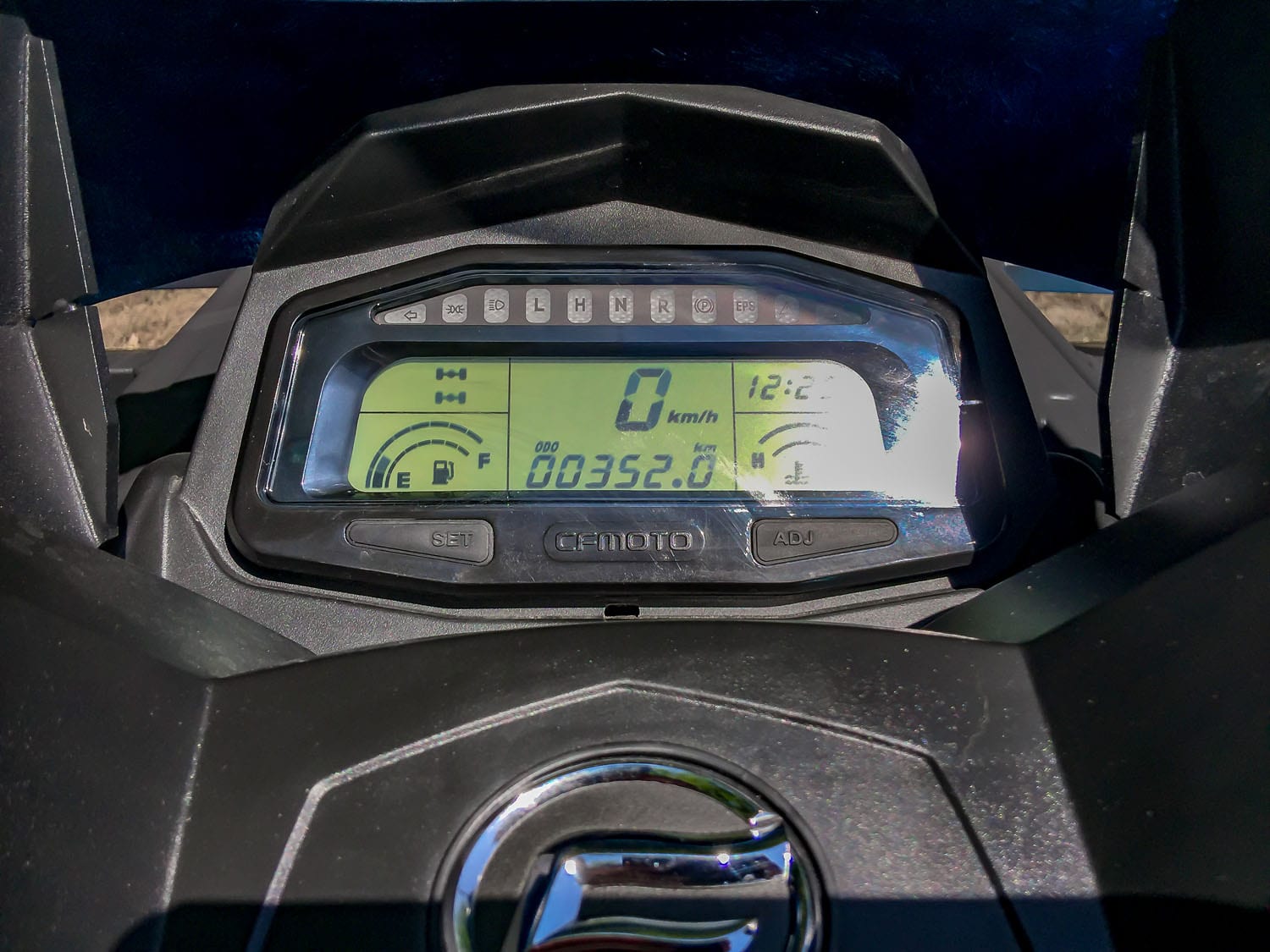 Hooking up
Speaking of the transmission, that is only part of what makes the CForce a great trail machine. The 800 rides on 26-inch CST ABUZZ tires that have a blocky, non-directional tread pattern. These 6-ply tires are great all-around trail rubber that hook up and haul in a wide range of terrain. Like we said, we climbed some steep hills and did a lot of playing in the mud. For stock tires, these worked really well and proved that CFMoto pays attention to the details that their consumers do. We want good tires on our machines!
Helping even more with the hooking up department is the electronic locking differential. You can cruise along in two-wheel drive, instantly switch into four-wheel drive when things get a little sketchy, and drop in the dif-lock when traction becomes paramount. We found the engagement of the dif-lock to be smooth and easy, something not every manufacturer has figured out yet.
The suspension system also plays a roll with how well the CForce hooks up. There are dual A-arms front and rear for fully independent suspension action. The gas shocks found at each corner have rebound and compression adjustment. Up front there is 7-inches of travel and there is 8.5-inches of travel out back. It makes for a smooth ride, and the compression adjustment lets you stiffen the ride up which helps when you're riding aggressively. Not that we ever rode aggressively… Yeah, I was laughing as I wrote that.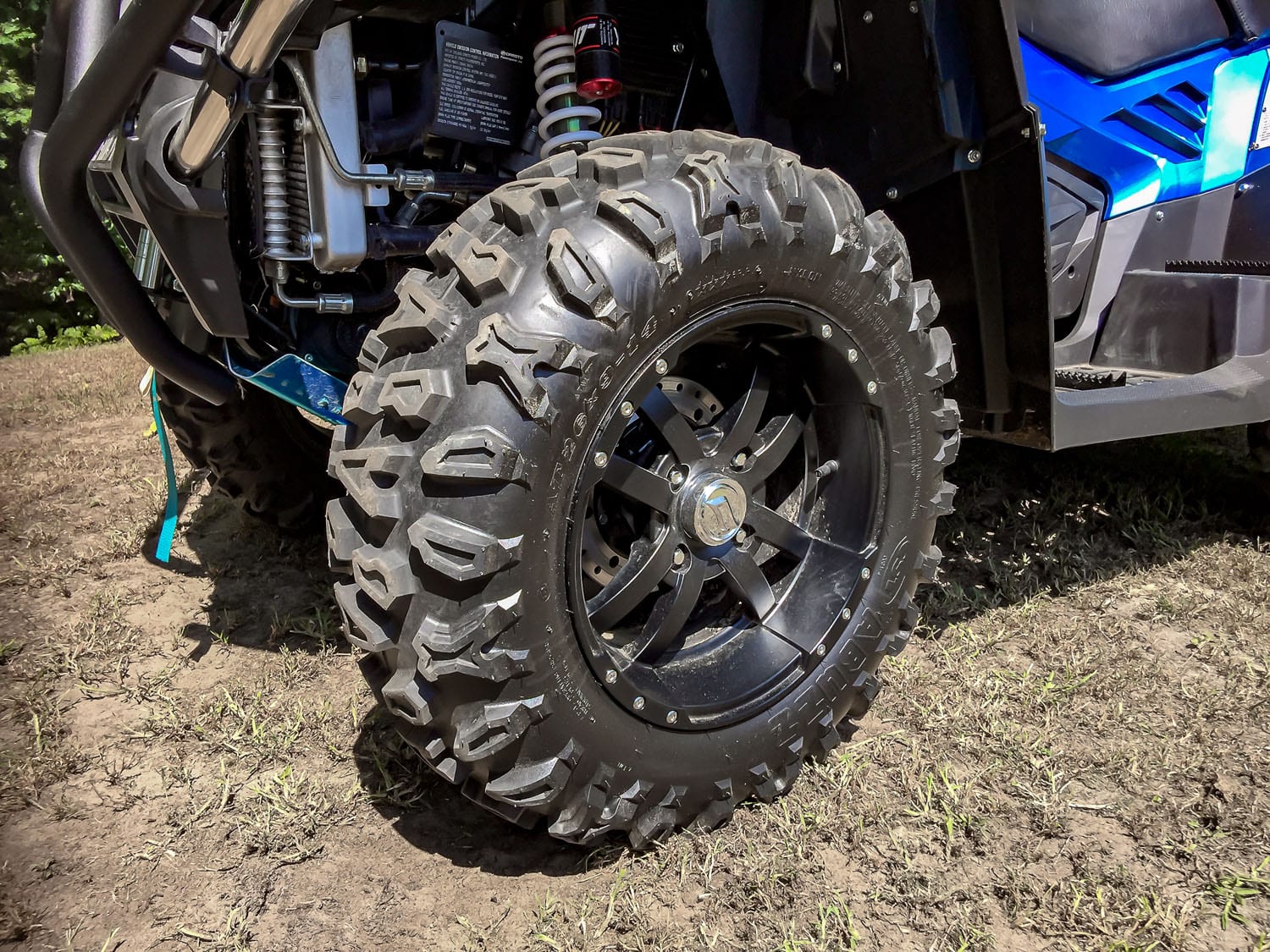 Now about those extras
The CForce 800 EPS is a great machine. So great, in fact, that you want to share it and you can thanks to the passenger seating. There are footrests for the passenger, along with a contoured seat and backrest. The rear rack incorporates handholds for the passenger too. It makes for a comfortable seating position for the passenger that doesn't interfere with the pilot. That's a nice way of saying that the passenger's butt stays planted and you won't have to deal with someone sliding into you as you ride. We've always liked 2-up machines, especially when riding solo in the mud. The rear footrests for the passenger really help you get proper leverage when attacking the muck.
But wait, there's more. The CFMoto comes with a list of accessories as standard features and this is where that extra value really starts to add up. For starters, it has full skid plates underneath that keep the frame and engine protected. The A-arms all have aluminum guards that help protect the CV-boots. Anyone who has ever had the fun of replacing a CV-boot knows how important these types of guards are. There are stainless-steel bumpers front and back that look good and resist rust. You'll also find hand guards on the bars to keep your fingers safe. The fenders come with fender flares, too, that help deflect mud and dirt.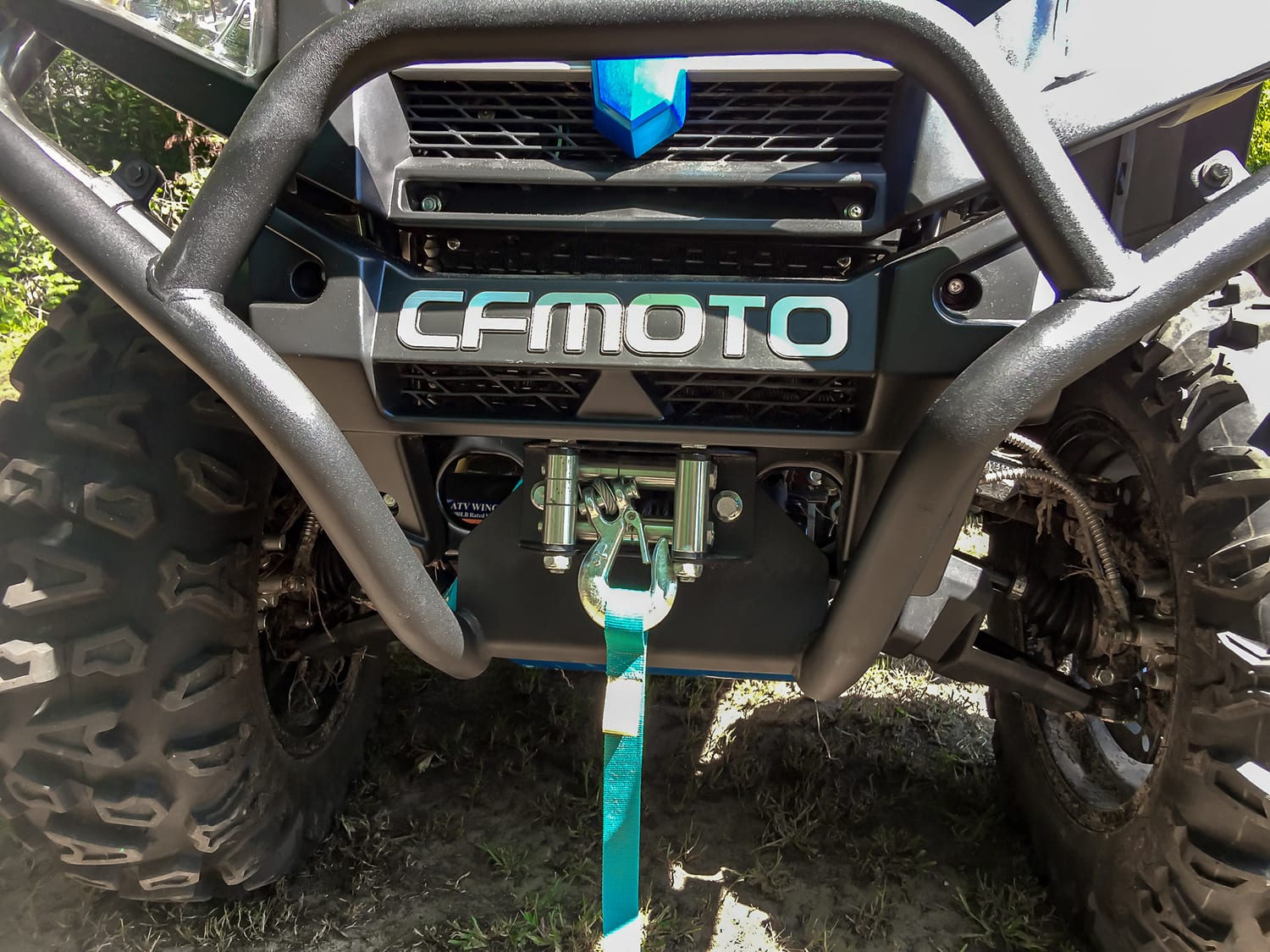 The CForce comes equipped with a 3,000-lb. winch, which is a necessity and a nice addition. We can't even begin to tell you how many ways you'll find to use the winch, too. We learn something new every day it seems. You'll also notice it comes with rear-view mirrors as well as a horn, blinkers and hazard lights. This makes it trail legal everywhere and a very safe machine to ride.
One last little extra to throw at you and it's one that is really important. The CForce comes with a five-year limited warranty. Not only is that an amazing addition to the machine for the price, it says a lot about how good CFMoto feels about their machine. They stand behind their product!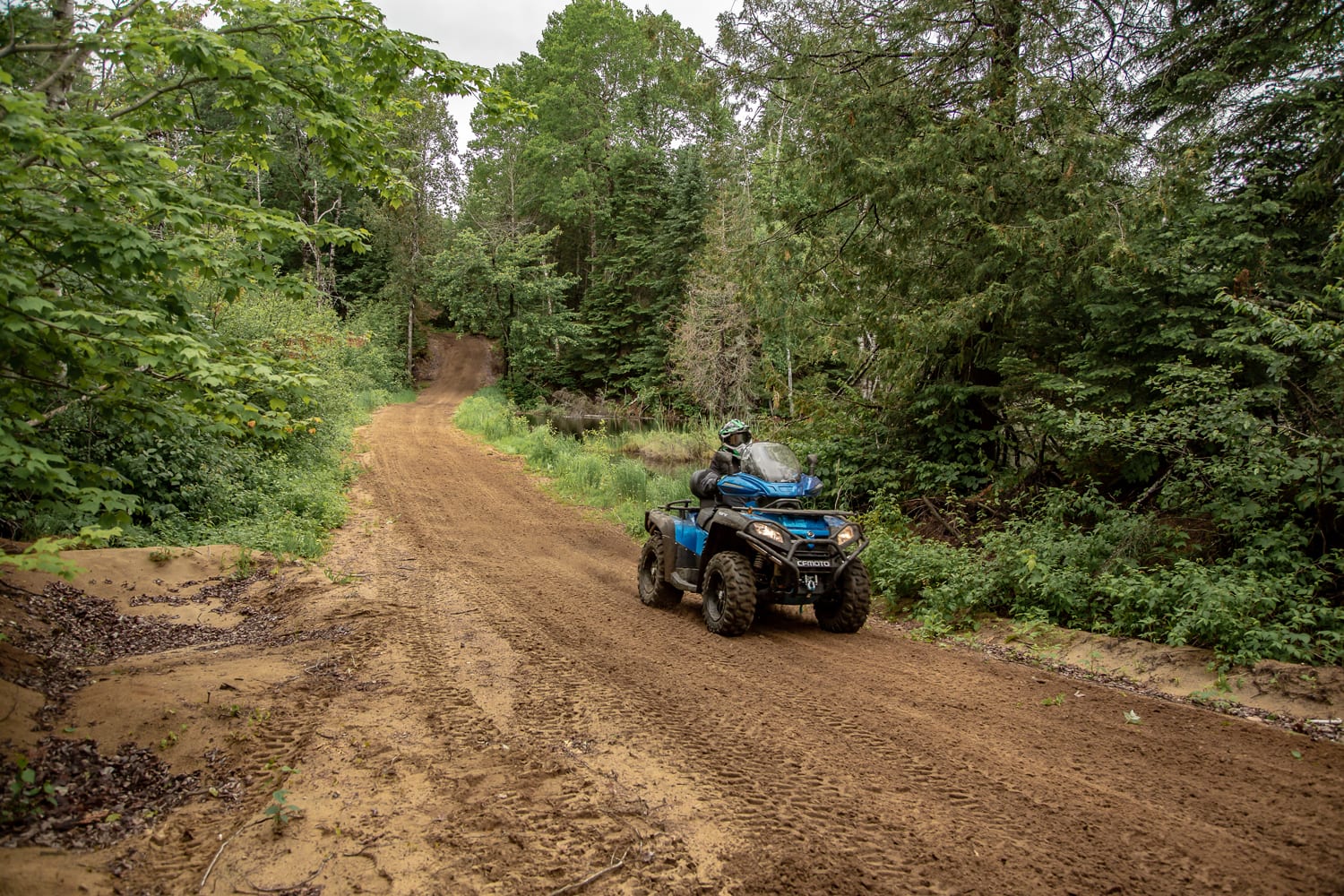 So, do you want one?
You should! This machine impressed us and we enjoy riding it. It has good power, a comfortable ride and excellent trail manners. We also happen to think that it's one of the better-looking machines from CFMoto with smooth bodywork and great color options. And did we mention it starts out at just $10,995 here in Canada? That's a lot of machine for the money. So, to answer the question, yes, you want one. Now go to your local CFMoto dealer and see one for yourself. You should take the trailer with you too. It makes bringing your CForce 800 EPS home a lot easier.
Sours: https://www.atvtrailrider.ca/2018-cfmoto-cforce-800-review
800 atv reviews cf moto
.
2020 CFMOTO CFORCE 800 Overview
.
You will also be interested:
.
2176
2177
2178
2179
2180