Ultimate Bagger Comfort Mods
Save 5% on Ultimate Comfort Mods
(See Coupon Code Below)
Comfort is a must when riding.
Being Comfortable & Safe Go Together, Hand in Hand.
Being comfortable means riding longer, fully enjoying each ride, and not ending the day with fatigue.
When talking comfort on Your Bagger, below are the things that, when combined, will give you the
Ultimate Bagger Comfort
Gas Tank Lift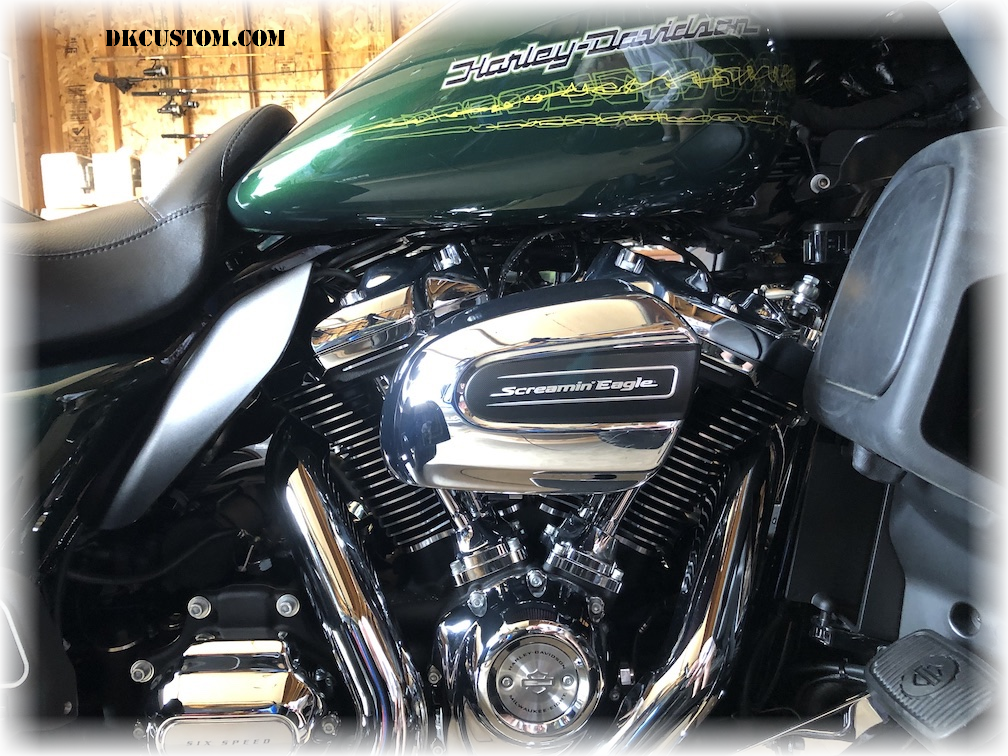 Benefits:
Less "wind buffeting"

Cooler Engine (less heat felt by rider)

Bonus of Easier Cleaning of engine
A tank lift will reduce "wind buffeting" felt by the rider, as lifting the tank will allow less air going over the tank, redirecting that air to the engine. Lifting the tank also give an added bonus of easier cleaning of the top of your engine and, though Sportster don't typically have a heat problem, it will even help with cooling down the engine. Less wind buffeting and a cooler engine will mean more comfort for the rider!
Floorboard Extensions
Benefits:
Gets boots & legs away from engine

Keeps boots off exhaust

Allows for use of the entire floorboard (not just the outside half)
The heat felt on your feet and legs can get quite uncomfortable, especially on those longer riders. Extending your floorboards puts your feet/boots/legs in a more natural and comfortable sitting position, getting them away from the engine.
Extended Brake Lever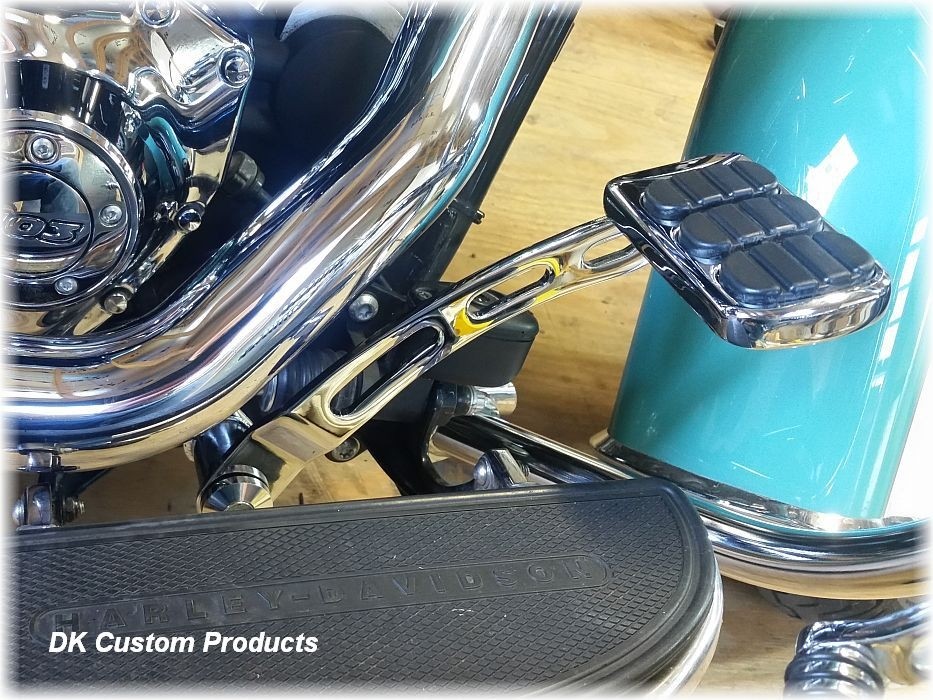 Benefits:
More Leg/Foot Room by moving brake pedal forward
Foot is no longer under the brake pedal
Lowers/Changes angle of pad
With this extended brake arm, you will have more room for your leg and foot by moving the brake pedal forward and your foot is no longer under the brake pedal. It also lowers and changes the angle of the pad so that you'll have easier, safer, more natural shifting. With your foot still on the floorboard and the toe of your boot on the pad, you can brake more quickly and have much better control of braking pressure.
Passenger Floorboard Relocators
Benefits:
Get boots away from heat

Get thighs off grab handles
These relocators will be a major win with your passenger. With so many variations, you can find the "sweet spot" just right for your passenger. These will get thighs off grab handles, boots away from exhaust, and put your passengers boots/legs/feet in a more natural, comfortable sitting position.
Heel Rests
Benefits:
More Relaxed Feet/Ankles

More Comfort for Longer Rides

Multiple Foot Positions Available

Reduces Fatigue
Another significant factor of Ultimate Comfort when riding is whether or not you have a heel rest. Especially when taking longer rides, heel rests can make a substantial difference in ankle/foot comfort. You'll have the ability to give your feet a rest which will help reduce overall fatigue giving the Ultimate Comfort when riding.
Highway Pegs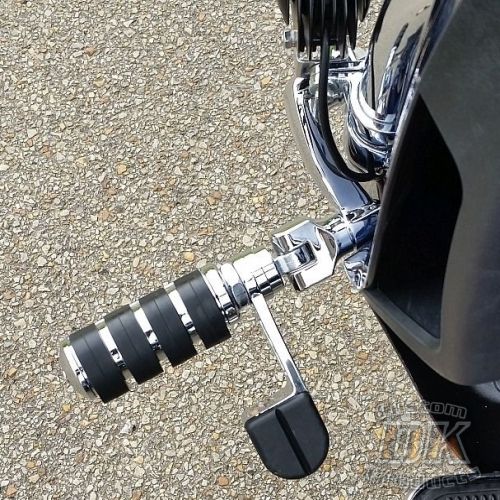 Benefits:
Stretch Your Legs

Adjustable to You & Your Bike
Highway pegs are a Must when talking comfort. Having highway pegs, much like heel rests, are especially useful for those long rides and for those who ride daily on the commute to work. Much like the heel rests, highway pegs help to reduce overall fatigue for more riding comfort and enjoyment.
Handlebar Grips
Benefits:
Reduce/Eliminate Tingling/Numb Fingers

More Cushioned Feel
Once you've adjusted your bars to the most comfortable position for You, it's time to look at your handlebar grips. No one likes that annoying tingling/numb feeling in your hands and fingers after a long ride. Adding better grips that will dampen handlebar vibration while providing a more cushioned feel will help to provide the Ultimate Comfort when riding.
Cooling Deflector Wings

Benefits:

Reduces air coming over/around the tank & between fairings

Redirects air flow to the engine (better cooling)

Reduces buffeting/ helmet glasses wobble
Most baffles and deflectors reduce rider and passenger buffeting but also reduce air flow over the engine making it run hotter and some bikes already run too hot in the warmer months as it is. With the cooling deflector wings, you can dramatically reduce the buffeting felt by both the rider and passenger while also helping to cool your engine, with that air flow now redirected over the engine. Cooler Engine + Less Buffeting = More Comfort!
Better Rear Suspension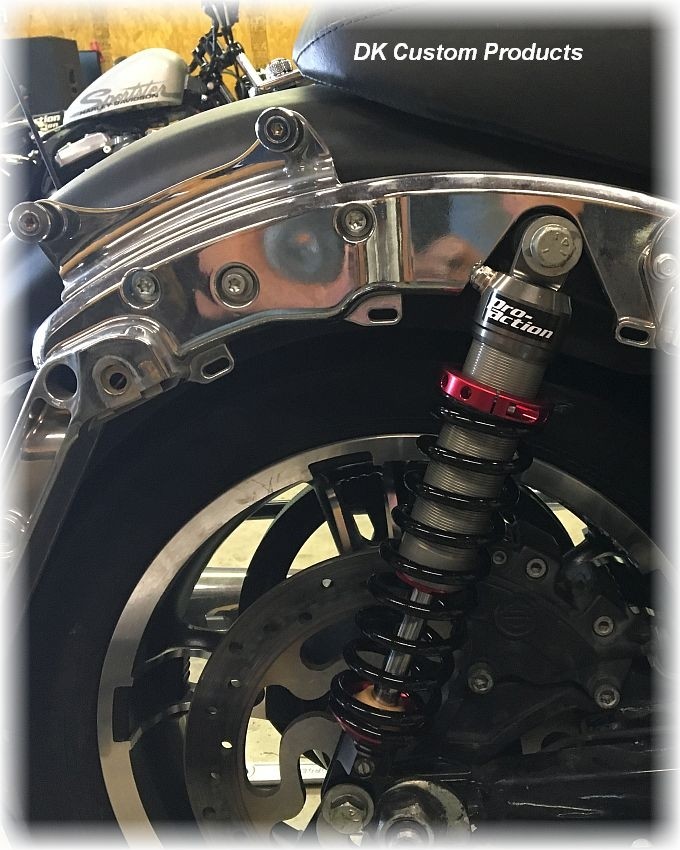 Benefits:
Keeps tires better planted

Tires will last longer

More Comfort/Less Jolt to the Rider
Once your hands, feet, and butt are all in the right position and most comfortable to you, the final step is to upgrade that not so great Harley suspension. Having a peace of mind knowing your tires are planted to the ground at all times; in corners, poor road conditions, emergency braking, etc. is comforting. Also, with better front suspension comes longer tire life. Feeling less of or even eliminating the jolts of road imperfections will make for the Ultimate in Rider Comfort!
Read Full Report on Rear Suspension at this LINK.
Better Front Suspension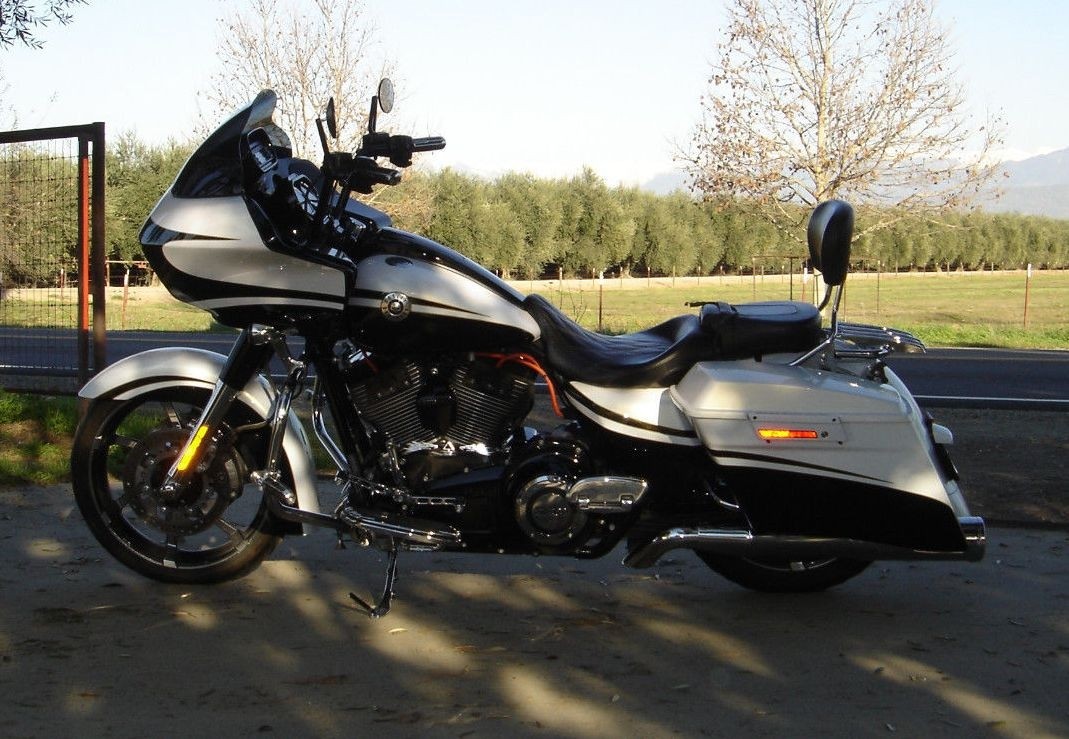 Benefits:
Keeps tires better planted
Less dive when applying front brakes
More Control & Stability
More Clearance (lean angle) in curves
We see it all the time; realization of how horrible the stock front suspension is after upgrading the rear. Whether you opt for a cartridge system, performance springs, or drop in valves, any upgrade will provide a better ride. Having the correct spring weight for your weight, the correct amount of sag, limited dive when applying the front brakes, and correct damping in both the compression and rebound strokes, will provide you with a much more comfortable, stable, smoother ride.
Click HERE to see our Front Suspension Testing Report.
Tour Pak Relocation
Benefits:
Less "cramped" feeling when riding two up

Gives passenger more room to get on and off bike/trike

Gives passenger more room to adjust for comfort
When you're riding two up, relocating your tour pak and giving your passenger more room gives you, the driver, more room; no more feeling "cramped up". Tour Pak Relocation also makes it much easier for your passenger to get on and off the bike/trike, especially if there is a driver's backrest and allows the passenger to adjust themselves easier, without pushing against the driver as much.
"If mama's happy, everyone's happy."
Cup Holder
Benefits:
No holding onto your drinks while riding

Different cup holders allow different mounting points (more options)
Having a cup holder is almost a given. When you're riding, you don't want to have to worry about keeping a tight grip on your bottle of water or soda. Whether it's perch mount, handlebar mount, engine guard mount, convenience is the common ground and with convenience comes comfort!
Choose any combination of 4 or more of the above mods, equalling $400 or more total, and use Coupon Code:
ultcomf
in checkout to SAVE 5%!
Sours: https://www.dkcustomproducts.com/ultimate-bagger-comfort-mods-8.htm
20 Bad Harley Mods That Ruined Sick Bikes
Most Harley-Davidson motorcycles are awesome bikes when they leave the factory. Every year, the lineup changes slightly and for 2019, Harley offers thirty-five models in six families. The standard versions include Softail, Sportster, H-D Street, Trike, Touring, and for riders requiring a custom edition, the Harley-Davidson CVO (Custom Vehicle Operations).
Modifications to Harleys fall into several categories including performance-enhancing mods, safety enhancement mods, cosmetic mods, and of course, the unexplainably ridiculous mods.
Performance enhancement starts with a Harley Davidson Stage 1 Performance Kit. Several aftermarket companies offer a Stage 1 upgrade that usually consists of recalibrating the air intake and exhausts systems together and improving the airflow with specialist aftermarket performance accessories. These may include air cleaners, larger exhaust, re-jetted carburetors, or remapped EFI.
A Stage 2 enhancement adds high-performance cams to the Stage I Kit, requiring a limited amount of engine disassembly. It is a cost-effective upgrade that produces a 5-10% improvement in mid-RPM range torque and often a high-RPM horsepower increase. Most aftermarket companies offer up to five stages of performance upgrades.
Meanwhile, cosmetic mods are highly subjective but are implemented to make the bike look meaner, faster, more sporty, just cooler, or reflect the owner's taste. They have no intended impact on performance and for some mods, they may even impede performance.
These modifications may seem useful or attractive to the bike owner but to everyone else, they are an embarrassment. They can be harmless or even dangerous. Here are twenty bad Harley-Davidson mods that ruined otherwise sick bikes.
20 Distracting Accent and Chassis Lighting
Accent, chassis, and underglow lighting kits come in a variety of forms like pod lights, strip lights, and those that produce color-changing special effects. Strip lights use an adhesive backing that comes off and adheres to the motorcycle. The flexible LED light strip works best for sticking to the various surface shapes. Most of these LED light kits include a simple switch to turn them on and off.
Some manufacturers claim their products are waterproof but wet weather will put them to the test. Riding a motorcycle with accent lighting is against the law in some states, while in others, their use is banned even when parked. A Harley-Davidson underglow lighting mod is distracting to everyone around the bike, lacks style, is entirely unnecessary, and frankly, is just plain ugly.
19 Gatling Exhaust tips
Although Tailgunner or Gatling exhaust tips look (somewhat) appropriate on this military-theme modded Harley, they are useless on any other model. They are merely small-diameter pipes mounted together and spun by the exhaust gases. They also won't make the exhaust sound better. When Harley-Davidson creates a motorcycle, the exhaust system is specifically designed to produce the ideal backpressure on the engine for power and efficiency.
Some mods will open the exhaust to reduce backpressure which can increase horsepower. The Gatling mod, on the other hand, restricts the exhaust flow, increases backpressure, and reduces engine efficiency. The "cool" effect may not be worth the reduced performance.
18 Get Back Whips and Handlebar Tassels
The Get Back Whip or biker whip is a long, braided leather cord that hangs from the clutch or brake lever and flaps toward the back of the motorcycle when it moves. They come in many colors and lengths, typically with a fringe on the end. An alternative to the Get Back Whip is the handlebar tassel. While it looks appropriate on a five-year-old child's tricycle or Big Wheels, they make a Harley-Davidson look ridiculous.
Get Back Whip advocates claim it is used to show club colors and the flapping cord may make a bike more visible to vehicles around it but many law enforcement agencies view it differently. In the US, law enforcement agencies commonly consider the Get Back Whip a weapon and its use may result in an arrest.
17 Booming Motorcycle Stereos
The sound that emanates from the exhaust pipes of a Harley-Davidson is music to the ears. No other motorcycle makes a similar low-frequency rumble. It is a hallmark of the brand and part of what makes it attractive to owners. So, why would anyone want to interrupt the Harley exhaust music with stereo-generated music, no matter what the genre?
Furthermore, listening to music from a motorcycle stereo is inconsiderate. Not limited to the bike rider alone, everyone in the near vicinity is obligated to listen, as well. It's a bit like going to the beach expecting to lie on the sand, soak up some sun, and relax, but a group of teenagers nearby turns up the volume on their boom box.
16 Hidden Turn Signals and Low-Visibility Brake Lights
It should be obvious to Harley-Davidson owners that any modification that renders the bike unsafe should be avoided. Hidden turn signals and low-visibility brake lights fall into that category.
Visibility is critical to motorcycle riding safety. The more attention a motorcycle and its rider can grab from nearby automobile drivers, the less chance there is of a collision. Rideapart.com says these are eight easy ways to make a motorcycle more visible: ride a brightly colored motorcycle, wear high visibility safety gear, use reflective tape, stay out of blind spots, tap the brakes, use the high beams, add auxiliary lights, or use your horn.
Modifying the rear lights to make them barely visible is not on this list.
15 Removed Front Brake
According to Vk Gopalakrishnan, Mechanical Engineering Design Consultant, "Having two separate controls for the front and rear brakes allows the rider to apply the brakes in varying proportions under different road conditions. However, there are several motorcycle models today, where a single control is used to operate both front and rear brakes. In the combined braking system (CBS) …the operation of the rear brake control will also apply a braking force on the front wheel."
On a Harley-Davidson motorcycle, the Reflex Linked Brake System electronically links braking through both the rear brake foot pedal and the front brake hand lever. Removal of the front brake and relying only on the rear brake is a recipe for disaster on individually controlled systems and even more dangerous on a linked configuration.
14 Automatic Modulated or Flashing Headlights
The automatic flashing headlights modification to a Harley-Davidson is meant to improve visibility to drivers of other vehicles nearby. One rider wrote: "I do see the safety advantages of the device. It is meant to save lives by drawing attention away from the cell-phone that so many people have glued to their ear while driving and make them notice a motorcycle that they normally wouldn't think to look for… Awareness prevents accidents."
However, another rider said, "I personally don't like the flashing headlights on motorcycles! I find them distracting and a little over the top! Not sure how much safer they are. I dislike them as much as I dislike those new super bright headlights. WAY too bright coming at you at night!" Manually flashing the headlights may be a less annoying method of improving visibility.
13 Ape Hangers
Currently, 30 US states have handlebar restriction laws and motorcycle riders encounter signs when crossing state borders warning that handlebars must be below a certain height or no higher than the rider's shoulders. Many of the laws were passed in the 1960s after the 1966 release of Hunter S. Thompson's book and the 1969 cult film Easy Rider created public fear of bikes and bikers.
Although there is little evidence that Ape Hangers are responsible for accidents, driving a Harley in that awkward position with the arms up in the air inevitably limits control of the motorcycle.
12 Loud Pipes Are Not Necessary
The "potato, potato, potato" sound of a genuine Harley Davidson is so unique and distinct that it reveals the identity of the motorcycle approaching in the distance even when it is still out of sight. The sound has branded Harley since 1909 and is so important the company has tried to trademark the noise since 1994.
The distinctive roar comes from Harley's V-shape engine design with a single pin crankshaft attached to both pistons. Both spark plugs fire simultaneously, with a pause after the second fire, and without firing at even intervals as most other bikes do. A modification to the exhaust system to make it louder not only affects the classic rumble but at 100dB, it can cause permanent hearing loss.
11 No-Lean Green Harley
Although the motorcycle press often claims that Harleys don't corner well, perhaps their statements are more a product of some journalist's limited riding skills than a result of any serious problems with the motorcycle. However, there are several technical reasons why even an "expert" rider of sports bikes might not ride a Harley well. Harleys are heavier, longer and lower than most other motorcycles and their less-steeply inclined front forks produce slower steering.
This modified Harley has taken any cornering limitations a Harley might have and exaggerated them by lowering the back of the bike to within an inch of the ground. The bike can lean perhaps only one degree without scraping the back-end body. No matter, the shortest distance between two points is a straight line.
10 Tasteless Vinyl Wrap
Wrapping a Harley-Davidson can augment the beauty of the motorcycle, or it detracts from it. Thegirlonabike.com suggests the following pros and cons. Pros: The process is entirely reversible. It is easily removed to restore the original color. The wrap will last for years, but if damaged it is easily reapplied. It serves as a protective layer for the original paint underneath. It provides cost-effective customization options for materials, colors, and texture. A wrap produces a high-quality finish at a fraction of paint cost.
Cons: The application takes time and patience, and if poorly applied, it can bubble and wrinkle. Despite the potential enhancement, a tasteless wrap, no matter how well it is mounted, can ruin an otherwise sick Harley.
9 Skulls and Flames or Holiday Bows
"Beauty is in the eye of the beholder," is a saying credited to author Margaret Wolfe Hungerford in 1878. Its meaning is best expressed by the proverb, "beauty cannot be judged objectively, for what one person finds beautiful or admirable may not appeal to another."
Modifying the appearance of a Harley-Davidson, a motorcycle that has its own expression of beauty even as it comes from the factory, is always subjective. Some riders may consider flames and skulls a beauty enhancement while others prefer a "softer" look. However, some decorations just seem to go too far, like this Harley adorned with holiday bows and driven by the owner dressed as Santa's helper.
8 Parade-Worthy Harley Mod
Some Harley-Davidson owners get carried away with modifications to their bike, while others go beyond the absurd. This lavishly decorated Harley looks like it could participate as a float in the New Year's Day parade in Pasadena, California, although it wouldn't qualify because the mods are not made of flowers.
The bike looks well balanced. There appears to be an equal number of ornaments on both sides and the seat behind the driver looks like it is part of a sidecar. But even if this bike started to tip over, the body skirts would keep it upright. Maintenance could be difficult, though; how does the owner put air in the rear tire?
7 Harley-Davidson Softail Gobstopper Mod
The Museum of Modern Art (MoMA) in New York City claims it "fuels creativity, ignites minds, and provides inspiration. Its extraordinary exhibitions and collection of modern and contemporary art" are exceptional. The psychedelic multicolored paint theme makes this Gobstopper modified Harley Softail look like a display at MoMA, with plenty of creativity and inspiration. However, this motorcycle is also functional.
The original bike was striped to the bare bones. Neil Sefton, Head Technician at the Speed Shop, hand-made the spine, rear fender, and seat pan. He fabricated an aftermarket fuel tank and modified a single-sided swingarm. He added a set of Springer forks and a 23-inch front matching wheel, repainted in a 'Cadbury's' blue. But who would want to be seen driving this piece of art?
6 Western Saddle Seat Mod
In the world of horseback riding, two basic types of saddles are used: the Western saddle (as seen on this Harley) and the English saddle. Both the Western and English saddles come in various designs. Close contact English jumping saddles feature a shallow seat and forward flaps that allow the rider to take up a secure position when jumping over fences.
The owner of this modified Harley chose the Western saddle mod for his ride over the English jumping saddle because he had no plans to jump over fences, cross rails, verticals, open-water jumps, Liverpools, walls, or triple bars, as horses do. The Western saddle on this bike also includes a horn if the driver needs to rope some cattle while participating in a local biker cruise.
5 Ineffective Tiny Harley Windshield
The ride on a Harley-Davidson, or any motorcycle for that matter, can be uncomfortable without the proper windshield. The effect can be neck strain, head-buffeting, bugs in the face, and the risk of losing sunglasses and hats. A windshield also serves an aerodynamic purpose, particularly at high speeds. The windshield deflects most of the air impacting the chest area resulting in less resistance to movement.
Most motorcycle windshields are designed so that a rider looks over the top, permitting unobstructed vision from accumulated dirt, dead bugs, and moisture from fog or rain while deflecting air from the chest area. Installing a tiny, four-inch windshield, while it may look "cool" on a Harley, has no positive aerodynamic effect nor does it provide any other benefits.
4 Chin Spoiler Mod
Harley-Davidson and many aftermarket companies sell chin spoilers for most models. Their purpose is a favorite subject in motorcycle forums. Rideapart.com says about one design: "Unlike a large wing or rear spoiler on cars like the Porsche 911 Turbo…a chin spoiler isn't intended to have a massive effect on downforce, but rather limit high-pressure air moving over the top of the front wheel from having a positive effect on lift… There will likely be some immeasurable improvement to high-speed stability…"
The function of a Chin Spoiler is more likely cosmetic, covering a not-so-attractive part, like an oil cooler. The Harley-Davidson model sells for more than $500 and that's a lot of money for a non-performance enhancing mod with marginal aesthetic effect. One Harley owner wrote: "Works very well for scooping up rocks and getting chips."
3 Harley Chopper with Extreme Forks
Harley-Davidson motorcycles, stock from the factory, are notoriously inferior bikes for handling curves. Modify one with extended forks and curves become a nightmare. Bikes with 12-inch (or longer) extensions can cause the front wheel to fall over on its sidewall in a turn, potentially yanking the bars out of the driver's hands.
Choppers are stunning motorcycles, but they are hard to ride, less comfortable than a stock Harley, and for most people, useful only to attract attention at biker shows and bar-hopping around town on a Friday night. This one probably can't even manage a right turn in traffic, though.
2 All Chrome Harley-Davidson V-Rod
The Harley-Davidson VRSC (V-Rod) shown here is part of a line of V-twin muscle bikes, produced by Harley-Davidson from 2001 until 2017. It was the first Harley-Davidson street motorcycle equipped with a modern DOHC engine and liquid cooling. The excessive chrome plating on this bike draws plenty of attention but it nearly blinds any observer who looks at it under the midday sun.
Chrome plating is much more than just dipping an article into a tank. The plating procedure, if not done correctly, can lead to hydrogen embrittlement (and eventual failure) if the part isn't properly baked in an oven after the plating. This classic bike would look better with just a few chromed parts and the rest left in the original color.
1 Loud Compressor Horn
Most Harley-Davidson enthusiasts know that motorcycle safety depends on visibility. Modifications like extra lights make a bike more visible to drivers of nearby vehicles. Others claim that sound can improve safety; not the Harley-Davidson exhaust rumble but, rather, a loud horn can make a difference. According to Train Horns Delivered, most train horns put out about between 140 and 150 decibels. For comparison, a typical vehicle horn produces about 100 decibels, the same intensity as the sound generated by a power lawn mower.
A rock concert, meanwhile, can reach up to 125 decibels. Although sound from a train horn on a Harley may penetrate a car with closed windows and a driver talking on a cell phone, many states have rules that ban motorbikes with loud air horns from honking in public areas.
Sources: Jalopnik, HD FOrums, Motorcycle News, and Motorbike Writer.
ShareTweetEmail
Thieves Target Hellcat-Powered Vehicles At Orlando International Airport Garages
Thieves have taken two Dodge Chargers, a Dodge Challenger and a Jeep Cherokee Trackhawk.
Read Next
About The Author
Jeffrey Harper (124 Articles Published)
Jeff has a degree from U.C. Berkeley in Mechanical Engineering. He has a passion for automobiles and has written hundreds of published articles on every facet of the automobile industry. He has written articles on a variety of subjects including travel destinations, sleep disorders, electrical equipment, heat exchangers, and construction. Jeff has also written a book about a two-year experience as a volunteer living in Italy. His favorite pastimes include travel, reading, golf, tennis, and surfing.
More From Jeffrey Harper
Sours: https://www.hotcars.com/bad-harley-mods-that-ruined-sick-bikes/
Top 3 Mods for Harley -Davidson Street Glide
Your Street Glide has the ultimate cruiser visual appeal, great on-road performance and plenty of power to get you to any destination on the map. What more could you want? The truth is, while your ride might seem entirely perfect, there's no factory bike that can't be improved on with a few mods here and there. Harley-Davidson models in particular are well-built for customizations and updates, allowing you to build onto an already awesome base to create a bike that truly caters to every need you have while you're on the road. These top 3 mods for Harley-Davidson Street Glide can help you get the most out of your ride regardless of where your next destination might be.
Tires
Installing new tires should always be the first aftermarket parts for Harley-Davidson Street Glide you invest in if you're looking to get a little more speed and performance out of a bike. Options like Dunlop American Elite Motorcycle Tires or Bridgestone Exedra Max Cruiser and Touring Tires are designed to hold up against those lengthy on-road rides you may take now and again, and provide reliable grip and traction that keeps you moving forward in almost any conditions. Furthermore, investing in tires with interesting tread patterns gives your bike another dimension of visual appeal that spices up your style while you're on the move.
Fenders
If style and a pristine appearance is a big concern for you, then investing in new fenders is an absolute must. Installing pieces like the Biker's Choice Fat Bob Rear Fender or a wrapped front fender can completely transform the look of your Street Glide, and gives you the opportunity to really make your bike something unique. Whether you choose to keep things simple or add a splash of bold color or design, adding an aftermarket fender is the perfect way to differentiate your bike from other Street Glides out there.
Bodywork
Fenders aren't the only Harley-Davidson motorcycle parts online that set your ride apart from the rest. If you really want to make a statement, consider incorporating plastics and other types of bodywork into your ride's design. These range from fairing support brackets to much larger parts like Arlen Ness Custom Side Covers. Whether small or large, these pieces add a new dimension to your Street Glide's appearance while performing crucial tasks. For example, Alloy Art Strong Fairing Support Brackets offer the crucial support needed to upgrade your bike's sound system, while side covers provide a smooth flow between your tank and saddlebags while offering your legs plenty of space and providing the perfect canvas for custom paint jobs.
The Street Glide's classic look is hard to beat, but as an avid biker you're sure to want a bike that's completely "you" while you're on the go, that expresses your personal style at a quick glance as you zip by on your next tour. These mods are designed to get you just that, but there are dozens of other upgrades to choose from that help you build a bike that both looks and runs superbly in every situation. Check out available mods online or in your local bike shop to find cheap motorcycle aftermarket parts to build an unbeatable Harley-Davidson experience.
Sours: https://theurbantwist.com/2019/09/27/top-3-mods-for-harley-davidson-street-glide/
2020 ROAD GLIDE PERFORMANCE MODIFICATIONS VIDEO \u0026 UPGRADED RADIO
First Mods for your 2018 Harley-Davidson Street Glide Special
Almost every Harley-Davidson owner customizes his or her bike to some extent. That is part of the reason why so many people choose the brand over their competitors. There are almost endless possibilities for each model from H-D, but we put together a small list of some parts and accessories we feel should be high on the first to do list for your new 2018 Street Glide Special.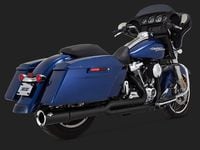 Featuring a distinctive stepped megaphone design, this latest evolution in the Vance & Hines 2-into-1 performance legacy improves performance over its predecessors.
Broad/Usable Torque Increase

Stepped Headers, Large Merge Collector

Quiet and Competition Baffles Available

4.5-inch Muffler Body at Exit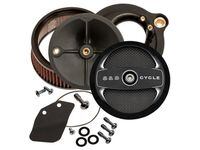 50-State Legal

Includes S&S Stealth kit 170-0354, CARB EO# D-355-21

Includes Air 1 Cover

High-strength synthetic polymer backplate — Designed to reduce heat transfer to intake air

Cooler, denser air allows for more efficient cylinder fill and better performance

Included actuator cover, hides TBW servo motor for a clean, attractive installation

High flow (1" taller) filter kit also available

Can also use with stock Harley-Davidson Milwaukee-Eight engine air cleaner cover (Adapter required)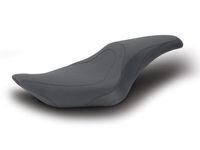 The Tripper Fastback offers a super clean, custom style, cut low for the rider with good back support. The seat is tapered in back but still offers a reasonable degree of passenger comfort.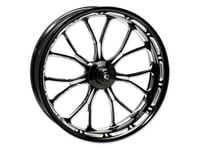 The Heathen wheel begins as 7 spokes and splits into 14 ornate tendrils before blending into the rim center and then follows with a complimentary design on the outer edge of the subtly curving rim face.
Sours: https://www.motorcyclecruiser.com/first-mods-for-your-2018-harley-davidson-street-glide-special/
Glide mods road
.
Best Street Glide Upgrades \u0026 Accessories...So Far!
.
You will also be interested:
.
2146
2147
2148
2149
2150