OEM, Refurbished and Remanufactured Injectors
OEM, Refurbished and Remanufactured: Know the Difference
Diesel Fuel Injector ExampleWhen shopping for injectors it is important to know the difference between common industry lingo regarding the condition of the injector in question. Used, Refurbished, Reconditioned, Rebuilt, Remanufactured all mean different things. Not educating yourself on the difference can ultimately cost you time and money. The information below should help educate you on the difference:
New Injectors
New injectors are straight from the factory and have never been used. These injectors typically come from Bosch, Delphi, Cummins, CAT or GM. They usually come with a dealer 2-3 year warranty and certificate of authentication.
OEM Injectors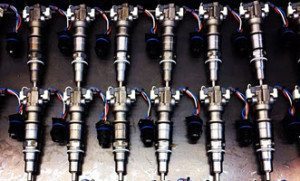 OEM Injectors are used injectors that are completely dissembled examined by quality control then completely rebuilt from the ground up. The rebuild process is completed using new and updated components and focuses on replacement of all seals, valves, plungers, solenoids and injector nozzles. Everything is replaced Diesel Fuel Injectors Multipleexcept the injector body/housing which is either plastic, steel or carbon fiber. The newly rebuilt injector is then tested by the original manufacturer not a 3rd party rebuilder. Bosch, Delphi, Cummins etc… conduct these tests and rebuild processes.
Refurbished/Used Injectors
Refurbished or used injectors have been removed from running diesel engines. They are not rebuilt but rather cleaned internally and externally and inspected to make sure they still meet or exceed the original OEM standards. If the injector is still in good running condition it is tagged as Refurbished and sold at a cheaper rate simply because they are indeed used. The vast majority of Diesel Fuel Injectorsrefurbished injectors still come with a 1 year warranty which make them a great deal for those looking for a bargain. Learn more about how a fuel injector works here.
Remanufactured Injectors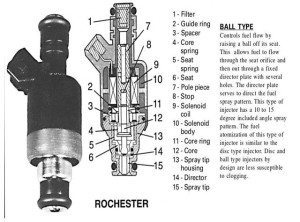 Remanufactured fuel injectors differ from Refurbished injectors in that they have been completely torn down, examined and tested for wear and then remanufactured using brand new components. This is where most customers get confused. Remanufactured injectors can be rebuilt with used parts or remanufactured but not to OEM spec. All of our remanufactured injectors are remaned to OEM specifications using new or 100% reman parts. If you don't purchase injectors with us make sure you ask your injector sales rep if the reman injectors are to OEM spec and if they offer a warranty. Capital Reman always stands behind its work and warranty.
Call Capital Reman Exchange Today at 1-844-239-8101 For Immediate Sales Service
Sours: https://www.capitalremanexchange.com
Replacing an injector is not always due to leisure purposes. This statement is especially true for vehicles with the 5.9 Cummins common rail engine.
It is not without its injector issues, which tend to break frequently. This renders them completely useless. Getting a replacement is a challenging task. Then the question arises, whether to buy a brand new one or a remanufactured one.
So, I have compiled a list of the best injectors for 5.9 Cummins common rail, which are guaranteed not to have the issues present in the preinstalled one.
So, without any further ado, let's get straight into it.
5 Top Best 5.9 Cummins Common Rail Injectors Comparison
1. Dodge Cummins 5.9L Injector
Here we go; starting strong is the injector for the common rail by the brand NMN Precision. It is available for both the Dodge Ram 2500 and 3500, which have the 5.9L common rail engine. This Dodge Cummins 5.9L Injector has an OEM fit.
What this means is that there will be no extra tools or requirements to install it. They clearly state that their product meets or exceeds OEM specifications. Well, let me be the judge of that.
The manufacturer guarantees that their product has been prepared with the utmost precision, hence the name NMN Precision.
They vouch for their product and state that there will be no problems such as leakages or failure after short usage. So, you can rest assured that at least they won't be the ones to create issues with your vehicle.
You can rest assured that all your engine misfiring problems, creating a lot of smoke, and giving you poor fuel efficiency all have been ironed out.
You will be provided the experience which Ford fails to give you when you buy a new one. They also don't require a core charge. You don't have to ship your old injector in to get a refund. They will not ask for it.
Moreover, the injector comes with a 2-year warranty. This means that if the product arrives with a fault or a manufacturing defect is noticed during the time mentioned earlier, you are eligible for a free-cost replacement.
Some people received units that failed within a month. That is surprising because of the bold claims of the brand that there will be no faults. But, all of those users were refunded without any hassle.
PROS
Has an OEM fit
2-year warranty
No core charge
Better fuel efficiency
CONS
Units failing after short usage
The brand assumes responsibility when its products break. And for me, that is a big plus. The positive reviews of the injector outmatched the negative ones. So, you can rest assured that you will receive a unit which will satisfy your needs for a long time.
2. Bosch Common Rail Injector
Well, here we have a product from a brand which is renowned worldwide for this extremely high-quality auto parts. Even I regard the manufacturer so much that I was surprised when NMN Precision could overtake it for the number one spot on my article.
One main reason for them to earn the second spot is that these Bosch Common Rail Injectors have been remanufactured. This means that instead of being new, the brand buys back problematic ones, reinforces the build, and irons out all problems to create a product that matches OEM requirements.
You will notice many improvements and gains, such as a better idle RPM, better fuel consumption, increased horsepower, and unmatched reliability. This is what Bosch is all about. Customer care is their top priority. And let me tell you, they do deliver on their promise.
The product also comes with all the required stuff for installation, such as O-rings and washers. The brand also recommends replacing the connector tubes for the injector to avoid contamination. Now, you don't want your new one to get dirty and create problems for you.
Lastly, the manufacturer has tested these injectors with exact OEM specifications. They have been tested to handle extreme usage for long amounts of time. So, you can rest assured that these, unlike the original ones, will not break on you.
The only problem with Bosch products that they are priced higher than the competition. The same is the case with this common rail engine.
PROS
Meet OEM specifications
Tested according to OEM requirements
2-year warranty
It comes with O-rings and washers
The only thing that may deter buyers from buying these is that they have been priced higher than usual. If you agree to spend on this one, then you will not regret this decision at all. You also are provided with a warranty in case you receive a faulty unit.
3. HX Diesel Injector For Cummins 5.9L
Taking up the third spot on this highly competitive list is an Injector by the Brand HX. Now, I know you most probably may not have heard of this name before.
But, let me tell you, don't judge them for their poor marketing. They make stellar injectors which did not only leave customers impressed but reviewers such as me too.
This buy is for six fuel injectors instead of one. This means that you get to replace all of them on your vehicle, so there will not be any fuel injection issues. You will notice improved fuel efficiency because they regulate the spray of fuel into their engine in a much better way than the original ones.
That can be seen because the tolerance of flow is 2% on these, rather than 5% on the stock ones. I don't know about you, but that is a pretty huge difference. These injectors have been tested to ensure they meet strict OEM specifications and testing requirements.
You can rest assured that there will not be any leaking, cracking, or eroding of the product. These are all issues present in the stock ones. They have been tested using Bosch's test bench of 815 operations.
They have also been tested under eight real-life conditions. These are also Bosch remanufactured. So, you are getting the excellent product there is on the market. They also come with new nozzles and control valves from Bosch themselves.
The only main drawback is that the warranty period is very less. You are getting a warranty of only three months or 5000 miles, whichever comes first. The time period is less for any faults to appear, making it tough to ensure the injector is fault-free.
PROS
Strict OEM testing
3% better flow tolerance than the stock ones
Bosch remanufactured ones
CONS
Three months / 5000-mile warranty
Although I did not come across any review stating that there were issues with this one, the warranty period is too less to test the injector entirely. Other than that, it is an excellent product and surely deserves a spot on this article.
4. Diesel Care 5.9L Common Rail Rebuilt Injector
Although this list is short, the competition on it is extremely close. Coming in fourth place is Diesel Care 5.9L Common Rail Rebuilt Injector, which is yet again a remanufactured one.
To my surprise, people prefer rebuilt ones over new ones, not only due to the savings in terms of money but due to the more than similar performance between the two.
So, why not save a ton of money and buy a used one guaranteed to get you better than stock performance?
The first main thing to know is that this product does have a core charge. This means that you are also paying a charge that may or may not be refunded to you when you send your old injector back on top of the product's actual price.
The refund amount depends on the condition of the sent product. If it is cosmetically as good as new, you will get the seller's full amount specified. If it is worse, then you may receive a partial or no refund at all.
Bosch originally manufactured these rebuilt ones. This means that you are getting a top-of-the-line injector that any other product cannot beat on the market.
The brand gets its hands on such injectors using its core policy. They have been rebuilt to ensure all problems present in the original ones are cleared out to make a near to perfect product.
Futhermore, the company ensures that you will get the highest quality products that have been rigorously tested according to OEM standards. This ensures that the injector which consumers receive is completely defect-free.
They also come with a one-year warranty which is lesser than most of the options out there. One year is more than plenty of time for any issues or faults to appear.
You are eligible for a free-cost replacement, repair, or a full refund on the rare occasion that they do. All of you have to make sure is that the fault was not due to your usage and a fault that originated from the factory.
The only drawback, which is not a drawback, is that this tuner comes with a one-year warranty. It is half of most of the other options.
PROS
Meets OEM specifications
Manufactured by Bosch
Better fuel mileage and horsepower
CONS
Core charge
One-year warranty
This product is one you must consider before deciding to buy a new injector for your engine. It is extremely durable and rebuilt to ensure it will reach the specifications and requirements that the original ones failed to do.
5. Labwork 6X Diesel Fuel Injectors
Finally, coming up in the fifth and final position are the 6X Diesel Fuel Injectors by Labwork. Let me inform you about one thing. Although this one scored that last place, it most definitely not the least.
These five were chosen from a list of many who claimed to be superior to the others. So, I took the task of deciding which one's claims hold. As it turns out, Labwork is one brand that did not advertise its product falsely.
This buy gives you six injectors instead of one. So, within one package, you are getting all the ones you need to replace.
By replacing all of them, you will be sure that all the injectors you have to perform equally and without any issues. You also don't have to worry about any old ones creating any issues for you in the future.
The brand also does not have a core charge. That means there is no extra charge for the core. You can keep the old one and won't have to worry about getting any refunds later on. Users mostly had positive reviews because it has been rebuilt to ensure you won't encounter any problems due to strict testing.
You will notice a considerable boost in not only the fuel mileage but the performance as well. The reason for that is you are getting better fuel spraying which is efficient. The perfect combustion in the engine then leads to better performance.
Users had major problems with these. The first main issue was that the packaging was of extremely poor quality. The protective caps were not even installed on them. Some reviews also stated that their vehicle hard started after installing it.
PROS
Meets OEM specifications
Better fuel mileage
Better performance
CONS
Hard starting issue
Protective fuel caps not installed
There is a reason the brand scored the last place on this article. Although it was better than many other options on the market, it still did not please many customers because they were carelessly packaged and had some issues.
FAQs
This short FAQs will focus on potential buyers' common questions and sheds light on people's issues.
You Listed New One And Several Rebuilt Ones. Which One Do You Prefer?
I would prefer a new set of injectors rather than remanufactured ones. The reason for that is there is no chance that you will get a product that may have some issues unresolved while remaking it again.
You are also getting a two-year warranty in the case of the NMN Precision injector. But, if you are looking for something on a smaller budget, you can buy a rebuilt one.
The chance of it failing is higher than a new one, but I would recommend buying one from this list. And most definitely do not buy alternatives that are cheap and claim to be new. They always have some problems.
Many Manufacturers Are Listing In Sets Of Six, But I Need Only One. Why Is That?
First of all, some manufacturers do sell single injectors. But to get the most out of your engine, it is always recommended to replace all four. Let's take an example. After using your car for 50000 miles, you get a tire issue. Will you replace only one or all of them? The same can be said for shocks too.
Unless you replace all of them, you will most likely experience unreliability due to mismatching components. Some may inject more fuel than others, which may lead to unreliable accelerating. This is the reason it is recommended to replace all six instead of only one fuel injector.
Is Having A Core Charge A Benefit Or A Drawback?
In the case of a core policy, each person has his view. Although you are getting a rebate for sending your old injector back in, I would avoid such a hassle.
The old part may break during shipping, which may or may not be eligible for a refund. You also have to send it within a specific period of time, or else the policy becomes invalid, or you may not be offered back the full amount promised.
If you are getting a core charge, I would want to ensure the brand honors its policy by checking out other customers' reviews. Even if they do not, then you can decide not to send it or take a risk. You are already saving a lot by getting a rebuilt one!
My New Injector Is Producing A Lot Of Smoke And Is Giving Me Worse Fuel Efficiency. What Should I Do?
The most probable reason for this is that you have received a faulty unit. All of the above injectors have a warranty. Although some do have a lesser period, if the fault appears within the warranty period, you can get a refund or a free replacement.
If you do face such an issue, don't hesitate while contacting the brands. All of the five brands listed above have had no problems related to warranty claims.
Conclusion
The arguments never stop whether to buy a new or rebuilt one. The following buying guide will help clear up that confusion. What I can say is that a new injector will surely upgrade over your original one.
Even if you don't have any issues with the preinstalled one, I would recommend spending a bit of money on getting them replaced.
This way, you can be sure that there will be no issues in the future. On this list of the best injectors for 5.9L Cummins common rail, I would without any doubt recommend the number one product, the Dodge Cummins 5.9L Injector.
It is brand new and has the highest number of positive reviews. It has been designed with extreme precision.
Tahir Azam
Hi there! I am Tahir Azam, and this is my blog. WVDOT Automotive is a website dedicated to creating high-quality content for car enthusiasts. I am also an avid car driver. I own and drive a Porsche for my daily tasks. It is the perfect vehicle for my family. I am a proud father of two boys. I spend my mornings and evenings catering to clients at my very own software hub. After getting home, I dedicate a few hours of my time to create an article every day. Well, this is a short introduction about me and I am also a publisher on Amazon. I hope you enjoy reading through my articles, and I also hope that I may have helped you choose an upgrade for your vehicle.
Categories Product ReviewsSours: https://www.wvdot.com/best-injectors-for-5-9-cummins-common-rail/
Bosch Diesel Centers, like Bosch Diesel Service, specialize in the diagnosis and repair of in-line pumps. Bosch Diesel Centers are also Bosch Authorized Common Rail Injector Rebuilders and provide drive-in vehicle service at their facilities.
Bosch Diesel Service is a diesel component repair specialist, qualified to diagnose and repair all conventional diesel injection pumps and their related parts. The network also offers an entire portfolio of Bosch Diesel New and Remanufactured products for purchase.
Diesel Vehicle Diagnostics centers specialize in on-vehicle diagnostics and repair of diesel powered vehicles.
A Diesel Vehicle Diagnostics center is authorized by Bosch and offers the following services:
Access to Genuine Bosch products
Bosch warranty
Access to Bosch training
Sours: https://www.industrialinjection.com/common-rail-injectors/
REBUILDING CUMMINS DIESEL INJECTORS
Surefire High Performance Injector Set For 2004.5 – 2007 Dodge 5.9L Cummins Diesel. Provides 60+ Horsepower Performance Improvement Set of 6
Watch this video to learn why Surefire Injectors are some of the best high performance diesel fuel injectors on the market!
If you're looking for the best place to buy high performance dodge cummins diesel fuel injector kits, then you're in the right place!
Are you looking for a surefire way to boost the performance of your Dodge diesel pickup truck?  Look no further than this set of 6 Surefire High Performance Fuel Injectors!
Install these injectors on your truck, and you'll see an instant boost in performance of at least 120 HP, with no other upgrades.
Whether you're needing more trailer-towing power,  you're wanting to win races at the track, or you're just needing to replace your failed stock injectors, these Surefire Injectors are a sure bet.
Order this set of High Performance Surefire injectors for your Dodge Cummins pickup today.  You're going to love the extra power that they'll give your truck!
ARE YOU LOOKING FOR THE BEST PRICE FOR 2004 DODGE CUMMINS 5.9 FUEL INJECTOR SETS?
THIS QUALITY REMANUFACTURED INJECTOR IS MADE TO PRODUCE A MINIMUM OF AN ADDITIONAL 120 REAR WHEEL HP TO YOUR 2004.5-2007 DODGE 5.9L CUMMINS PICKUP. THIS INJECTORS ARE MADE USING FACTORY MADE PERFORMANCE TIPS, NOT EXTRUDE HONE TIPS WHICH HAVE A TENDENCY TO HAVE METAL FLAKING, EXCESSIVE FLOW, AND CRACKING. USING PERFORMANCE SPECIFICATIONS AS WELL AS DYNO TESTING, WE HAVE BUILT A SUPERIOR QUALITY INJECTOR THAT OUT PERFORMS THE REST WITH NO OTHER UPGRADES NEEDED AND HAS A 1 YEAR WARRANTY TO BACK. GIVEN THE OPPORTUNITY TO PERFORM, WE HAVE YET TO SEE A DISAPPOINTED CUSTOMER!
MAKE SURE YOU CHECK OUT OUR DODGE RAM 2500 CUMMINS TURBO / DODGE RAM 3500 CUMMINS TURBO TOO!  AT TAYLOR DIESEL, WE WANT TO BE YOUR ONE STOP SHOP FOR DIESEL PARTS AND SERVICE. IF YOU DON'T SEE WHAT YOU'RE LOOKING FOR ON OUR WEBSITE, PLEASE GIVE US A CALL.  THERE'S A GOOD CHANCE THAT WE'VE GOT WHAT YOU'RE LOOKING FOR, AND JUST HAVEN'T ADDED IT TO OUR WEBSITE.
Year:
2004, 2004.5, 2005, 2006, 2007
Make:
Dodge
Model:
Ram with 5.9L Cummins
Sours: https://taylordiesel.com/rebuilt-2006-cummins-injectors/
Cummins injectors rebuilt
Genuine Bosch Fuel Injectors | 03-07 Dodge 5.9L Cummins
All 5.9L Common Rail Bosch Injectors we offer have a 2 Year Warranty.
0986435503 & 0445120255 2003 And 2004 305HP 5.9L Dodge Cummins
0986435505 & 0445120238 2004.5-2007 325HP 5.9L Dodge Cummins
REMAN RX: Part numbers ending in RX are remanufactured by a Bosh Authorized Remanufacturing dealer using Only new Genuine Bosch Replacement Parts, not cheap after market parts!!
GENUINE BOSCH REMAN: Injectors referred to Genuine Bosch Reman are remanufactured in an actual Bosch Facility. These injectors are remanufactured to meet the same high standards as brand new injectors. The latest updates are integrated in the remanufacturing process resulting in a reman Bosch injector that is equivalent to a brand new injector with a lower price.
BRAND NEW GENUIN BOSCH: We also offer BRAND NEW Bosch Injectors. These are generally not in stock and may require 2-3 extra days to ship.
We do not require cores for the brand new common rail injectors so there is no core deposit required with the purchase. There are times we will purchase injector cores, if you would like to sell your cores you may contact us to see if we are currently purchasing the cores you have.
New Bosch 5.9L Crossover tube kits. It is also recomended to replace the crossover fuel tubes when replacing your injectors. When purchasing a complete set of injectors we offer injectors and tubes at a reduced price. Simply click the radio button to select the tube kit before placing your injector order in the shopping cart.
986435503 & 0986435505
Genuine Bosch Reman And New Bosch Stock Replacement Fuel Injectors Feature The Following
Nozzle tip
Precision spray holes for long service life and optimum performance
Patented carbon coating of the nozzle needle for friction reduction and wear resistance resulting in long life
Valve & Piston
Precision engineered with high-strength steel designed to withstand the high pressure and rapid operational movement
Precision matched to withstand high pressures, ensuring superior injection performance
Magnet
Precision wound magnet coil for instantaneous injector performance within the engines optimal performance range
Patented chrome coating process on ball seat*
Superior wear resistance for reduced ball seat erosion and long life
*When application demands
Injector Body
High quality steel with special inclusion reduction technology for long life
Sours: https://www.ecddiesel.com/genuine-bosch-fuel-injectors-03-07-dodge-5-9l-cummins.html
How to rebuild 12 valve Cummins injectors.
.
You will also be interested:
.
2123
2124
2125
2126
2127