Family Activities for Preschoolers
In November one of the things, we spend some time learning about our families, our own and other people's. Learning about families in preschool lets children connect with who they are, feel pride in themselves and their families, while also setting down a foundation for understanding others. Preschoolers are pretty focused on their view of the world, so we try to teach them other experiences gently with the knowledge that this self-centered view is not malicious, merely developmental. These family activities for preschoolers are perfect for your classroom, but they are a great way to explore a family theme at home too!
For even more family theme ideas for preschool, check out our Families Mini-Unit –> you can click here or on the image below to check it out in our teacher store.
Family Activities For Preschoolers
My family origami house – older students can help fold this paper house, but you can have them prepped for younger preschoolers. I love this project and think it's a great way to talk about families with your students.
Family Puppets – these are simple and help children learn how to spell their names as well!
House numbers ( FREE printable)  – This math activity asks children to count the homes on the card and then clip the correct digit.
7 Family Themed Fingerplay Songs for Preschool
Happy group of finger smileys isolated on white background
Family bowling is so much fun and would make an excellent activity for a family game night. It's also a great way to work on physical literacy and would be a fun send home activity too.
All the people we love sensory bin. This is such a fun way to teach students about each other's family, practice family names like mama, daddy, papa, granny, and of course, do it all with some sensory play.
This inclusive family questionnaire is great for mother's or father's day but can be used any time to talk about anyone your students think is special.
Shape House – this shape lesson and art project is a beautiful way to talk about homes and families.
Storytelling with Family Pictures.
Preschoolers don't always know how to get started when telling a story – lots of adults don't either. One of my favorite ways to get students involved in storytelling is to use family pictures as story prompts. You can ask your student's families to send in some photos and make a box for your literacy center. Have a little one on one or small group time with your students and build that relationship and literacy skills at the same time. The goal here isn't really a cohesive story (although that is encouraged); the goal is for your students to start sharing stories about their families and learning about other people's families too.
Learning About Families at Circle Time
This circle time lesson is a wonderful introduction to the fact that families are all different. The activity that follows the book helps to reinforce this with a little math rolled in for good measure.
I just did this lesson in my classroom last week <– click here for the Instagram photo. It was such a hit, as always. Children love seeing all kinds of families!
Preschool Book Lists about Families
Books are such a valuable teaching tool when we teach children about families. Families that reflect the one they are a part of and families that are very different from their own.
Books About Moms
Books About Dads
Books About Grandmothers 
All Kinds of Families 
LGBTQ+ Families 
Filed Under: Age Preschool, families, Family Activities, Preschool Activities | Leave a Comment
Sours: https://www.notimeforflashcards.com/2019/11/family-activities-for-preschoolers.html
When learning All About Me, it's a great idea to talk about families at the same time. Families are one way that your preschooler connects to the wider community and each are unique. These fun family activities and ideas are great for preschoolers and you to do together so here you go some activitie for preschoolers on the theme of families.
What You'll Find on This Page
Activities for Family Theme for Preschoolers
Family is a great theme to do with your preschoolers you can either do it independently, or why not combine with the theme of All About Me and talk about the different families.
Here's some of our favourite family activities for preschoolers.
My Family Preschool Crafts
Why not get creative and make some portraits of the members of the family – these portrait collages are fun to create and it's fun to see how your preschooler views the different members of the family.
Another fun creative activity to try is this Family Footprints craft from Capri +3. It would be great to have on the wall.
Preschool Family Tree Activities
Another fun family craft activity for preschoolers is to make a family tree – we made ours here on Rainy Day Mum with a straw blow tree and added in the family members on the leaves.
How about sorting your family tree with this simple preschool Our Family Tree: Sorting Family Members from Still Playing School activity.
We love sensory activities and this Family Tree Themed Sensory Bin and Prewriting activity from Little Bins for Little Hands is great for preschoolers to do and easy to set up.
Family Theme Literacy Activities
Why not help your preschooler with letter recognition and learning how to read, write and spell names of family members using shapes – this build a name activity can be done for themselves or like above for other family members.
We love creating our own books with preschoolers and this fun Bookmaking for a Preschool Family Theme activity from Fun A Day is ideal. It's simple and you can adapt it for preschool at home or in the classroom.
We all love receiving letters so why not have a go at this Preschool Writing Activity: Letters to Family from Fun Learning for Kids.
Maths Activities for Preschool Family Theme
Why not introduce pictograms to your preschoolers with this fun family ice-cream preferences graphing activity to do together.
Connecting With Family Activities for Preschool
Our family is around the world and this Finding My Family on a Map from Powerful Mothering is perfect for helping our preschoolers to learn about the world and also to get some idea of where their family lives in relation to them.
Families have so many recipes and we just love this Family Recipe Book Activity from Growing Book By Book to create our own with our favourite family recipes.
With families spread around and especially at this time these Tips for Using Skype to Connect with Family from The Educators' Spin On It are great to allow you to be online with family around the world.
Does your family have a history from a different country? If like Alecia over on No Stress Homeschooling you do why not introduce your kids to games from their cultural heritage check out her Jamaican Games that she has played with her preschoolers.
Family Themed Books To Read with Preschoolers
Our pick of the books for families that we have enjoyed with our preschoolers are
Resources Recommended for the Family Theme for Preschoolers
We are big fans of Learning Resources equipment here at Rainy Day Mum and this family themed counter set is a great resource that you can use for counting, graphing and sorting for Maths Centre work. With older preschoolers you could start to introduce the topic of Doubling and Halving by using these counters and mirror – find out how to teach doubling and halving with a mirror.
Free and imaginative play is such an important part of preschool and it is easy to provide toys around the theme of "families" this open sided dolls house makes it easy for children to play separately accessing all areas as well as play together, moving from playing in the same space to playing cooperatively as they progress through the stages of social development in preschool.
Add this multicultural skin coloured dough to your play dough and modelling clay work for the family theme.
More Preschool Themed Activities to do
Cerys Parker
Cerys is a marine biologist, environmental educator, high school teacher and mum. Realising that life doesn't have to be put on hold and you don't just have to survive whilst the kids are young she shares ideas to inspire you to LIVE with the kids, with activities to do together, recipes to cook and enjoy and family travel to make memories to last a lifetime.
Sours: https://rainydaymum.co.uk/family-theme-activities-preschool/
Preschool Family Theme
for your Preschool Classroom!

What happens at home is EVERYTHING to a preschooler. Preschool family activities can and should be talked about in preschool and this family preschool theme activities page will help!
This gives your students the opportunity to talk about the people most important to them and also helps them realize that family, the people we live with, is something we all have in common, regardless of how our families look!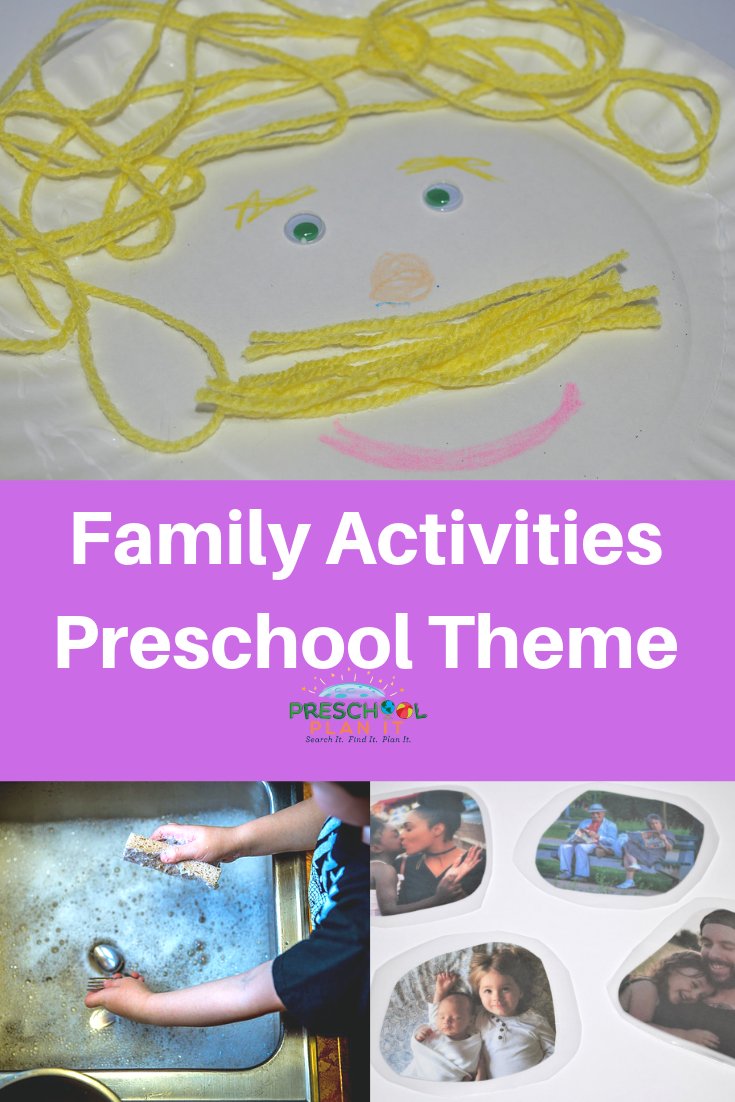 Some families have siblings, some have none. Some have parents, some have none. This theme page is filled with preschool activities and ideas for all areas of your classroom.
You'll find more themes to help you with your planning on my preschool themes page.

Other Themes That May Compliment this Theme for your Classroom!
There are many other themes that may be great for your classroom and go along very well with this theme!
Below you will find links for a few of them such as All About Me and a Pets Theme!
Let the  Preschool Family Theme planning begin!
You can either scroll down through this page to see all of the preschool activities for your theme or click the link below to go to specific preschool activity types you are looking for.

Preschool Family Theme Art Activities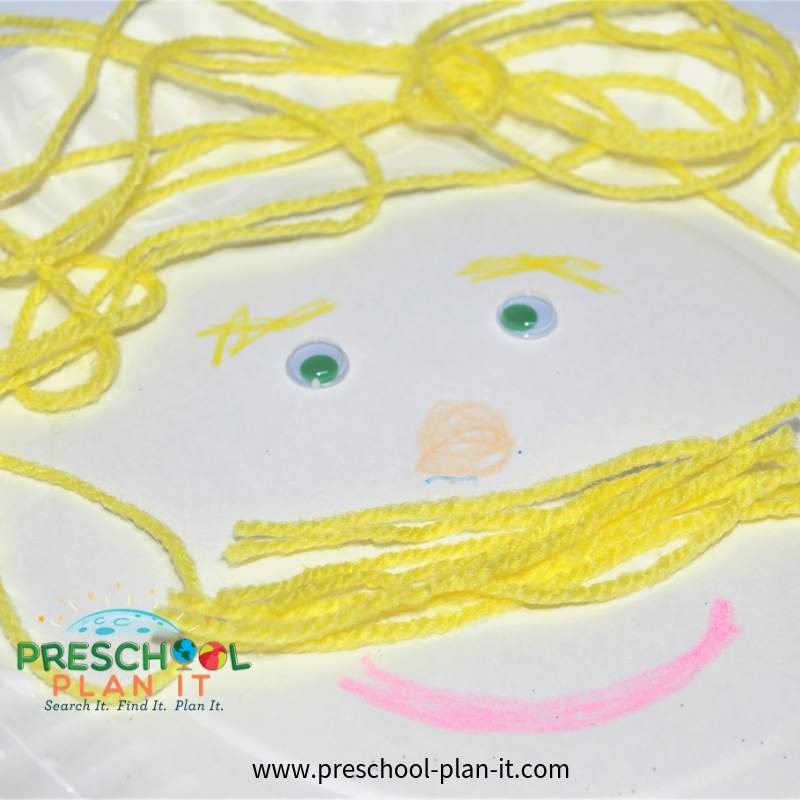 Family Faces
Materials Needed: paper plates (many!), markers, precut yarn in different colors, buttons or googly-eyes, glue, craft sticks
The children use the materials to make the faces of members of their families. Ask questions to help them such as "What color eyes does your Mom have? What color hair? Does your dad have a beard?"
Sponge Painting
Materials Needed: people shaped sponges, paint in shallow trays, construction paper
The children use the sponges to create their own family. Be sure to write the names of the people they list!
VARIATION: Use playdough cookie cutters (people shapes) to dip in the paint.
DON'T FORGET TO ADD SOME PET SHAPES, THEY ARE PART OF OUR FAMILIES, TOO!
Magazine Collage

Traditional but fun! In advance, have a huge selection of pictures cut from magazines of people, families doing things together etc. The children choose what they want to make a collage of family fun.
SUGGESTION: Ask parents in advance to cut pictures out for you either from magazines you have or ones they have at home.
Preschool Family Theme Block Center Ideas
Our Family
Add a dollhouse, cars and little people to you block area.
Preschool Family Theme Circle Time Ideas
Circle Time is such a great time for children to learn the social skills of being together as a large group AND to learn more about your theme!
Our Families
Begin your theme with this activity!
In advance, cut out many, many little people shapes.
Prepare a large chart that has the children's names in the left hand column.
Ask each child who is in their family. The child tapes a person shape next to their name for each person (Mom, me, Grandma). Print the names on their little people before they tape it.
This can be used throughout the unit to compare families at Circle Time for some awesome math activities:
How many of us have brothers and sisters?
How many brothers and sisters in all?
Our Families Idea #2

Use a puppet to talk to the children about their families! Have your puppet talk about their family and, one by one, the puppet asks each child who lives in their house!
Family Helpers
Bring a large piece of chart paper and a marker to Circle. Ask the children what types of jobs their families need to do at home and what jobs they can help with.
Sing the song (sung to Mulberry Bush):
This is a job we do at home at home, do at home, do at home.
This is a job we do at home, my family and me!
You may need to start by suggesting a job--perhaps doing dishes, folding clothes, washing the dog, etc.
List the jobs the children name.
EXTENSION: As each child names a job and you are writing it on the chart, sing the above song while the child acts out the job!

Togetherness

Bring a large piece of chart paper and a marker to Circle. Ask the children what types of things their families do together and list them on the chart.
Again, you may need to start by suggesting: We make tacos every Friday night; we have a game night; we visit Grandma at the nursing home, etc.

Who Am I?

Ask questions that describe something a family member does at home. Let the children answer, and remember, there is no right or wrong answer here! Dads might be the ones to cook at home or Moms do the driving!
I am thinking of a family member who cooks dinner; does dishes; feeds the dog, etc.

Fingerplays, Songs and/or flannel board stories! Adapt them in any way!

My Family (sung to Muffin Man)
Tell me what you like to do, like to do, like to do.
Tell me what you like to do with your family.
Add what each child tells you:
Cheryl likes to walk the dog, walk the dog, walk the dog.
Cheryl likes to walk the dog, with her family!
Our House
Here are the windows (make a square)
Here is the door (make a triangle)
Come on in, I'll show you more (wave as though inviting them to come)
Here is the kitchen and the living room, too (point to pretend rooms)
A bathroom, a bedroom and a room for you!
An attic and chimney and a roof above.
My house is a home and it's filled with love!
Return To Top
Snack Recipe Ideas to Cook Up for Your Preschool Family Theme!
Cooking with children helps develop their math skills and helps them to learn how to follow directions. It also allows for some great conversation! Ask many questions while cooking with your children to encourage conversation! Be sure to ask specific themed questions while making these fun snacks!
Preschool Family Picnic!

At snack time, put out some blankets and have a preschool family picnic style snack or lunch!

If you have cooking ideas to add to the preschool family activities theme section, please use the "Contact Me" link to the left and I'll add it to this page! Please be sure to tell me the name of the theme!  Thanks!
Preschool Family Theme Ideas to Transform Your Dramatic Play Area
Moving Day

One year, we had 3 children move during the school year. It can be a stressful event! Provide an opportunity for the children to pack and move by setting up dramatic play with lots of toys, clothes, boxes and bins.
They pack and help move (perhaps using a wagon!). Be sure to interact with them and talk about what they think their new house will be like, what their favorite things are that they don't want to forget to pack and perhaps what they might be nervous about (leaving friends, a new school, etc.)
Preschool Family Theme Ideas for your Easel--
More Than Just Painting (Although that is always THE favorite in our classroom!)
My Family
In advance, have a large supply of pre-cut people shapes for the easel (babies, adults, children, pets). The children choose the family members they want to paint.
Preschool Family Theme Large Group Games To Help Build Their Muscles While They Have Fun Together!
Where Shall We Go?

Place many chairs together as a car and let the children take turns being the person driving the family some fun Preschool family activities such as to......
the park, school, work, supermarket, etc.
Provide the driver with a makeshift steering wheel and the others with activities they might do in a car.
Preschool Family Theme Ideas for Your Library & Literacy Area
My Family Flannel House
Hang a LARGE piece of flannel on the wall that is separated into rooms. Provide flannel pieces in shapes of people and household items for the children to place on the board.
This would work well in your manipulatives center as well on a smaller scale!
Book Suggestions for the Library
(I LOVE Amazon, and if you choose to get yours there, they do send me a few cents--which supports my coffee habit!)

Are You My Mother? (Bright & Early Board Books(TM)) by P. D. Eastman
The Berenstain Bears' New Baby by Stan and Jan Berenstain
Blueberries for Sal (Viking Kestrel picture books) by Robert McCloskey (see the cooking activity above for an extension activity on this story)
Clifford's Family (Clifford 8x8) by Norman Bridwell
Five Little Monkeys Jumping on the Bed (A Five Little Monkeys Story)
Goldilocks and the Three Bears (Picture Puffin Books) (pick your favorite version!)
Guess How Much I Love You by Sam McBratney
Just Me and My Mom (A Little Critter Book) by Mercer Mayer
My Mom and Dad Make Me Laugh by Nick Sharratt
The Relatives Came by Cynthia Rylant
The Runaway Bunny by Margaret Wise Brown
Nana Upstairs and Nana Downstairs (Picture Puffins) by Tomie De Paula
Preschool Family Theme Activities to Help Your Preschoolers Develop Their Math Skills and the Small Muscles in Their Hands!
Who Is That?

In advance, cut out pairs of people (adult woman, man, child, baby, grandparent, pets).
Laminate both sets.
Tape one set in a manila folder.
The children match the people shapes.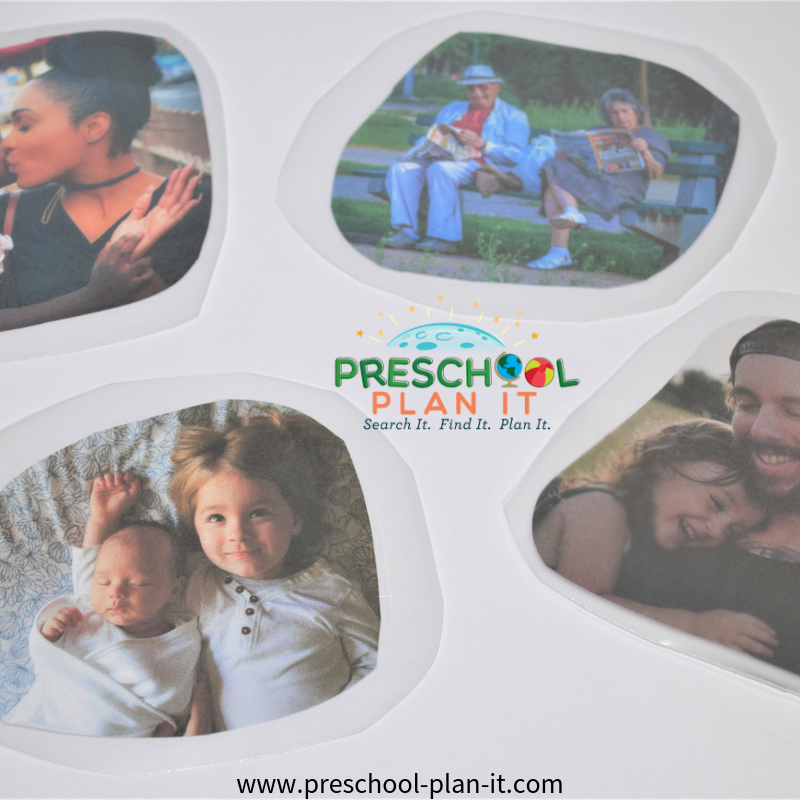 Family Sort

In advance, cut out and laminate a large number of people, families and others that go with this preschool family activities theme from magazines.
Simply place them at the table for the children to sort in different ways.
Puzzles!
Of course! Have many family puzzles available during this theme!
Preschool Family Theme Music and Movement Activities and Ideas to get your Preschoolers Movin' and Groovin'!
Farmer in the Dell  Thanks, Kaleena, for this idea!
Have the children take turns acting out the farmer in the dell. The children love singing and choosing each character over and over again.
Preschool Family Theme Ideas for Your Sand and Water Table!
Shaving with Whipped Cream

Okay......again, as in the Blocks area activity, I am asking you to be brave and go a little crazy here!
At a table, provide free standing hand mirrors, whipped cream, a clean brush and tongue depressors.
Let the children shave......and eat! Of course, be sure to talk about the fact that this is PRETEND and that they should never, ever do this at home!

Water Fun

Provide dishes, water, soap and towels to do dishes (and of course a mop and bucket!)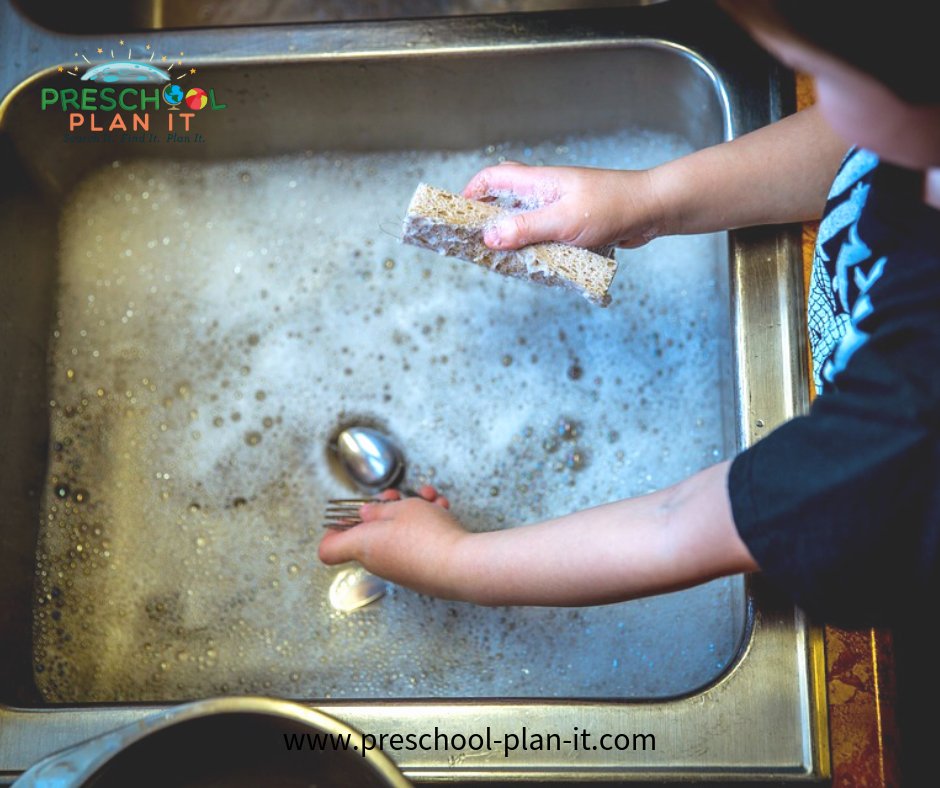 Preschool Family Theme Science Activities--
for your Preschool Scientists in Training!
If I Could Paint My House....
What color would they choose if they could paint their house?? Find out in the preschool family activities theme science idea!
Materials needed: Provide paint cups with different colors of water in each.
Provide each child with their own clear paint cup and a pipette.
Teach them how to use the pipettes.
Let them create their own colors.
I'd suggest having a few pitchers of water a large bin. They will want to empty their colors and start over many times!
Writing Activity Ideas for Your Preschool Family Theme!
My Family Book

Each day, encourage the children to talk about one family member and draw a picture of that member. Have a conversation starter printed on the page each day. The child draws about that person and you print on their page what they say:
I love my Mom because...
My sister/brother and I like to .......
At the end of the unit, you will have a great family book to send home.
VARIATION: Use this idea for a Thanksgiving or Christmas theme activity or end of the year activity.
My Family Fun Page
Encourage children to draw a picture of some fun preschool family activities they enjoy doing with their families. Print their stories on the page.
EXTENSION: Make this into a class book and read it at circle time.
EXTENSION: If you have the ability, make color copies so that each child can take a copy of the book home. Use their original paper as their book cover.
Another Family Fun Page Idea
In advance, cut family member pictures out of magazines, old books, etc.
Glue one family member on large, plain construction paper. (Make MANY!!)
Provide markers or crayons.
Encourage the children to draw a family picture and write down the story they tell you about their picture.
These also make GREAT classroom books to read at Circle Time!
Miscellaneous Activities for Your Preschool Family Theme!
Preschool Family Activities Banners
Send a note home to families asking them to make a family banner or collage of the people in their families. Ask them to label the pictures by printing the name of each person under the pictures (the banners will go home after your theme is over).
As children bring them in, let them tell their friends about their family at Circle Time and then hang the pictures in the classroom to see during the theme!
Classroom Visitors
A Preschool Family Activities Theme is a great opportunity to involve families in the classroom!
Pet Visit
Invite a family to bring a pet in to visit your children. Be aware of allergies and possible state regulations (i.e. some states do not allow birds in classrooms)
We had a family this year bring in their Bearded Dragon on Show and Tell Day!
Babies
Invite a parent to bring their baby in and talk about the jobs involved in being a parent.
Grandparents
Invite a grandparent to visit and talk about things they like to do with their grandchildren.
---
Go to the ALL ABOUT ME Theme Page
---
Go to the MAIN THEMES Page
---
Go To Preschool Plan It's HOME Page
---
Sours: https://www.preschool-plan-it.com/preschool-family-activities.html
Circle Time And My Family Theme; Pre Kinde - Preschool At Ho
Family Arts and Crafts
You have come to the right place if you are looking for fun, learning and engaging Family themed activities to do with toddlers, preschoolers and kindergartners. Our activities are used by teachers, moms, dads, child care providers and more!
All our activities are available at no cost and are free to print and share. Select below to get started.

My House
Use a milk carton cut in half and cover with construction paper. Have children add windows, doors, trees, Etc. cut from construction paper (or draw on details) to resemble the child's house. Have the children draw the members of their families (they always want to include the pets also) on tongue depressors and place them into the house. When finished the children form a town and take their "family members" to visit other families.
Dough House
The children are given a shape of a house. They are then supplied with play dough cutters that are in the shape of a mother, father, child, dog, cat and fish. The children are instructed to dip the appropriate family members in paint and then put in their home. Label the figures with the family member's names.
Special Hands
Trace the child's hand print twice. Cut out. Also cut out a long rectangle (this will be the arms). Glue one hand print on either end of the long rectangle (arms). Write on the arm part: My family is special because ___________________. Have the children finish the sentence.
Friendly Rainbow
Make a rainbow of our hand prints when studying friends. Just lightly draw on the arches of the rainbow on a large piece of butcher paper. Use different colors of paint to paint the children's hand prints and make a beautiful rainbow.
Collage
Make a collage of pictures of things we like to do with our friends and family.
Hand Mural
You can also make a mural with their hand prints becoming flowers. Paint on stems and some grass with their hand prints for the flowers. Title it "Friendships bloom in our classroom."
Family Puppets
Give each child a cut out of a person (kind of like a gingerbread man pattern). You can use the multi cultural colored paper (of course!) then the kids can decorate and make any family members they wish to. Then attach them to popsicle sticks and there you go.
Family Collage
Have the children go through magazines and find pictures of all the things their mothers do. Cut them out and glue them onto construction paper. The same can be done for dad. Another variation is to have the children cut out pictures to represent the people in their family and the things they like to do as a family.
Family Diorama
Bring a shoe box for each child.
Have the children:
Paint a background on the inside of it.
Make stand up pictures of your house and family.
Glue the pictures in your box.
Family Mobile
Illustrate a picture of each member of the family. Include the pet if the child has one. Cut out each family member. Glue each picture on strong paper or cardboard. Hang your pictures on a hanger with yarn or string to make a mobile. Print the last name on a piece of paper and fasten it to the hanger. Hang your mobile in the classroom.
Family Tree
Encourage your children to talk about all the people that belong in their family. Mother, father, sister, brother, grand parents, aunts and uncles. To make a family tree you will need: an orange juice can for each child, a small branch from a tree for each child, construction paper cut into circles and punched with a small hole, string or wool and some plaster of paris. Cover the can with paper and decorate. Go for a walk and have each child pick a branch to put in the can 2/3rds full of plaster. Allow to dry overnight. Ask the children to draw a picture on one side of a circle and you write the name of the family member on the other side. Punch hole and thread – hang on tree.
Family Tree
Give them each a tree shape drawn on a piece of paper and sponges cut into apple shapes have them sponge paint the apples onto the tree to represent each family member provider will write names on the apples.

Family Project
Make outlines (silhouettes) of different family members: mom, dad, brother, sisters, self, and even pets and the children make a family collage. You could send home a piece of paper with a note asking for each member of the family to trace or have traced their handprint on the paper. Each person could decorate any way they wanted to. The children enjoy talking about their family's handprints. Then hang them on the bulletin board.
Family Book
Each child is given a book at the beginning of the unit with a caption on each page. (Books can be made using newsprint and construction paper.) My mother is special because… My dad can… Grandparents are special because….The best part of being a brother/sister is… Each day the children are asked to draw a different picture and complete the sentence with you help. A wonderful book to bring home and 'read'.
Rock Families
Take a walk and have the children collect four or five different sized rocks to make a family. Bring them back and paint them. Then let the children play with their families. Encourage them to make up stories about their rock families. For example have them name their rocks and tell what each one likes to do. Help them expand their stories by asking questions.
Shaving Just Like Daddy
Materials: whipping cream, mixer, bowl, small cups, crafts sticks or tongue depressors, mirror
Procedure: Give each child a small cup full of 'shaving cream' (whipped cream) and a 'razor' (craft stick). Looking into a mirror, the children put the shaving cream on their faces, all over their imaginary beards and mustaches.
Then, slowly and carefully, they 'shave' off their whiskers until they can feel their smooth faces. Next time they can give someone else a shave.
Be sure the children understand that real razors are not to play with.
Poem:
Put on the cream.
You can have a taste,
Now shave it off carefully,
And make a funny face!
Three Bear Family
First get a refrigerator or wash machine box and cut off one of the sides. Then on the center piece cut a peaked roof and a window on each of the sides. It's no longer a complete box but an opened up "U" shape.
The kids can get on both sides of it and paint it using bright colors. When this is dry, use it as kind of a back drop for the house. The kids build beds, chairs, and a table using the hollow blocks – good math activity trying to figure out the different size beds: if we use two blocks for the baby bed, how many for mom's and dad's?
Same thing with the chairs. Provide pillows and blankets, and: a baby bonnet for baby bear, an apron and hat for mama bear, a tie and hat for papa bear, a dress and barrette with yellow curls for goldilocks, a giant bowl, middle sized bowl and baby bowl, a giant wooden spoon (the kind that hangs on the wall – a thrift store find), a tablespoon and a baby spoon.
Then enact the play.
Food Experience
Have parents share favorite family recipe or tradition. Have parents come in and read to children.
Charting Families
Make a chart titled "How many people in your Family?" On a large poster board, list children's names. Glue small people cutouts next to each child corresponding with the number of people in the family. Line them up neatly so the children can compare size of family.
Grow Your Own Family Tree
You Need:
Large sheet of paper
Colored paper
Scissors
Paste
Crayons, markers, or colored pencils
Instructions:
1) Draw a tree on the large sheet of paper. Be sure to give your tree lots of branches!
2) Cut out a color paper shape to represent you — a circle if you are a girl or a square if you are a boy. Write your name on the shape and paste it on the trunk of your tree.
3) Cut out shapes for all of your present family members and others important to you — mothers, brothers, neighbors, pets. Write names on the shapes and paste them on the lower branches of your tree.
4) Cut out shapes for all your past family members and others important to you — grandparents, great-aunts, friends. Write names on the shapes and paste them on the upper branches of your tree.
5) Draw a picture on each shape that tells something about that person.
6) Congratulations! You have started doing genealogy — recording your family history!
More Family History Fun!
Take your tree to a family gathering! Ask if there are more family members to add to your tree. Remember to add pictures, too.
Make a memory book! Have family members tell you their favorite family memory. Write them down in a notebook.
Create a scrapbook! Collect photographs, postcards, souvenirs and other items from your favorite family activities. Save them in an album or box.

Food Group Snacks
During family week take the time to discuss what we should eat to stay healthy. Talk about the different food groups and a food group for each day.
Encourage your children to have healthy eating habits.
Milk Products- milk, yogurt, ice cream, cheese
Fruit – fruit salad, fruit kabobs or sliced fruits.
Vegetables – an assortment of fresh vegetables, vegetable soup or a garden green salad.
Grain Products – muffins, crackers, toast or cookies for a real treat
Meat & Alternatives – chicken, peanut butter, eggs and tofu for something new.
Graham Cracker Houses
Spread with peanut butter and apply to sides of SMALL milk carton, decorate the houses with mini marshmallows, red hots, raisins, Etc.
Family Trees
Place broccoli stalks on each plate with a cherry tomato for each family member. Serve ranch dressing on the side.

Song-"I Love Mommy" (or Daddy, Brother, Sister, Etc.)
(tune: Frere Jacques)
I love Mommy, I love Mommy.
Yes I do; yes I do.
And my mommy loves me,
Yes, my mommy loves me,
Loves me too; loves me too.
Families
Some families are large. (spread arms out wide)
Some families are small (bring arms close together)
But I love my family (cross arms over chest) best of all!
Title: A Day with Dad
My dad works in an office downtown,
And when he's home, he works all around.
He cleans up dishes and that job's hard;
Then he rakes up leaves and mows the front yard.
But Dad always finds some time for me,
And that's what makes a family.
Title: Divorce
I didn't understand at first
why Daddy went away.
I thought that it must be my fault
because he wouldn't stay.
Did he still love Mom and me?
'Yes,' he said, 'Of course.'
'Then,' I said, 'Explain to me:'
'What does it mean, 'divorce'?'
This might be a good time to talk about divorce, and that it means that both parents still love their children very very much.
Both Fingerplays above, Divorce, and A Day with Dad are copyrighted by Terry Graham and published in Fingerplays and Rhymes, Humanics Limited. Both are used with the author's permission. Thank you, Terry!
Sung to 'The Teddy Bears' Picnic'
Let's all go to the woods today,
We're sure of a big surprise.
Let's all go to the woods today,
We'll walk there side by side.
We know that we'll have lots of fun,
We'll eat and play and dance and run.
Today's the day we have our family picnic!
Materials: Felt-tip markers. Making the Puppets: Use felt-tip markers to draw two eyes, a nose and a mouth on each finger of one hand.
My Family
Here is Daddy. (thumb)
Here is Mommy. (index)
Here I am for three. (pinky)
Together we're a family,
As happy as can be! (clap!)
My House
Here are the windows,
Here is the door.
Come on in, I'll show you more.
Here is the kitchen, the living room too.
A bathroom, three bedrooms, and a room for you!
An attic, a chimney, and a roof above.
And my house is a home,
'Cause it's filled with love!
My Puppy
My puppy has a doghouse,
just outside my door.
He licks me when I pet him
and wags his tail for more.
He's always there beside me,
no matter what I do.
My puppy is my special friend,
and a family member too!
With My Family
Sung to 'The Muffin Man'
Tell me what you like to do
Like to do, like to do.
Tell me what you like to do
With your family.
Edward likes to rake the leaves
Rake the leaves, rake the leaves.
Edward likes to rake the leaves
With his family.
Let the children talk about what they like to do.
Music In Our Home
Mother plays the violin.
Daddy plays the flute.
Big brother blows the horn,
toot-toot-toot-toot.
Little sister keeps the beat
By clanging on a pot.
And I try to sing along
Whether I know the words or not.
Dear Reader:  You can help us make this theme even better!
All of our theme ideas have come from our imagination and from reader submissions.  Please use this form to contact us if you have crafts, activities, games, recipes, songs or poems that you would like us to add to this theme.
Sours: https://www.childfun.com/themes/people/families/
Theme preschool ideas family
.
Caitie's Classroom Live - Family! - Preschool Songs \u0026 Activities
.
You will also like:
.
2078
2079
2080
2081
2082