Silicone Soap Mold - COLOR NATURAL + Stainless Steel Stackable Basket
RED Silicone Soap Mold (Color: Natural, no pigments) - PLUS - RED Stainless Steel Stackable Basket - SEE THE 3 VIDEOS BELOW

Purchase the RED Silicone Mold and RED Stackable Soap Mold Basket Combination.

The Revolutionary Essential Depot (RED) Silicone Soap Mold is 4x to 5x thicker than traditional silicone molds. Strong enough to withstand thousands of uses. Engineered to provide years of easy service, and sized to make soap loaves that can be cut into 11 one-inch bars.



MOLD SPECIFICATIONS:
Unique design.
No seams/lines on your soap loaf.
Made of high grade silicone.
Temperature ranges from -40 to 536 degrees Fahrenheit.
Will retain its shape after thousands of uses.
Final Soap Loaf can be cut into 11 1-inch Bars in the RED Soap Cutter.
No pigments used in the manufacture. This is the natural color of silicone.
Reuseable.
Dishwasher Safe.
Oven Safe.
Microwave Safe.
Freezer Safe.
Food Safe.
MOLD DIMENSIONS (Inches):
Interior: 11.25 (L) X 3.25(W) X 3.70(H)
Exterior: 11.75(L) X 3.75(W) X 3.941 (H)
Wall thickness: .25
Bottom thickness: .24 inch
Designed to make a 4 lb to 6 lb 11.25 inch long loaf of soap. You determine the height of the soap when you fill the mold.
MOLD CARE INSTRUCTIONS:
Wash prior to first use with warm soapy water, rinse thoroughly with cold water, and towel dry completely. Repeat after each use.
Dishwasher safe. However, looks best if hand-washed in warm soapy water, rinsed with cold water, and completely dried.
ALWAYS finish with a cold water rinse and fully dry (leaving no water residue).
Use Life: thousands of uses.
The revolutionary stainless steel soap mold basket is designed exclusively for Essential Depot's RED Silicone Soap Mold. This basket provides the perfect support for your 11 inch loaf of soap. More importantly, you can stack several baskets allowing you to conserve space as you make multiple 11 inch loaves of soap.

BASKET DIMENSIONS (Inches):
Outside: 14.25" deep, by 4.25" wide, by 5.75" high
1.5" of the height are the stacking ears
So, to work out the height of the baskets stacked, you multiply the number of baskets you want to stack by 4.25" and add 1.5". For example: 2 baskets stacked would be (2 x 4.25) + 1.5 inches high = 10 inches high.
The combination of our R.E.D. (Revolutionary Essential Depot) Silicone Soap Mold, our R.E.D. Soap Cutter, and this R.E.D. Soap Mold Basket provides you with all the tools you will need to make perfectly cut 1 inch bars of soap (eleven at a time) with our R.E.D. family of products.
If you do not want to deal with lye, you can purchase our R.E.D. Melt & Pour. Merely melt it in the oven in the R.E.D. stainless steel soap basket, then add your essential oils and other additives, let your 11 inch loaf cool in this soap basket, and then cut it into 11 perfect 1 inch bars of superb soap using the R.E.D. Soap Cutter.

Any questions, do not hesitate to call our Toll Free Number (866) 840 2495.
Our RED family of products designed to allow you to make perfect 1" bars of soap by the loaf.
Good luck with your soap making business from your friends at Essential Depot. Check out the video reviews of the R.E.D. Soap Mold Baskets Below:
Sours: https://www.essentialdepot.com/mm5/
Back to Basics: How to Choose a Soap Mold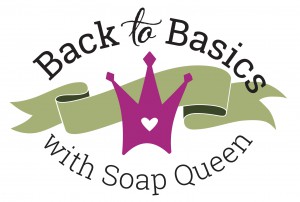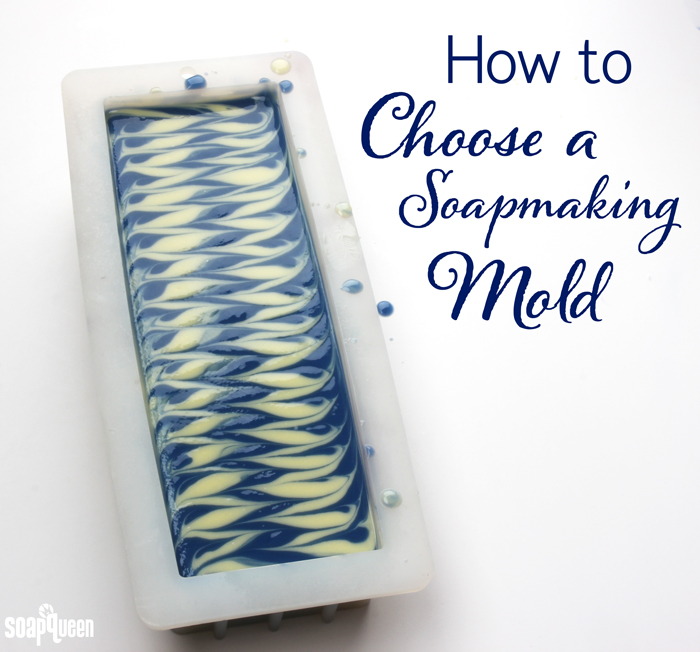 Soap making molds come in various shapes, sizes and materials. It's crucial to consider what kind of mold you'll be using when designing a soapy project. The mold will determine how big your batch needs to be, and may influence ingredients and cure time. One of the most popular soap mold options is a silicone mold. They are easy to clean with no lining necessary and come in a variety of shapes and sizes. Other mold options include recycled containers, plastic and wood molds. Each have benefits that may affect your soaping experience.
Silicone Molds
Pros: Easy to unmold soap with flexible material, easy to clean, no need to line mold,long lasting, professional looking bars
Cons: Soap takes slightly longer to unmold, soap can speckle with bubbles if soap overheats

Silicone molds are extremely popular due to their ease of use. Sturdy yet flexible, silicone molds make unmolding both cold process and melt and pour soap easy. The key is to break the airlock by gently pulling away the sides of the mold from the soap. If you experience any resistance when removing cold process soap, stop and give it a few more days in the mold. It's not worth it to tear the sides or bottom of your project!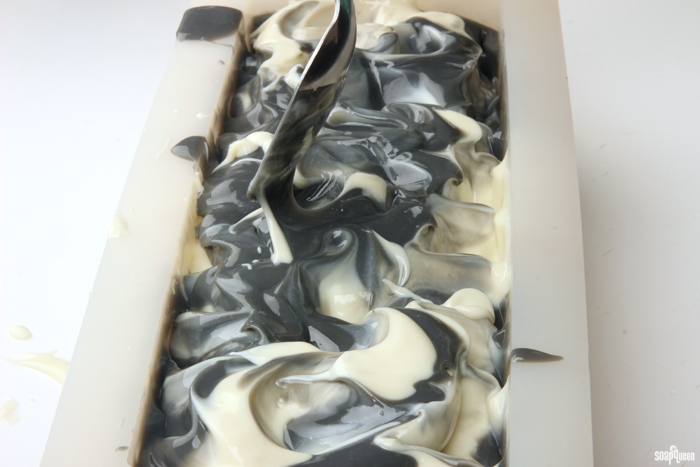 Soap does take longer to harden in silicone molds because there is no air in contact with the soap. Sodium lactate is a key additive to use when working with silicone molds. Sodium lactate is a liquid salt that helps produce a harder bar of soap that lasts longer in the shower. Sodium lactate also helps the soap harden faster in the mold. This means that instead of waiting 3-4 days to unmold your project, you can often unmold the very next day! We recommend adding 1 tsp. of sodium lactate per pound of oils in your recipe to cooled lye water. Click here to read more about sodium lactate, and how to use it in your projects.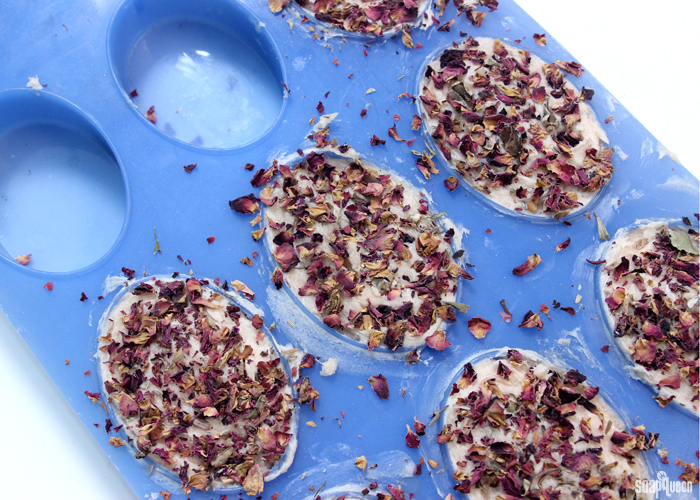 In addition to easy unmolding, silicone molds are easy to care for. After removing your soap from the mold, hand wash the silicone mold with hot water and dish soap. Allow to dry and the mold is ready to use for your next project! While silicone molds are sturdy, we do not recommend placing them in the dishwasher. Also avoid any harsh scrubbing materials such as copper sponges, as they may scratch the glossy finish inside. Click here to read more about caring for molds.
Recycled Molds
Pros: Create unique shapes, cost effective, eco friendly
Cons: Shapes not consistent, may need to line mold, mold may only be good for one use
Just about any container can be turned into a soap mold with proper lining. If the container is plastic, the soap can be poured directly without lining. Popular options include yogurt containers, pudding cups and tofu containers. Cardboard milk containers are also a good option, as the inside is normally lined with a nonstick coating. Check out the How to Recycle Your Recyclables post for more ideas. Recycling objects and boxes in your home is a great way to save money on molds and create eco-friendly and unique looking bars.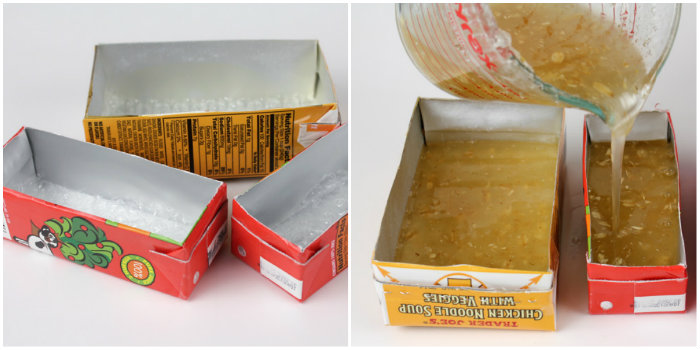 One negative aspect of recycled molds is they may not be very sturdy, and may produce bars that are not completely straight or uniform. If you are looking to create professional looking bars consistently, other mold options are better choice. The container should not be used for food storage once used to make soap. Depending on the sturdiness of the container, it may only be good for one soaping recipe.
Most recycled containers will need to be lined with freezer paper to ensure the soap does not stick. Lining also helps ensure the soap does not leak. For example, both the Creamy Orange Cold Process Soap and the Simple & Gentle Cold Process Soap tutorials were created in a USPS Medium Flat Rate Box. If the soap was poured directly into the cardboard, the soap would stick to the box. To prevent this, freezer paper was used to line the box. The How to Line Any Mold blog post has tips on turning any box into a proper soap making mold.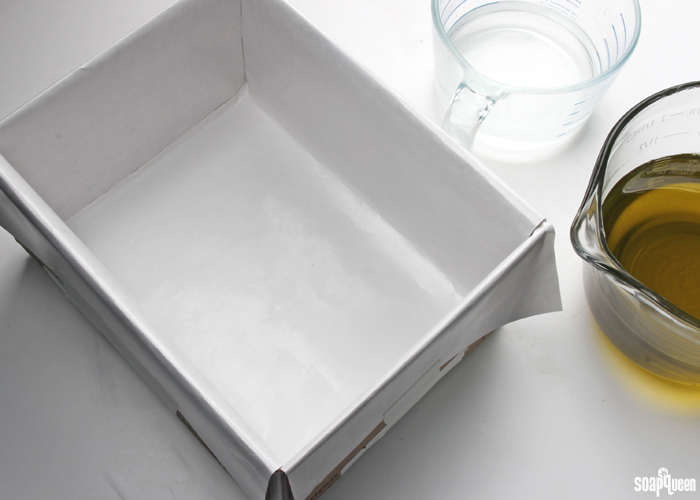 Metal or glass containers are not recommended for cold process soap molds. One reason is they are extremely hard to remove your soap from. If using rigid molds, they should be lined with freezer paper…otherwise you may never get the soap out! The other reason is that lye reacts with many metals, including aluminum, tin and zinc. The sodium hydroxide lye reacts with the metal releasing hydrogen gas which is very dangerous. Avoid all metal containers for soaping with.
Wood Molds
Pros: Easy to insulate/gel phase, long lasting, produces large batches of soap, professional looking bars
Cons: May need to line mold, can soften over time when exposed to raw soap from drips & normal use, prone to overheating

Another popular soap mold option are wood molds. They are sturdy, cost effective and act as great insulators for cold process soap. They can also last for years and years with proper storage and care. Bramble Berry wood molds are made out of top grade Birch plywood that is both sturdy and durable, click here to learn how to care for them.
Wood molds also need to be lined with freezer paper to avoid the soap from sticking to the mold. To make this process easier, many of the Bramble Berry wood molds have silicone liners available. When lining any mold, keep in mind that freezer paper is much different from wax paper. Freezer paper is sturdier, and will not melt under high temperatures.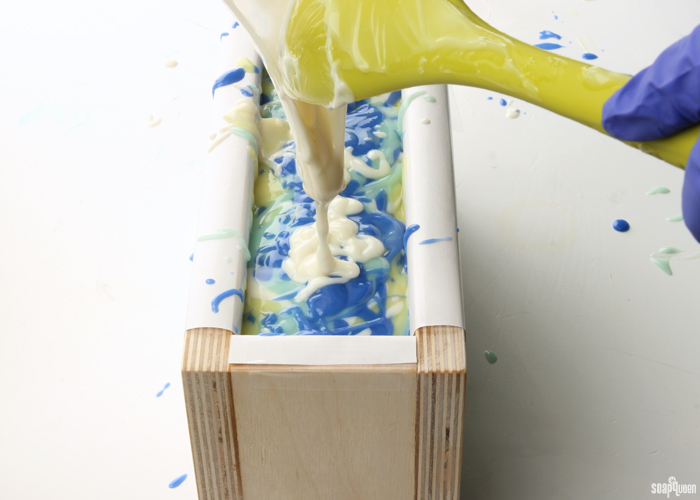 A wood mold is used in the Blue Rain Drop Swirl Cold Process to insulate the soap. Don't forget to line your wood molds!
One of the best features of wood molds is they insulate the soap well. This makes it easy to achieve a complete gel phase throughout the soap. It's important to keep this in mind when insulating wood molds; because they insulate the soap naturally, placing the mold on a heating pad may not be necessary. If you want to avoid gel phase completely, you may want to place the mold and soap into the fridge or cool place. Learn more about gel phase and when to insulate your soap in this post.
Plastic Molds
Pros: Wide variety of shapes and designs, cost effective, great for small batches, professional looking bars
Cons: Can be difficult to unmold, requires more time to unmold, prone to soda ash, difficult to make large production batches

Best suited for melt and pour, plastic molds can also be used for cold process soap. Plastic molds come in a wide variety of shapes and sizes. In fact, Bramble Berry has more than 400 plastic molds to choose from. If you can't imagine it…there is probably a plastic mold for it! The majority of plastic molds are individual cavity size. The smaller size means that the molds do not insulate the soap as well as large slab or loaf molds. We don't recommend placing plastic molds on a heating pad, as they can melt or warp if they get too hot. Instead of using gel phase to help prevent soda ash, you can spritz the soap with 99% isopropyl alcohol every 15 minutes for an hour. That helps create a barrier to protect the top of the soap. You can also decrease the superfat level to 3% or water discount at 10%. Read more tips for preventing soda ash here.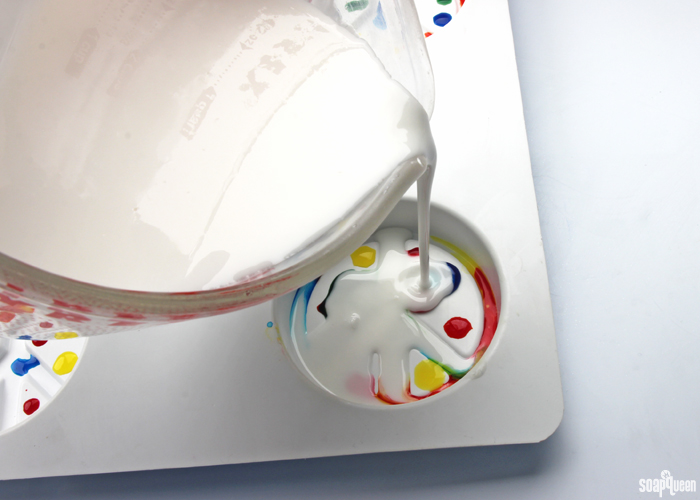 The trick is that cold process soap can be a little bit tricky to remove from plastic molds. Cold process soap can require up to a week to unmold from plastic molds. If using a plastic mold for your cold process project, we recommend using a large amount of hard oils (palm oil, coconut oil, cocoa butter, etc) to help the soap harden. Adding sodium lactate also makes a huge difference; check out the Unmolding Cold Process Soap from Plastic Molds for more tips and an experiment with hard/soft oils and sodium lactate.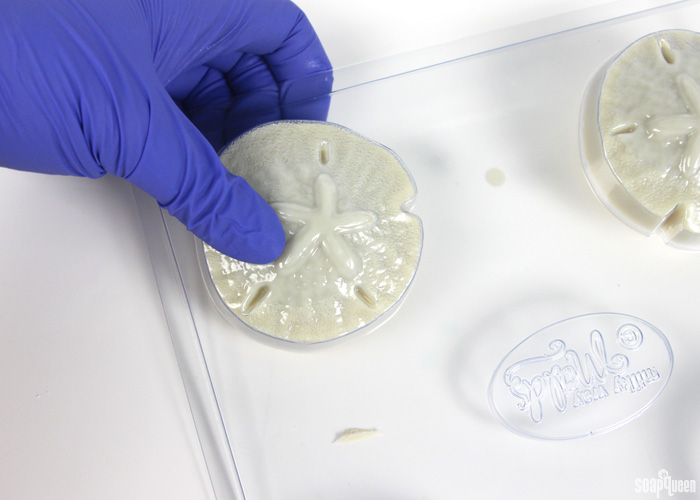 Sometimes it takes a little time to find the right type of mold for you. Personally, silicone molds have become my new go to after years of using wood molds. But if I want my soap to go through gel phase, wood molds are still my favorite. When using plastic molds I make sure my recipe contains solid oils, and I always use sodium lactate. When teaching friends how to soap, I usually recommend trying out the craft with recyclables first, just to make sure they enjoy the process. Each mold has its positives and negatives, and so much just depends on personal preference! =)
What kind of molds do you prefer? I would love to hear your thoughts in the comments below. 
Tagged With: back to basics, lining molds, molds, plastic molds, pros and cons of soapmaking molds, recycled molds, silicone molds, soapmaking molds, tips and tricks, wood molds
Sours: https://www.soapqueen.com/bath-and-body-tutorials/tips-and-tricks/back-to-basics-how-to-choose-a-soap-mold/
How to Make Soap ~ Soap Making for Beginners
Soap making is a fun craft that's easy to master, provided you have good attention to detail and know-how to carefully follow directions. Once you learn how to make soap, you can begin experimenting with your own homemade recipes, and truly make it your own!
Homemade soap is a real pleasure to make, and once you experience all-natural homemade soap I doubt you'll ever go back to store-bought.
Making your own soap allows you to have complete control of the process, and knowing the exact ingredients gives you the peace of mind in our modern world of chemical additives.
The process may seem overwhelming at first, but once you've made your first few batches it'll be second nature. In truth, learning how to make your own soap is simple and only has a few steps from start to finish.
The following is reprinted with permission from The Big Book of Homemade Products for Your Skin, Health and Home by Jan Berry, Page Street Publishing Co. 2020. Photo credits: Jan Berry where noted.
Soap-Making Basics
Before you jump into the process of making soap, there are a few things to know.
In order to make soap, you need to combine a caustic substance with oils or fat. In days past, our grandmothers used potash, made from wood ashes and animal fats. The problem was that there was no way to know how strong or weak the potash was and how much fat should be used in ratio to it. The result was often a harsh bar that did well for cleaning laundry, but didn't feel so great on skin!
Today, we have one standardized chemical for making bar soap. It's called sodium hydroxide, or more commonly, lye. Because it never changes, we can use online lye calculators and figure out exactly how much we need to make a perfectly balanced bar of soap every single time.
In order to do this, it's important that all ingredients, even water and oils, are measured by weight instead of volume, as inconsistent measurements will yield unreliable results.
Some people fear that because lye is a caustic substance, some might be left over in the soap and will hurt your skin. That's an understandable concern, but it's completely untrue. Every single molecule of lye reacts with corresponding molecules of oil and they both turn into something new—soap plus glycerin. There is no lye left in a properly made bar of soap.
Store-bought soaps either contain chemical detergents or lye. Look on the label of your favorite soap. If it has the words "saponified," "sodium cocoate," "sodium tallowate" or "sodium palmitate," that's just another way of saying oils that have been reacted with sodium hydroxide, or lye.
Lye is a strong chemical that does require utmost caution and respect when handling. For safety, wear a pair of goggles, to protect your eyes from splashes, along with rubber or latex gloves and long sleeves.
Always add lye to liquids, and not the other way around, or it may have a volcano effect and make a mess. When mixing lye into water or another liquid, it gets very hot fast, and strong fumes will develop for a few moments. Don't breathe these fumes in directly. The ideal place to work is in your kitchen sink, with the window open for fresh air.
Handling lye is for grownups only. Make sure small children and pets are out of the area. Lye solutions should be clearly marked with both words and danger symbols for non-readers.
If you get lye on your skin, rinse repeatedly with copious amounts of cool water. For large-area burns or if you get it in your eyes, rinse and seek medical attention right away.
I know that all of these safety warnings make lye sound pretty scary! Keep in mind, though, that soap is made every day by many people without incident. If you can safely handle bleach, another potentially harmful chemical, you should be able to handle lye with the same amount of competence.
Soap-Making Supplies
There are a few basic things you'll need for making soap.
Digital Scale—It's important that soap-making ingredients, especially the lye, are measured precisely in order to make a balanced bar of soap. An accurate digital scale is a must. Check at your local big-box store, near the kitchen accessories section, for a reasonably priced one.
Thermometer—A candy thermometer works well to measure the temperature of lye solution and oils. Save it just for soap making, though, and get a separate one for making candy.
Small Measuring Container—This is for measuring dry lye. Mark it clearly with the words "LYE" and a symbol for nonreaders. I use a plastic cup.
Heatproof Pitcher—Use this for mixing the lye and water together. Use stainless steel or heavy-duty plastic. Some people use heatproof glass, but over time the inside develops weaknesses that make it prone to breakage, so it's not recommended.
Soap Pot or Large Bowl—This is for mixing the entire thing together. It should be stainless steel, high-density plastic, enamel-lined or ceramic. Don't use aluminum or nonstick surfaces; they will react badly with lye.
Rubber Gloves, Long Sleeves, and Safety Goggles—Use these to keep hands, arms and eyes protected.
Stick or Immersion Blender—This shortens stirring time considerably and is highly recommended. Don't use a regular handheld mixer with beaters; it doesn't work in the same way.
Heatproof Mixing Utensils—Use heavy-duty plastic or silicone spoons and spatulas for mixing and scraping soap into the mold.
Soap Molds—The soaps in this book will fit a Crafter's Choice regular loaf silicone mold 1501, or approximately a 3-pound (1.3-kg) mold.
Parchment Paper or Plastic— For lining soap molds. (See notes on lining soap molds below)
A wooden soap mold lined with parchment paper (Photo Credit Jan Berry)
How to Make Soap
Now that you have the basics down, you're ready to make soap! Remember that all measurements are by weight, even the water portion.
STEP 1
Assemble your ingredients and don your safety gear of gloves, goggles and long sleeves. I like to lay several sheets of wax paper over my work area, to make cleanup easier. Prepare your mold by lining it, unless it's silicone. (See more details below)
Lining a wooden soap mold (Photo Credit Jan Berry)
STEP 2
Weigh out the water or herbal tea part of the recipe in a heatproof container and set it down into your kitchen sink or another spot near a source of fresh air.
Weigh out the lye in a separate container.
Weighing out soap making ingredients (Photo Credit Jan Berry)
STEP 3
Pour the lye into the water or tea and stir gently with a heatproof spatula or spoon until the lye is fully dissolved from the bottom of the container.
Always add the lye to water and not the other way around, to avoid a potentially dangerous, and messy, lye-volcano. Avoid directly breathing in the strong fumes.
Set the solution aside in a safe place out of the reach of children and pets, and let cool for 30 to 40 minutes. The temperature should drop to 100 to 110°F (38 to 43°C) during that time.
Combining lye with water (Photo Credit Jan Berry)
STEP 4
While the lye solution is cooling, weigh out the oils and butters you'll need for your recipe.
 Melt coconut oil and any solid butters in a double boiler before adding to the other oils in your bigger soap-making pot or mixing container.
Heat the oils more, if necessary, until they're 90 to
100°F (32 to 38°C).
Weighing oils and butters for soap making (Photo Credit Jan Berry)
STEP 5
Pour the lye solution into the pot or mixing container of oils. Hand stir with an immersion blender (powered off) for 15 to 20 seconds, then turn on the immersion blender and mix the soap batter, alternating every 15 to 20 seconds or so with hand stirring to prevent the immersion blender's motor from burning out.
Continue mixing until trace is reached. This could take anywhere from 2 to 10 minutes. "Trace" means that the soap batter is thick enough to leave a faint, fleeting imprint when it's drizzled across itself.
A batch of soap that has "reached trace" meaning that it's been stirred until thickened so that lines trace across the surface. (Photo Credit Jan Berry)
STEP 6
Once you've reached trace, you can choose to make either cold process soap or hot process soap.
For Cold Process Soap
Stir in any extra ingredients, such as essential oils, oatmeal, honey and such, then pour the soap batter into the prepared mold. At this stage, the soap is still caustic, so be sure to have your gloves on while handling it.
Pour the soap into your choice of soap mold, then cover the mold with a sheet of wax paper and then the mold's top or
a piece of cardboard. To retain heat, tuck a quilt or towel around it. Make sure it's in an area where it won't get disturbed or knocked over, then allow it to stay in the mold for 24 to 48 hours.
After that time, remove the soap from the mold and slice into bars. Let the bars cure in the open air on sheets of wax paper or a coated baking rack for at least 4 weeks before using.
Cold Process soap making allows the soap to cure at room temperature for several weeks (hot process, on the other hand, cures the soap faster with heat.) (Photo Credit Jan Berry)
For Hot Process Soap
Pour the soap batter into a slow cooker turned on low heat. Cover with the lid and let cook for 
1 hour, checking and stirring every 15 minutes. The soap will go through many changes during
the process.
At times, it will rise up higher and then fall back in on itself. Parts of the soap will turn dark and gel-like. This is all normal.
After 1 hour of cook time has passed, give the soap a final stir. It will have a thickened consistency reminiscent of mashed potatoes.
Hot process soap at 15-minute intervals through the one-hour cooking process. (Photo Credit Jan Berry)
At this stage, stir in any extras such as essential oils, oatmeal, honey and such.
Spoon the cooked soap into the prepared mold. Allow it to firm up overnight, then remove from the mold and slice into bars.
You can use hot process soap bars right away, although it makes a longer-lasting bar if it cures in the open air for a few weeks.
Hot process soap in a lined soap mold, note that the finished texture is very different from cold processed soap. (Photo Credit Jan Berry)
Lining Molds
This is a step that can be done several ways. One method is to use two long sheets of parchment or freezer paper, one cut to the exact width of the mold and the other cut to the exact length.
Lay the sheets across each other so they hang over the sides of the mold. This makes it easy to lift the finished soap out of the mold by the paper.
Lining a wooden soap mold with parchment paper (Photo Credit Jan Berry)
For a quick and easy liner, buy a bag of unscented store-brand trash bags. Make sure they're not the thinnest, flimsy kind that tears easily, but they don't have to be expensive either.
Open the bag and press it to fit neatly into the bottom of the mold. You'll find that you have a lot of bag left over when you're done. You can tie it up, out of the way, or trim off the excess.
You can bypass the need for lining your mold in the first place by buying silicone molds or wooden ones with silicone liners. While they have the advantage of being nonstick, they often hold in moisture longer, so your soaps may have to sit in them a few extra days before they can be unmolded.
Unmolding & Slicing Bars of Soap
Soap often can be unmolded 24 to 48 hours after being poured into the mold. It should be completely cool and feel solid when pressed. Some silicone molds or very deep ones will hold in moisture longer, so they may take several extra days before the soap is firm enough to unmold easily.
If you continually have problems with unmolding soap, try reducing the water in your recipe by 0.5 ounce (14 grams) or adding around 1 1⁄2 teaspoons (7.5 ml) of sodium lactate (a salt, naturally derived from corn or beets). Both of these techniques will help the soap harden faster.
Once your soap is firm enough, remove it from the mold and place the loaf on a sheet of parchment or wax paper. Slice evenly into bars using a soap cutter or sharp, non-serrated knife. How thick you slice the bars is a personal preference, but many soap makers like to cut them 1 to 11⁄4 inch (2.5 to 3 cm) thick.
Adding Natural Fragrance and Color
Essential oils can be added to soap for natural fragrance, although it does take a fairly significant amount, around 2 tablespoons (30 ml) per batch, to create a noticeable, long-lasting scent. (Use half as much for a lighter scent.)
If you plan on scenting your soaps with essential oils, you'll find that online vendors of soap supplies are significantly more economical than local health food stores, where tiny bottles are often expensive.
Many citrus essential-oil scents fade too quickly, while other essential oils are too cost-prohibitive to use in soap. Some that I've found to work well include lavender, rose geranium, peppermint, spearmint, lime, 10x (ten-fold) orange, lemongrass, and eucalyptus.
To color soap naturally, try adding clays and botanicals, such as annatto seed powder (for yellow and orange), purple Brazilian clay, French green clay, rose kaolin clay and indigo powder.
*The preceding was reprinted with permission from The Big Book of Homemade Products for Your Skin, Health and Home by Jan Berry, Page Street Publishing Co. 2020. Photo credits: Jan Berry.
Beginner Soap Recipes
I'm so happy that I was able to share the basics of soapmaking with you from Jan Berry's new book. Hopefully, now you have a better understanding of all the steps in the soapmaking process, and you're ready to pick your first soapmaking recipe.
As you get started, I'd strongly suggest that you use tested soapmaking recipes from trusted sources.
Soapmaking can be a tricky chemistry, and the balance of lye to oils is very important. Even when using established recipes, I'd strongly suggest putting the ingredients into a soap calculator to double-check the recipe before starting.
Jan's book includes more than a dozen beginner soap making recipes, as well as recipes for shampoo bars, herbal salves, lotions, bath melts, scrubs, soaks, and salts. It's the perfect introduction to making all your own body products, and a great place to start for beginner soap crafters.
Beyond that, here are a few beginner soap making recipes to get you started right away:
All Natural Yarrow and Witch Hazel Soap (Photo Credit Jan Berry)
If you're still not ready to take the plunge and work with lye, no worries. You can always start with melt and pour soap.
Gardeners Soap with Spring Weeds (Photo Credit Jan Berry)
Other Soap Making Resources
Want to learn more? Here are some other wonderful soap making resources:
More Easy Homemade Body Products
Looking for homemade body product tutorials? Read on…
Filed Under: DIY, Soapmaking
Sours: https://practicalselfreliance.com/how-to-make-soap/
In the Pot Swirl Soap Making - Acrylic Mold Review
What's the best soap molds to make handmade soap?
If you've started soap making or the idea of making soap has just piqued your interest then I'm sure you're on the hunt for the best soap molds! It might sound crazy to some, but a beautifully made bar of soap is an achievement worth seeking.
Coming from experience there's a world of soap molds out there. But, choosing the right soap molds can make all the difference in the final product and honestly your enjoyment in soap making. (If you've ever got soap stuck in a mold, that you know just what I mean…)
Once you find the best soap molds for soap making, you'll discover it's easier than ever to make batch after batch of handmade soap!
This post contains some affiliate links for your convenience, read full disclosure policy.
Why Make Handmade Soap?
Frankly, a bar of soap can change your life in many ways.
Rather it be to:
– save money
– live a more zero-waste lifestyle
– start a side-hustle
– makeover your skin care routine with only natural ingredients
– start a new hobby
– create homemade gifts
Or all the above, in my case, soap making is purposeful, frugal, and creative. I have been hooked since my first soap making experience. And I know your life will be enriched from learning how to make soap too! But, it all comes down to using the best soap molds.
P.S. If you're new soap making don't miss all the free soap making guides and cheat sheets in the Simple Living Library.
Related To: Beginner Guide to Soap Making
Related To: Soap Making Recipes
What Are The Best Soap Molds?
It's incredible how many different shapes, sizes, and styles soap molds come in. Just like the variety of melt and pour soap bases, there's an extensive amount of soap molds. On top of that, there's also a choice of material from wood to silicone and metal to plastic.
I have tried them all and now I'm ready to share with you the best soap molds I've used!
How to Choose a Soap Mold:
Silicone, wood, metal, plastic, heck, even kitchenware can be used as a soap mold. But, choosing the right soap mold can ensure your success, save money, and make the process so much easier!
For me, when it comes to choosing a soap mold, I want a mold that is easy to use, easy to clean up, and can be used again and again.
Are you ready? Let's dive into each type of soap mold and which ones made it into my recommended soap making supplies!
Plastic Soap Molds
Plastic soap molds are the most inexpensive of all to make soap. They come in intricate designs and are sold in packs of single molds as well as trays. You've probably come across these at your local craft store, as did I.
I brought home a plastic tray mold with pretty French words and detailed icons. And I couldn't wait to use it!
But, when the time came to pop the soaps out – it ruined them. The intricate designs didn't pop out with the soap bars and the French words weren't really legible. To make matters worse, the plastic mold even cracked in one corner. Rendering it useless to try again.
The same happened when I tried to use plastic molds for bath bombs too. The plastic molds cracked or busted under the weight of the bath bombs. That being said, steer clear of plastic molds. There's a reason they're cheap.
Metal Soap Molds
I have a treasured Amana Recipe cookbook dating back to the 1940s from the Amana Colonies. It's their bread and cookies recipes that I adore. But, inside the book there are so many unusual, yet clever tips to be found. Like saving bread crumbs and bacon grease. But, one such tip mentioned the use of a bread loaf pan as a soap mold lined with butcher paper A.K.A parchment paper.
This gave me ideas to use my mother's vintage biscuit, tart, and Jello molds to make soap…
I made these gorgeous jasmine aloe vera soaps poured directly into mini stainless steel tart pans. I didn't have much trouble getting the soap out as the aloe vera soap base is kind of tacky.
But, when I made soap again in these tins with a shea butter base – they got stuck! I tried all kinds of things to get them out. The fridge, freezer, and lots of pounding on my cutting board finally produced a result.
So, I would either line your metal soap molds or only make glycerin soap in them.
But be aware if you're using a metal container as soap mold make sure you avoid all of the types of metal listed below. Because, the metals can react with the lye in the soap causing harmful gases to be released.
Metal Types to Avoid for Soap Making:
– aluminium
– cast iron
– copper
– tin
Stainless steel, on the other hand, is safe to use as a soap mold.
Silicone Soap Molds
Silicone molds have become very popular for making all things including soap. And to my surprise silicone is non-toxic. It doesn't need any lining, won't every crack or shatter like plastic. And silicone soap molds will last for years, so you can use them over and over again(be still my green heart).
Every silicone mold I've used has been super easy to pop the soap out when it's cured. All it takes is a tug from the side and push from the bottom of the mold to release a soap bar. They are fairly simple to clean too and perfect for small to medium soap batches. All in all, they are the best soap molds I've ever used!
In fact, I have so many silicone soap molds now, that I had to dedicate a large container and shelf in my studio closet just for them. Square, round, oval, honey bees, roses, snowflakes, and pumpkins, and the list goes on. Let me share several of these with you as well as examples of using each type.
24 Plus Soap Molds and Recipes – Starting with Standard Soap Molds
If you're looking to make soap start here with 24 plus soap molds and recipes for each! These standard types are the best soap molds for a traditional appeal. You'll find these sizes and shapes are most often used to make handmade soap. 
Square and Rectangle Soap Molds
Call them basic if you wish, but square and rectangle silicone soap molds are far from basic. Each can be used to layer unique colors or used to slice into smaller parts to embed into soap bars. And you have the flexibility to make just one soap bar, a small batch, or half a dozen with a single soap mold!
Where To Buy:
– square silicone mold: single try of 6 squares
– 3 pack of 6 squares silicone soap molds
– rectangle silicone mold: 2 pack of 6 rectangles
Soap recipes using standard soap molds:
Loaf Soap Molds
A loaf soap mold is, quite frankly, an indispensable soap making tool. Easily create layers and swirls in your handmade soap. In addition to unique uniform soap tops.
Where To Buy:
– Large Silicone Loaf Soap Mold in a Wood Base with Soap Knives
– 2 Pack of Large Silicone Loaf Soap Molds in a Wood Base
– Large Silicone Soap Mold with an Adjustable Wood Cutter
– Small Single Loaf Soap Mold
Soap recipes using loaf molds:
Oval and Round Soap Molds
I don't know what it is about an oval but, I love making soap in this shape! I've made oval lotion bars too. And as for round soap molds they are the best for making loofah soaps or adding decorative tops or toys inside.
Where To Buy:
– oval soap mold with 4 cavities
– round silicone mold with 12 cavities
– round 9 cavity soap mold
Soap recipes using loaf molds:
Unique Soap Molds
What I love most about using unique soap molds is the personality it adds to even the most basic soap recipe. Take my simple creamy honey and goat milk soap for example. You can choose a unique soap mold to match your room decor or make a fun seasonal gift.
Where To Buy:
– honeycomb silicone mold
– flower silicone mold
– citrus wedge silicone mold
Soap recipes using unique soap molds:
Soap Mold FAQS:
How do you get melt and pour soap out of a mold?
If you're using a silicone soap mold as I recommend it is quite easy to get melt and pour soap out of a mold. Once a soap cures it creates a tight seal in the soap mold. To break this seal follow these quick steps:
1. Flip the soap mold over your surface.
2. Pull the sides of the soap mold to help break the airlock.
3. Gently press the back of each soap cavity one by one with your thumb to pop the soap out.
If this doesn't work try peeling back the soap mold until the soap pops out. If that doesn't work. Place the soap mold in the freezer for 10 to 15 minutes and try again.
How do you sanitize silicone molds?
Before making handmade soap clean the soap mold with soap and water. Dry with a clean non-lint towel, such as a microfiber towel.
To sanitize spray the soap mold after washing with rubbing alcohol and allow it to sit for 5 to 15 minutes. Then wipe clean with a non-lint towel.
How long should melt and pour soap stay in the mold?
How long should melt and pour soap stay in a mold is a fair question. Allow melt and pour soaps to cure in the soap mold for 3 to 6 hours. You can leave them overnight without any harm, but 3 to 6 hours is enough time for the soap to cure. And once removed from the soap mold they are ready to use!
I don't recommend placing soap in the refrigerator to harden as this can create a film on the top of the soaps.
Can I use soap molds from my kitchen?
Many of us already have silicone molds we use for baking. So, it's a pretty common question to ask if you can use soap molds from your kitchen.
If you're adding fragrance to your handmade soaps be it with essential oils or fragrance oils do not use the same molds for baking. It's not the scent that concerns me. So, your blueberry muffins smell like pine soap… But, what about the residues that may remain in the mold. Are they intended for digestion? Likely not!
This is why I recommend keeping your silicone molds for soap making separate from your kitchen tools. I follow the same philosophy for all my soap making tools.
YOU MAY ALSO LIKE:
What types of soap molds have you tried? Do you think silicone makes the best soap molds too? Let me know in the comments.
P.S. Don't forget your soap making cheat sheets from the Simple Living Library. And Pin these creative soap molds and recipes to inspire your next batch of soap! Tag #lifenreflection on Instagram to share your soap making with me.
Sours: https://www.lifenreflection.com/best-soap-molds-for-handmade-soap/
Molds natural soap
It's clear to everyone who knows me that I love to make handmade natural soap. Some even say I'm obsessed! I've been at this hobby for so long now that I wanted to experiment with more soap-related projects.
One item I always need for soap making is a good soap mold. I'm always in the market for unique molds, but they can be difficult to find, and often a little expensive.
Why Make Homemade Soap Molds
I've picked up a few really unique silicone soap molds here and there. Some have cost me $15-$25. And even though they last a very long time, I can only make one soap bar at a time with some of them. When I'm filling orders or getting ready for a show, I need to make a lot more in a short period of time.
If you choose to buy pre-made silicone molds, there are many manufacturers and hundreds of shapes and sizes. But don't forget to factor in the time and money involved with shipping. I recently ordered a really neat mold that ended up arriving after six weeks(!) because it had to be shipped from China. I'd rather get things made closer to home, but there aren't many to choose from.
Kits for making your own molds can be purchased online or in craft stores, but it's really easy to make your own!
Homemade Soap Molds from Silicone
There are two ways to make homemade soap molds from silicone. Both involve some work and time. Always work in a well ventilated area because the silicone will give off fumes, not unlike vinegar. You can use clear or colored silicone.
Method #1
Ingredients & Supplies:
2-3 cups warm water
¼ cup liquid soap
silicone – like used for caulking (find it here or in most hardware stores)
glass bowl
rubber gloves
Instructions:
Stir the soap into the water. Squeeze enough silicone into the bowl for the project you have in mind. (Example: If you want to make a sea shell mold, you'll need enough silicone to cover the mold at about ¼ inch thick, and a bit extra for overlap on the sides.)
Using gloves, pick up the mound of silicone and squeeze together. It will become like loose rubber within a few seconds. Knead the silicone until it forms a ball.
Flatten out on a clean surface to just larger than the object you are molding. Firmly press the mold form (in this case, the sea shell) into the silicone. Leave for at least 12 hours.
When the silicone is cured, peel it off of the mold object. You can clean up any rough edges with a fine grit sandpaper. Wash the mold in case there is any dirt or debris on it, and dry well.
Method #2
This method is similar, but works with a dry component.
Ingredients & Supplies:
approximately ½ cup cornstarch or arrowroot powder (or another starch of your choice)
silicone (find it here)
rubber gloves
Instructions:
Lightly dust a clean surface with starch of your choice.
Squeeze out enough silicone for making your mold. Sprinkle some starch over the top.
Using gloves, work the starch into the silicone. It will be messy at first, but will come together after a few minutes. Add more starch if necessary. The consistency should be that of modeling clay. When it forms a ball, continue by following Steps 3 and 4 from Method #1 above.
Using Your DIY Silicone Mold
Using the mold is simple. Pour your soap base into the mold and wait. You can use a melt and pour soap base (like this), in which case you would wait until it cools completely to remove from molds. Or you can use a cold process soap base, pouring the base into molds and waiting for it to get hard enough to un-mold, usually overnight.
For really intricate DIY molds, you may want to lightly coat the inside of the mold with oil so your soap picks up all the small details and un-molds easily.
Cleaning DIY Silicone Molds
Clean your molds using warm water. This is usually enough since you were working with soap in the first place. If you used an oil, you may need a bit of liquid soap to clean the oil out. Don't leave it, it may become rancid over time and be difficult to remove.
Storing DIY Silicone Molds
I store my molds in a plastic storage box. I have a few that are tacky and some that are drier. They can all be stored together. The tackier ones can be coated with a light dusting of cornstarch or other starch. Just be sure to wash starch off and dry well before using.
Silicone molds are fun and easy to make. Have you ever wanted a unique shape or design you couldn't find? Will you make your own now?
*******
Sours: https://www.diynatural.com/homemade-soap-molds-silicone/
How to Make a Soap Mold For Free - Soap Mold Secret
.
Now discussing:
.
2073
2074
2075
2076
2077