Flowersfree machine embroidery collection
For any kind of tissue, for any kind of celebration or a gift. Whatever you want to get from your embroidery machine here. Floral projects and ideas and decorative elements is the most popular theme for those who love to create. Get off your sewing machine maximum. All for free, and most importantly, without register.
Machine embroidery
- This is a special type of embroidery, performed by special automatic machines, operating on a given program. Programmer (designer, digitizer) creates embroidery program, in which the algorithm in action machine. Machine by following this program, and automatically performs high-speed embroidery on the material.
   The first embroidery machine appeared in France in 1821
   Since then, interest in this type of art is not lost. Modern Embroidery Machine is a program-controlled machine that automatically performs the exact embroidery images.
   Historically, embroidery worn primarily decorative. Today, it is an inherent property of a favorable impact on its use in the advertising industry. We often see the embroidery bearing advertising and informational purposes on items of clothing and other textiles.
   What sets machine embroidery from other ways of drawing images?
   First, the embroidery does not deteriorate with time, does not change color with repeated washing with temperatures up to 90C.
   Secondly, embroidery attracts attention and looks more solid than printing inks, giving proper status to the owner of the product. Product with embroidery is original and individual. And it can be a powerful advertising and information medium without losing its artistic expression.
   Embroidery is widely used for applying marks for cloth, leather, felt, as well as finished products, clothing, etc. When the machine embroidery design is possible reproduction of the trademark in any color combination. Trademark caused by this method is often transformed into a fashionable attribute of the product and becomes an organic element of its composition.
   You can embroider on various types of clothing, including uniforms, overalls. Embroidery as an indication of affiliation with a line of action is widely used in various countries. Very often employees of firms have on themselves distinctive sign of their company. This may be a logo on a hat, chest sweater or jacket on the back.
   Embroidery on cloth in many ways ahead of its "competitors" such as screen printing or transfer printing (transfer printing).
   Note also that the cost of embroidery is not dependent on the number of colors used in the image.
   In contrast, hand embroidery, machine way to create thousands of copies, reproducing the original with an absolute accuracy of thousands of times faster than manual labor
The quality of embroidery is mainly determined by three components - the art designer, has created a program of machine embroidery, embroidery equipment capabilities and the correct selection of materials.
  Advantages of Flowers free embroidery designs:
durability;
high color fastness threads;
volume texture;
expensive and spectacular view.
Last photos 
All photos with our embroidery designs in Gallery
Look at a huge number of beautiful and successful real projects with our work. You can us tags for search.
Sours: https://embroideres.com/free-embroidery-designs/individual-free-embroidery-designs/flowers-free-machine-embroidery-collection
How to embroider flowers: 5 simple ways!
Want to know how to embroider flowers step by step? Well you've come to the right place! Amina AKA the fantastic Stitch Floral from Instagram has shown us how to do embroidery flowers using simple embroidery stitches with an easy to follow photo tutorial.
If you get lost in the vast variety of techniques and stitches for embroidering flowers, I feel you! Sometimes too many options can make you dizzy. But you know what, I actually don't use many stitches in my embroidery. I usually stick to several of my favorite ones, and it's a win-win situation. First of all, I don't need to puzzle over what to choose. Secondly, the more I practice the ones I like, the better they get!
So how about learning a bunch of handy stitches for flowers today and, to make it even better, practice them on a fun pattern?
Download the Template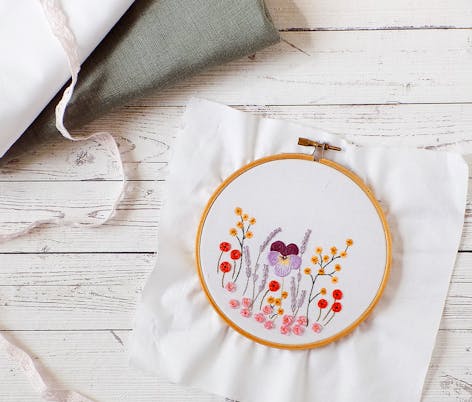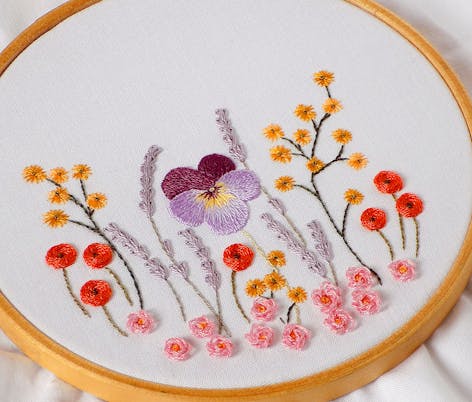 Materials
How to stitch flower stems
You can stitch a stem with a variety of line stitches: stem stitch, outline stitch, back stitch, split stitch, split back stitch and chain stitch as well. In this tutorial, I used split back stitch.
1
To work split back stitch, you need to split from above every previous stitch.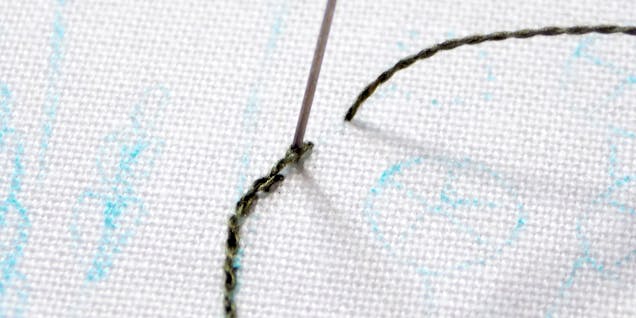 1. Straight stitch a simple flower
One of the easiest ways ever to embroider a flower is to use a straight stitch!
2. Lazy daisy stitch lavender motif
Make sure to practice this stitch since it might be one of the most versatile ones in hand embroidery! This is only one of the many ways of utilizing it!
3. Woven wheel stitch poppies
This stitch is most often used for stitching roses but let me show you an alternative way which is no less pretty.
4. Long and short stitch pretty pansies
Some people love it, others are terrified of it… Long and short stitch is the legendary technique that can allow you to create literal paintings out of thread! Although it does require quite some persistence and practice.
5. Looped buttonhole stitch for dainty flower motifs
This stitch is actually seriously underrated and not used very commonly in hand embroidery and I think that's a pity. Looped buttonhole is a wonderful stitch for flowers and it can become your secret weapon!
Amina has taken you from simple embroidery flowers with straight stitch to using a loop button hole stitch to create a beautiful garden of dainty and delicate flowers for you to hand embroider.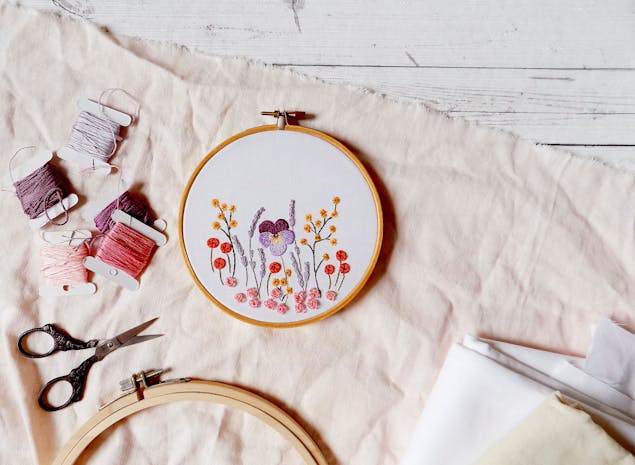 Discover your next stitching project!
Discover More Inspiration
Sours: https://www.lovecrafts.com/en-us/c/article/how-to-embroider-flowers
25+ modern floral embroidery patterns
Sharing is caring!
I had so much fun making this list of 25+ modern floral embroidery patterns! Flowers are probably the most common hand embroidery motif so I tried to find a wide range of styles and stitches. If I missed any of your favorites, leave a comment so I can add them! If you're tight on cash, there are some free flower embroidery patterns included in the mix as well. Almost all of these are shown stitched and displayed in a hoop, but get creative! I think most if not all of these patterns would look fantastic on pillows, clothes, or mixed into a quilt block, so get busy.
If you're new to hand embroidery, check out my list of favorite hand embroidery tools here and see the trick for how to transfer embroidery patterns with a picture tutorial here!
If you are looking for embroidery project ideas, check out these other posts:
Pin this list of spring hand embroidery patterns with this link or collage image, please click through to the original posts to pin solo photos:
I love the lines in this simple floral embroidery pattern from Threadfolk!
Pick your "word of the year" and surround it by beautiful flowers with this gorgeous pattern from Lolli and Grace! I thnk I'd pick Bloom.
So this is a bit of a trick – I altered a pattern you can buy from Ellucy Stitches and stitched a "custom order" for my friend! I just printed it out and used a pencil to tweak the letter, how do you think it turned out?
A pretty daisy free hand embroidery pattern from Flamingo Toes, this would be perfect for a bedroom wall or bed pillow.
I love hexagons and flowers so this pattern is a delight, from Naive Needle!
Free floral heart hand embroidery pattern over at Cutesy Crafts, she has lots of cute patterns.
Simple but pretty moody floral hand embroidery pattern from Florals and Floss.
I designed this free 'Explore More' hand embroidery pattern for my post on how to embroider shoes but you could put it in a hoop too!
When you like flowers and snark, try this pattern by Ellucy Stitches!
Free 'Love without reason' hand embroidery pattern by Down Grapevine Lane, delicate and pretty.
I love how dense this graphic floral hand embroidery pattern is, free from DMC.
I love how the letters are woven in with these florals in the pattern from Threadfolk.
Free wildflower hand embroidery pattern from yours truly, in my post about how to embroider a hat by hand.
Free floral hand embroidery pattern from Hodge Podge Craft, the snail is my favorite even though it wasn't actually a flower.
Pretty floral portrait pattern from Tamar Nahir-Yanai, it is so unexpected!
This pretty all over daisy pattern from Ellucy Stitches would look so cute on a pocket!
Floral usually means spring but how about this winter-y floral wreath pattern from Flamingo Toes!
Simple and pretty, I love how varied the stitches are in this floral wreath pattern from Bustle and Sew.
I've never tried thread painting but this pattern from Namaste Embroidery has me ready to try!
This reminds me of our front yard in summer! A pretty wildflower pattern from Tamar Nahir-Yanai.
A unique twist on florals, with eyes peeking out in a mandala shape- pattern from Cozy Blue.
I love when people stitch their wedding bouquets; here is a pattern if you just want to try your hand at a spring floral bundle! Pattern by And Other Adventures.
Stitch samplers are great when you're just starting out (I have a whole separate post with more of them) and this one is such a pretty bouquet, from Little Dear.
Something a little different, how about a floral chameleon pattern, from Alifera!
Last but not least, something a lot different, a super fun floral t-rex skull pattern from 20 Something Art.
Sharing is caring!
Sours: https://swoodsonsays.com/25-modern-floral-embroidery-patterns/
Floral hand embroidery. Free pattern to print
15 Simple Free Floral Embroidery Patterns & Designs
If embroidery is your passion, our collection of 15 free floral embroidery patterns and designs is absolutely going to steal your heart. Especially in floral embroidery, the finished product in which the flowers look absolutely stunning with all the delicacies used to layer the flowers, it's a vision in itself.
If you are having a quiet and dull day, these floral embroidery patterns can cheer up your day and help you get into something creative and vibrant to make. These could be cute floral additions to your home decor, your living rooms shelves, or a lively and warm gift for mother's day, sister's day to your old gal pal, or for any other memorable occasion. Apart from the inspirations and step by step guide, illustrations, and pictures in the detailed tutorials, we have also got some exciting floral embroidery patterns too! Yay! Welcome to your own floral embroidery world, where you can choose from several options to play around and make something creative and meaningful!
Floral patterns have ruled the DIY world for a long time. From old vintage designs to modern motifs, our floral embroidery patterns have the ability to surprise you! With all the classic designs that there ever could have been. Check out our 15 free floral embroidery collections now and choose among the best-suited pattern for your style. Happy Embroidering!
1. Free Floral Embroidery Pattern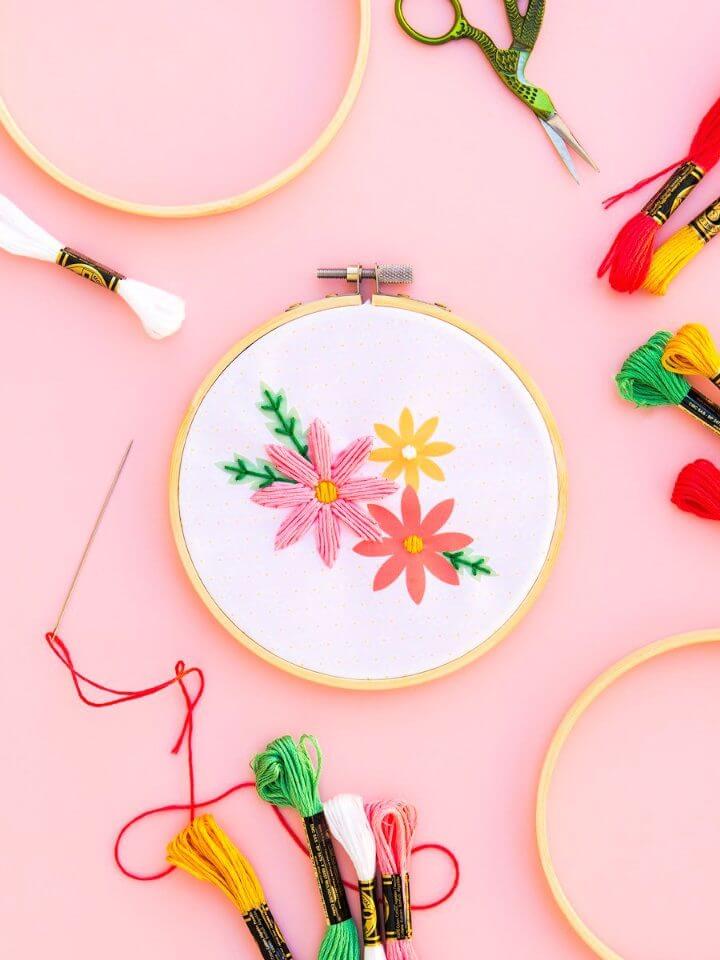 If you are a beginner at embroidery, your biggest concern and setback must be how to transfer the exact embroidery flowers on the cloth. With this tutorial, you can easily learn how to use a silhouette machine; you can just overcome this like a pro. sarahhearts
2. Sweet Posy Embroidered Hoop Art Pattern

To take you in on a secret, a few stitches are just as beautiful as many. This proves that a simple design can be as elegant and catchy as a complicated one. Get the design transferred 100% using a lightbox or iron-on transfer pen. See the full details in the tutorial. sewmamasew
3. DIY Spring Embroidery Hoop Art

With a combination of large, wagon wheel style flowers make this stylish floral wreath pattern. Inside the trendy flower hoop, it says. "Home sweet home," you could easily customize the quote as you please. Check the tutorial for full details. ishouldbemopping
4. Floral Embroidery Pattern for Dishtowels

Redo your old and plain dishtowels with these catchy simple flower embroidery designs, get these floral embroidery patterns totally free from Flax and Twine . Add a stately dress up touch to your cotton pearl dish towels! Get full details in the tutorial. flaxandtwine
5. Free Hand Embroidery Design

Minimalism has no expiration date! Check out this breathtaking and stunning free handed embroidery floral pattern. Everybody would adore these cute dancing and pink oriental poppies. One great idea for Mother's day gift, perhaps. stitchfloral
6. Sweet Mason Jar Vase Hoop – Free Embroidery Pattern

If you are a flower lover, the seasons must not be your boundaries. Stitch your own favorite kind of flowers any day and any season of the year with these cute mason jar flower patterns from Bev at Flamingotoes . Click the tutorial for step by step guide. flamingotoes
7. Adorable Floral Embroidery Pattern

Express your love and affection for your gal pals or your little girl with some cute and vibrant floral patterns. A beautifully embellished hoop art is all you need to brighten up someone's day! Hit the tutorial now for details. dabblesand
8. Alice's Garden Embroidery Pattern

Stitch up your little garden filled with colors, patterns, and flowers for the true Alice in wonderlands feels. The best and most exciting part is that the tutorial comes with Alice's garden's free pattern. Hit the tutorial now. sewmamasew
9. Love Without Reason Floral Embroidery – Free Pattern

Because a mother loves no boundaries, and even when you give her a billion reasons to give up on you, she would still love you just the same. This vintage and serene design with "Love without reasons" could be an adoring Mother's day gift! downgrapevine
10. Floral Stitch Sampler – Free Embroidery Pattern

This vibrant and detailed floral stitch pattern uses the famous petal stitch known as a lazy daisy stitch. With a fly stitch! Make an intricate and detailed floral embroidery pattern for a vibrant addition to your decor! Click the tutorial for details. instructables
11. Free Embroidered Bouquet Pattern

Get your hands on this detailed and complete floral bouquet pattern! We are all drool-worthy over this threaded bouquet with all the blue flowers with buds, yellow flowers with buds, gorgeous pink drooping flowers, and so much more. downgrapevine
12. DIY Floral Embroidered Pencil Case

Have your own customized sewed pencil case and get it embellished with these intricate and minimalistic floral patterns! Keep your supplies well managed and tidy in a perfectly catchy pencil case. Get the free pattern from the tutorial now. thesprucecrafts
13. How to Hand Embroider Flowers

A traditional and vintage floral design could never get out of style. This tutorial will elaborate on how you can hand embroider these beautiful flowers using woven spider wheels. The tutorial is going to walk you through the step by step guide with details. instructables
14. Easy Hand Embroidery – Stitch Your Flower Pattern

This gorgeous floral pattern with all the detailed embroidered colors and extended leaves is going to steal your heart right away. This could be a beautiful appreciation gift for your friends or a cute Mother's day floral affair too! youtube
15. DIY Woven Wheel Embroidered Flowers

If you are a vintage lover, this antique floral border pattern will be your next DIY floral embroidery project. The stitches involved in this one are usually all chain stitches! Head over to the tutorial now for a detailed step by step guide! youtube
Floral embroidery patterns and the minimalistic vibes associated with them can never get out of trend! In fact, with our collection of these beautiful 15 free floral embroidery patterns, you can come up with great ideas to upgrade your decor or express love with colors and warmth!
Sours: https://www.diycraftsy.com/floral-embroidery-patterns/
Flower patterns embroidery
Embroidery Flowers | The 14 Easiest for Beginners
Flowers are one of the most appreciated aspects of nature, and it is no surprise that they are a perfect subject for delicate embroidery flowers.  Wildflowers, garden flowers, a bouquet of flowers, or a little beauty picked especially for you can all be transferred onto an embroidery canvas of your choice.
Embroidery Flowers
How do you choose the perfect stitch to represent your embroidery flowers? There are so many creative stitches, but often, keeping it simple by choosing basic embroidery stitches can yield the best results.
If you are new to embroidery, read my article on how to embroider for tips on tools, basic stitches, and starting and ending.
Further Reading:
Embroidery Flowers - Tools
HOOP - Embroidery flowers are easiest to sew when the fabric is held tight in a hoop. This prevents pulling and puckering of the fabric. Hoops can be small or large and can be moved around on larger pieces of fabric.
THREAD - Embroidery flowers can be sewn with embroidery floss which is normally divided into 1 to 6 strands. 1 strand will give really fine delicate flowers and 6 strands will give a slightly thicker chunkier look. I always use 6 strands but you may have more patience and prefer a finer look.
NEEDLE - Choose an embroidery needle suitable for the thickness of your thread and the type of fabric you are stitching. Embroidery needles have a large eye to make threading easier. A needle threader may also help you thread tricky needles.
PATTERNS - Flower designs can be hand-drawn on your fabric or traced using a lightbox or brightly lit window.
FABRIC - Embroidery is often best done on fabric with an open weave so the needle and thread can easily pass through. Linen, calico and Aida are commonly used fabrics for embroidery. For my samples, I used an unbleached calico.
Embroidery Flowers - Stitches
Here are 14 stitches you can use for embroidery flowers. Some can be used by themselves and many can be combined to give unique looks.
Backstitch Embroidery Flowers
Backstitch is an easy way to outline flowers and create simple designs. It can be combined with backstitched leaves and stems. Backstitch is a strong stitch and due to its short stitch length, the threads are unlikely to catch making it more durable than some other stitches.
Use this stitch in combinations with other stitches like the satin stitch to outline and define flower edges.
Full Article:How to do Backstitch
Blanket Stitch Embroidery Flowers
Blanket stitch will always be a hit for covering petals and at the same time proving an edge or outline for the flower petal.
Stitch close together or far apart as you see what is going to produce the best effect for your embroidered flower.
Full Article:How to do Blanket Stitch
Buttonhole stitch Embroidery Flowers
This stitch gives flowers a very nice defined edge. Work the buttonhole stitch around a circle to make wheel flowers. The center can be closed up or left open to add French knots. My sample flowers have a gap between each stitch but you can join them together for a solid look. The difference between blanket stitch and buttonhole stitch is that the buttonhole gives a more defined and knotted edge.
Draw a donut shape and work your way around the edge. When wrapping the embroidery thread around the needle, remember to pull outwards to form the knotted edge.
Full Article:How to do Buttonhole Stitch
Chain Stitch Embroidery Flowers
Chain stitch can be used for embroidery flowers to outline designs or to create stems and long petals.
For a closed chain stitch make points 1 and 2 as close together as you can. For a more open stitch these points can be further apart.
Full Article:How to do Chain Stitch
Couching Embroidery Flowers
Couching is not a common stitch for embroidery flowers but can be used to sew chunky, textured outlines.
Use several strands of embroidery floss or yarn for the surface thread. (green in the sample below)
Full Article:How to do Couching Stitch
Cross Stitch Embroidery Flowers
Cross stitch can be used to create embroidery flowers. It looks best when done in multiple thread colors rather than block colors. You can purchase floral cross stitch patterns or create your own.
Open weave fabrics such as linen or Aida are used for cross stitch making it easier to count the threads across. In my cross stitch article l also show you a quick method that can be used when larger areas need to be covered.
Full Article:How to do Cross Stitch
Lazy Daisy Embroidery Flowers
Lazy daisy or detached chain stitch is an obvious choice for embroidery flowers. The name gives it a floral connection before you even start. This versatile stitch can be used to depict a round flower shape or spread along a stem for a spray of petals.
For fuller petals, don't pull the loop too tight. The length of the petal is determined by the length from point (2) to (3).
Full Article:How to do a Lazy Daisy
Long and Short Stitch
Long and short stitch (also called brick stitch) is done with alternating long and short stitches interlocked in the same way bricks are laid. The advantage of this stitch over satin stitch is that it produces fine-looking work with threads that are less likely to catch. The stitches look similar to those produced by an embroidery sewing machine.
French Knots Embroidery Flowers
Bullion knots and French knots are useful for filling in small spaces, creating rosebuds, or putting the central spot to a flower such as a daisy. They are often used for flowers with small petals or clusters of flowers like lavender.
The size of the knot is determined by the number of twists of the thread around the needle. Remember to always twist away from your body.
Full Article: How to do French Knots
Running Stitch Embroidery Flowers
Running stitch is really effective for quick and easy flowers and suits larger less detailed designs.
Running stitch is done in a simple up and down motion and for most people, it is stitched right to left. Embroidery flowers can be done in a running stitch with or without a hoop. For sewing without a hoop it is possible to take several stitches at once, cutting down the time taken.
Full Article:How to do Running Stitch
Satin Stitch Embroidery Flowers
Satin stitch is probably one of the most popular stitches for flower embroidery. It is a great filler stitch and will mold itself to the shape of the flower.  A variation, padded satin stitch, will give more fullness to the flower. Here I used satin stitch for the center of the flower but you can use it for petals too.
Always start in the center and work out towards the edges. This makes it easier to maintain a nice shape. If you wish to have more definition to the edges, use a backstitch around the outline.
Full Article:How to do Satin Stitch
Seed Stitch Embroidery Flowers
Seed stitch flowers can be done in conjunction with a backstitch border. This simple up and down stitch is done in a random fashion and is used to fill larger areas. It can also be used underneath satin stitch to create a padded or raised look.
Seed stitch is essentially a running stitch done in singular random positions.
Full Article:How to do Seed Stitch
Straight Stitch Embroidery Flowers
Straight stitch flowers are one of the easiest flowers you can do. Just start in the center and sew radiating spokes out. You can have as many or as few petals as you wish. In my sample here I left a gap in the center but you can close this up if you wish.
Full Article: How to do Straight Stitch
Web Stitch Embroidery Flowers
Whipped spider, wagon wheel or web stitch turns into beautiful flowers instantly. These delicate rounds make great fillers in a garden scene or bouquet of flowers.
To create pretty roses, weave the second color all the way to the edge and make sure the weaving is dense. These flowers look great in variegated thread colors to give a more realistic look. In my sample, I combined the web stitch rose with chain stitch embroidery leaves.
Full Article:How to do Web Stitch
Embroidery Flowers - In Conclusion
There is no end to the beautiful combinations you can create with embroidery flowers. With names like stem stitch, lazy daisy, spider web stitch and fly stitch you are bound to find something to suit your floral embroidered art.
Now you know how to stitch embroidery flowers, you will need some leaves to match. Read all about embroidery leaves.
MORE EMBROIDERY STITCHES
Backstitch
Blanket Stitch
Buttonhole Stitch
Chain Stitch
Chevron Stitch
Couching Stitch
Cross Stitch
Double Herringbone Stitch
How to Embroider
Faggoting Embroidery
Feather Stitch
Fern Stitch
Fishbone Stitch
Fly Stitch
French Knots
Hand Embroidery Stitches
Herringbone Stitch
Lazy Daisy
Running Stitch
Sashiko Embroidery
Satin Stitch
Seed Stitch Embroidery (Rice Stitch)
Stem Stitch
Straight Stitch
Web Stitch | Embroidery Tutorial
Whip Stitch
Embroidery Leaves
Embroidery Flowers
Sours: https://blog.treasurie.com/embroidery-flowers/
10 Gorgeous Flower Ideas: Hand Embroidery Art with Simple Stitches
Flower embroidery patterns are my favorite. Since I know you probably love them too, I thought I'd put together a little roundup to help you find some great ones. There are so many ways to stitch flowers, and I love how unique some of these are. Over half of these flower embroidery patterns are free, so this list should keep you busy for a while. The rest are from Etsy sellers, that I always love to support. Enjoy! If you like this post, you might also like the 20+ Free Embroidery Patterns on my site. Make sure to check out my shop for more beautiful embroidery patterns and my embroidery eBook. If you need help with any of the stitches, I have video guides on my embroidery stitches guide page.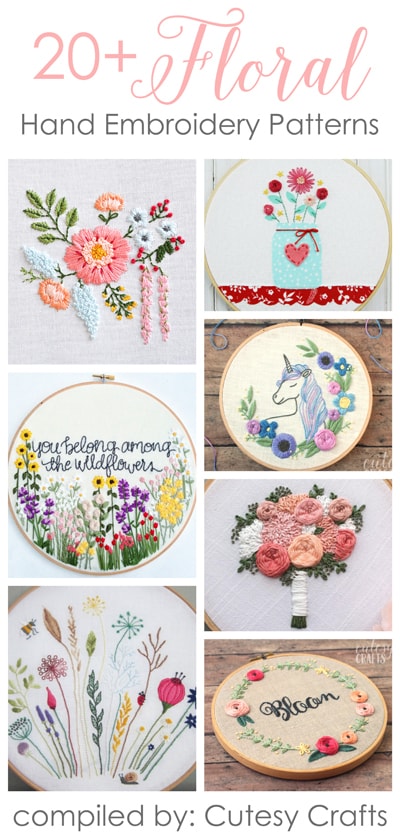 (This post may contain affiliate links, which means I may receive a commission, at no extra cost to you, if you click a link and purchase something that I have recommended.)
20+ Flower Embroidery Patterns
Floral Meadow from Hodge Podge Craft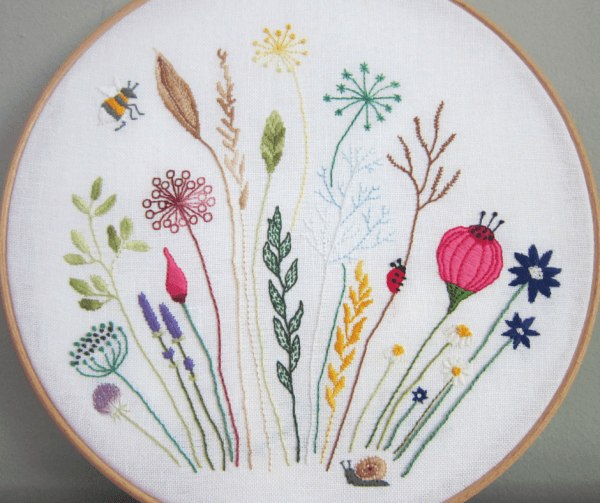 Mason Jar Vase Hoop from Flamingo Toes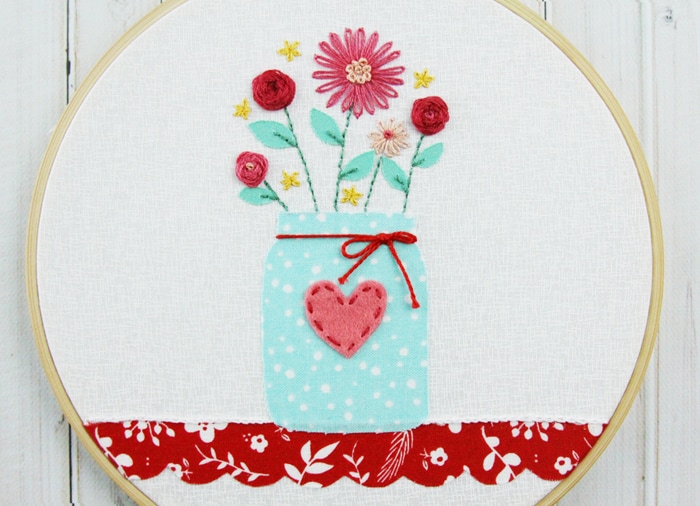 Bloom Hand Embroidery Pattern from Cutesy Crafts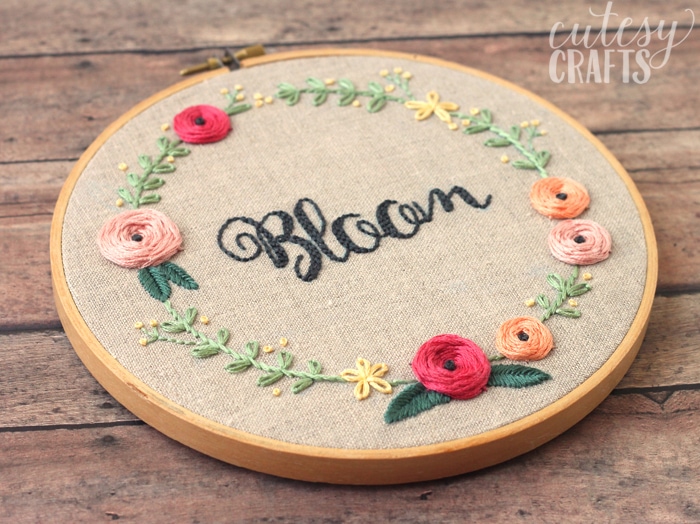 Wildflowers Pattern from Knotty Dickens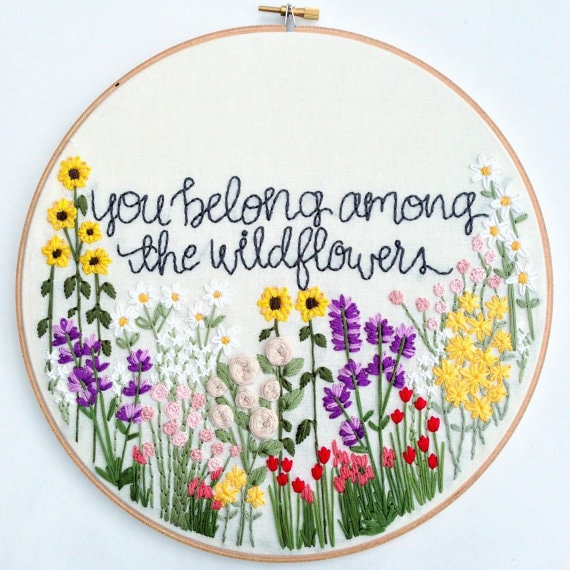 Fierce Pattern from Dabbles and Babbles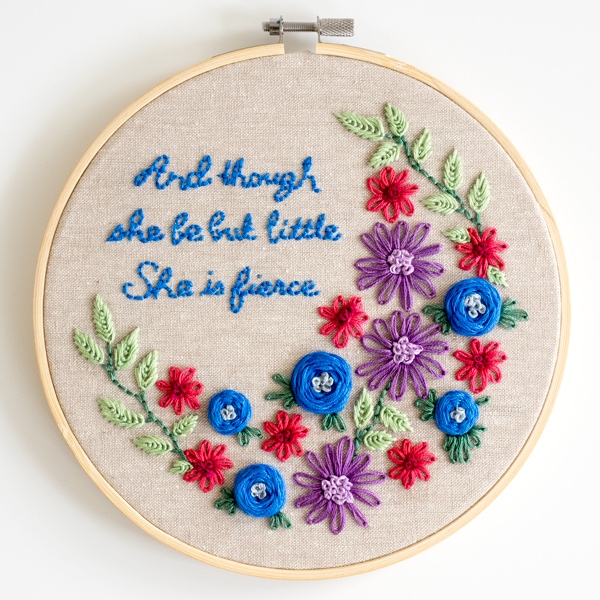 Love Pattern from Brynn and Co.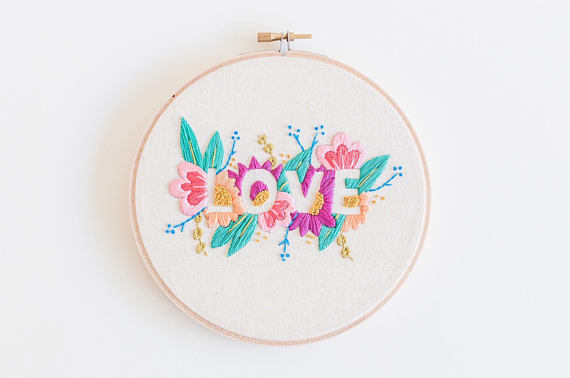 Blue Floral Embroidery Pattern from Cutesy Crafts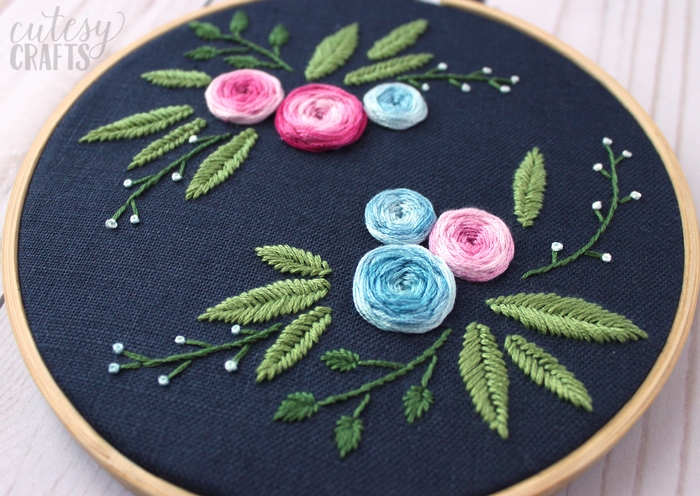 Geometric Florals from Brynn and Co.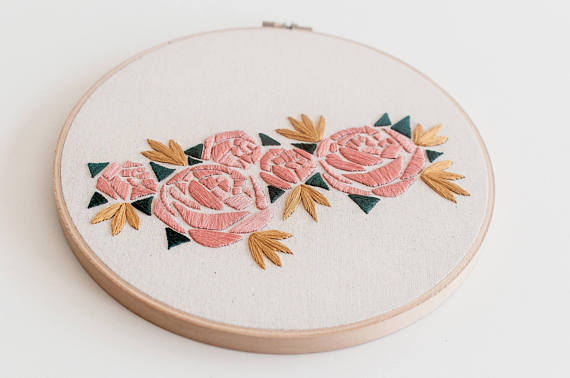 Free Embroidery Design from Cutesy Crafts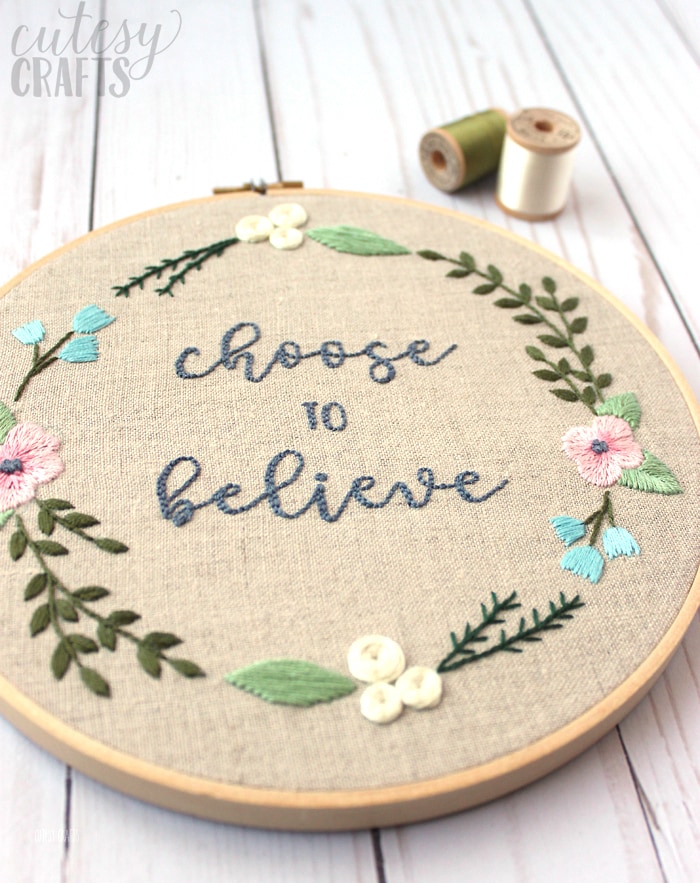 The "Brooke" Bouquet from And Other Adventures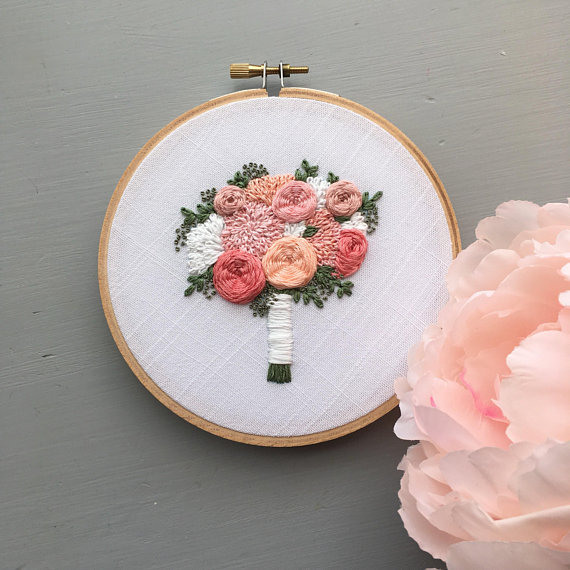 Alice's Garden from Little Dorrit and Co. for Sew Mama Sew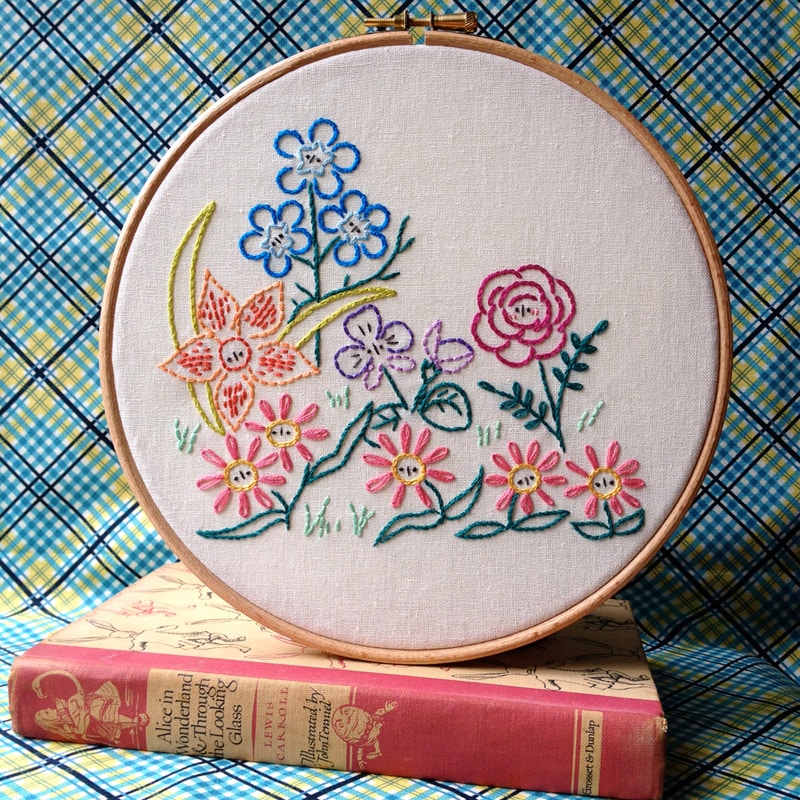 You Will Forever be my Always from Flamingo Toes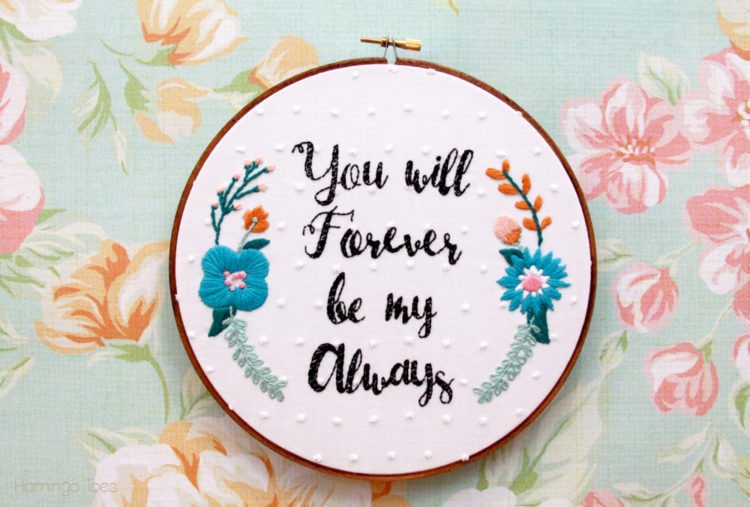 Dancing Poppies from Stitch Floral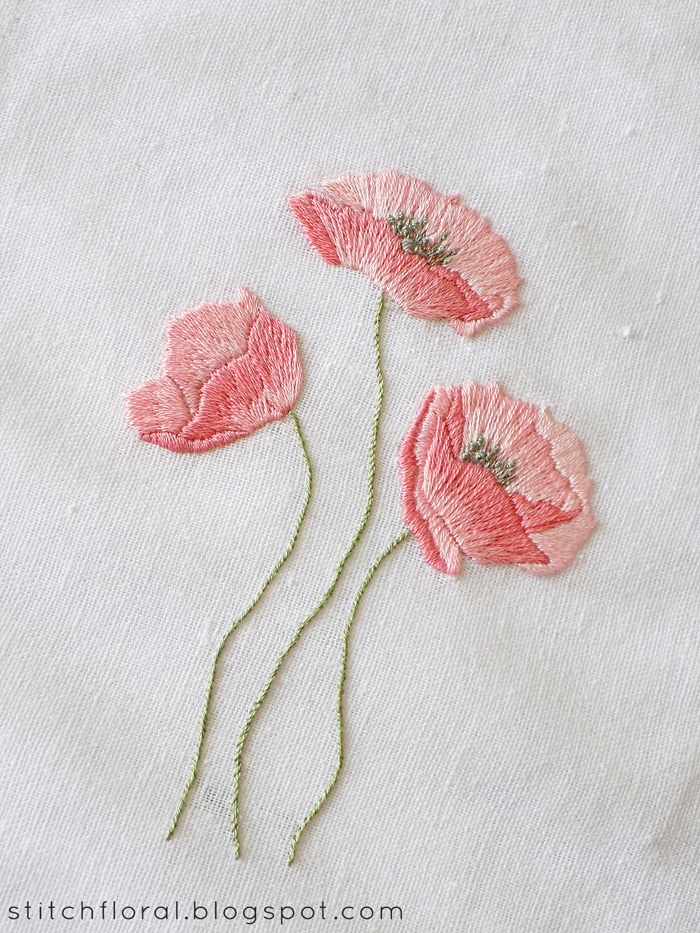 Satin Stitch Flowers from Lolli and Grace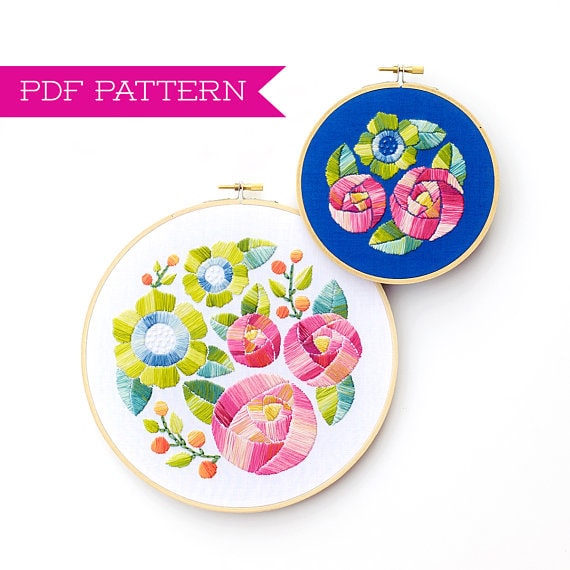 Love Without Reason from Down Grapevine Lane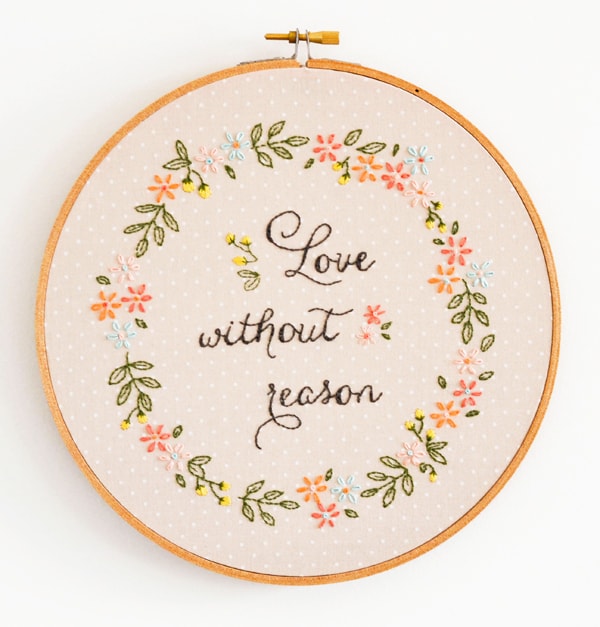 Flowers from Fileuse d'etoiles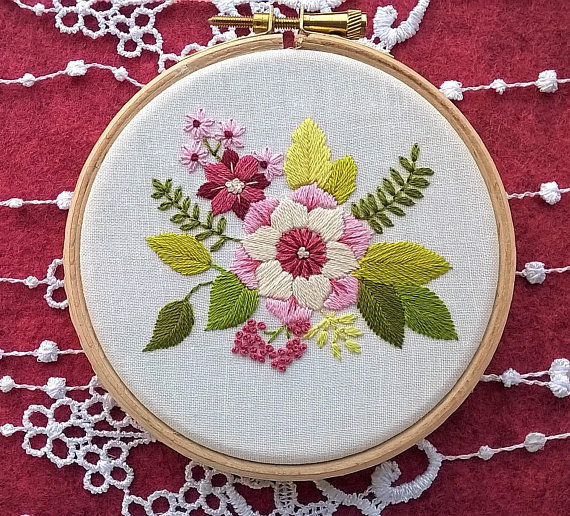 Floral Unicorn Embroidery Pattern from Cutesy Crafts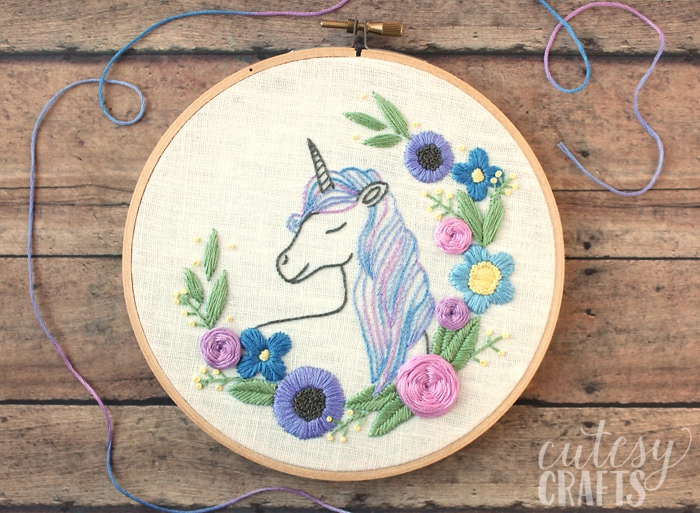 Floral Spray from Thread Folk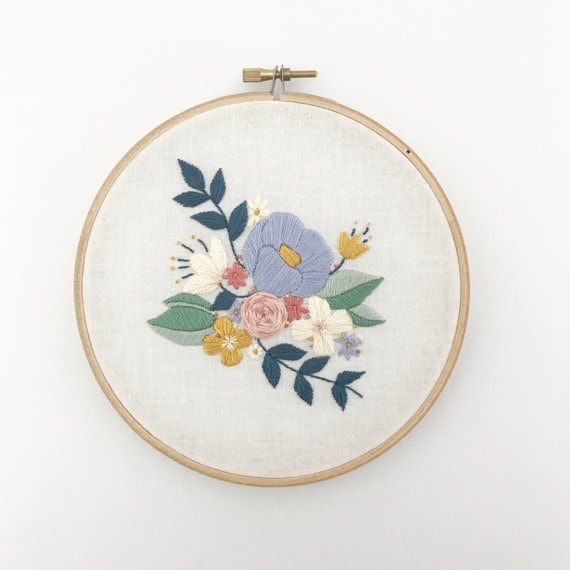 Embroidered Bouquet from Down Grapevine Lane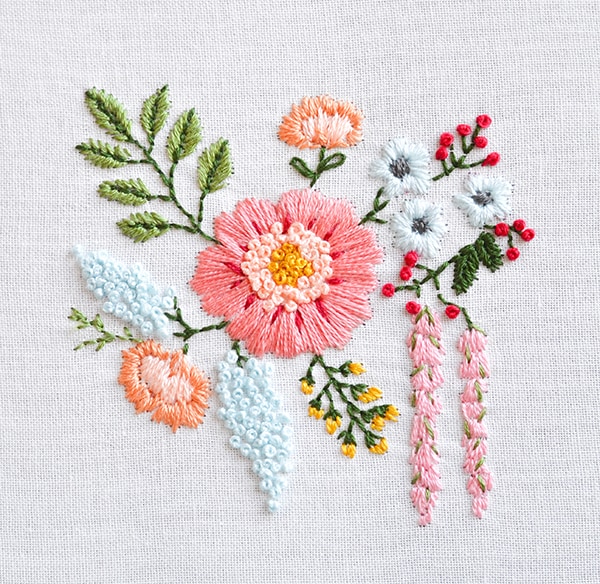 Floral Design from Ellucy Stitches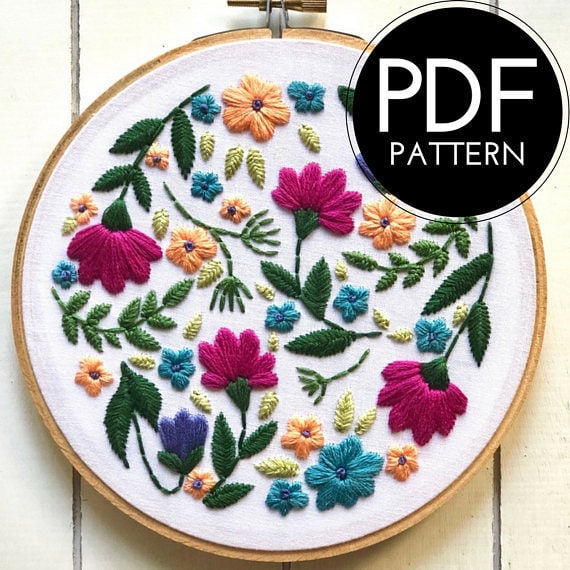 Floral Stitch Sampler from Instructables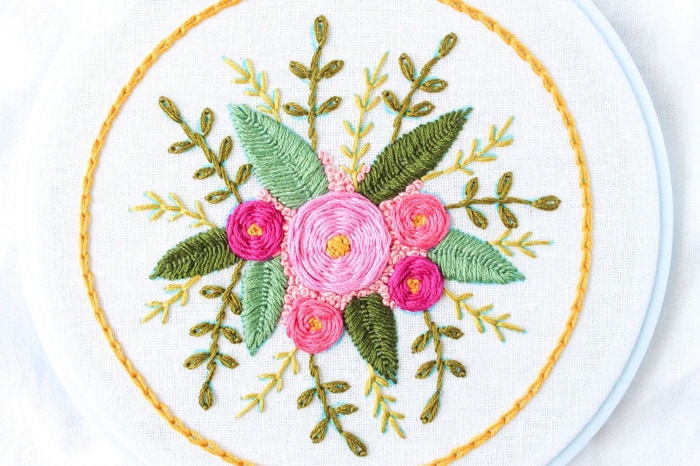 Flowers from Hoffelt and Hooper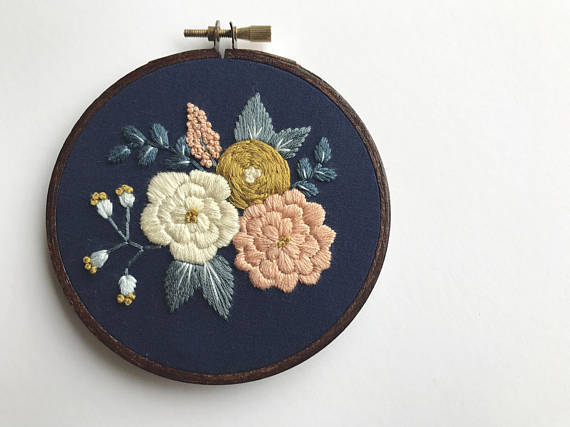 Floral Name Embroidery Hoop from Cutesy Crafts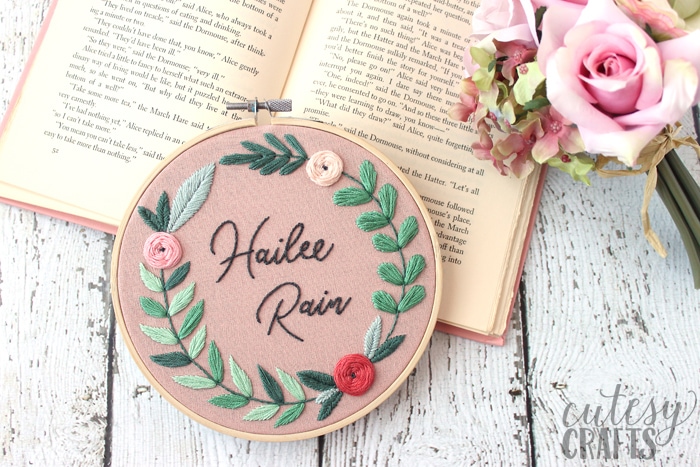 Heart Flower Embroidery Design from Cutesy Crafts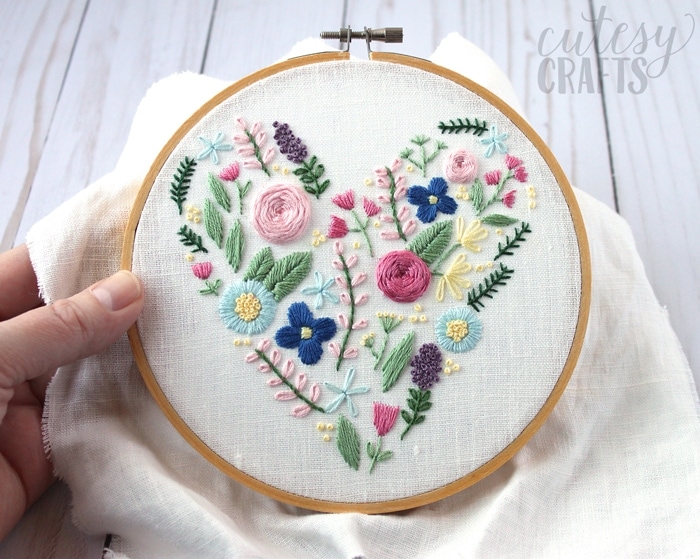 I hope you enjoyed this list of flower embroidery patterns. Be sure to check out my other hand embroidery designs and take a look at my embroidery stitches post to help you learn most of the stitches you need. My Bloom Hand Embroidery Pattern also has a YouTube video stitch-along if you need some visual learning.
You might also like:
20+ Beginner Embroidery Patterns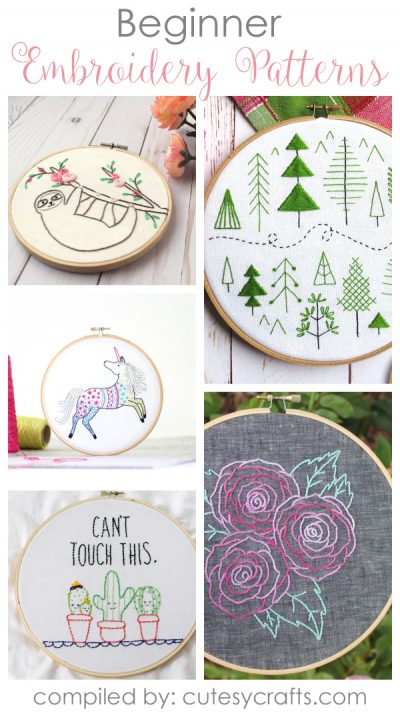 20+ Free Embroidery Patterns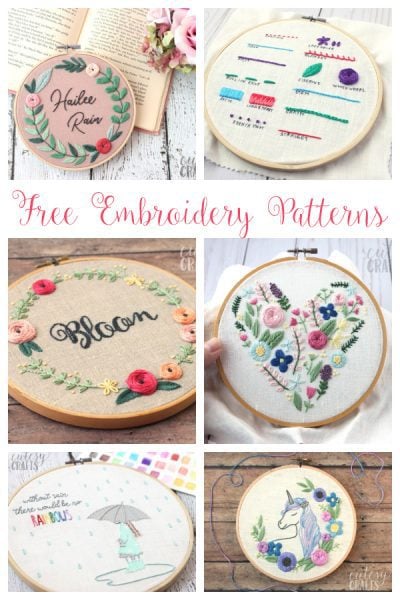 Sours: https://cutesycrafts.com/2018/06/20-flower-embroidery-patterns.html
Now discussing:
I Love Us Free Floral Embroidery Pattern
I love making things for Valentine's Day that you can leave up all year round! This I Love Us Free Floral Embroidery Pattern is so fun to stitch up and so perfect to make for a loved one!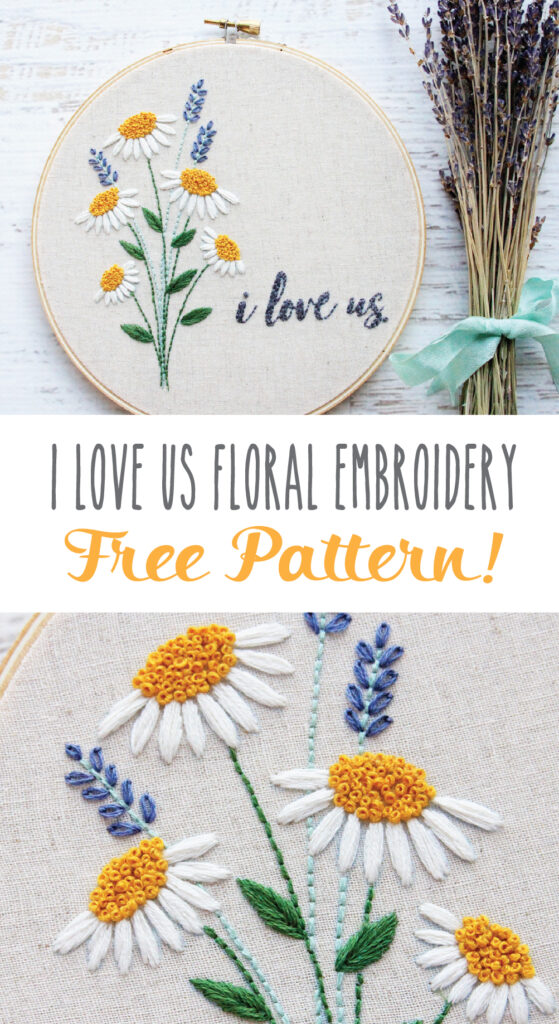 This sweet pattern is so fun to embroider! It uses basic stitches and it goes together really quickly! You can make it up for a friend, family member or anyone that you just love being with!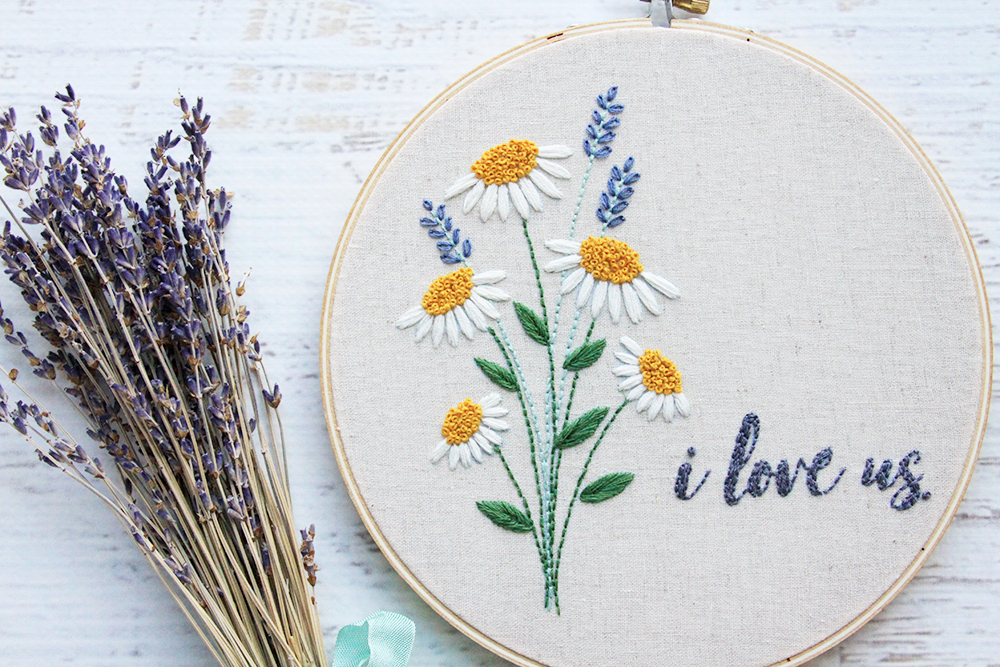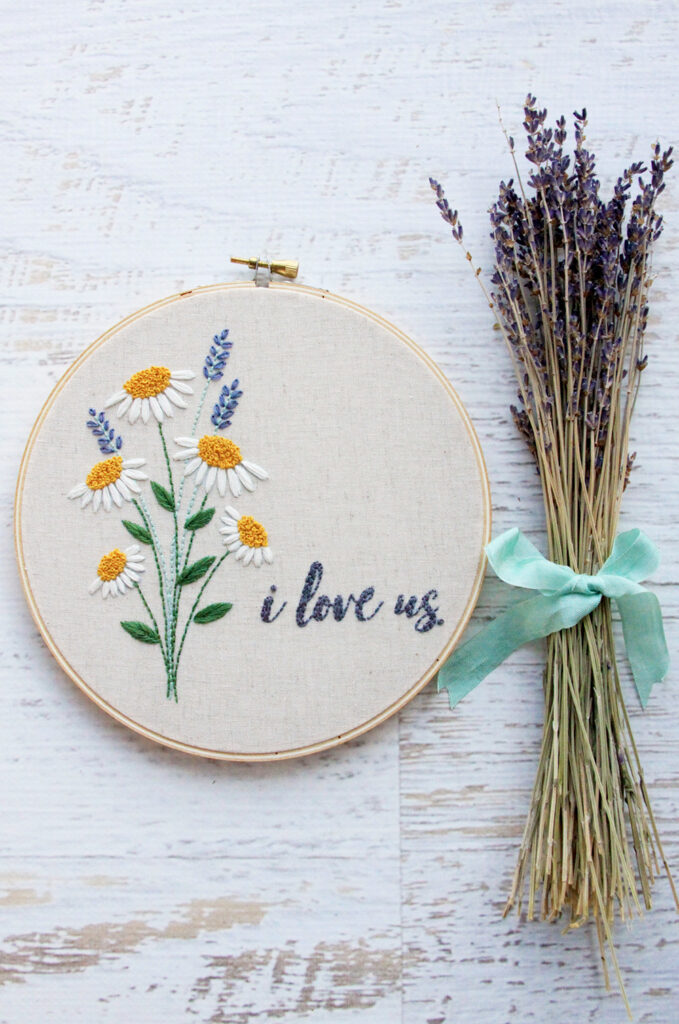 Here's what you'll need to make your own!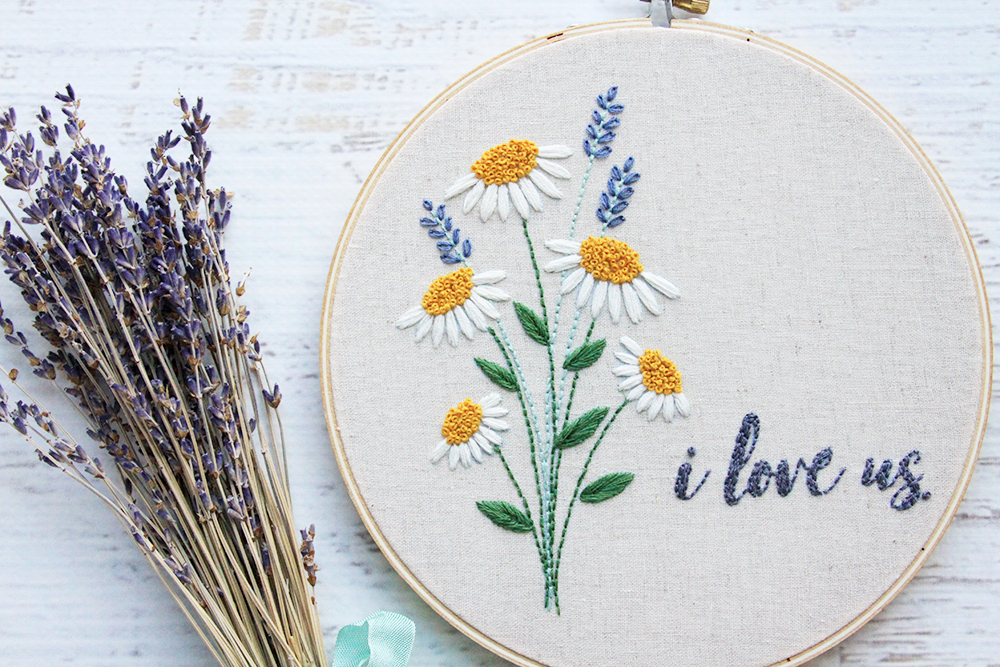 I Love Us Free Floral Embroidery Pattern
Materials: (may contain affiliate links)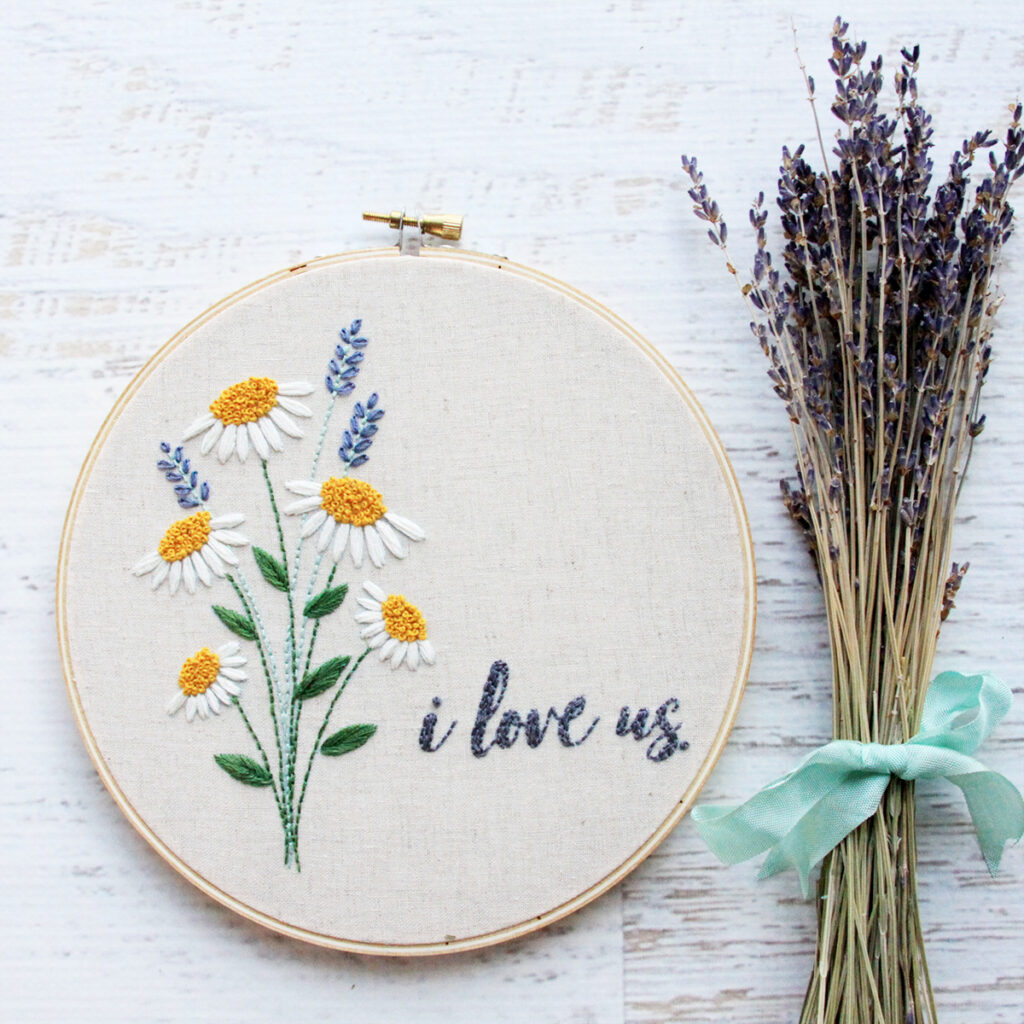 Instructions to make the I love us floral embroidery pattern:
Transfer embroidery design onto the linen fabric.
Embroider the design with the following stitches:

Stitch lavender stems with a back stitch using 5014 Marine water
Stitch lavender flowers with a lazy daisy stitch using 1248 Grey Blue
Stitch daisy flower stems with a back stitch using 2890 Grass Green
Stitch leaves of daisy flowers with a satin stitch using 2890 Grass Green
Stitch petals of daisy flowers with a satin stitch using 6722 Sea Biscuit
Stitch centers of daisy flowers by filling sections with French Knots using 2140 Orange Mustard
Stitch lettering by outlining letters with a back stitch, then filling in open areas with layered back stitches using 6736 Jedi
Finishing the Floral Embroidery Design
If you're going to leave your design in the hoop, make sure the design is centered in the hoop and the fabric is nice and tight. Trim the fabric around the hoop to about 1/2″ and glue the extra fabric to the inside of the hoop on the back side.
You could also use this for a pillow or quilt project! It would look so sweet as the center of a pillow design with a pretty pieced border around it!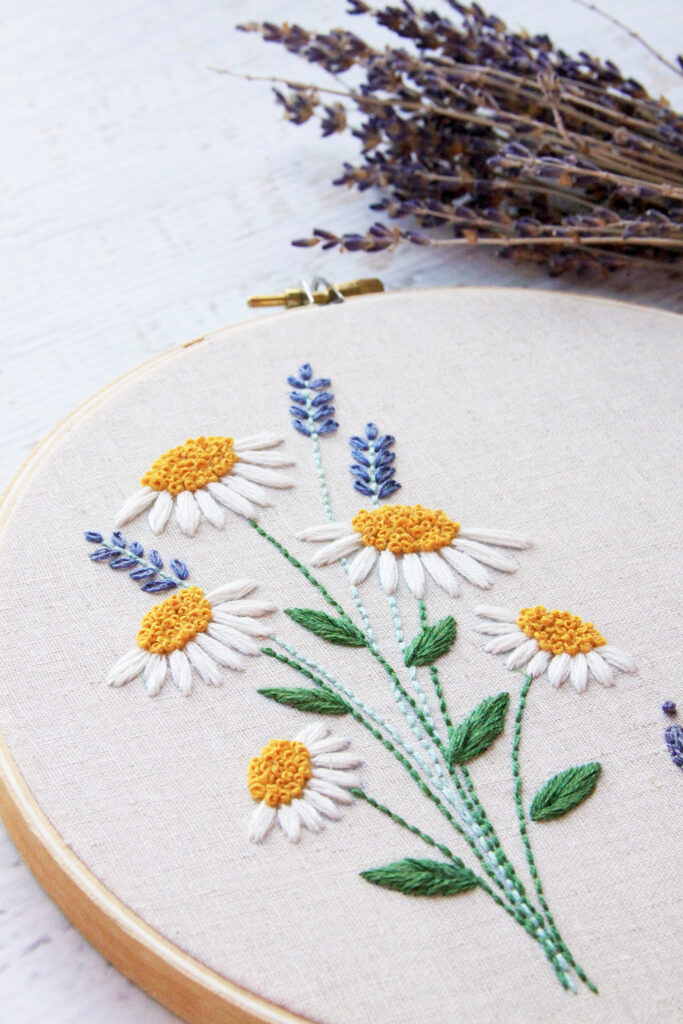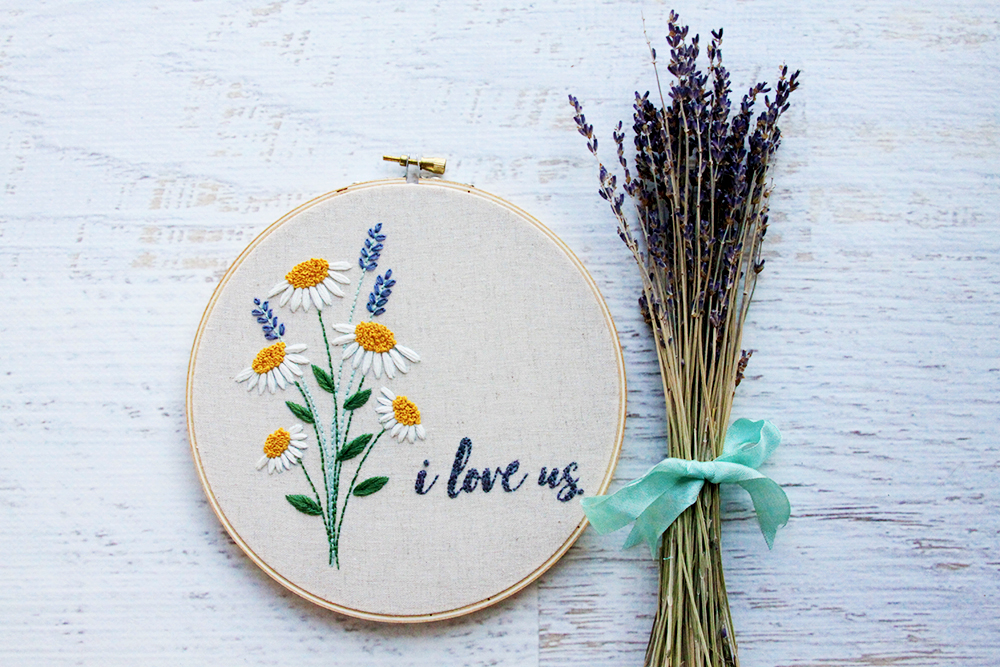 Filed Under: EmbroideryTagged With: Aurifil, Embroidery, Free Embroidery Pattern, Valentine's Day
Sours: https://flamingotoes.com/i-love-us-free-floral-embroidery-pattern/
2005
2006
2007
2008
2009