Do you and your team give much thought to your customers' experiences? If you need to present your customer experience journey, you might be at a loss. What does that look like? Depending on who your audience is, you might need to explain what the phrase "customer experience journey" actually means before you can even start.
Why use Customer Experience Journey Diagrams?
The customer experience often contains several parts. They start with awareness and if all goes well ultimately reach the retention and advocacy stages. With the help of a customer journey map, you can understand your customers' motivation, pain and get ideas for improvement. The map illustrates the process of building a relationship between a brand and its clients. Professional graphics and diagrams will help you organize your information in ways that are easy to understand.
Bring customer experiences and a roadmap of their personal journey to the forefront of your audience's focus. Click here to see the full Customer Experience Journey PPT Diagrams set and imagine how you might put them to work.
Share Compelling Quotes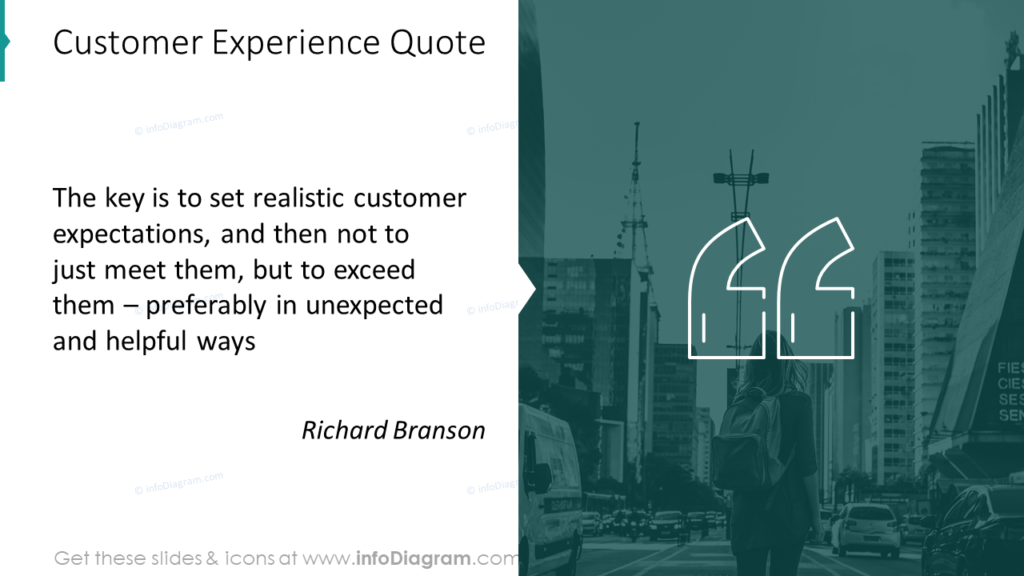 Whether you choose to use quotes from industry experts about the importance of customer experience at large or quotes from your own customers about their experiences, quotes can set the stage for your presentation. Let your audience know how important customer experience is with a quote at the beginning or share different customer experiences to set the stage for different portions of the presentation. The options are limitless!
Use a Roadmap Metaphor to Explain the Customer Journey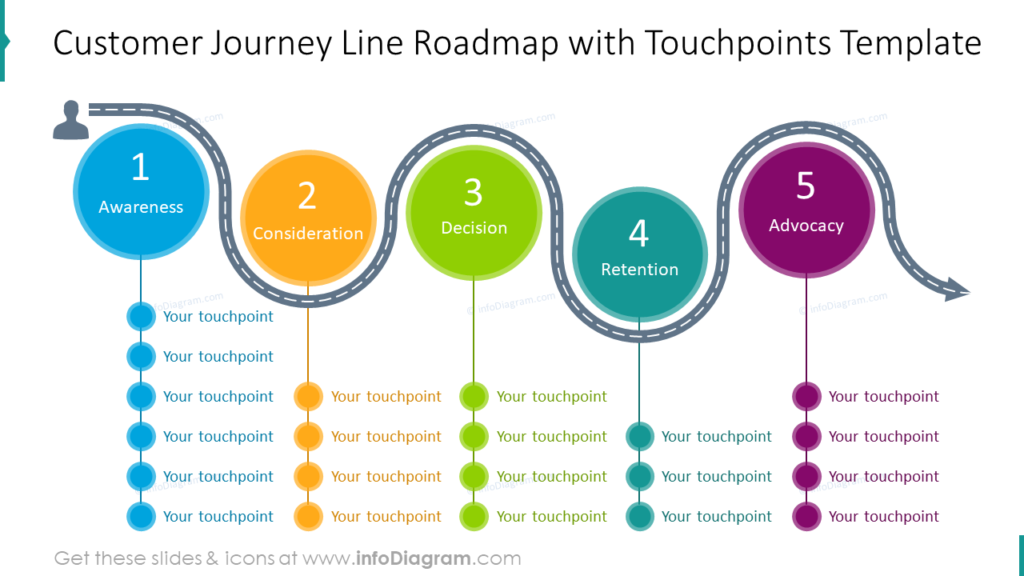 Using a roadmap to represent a journey is a perfect metaphor. In the example, each circle represents a different stage on the customer experience journey. The items listed below, represented by the smaller circles, represent different touchpoints at each stage. Once those touchpoints are complete, the customer often makes the transition to the next stage of the journey. If you would prefer not to break down the touchpoints of each stage, you can provide descriptions or details, instead.
Pyramid Diagrams Represent Customer Journey Levels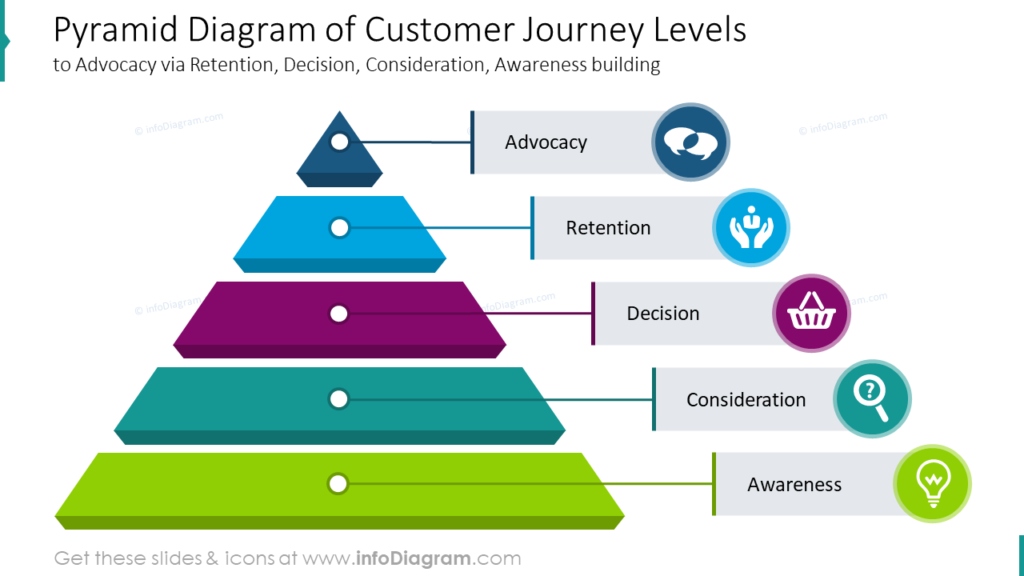 If the road map diagrams explain how the customer proceeds down the customer experience path, then the pyramid diagram is useful for illustrating the quantity of customers that are at each stage. Because brand awareness is the broadest, most general level of customer experience it is where most customers and potential customers will be. The smallest number of individuals will likely be at the advocacy stage, the very top of the pyramid. Although you want to raise the number of individuals at any level, the number of people who are aware of your brand will always be greater than the number of people who are actively advocating for others to try your goods or services.
Use Funnels to Explain B2B Client Journeys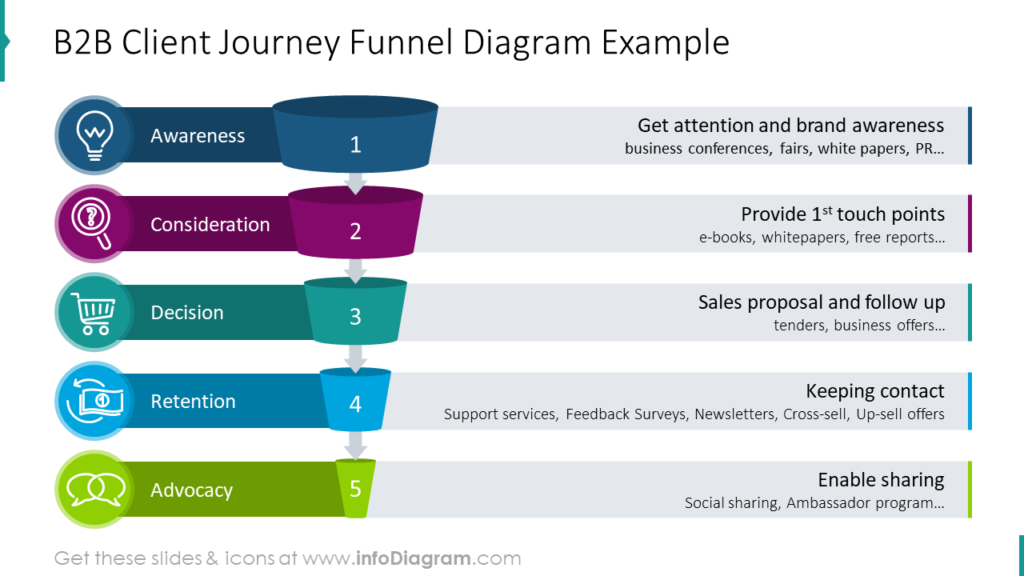 Client journeys aren't just B2C phenomenons. This funnel slide template explains how the same stages of client experience apply to B2B situations. Supplemental details that apply to your business can easily be filled into the descriptive boxes at the side. Since they are small, they aren't likely to be overburdened with the addition of too much text.
Present Your Online Customer Experience Journey With a Less Rigid Diagram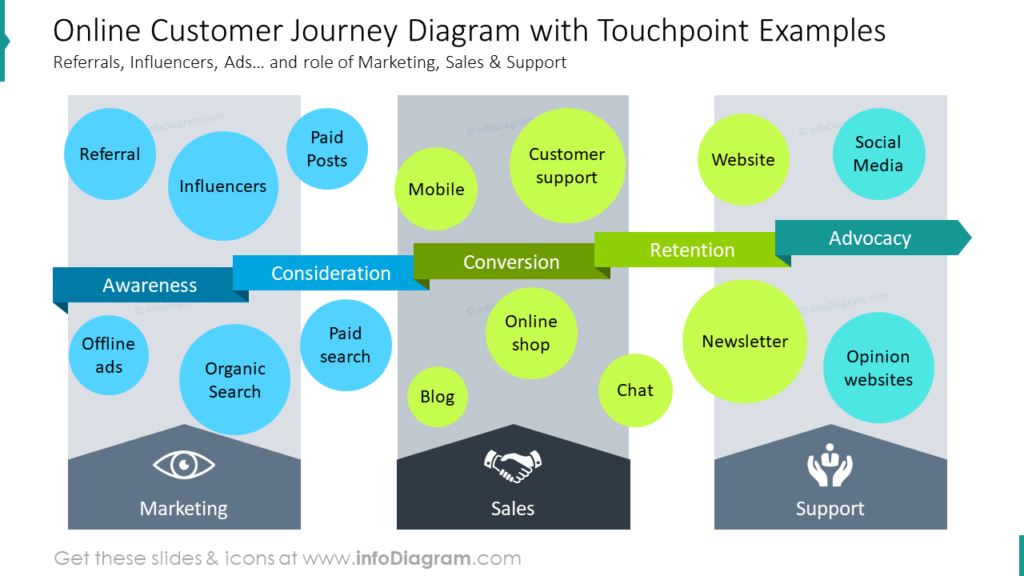 When conducting business online you have a variety of possible touchpoints at your disposal. In the example, the three main types of touchpoints fall into the categories of marketing, sales, and support as those are the primary methods of engaging with your online audience. The different stages of the customer experience journey are the same, but they overlap with those categories. You can easily color-coordinate the different touchpoints to match your branding or to match other slides in your presentation for a cohesive visual message.
Compare Your Goals to the Customers Journey
Do you have goals related to customer acquisition, retention or advocacy? Compare your performance in those areas with your strategies and see where you might be falling short. Use what you're doing well to gauge how you might do better in the areas you need to improve.
Resource: Customer Experience Journey Diagrams
Presentations about multi-phase processes can easily become overwhelming to audiences. Especially if the presentation is meant to be instructional or corrective in any way. By using Customer Experience Journey Diagrams you can communicate full ideas while reducing repetitiveness:
Customer Experience Journey PPT Diagrams
Beautiful, easy to understand graphics will help your audience understand your presentation, therefore allowing them to ask better questions and absorb more of the material.
Pre-made, impactful visuals will help you make your presentation visually cohesive so your slides don't detract or distract from your message. By having full diagrams to explain processes, you can cut back on the number of slides which are necessary, which will help your audience focus. Easy to read, organized messages are better for them and better for you. Click here to see our fresh collection of sleek infographics templates.
Sours: https://blog.infodiagram.com/2020/03/customer-experience-journey-powerpoint-presentation.html
Presentation Transcript
---
Grow Customers' Business Customer Service Indispensable Cost Removal COMPANY CONFIDENTIAL Customer Engagement: Imperatives Revolutionize customer service globally to achieve consistent excellence. Generate end-user opportunities for our customers by leveraging Avnet's intellectual property in high-value solution areas. 80% of our Customers "Truly Loyal" # of Partners in Virtual Community Participation Become indispensable in the technology supply chain through the development of virtual communities. # of Partners Leveraging Practices Rev Growth > Market Growth Take cost (time and resources) out of customers' businesses thru process enhancements and the integration of back-office IT systems. FY09 TS Tactical Summit

Customer Engagement Workshop Charlie Tombazian VP, Voice of the Customer Office

Customer Engagement Vision Customer Engagement Strategy And Business Alignment Systemic Resolution Of Common Problems Triage & Reporting FY09 TS Tactical Summit

TSA Customer Engagement Highlights FY08 • Customer Loyalty Process Improvements and Results • 72% / 60% more respondents / accounts in FY08 • Consistent improvement in Truly Loyal % Q2-Q4 • Hot Alert Process became "closed loop" • Hassle Free Program • Returns Empowerment (new policy, process and training) • Delivery Notification (auto-notification of sales person when ship commit date changes) • VOC Program Office Launched Nov 2007 • Central team for gathering, analyzing, and responding to customer input • Customer Advisory Councils • Fully engaging 125 customer representatives 2-4 times per year • Cataloging for best practices leverage FY09 TS Tactical Summit

TSA Customer Engagement For FY09 • Customer Loyalty Process Improvements • Weighting by Respondent Job Function • Top Two Box and Leader vs. Laggard Metrics become top KPMs • Hot Alert Process Tracking Improved through PIR Tool Leverage • Hassle Free Program Continued • Phone System and Process Improvements to increase Availability and Responsiveness of Inside Sales Reps • World Class Customer Service Training to be rolled out to all employees in Region • Customer Segmentation Transforms Business Model • Treating all customers fairly, but differently leads to better meeting customer needs, allocating resources, prioritizing work, and setting proper service levels • Customer Advisory Councils Break Down Silos • Move to one TSA Operations Advisory Council with supplier breakouts FY09 TS Tactical Summit

The Transformative Work To Be Done Developing and prioritizing tactics aimed at changing the way we currently design, deliver and measure customer solutions.  FY09 TS Tactical Summit

Customer Engagement: SPACE • Simplify—  Reduce the complexity and you add significant value • Push— Being proactive adds significant value because customers don't waste time trying to figure out what and how to ask for things • Accelerate— Decide, inform, respond, solve much faster than you currently do.  Speed saves money as long as effectiveness is there as well • Connect— Connect customers with opportunities, information, and other partners, suppliers, and vendors in as efficient a manner as possible  • Educate— Continually educate customers on Avnet's offerings and Supplier programs and policies. Customers want to benefit from our knowledge and experience in customer service, sales, finance, and operational excellence in addition to technical/product FY09 TS Tactical Summit
Sours: https://www.slideserve.com/joelle/customer-engagement-imperatives
Customer Engagement: How To Improve It Today (incl. Strategies, Ideas & Examples)
When approaching customers, you want to become more than just another company. You want your customers to get to know your brand, find out what it represents, and discover the ways it can improve their lives. You want them to create a relationship with your brand, look for it when they need it, and help others connect with it.
This process is called customer engagement.
But why is customer engagement so important? And how can you engage your customers today?
What Is Customer Engagement?
In brief terms, customer engagement is the measurement of the interaction between the brand and its customers. This interaction can be reached offline (with a physical interaction between you and your customer) or online (through emails and social media).
The most important aspect of customer engagement involves knowing how it can help your brand stand out and create a personal experience for your consumers.
The more interactions your customer has with your brand, the better their experience will be and the more your customers will prefer you over your competition. 
What Is Customer Engagement Marketing?
Customer engagement marketing is a market strategy that focuses on creating and developing personalized experiences with your customers via different channels.
The best customer engagement is a two-way interaction. However, you can reach more customers by predicting their behavior and recommending solutions that are tailored to them.
With this personalized type of marketing, the customer benefits by receiving products and services that solve their personal needs and finding out how valuable they are to your brand. 
Why Is Customer Engagement Important?
Given the large number of options your client has nowadays, creating loyal customers is even more important than recruiting new ones. Loyal customers aren't only constant customers; they're also brand ambassadors that can help you reach and convert more effectively than any marketing campaign.
To maintain customer loyalty, your company needs to remain alert about your customer's needs, stay in contact with them, and help them solve these problems. According to Constellation Research, customer engagement is so important that companies that prioritize customer engagement can increase their cross-sell revenue by up to 22% and their upsell revenue by up to 51%.
In today's world, creating and maintaining good customer engagement is vital to a company's long-lasting success.
Measuring Customer Engagement: These Customer Engagement Metrics Are Important
When measuring customer engagement, these four metrics are some of the most important ones… 
1. Session Time
In terms of engagement, the amount of traffic you get isn't as important as the length of time the traffic stays on your website. Session time gives you an idea of how long a user stays engaged with your website, which pages engage them the most, and which pages make them turn away the fastest. 
There's no such thing as a standard session time for your website. Instead, compare the traffic that completes a purchase to the traffic that doesn't. Which pages do they visit? How long is their session time? How can you make it easier for the rest of your users to complete that journey?
2. Visit Frequency
Engaged customers are ones that keep coming back to you. That's why you need to measure visit frequency.
This frequency can tell you which content is the most relevant to your customers and how much research they do before completing a purchase. If you offer digital content, your users may want to visit your website a few times per week. Calculate how often your users should come back to you and measure their frequency against it.
3. User Actions
User actions tell you more about the behavior of your potential clients. These actions are especially useful when implementing new features or a new strategy. Are your users acting as expected, or are they dropping off? Why?
It can be hard to figure out what a customer wants. User actions give you a better idea of how your customers act and where your strongest selling points are. So you can streamline your navigation and measure results, based on direct feedback.
4. Bounce Rate
Bounce rate tells you how often your website gets a one-page view before closing (or "bouncing off") your website. The more engaged your customers are, the less bounce rate you'll have. 
Why?
Because engaged customers want to browse your website, look for more content, and interact longer.
A low bounce rate is particularly important for landing pages and homepages. To figure out how to create more engaging content, find out which pages need to have a low bounce rate.
How to Increase Customer Engagement: 7 Customer Engagement Strategies and Ideas You Should Use
Want to increase customer engagement? Here are seven customer engagement strategies, as well as the ways companies use them…
1. Focus on Customer Experience
There's a reason why the saying "the customer is always right" is king: Customers are the most important parts of any business. So their experience should be your top priority!
The quality of the customer experience you provide is a very important way to keep your customers engaged and happy. For example, Zappos (the online shoe retailer) has decided to give their customer service reps unlimited call times with customers (instead of limiting the time to a few minutes, in order to maximize profit). The result? One of their phone reps famously bonded with a client for over 10 hours! 
Apply it today:
Start with the kind of service you should give to customers, according to your business model. When do customers look for you? What need do you fulfill? When do you need to be available for them? Identify ways to cater to their needs—not only by delivering a great product, but also by delivering it via a customer service rep that's equally great.
2. Find your tone on social media
Social media is the ideal place to show your brand's playful side and is a great platform to boost customer experience. By creating a tone that's unique to your brand, you can attract customers and keep them engaged with your interactions.
Wendy's is an incredible example of this tactic. With a sassy and sharp style, this fast food company's tweets constantly go viral. They even get users begging to interact with it: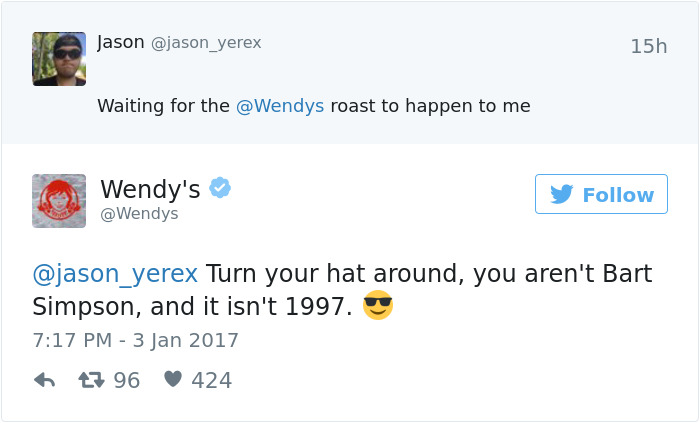 Apply it today:
You don't need a sassy persona or funny tweets. All you need is a clear voice. Create a persona based on your company's mission, vision, and values. Then find ways to interact with customers that aren't necessarily built around purchasing from you. Your followers will appreciate the breath of fresh air.
3. Create Useful Content
Creating content to educate customers has become an increasingly popular strategy. By educating customers instead of just selling to them, your customers get a better experience and increased satisfaction. 
This result occurs because your customers feel like they're getting more out of their customer experience than just a product. And the more educated they are, the easier it'll be for them to purchase according to their needs.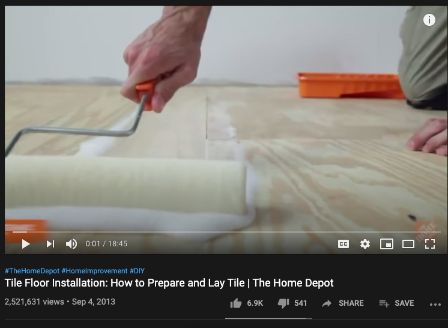 Home Depot saw these results when they created their own how-to channel on YouTube. By creating good, valuable videos that provide high-quality content related to the products they sell, they were able to reach their niche at the beginning of their customer journey. And this effort drove educated people into their stores. 
The result? The Home Depot YouTube channel currently has over 43 million views.
Apply it today:
Drive traffic to your brand through inbound marketing. Then you can educate people about the issues they correlate to your services. That way, you can organically position your product as a solution and give your customers the chance to have an educated guess about which one of your products is the best fit for them.
4. Personalize the user experience
If you want to engage your users, you'll have to think of the person behind the potential client. Your clients deserve to be treated as individuals—with experiences tailored to their needs. 
duoLingo is one of the best ways to see this tactic in action.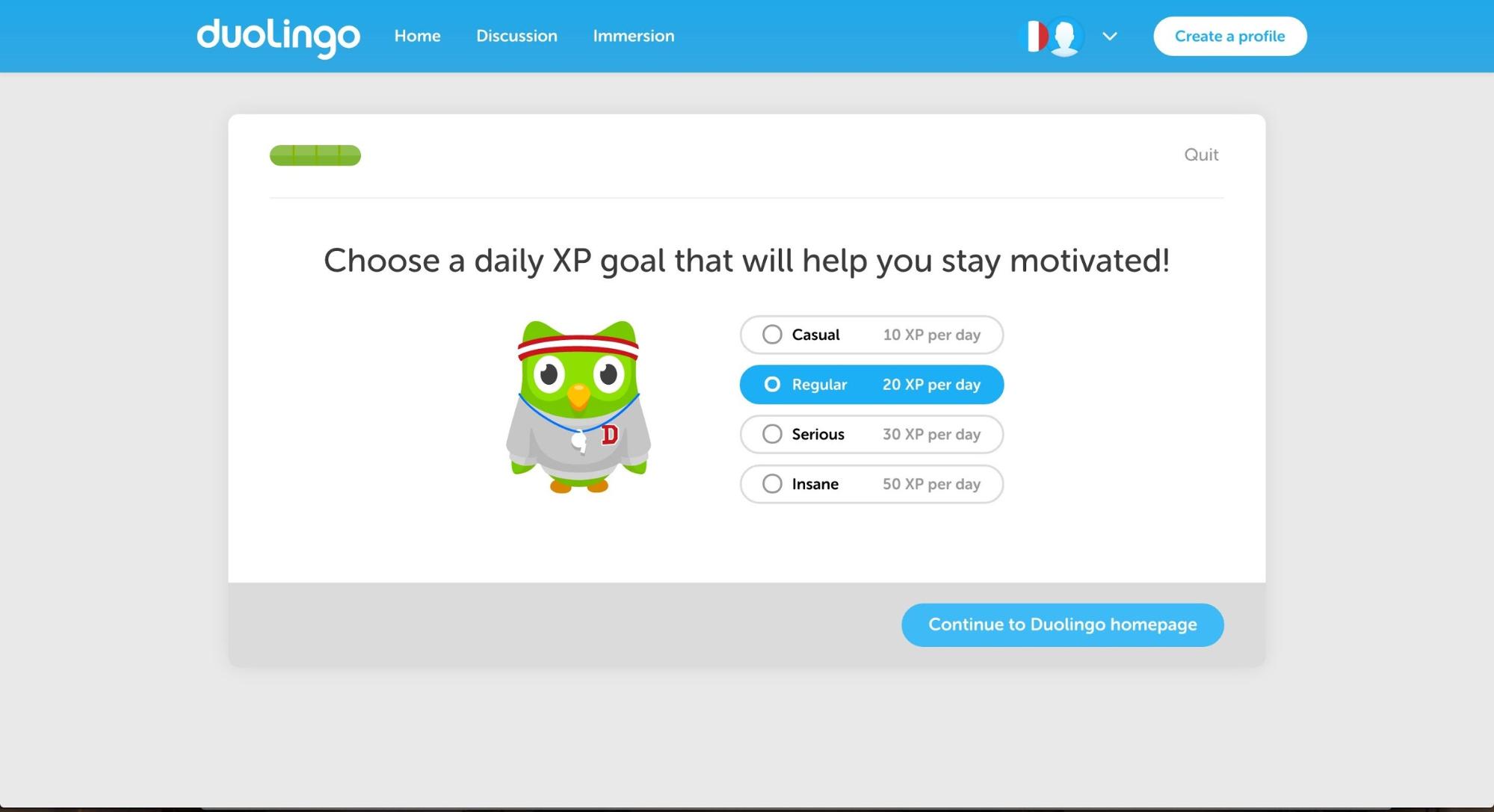 duoLingo does an excellent job of guiding its users through a difficult journey: learning a new language, personalizing onboarding funnels to their users, and using their decisions to better their customer experience.
Apply it today:
With today's technology, you don't need to manually personalize user experience, in order to adapt it to each user. With dynamic content and event-driven automation, you can let algorithms personalize experiences, based on customer behavior. 
You can also find ways to provide your customers with content that fits their needs by segmenting your audience and including them in market strategies, based on their location, demographic, gender, and interests. 
5. Make your customers happy
The best strategy for bringing qualified traffic to your brand is word of mouth. And the best way to get word-of-mouth advertising is through happy customers.
According to a survey produced by the White House Office of Consumer Affairs' survey, customer happiness is so important because a happy customer will share their experience with at least 4 to 6 people. However, they'll also tell 9 to 15 people about a bad experience. 
JetBlue achieves this goal by actively looking for dissatisfied customers complaining on Twitter and finding ways to improve their experience. So they both deescalate the situation and show people how much they care:
Apply it today:
JetBlue is a great example of turning a bad situation into a good one without making a large investment. Listen to and respect your customers, regardless of their differences. Communicate with them, foster a culture around customer satisfaction with your employees, and reward them when they go the extra mile.
6. Use gamification
Gamification is the process of making parts of the customer experience feel like a game via achievements and challenges. By gamifying parts of their experience, your customers will become more engaged by interacting with your brand to get achievements and earn points.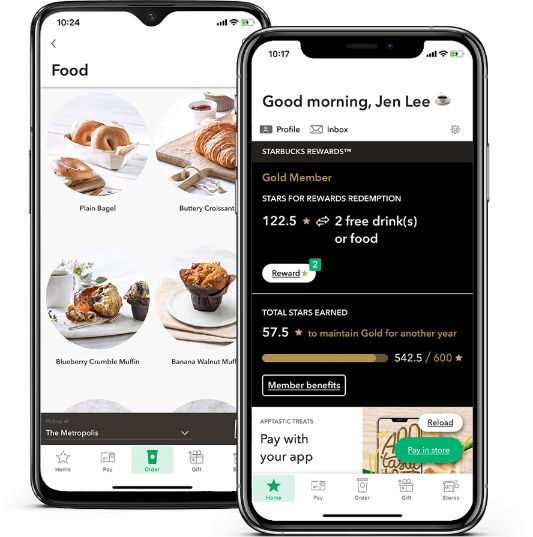 The Starbucks Reward App is a great example of gamification. By allowing customers to accumulate points, they can level up their rewards tier. This app works because customers get an added bonus with their purchase and are encouraged to buy more.
Apply it today:
You don't have to create an app to reward your customers. You can find ways to engage customers through giveaways, contests, and even simple punch-in reward cards. Look for the parts of the customer experience that can become a game, such as returning to make a purchase or participating for a discount. Then give incentives to increase loyalty.
7. Listen to your customers
Who are the best people to tell you how to engage with your customers? Your customers themselves. Nike is a great example of listening to what their customers are saying. The company released an advertisement called "Dream Crazy" starring NFL player Colin Kaepernick. He had been at the heart of the controversy: kneeling during the national anthem as a form of protest.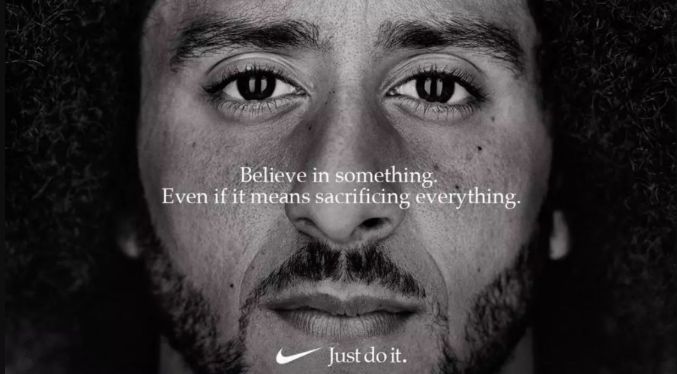 The result? The advert won the outstanding commercial award at the Creative Arts Emmys and increased the company's stock by 5%.
Apply it today
Listen to what your customers are saying—not just about you, but about the world in general. Find ways to apply feedback. And don't be afraid for your brand to take a stand, especially when the stand fits with your company's values and mission.
5 Customer Engagement Examples That Will Inspire You 
Looking for inspiration? These five brands achieved amazing customer engagement with their creative strategies…
1. Dove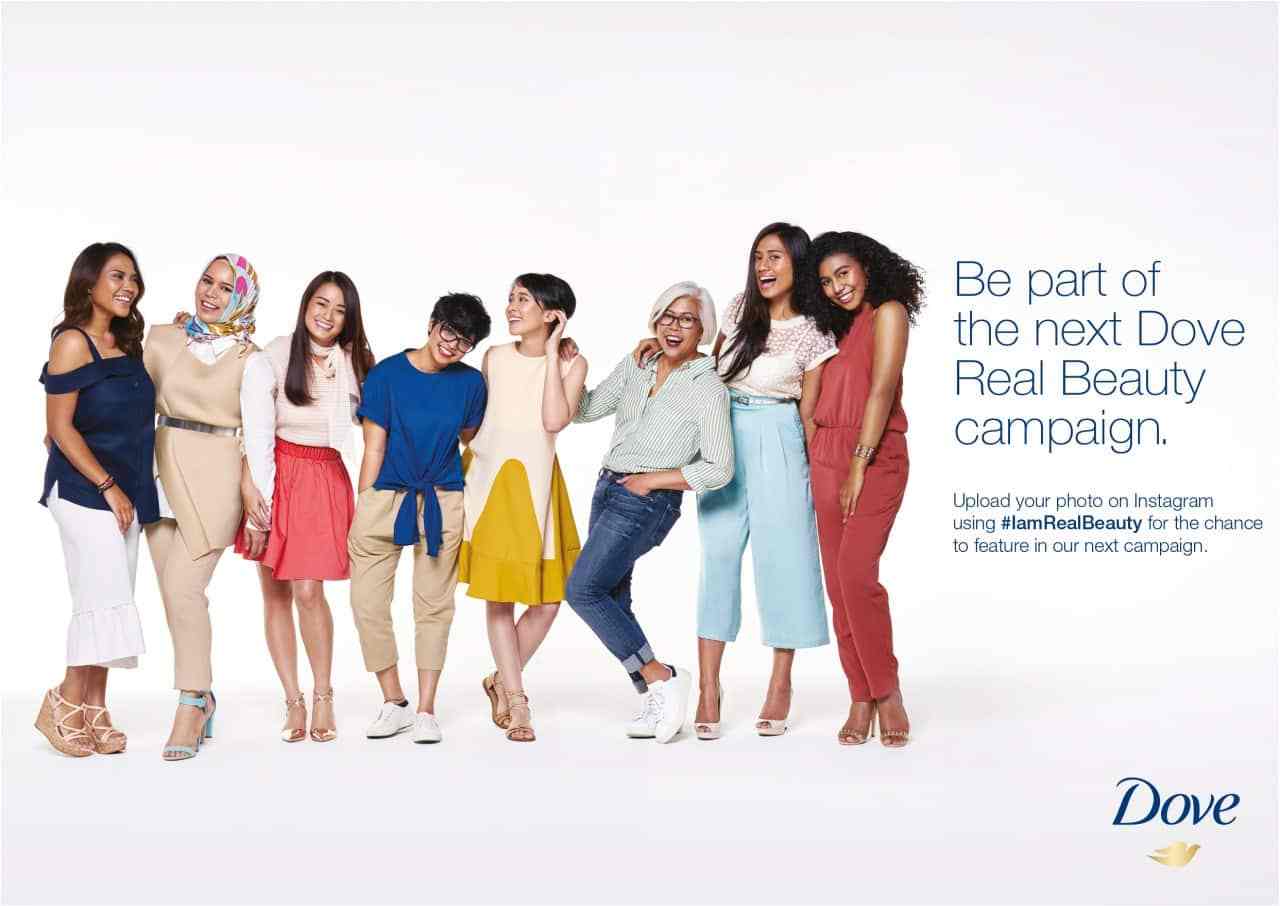 After discovering that only 4% of women consider themselves to be beautiful, Dove created the very successful "Campaign for Real Beauty" in 2004. This campaign focused on helping women feel comfortable in their own skin.
Since then, the campaign has guided Dove's campaign efforts. They looked for real customers to pose as models, talk about their experiences with their products, and participate in giveaways and promotions.
One of the most successful examples was their "Ad Makeover" initiative, which combatted negative advertising. This initiative allowed Facebook users to participate in replacing ads about weight loss and similar messaging with uplifting ones. The result? They reached 5.5 million women, saw 50% of their engaged viewers leave comments, and increased Facebook mentions by 71%.
Learn from it:
Like Dove, find the worries and needs of your customer, and address them in public, positive ways. Build your customers up, and let them guide your decisions about how to engage them.
2. Pandora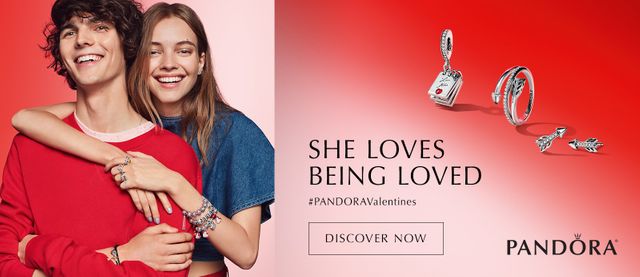 When a local Pandora store experienced a drop in sales, it decided to run a Valentine's Day campaign called "She Loves Being Loved." Customers had the option to fill out a form for a chance to win a Pandora's bracelet and charm. They also received a Valentine's Day gift guide, which allowed them to discover the perfect product for their loved ones. 
During this campaign, Pandora was able to capture client's information, and they reached a 53% conversion rate on Facebook and a 45% overall conversion rate.
Learn from it:
Since customers' needs change, your campaigns must change accordingly. Find out what the customer will need on particular dates, and build campaigns around them to inform and engage them.
3. Apple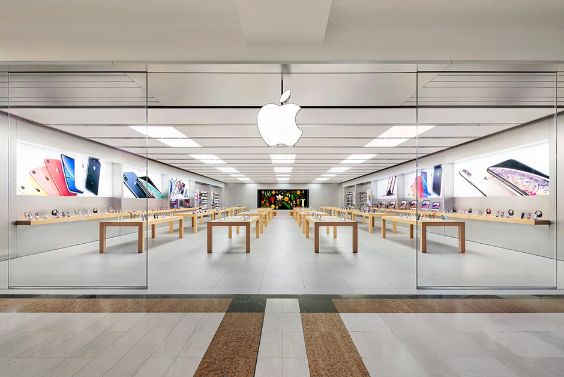 Apple has perfected every single step of the customer journey—from the initial need to the unboxing. The "Apple Experience" starts with a simplistic approach to solving its clients' needs via a limited product line. 
Their stores are places where "geniuses" help people try out the products, in order to find out which ones best fit their needs. And when they finally complete the purchase, the unboxing experience is so well-crafted that thousands of YouTube videos document this experience alone. 
This strategy results in fiercely loyal customers and constant word-of-mouth promotion.
Learn from it:
Chart out your customer's journey and notate how you can improve every step. Are your ads well-placed? How's your customer service? Is your item packaged as well as possible? 
Think about the ways you can help your customer every step of the way—by making things clearer and simpler and improving the experience with your brand.
4. Netflix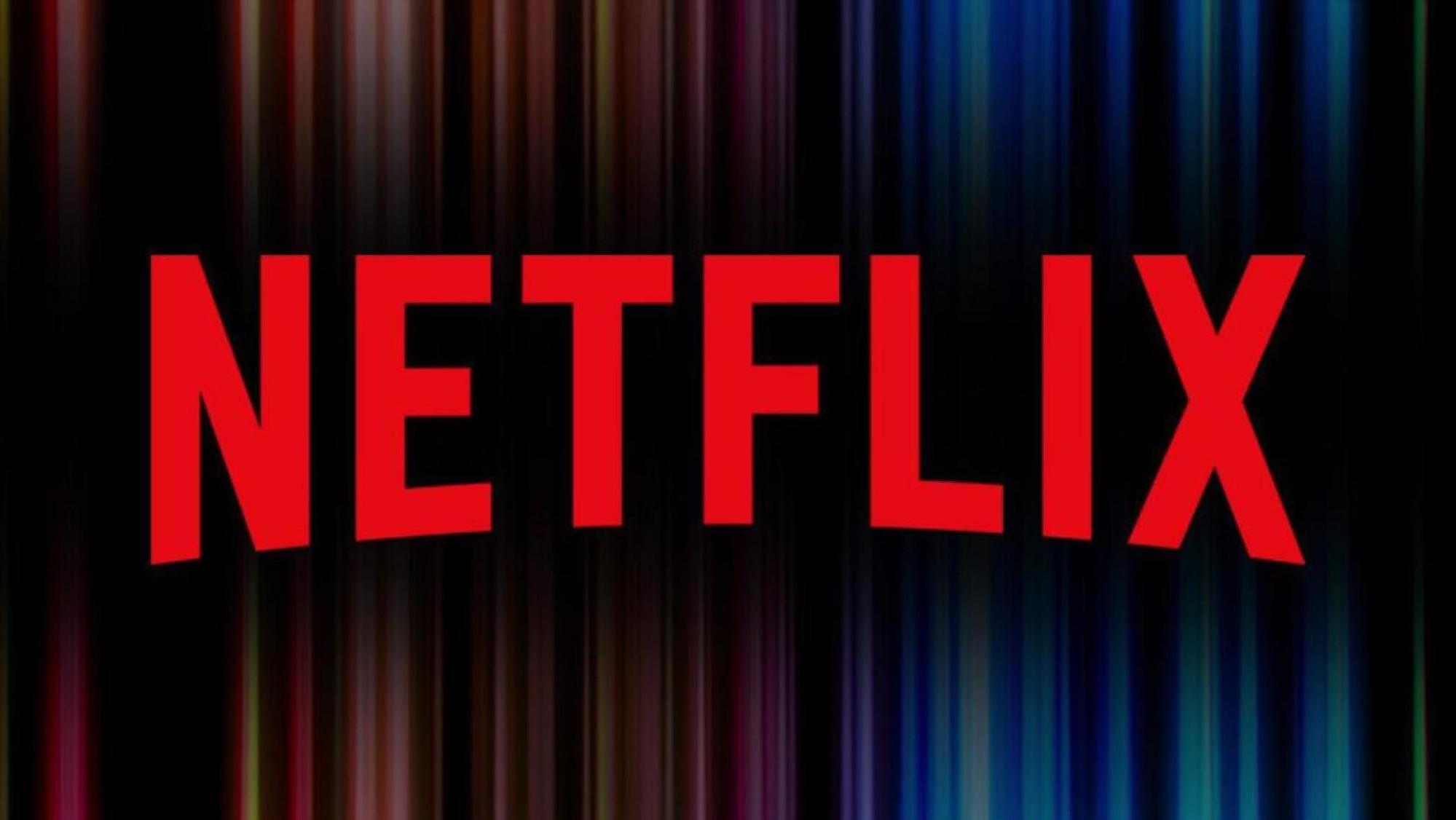 In just 8 years (2011 to 2019), Netflix increased its number of paid subscribers from 21.5 million to 158 million. This triumph was partially achieved by their great personalization and free one-month trial. 
With a powerful algorithm, Netflix pinpoints what its users enjoy and recommends titles accordingly. The more you use it, the better content you'll find!
Learn from it:
Nowadays, it's becoming easier and easier to predict customer behavior. If you want to keep customers engaged, find new ways to meet their needs through automatization and customer segmentation.
5. Disney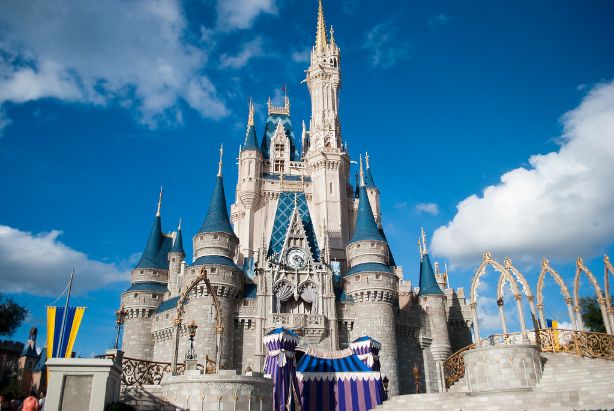 With amazing experiences in their parks, Disney has earned its title of "The Happiest Place On Earth"—not through their park design, but through their people.
Characters are played by talented actors who are cast to perfection and extensively trained to properly portray them. Before being allowed to play a prince or princess, they need to spend time as a "fur character" (such as Mickey or Minnie) to get a better sense of the atmosphere. And once they're in character, they must personally greet at least 172 guests per hour, in order to guarantee that the largest number of kids will get a chance to interact with them.
Learn from it:
Training is very important, especially when it comes to your customer service reps. They need to know how to handle clients as effectively as possible. Make sure all your customer service employees are well-trained and reward their positive interactions with your customers.
Best Customer Engagement Tools
If you want to achieve your goals, you'll need the right tools. The following tools are the best ones to help you with customer engagement…
Messagely – Best way to communicate with your customers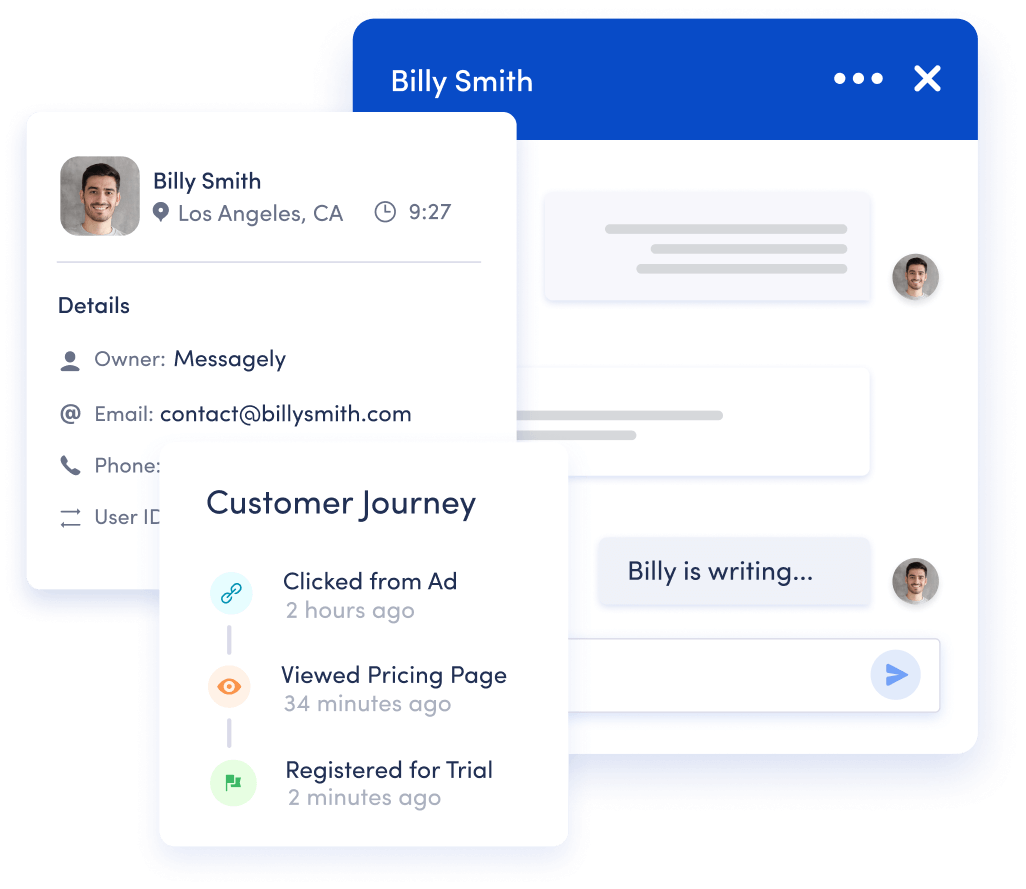 If you want to achieve good customer engagement, you need to effectively communicate with your customers. Messagely simplifies communication via automated messages, easy segmentation, and powerful integrations.
Here are some of its main features:
Live Chat
Targeted Messages
Shared Inbox
Knowledge Base
Chatbots
Live View
Find out more about the ways Messagely can help your customer engagement strategy.
Google Analytics – Get user data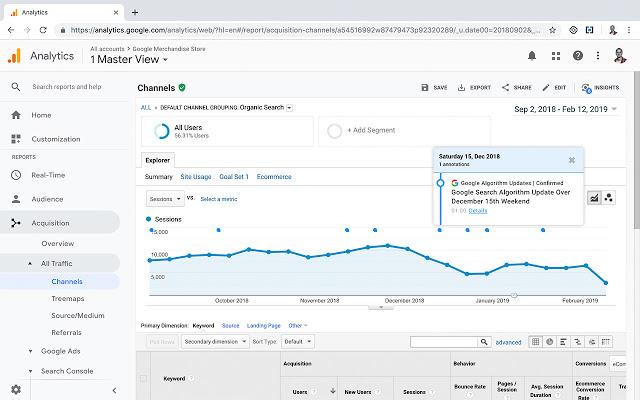 As we've mentioned before, you need to keep track of the right metrics if you want to get to know your customer's behavior. Luckily, Google Analytics makes it easy to measure customer impact, find out which pages need optimization, and learn from your best-performing strategies.
When it comes to interactions, you can use powerful integrations to learn from customer communication and fine-tune your messaging system.
HubSpot – Manage your online marketing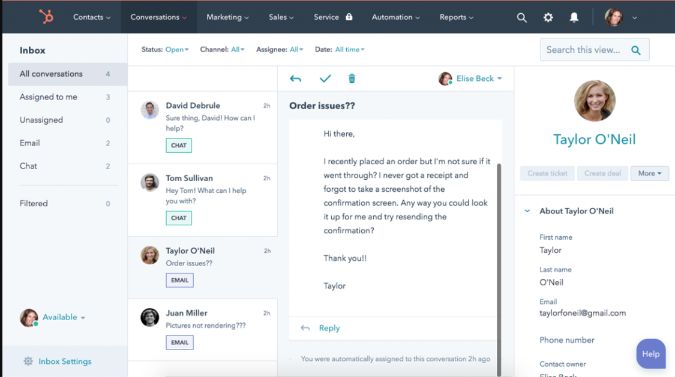 HubSpot's marketing software allows you to convert leads, prove ROI, and create, implement, and track marketing campaigns. And it integrates with multiple services to publish content, manage client communication, and give you powerful reporting. 
So you can manage all of your online marketing from one place.
Typeform – Create great forms and surveys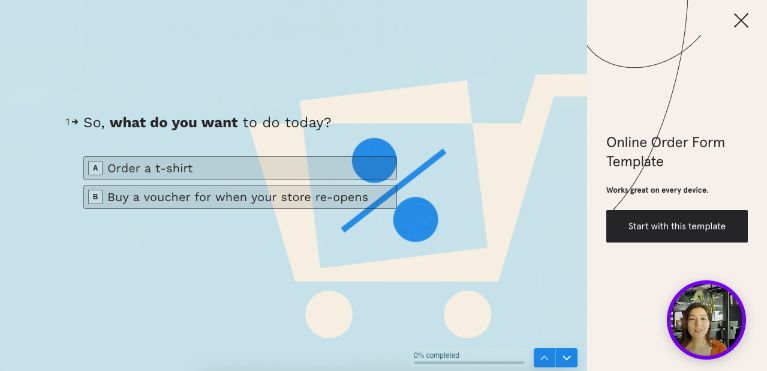 Typeform makes it easy to get your customers to talk about your brand and retrieve the answers you need from them. 
With attractive and interactive forms, you can engage with your customers and collect more data, which will help you create better strategies.
Salesforce – Improve your customer relations
Salesforce is one of the most powerful customer relationship management (CRM) tools available today. This platform allows you to connect with your customers via multiple options that improve your marketing, automate your processes, and provide powerful integrations. 
With it, you can streamline your conversion process and improve your conversion rates via powerful, data-based marketing campaigns.
3 Customer Engagement Plan Templates to Get Started
Here are three customer engagement plan templates you can use to get started right away.
Customer Engagement Strategy Workbook by Demand Metric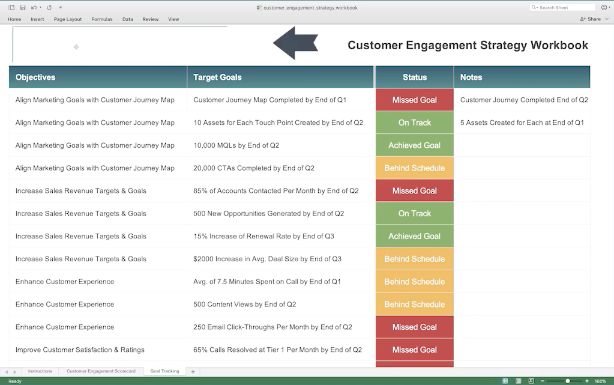 With this workbook, you can create scorecards that will keep track of your customer engagement strategies. So it makes it easy to keep track of your goals and measure effectiveness. To track how well your strategy is doing, all you need to do is fill out the form with your strategy's details and goals and keep it updated with your progress. 
Since this template is easy to customize and intuitive to use, it can save you hours and hours of formatting.
You can find it here.
Mountain Customer Journey PowerPoint Diagram by Slide Model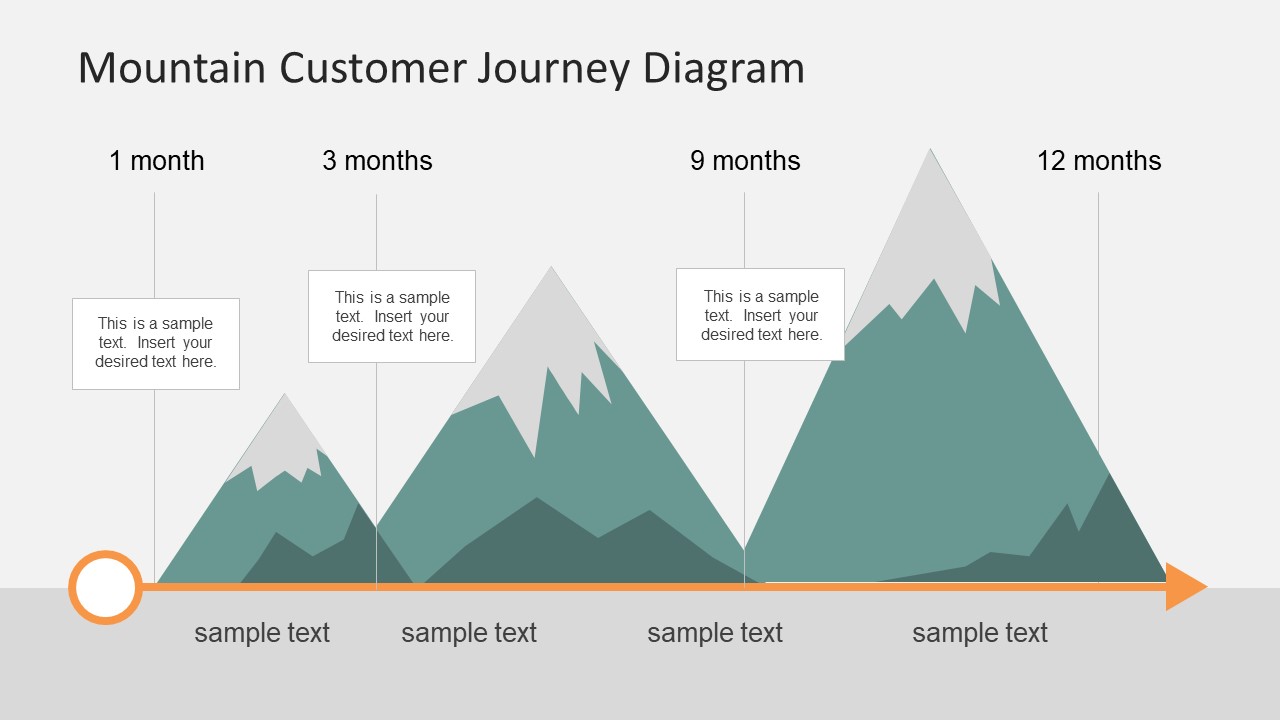 With the Mountain Customer Journey PowerPoint Diagram, you can create and illustrate a  timeline of the way your customer interacts with your brand until they make a purchase. Through different segments, you can explore various aspects of your customer journey in a visually appealing way. 
This template makes it easy to map out your customer's journey and visually explain it to people who may be unfamiliar with the subject.
With vector icons and a great color scheme, you can integrate this template to your PowerPoint presentation, or you can even print it out for your marketing team to keep in mind.
Download it here.
Customer Engagement, by Sketch Bubble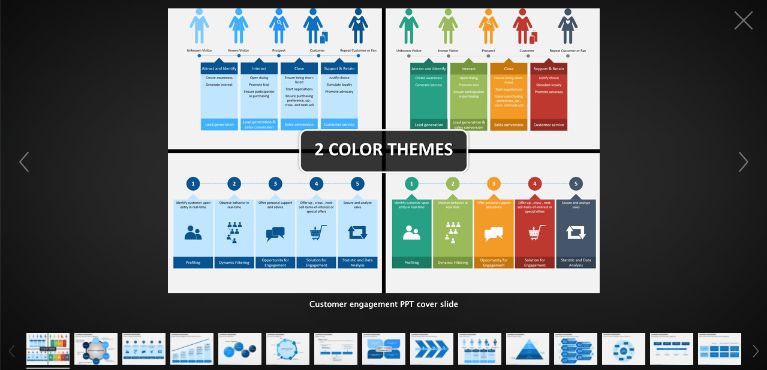 Looking for a complete way to visually design your own customer engagement strategy from scratch and explain it to others? This presentation template is for you. 
With useful graphics and illustrations, you can explore your client's needs, map out their experience, and explain your approach to generating more leads and increasing customer engagement. 
This presentation is easy to customize, and it's compatible with PowerPoint, Google Slides, and Apple Keynote.
Find it here.
Conclusion
Customer engagement is vital to long-lasting success. To achieve this goal, you need to establish great communication with your customers that's based on data and an excellent brand image.
Tools like Messagely make it easy to communicate with your clients and establish that bond. After you try it out for free today, you can find out how it can help you more effectively engage with your customers.
Sours: https://www.messagely.com/customer-engagement/
HR Basics: Employee Engagement
Customer Acquisition Strategy and Plan PowerPoint Templates Diagrams For Presentations
A best and well-designed collection of Customer Acquisition Strategy and Plan PowerPoint Templates and Diagrams to build a successful Customer Aquisition Strategy and Plan and help your organization gain more loyal customers that will be retained in the long run.
Furthermore, you can also use this PPT samples to motivate and teach your team and employees all the strategies and tactics they need to attract and gain new customers as well as maintaining existing ones in the long run.
With this professional collection of Customer Acquisition PPT slides Designs you will have all the diagrams you need to showcase various methods, models and practices related to your industry like lead generation, customer acquisition process, sales tactics, customer experience, customer loyalty, marketing strategy, marketing campaigns, content marketing, referral programs, social media, and many more.
This collection of ready-to-use PPT templates contains 140 Creative and fully editable Customer Acquisition Strategy and Plan slides with many variations and samples options.
This template is available as Google Slides Themes:
Download Customer Acquisition Strategy and Plan Google Slides Templates Here >
Key Features:
140 Unique & Creative PPT slides
2 Aspect Ratio (4:3 & 16:9)
Fully and Easily editable content
110+ Stunning Premade Theme colors. (What this means?)
5500+ Vector Icons! easily change size & color
Base on Unlimited Color Schemes
One click to change all colors to fully fit your brand's color. (What this means?)
100% Vector Objects & Icons
Free Fonts and Icons
Template Content:
Basics Of Customer Acquisition
Factors Of Customer Acquisition
Customer Segmentation
Targeting Audience
Market Analysis Overview
Understanding the Customers Needs
Customer Acquisition Management
Customer Acquisition Strategies
Customer Acquisition Framework
Customer Acquisition Process
Customer Acquisition Plan
Sales Force Automation
Customer Lead Framework
Acquisition Channels / Tools/ Methods
Content Strategy
Sales Funnel
Customer Lifecycle
Lead Generation Strategy
The AIDA Funnel – Sales Funnel
CRM Pipeline Management
CRM Customer Satisfaction
Lead Nurturing Tactics
Lead Nurturing Lifecycle
Lead Nurturing Process
Lead Scoring
Lead Conversion Process
Public Relations (PR) For Customer Acquisition
Marketing, Campaigns, and Promotion
Marketing Automation
Marketing Roadmap
Marketing Growth Strategy
Customer Acquisition Costing
Referral Marketing Funnel
Social Media Marketing
Customer Retention
Customer Loyalty Framework
Customer Loyalty Lifecycle
Customer Satisfaction & Feedback
Key Metrics
Ansoff Matrix For Growth Strategy
Customer Acquisition Checklists
Font:
You May Also Like:
Customer Satisfaction and Customer Loyalty PowerPoint Templates
Customer Relationship Management PowerPoint Template
Customer Experience Management PowerPoint Templates Diagrams
New Product Launch Go To Market Plan and Strategy PPT Template
Value Proposition PowerPoint Template
Best Marketing Plan PowerPoint (PPT) Template
Best Digital Marketing PowerPoint (PPT) Template
Growth Strategy PowerPoint Template
Sours: https://www.slidesalad.com/product/customer-acquisition-strategy-plan-powerpoint-templates-diagrams/
Engagement ppt customer
Customer engagement has evolved from the origins of customer satisfaction and customer delight. Today, customer engagement is defined as the profound relationship that the customer has with your brand.
In today's digital age, irrespective of which industry you are in, customers expect an immediate or near-instant response as well as a picture-perfect anticipation of their wants. To meet this requirement, businesses are getting competitive and aiming to provide hyper-personalized experiences to keep their customers enrolled and engaged with their brand, products, and services.
Designing a well-crafted customer engagement strategy is an excellent way to boost sales and drive profitability. More companies are incorporating customer engagement tools such as speech analytics and chatbots to better gain deeper insight into customer engagement and respond readily to consumers across digital channels by leveraging technologies such as artificial intelligence.
With many tools, technologies, and tactics that play a role in customer engagement, developing a strategy can seem daunting. To get you started, we've compiled a list of 50 different customer engagement resources, including both videos and slide presentations, by highly regarded individuals in the industry. For more expert insights on customer engagement, visit CallMiner's Learning Center to access dozens of white papers, videos, articles, and other resources to help you develop and execute a top-notch customer engagement strategy.
The 50 must-see presentations below are listed in no particular order, but are separated by category including:
Video Presentations
Engage Business Media
Twitter: @EngageCustomer
1:Important Considerations for your Customer Management
This video is presented by Mike Havard, Director at Ember Services, at the Telecos/Utilities Director Forum 2014. The video covers customer engagement opportunities and challenges and covers topics such as regulation in a social context, the value of complaints, personal data implications, and what transformation and growth means in customer engagement.
Key Takeaways:
Understanding customer engagement and why organizations make it so hard
Securing board commitment for funding solutions
Discusses nine important themes around customer engagement
Engage Business Media
Twitter: @EngageCustomer
2: Employee and Customer Engagement
This video, from the fifth Directors Forum of 2014, takes a look at the important connection between employees and customer engagement. One of the key highlights includes understanding the shift between wanting to be customer-centric and enforcing an actionable strategy to actually make it happen. The video covers a panel of different speakers who discuss the relationship between employees and customer engagement.
Key Takeaways:
Understanding the bridge between staff engagement and customer engagement
Incorporating employee engagement in putting the customer first
Using staff engagement to delight the customer
Amazon Web Services (AWS)
Twitter:@awscloud
3:Scaling Up to Your First 10 Million Users
Gaining users is the key to the cloud. This presentation is one that is regularly at the AWS conference "re:Invent". However, in this particular version, Joel Williams changes the game a bit to help you scale to your first 11 million users. If you have a great product for sale, but can't handle a large amount of traffic at once — this presentation will help you plan to scale AWS resources quickly.
Key Takeaways:
Techniques for scaling an application on AWS
Why "auto-scaling" is not where you should start
Reasoning for starting with SQL databases for your scalabilty
Direct gameplans and examples from 1 million to 11 million users
Amazon Web Services (AWS)
Twitter:@awscloud
4: Engaging Your Customers with SNS Mobile Push and Amazon Analytics
Push notifications are a crucial part of creating a game play experience that retains and reengages users. If an app that keeps running in the cloud, messages can be delivered to your players. The right communication at the right time can improve your engagement and build long-term relationships with your users.
Key Takeaways:
65% of mobile apps are abandoned within 90 days
Effectively sending mass messages versus using 1 to 1 communication based on analytics and player actions
Real time examples of notifications as well as a look at analytics and how to process data
Rob Howard
Twitter:
5: How I discovered the black art of cult branding
Rob Howard, founder of Cult Collective, delivers this compelling talk at a TEDx event at St. Lawrence College. Howard boasts a marketing career spanning 20+ years, and in addition to founding Cult Collective, he founded a think tank, a global summit (The Gathering), and authored a book, Fix: Break the Addiction That's Killing Brands. Howard discusses how consumers tend to "evangelize" to others in the spur of the moment and how brands can capitalize on this enthusiasm and win the allegiance of die-hard fans through customer engagement.
Key Takeaways:
What makes customers loyal to the world's most coveted brands
How successful brands are like modern-day cults in disguise (in a good way)
What successful brands did to survive in times of economic diversity while spending less on traditional forms of marketing
Doug Stephens
Twitter: @TheLavinAgency
6: Customer Engagement is the Key to Success
This video is presented by Doug Stephens at the Lavin Agency Speakers Bureau. He holds the opinion that every retailer understands that customer experience is crucial, but very few really know how to implement it. Being one of the world's foremost retail speakers and consumer futurists, he drives the idea that, "We have to allow customers to feel like they're not just walking into a different store, but walking into a different world."
Key Takeaways:
Retail stores have to be a "story"
Making stores less static
Engaging customers by creating a sensory experience
Mathew Sweezey
Twitter:@msweezey
7: The New Rules for Customer Engagement
This video is a talk by Mathew Sweezey, "marketing evangelist" for Salesforce.com. He is also the author of "Marketing Automation for Dummies." He provides an overview of modern customer engagement and explains how to execute a marketing strategy that drives lasting results.
Key Takeaways:
How to value buy-in for your efforts
Social media tactics and strategies that get results
How the modern customer makes buying decisions
Lead nurturing best practices to increase lead flow
Microsoft
Twitter: @Microsoft
8: New Customer Engagement Models
This video discusses how customers and Microsoft Retail Stores are successfully executing new customer engagement models. Microsoft Solutions Specialist and Retail Industry Solutions Director Pinar Salk covers how Microsoft Retail Stores are implementing an end-to-end customer engagement experience from mobile browsing to in-store purchases and more.
Key Takeaways:
Implementing a frictionless shopping experience using a mobile app
Driving higher conversion and customer retention in the engagement process to impact the bottom line
Empowering sales associates to recommend curated products catered to the customer based on individual personal insights and data
Salesforce
Twitter:@salesforce
9: The Future of Customer Engagement
This video from Salesforce brings together a panel of experts who impart expert tips and insights about the latest customer engagement strategies that are ready to be implemented and put into action. Discussions are centered around a properly designed customer engagement strategy that inspires, creates loyalty, and drives profit.
Key Takeaways:
Defining customer engagement and discussing example case studies
Meeting customer expectations and personalizing the engagement process
Handling and understanding customer data and acting on it
Customer engagement best practices and strategies
Jon Suarez-Davis
Twitter:@jsuarezdavis
10: Customer Engagement in the Age of Intelligent Marketing
This video features keynote speaker Jon Suarez-Davis ("JSD"), who is Salesforce's chief cloud marketing officer. He has experience working with some of the world's biggest brands. In his talk, he draws upon real life examples to explain how customer engagement can be enhanced in the age of intelligent marketing.
New level of engagement
Brand marketing and performance marketing
Salesforce's vision for the future of marketing
Predictions for digital advertising in 2020
Core competencies: Know, Engage, and Personalize
Pegasystems
Twitter:@pega
11: AI in Customer Engagement
In this video by PegaWorld, Dr. Rob Walker, VP of Decision Management and Analytics at Pegasystems, discusses both the advantages and potential risks of using Artificial Intelligence (AI) in the customer engagement process.
Key Takeaways:
Balancing the risks and rewards of Artificial Intelligence
Discussing how AI can be a threat to human existence and how we can control and trust it
Difference between Opaque and Transparent AI
Where to allow Opaque AI and where to insist on transparency
Predicting outcomes based on AI
Pegasystems
Twitter:@pega
12: Automation, AI and Customer Engagement
In this video, 25-year veteran employee and Senior Vice President of Products at Pegasystems, Kerim Akgonul, discusses how technologies like artificial intelligence (AI), DevOps, and robotic automation are building agility and transforming customer engagement in organizations.
Key Takeaways:
Automating AI for customer engagement
Providing real-life case studies on how AI is being used today to enhance customer engagement
Bridging the gap between customer engagement, operational efficiency, and business agility
IBM Analytics
Twitter:@IBMAnalytics
13. Data-driven Customer Engagement
This video gives a walkthrough of how to spot customers who are at risk of churn and use preemptive measures before they are defected. It talks about using predictive analytics capabilities to drive customer retention by accurately targeting campaigns, which allows you to retain valuable customers while boosting your revenue.
Deliver customer insights to front-line decision-makers and systems
Boost customer lifetime value through personalized efforts
Predict which customers are at risk of leaving
Identify choice prospects for highly targeted marketing programs
Enhance sales forecasting, accelerating sales cycles
Insurance Nexus
Twitter:@InsuranceNexus
14. Raising Customer Engagement in the Insurance Industry
This video covers a webinar conducted by Insurance Nexus with a panel of three leading speakers and discusses how to raise customer engagement in the insurance industry. Key topics covered include analyzing the customer journey and identifying where the pain points are, how to improve customer engagement, and measuring interactions with customers.
Key Takeaways:
How insurance carriers can improve their customer engagement
Practical advice, case study examples and best practices for the insurance industry
Innovating and using technology to interact with customers
SAP
Twitter:@SAP
15: Beyond CRM: Digital Transformation Starts with Customer Engagement
This video, delivered by enterprise resource planning (ERP) giant SAP, talks about how digital transformation is impacting how to deal with customers and why organizations need to think beyond the CRM. Leading speakers from SAP discuss actionable strategies for customer engagement and reveal how SAP offerings, such as the "SAP Hybris portfolio and SAP Jam Communities," can help you reach digital transformation objectives.
Key Takeaways:
How to exceed customer expectations and delight with digital solutions
Delivering richer, faster, and better digital experiences personalized to the customer
Understanding digital businesses and why customers are their most important assets
Assisted and unassisted customer support before, during, and after the purchase
CustomerEdge TV
Google+:CustomerEdge TV
16: How Social Media Has Impacted Customer Engagement – Customer Edge
This video talks about the role that social media has played on the way businesses sell, market, and serve their customers. Irrespective of industry, whether it is telecom or heavy machinery, the competition is ever increasing which makes it necessary to provide a personalized experience to each customer.
Key Takeaways:
How to engage with personalized social media in B2B and B2C situations
How to involve influencers and advocates, and foster their growth
Learning from best practices and avoiding pitfalls
Couchbase
Twitter:@couchbase
17: Revolutionizing customer engagement – Connect Silicon Valley 2017
Couchbase CMO Peter Finter discusses the attributes and values of an engagement database and how Couchbase clients are transforming their organizations with improved customer engagement, personalized experiences, lower costs, and time-sensitive innovation.
Key Takeaways:
Changes impacting businesses today that requires them to rethink customer experience
Challenges of customer engagement and how to overcome them
How businesses can revolutionize customer engagement and reap the rewards
Employing technology to give customers a unique experience
Google G Suite
Twitter: @gsuite
18: Connecting your sales associates to drive customer engagement and satisfaction
There are a many "real world" problems in the retail and ecommerce space — especially when it comes to customer engagement. Google has provided a short tutorial about how Chrome can help alleviate many of these scenarios. The focus of the webinar is to help connect sales associates in a way that improves customer engagement through the production of "regular, lively content".
Key Takeaways:
Discovering the top two operational challenges of the retail world
How Chrome can help modernize and rethink workflows
Enhancing and improving communication across a distributed workforce
Dreamforce
Twitter: @Dreamforce
19: Workshop: Transform Customer Service to a Customer Engagement Center
In this video, Service Cloud experts from Salesforce discuss the importance of adapting your service organization to engage a whole new breed of technology savvy customers who expect immediate answers and support at every step of their customer experience journey. They uncover strategies for connecting with customers and building meaningful relationships, and the role of a customer engagement center to transform customer experience.
Key Takeaways:
How mobile and social media are transforming customer service today
Delivering outstanding customer service at every point of customer interaction
Deploying and running a customer engagement center successfully
Achieving measurable results through increased agent productivity
Pitney Bowes
Twitter: @pb_digital
20: Digital Transformation with Mobile First Customer Engagement
This demo by Pitney Bowes covers how organizations need to be relevant and interact with customers on every marketing channel today. It shows ways to optimize and simplify communication for mobile devices and discusses the importance of AV interactions to create engaging and personal customer experiences.
Key Takeaways:
Identifying current trends in customer engagement
Providing digitized customer engagement management solutions
Discussing the future of customer driven "predictive" engagement
Scalable, compliant and secure mobile-first customer engagement
TiE Silicon Valley
Twitter:@tiesv
21: Inhi Cho Suh – GM Watson Customer Engagement, IBM – MarTech Track TiE Inflect 2018
Inhi Cho Suh, GM Watson Customer Engagement at IBM, discusses the human and business impact of Artificial Intelligence (AI), and how AI combined with other disruptive technologies such as IOT and Blockchain are drastically transforming different industries including HealthTech, FinTech, MarTech, and more.
Key Takeaways:
How AI and machine learning is transforming customer engagement
Creating real-time personalized experiences using AI
Identifying the challenges of AI and offering solutions
Employing an AI powered platform to holistically analyze customer data and deliver the best possible customer experience
TNW
Twitter:@TheNextWeb
22: Danielle Levitas (App Annie) on How to Grow Customer Engagement through Mobile | TNW Conference 2017
Danielle Levitas, Senior Vice President and Research and Analysis team lead at App Annie, talks about how to grow customer engagement through mobile. With most customers mobile today and a good part of them spending 2+ hours a day on mobile apps, she emphasizes the importance of mobile-first marketing. This video also covers the importance of using customer data to understand what consumers want and expect and how to use mobile apps to create an intimate level of engagement with a customer.
Key Takeaways:
Why and how to reach out to customers on mobile devices
Growing customer engagement through mobile app interactions
Increasing ROI and building a better business through apps
Comm100
Twitter: @Comm100
23: [Webinar] Social Media Best Practices for Effortless Customer Engagement
Research from Gartner predicts that in the next two years almost 90% of all companies will be providing customer support on social media. This webinar video shows how to build meaningful customer relationships by providing stellar customer service through a variety of social media channels.
Key Takeaways:
Social media best practices for effortless customer engagement
Dealing with rising expectations and providing instant/near-instant responses
How to handle social media customer service queries
Social media excellence checklist
ad:tech
Twitter:@adtech
24: Game On: How Gamification Drives Sales & Customer Engagement
In this video, CRO Samantha Skey from RecycleBank and leading executives from NativeX, Electronic Arts, and SponsorPay discuss relevant case studies of how brands and businesses can use gamification to push sales and increase customer engagement. Going beyond just reward points and tokens, they discuss strategies that can be borrowed from gaming to attract new leads and gaining customer loyalty.
Download our guide on how to use gamification to improve call center performance!
Key Takeaways:
Importance of gamification to drive sales and enhance customer experience
Offering rewards to customers for user-directed opt-ins
'Mobile to in-store' and 'in-store to mobile' customer engagement
Karan Verma
25: Artificial Intelligence in Customer Engagement
Karan Verma, product manager for Dry Ice at HCL Technologies, discusses Artificial Intelligence (AI) and machine learning and the millions of variables involved in delivering the data to be used to drive customer engagement.
Key Takeaways:
When to employ machine learning vs. human interaction
How large-scale enterprises can use AI to enhance customer engagement
Discussing current and future trends in AI
Building the gap between different marketing platforms to engage a customer in their customer journey
CityGro
Twitter: @CityGro
26: Innovative Ideas That Increase Your Customer Engagement
A live podcast video by CityGro, a company that builds marketing and client retention tools, discusses how to build customer loyalty and keep people coming back, and how businesses can improve customer retention and develop marketing strategies to better engage customers.
Key Takeaways:
Exploring innovative ways to get people to engage with your business, brand, and loyalty programs
Getting direct feedback from customers to help businesses improve their customer experience
Discusses the tools CityGro offers to increase customer engagement through gamification, scratch cards, and more
Pitney Bowes
Twitter:@PitneyBowes
27: Predictive Analytics + Customer Engagement = Bad Debt Prevention
Bad debt costs millions per year for utilities. Predictive analytics and properly tuned in customer engagement can alleviate and prevent many of these losses. This pre-recorded webinar has some of the foremost experts in the areas of analytics, utility companies and customer success.
Key Takeaways:
See how predictive analytics as well as a customer service strategy can prevent bad debt
Using data to determine where your collection efforts are best spent by likeliness to pay
Keep more debt from becoming delinquent based on indicators before payments are missed
Slide Presentations
Tom Tsongas, PMP, CSM
LinkedIn
28: Customer engagement
This slide presentation gives an overview and discusses key aspects of customer engagement. It explains how customer engagement is the process of fostering and optimizing the relationship with the consumer, as well as the necessary steps that need to be taken to produce the most viable deliverable. It emphasizes the need for improving customer satisfaction scores and giving the customer a lasting impression of your brand.
Key Takeaways:
Difference between internal and external customers
Challenges in engaging internal customers
Internal customer engagement lifecycle
Key methodologies to achieve customer engagement
David Williams
Twitter: @HOWTOEXPERIENCE
29: Customer engagement 5 vectors
This slide presentation is shared by David Williams, Director of iPoint Solutions Ltd., in which he discusses the five vectors of customer engagement. The slides discuss the need to shift from efficiency to effectiveness and the importance of having direct engagement with the customer.
Key Takeaways:
5 vectors of customer engagement
Expanding opportunity with smart everything
Offshoring and re-shoring
Keeping up with the competition
Raghvendra Saboo
Twitter: @jumoora
30: In-Store Customer Engagement & Analytics
This slide presentation primarily discusses the importance of in-store customer engagement and ways to improve it. It also shares analytics of customer behavior and how to grab engagement analytics of the ever connected and the ever-browsing customer. It also shares market evolution details and case studies of a couple of leading organizations.
Key Takeaways:
Enhancing experience related to shopping at physical stores
The behavior change brought by E-commerce
Leveraging proximity techniques and cloud NFC smart tags
Value proposition of brands
Emilia D'Anzica, MBA, PMP
Twitter: @emiliadanzica
31: Driving Product Advocacy: Customer Engagement
This slide presentation discusses the importance of having an engagement program and key strategies to jumpstart customer engagement in your organization. It also shares recent customer analysis and platforms that can be used for customer relationship management and offers guidance on creating an action plan for your engagement program.
Key Takeaways:
Analysis of customer journey
Gamification of customer experience
Strategies for mobilizing your network
Action plan for continuous engagement
Veer Endra
Twitter: @plumb_five
32: Autonomous Customer Engagement
The slide presentation focuses on implementing AI that is capable of autonomous human-like customer engagement. It advocates the use of Plumb5 which is a unified data platform that is built using the concepts of a real-time decision process. It renders seamless engagement between touch-points like web, mobile, email, SMS, and other channels of communication.
Key Takeaways:
Introduction to Plumb5 platform
Data preparation for individual customers
Connecting all data sources
Unification technique
Machine learning workflow
Segmentation and dynamic personalization
Ogilvy
Twitter: @Ogilvy
33: Equipping Engagement with Wearable Tech
This slide presentation talks about wearable tech that can function as a multi-disciplinary analysis. It discusses smart body apparel and various factors such as personal, environmental, and physical that come into play when designing and implementing with wearable tech.
Key Takeaways:
How to stay consumer-centric
Utilizing mobile devices and connected watches
Today's wearable tech eco-system
Richard Sedley
Twitter: @richardsedley
34: 4th Annual Online Customer Engagement Survey
This series of slides are from the 4th annual online customer engagement survey report of 2010. The presentation comments on the report, provides an executive summary and goes into an in-depth discussion regarding customer management. It discusses the importance of repeated interactions that strengthen the emotional, psychological, or physical investment of the customer in the brand, product, or company.
Key Takeaways:
Behaviors and dimensions to consider for customer engagement campaigns
Importance of message relevance and medium selection for customer engagement
Improving online customer engagement
Increasing value delivered and long-term customer engagement
Richard Sedley
Twitter: @richardsedley
35: Creating Customer Engagement Strategies
This presentation created by Richard Sedley, CEO at EY-Saren, is a series of slides discussing various factors, mediums, and analysis that can be used for creating effective customer engagement strategies.
Key Takeaways:
Permission based marketing
Touch strategies
Proposition development
Psycho-graphic profiling
Behavioral targeting
Contextual targeting
OgilvyOne Worldwide
Twitter: @Ogilvy
36: eCommerce: The Crucible of Customer Engagement
This is a series of slides that talk about the core-essentials or ingredients of customer engagement. It discusses how mobile users and millennials are going to drive the future. It focuses on developing customer engagement and enhancing customer experience by a combination of either physical or digital stores, along with the application of continuous commerce.
Key Takeaways:
Using M-commerce to drive E-commerce
Location marketing
Instant Gratification Marketplaces
David King
Twitter: @davidleeking
37: Freak Out, Geek Out, or Seek Out: Dealing with Tech Change and Customer Engagement
The series of slides in this presentation talk about the rapid technology changes that need to be made to boost customer engagement. It talks about the changing web, which is a decentralized, two-way channel for public communication in real-time and also how to deal with the ever-changing competition landscape.
Key Takeaways:
Dealing with pocket web
Enhancing visitor experience
Improve touch-points
Dealing with change
SAP Customer Experience
Twitter: @SAP_CX
38: 44 Facts Defining the Future of Customer Engagement
This slide presentation offers a series of facts that gives an idea of where customer engagement is headed in the future. It shares statistics related to customer engagement in different fields such as electronics, banking, hotels, and the retail market.
Key Takeaways:
Necessity of engaging customers on social media
Statistics relating customer spending with customer experience
Effectiveness of customer usage algorithm
Importance of being customer-centric
Braze (formerly Appboy)
Twitter: @Braze
39: What is Customer Engagement
This series of slides gives an in-depth understanding of customer engagement. It talks about the process of actively building, nurturing, and managing relationships with customers. The customer journey is no longer linear, which makes creating a customer engagement strategy more complex. Therefore, it is easier to sell to an existing customer than acquire a new one.
Key Takeaways:
Customer acquisition and metrics marketing
Leveraging CRM data to better understand customers
Segmentation to increase the relevancy and effectiveness of campaigns
Using multiple channels for maximum impact
Marketo
Twitter: @marketo
40: 5 Marketing Strategies for Customer Engagement
This series of informative slides discusses the upcoming "engagement economy" as the foreseen new era. It presents the 2017 marketing benchmark report and shares success stories that have worked for leading organizations.
Key Takeaways:
Need for an engagement platform
Quality of engagements
Personalized engagement
Custom scoring models
Multi-touch reporting
Alterian
Twitter: @Alterian
41: The Future of Customer Engagement
This series of slides aims at predicting the future of customer engagement. It talks about how the definition of customer engagement has changed with evolving customers, social change, and customer demands that drive marketing. It discusses how to identify the challenges in delivering customer engagement and how these challenges can be addressed.
Key Takeaways:
Strategies in customer engagement
Identification and addressing challenges
Customer engagement maturity model
MarTech
Twitter: @MarTechConf
42: The Four R's of Customer Engagement for Marketing Success
This presentation discusses digital transformation and the key difference between customer experience and customer engagement. It talks about the science of marketing, and how marketing has evolved with machine learning and omni-channel architecture.
Key Takeaways:
Right message
Right Time
Right channel
Relevance
David Leonarde
43: Top 7 winning customer engagement strategies for your business
This series of slides discusses some of the key strategies that are vital for increasing customer engagement. It talks about the importance of humans being multi-dimensional and how they can be engaged on other levels that are not directly related to the company's product. It discusses the sharing of stories and how providing customers with real time benefits are keys to continuous customer engagement.
Key Takeaways:
Engage and enroll customers by sharing your story
Use customer data effectively to generate relevant content
Share customer reviews on social media
Attempt to engage customers on an emotional level
Demand Metric
Twitter: @DemandMetric
44: Customer Engagement Playbook
This series of slides shows a step-by-step guide to improve the engagement level of customers and make your organization customer-centric. It talks at length about initiatives that need to be taken to improve customer engagement, and understanding the strength and weakness of the organization to design the most effective customer engagement plan.
Key Takeaways:
Customer journey mapping
Initiative preparation and technology selection
Strategy selection for customer engagement and advocacy
Amazon Web Services
Twitter: @awscloud
45: Customer Engagement in the Age of Digital Transformation
The digital customer leaves behind an explosion of data that is collected across all touchpoints. This series of slides gives a walkthrough of the research and industry analysis conducted in the field of customer engagement. It also educates about how Amazon Web Services (AWS) and FICO can help in building better customer engagement for your organization.
Key Takeaways:
Data driven, highly scientific approach to optimize omni-channel customer experience
Using existing customer data to predict future behavior
Model outbound and real-time customer interactions to create effective campaigns
Core benefits of using AWS
Techedge Group
Twitter: @techedgegroup
46: Design for Customer Engagement: Digital Marketing Strategy
This series of slides focuses on identifying all of the relevant technological components that seamlessly integrate with one another. It further discusses that end-to-end digital marketing strategies are key to developing a strong customer base for any organization.
Key Takeaways:
Search engine marketing and related online campaigns
Accurate application of the digital marketing funnel
Developing a successful digital marketing strategy
ServiceNow
Twitter: @servicenow
47: How to Develop Winning Customer Engagement Strategies
This series of slides teach how to develop customer engagement strategies that increase customer satisfaction and brand loyalty. The presentation talks about the advent of the digital customer and how to use omni-channel methods to build trust and engage the customer. It also covers concerns of the company regarding the cost of the campaigns and how to optimize budget limits.
Key Takeaways:
Customer engagement in the digital era
Personal value chain of customers
Multichannel customer engagement
Analysis of Dialog Axiata Group case study
MIT Sloan Management Review
Twitter:@MITSloan
48: Turning Data into Customer Engagement
Here is a very data-based slide presentation reviewing "key findings" from the 2018 Data & Analytics Global Executive Study and Research Report. If you're not using any form of analytics at the moment, the results found may convince you to start.
Key Takeaways:
Using analytics is a competitive advantage that continues to improve
The data provided by analytics is improving customer engagement for those employing it
Experienced analytics users are using more data points to improve engagement
The power of sharing data
The Digital Insurer
Twitter:@DigitalInsurer
49: Customer Engagement in a Connected World
A great set of useful slides from a series of presentations at a conference specifically from insurers. There are four distinct presentations all dealing with the topic of improving both customer engagement and customer experience. While it is intended for insurers, the strategies are broad and can benefit nearly any industry.
Key Takeaways:
How insurers can specifically drive customer engagement by embracing the "age of the customer"
How AI and Machine Learning can improve customer experience
Insights into the customer via online engagement
"Uplifting" the experience of an insurer's customer
Kissmetrics
Twitter:@Kissmetrics
50: Data-Driven Storytelling: How To Use Qualitative and Quantitative Insights To Create Content That Fuels Your Business
Key Takeaways:
A long title that says exactly what to expect within the slides. Kissmetrics is known for quality content as well as creating tools that give incredibly useful data. This presentation deals with both creating good content and using it to the fullest for data-backed engagement.
A clean-cut definition of good content, how to "cut through the noise" and telling good stories
Detailed, itemized list of the ways storytelling content can fuel your business objectives
Further resources to continue your data and storytelling journey
What customer engagement strategies are most crucial to your organization in the digital world? Tweet at us @CallMiner and let us know! 
Customer ExperienceExecutive IntelligenceNorth AmericaEMEAAPAC
Our Newsletter
Industry insights delivered monthly.
Subscribe to our monthly e-newsletter to receive the latest on conversation analytics
Sours: https://callminer.com/blog/50-must-see-customer-engagement-presentations
What Is Meaningful Customer Engagement?
Customer Engagement Tips - PowerPoint PPT Presentation
PowerShow.com is a leading presentation/slideshow sharing website. Whether your application is business, how-to, education, medicine, school, church, sales, marketing, online training or just for fun, PowerShow.com is a great resource. And, best of all, most of its cool features are free and easy to use.
You can use PowerShow.com to find and download example online PowerPoint ppt presentations on just about any topic you can imagine so you can learn how to improve your own slides and presentations for free. Or use it to find and download high-quality how-to PowerPoint ppt presentations with illustrated or animated slides that will teach you how to do something new, also for free. Or use it to upload your own PowerPoint slides so you can share them with your teachers, class, students, bosses, employees, customers, potential investors or the world. Or use it to create really cool photo slideshows - with 2D and 3D transitions, animation, and your choice of music - that you can share with your Facebook friends or Google+ circles. That's all free as well!
For a small fee you can get the industry's best online privacy or publicly promote your presentations and slide shows with top rankings. But aside from that it's free. We'll even convert your presentations and slide shows into the universal Flash format with all their original multimedia glory, including animation, 2D and 3D transition effects, embedded music or other audio, or even video embedded in slides. All for free. Most of the presentations and slideshows on PowerShow.com are free to view, many are even free to download. (You can choose whether to allow people to download your original PowerPoint presentations and photo slideshows for a fee or free or not at all.) Check out PowerShow.com today - for FREE. There is truly something for everyone!
presentations for free. Or use it to find and download high-quality how-to PowerPoint ppt presentations with illustrated or animated slides that will teach you how to do something new, also for free. Or use it to upload your own PowerPoint slides so you can share them with your teachers, class, students, bosses, employees, customers, potential investors or the world. Or use it to create really cool photo slideshows - with 2D and 3D transitions, animation, and your choice of music - that you can share with your Facebook friends or Google+ circles. That's all free as well!

For a small fee you can get the industry's best online privacy or publicly promote your presentations and slide shows with top rankings. But aside from that it's free. We'll even convert your presentations and slide shows into the universal Flash format with all their original multimedia glory, including animation, 2D and 3D transition effects, embedded music or other audio, or even video embedded in slides. All for free. Most of the presentations and slideshows on PowerShow.com are free to view, many are even free to download. (You can choose whether to allow people to download your original PowerPoint presentations and photo slideshows for a fee or free or not at all.) Check out PowerShow.com today - for FREE. There is truly something for everyone!

Sours: https://www.powershow.com/view0/7c87d5-ZDUyN/Customer_Engagement_Tips_powerpoint_ppt_presentation
You will also be interested:
B2b customer engagement
1. Creating customer engagement using relevant content Shane Redding Cyance
2. In this session
What do your prospects and customers want?
3. 4. 5. Do you stand out from the crowd? 6. Top Tips
Remember its all about THEM not you! i.e.Research for Relevance
where in the buying cycle
& PERSONAL needs/wants/emotions
7. Needs/wants/emotions?
Use great copywriting skills for compelling content = Whats in it for me?
Pay for excellent copywriting!See
www.copywritingthatsells.com
8. Top Tips
2.Match Content to their journey with you
Audit do you do this or are they stuck in a vicious cycle?
As they move closer to you can offer more about you (products/services)
Remember customer content is king (case studies, endorsements, brandambassadors)
9. Top Tips
3.The vehicle enhances the message
Want to appear innovative then use new media appropriate to your Target e.g.www.cyancecensus.com
YouTube now 2 ndmain search tool after Google for b2b
but beware some CIO will block access to video
Video must be produced to high quality
Set up your own You Tube Channel
10. 11. Top Tips
3 Rs: Reformat, Recycle, Reuse
Provides consistency stay on brand, deliver what you promise
What have you already got?Start with content audit: marketing, sales, logistics, PR, partners
Create a searchable content library
12. Some ideas: Reuse
Use past media coverage for content in lead nurturing emails make sure its relevant
If a prospect has enquired about a product and its recently won an award send why we won and you could be a winner too
Reuse executive interviews, or media presentations using industry leadership to people who have registered for those topics
Signpost clearly using social media
You will increase open rates and conversions
13. Some ideas: Repurpose
Just how much exec time is spent creating slide presentations that have a one off life?
Have a strategy for repurposing content delivered in person e.g. put on slideshare.net, load to website, use rich media, create podcast or video, promote with social media
You can piggy back both your customers brands as well as other endorsements
14. Case Study: Earnest Vital statistics for b2b marketers
How to stand out as a new and unknown b2b agency?
Already researching social media to better understand their market and use for clients
Existing blog not getting much traction
15. Earnest Vital statistics for b2b marketers
Use video to showreel strategic and creative prowess
And .. generate new business
16. Earnest Vital statistics for b2b marketers
20% increase in av weekly website visits
20% increase in inbound links
2 new business opportunities
17. The Video
http://www.youtube.com/watch?v=nXQdy-22TXM
http://earnestagency.wordpress.com/2010/09/14/vital-statistics-for-b2b-marketers-%E2%80%93-the-case-study/ 18. The Results
50 new YouTube channel subscribers
220% increase in weekly visits to Earnest blog
30% increase in weekly website visits to their corporate site:http://www.earnest-agency.com
Inbound links to blog up 125%
Over 25 blog posts by respected commentators covering the video
Significant improvement in natural search performance (e.g. always top 3 in organic search results for b2b statistics)
3 new business opportunities (including US Fortune 500 tech company just waiting for a PO number before we kick the work off!)
Video is now being used as course material at Rutger University mini-MBA programme on Social Media in the US
19. Some ideas: Reuse
Testimonials are like gold difficult to dig out but SO valuable (people trust people, now more so than ever)
Use them in your content at the right time in the buying cycle, can be the tipping point
Engineer content from client events short to camera pieces
Create microsite with video testimonials, use in linked emails
Can repurpose in offline ads
20. Some ideas: recreate
http://www.rm.com/_RMVirtual/Media/AudioVisual/RM_Mobile_ONE_tests_low.wmv 21. Some ideas: Recycle
Take standard content and top and tail with customised content for different vertical sectors
Testimonial (written or voice)
Expert opinion (benchmarking/ surveys)
Key takeaways as audio summary
Respected media partner (content/distribution)
Does it work? Management consultant BearingPoint
Tripled conversion rates adding podcast to white paper
18% of listeners downloaded more than one podcast
22. Top Tips
5.Maximise your Lead capture
Information exchange culture
Build up data collection as prospect goes through lead nurturing cycle so they will see benefit
Create download (knowledge) centres
Set up permission centres
Use advanced lead tracking tools such aswww.webforensics.co.ukto identify companies who didnt complete a registration form (can populate directly into salesforce with a lead score)
23. 24. 25. 26. 27. 28. 29. Setting up a knowledge centre
Requires long term commitment (2 year min) budget and resource
Excellent processes supported by robust technology (ideally integrated CMS, CRM database, web analytics and conditional content Email)
30. Cushman and Wakefield
Leading international commercial property developer
Highly competitive market
Little/no knowledge of complex DMU outside of sales people
Sales Cycles of 5 years + with million deals
Had invested in new technology
31. What they did
Decided to target 2 key audiences: journalists, and existing clients
Strategic Objective: position Cushman and Wakefield as the industry thought leader globally
Tactical: capture data on customers and prospects through launch of a knowledge centre
Challenge info was previously freely available with no need to register
32. 33. 34. 35. The results
Launched in 2007, month 1 generated 6,701 new registrations
Database today stands at over 35,000 (larger than vertical media owner!)
86% increase in doc downloads
Full case studyhttp://www.concepglobal.com/case-studies/property
36. Permissions
Try and think about it from your prospects point of view (Seth Godwin)www.permission.com
Microsite where prospects/customers manage what they want from you: topic, media, frequency
Make sure you are on brand in tone of voice in your privacy statement
http://www.davechaffey.com/E-marketing-Insights/E-mail-marketing/E-permission-marketing
37. 38.
39. Selection of clients Cyance Limited 2011 40. Sports & Events Clients Cyance Limited 2011
Sours: https://cupdf.com/document/b2b-customer-engagement.html
1952
1953
1954
1955
1956