Hylas 48
I think it's safe to say that Hylas is the longest running, that is to say continuous production sailboat builder in Taiwan today. I first visited that yard, Queen Long, in the late 1970s. It was a chilly morning and they gave me a special drink to help with the cold. I never did figure out exactly what I drank, but it may have been hot tea with a lot of milk added. Maintaining construction in one boatyard for that long speaks to the success of that partnership.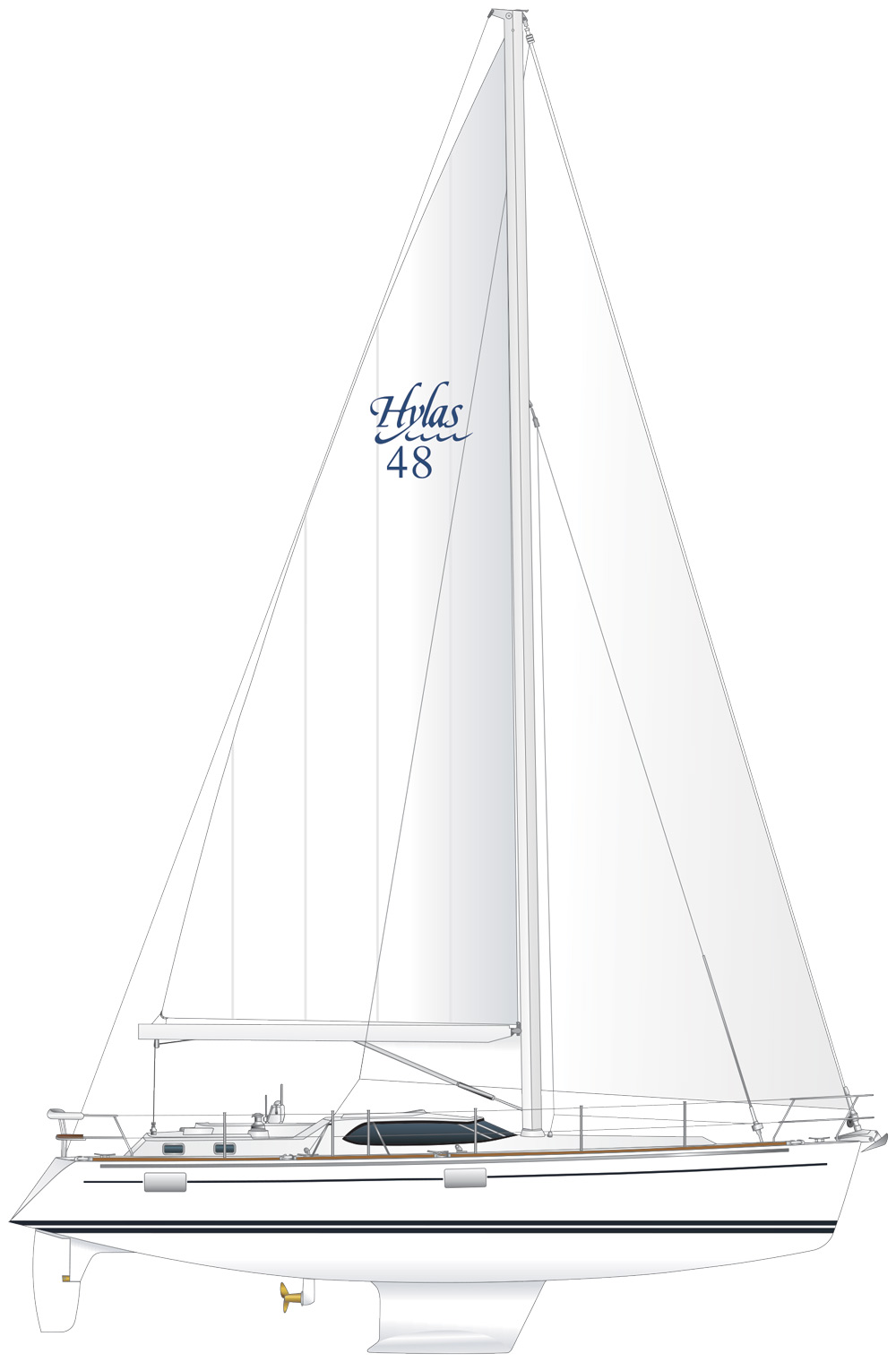 To borrow from the world of classical music, I'll call the new Hylas 48 Bill Dixon's variation on a theme by Hylas. The Hylas philosophy of what makes a good cruising boat has not changed over the years. The details have changed, but the end target has not: performance, comfort and a rugged build done with finesse.
The hull shape is moderate in all ways, which is pretty typical of Bill Dixon's work. Beam is carried aft as you would expect today but there is some taper to the planform that will make for a nicer looking hull at the expense of some trivial amount of interior volume. This is a good trade-off in my opinion.
Given the way cruising boats like this are outfitted today, I'd say the displacement of 36,360 pounds is a bit optimistic but I'll use it nonetheless for a D/L of 208. Dixon has avoided the fashionable plumb bow for one with some rake to help get the anchor away from the stem. I like this.
The L/B is 3.3 making this boat textbook "medium" in terms of beam. The rudder is hung on a partial skeg. My guess is that this was a Hylas requirement. I would have gone with a pure spade rudder. I'm not sure what the advantage of a partial skeg is other than allowing for a smaller diameter rudder stock. It is more expensive to build than a spade rudder. But you can see that Dixon has added some planform area to the rudder below the skeg to give the rudder some balance to reduce helm pressure. I would expect this boat to have good manners in reverse.
The interior layout works off what has worked for Hylas in previous models. There is nothing novel about it but I think that's a good thing. Incremental improvements are enough with this tried and proven layout. Keep in mind that Hylas builds a semicustom layout so you would have some room for modifications on your own boat. I can't see anything at this stage that I would modify.
My only concern would be the ability to seat more than four for dining below. But this is very common in this size range. The boat's just too beamy for a drop-leaf table and port and starboard settees. A small centerline bench seat, as shown, is about the best you can do. I'll eat at the step-down nav station. That way I can put my elbows on the table.
The galley stretches down the passageway to port and is big with plenty of counter space. The aft cabin has an adjoining head with a generous shower stall. More cabin sole is gained aft by stepping up at the double berth. Forward you have a small cabin to port that shows one single berth. Maybe that could be an upper and lower berth for kids. The forward cabin has another double berth. You can access the forward head from the saloon or the forward cabin.

The deck plan shows a track for a self-tending jib. I really like the detail of an inboard genoa track for sheeting options when you don't need the convenience of self-tacking. Maybe I'm old fashioned but I've done quite a few boats with self-tacking jibs and I think that feature is overrated. If you are tacking a genny with an LP of 135% or less it's just not that difficult.
Having a center-cockpit means the mainsheet traveler can be well aft of the cockpit on the cabintop. I can't tell how the main is sheeted. It disappears into the boom, but I can't see where it comes out or where it goes. Like almost all center-cockpit boats this size, climbing in and out of the cockpit could be a challenge.
The SA/D for this slightly swept-spreader rig is 20.4. One sailplan I have shows a jumper strut at the upper spreader. This is an odd detail and I wonder how well that will work with a self-tacking jib. The other sailplan I have does not show the jumper strut.
The Hylas 48 is a variation on a well-known theme, but it's a good variation. It's a handsome boat that should tick off all the boxes for a cruising family.
---
LOA 47'11"; LWL 42'4"; Beam 14'6"; Draft 6'6"; Displ. 36,360 lbs.; Ballast 13,111 lbs.; Sail area 1,373 sq. ft.; SA/D 20.4; D/L 208; L/B 3.3 Auxiliary 75-hp; Fuel 290 gal.; Water 119 gal.
---
Hylas Yachts
1688 Meridian Avenue, 7th Floor
Miami Beach, FL 33139
786-497-7882
www.hylasyachts.com
---
Sours: https://sailingmagazine.net/article-2035-hylas-48.html
Hylas 48
Detailed sailboat specifications and datasheets since 2015
Sailboat specifications
Last update: 17th April 2020
The Hylas 48 is a 48' (14.63m) cruising sailboat designed by Dixon Yacht Design (United Kingdom). She is built since 2018 by Hylas Yachts (Taiwan). She has been awarded "2019 - Cruising World - Boat of the Year: Full-Size Cruiser Under 48 Feet" and "2019 - SAIL magazine - Best Systems".
GRP (glass reinforced polyester):
- Hull: Single skin fiberglass vinylester
- Deck: Sandwich fiberglass vinylester

2019: Cruising World - Boat of the Year: Full-Size Cruiser Under 48 Feet
2019: SAIL magazine - Best Systems

Keel : L-shaped keel (with bulb)

iThe CE design category indicates the ability to cope with certain weather conditions (the sailboat is designed for these conditions)

A: Wind < force 9, Waves < 10m
B: Wind < force 8, Waves < 8m
C: Wind < force 6, Waves < 4m
D: Wind < force 4, Waves < 0,5m

Standard public price ex. VAT (indicative only)
Hylas 48's main dimensions
Number of levels of spreaders

1x19 strand wire discontinuous
Upwind sail area to displacement

iThe ratio sail area to displacement is obtained by dividing the sail area by the boat's displaced volume to the power two-thirds.

The ratio sail area to displacement can be used to compare the relative sail plan of different sailboats no matter what their size.

Upwind: under 18 the ratio indicates a cruise oriented sailboat with limited performances especially in light wind, while over 25 it indicates a fast sailboat.

Displacement-length ratio (DLR)

iThe Displacement Length Ratio (DLR) is a figure that points out the boat's weight compared to its waterline length. The DLR is obtained by dividing the boat's displacement in tons by the cube of one one-hundredth of the waterline length (in feet).
The DLR can be used to compare the relative mass of different sailboats no matter what their length:

a DLR less than 180 is indicative of a really light sailboat (race boat made for planning), while a DLR greater than 300 is indicative of a heavy cruising sailboat.

iAs a ship moves in the water, it creates standing waves that oppose its movement. This effect increases dramatically the resistance when the boat reaches a speed-length ratio (speed-length ratio is the ratio between the speed in knots and the square root of the waterline length in feet) of about 1.2 (corresponding to a Froude Number of 0.35) . This very sharp rise in resistance, between speed-length ratio of 1.2 to 1.5, is insurmountable for heavy sailboats and so becomes an apparent barrier. This leads to the concept of "hull speed".
The hull speed is obtained by multiplying the square root of the waterline length (in feet) by 1.34.
Hylas 48's auxiliary engine
Hylas 48's accommodations and layout
Have you spotted incorrect data?  You can report it in the forum or contact the webmaster
Sours: https://www.boat-specs.com/sailing/sailboats/hylas-yachts/hylas-48
Hylas 48
New in its class, the Hylas H48 was precisely engineered for strength and reliability to satisfy even the most demanding buyer.
This stately yacht is powerful but graceful which includes sleek raised saloon windows for easy viewing, the choice of two or three cabins and a large center cockpit vessel that will impress any guest.
Principal Specifications
| | |
| --- | --- |
| Length Overall: | 48'0" | 14.63m |
| Length waterline: | 42'0" | 12.80m |
| Beam: | 14'6" | 4.42m |
| Draft: | 6'6"| 1.98m |
| Displacement: | 35360 lbs | 16039 kg |
| Fuel capacity: | 290 gal | 1100 litres |
| Water capacity: | 119 gal | 451 litres |
| Naval Architecture: | Dixon Yacht Design |
| Exterior: | Dixon Yacht Design |
Awards
Learn more about 'Hylas 48'
© Dixon Yacht Design - 40 years at the cutting edge of yacht design 2021. All Rights Reserved.
Angus S Primrose Ltd. Registered in England No. 1556371 | Reg. Office: 4 The Axium Centre, Dorchester Road, Lytchett Minster, Poole, Dorset. BH16 6FE | VAT Reg. No GB 330 0172 22.
Site by Groundnation.
Sours: https://www.dixonyachtdesign.com/
Hylas 48
Hylas reboots the company with an elegant, raised-saloon, center-cockpit sloop that is a born passagemaker  (published November/December 2018)
I've had the good fortune to sail Hylas yachts many miles, particularly the 54 that became the company's most popular and successful model. The Hylas concept has always been to offer good, modern cruising boats for couples that provide a lot of boat and high quality for a good value.
Right after the 48's debut at the Annapolis sailboat show, I got a chance to take it for a sail. Climbing aboard from the dock at Mears Marina in Back Creek, you could tell at once that the design was a good old-fashion, medium-displacement cruiser that was destined for blue water sailing. She just felt solid underfoot.
The 48 was designed by Englishman Bill Dixon who has spent the last 30 years designing luxury, mega-sailing yachts for the rich and famous. His boats are known for their fine seakeeping qualities, their elegant looks and attention to traditional details. The 48 is very much in the Hylas family of designs with a raised saloon, center cockpit, large aft cabin, open plan saloon and a simple roller furling cutter rig. The 48 looks very salty because it is very salty.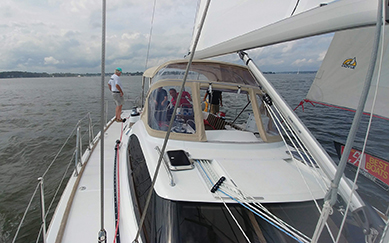 SAILING TRIAL
We were lucky enough to have a bit of wind on the morning we took the 48 out for sea trials. Not a lot of wind, mind you, but at least eight knots with a little more in the puffs. We cleared the docks and headed down the creek to the bay. The engine is right underneath the center cockpit, right below your feet, but as we motored and then tried the boat at higher revs, there was almost no vibration underfoot and very little engine noise. This mechanical silence is a hallmark of a luxury, well-built yacht.
At 2300 rpms, the 48 cruised along smoothly at seven knots while at full revs of 3300 rpms she got up to 8.5 knots. Even at high revs there was not much cavitation on the prop or vibration on the rudder. Once out into the bay, we headed into the breeze so we could roll out the mainsail from the mast. The sail has three vertical battens which allow the sailmaker to give the mainsail a slightly positive roach and thus a little more sail area than a batten-less main.
We fell off the wind and rolled out the 135-percent genoa and trimmed for a close reach that would take us out into the bay. The helm felt light and the steering linkage very smooth. The boat has a fairly large rudder so she handles easily. With the sail trimmed, the 48 gradually gathered speed and was soon sailing at five and a half knots in the light breeze. You could feel how well the design tracks and holds its course, so it will be easy for an autopilot to steer, even in bouncy weather, I suspect.
We put the 48 through a series of tacks, which were made easier by the use of the electric sheet winches. In the light breeze the boat tacks in just over 90 degrees and carries her speed well through the tacks. In a medium displacement cruising boat like the 48, many skippers would motor sail in these light conditions; with only 1200 rpms on the engine, we got her cruising upwind with the sails full at 7.5 knots.
As we headed back to the docks, we eased sheets and jibed our way downwind. At 160 degrees off the wind, the 48 nipped along well and it was easy for two people to handle the jibes. Again, in the breeze we had, an assist from the engine makes a huge difference while burning very little fuel.
The center cockpit seats six comfortably and all lines and sheets are accessible. The boat we sailed had a dodger and full Bimini over the cockpit, so we were well protected from the elements. The afterdeck is quite wide and has large lazarettes for stowing lines, fenders, and gear. There are two seats aft built into the pushpit and a gate to the swim platform. Two stainless steel handholds on either side of the swim platform will make landing a dinghy easy and provide an aid for folks climbing aboard.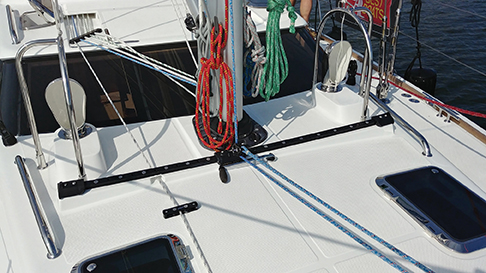 Up forward is the chain locker and vertical-axis windlass. The chain locker is divided in two so you can keep two rodes always at the ready. The bow has two anchor rollers so setting up a second anchor in bad weather will be a cinch. There will be many cruisers who will have two anchors and rodes always mounted and ready. The whole deck area at the bow is covered with a stainless steel sheet that protects the fiberglass deck from the chafe of anchor chain and makes cleaning up after a muddy anchor simpler.
The 48 is a fine sailing cruising boat that is easy for a couple to handle. The cockpit is well protected from the elements so standing night watches won't be a chore. With all lines led aft, one watchstander can reef and trim by herself. The staysail, which we didn't use, provides a number of sail plan options that will be ready to be deployed in a wide range of weather and sea conditions. In short, the new Hylas 48 is set up for a couple to explore the world in style, comfort and safety.
LIVING ABOARD
There is something about boats at the luxury end of the market that makes them distinctive. Such details might be the deep gloss of the varnish on a burled walnut saloon table or the deep satin finish on the teak and holly soles or the matching grain and rubbed effect varnish on all cabinets and doors. You know a lot of care, a lot of expense and a lot of man hours were involved to get this superb finish. That's the impression you have when you first climb down the 48's companionway ladder to the saloon.
The 48 is a three-cabin boat with a huge master stateroom aft, a great double guest cabin forward and a pullman cabin with two bunks just aft to port. The master cabin has its own large head with a separate shower stall. The boat's owners could move in here and expect to live comfortably for years. The two forward cabins are served by a single head with a phone-style shower mounted at the sink.
The galley is in the passageway that leads aft to the master stateroom, so it has a ton of counter space, storage and room for two large under counter fridge-freezer units. The twin sinks are nearly on the centerline so they will drain properly on both tacks. This is one of the handiest and best laid out galleys you will find in a boat under 50 feet and will work extremely well when making offshore passages.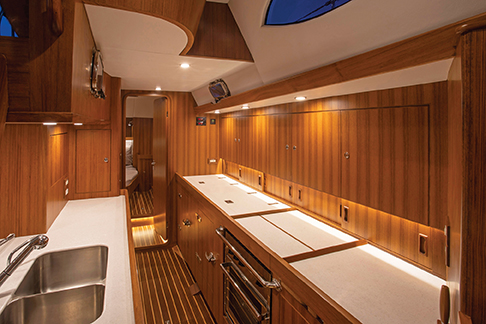 The saloon has a curved dinette to port with the burled walnut table. Three or four can sit here for meals and a portable bench seat can provide seating for two more. To starboard there is another bench settee with storage behind it.
The chart table is large and old-fashioned, just the way a lot of skippers like it. The table is wide enough to spread out a folded chart or ChartKit and inside it's roomy enough for all of the nav gear you need, plus cruising guides, a laptop computer and sundry tools. The electrical panel is as comprehensive and as well labeled as you will find on any yacht. When it comes time to troubleshoot systems, you will start here with a distinct advantage. There are handy vertical spaces at the chart table for mounting instruments, radios, modems, tank monitors and the control heads for a watermaker and genset.
The 48 carries 119 gallons of water, which is a generous amount for a boat of this size. But it was assumed, I suspect, that all owners will add a watermaker so the tanks do not need to be huge. That said, it is also assumed that owners will sail far and wide and will cross oceans from time to time, and will use the gen set regularly, so tankage for 290 gallons of diesel fuel has been squeezed into the hull.
The 75-horsepower Yanmar will burn about three quarters of a gallon an hour at six knots. Keeping a 10 percent fuel safety margin, the remaining 260 gallons will give you a maximum motoring range of over 1,500 miles. That is three times the range recommended by most offshore rallies that cross oceans.
The new Hylas 48 is a classy addition to the Hylas line and to the cruising fleet in general. There are not many boats these days under 50 feet that fit the "luxury" category but this is certainly one. And, as the first new boat from the Hylas 2.0 company, it gives a great foreshadowing of what's to come when larger designs emerge in the months and years ahead.
Hylas 48
LOA 48'0"
LWL 42'0"
Beam 14'6"
Draft 6'6"
Displ. 35,360 lbs.
Water 119 gals.
Fuel 290 gals
Engine 75-hp.
Designer Bill Dixon
www.hylasyachts.com
Sours: https://www.bwsailing.com/the-elegant-new-hylas-48/
48 hylas
Boat Review: Hylas 48
There are boats and then there are those boats that turn heads, and for me, the boats built by Hylas have always fallen under the latter category. Sturdy ocean-crossers, these capable couples cruisers beckon to those with dreams of voyaging to distant shores in comfort and safety. To this end, the new Hylas 48 is the latest model in what has become an iconic brand, one that makes you look twice, think once and then start planning your retirement.
Design & Construction
From stem to stern the new Hylas 48 is pure Hylas, and devotees of the brand will immediately recognize the boat's lines, sailing characteristics, and fit and finish. The bow is slightly raked rather than blunt, and the nicely drawn reverse transom includes a set of integrated steps leading down to a small swim platform. Beam is moderate, and the sailplan, although generous, is easily managed by two.
Construction is in solid hand-laid fiberglass with a lead fin keel and a rudder mounted on a partial skeg. Watertight bulkheads located forward and aft should bring peace of mind to offshore cruisers. The standard aluminum Seldén rig is available with an air draft of either 67ft 6in or 63ft for those planning to transit the ICW. A carbon spar and in-mast furling are also available, as are a hydraulic backstay and vang.
On Deck
One of the most appealing things about a typical Hylas deck is the bow arrangement. With large stainless steel plates to protect the deck from the anchor chain, a saltwater washdown, beefy 12in cleats and deck padeyes for jacklines, the foredeck of the Hylas 48 has the look of a practical cruising machine. Twin bow rollers also move the anchors well clear of the stem to prevent dings, and the 30in stanchions are plenty high for offshore work.
The cockpit is equally well designed for shorthanded sailing, with bilge pump and navigation-light controls at the engine panel, which is integrated into the aft end of the cockpit coaming, so there's no need to go below to turn on your running lights. The engine shift also is on the binnacle, eliminating the need to bend down to reach the lever when docking or picking up a mooring—a nice touch.
In addition to the Raymarine instruments found at the helm, a Raymarine Axiom 12-inch MFD may be mounted either under the dodger or by the wheel. There are two schools of thought in this area. Some like their MFD at the wheel within easy reach of the driver. Others like it farther forward for easy visibility from throughout the cockpit when the boat is on autopilot, which is much of the time when cruising. With the Hylas 48, you get your pick. Aft, a split backstay facilitates unobstructed access to and from the water.
Accommodations
All is as expected below on the Hylas 48 in that it mimics many of the Taiwan-based Queen Long Marine's other models. A rich wood veneer with a flawless finish meets the eye and plenty of light comes through the large semi-raised pilothouse-style windows. Hull ports and 6ft 4in headroom in the saloon provide plenty of breathing space.
Hylas is a semi-custom builder offering options for modification that make each boat feel unique. The standard layout includes two cabins and two heads, although a third cabin can be fitted in forward to port to accommodate over/under bunks for the kids, a desk for an office, or a utility room for storing all those extra bits of gear required for a longer journey.
The galley stretches down the port side passageway and includes a wealth of counter space, a three-burner Force 10 stove and oven, and refrigeration drawers. Of special note are the Hylas 48's various systems installations, which won it a nod in SAIL's 2019 Best Boats contest. Well laid out, color-coded and easily accessible, the quality of the wiring and plumbing, in particular, will make all the difference in the world to owners far from assistance.
The master stateroom aft has an ensuite head with a large shower stall, a walkaround split berth that can incorporate a lee cloth, and his and hers overhead hatches overhead. (That's one way to solve the too cold/too hot argument at night.) In order to allow more room in the saloon, the companionway is angled slightly so that it terminates farther aft and closer to the engine, which makes it a bit steep. I wonder whether if it might not have made more sense to give up that extra half-foot or so of sole to make a more comfortably angled set of stairs.
The boat's joinerywork options include teak, light oak and maple. There's also a choice of locker options, with raised panel, smooth or louvered treatments available depending on how traditional you are. Ultimately, though, it doesn't really matter which one you go with, since all are exquisitely executed, in keeping with Hylas's trademark standards.
Under Sail
Our sail on Chesapeake Bay provided a light-air test with 4-6 knots of true wind and flat water. The 1,589ftof sail area was provided by Doyle sails, and with 8.6 knots of apparent wind, we sailed 5.5 knots at a 60-degree apparent wind angle. When the breeze briefly bumped up to 10 knots apparent, we pinched to 35 degrees and still eeked out 4 knots of boatspeed. The Seldén masthead rig has slightly swept spreaders and can be configured with a self-tacking jib that will give singlehanders confidence. That fabulous deck plate forward also incorporates a staysail fitting with a manual Furlex furler for tough upwind work.
Sheets are led to Antal winches and Spinlock rope clutches, and the genoa is managed by a Furlex electric furler. Because this is a center-cockpit design, there's room behind the cockpit for end-boom sheeting, which in turn allows you to manage the mainsail with little trouble.
When Hylas took on this Dixon design, the keel was changed with three additional inches of draft to make the boat less tender. Thanks to Jefa rod steering, this substantial boat remains agile, and the sailing on our test day was truly lovely, the boat providing the kind of feel that made you wish for 15 knots on the beam and miles to go before your destination.
Under Power
Hylas chose to incorporate a saildrive unit rather than a straight shaft drive on its 48, which serves to push the engine farther aft in the hull, creating more room forward and reducing vibration underway. There's still plenty of room, though, for the 7kW Northern Lights genset.
Auxiliary power is provided by a Yanmar 75hp turbo diesel fed by a dual Racor fuel filtration system. On the flat water of the bay, we managed 8.1 knots at 2,400 rpm and topped out at 8.9 knots at 3,100 rpm. The 24-volt system is made up of AGM batteries and includes four house cells, two for the engine and genset starts, and two for the windlass.
Conclusion
Recently there was a brief pause in the introduction of any new Hylas models while Queen Long sorted out various ownership details. However, the brand is now back online and moving full steam ahead under the capable management of the brother and sister team of Andy and Peggy Huang. We can, therefore, expect to see a lot more of Hylas in the months and year to come. In other words, get ready to start dreaming. 
Specifications
LOA 48ft LWL 42ft
Beam 14ft 6in Draft 6ft 6in
Air Draft 67ft 6in
Displacement 35,360lb
Ballast 13,111lb
Sail Area 1,589ft
Fuel/Water (GAL) 290/119
Engine Yanmar 75hp (saildrive)
Ballast Ratio 37 SA/D Ratio 23 D/L Ratio 213
Designer Bill Dixon
What do these ratios mean? Visit sailmagazine.com/ratios
Designer Bill Dixon
Builder Hylas Yachts, Taiwan, hylasyachts.com
Price $846,000 (as tested) at time of publication
March 2019
Sours: https://www.sailmagazine.com
Hylas 48
.
Now discussing:
.
1891
1892
1893
1894
1895