Is CoinDCX Safe? Know Details About CoinDCX Go And CoinDCX Pro
The world is slowly adopting the new virtual currency market which is indeed growing at an unimaginable pace. However, as the cryptocurrency market keeps getting the boost it requires, many trading and exchange apps have emerged. With so many options, investors keep looking for safe investment apps. This is the reason why many people are wondering, "is CoinDCX safe in India?" If you have been wondering about the same, then do not worry, here is all you need to know about it.
Is CoinDCX safe in India?
The users have recently been trying to figure out if the CoinDCX is safe or not. According to several online broker comparison sites, CoinDCX apps have been certified as safe to use applications. This means that the money or any kind of investment done on this platform will not be a scam or get hacked easily. The India-based crypto trading and exchange organisation is co-founded by CEO Sumit Gupta. The organisation certainly has two applications like CoinDCX Go and CoinDCX Pro. CoinDCX Go is a cryptocurrency investment app with 500k downloads, whereas CoinDCX Pro is a Cryptocurrency Exchange app with 100k downloads. While using the application, users have to complete the KYC registration process as well.
CoinDCX Go app features:
Interactive user interface for new cryptocurrency investors
Simple bitcoin app to buy cryptocurrency in India
Easy and secure deposit and withdrawal of INR funds with zero fee
Intuitive cryptocurrency investment dashboard to track your investment portfolio
Quick cryptocurrency calculator to convert cryptocurrencies like BTC to INR and vice-versa
'Price Alerts' feature to track cryptocurrency charts and live rates
Secured and insured with BitGo
Investing in cryptocurrency with as minimum as ₹ 100
Smooth KYC process for investments above ₹ 10,000
CoinDCX Pro app features:
The intuitive crypto dashboard helps track your crypto portfolio
Access to industry-leading crypto trading products using a single secure crypto wallet
Seamless crypto to INR trading experience with the highest liquidity and lowest trading fees
Impenetrable security on user accounts and complete safety of funds insured by BitGo
Zero deposit and withdrawal fees on your crypto funds
Details about CoinDCX charges -
When choosing a crypto exchange, one of the most important concerns for new crypto investors is the fees charged for transactions by crypto exchanges. In this aspect, CoinDCX has lower fees. The exchange platform charges a 0.1 per cent takers fee and 0.1 per cent makers fee. Moreover, the CoinDCX app provides many other features such as DCXmargin, DCXfutures and DCXstake which are not available in most Indian apps. Furthermore, the main selling point for CoinDCX is the fact that it has more than 200 cryptos listed on the exchange, as they proclaim on their app.
READ | Coinbase vs WazirX: Find out the best crypto trading exchange for your needs
DISCLAIMER: The information provided on this website is for educational and entertainment purposes. The information provided on this websites does not constitute investment advice, financial advice or trading advice. Republic World does not recommend purchasing any cryptocurrency. Crypto markets are highly volatile and crypto investments are risky. Readers should do their own research on cryptocurrencies and consult their financial adviser before making any crypto investments. 
IMAGE: COINDCX OFFICIAL BLOG
READ | WazirX crashes as investors try to 'buy the dip' | Know what happened
READ | Is WazirX safe for buying and selling cryptocurrency? Know details
READ | CoinDCX vs WazirX: Which is the better crypto exchange for you? Find out
Sours: https://www.republicworld.com/technology-news/apps/is-coindcx-safe-know-details-about-coindcx-go-and-coindcx-pro.html
WazirX Has Bad News For Users: No Bank Transfers, You Must Use WazirX P2P To Buy And Sell Crypto Coins
If you are using the cryptocurrency exchange app WazirX to buy and sell Bitcoins and cryptocurrency in India, you need to note that one major payment option will no longer be available. In a communication sent out to all WazirX users, the platform has clarified that their Paytm Bank account will not be operational now, which means the bank transfer option using NEFT or IMPS transfers from your bank account, will, not be available for the time being. That is till WazirX is able to find a new banking partner for bank transfer and deposit options. This is the latest in the unfolding chapter of cryptocurrency trading in India and the reluctance of banking institutions to engage with crypto exchanges. At this time, WazirX as well as CoinSwitch Kuber and CoinDCX are unable to offer UPI payments as an option for users, because of this reason.
WazirX says that starting 11:59ppm on May 20, 2021, INR or Indian Rupee deposits to the Paytm Bank account will not be accepted. Simply put, this means that the recipient bank account, which in this case, was WazirX's Paytm Bank account, which now will no longer accept any transfers made to it. "If you make any INR deposit via IMPS/NEFT/RTGS to our PayTM Bank account after 11:59 PM IST, it will revert to your source bank account within 7-10 business days," says WazirX in a statement shared with users. They do add," While we work with our partners to add more INR deposit options, we recommend you to use WazirX P2P to buy/sell USDT with INR." The only available option, called WazirX P2P, allows you to buy and sell USDT directly with other buyers and sellers. Once you choose the quantity of USDT you want to trade, the app then proceeds to match you with sellers or buyers who is looking to make a trade at that time. For instance, if I am to buy 15 USDT, WazirX P2P will search and connect me with any sellers who may want to sell USDT at that time. At the time the exchange is agreed and commences, WazirX keeps the USDT in an escrow account for safekeeping. As a buyer, I will make a direct transfer to the seller, using bank transfer or UPI as the modes of payment. Once the seller confirms having received the payment, the USDT are released and added to my WazirX account.
During a test to buy 15 USDT at the time of writing this, the app attempted to match me with interested sellers. However, no matches or P2P were available, which perhaps highlights the limitations of this method—you will be dependent on someone being ready at any time to make the trade, which may further reduce your accuracy of trading in crypto coins exactly when the value may be right for you. That being said, USDT is a stable coin and the value is pegged at $1 always. And once you have the USDT in your account, you'll have to convert your fiat to USDT using WazirX P2P and then use the USDT to buy any cryptocurrency on the platform. At the time of selling any cryptocurrency, you'll have to convert that into USDT within the app and then sell using USDT.
This is just the latest in the long running saga of banking institutions in India showing unwillingness to support cryptocurrency exchanges in India. Apps including WazirX, CoinSwitch Kuber and CoinDCX have been unable to offer UPI, or unified payments interface, as a payments option for users for adding money to in-app wallets for trading in cryptocurrencies including Bitcoin, Ethereum, Litecoin, Cardano, Dogecoin, Shiba Inu and Polygon, to name a few. The National Payments Corporation of India, which runs the UPI real-time payments system, has refused to ban cryptocurrency transactions in India. Instead, they have asked banks to make their own guidelines with regards to transactions that involve cryptocurrencies. In an interaction with CNBCTV18 in March, Finance Minister Nirmala Sitharaman clarified that, "There will be a very calibrated approach to be taken on crypto" and insisted that there will be a "window available for all kinds of experiments", something that is seen as a positive for the cryptocurrency space in India.
For a user to use UPI payments, it'll always be done from a bank account that is KYC-compliant, often using the biometrics authentication using the Aadhaar card. These are bank to bank transactions, with the entire chain being KYC compliant. It is not clear why banks are payment gateways are hesitating to allow cryptocurrency transactions at this time. Banks are yet to issue any advisories or guidelines to users, who may be interesting in investing in cryptocurrencies such as Bitcoin and Ethereum. According to numbers by global crypto exchange Paxful, as of December 2020, India is the second largest Bitcoin market in Asia. And the sixth biggest market in the world, behind USA, Nigeria, China, Canada and UK.
Read all the Latest News, Breaking News and Coronavirus News here
Sours: https://www.news18.com/news/tech/wazirx-has-bad-news-for-users-no-bank-transfers-you-must-use-wazirx-p2p-to-buy-and-sell-crypto-coins-3759407.html
India's latest unicorn is cryptocurrency exchange CoinDCX
Cryptocurrency exchange CoinDCX, backed by Facebook co-founder Eduardo Severin's B Capital Group, is the latest unicorn in the block. The exchange raised $90 million from investors, led by B Capital in the latest Series C round to become the country's first cryptocurrency unicorn. CoinDCX is now valued at $1.1 billion.
Coinbase Ventures, Polychain Capital, Block.one, and Jump Capital are some of the other investors. "The funds raised will be allocated to expand (bring more Indians to crypto/make crypto a popular investment asset class in India) and strengthen our workforce that will cater to our growth story. We will hire talent across multiple functions, and focus on new business initiatives," said Chief Executive Officer and co-founder Sumit Gupta.
Gupta said that the exchange will also enter into partnerships with key fintech players to expand the crypto investor base, set up a Research & Development (R&D) facility, strengthen the policy conversations through public discourse, work with the government to introduce favorable regulations, education, and amp up hiring initiatives.
CoinDCX will strengthen its product team and improve user interface along with exploring more certifications and collaborations to bring its users the safest measures in investment, it said.
The investment and the subsequent valuation comes even as lawmakers continue to debate on digital currencies. Reserve Bank of India Governor Shaktikanta Das had recently said that the central bank has 'major concerns' about cryptocurrencies, which it has conveyed to the government. Nevertheless, investments in cryptocurrencies continue to grow. It reached nearly $6.6 billion in May from $923 million in April.
CoinDCX was set up in 2018 by Gupta, an alumnus of Indian Institute of Technology Bombay. CoinDCX, registered in Singapore as Primestack Pte., aims to increase its user base from 3.5 million to 50 million in the coming years. It also aims to launch new products, including CoinDCX Prime for wealthy individuals and enterprises, and Cosmex, CoinDCX's global trading product.
The company launched CoinDCX Go in January. They also have an automated KYC process that it enabled with its partnership with Onfido. CoinDCX is an ISO-certified cryptocurrency platform.
Also read: Binance US CEO Brooks quits after three months into job
Also read: Ethereum likely to enter consolidation soon; what should be your investment strategy
Sours: https://www.businesstoday.in/crypto/story/indias-latest-unicorn-is-cryptocurrency-exchange-coindcx-303745-2021-08-10
WHAT IS THE DCX ACADEMY? [ SIMPLE BREAKDOWN ] - DCX EDUCATOR MIKE SOTERO
Digital Customer Experience (DCX)—What It Means and Why It Matters
The term experience economy has been around since 1998, introducing the new competitive frontier of customer experience. But the current disruption of digital has triggered urgency in companies competing around digital experiences to remain relevant in the new world of digital-native customers.
The digital experience economy is not about having a car, it's about having a vehicle show up where we want and having it disappear when the trip is done. It's not about getting food, it's about having customized meals delivered to our door—with status updates on its arrival progress. It's not about buying things, it's about getting curated recommendations that appear at our door for our selection and return. All this, triggered by a swipe or a click.
Successful companies have always used customer-centricity as an ethos—revenue comes only when companies deliver something of value that someone is willing to not only use, but pay for. And as customers have made digital a core part of their lives, companies have little choice to meet these rising market expectations of their digital services.
At a fundamental level, companies need to deliver something of economic value to customers (and then capture that value as revenue, at a greater level than it cost to create that economic value). In the industrial economy, this meant a physical good, or a service in the service economy. But in the experience economy, it's now about customer experiences. And as customers increasingly consume experiences through smartphones, websites, and other digital channels, companies are forced to find ways to deliver this economic value through digital customer experiences. Let's break this down further.
What does Digital Customer Experience (DCX) even mean?
Every time a customer clicks a link on your webpage, swipes on your mobile app, checks out a purchase on their tablet, or taps a button on an IoT device, it leaves an impression on that customer. The collective mosaic of these impressions forms the experience a customer has with a company. So, the digital customer experience you create is the collective result of all the impressions created by your digitally influenced customer interactions.
As interactions shift to primarily digital channels (how often do you bank online versus talk with a teller?), the quality of these digital impressions is the new strategic battleground for customer attention. Poor impressions, such as from mobile app crashes or slow website performance, are a sure way to sour the experience and lose a customer.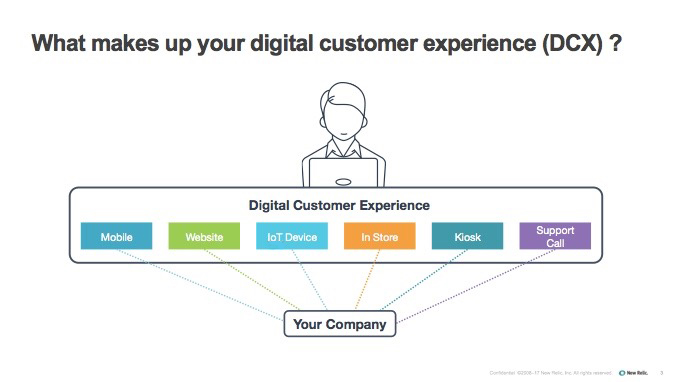 The non-existent division between digital channels and digital business
These impressions extend past that initial digital interface to all the internal business processes connected to them. So it should be no surprise that every role within companies is being affected by this shift: marketing, sales, application owners, product managers, developers, operations, designers, customer care, and executives.
When customers order coffee on the Dunkin Donuts mobile app, for example, they expect their beverage to be ready for them, piping hot when they arrive at the shop to pick it up—no different than if they had ordered it at the store. If a customer buys a new jacket online and wants to pick it up at the retailer's local store, the right size and color should be hanging behind the counter where the clerk can simply hand it over when the customer shows up, no different from selecting the right size and color off the rack.
From a customer's perspective, it should make no difference how they've engaged with a company; it should all work together seamlessly as part of your brand experience. And it's important to remember that if anything goes wrong during a digital customer experience—anything at all—it's your fault. If the coffee is cold, it's the failure of the app, the shop, the whole experience. Customers don't see or care about all the complexity going on behind the scenes. They don't care about some third-party service that might have dragged your mobile app down or the complexity of your fulfillment workflow. They just insist that the entire process work seamlessly from app to website to store to phone call to whatever else may be involved.
Connecting it all together for your customer
Digital is now the primary relationship that companies have with many of their customers, displacing physical channels for established incumbents, or serving as the only relationship channel for digital disruptors. This makes the digital customer experience one of the most strategic and vital differentiators helping businesses remain relevant to demanding, digital-oriented consumers. Any issue with your DCX can have real business impact on conversions, revenue, customer satisfaction, brand reputation, and competitive advantage.
At the end of the day, the digital customer experience is the final outcome of all the technology investments companies put into their digital technologies. When you peel back the motivations behind cloud migrations, DevOps, containerization, microservices, continuous integration/continuous deployment, single-page applications, and more, these trends are all enablers to make it easier, faster, or cheaper to push out better digital experiences to customers. Remember, it's never been about the technology—it's always been about the value and experience you're delivering to the human being on the other side of that digital screen.
To learn more about how monitoring can help you deliver awesome digital customer experiences that turn customers into brand advocates, read our DCX e-books:
And be sure to listen to the New Relic Modern Software Podcast: RedMonk Analyst Stephen O'Grady on Digital Customer Experience.
For additional resources, visit the New Relic Digital Customer Experience Hub.
Sours: https://newrelic.com/blog/best-practices/digital-customer-experience-dcx-definition
Trading meaning dcx
Cryptocurrency Volatility – a Friend or a Foe
September 20, 2019, India's stock market skyrockets after Finance Minister Nirmala Sitharaman announces fiscal reforms and surprising tax cuts. BSE's Sensex notched 2000 points (~5%) on a single day which is its biggest gain since May 2009. It climbed another 1000 points today (Sept 23, 2019) when the market opened. Such positive explosions on the market are perceived with optimistic sentiments among traders and encourage them to get more involved in the trading activities. However, this blast is a tiny spark compared to the cryptocurrency markets.
Cryptocurrency is condemned across the world for its 'outrageous' volatility and this usually petrifies new entrants before tasting the delicacies of the cryptocurrency markets. Seeing tall red spikes on the charts with a double-digit negative percentage change in the prices induces heavier fright in people than similar positive percentage change, and this is where negative bias kicks in.
30 day BSE Sensex chart showing BSE's volatility
30-day BTC/USD chart showing BTC's volatility on CoinDCX's platform
Volatility has a momentous role in any trading market and to understand this, we need to understand what volatility is. In traditional finance, volatility is described by the extent to which an asset's price fluctuates over time. In a 24 day trade, it is defined as the dispersions the price of an asset has shown from its starting price.  An investment is considered volatile if its prices move aggressively up or down daily, as can be seen in the cryptocurrency market. Here's an illustration which differentiates high and low volatility assets:
Volatility explained (source – masterthecrypto.com)
Bonds and Gold are relatively stable investments with teensy movements. This gives the traders a valid argument to not call Bitcoin 'Digital Gold', at least till the time its volatility is not reduced. Stocks and derivatives are categorized under high volatility investments and trillions of dollars have been still invested in this category. This proves the hypothesis that it's not volatility which has scared traders from entering cryptocurrency markets, it's the fear of sudden heavy loss. Volatility is directly linked with risks and returns associated with it.
For investors and traders, understanding their risk tolerance is always the first step before engaging in any form of investment. Different individuals possess a different level of risk tolerance, and this affects their choice of investments. It will be natural to see a 25-year old growth-focused investor taking higher risks than a 60-year old retired investor who is investing only for preserving his wealth. Risk is directly proportionate to the returns and this is the exact point with which the importance volatility can be explained.
Volatility, in simple words, is the movement in the markets. If there will not be any movements, the investor will not lose any money, but will not gain any either. Looking at the price of HDFC stock for the last 30 days, the price dropped fro, Rs 1250 to Rs 1070 in the span of 20 days which is a loss of 14.4%. It jumped back to Rs.1210 (12%) in a day. An inactive trader will see the net gain of only Rs. 40 when bought at the highest price and sold at the current price. On the contrary, a smart investor knows when to pull out his investments (~1240), buy stocks of worth 1240 at 1080, and sell again at 1240. The total profit in this scenario will be approximately Rs. 170. These high-volatile events come once in blue moon in stock markets timeline but appear like dusk and dawns in crypto markets. This timely exiting of the market is a common strategy used by traders to maximize their gains.
30-day HDFC Bank technical chart
In the cryptocurrency markets, this volatility has possibly caused losses to investors, but it has also turned investors, millionaires, to billionaires 'overnight'. It is still naive to be adopted as a mainstream currency in society but possesses the substantial potential to become an investment vehicle to help investors gain profits. Swing traders are traders who trade hold assets for slightly longer than a day consider. These traders look for opportunities in the market to strike the trades to a home run and it's this volatility which gives them these opportunities.
Hence it is an advice to all the CoinDCX users to understand that Volatility is an important market concept to make yourself aware of before entering the roller-coaster rides cryptocurrencies can take you on. It is a double-edged sword that brings a high risk of losing as well as winning a notable amount of capital. This is a part of the reasons why despite being volatile, Bitcoin is the best performing assets in the last 2 decades. But with this fact, we also advise our users to trade and invest with caution and try to keep their risk tolerable.
Profits are never guaranteed when trading, you can take steps to protect yourself from heavy losses using 'STOP' and 'LIMIT' order features offered on CoinDCX's platform.  If you are not an early investor and missed out on the bottom prices you can still buy during the occasional dips, however just because you didn't buy a coin at it's the lowest price that does not mean you are late. So deposit your cryptos now, devise your strategies based on market conditions, and make profits now.
Read more: "Bitcoin Has No Intrinsic Value". Then What Gives Bitcoin Value?
Sours: https://aithority.com/guest-authors/cryptocurrency-volatility-a-friend-or-a-foe/
How to Trade Cryptocurrency for Beginners - Learn Crypto Trading
© EasyEquities. EasyEquities is a product of First World Trader (Pty) Ltd t/a EasyEquities which is an authorized Financial Services Provider (FSP number 22588). All trades on the EasyEquities platform are subject to the legal terms and conditions to which you agree to be bound. The EasyEquities platform enables users to invest in securities which includes whole shares and fractional share rights (FSRs). EasyEquities acts as an agent for the issue of whole shares, where the investor is the registered owner of those shares, entitled to dividends, participation in corporate actions and all the economic benefits and risks associated with share ownership.
In respect of FSRs, EasyEquities acts as principal to a contract for difference issued to the investor, where the investor will have a contractual claim against EasyEquities to the economic benefits and risks associated with share ownership (price movements and dividends) without having ownership rights in the underlying share. Fractional share rights (FSRs) which are issued through a contract for difference, are an over the counter derivative. Unlike whole shares, FSRs do not carry any voting rights. As the investor makes further investments in FSRs and ultimately ends up with a whole share, the contract for difference is closed out and ownership whole share is delivered to the investor.
The availability of any share on the EasyEquities platform is based on various factors but is not an indication of value and does not mean that any share is an appropriate investment for you.
The availability of any share on the browse shares page does not necessarily indicate any contractual relationship between EasyEquities and the listed company, or the payment of fees for services. Brand Logos are owned by the respective companies and not by EasyEquities. The use of a company's brand logo does not represent an endorsement of EasyEquities by the company, nor an endorsement of the company by EasyEquities, nor does it necessarily imply any contractual relationship. Further investment disclosures are available on the EasyEquities website.
* Note exchange prices are delayed in accordance with regional exchange rules. South African prices are delayed by 15 minutes; North American prices are delayed by 15 minutes; Australian prices are delayed by 20 minutes.
EasyEquities is a subsidiary of Purple Group Limited, a company listed on the JSE Limited (PPE)
Sours: https://www.easyequities.co.za/crypto/ec10
Now discussing:
The world's largest crypto exchanges have invested in India despite unfriendly policies
India has never been kind to cryptocurrencies, yet global investors have made huge bets on the country's digital coin ecosystem.
In November 2019, Binance, the world's largest cryptocurrency exchange by trade volumes, acquired WazirX, an Indian exchange, and last year, another Indian exchange, CoinDCX, secured financing from Seychelles-based BitMEX and San Francisco-based giant Coinbase.
These investments happened despite the fact that for around two years starting April 2018, financial institutions in India were restricted from providing services to crypto exchanges and their customers due to a Reserve Bank of India (RBI) order. This ban forced at least two crypto exchanges to shutter. And even now, crypto exchanges in India are functioning without the services of banks.
But experts believe such investments are likely to continue coming into India.
"There is an increasing trend of foreign cryptocurrency exchanges investing in Indian cryptocurrency exchanges. It's because India has a population of 1.39 billion that is predominantly young which is seen as tech-savvy and more adaptable to crypto saving," said Harish BV, co-Founder, Unocoin, which has a userbase of 1.3 million in India. The median age of Indians is between 28 and 29 years.
India's cryptocurrency policy flip-flop
In 2018, India's then-finance minister Arun Jaitley had dealt a death blow to the future of cryptocurrencies in the country.  "The government does not recognise cryptocurrency as legal tender or coin and will take all measures to eliminate the use of these crypto-assets in financing illegitimate activities or as part of the payments system," Jaitley had said. Such remarks, coupled with the RBI ban, nearly drove the Indian crypto ecosystem to death.
But in March 2020, when India's apex court set aside RBI's circular and allowed financial institutions to engage in digital coin transactions, investors returned to the market with a vengeance.
Within weeks of the RBI ban lifting, trading volumes and new sign-ups on crypto exchanges went up multifold. Since then, the volumes and userbase of these exchanges have expanded each month.
"We have been receiving investments consistently since our inception three years back. Investors trust us despite the policy uncertainty. They have seen, how we as a leading player in the industry have grown, and above all the Indian market does offer a lucrative proposal for any investor," said Sumit Gupta, CEO and co-founder of CoinDCX.
Experts assert that the demand for cryptocurrencies is booming and the untapped market potential is vast.
"While there is no official data on the number of crypto investors in India, exchanges like WazirX estimate that 7-8 million investors are holding over $1 billion in crypto investments. Industry estimates suggest a potential investor base of upwards of 100 million. The sheer size of the Indian market makes it an attractive option," said Nicklas Nilsson, senior analyst at GlobalData.
Why Coinbase and Binance invested in India
Besides the huge growth potential, what is driving investments into India is the huge cash reserves that global crypto exchanges hold.
Rising revenues and investor financing mean that global giants are flush with cash, which they are using to expand into newer markets and take advantage of various trends in the cryptocurrency space.
"Cash-rich crypto platforms are capitalising on the rising buzz surrounding cryptocurrencies, stable coins, decentralized finance, non-fungible tokens, and more. The shopping spree by the large crypto exchanges is fueled by the eye-popping run for bitcoin and the wider crypto universe. Along with this, there is a desire, and ability, to improve its underlying infrastructure," said Nilsson, adding that this will continue in 2021.
So it seems whether the Narendra Modi government can make up its mind about crypto or not, the global crypto ecosystem is willing to commit to a long-term relationship with their Indian peers.
Sours: https://qz.com/india/1993281/why-binance-and-coinbase-invested-in-indian-crypto-exchanges/
1834
1835
1836
1837
1838