My first year of shooting film Part 11
(Read Part 10 here)
After shooting 13 rolls of Kodak Portra 400 I thought it was time to give Ektar a try, as was suggested by some people who read my previous posts. A couple of weeks ago I loaded a roll in my M2 with the intention to try it on my regular daily photography. But after a day or so my man and I decided on a last minute trip to Karpathos (a Greek island in the Aegean Sea) since the Dutch summer wasn't really taking off properly. As I wasn't sure yet on the outcome of Ektar, I took a some Portra 400 with me as well, and concluded that it was a good opportunity to compare them both. We were only in Greece for three days, so I more or less shot one day with Ektar, and one day with Portra. The weather was very much the same over those few days: clear blue skies with only a very small hint of cloud if you looked really hard.
So here are a few comparisons, I tried to match the used lens, time of day that the photos were taken, and viewpoint with respect to the sun. They are not exactly the same, sometimes even different, as I didn't take the exact route for my photography expedition each morning. But I am confident that there are enough similarities for a fair comparison. I rated Ektar at box speed or EI 100 (after reading this and this), and I rated Portra 400 at EI 100 too. I metered with the iPhone app myLightMeter PRO. The top photos in the comparisons are taken with Portra, the bottom ones with Ektar.
The early morning, before sunrise shots:
Porta 400 / Summicron 35mm ASPH
Ektar / Summicron 35mm ASPH
Again: just before sunrise, but a different angle:
Portra 400 / Summicron 35mm ASPH
Ektar / Summilux 50mm
Just after sunrise, with the first light hitting the rocks:
Portra 400 / Summilux 50mm
Ektar / Summilux 50mm
A bit of rising sun on Greek churches. Although they are different churches, the photos were taken at a very similar hour, and in the same direction.
Portra 400 / Summilux 50mm
Ektar / Summilux 50mm
Midday, hard light. Again, I didn't have a the same location, but it is in the same direction with respect to the sun, so I think they can be compared.
Portra 400 / Summicron 35mm ASPH
Ektar / Summicron 35mm ASPH
As expected, Ektar has deeper, more saturated colours, specifically in the blues. The Ektar photos also seem to have a hint of red haze over them. But generally the results are closer than I expected. Of course it is a matter of personal preference, but I generally prefer the Portra colours over Ektar. However with the shots that are taken before sunrise Ektar helps to bring out the very subtle colours. And somehow when an object like a boat is in the photo the pop of colour brings a fun element, while I prefer the softer tones for the landscapes.
Next a couple of photos that show what I perceive as the strength of each film. First some landscape photos on Portra with the subtle colours that I really like. This might sound in contradiction to some earlier comments of mine where I was looking for more colour, but the photos below do not look pale to me, just more desaturated. The colour still feels dense enough to me, if that makes sense.
Portra 400 / Summicron 35mm ASPH
Portra 400 / Summicron 35mm ASPH
Portra 400 / Summilux 50mm
And finally some images where the saturated colours of Ektar work really well (and the top featured photo of this post was also shot on Ektar):
Ektar / Summilux 50mm
Ektar / Summicron 35mm ASPH
Ektar / Summilux 50mm
I want to add that I had these photos printed, something I didn't do before. And I must say that the prints look much better than the scans. It started with an experiment done by AG photolab. In one of my previous posts I mentioned some dots in the scans of my photos of Curacao, and AG photolab printed a few of those photos to check the negatives. Those prints looked absolutely beautiful (also showing that the issue was in the scan, not in the handling of film). This inspired me to order more prints, which I did for the film I shot in Karpathos. Soon I will have a real retro/nostalgic afternoon when I am going to put them in an album (also called 'empty photo book' ).
Prints by AG photo lab
All photos were developed and scanned by AG Photolab.
If you are interested you can find more of my photos, both digital and film, on my website: whataukjesees.com. I am also doing a 366 project on film, which I record on tumblr.
Thanks for reading, and Hamish, thanks for having me!
Read Part 12 of journey into film here.
Support 35mmc
For as little as $1 a month, you can help support the upkeep of 35mmc via Patreon. Alternatively, please feel free to chuck a few pennies in the tip jar via Ko-fi:
Become a Patron!
Learn about where your money goes here.
Would like to write for 35mmc? Find out how here.
Aukje's Film JourneyKodak Ektar 100Kodak FilmKodak Portra 400Leica M2
Sours: https://www.35mmc.com/25/08/2016/kodak-ektar-100-vs-portra-400/
Kodak Portra 400 8 x 10, ISO 100, Pack of 10 sheets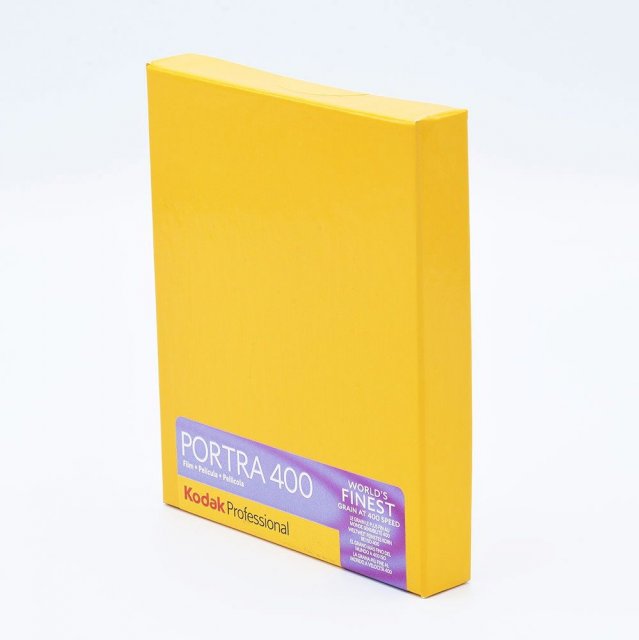 Item: 26617
Spectacular skin tones plus exceptional color saturation over a wide range of lighting conditions
Write the first review

Available (allow 5 days for delivery)
Product Description
Our opinion
You cannot get a finer-grain, high-speed colour negative sheet film than Kodak Portra 400.
At actual ISO 400 speed, it offers exceptional colour saturation over a wide range of lighting conditions.
As a large format photographer, you'll also appreciate consistently smooth, natural reproduction of the full range of skin tones.
Although Portra 400 sheet film is the ideal choice for portrait and fashion photography, you can equally use it for stunning nature, travel and outdoor photography, where the action is fast, or the lighting is unchangeable.
View other products in Colour Print Film »
Manufacturer's Description
Returns
All returns for purchased items are covered in our Customer Service section below under the sub-headings of Cancellation, Replacement and Terms and Conditions. Our returns policy is fully compliant with UK Online and Consumer Contracts Regulations (updated February 2020).
Delivery
Most orders incur a total order delivery charge of £7.99 including VAT for mainland UK delivery. All goods are shipped by courier services. The companies we use are DPD or DHL and parcels are delivered in 48 hours or sooner from date of despatch. Exceptions to this, including lower delivery charges, can be found in the Information section for Delivery at the bottom this page.
Product Features
Film size: 8 x 10 film
Film Speed: ISO 400
People who bought this also bought...
---
---
---
---
---
Recently viewed...

Sign up to our Newsletter
Sours: https://www.firstcall-photographic.co.uk/kodak-portra-400-8-x-10-iso-100-pack-of-10-sheets/p12686
Well what better way to spend New Years Day than to defrost my film fridge. :-p The ice was pretty bad - It had eaten up some of the rolls which are now freed from their icy film prison. And after the amount of interest I've had in this photo of the fridge full of film thought I'd lay em out nice and post a photo up here. Aren't I lovely...There's a grand total of:
-56 sheets of 5x4
-138 Rolls of 120 (1056 shots)
-71 Rolls of 35mm (2556 shots)
-60 'Instant' photos.
-228 others (110/127 etc)
Works out at roughly 4000 shots available. Think I'd better get some of it used eh?
Here's the whole sorry list for any film geeks...
Polaroid/Instant:
Fuji FP-100C - 1 Pack
Fuji FP-100B - 1 Pack
Fuji FP-3000B - 3 Packs (3200 ASA)
Polaroid 600 - 1 Pack
5x4 B&W:
Ilford HP5 Plus 400 - 21 Sheets
Ilford Delta 100 - 25 Sheets
5x4 Colour Slide (E6):
Fuji Provia 100F - 10 Sheets
120 B&W:
Ilford HP5 Plus 400 - 30 Rolls
Ilford Pan F Plus 50 - 13 Rolls
Ilford FP4 Plus - 5 Rolls
Fuji Neopan Acros 100 - 5 Rolls
Kodak Tri-X 400 - 3 Rolls
120 Colour Slide (E6):
Fuji Velvia 50 - 10 Rolls
Fuji T64 Tungsten - 11 Rolls
Fuji Provia 100F - 1 Roll
AGFA RSX200 - 27 Rolls
Kodak Ektachrome 160T - 2 Rolls
120 Colour Print (C41):
Fuji NPS 160 - 9 Rolls
Fuji NPL 160 - 1 Roll
Fuji NPC 160 - 2 Rolls
Fuji Reala 100 - 2 Rolls
Fuji Superia 100 - 10 Rolls
Kodak Portra 400NC - 5 Rolls
35mm B&W:
Fuji Neopan 400 - 15 Rolls
Fuji Neopan 1600 - 1 Roll
Fuji Acros 100 - 4 Rolls
Ilford Delta 100 - 2 Rolls
Ilford SFX200 - 3 Rolls
Kodak 100 T-Max - 1 Roll
Kodak 125PX - 2 Rolls
Tura Professional P100 - 5 Rolls
Jessops Pan 100 - 1 Roll
Paterson Acupan 800 - 1 Roll
1x Unknown Roll
35mm Colour Slide (E6):
Fuji Velvia 100 - 6 Rolls
Fuji Velvia 50 - 5 Rolls
Fuji T64 - 1 Roll
Fuji Sensia 400 - 6 Rolls
AGFA RSX200 - 2 Rolls
Kodak Ektachrome 100 - 1 Roll
35mm Colour Print (C41):
Kodak Portra 160VC - 1 Roll
Ferrania Solaris (Pound Shop) - 2 Rolls
Fuji Z200 (LIDL) - 7 Rolls
Fuji Neopan 400CN - 1 Roll
Kodak Gold Ultra 400 - 1 Roll
Kodak VR200 Plus - 1 Roll
Klick XD200 - 1 Roll
Misc/Vintage:
Konica Centuria 200 - 6 Rolls 110
Prinzcolor 127 - 4 Rolls 127 (Expired June 1974)
Fujichrome 50D - 1 Roll 120 (Expired 9/89)
Kodak Verichrome Pan - 1 Roll 120 (Expired 10/73)
AGFA CT18 50ASA - 1 Roll 120 (Expired Jan 69, not pictured)
To see what I took with most of it, click the link. This is Sunderland
Sours: https://www.flickr.com/photos/tags/kodak%20portra%20100%20tungsten/
Comparing Film Stocks: Kodak Portra 400 vs. Kodak E100
Kodak Ektar 100 vs Kodak Portra 160/400/800: Film Portraits
Film Comparison: Film Portraits taken on Kodak Ektar 100 vs Kodak Portra 160, 400 & 800..and a few with Fuji Pro 400H!
>> Join me on YouTube!
Black and white film
Kodak Ektar vs Kodak Portra ? My love for film photography is growing day by day. To date I have shot perhaps 85% black and white film vs. only 15% colour film. I like black and white as depending on how you develop the film you can make some nice high contrast images with a broad dynamic range. High contrast can give increased apparent image sharpenss so B&W photos tend to look sharper than those in colour. B&W tones tend to be more flattering for portrait photos and I also develop the negatives at home myself so it's both economical and easy. I tend to shoot mostly Kodak T-Max 100 B&W film and push it to ISO 200/400/800 if needed without issue.
Colour film
For 35mm film I use Kodak Portra 160 and for medium format film normally Kodak Portra 400 and more recently Fuji Pro 400H again. Kodak Portra is said to produce the best skin tones and I did agree but now I am starting to prefer the pinky-green tones of Fuji Pro 400H vs yellow-orange tones of Portra. 35mm Kodak Portra 160 is much cheaper than 135 Fuji Pro 400 and sadly Fuji Pro 160NS is only available in 120 format (not 35mm).
Film Portraits – Wedding Portraits
Medium format 120 ISO 400 film such as Portra is plenty sharp enough for wedding portraits when shot with a lens wide open. This is especially apparent when using sharp camera lenses such as the Contax 645 + Zeiss 80mm f2 or Fuji GF670 Pro. 135 Portra 160 however to me is almost too soft at wide apertures even when using sharp lenses such as a Leica Summilux ASPH 50mm f1.4 on my Leica M2 or Carl Zeiss Pancolar 80mm f1.8 on my Nikon FM.
Film Portraits – Fashion Photography
120 Kodak Ektar 100 film is very sharp when used with good cameras/ lenses. It is almost unflatterringly sharp for female portraits for anything other than perfect model skin. However if you look deeper you can pull positives from this situation. To date I have only shot Kodak Ektar 120 film with sharp lenses stopped down. I try to use sharp lenses for film photography as images tend to be softer than when shooting digital. If 120 Ektar is almost too sharp for medium format portraits then it will also give me sharper 35mm portraits. If I find 35mm Ektar is great for sharp fashion portraits using modern ASPH and APO lenses but not very flattering for wedding portraits then I can just use older Leica lenses such as the Noctilux 50mm f1, Summarit 50mm f1.5 or Summaron 35mm f3.5 for a softer photo.
Kodak Ektar vs Kodak Portra Skin Tones and Saturation
Kodak Portra is often the benchmark to aspire to for both film and digital cameras when it comes to natural skin tones. I have raved about it in the past and wrote a post on it. The less saturated Portra colours can really suit wedding photography hence it's popularity (along with Fuji Pro 400H). When I shoot digital I only shoot in colour if I think colour adds to an image (or it is requested by a paying client such as a wedding).
Portra colours are subtle so perhaps don't do a colourful scene justice. Kodak Ektar however is a more saturated colourful film that can be too much for some portrait images taken in a coloured light such as next to a tungsten lamp. That said if the colours are considered and used as a creative element in the photo you then have a set of fine grain vibrant images to give a splash of colour against the B&W photos. If the Ektar skin tones are too much in some photos I can simply reduce the saturation a little when scanning the negatives. I much rather capture more detail with a finer grain film and desaturate (if needed) than try to sharpen softer negatives scans and increase saturation (if desired).
Film Ordered
As a result of my thinking I have ordered a pack of 135 Kodak Ektar 100 film to try in my Leica M3 for model photography / fashion portraits initially. If I like the results then I might load some Kodak Ektar for my next wedding. I will share the results and my thoughts once I have some sample images. For now below are some samples using some of the film types I have talked about.
Buying Kodak Film – What I Buy (Amazon)
I try to always buy multi packs of the film I use as it helps to reduce the unit cost (each single roll of film is cheaper). I often find Amazon as cheaper as anywhere when buying film and I do my best to find a bargain (especially as the cost of film seems to creep up year on year!)
Kodak Portra 160
I find Portra Kodak 160 is the best value of the 3 Kodak Portra films available but I rarely have enough light to shoot Kodak Portra 160 at box speed in the UK. I love the finer grain of Portra 160 and for 35mm I normally prefer it to Portra 400. If I am doing a hot and sunny destination photo shoot (like my trips to Tenerife) I tend to use Kodak Portra 160 as it is the most economical option. With the big cameras like the Hasselblad and Mamiya RZ67 (with their amazing big waist level view of the world) if you get a very attractive model to photograph it's easy to get trigger happy and shoot off a whole roll of film within minutes! Beware! (Take plenty of film so you don't run out like I did!) 🙂
Kodak Portra 400
Kodak Portra 400 is my go to film for all of my various medium format cameras (especially). Portra 400 is said to be sharper than Porta 160 and more saturated also. The colours are amazing for portraits without being over the top. For colour film photography I use Portra 400 film the most as I often shoot cameras at ISo 400 if working with available light for portraits. This is especially true for my analogue wedding photography but for model shoots also. I use 35mm Portra 400 for weddings with the Leica cameras as I need that extra amount of light to help minimise motion blur for moving subjects.
Kodak Portra 800
Kodak Portra 800 can be a life saver for analogue wedding photography (especially with medium format cameras that need more light as the lenses tend to be f2.8-f4 fastest vs f1.4 for my Leica lenses). Portra 800 is more saturated than Portra 400 and Portra 160. I use it the least though as it is expensive but luckily they sell 35mm as single rolls for those special occasions!
Kodak Ektar 100
Unlike perhaps popular believe, Kodak Ektar film can be great for portraits and skin tones. I find it works best for faces with a less red complexion and also out of direct sun. Ektar 100 saturated colours adds a nice pop to an image especially on a grey day. The super fine grain is also amazing and perhaps my favourite feature of Ektar, both 35mm and 120 versions. The price is also good which helps me like Ektar 100!
Available Light Film Photography

Film speed
As noted above then it's worth remembering that ISO 100 speed Ektar (and Portra 160) requires more ambient light than Portra 400/800 and Fuji Pro 400H films. That's why me and others tend to use ISo 400/800 films more and why Portra 400 and Pro 400H are probably the 2 most popular films for weddings photography. Both these films also have greater latitude so cope better for under/ over exposure (vs Ektar especially if under exposed).
Film Latitude
A wide latitude can be a real benefit on a bright day if I want to shoot at apertures like f1.0, f1.2 or f1.4. All these films can be over exposed a crazy amount (Portra especially for me) yet still retain the highlight detail where digital would clip the highlights way before. Film cameras also tend to have a slower maximum shutter speed vs digital so it is more difficult to shoot a lens wide open and be able to darken down the available light sufficiently. Exmples: Film – 1/1000 (Leica M2/ M3), 1/400 (Mamiya RZ 67), 1/500 (Fuji GF670) vs Digital – 1/4000 (M9), 1/8000 (Nikon D800).
Finally I reveal how I make my Portrait Images!
If you want to know the exact photography equipment I use to make my film portraits, other than the film and a camera see the links below. I used to avoid writing about my non-camera gear but I thought it was time to reveal all! I detail the speicific speedlights and wireless triggers I use together with the other photography gear needed for my portrait photography.
Flickr – Colour Film Photography (Some of my earlier work)

135 Kodak Portra 160 Portraits
120 Kodak Portra 400 Portraits
120 Fuji Pro 400H Portraits (extra just as a comparison)
120 Kodak Ektar 100 Portraits
35mm Film Camera vs Medium Format Film Camera
Portra vs Ektar vs Fuji Pro 400H vs Cinestill – Portraits
If you want to see a more comparible test of Kodak Ektar 100, Kodak Portra 160, 400, 800, Fuji Pro 400H and Cinestill 50D and 800T then see this video below. Each film stock shooting the same model for side by side comparison. Skip to 10:15 where ther colour film review starts. (Great vid!)
Related Posts
You may also like… What Gear I Use for Portraits!
See full details of my portrait photography lighting kit (2018) – HERE
See full details of my portrait photography equipment kit (2018) – HERE
Author: matthewosbornephotography
Coventry, UK studio based Model and Wedding Photographer offering both Medium Format Film and Digital Images. 1-2-1 Photography and Lighting Tuition also available. View all posts by matthewosbornephotography
Sours: https://mrleica.com/kodak-ektar-vs-kodak-portra-film-portraits/
100 kodak portra
Kodak Portra 160 or Kodak Ektar?
Museumswerft Flensburg – Kodak Portra 160 | © mare.photo
Again and again, the question arises, whether we use the Kodak Portra 160 or the Kodak Ektar. What are the differences in what the strengths of each film? Basically, it is good to commit to a movie in general. But there are good reasons to choose between the two films depending on the shooting situation. We try to introduce the different characters of the Kodak Ektar and the Kodak Portra 160.
Basics to Kodak Ektar
Fiskeläge Klintehamn, Gotland, Leica Summilux 1.4 50 asph., Kodak Ektar | © mare.photo
The Kodak Ektar has ISO 100 sensitivity and is the highest resolution film in its class. In the image of the edge sharpness he shows very high potential, he is very sharp, without losing harmony. Our apartment hangs an enlargement of a Kodak Ektar trigger with the dimensions 40×60 cm.
Basically, the Kodak Ektar has a tendency for Kodak to warm shades and tends in the reddish color range. In forums you will find total enthusiasm or total rejection for this film. For some, the colors are too strong, the others are enthusiastic about the bright colors.
Bugøynes, Barents Sea, Barentssea, Varangerfjord, Finnmark, Kodak Ektar, Leica Elmarit M 2.8 28 asph.| © mare.photo
However, the Kodak Ektar develops its absolute strength, especially in the case of the weather: in cloudy skies and thus in diffused light. Where other films bring only boring gray soup to light, the Kodak Ektar charmingly brings out the color that still exists.
In bright skies it brings warm glowing colors, an autumn forest is the Kodak Ektar in all its liveliness again.
Again and again, the question arises on how the Kodak Ektar 100 because the best exposed. There is actually no discussion at the Kodak Ektar. It should be exposed to its nominal sensitivity and measured during exposure measurement a mean value between the brightest and the darkest part of the image. Or with extreme contrasts, which, by the way, he masters very well, with a light meter from the subject to the lens to determine the readings. If you really like, you can expose the Kodak Ektar with ISO 80, let it develop normally. But you will not experience more than a minimal and barely noticeable increase in color saturation.
Basics to Kodak Portra 160
Figeholm – Kodak Portra 160 | © mare.photo
The Kodak Portra 160 is tuned to the reproduction of skin tones in the northwestern culture, he is primarily a portrait film. In addition, the Kodak Portra 160 is intended for digital processing. Thus, the Kodak Portra 160 can be excellently scanned. The reproduction of the colors is restrained and quite refreshing, without really looking cool. He has a high resolution and sharpness.
VW T6 California – Kodak Porta 160 | © mare.photo
As usual, the question arises here of how best to illuminate the Kodak Portra 160. We recommend in this film, in fact, the nominal sensitivity ISO 160. If you want to achieve the pastel look, then we recommend the exposure to the darkest parts of the picture. If the pastel look is desired and the ambient light is diffuse, then an exposure of ISO 100 is recommended, without adapting the development. If you want to expose normally, then it is best to measure the middle parts of the image or to hold an external exposure meter from the subject to the objective.
---
IIn none of our articles will you find links to Amazon. We do not want to animate to buy movies on Amazon, we describe our experiences independently and recommend to support regional photo shops or small mail order companies directly. A few addresses of companies that deliver worldwide we have here.
---
The differences between Kodak Ektar and Kodak Portra 160
The choice is painful, as is the case for Kodak Ektar's own decision with Kodak Portra 160. It is not very effective to be almost religious against one or the other, as both films have a potentially wide range of uses. And so one should deal with the desired motives before the film choice.
The main differences:
The Kodak Ektar is finer-grained. So if you want maximum magnifications, you should take this into account. However, we have made of both 35mm film prints deductible larger than 30×40 cm and are very satisfied. The question is when you really need such or larger deductions. Even for a large-format picture book, both films offer.

Kodak Ektar, Leica Elmarit M 2.8 28 asph.,Kjerringøy, Karlsøfjord | © mare.photo

The Kodak Portra 160 is minimally sensitive. The required exposure times are thus about 50 percent shorter. Anyone who has a fainter lens, so from aperture 4.5 or 5.6 and capture faster movements, would rather resort to the Kodak Portra 160th

Nordfriesland – Kodak Portra 160 | © mare.photo

The Kodak Ektar has more vivid colors. If I want to portray an autumn hike, the Kodak Ektar is the first choice. In general, the Kodak Ektar shines when taking pictures of nature in the mountains. We took the Kodak Ektar on two big tours. Example Gotland in the summer: We have portrayed the island of Gotland with its church ruins for a few weeks and also wanted to capture the summer heat of this sun-drenched island. That's why we opted for the Kodak Ektar. It transports the summery color intensity, reflects the warmer of the stones of the ruins and the Raukar, as well as the summery blue sky. Water is almost neutral, but a little bit in the direction of aquamarine again. The red tiled roofs of the island's capital Visby and the wooden houses in their classic "Swedish red" are subtly accentuated by the Kodak Ektar.

Kodak Ektar – Ljugarn – Gotland – Fiskeläge – fischer settlement | © mare.photo

The Kodak Portra 160 has a cooler color reproduction. For this reason, we have portrayed with him the archipelago Åland, this autonomous and belonging to Finland region northeast of Stockholm. Åland is known for its red granite. In the summer months, this rock is illuminated by the sun again warm.
Since Åland is very sunny, the vegetation is often dry and shows a yellowish-reddish color in color. With the Kodak Ektar we would have slightly increased this color intension, that's why we chose the Kodak Portra 160 here. The colors are given neutral again. And this rendering is still as strong as you feel in summer.
We also like to take the Kodak Portra 160 to Norway for the winter. Because it gives back the coolness of the snow and minimally dampens the existing color tones, which benefits the mood of a wintry landscape. At the same time the sky is rendered in cool blue tones.

Åland, Kodak Portra 160, Leica Elmarit M 2.8 28 asph. | © maree.photo

The Kodak Ektar has a particularly fine color nuance in diffused light. When the sun goes down and we visit places that we may not return to, we do not want to allow ourselves to take boring pictures. The Kodak Ektar even brings gray to life and shows the finest contours, for example in weathered wood. For example, we chose the Kodak Ektar as the main movie for our 90-day tour along the Norwegian coast and the Barents Sea. The journey took us through a variety of climatic conditions, rapid weather changes are and were just in the high Arctic north on the agenda. Sun and sea, high mountains, snow and ice, rain and fog, winter, spring and summer, for all this we needed a universal film, so that the pictures harmonize with each other. Brightness plays no role thanks to the midnight sun, so even for all outdoor shots ISO 100, especially for large apertures between 1.4 and 2.8 have and so synonymous short shutter speeds can use in storm, ider the camera just can not be kept calm.

Bugøynes, Barents Sea, Barentssee, Varangerfjord, Finnmark, Kodak Ektar, Leica Elmarit M 2.8 28 asph.| © mare.photo
Long exposures on Kodak Ektar and Kodak Portra 160
Long exposures are very possible with both the Kodak Ektar and the Kodak Portra 160. Due to the consideration of the Schwarzschild effect, the necessary extension factors must be taken into account. We recommend no extension for up to 30 seconds, and more than 120 seconds to double the exposure time. If the exposure time exceeds 120 seconds, then quadruple the exposure time. Alternatively, of course, you can adjust the aperture accordingly. So between 30 and 120 seconds to double the aperture, in addition quadruple the aperture. The aperture values ​​have here..
Blue hour Kiel Canal in Rendsburg | © mare.photo
Kodak Ektar or Kodak Portra 160 with mixed lights
Especially in the blue hour, at dusk or when shooting indoors you have different lighting situations. Neon and halogen light, possibly LED or a laser show. For many films, such occurrences are overwhelming. Both films, both the Kodak Ektar and the Kodak Portra 160, master such situations very well. However, we would fall back on the Kodak Portra 160 for recordings in this environment, he is the master when it comes to the color cast-free handling of mixed light.
Kodak Portra 160 | © mare.photo
Sample photos
Below are a few examples where we used Kodak Ektar Kodak and Kodak Portra 160. It makes no sense to want to find out which one is the better movie now. It simply does not exist. The purpose of this article is to help you figure out which film is the ideal one for your own ideas and express yourself in person.
Pictures Kodak Ektar in diffused daylight
Kodak Portra 160 in diffused daylight
Kodak Ektar with sunlight
Kodak Portra 160 with sunlight
Sours: https://mare.photo/en/https-mare-photo-kodak-portra160-kodak-ektar-en/
Portra 100t
.
You will also like:
.
1704
1705
1706
1707
1708