Fortnite Color Bottles - where to find paint locations to customize Toona Fish
Fortnite Color Bottles are the collectibles you need to find if you want to give Toona Fish a fresh look by customizing their outfit, to move away from that drab black and white appearance they start with by default. You'll have your work cut out for you if you want to complete the set, as there are 63 paint locations in total to track down in Fortnite, as well as lots of Rainbow Ink to gather up. We've taken the edge off this task by bringing you all of the Fortnite Color Bottles locations, as well as the details on where to collect Rainbow Ink and how to use these newly unlocked colors to customize Toona Fish.
Important note: In order to start collecting Fortnite Color Bottles, you must first unlock the Toona Fish outfit from page 1 of the Battle Pass, otherwise the paint locations will not appear and you won't be able to collect them.
Fortnite Color Bottles locations
There are 21 sets of Fortnite Color Bottles in total, with each having three individual paint pots to collect and unlock that color. You can see your progress on this by going to the Battle Pass tab in the menu, then choosing the Paint A Toona Fish option. This is where you'll find each set of Fortnite Color Bottles:
Knightly Crimson - Fort Crumpet
Y-Labs Magenta - Misty Meadows
Cuddly Pink - Steamy Stacks
Ruby Red - Lockie's Lighthouse
Renegade Red - Boney Burbs
Pumpkin Orange - The Orchard
Midas Gold - Catty Corner


Desert Sand - wreckage west of Pleasant Park
Banana Yellow - Rainbow Rentals
Leafy Green - Stealthy Stronghold
Recruit Green - Weeping Woods bridge
Codename G.R.N. - Corny Crops
Ghoulish Green - Shanty Town
Slurp Turquoise - Sludgy Swamp


Diamond Blue - Gorgeous Gorge
Frozen Blue - Coral Castle
Crystalline Blue - wreckage south of Dirty Docks
Brite Purple - Retail Row
Mezmerizing Violet - wreckage south of Believer Beach
Robotic Grey - Destroyed Dish
Stone Grey - Mount F8
A lot of those descriptions are based around landmarks, rather than named POIs you can see on the map. If you're not sure where to go for any of them, these are the Fortnite Color Bottles locations you need to visit:
When you reach one of those Fortnite paint locations, look for the floating Color Bottles collectibles then simply run through them to pick the items up. Icons for them will appear on your map and minimap when you're close, which you should then be able to follow to the exact places where the paint can be found. All three will be close by, so you should be able to complete each Fortnite Color Bottles set in a single visit to the paint locations.
Fortnite Rainbow Ink locations
Fortnite Rainbow Ink is a random drop you get from opening chests, so unfortunately there aren't any set locations you can guarantee getting it from. However, you should be able to find plenty of chests during the normal course of a battle royale, and the drops are quite generous – so whenever you see a Rainbow Ink drop while opening a chest as shown in the screen above, then some more has been added to your inventory.
How to customize Toona Fish with Fortnite Color Bottles
Once you start unlocking Fortnite Color Bottles, you can use them to customize the appearance of Toona Fish and create your own personal look. To do this, head to your Locker and highlight the Toona Fish outfit, then follow the prompt to Edit Style. The first page feature Character Styles you unlock through the Battle Pass screen using Rainbow Ink, but if you tab over to the Custom Style page then you can apply any unlocked Fortnite Color Bottles to your Head, Accessories, Hat, Shoes, Gloves, Arms, Legs, Socks, and Scarf. This means that if you've unlocked every option then there are a total of *grabs calculator* 1,207,269,217,792 different color combinations possible... which is a lot, so get experimenting and have fun with it!
Fortnite patch notes | Fortnite tips | Fortnite Creative codes | Fortnite 2FA | How to enable cross platform Fortnite matches | How to level up fast in Fortnite | How to get free Fortnite V-Bucks | Fortnite Starter Pack | Fortnite map | Fortnite new weapons | Fortnite IO Guards | Fortnite Sideways
Iain originally joined Future in 2012 to write guides for CVG, PSM3, and Xbox World, before moving on to join GamesRadar in 2013 as Guides Editor. His words have also appeared in OPM, OXM, PC Gamer, GamesMaster, and SFX. He is better known to many as 'Mr Trophy', due to his slightly unhealthy obsession with amassing intangible PlayStation silverware, and he now has over 290 Platinum pots weighing down the shelves of his virtual award cabinet. He does not care for Xbox Achievements.
Sours: https://www.gamesradar.com/fortnite-color-bottles-paint-toona-fish/
Looking for the best Fortnite coloring pages? Look no further. We've got tons of designs in super high resolution.
Feel free to download and print them or give them away to friends!
Click on the image to get the full size.
Right click and choose 'save' to download a copy of the picture. Or just click the download button.
If you'd like to use these Fortnite coloring pages commercially please email me a request to [email protected]
Dark Voyager Skin
Skeleton Skin
Bear Skin
Gingerbread Man Skin
Bunny Brawler Skin
Default Skin (Male)
Elite Agent Skin
Drift Skin
Rainbow Smash Axe
Overtaker Skin
Omega Skin
Oblivion Skin
Nog Ops Skin
Lynx Skin
Leviathan Skin
Ice King Skin
Fate Skin
Raptor Skin
Crackshot Skin
Raven Skin
Chomp Senior Skin
Beef Boss Skin
Yuletide Ranger Skin
Tricera Ops Skin
Red Knight Skin
Black Knight Skin
Rex Skin
Renegade Raider Skin
Red Nose Raider Skin
Ravage Skin
The Reaper Skin
Sparkle Specialist Skin
Snorkel Ops Skin
Ragnarok Skin
Tomato Head Skin
All of these Fortnite drawings were done by hand. You can download them if you want to color them in or to create huge posters. If you want to submit your own drawings just send an email to [email protected] and we'll get you featured!
Sours: https://fortnitenexus.com/fortnite-coloring-pages/
Here they are, by popular demand: the Fortnite coloring pages. And to be precise, the Fortnite Battle Royale coloring pages, because that is the game mode that everyone plays. One hundred fifty million players worldwide, we were told!
There is a good chance that you and your classmates will play it too. And colors can now also be done with this beautiful collection of Fortnite drawings.
Fortnite Color by Number
Golden Agent Midas and Shadow Midas Mural
Coloring Squared will try to get you a new math coloring worksheets often. Give us some feedback on the coloring pages you have used and enjoyed. Or, tell us what you would like to see in one of our next worksheets or coloring books.
Email us at: [email protected]Email

We hope kids enjoyed these free math coloring worksheets. If you're looking to practice math concepts like addition, subtraction, multiplication, division, number sense and more, try out our Free Math Coloring Pages . We also have your favorite characters from Minecraft, Angry Birds, Disney Princess, Transformers, Comic Book heroes and more… Comics, Cartoons, and Video Games . More free activities for kids will be coming soon. Come back often to see what's new!
Coloring Squared: Pixel Art and Math for Kids
Sours: https://www.coloringsquared.com/video-games-coloring/fortnite-battle-royale/fortnite-coloring-pages/
How To Draw Midas Tier 100 - NEW \
Welcome to our collection of Fortnite coloring pages, which has over 215 distinct images for fans of this really popular multiplayer online game. We have so many unique characters that are on offer which will be of interest to older middle school age children and probably their siblings.

Like any popular game, there are a cast of characters who populate this universe, who are regular people with a variety of backgrounds. There are goodies and baddies like in any game. One of the things that attracts people of all ages to Fortnite is that they have also blended characters from many other pop-culture universes that you can have as skins for your characters in your game play experience.

Fortnite characters are popular with boys and girls as well as many adults so we have selected a massive range of avatars and skins for you to print off and enjoy. It is important to not always be in front of a screen playing immersive video games, as they can be quite addictive. Take a break from time to time and enjoy coloring in the characters either on your own or amongst your friends. School teachers can print these Fortnite coloring pages to connect with students as it will be a point of interest for them.
🎨 How to draw and color Fortnite Midas easy step by step for kids ?
Learn how to draw and color Midas a skin from Fortnite step by step and easily:
It has been a popular game since 2017 where you take on the persona as a survivor in a post-zombie apocalypse wasteland and you need to fend off attackers as well as collect resources to survive and defend your fort against attackers who will destroy your fort or kill you.
One of the things that makes Fortnite really popular is the skins that you can get for your characters. Because Fortnite is a game that is free to download, the game makes its money from great adaptations from other gaming and movie universes so that you can have your characters cosplay them.
Some of the characters or skins that you can download as coloring pages from our site include Snowfoot, Luxe, Red Nose Rider, Marshmallo, Huntress, Crackshot, Supersonic, Raven, Splode, Trog, Guaco, Ikonik, Jaeger and even comic book superheroes and villains such as Batman, Catwoman and Thanos.
Sours: https://coloring-pages.info/fortnitecoloringpages
Coloring fortnite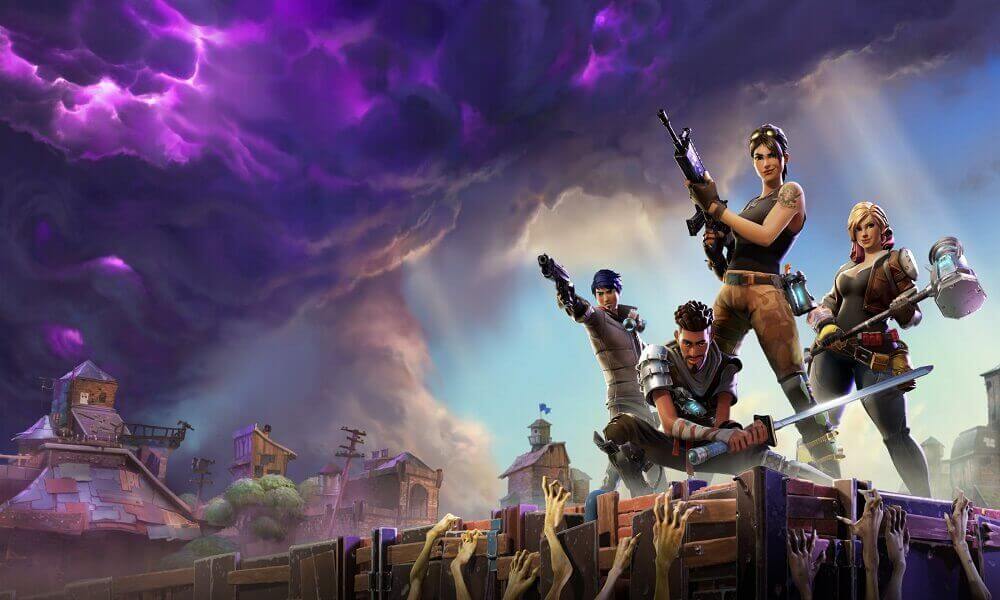 If you're a major video game fan and have been reading some news on video games in the last few weeks or months, you must have read about the Fortnite Battle Royale, the predecessor of Fortnite. This exciting, fast-paced survival game, created by People Can Fly and Epic Games was released in July 2017 and in just a year, millions of people, including children have become enamored with this game. The game Fortnite is set on Earth, where an appearance of a worldwide storm disappears more than 98% of the world's population. This gives rise to zombie-like creatures, which begin attacking the remaining 2% population. The soldiers and commandos then build fortifications, fight the storm, construct weapons to protect the survivors. Since this video game is highly popular with the children and even Fortnite season 7 has just released so we decided to come up with a collection of free printable Fortnite Battle Royale and Fortnite coloring pages. Check out the free Fortnite coloring sheets to print below. We've even got Fortnite Omega coloring pages for you all.
34 Free Printable Fortnite Coloring Pages:
Fortnite Cupid Coloring Page:
Here's a coloring page of the cupid launched by Fortnite this year on the occasion of Valentine's Day. The cupid outfit will give a head to toe transformation to the players and will make them feel all lovey-dovey. Furthermore, you'll even get bows to hunt your prey and eliminate those pesky zombies.
[Related: Valentine's Day Coloring Pages ]
Master Grenadier Dancing Coloring Page: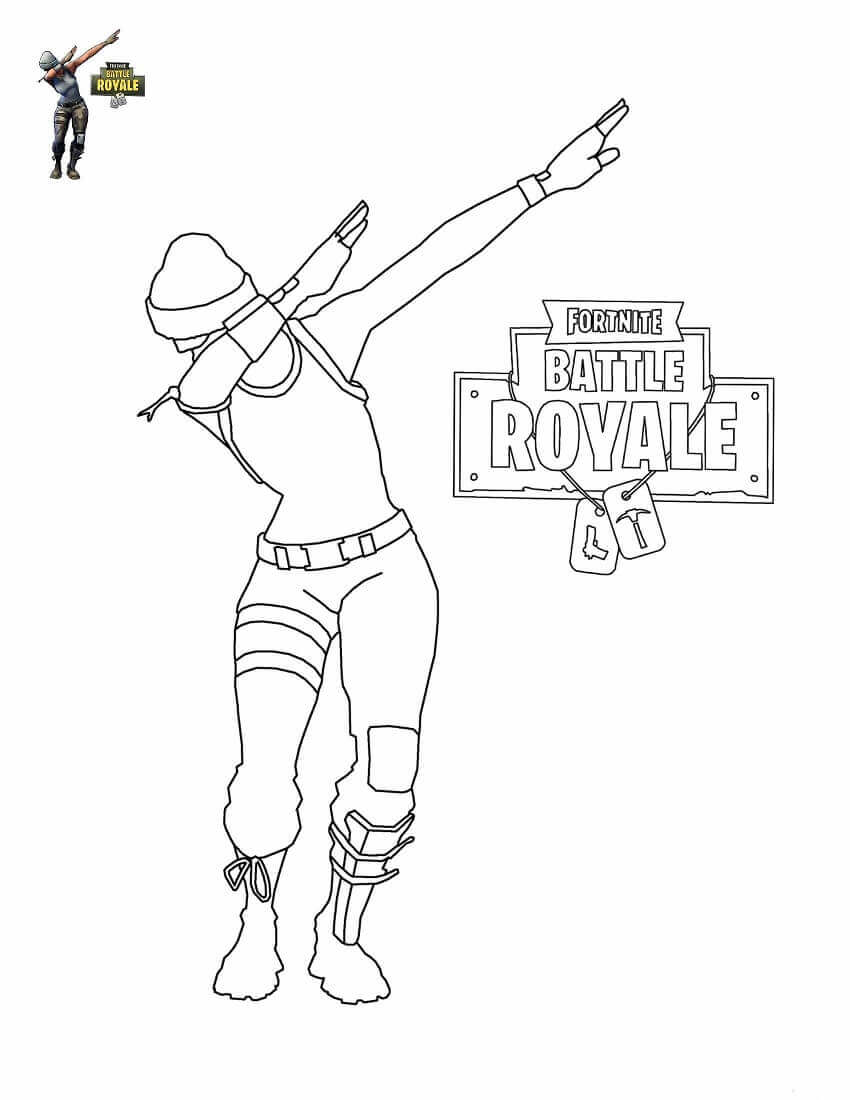 This coloring page shows the ultra sassy and fearless Master Grenadier dancing. It's a dance move in which the dancer drops its head into the crook of the slanted arm. This dance move is so popular that it has even got Master Grenadier in its spirit and we must say she has done it really well.
Fortnite Pumpkin Launcher Coloring Sheet: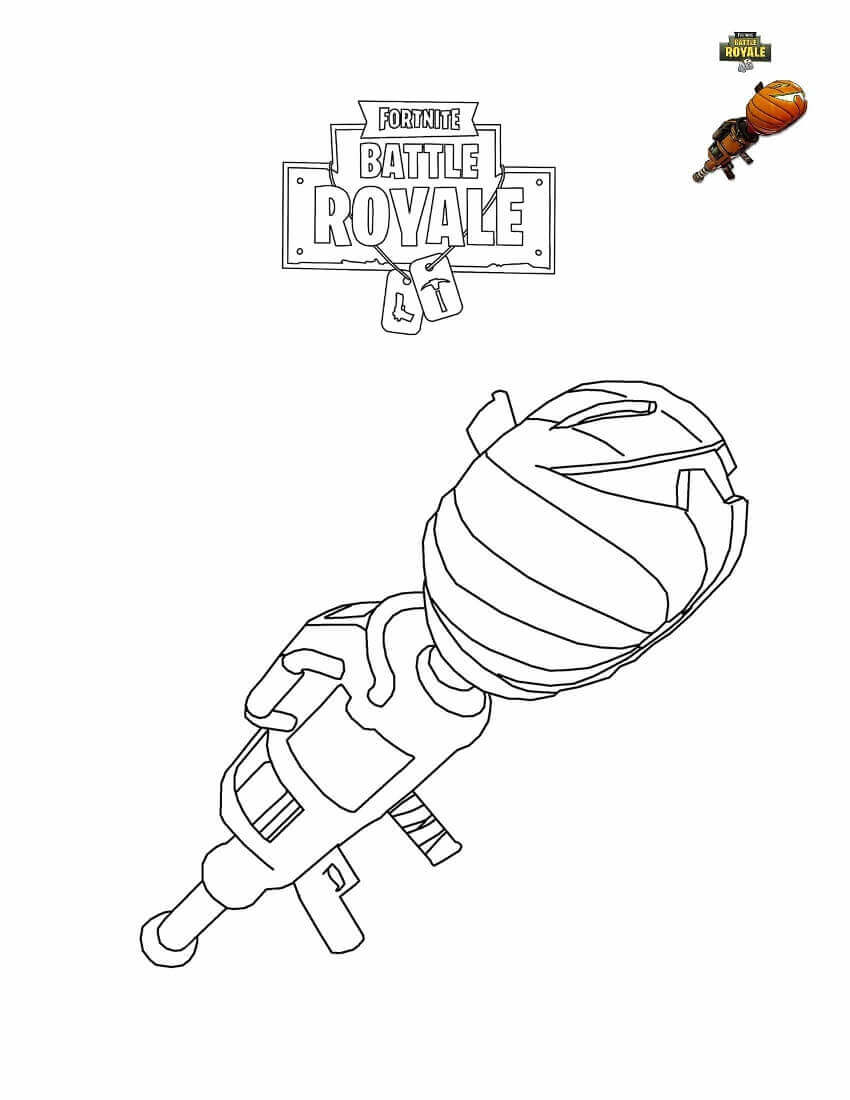 Here's a coloring sheet of the ultra sassy Fortnite pumpkin launcher, launched on Halloween last year. The launcher has a jack-o-lantern attached to one of its end, which is sure to scare off the zombies. We, honestly, haven't seen a cooler weapon in Fortnite.
[Related: Jack O Lantern Coloring Pages ]
SCAR From Fortnite Coloring Page: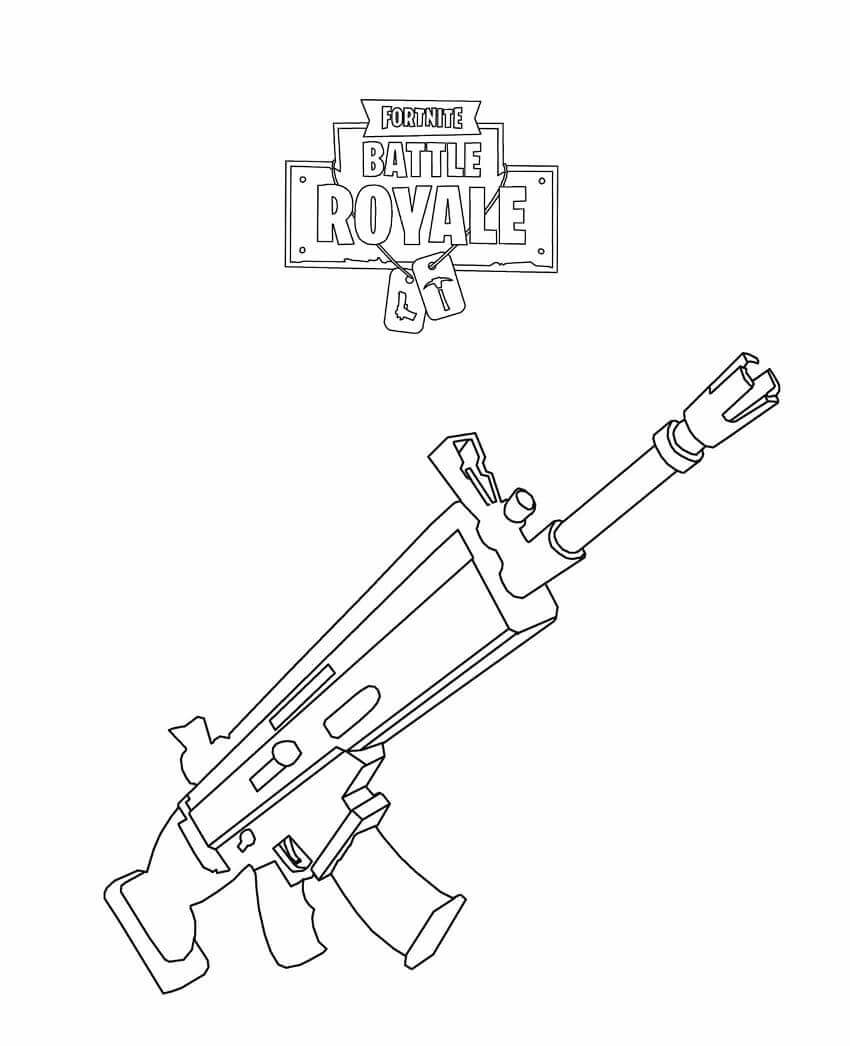 Here's a coloring sheet of the legendary SCAR, the legendary assault rifle. This stunning rifle is available in both Battle Royale and Save the World, in Common, Uncommon, Rare, Epic, and Legendary versions. We totally love the Light Bullets it uses in the Save the World version. Do you know the full form of SCAR? It's Special Operations Forces Combat/Capable Assault Rifle.
Shock Trooper From Fornite Coloring Picture:
This Fortnite coloring sheet features the Shock Trooper, a fighter that has the ability to focus and buff the shockwave ability of the soldier. Furthermore, it increases the damage and radius of the ability, transforming the solder into no less than a human grenade. You'll find Shock Trooper Renegade in the Rare, Epic, and Legendary versions of the game.
Warlord From Fornite Coloring Image:
Here's a coloring sheet of Warlord from Fortnite, better known as Sergeant Jonesy. He's a brave and courageous soldier and is seen here is diving in the sky. We're sure it's not for leisure purposes, rather, he's fighting the bad guys. After all, Sergeant Jonesy is extremely macho.
Survivalist From Fortnite Video Game Coloring Page: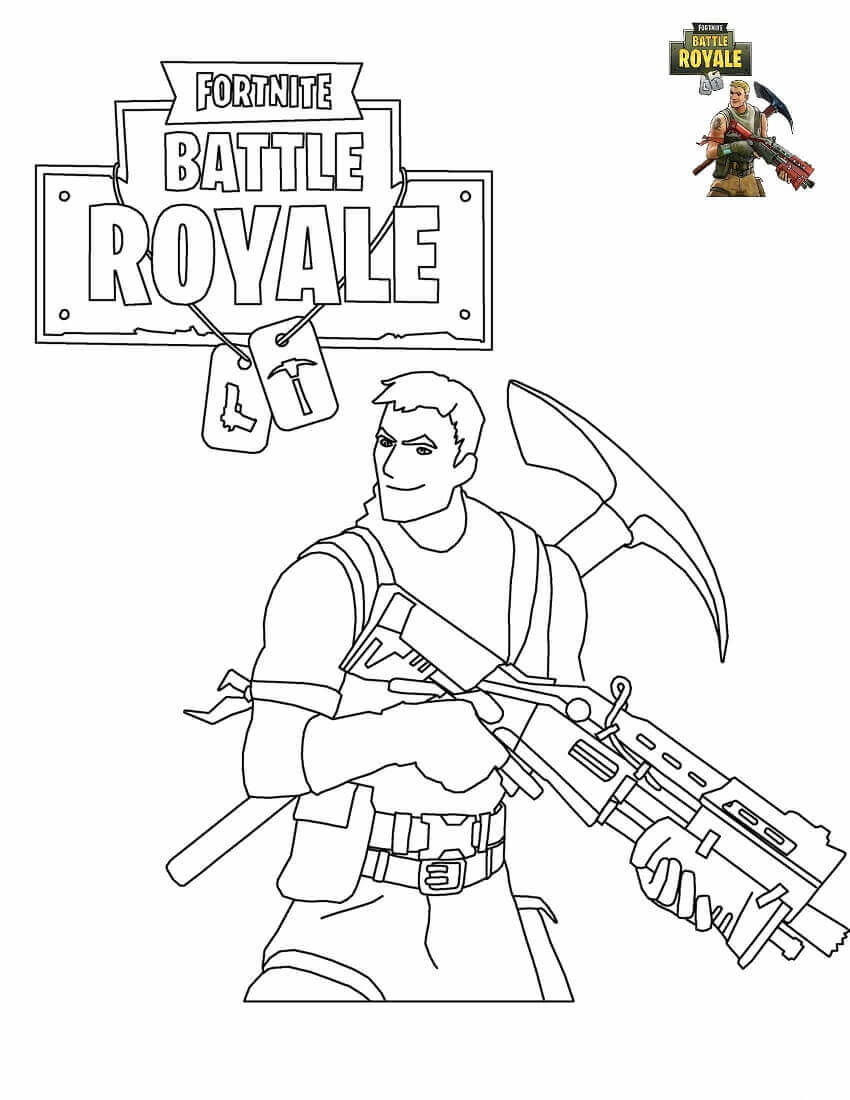 This coloring sheet features the Survivalist from the Fortnite video game. The survivalist has the ability to kill the enemy with a ranged weapon. Furthermore, Survivalists can even emit shockwaves that can knock down the enemies within one tile range.
Fortnite Battle Royale Coloring Page: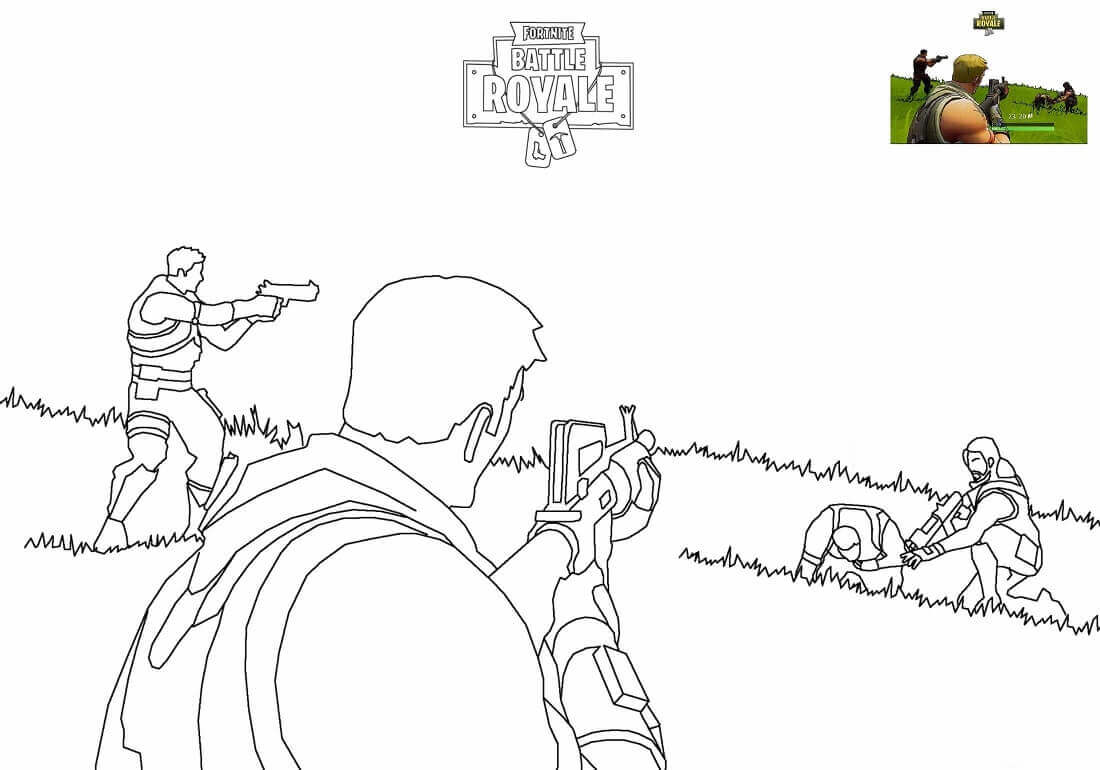 This exciting coloring page features the awesome Fortnite Battle Royale with a soldier in action. Battle Royale is the recent version of Fornite released by the founders and has already taken the world of the gamers by storm. In this version, play can play as long as there are enough players online, without any form ending. Pretty cool, isn't it?
Fornite Master Grenadier Coloring Page:
Meet, Ramirez, better known as Master Grenadier in the Fortnite game. This soldier subclass is one of the few to come in the mythic level. Master Grenadier can focus on frag grenades and can increase the amount she can carry until the energy field lasts.
Fortnite Commando Coloring Page: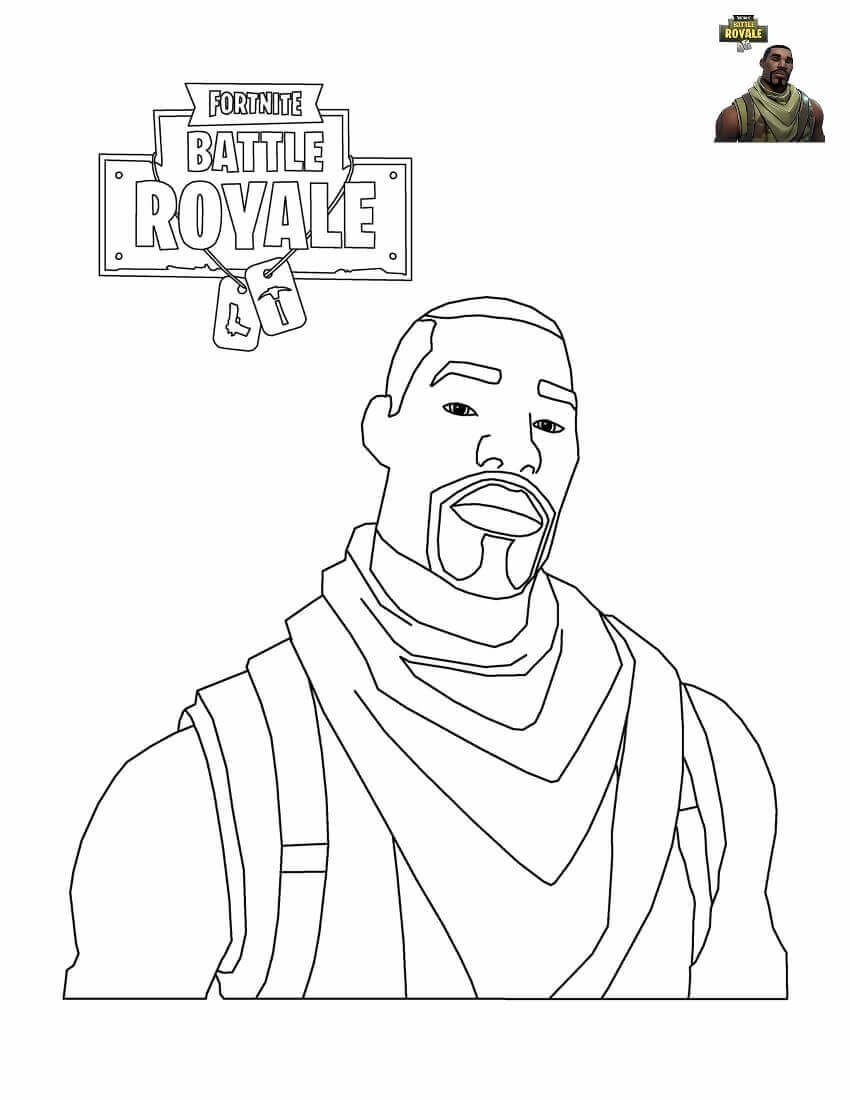 The Commando in Fortnite day has several perks and advantages, depending on the level of maximum evolution of the hero. It can fire up to 18 times in a single second, taking down maximum zombies.
Some More Fortnite Coloring Pages To Print:
So how did you like these free Fortnite coloring pages printable? Those kids who are barred by their parents from playing Fornite video game will definitely enjoy filling these Fornite coloring sheets. In the meantime, you can check out our Bendy and the Ink Machine coloring pages. We're sure you'll like them.
Sours: https://www.scribblefun.com/fortnite-coloring-pages/
How To Draw Agent Peely 🍌 NEW "TOP SECRET" Fortnite Season 2 Battle Pass
.
Now discussing:
.
1655
1656
1657
1658
1659