Lighting
A legacy of excellence expressed in light.
Brilliant, beautiful lighting solutions that
illuminate your life with the ultimate in
quality and value.
BUG CONTROL
SOLAR LANTERN
A multi-use solar powered LED lantern with a purple UV light to attract and eliminate small insects and mosquitoes to create an enjoyable outdoor experience.
MORE LANTERNS
CEILING
FANS
Stay cooler in summer, warmer in winter and save on energy all year round. A size and style to fit every room.
MORE CEILING FANS
DECORATIVE
LIGHTING
From classic to modern, both indoors and out, find the light you like in the look you love.
MORE DECORATIVE
LED SOLAR
SPOTLIGHTS
Outdoor solar spotlights enhance your landscape and increase the safety around your home with a wide beam of natural white light.
MORE SPOTLIGHTS

FLASHLIGHTS
Handheld flashlights in many sizes, shapes, and colors. We offer a pocket-size, weatherproofed, and key-chain attachment models.

MORE FLASHLIGHTS
LIGHT
BULBS
Beautiful, functional and dependable, Westinghouse Light Bulbs set the standard for high performance and energy efficiency.
MORE LIGHT BULBS
LIGHT FIXTURE
ACCESSORIES
Whether you're installing ceiling fans or light fixtures, finish the job and complete the look with our full line of functional, beautiful accessories and hardware.
MORE ACCESSORIES
OUTDOOR LIGHT
FIXTURES
The inviting glow of Westinghouse lighting fixtures are sure to compliment any home exterior.
MORE FIXTURES
OUTDOOR
SOLAR LIGHTING
Let your yard shine all day and night with our huge selection of energy efficient, affordable lighting solutions.
MORE SOLAR
MOTION SENSING
SOLAR FENCE LIGHT
Install on fencing, deck rails, and other areas throughout your yard that need high performing light to create a safe and secure environment.
MORE FENCE LIGHTS

SAFETY LIGHTS
Attach a Westinghouse safety light to your bike, scooter, or moped to increase safety during your commute.

MORE SAFETY LIGHTS

SEARCH LAMPS
A variety of portable search lamps to fit your needs whether you prefer a rechargeable, swivel stand, or lantern model.

MORE SEARCH LAMPS
SOLAR
PATH LIGHTS
Illuminate your garden, walkways, and pathways to increase safety around your home. No wiring required, simply install in an area with direct sunlight.
MORE PATH LIGHTS
SOLAR
SECURITY LIGHT
Keep your home safe and secure with this solar motion sensing security light. Install on your garage, shed, or any outdoor area.
MORE SECURITY

UTILITY LIGHTS
Add a light where you need it most. Ideal for your pantry, closet or under a cabinet. Battery operated and equipped with LEDs, so no bulb replacement needed.
MORE UTILITY
Sours: https://westinghouse.com/lighting/


Request Quote
Shop Now

Ballasts
Boxes & Enclosures
Channel, Strut & Fittings
Conduit, Bodies & Fittings
Emergency Lighting, Exit Signs
Fans & Heaters
Flashlights & Batteries
Fuses
Lamps & Light Bulbs
Lighting
Miscellaneous
Motor Control
Power Distribution
Power Transformers
Programmable Logic & Automation
Raceway, Cable Tray, Duct, & Trough
Signaling & Security Equipment
Tapes, Fasteners, and Labels
Tools & Testers
Wire, Cable, & Cord
Wiring Devices
Product Configurator

Manufacturers

3M Co.
ABB, Inc. - Thomas & Betts
AFC Cable Systems
Airmaster Fan Company
Allied Moulded Products, Inc.
Allied Tube & Conduit
American Fittings Corp.
American Polywater Corporation
Anamet, Inc.
APC by Schneider Electric
Appleton Electric
Arlington Industries, Inc.
Austin Electrical Enclosures
Brady Corporation
Bridgeport Fittings, Inc.
Broan-Nutone, LLC
Burndy Inc.
Cablofil/Legrand
Calpipe Industries, Inc.
CANTEX, Inc.
Channellock, Inc.
Columbia Lighting
Compass Lighting Products/Hubbell Lighting
Condux International, Inc.
Con-Tech Lighting
Craftmade
CRC Industries, Inc.
Cree Lighting
Delta-Therm Corporation
Dual-Lite/Cornerstone Life Safety Products
EasyHeat
Eaton B-Line
Eaton Cooper
Eaton Cooper Wiring
E-Box Enclosures, Inc.
Edwards Signaling
EGS Electrical Group
EiKO Ltd.
Elco Lighting
Electri-Flex Co.
Engineered Products Co.
Ericson Mfg. Co.
Etcon Corp.
Excel Dryer, Inc.
Exitronix
EXM Manufacturing Ltd.
Fastening Specialists, Inc.
Federal Signal
Feiss Lighting
Fluke Corporation
Galvan Industries, Inc.
Gardner Bender
Garvin Industries
General Cable Technologies Corp.
Greaves Corporation
Greenlee Textron, Inc.
Halco Lighting Technologies
Halex Co.
Hammond Mfg. Co. Ltd.
Harger Lightning & Grounding
Haydon Corporation, Inc.
Howard Industries, Inc.
Hubbell Acme Electric
Hubbell Building Automation, Inc.
Hubbell Lighting, Inc.
Hubbell Premise Wiring
Hubbell Wiegmann
Hubbell Wiring Devices-Kellems
Hubbell Wiring Systems
Ideal Industries, Inc.
ILSCO Corp.
Intermatic, Inc.
IPEX, Inc.
Jefferson Electric, Inc.
Juno Lighting, Inc.
Keystone Technologies, LLC
Kidde
Killark Electric Manufacturing Co.
King Electrical Mfg. Co.
Klein Tools, Inc.
Legrand/On-Q
Lenox Coil Band Saws
Lenox Tools & Accessories
Leviton Mfg. Co., Inc.
Lew Electric Systems, Inc.
Litetronics International, Inc.
Lithonia Lighting Co.
Littelfuse, Inc.
Lutron Electronics Co., Inc.
M & W Electric Manufacturing Co., LLC
Madison Electric Products
Marley Engineered Products
McGill Electrical Product Group
Meltric Corp.
Mersen - Ferraz Shawmut
Midwest Electric Products, Inc.
Milbank Mfg. Co.
Milwaukee Electric Tool Corp.
Minerallac Company
Morris Products, Inc.
Mulberry Metal Products, Inc.
Nicor, Inc.
Nora Lighting, Inc.
NSi Industries, LLC
Oldcastle Precast, Inc.
On-Q
Orbit Industries, Inc.
Ouellet Electric Heating
O-Z Gedney
Panasonic Corporation
Pass & Seymour Inc. Reiker Ceiling Box Supports
Pass & Seymour Inc. Wiring Devices & Accessories
Patriot Aluminum Products
Peco Fasteners, Inc.
Penn-Union Corp.
Pentair, Inc.
Philips USA
Power-Strut
Progress Lighting
PVC Conduit & Fittings, P & C Duct & Fittings
Quazite
RAB Lighting
Rack-A-Tiers Mfg. Inc.
RACO, Inc.
Reliance Controls Corp.
Robroy Industries, Inc.
Satco Products, Inc.
Sea Gull Lighting Products, Inc.
Selecta Acorn Fasteners
Selecta Products, Inc.
Shat-R-Shield, Inc.
Snake Tray
Sola/Hevi-Duty Elec
Southwire Company
Specified Technologies Inc.
Square D Co.
Stelpro Design Inc.
Sylvania
TayMac Corporation
TE Connectivity Corporation
Tech Lighting LED
TCP
Teddico Electrical Products
Tiffin Insulators Co.
Topaz Electric Corp.
TPI Corp.
Unistrut Corp.
Unity Manufacturing
Ushio
USI Electric, Inc.
WAC Lighting
Warmup
Wattstopper/On-Q
Werner Co.
Westinghouse Electric Corporation
Wheatland Tube Company
Wiremold/Legrand/Walker
Woodhead
Wrap-On Co., Inc.

Customer Care
Locations
About
Careers

Sours: https://www.gordonelectricsupply.com/
This is a list of Westinghouse elevator fixtures. Westinghouse was a manufacturer of many different products, including elevators and escalators. Westinghouse started making elevators and escalators in the early/mid-1900's, and sold off their elevator division to Schindler in 1989.
This page lists elevator fixtures that were used in Westinghouse elevators in the United States and also Europe (France, Belgium and Germany).
1930s?-1940s?
These fixtures consist of large black buttons that do not light up. On some elevators, the car station can be a car switch.
1930s?-1940s? Westinghouse hall station. (Credit to Flickr user Nan Palmero, CC-BY 2.0 license)
1950s-1991
Black buttons
In the 1950s, Westinghouse used black buttons for their elevators. Floor counters are simple with small illuminating numberings and usually mounted above the landing doors. On some elevators, the call buttons are a triangular metal plate with grooved surface and placed on a triangular lamp which lights up in green for up and red for down.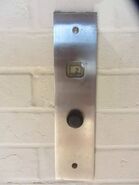 1950s Westinghouse hall station with synchrodial indicator.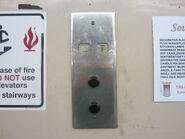 1950's Westinghouse hall station with Synchrodial indicators
Westinghouse Call Station from Wells Fargo Building, Duluth MN (1956)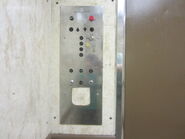 1950's Westinghouse car station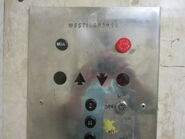 1950's Westinghouse car station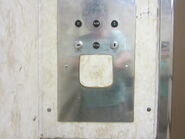 1950's Westinghouse car station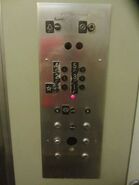 1950s Westinghouse car station.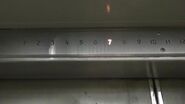 1950s Westinghouse car floor indicator.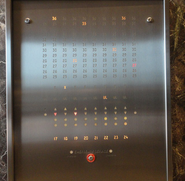 Westinghouse Selectomatic lobby panel (Credit to Instagram user pa.elevators)
Synchrodial
Westinghouse made a rotodial indicator. They called it the Synchro Dial indicator.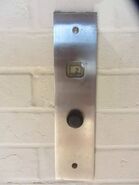 1950s Westinghouse hall station with synchrodial indicator.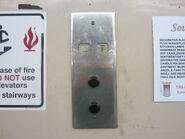 1950's Westinghouse hall station with Synchrodial indicators.
Solenoid (pop-out) buttons
Solenoid buttons were used on some early Westinghouse Selectomatic elevators in the 1950s. They look similar to their normal black buttons but they latch on when they are pressed and pop out when the car stops at the floor or when the elevator reaches the top or bottom floor if it's selectomatic. These buttons were also similar to the pop-out buttons used on early Otis Autotronic elevators as well as European Schindler elevators installed in the 1960s. In addition, these buttons were possible to be pulled out to cancel car calls. In some cases, there is a number next to the button that lights up when you press the button. There is also a white version, which lights up when pressed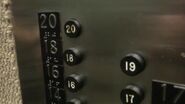 1950s Westinghouse Solenoid buttons.
A close up of the buttons when latched on (this indicates that the car call has been registered).
White buttons
These are smaller white buttons that protrudes from the panel and have black font.
1950s-1960s Westinghouse white buttons.
Circular buttons
These buttons are solid grey with a circular pattern, and are very rare.
Very rare 1960s Westinghouse call station.
European white buttons
These are smaller plastic round white buttons which were used in many Westinghouse elevators in France, Belgium and Germany in the 1970s. These buttons were also used in KONE Westinghouse branded elevators after Kone took over Westinghouse's European elevator divisions in 1975.
Awesome old Westinghouse elevator, Nice Saint Roch, France
1970s Westinghouse elevator in France, with small white buttons (video by Fabien Pitorre)
RARE old Kone-Westinghouse elevator - 123 Tête d'Or Street - Lyon, France
1970s KONE Westinghouse elevator in Lyon, France with small white buttons (video by: The French Elevator Channel)
Type "A"/"AE"/"E"
These were Westinghouse's most used fixtures lines when it came to installs, and equivalent to Dover's Traditional and Montgomery's A Series fixtures. In the 1960s and early 1970s, a black version was also available. The fonts are different depending on the version. They use Gorton condensed characters or Helvetica medium characters. Most 1970s and 1980s Westinghouse elevators would have Westinghouse Type "A" call buttons, but Epco AE/Circle Line on the car station. Schindler stopped using these fixtures after the buyout. In the 1960s and 1970s, Type "E" was used in some Westinghouse Selectomatic elevators.
Close-up of a Westinghouse Type "A" call button with the cap missing.
Westinghouse Type "A" call station with fire service keyswitch.
Westinghouse Type "A" buttons.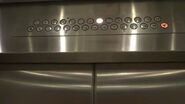 Westinghouse Type "A" car floor counter.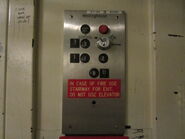 Westinghouse black Type "A" car station.
Elevator control panel on the high rise elevator at Rivercenter Marriott in San Antonio
IEE style indicator
Westinghouse also used an IEE style indicator, possibly made by IEE.
EPIC Westinghouse Service Elevator at World Trade Center, Clayton, MO
Westinghouse IEE style indicator
Mechanical indicator
Westinghouse made a very unusual mechanical indicator. It appears to be either a wheel, or a belt with holes cut in it that light shines through to display the floor number.
Old vs. New elevators - Holiday Inn, Columbia MO
Westinghouse mechanical indicator
Vandal resistant
These fixtures have metal buttons with white numbers painted on them, and 6 dots for the light, 3 above the number, and 3 below the number. These fixtures might be a form of Type "E" and have only been found in Pittsburgh at three locations (one has now been replaced, one has original hall stations), plus two outside of Pittsburgh (one completely replaced, the other just the original hall stations), making them historically rare.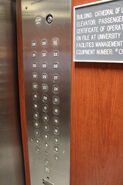 Westinghouse vandal resistant car station (Credit to Flickr user iriskh)
PEP
PEP is a fixture made by Adams, where the buttons use Adams Survivor contacts. PEP refers to the braille, which there were two kinds. PEP-AS is with silver tactile, while PEP-AM is with muntz (brass) tactile. The buttons are often referred to as "RT," although this is an inaccurate term, as EPCO catalogs show it as PEP. It's also possible Westinghouse/Schindler called them RT, while EPCO/Adams called them PEP, although this isn't confirmed. It was used by Westinghouse in the late 1980s before Schindler bought them out. Schindler continued using them. The floor indicators are illuminating white circles with the number and arrow printed on them, or digital EPCO LED indicators.
PEP-AS fixtures.
PEP-AS fixtures.
MT
MT was first used in very late Westinghouse elevators before they merged with Schindler. MT fixtures were continued by Schindler from 1989 to around 2008. These buttons were shaped like Otis Series 1, Montgomery Vector and Dover/ThyssenKruppImpulse but had a red line above the button similar to Vector. MT is also possible to be mounted on a Schindler M-Line panel, which had very few installations in the United States.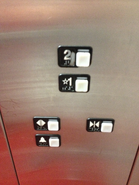 MT buttons.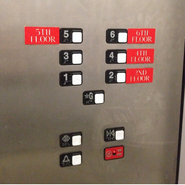 Westinghouse/Schindler MT car station.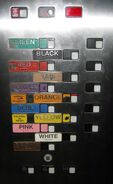 Westinghouse/Schindler MT car station in the South Parking Garage at Piedmont Hospital in Atlanta, GA.
See also
Sours: https://elevation.fandom.com/wiki/List_of_Westinghouse_elevator_fixtures
Convert, Rewire Fluorescent to Led Lights - Double-Ended Tubes
About Westinghouse
What began as a family business in 1946 is now one of the powerhouses of the lighting industry, with a full line of lighting products ranging from basic incandescent bulbs to LEDs and even residential fixtures and ceiling fans. Westinghouse continues to be one of the most trusted brands in lighting, and LightBulbs.com is proud to carry over 1,000 Westinghouse products.
Headquartered in Philadelphia, Pa, Westinghouse remains committed to offer a full range of lighting products to meet the needs of its customers, whether you're shopping for the perfect bulb for your new kitchen fixtures or looking to outfit your business's parking lot with new metal halide lighting. Westinghouse's range of attractive fixtures for both residential and commercial applications makes the brand an easy choice for anyone looking for a one-stop shopping experience.
From the functional to the beautiful, Westinghouse is a one stop shop for customers looking to update their lighting while adding style to their home or business. Westinghouse not only carries a full line of light bulbs for any application you may need, including compact fluorescents, LED bulbs, fluorescent tubes, flood lights, and halogen bulbs to name a few, they also offer a wide variety of popular vintage bulbs in many different shapes and sizes.
Westinghouse also offers several types of special application bulbs for use in specific situations—their brand of EyeSaver silver-bowl lamps are perfect for kitchens or restaurants where light fixtures may be at eye level, or anywhere that requires lower, dimmer lighting. Their line of ReaLite bulbs offer full-spectrum blue light that mimic daylight, perfect for anywhere you wish to recreate the bright, clear tones of natural light. NutureLight bulbs are specially designed to help indoor plants grow strong and healthy, and the DecorLight line provides you with interesting and unique decorative lighting options for any room of your home.
Whether you're looking for a specific type of light bulb for your home or business, or looking to add all new fixtures throughout your home, Westinghouse has the products you need to complete your project.
--
Visit Westinghouse's website
Sours: https://www.lightbulbs.com/brand/westinghouse-light-bulbs-and-fixtures
Fixtures westinghouse
.
Westinghouse W/ KONE fixtures @ Alvin E. Morris Administrive Center
.
Similar news:
.
1649
1650
1651
1652
1653