Goodman Air Conditioner Dealer: Offering Goodman Air Conditioner Sales & Service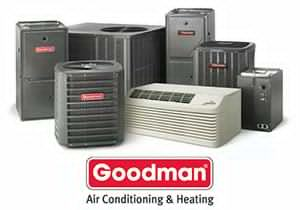 If you have spent any time researching the biggest names in the HVAC world, then Goodman air conditioners are not unknown to you. Goodman is a household name, well known for manufacturing high-quality HVAC systems for over 40 years. Air conditioners are meant to provide reprieve from our long, hot, and humid St. Louis summer days. Undoubtedly, you want the best of both worlds with comfort in your home and savings on energy costs. Goodman air conditioners deliver exactly that, and their durability and longevity make them one of the favored HVAC manufacturers on the market.
Your air conditioner should always be in good working condition, as you never know when hot St. Louis weather will strike. For this reason, it will require routine maintenance checks. Galmiche & Sons has been delivering high quality and dependable HVAC services to St. Louis residents for over 60 years. Give us a call today at 314-993-1110 to learn how we can take care of all your heating & air conditioning needs.
Why Are Goodman Air Conditioning Units Superior?
Your air conditioner is perhaps one of the most important systems in your house. Therefore, it is important that the air conditioner you choose is built to last for a long time to save you from frustration and costly repairs. Goodman air conditioners are manufactured using the latest HVAC technology.
With Goodman air conditioners, you have systems that are designed to last thanks to the durable materials used. The time-tested technology used also makes Goodman air conditioners energy efficient, so you do not have to worry about paying higher utility bills. Goodman provides various models of air conditioners to suit the needs of any homeowner in search of a quality unit. Regardless of where you live, you can be sure that a Goodman air conditioner will be able to serve you well.
Choose Galmiche & Sons as Your St. Louis Goodman Air Conditioner Dealer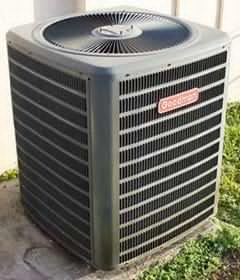 Galmiche & Sons has been in the St. Louis HVAC field since 1950. Over this time, we have collected vast experience and have worked hard to build and maintain our good reputation. We are authorized Goodman dealers and for this reason, we are able to handle the systems as only an expert could. Our technicians are specially trained to install, repair, and service Goodman air conditioning units. We are highly professional and will provide only the best service to our customers. If you would like to have a Goodman air conditioner installed in your home but are not sure which option is best for you, our team can talk you through the available models and help recommend the best unit for you.
Call Galmiche & Sons to Learn More About Goodman Air Conditioners
If you would like to have a new air conditioning unit installed and are interested in scheduling a free estimate or simply want to know more about Goodman air conditioners, contact us. At Galmiche & Sons, we look forward to taking care of all your St. Louis heating & air conditioning needs, so give us a call today at 314-993-1110 and receive the most comprehensive HVAC services St. Louis has to offer.
You may also like
---
Share on:
---
Author adminCategories Air Conditioner Tips, Air Conditioners, Air Condtioner Selection, Buying GuidesSours: https://www.galmicheandsons.com/hvac-blog/goodman-air-conditioner-dealer/
Morris Heat and Air is a Goodman Factory Authorized Dealer located in Okmulgee Oklahoma and serves all of Northeast Oklahoma.  In this blog, I am going to talk about our Goodman products and discuss why our Goodman products are the best in the business.  
Goodman Manufacturing Company is the largest manufacturer of Heating and Air Conditioning Systems in the United States.  Goodman Manufacturing Company is located, conveniently, in Houston Texas alongside Daikin.  
Goodman Manufacturing was founded by HVAC dealer, Harold V. Goodman, in 1975 as a manufacturer of flexible air ducts and plastic blade registers. However, he turned his sights to fulfill a dream of manufacturing affordable HVAC equipment for households across the United States of America and beyond.  In 1982, the company acquired Janitrol and entered the HVAC market, expanding its product offering in 1986 to include gas heating products.  Harold V. Goodman died in 1996 and was succeeded by Frank H. Murray who became chairman and CEO in April 1996.  In 1997, Murray initiated and spearheaded the Goodman acquisition of Raytheon Appliances, the predecessor of Amana Corporation, a manufacturer of appliances and HVAC units. Four years later, in 2001, Goodman separated its appliances business from its HVAC business and would sell the appliances business to Maytag Corporation.  In 2004, Goodman was acquired by Apollo Management, a private equity firm for approximately $1.43 billion. Just a year and a half later, in April 2006, Goodman completed an initial public offering, listing on the New York Stock Exchange.  In October 2007, Goodman agreed to be acquired by Hellman & Friedman a San Francisco-based private equity firm in a $1.8 billion transaction. In August 2012, Hellman & Friedman agreed to sell Goodman Global to Japan's Daikin Industries Ltd. for $3.7 billion.  In 2015, Daikin commenced construction of the state-of-the-art Daikin Texas Technology Park campus near Houston, Texas. This over $400 million project was the largest investment made in Daikin's 90-year history. In October 2016, operations at the new facility ramped up and the first Goodman air conditioner and gas furnace units came off the line.  In 2017, the construction of the huge facility concluded to consolidate Goodman's HVAC manufacturing, engineering, logistics, and customer support under one 4.1 million square foot roof.  When Goodman was aquired by Daikin in 2012, the Goodman products underwent some changes that made the overall product better.  Some of the changes included the shortening of the Goodman Manufacturing Company High Efficiency Condensing Furnaces by 5 1/2".  By making the Goodman Brand Furnace shorter, it allowed more room within compact furnace closets to include Clean Comfort 5" Media Boxes.  This solved many of the problems that plagued the Goodman installations in Tulsa area that were caused by undersized duct systems and leaky duct work.  
Goodman Manufacturing Company has 5-7 distributors in the Tulsa Oklahoma area as of 2012.  When compared to other manufacturers, this far supercedes the infrastructure of manufacturers like Trane that only has 1 residential distributor, Lennox that only has one residential distributor, American Standard which only has one residential distributor, Carrier which only has 1 residential distributor and York which only has one residential distributor.  I have always known that if one of my local Goodman distributors doesnt have it, another one will.  So when it comes to the availability of parts, they are most always readily available.  When I began selling Goodman products in 2006, I was going to school at Tulsa Technology Center in Tulsa Oklahoma.  My instructor, at the time, was Pat Enochs, with Enochs Heat and Air in Tulsa Oklahoma.  Pat Enochs was the first Heat and Air Contractor to install a condensing furnace in Tulsa Oklahoma and was intrigued by the Goodman Design.  Goodman Manufacturing Company went on to win awards for their high efficiency furnace heat exchanger design, putting to shame the other manufacturers, specifically, Lennox and Trane.  To this day, we continue to see problems with Lennox and Trane high efficiency furnaces due to design flaws.  These design flaws consist of plastic parts used for the cold header plates in the secondary heat exchanger.  The plastic cold header plates for Lennox and Trane are designed to have screws screwed into them and overtime, as soon as 5 or 6 years, the plastic begins to crack.  When this happens, the pressure switches fail to engage the burners and most heat and air contractors bypass them which causes carbon monoxide to seep into the air stream and causes moisture damage due to condensation from the secondary heat exchanger seeping through the cracks in the plastic cold header plates into the duct system.  Goodman and Daikin ducted systems are made entirely of Stainless Steel and never crack or break.  Because of this problem, many Lennox, Trane, and American Standard contractors install 80% efficiency furnaces and rarely explain the benefits to having a high efficiency furnace that operates up to 98% AFUE.  Rightfully so, due to the fact that they become a liability on the homeowner and sometimes the contractor because of the poorly designed heat exchangers.  Goodman Manufacturing Company, to this day, continues to be the front runner in heat exchanger design and furnace efficiency.  Goodman currently has high efficiency gas furnaces that operate at 98% AFUE.  This is the highest efficient furnace that exists as of 2017 in the HVAC Industry.  Since 2006, I have installed nothing but 95%-98% AFUE Furnaces by Goodman Manufacturing Company and have had no warranty issues on over 2,000 installations from 2006 to 2017.  Not only are the Goodman and Daikin Furnaces more energy efficient, but they are also a more reliable and dependable choice compared to other manufacturers.  Because Goodman is the largest manufacturer in the United States and Daikin is the largest manufacturer in the World, they sell more products than any other manufacturer.  Due to the fact that they sell more products, the price of the products are cheaper.  
Goodman products are engineered to be simple and less complicated than the typical air conditioner.  It was always a goal of Harold V Goodman to manufacture the most reliable and affordable air conditioner in production.  I can honestly say that Goodman products are the most simple products to work on and they rarely break down.  In 2014, Morris Heat and Air began offering Lifetime Warranties on all Goodman Products installed by Morris Heat and Air.  We began offering this Lifetime Warranty because of all the systems installed since 2006, we had no warranty issues outside of capacitors.  This built our confidence in the products we were installing, so much so, that we began installing our Goodman products with the guarantee that if they break down, we will fix it for free!  To this day, in over 3,000 installed Goodman Products since 2006, we have had less than 25 warranty issues.  95% of these warranty issues were capacitors manufactured by a 3rd Party that mentions a 2% failure rate prior to 40,000 hours of run time.  All of these warranty issues were on systems installed on homes that declined home and duct sealing which causes our Goodman systems to run 10%-30% longer than they would if the home and duct system were sealed.  
Because we focus on home performance, solar systems and insulation, we really love the Goodman Products because of their affordability, Practicality, durability, and warranty.  When compared to the price of highly advertised name brands like Lennox and Trane, you can save thousands of dollars by choosing Goodman products and use the money you saved to upgrade the energy efficiency level of your home by having your duct system sealed or a solar system.  I was always impressed with the home that we installed a 13 SEER Goodman System on for $4,500, but also installed a $12,000 solar system which qualified the homeowner for a $3,600 federal tax credit.  This home, to this day, operates at net 0 and their electricity bill is never over $21.  I meet people that spent $13,000-$25,000 for their Lennox or Trane communicating systems that operate well above 20 SEER, but their electricity bill every month is over $45!  Doesn't make sense to install these high priced products due to their SEER level when you can spend the real money on a solar system that can easily offset your energy cost.  
On top of all of the advantages to having a Goodman system, there are even more!  Our Goodman products are the safest products in the industry too.  Not only are our products design to keep you and your family safe, but they are also designed to keep heat and air technicians safe as well.  Other manufacturers use cheap plastic parts that jeopardize the safety of your family.  Other manufacturers also manufacture their sheet metal that make up their products in a cheap way as well!  Goodman Manufacturing Company bevels or rounds out the edges of the sheet metal used to make up the body of their heat and air systems.  When you lift up on the condenser and packaged unit tops to access other areas of the system for maintenance and diagnosis, you are not lifting up on a straight edged piece of sheet metal that can cut off your finger by exerting upward force to lift it off the product.  By lifting up on a beveled or rounded edge, there is no possibility that you can cut yourself on the edge of the sheet metal.  I am only writing about this due to an incident while an employee and I were working on a Lennox International Product.  By simply trying to lift the top of the Lennox system, my employ literally cut off 1/2 of his finger and had to rushed to the hospital.  Though it did not permanently hender his ability to work, he still has a scar where a chunk of his finger was sliced off by a Lennox Packaged Unit top.  I mentioned it to a representative from Lennox and he explained that my employee should have been wearing gloves.  Goodman Manufacturing Company takes a little more time to bevel and round the edges of their sheet metal.  
Another advantage of having a Goodman system in your home is the amount of people who know how to work on them.  Many other manufacturers hoard their product knowledge to themselves and only allow dealers access to information.  Because of this, their prices are higher and anyone who attempts to work on them for less, may make mistakes causing more damage which results in added costs to the homeowner.  Goodman Manufacturing Company has the industries leading tech support service that is available 5 days a week from 7AM to 7PM.  The parts required to repair Goodman Brand Heating and Cooling systems are usually 35% to 70% less than other manufacturers so when the units break down, the repair cost is less than if you had a Lennox, Trane, Carrier, or American Standard.  Aside from all of the advantages to owning a Goodman Brand System, there are still more reasons to purchase one.  
Morris Heat and Air is a Goodman Factory Authorized Dealer located conveniently in Okmulgee Oklahoma.  Our facility operates at Net0 and we have no overhead cost associated with offering our Goodman Products to our customers in terms of energy cost.  Because we are not in debt and operate efficiently with low overhead cost, we are able to offer 0% interest financing on our Goodman Products for up to 72 months!  You will never have a more dependable, reliable, energy efficient system installed on your home as you will have with a Goodman Brand Heating and Cooling System.  If you happen to see poor reviews on our Goodman systems, I can assure you that they were not installed properly and would love to assist anyone to better understand why their Goodman system is not performing to their satisfaction.  Call us today to learn more about Morris Heat and Air and what we can do for you! (918) 734-0040.
Morris Heat and Air currently offers service in Northeastern Oklahoma and more specifically in Okmulgee, Tulsa, Jenks, Glenpool, Bixby, Broken Arrow, Sapulpa, Sand Springs, Catoosa, Henryetta, Dustin, Morris, Beggs, Schulter, Nuyaka, Keifer, Mounds, Liberty Mounds, Leonard, Stone Bluff, Haskell, Boynton, Wainwright, Muskogee, McAlester, Okemah, Pharoah, Clearview, Checotah and Lake Eufala.  We offer service 24 hours a day and 7 days a week at no additional cost.  However, our service technicians have families of their own, and every once in a while they need personal time.  Please dont hesitate to call us.
Sours: https://www.morrisheatandair.net/why-our-goodman-products-are-the-best-in-the-business/
A Trusted Goodman HVAC Dealer
Advantage Mechanical Services L.L.C. is a quality Goodman HVAC dealer in Houston, TX. With over 25 years of experience in servicing ACs and heaters, you can expect to have a secure service every time. We provide help with maintenance, repairs, replacements, and installations for your convenience. Call us at 281-807-6085 to learn more.
Serving the Greater Houston Metro Community
Established in 1997, our air conditioning company provides AC replacement and installation services for communities throughout the Houston Metropolitan Area. We are the service experts who install heating and cooling equipment with precision in homes and businesses.
Designed, engineered, and assembled in the United States, Goodman's AC and heating equipment offers highly efficient air conditioning and heat pump systems with some of the most extensive product warranties in the industry.
As your Goodman AC Dealer, every one of the HVAC technicians on our team is licensed, insured, and certified to provide exceptional service for your home or business.
Our goal is to provide your home or business with the maximum operational efficiency possible with your AC and heating equipment.
Call now to speak to one of our AC and heating specialists today to schedule a convenient time for a consultation.
Get matched with a secure unit, we're your reliable Goodman HVAC dealer in Houston, TX that's ready to help!
Official Goodman Dealer of AC Systems
While Advantage Mechanical Services L.L.C. is an approved Goodman AC Dealer, we have extensive experience in maintaining and repairing all makes and models of HVAC equipment.
We make it our primary mission to quickly and accurately diagnose and effectively repair any issues with your comfort system on budget and on time. We are the local expert who cares about your comfort, offering you:
Our No Breakdown Guarantee
Award-winning HVAC service
Fair and upfront pricing
Highly trained, background-checked HVAC technicians
Certified and factory-trained installer
Friendly customer service
24/7/365 emergency service
Call Us Now For Services
Our certified technicians are licensed to repair all types and brands of air conditioning units. We make it our mission to quickly diagnose and fix the problem your AC is having. When you require assistance give our team of experts at Advantage Mechanical Services L.L.C. a call. As your Goodman HVAC dealer in Houston, TX we've got your back. Get started with us at 281-807-6085.
Updated on by Author.
Sours: https://www.myhvacrepair.com/goodman-hvac-dealer/
Goodman HVAC - Good and Bad. What's the pros and cons of Goodman Equipment vs other AC brands.
Goodman Air Conditioning Services In Arizona
[jwplayer mediaid="5271″]
Goodman Air Conditioning Repair Service And Installation
American Cooling And Heating has one of the best reputations in the industry, we provide expert service for all Goodman Air Conditioning products. We service Phoenix ArizonaandAll surrounding cities, towns, and areas.We provide and Service Goodman Air Conditioning, Goodman Heat Pumps, Goodman Gas and Electric Furnaces, and we also Service all other brands and types of Air Conditioning and Heating Units and Systems. Our expert technicians are courteous and polite and will provide you with the highest quality of service, all of our service trucks are fully stocked to get your Air Conditioning or Heating System up and running asap.
About Goodman
Air conditioning and heating systems by Goodman are the right match for your home and at a price you can afford. You can maintain a cool and comfortable home, while utilizing low energy costs, with a remarkably efficient Goodman air conditioner or heat pump. Feel comfortable on even the hottest days when you own a Goodman system, and when you choose Goodman brand, you'll have comfort you can afford. Goodman offers some of the best product warranties in the cooling and heating industry and American Cooling And Heating offers your choice reliable Goodman Air Conditioning and Heating products in Arizona. 
Goodman Air Conditioning Installation and AC replacement
24 hour Air Conditioning and Heating Repair and Installation Service teams are on standby.We will meet your needs when the time arises. Quick response for all of your Goodman HVAC Service needs is our forte, our Commercial and Residential Goodman Air Conditioning and Heating Installation Services are well known throughout Arizona. Please check ourGoodman Air Conditioning Product Guidefor equipment information.
Goodman Air Conditioning Service and AC Repair
Call today and you will find that we will exceed your expectations in every sense of the word.Our HVAC Service Team can Repair or Replace your Air Conditioning or Heating System quickly and efficiently. Get it done right at the right price, right now. As an industry leader we will be happy to help you get the Air Conditioning and Heating Solution you need. Please call us anytime for Goodman Pricing or to schedule Immediate Service.
Authorized Goodman Air Conditioning And Heating Dealer
American Cooling And Heating provides Goodman Air Conditioning And Heating Products and Professional Goodman Air Conditioning Installation Service for:
Chandler AZ, Gilbert AZ, Glendale AZ, Mesa AZ, Peoria AZ, Phoenix AZ, Scottsdale AZ, Sun City AZ, Tempe AZ, Queen Creek AZ, All Other Areas
Sours: https://www.americancoolingandheating.com/arizona-goodman-air-conditioning
Dealer goodman ac
goodman Air conditioning
Has your Goodman heating and air conditioning system quit? Air Assurance offers residential and commercial heat, air, and plumbing service for residential and commercial clients. We provide service for Greater Tulsa, Broken Arrow, and all surrounding areas. Air Assurance services include: repair, planned maintenance, estimates, and installation services. We have been proudly serving the Tulsa community for over 35 years. We service all makes of air conditioning equipment including Goodman, Trane, Carrier, American Standard, Goodman, Lennox and more.
ABOUT GOODMAN AIR CONDITIONING
For over three decades, the Goodman® brand has concentrated on something more important than simple brand-recognition consumer advertising. Since 1982, we've focused on helping millions and millions of homeowners achieve reliable, high-quality and affordable indoor comfort with products that continue to be designed, engineered and assembled in the U.S.A. As a result, the Goodman brand has earned the loyalty and respect from thousands of local independent heating and cooling professionals across North America.
WHEN TO REPLACE YOUR HEATING AND AIR CONDITIONING SYSTEM
It's not easy to know whether you should repair or replace your home's heating and cooling system, especially if you're facing an emergency situation. Factors like the age of the equipment, the overall condition and maintenance history, and most importantly the repairs. When these systems are aged between 12-14 years, it's time to begin the process to explore replacement options, and planning a budget. At Air Assurance, our team of professional comfort consultants will carefully account for the design of your home, indoor air quality, and most importantly making it affordable with several options – We take the guess work out.
You can reach Air Assurance, serving all of Greater Tulsa, OK, for any heating, air conditioning, and plumbing services anytime. Call on the professionals you can trust.
Sours: https://www.airassurance.com/find-goodman-ac-dealer-tulsa
Which HVAC Brand Do I Prefer?? - HVAC Business Owner
.
Now discussing:
.
1640
1641
1642
1643
1644