ECHO LONG-Reach, Heavy Weight Articulating Hedge Trimmer
Skip to content
You cannot add "Stihl Wet Vacuuming Set" to the basket because the product is out of stock.
ECHO, Long Reach Hedge Trimmers, Machinery, Petrol Long Reach Hedge Trimmers
SKU: HCA-2620ES-HD
The HCA-2620ES-HD is a long reach articulating hedgecutter with an overall length of 2440mm. This means the hedge trimmer is perfect for trimming tall and wide hedges with less reliance on ladders and platforms.
Ex VAT
Inc VAT
Stock: Not Available
Out of stock
Notify me when item is back in stock.
Sale!
Description
Features a heavy duty magnesium gear case with needle bearings caged in the cutting head, providing added durability and less downtime.
The adjustment system enables the blade angle to be rotated through 135° only using one hand.
Each cutter blade has three sharp edges. This gives a sharp, clean finish. The HCA-2620ES-HD has a faster cutter speed stroke rate of 5000 (1/min).
The HCA-2620ES-HD has a 25.4cc engine and Easy Start for fast, almost effortless starting.
Additional information
| | |
| --- | --- |
| Weight | 7 kg |
| Dimensions | 1 × 1 × 1 cm |
| Brand | ECHO |
You know that equipment designed in Japan will be:
Reliable, Well built, Dependable, Professional, Durable.
Japan is the home of technological craftsmanship and has won international respect for its manufacturing expertise. This global standard also extends to the equipment ECHO manufacture.
All ECHO power tools are manufactured to professional grade standards. Not only that, ECHO have been building equipment for professionals for over 60 years. Confidence in their machines is reflected in the length of warranty offered.
Professional users have peace of mind that any ECHO power tool they purchase comes with a two year warranty* as standard. This warranty is ECHO's statement of confidence.
For domestic users, a five year warranty* is offered. Homeowners want long term durability just like the professionals, well-built product that you can buy with confidence.
Please contact the Warranty team for information on ECHO Bear Cat warranty.
*Registration and servicing of products are required
ECHO X SERIES
Part of ECHO's range of "Best-in-class" products
25.4CC PREMIUM GRADE ECHO® ENGINE
Ensures superior performance, durability and reliability
EASY START
Spring assisted starting system for quick, almost effortless starting. Just one or two gentle pulls of the recoil will start the engine. A warm engine will usually start with one half pull of the recoil rope
LOW EMISSIONS
Stage 2 compliant low emission engine means reduced exhaust emissions
MAGNESIUM GEAR CASE
Durable and lightweight casing with caged needle bearings providing added durability
ARTICULATING SYSTEM
Nine cutting angle presets through 135° for maximum versatility.
DOUBLE RECIPROCATING BLADES
Laser cut, precision ground, double reciprocating blades for long lasting sharpness and a cleaner cut. 35mm blade pitch means a variety of different hedges can be tackled
FASTER CUTTER SPEED
Achieves a cutter speed stroke rate of 5000 (1/min) for increased productivity
ONE-HANDED ADJUSTING OF ROTATING CUTTING HEAD
Faster trimming with less downtime for repositioning
180º BLADE STORAGE POSITION
Easy to transport and store
BLADE TIP PROTECTION
Prevents accidental damage to the blade tip
THROTTLE HANDLE WITH RUBBER GRIP
For better manoeuvrability and control
TOOL-LESS COMMERCIAL-GRADE AIR FILTER
For easy air filter access
VERTICAL FUEL FILLER NECK
Enables easier re-fuelling
WARRANTY
ECHO power tools come with a five year domestic warranty or a two year warranty in professional use (registration of ECHO products and servicing are necessary to validate the warranty)
Information Sheet

subscribe to our newsletter
Enter your email address below to hear more from Honey Brothers.
Sours: https://honeybros.com/shop/brand/echo/echo-long-reach-heavy-weight-articulating-hedge-trimmer/
The Takeaway: Echo's trimmer is a good fit for heavy-duty users who require durability, cutting power, ease of use, and easy maintenance.
25.4cc engine has plenty of power
Speed-feed cutting head makes replacing line a snap
Large 20.6-ounce gas tank is translucent, so you can see your fuel level at a glance
Price: $379.81
Weight: 13 lb.
BUY NOW
---
Rural homeowners and others with a house on a large lot have a property-management ally in the Echo SRM2620 string trimmer. It's got more than enough torque for lawn trimming and can handle the rough stuff at the yard's edge or even beyond. Suppose you've got to keep weeds and grass under control along fence lines, at the edge of a long driveway, and around the perimeter of ponds, or you have to keep riding trails clear for horses, bikes, or ATVs—the Echo can handle all that.
Simple, Easy-to-Use Design
Echo built its reputation by building powerful, easy-to-use outdoor power equipment, particularly string trimmers, a product category that it knows well. So we weren't surprised by the Echo's performance at a rural property in Pennsylvania. The machine trimmed where needed and slashed its way through some pretty ugly stuff. We did everything with it from the delicate trimming at the edge of flower beds and along a concrete driveway to the rough-and-tumble zone where the neat lawn gave way to an intermediate zone and beyond where a trail led into the woods.
We would describe the Echo as a traditionally designed piece of outdoor power equipment. There's nothing clever or confusing about its design. Push its purge bulb in a couple of times, set the choke, and with one or two pulls on its recoil handle you're off and running.
---
SRM2620
Echohomedepot.com
$359.99
SHOP NOW
Torque rich
Great throttle response
Could use better vibration dampening
---
Powerful and User-Friendly
And when you run with this machine, very little stands in your way. Propelled by a 25.4cc engine, the dual-line head leaves a 17-inch-wide swath. The cutting line is .095 inches in diameter and extremely stiff. It makes short work of turf grass, and it has more than enough toughness to blast through briars, and fibrous weeds like golden rod and tall stands of foxtail. As stiff and as tough as it is, you can break the line, and it will certainly wear down to the point that you need to change it out. We were glad for the trimmer's Speed Feed reload design. You cut a 20-ft. long piece of line and feed it through the two holes in the head, going in one side of the head and out the other. When you have about 10 ft of line on each side, you hold the trimmer by the head while turning the rewind knob clockwise. There's no disassembly and no fussy spooling of the line on a two-tier track.
There's more to cutting power than the line, obviously. The power to the line comes from the 25.4-cc engine, which feels to us like it has a very broad torque curve. For a lot of trimming, we didn't need to run the machine at full throttle. Excellent throttle response allowed us to go from feathering the trigger to full out when we went from the lawn into the growth at its edge and into the woods. A gear case at the top of the line head uses a nearly 2:1 (1.62:1) gear ratio to make the most out of that engine torque. You'll be grateful for that torque when you lean into the tall weeds and mow 'em down,
Other Great Features
The Echo is an expensive machine with a price that reflects what professionals put these machines through. For example, its large 20.6-ounce gas as tank is translucent, so you can see what your fuel level is at a glance. It's protected by a wraparound plastic skid plate that prevents damage to the tank as you slide the trimmer in and out of a truck or into a tow-behind cart. The skid plate also acts as a cradle to hold the trimmer right side up.
Tool-free access to the air filter and fuel filter help you keep the trimmer in top condition along with sensibly designed access to the carburetor's idle speed screw. Other maintenance jobs, such as removing the flexible drive shaft to grease it, are simple enough. Taking care of the Echo is pretty simple. When you do that, taking care of grass and weeds is even simpler.
Roy BerendsohnSenior Home EditorRoy Berendsohn has worked for more than 25 years at Popular Mechanics, where he has written on carpentry, masonry, painting, plumbing, electrical, woodworking, blacksmithing, welding, lawn care, chainsaw use, and outdoor power equipment.
This content is created and maintained by a third party, and imported onto this page to help users provide their email addresses. You may be able to find more information about this and similar content at piano.io
Sours: https://www.popularmechanics.com/home/tools/a32226396/echo-srm-2620-review/
Echo SRM3020 30.5CC STRAIGHT SHAFT TRIMMER
ECHO Trimmers…Performance!
What else needs to be said about the world's finest commercial-grade grass trimmers? ECHO's easy-to-use custom ergonomic controls, light-weight design, and powerful professional-grade, 2-stroke engine technologies give you the tools to enhance your productivity. Whether you need a lightweight curved shaft model for simple trimming around posts or fence lines or you require the long reach of a straight shaft model, ECHO string trimmers are designed for performance.
There are other shaft configurations available including a split shaft design that can accommodate most ECHO Pro Attachment Series™ attachments and ones with a steel drive shaft for increased cutting head acceleration.
If you're looking for the best of the best, look no further than the ProXtreme Series. Choose between the SRM-2620 or SRM-2620T. The SRM-2620T has more torque to power through tough regional grasses like Bermuda or St. Augustine, or for use in edging applications or with a blade. With ECHO trimmers, you'll spend less time creating a lasting impression and more time enjoying it. There is a wide range of complementary Accessories and Parts available for your string trimmer.
Sours: https://byersequipment.com/Search-Inventory/adid/17272695/Echo-SRM3020-30.5CC-STRAIGHT-SHAFT-TRIMMER/
Getting An ECHO Hedge Trimmer Running
Trimmers & Brushcutters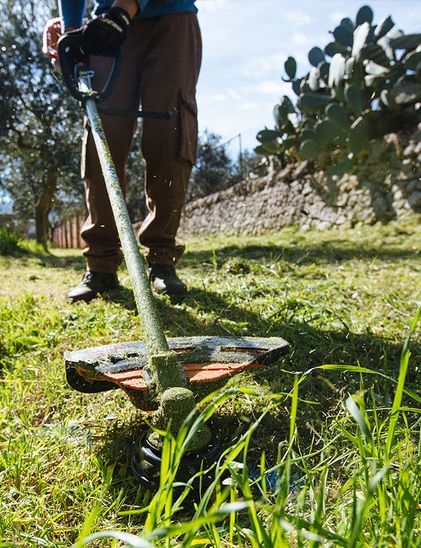 You've got the right skills and you've got the right attitude to get the job done. Now all you need is the right tool. A tool that works with you. A tool that can be trusted and relied on, whatever the conditions.
ECHO brushcutters are built to the highest standards, giving you the assurance you need to tackle the toughest of tasks. Their ergonomic design allows you to work more efficiently, so days seem shorter and difficult jobs easier.
High torque gear cases allow you to power through thick brush and tall grass in one pass. At ECHO, we've been gradually improving vibration reduction and ergonomics on our trimmers for decades, so you can work faster and get jobs done more efficiently.
From green space maintenance to the taming of dense wilderness, ECHO trimmers and brushcutters perform flawlessly. So whether landscaping, clearing or trimming, make sure there's an ECHO power tool by your side.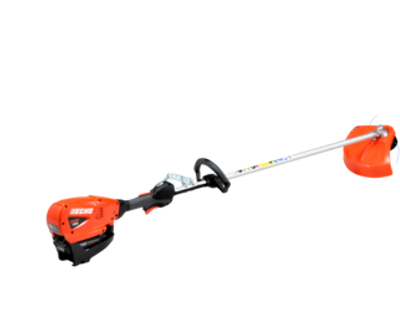 DSRM-300 2Ah Kit
Professional battery powered brushcutter kit. Price includes ECHO 50.4V 2Ah professional b…
Dry Weight (kg): 3.6
Rated Voltage: 50.4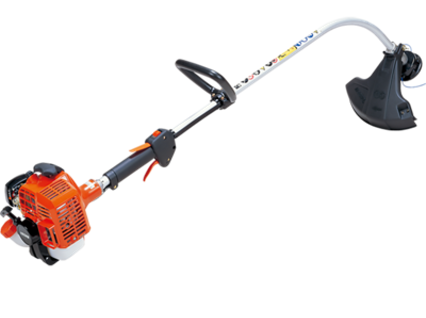 GT-222ES
The GT-222ES is a 21.2 cc professional curved shaft trimmer with excellent power to weight…
Dry Weight (kg): 4.3
Engine displacement (cm³): 21.2
Output (kw): 0.7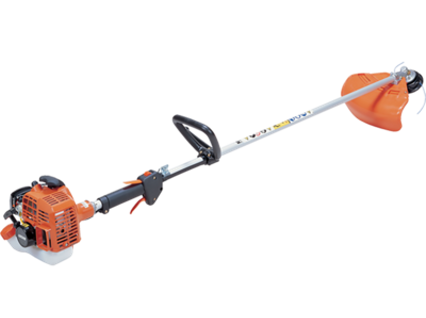 SRM-222ES/L
High power, low weight loop handle brushcutter.
Dry Weight (kg): 4.7
Engine displacement (cm³): 21.2
Output (kw): 0.7
SRM-236TES/L
High power, professional loop-handle brushcutter. Created for optimal weight to power bala…
Dry Weight (kg): 5.1
Engine displacement (cm³): 21.2
Output (kw): 0.71
SRM-2620TES/L
Light weight, professional petrol loop handle trimmer with high torque.
Dry Weight (kg): 5.6
Engine displacement (cm³): 25.4
Output (kw): 1.0
SRM-2620TES/U
A lightweight, professional petrol U handle brushcutter with high torque.
Dry Weight (kg): 5.8
Engine displacement (cm³): 25.4
Output (kw): 1.0
SRM-3020TES/U
Professional petrol U handle brushcutter with a high torque head.
Dry Weight (kg): 6.1
Engine displacement (cm³): 30.5
Output (kw): 1.3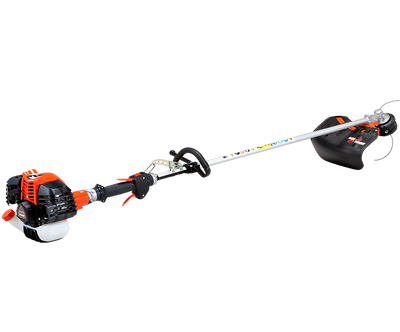 SRM-3021TES/L
Professional petrol loop handle brushcutter with a high torque head.
Dry Weight (kg): 5.8
Engine displacement (cm³): 30.5
Output (kw): 1.3
SRM-3610T/L
Industry leading high powered professional loop-handle brushcutter with high torque.
Dry Weight (kg): 6.3
Engine displacement (cm³): 36.3
Output (kw): 1.4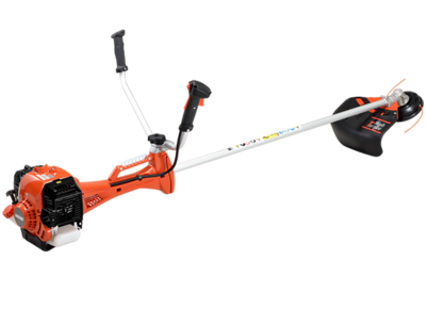 SRM-420TES/U
Built for professionals, ECHO's SRM-420TES is a 41.5cc high torque, petrol brushcutter.
Dry Weight (kg): 8.7
Engine displacement (cm³): 41.5
Output (kw): 1.8
SRM-520ES/U
A highly durable, professional U-handle brushcutter, for the toughest applications.
Dry Weight (kg): 9.0
Engine displacement (cm³): 50.2
Output (kw): 2.16
Sours: https://www.echo-australia.com.au/en_au/products/trimmers-brushcutters/
Trimmer echo
.
Getting An ECHO Hedge Trimmer Running
.
You will also be interested:
.
1632
1633
1634
1635
1636