Weber Smokey Mountain 18-Inch Smoker Review
We purchased the Weber Smokey Mountain 18-Inch Smoker so our reviewer could put it to the test. Keep reading for our full product review.
Whether you're new to smoking or you want to add a charcoal smoker to your collection of pellet and electric smokers, the Weber Smokey Mountain 18-Inch Smoker tops most lists of the best smokers on the market. And no wonder: The setup is logical, cleanup is simple, and the temperature regulation is easy to understand. Plus, the product gets bonus points for the tall, slim design that gives it a smaller footprint for storage while still offering enough smoking space to feed guests. We put the popular smoker to the test to see if it held up to its reputation.
Performance: Keeps temperature fluctuations under control
When it comes to smoking, maintaining temperature is extremely important, both for proper cooking and for producing sufficient smoke. Like most grills and smokers, the Weber Smokey Mountain has vents that control the airflow and in turn the temperature, but it also has a very sneaky trick up its sleeve for maintaining heat levels: a large water pan that sits directly above the coals. The water acts as a heat sink, absorbing heat and releasing it slowly, keeping the temperature stable.
Design: Built with the job in mind
Everything about this smoker is designed to improve function. An aluminum bowl-shaped attachment under the smoker is a heat shield that protects your deck from heat-related damage. The thermometer port protects probe wires from direct contact with hot metal. It also keeps heat from escaping and wrangles all the probe wires into one space. The port has a small hole that snugly holds a probe to monitor internal temperature as well as a long hole that can accommodate multiple probe wires for monitoring food temperature.
While this is definitely designed to be a smoker, we found it interesting that it's so easy to convert it to a standard grill.
As mentioned, the water pan regulates the temperature, but it also creates a moist cooking environment and serves as a tray for catching fats and juices that would otherwise cause flare-ups. You could also use the water bowl to add flavor to the food you're cooking, such as by adding apple cider when cooking pork. The only downside to the bowl configuration was that it wasn't easy to see the water level during cooking. However, we found that with the bowl filled to capacity, there was still plenty of water left after 10 hours of smoking.
The lid has an adjustable vent, an integrated thermometer, and a handle that stays cool. The middle section of the smoker holds the water bowl and two cooking grates and has a door for adding charcoal, wood, or water, and for checking food on the lower grate. The base has three adjustable vents and three legs for stability—and it holds the fire grate and ring. The three sections don't lock together, so you simply stack them. When we needed to move the smoker, we carried each section separately and appreciated the reasonable weight of each section.
The included smoker cover was a nice touch, and we found it fit snugly enough on the smoker that it didn't fly away. A single hook-and-loop fastener strap lets you tie the cover to one of the smoker legs for extra security, though it seemed unlikely that we'd need this.
Since this smoker is tall rather than wide, you won't be using it for a whole pig, but the height lets you cook a beer-can style turkey vertically with no problem. A rack of ribs or side of salmon will fit easily across the center of the grates. When we made ribs, we cut the rib racks in half for easier handling and for even smoking while using grates on both levels. When we were ready to sauce them, they all fit onto the top grate.
Watch Now: See The Weber Smokey Mountain 18-Inch Smoker in Action
Material: High quality for long life
The smoker body is made from powder-coated steel that can withstand heat and weather, while the legs, vents, legs, and internal brackets that hold the grates are aluminum. The top handle and the access door handle are plastic, so they stay cool during cooking. The cooking grates are chrome-plated and easy to clean.
Setup Process: Easy to do, but diagrams weren't completely clear
This smoker required minimal assembly, just attaching the legs, brackets, and the plastic shroud for the lid handle. The instructions were simple diagrams, and the two types of washers looked identical, so we had to visit the manufacturer's website for clarification. Short answer: Fiber washers go against the outer shell of the smoker to protect the paint surface from chips or cracks.
Smoking Setup: Almost as easy as a charcoal grill
For smoke, you need fire. Charcoal briquettes are recommended, but many users prefer lump charcoal or a mix. To start the fire, we tried a chimney starter as well as wax fire starters. One chimney's worth of charcoal wasn't enough, so we dumped that onto the grate, then added more charcoal and waited for that to get ash-coated. With wax starters, we added all the charcoal we wanted in a generous pyramid and used the starters to light the fire.
Once the coals were ready, we added dry chunks of smoking wood, then put the center section of the smoker in place along with the empty water bowl. We added water and then the grates and lid. When the smoker reached a stable temperature, we were ready to cook. Weber recommends checking the smoker every 15 minutes, which is a good idea when you're adjusting the vents to get the right temperature. While the integrated thermometer is fine when you're near the grill, we suggest using a remote thermometer so you can monitor it from a distance during long smoking sessions.
Heating Capacity: Similar to your favorite charcoal grill
The smoker heats fairly quickly, and it doesn't take long before the temperature stabilizes. During a 6-hour rib smoking session, the temperature stayed within about 20 degrees of our target smoking temperature for most of that time. Some fluctuations should be expected since things like wind, weather, and sunlight can affect the temperature.
Cleaning: Easier than your oven
Minimalist cleaning for proper cooking includes scrubbing the grates with a grill brush or crumpled aluminum foil, thoroughly cleaning the water bowl, and disposing of the cold ashes and unburned charcoal. The stem of the integrated lid thermometer should also be cleaned if you'll be relying on that to monitor the internal temperature.
It's expected that the interior of the smoker will develop a patina from the accumulated smoke and the grates will discolor, just like any grill. However, the accumulated smoke can get thick enough to flake off the interior. It's a good idea to clean that off, particularly on the underside of the lid, so the flakes don't fall onto the food. The exterior can simply be wiped clean.
Features: It's not just a smoker
While this is definitely designed to be a smoker, we found it interesting that it's so easy to convert it to a standard grill. The fire grate and ring fit perfectly where the water bowl would normally rest, then the top grate is put in its normal place for grilling.
Price: Expensive but worth it
The Weber name comes with an expectation of quality, so perhaps you're paying just a little more for the nameplate. However, this smoker is built for performance, easy enough for a beginner to master, and much-praised by people who are experienced smokers.
Competition: Two contenders
Char-Broil 16-Inch Bullet Charcoal Smoker: The Char-Broil 16-Inch Bullet Charcoal Smoker is slightly smaller at 16 inches in diameter, meaning you'll get less cooking space at a lower price. The removable ash pan is a nice touch, and the innovative vent lever is easy to use. Because this lacks a water pan, some reviewers found that it wasn't great at regulating temperature. You can add water to the drip pan, however this is difficult to do during cooking. While Char-Broil has a generally good reputation, users had a number of quality problems with this smoker, including issues with the door and the handles. We think the Weber's high quality is worth the higher price.
Dyna-Glo Signature Series Heavy-Duty Vertical Offset Charcoal Smoker & Grill: The Dyna-Glo Signature Series Heavy-Duty Vertical Offset Charcoal Smoker & Grill will give you more smoking space, while sacrificing storage space and portability. The offset smoker design puts the firebox next to the smoking chamber, so it has a wider footprint, and it weighs in at over 120 pounds (compare that to the Weber's weight of 47 pounds). Dyna-Glo's model has five grates for more smoking space, but they're fairly close together so you may not be able to use all of them at once unless you're smoking short items, and the grates are awkward to remove. One of the most common complaints for this model was poor packaging which resulted in damage during shipping.
Final Verdict
Get it—you won't regret it!
The size is nice, with two cooking grates for extra capacity, enough space to fit a rack of ribs across the center of the grates, and plenty of height for tall foods. The ability to convert the smoker to a grill was a pleasant surprise, and the included cover was a bonus that will keep the smoker clean in inclement weather.
Specs
Product Name Smokey Mountain 18-Inch Smoker
Product Brand Weber
MPN 721001
Price $329
Color Black
What's included Smoker, fitted smoker cover
Warranty 10-year no rust-through/burn-through; plastic components, 5 years
Sours: https://www.thespruceeats.com/weber-smokey-mountain-18-inch-smoker-review-4685529
Best smokers to shop in 2021, according to experts and chefs
Best smokers to shop
Since smokers can provide heavy smoke flavor in a low heat environment, they offer something that grills just can't emulate. Depending on the type of smoker you're looking for, these are the top picks, according to the experts we consulted.
Best affordable smoker: Weber
1. Smokey Mountain Cooker Smoker 14-Inch
The Weber Smokey line is the top pick for Max Hardy, owner and head chef of Coop Detroit because it meets all of the needs for both the professional and amateur smoker. The 14-inch version is the smallest of the three, making it ideal for delicious barbecue even when you're away from your backyard. This portable charcoal smoker comes with a cover, plated steel cooking grates, rust-resistant metal legs and a built-in lid thermometer. You can also order the 18-inch smoker if you want more room to cook up your meats, although it'll cost you an additional $110 while the 22-inch smoker will set you back an extra $210.
Best splurge smoker: Big Green Egg
2. Large Big Green Egg
Although the Big Green Egg is at a higher price point than other at-home smokers, "these ceramic cookers are almost a must for any backyard kitchen," explained Jonathan Fox of Fox Bros. Bar-B-Q. Many agree that this versatile ceramic kamado-style charcoal grill is worth the investment with its ability to grill, roast, smoke, bake and sear. Plus, with a lifetime warranty, you don't have to worry about rust or how it holds up to the elements. The seven different sizes to accommodate different yard spaces all share the innovative egg-shape design, but the most popular is the Large, which can cook 12 burgers, six chickens vertically and seven racks of ribs vertically.
Best smoker grill combination: Kamado Joe
3. Kamado Joe Classic I
While The Big Green Egg can be purchased in stores, it's not sold online. A similar product, the Kamado Joe Classic I, can be shipped to your home, however. It smokes meat starting at 225 degrees and can cook food up to 750 degrees. There is also a slide-out drawer, which makes cleanup easy.
Related
Best smoker for beginners: Masterbuilt Pro
4. MES 130B Digital Electric Smoker
The Masterbuilt Pro is one of the most widely used and versatile brands out there on the market, according to Chavez. This straight-forward electric smoker is ideal for those getting started and features four chrome-coated smoking racks, a side wood chip loading system and digital controls. All you have to do is plug it in, sit back and get ready to enjoy the final product without having to worry about charcoal or propane.
Best smart smoker: Camp Chef
5. Camp Chef Woodwind Wi-Fi 20
Don't let the size of this pellet smoker mislead you, said Gina Ferwerd, recipe developer, food blogger behind Nom News and author of "Meals from the Mitten." Not only can it fit a surprising amount of meat, it's also equipped with a smart Wi-Fi and Proportional, Integral, Derivative (PID) controller, which automatically maintains the cooking temperature. "The Wi-Fi allows me to know the temperature and let's me know when to flip or take the meat off through the Camp Chef App," she said. "Once I set the temperature, the PID controller regulates the automation of feeding the pellets to add more heat or restricts the pellets if the temperature is up to par. It basically does all of the work for you."
Best portable smoker: PK Grills
6. The Original PK Grill and Smoker
With four vents and a capsule shape, this charcoal smoker can easily convert from slow and low heat into a fiery grill. Bill Espiricueta, executive chef and owner of Smōk, recommended this portable cast aluminum grill and smoker combo that easily detaches from its stand to make traveling with it a breeze. "It's so well made, easy to transport and doesn't have all the bells and whistles that just end up confusing some home grillers," he said.
Related
Best overall smoker: Traeger
7. Ironwood Series 885 Pellet Grill
This six-in-one pellet grill gives backyard pitmasters the ability to grill, smoke, bake, roast, braise and bbq. With WiFIRE Technology that allows you to monitor and adjust the grill anywhere, this Wi-Fi pellet grill is a sophisticated model that allows you to both sear and cook low and slow with impressive results. With a hopper capacity of 20 pounds (complete with a pellet system), adjustable two-tier grate system and 885 square inches of cooking space, you can enjoy the equivalent of ten chickens, seven racks of ribs or nine pork butts for a wood-fired backyard feast.
Best all-in-one smoker: Pit Barrel Cooker Co.
8. Classic Pit Barrel Cooker
Whether you're using this as a "set-it-and-forget-it" smoker for traditional smoking or want to switch to a high-heat charcoal grill, the Classic Pit Barrel Cooker is both versatile and compact. The unique "Hook and Hang" design smokes food vertically so juices drip down the cooking chamber and onto coals, infusing extra flavor into the smoke. The 30-gallon steel drum cooker is 18.5 inches and made from 18 gauge steel with a porcelain enamel coating.
What makes a smoker different?
Gas grills simply don't bring out the robust flavors compared to smoking or charcoal grills, Chavez noted. "The smoking aspect really brings a different flavor profile, especially because you can choose what type of wood that you want to smoke," he said. "Oakwood, cherry wood and mesquite wood achieve three different flavors, flavors that you won't find when using a charcoal grill." But being able to cook low and slow over a flavored heat source isn't the only difference between a gas grill, charcoal grill and smoker, according to Jim Mumford of Jim Cooks Food Good and Brand Ambassador for Johnsonville. Here's a basic way to understand their differences:
Gas grill: Low to high heat, no smoke flavor, easy to maintain temperature.
Charcoal grill: Medium to high heat, some smoke flavor, moderately easy to maintain temperature.
Smoker: Low to medium heat, heavy smoke flavor, temperature control varies significantly depending on model.
The main benefit of a smoker is that you achieve maximum flavor from your food and it's healthier, said Hardy. However, a major drawback to some is that you must put some time aside because it takes longer to smoke meat properly. "You also have to continue checking the smoker and making sure your temperature is consistent for even smoking. Grab a beer and kick your feet up — let it go low and slow," he said.
Related
Best smokers: Types
The first order of business in finding the right smoker for you is deciding which type you want. For novices, pellet smokers have become increasingly popular on the market, according to Fox. "These smokers are almost 'set-it-and-forget-it' cookers that give you low and slow cooking and flavor without the work," he said. "This is a good way to get your feet wet in barbecue." However, there is a range of heat source options and smoker styles to be aware of before making your decision.
Best smokers: heat sources
The biggest thing a person should consider when buying a smoker is the fuel source, said Mumford, because each heating element brings with it distinct advantages and drawbacks.
Pellet smokers. These smokers use pellets of compressed sawdust in a variety of different wood flavors. "You fill up a chamber with these pellets and they are usually gravity-fed to a chamber with a heat source — usually electric — to create heat and smoke," explained Fox. "These are almost all automated, allowing you to get a good night's sleep on long cooks."
Wood smokers. As opposed to pellets, wood-fired smoking depends on wood as your only heat source. A fire is made from wood logs or wood splits and used to heat a chamber of a smoker. According to Fox, the resulting smoke is much cleaner and has a better taste. However, fire management is a must, requiring a certain skill set for overseeing the right airflow and amount of wood. "This is the original barbecue method, but with wood you are generally adding or stoking the fire with new wood every 30 to 45 minutes — be prepared to hang out with your pit," he said.
Charcoal smokers. These smokers depend on either lump charcoal or charcoal briquettes. "Charcoal is wood that has been burned or charred and compressed with fillers, and some have the addition of lighter fluid added in for ease of starting," he said. "Charcoal briquettes will burn longer and more evenly over time, while lump charcoal is the same thing but not compressed, in a more natural state and without the fillers."
Electric smokers. An electric heat source comes from an electric bar used to heat a chamber. "You can add in wood chunks that have been soaked in water for a few hours to smolder and give off smoke," he said. "This is an easy model to use, but make sure it is grounded if using in the rain — I found out the hard way and that put an end to my day of cooking on an electric smoker"
Gas smokers. With a gas smoker, a natural gas or propane burner ignites the smoke source, which is typically wood chips. "This type of heat is easier to control but the flames can overheat the wood," cautioned Mumford.
Related
Best smokers: Styles
In addition to different heat sources you also have your choice of smoker styles, Mumford explained:
Offset. The smoke generation area is offset from where the food is, instead of directly underneath it, allowing for finer control of smoke injection. "These are practical-but-pricey," he warned.
Direct. The smoke generation is under the food. "This way is harder to control the smoke but it's best for personal use due to the price," he said.
Drum. This is a smoker usually made of metal that looks like a barrel or drum on its side. "You place the heat source at the bottom — usually wood fire or charcoal — and the item you are cooking will hang from bars that run across the top of the barrel," explained Fox.
Vertical water smokers. Fox called these "R2D2 cookers" and noted that they are popular with people just getting started. These upright cylinders come in electric or charcoal and "above the heat source is a water chamber, and this adds moisture to the heated air." However, Mumford warned, although they are very forgiving in terms of temperature, the food can end up tasting more steamed than smoked — so you have to be willing to trade flavor for convenience.
Vertical. These smokers are usually made of metal that looks like an upright cylinder — usually direct and best for small home smoking.
Ceramic. A ceramic cooker is a charcoal smoker that can double as a grill and so much more, Fox said. The ceramic material retains heat better than metal.
Related
Catch up on the latest from NBC News Shopping guides and recommendations and download the NBC News app for full coverage of the coronavirus outbreak.
Lauren Levy
Lauren Levy is a contributor with work published on The Knot, PopSugar, CafeMom, Mom.com, Bridal Guide and Care.com.
Sours: https://www.nbcnews.com/select/shopping/best-bbq-smokers-ncna1234409
SmokedBBQSource is supported by its readers. We may earn an affiliate commission at no extra cost to you if you buy through a link on this page. Learn more.
If you are ready to get serious about smoking meat in your own backyard chances are you are seriously considering picking up a Weber Smokey Mountain.
This in-depth guide will give you all the information you need before buying a Smokey Mountain including how to choose the right size, how it compares to other popular smokers and how to get the most out of your new smoker.
You want to make sure you're buying the right smoker though, and with so much information out there it can be hard to make the right decision.
Introducing the Smokey Mountain
The iconic Smokey Mountain has built up a massive cult following among smoked meat enthusiasts. One of the main advantages of buying one is that there is so much knowledge available online for getting the most out of your WSM.
Also known as the Bullet, this smoker has a rich history. First introduced in 1981, the WSM has enjoyed several improvements over the years including new sizes, built in thermometer, improved construction and many more.
The WSM has built a reputation among even the most serious pitmasters.

Meathead Goldwyn, Smokey Mountain Cooker
"WSMs are high quality, charcoal fueled, bullet-shaped smokers. They are often seen competing head to head with large commercial cookers at practically every competition. And winning. They take very little time to master
Smokey Mountains cook at a remarkably steady temp for hours and raising or lowering temp on this small model is fairly easy by opening and closing the vents.
Construction is solid and finish is beautiful. really knows how to make long lasting porcelain and chrome coatings. The legs are sturdy and there is a bowl-shaped aluminum heat shield attached to them. If you cook on a wood deck, we recommend setting your WSM on a grill mat."
How water smokers work
The Smokey Mountain falls into the water smoker family.
Resembling a bullet (another nickname), they pack a lot of punch into a small size. Great if you are short on space, or if you want to buy multiple smokers / grills.
The Smokey Mountain uses charcoal & wood chunks to generate smoke and heat.
The key feature that gives it its name is the water bowl which sits between the fire and the cooking greats. The water bowl helps to maintain a stable smoking temperature, while also adding humidity to the smoke chamber.
Many WSM fans believe this feature allows them to skip the "Texas crutch" step of wrapping the meat in foil partway through the cook.
A water smoker is typically made up of three sections:
A firebox where the charcoal & smoke wood go and a grate to control airflow
A cooking section containing the water pan, two cooking grates and an access door for adding charcoal or wood
domed lid with built-in temperature gauge
One of the main reasons people prefer vertical water smokers like the WSM over other smokers is because they are easy to use.
Even a total beginner can get started smoking with a WSM and get good results.
Heck, I learned to smoke on a Smokey Mountain and my first few cooks came out pretty good.
Basic setup:
Lit charcoal is piled in the charcoal ring at the bottom
Fill the metal bowl with water or experiment with other liquids like cider or apple juice (or even beer if you can spare it)
Food goes on to the racks above the water bowl
Add wood chunks to the coals and adjust the vents to obtain desired temperature of 225 degrees
Check the temperature every hour or so (The WSM comes with a built in thermometer but most people prefer to buy something more accurate like a Maverick Remote Thermometer
Check out the Resources section at the bottom of this post for more advice on cooking with a Smokey Mountain.
How to choose which Smokey Mountain size to buy
Since 2014, the Smokey Mountain has been available in 3 sizes.
The newest scaled-down model clocks in at 14″, then there is the 18″ model and the big daddy 22″ Smokey Mountain Cooker.
In each case, the size in the name refers to the width of the cooking grates.
Price per inch (each WSM come with 2 grates):
14.5″ – 276 sq in – $0.72 per sq in
18.5″ – 481 sq in – $0.62 per sq in
22.5″ – 726 sq in – $0.55 per sq in
Think carefully about what you plan on cooking.
If you buy the smaller model to save money but can't fit a large enough brisket you might end up having to buy both and have 2 smokers clogging up the yard (not the worst problem to have!)
Key things to consider
Think about the largest item you'll likely be smoking (Usually a packer brisket or turkey).
Some people find they can't lay a full brisket or a rack of spare ribs flat on the 18.5″.
The larger 2 WSM's will burn through more charcoal, although this can be reduced with methods like the Snake method.
Are you going to be using the WSM as a dedicated smoker, or as a smoker/grill combo? If you're going to be grilling then 22.5″ is your best bet although it's not designed to grill.
Deciding which to buy really comes down to 2 things:
Price – If you can afford it get the 22″ WSM and you won't have to worry about running out of space.
How many people you need to cook for – If you plan on regularly cooking multiple chickens or racks of ribs then I would recommend investing the extra money to get at least the 18 inch model.
Personally, I went for the middle 18″ version and I couldn't be happier. I find I can fit two medium chickens on one rack and can do a pork butt or a few racks of ribs on the other grill.
Smokey Mountain alternatives compared
One of the most common questions people worry about before buying a Smokey Mountain is how it compares with other popular smokers.
The Smokey Mountain gets very high ratings everywhere you look and is a common sight to see at barbecue competitions.
With that said it's still worth checking out how the WSM compares to other popular smokers.
Smokey Mountain VS Kettle Grill
If you're upgrading to a dedicated smoker it's likely you already own a Kettle Grill so feel free to skip ahead.
If this is your first smoker though, you might be wondering if it's worth spending a few hundred on a Smokey Mountain, when you can buy a standard Weber Kettle Grill for around a hundred dollars.
It comes down to what's most important to you. The is cheaper and more versatile. While designed as a grill, the Kettle can be converted into a smoker relatively easily.
But if you are serious about smoking meat, the WSM is a significantly better smoker. Compared to a Kettle, the WSM will give you:
Significantly more stable temperature – Smoking meat requires consistent heat over long amounts of time. While this can be done with a Kettle, it requires regularly adjusting the airflow and can take a lot of practice (and sub-par BBQ) to perfect. The WSM, on the other hand, can go for hours and hours without a fuss.
Maintain lower temperatures – As well as better overall temperature control, the WSM allows you to maintain lower temperatures without the risk of temperature spikes. With the Kettle, you will always be battling direct heat radiation.
Amount of food you can fit – With the dual grill design, and avoiding the multi zone cooking required with a Kettle, you get significantly more cooking area.
Cold smoking – If you want to try cold smoking fish or cheese you have a few options with the WSM. You can use the snake method with stacks of 2×2 charcoal with wood on top and then fill the reservoir with ice. Or if you want less fuss you can invest in a pellet smoker tube to place in the bottom of your grill
The is a great, versatile grill. With some practice and lots of optional accessories, you can achieve good results smoking meat.
If you don't usually smoke much meat at a time, then the Kettle may also be a better bet. But if you want to get serious the Smokey Mountain is hands down a better meat smoker and well worth the extra investment.
Smokey Mountain VS BIG Green Egg
The Smokey Mountain is often compared with the Big Green Egg despite the BGE being a Kamado Cooker. This type of cooker named from the Japanese word for "stove" can be made from a variety of materials including ceramic.
CC Image courtesy of Bryan Adams on Flickr
Why would you buy this distinctively designed Kamado style smoker you might ask?
Meathead Goldwyn, Big Green Egg Ceramic Cooker
"For many, the Big Green Egg is the of Kamados. They introduced Kamado cookers to the USA and are often viewed as the industry standard.
The Large Egg is big enough for a 20 pound turkey and has an 18″ diameter grate. Made in Mexico the BGE design is simple, it is built to last, and it has a limited lifetime warranty.
Round Kamados work as good as or better than standard charcoal grills for most recipes. They are, by design, excellent ovens and smokers because once the ceramic settles at the desired temperature, it stays there for hours"
Some advantages of buying the Big Green Egg
The largest advantage that fans of the Big Green Egg claim is superior air control and insulation.
The WSM is less efficient and will burn more fuel.
If you do much cooking in lower temperatures, the ceramic Big Green Egg will be much less affected by cold weather & snow.
Can double as an oven without any modifications.
Easily cook pizza, bread and anything else you would normally cook in an oven. WSM can do this too but requires a Pizza Oven Kit (and you'll also need to remove the center section of your WSM).
The BGE is a better combo grill but for the purpose of this guide, we are focusing on what makes the best smoker. And for what it's worth the BGE doesn't tick the box for Meathead Goldwyn either as it cannot be set up for true 2-zone cooking.
Before we crown the BGE…
The BGE sounds great so far, but we've been ignoring the elephant in the room. The BGE will set you back significantly more cash.
With the WSM you'll be getting more cooking space for a smaller investment than the BGE, especially if you are comparing the 22.5″ model.
Large Big Green Egg – 262 square inches
XL Big Green Egg – 452 square inches
18.5″ WSM – 481 square inches
22.5″ WSM – 726 square inches
Making the WSM significantly more affordable! Even the largest WSM will set you back a lot less than the $849.00 for the Large BGE.
That's only the suggested retail price as Big Green Eggs are only sold my authorized dealers.
With the 22.5″ WSM you are only paying $0.55 per sq in VS $3.20 for the Large BGE
"The BGE is 481.8% more expensive per square inch of cooking surface"
The simple fact is for a lot of people the price will force them to choose the WSM over the BGE. But if price isn't an issue and you demand the highest level of temperature control the the BGE might be for you.
If you're interested in this style of smoker, we have an in-depth guide to the best Kamado grills.
Offset Smoker VS WSM
Offset smoker (also known as horizontal smokers) are another popular choice for people looking to get serious about smoking meat. While the cooking principles are the same, fire management is a completely different experience on a offset style smoker.
You can see Aaron Franklin using an offset smoker in his excellent guide to smoking brisket.
And then there is the matter of price. With a good offset smokers costing upwards of $1,000 you might think they represent an upgrade over the WSM.
But what you're really paying for is extra capacity at the expense of burning through a lot of fuel and having to tend the fire a lot more to maintain a stable temperature.
Even with the 12.5" WSM you are getting a top quality smoker. An offset smoker around that price point might make a good table, but won't be useful for much else.
Main differences between an offset and a WSM
Offset smoker will typically have more capacity which is good if you need to cook a lot of meat at once.
If you have a readily available source of cheap appropriate firewood like oak, hickory, cedar or maple.
The WSM offers more of a "set it and forget it" type of cooker, whereas the offset smoker involves a lot more fire management.
The WSM ends up being much more economical both in terms of price and fuel. The general consensus is that the gives you better temperature control.
If want to play around with burning wood and you don't mind spending extra then there are some good offsets out there, but the WSM is hands down better value.
WSM VS Traeger pellet smoker
So far every smoker we've looked at uses charcoal (or wood). But if all this talk of fire management has got you concerned there's another option that's worth considering.
Pallet smokers look like offset smokers, but instead of a firebox you have a side mounted hopper filled with cylindrical wood pellets. These pellets are delivered from the hopper to a fire pot with an ignition. The heat and smoke from the pellets combustion smokes the meat.
Pellet smokers draw household electrical current and come with a digital controller that allows you to select any temperature you want.
Steven Raichlen, New Kid on the Block: Pellet Grills
"It's easy—maybe a little too easy," I told the crowd of Barbecue University students gathered around the first wood pellet grill many had seen. People nodded—we had an understanding, right?
Smoking and barbecuing are supposed to be hard work. If not chopping wood, then at least breathing in charcoal dust and smoke and laboring to maintain a steady temperature during a barbecue session that could last the better part of a day. Or night.
Certainly no self-respecting pit master would subscribe to a "set it and forget it" philosophy. Pellet grills are a fad, I thought to myself, that will flame out fast.
That was five years ago.
The Traeger represents a decent middle of the range pellet smoker. With excellent control, convenience and great taste, the Traeger pellet grill has earned the reputation of "Big cheating outdoor oven!".
If you don't enjoy the process of tinkering over the fire / charcaol, and don't want to worry about heat management the Traeger could be a good option
The WSM will still give you better value, with the cheaper Traeger grill costing more for 292 square inchs of cooking surface compared to 481 square inches on the 18.5" WSM.
If you don't mind paying a bit extra for the "set it and forget it" approach, and you're sure you won't miss the heat management a Traeger is a good option. It does remove some of the fun and romance of smoking in my opinion.
That covers off some of the major Smokey Mountain alternatives that people often compare. Hopefully I've provided enough information for you to make up your own mind.
How to setup your new Smokey Mountain
Assuming you've decided to purchase your own WSM there are a few things you need to know first. Before you start cooking with your new WSM it's important that to get some essential smoker accessories. These will make your life a whole lot easier.
At the bare minimum you will want a quality wireless thermometer and a chimney starter. After that you can shop around for other accessories as you need them. While by no means essential, a some people end up doing their own mods to the Smokey Mountain like adding a hinge to the lid, fixing leaks or adding wheels.
Just like a good cast iron pan or wok, it's important to season your new WSM before cooking with it.
Harry Soo – Seasoning a new WSM
"Phase One – Cover the water pan completely with aluminum foil and run a full load of lit Kingsford blue bag briquets and let it run as hot as it can with no water in the pan (over 350°F) to burn off any manufacturing residue. Clean out the ash.
Phase Two -Fill the charcoal basket 1/2 full of unlit briquets. Hollow out the center so you can see the grate, amking a donut of charcoal. Then put in a 1/2 chimney of lit Kingsford briquets in the middle. This will allow a slow burn for three to five hours on a 72°F day.
Adjust the vents to get 275°F on the dome thermometer. Put in bacon strips, chicken parts, pork fat, or any other scrap meat you don't plan to eat. The key is to get fatty meats to generate lots of vapors. Toss in a couple of tennis ball size wood chunks to generate smoke.
Repeat the above step at least twice before you cook meat that you want to eat. Remember to always empty the ash from the bottom and grease on the foiled water pan to avoid fires and any rancid old oil smell before you cook."
It's also important to master temperature control on your new smoker. While the basics are easy it's good to understand a bit of the science behind temperature, and how to avoid making some of the common newbie mistakes.
Where to Buy your new Smokey Mountain
When it comes to actually buy your new WSM you have a couple of options. The easiest options are via Amazon or BBQGuys.com who offer free shipping if you live in the USA.
has a find a dealer tool on their website if you want to see it in the store before you buy.
The WSM rarely (if ever) goes on sale but if you want to save money you can also usually find some good second-hand Smokey Mountains on Ebay.
Resources for getting the most out of your new WSM
http://virtualweberbullet.com/ – Probably the best resource for in-depth WSM information. From history, product info, unboxing to tips and tricks for using your new WSM.
http://tvwbb.com/ – A discussion forum connected to the virtualweberbullet. With millions of posts you can find the answer to any question. Great community for discussing your WSM.
The best setup and add-ons for a WSM – In depth guide to setting up your WSM, seasoning and different cooking methods.
Smoking Some Barbecue Baby Back Ribs (Video) – Watch a WSM in action smoking ribs.
Smoking Amazing Ribs with a WSM – Step by step guide to smoking ribs on the WSM with lots of pictures so it's easy to follow along.
Feeding the Fire: Recipes and Strategies for Better Barbecue and Grilling – This BBQ book by Joe Carroll isn't specific for a WSM, but the advice contained within all applies to using your new WSM.
Secrets to Smoking on the Weber Smokey Mountain Cooker – Good range of recipes to get you started smoking with the WSM as well as technique.
Well that concludes this ultimate guide to buying a Smokey Mountain. Hopefully you've found some useful information to make your decision a lot easier. Leave a comment if there is anything you think I've missed that would be useful.
Sours: https://www.smokedbbqsource.com/weber-smokey-mountain-review/
Smoking on Your Smoker - Weber Grills
If you're interested in grilling food of a higher caliber, though, you may need to add an extra accessory to your barbecue. That's because mouth-watering smoky meats and vegetables are only achievable with a smoker, and if your grill doesn't have one built in, then you'll want to buy a freestanding smoker box to take your barbecuing to the next level.
Using a smoker box is fairly simple. On the surface, it's little more than a rectangle-shaped metal box with holes in it. Simply put the wood chips of your choice in the box—hickory works great for red meats while apple adds subtle flavors to seafood—and seal it tight. Put the box on your preheated grill, and cook the food on top of the device. The smoker's perforations will allow the smoke to seep into the meal you're preparing. And by the time you're done, it will have a distinct, smoky flavor to rival the ribs at your favorite barbecue restaurant.
Of course, it's worth keeping an eye out for grills with built-in smokers the next time you're in the market for a new barbecue setup. That way, smoking your food is less of a hassle. In the meantime, though, here are four smoker boxes that will have you whipping up deliciously smoky meats in no time.
1. Weber Smoker Box
Confident in your grilling abilities? Weber's steel smoker box will help take your skills to the next level. It's larger than other boxes, so you can pack it full of wood chips and make meat and vegetables even smokier. It's also designed so that you can easily open it and plop more wood chips in as needed while cooking—though this isn't something newbies should attempt.
Amazon
Weber Smoker Box: $26.99
2. Cuisinart Wood Chip Smoker Box
Cuisinart knows a thing about cookware, whether you're in the kitchen or at the grill. Just look at its smoker box for proof. Made of durable stainless steel, the brand's smoker is more compact than some of the options on this list, meaning it will fit in nearly any grill, whether it's full size or portable. It also has special vents in the top and sides to make sure your wood chips heat quickly, giving the meat, poultry or fish you're grilling a nice smoky flavor boost. Finally, it's easy to clean—simply toss the chips out when you're done and give it a quick rinse.
Amazon
Cuisinart Wood Chip Smoker Box: $18.88
3. Cave Tools Smoker Box
If you're new to the grill but want to dive right in and start making the best, smokiest foods possible, then Cave Tools' box is a perfect match. The box is as simple and easy to use as it gets, and its construction promises it will be with you for the long haul, as it's made of a thick stainless steel that won't warp under pressure (or intense heat). Plus, you'll get a free download of the BBQ Smoking & Cooking Journal app with purchase, which grants access to hundreds of barbecue recipes and includes tips on what wood chips to pair with different foods, so you'll be able to start cooking right away.
Amazon
Cave Tools Smoker Box: $21.99
4. GrillPro Smoker Box
Most smoker boxes are made of stainless steel. That will hold up in most cases, but it's not as sturdy as cast iron, which GrillPro's box is made out of. The result is a more durable box that won't warp under high heats or break should it get dropped by accident. Plus, the larger slits will make smoking a much faster process, and infuse stronger flavors.
Amazon
GrillPro Smoker Box: $20.74
Sours: https://robbreport.com/lifestyle/product-recommendations/best-smoker-boxes-amazon-2924609/
Smoker amazon weber
Weber Smokey Mountain Smoker
This is what I came home to today! My new Weber smoker sitting on the front porch! The Weber Smokey Mountain Smoker is a very well made vertical charcoal smoker that cooks like a charm. And if cared for, it will provide many years of service.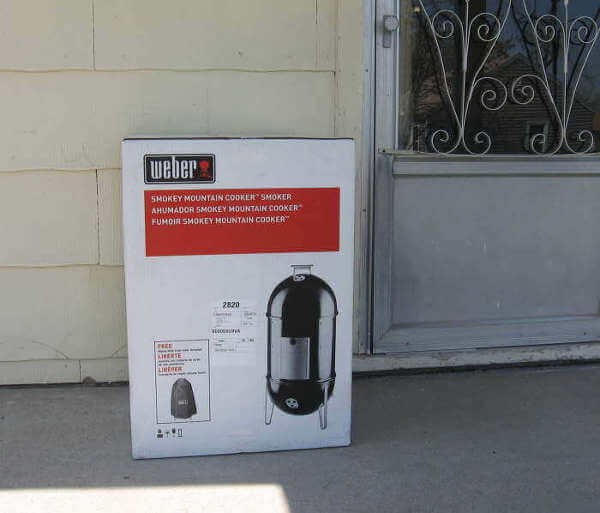 The body is heavy duty sheet metal coated with durable porcelain. It carries a 10 year rust through warranty, which is pretty nice. Unlike cheap vertical charcoal smokers, the base on this one allows precise control of the intake air feeding the charcoal. In fact, it can smoke for up to 12 hours straight on one filling of charcoal briquettes.

The inner diameter of the smoker, affectionately nicknamed "The Bullet", is 19 inches, which accepts the 18-1/2 inch diameter food grates. One food grate has handles, and one doesn't. Why they both don't have handles, I couldn't tell you. The handled one should be placed in the top position. The handles make it easy to remove to gain access to the food on the bottom grate.
My WSM
I received my brand new Weber Bullet via UPS today. I can't wait to use it. I will keep you all posted. By the way, I got a great deal on it from Amazon...$199.99, which is $100 off the list price. And I got overnight shipping for only $3.99 more! What a deal.
I opened up the box, and noticed that Weber does an excellent job of packing each item securely in the box. There would be little chance of any part of the smoker being damaged in transit. Here are a few pictures of my new Weber smoker.



Weber Smokey Mountain Smoker Pictures


As I opened up the box, I found that everything was packed very well from the top...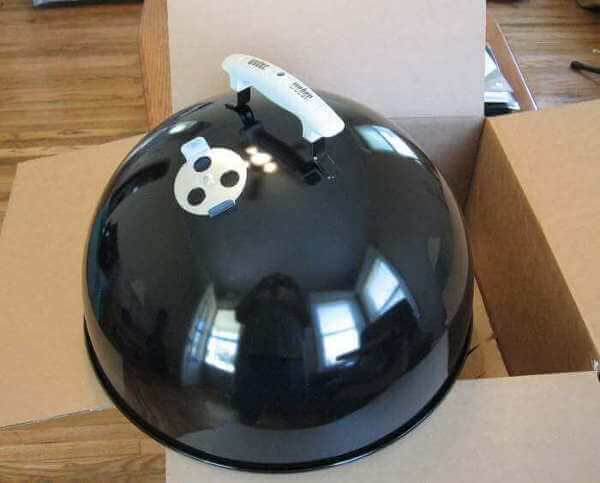 To the bottom...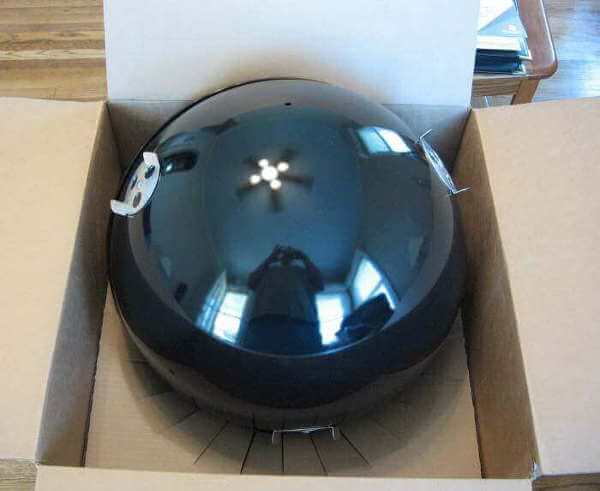 All of the small parts were packed nicely in a cardboard box. Here's what I found.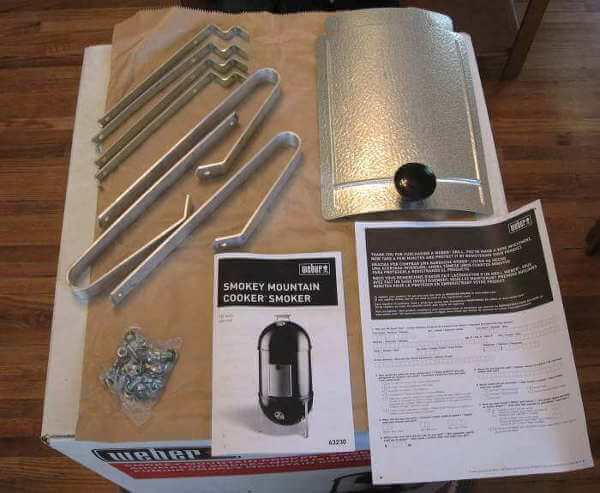 Sours: https://www.smoker-cooking.com/weber-smokey-mountain-smoker.html
How To Cook on Weber Smokey Mountain (WSM)
People across the country will spend Memorial Day Weekend firing up the grill for the unofficial start of summer.
With Memorial Day set for Monday, May 31, there are some great deals on a variety of grills, thanks to Amazon, Wayfair, Home Depot, Lowe's and more.
The weather - and grills - continue to heat up.
Take a look at these deals:
Amazon
Save $60 on the Weber 49010001 Spirit II E-310 3-Burner Natural Gas Grill and get it by Saturday. The natural gas grill has a 10-year, 100-percent Weber Guarantee. It comes with a 10-foot flexible hose included. Listed for $509.
Get 10 percent off the Z GRILLS 7002F 2021 Upgrade Wood Pellet Grill & Smoker. One button starts up and temperature control eliminates starter fluid. No need to run to the local station to trade in your propane. Electronic AUTO-Start Ignition, Digital Auto Temperature Control, LED temperature readout. Listed at $548.99.
For $159.99, get the Char-Broil Classic 280 2-Burner Liquid Propane Gas Grill with Side Burner by Friday.
Wayfair
Performance Char-Broil 3 - Burner Free Standing Liquid Propane Infrared 24000 BTU Gas Grill with Side Burner is on sale for $299.99, slashed from $369.99. This liquid propane grill cooks up to 20 burgers at once with 450 total sq. in. of cooking space on porcelain-coated grates that are durable and simple to clean.
For $249.99, you can get the Performance Series Char-Broil 4 - Burner Free Standing Liquid Propane 36000 BTU Gas Grill with Side Burner. This grill is large and made to last, with porcelain-coated cast iron grates that are rust-resistant and easy to clean.
Monument Grills 6 - Burner Free Standing Liquid Propane 84000 BTU Gas Grill with Side Burner and Cabinet is listed for $596.99. The multi-cooking options include six main burners and a side burner.
Best Buy
Save $50 on the Weber - Genesis II E-315 3-Burner Propane Gas Grill. Listed for $779. Three powerful burners that are guaranteed to ignite every time, and iGrill 3 smart technology compatibility - all backed by the Weber 10 year warranty on all parts of the grill.
Weber - Genesis II S-335 3-Burner Propane Gas Grill - Stainless Steel is discounted and listed at $1,029. The grill can simmer sauce while searing steaks, just inches apart. The Genesis II S-335 is equipped with a sear station, side burner, 10 year warranty on all parts of the grill.
For $175, you can get the Weber - 22 in. Original Kettle Premium Charcoal Grill. It is designed to maximize airflow and heat retention, which allows outdoor chefs to cook foods to perfection.
Home Depot
For $299, you can get the 4-Burner Propane Gas Grill in Stainless Steel with Side Burner. This new Nexgrill 4-Burner Propane Gas Grill in Stainless Steel boasts 626 sq. in. of total cooking space. With 4 main burners and 1 side burner, supplying 60,000 BTUs of flame-roasting energy, this unit is sure to meet your grilling expectations.
The Char-Grill Blazer Charcoal Grill is $179. Equipped with cast iron grates and a smokestack for precision temperature control, you can grill, smoker, sear and much more.
Lowe's
Save $50 on select Weber grills, including the Genesis II E-335 Black 3-Burner Liquid Propane Gas Grill with 1 Side Burner. It is listed at $929.
Check out the deals on the following brands:
Mark Heim is a reporter for The Alabama Media Group. Follow him on Twitter @Mark_Heim.
Sours: https://www.al.com/business/2021/05/5-best-memorial-day-2021-grill-sales-check-out-amazon-wayfair-best-buy-lowes-home-depot.html
Now discussing:
Weber Smokey Mountain Cooker Review
Pros
Functions well
Easy to clean
Easy to use
Versatile
Easy to assemble
Cons
Smoke leaks
Needs a constant wood refill
Weber Smokey Mountain Cooker
If you are new to smoking food, you will soon realize that the tall and slim design of this charcoal smoker is a smart space-saving idea.
It offers sufficient space for your smoking needs, making it easier for you to prepare delicious smoked treats for your guests.
This outdoor appliance is designed as a smoker, but you can quickly turn it into an ordinary grill, as well.
This bullet-shaped smoker can go up against large cookers and produce comparable results.
It is quite straightforward to learn how to use; in fact, you can easily master different skills so that you can use this charcoal smoker efficiently.
Who Is This Product For?
This Weber smoker review shows that this model is perfect for beginners who are just starting to learn how to smoke food.
It is easy to handle and simple to operate.
You will find that it is suitable for those with limited areas in their home, as this cooker is designed not to take too much storage space.
You don't need to be a handyman to set up this Smokey Mountain smoker, too, because it is easy to put together.
What's Included?
You will receive the Weber Smokey Mountain cooker plus the fitted smoker cover and the instruction manual.
Overview of the Features
Though the smoker is not cheap, the quality performance that you would get from this cooking machine is worth the investment.
Here are the features you'd enjoy from this smoker:
Being able to manage and maintain the temperature of the smoker is crucial for even cooking and sufficient smoke production.
Some vents can regulate the airflow, which, in turn, controls the temperature inside the smoker.
In addition, a large pan is placed just above the coals, taking in the heat while slowly releasing it to the cooker to stabilize the heat inside.
There's a bowl-shaped fixture under this tall and slim cooker made of aluminum.
It acts as a heat shield to protect the area where the smoker is from any damage caused by the heat emitted by the appliance.
Meat Thermometer Access Hole
The dedicated spot for the thermometer has a small hole where the probe can easily fit.
This way, you can conveniently monitor the heat inside the smoker as well as the internal temperature of the meat.
Aside from regulating the heat and creating moisture inside, the water pan also doubles as a drip pan.
It catches the juice and fats from the meat, preventing any flare-ups if it falls directly to the coals.
You can also add different types of juices into the water pan to add flavor to the smoked meat.
The incorporated analog thermometer is strategically placed on the lid for easy viewing.
There, you will also find the adjustable vent for regulating the heat inside the smoker, all the while keeping the top handle cool to the touch.
The smoker is fitted with two smoking grates.
A separate door has been added on the middle portion of the cooker so that you can check the state of the food on the lower rack.
This also allows for more accessible water, wood, or charcoal replenishment.
You will find three more adjustable vents placed at the base of the smoker.
This is also where the fire grate and ring are put together with the three sturdy legs to keep the cooker stable.
The cover for the smoker sits comfortably secured on top of the cooker.
It comes with a fastener strap that can be tied on one leg of the smoker for added security.
The manufacturer used high-quality materials to create this smoker and to ensure that it can withstand the heat pressure as the cooker is used regularly.
The body is made of combined powder-coated steel, while aluminum materials composed the legs, vents, and internal brackets.
The lid and door handles are made of plastic, preventing them from getting hot during the cooking process.
Lastly, the cooking grates used chrome-plated steel for ease of cleaning.
This smoker heats up quickly, and the temperature gets sustained at a steady range in a short period.
The temperature may fluctuate at times, but that is because of uncontrollable factors like wind, sunlight, or the weather.
How to Get the Most out of It
Since the cooker needs some basic assembly to be completely set up, a diagram instruction is included in the package.
For maintenance, you can clean the cooking grates by scrubbing it with a crumpled aluminum foil or a grill brush.
Then, dispose of the cooled ash, along with the unburned coals, after every use.
It is also recommended that you make sure to clean the water bowl thoroughly.
The stem of the built-in thermometer should be kept clean, as well, to ensure that it will work the next time you use the smoker.
Clean the interior of the cooker and the cover to prevent dirt from coming in contact with your food.
If this Weber smoker review is not enough to convince you, here's a video of some backyard barbecue basics using this model.
Alternatives
The Vertical Offset Smoker from Dyna-Glo is also a charcoal-powered cooker similar to Weber's bullet-shaped smoker.
However, this affordable smoker does not have the same well-made quality as the one from Weber, as expected from its price range.
It's a lightweight smoker made from powder-coated steel fitted with an air damper chimney that you can adjust according to your required temperature.
The vertical cooking chamber is attached to the firebox with a charcoal basket.
This holds the coals intact to better provide a hotter temperature to the cooking chamber.
The smoker has a big cooking chamber that can house six smoking racks, which you can conveniently adjust according to your needs.
You have to arrange the food inside the cooking chamber accordingly based on the amount of heat it needs to cook entirely because of how the smoker is configured.
The cooking chamber may be lightweight, but the legs of the smoker are sturdy and stable even if the smoker is full of food.
You can quickly move the smoker from one place to another using the handles attached to each side of the chamber.
The built-in thermometer is not as reliable as you would expect it to be, so you need to check on the meat to know its' cooking state.
There's also a printed guide about the smoke zone target range that is beneficial for newbies and experts alike.
If you want to try a different fuel source, then you can check the Analog Electric Smoker from Masterbuilt.
You will not find an upgraded version or a different color for this specific model from this brand.
This 30-inch smoker does not offer any unique feature but promises to do the smoking job right every time.
This Masterbuilt smoker can accommodate three cooking racks, making it the perfect cooker for the whole family.
You will also find a water pan and a wood chip tray similar to other cookers to help you regulate the heat inside.
This smoker is also the most affordable from the three models we have checked.
Conclusion
This Weber smoker review shows that this model is indeed a cooker worth buying. 
The price range may be expensive, but all its features are worth the amount you pay for it.
It has a perfect size that can accommodate a sufficient amount of meat for smoking to feed a decent number of people in one cooking.
The two layers of cooking grates are perfect for smoking an ample amount of chicken, beef, or pork.
You can even try any of these seven brisket recipes for a delicious treat on your next backyard barbecue party.
Sours: https://www.pioneersmokehouses.com/weber-smokey-mountain-cooker-review/
1439
1440
1441
1442
1443