When to Use Chalk Couture Ink or Paste
You have probably heard that Chalk Couture makes both removable chalk paste and permanent ink, but you might be confused when to use Chalk Couture ink and when to use Chalk Couture paste.  You are in the right place, because this post will explain when to use ink or paste depending on what type pf project you are working on.
First of all, if you don't know much about Chalk Couture, START HERE! Chalk Couture products include, paste, ink, silk-screen transfers, surfaces and accessories.  You can use the transfers with either paste or ink!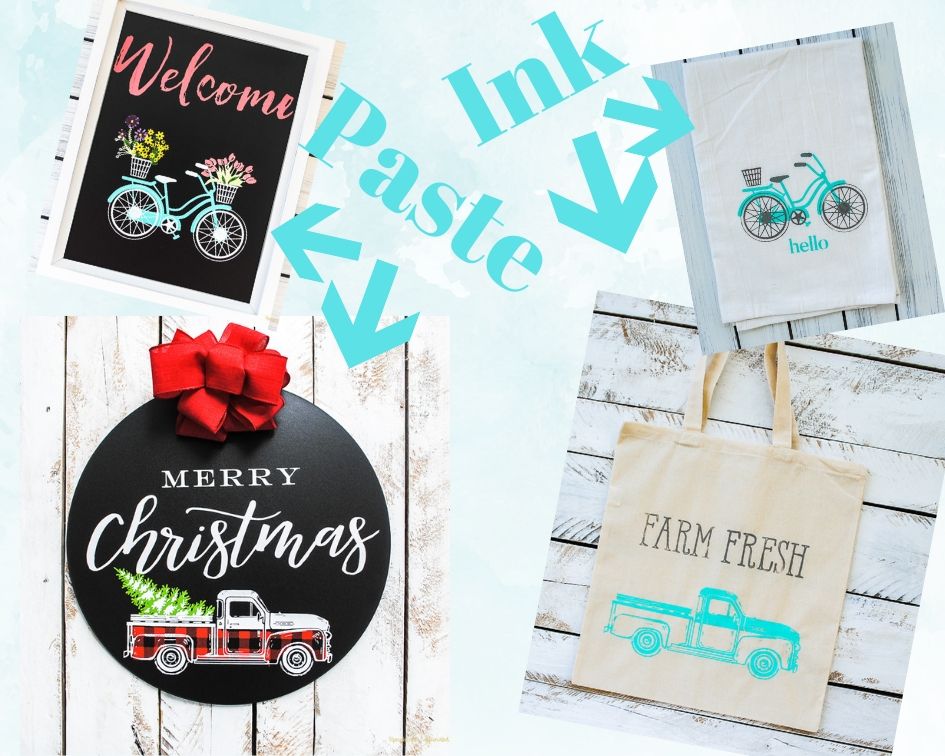 So let's start with the Chalk Couture paste.  The past product is the most popular BECAUSE of it's removability.  Paste can be used on almost any hard surface and it is usually removable from each of those surfaces.  You can use Paste on a chalkboard, wood, tin, glass, plastic, tile….I have even seen people use paste on their front door, outside of their oven, chairs and furniture.
GET THE PASTE HERE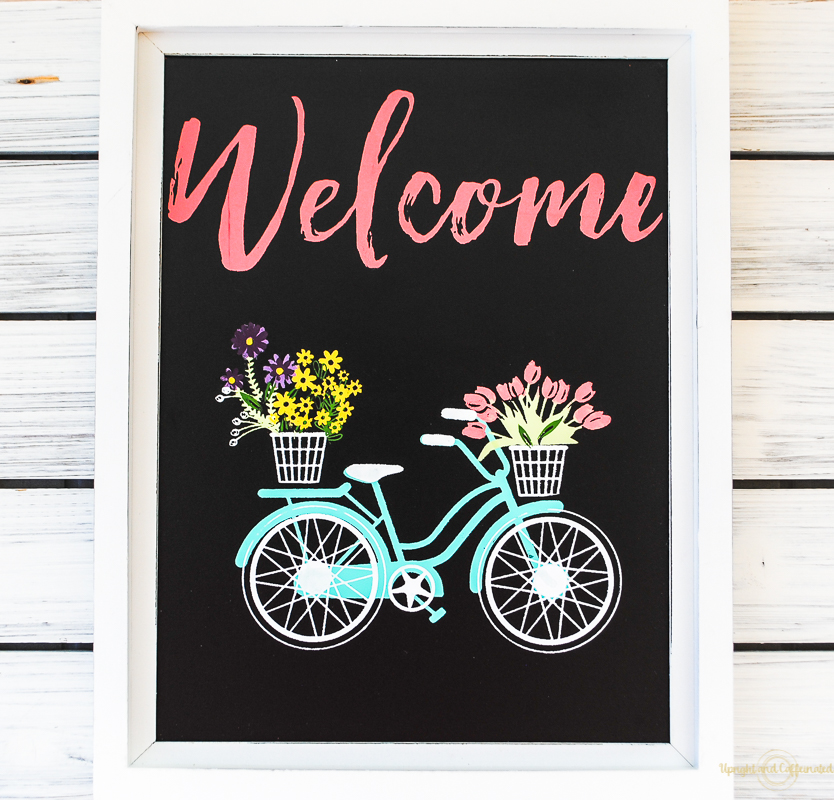 Like I said, the paste is removable from most hard surfaces.  You definitely will want to prep any wooden surface.  Read all about prepping wooden surfaces for Chalk Couture HERE.  I love using the paste on signs in my house.  The fact that I can wipe them off and change the design out by season is awesome! Paste is also great when working with kids or people who have not worked with Chalk Couture before.  You can wipe off any mistakes, or even wipe the entire board and start over!
Now let's talk about ink!  The ink is permanent and can be used on fabric or hard surfaces that you can heat set.  This video will show you exactly how to use Chalk Couture ink on fabric.
The ink works the same way as the paste with the same transfers and same squeegee!  No need to buy additional stencils.  You will need an ink mat when working with fabric.  This will ensure your fabric stays flat and will also prevent the ink from bleeding through the fabric when working with shirts, pillows or bags (anything with a back side of fabric).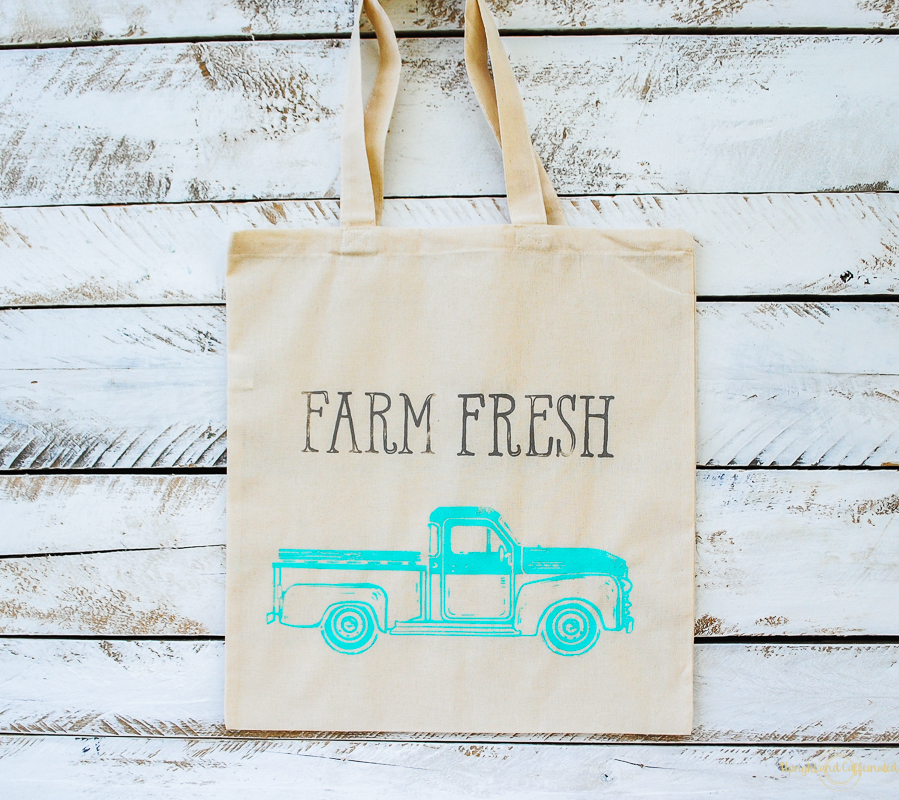 To heat-set the ink on fabric, simply use an iron on medium heat for 4 minutes on both sides.  Make sure the ink is completely dry before heat setting and remember to continuously move the iron to prevent scorching the material.  *You can also use a Cricut EasyPress to heat set.  30 seconds on each side- check the EasyPress settings for the right temperature for the material you are working with.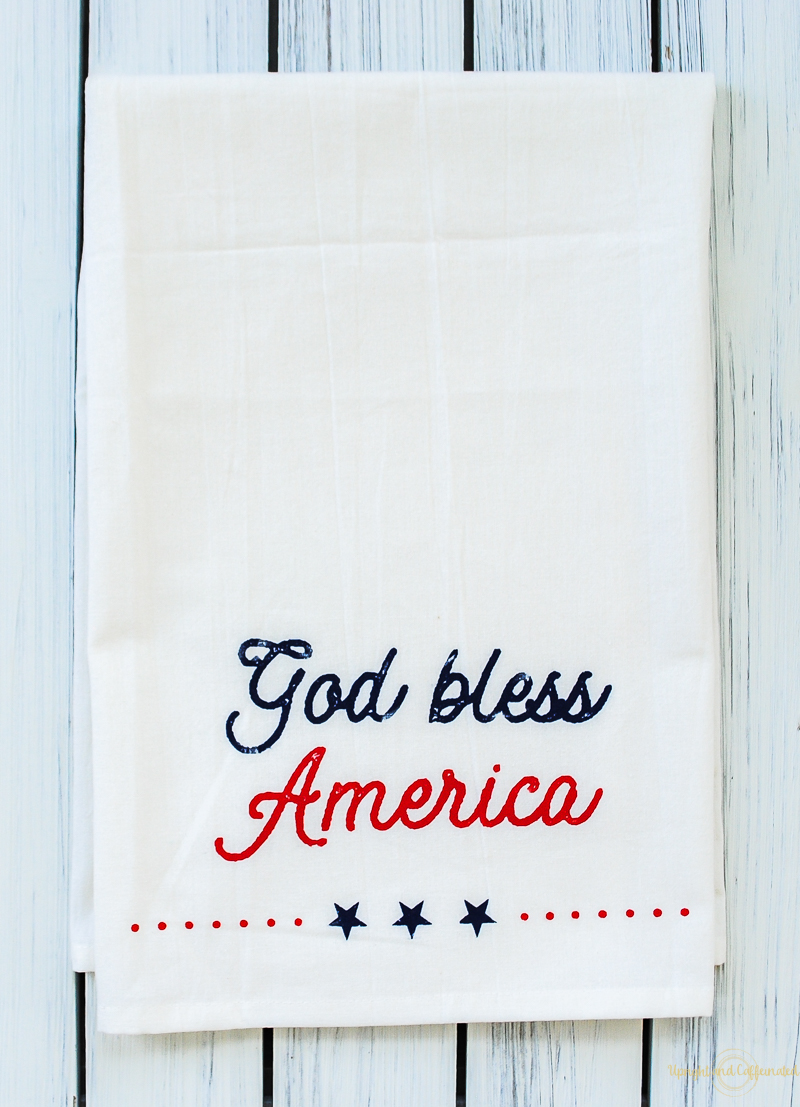 GET THE INK HERE
If you want to use Chalk Couture ink on ceramics, you can heat set those as well.  Use the ink on coffee mugs, display plates, drink tumblers… The ink is not food-safe, so don't use on a plate that you plan to serve food on.  The key to heat setting ceramics, is to make sure the ink is completely dry before heat-setting.  I usually let the ink dry about 48 hours before heat-setting on ceramics.  Once the ink is completely dry, put the item in a cold oven and shut the door.  Turn the heat to 350 degrees.  Once the oven has reached 350 degrees, set a timer for 30 minutes.  After 30 minutes, turn the oven off, but DO NOT OPEN THE OVEN DOOR.  Allow the item to completely cool in the oven.  I usually heat set at night and allow the item to cool overnight.
WANT TO LEARN MORE ABOUT CHALK COUTURE?  JOIN MY FREE CRAFTING COMMUNITY.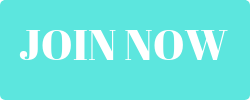 Have I clarified the difference?  If you are still a little confused, here's a little graphic.  This shows the different surfaces you can use with paste and ink as well as some examples on which to use paste or ink.
⇓ PIN THIS FOR LATER! ⇓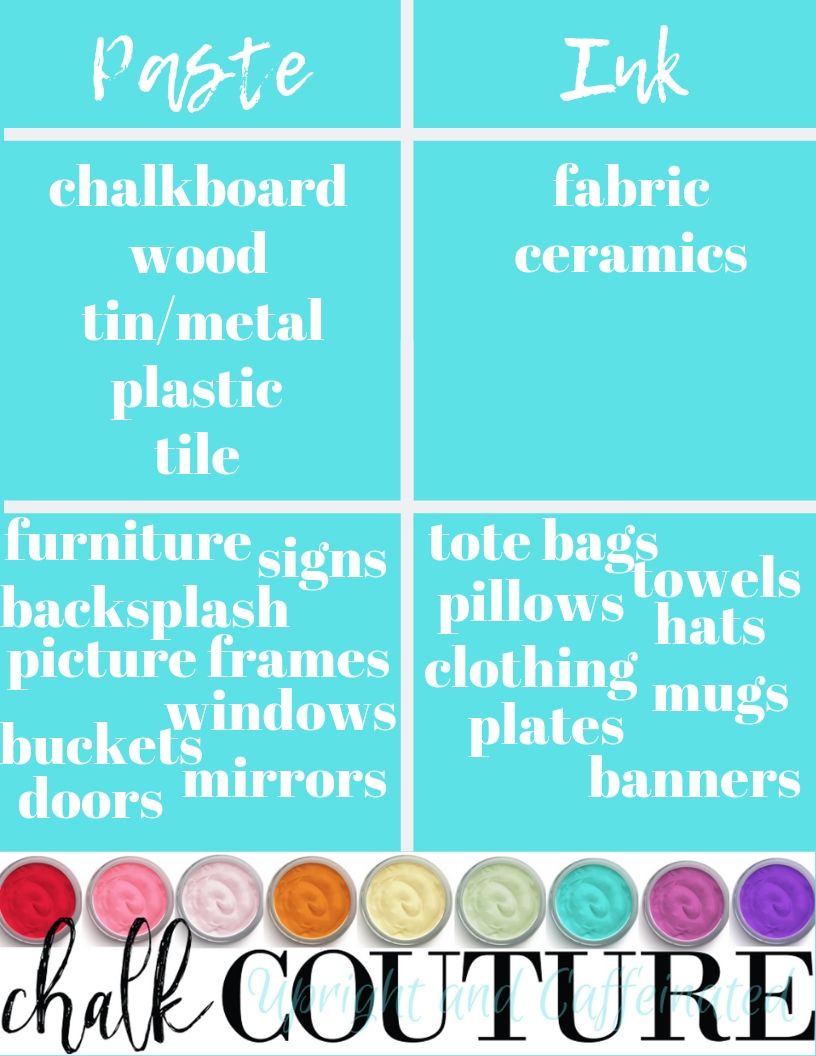 If you still have questions?  Reach out to me! I am usually over on Facebook! 
Thinking about joining Chalk Couture as a Designer?  I would love to chat with you about this amazing opportunity.  CLICK HERE to join my Chalkortunity group on Facebook!
Filed Under: DIYTagged With: chalk couture, Chalk Couture Ink, chalk couture paste, ink vs paste, paste vs ink
Sours: https://www.uprightandcaffeinated.com/when-to-use-chalk-couture-ink-or-paste/
DIY chalk paste and chalkboard stencil
I've been reading a lot lately about using chalk paste to create decorative chalkboard art. This immediately appealed to me because it encompasses so many of the crafts that I already love: chalkboard art, painting with adhesive vinyl and (faux) hand lettering.
I started searching my local craft stores for chalk paste, and I was amazed that it was impossible to find! Apparently, the direct sales company, Chalk Couture, has quite a lock on this market. I wasn't ready to spend $12.99 for one small container of chalk paste, and I was anxious to chalk this saying on my chalkboard: Cherish the past. Engage in the present. Embrace the future.
You can read a whole blog post about this saying and what it means to me by clicking here.
I didn't have the time or money for an Amazon delivery, so I searched Pinterest for ideas to make chalk paste at home. I found a few ideas that I thought might work, but they also required a trip to the grocery store. Then I came up with an idea of my own.
I've always loved decorating the sidewalk with chalk art with my kids. I especially love chalking on a wet surface or dipping my chalk in water to create a vibrant drawing that goes on more smoothly than a regular chalky piece of chalk.
There must be some way to turn my regular chalk into paste!
**
Here are the materials I used to create my own DIY version of chalkboard paste/paint and a decorative stencil:
**
I knew that I wanted to create four colors of chalk to give my artwork an ombre effect.
I placed several pieces of white chalk in a small mason jar. I poured boiling water over the chalk just to cover it. I created several other colors using pieces of purple chalk and then red and yellow to give it more of a brown hue.
I let the chalk sit a few minutes in the boiling water. Then I used my stirring stick to crunch up the chalk and mix it until it became pasty. This is not something you want to do if you are in a hurry. I wasn't feeling well when I worked on this, and it was actually relaxing to just sit and chop up chalk.
After a few minutes, I had mixed up a few variations of white and purple chalk. I added more red and yellow to a few of the jars and mixed a little purple with white to another. I wanted to create four colors that would blend nicely to create an ombre effect.
Next, I designed my template on my Silhouette Cameo 3. You also could do this on your Cricut. Unfortunately, I don't own a Cricut, but I would love to get one someday to compare with the Silhouette.
I discovered the font called Arrow Ultimate Font in the Silhouette Design Store. The font comes with 1,200 arrow pieces that you can attach to the ends of the font. I am completely in love with this font!
I also wanted a thicker font, and I wasn't happy with any of the ones I already owned. I decided to download PN Butter Peas Bold, as well.
I am really happy with the cute combo of these two fonts together. I added some hearts at the bottom for extra cuteness.
I cut out my stencil using some old contact paper that I already had. I have found that contact paper works great on projects that don't have to be perfect. (I prefer using Cricut or Silhouette adhesive vinyl on my more detailed painting projects to protect against bleeding.)
NOTE: I had to redo one section of the chalkboard, and I decided to use Cricut Stencil Vinyl. The vinyl went on the chalkboard perfectly. However, when I went to remove it, it pulled off all of the chalk, as well as the painted surface of the chalkboard. I'm planning to keep experimenting with different types of adhesive vinyl to determine what makes the best chalkboard stencil.
I also use transparent contact paper as transfer tape, and it works great in most cases. It's also a TON cheaper than name brand transfer tape.
I adhered the three parts of the saying in three different sections.
Then I used a foam paintbrush to cover the words with the liquid chalk. I started at the bottom with the darkest color and worked my way up to white at the top.
Some of the chalk was more watery than others and took a lot longer to dry. I let it dry for a few hours before removing the contact paper. I removed the contact paper while the chalk was still a bit wet. Once the contact paper was gone, the words dried quickly.
I love how it turned out! I have a few more recipes for homemade chalk paste that I'm going to try that I know will be easier than chopping up pieces of chalk. But this was a fun DIY using chalk pieces I already had on hand. I'll check back in with my results!
**
**
If you liked this post, would you help support my blog and creative projects? I have a list of goals to increase my Pinterest traffic, grow my Etsy shop (coming soon), expand my photography business and make an income through my writing.
Here are a few things that are super helpful:
My blog posts can only be seen on social media if people comment, like or share them. Would you consider liking this post on Facebook or Instagram, leaving a comment (helps a ton!) or sharing the post (helps even more!!).
If you like one of my creative projects, would you share it on Pinterest?
If you don't receive new posts in your inbox, please sign up for my e-mail list.


**
Thank you for being a reader! I appreciate you!
xo, emily
Sours: http://emilyneal.online/2019/08/26/diy-chalk-paste-and-chalkboard-stencil/
Chalk-Tique Paste Wax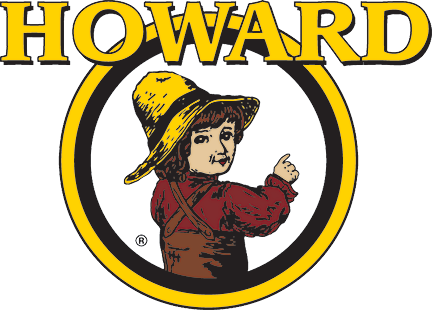 ‹ return to chalk-tique products
Protect and prolong the life of all your chalk-style painted surfaces
Enhances the chalk-style look of your project for a beautiful antique look
Perfect follow up to any chalk-style paint
Use on wood, glass, ceramic, laminate, metal, etc.
Paste Wax helps seal, finish, and protect the newly painted surface
Dark Paste Wax helps create a "distressed" looking, aged patina
Chalk-Tique Paste Wax is the perfect follow up to any chalk-painted surface. Chalk-Tique Paste Wax adds a natural-looking satin wax finish that helps protect and beautify your new chalk-style painted surface. Use Chalk-Tique Dark Paste Wax to slightly darken the paint and help create a "distressed" looking, aged patina. Use Chalk-Tique Light Paste Wax to help seal, finish, and protect the newly painted surface without darkening the paint. This process creates a very appealing patina that only a chalk-style paint and paste wax combination will achieve.
Chalk-Tique Paste Wax enhances and helps protect all chalk-style painted surfaces with a unique blend of Brazilian carnauba wax, beeswax, orange oil, and special surfactants. When a painted surface is lightly distressed and then Paste Wax is applied, the finished surface is beautiful, stylish and polished with an aged look that only chalk-style paint and paste wax will create. Excellent for sealing and protecting all Chalk-Tique painted surfaces, including wood, glass, ceramic, laminate, metal, etc. Protect and prolong the life of all your chalk-style painted surfaces with Chalk-Tique Paste Wax.
Prior to applying Chalk-Tique Paste Wax, sandpaper can be used to create a distressed look. Use coarser grit for a heavily distressed finish or fine grit for a lightly distressed finish. To ensure your piece looks naturally worn, sand corners and edges first. IMPORTANT: Allow paint to fully dry before distressing and always sand with the wood grain. If you feel you have distressed too much, simply touch up with more paint.
Make sure surface is dry and free of dust or other contamination. To clean, use Clean-A-Finish.
Using a clean, soft cloth, apply a thin, even coat of Chalk-Tique Paste Wax in a circular motion to a small area at a time.
Let dry 3-5 minutes, then buff with a clean, soft cloth.
Turn the cloth frequently for best results.
Reapply if necessary.
CAUTIONS: COMBUSTIBLE. CONTAINS PETROLEUM DISTILLATES. IF SWALLOWED, CALL PHYSICIAN. KEEP OUT OF REACH OF CHILDREN.

WARNING: This product can expose you to chemicals including Ethylbenzene, which are known to the State of California to cause cancer. For more information go to www.P65Warnings.ca.gov.
Follow Us
Howard Products, Inc.
560 Linne Road
Paso Robles, CA 93446
Call Us: 805.227.1000 Fax Us: 805.227.1007
© Copyright 2021 Howard Products.
All Rights Reserved.Accessibility
Sours: https://www.howardproducts.com/product/chalk-tique-paste-wax/
WET CHALK ASMR (via.chalk) /paste (edit)
.
Paste chalk
.
ASMR Watery Chalk Paste #SpongeSqueezing ✨ SATISFYING PASTE MIXING SOUNDS
.
Similar news:
.
1383
1384
1385
1386
1387