Contents
ATLAS Acadia 25
C-DORY 25 Classic Cruiser 
EASTERN BOATS 248
PARKER 2530 XLD Sport Cabin
RANGER TUG R-23
ROSBOROUGH RF-246 Digby
Demand for trailerable boats has caught fire over the last decade, and boatbuilders have answered the call with a wide variety of solutions. Though designed with a common objective, the solutions vary greatly in how they address the needs of a portable market. Conceived to take a cruising couple on waterborne adventures, these trailerable boats are a natural fit in the world of trawlers, but in a different fashion. Traveling is at the core, but the question is how far, how fast, and how long. Here are six capable cruisers you can strap down and take with you.
ATLAS Acadia 25
When I first wrote about this boat in 2012, the Acadia 25 was only offered as a diesel. But I was taken with her simplicity and rugged Downeast styling. Atlas Boat Works owner Tom Gamso and his family have been building boats on the west coast of Florida since 1987, and the Acadia 25 has been one of their most popular models, with more than 120 hulls built to date. Prompted by the increasing popularity of four-stroke outboards, the company introduced its first outboard model less than a year ago.
"The more stringent emission regulations on diesels have also substantially increased the cost of small diesel engines," Gamso says.
He has only built two Acadia 25 outboards thus far, and one of them was nearby on Siesta Key: Liberty, owned by Mark and Jackie Barry. Lit by the morning sun, she gleamed in her lift behind their home. Her hull was painted with Awlgrip "Boston Whaler Blue," picked by Jackie.
Prompted by the increasing popularity of four-stroke outboards, [Atlas Boat Works] introduced its first outboard model less than a year ago.
"One nice thing about working with Acadia is that any color is standard," Mark said. Another benefit was that the builder was located within an hour drive of their house. "It was so convenient to stop by on a regular basis to see our new boat under construction."
Avid boaters all of their lives in New York, the Barrys' last boat was a 46-foot cruiser. Now in Florida, they were interested in more simplified cruising from Tampa to Key West. With a plethora of marinas, restaurants, and attractions to visit by boat, their primary needs were simplicity, ease of service and airflow.
The Acadia 25 is made with open sides in the cockpit area, which are covered with a canvas awning over the aft deck stretched over a custom stainless steel frame. Between her color, her simplicity, her 26-inch draft, and her size, she's their perfect boat for the west coast of Florida. With a 200-horsepower Suzuki four-stroke, she is capable of almost 30 knots, and her semi-displacement hull lets her cruise comfortably over a wide range of speeds. Mark finds 18 knots at 3800 rpm to be her sweet spot for fast cruising, and her most economical speed is 7 knots at 1600 rpm. While the Barrys have no plans for longer trips right now, they're considering other great places they might like to cruise—using a trailer and expressway to get there.

For more information: acadia25.com
C-DORY 25 Classic Cruiser 
The four-lane Route 19 along Florida's west coast passes through Crystal River, where I met Three Rivers Marine Owner Mike Shotwell, a C-Dory dealer, to see the new C-Dory 25.
With a combination of low freeboard, a discreet cabin, and molded lapstrake hull detail, the C-Dory 25 ranks among the most attractive trailerable trawlers out there. Though built in Bellingham, Washington, she'd look just as natural cruising the fjords of Norway.
In contrast to the exterior, the textured white gel coat interior finish is rather plain in appearance, but it's practical and easy to keep clean. Exposed wiring runs and soft flexible covers over much of the onboard equipment suggest a simple approach that should appeal to anyone who appreciate access over aesthetics.
The C-Dory 25 ranks among the most attractive trailerable trawlers out there. Though built in Washington, she'd look just as natural cruising the fjords of Norway. 
The interior has a fully enclosed head and shower in the main cabin. Because the head has large windows fore and aft to provide visibility from the helm station, it does not feel intrusive. To maximize headroom in the main cabin, the carpeted cabin sole is literally the top surface of the hull structure, which somewhat compromises the acoustics when running.
The forward cabin is enclosed by a sliding curtain, which can be a bit tricky to negotiate at first, owing to the low headroom of the opening. A diesel stove in the galley doubles as a cabin heater, which will be appreciated in colder cruising climes, and its separate fuel tank is easy to access for refills. The 200-horsepower Suzuki lives in a well, which makes for a smallish aft deck.
We eased the C-Dory 25 off the dock and cruised quietly down the no-wake canals, a haven for manatees in the area. In open water, the C-Dory 25 accelerated quickly from displacement mode to full plane. Going to windward through a stiff chop, the interior decibel readings were in the 80 dbA range. (C-Dory has recently introduced its new Venture Series with a deeper V hull and an isolated floor that I suspect will run quieter.) My GPS readings verified speeds from 4.5 knots at 1000 rpm up to 22 knots at 4000 rpm. The C-Dory website has full test data for a C-Dory 25 equipped with a smaller (150-horsepower) motor and claims impressive economy over a wide range of speeds, with an average of about 3.5 miles per gallon.

For more information:c-dory.com
EASTERN BOATS 248
In the heart of Cortez, Florida, one of the last commercial fishing villages in the state and home to the local Eastern Boats dealer, the only Eastern boat in sight was a well-used commercial fishing model. She looked right at home surrounded by the fleet of commercial fishing boats outside the office of Frank Joseph, president of Grand Slam Yacht Sales.
'I'm totally in love with my boat. She's equally at home in the northern Atlantic or the Gulf of Mexico.' —Eastern 248 owner Maurice Blais
"I really don't have a new boat in stock to show you," Joseph said. "They've all been sold and we are waiting for our next orders to arrive." Same old story.
Fortunately, Maurice Blais, a service customer, had his Eastern 248 docked nearby and was happy for me to take a look at the boat. MoJo, which Blais bought in Maine, is several years old. He moves the boat back and forth between his Florida and Maine residences, trailering it behind his motor home.
"I'm totally in love with my boat," Blais said. "[She's equally] at home in the northern Atlantic or the Gulf of Mexico." According to Blais, the 248 is the ideal day boat for fishing, lunch cruises, and boat rides with his grandchildren.
On our brief test run and photo shoot, her New England design heritage was apparent from all angles. I transferred over to her from our photo boat, a 22-foot Seaway Center Console, also made by Eastern Boats. She seemed happiest at 3000 rpm for a fast cruise of about 15 knots and took off at 4500 rpm, producing a ride of over 27 knots. Her helm was responsive, and she remained dry as I cut through a large wake from a passing boat.
MoJo is powered by a single 175-horsepower Yamaha mounted on an optional transom bracket—which I recommend as it provides a more usable aft deck, further isolates the already quiet four-stroke, and provides for a swim platform with hinge transom door access.
Her layout both above and below decks allows for plenty of seating, a full-size V-berth, and a Porta Potti plumbed to a dockside pumpout. A conventional marine head is optional. The helm station was well equipped with navigation and engine management readouts. A built-in footrest added to the comfort. Visibility was good in all directions, and her large sliding windows provided good ventilation.

For more information:easternboats.com
PARKER 2530 XLD Sport Cabin
Parker, a family-owned and -operated boat builder in Beaufort, North Carolina, began building commercial fishing trawlers for use in the turbulent waters of the Outer Banks. Though the company shifted focus to recreational fishing boats, its line, which has grown to include 25- and 28-foot cabin boats, still reflects its commercial fishing heritage. The "XLD" model of the Parker 2530 has an extended cabin that adds a small dinette to port and a compact galley to starboard. The interior is as spartan as the exterior, with a focus on simplicity, serviceability, and strength.
The standout for me was the box-grid stringer system below deck level...I've not seen a more substantial construction method on any boat. 
At Central Marine in St. Petersburg, Florida, I met with Sales Manager Josh Person, who, by way of his computer screen, gave me a tour of Parker's North Carolina facilities and explained the characteristics of the 2530 XLD. The standout for me was the box-grid stringer system below deck level, a full-length grid of marine-grade, fiberglass-encapsulated plywood. I've not seen a more substantial construction method on any boat. Additionally, the entire exterior deck is self-bailing and feels like concrete as you walk on it.
I toured the 2520 XLD model in stock. With the exception of cabin length, it is identical to the 2530. The forward cabin is furnished with a large V-berth. Two center cushions are removable to a fully electric marine head. Nothing fancy here, but functional. The helm station has dual helm seats and the boat is standard with full instrumentation including the electronic Yamaha engine panel and Garmin electronics. The cabin can be enclosed with a heavy-duty aluminum door or fitted with a canvas-enclosed open back. The aft deck can be fitted with a folding bench seat and an aluminum-framed soft top for shade.
The boats are sold with Yamaha outboards mounted on an Armstrong platform. The 2530 comes in three power options: a single 300-horsepower motor, twin 150-horsepower motors, or twin 200-horsepower motors.

For more information:parkerboats.net
RANGER TUG R-23
Introduced in 1979, the first Ranger Tug was 18 feet long and powered by an outboard inside of a motor well on the port side of the cockpit. It also had a sail rig. After an ownership change in 1999, the company expanded its line of tugs. Current models range in size from 23 to 31 feet, and both the R-23 and R-27 are outboard powered.
I inspected the R-23 with Dan Callahan, sales manager at Edgewater Yachts in Bradenton, Florida. Surrounded by more conventional outboard boats, the R-23 stood out with her bright navy hull and matchless tug-like design. This latest version features a curved vertical windscreen shaded by a well-proportioned brow.
Surrounded by more conventional outboard boats, the R-23 stood out with her bright navy hull and matchless tug-like design.
Three large hatches in the aft deck reveal all the major systems. The components required for fuel, water, electrical and cooking are all contained in sealed compartments with appropriate ventilation and drainage. Flexible seating arrangements, a clever layout, a below-deck Pullman berth, generous use of ports and proper proportion all make her seem much larger than her actual size. If I'm being picky, one small improvement I might suggest is to rethink the edge of the bottom step into the forward stateroom, as it is not radiused and could be an ankle biter, although hardly a deal breaker. The overhead includes a number of skylights—some fixed, some operable. A large port behind the settee opens up to the aft deck. All of this glass enhances the feeling of open space in the salon.
A careful inspection of specifications and pricing show that the R-23 is sold as virtually turnkey and includes standard equipment that is normally offered as an option on other boats. Note: The builder also offers a performance line called Cutwater Boats.
According to the builder, Ranger Tug owners are a well-knit group of enthusiasts from around the country. The website tugnuts.com is a popular web hub where these owners share a great deal about cruising experiences, repairs and rendezvous.

For more information: rangertugs.com
ROSBOROUGH RF-246 Digby
Designed in the late '70s by James Rosborough in Nova Scotia, the Rosborough 246 might just qualify as the original trailerable trawler. Rosborough Boats built nearly 500 of these original models, which have home ports throughout Canada and the United States. As the firm transitioned to designing and building semicustom vessels for the Canadian Coast Guard and U.S. state and municipal agencies, Rosborough's design has continued in the hands of a variety of builders.
Rigorous sea conditions in its home waters of Nova Scotia influenced its design along workboat lineage and little has changed today. The Rosborough 246 is comfortable in a wide range of sea conditions. The Downeast-style semi-displacement hull with a center keel and a straight flat run aft combines performance and durability in a head sea.
I inspected the latest model in Florida, where the boat's owner touched on the logistics of trailering, launching and retrieving a boat of this size and weight. He recommends a ¾-ton pickup to handle the load.
Rigorous sea conditions in its home waters of Nova Scotia influenced its design along workboat lineage and little has changed...the 246 is comfortable in a wide range of sea conditions. 
The high-profile cabin house provides a spacious salon, with large, tempered-glass windows and twin pilot doors for access to the foredeck. The latest Digby model offers an optional upgrade to a solid teak interior. The extended hardtop is a great place to store a dinghy, and provisions have been made to mount a manual lift. The 246's trailerability, minimal draft and climate-controlled pilothouse are big selling points, but its greatest attribute may be efficiency.
A standard 150-hp (or upgraded 200-hp) Honda Marine engine mounted to the hull maximizes aft deck space, permits a swim platform, isolates engine vibration, improves fuel economy, and contributes to a drier ride and better handling.
The head on this boat was an optional composting toilet situated in the V-berth with privacy via the companionway door. One advantage here is more space dedicated to the salon, which always a plus. Rosborough Boats are sold factory-direct. 

For more information: rosboroughboatsusa.com
Sours: https://www.passagemaker.com
Five Affordable Trawlers Under 40 Feet
See more articles
If you're looking for trawlers 40 feet and under, here are five to consider.
There are many reasons we love trawlers big and small, and while trawlers are often associated with grand cruising plans, you don't always need a yacht-sized model to achieve your dreams of traveling to distant ports in comfort and efficiency. There are plenty of models under 40 feet that can take you places without depleting the retirement savings account. Here are a few top picks in the under-40-foot category.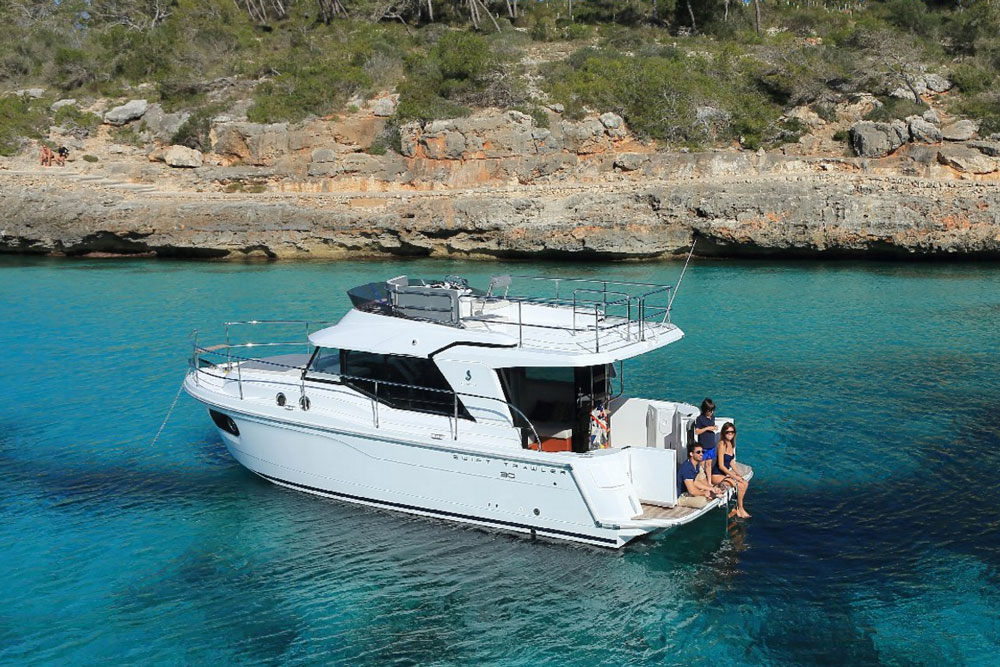 Cruisers looking for a small but competent option will want to see the Beneteau Swift 30.
Beneteau Swift Trawler 30
Beneteau has a rather extensive line of modern-designed trawlers in the Swift series, the smallest of which is the 30. It's the epitome of a pocket cruiser, small enough to be both affordable and easy to maintain, yet it has the accommodations needed for extended living aboard including a full galley and a private stateroom. It also boasts a rather extensive flybridge for this size of boat with an upper station and a settee, plus a wide walkaround that can be accessed directly from the helm via a side door. The Swift 30 also lives up to its namesake, with a top-end breaking 21 knots. Although fuel economy is a decidedly un-trawler-like one nautical MPG at this rate, pulling back on the throttles and travelling at a slow cruise of six knots nets you more like three MPG. Power comes courtesy of a single straight-shaft 370 HP Volvo D6 diesel inboard, and a 7.5 kW genset is optional. One unique perk is a swing-open transom, which opens the entire cockpit up to the swim platform. LOA is 32'9", beam is 11'7", and displacement is just over 13,000 pounds. Read our full review, Beneteau Swift Trawler 30: Pocket Cruising for Couples.
See Beneteau Swift Trawler 30 listings.
If you feel you need just a bit more LOA and you're hip to going as green as possible, check out Shock and Awesome: Beneteau Goes Hybrid With a Swift Trawler 34.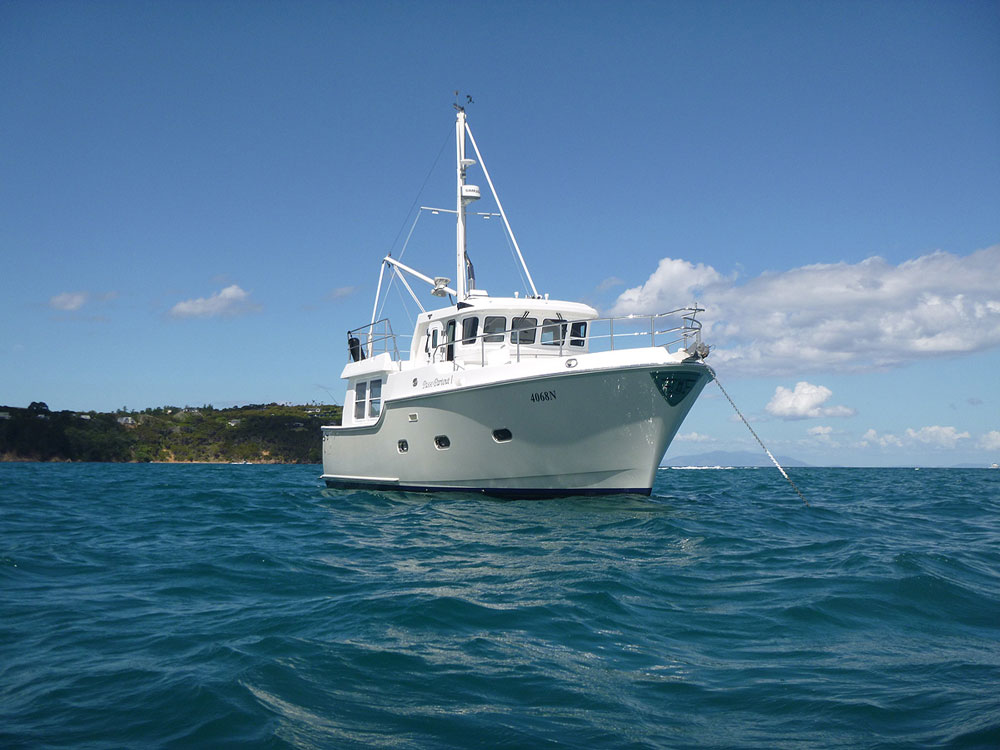 A Nordhavn 40 is the smallest trawler offered by this builder, but it still has ocean-crossing capability.
Nordhavn 40
Here's a trawler under 40 feet (39'9" LOA, 14' 6" beam) that has impressive cruising credentials. The Nordhavn has established itself as one of the most capable ships in its size range with both a circumnavigation and an Atlantic crossing under its waterline. And the owners of this salty trawler are among the most serious cruisers you'll meet. The N40 is the smallest model in the Nordhavn fleet of ocean-crossing motor vessels, so it has true offshore pedigree. It features a full displacement hull, a 900-gallon fuel capacity and range of 2,400 nautical miles at seven knots. Then there's the seakeeping ability. The high bow is buoyant and makes for a dry ride, while a forefoot beneath the surface eliminates pounding. To further improve comfort for passengers, order a Seakeeper gyro-stabilization system which will minimize rocking and rolling in beam seas. The ride is just one benefit of the Nordhavn. So too is the way the builder engineered the layout to provide a number of social and private spaces, and for accommodations, there are two private cabins.
Read our full review, Nordhavn 50: A Trawler that Goes the Distance.
See Nordhavn listings.
Unfortunately the 40 is no longer in production, but paying a visit to Nordhavn can give you a lot of insight into how these boats are built and what amazing cruising capabilities they have.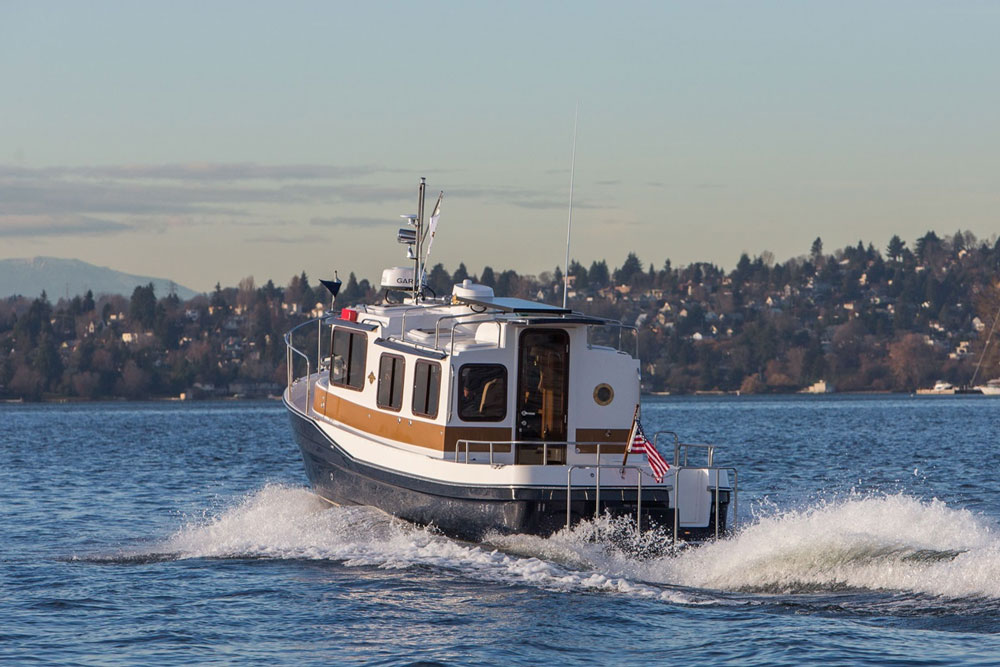 If you want a pocket trawler you can trailer, the Ranger Tugs R27 is ideal.
Ranger Tugs R27
The Ranger Tugs R27 has been called one of the cleverest designs on the water because the builder managed to fit the necessities and many of the comforts of a larger cruising yacht into a trailerable package, while maintaining a comfortable ride. Yes it's true, this trawler is trailerable; just look at the first picture in our Boat Towing Guide, and you'll see that it can even be hauled by a relatively modest tow vehicle. Ranger Tugs is experienced at building small-but-capable boats, as we've seen in past models like the R31. The R27 is even smaller, though, (with an 8'6" beam and 27'1" LOA) perfect for a simple sunset jaunt through the harbor or overnight cruising. The bottom design is what you might expect in a semi-displacement vessel of this type, which is more displacement than planing boat. The hull has a keel that starts about a third of the way back from the bow, and then bulges slightly in the bottom to allow the Yanmar diesel to be placed lower in the hull, which makes the shaft angle only six degrees. While the boat can run in the high teens at WOT, if you throttle back to 13 or 15 knots, you could get a range on the order of 200 miles—which means you can travel for two eight-hour days between fuel stops. (Fuel capacity is 100 gallons.) Although it's compact, engineers managed to free up 50 square feet of deck space aft. Cruising features include a V-berth and a midship berth, galley, dinette and head. This is one of the least expensive trawlers with such capabilities. Read our full review, Ranger Tugs R27: A Mini Trawler that Maximizes Space.
See Ranger Tugs R27 listings.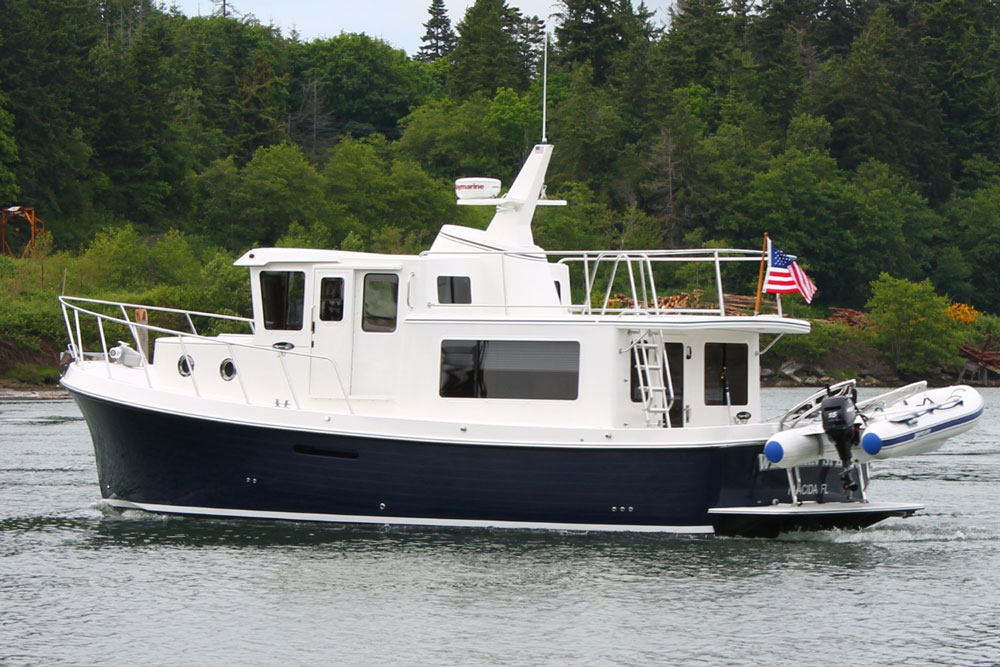 The American Tug's heritage includes both cruising and commercial fishing.
American Tug 365
The 365 is a relatively new design, but it's based on the popular and proven American Tugs 34 from Tomco Marine Group in Washington. The inspiration for the 34 was an Alaskan fishing boat hull designed in the early 1980s by Lynn Senour of Seattle. To get commercial fishermen out to sea and home quickly, Senour created a boat with a wide beam of 13' 3". To increase the stability inherent in that beam and reduce roll, he added flat, sharp chines. The result was a fishing boat that could carry big loads and, with sufficient horsepower, scoot to fishing grounds and back to port. American Tug realized the design features that work for fishermen could work for recreational boaters, too, so they commissioned Senour to adapt that hull for their customers. The first American Tug 34 was launched in August 2000, and it found a loyal fan base. It's evolved to become the 365, with features that enrich its mission as explorer-cruiser including a pair of panoramic windows in the salon. With an LOA of 36' 6", the 365 has two cabins and a convertible berth in the saloon. Power ranges from 330 to 380 HP. With a 370 HP Volvo top speed is 18 knots. Read our full review, American Tugs 365: Cruising, Pocket Trawler Style.
See American Tugs 365 listings.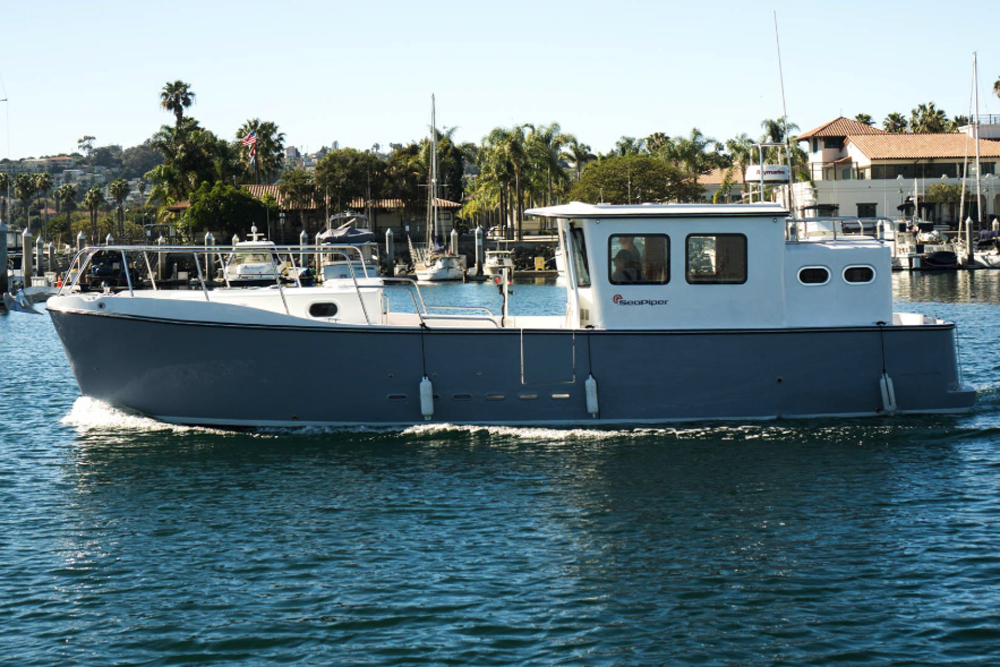 The Seapiper 35 is an affordable trawler that's built for long-distance cruising, and can travel up to 2,000 miles despite its small size.
Seapiper 35
The Seapiper has the appearance of the rather Spartan commercial fishing vessels trawlers were based on, and it's designed with a similar mindset. Systems are barebones so they can be easily maintained by the owner, power comes from a single and simple 85 HP Betamarine diesel straight-shaft inboard, the galley has a two-burner propane stove, and there's no exterior wood to maintain. Aside from its no-nonsense attitude, the most unusual thing about this boat is its layout. The helm, settee, and galley are in the aft cabin. Behind it the tiny aft cockpit has just enough room for a pair of seats, but in front of the cabin there's a 60 square foot open center cockpit with bench seating on the sides and engineroom access through the deck. Then forward of that cockpit there's a separate second cabin, this one with a berth, stowage, hanging locker, and an enclosed head with shower. Matching the boat's unique design are its unusual proportions; even though length is 35'0", beam is a mere 8'6". Putting all of these factors together you end up with an affordable trawler – MSRP starts at a mere $169,000 well-equipped – that is easy to maintain and can make long, long hauls at a very efficient fuel burn of one GPH, while going 6.5 to 7.0 knots. Read our full review, Seapiper 35 Review.
Forty feet of LOA simply isn't enough? Then be sure to check out Five Affordable Trawlers Over 40 Feet.
Editor's Note: This article was originally published in September 2013 and updated in August 2018.
With over two decades of experience in marine journalism, Lenny Rudow has contributed to publications including YachtWorld, boats.com, Boating Magazine, Marlin Magazine, Boating World, Saltwater Sportsman, Texas Fish & Game, and many others. Lenny is a graduate of the Westlawn School of Yacht Design, and he has won numerous BWI and OWAA writing awards.
Related Boats for Sale
See more boats like this
Related Articles
Beneteau Swift Trawler 30: Pocket Cruising for Couples
Beneteau Swift Trawler 30: First Look Video
Beneteau Swift Trawler 47 Review
Five Affordable Trawlers Over 40 Feet
Beneteau Flyer 6: First Look Video
Beneteau Gran Turismo 49 Fly: Amenities, Innovations, and Savings
Beneteau Barracuda 7: Quick Video Tour
Beneteau Gran Turismo 44: An Exceptional Express Cruiser
Sours: https://www.boats.com/boat-buyers-guide/five-affordable-trawlers-under-40-feet/
Pocket Trawlers: Five for Value and Versatility
The terms "mini trawler" and "pocket tug" don't really have precise definitions, yet both connote a small, salty vessel that's probably a jack-of-all-trades and won't break the bank. In that sense, the labels work, and in this article we take a look at five boats worth considering if you're looking for a capable small cruiser under 30 feet.
We have grouped these five for the purpose of this review, but the truth is that there is quite a bit of difference between a 25-foot boat and a 28-foot boat. That relatively small increase in length can make a big difference when cubed into livable space. In the end, all five of these boats offer something unique in terms of value and utility in the small cruiser market.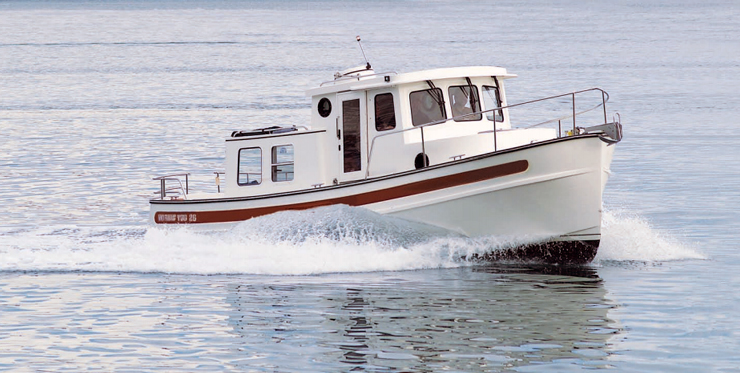 Nordic Tugs 26
The rejuvenation of Nordic Tugs 26 production three years ago was cause for celebration among the Nordic Tugs faithful. First introduced more than 30 years ago and withdrawn in 1997, its 2011 incarnation features a smart Cummins QSD 115-hp diesel and has a range of about 150 NM on its 75 gallons of fuel, cruising at 8 knots. Top speed is about 14 knots.
With a beam of 9'6", the NT26 is wide for its overall length of 28' 9". That makes for a lot of interior volume. There's room for four to stay aboard overnight, with two in the V-berth forward, and two on the convertible dinette in the saloon. The galley is to port, opposite the dinette.
Nordic Tugs did a great job with the fit and finish on this smallest member of the fleet. Quality components like Diamond Sea Glaze windows and doors are standard, just like on the bigger boats. One of the best things about a Nordic Tugs boat is the owners' groups, like the Northeast Nordic Tugs Owners Association (NENTOA). Their annual rendezvous, sponsored by Wilde Yachts in Essex, CT, are legendary, and the list of owner modification projects on the NENTOA website is typical of the value of these kinds of groups.
You can pick up a new NT26 for about $180,000 base.
North Pacific Yachts 28 Pilothouse
The North Pacific Yachts 28 is the smallest boat in the company's lineup, and it carries on the philosophy of providing maximum value for the dollar. Built from a new hull design by Karl Stambaugh at an experienced yard in China and well-equipped right off the delivery ship, a new 28 will run you about $177,500. The only thing you need to add to that base configuration is electronics. The boat comes standard with a single 150-hp Cummins QSD diesel, bow thruster, windlass with anchor, chain, and rope rode, raw water washdown, teak and holly floor and hand-rubbed teak paneling and cabinetry. All the sliding windows have screens, and curtains are even provided.
The boat has two bunks forward, a convertible in the pilothouse, and one in the saloon. According to North Pacific CEO Trevor Brice, "The NP28 seems to appeal to a much broader customer range [than the larger trawlers]. We've had people who are looking at the NP28 as their only boat, and others who own larger yachts but want the flexibility to enjoy cruising elsewhere when it is off-season where their larger boat is located."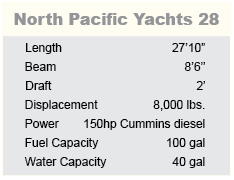 The standard 28 is capable of speeds up to 13 knots. At about 7.5 knots you should see better than 3 NMPG. With its 100-gallon fuel tanks, the NP28 has a theoretical slow-speed range of 400 NM. Even at top speed, it will have a range of better than 150 NM. Whatever cruise speed you choose, that's anywhere from a couple to several days of comfortable cruising without worrying about refueling. There are 40 gallons of fresh water aboard and the 160-amp alternator on the engine will charge even a large house battery bank in short order.
With its 8'6" beam, the NP28 is trailerable without any special permit.
Ranger Tugs 25SC
In 2010, Ranger Tugs modified the design of their popular 25SC to increase the size of the cockpit ("Sport Cockpit"), but taking some room out of the deckhouse. It was a good idea because it makes the cockpit truly useful now and ensures good access to the standard Yanmar 150 -hp diesel. The R25 has always been one of the most popular of the Ranger Tugs line. Its classic "tiny tug" lines draw visitors at the dock, and the company insists on a high level of standard equipment.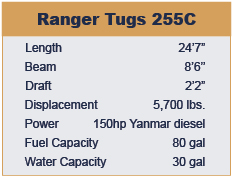 This is another truly trailerable trawler, with an 8' 6" beam and 24" 7" length. Standard bow and stern thrusters ensure great maneuverability. An enclosed head with shower, sink, and marine toilet are nice touches in a mini-yacht, and the full galley makes long weekends and vacation cruises easy. As many as five people can stay overnight aboard the R25SC.
Ranger Tugs is currently offering the R25SC at a base price of just under $130,000. Ranger Tugs is another brand that has a very social group of owners, with rendezvous on both East and West coasts. The owners' group site, Tugnuts, has lots of active discussion.
Read about this boat's big sister: Ranger Tugs R-31: More Pocket Trawler for your Trailer
Minor Offshore 25
Finland has a generations-old tradition of producing hardy, all-weather and all-season cruising boats. Two of these brands are now available in the United States; the Nord Star line and Minor Offshore boats. (See our recent reviews of the Nord Star 26 and the Nord Star 31.) For this roundup we chose the new Minor Offshore 25.
The Minor Offshore brand is imported to the U.S. by Skarne Marine, in Milford, CT. The look of these boats isn't so much tugboat as it is military or government patrol boat. In fact, many are sold for just those purposes. But they work as a great all-weather cruising boat for a couple or a small family, too. The 25 has a fully enclosed pilothouse, wide sidedecks, a decently sized cockpit, and a huge swim platform.
You can certainly putter around your favorite gunkholes in the 25. The electronically controlled Volvo diesel won't miss a beat. You can also open the throttle and the Duoprop sterndrive will push the hull onto plane and out to 30+ knots. With the largest 300-hp engine option, you'll top out at 40 knots. Remarkably, the fuel consumption at 25 knots is at least 3 NMPG, which means you can travel long distances at high speed.
The Minor Offshore 25 can fish, gunkhole, cruise, commute; it'll even pull the kids on skis and toys. It just might be the perfect SUV – Sport Utility Vessel for a small family. And you can get it for less than $130,000.

Rosborough RF-246
Rosborough is a family company, headquartered in Halifax, Nova Scotia, that builds a feature-packed cruiser for the rough North Atlantic waters that the company's government and military customers operate in. Interestingly, this sedan-style cruiser (also available in a Custom Wheelhouse configuration) can be powered by either outboards or a sterndrive. The hull features a full-length 9" keel for directional stability. The beam is 8' 6" and the overall length is 25'.
Rosborough's RF-246 carries a remarkable 120 gallons of fuel in aluminum tanks to feed single or twin outboards up to a total of 300 hp, or a single diesel sterndrive up to 200 hp. A V-berth forward will accommodate two adults, and the convertible dinette can sleep two kids or one adult.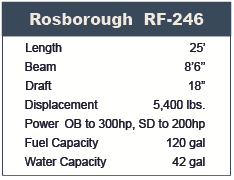 Rosborough says the boat features 100-percent positive flotation, which means that even fully swamped, it won't sink. The company builds more than 50 boats a year; when you order your RF-246, you'll start with an $89,900 base price and add to it the price of your power preference. If you choose a modest outboard solution, you could get this boat for around $100,000, which is a great price for a boat that will take you on overnight trips and keep you safe in rough water.
Want to learn more about affordable trawlers? Read Five Affordable Trawlers Under 40 Feet on boats.com.
Written by: Tom Tripp
Tom is the publisher of www.OceanLines.biz, a website about passagemaking boats and information. He is also a contributor to Chesapeake Bay Magazine who has been at sea aboard everything from a 17-foot homemade wooden fishing boat to a 1,000-foot-long, 96,000-ton, nuclear-powered aircraft carrier.
More from: Tom Tripp
Related
Ranger Tugs R-31: More Pocket Trawler for your Trailer
Category: Features
Ranger Tugs R-31: More Pocket Trawler for your Trailer
Could Ranger Tugs have developed the perfect pocket trawler in the trailerable R-31?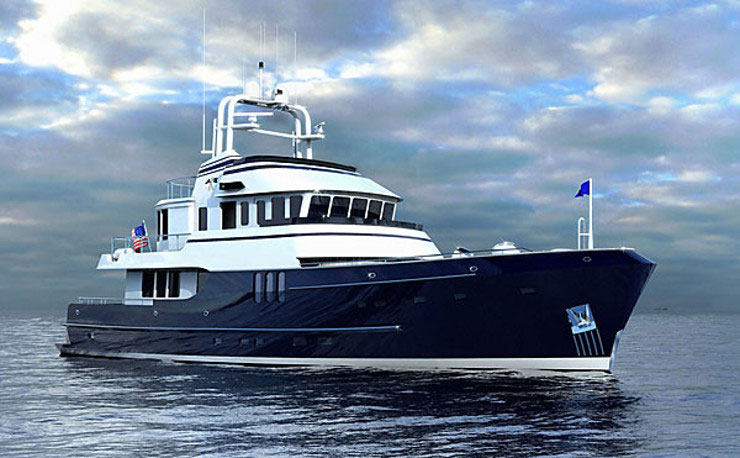 Seaton Yachts Expedition 83: A Steel Turnkey Experience
Category: Cruising Under Power
Seaton Yachts Expedition 83: A Steel Turnkey Experience
The Expedition 83 will be a world-wide traveler, capable of roaming up to 4,260 nautical miles.
Marlow 70E: High-Tech and High-Speed
Category: Cruising Under Power
Marlow 70E: High-Tech and High-Speed
Long on range and also on luxury, this iteration of the Marlow Explorer series offers world-wide travel...
Sours: https://www.yachtworld.com/research/pocket-trawlers-five-for-value-and-versatility/
IS-25 Trawler Tour
7 Small, Trailerable Pocket Trawlers for New Cruisers
Pocket trawlers are one of the most affordable options around whether you want to embark on a major adventure like traveling the Great Loop, or you just want comfortable cruising accommodations for overnight or weekend getaways. Although far more compact in nature, they provide all the livability of larger motor yachts and cruisers. But their smaller size means they cost a lot less, and there are even some trailerable pocket cruisers out there on the market.
Which small trawlers will be the best for your needs? That's up to you, but there's a good chance that one of these seven small, affordable pocket trawlers will fit the bill.
Explore All Trawler Brands & Models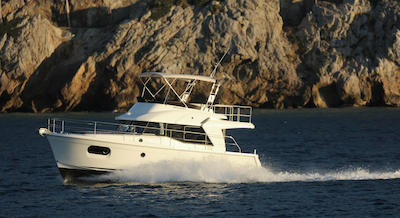 1. Beneteau Swift Trawler 35
The smallest trawler in Beneteau's lineup, the Swift Trawler 35 straddles the boundaries between a full-sized trawler and what some will consider a true pocket-yacht. But with a 35'6" long hull, a 13' beam, and a single 425 HP inboard providing the power, it's easy for a couple to handle on their own, has minimal maintenance and operational needs, and remains relatively affordable compared to larger trawlers (base price starts at $480,200).
The benefits to going big in the world of small trawlers are obvious: more elbow room throughout the boat, better abilities to handle larger seas, and a higher level of luxury aboard. On the Beneteau Swift Trawler 35 you'll enjoy a master stateroom with a queen berth, a second private stateroom with over-under berths, a full-sized flybridge with a settee and dinette, and a full galley, saloon, and lower helm station in the cabin.
Visit Beneteau to learn more.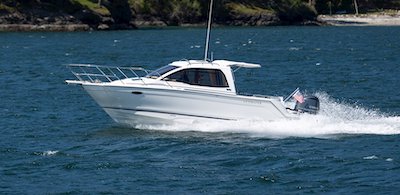 2. Cutwater C-24 Coupe
Starting at $136,937 the Cutwater C-24 Coupe is one of the most affordable offerings in this roundup. With a low profile, sporty looks, and zippy performance courtesy of a 250-horsepower outboard, it's as much a pocket cruiser as a pocket trawler.
Yet it still has all the prerequisites to fit the bill: a private forward cabin, a separate mid-cabin berth under the dinette, a complete galley, and a fixed head with a holding tank. Plus, thanks to a svelte 8'6" beam, this boat is easily trailerable.
Visit Cutwater Boats to learn more.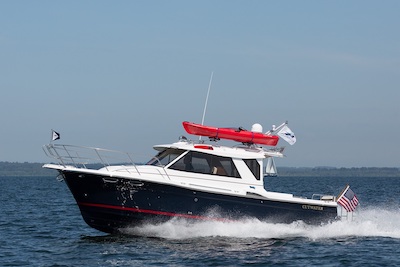 3. Cutwater C-28
Up the ante by about $50,000 and you can step into the Cutwater C-28, which offers everything the C-24 has plus a lot more elbow room. Beam remains 8'6" and the mast can be folded down to reduce bridge clearance to 9'1" so this boat is still trailerable, too.
Power comes via a single 270 horsepower Volvo Penta D4 diesel inboard, providing a range of over 200 miles at a 25 MPH cruising speed or over 450 miles at a six-mph slow cruise. And along with the additional interior volume, this model also benefits from a large cockpit that's perfect for casting a line or setting out deck chairs plus a transom swim platform with a boarding ladder.
Visit Cutwater Boats to learn more.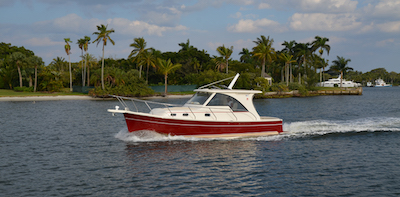 4. Marlow Pilot 31
Classic looks and style are prominent on the Marlow Pilot 31, and one glance at this pocket yacht will bring images of downeast lobster yachts and fishing trawlers to mind. But this boat has a very modern level of luxury, from the forward cabin with V-berth, settee, enclosed head compartment, and galley, to the bridgedeck and open cockpit.
A specific price is difficult to nail down since the Marlow Pilot 31 is quite customizable with options like powerplants ranging from 220 to 320 horsepower and wood-trimmed interior choices, but you can expect it to be in a competitive range with other boats of this size and nature.
Visit Marlow-Pilot to learn more.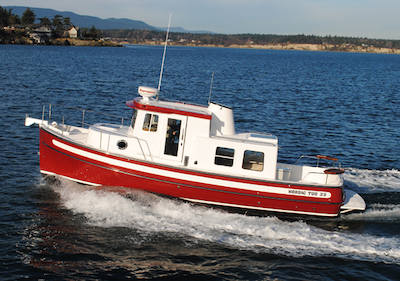 5. Nordic Tug 26
Many pocket trawlers have good looks, but few can trigger the nostalgic appeal of a Nordic Tug 26. These boats look like mini-tugs, with trawler accommodations and performance. Powered by a single 110 horsepower inboard diesel and stretching the tape to a 28'9" length overall with a 9'6" beam, the Nordic Tugs 26 features a private forward stateroom, an enclosed head compartment, a compact but complete galley, and a dinette that converts into a second berth.
It also enjoys some unique perks, like hydronic heating via the engine, Sapele-faced cabinetry, and a radar reflector located in the stack. Again, in this case pricing is variable, but you can expect to see numbers starting around the $200,000 range for new models.
Visit Nordic Tugs to learn more.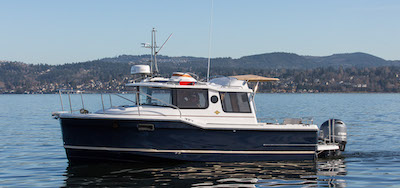 6. Ranger Tugs R-23
While there may not be such a thing as a cheap trawler, the Ranger Tugs R-23 is the most affordable in this roundup at a list of $130,937. But it still has each and every accommodation needed for weekending aboard or even more extended stays. There's a private forward cabin with a berth and head with shower, plus a second sleeping area incorporated underneath the dinette. The galley sits aft of the helm and has a refrigerator, sink, stove top, and microwave.
Power comes courtesy of a 200-horsepower outboard, which runs the boat up to a 22 MPH cruising speed and a top-end in the upper-30s. Plus, with an 8'6" beam this is another trailerable trawler.
Visit Ranger Tugs to learn more.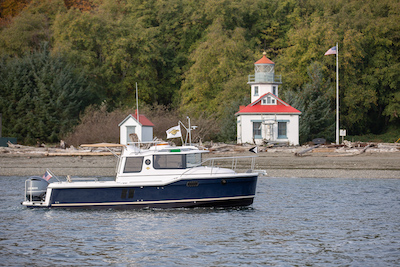 7. Ranger Tugs R-25
The Ranger Tugs R-25 has everything found on the R-23 but in a bigger version. Pricing starts at $167,937, and the powerplant jumps up to a 250 HP outboard. This model is available in Northwest and Luxury editions; the Northwest version is appropriate for cooler climates and has a diesel forced-air furnace plus downrigger plugs and pads for chasing those salmon, while the Luxury edition features dockside air conditioning with reverse-cycle heat.
Although length is stretched to 28'5" (including the outboard) beam remains 8'6" so again, this model can be hauled down the highway to distant destinations on a trailer.
Visit Ranger Tugs to learn more.
Is a Pocket Trailer Right for You?
Pocket trawlers and trailerable pocket cruisers are great choices for couples and families looking to add some adventure to their lives, and any of these seven top picks would be a good one. Where will your next cruise take you? On one of these small, affordable trawlers, the answer is just about anywhere you want to go.
Read Next: What is a Pilothouse Boat?
---
You May Also Like:
Sours: https://www.discoverboating.com/buying/most-affordable-pocket-trawlers
Trawler best small
Pocket trawlers. They're less than 30 feet, powered by a single diesel or a pair of outboards, and many are small enough to trailer without a permit. But don't let the "pocket" label fool you. These are small boats for big dreams.
A Mississippi couple spent a week on Missouri's Lake of the Ozarks, then trailered their boat to Pensacola to cruise the Florida Panhandle.
A retired Air Force officer and his wife towed their boat throughout the Southwest, exploring the famous desert lakes. And a Pacific Northwest adventurer spent 78 days on his pocket trawler, logging more than 3,000 miles along the coast of southeastern Alaska.
"These boats are capable of long cruising on both inland and coastal waters, just like the big boats," says Peter Brown of Rosborough Boats. "What makes them different is the trailering aspect. Our owners are trailer-cruising anywhere from the Great Lakes to the Chesapeake. Low price, economical operation and the ability to trailer — those are big selling points."
Peter Brice of North Pacific Yachts agrees. "Trailering provides people with the ability to economically cruise Alaska in the summer, Florida in the winter, and every lake and campground in between."
The 21st century pocket trawler features new propulsion, new layouts and more amenities that make the boats attractive to an ever-widening audience. "We see all kinds of people getting into these boats — retirees, ex-sailors," says Sam Bisset of Ranger Tugs. "They are doing the motor home thing but on the water. Instead of travel and camp, they travel and cruise."
"The market is coming alive again," says Brown. "And this is a great time to buy."
North Pacific 28 Pilothouse
Canadian builder North Pacific Yachts has delivered more than 100 cruising boats as large as 43 feet. The 28 Pilothouse rides a Karl Stambaugh-designed hull, powered by a single diesel, and is designed for speed and stability. The unusual layout has a centerline table in place of a dinette, with a slide-out bench that converts to a berth. The compact galley has a two-burner propane stove, microwave and small refrigerator. The stateroom is forward, with bunks and an insert to make a double berth. The adjacent head compartment has an electric marine head and a shower. The 28 Pilothouse is powered by a 150-hp Cummins. The interior features teak-and-holly flooring, louvered cabinets and varnished teak trim.
LOA: 27 feet, 10 inches
BEAM: 8 feet, 5 inches
DRAFT: 2 feet
WEIGHT: 8,000 pounds
POWER: 150-hp Cummins diesel
FUEL: 98 gallons
CONTACT: North Pacific Yachts, Surrey, British Columbia,
(877) 564-9989.
www.northpacificyachts.com
Ranger R-27
Ranger Tugs has been building small trawlers in the Pacific Northwest for more than 50 years. The single-engine R-27 is a popular trailerable model with a roomy layout for long-term cruising. The interior, enhanced with wood trim, features a two-cabin layout. The master stateroom is forward, with a full-size offset double berth, and there's a versatile cabin/office amidships with room for a desk and chair. The galley-up is to starboard and equipped with a propane stove/oven, along with a refrigerator and a microwave. The dinette converts to a double berth. The enclosed head, located aft, has a shower and an electric marine head. Bow and stern thrusters are standard; solar panels are an option. Ranger Tugs also offers a 25-foot model, the R-25SC, and 29-foot models — the R-29 and R-29S, a sedan version.
LOA: 27 feet, 1 inch
BEAM: 8 feet, 6 inches
DRAFT: 2 feet, 2 inches
WEIGHT: 6,950 pounds
POWER: 180-hp Yanmar diesel
FUEL: 100 gallons
CONTACT: Ranger Tugs, Kent, Washington,
(253) 839-5213.
www.rangertugs.com
Rosborough RF-246
Rosborough Boats has delivered more than 450 of the RF-246 in the last 25 years — a testament to its popularity. The boat is built in New Hampshire by Eastern Boats. The simple Sedan Cruiser floor plan has all of the basics. A master cabin is forward, with a V-berth, storage and an adjacent head compartment. In the main cabin, the helm station is set to starboard behind a large triple-panel windshield. A sliding door accesses the deck. The simple galley comes with a propane stove and an under-counter refrigerator, along with hot water. The dinette seats four and converts to a berth. The RF-246 can be powered with a single or twin outboards or a single sterndrive.
LOA: 25 feet
BEAM: 8 feet, 6 inches
DRAFT: 1 foot, 6 inches
WEIGHT: 5,400 pounds
POWER: sterndrive or outboards to 150 hp
FUEL: 120 gallons
CONTACT: Rosborough Boats, Milton, New Hampshire
(603) 652-9213.
www.rosboroughboatsusa.com
Caledon 27
Caledon Boatworks is known for its Caledon 25 pocket trawler. The newer 27 is a logical extension of that boat with a larger cockpit, a redesigned interior and additional amenities. A shower has been added to the head compartment — now cedar-lined — which was moved up to the saloon/pilothouse. The efficient galley is to starboard, equipped with a stove and oven and an under-counter refrigerator/freezer. The dinette table converts to a berth. Large windows provide good sightlines from the pilothouse helm, and there's ample room on the dash for instruments and electronics. Tall windows let in light and ventilation. The private cabin forward has a standard V-berth and a hanging locker. The Caledon 27 has a wood interior and quality joinery.
LOA: 27 feet, 3 inches
BEAM: 8 feet, 6 inches
DRAFT: 2 feet
WEIGHT: 6,000 pounds
POWER: single outboard to 150 hp, twin 75-hp outboards
FUEL: 48 gallons
CONTACT: Caledon Boatworks, Caledon, Ontario
(519) 940-4493.
www.caledonboatworks.com
Nordic Tug 26
Nordic Tugs, the Washington builder, calls the Nordic Tug 26 a "classic reborn." The pioneering model was introduced 30 years ago and is now offered in an updated version. Power comes from a single 110-hp Yanmar diesel, giving the boat an 8-knot cruising speed and a 14-knot top end. It sleeps four, with the master cabin forward, laid out with an offset double berth and a settee. The amidships head includes a wand shower. The pilothouse layout puts the helm to starboard, with a bench seat and instrument panel. A side door accesses the deck. The galley-up comes with a two-burner stove (electric, propane or alcohol), microwave and refrigerator. The dinette seats four and converts to a double berth.
LOA: 28 feet, 9 inches
BEAM: 9 feet, 6 inches
DRAFT: 3 feet, 3 inches
WEIGHT: 8,500 pounds
POWER: 110-hp Yanmar FUEL: 100 gallons
CONTACT: Nordic Tugs, Burlington, Washington
(360) 757-8847
www.nordictugs.com
See related articles:
- Trawlers for every taste
- Classic Trawlers
- Fast Trawlers
April 2015 issue
Sours: https://www.soundingsonline.com
BRAND NEW: 30 Swift Trawler In Seattle Walkthrough [$397,577]
Designed with a common objective to accommodate the best of the land-sea lifestyle, trailerable cruisers seem a natural fit in the world of trawlers. According to one prominent builder, many of their clients are retired sailors—not speed freaks—who enjoy easygoing scenic cruising. Others embark on the trailer-trawler life to simplify their cruising style, downsizing from larger motoryachts, or to add variety to their list of viable cruising destinations. Traveling is always at the core, and the question of how far, how fast or how long remains up to the owner. 
Boatbuilders have answered growing demand with a wide variety of solutions, making the portable life more accessible than ever before. Here are six capable cruisers you can strap down and take with you virtually anywhere.
RANGER TUGS/CUTWATER BOATS
Founded in 1958, Ranger Tugs was purchased by designer David Livingston and his son, John, in the late 1990s. Today, the company offers a variety of 23- to 41-foot models: Yamaha outboard with planing hull, diesel inboard with semi-planing hull, and IPS drive with semi-planing hull.
For a lighter, sportier appeal with more fishing amenities, Cutwater Boats (same ownership) manufactures models from 24 to 32 feet: Yamaha outboard with planing hull and diesel inboard with semi-planing hull. The C-32 CB just won an NMMA Innovation Award for Cabin Cruisers.
Both companies offer pickup of new boats in Kent, Washington, so buyers can cruise the Pacific Northwest, then have their boats shrink-wrapped and shipped home. rangertugs.com
ROSBOROUGH BOATS USA
Rosborough built a reputation on classic wooden boats in Nova Scotia in the 1950s, then moved into fiberglass designs. After 25 years and almost 500 boats, the founders sold the molds to Eastern Boats in Milton, New Hampshire, which builds the 25-footers today.
The boats reportedly attain speeds in the low 20s, powered by a standard 150-hp (or optional 200-hp) Honda outboard engine. There's an optional cockpit hardtop extension for extra shade, creating a "back porch" with privacy side curtains. The air conditioning can run on shore power, RV park power or a generator. rosboroughboatsusa.com
LIFE PROOF BOATS
Known for building law-enforcement and commercial vessels, Life Proof offers 25- and 27-foot full-­cabin models with an 8-foot-5-inch beam, powered with one or two outboards (total 300 to 350 hp) or a single diesel engine for reported speeds up to 43 knots.
The self-bailing boats have a cabin that accommodates six people. There are two Shockwave helm seats, bench seats abaft them, and an optional sink, stove and refrigerator. The aft deck has a high transom and can include a fishing package with downrigger mounts, a raw-water washdown, rod holders and a trolling-motor mount. Other options include exterior cushions, a stereo, navigation/radar and tow mounts. lifeproofboats.com
OCEAN SPORT ROAMER
Ocean Sport Roamer builds 26- to 33-foot boats. Its new 26-foot Legacy has twin 250-hp Yamaha engines, or an optional 270- to 440-hp Volvo Penta diesel. The planing hull reportedly cruises at 28 to 50 knots.
Designed for fishing and built by Nordic Tugs, the fiberglass boats are sold by Island Marine Center on Lopez Island in Washington state's San Juan Islands. Each boat can sleep six, and has an aft deck with hatches for fish, ice and stowage. A rocket launcher and rod holders add fishability, and Burnewiin accessories are available.islandsmarinecenter.com
ARROWCAT
The ArrowCat 320 Coupe with twin 225-hp Mercury outboards is modeled after a pilothouse boat but with a redesigned roof, windshield, side windows and lengthened hardtop overhang to increase solar efficiency. The 31-foot-2-inch boat requires a wide load permit because of its 10-foot beam, and its trailer comes with a ladder for bow boarding.
Based in Clearwater, Florida, ArrowCat also offers 34- and 42-foot models. On the 320, there's a mezzanine with extra rod holders and a live well. For cruisers, fold-down seats are optional. The extended aft deck platform between the engines has safety rails and a built-in ladder that folds up and in. An alternator and lithium battery, charged by the engines, can reportedly operate the air conditioning for three hours at anchor, and shore power can be used overnight. arrowcat.com
ASPEN POWER CATAMARANS
After building Glacier Bay catamarans for 20 years, Larry Graf created Aspen Power Catamarans. They have asymmetrical sponsons to reduce drag, and are sold with a single diesel engine or two outboard engines of different horsepower. The bow is shaped like an airplane wing to balance thrust and torque.
The smallest model has a 10-foot beam, which means it requires a wide load permit, but Graf says catamarans provide better visibility than monohulls while towing. The builder's 28-foot C90 is ideal for trailering, he says, though some owners trailer the 32- and 34-footers. Graf trailered a 34-foot Aspen more than 1,170 miles through the Canadian Rockies. 
aspenpowercatamarans.com
Sours: https://www.passagemaker.com
You will also be interested:
.
1343
1344
1345
1346
1347