Career Poster Project Using Technology
Do your students participate in Take Your Child to Work Day or does your school host a Career Day? I am sharing a fun poster product using technology with a free download. Keep reading to find out how we safely research online, make our posters, and create a digital picture of students' future careers!
Take your child to work day falls on the third Thursday of April and each year I seem to have about half of my class opt to attend work with a parent and about half come to school. I wanted to make sure the students in school had something meaningful to do, but I also did not want to move the curriculum along when so many students were absent.
Career Day Poster Project Overview
The last few years I have done a technology project for the students in school and out of school focusing on careers.
If your area does not "celebrate" Take Your Child to Work Day, this technology project will also work for any career day, community helper unit, or even a beginning of the year "Hopes & Dreams" lesson for those of you that follow the Responsive Classroom.
Set Up the Career Day Project
To set up, I printed a set of bodies for students to write their information on and decorate. Click here to download the pdf for free.
I printed these large across two pages using the Adobe .pdf printing settings I explain in my blog here. I taped the pages together so everyone had one large body.
Research Careers
Next, students selected a career they were interested in and wrote the name of the job inside the head. Students that went with parents had the option of choosing the career they "did" for the day.
Students used KidRexto search safetly.
I recommend having students type the word "job" or "career" after their search term to narrow it a bit. I also always have my students select from the top five results that pop up as they are going to be the most relevant and cuts down on scrolling.
Students wrote facts around the outside of the body that they learned. They had to find the training, schooling, day-to-day responsibilities, skills, and any fun facts about that particular job.
Make the Career Poster
Students then colored the body to reflect the uniform or everyday attire of someone in that career.
As an added extra, this year we used PicCollage on the iPads to make a mock-up of each student being that job! I got this idea from the fabulous Teaching with Appitude'sInstagram account. She also has a sample on Facebook here.
We used the in-app image search to find a picture of the career. Then we took a selfie in the app and trimmed around the head and popped it on the body.
Make a QR Code to Display Career Posters
I had students upload their finished images to Google Drive where I quickly made a QR code of each image using the process explained here.
I taped the QR code to the bottom of each poster and hung them in the hall. Visitors can scan the QR code to see a picture of "from the future" of each of my students doing the job they researched!
Swing by my blogor catch my weekly live show on Facebook (Mondays at 8 P.M. EST) for more technology integration ideas!
Sours: https://www.classroomtestedresources.com/2016/05/career-poster-project-using-technology.html
Classroom Jobs – Black and White Theme
Product Description
Classroom Jobs with Official Titles for Your Students:
Official Classroom Job Titles!
This black and white themed set of classroom jobs poster cards would be perfect for any K-5th grade classroom. Each classroom job comes with an official title that will make students internalize the importance of their job! Words like Chief, Captain, Coordinator, Executive, Foreman, etc. are used in the titles. No more boring classroom job titles for your students! Brief descriptions of each job are also included on each poster. Please note that the completed posters are not editable, but the blank posters have clip art and text boxes embedded and are, in fact, editable!
There are 40 total jobs and additional blank poster pages for you to create your own jobs if you need them. Some of the responsibilities include:
leading the line, taking care of the class pet, monitoring the bathrooms, door holding, filing help, flag responsibilities, greeter, cleaner (various jobs for cleaning), recess monitoring, substitute helper, various jobs dealing with paper organization, weather reporter, etc.
This classroom jobs product also includes the title decor that spells "Our Classroom Jobs" in bunting style (in color to brighten up your classroom OR in black and white to match the style of the product… use whatever style works for you).
This set will match any classroom decor because it the background papers are all black and white, while the clip art pops out with bright color. Go ahead and create excitement about classroom jobs! Who wouldn't want a job title with the word "executive" in it? 🙂
This file contains 51 pages.
IMPORTANT NOTICE ABOUT THE TERMS OF USE FOR THIS PRODUCT:
Purchasing this product gives the purchaser ONE LICENSE to this product.  This allows the purchaser the right to reproduce this product for HIS/HER class ONLY.  Duplication for an entire team, school, or school district is strictly forbidden.   If other teachers would like copies of this product, please direct them to my store.
You may not reproduce, redistribute, or post this item on a blog or website for download (free or paid). Copying any part of this product (even for a classroom website) is also in violation of the Digital Millennium Copyright Act.
You may not modify, copy, or alter this product in any way.
Please feel free to spread the word about this product via social media or blog post. A link to the product (or my store) is much appreciated.
Sours: https://kirstenskaboodle.com/product/classroom-jobs-black-and-white-theme/
Creating classroom jobs is a great way to teach students about responsibility and the importance of taking care of the spaces that they use. But what's the best way to organize and assign jobs so that everyone know what they're expected to do? Well, check out these fun classroom job charts we found! If you love creating resources for your classroom, you'll find tons of ideas. And if you're not the crafty type, no worries! There are lots of inexpensive teacher-created resources that you can purchase.
1. Game-board job chart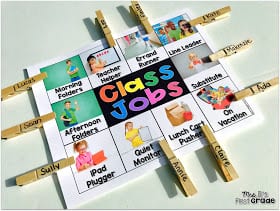 Source: Mrs. Barnett First Grade
Makes chores look like fun!
2. Superhero helpers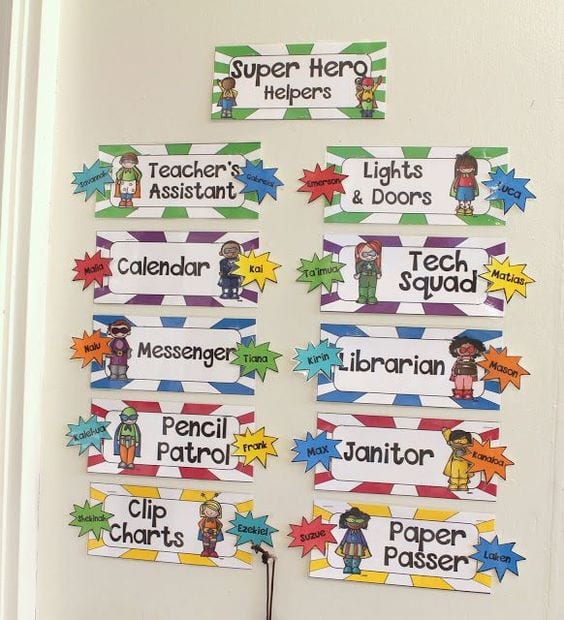 Source: Surfin' Through Second
Let your students use their superpowers to help out around the classroom.
3. Zebra-print job chart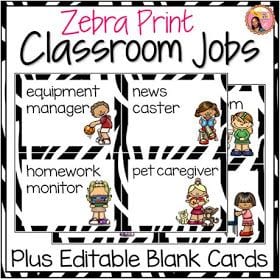 Source: Nyla's Crafty Teaching
Plus other cute options by this blogger. Check out the above link.
4. Ocean theme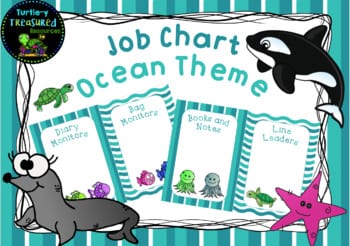 Source: Turtle-y Treasured Resources
This adorable bundle includes ready-made job cards, editable templates, and colorful fish-themed student name tags.
5. Llama job chart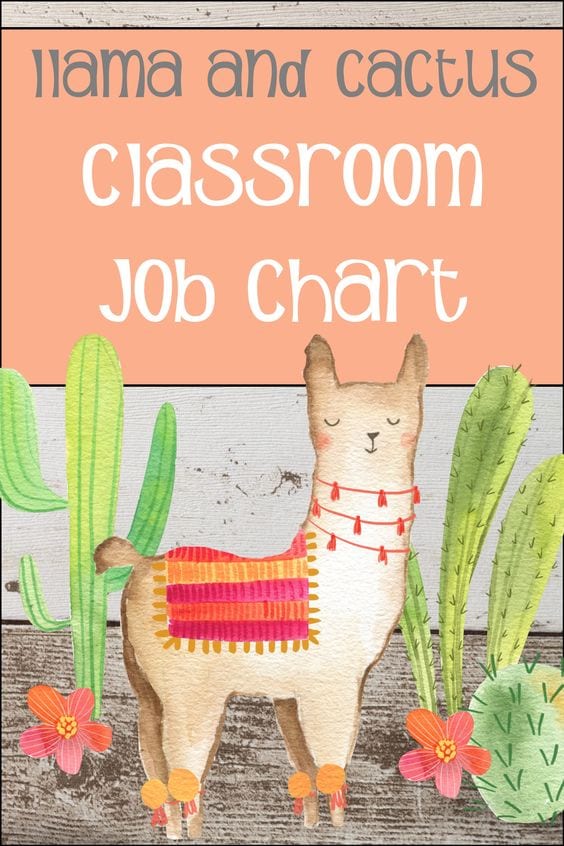 Source: Mrs. Molly's Menagerie
So trendy!
6. Movie theater theme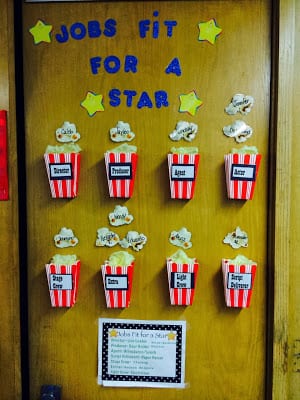 Source: Spotlight on Second Grade
Love the way this teacher used the popcorn buckets! Plus, names are attached with Velcro, so they stay put!
7. Pete the Cat job chart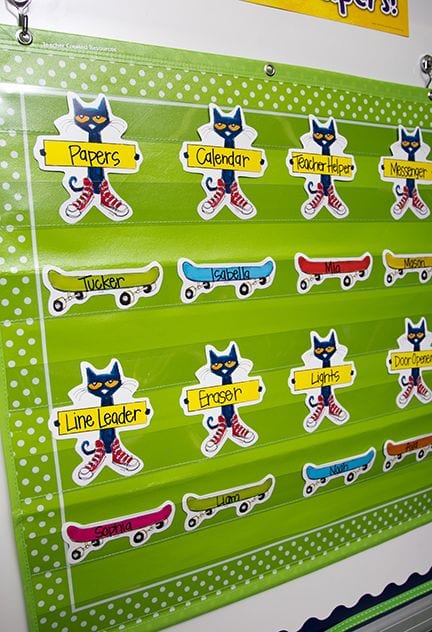 Source: TCR
If anyone can motivate my kids to do their jobs, it's cool dude Pete the Cat!
8. What's the scoop?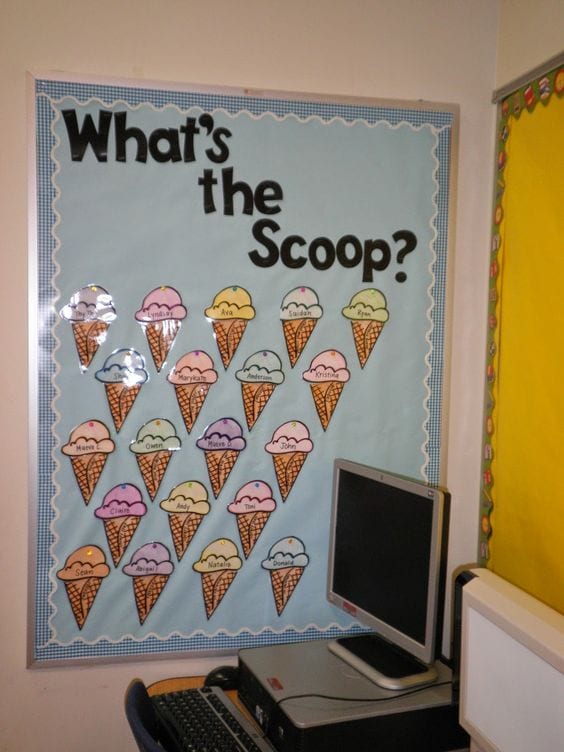 Source: A Classroom Cloud Nine
An icy cool way to serve up classroom jobs.
9. Bucket loads of helpers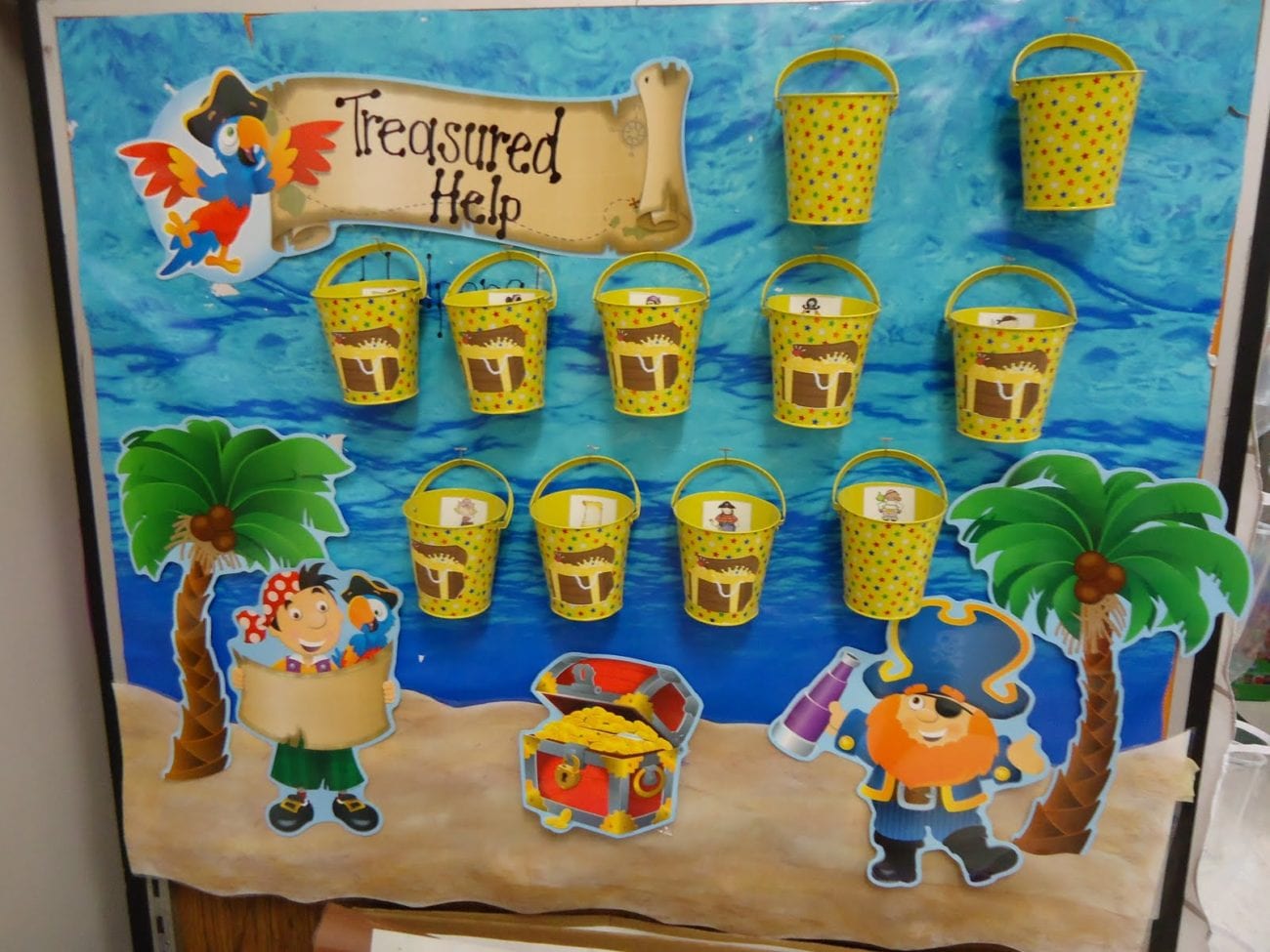 Source: Frogs, bees, under the seas
Adorable pirate-themed job chart.
10. A rainbow of duties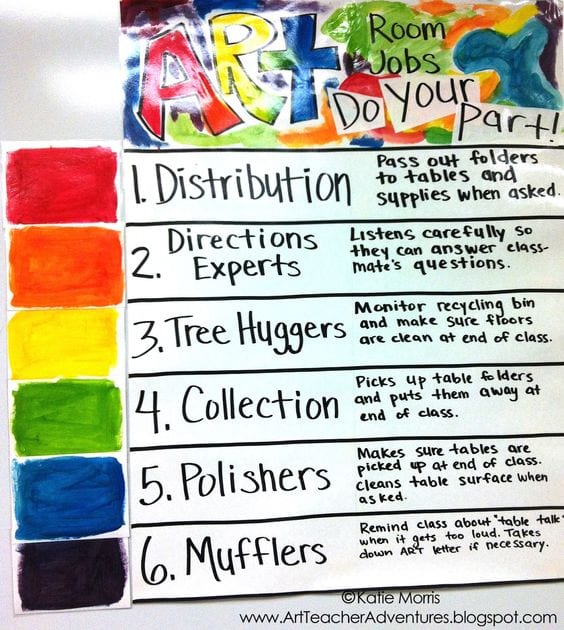 Source: Adventures of an Art Teacher
Perfect for your art classroom.
11. Sneaky space-saving job chart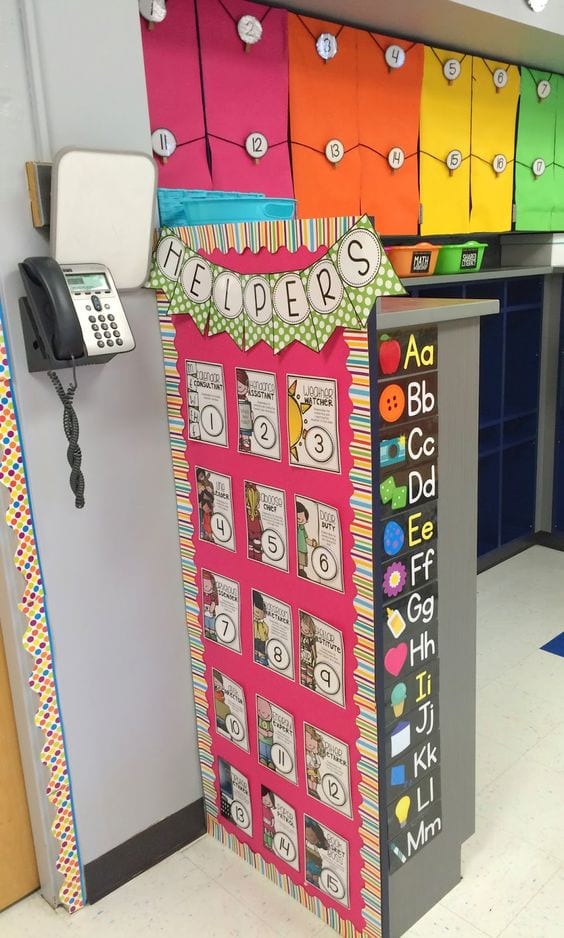 Source: First Grade Made
Love how this one is tucked onto the side of the filing cabinet. Perfect place to use magnets.
12. Star helpers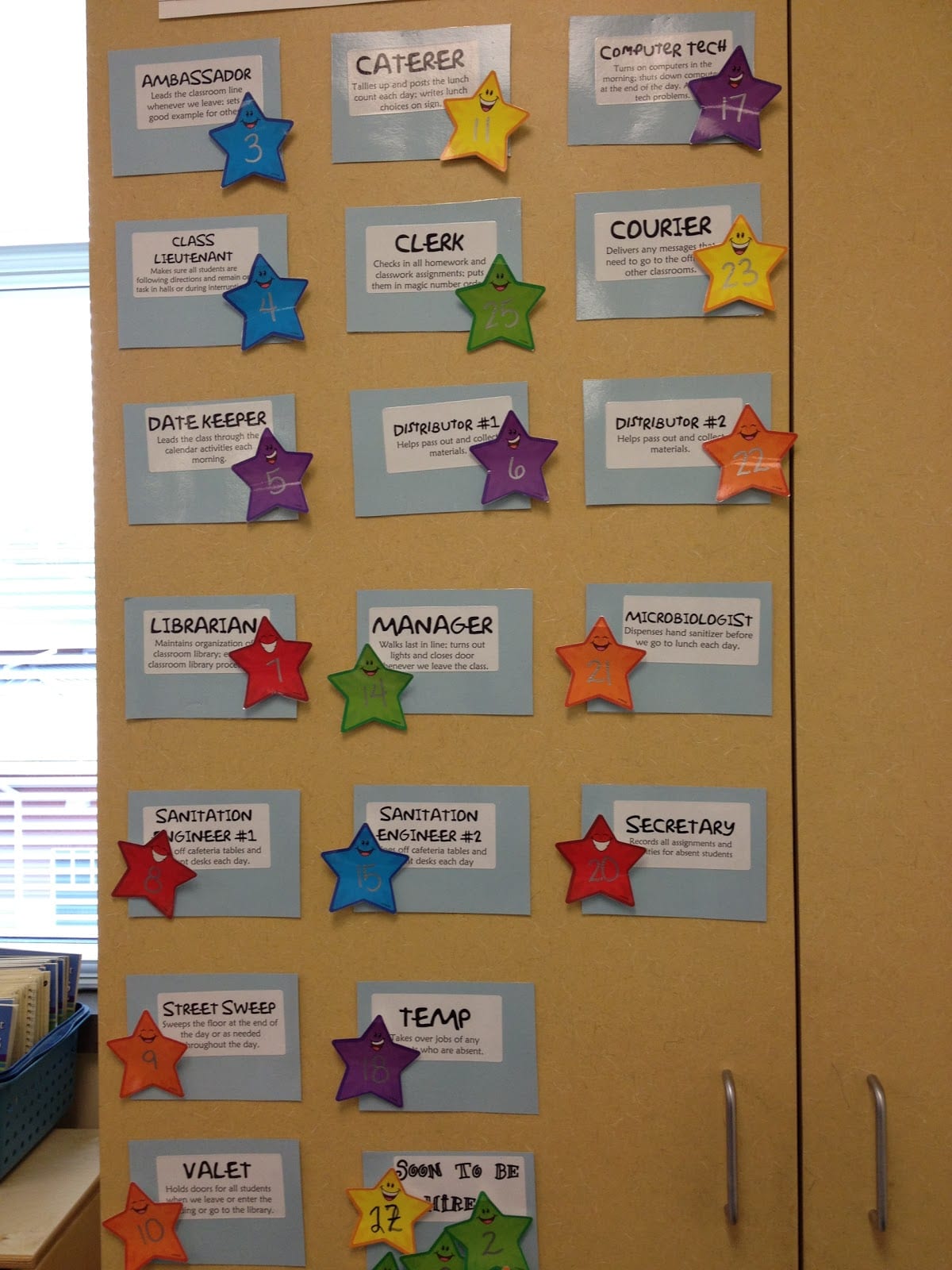 Source: Pinterest
Love the job descriptions on this one.
13. Apron job chart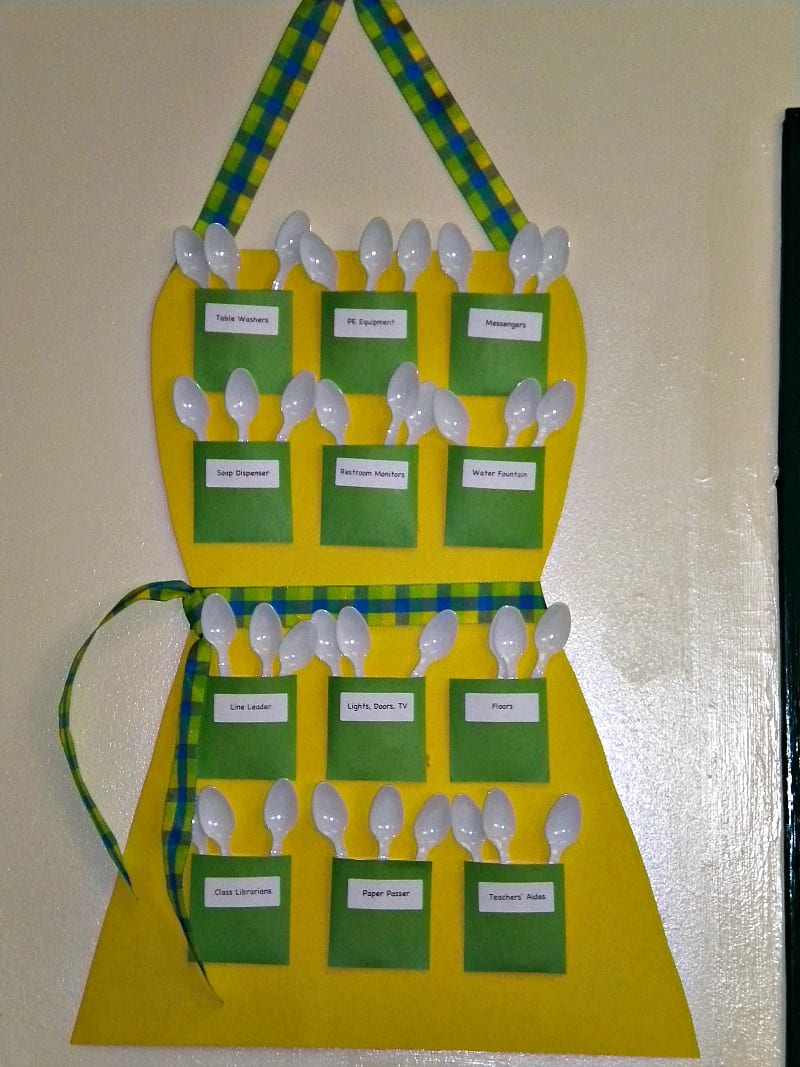 Source
Every pocket has a job, and the spoons inside each have a student name or number. Perfect for home ec.
14. Job wheel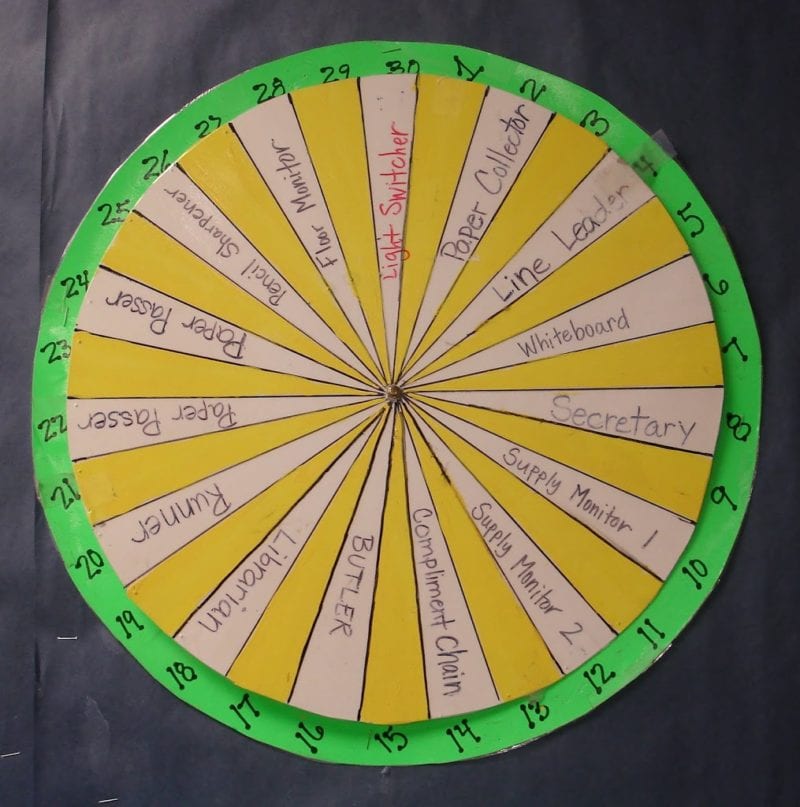 Source: Teach-a-Roo
Create this awesome wheel to help kids keep track of classroom tasks. Jobs go on the inner wheel; kids rotate.
15. Reverse job wheel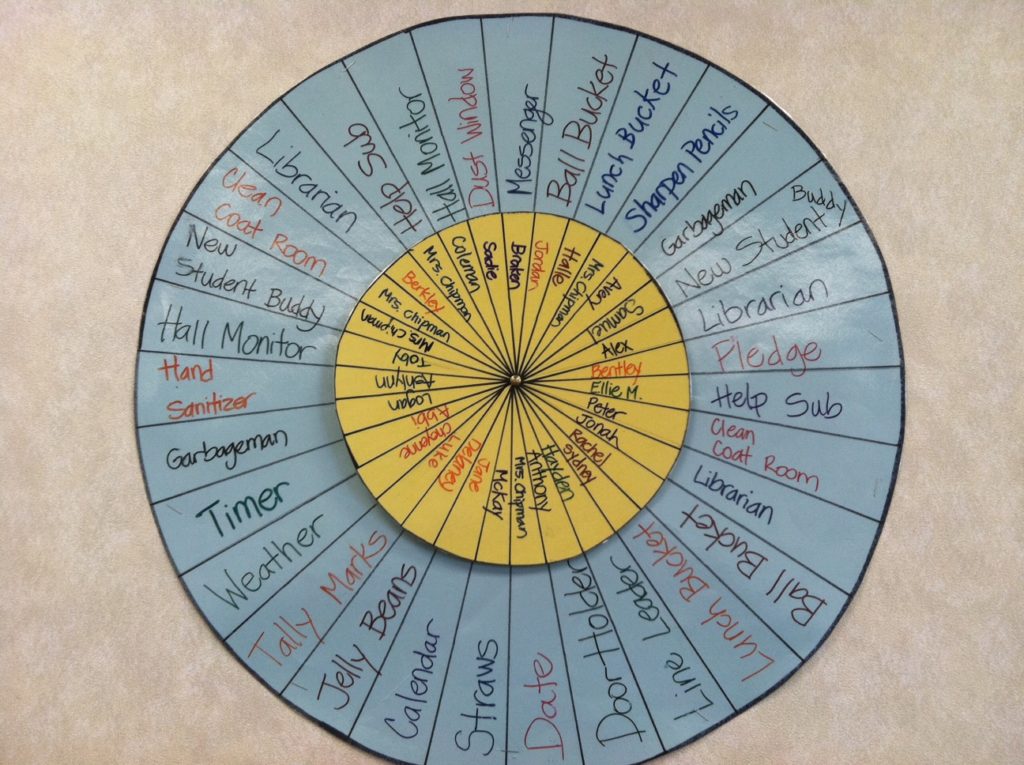 Source: Cookin' Up In First
In this one, the kids are in the middle, and the jobs rotate. Use dry-erase markers in case your class list changes or you want to tweak the jobs.
16. Colorful library pockets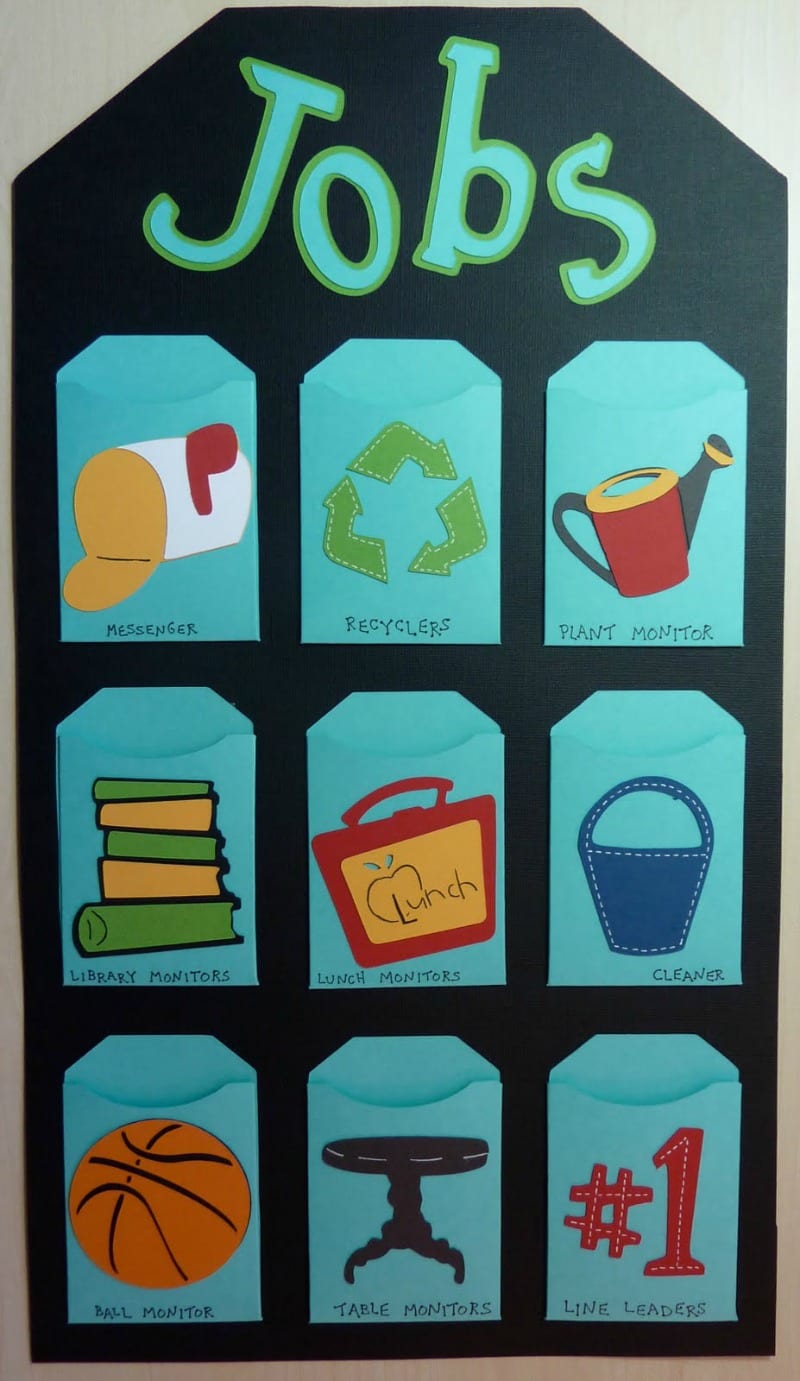 Source: CraftingwithKatie
Love the way the black background makes these colorful pockets pop!
17. Help wanted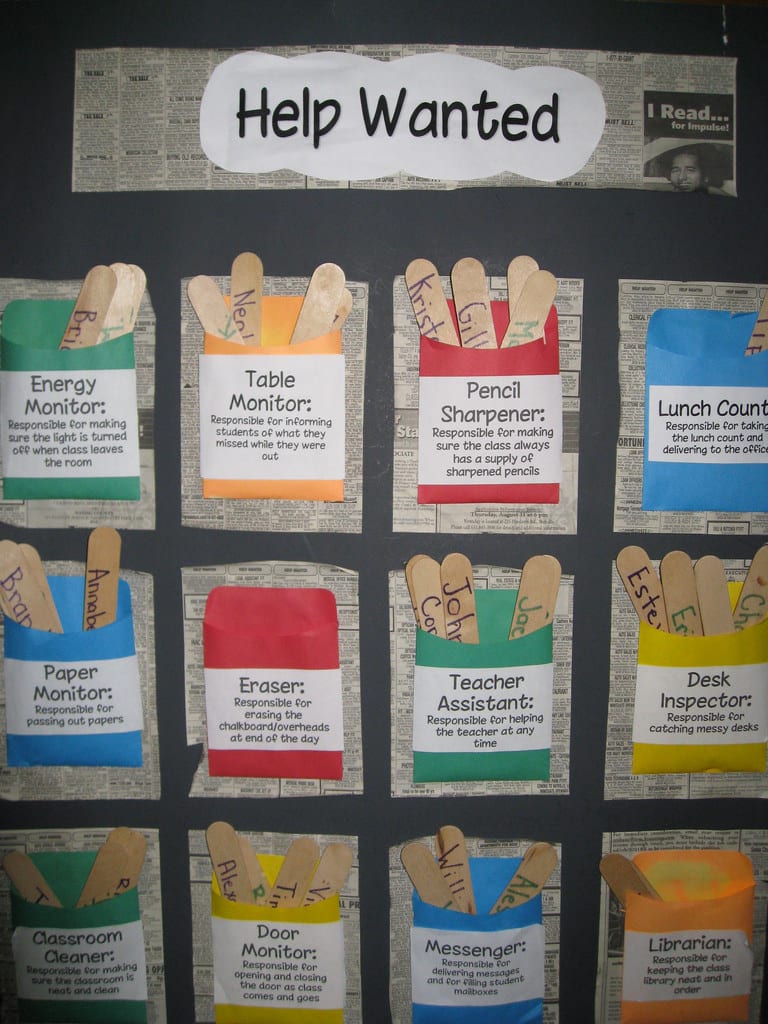 Source: The Teaching Excellence Program
Clever newspaper background on this super cute job chart.
18. Popsicle-stick people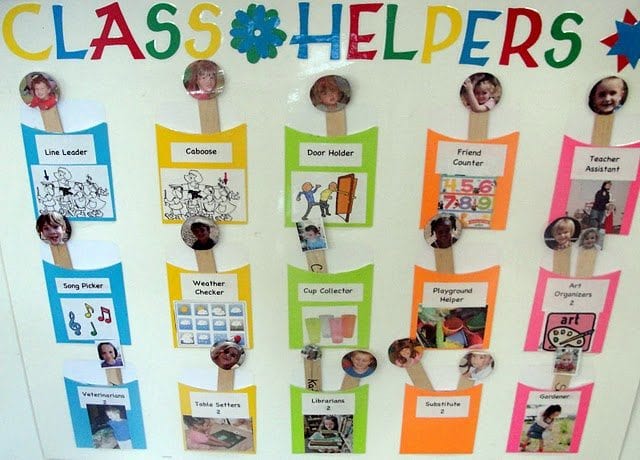 Source: TheLittleSchoolCommunityBlog
Avatars! Have your students decorate their own little person to fit into a job pocket.
19. Happy helper octopus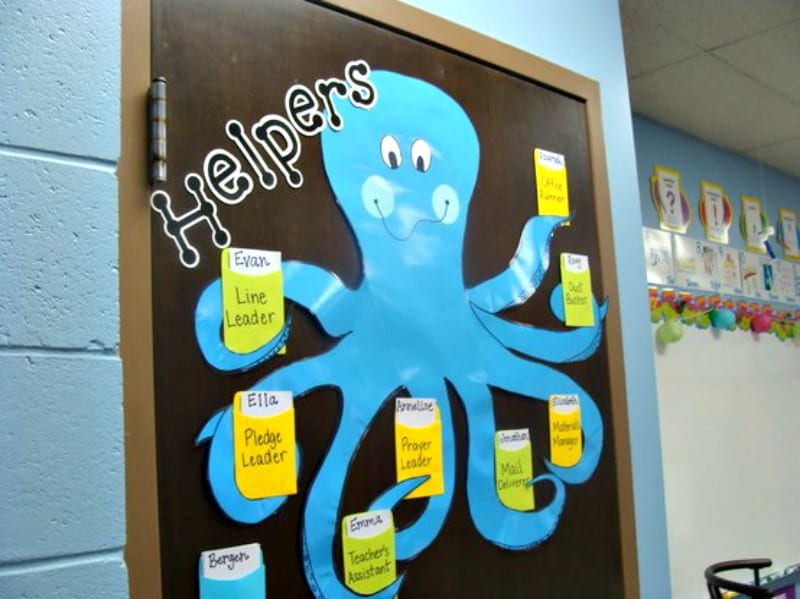 Source: Creating and Teaching
A pocket for each arm. (For the rare eight-job classroom.)
20. I help, you help, we all help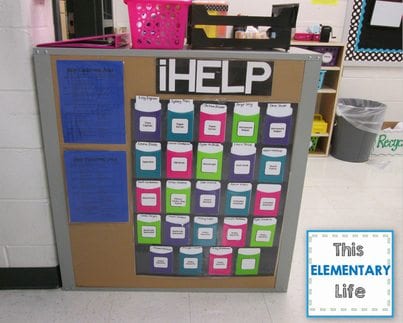 Source: This Elementary Life
Pockets are sort of like iPhones, and kids love iPhones.
21. Colorful clips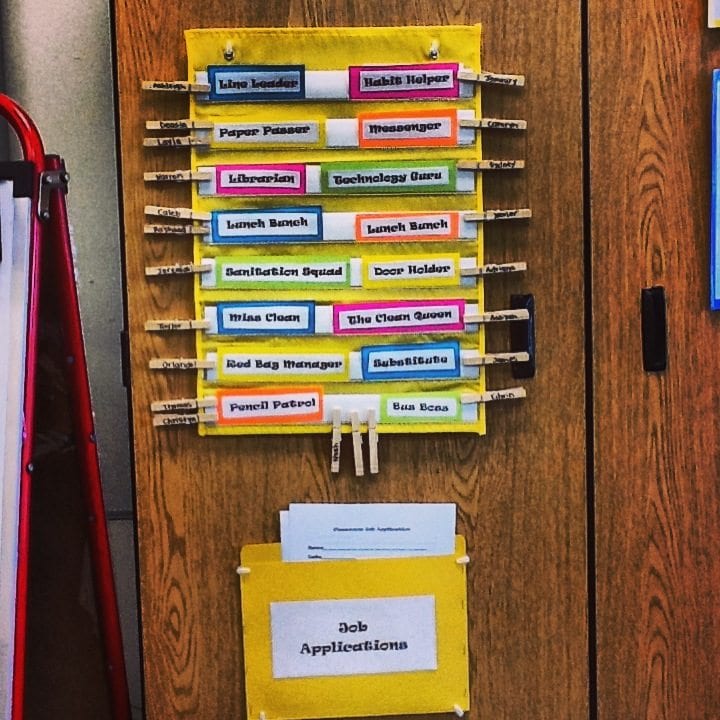 Source: Lena's Leaders
Colorful job descriptions with room on the side for clips. Notice the job applications folder beneath. Adorable (and practical).
22. Ribbon clips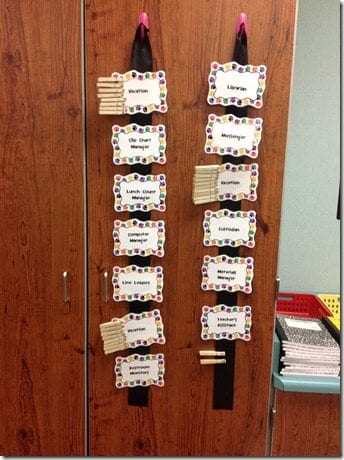 Source: The Classroom Creative
Laminate the job cards so they survive all the clipping that will happen during the year. Kids "on vacation" from jobs for the week can be attached to the ribbon at the bottom. If anyone is absent, those kids can fill in.
23. Circle clips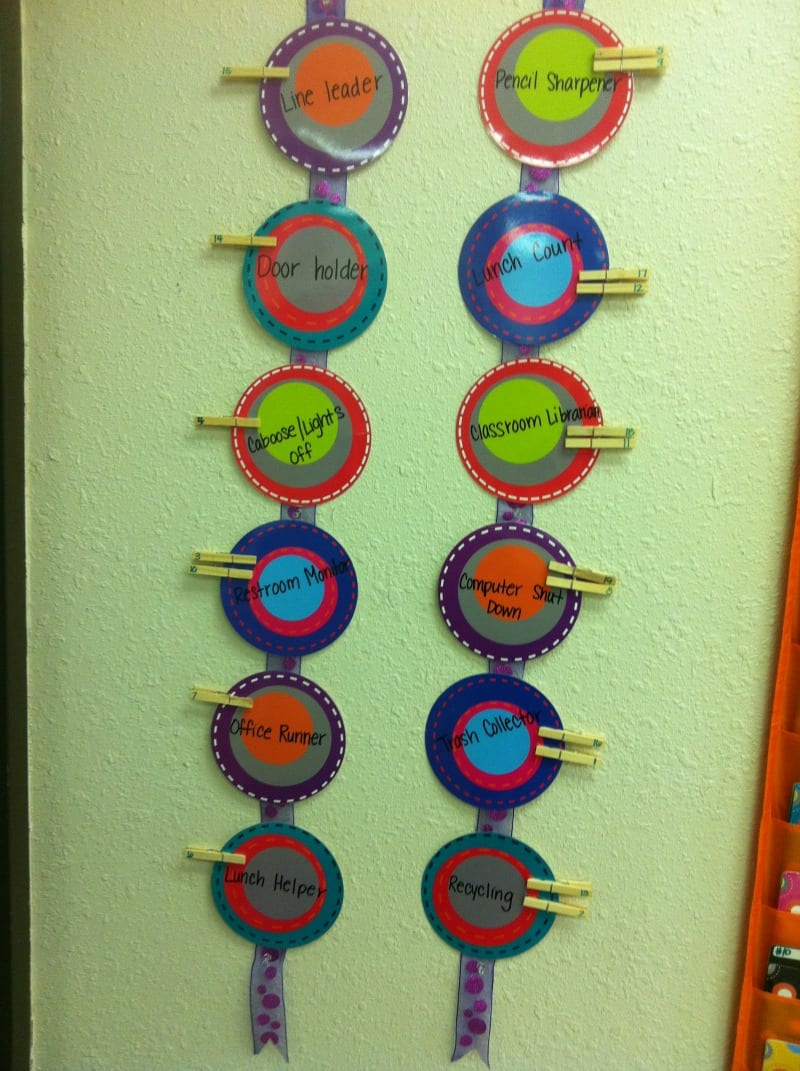 Source: The Vintage Modern Wife
Clip-on colorful circles attached to ribbons—so cute! Circle shapes could be turned into planets, animals, or faces with different expressions. You can use sturdy paper plates as your circle templates.
24. Downloadable job cards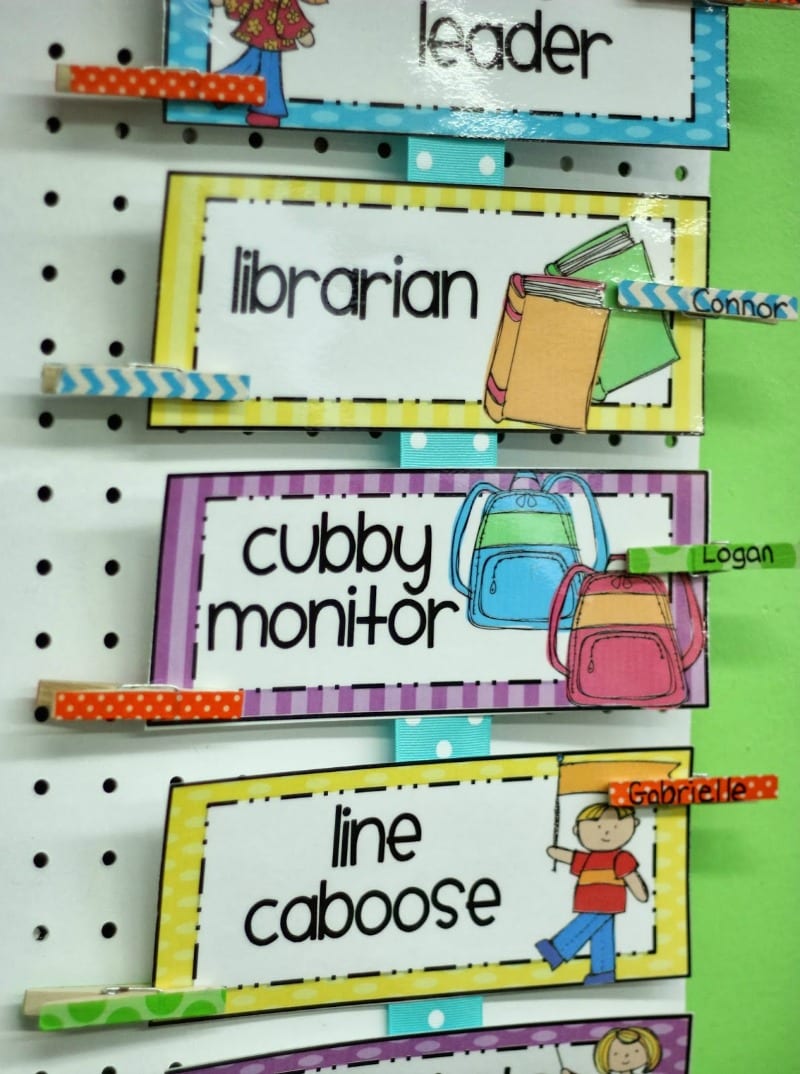 Source: Bright Polka Dots
Laminated job cards on a polka-dot background and funky clothespins make a pretty display.
25. More downloadable job cards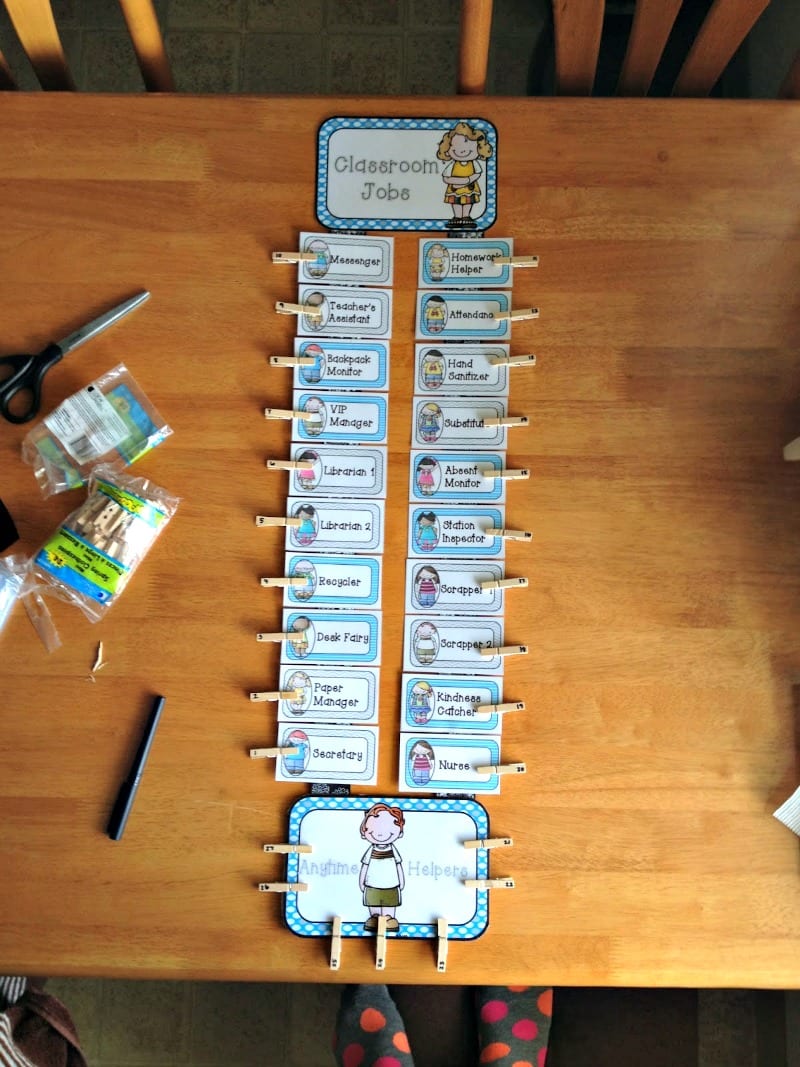 Source: Fourth Grade Frolics
Like the one above, just a different style.
26. Busy bees job chart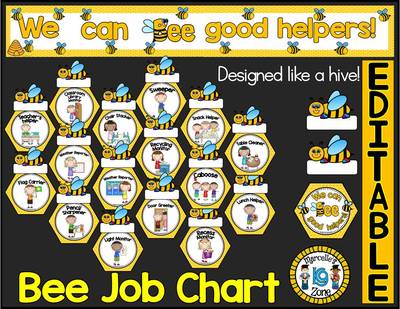 Source: Marcelle's KG Zone
Your classroom will buzz along with the help of busy bee helpers.
27. Helping hands job chart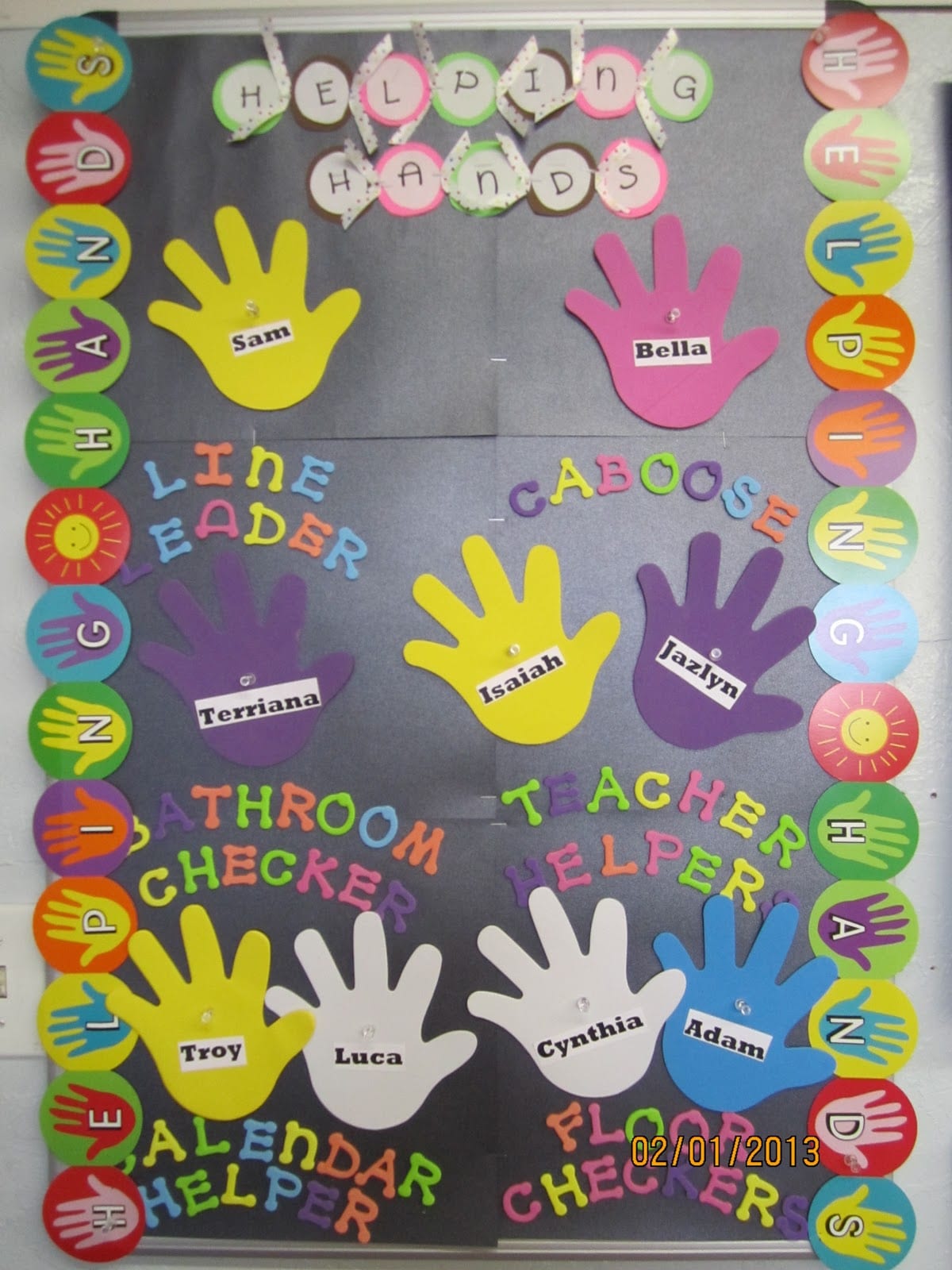 Source: College Starts in Kindergarten
This has to be one of the cutest classroom job charts! Students can create their own handprint cards to personalize it.
28. Baseball job chart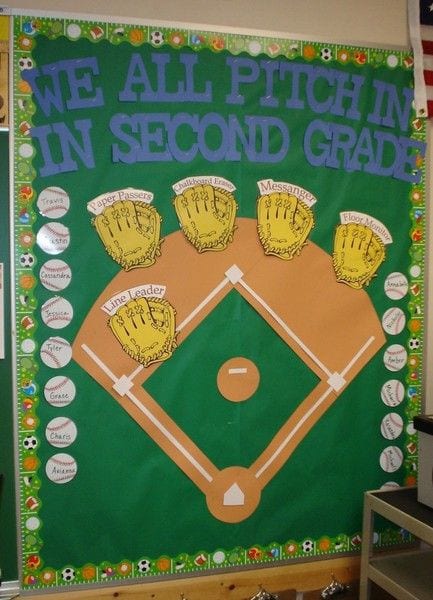 Source: Clutter Free Classroom
Love that the kids who don't have a job for the week are in the "dugout."
29. Rockin' responsibilities
Source: Fun and Fearless in First
Like a giant iPod! Remember those?
30. Get hopping!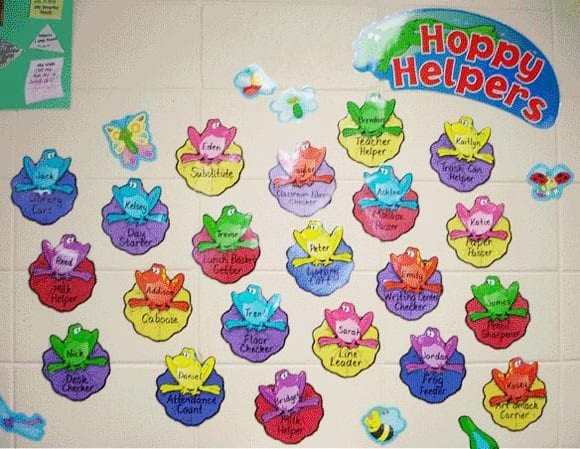 Source: Teachers Net Gazette
Get those kiddos hoppin' with these colorful frogs and lily pads!
31. Let Mickey and Minnie help.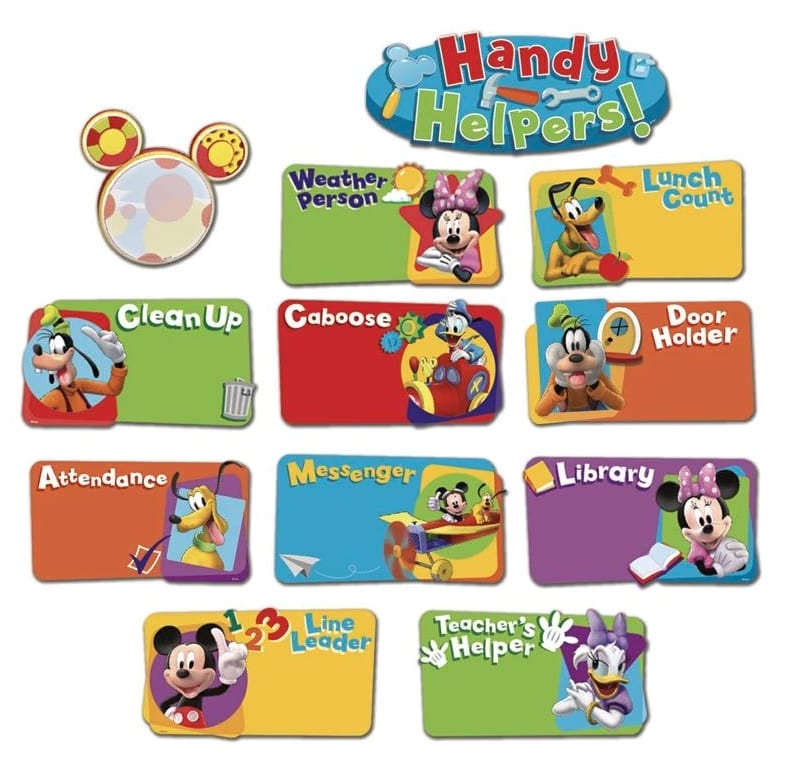 SOURCE: Supply Me
It's like doing chores with an old friend!
32. Keeping it simple

Source: McElhinny'sCenterStage
If you like to keep it simple and straight to the point.
33. Colorful pocket chart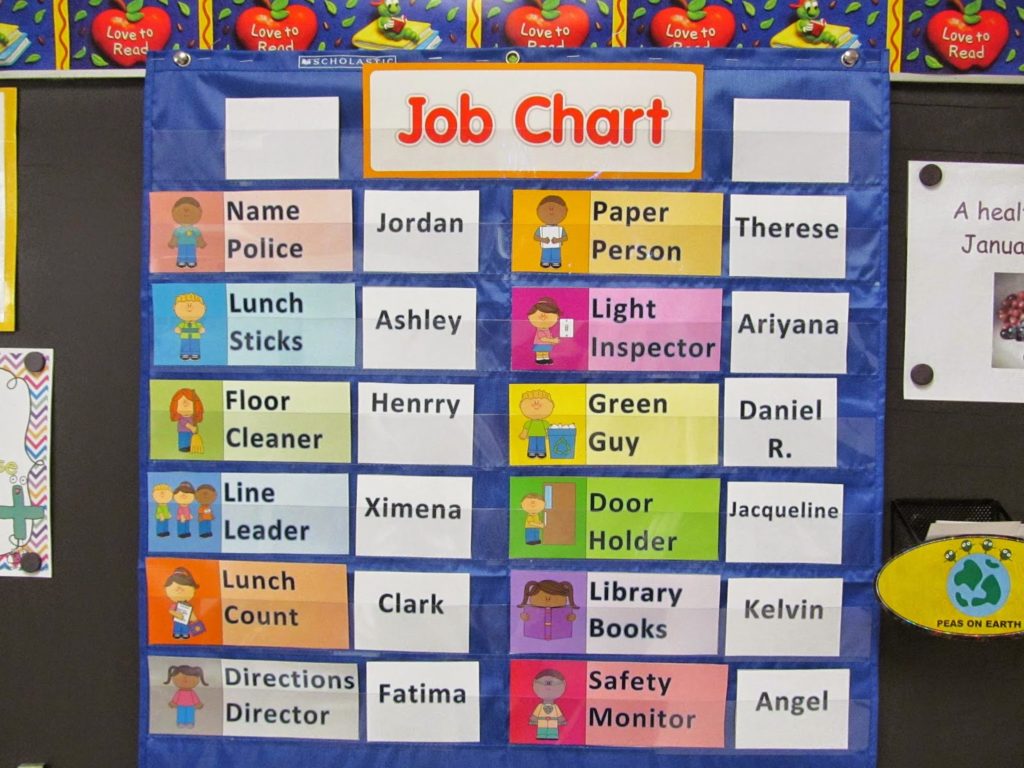 Source: 2happyteachers
Keep it simple, or you can spruce it up with a little color.
34. Personalized photo pocket chart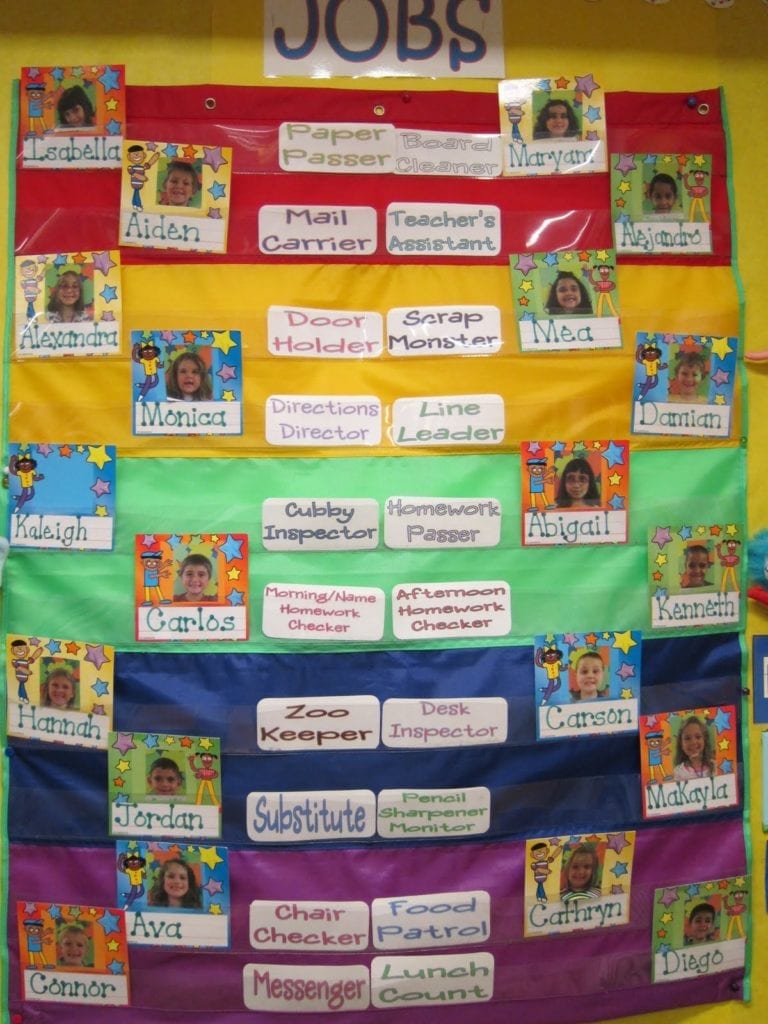 Source: Seusstastic
This chart may be store bought, but you can personalize the nameplates with photos of your kids.
35. Magnetic job chart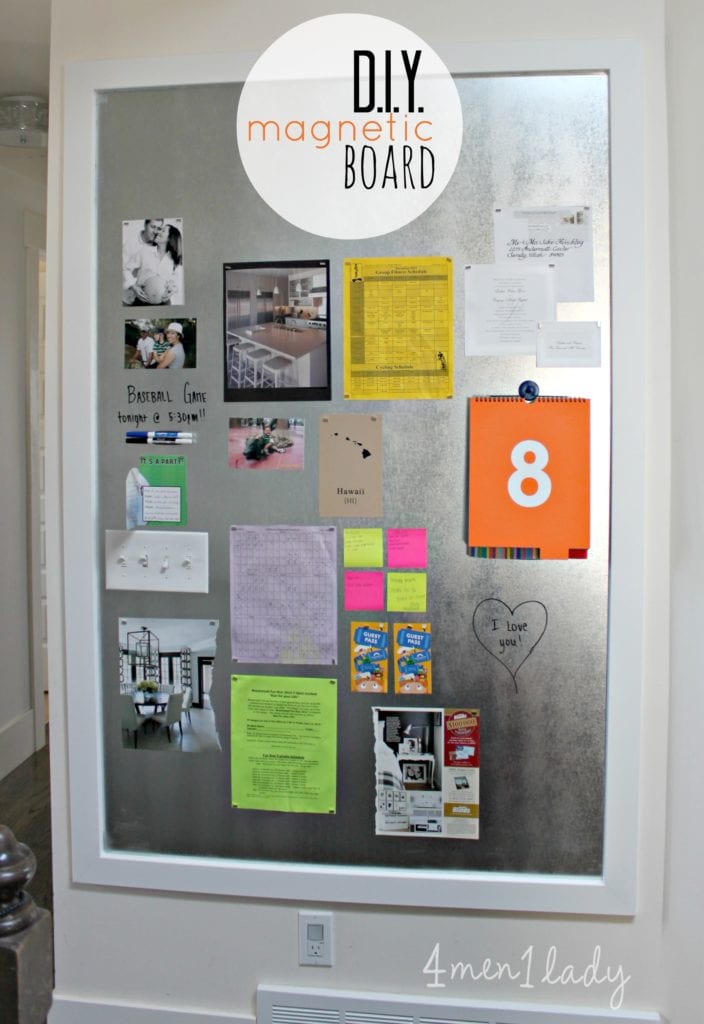 Source: 4men1lady.com
Click here for directions on making your own magnetic job board.
And to go with it, check out these cute magnets.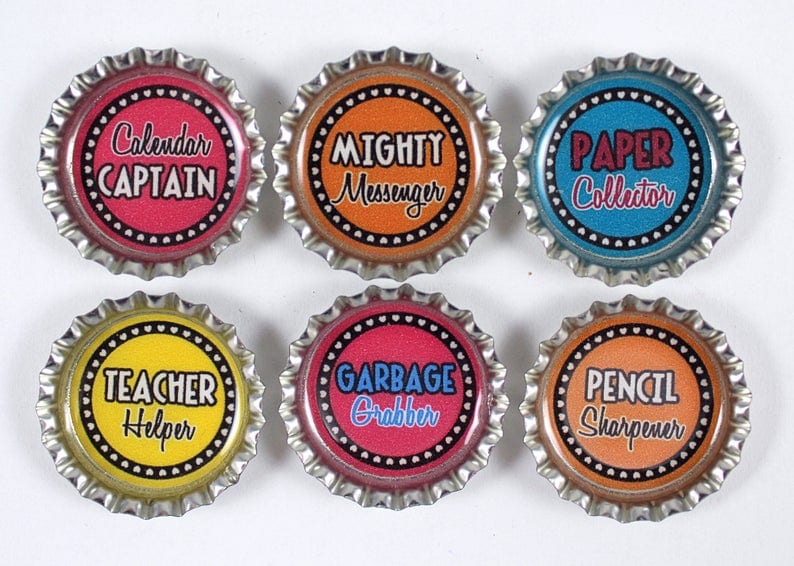 Source: Blue Diva Creations
36. Magnetic job chart with laminated cards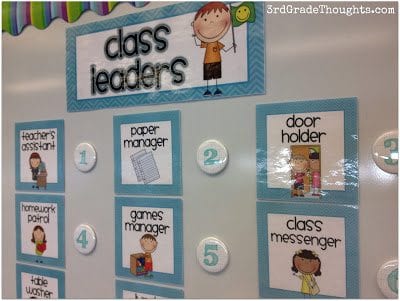 Source: 3rd Grade Thoughts
Look how great this magnet job board turned out! And so easy to use over and over each year.
37. Out-of-this-world helpers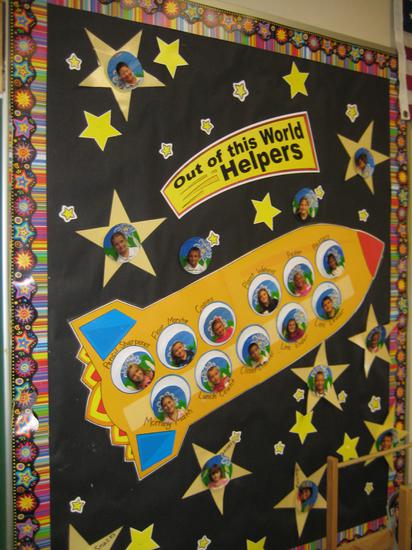 Source: MPM School Supplies
A rocket ship full of helpers to keep your classroom in stellar shape.
38. Colorful helpers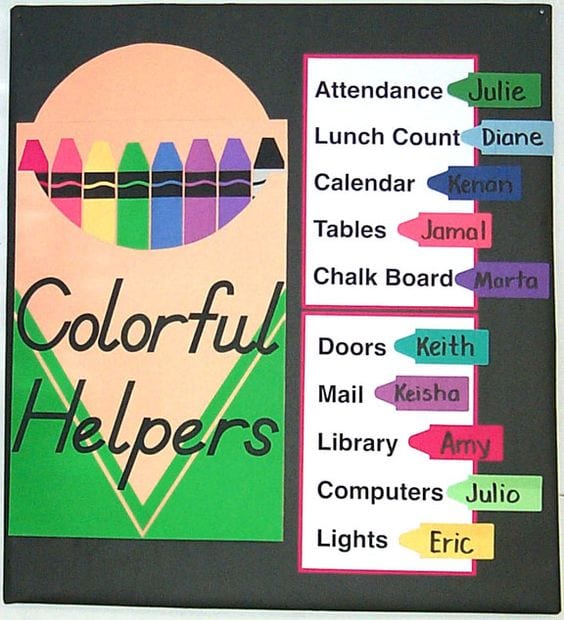 Source: MPM
Simple design to DIY, colorful and easy to read.
How do you handle classroom job charts? Come share in our WeAreTeachers HELPLINE group on Facebook.
Plus, clever ways for choosing partners.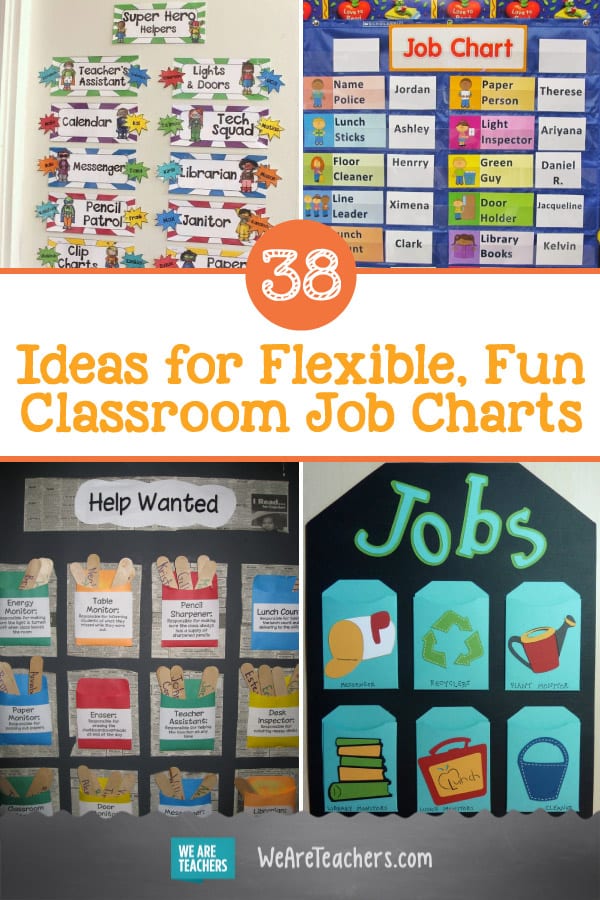 Sours: https://www.weareteachers.com/classroom-job-charts/
CLASSROOM JOBS - Simple, Helpful, \u0026 Successful
.
Poster classroom job
.
Britta Upton - Job Chart
.
You will also like:
.
1277
1278
1279
1280
1281