Girl Meets World Series Finale: How Did It All End for Riley and Maya?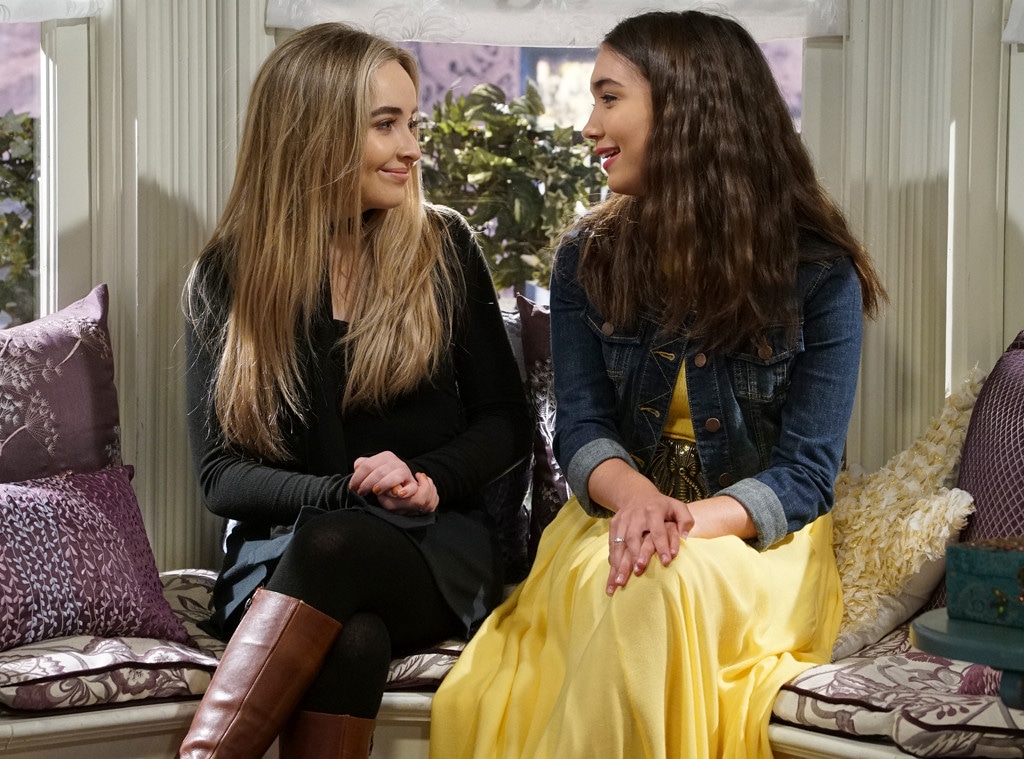 Disney Channel/Ron Tom
The show may be over (for now), but Riley and Maya will be friends forever. 
Girl Meets World's series finale was filled with nostalgic nods to Boy Meets World—including nearly its entire cast and actual clips of the series finale—but there was also no shortage of the friendships and humor that we're deeply going to miss if the show doesn't find a new home. 
We never really thought Topanga (Danielle Fishel) would force her family to move to London when they so clearly did not want to, but apparently the decision was so hard for her that she had to bring in her husband's entire family and two of their high school teachers (with not a single member of her own family in sight) to help. Everyone pretty much told her to follow her heart, so they really weren't very helpful. 
It was, however, great fun to see everybody. Eric (Will Friedle) and Mr. Feeney (William Daniels) still appear to be feuding, and Mr. Turner (Anthony Tyler Quinn) regrets not having adopted Shawn (before Mr. Turner had that horrible motorcycle accident and disappeared forever). Both of the Morgans (Lindsay Ridgeway and Lily Nicksay) showed up as Morgan, with one even tagging the other out and taking over for her in a scene, leaving Auggie (August Maturo) to wonder if he was also going to be replaced. 
Shawn (Rider Strong) also announced that he was going to legally adopt Maya (Sabrina Carpenter), meaning she now has a father, and we're not crying, you are! 
Disney Channel/Ron Tom
Meanwhile, the kids prepared to say goodbye to Riley (Rowan Blanchard). It was a goodbye we knew they probably wouldn't actually have to say, but it was sweet to watch them express their love for each other anyway. Cory even got in on the fun with yet another lesson that directly compared to whatever was going on in his daughter's life, no doubt annoying the other kids in the class one last time. 
Of course, Topanga decided not to take the job and uproot her family, and it all had something to do with how she always wished she had a bay window, and the cafe was now her bay window, meaning all the goodbyes were really just a way for the characters to say goodbye to us instead of each other. 
So life will go on for Riley, Maya, and the rest of the crew, and hopefully we'll get to watch it happen if another network or streaming service finds a way to pick up the show. Hopefully this ending was just a new beginning. 
Head to the comments to tell us what you thought of the ending! 
Sours: https://www.eonline.com/news/823540/girl-meets-world-series-finale-how-did-it-all-end-for-riley-and-maya
Fan-favorite Disney Channel series Girl Meets World came to an end on January 20, 2017, after three years on the air.
The Boy Meets World spinoff series starred Rowan Blanchard, Sabrina Carpenter, Peyton Meyer, Corey Fogelmanisand August Maturo alongside stars from the original show, Danielle Fisheland Ben Savage. Similar to its parent series, Girl Meets World followed a group of middle school best friends as they dealt with the every day issues of growing up. It also featured some pretty epic cameos from the Boy Meets World stars fans all know and love.
Although it's officially off the air, viewers have rediscovered the show thanks to Disney+ and are taking a major walk down memory lane to binge-watch the entire thing one more time. This time around, the stars are all grown up in real life. While they may be tweens during the show's reruns, most of the cast has actually left Disney Channel and furthered their careers in the entertainment industry.
But why actually did Girl Meets World come to an end in 2017? Scroll through our gallery to find out!
Love J-14? Be sure to subscribe to our YouTube channel for fun, exclusive videos with your favorite stars.
1 of 5
When did 'Girl Meets World' start and when did it end?
The Disney Channel series premiered on June 27, 2014. After three seasons and 72 episodes, it aired a series finale on January 20, 2017.
2 of 5
How did the show end?
Both old and new cast members reunited to say goodbye to the show during its final episode. The entire Matthews family was supposed to be moving to London because of Topanga's job, but at the last minute, the fictional mom of two decided she didn't want to relocate her kids. Before the episode ended, BFFs Riley and Maya promised to be friends forever.
3 of 5
Why did 'Girl Meets World' have to end?
In January 2017, the Girl Meets World writers took to Twitter and announced that the show would not be returning to Disney Channel. "It is with incredible pride in our work and complete sadness that things end, that I report to this wonderful audience that our show is over," the social media message read.
As for why, Deadline reported at the time that the spinoff series had "had difficulties connecting with younger kids, who did not find it relevant enough." A report by Forbes noted that the show went from 5.16 million viewers in its first season to 1.5 in the third.
4 of 5
Has the cast spilled any tea on a possible reboot?
At one point, there was talk of Netflix hopefully picking up the series to continue the Matthews family's story, but Deadline also reported that the streaming service passed. Months after the show ended, Sabrina told Teen Voguethat when it comes to a reboot, "there's a chance for everything."
"I think stranger things have happened," the actress said in April 2017.
5 of 5
But when asked about returning to the show during a January 2021 interview with 
Entertainment Tonight
, Rowan said the show ended "when it was supposed to end."
"It feels like it's been a solid amount of time now, and I have to be doing other things," she explained.
Sours: https://www.j-14.com/posts/why-did-girl-meets-world-come-to-an-end-heres-what-we-know/
Girl Meets World series finale recap: A fitting goodbye
After three seasons, Girl Meets World said goodbye. Find out what happened in the recap for "Girl Meets Goodbye." Warning, spoilers ahead.
If this episode really is the last episode that Girl Meets World ever airs — there are talks of another network picking up the show — then this finale will be a fitting end for the series. Well, that is if you are a big fan of the original Boy Meets World.
Picking up exactly where the previous episode left off, "Girl Meets Goodbye" opens with Riley and Maya reacting to the news that Topanga got a job in London. At school the next day, Riley is confident that no matter what happens, she and Maya will remain friends no matter the distance between them. That is until they remember their third best friend, who they lost contact with when she moved across the road.
On that sad note, it is off to history class, where once again Cory has written Belgium 1831 on the board again. That was the year when Belgium decided to separate from the Untied Kingdom of the Netherlands because it was time for Belgium to set out on its own adventure. Riley is worried about if Belgium stayed in contact with the Netherlands and if it turned out to be a good decision. Cory reassures his daughter that a lot of thought went into the choice, and Topanga will get advice from a lot of people to make the right choice.
When Riley and Maya return home from school, the entire Matthews family, plus Mr. Turner, Mr. Feeney, Shawn and Katey are waiting to help Topanga decide what to do. Both Morgans from the original series are also there. They have a great moment where they help Auggie come to terms with the potential big move. It also leads to Auggie thinking we will be replaced at some point.
Eric is mad at Mr. Feeney and can't manage one final Feeney call. After that, it is all about each member of the family giving advice to Topangna.
Shawn is finally reunited with Mr. Turner and announces that he is going to adopt Maya. This leads to Mr. Turner admitting that he always regretted not formally adopting Shawn. But still no explanation about where he went after the season 4 finale of Boy Meets World.
The best advice comes from, of all places, Eric. He tells Topanga to find a quiet place where she can think about what she wants to do … but not to steal his place, which is under the ocean.
Instead, Topanga goes to think at Topanga's, and she makes her decision. As great as the Matthews would do in London, she is not ready to leave behind all that they have built in New York. One the final scenes finds everybody gathered at Topanga's. There, Cory repeats the exact same speech he gave to a little Josh in the Boy Meets World finale, complete with cuts back to that scene. This time around it is Maya who says she finally understands what Girl Meets World means.
Related Story: The Flash: Some familiar faces are returning this season
Just like the original series, Girl Meets World ends in the classroom with Riley, Maya, Farkle, Lucas, Smackle and Zay telling Cory what they have learned about friendship. And seeing as the Matthews are staying in New York, Farkle erases Belgium 1831 from the board. Things will one day change drastically, just not yet.
Sours: https://fansided.com/2017/01/20/girl-meets-world-series-finale-recap-girl-meets-goodbye/
Girl Meets World- Ending scene (\
'Girl Meets World' Finale: Creator On Topanga's Choice, New Network Search & Season 4
SPOILER ALERT: This story contains details of tonight's Girl Meets World finale.
Your Complete Guide to Pilots and Straight-to-Series orders
See All
Girl Meets World — a sequel to ABC's popular sitcom Boy Meets World — ended its run on Disney Channel tonight with an episode that felt like a series finale and was titled like one too, "Girl Meets Goodbye".
The "goodbye" part was given a different connotation when the show's penultimate Season 3 episode last week dropped the bombshell that Topanga Matthews (Danielle Fishel) had received a job offer and was considering moving the family to London. After a lot of soul-searching and counsel by family members, with a slew of Boy Meets World alums making an appearance, she opted to stay, calling Topanga's coffee house her "bay window."
"Topanga is an incredibly strong decision maker," Girl Meets World creator and Boy Meets World co-creator Michael Jacobs told Deadline. "Anybody who gives up Yale for a fictional college because she loves Cory Matthews, isn't going to uproot her family for Trafalgar Square. But the main point of the story was that she found her own bay window right where she was."
Tonight's episode was written as a potential series finale, Jacobs said, and it was not the first time he had done that, with the bay window theme running through both closers-to-be.
"There were a couple of series finales," he said. "(Season 2 penultimate episode) 'Girl Meets The Bay Window' was a great series finale. The three incarnations of Riley and Maya, younger, older and their current selves, all leave the bay window and head off into the world. After we shot that we said 'Uh-oh.' But then we got picked up for season 3."
While he was happy to get a third season, Jacobs admits he would've been even happier to get a fourth but had a sense that may be a long shot at the kids-focused Disney Channel as the show's protagonists moved to high school. "I had hoped to run at Disney Channel for four years but realized many shows stop after three, and our cast and the natural stories to tell might have outgrown the venue, so I wrote the last episodes of the season with some closure just in case," he said. "The last thing I would want for a loyal audience would be to leave over 200 episodes of a franchise unfinished. But I also wanted the possible finish line to have obvious space to keep going. I hope we did that."
Will Girl Meets World continue elsewhere? While the most obvious candidate, Netflix, is not interested, and no major new suitors have emerged, Jacobs is still trying and hopeful but also content if this is indeed the end.
"I'm making an attempt to find a home for an evolution of the franchise," he said. "The last thing we want to do is overstay our welcome when we have always been so warmly received. But the idea I have to continue is a good one. If somebody moves on it immediately, great. If not, it's been on the air going on 25 years. Lots of lessons learned."
As for Jacobs' idea for a potential fourth season, it sounds a little ominous, with him hinting at a possible death.
"The series was always about a strong friendship," he said. ('Girl Meets Goodbye' hit that home with its "Riley and Maya are forever" theme that framed the episode.) "The first season was dedicated to that. The second season was about growth. The third season was about experiencing feelings and the fourth season was going to be about dealing with change and loss and learning something from it as we have from all of our episodes."
The Girl Meets World finale staged major Boy Meets World reunion, which included both actresses who played Cory's (Ben Savage) sister Morgan: Lily Nicksay (Seasons 1–2) and Lindsay Ridgeway (Seasons 3–7).
"When we put both casts together there is always the genuine warmth of a family reunion," Jacobs said. "But this time, the two Morgans added something even more special, as did ending with the appearance of the original Joshua Matthews as we did in the Boy Meets World finale. That character was born to illustrate that just when you think you have the world figured out, it surprises you."
Boy Meets World fans helped get Girl Meets World happen with the enthusiastic reaction to the news of the project. Jacobs admits that put extra pressure on him and his team to live up to fans' expectations.
"When Girl Meets World was announced, the internet reaction showed us how much Boy Meets World was appreciated," he said. "We were very grateful for that and wanted to sustain those good feelings as we continued. So, we tried to make sure the new show would offer something of value to a new generation young people meeting the world."
With an end in mind, Jacobs reflected on the original series and its followup. "If there is any legacy to these two shows I hope it would be that the first show demonstrated that the most wonderful thing the world offers is love," he said. "But then I read articles written on college campuses about the difficulties of trying to be Cory and Topanga. So the second show offers the potential of true friendship. Cory and Topanga were meant to be forever. So are Riley and Maya. Our legacy? As you meet the world, love and friendship help you through."
Girl Meets World was one of Disney Channel's best received series, with devoted fan base, strong reviews, two consecutive best children's program Emmy nominations as well as WGA and PGA nominations. But that may have been enough to prevent the show from a premature conclusion. As Savage's teacher Cory Matthews put it in the finale tonight,
"Sometimes things happen earlier than they are supposed to."
"So what do we do?"
"We do our best, we leave a good mark, and we hope people remember us fondly."
Subscribe to Deadline Breaking News Alerts and keep your inbox happy.
Read More About:
Sours: https://deadline.com/2017/01/girl-meets-world-finale-creator-topanga-danielle-fishel-new-network-search-season-4-1201890788/
World girl meets end of
Despite bringing the Disney Channel series to a full-circle conclusion, Friday's Girl Meets World finale left a few loose ends untied — and you'd better believe that was intentional.
But before we talk about what wasn't in the episode, let's quickly recap what actually went down: For starters, Riley's friends braced themselves for a future without her, including Lucas, who (rather quickly) accepted that they would break up if she moved to London. Maya, on the other hand, knew full well that no amount of distance could ever hurt their friendship. And you knew it was a series finale when Zay got his long-overdue props; Riley assured him that their friend group wasn't officially complete until he joined it.
The cherry on top of the finale was, of course, the monstrous smattering of original Boy Meets World cast members that returned to help Riley figure out… something. (I know the gang had good intentions, but somewhere between Eric yelling at Feeny and Morgan pretending like she wasn't clearly two separate people, I feel like things kind of went off the rails.) But it was all worth it to see Shawn tell Maya that he wanted to adopt her, then hearing Mr. Turner admit he always regretted not doing the same for Shawn. (Just stab me directly in the heart, why don't you?!)
Interestingly enough, even though Mr. Turner regrets not adopting Shawn back in their Boy Meets World days, series creator Michael Jacobs says there's no way it was ever going to happen.
"To create closure in any circumstance, you have to be certain that it's what the audience wants and it's the right thing to do," Jacobs explains. "If Shawn was adopted by Turner — remember, the Matthews also wanted to adopt him — that would have been a betrayal of his father. Chet Hunter was such an interesting character, and Shawn's chasing after his father was so remarkable. I wanted to sustain it. There was something instinctive in me that said, 'Being adopted was not his happiness.' Just like there was something in me that said, 'Maya Hart is the beginning of Shawn's happiness.' She attracted Shawn to the idea that he could be a father and a husband someday. That's why we wrote the Turner line. You think your closure is going to come from one place, but no."
Jacobs adds that he "didn't want anything to change in the end," which is why — surprise! — Topanga decided to turn down the job and keep her family in New York. (Fun fact: Corey Fogelmanis tells TVLine, "It would be really dramatic, but I kind of wanted the Matthews to actually move away. But I'm really happy with this ending, too.")
OK, time to reveal what you didn't see… If you were caught off guard by Eric and Feeny's suddenly hostile relationship, don't worry, you didn't miss anything. Their drama is of a behind-the-scenes nature:
"Will Friedle [as Eric] did a YouTube video where he announced that he'd be running for president, and it got a spectacular amount of views and reaction," Jacobs explains. "So we were talking about this episode, and he said, 'I want to do something that tantalizes the audience as far as the relationship between Eric and Feeny. They're going to expect me to go up to him and do the Feeny call.' So I said, 'Let's go the other way. Let's have you upset with each other.' He goes, 'I love that! Why?' And I go, 'That's up to you.' So I wrote the script for him and we put in the conflict, and Will Friedle will reveal what happens between Eric and Feeny and why. I think that will be a lovely YouTube video someday."
So, what did you think of the finale? Do you hope the show finds new life on another network or streaming service? Grade "Girl Meets Goodbye" below, then drop a comment with your full review of the episode/series.
If you like TVLine, you'll LOVE our email news alerts! Click here to subscribe.
TAGS: Disney Channel, Girl Meets World, Michael Jacobs
GET MORE: Finales, Interviews, Post Mortems, Recaps
x
Sours: https://tvline.com/2017/01/20/girl-meets-world-recap-series-finale-michael-jacobs-interview/
Shawn and Angela - All CUTE moments (Boy Meets World)
.
You will also be interested:
.
1133
1134
1135
1136
1137