The 10 Best Pizza Restaurants in Pennsylvania!
Whether you're grabbing a slice from a food truck or sitting down for a pie in a top-rated restaurant, pizza is always great. And in Pennsylvania, we have plenty of both and everything in between. Whether you like it thin or thick, classic or inventive, the pizzas of Pennsylvania are ready to help you gear up for a big day or wind down for the night. Here are the 10 best pizza restaurants in the state!
1. Faccia Luna Pizzeria, State College, PA
There is perhaps no greater arbiter of good pizza than the contemporary college student, and the verdict is in at Faccia Luna Pizzeria. This State College favorite churns authentic Italian flavor out of its wood fired oven, and their non-pizza offerings are just as tempting. Stop in for a phenomenal pie, or on the weekends for seafood specials, and take advantage at one of the longest al fresco seasons around on their heated porch.
2. Square Pie, Philadelphia, PA
Square Pie has become one of the best loved pizza joints in the state, serving up a thick crust pizza inspired by Brooklyn or Sicily, depending whom you ask. BYOB, or just your appetite, and tuck into satisfying combos like the decadent Melanzane or a classic mozzarella.
3. Fiori's Pizzaria, Pittsburgh, PA
This Steel City staple offers up pizzas and hoagies substantial enough to satisfy even the hungriest of bellies. Be sure to order a side of cold cheese to add to your pie, a Fiori's tradition that just works.
4. Maroni's Pizza, Scranton, PA
Maroni's has been providing the Scranton area with perfect pizza for over 30 years, and doesn't seem to plan on slowing down anytime soon. This cash only locale breaks the boring chains of same-old pizza, offering familiar yet fantastic pies guaranteed to impress even the most jaded of customers.
5. Stromboli Pizza, Allentown, PA
Stromboli's is a rare breed whose menu is equal parts extensive and excellent. Quality food, good prices, and large portions have made this Allentown location a must-eat in the Lehigh Valley. $5 will get you two slices and a drink, and coupons on their website can ease the blow of ordering for a crowd.
6. Nomad Pizza Co., Philadelphia, PA
With two locations in Philadelphia, Nomad has made quite a splash in the local culinary scene. Authentic Italian pies, 12 beers on tap, farm to table mentality, and friendly atmosphere earn this Philadelphia eatery a spot on our list. Try the outstanding Truffle Pecorino pizza, a truly transcendent experience.
7. Proper Brick Oven & Tap Room, Pittsburgh, PA
For a bubbly crust and quality toppings, the Pittsburgh place to be is Proper. Visit for a broad selection of easily customizable pizzas, and quality array of creative Italian-style dishes (brisket mac & cheese anyone?), paired with solid beer, wine, and cocktail lists. Check out their website for food truck locations if you can't make it to the brick and mortar, or hire the 18-foot trailer for your next event, complete with 5,000 pound Italian wood burning brick oven.
8. Virgil's Plate, Erie, PA
Square pizza is great, but square pizza where each slice can be customized with different toppings really knocks this one out of the park. Unbleached flour makes for a perfectly crunchy dough—available gluten free, and topped with some of the freshest ingredients around. Round out your square experience with a scoop of Hershey's Ice Cream if you manage to save enough room.
9. Capricio's Italian Grill & Kitchen, Lancaster, PA
Capricio's is an unassuming joint whose kitchen puts out Italian fare rivaling the priciest restaurants in the land. Try the pizza (of course), or some outstanding gnocchi.
10. Pizzeria Stella, Philadelphia, PA
Wood-fired pizza made from fresh ingredients, with inventive topping combinations, Pizzeria Stella is pretty tough to beat. Try the broccoli rabe appetizer or pistachio pizza.
Sours: https://bestthingspa.com/pizza-places/
7 NEPA pizzerias featured in new book about the world's best pizza
Added on 03/21/2016 Rich Howells Clarks Summit , Dickson City , Exeter , Harvey's Lake , Old Forge , Olyphant , pizza
Decrease Font SizeIncrease Font SizeText SizePrint This PageSend by Email
Anyone from Northeastern Pennsylvania can tell you that the pizza made here is special. From Old Forge claiming to be the "Pizza Capital of the World" to a recent study declaring Scranton the pizza capital of the country due to its high density of pizzerias to an upcoming documentary about local pizza called "Tray," the word has spread about the area's unique take on Italy's doughy dish – all the way to London, in fact.
British publisher Phaidon Press is releasing a new book called "Where to Eat Pizza: The Experts' Guide to the Best Pizza Places in the World" on April 25, and within those 576 pages are several restaurants from NEPA thanks to NEPA Pizza Review.
According to an article posted on March 18, the owner of the blog was contacted by Phaidon and was asked to help them find "a variety of the best pizzerias in the area," asking for his own opinions and for him to assemble a team of local pizza critics to decide which places served the best pies (or, in this case, trays) and why.
Ultimately, seven area businesses made it into print: Rosario's Pizzeria & Ristorante in Clarks Summit, Arcaro & Genell Restaurant in Old Forge, Basilico's Pizzeria in Dickson City, Pizza L'Oven in Exeter, Sabatini's Pizza in Exeter, Grotto Pizza in Harvey's Lake, and Armenti's Pizzeria in Olyphant.
The book consulted "over 1,000 food experts and aficionados from around the world," the publisher says, to "reveal their insider tips on finding a perfect slice of pizza" and features more than 1,700 restaurants.
Phaidon previously published "Where Chefs Eat: A Guide to Chefs' Favorite Restaurants," and the author of "Where to Eat Pizza," Daniel Young, is the food critic behind youngandfoodish.com who "established himself as a pizza authority" as a restaurant critic for the New York Daily News. Named Online Writer of the Year at the Fortnum & Mason Food & Drink Awards, Young has written about food for the New York Times, the Los Angeles Times, and the Guardian and authored eight books.
Aside from reviews and recommendations, "Where to Eat Pizza" also includes pizza facts, tips on how to eat it, maps showing where to find it, information on secret ingredients, pizza box artwork, and more.
This bible for pizza lovers can be pre-ordered now from Amazon.
Photos by Firebox
by Rich Howells
Rich is an award-winning journalist, longtime blogger, photographer, and podcast host. He is the founder and editor of NEPA Scene.
Follow meFacebookWebsite
Sours: https://nepascene.com/2016/03/7-nepa-pizzerias-featured-new-book-about-worlds-best-pizza/
15 Best Pizza Places In The Scranton Area
Growing up in Scranton, PA, I'd like to consider myself a pizza connoisseur. Scranton and the surrounding areas are so spoiled when it comes to pizza... there are literally so many great places! I'm frequently asked for recommendations from out-of-town friends. I decided to compile a list of all of the best places, in my opinion. There are definitely more good ones not listed, but here we have the best of the best.
Once again, this list is IN NO PARTICULAR ORDER.
Vincenzo's Pizzaria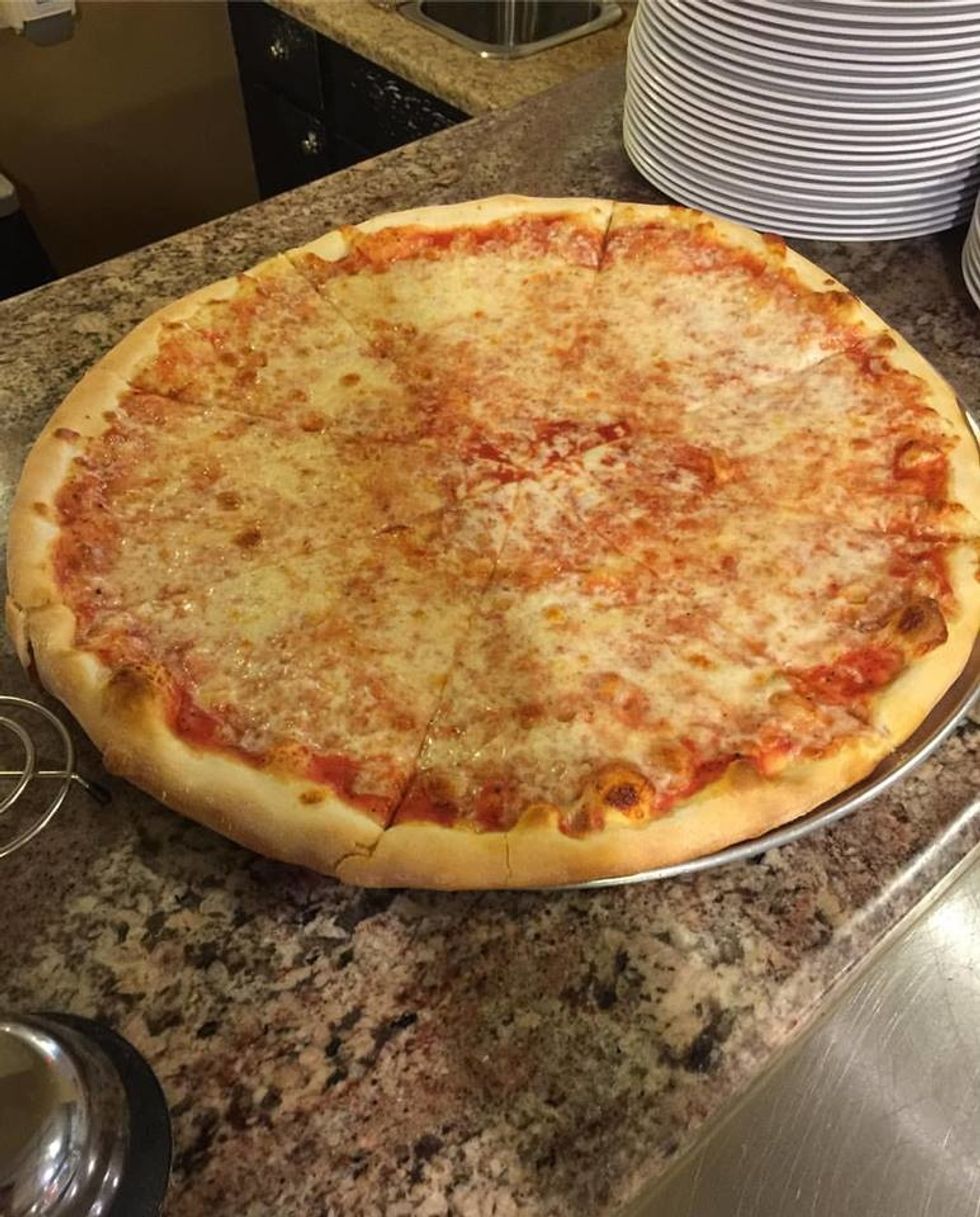 Most of the places in NEPA are square, but Vincenzo's is one of the best in the area for a classic round pizza! If you're feeling' New York style over Old Forge style, Vincenzo's is the move
Website: Vincenzo's
Facebook: Vincenzo's
Address: 131 N Main Ave, Scranton, PA 18504
Phone: (570) 347-1060
What I recommend: Round hot wing pizza or The Enzo or just classic plain
Maroni's Pizza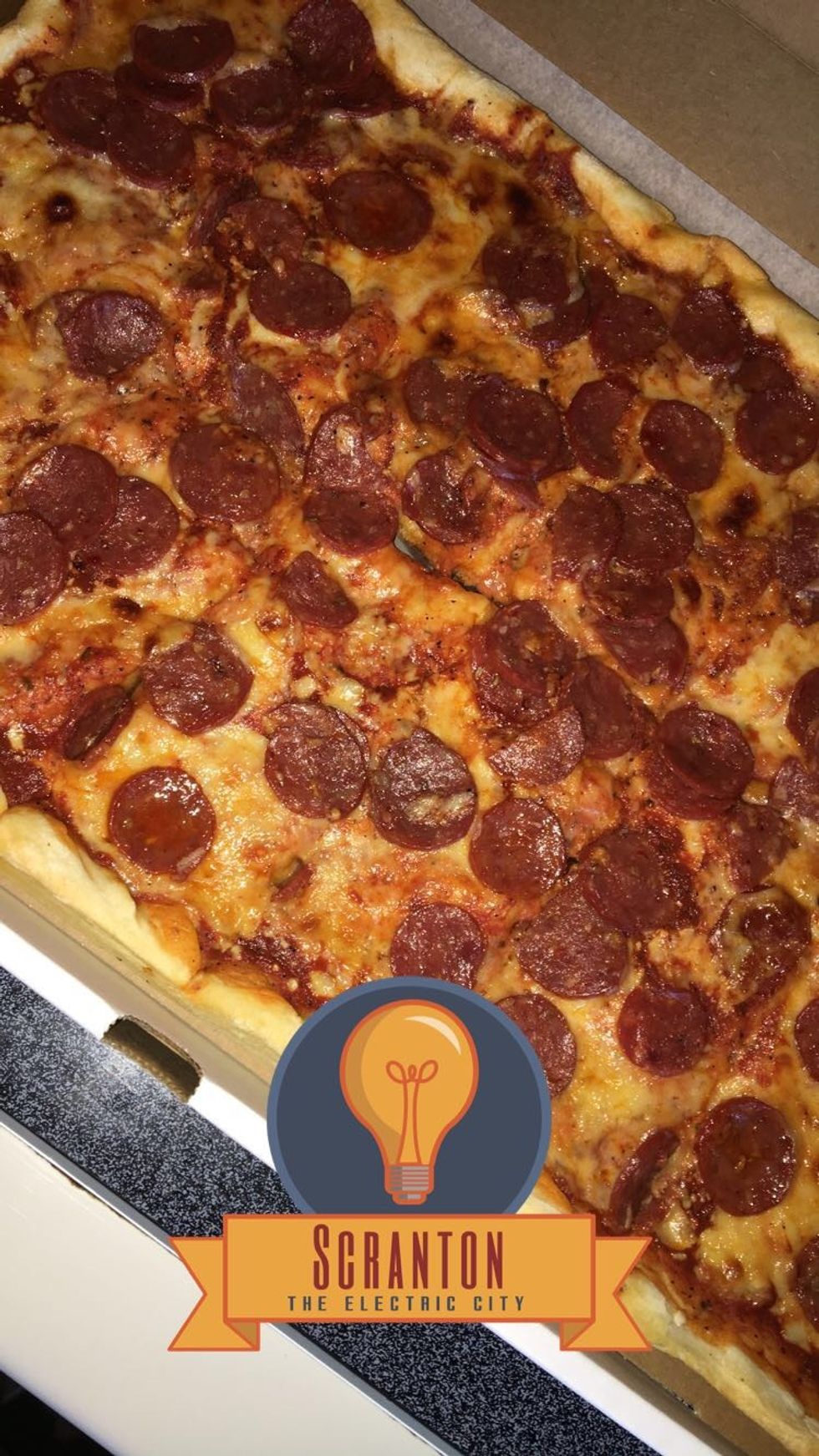 Maroni's is basically the epitome of square pizza for the people of West Scranton.
Website: Maroni's Pizza
Facebook: Maroni's Pizza
Address: 1345 St. Ann's St. Scranton, PA 18504
Phone: (570) 961-9531
What I recommend: Pepperoni square tray
Antonio's Pizza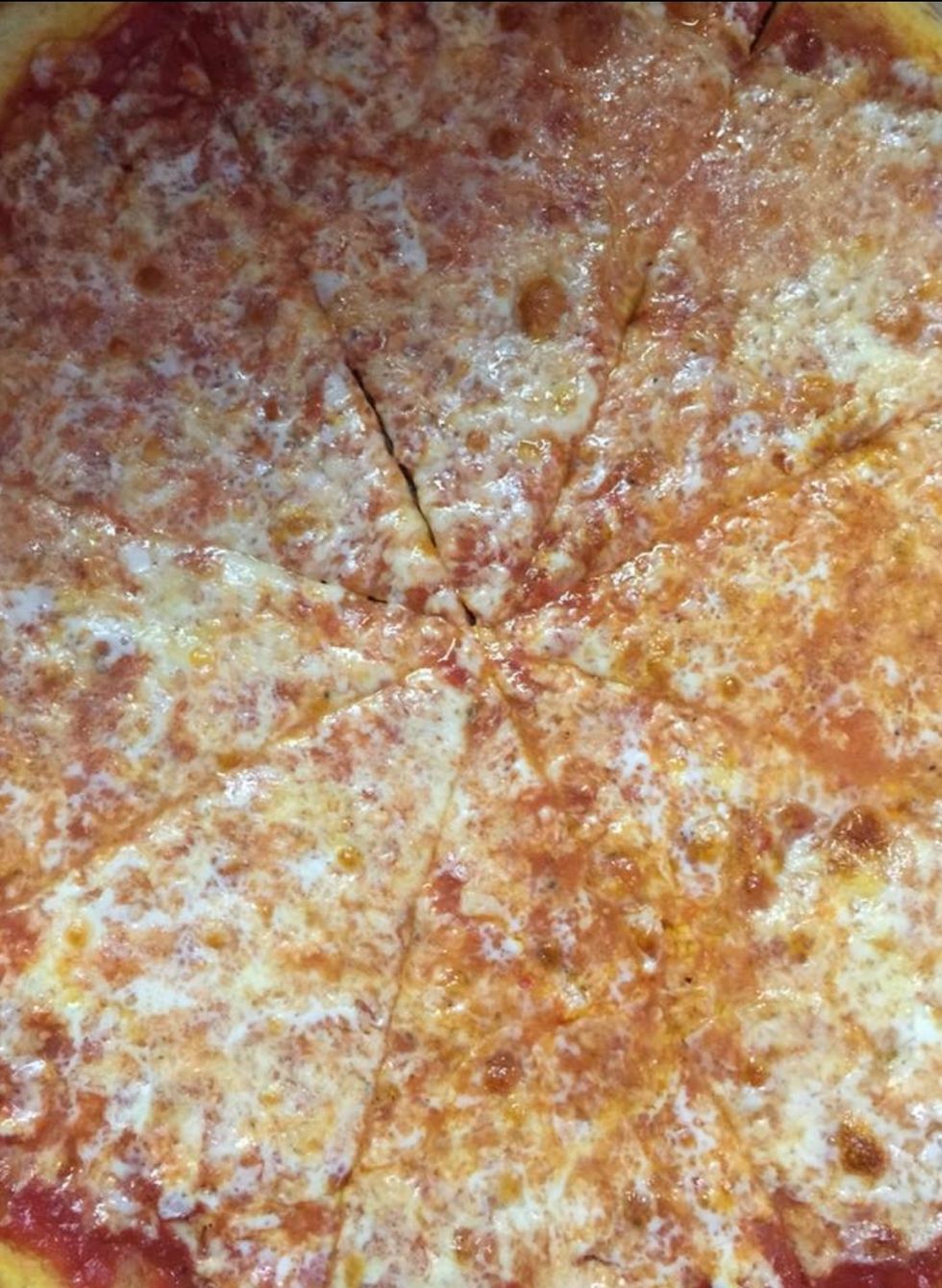 My personal favorite round pizza in the area, Antonio's is way too under-hyped.
Facebook: Antonio's
Address: 930 Capouse Ave, Scranton, PA 18509
Phone: (570) 342-5584
What I recommend: Classic round plain
Arcaro's Pizza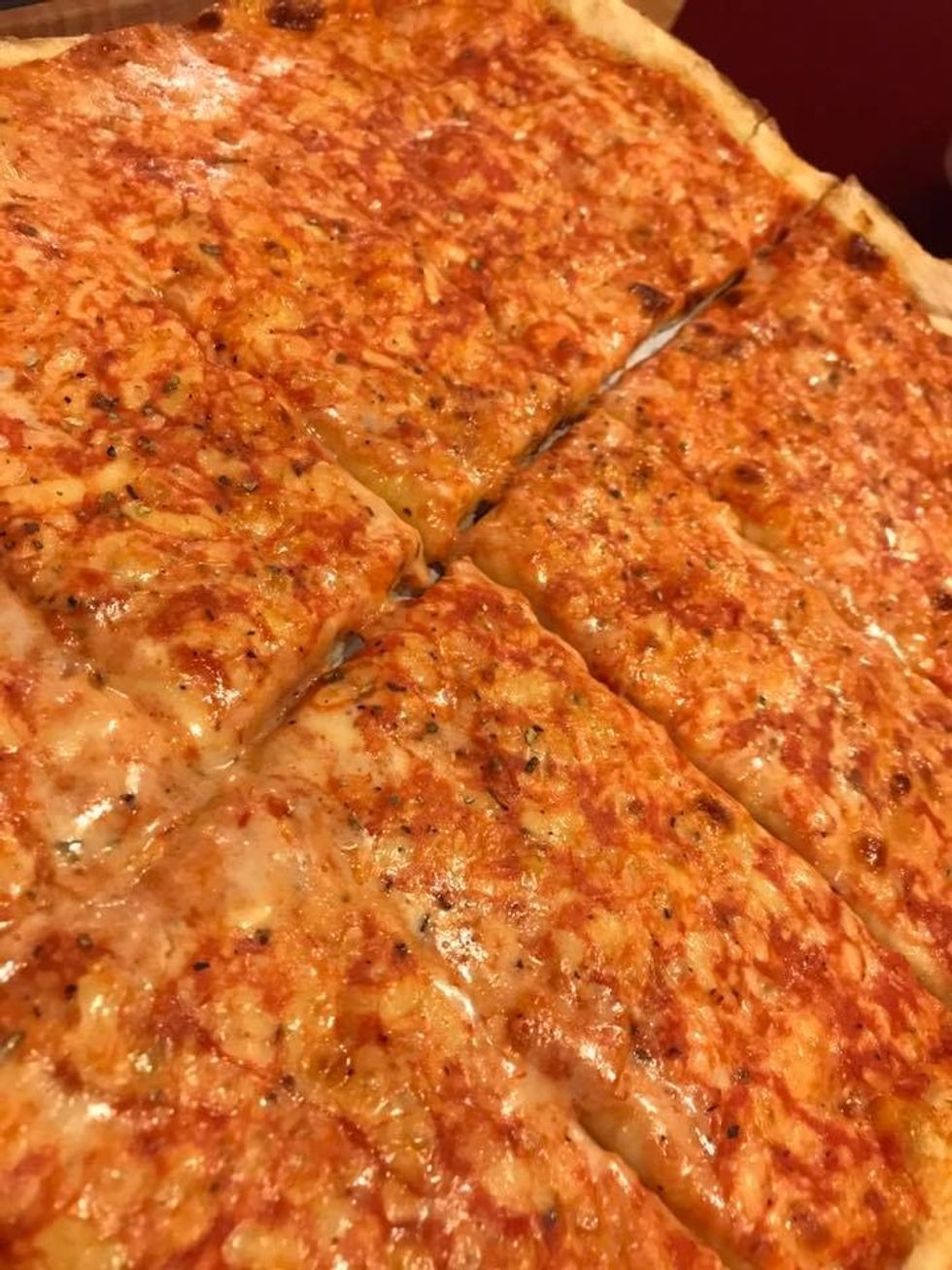 The classic old-forge style pizza sitting upon Taylor hill! A favorite of many.
Facebook: Arcaro's
Address: 1306 S Main Ave, Scranton, PA 18504
Phone: (570) 961-6032
What I recommend: Square tray of plain
Alfredo's Cafe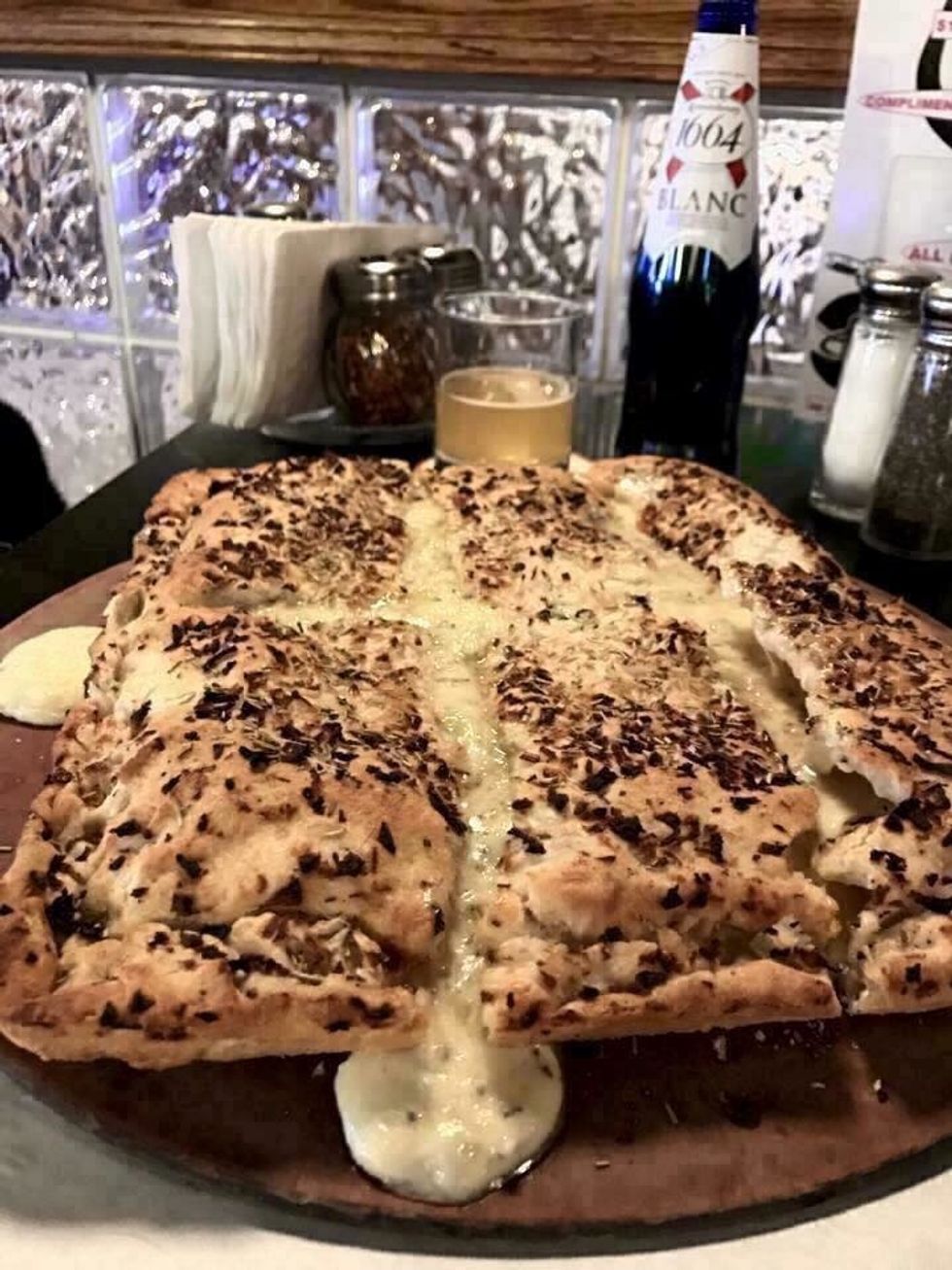 Kevin Malone wan't lying when he said it is great pizza! Their double crusted white is amazing. (I mean, just look at that picture.)
Website: Alfredo's Cafe
Facebook: Alfredo's Cafe
Address: 1040 S Washington Ave. (South Side Shopping Center), Scranton, PA 18505
Phone: 570-969-1910
What I recommend: Double crusted white pizza or classic red square
Revello's Pizza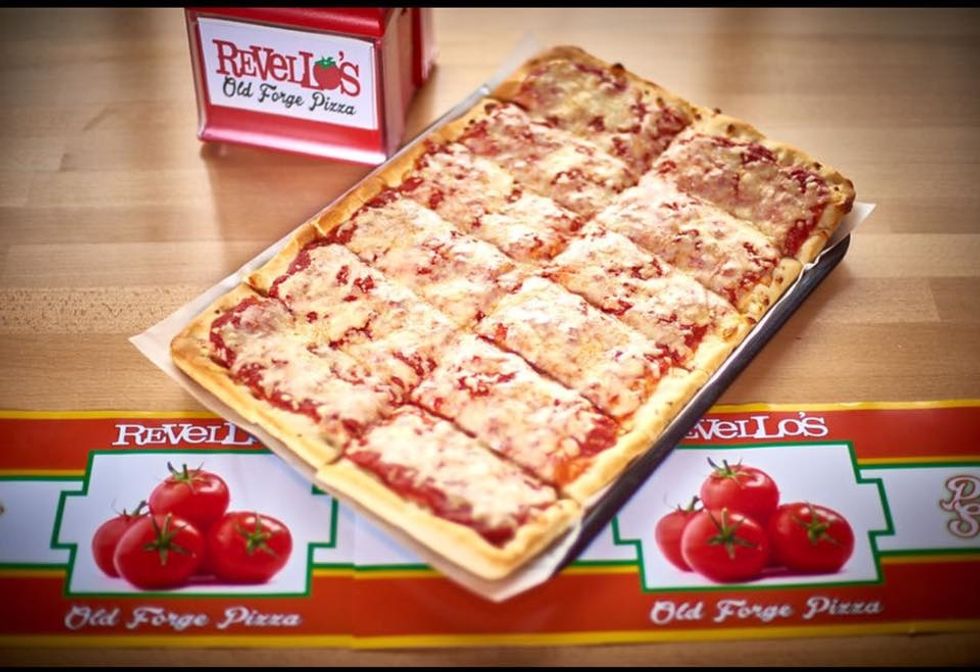 This place truly embodies "Old Forge Pizza." Also, it is a favorite place of Hillary Clinton! Although their classic old forge style is great, their double crusted white is to die for!
Website: Revello's
Facebook: Revello's
Address: 502 S Main St., Old Forge, Lackawanna County, Pennsylvania 18518
Phone: (570) 457-9843
What I recommend: Double crusted white, broccoli white, or tray of red
Nina's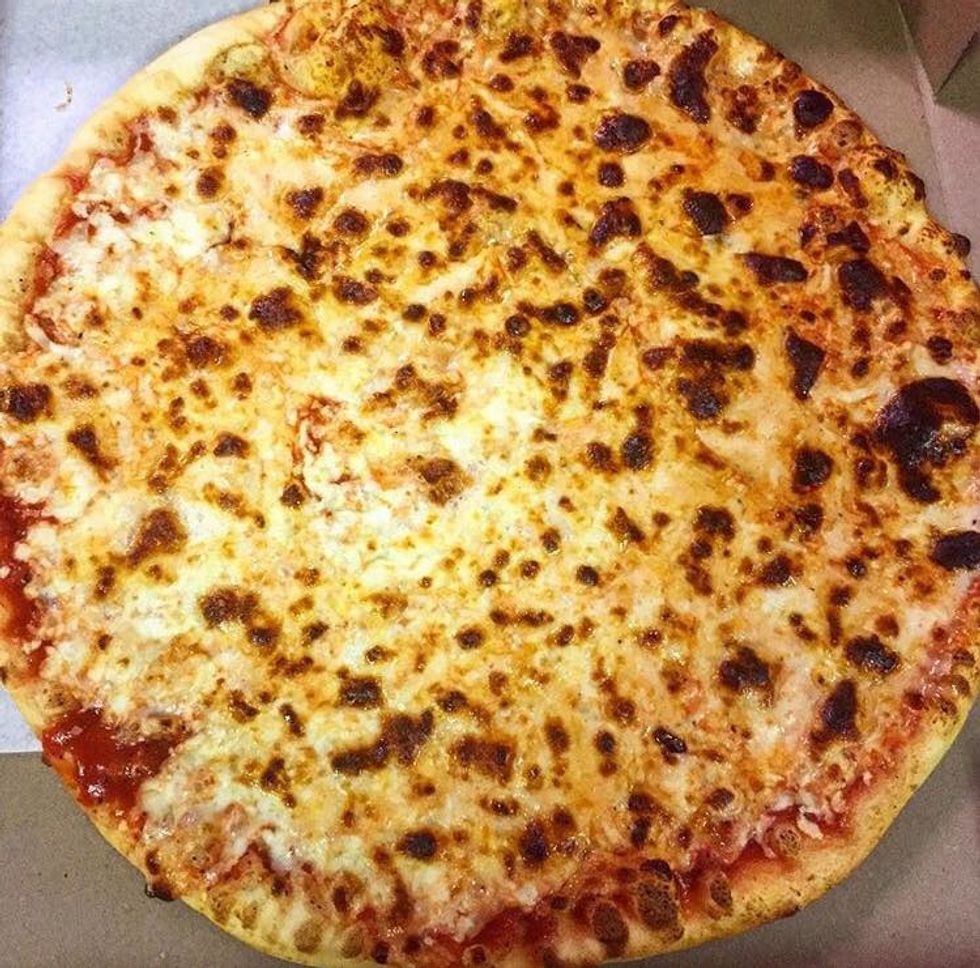 When people talk about Nina's, they're probably talking about their wing bites, which are great, but did you know they have pizza too? (Spoiler alert: their pizza is also great!) I always order a slice on the side with my wing bites.
Website: Nina's
Facebook: Nina's
Address: 602 New York St., Dunmore, Pennsylvania 18509-2436
Phone: (570) 344-6069
What I recommend: The photo I included is of their round plain, but I personally love their square plain! Also, I recommend their double crusted hot wing pizza as well.
Cangiano's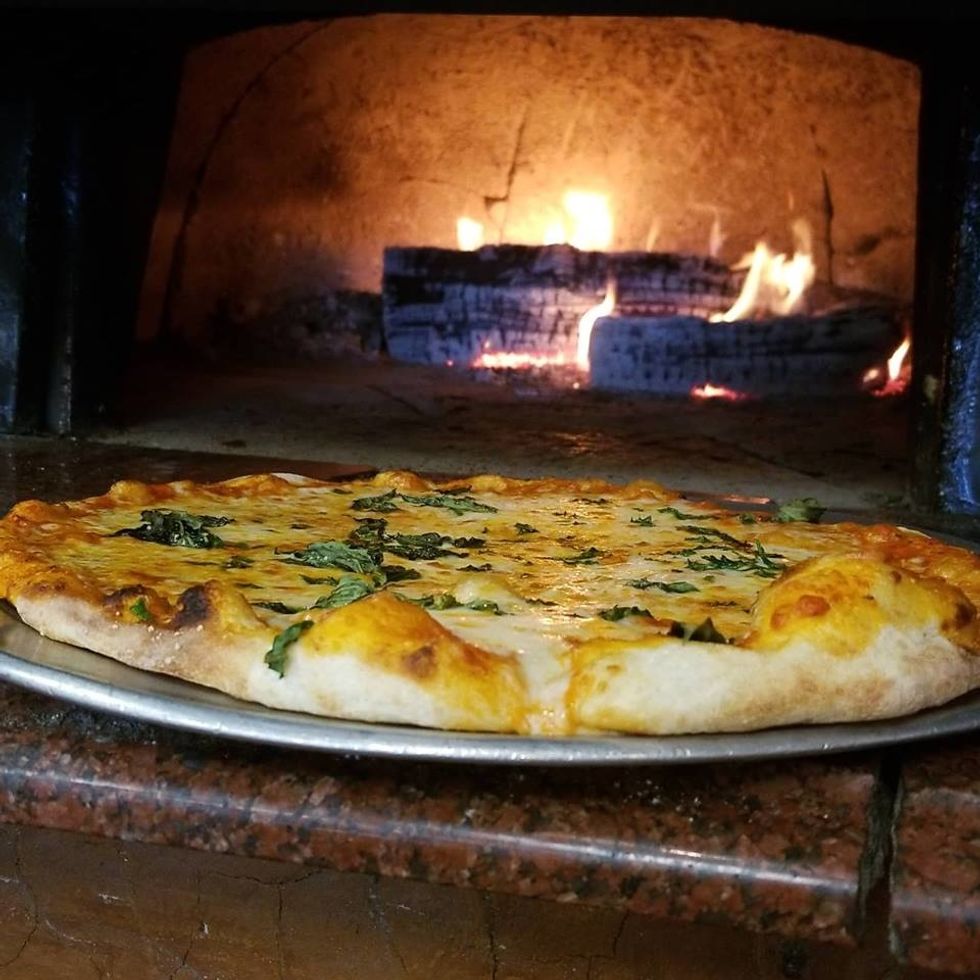 Many people don't know about Cangiano's because it is relatively new to its new location on the Scranton Carbondale Highway. It is a shame that this place isn't well-known because they have really great food and the inside of the restaurant is literally so cool. (I know this post is about pizza, and their pizza is so good, but I'm also obsessed with their hoagies!)
Website: Cangiano's
Facebook: Cangiano's
Address: 235 Scranton Carbondale Highway, Scranton, Pennsylvania 18508
Phone: (570) 507-7122
What I recommend: The white pizza because it has ricotta, or their margherita pizza
Dino and Francesco's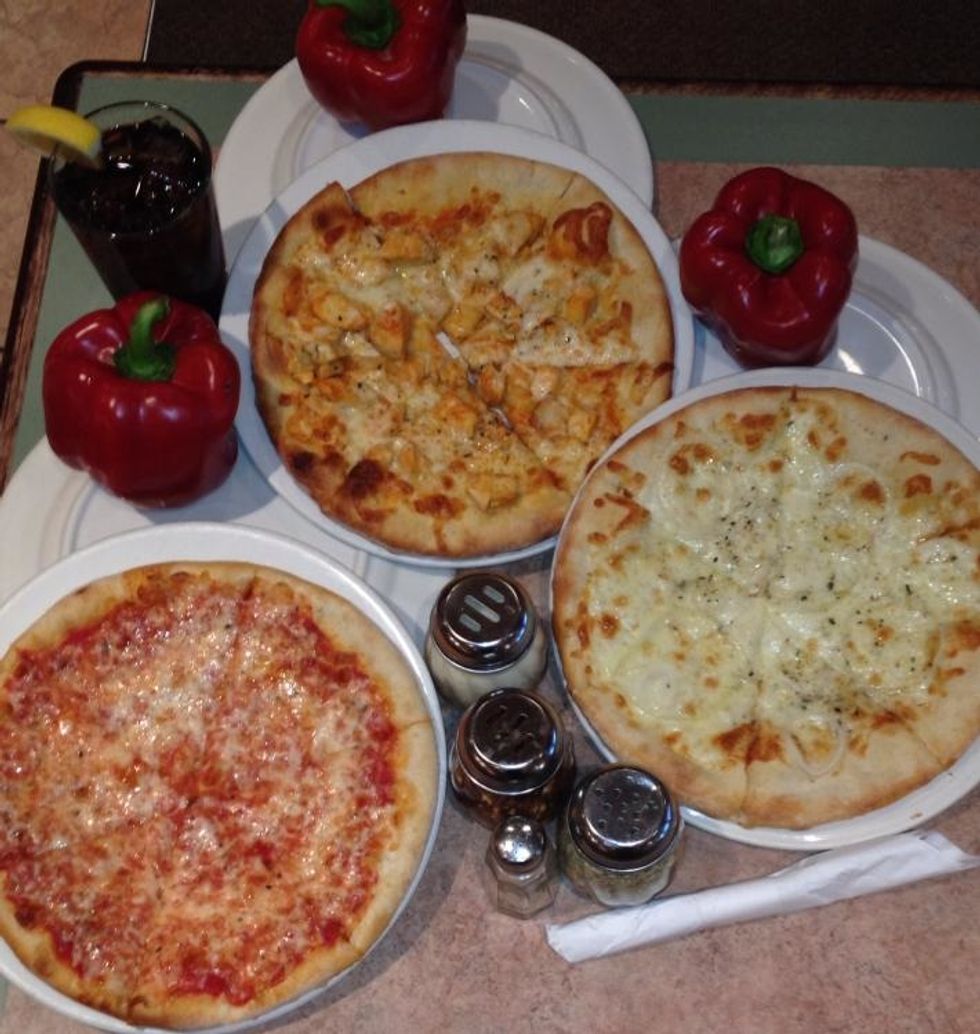 They have really great Italian food and pizza! They're a favorite of many.
Website: Dino and Francescos
Facebook: Dino and Francescos
Address: 3366 Birney Ave Moosic, Pennsylvania 18507
Phone: (570) 346-4624
What I recommend: Red, white, white broccoli, or hot wing
Andy's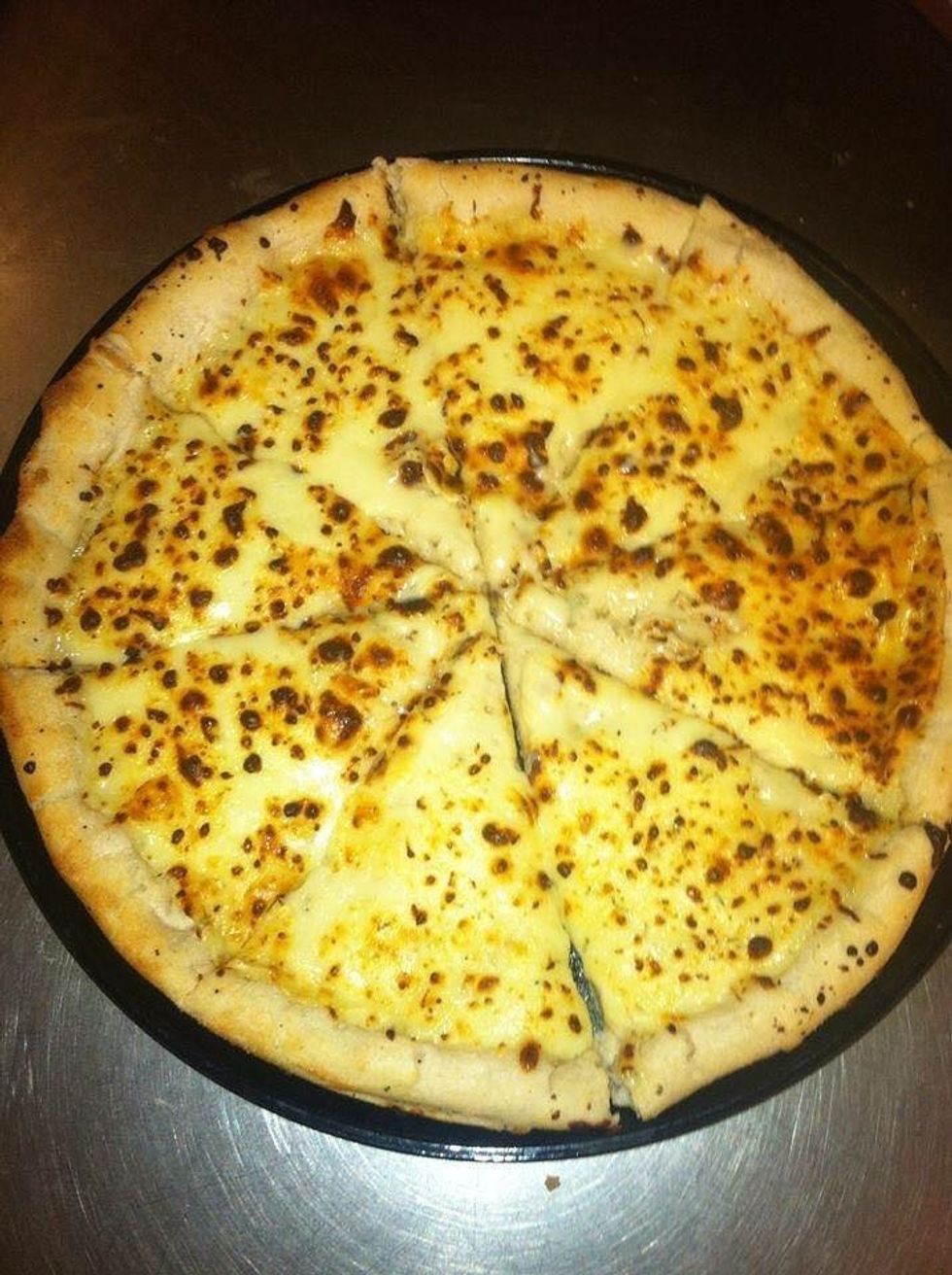 Andy's pizza has a really different taste the all of the others, and it is really good! I remember being surprised by how much I liked it the first time I had it.
Facebook: Andy's Pizza
Address: 528 Main St., Peckville, Pennsylvania 18452
Phone: (570) 489-9238
What I recommend: Plain, or, if you're a pickle fan, the pickler!
Armetta's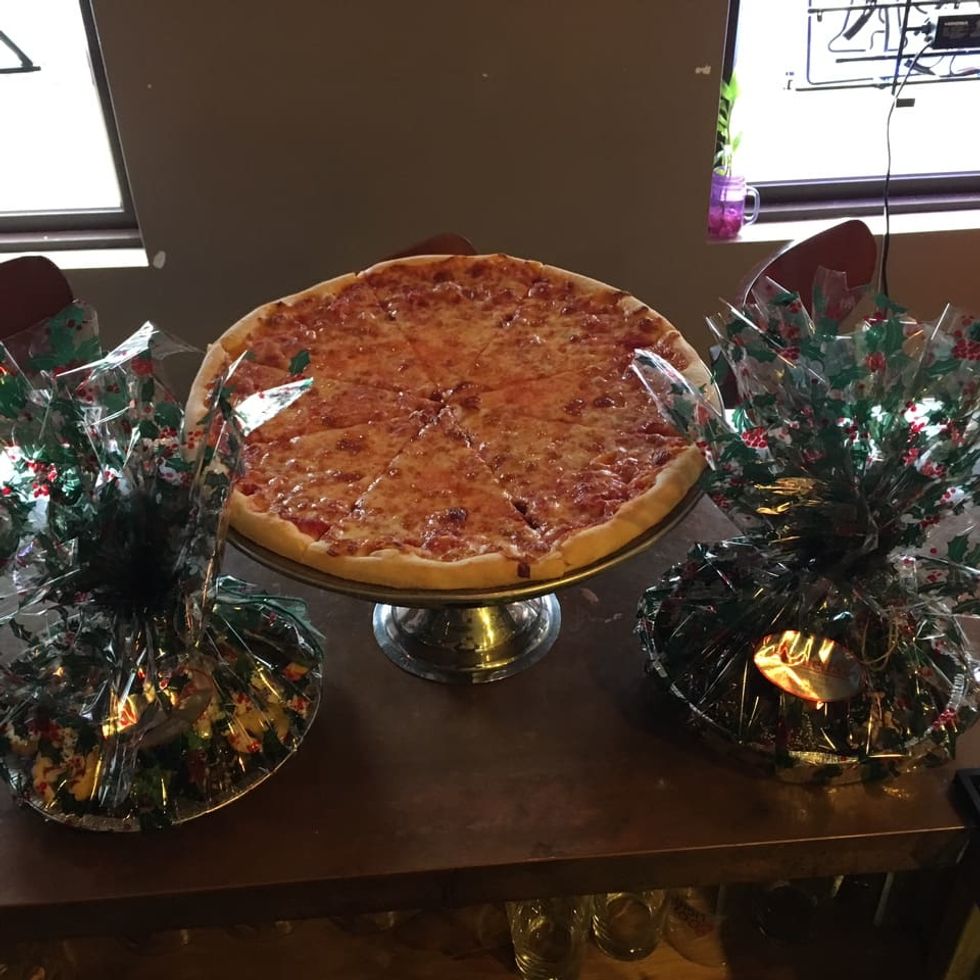 Armetta's is another really cute Italian place with a great food and a lot to offer! Their pizza, as well as everything else is great.
Website:Armetta's
Facebook: Armetta's
Address: 329 Northern Blvd., Chinchilla, Pennsylvania 18410
Phone: (570) 586-5492
What I recommend: The classic plain round tray
G&M Snack Bar in South Side Bowl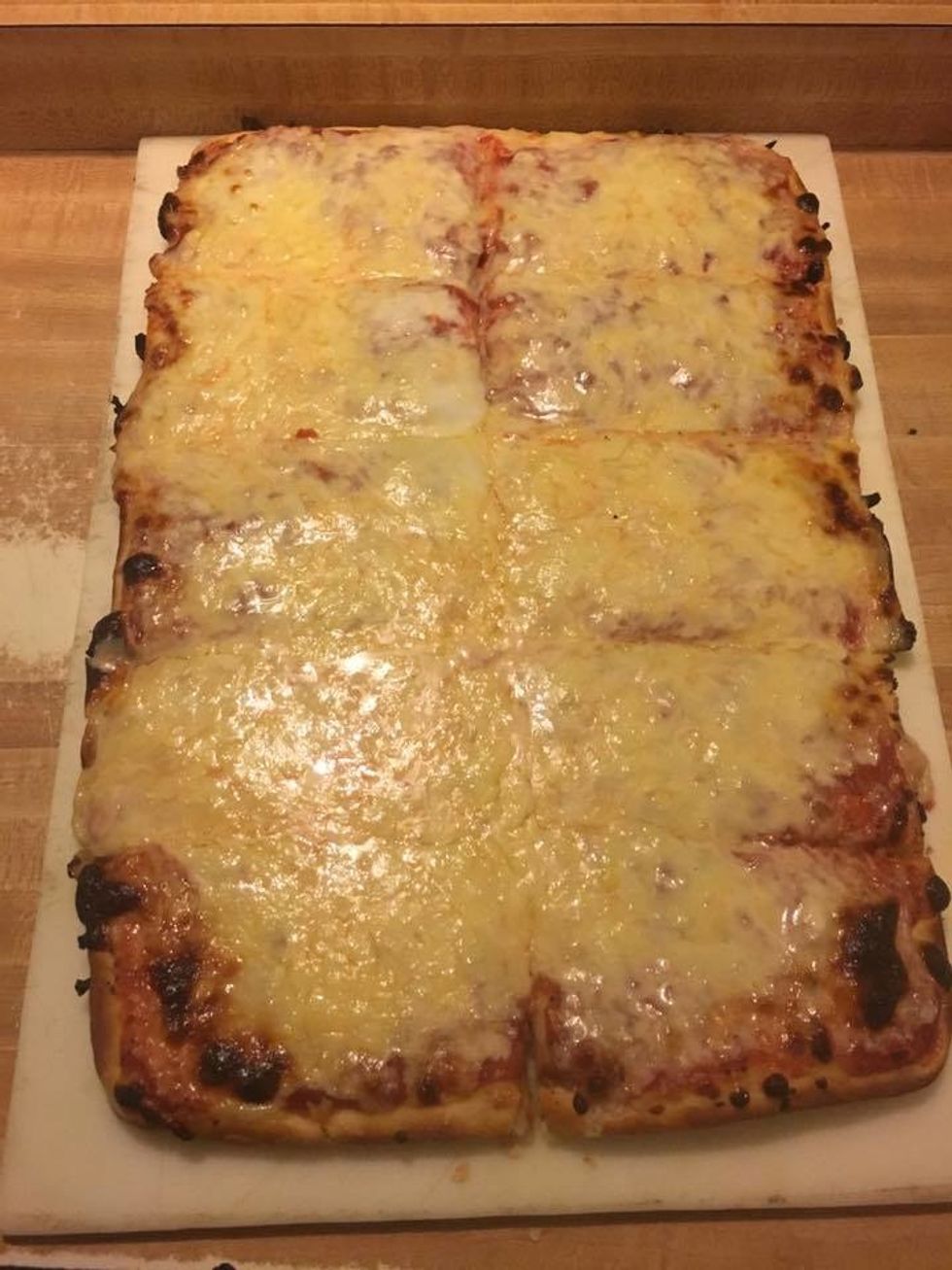 I know what you're thinking: bowling alley food? Can that really be in the top 15? Yes!!! Call me crazy, but I promise their pizza is sooo good.
Website: South Side Bowl
Facebook: South Side Bowl
Address: 125 Beech St., Scranton, Pennsylvania 18505
Phone: (570) 961-5213
What I recommend: a tray of red
Arcaro & Genell's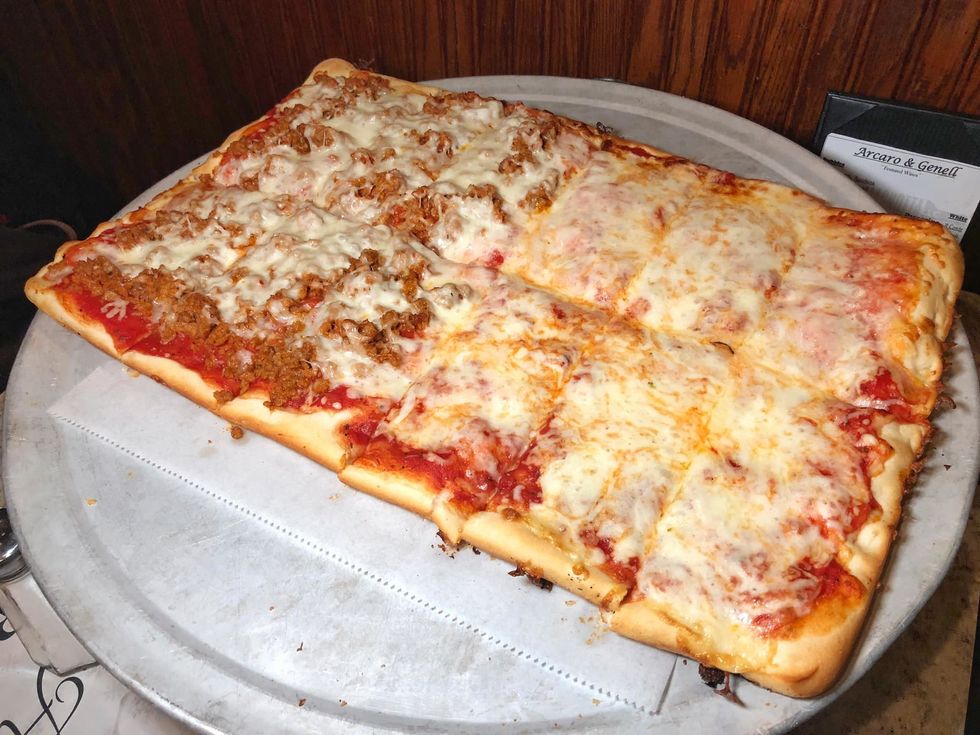 Arcaro and Genell's is another great place that truly embodies "Old Forge Pizza."
Website: Arcaro and Genell's
Facebook: Arcaro and Genell's
Address: 443 S. Main St., Old Forge, Pennsylvania, 18518
Phone: (570) 457-4262
What I recommend: plain red or double crusted white
Colarusso's in Clarks Summit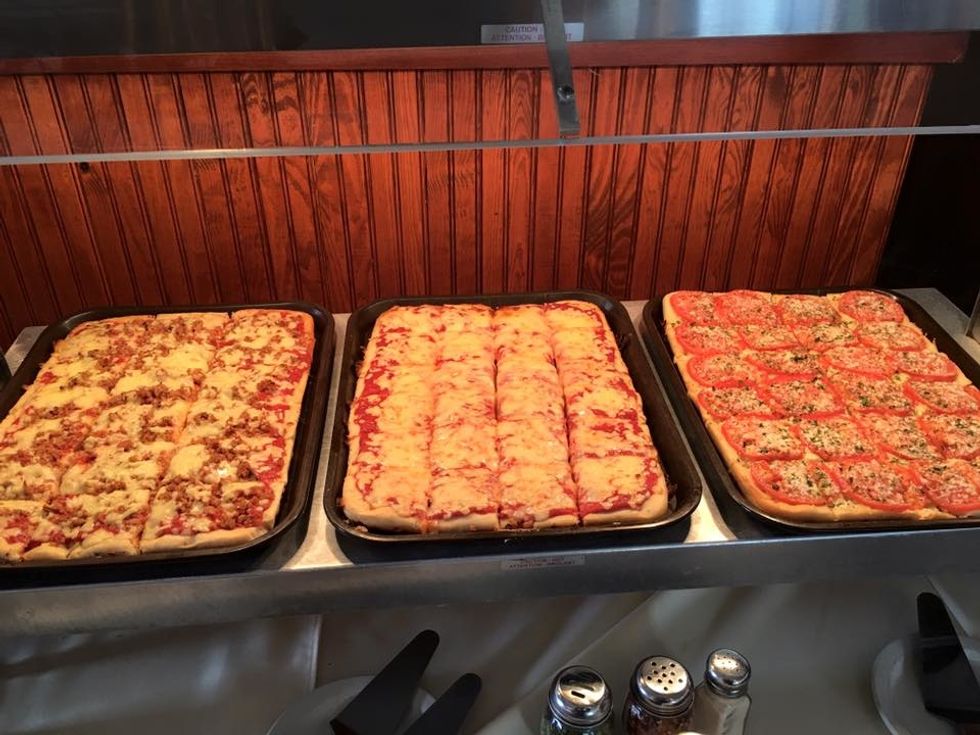 Colarusso's is a gem of Clark's Summit. Their pizza and buffet never disappoints!
Facebook: Colarusso's
Address: 100 E Grove St., Clarks Summit, Pennsylvania 18411
Phone: (570) 586-0608
What I recommend: red square with sausage
Gourmet Slice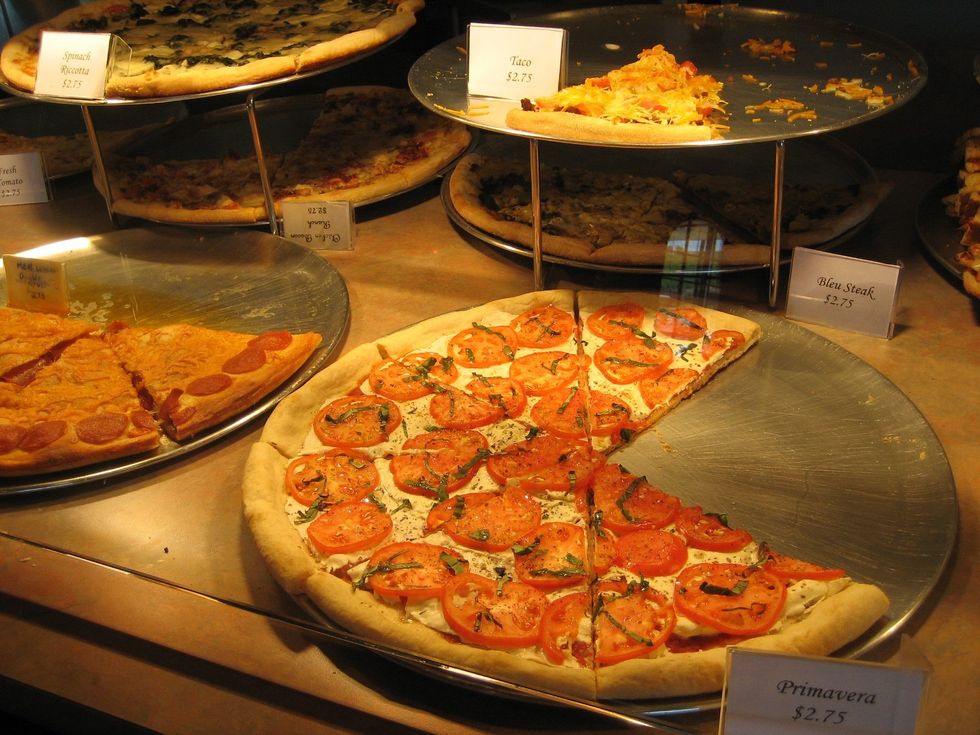 A true Montage Mountain favorite, Gourmet Slice never disappoints with their various flavors of round pizza, as well as Old Forge style pizza.
Website: Gourmet Slice
Facebook: Gourmet Slice
Address: 1101 Shoppes Blvd., Moosic, Pennsylvania 18507
Phone: (570) 347-4992
What I recommend: my personal favorite is the hot wing pizza and the penne vodka pizza
Sours: https://www.theodysseyonline.com/best-pizza-in-scranton
The Pizza Show: Extra Slice - Old Forge
Jim Mirabelli writes about and reviews northeastern Pennsylvania pizza restaurants at his website, NEPAPizzaReview.com, and is a leading expert on Old Forge-style pizza.
Old Forge pizza is a unique pizza style derived from a small coal-mining town of nearly 9,000 residents in northeastern Pennsylvania (NEPA). Old Forge, the self-described "Pizza Capital of the World," serves up rectangular "trays" of pizza by the "cut." The crust is not all that different from a Sicilian pie except that it tends to be a bit more dense and sometimes spongy. The sauces are usually pretty hearty, flavorful and generally made with onions. But the top-secret cheese blends are what make these trays truly unique.
The cheese blends are generally kept under lock and key by the pizzeria owners, but it is common to find blends that include cheddar, American, brick, cooper, mozzarella, and others. The end result is a one-of-a-kind pizza that sticks to the top of your mouth and is a big hit with the locals and pizza-loving tourists alike.
Having lived in northeastern Pennsylvania my entire life and having tried at least 300 different pizzerias in the area, I have had the opportunity to sample nearly every Old Forge pie in the Pizza Capital of the World and surrounding communities. The following are the Top 10 Old Forge pizzerias ranked by my personal experiences spanning over three decades:
1. Arcaro and Gennell – Old Forge
In business since 1962, Arcaro and Gennell has gotten plenty of national attention and accolades for their pizza over the years, and for good reason—it's excellent! Located on Main Street in Old Forge and surrounded by a handful of pizzeria competitors within a stone's throw, A&G consistently pumps out tasty tray after tasty tray. People also rave about the double-crust white pizza, which can be described as a giant grilled cheese pizza. The restaurant's footprint has grown exponentially over the years, adding a banquet hall, multiple bocce ball courts, and a covered outdoor seating area. From fine dining to pizza and clams, Arcaro and Gennell does it all, and they topNEPA Pizza Review's list of the best Old Forge pizzas in the region.
2. Anthony's – Old Forge
Anthony's in Old Forge is probably best known for its fine dining and delicious Italian cuisine, but those in the know are aware that Anthony's serves among the very best Old Forge pizzas in the area. They offer both regular and thin Old Forge-style pizzas and, while the pies are comprised of the same ingredients, each pizza gives a totally different experience. This is a great place for a romantic dinner or a casual drink. My favorite non-pizza menu item is the seafood fra diavolo, which provides a huge portion and is packed with spicy seafood. Like many of the restaurants in this top 10 list, you can't go wrong with anything on the menu.
3. Samario's – Scranton
Samario's is an Italian bistro in Scranton, which is very near the Pizza Capital of the World. They offer multiple styles of pizza, including New York, Chicago, and, of course, Old Forge. One bite of their pizza made me think I was actually within the Old Forge city limits—it was that authentic and delicious! The Chicago deep-dish pizza at Samario's is also amazing, along with the rest of their expansive fine dining and takeout menus. The growing business has also expanded to a second location in Tunkhannock, Pennsylvania, so Old Forge pizza can be found in Wyoming County as well!
4. Colarusso's Cafe – Avoca
The Colarusso's name is synonymous with the pizza elites in NEPA, boasting multiple locations scattered throughout the region. I have had the pleasure of eating at all of them, as well as talking to hundreds of local pizza enthusiasts, and the consensus is that the Avoca location has the best and most consistent pizza. Besides the regular Old Forge pizza here, people rave about the White Fresh Tomato, which features thinly sliced tomatoes, garlic and a sprinkling of Romano and other cheeses.
5. Maroni's – Scranton
Maroni's Pizza is quite popular and well-known throughout the region. Their Old Forge-style pizza is a little unique in that the sauce has a little spice to it, and the American cheese is usually burned on top, which is how many locals like it cooked. My favorite way to order Maroni's pizza is with extra sauce and the hand-cut pepperoni, but you can customize yours anyway you like, even with mozzarella cheese.
6. Mary Lou's – Old Forge
Located on Dunn Avenue, Mary Lou's is a pizzeria in Old Forge that doesn't get as much notoriety as the other pizzerias along Main Street. They are only open three days a week and serve pizzas until they sell out for the day. They offer a fresh and vibrant Old Forge Red pizza, but their Fresh Tomato Pizza is to die for. I recommend getting one of each because Mary Lou will often give you a volume discount when you buy two.
7. Elio G's – Old Forge
Elio G might have the most unique pizza on this list because he packs the most flavor into each slice, thanks to a hearty and robust sauce packed with onions and seasonings. This is a takeout-only establishment, and you have to call in advance to order because it is very popular and wait times can be well over an hour. The best bet is to call in as soon as they open to schedule your order, so you can be guaranteed the time slot you desire. A popular topping choice at Elio G's—and all of the Old Forge establishments—is shrimp and peppers. It may sound like a bizarre combination, but people in the area swear by it!  If you love flavor-packed pizza, you'll love Elio G's.
8. Revello's – Old Forge
If you ask a NEPA resident about Old Forge pizzerias, chances are the first place they mention will be Revello's Pizza Cafe. Revello's is quite well-known in the region for its original location on the main drag in Old Forge, but they have also expanded rapidly to multiple locations in Kingston, the Mohegan Sun Arena, Lackawanna County Stadium, and the Marketplace at Steamtown. Philadelphia has cheesesteak tourist locations like Geno's and Pat's, and Revello's is the NEPA pizza equivalent. I recommend taking a quick walk to the back to see how the pizzas are made, and even more interestingly, how they are cut—with a giant pizza machete, which is even part of their logo!
9. Lou's Pizza – Olyphant
Lou's Pizza "By the Bridge" is another small pizzeria, located in Olyphant, that I first stumbled upon after taking a wrong turn across "the bridge" near which they are located. I'm glad I did, because their pizza is excellent, and they have a loyal fan base. Lou's pizza shops can be found sprinkled around NEPA, in gas stations and markets, serving prebaked and wrapped slices for convenient and quick consumption. Although there is no substitute for a fresh tray of pizza, the room temperature slices provide a tasty snack while on the go.
10. Ferri's Pizza – Moscow
Probably most famous for their Potato Pizza served during the Lenten season, this third-generation, family-owned business originated in Old Forge in 1936. The restaurant pays tribute to the area's coal-mining history and offers a mini coal museum in the dining room and entryway! The high-quality Old Forge pizza alone is worth the trip, but being able to see what it was like in the coal mines more than a half-century ago makes Ferri's Pizza a must-visit in Pennsylvania!
Old Forge Pizza is a truly unique experience best shared with a group of friends and family around the table. The restaurants in this top 10 list are all family-owned, local businesses that form the backbone of communities, particularly in the town of Old Forge itself. People love to visit New York, Chicago, and other big cities for pizza tours, but look no further than Northeastern Pennsylvania for your next road trip steeped in rich history, family, and of course great pizza!
Sours: https://www.pmq.com/the-top-10-old-forge-style-pizzerias-in-northeast-pennsylvania/
Scranton best pizza
.
Antonio's Pizza Scranton, PA
.
Now discussing:
.
1069
1070
1071
1072
1073